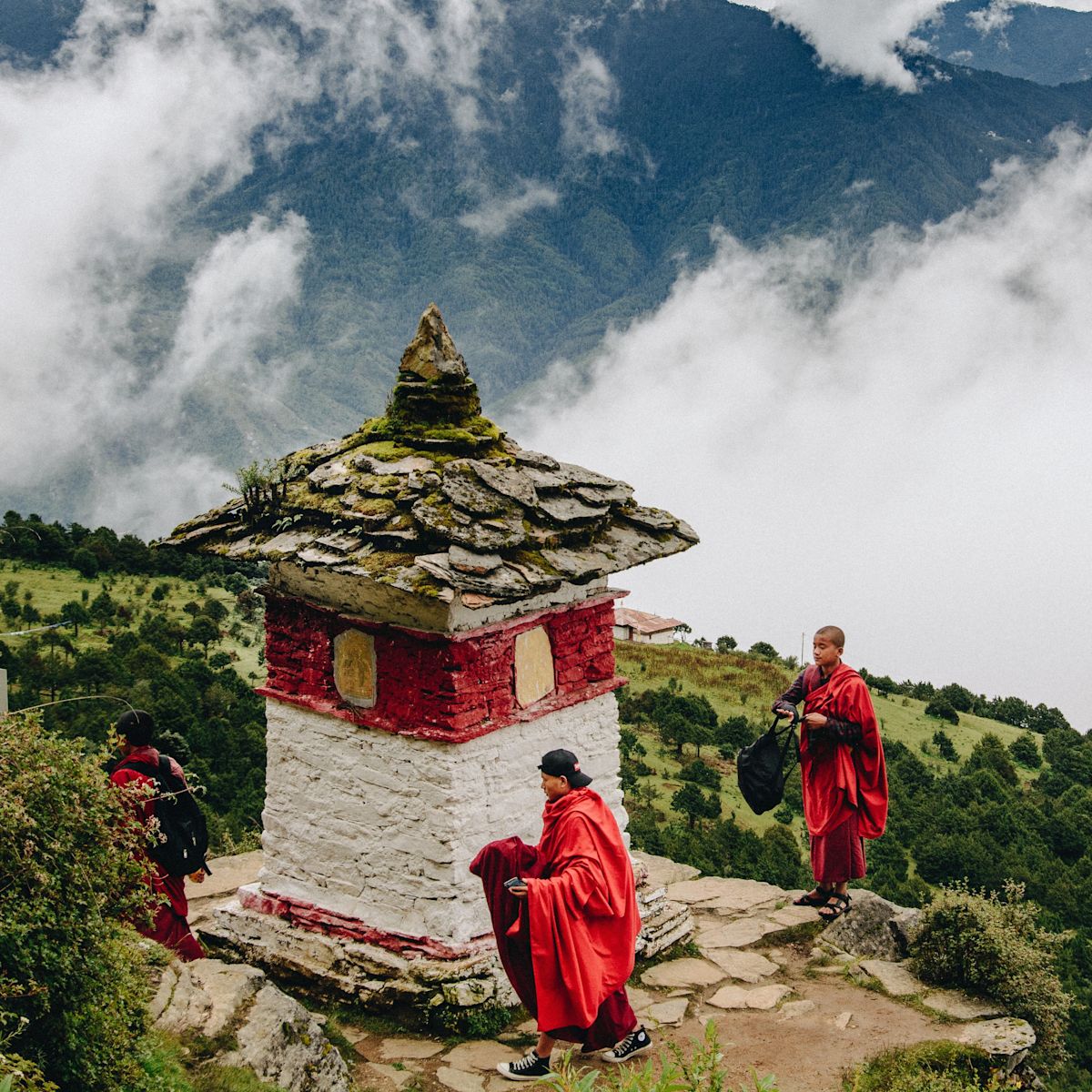 Bhutan travel guide – Top 12 places to visit in Bhutan
Aug 23, 2023
Reading time: 24 minutes
There's so much to see and do in Bhutan. So what do you prioritise? We discuss our favourite places, which include towns, villages, temples and fortresses, national parks, museums, archery grounds, and more! We also talk when to go and rules for visitors.
Bhutan is a magical place. It's rich in history and culture, spiritual and authentic, and tucked away in the Himalayas. It's an enticingly far cry from all that is too Western and generic in our highly globalised world. Unsurprisingly, many people are nudging the Kingdom of the Thunder Dragon higher up on their bucket lists. So what many of us now need is a Bhutan travel guide. We want advice on where to visit, when, and to get there. We're here to help.
We also touch on rules for travellers and the best time to visit Bhutan.
Where should I visit in Bhutan?
If you have limited time or don't wish to travel too far once you've landed in Bhutan, we recommend you prioritise the following three northwestern districts:
Paro (home to Bhutan's international airport)

Thimphu (the capital)

Punakha
You can see them in the map below.
Map showing some key places in Bhutan
A little note: Most of Bhutan's 20 districts have the same name as their capital city. We point this out so you don't get confused in your research!
Paro, Thimphu and Punakha are among the most popular districts with tourists. They don't, however, only have easy accessibility on their side; the northwest of Bhutan is also full of gorgeous scenery, rich wildlife, fascinating history, wonderful architecture, and more.
For this reason, we introduce you to the highlights of these three districts first …
Top 12 places to visit in Bhutan
It's time to deliver on the promised Bhutan travel guide. So here it is, our pick of the top 12 places to visit in the Land of the Thunder Dragon. We start with northwest Bhutan ...
1. Historic city of Paro
Paro is a small, valley city in a wide, lush valley. Colourful, low-rise buildings line the banks of Paro Chhu River, many built in traditional Bhutanese style.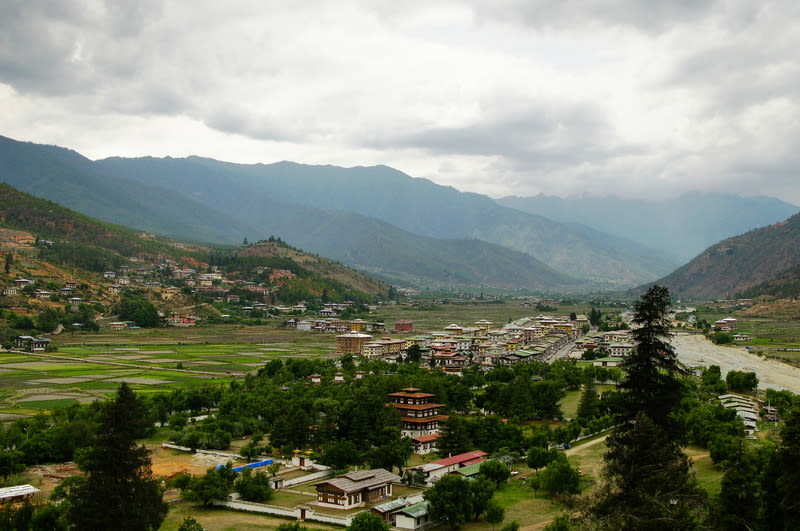 Paro Valley and city
Rinpung Dzong (Fortress) sits broodingly a little above the city, while rice paddies on either side of the river spread out to the base of the mountains. From here, alpine trees rise up the slopes towards often-clouded mountain peaks.
Fun fact: Paro was one of very few places in Bhutan that could be considered as a location for the country's international airport. This is because the landscape of Bhutan is so mountainous that finding a place for an international-length runway was rather difficult! Thimphu, the country's capital, wasn't a viable candidate, which is why the small town of Paro has the honour of receiving all international tourists flying into the country.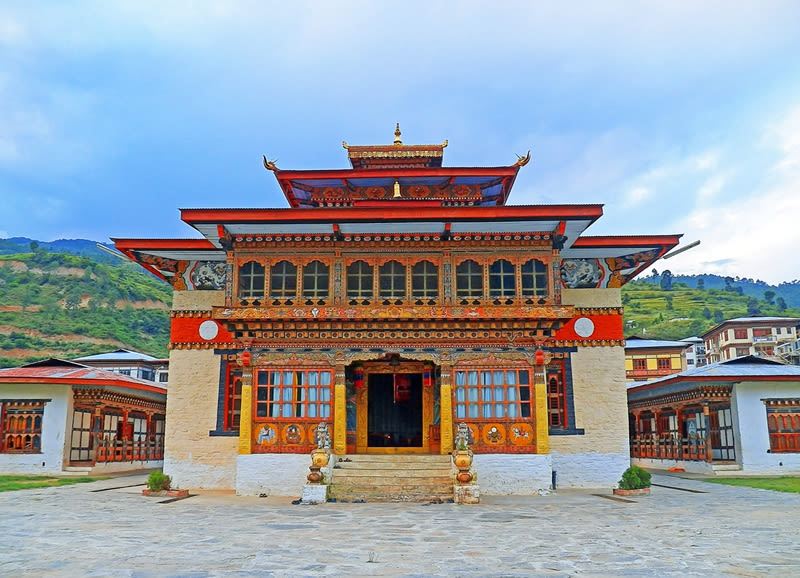 A traditional monastery in Paro
Some of the must-see places in Paro include:
The large Buddhist prayer wheel in the central plaza of Paro city.

Ugyen Perli Palace, the gorgeous, gold-topped building that serves as the royal family's home when in Paro.

Jangtsa Dumtseg Lhakhang, a temple in the form of a chorten across the bridge from the city.

Zuri Dzong, built in 1352 and one of Bhutan's oldest
A dzong is a monastery cum fortress. They're dotted all over Bhutan.
Rinpung Dzong
Also known as Paro Dzong, Rinpung Dzong is a seventeenth-century monastery that sits next to Paro Chhu River.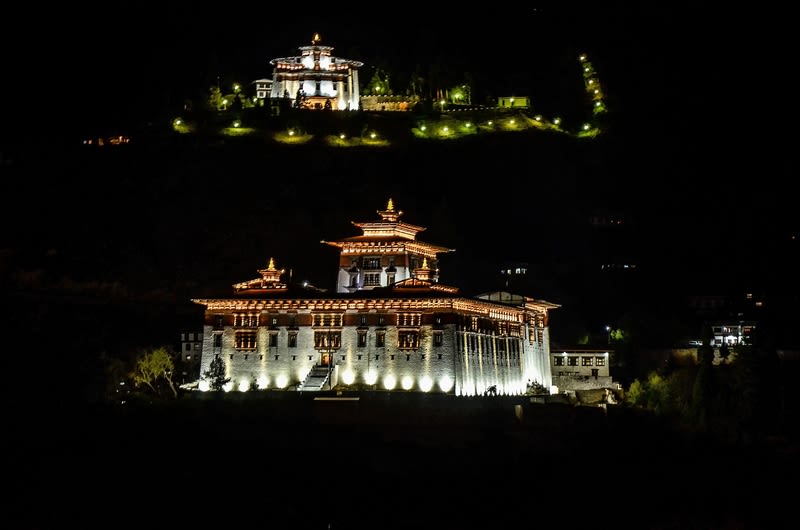 Rinpung Dzong (Monastery) is lit up beautifully at night
The dzong is a gorgeous showcase of traditional Bhutanese dzong architecture: imposing fortress walls encompass an interior complex of administration offices, monks' accommodation, a temple and a courtyard.
Inside the fortress you can see colourful wall paintings of religious scenes, highly decorated arches and intricate wood carvings, and also learn the story of the dzong's founding.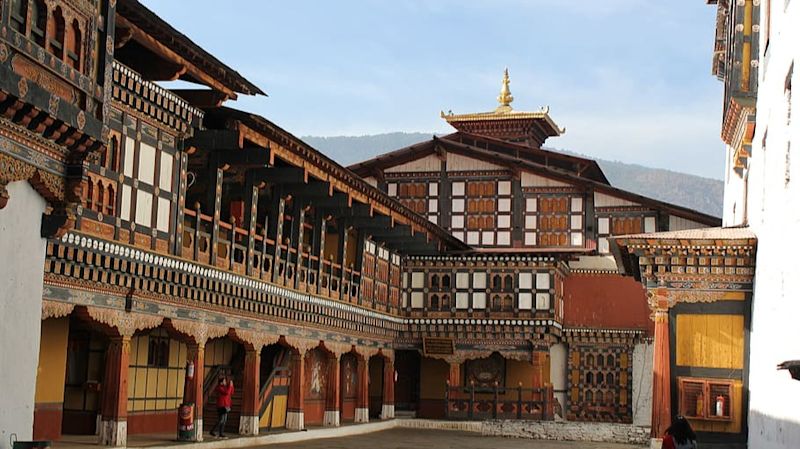 Courtyard of Rinpung Dzong
As Rinpung Dzong was built on a low mountain spur, a small, round watchtower was built higher up the mountain. This now houses the National Museum of Bhutan. The galleries of the museum showcase, among other things:
Religious festival masks.

Delicate

thangkas

(Tibetan Buddhist religious paintings).

Statues of rare animals.

A model of Tiger's Nest.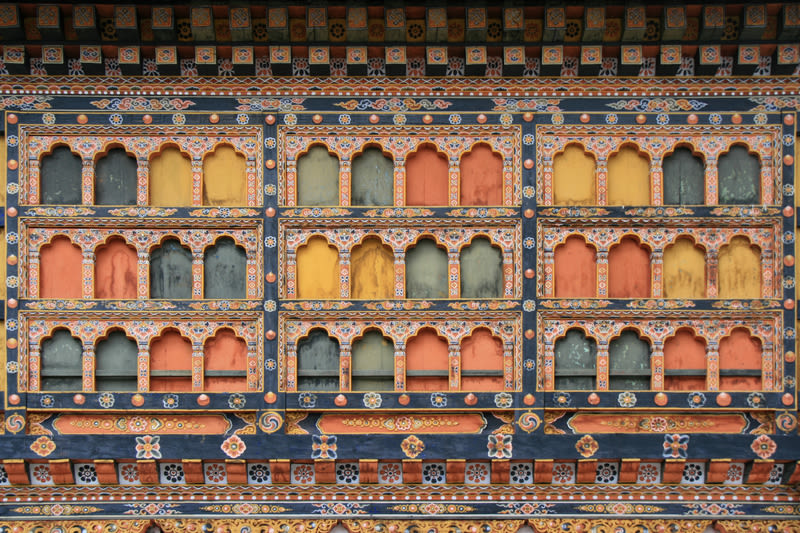 Colourful windows of Rinpung Dzong
How to get there
Paro Airport is an international airport and so is the entry point for anyone flying into Bhutan.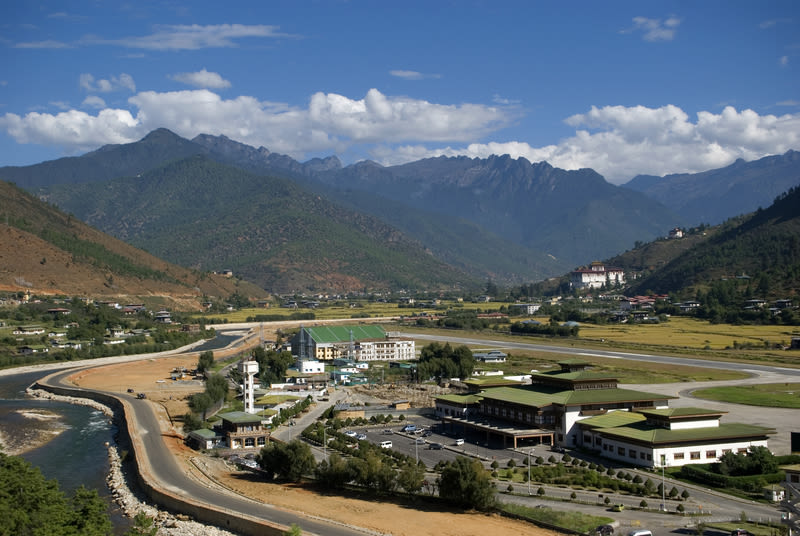 Paro Airport is the country's only international airport
2. Tiger's Nest Monastery
Arguably the main – almost non-negotiable – activity to do in Paro District is hike to Tiger's Nest.
This famously picturesque Buddhist temple complex is perched compellingly on a cliff ledge about 900 m above the Paro Valley floor. It's properly known as Paro Taktasang, and was built in 1692 in honour of Guru Rinpoche. Rinpoche is the eighth-century Buddhist master credited with introducing Buddhism to what is today Bhutan.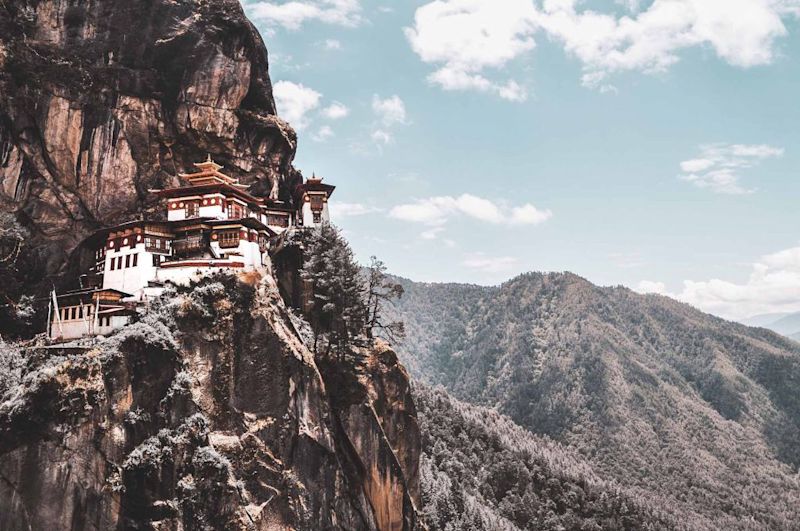 Tiger's Nest, or Paro Taktsang, as seen in winter, reminding you that Bhutan can get very cold!
The various buildings that make up the Tiger's Nest complex are connected via stone steps as well as rickety wooden bridges. Visitors are allowed to explore the complex as well as go inside some of the buildings to see the monastery's many treasures. These include historically important thangkas (religious paintings on silk) and wall paintings.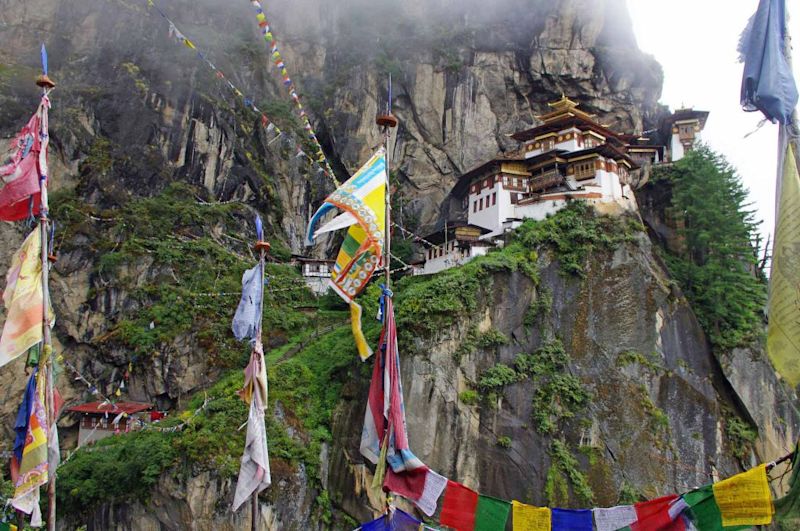 Tiger's Nest is a C17th monastery that's a popular day hike among visitors to Bhutan
How to get there
To reach Tiger's Nest, we recommend you drive the short distance from Paro to the Tiger's Nest parking lot. From here, you must hike or take a horse ride along the Taktsang Trail.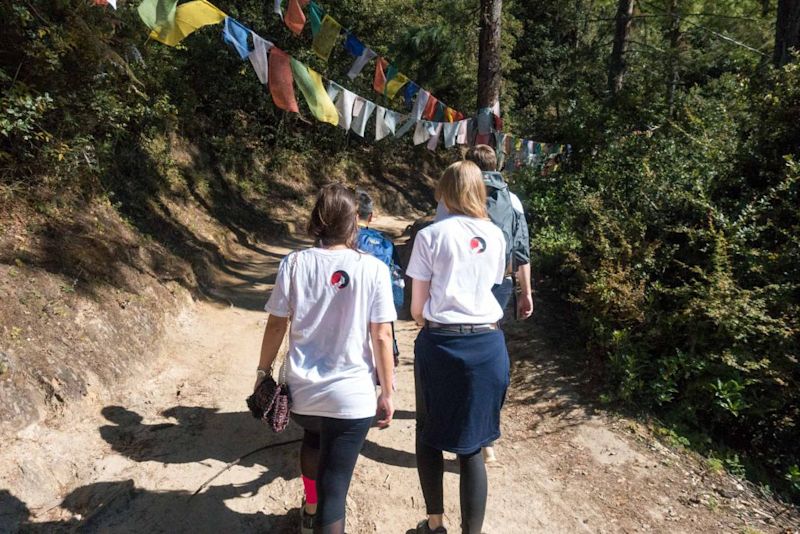 It requires some decent leg work to reach Tiger's Nest
The route to Tiger's Nest is 4.3 km (2.5 miles) each way. You should give yourself around three to five hours to hike up to Tiger's Nest. The descent obviously goes a lot quicker. It's an incredibly beautiful trail with the changing scenery keeping you nicely entertained along the way.
You can learn more in All you need to know to climb Tiger's Nest.
3. Capital city of Thimphu
Thimphu, the capital and most populous settlement in Thimphu, is a true must see. You get so much bang for your buck, as there are just so many world-class treasures on your doorstep here.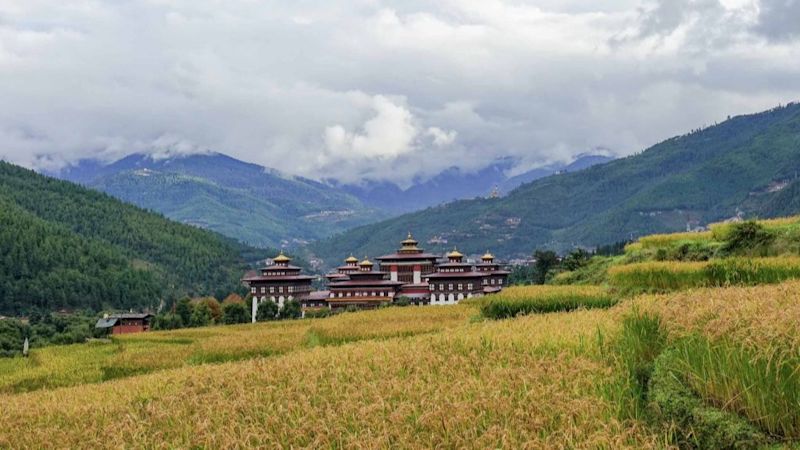 Tashichho Dzong is the capital fortress of Bhutan
We'll limit ourselves to a brief description of each of the places we advise visiting:
Buddha Point.

Here you can see Buddha Dordenma, a massive and iconic bronze Buddha statue, as well as several other religious statues. They all sit on a platform high above Thimphu, offering tourists a fantastic view of the valley and city.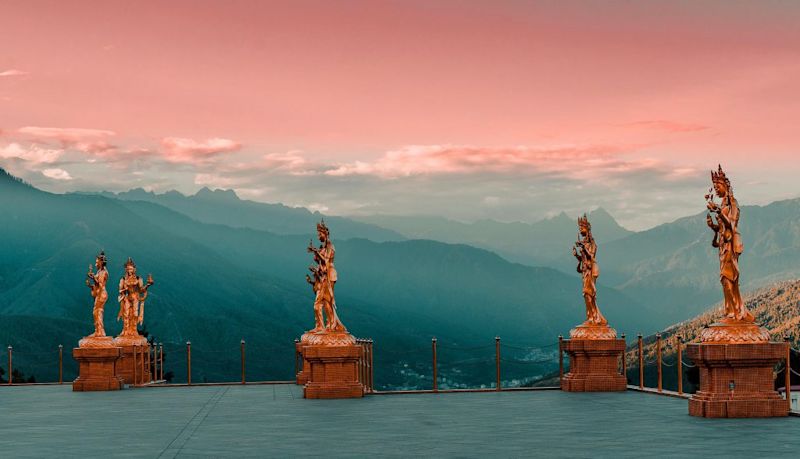 Buddha Point in Thimphu
Folk Heritage Home Museum.

As the name suggests, this museum offers insights into the traditional Bhutanese way of life. You can time your visit to see a demonstration of traditional rural tasks, skills and customs.

Dochula Mountain Pass.

Drive up to Docula Mountain Pass (3,150 m) just outside of town to see the beautiful Druk Wangyel Monastery and iconic Dochula Chorten.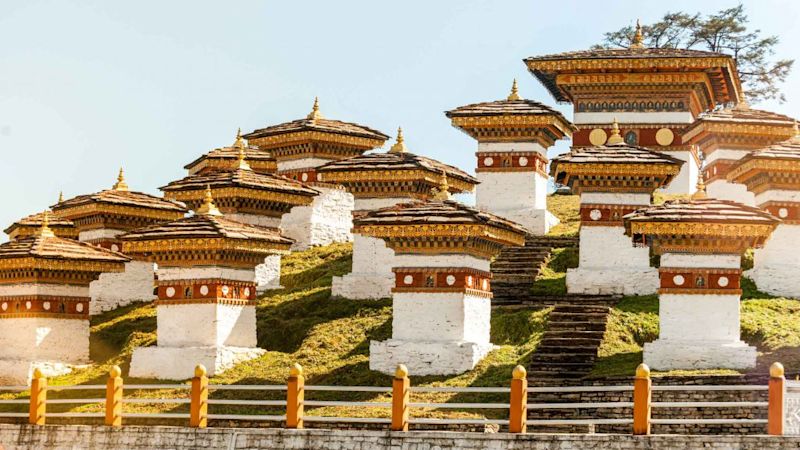 The iconic Dochula Chorten of Dochula Pass just outside of Thimphu
Gagyel Lhundrup Weaving Centre.

Watch women weave beautifully patterned, high-quality, traditional Bhutanese fabrics and clothes on looms. Who knows, a gorgeous silk scarf or a

kira

(traditional Bhutanese dress) might find its way into your suitcase!

Centenary Farmers' Market.

If you love to explore the foods of different cultures, head to the weekend Farmers' Market. A packet of spice or herbs could make the perfect souvenir of your Bhutan trip! You can also head across the river to visit the clothing, textiles and crafts market.

Changlimithang Archery Ground.

Archery is the national sport of Bhutan and, boy, are they good at it! Watch local archers hit impossibly far targets, and then give it a try yourself for a moment of humility!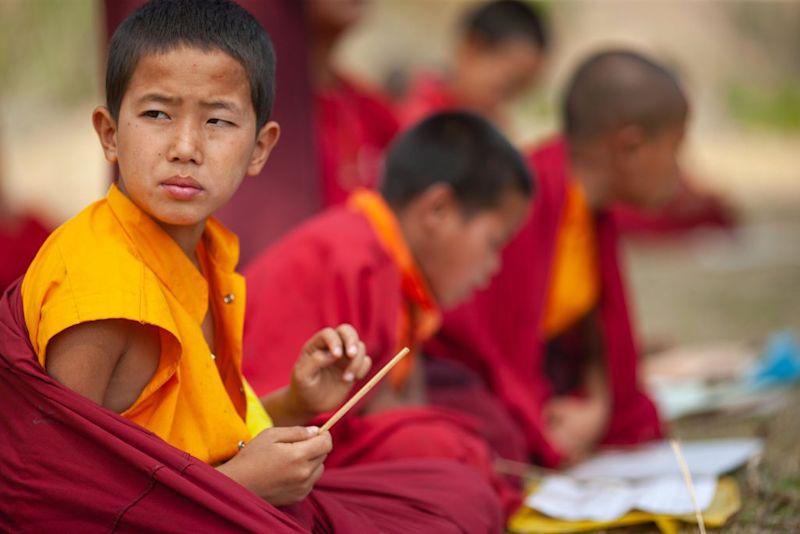 Monks in training in Thimphu
Tashichho Dzong
Also known as Thimphu Dzong, this fortress is the administrative hub of the Kingdom of Bhutan. Its name means "fortress of the glorious religion".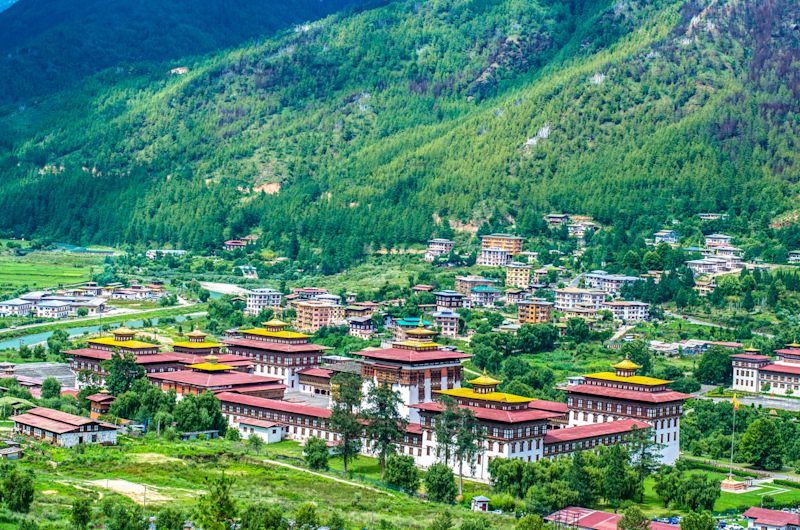 The enormous Tashichho Dzong
The best time to visit is 100% during Tshechu, the annual religious festival held between the 11th to the 15th day of the eighth month of the Bhutanese calendar. (This usually falls in late September or early October.) Tashichho Dzong is at the heart of Thimphu Tshechu, and here you'll see colourful and traditional masked dances, be able to shop local wares at the pop-up market, and much, much more.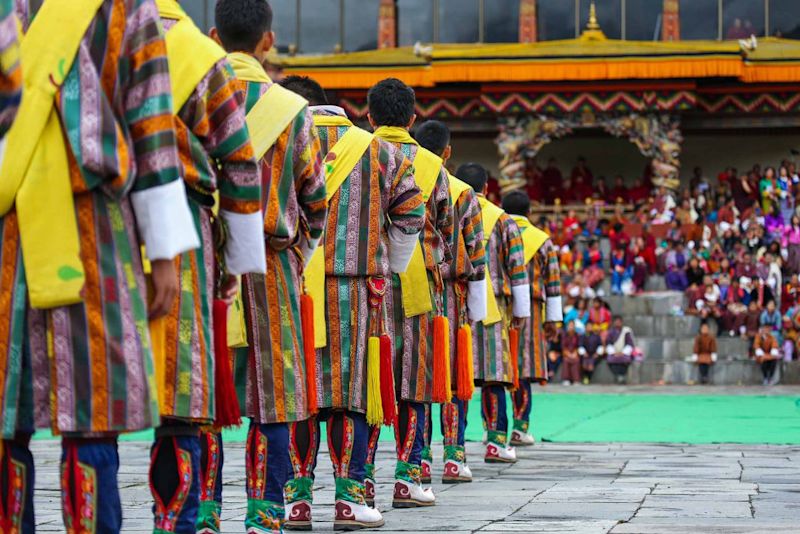 Thimphu Tshechu (Festival) in Tashichho Dzong
How to get there
It takes just 75 minutes to drive from Paro to Thimphu.
4. Old capital of Punakha
Punakha is a gorgeous valley city that was the capital of Bhutan up until 1955.
It's a relatively warm valley with milder winters than Thimphu. Punakha is where the first king of a united Bhutan, Ugyen Wangchuck, was crowned in 1907.
Punakha should definitely be on your Bhutan travel itinerary, as it has a heady mix of history, culture, natural beauty and exciting outdoor activities to offer.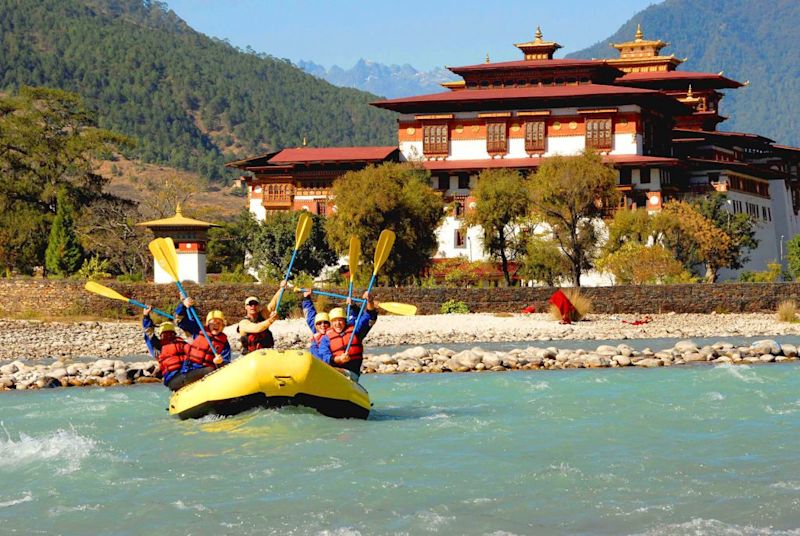 White water rafting along the Po Chhu and Mo Chhu is a fun way to see more of the treasures of Punakha
Punakha Suspension Bridge
The Punakha Suspension Bridge is an iron-chain suspension bridge of about 160 m long that connects the town of Punakha with the rest of the valley. It's the second-longest suspension bridge in all Bhutan. One of the reasons necessitating the bridge is the occasional flash flood in the valley caused by melt from glacial lakes up river.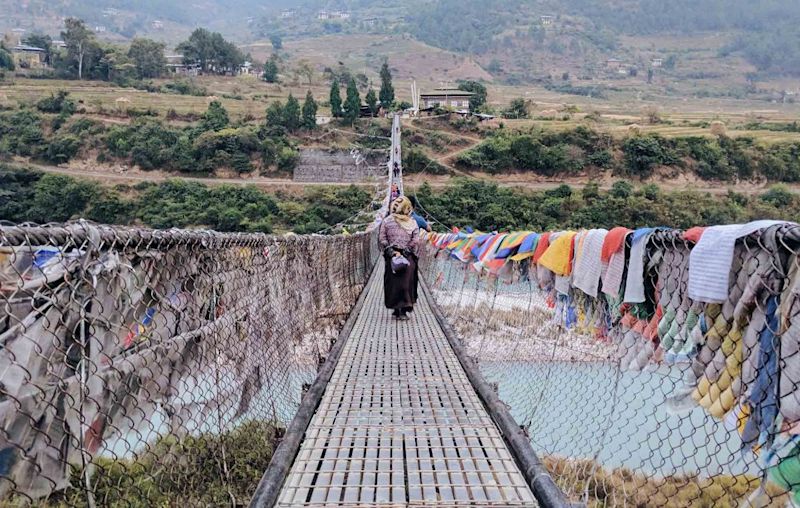 Punakha Suspension Bridge is 160 m long and one of the oldest suspension bridges in the world!
Punakha Suspension Bridge is extremely popular with visitors to Punakha. It offers fantastic views of the dzong and the valley. And it can get the adrenaline going when the wind picks up and the bridge starts to sway!
Punakha Dzong
Punakha Dzong is the largest and second oldest dzong in Bhutan. It's official name is the lengthy Pungthang Dewachen Gi Phodrang, which means 'Palace of Great Happiness'.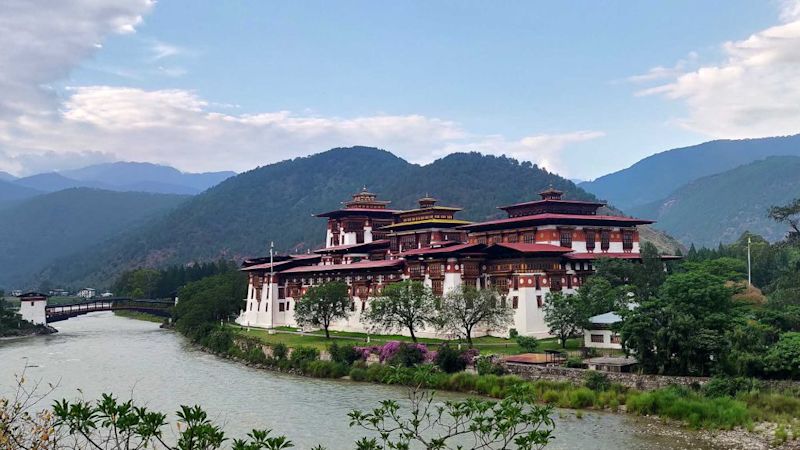 Punakha Dzong, built in the C17th, sits at the confluence of the Mo Chhu and Po Chhu
The dzong sits at the confluence of Po Chhu and Mo Chhu Rivers. For this reason, you're able to raft past the dzong and see it from the water, which is popular with Bhutan tourists.
The dzong is especially attractive in spring when the purple blooms of the jacaranda trees around it are in flower.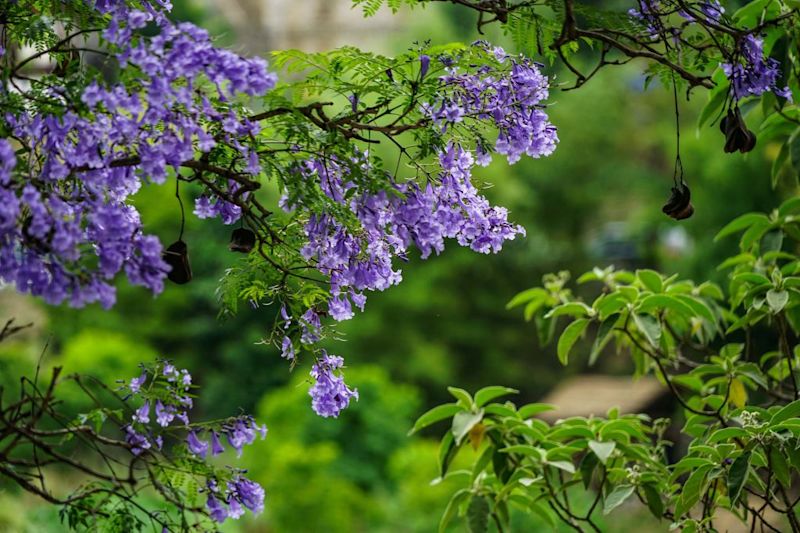 Gorgeous jacaranda blooms show up all over Punakha in spring
Fertility Monastery of Bhutan
The Fertility MOnastery of Bhutan (more accurately known as Chimi Lhakhang) is a modest, traditional monastery that dates as far back as 1499.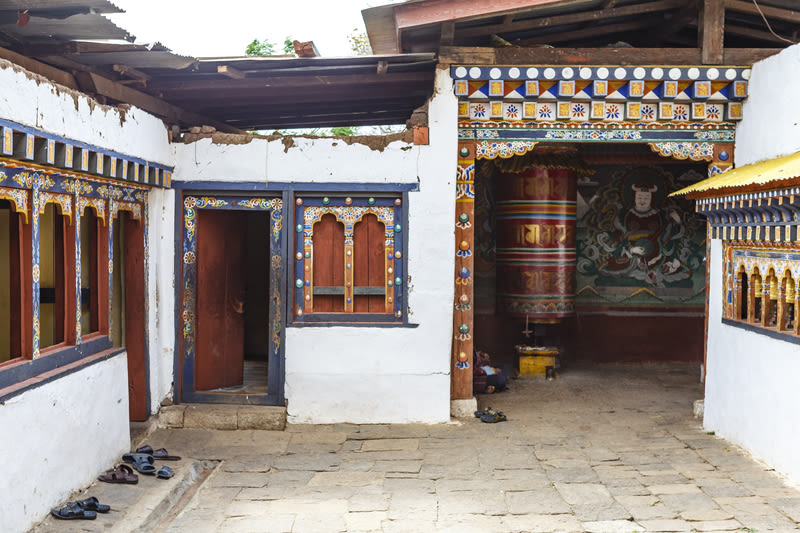 It sits a a little ways outside of Punakha, and you can hike there along a beautiful trail. The temple is known worldwide for its success in helping couples to fall pregnant. If you're looking to conceive, the temple welcomes visitors to partake in its fertility ritual.
How to get there
It takes a little over three hours to drive from Paro to Punakha. You'll be on a highway the whole time. If you're heading there from Thimphu, the drive is just two and a half hours.
5. Beautiful Haa Valley
The Haa Valley in Haa District is a gorgeous region that makes for a perfect day's outing from Paro.
Part of the fun is the drive there, which is a two-hour jaunt meandering up zigzag mountain roads to reach the lookout point at Chele La Pass (3,988 m). The view from here over the lush Haa Valley and towards the snow-capped Himalayan peaks is glorious.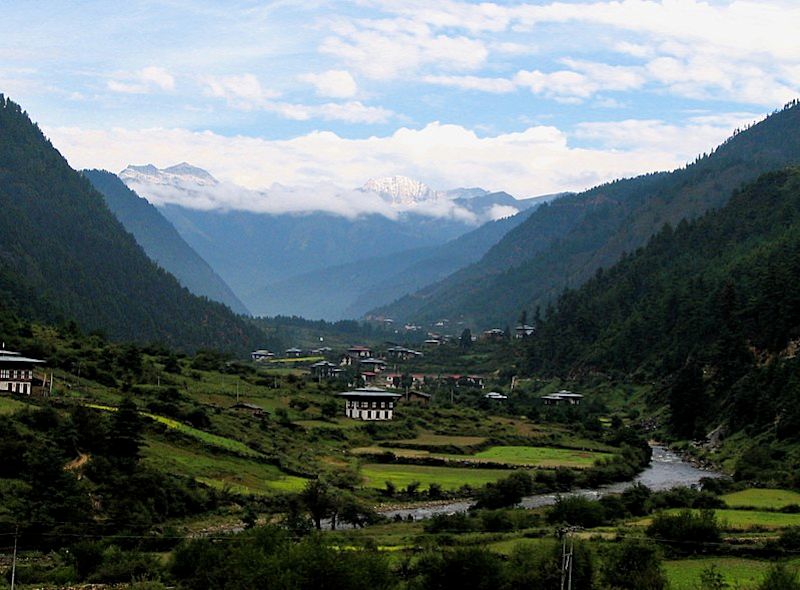 Haa Valley is a gorgeous traditional Bhutanese and Himalayan valley village
The Haa Valley consists of traditional buildings, terraced fields and thickly forested mountains on either sides of the Haa Chhu River. If you visit in summer, you'll be treated to the Haa Summer Festival, which includes displays of archery and spear throwing.
Hike to Kila Nunnery
We also recommend making time to visit Kila Nunnery. This ninth-century nunnery – the oldest in Bhutan – is home to around 50 nuns.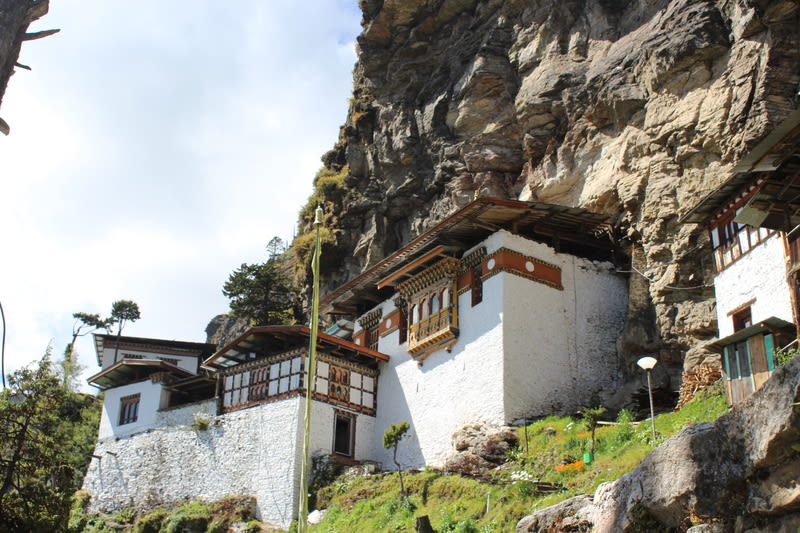 Kila Nunnery
Similarly to Tiger's Nest, the temple complex sits precariously on a mountainside ridge, offering dramatic views of the valley below.
You can reach Kila Nunnery via a one-hour hike from Chele La (Pass). On the hike you'll walk through forest, encounter prayer flags and chortens (shrines), and get the chance to spot many gorgeous birds including Gould's sunbird and the Himalayan bluebird.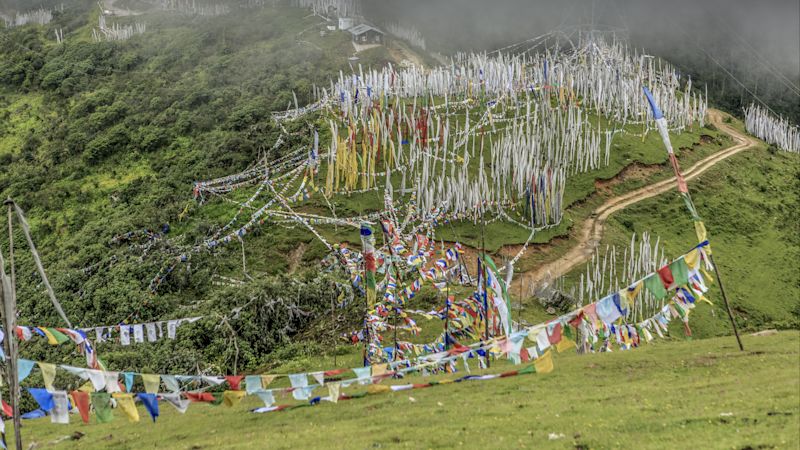 A forest of prayer flags on Chele Pass
How to get there
Has Valley is a 65 km drive from the town of Paro. As mentioned above, the drive is part of the appeal of the trip, as the scenery is spectacular.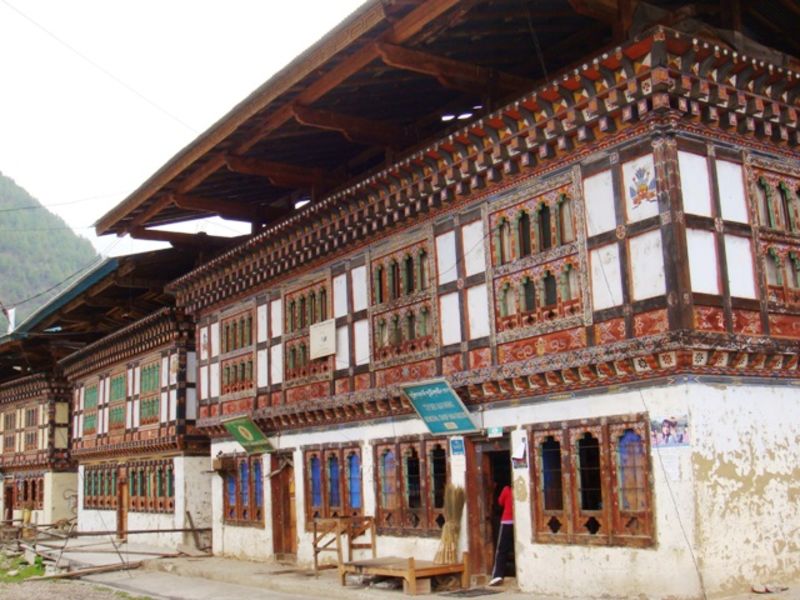 Traditional architecture on display in Haa Valley
6. Jigme Dorji National Park
Jigme Dorji National Park covers a whopping 4,316 km² and is Bhutan's second largest protected area. It extends into five districts and ranges in elevation from 1,400 to 7,000 m above sea level. The park was named after King Jigme Dorji Wangchuck, who reigned from 1952 to 1972 and helped to modernise and stabilise Bhutan.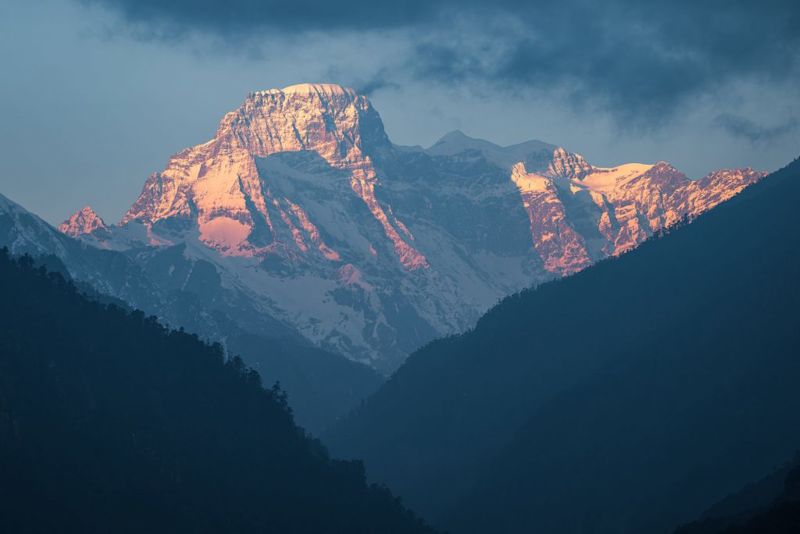 The mighty Kang Bum (6,494 m) in Jigme Dorji National Park
World Heritage Site
Bhutan has eight fantastic national parks, all with their own special offerings, so it can be hard to pick which to visit. That said, we feel Jigme Dorji National Park definitely deserves to be near the top of the list. For starters, its immensely rich ecology has earned it a spot as a UNESCO World Heritage Site.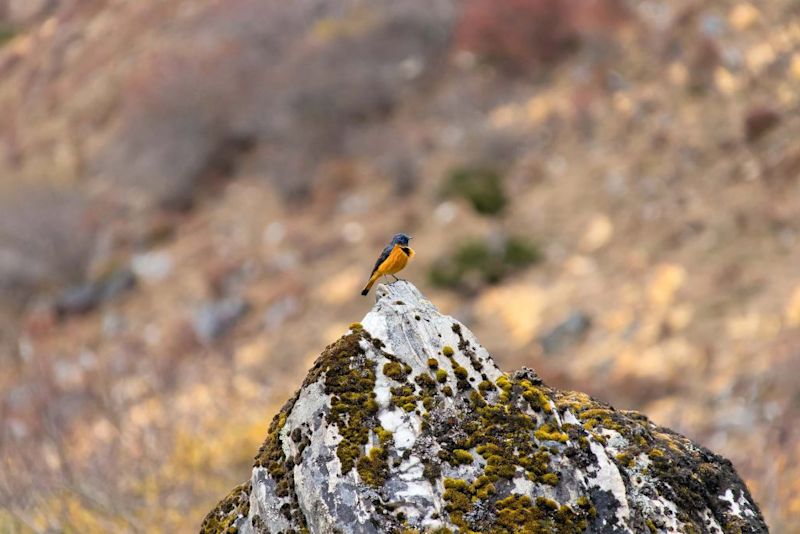 A little bird on a moss-covered rock in the park's Jangothang campsite
The scenery of Jigme Dorji NP is simply sublime, and naturally varies greatly across the park. It's a fantastic place for day hikes as well as longer treks. You can find towering peaks, glaciers, alpine meadows, conifer forest, scrubland, broadleaved forests and fast-paced rivers. Many of the 300+ plant species are used in traditional medicines.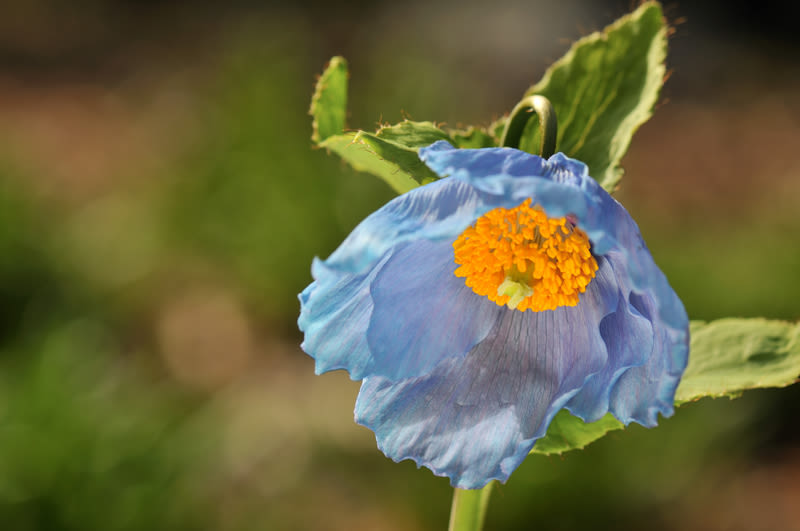 Close up of a delicate Himalayan blue poppy
Keep your eyes open for the incomparably delicate and delightful Himalayan blue poppy, as well as edelweiss, orchids and rhododendrons.
Bhutan's best trekking
Some of Bhutan's very best multiday treks take place inside of Jigme Dorji National Park.
One of our favourites is the Jomolhari trek, which lasts seven days and gives you great views of Mt Jomolhari, a sacred mountain to the Bhutanese and therefore not open to climbers.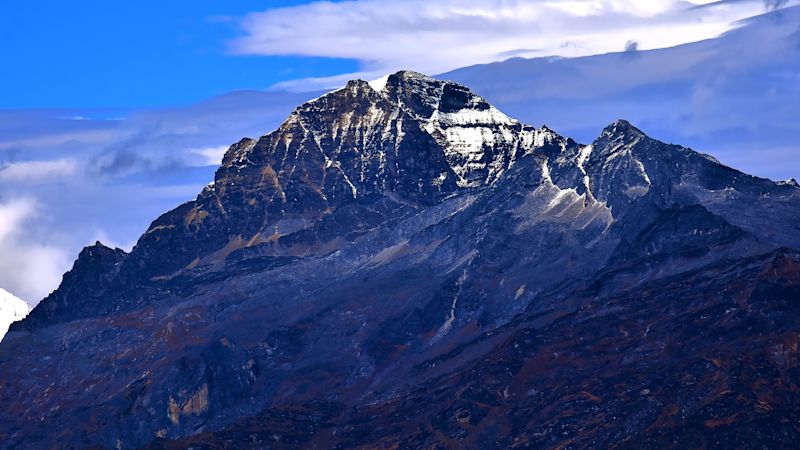 Mt Jomolhari rises to 7,326 m (24,035 ft) above sea level
Another world-class trek is the Laya trek, which takes you far north into the park and lets you visit the very remote Layap community in the town of Laya.
Wildlife
The wildlife of the park includes a stellar roundup: Bengal tigers, snow leopards, Himalayan black bears, takins, red pandas, blue sheep, musk deers, marmots and pheasants.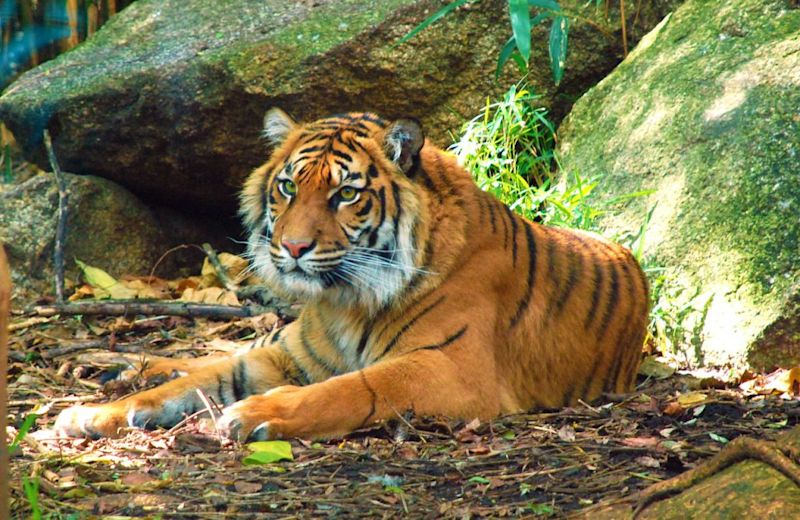 A mighty Bengal tiger
Jigme Dorji National Park is the only place in the world where snow leopards and Bengal tigers have overlapping habitats.
How to get there
It takes a little under five hours to drive from Paro to Jigme Dorji National Park. It's only a three-hour drive if you're heading there from Punakha.
We now head to the south of Bhutan …
7. Royal Manas National Park
Speak to any Bhutanese and they'll tell you that the Royal Manas National Park is a special park. It's the oldest in the country, a conservation showpiece, and has been dubbed Bhutan's Crown Jewel.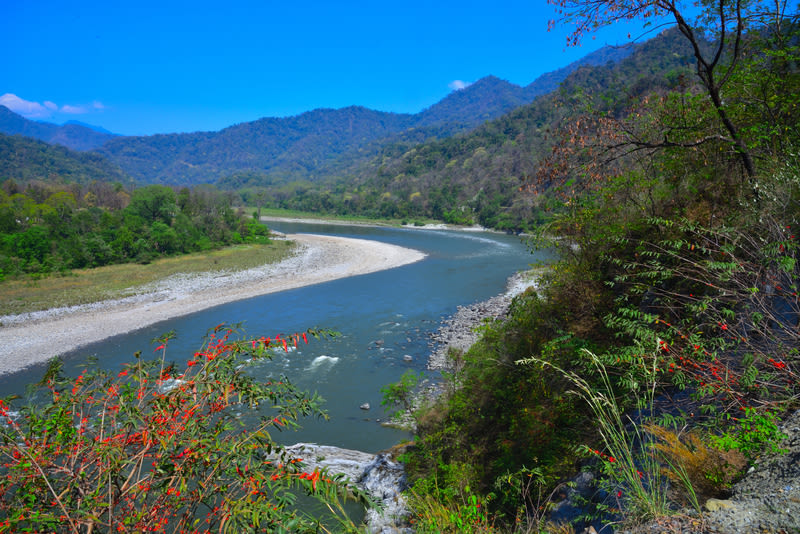 The Manas River flows from Bhutan into India where it join the Brahmaputra River
The park, which covers 1,057 km², is home to roughly 5,000 people, who live in remote, isolated villages.
Wildlife
The park is a true wildlife sanctuary, showcasing numerous animals not found in the north of the country.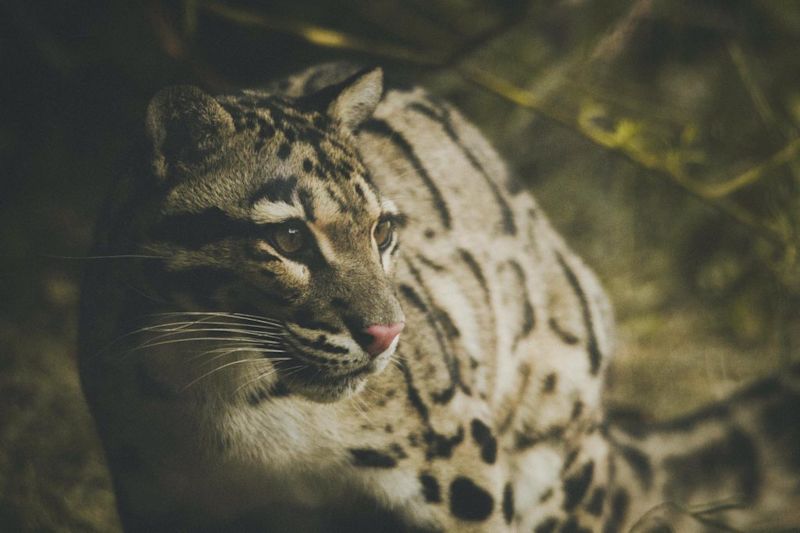 A gorgeous clouded leopard – spotting one of these has to be nirvana
Some of the precious species you can look for on safari include endangered Bengal tigers, clouded leopards, Asian elephants, Himalayan black bears, gaurs (Indian bisons), greater one-horned rhinos, wild buffalos, golden langurs, pygmy hogs, pangolins, hispid hares (bristly rabbits), and Ganges river dolphins. Need we say more??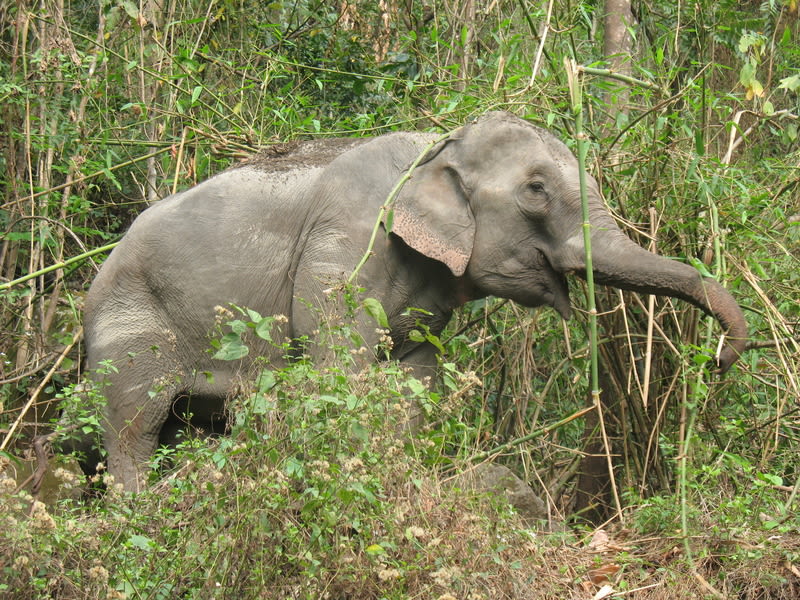 An Asian elephant spotted in Manas
How to get there
The quickest way to reach Royal Manas National Park from Paro is to fly to Gelephu Domestic Airport, then drive the remaining 80 km to reach the park. The flight is only 40 minutes. One of the drawbacks, however, is that there aren't flights there every day.
To drive there from Paro along the Wangdue–Tsirang Highway takes nearly eight hours, but there are plenty of very worthy destinations along the way, including Thimphu, and the scenery is gorgeous!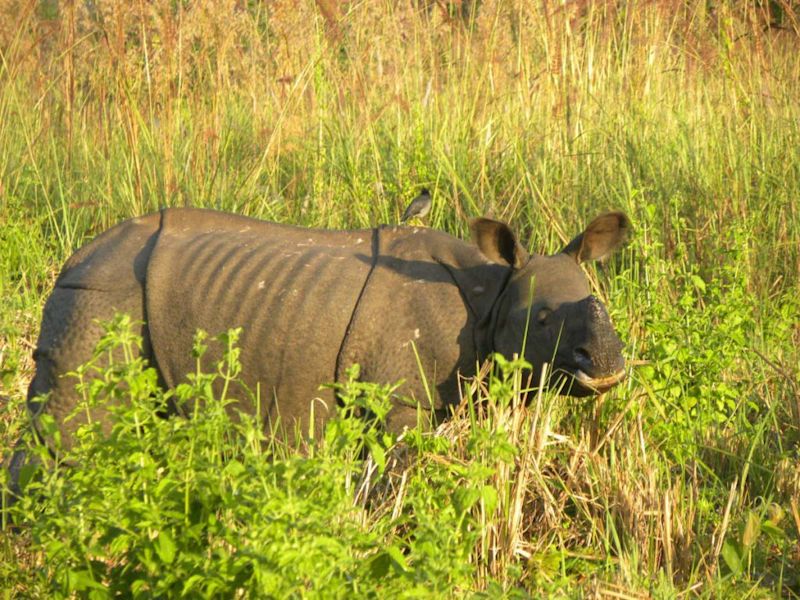 A greater one-horned rhino, also called an Indian rhino
And now to central Bhutan ...
8. World Heritage Site of Gangteng Valley
If you visit Bhutan, a great place to include in your itinerary is Gangteng Valley, also known as Gangtey Valley or Phobjikha Valley. A World Heritage Site, Gangteng Valley in Wangdue Phodrang District is a great place for learning about local Bhutanese culture and traditions.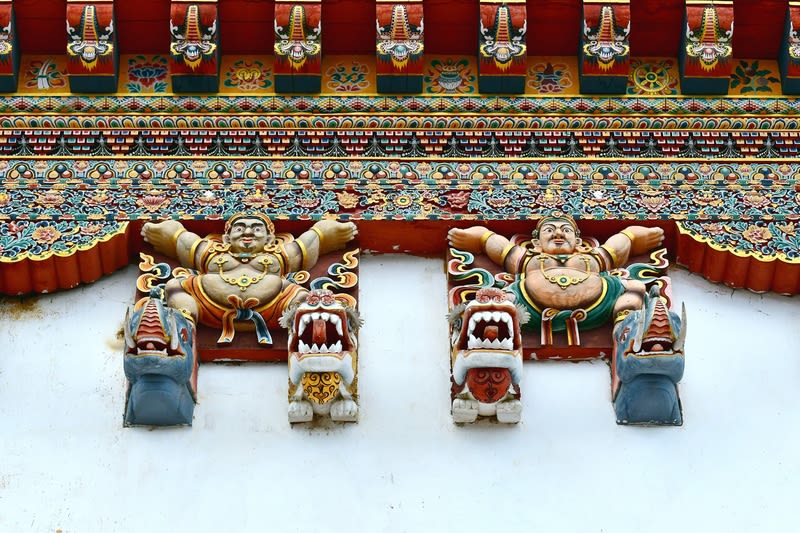 There are numerous traditional Buddhist temples in the valley to visit such as Gela Drechagling Lhakhang and Gangteng Monastery.
Ganteng is also very popular with trekkers as it's included in the Gangtey trek route. The relatively easy trail winds through beautiful forests of juniper, bamboo, magnolia and rhododendron.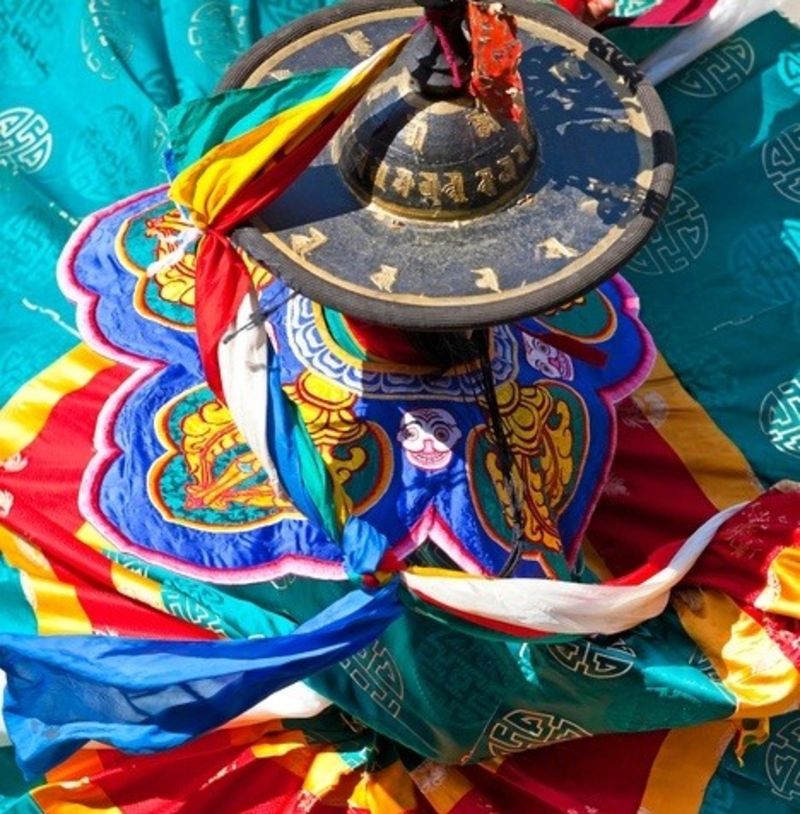 A dancer performing in the Wangdue Phodran Tshechu (Festival)
It's also a great birdwatching location. In November of every year, Ganteng Village and Monastery celebrate the Crane Festival in honour of the arrival of endangered black-necked cranes from Tibet, who come south for the winter.
Ganteng Monastery
Ganteng Monastery, established in 1613 and is also known as Gantey Gonpa, can be reached by hiking part of the popular Gangtey trek route from the valley floor up to the gonpa.
The front of Gangteng Monastery, which was renovated in 2008
The monastery was renovated in 2008, so the colours, architectural details and statues are now visible in their full glory. Seriously, this is one very attractive monastery you don't want to miss!
How to get there
The best and most affordable way to reach Gangteng Valley from Paro is to drive there. It's 204 km away and the drive takes about three hours.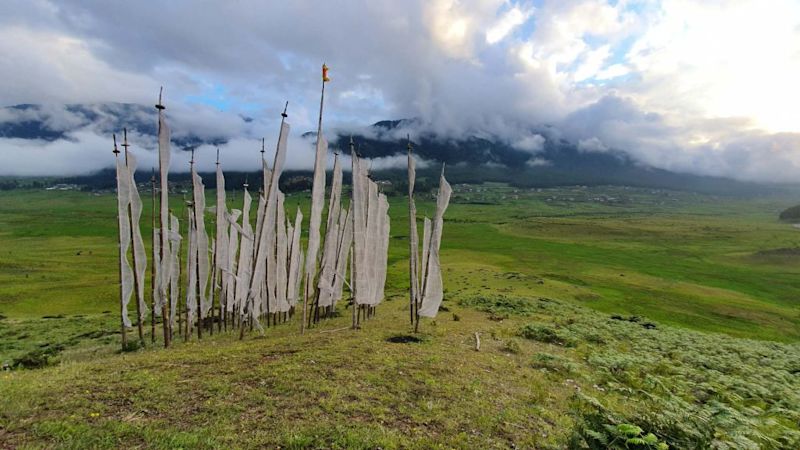 Gangteng Valley (or Phobjikha Valley) with prayer flags in the foreground
9. Mediaeval town of Trongsa
If we were to serve as your Bhutan travel guide, we'd encourage you to pair a visit to Gangteng Valley with one to the mediaeval town of Trongsa.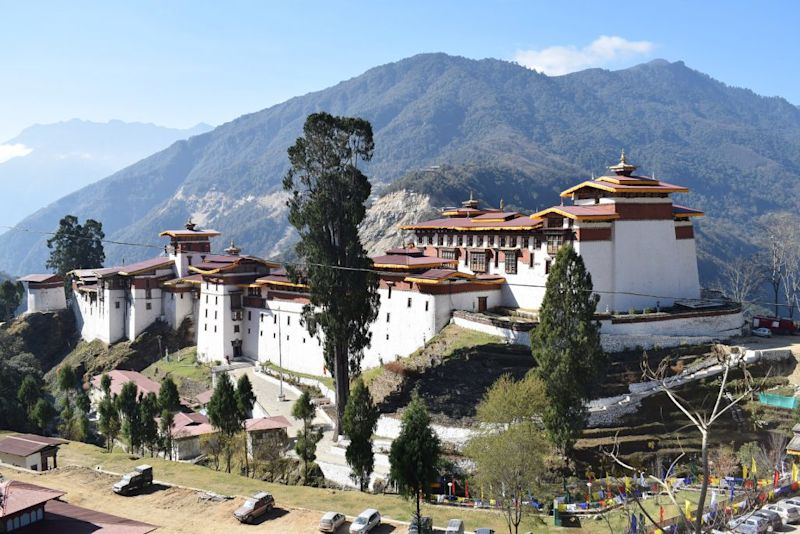 Chökhor Raptentse (or Trongsa) Dzong with the eastern Himalayas in the background
Trongsa, like Gangteng Valley, sits pretty much smack dab in the middle of Bhutan.
Moreover, the drive connecting the two is very scenic. You pass through traditional villages, forests and pasturelands, and also cross both Lawa Pass (3,360 m) and Pele Pass (3,420 m). These passes offer awesome views of the snow-capped peaks of Jomolhari (7,326 m) and Jitchu Drake (6,662 m), among others.
Chökhor Raptentse Dzong
Chökhor Raptentse Dzong – or simply Trongsa Dzong – is an imposing, sprawling and very striking dzong.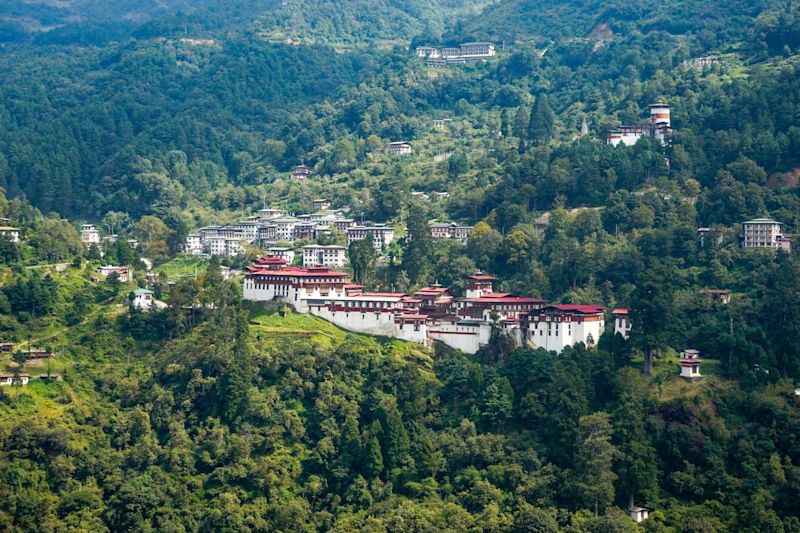 Chökhor Raptentse Dzong used to control the trade road between east and west Bhutan
The fortress sits on a spur high above the Mangde Chhu River.
It was built in 1644 to be the seat of power of the Wangchuck Dynasty. Together with its watchtower higher up on the mountain, the dzong helped the Wangchucks to control the trade route between east and west Bhutan.
In 1907, the House of Wangchuck became rulers of all Bhutan, and remain the country's royal family.
How to get there
The best way to reach Trongsa from Paro is to drive there along the Bumthang–Ura Highway. The journey takes about six hours. Alternatively, if you're planning a visit to Jakar as well (which we advocate!), you could fly to Bathpalathang Airport (this takes just 35 minutes) and then drive west to Trongsa. The journey lasts about two hours.
10. Historic city of Jakar
Jakar is the capital of Bumthang District in north-central Bhutan.
Bumthang boasts some of the oldest and most spiritually important sites in all Bhutan. This heritage, together with the quiet valleys, rivers, forests, pretty hiking trails, apple orchards and dairy farms, attract many tourists to the district.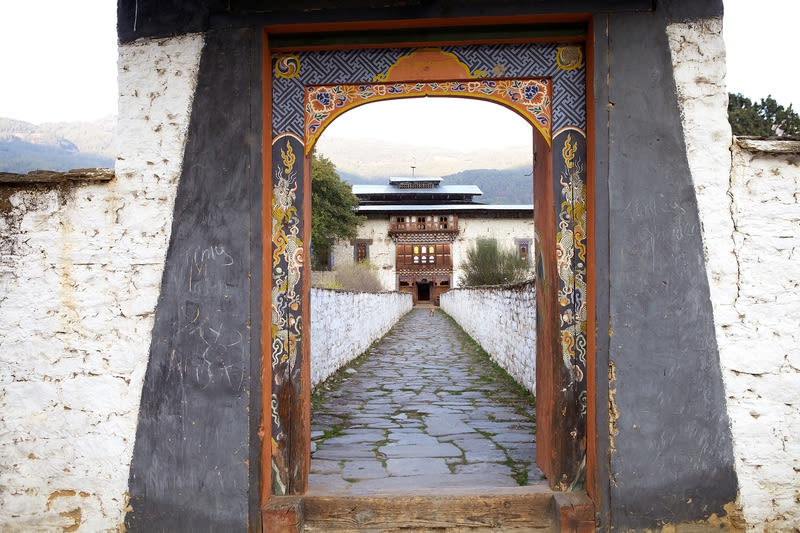 The Wangduechhoeling Palace ruins in Bumthang
Three of the main attractions in Jakar that we'd recommend visitors to Bhutan make an effort to see are:
Jakar Dzong

Membartsho

Jambey Lhakhang
Jakar Dzong
Jakar Dzong, built in 1667, is believed to be the largest dzong in Bhutan, having a circumference of 1.5 km.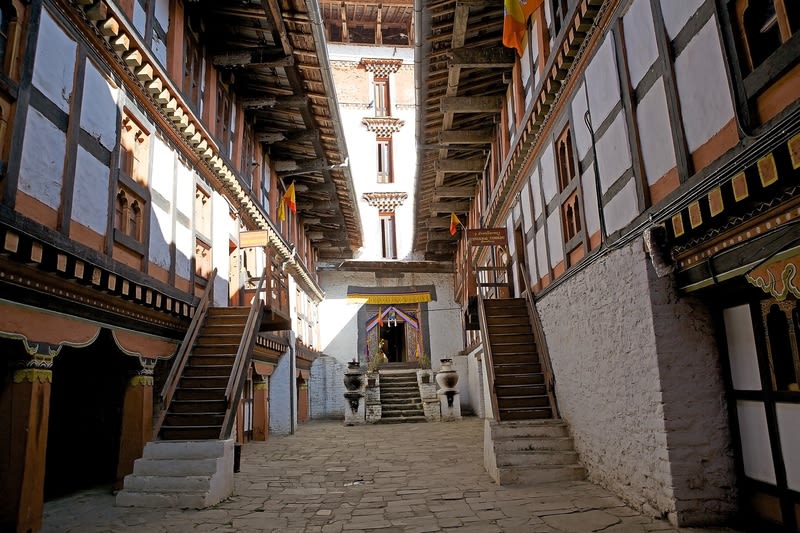 The courtyard of Jakar Dzong
The dzong sits on a ridge above Jakar town and you walk up a stone-paved path to reach it. Your efforts are rewarded with magnificent views of the valley. The dzong is unusual among Bhutanese dzongs as its central tower doesn't sit in the middle of the complex, but rather is attached to the outer wall.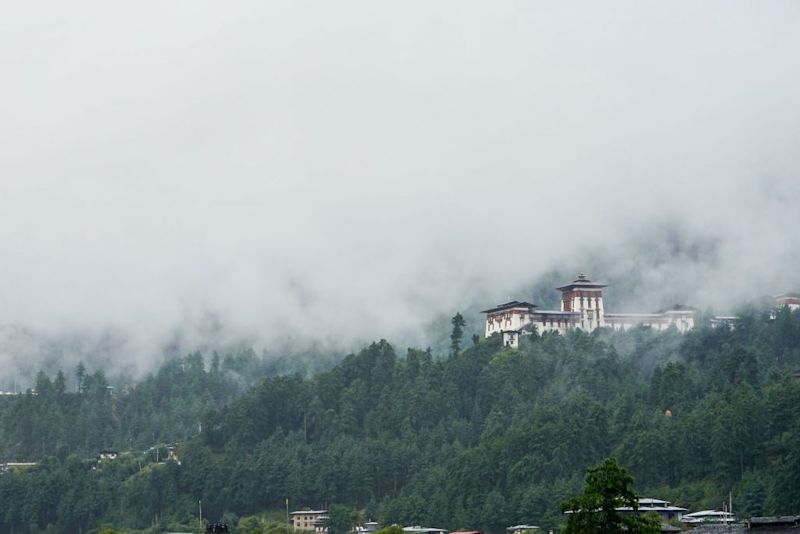 Jakar Dzong (fortress) shrouded in mist
Membartsho
Membartsho is an incredibly picturesque holy site that sits on the banks of the Tang Chhu River. It's believed to be the spot where the treasure hunter Pema Lingpa found some of the hidden teachings of Guru Rinpoche in the fifteenth century.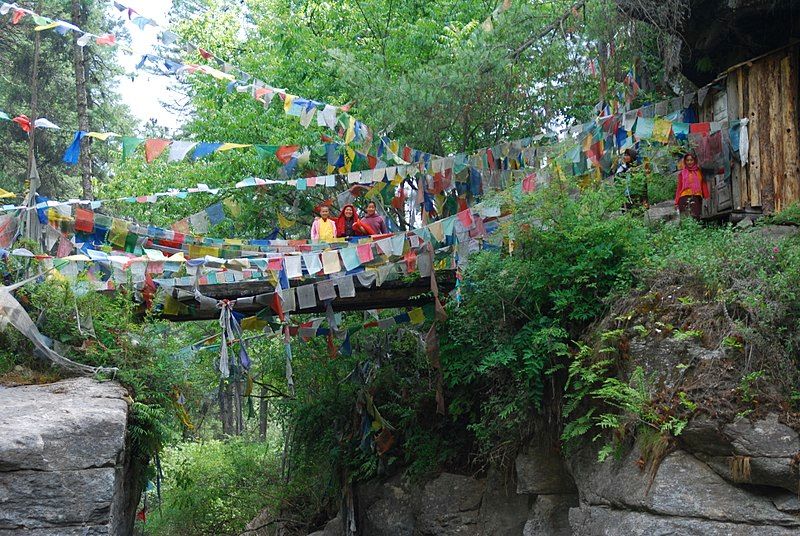 Some of the nuns of Pema Choling Nunnery stand on the bridge above Tang Chhu River in Membartsho | Image by Doctor 17
Guru Rinpoche (also known as Padmasambhava) was an eight-century Buddhist master who many in the Himalayas consider a kind of 'second Buddha'.
Membartsho is cared for by the nuns of Pema Tekchok Choling Nunnery. Devotees often leave offerings on the banks and rocks of Tang Chhu. It's a fantastic site to explore for both its culture and religious significance and its natural beauty.
Jambey Lhakhang
Jambey Lhakhang is a well-maintained temple in Bumthang that's steeped in legend. The temple was commissioned in the seventeenth century by Tibetan king Songtsen Gampo. But that said, legend says it was built in the seventh century along with over 100 others in a single day!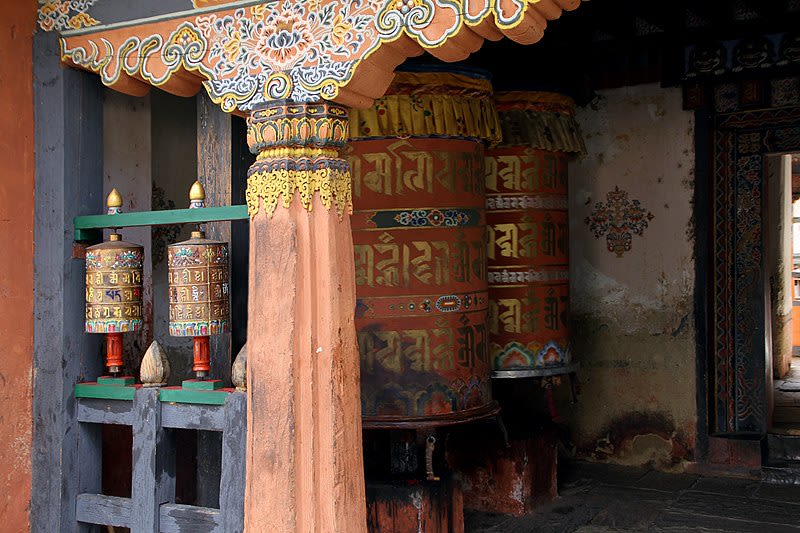 Two enormous prayer wheels at Jambey Lhakhang
We recommend visiting the temple to appreciate its traditional architecture, detailed artwork, and learn of its legends. Perhaps it goes without saying, but you should hire a local guide if you want to learn the full story behind this temple.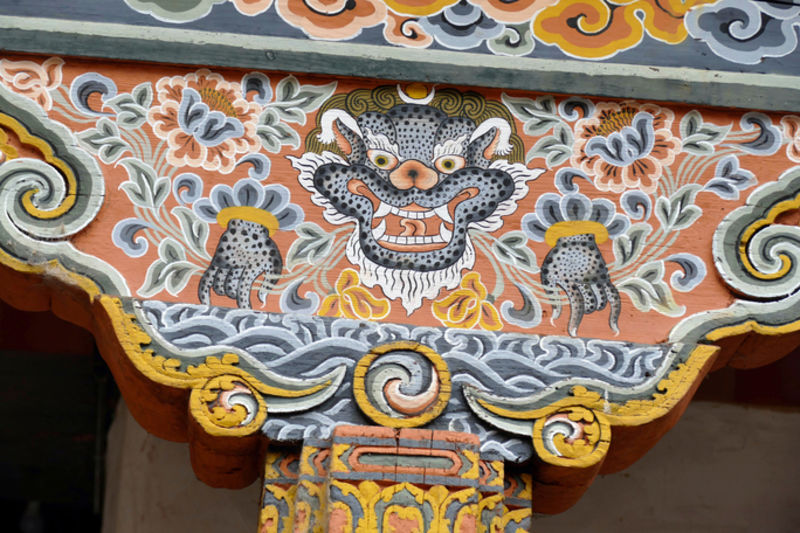 Colourful exterior woodwork of Jambay Lhakhang
How to get there
If you're coming from Paro, you could choose between flying or driving to reach Jakar. There's the option of hopping on a domestic flight to Bathpalathang Airport in Jakar. This takes 35 minutes.
Alternatively, you could drive there along the Bumthang–Ura Highway, but this is a long journey of nearly eight hours so we'd recommend you break it up by visiting other attractions along the way, like Trongsa.
A traditional home in Bumthang
And finally, let's look at eastern Bhutan ...
11. Bumdeling Wildlife Sanctuary
Bumdeling Wildlife Sanctuary in northeastern Bhutan is a varied and breathtakingly beautiful park of 1,500 km². It ranges in elevation from 1,500 m and 6,400 m and contains floodplains, broadleaved forests, green valleys and deep gorges, scrubland, glacial lakes, alpine meadows and snowy mountain peaks.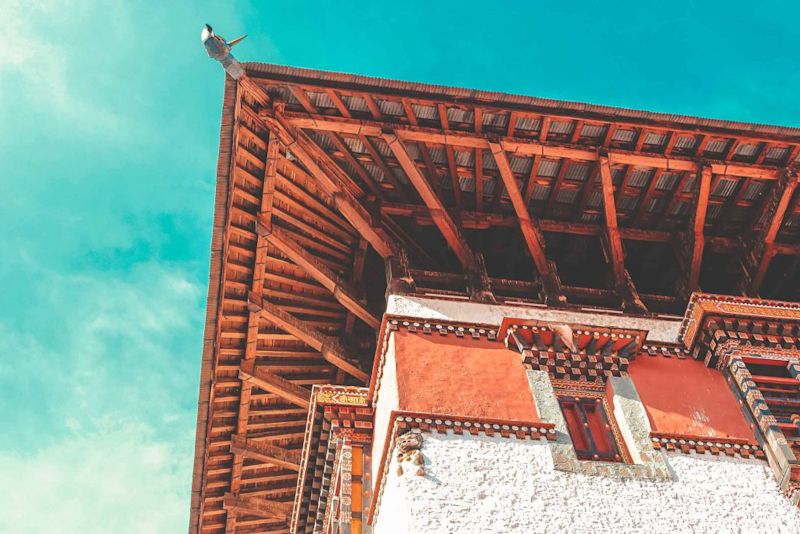 The unique architecture of Bhutan's dzongs are a major tourist attraction
The sanctuary is also home in the lower regions to many communities as well some important cultural and religious sites, including the Rigsum Gompa and Dechen Phrodrang (Palace of Great Bliss).
Here, as elsewhere in Bhutan, you can learn the skill of archery, the national sport.
Wildlife
The sanctuary is home to many endangered species, including the red panda.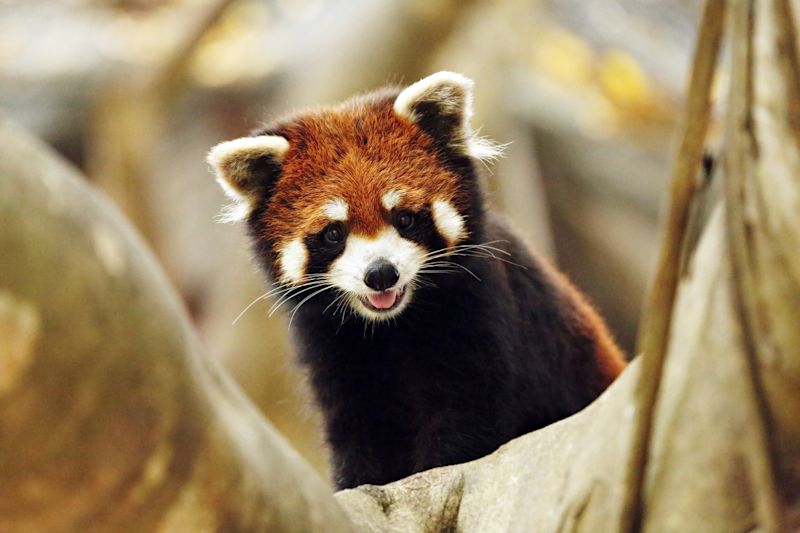 Red pandas are an endangered species
Red pandas are fast and nimble carnivores who live in trees and spend much of the day sleeping. They're also incredibly attractive animals with their fluffy, multi-coloured coats, short legs, whiskers, and striped tails.
Bumdeling Sanctuary also has 150 known butterfly species and is one of the country's two wintering spots for the endangered black-necked crane.
How to get there
Bumdeling Wildlife Sanctuary covers much of Trashiyangtse District in northeast Bhutan. The closest airport is Yonphula Airport in Trashigang District, 64 km to the south. The fastest way to reach it is therefore a short domestic flight from Paro Airport to Yonphula Airport, followed by a drive.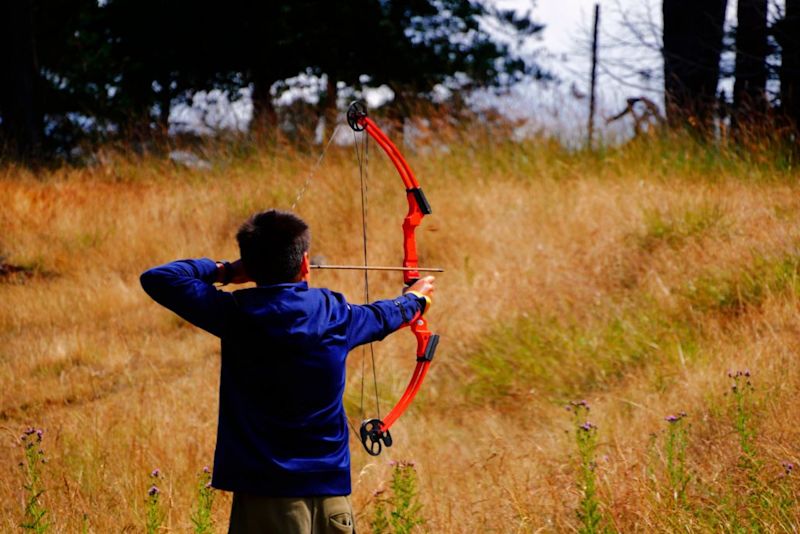 In 1971 archery was declared the national sport of the Kingdom of Bhutan
12. Ancient and remote Lhuentse
Lhuentse, or Lhuntse, in northeastern Bhutan is one of the most ancient, remote and untouched parts of Bhutan. It's home to many sacred pilgrimage sites.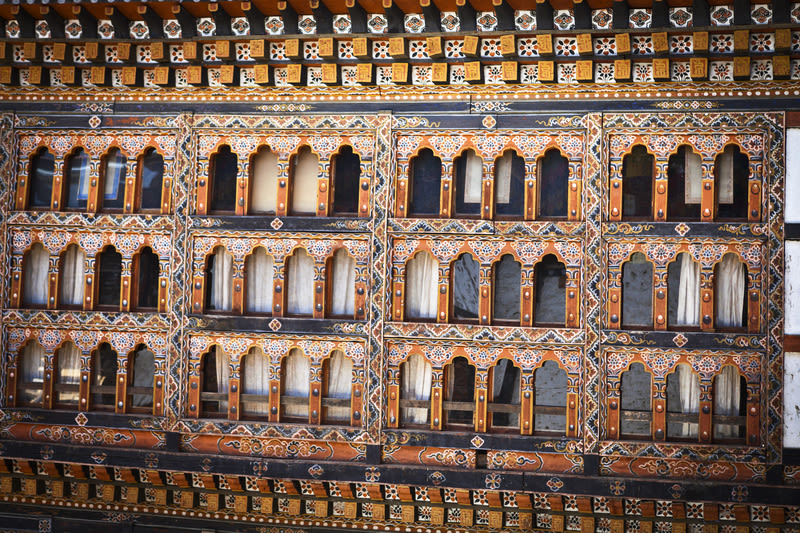 Some of the windows of Lhuentse Dzong
Weaving is a mainstay in Lhuentse, and the textiles produced are the best in Bhutan.
Much of the district is given over to environmentally protected land. For tourists wanting to leave the beaten track behind and experience ancient culture and isolated villages, this is your destination!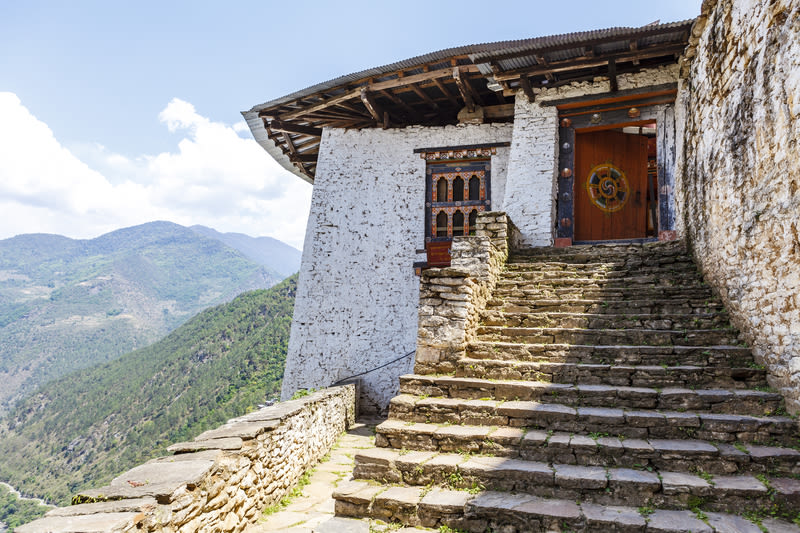 The entrance door to Lhuentse Dzong
The town of Lhuentse, though the HQ of the district, is more a small, mountain village than a town. Lhuentse Dzong sits on a spur above the village and the river, as is the way in Bhutan. Be sure to take time to walk to the suspension bridge for awesome views up and down the valley.
Take a drive
While in Lhuentse, be sure to take a leisurely drive both north and south out of town along the Monggar-Lhuntse Highway. The road snakes along the side of the Kuru Chhu River for miles, offering amazing views of the river valley and taking you through small, traditional villages and past forests and terraced fields.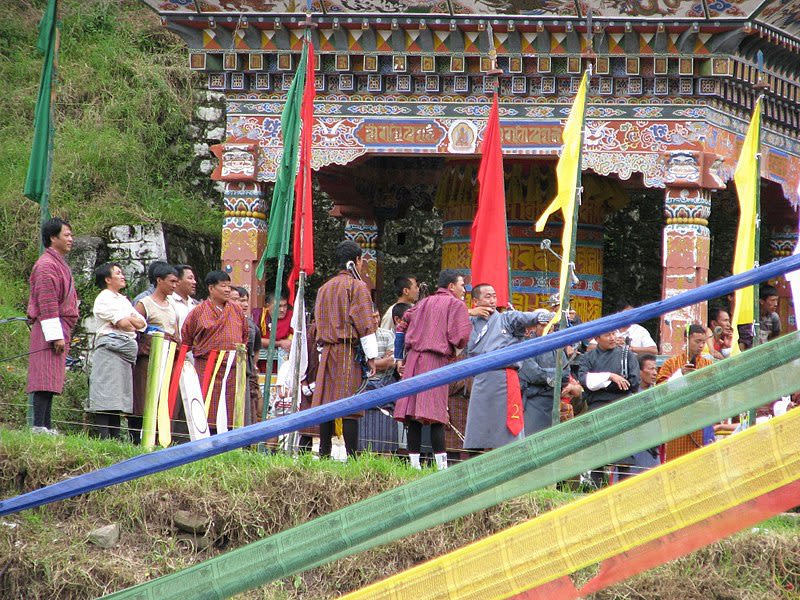 An archery tournament in Lhuentse – archery is the national sport of Bhutan | Image by muddum27
Just north of Lhuentse town is the incredibly attractive Gangzur Village, which is definitely worth a visit. Keep driving and you'll reach the unbelievably pretty temple of Dungkar Nagtshang at the road's end.
How to get there
It takes some commitment to get to Lhuentse, as it really is very, very remote. The town is 175 km from Paro Airport. You'll want to get your Bhutan tour guide to drive you there, or you can catch a bus there from Paro or Thimphu on some weekdays.
If you were to fly to Bathpalathang or Yonphula Airport and then drive, you'd still have a pretty long journey ahead of you.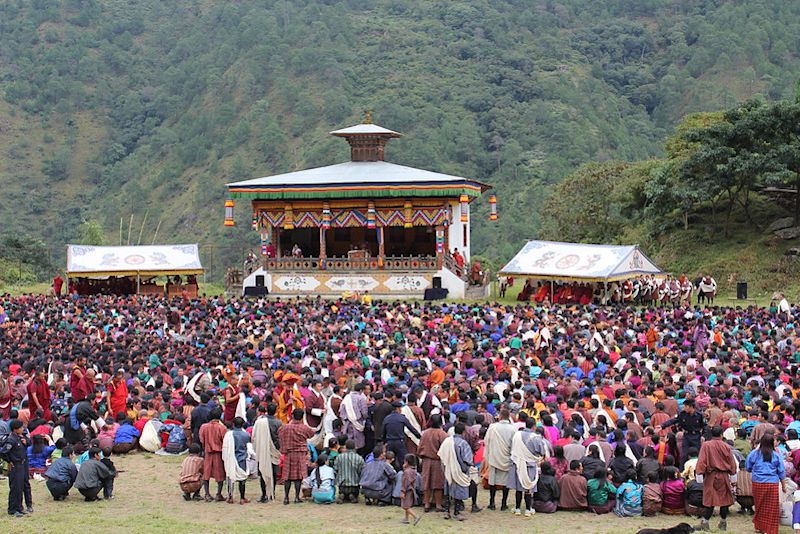 A blessing by the Buddhist religious leader Dzongsar Jamyang Khyentse Rinpoche | Image by A. Zwegers
Best time to visit Bhutan
As we discuss in more detail in Best time to visit Bhutan, you can have a fantastic trip to Bhutan at any time of the year.
The best time to visit Bhutan is in spring or autumn.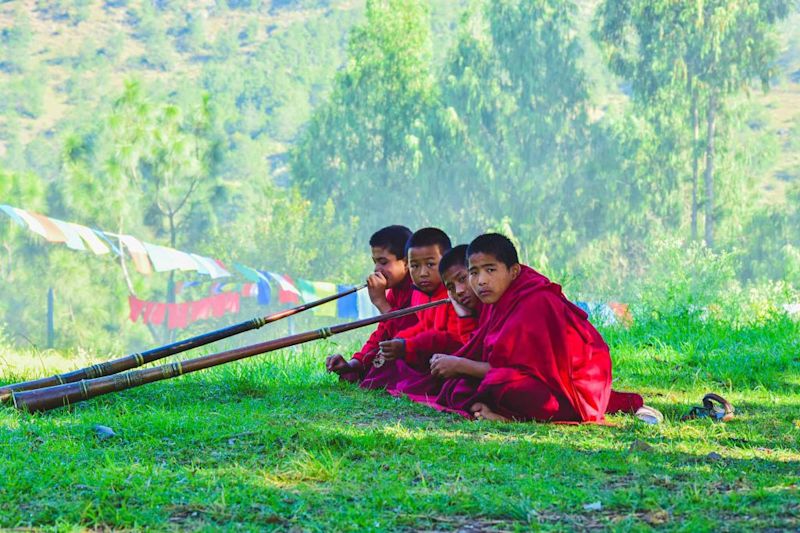 Spring and autumn are the best seasons for visiting Bhutan
As Bhutan is in the northern hemisphere, we're talking late March to early June for spring, and September to November to autumn.
Here are a few notes about each season in Bhutan to help explain our reasoning …
Winter
Winter (December to February) in northern Bhutan can be very cold – even downright icy. Let's not forget that Bhutan encompasses part of the eastern Himalayas!
A stone footpath on Dochu La, a mountain pass connecting Thimphu and Punakha
There can be heavy snowfall in winter, which can mean certain roads get blocked, certain places and trails are closed, and some activities (like river rafting) become a no-go.
Spring
Spring (March to May) is a fantastic time to visit Bhutan. The temperatures are gentler, snow melt gluts the rivers, and the countryside is covered in fresh greenery. Rhododendron, jacaranda, foxgloves, cosmos, Himalayan poppies, lilies and many other beautiful flowers emerge, painting the Bhutanese landscape with vivid colours.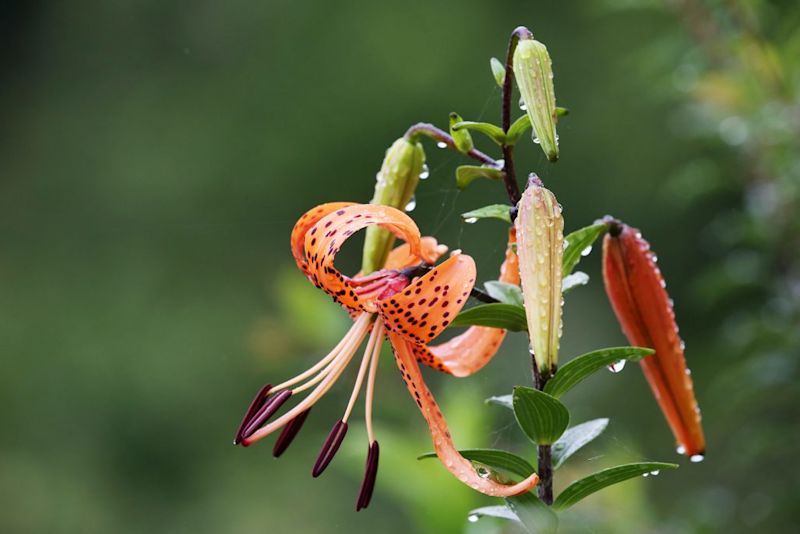 A beautiful spring-time tiger lily in Thimphu
Summer
Summer (June to August) isn't a great time to visit Bhutan as the Indian monsoons bring rain and high humidity to much of the country. And if you're wanting to hike in Bhutan, summer equals slippery trails.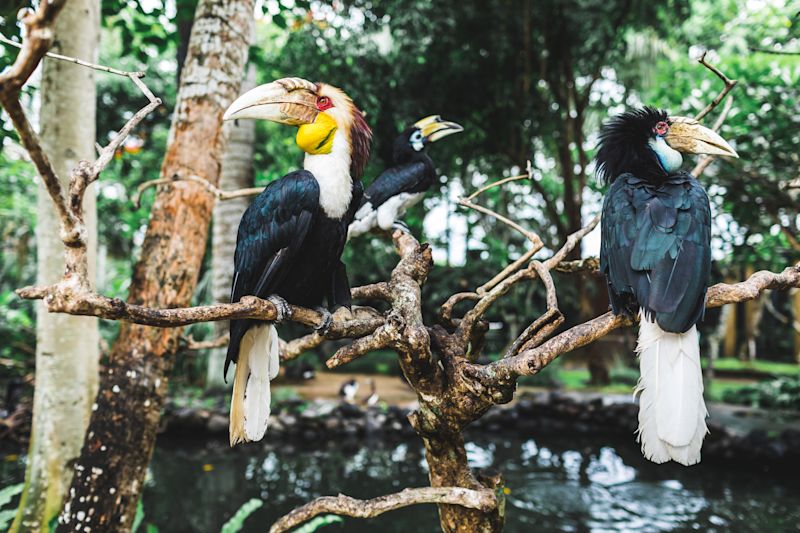 Wreathed hornbills can be found in Bhutan
Autumn
Autumn (September to November) in Bhutan is a dream. The rains and humidity start to dissipate, and the temperatures are pleasant. It's a perfect season for outdoor activities and exploration.
While the tshechu (religious festival) of each district varies year by year, the Black-necked Crane Festival is on 12 November every year. To witness this special occasion and its festivities is a cultural highlight of a visit to Bhutan.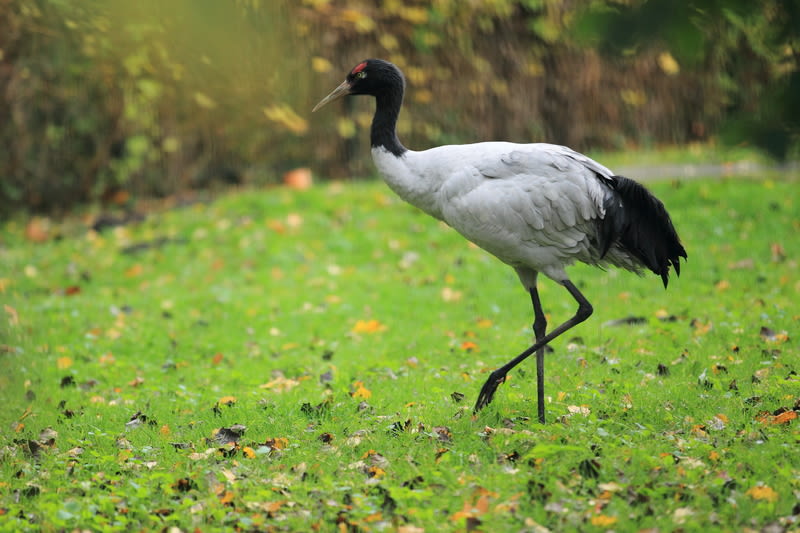 A black-necked crane
Around 50 species of migratory birds from northern Tibet and Mongolia also come to Bhutan in September and October to roost there for the winter. These birds include the black-necked crane, of course, as well as ducks, waders, birds of prey, thrushes, finches and buntings.
Who should visit Bhutan?
If you love to explore cultures different from your own, taste new foods, hear new sound, and just basically experience something outside of your own 'normal', then you should definitely make the time to explore Bhutan!
At Follow Alice we love to bring together adventurous people from around the world who are young at heart and curate an exceptional holiday that will live in your memory for a lifetime. Our trips are great for groups and solo travellers alike. Want to know more, or have a burning question you need answered? Give us a shout and we'll be happy to talk Bhutan with you!
Discover Bhutan with Follow Alice!