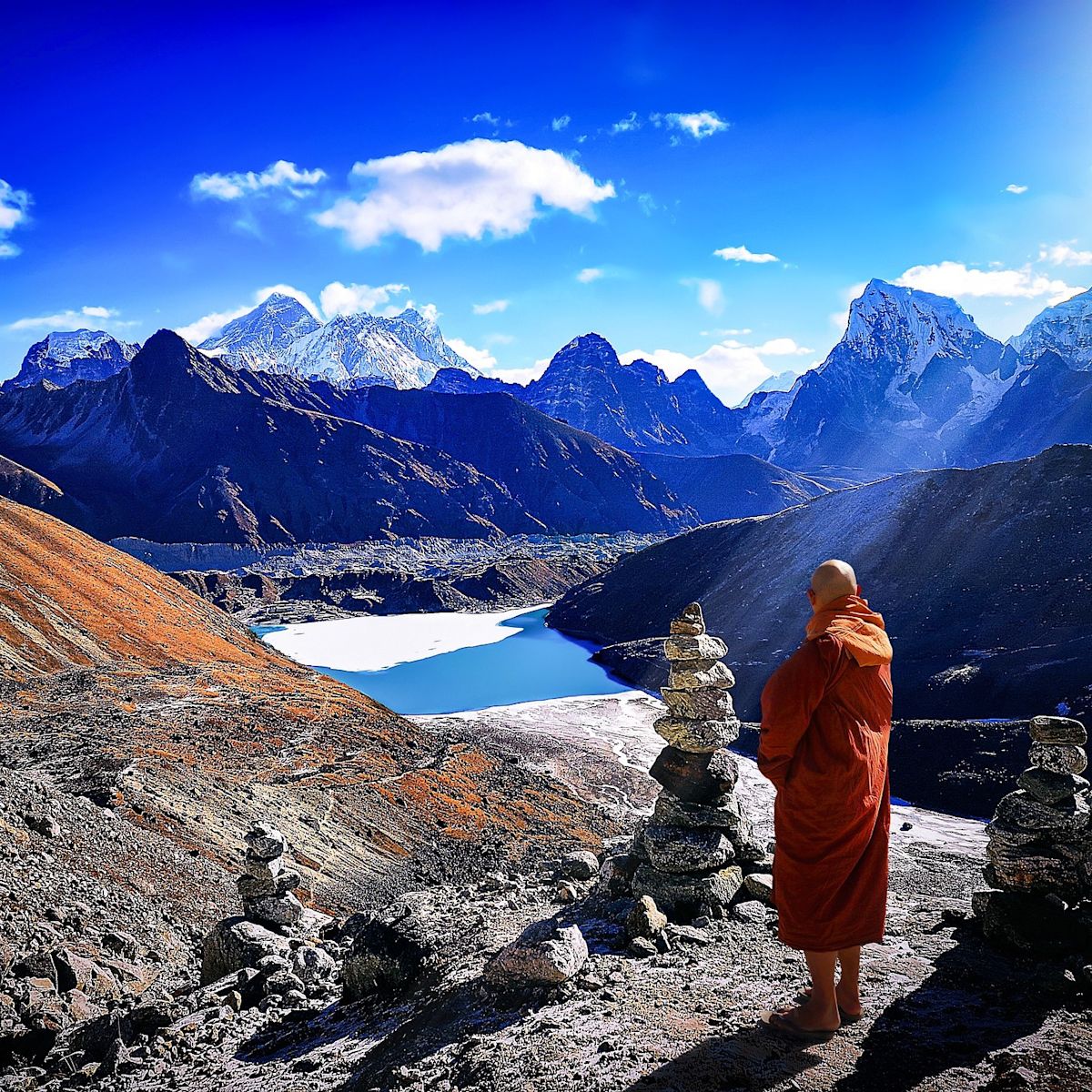 Best time to trek Everest Base Camp
Jan 6, 2023
Reading time: 13 minutes
The best times of year for an Everest Base Camp trek are March to May, or mid September to November. These seasons don't have the massive snow dumps of winter, nor do they have monsoonal rains of summer. We explain the pros and cons of each season ...
The Everest Base Camp trek should only be done at certain times of year. We doubt this surprises you. The Himalayas has notoriously ferocious weather, so you shouldn't skip on over whenever the whim takes you.
In this blog post we discuss the seasonal weather of the Everest Base Camp trek route as well as the peak trekking seasons. Thus armed, you can make an informed decision as to which season, and even which month, you'd prefer to head to Nepal and take on this amazing trek!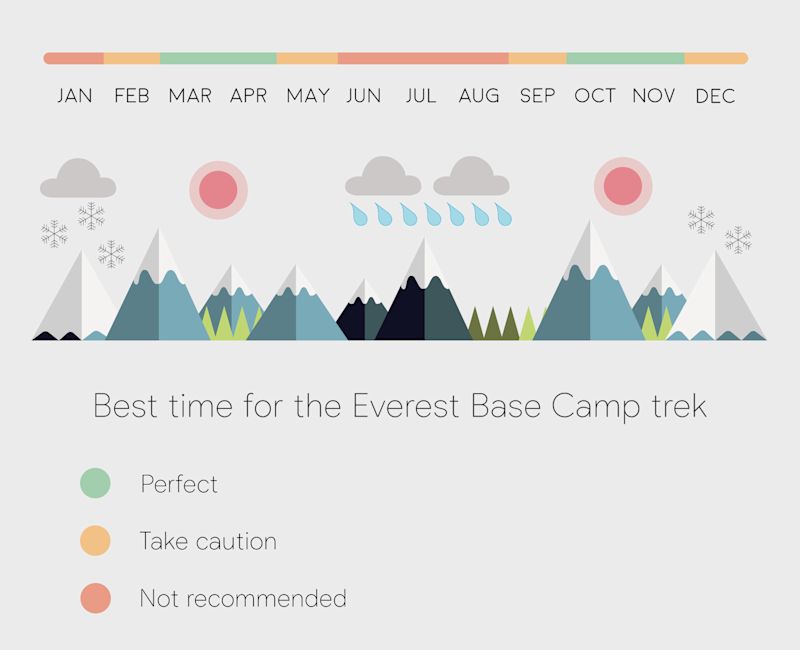 When to trek Everest Base Camp
There are a couple of things to consider when choosing the best time of year to trek to Everest Base Camp, namely weather and crowds. The weather along the trail alters greatly over the year, as do the numbers trekking the Everest Base Camp route. By considering both you're better able to choose a time of year that suits you and your preferences.
Let's discuss weather first, then we'll talk about how trekker numbers affect the Everest Base Camp route.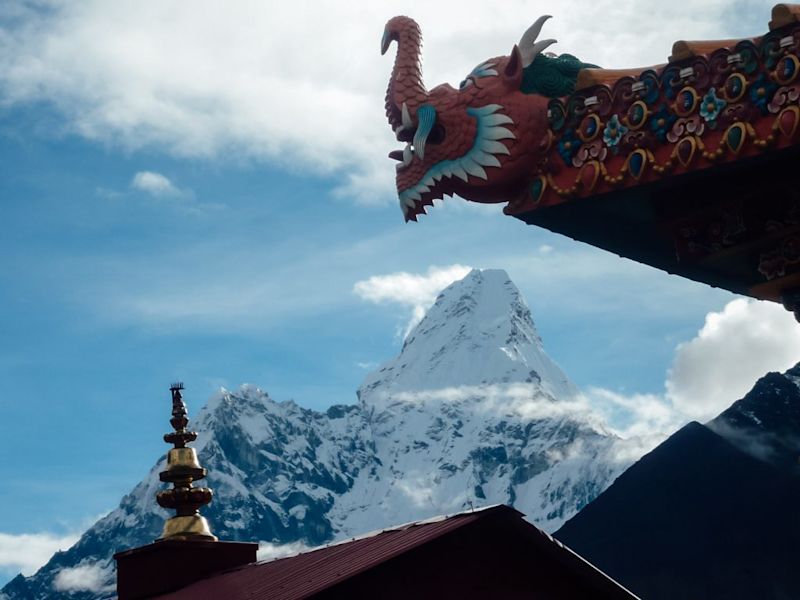 Ideally you want to trek to Everest Base Camp at a time of year when the skies are at their clearest
Everest Base Camp trek weather
The Everest Base Camp trek is a 65 km route when you follow the shortest path to get there. And the trail ends almost three vertical kilometres higher than where it starts! For these reasons, when we talk about the weather of the Everest Base Camp trek, we're actually talking about the weather of a vast area that incorporates more than one climate zone.
Specifically, the Everest Base Camp trek route falls within the following two climate zones:
a temperate climate in the low Himalayas (the first half of the route)

a cold tundra climate in the high Himalayas (the second half of the route)
The cross-section map below of the circular route used by Follow Alice groups when doing the Everest Base Camp trek shows the great changes in elevation we experience during the trek. As you can see, the route starts in the town of Lukla, which at 2,860 m above sea level is in a temperate zone. The route's end point of Everest Base Camp at 5,364 m above sea level has a very cold mountain climate.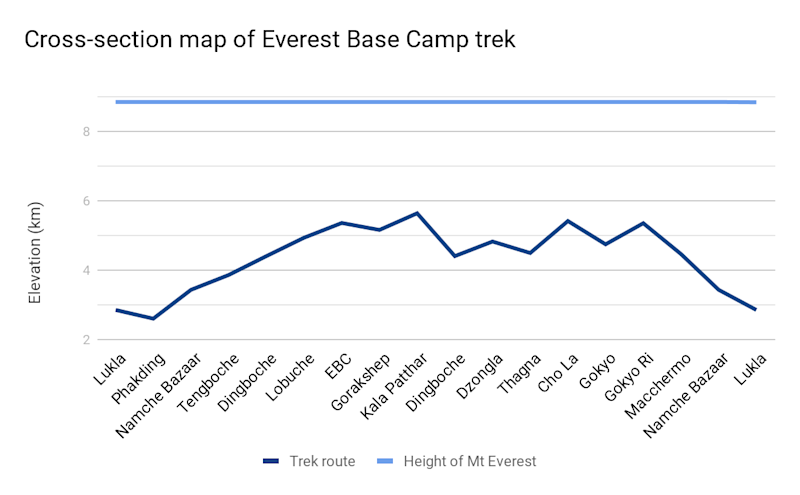 So when we talk about the Everest Base Camp trek's weather, we therefore have to talk about some varied weather indeed!
There are four important elements to consider when researching weather along the Everest Base Camp trail, and we discuss each in turn:
rainfall

temperatures

winds

snowfall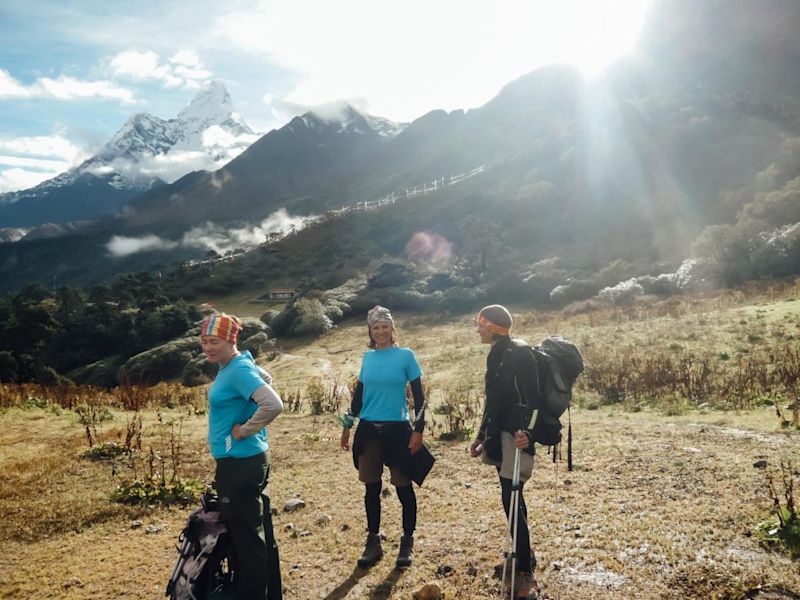 It's not all snow and freezing winds on the Everest Base Camp trek - some days are sunshiny and positively balmy!
Rainfall
When monsoons accost India in summer, those moisture-laden systems also travel north across land and reach Nepal from the south. In east Nepal, where you find the Everest Base Camp route, monsoon downpours and thunderstorms arrive anytime between late May and late June. Usually monsoon rains arrive around mid June and last through to mid or late September.
While the higher regions of the Everest Base Camp trek receive relatively little rainfall in summer, the tremendous rainfall in the lower portion of the trek route makes the Everest Base Camp trail essentially a no-go zone in summer. Not only does monsoon season mean drenching rains, but it also results in dangerously muddy and slippery mountainside paths. Further, the chances of landslides are too high. If that weren't enough, summer humidity in the temperate zone of the trek can be unpleasant.
Rains in Lukla and Gorakshep
To show you the strong contrast between rainfall levels in Lukla at the start of the EBC trek route and Gorakshep at the end of the trail, we've put together the graph below (data from climate-data.org).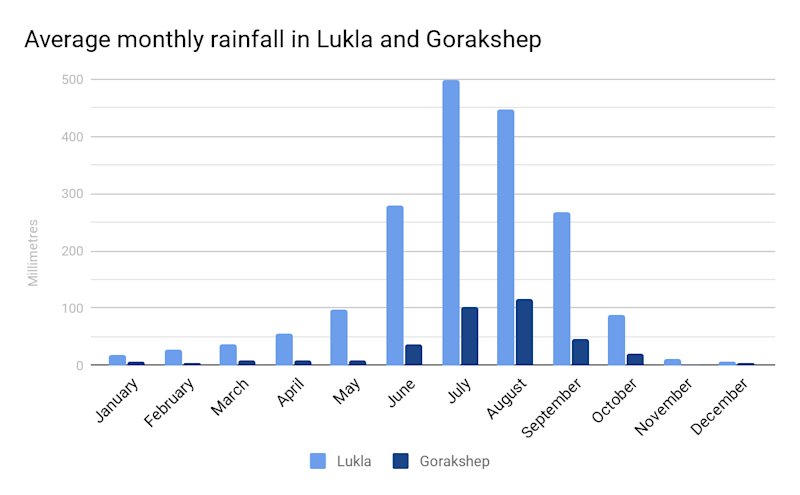 Fortunately the rainfall across the Everest Base Camp trek route is minimal outside of the summer monsoon season. But of course that doesn't mean the rest of the year is our playground. We have to consider that other important weather factor: temperature.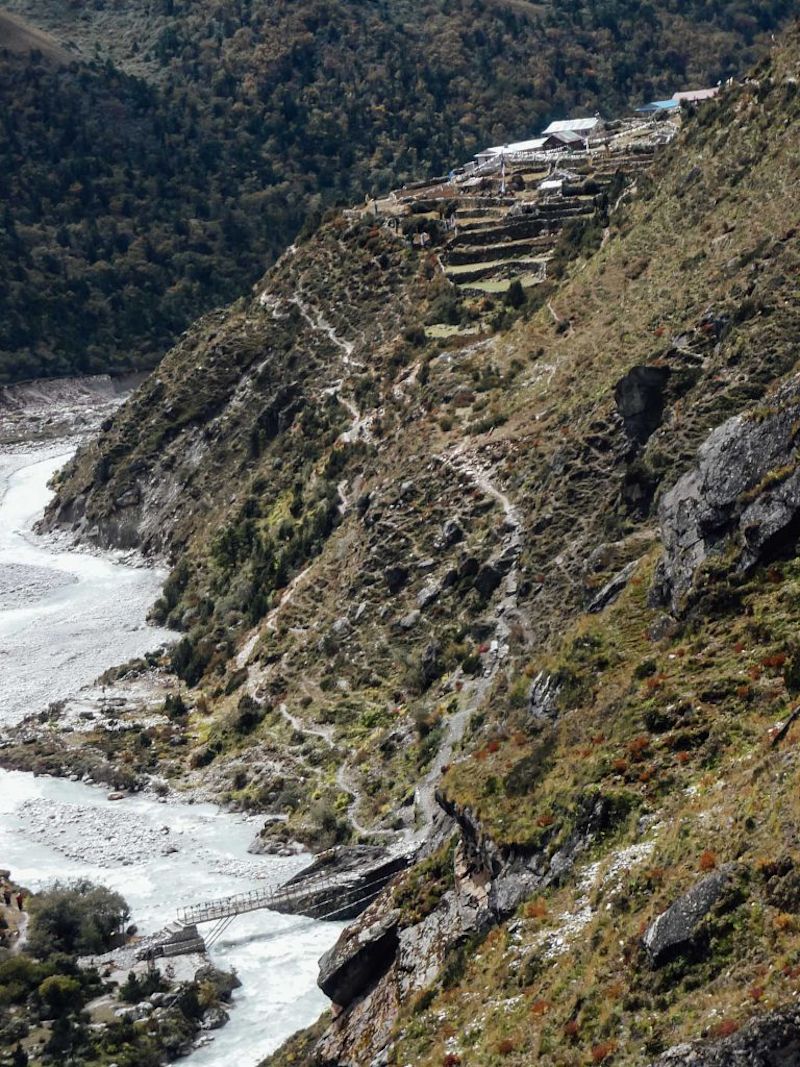 Rain is more of a risk along the lower half of the Everest Base Camp trek route
Temperature
We all know that the cold in the Himalayas is a serious matter. You don't have to climb Mount Everest to get frostbite - you can get it along the Everest Base Camp trek too if the temperature plummets and you're not properly equipped. Or you could just end up with good ol' fashioned pneumonia. While the temperatures aren't too brutal in the temperate zone at the beginning of the trek, they definitely start to bully you further along the trail.
Temperatures in Lukla
We begin our Everest Base Camp trek adventure in the mountainside town of Lukla. At 2,680 m above sea level Lukla is in Nepal's temperate climate zone. The temperatures are pleasant, as the Celsius and Fahrenheit graphs below show, with night-time temperatures only just dropping below freezing point in winter.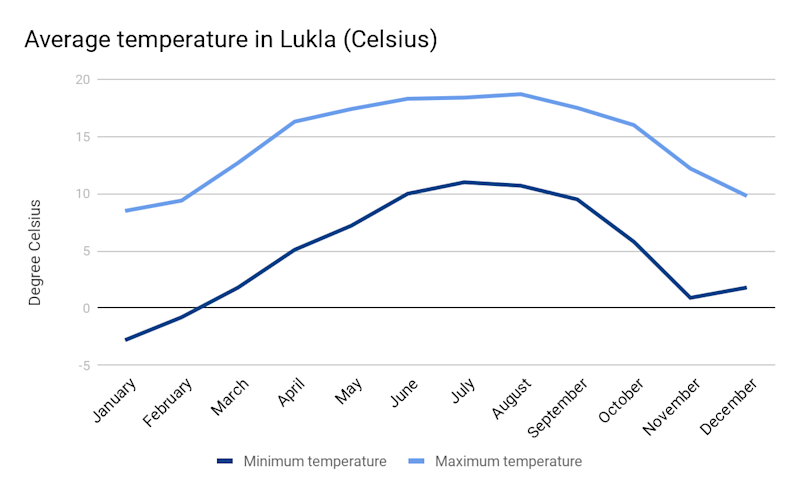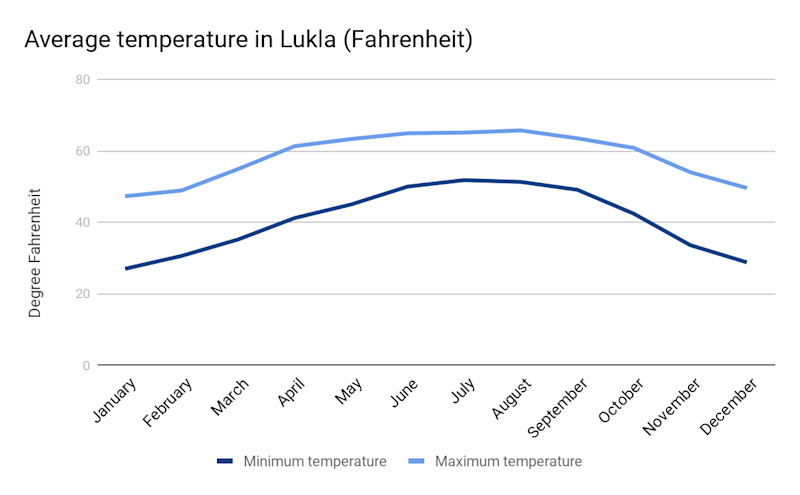 Temperatures in Gorakshep
The temperatures in Gorakshep are a world away from those of Lukla. Gorakshep (5,164 m) is the highest village on the Everest Base Camp trek. We spend a night here before turning back towards Lukla. The Celsius and Fahrenheit graphs below show the average monthly temperatures for Gorakshep.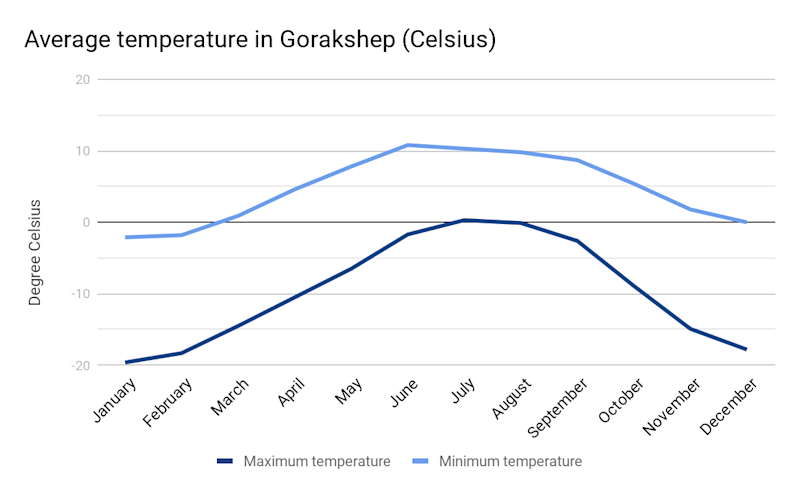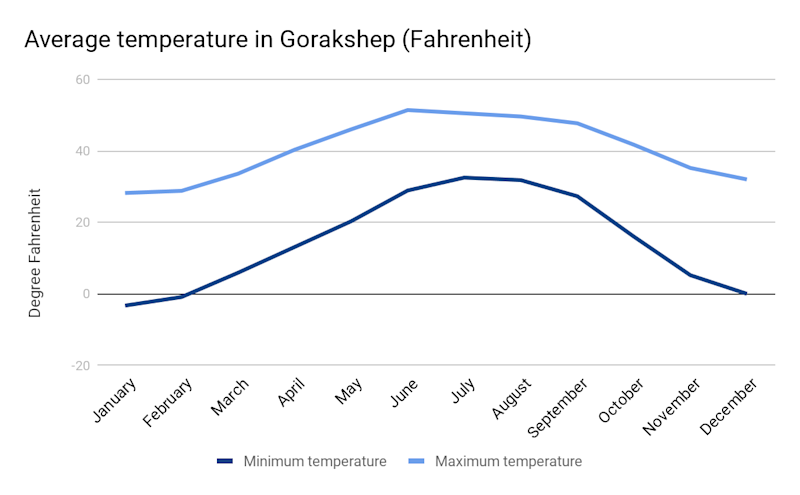 Even though you stay in teahouses and lodges (versus tents) during the Everest Base Camp trek, night-time temperatures in particular must be considered very carefully. Most of the accommodation is fairly rustic and the bedrooms unheated. Many bedrooms, in fact, only have a single pane of glass for windows. Trekkers often wake to water bottles that are frozen solid. And this can happen during autumn and spring, not just winter.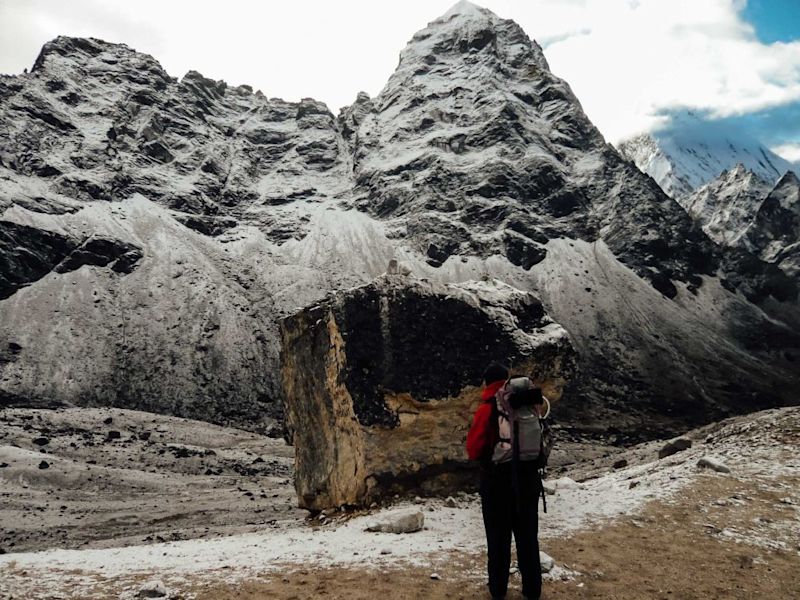 It's important to bring the right clothes on the Everest Base Camp trek to combat the cold
Wind
Not everyone researches wind strength and wind chill factor when planning a trek. Rookie mistake. That said, in many parts of the world the winds are strongest and coldest in winter. So low temperatures are often indicative of bad winds. This is this case in the Himalayas, because the northern jet stream migrates southward in winter, and brings with it high winds.
Along the temperate part of the Everest Base Camp route winds pick up in late September. And they are at their fiercest in March. March wind speeds and wind gusts along the first half of the Everest Base Camp trek route can reach above 20 kmph, as they did in 2019, a particularly windy year.
In the cold, higher mountains, the winds are at their strongest between late November and March. These winds come with air streams from Mongolia and Siberia and so are pretty darn cold. Wind gusts regularly reach 30 kmph. Again, 2019 was a particularly bad year for high winds and strong wind gusts.
So while the cold is a perfectly strong deterrent in itself to not trek the Everest Base Camp route in winter, the winds also keep most of us at bay during this time of the year. There are many highly exposed trails on the EBC trek, and strong winds are a real threat.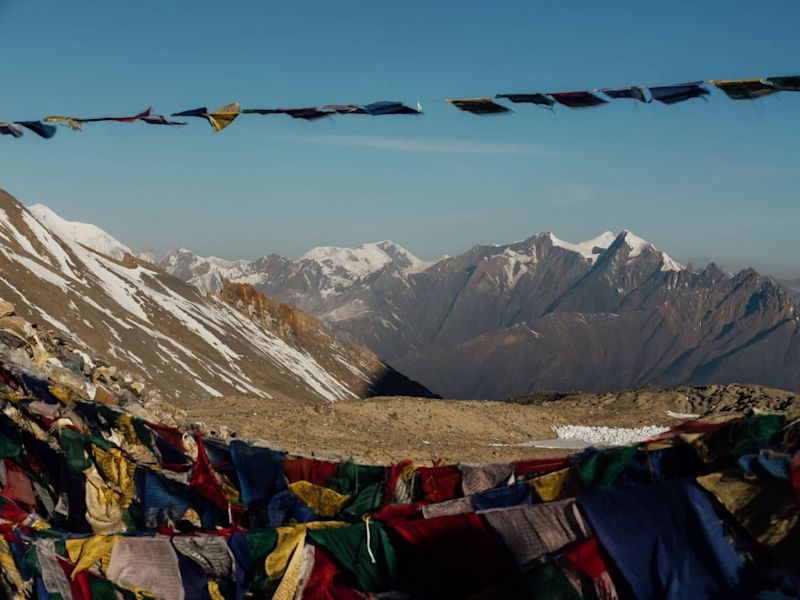 The battered state of the prayer flags attest to the ferocious winds of the Everest Base Camp trek in the Himalayas
Snowfall
In the very high Himalayas the winter actually sees little snowfall. But along the lower Everest Base Camp trek route winter equals fresh dumps of snow, usually starting in November. While you can still trek the Everest Base Camp route when there's snow, blizzards and high snowfall can sometimes lead to higher passes being closed, which can delay you indefinitely.
Further, some of the very high passes like the Gokyo trail (which we'll trek upon our return journey) are permanently closed in winter. So doing the Everest Base Camp trek in winter limits your route options.
All that said, this is the Himalayas, and it can snow when it wants to. So we have to keep an eye on the weather forecast. And we also have to accept that snow could be part of our Everest Base Camp trek no matter the month we choose.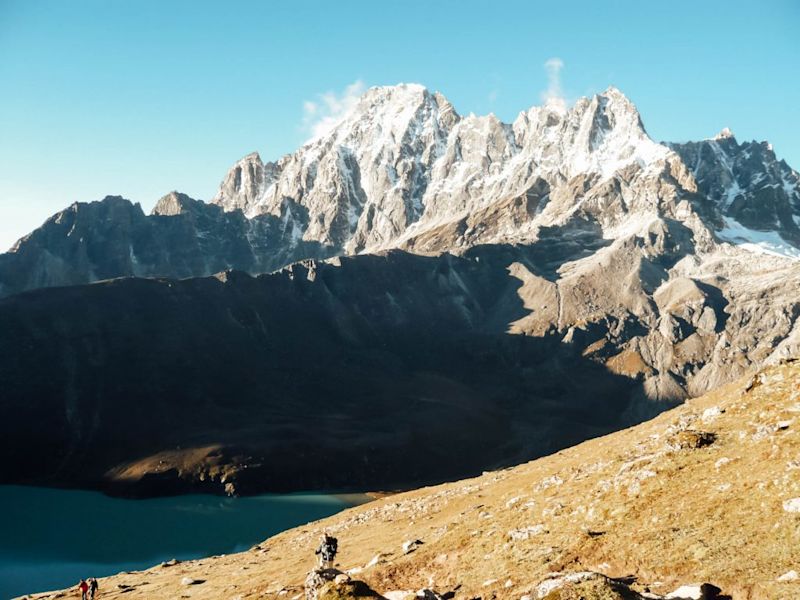 The peaks in the Himalayas are always covered in snow – just the way we like them!
Best months to trek Everest Base Camp
Given the above information on rainfall, temperature, winds and snowfall, you can understand why the first peak season of the year along the Everest Base Camp trek is late March to mid May, and the second is late September to November.
March to May trekking season
Each season has its own perks. March to May, for instance, offers some of the best visibility and an above-average number of sunny days. You're also treated to spring flower displays. Large canopies of red and pink rhododendrons especially brighten the landscape. Everest Base Camp itself also comes alive in April and May, so if you wish to witness the buzz and excitement of a fully operational base camp, this is the time to go. As for drawbacks, you can start to get a bit of heat haze in late April and May. Also, May can be cloudy, so the chances of hidden mountain peaks are higher in this month.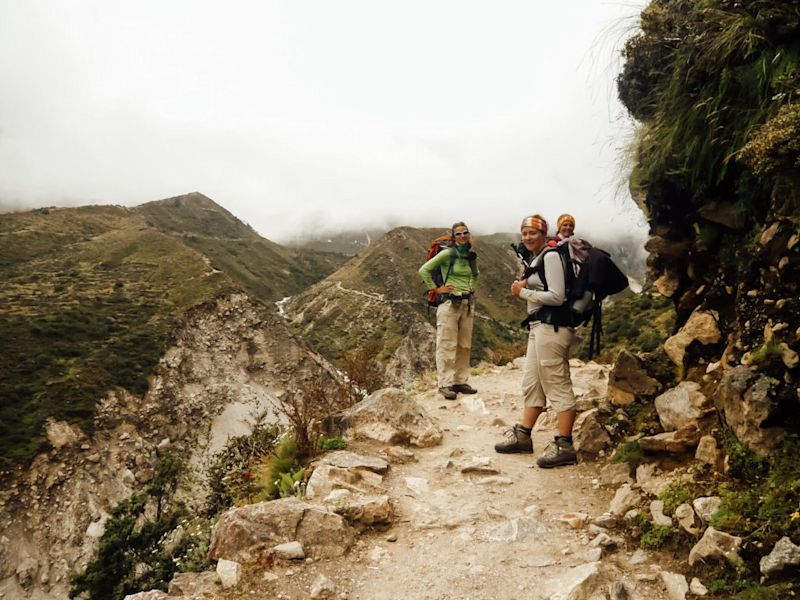 Clouds are more likely to obscure peaks at certain times of the year
September to November trekking season
Late September to November, on the other hand, is a popular season because of its pleasant day-time temperatures. Late October and November are, in particular, favourite months with many as you tend to have more stable weather and great visibility. While it can be colder during these months, many accept that as an acceptable pay off for the clear skies and far views.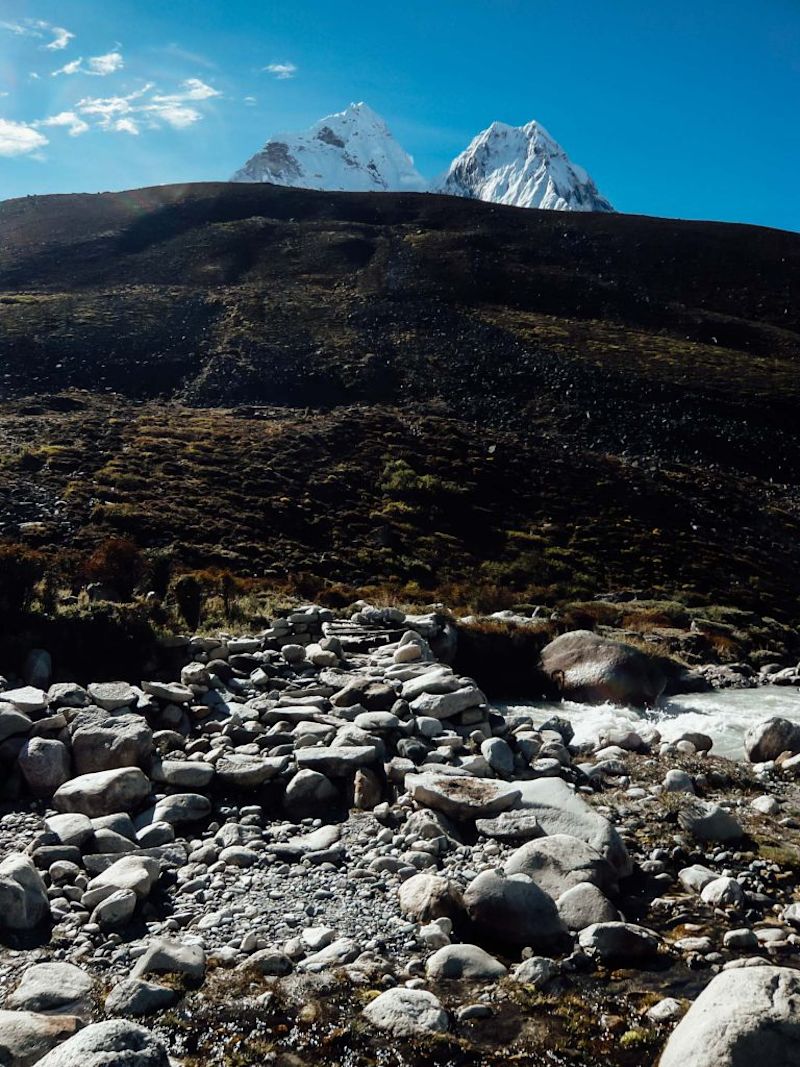 Stream and mountains in the Himalayas during our Everest Base Camp trek
Everest Base Camp peak seasons
Given its increased popularity in recent years, the Everest Base Camp trek route can be quite crowded during peak seasons. As many as 30,000 to 40,000 people trek to Everest Base Camp each year! During peak seasons, as many as 500 individuals can set out on the trek route each day.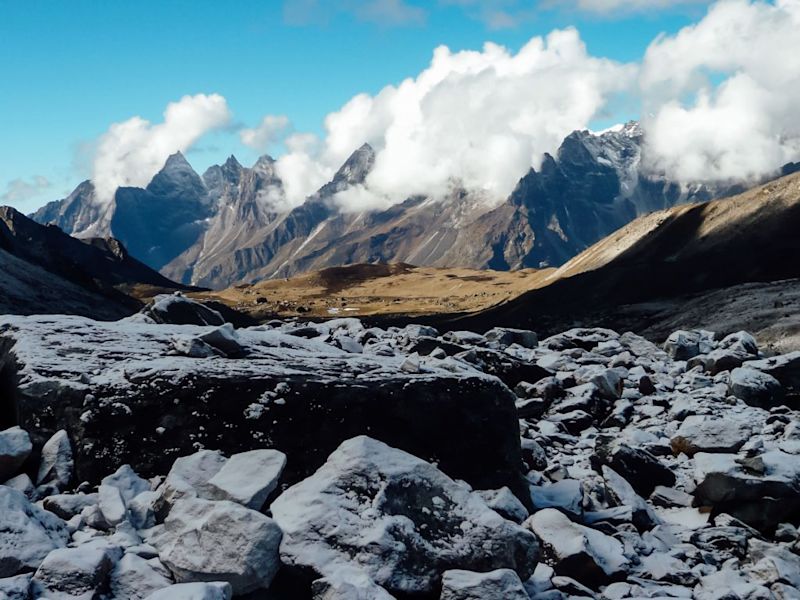 Even in peak seasons you'll enjoy beautifully expansive and 'empty' views like this one
Accommodation
Increased trekking numbers along the Everest Base Camp route means more pressure on the limited number of lodges and teahouses servicing all those hungry and tired trekkers. Accommodation can be fully booked during peak seasons. This is just one reason why it's advisable to do the trek with a company like Follow Alice, as we book your accommodation in advance. (Individual trekkers cannot pre-book accommodation and so sometimes end up having to sleep in tents.)
By booking accommodation in advance, we ensure you not only get a spot to lay your head, but also that you have one of the best spots. Not all lodges and teahouses are created equal, and we've sought out the cleanest ones with the best food and amenities.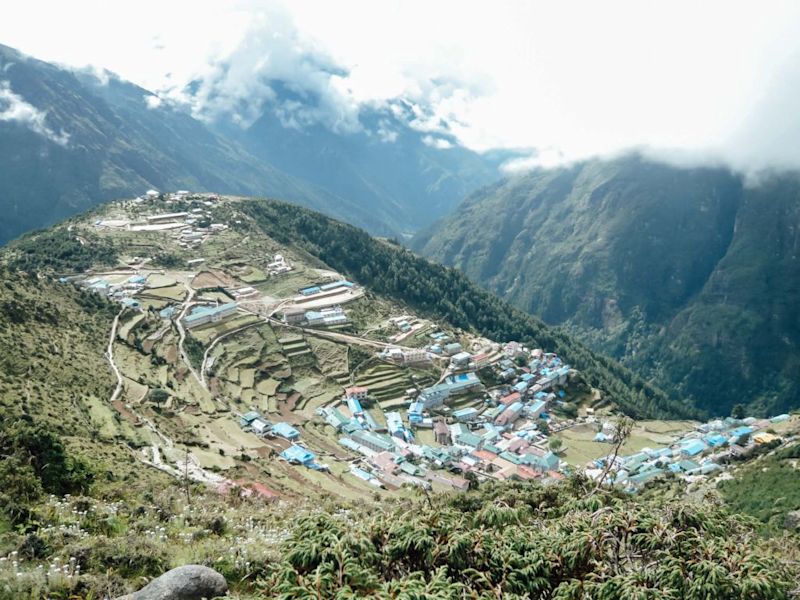 We spend two nights in Namche Bazaar to help our bodies acclimatise
Alternate Everest Base Camp routes
The crowds along the classic Everest Base Camp trek route in peak seasons aren't ideal. This is one of the reasons why we at Follow Alice have put together an alternate return route which takes us through a far more isolated part of Sagarmatha National Park. The other reason is the obvious pull of variety: who wants to trek back along the known path when a different path is available? By looping back to Lukla via a largely different route you get to witness so much more of this beautiful corner of the world.
Skipping the crowds during peak season
So while peak seasons are arguably the best times of year to trek to Everest Base Camp because of their favourable weather conditions, you can still break away from the crowd by taking a quieter route where possible.
The table below shows you the varied itinerary we follow on our 17-day Everest Base Camp and Gokyo Lakes trek.
Day 1
Arrive in Nepal! Overnight in Thamel, Kathmandu, at an altitude of 1,400 m.
Day 2
Drive to Manthali in Ramechhap District, ready to catch a flight tomorrow morning to Lukla, the Gateway to the EBC trek.
Day 3
Fly from Kathmandu to Lukla. Hit the trail and trek to Phakding (2,610 m), where we overnight.
Day 4
Trek from Phakding to Namche Bazaar (3,440 m), the largest town in Khumbu. This day brings a big jump in elevation.
Day 5
Explore Namche Bazaar and take a day hike, but overnight again in Namche to allow the body to acclimatise.
Day 6
Trek from Namche Bazaar to Tengboche (3,867 m).
Day 7
Trek from Tengboche to Dingboche (4,260 m), which is another big jump in elevation.
Day 8
Trek from Dingboche to the tiny village of Lobuche.
Day 9
Trek to Everest Base Camp (5,364 m)! Then trek back to Gorakshep (5,164 m) for the night.
Day 10
Hike up Kala Patthar (5,643 m) for the best view of Mt Everest. Then trek to Dzongla (4,830 m) for the night.
Day 11
Climb and cross the Cho La pass (5,420 m), then descend to Thagna (4,500 m) for the night.
Day 12
Trek to the tiny settlement of Gokyo (4,750 m) to see beautiful, pale lakes.
Day 13
Hike up to Gokyo Peak (5,357 m) for a panoramic view, then descend to the valley village of Machhermo.
Day 14
Trek to Namche Bazaar.
Day 15
Descend to Lukla along the same route as Days 1 and 2.
Day 16
Fly to Manthali Airport, then drive to Kathmandu.
Day 17
Depart Nepal.
You can see from the itinerary above that we reach Everest Base Camp on Day 8. To reach Everest Base Camp we follow the classic Everest Base Camp trek route. But on Day 9 we then break from the crowds when we turn southwest towards Dzongla instead of south towards Dingboche, which is the way we came.
Gokyo Lakes loop
By doing this we create a loop to our trail that lengthens our trek just marginally but importantly allows us to see more of the Himalayas. For anyone craving intense remoteness and landscape photographs devoid of humans, this half of the trek is for you!
The trek to Gokyo Lakes also makes your Everest Base Camp trek that much more strenuous and boast-worthy, as there are some particularly steep ascents and descents on this section. But the extra exertion is 100% worth it to see the truly beautiful Gokyo Lakes.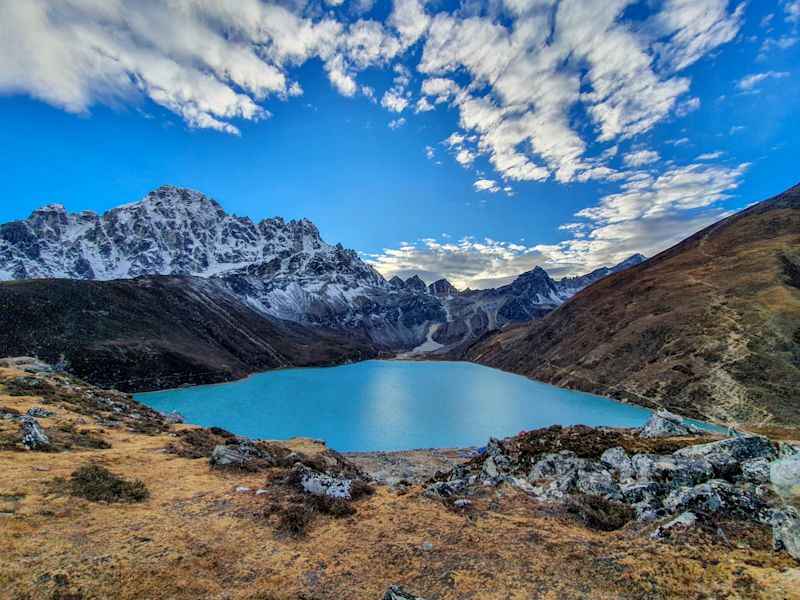 One of the magnificent Gokyo Lakes on the Everest Base camp trek
Helicopter return
You can however opt to simply fly back to Lukla the day after reaching Everest Base Camp. This shortens your trek dramatically, and is ideal for folks who don't have as many days to give to the trek, but still want to accomplish something incredible and visit the world's most famous base camp!
Join us on this adventure!
Please give us a shout if you're keen, and we can discuss having you join us on this super memorable adventure! 😀