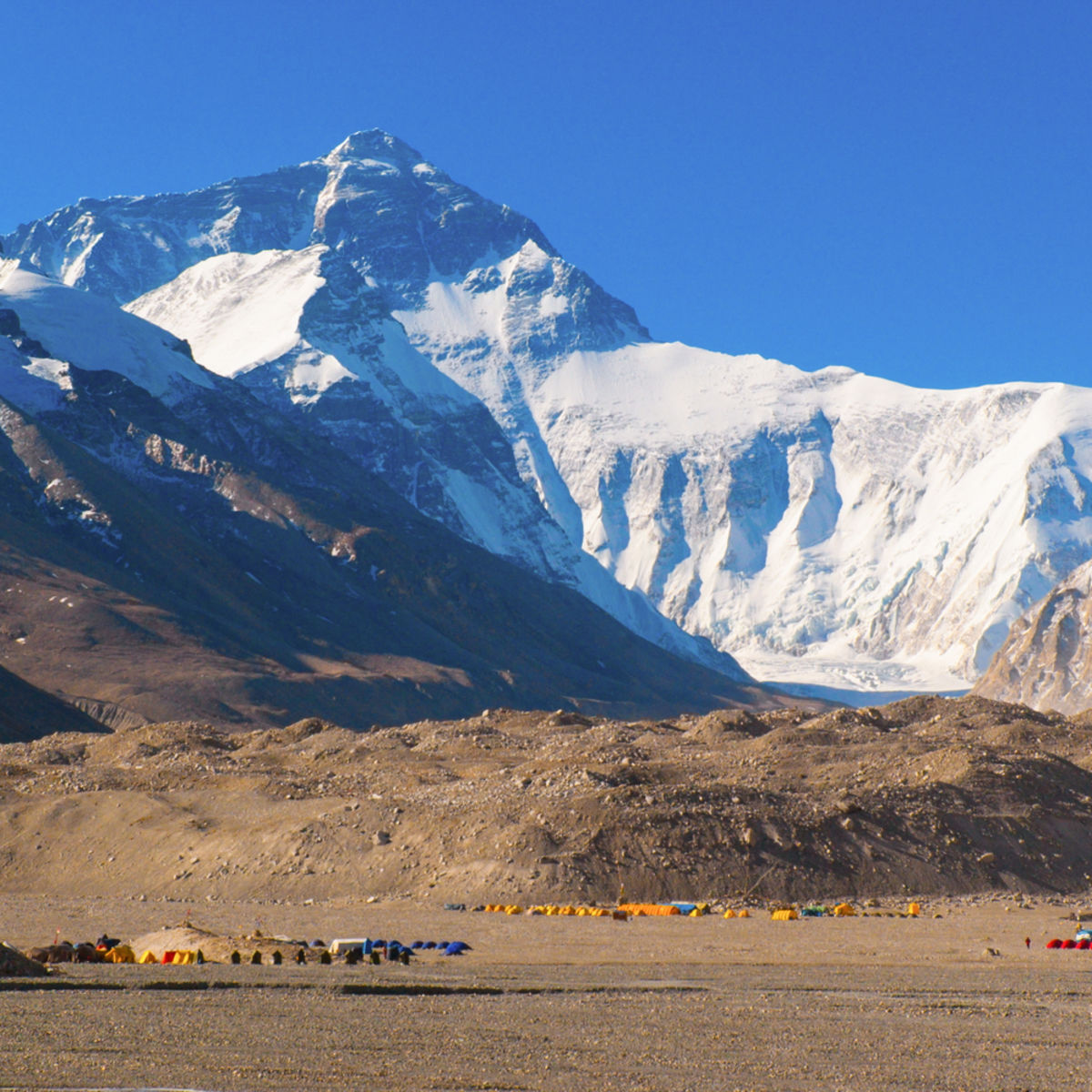 Tibet Everest Base Camp vs Nepal Everest Base Camp
Jan 9, 2023
Reading time: 15 minutes
Tibet's Everest Base Camp and Nepal's Everest Base Camp sit at the foot of the same mountain. But the treks to reach each one are very different. We discuss the two treks and base camps so that you know what to expect from each.
When someone mentions the Everest Base Camp trek, most people's minds go to the trek in Nepal. This route leads from the mountain town of Lukla up to the base camp on the south side of Mt Everest.
This is the most famous base camp on the mountain, as it's from here that Tenzing Norgay and Edmund Hillary made history in 1953 by being the first men to scale Mt Everest.
The multiday trek from Lukla to Everest Base Camp through Nepal's beautiful Sagarmatha National Park is a challenging trek that's on the bucket list of many adventurers around the world!
But you can also trek to a base camp on the northern side of Mt Everest – this one in Tibet. Far less-known and utilised, this base camp (and the trek to it) also have many factors to recommend it, and we discuss them here.
Tibet's Everest Base Camp is also known as North Base Camp, and Nepal's Everest Base Camp is also known as South Base Camp.
There are pros and cons to both base camps when comparing them, as well as pros and cons to the treks to reach each one. (We don't address the climb to the summit of Mt Everest from each base camp, as we at Follow Alice are all about trekking, not mountaineering.)
Right, let's now compare the two base camps, starting with the height of each ...
Elevation of Tibet's base camp vs Nepal's base camp
Tibet's Everest Base Camp (or North Base Camp) is 5,150 m (16,900 ft) above sea level. Nepal's Everest Base Camp (or South Base Camp), on the other hand, is 5,364 m (17,598 ft) above sea level. That makes South Base Camp the higher campsite, though only by a little.
Nepal Everest Base Camp is about 250 m higher than Tibet Everest Base Camp.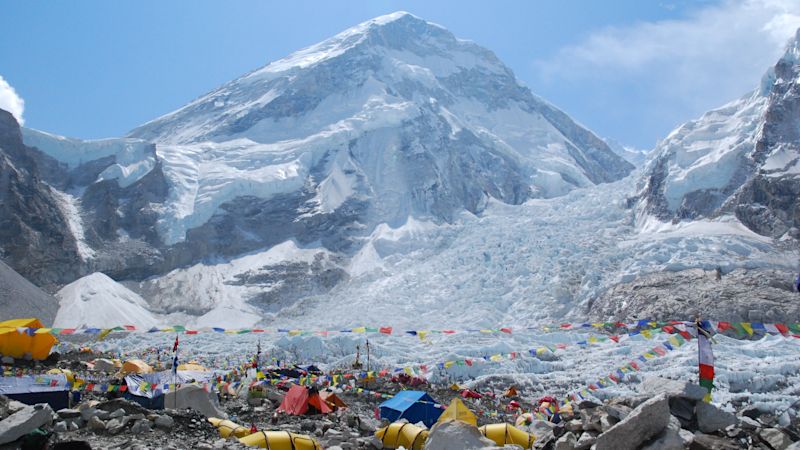 South Base Camp (seen here) sits at a higher elevation than North Base Camp
Which is harder: Tibet EBC or Nepal EBC trek?
This is a difficult question to answer, as so many different elements make a trek 'hard'. So let's consider them one at a time ...
1. Accessibility of each trek's trailhead
One of the hardest aspects of Tibet's EBC trek is how time-consuming it is to reach the trailhead. (Not that Nepal's EBC trek trailhead is exactly easy to reach either! But more on that in a moment.)
Tibet, which is governed by China, is in a notoriously hard section of Asia to reach. Firstly, you can't fly over the Himalayas, so there's no hopping on a plane to Tibet from south Asia.
Secondly, the Tibetan capital city of Lhasa is small and has a small population (especially by Chinese standards), so relatively few airlines fly there, meaning you'll need to fly somewhere else in China and then catch a connecting flight. These flights tend to be a little pricy.
More importantly, however, is the fact that those who fly to Lhasa tend to find that the jump to such a high elevation (3,656 m or 11,995 ft) hits you rather hard. You'll need to take things easy for a couple of days at least in order to acclimatise to Lhasa's altitude.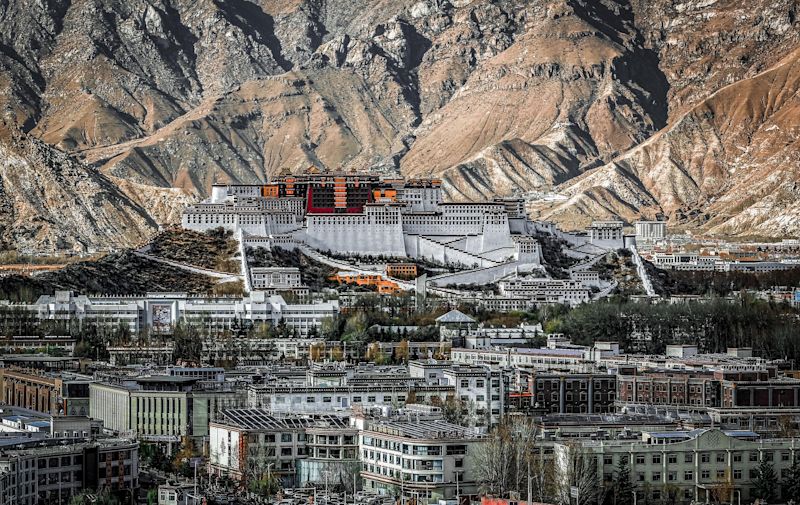 The city of Lhasa sits at a whopping 3,656 m above sea level!
From an acclimatisation point of view, it would therefore be better to catch a train or drive to Lhasa from another airport in China. Given the enormous size of the country, rail is the better option. This is a big time commitment, with the rail trip taking one to two days, but the scenery en route is spectacular. Alternatively, you could do an overland tour. But this would be an even bigger time commitment.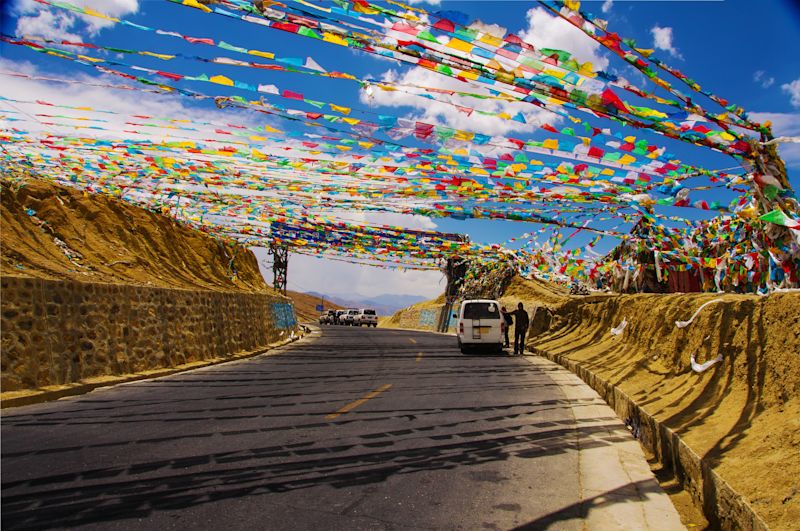 The entrance to Qomolangma National Park in Tibet
Did you know that Mt Qomolangma is the Chinese and Tibetan name for Mt Everest?
For the Nepal Everest Base Camp trek, on the other hand, you fly into Kathmandu in Nepal. Normally you can then fly directly to Lukla, the trek's starting point, the next day. However, as of 2022 there is major construction going on at Kathmandu's airport, so flights to Lukla aren't being run from there at present.
For now you need to travel south to the city of Manthali in the district of Ramechhap and catch a flight to Lukla from Manthali Airport. The flight only lasts about 20 minutes. But travelling to Manthali adds an extra day of travel to your itinerary.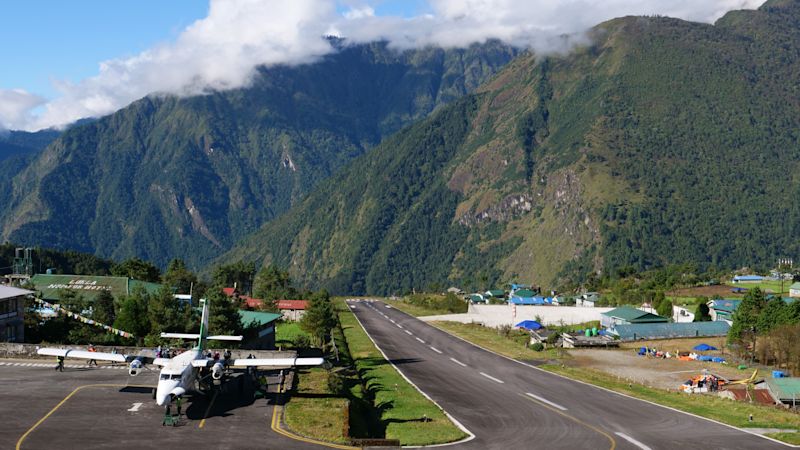 Lukla Airport, the starting point for the EBC trek in Nepal
Lukla is only 2,860 m (9,383 ft) above sea level – an unproblematic elevation. And this means that when you can reach the start of the Nepal EBC trek route, you can start trekking immediately (because you'll have no altitude issues).
2. Distance of each trek
Both the Tibet and Nepal EBC treks have variable routes, so there's not one single distance for either. But in terms of the most commonly trekked routes, we can offer some figures.
Nepal EBC trek distance
Nepal's classic EBC trek to South Base Camp is 53 km (33 mi) each way, not counting a possible day hike on your acclimatisation day nor hiking up Kala Patthar (the 'Black Rock' for a view of Mt Everest). This is the most direct route, so any variations like returning via Gokyo Lakes increase the overall distance.
Note that some choose to fly by helicopter from Gorakshep (which is 7 km from South Base Camp) to Lukla instead of hiking back. This makes 53 km the shortest possible trekking distance for the South Base Camp trek. We offer an EBC trek and helicopter return, and it's our most popular EBC itinerary!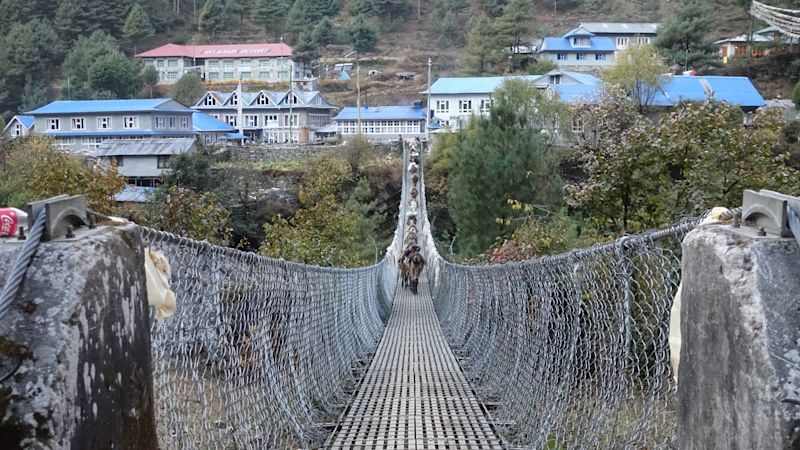 A fun part of the Nepal EBC trek is crossing suspension bridges
Tibet EBC trek distance
The most common starting point for the Tibet Everest Base Camp trek is the small town of Tingri. From here you must walk 70 km to reach base camp.
You'll no doubt be interested to know that you can actually drive all the way to within a kilometre of North Base Camp! But then there would be no trek. Boring.
What this road does mean is that most trekkers don't retrace their steps after reaching base camp, but instead catch a ride all the way back to Lhasa.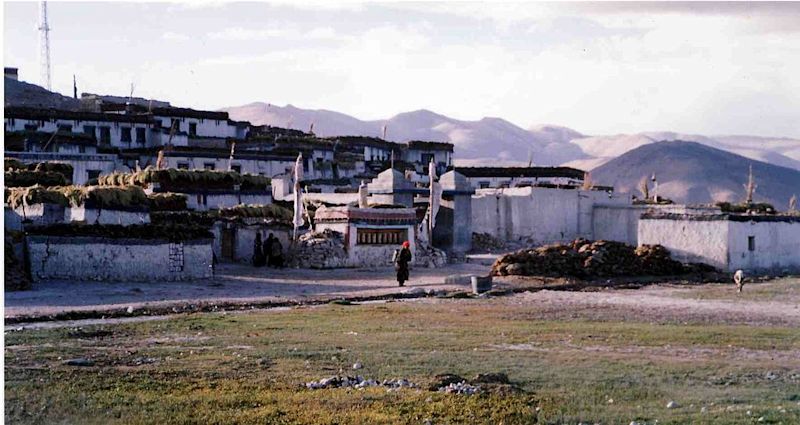 A pic of the town of Tingri in Tibet taken in 1993 by John Hill
3. Duration of each trek
The Nepal EBC trek takes longer, especially as you need to allow yourself some acclimatisation time during the trek. On the Tibet EBC trek you would've done the bulk of your acclimatisation before starting on the trek, probably in the city of Lhasa.
The trek to North Base Camp can be done in four days. The trek to South Base Camp, however, cannot be done in that time, even if you weren't to take any rest days for proper acclimatisation. You generally need at least seven days to trek from Lukla to South Base Camp. That includes just one acclimatisation day, which is the bare minimum usually needed.
Trekkers to North Base Camp can opt to trek back to Tingri, or be fetched by car. Trekkers to South Base Camp can opt to trek back to Lukla via the same route they used coming in, or via a detour, the most popular of which is one that takes you past the beautiful Gokyo Lakes. As mentioned, you can also choose to catch a helicopter ride back to Lukla. Needless to say, the scenery on that flight is mind-blowing!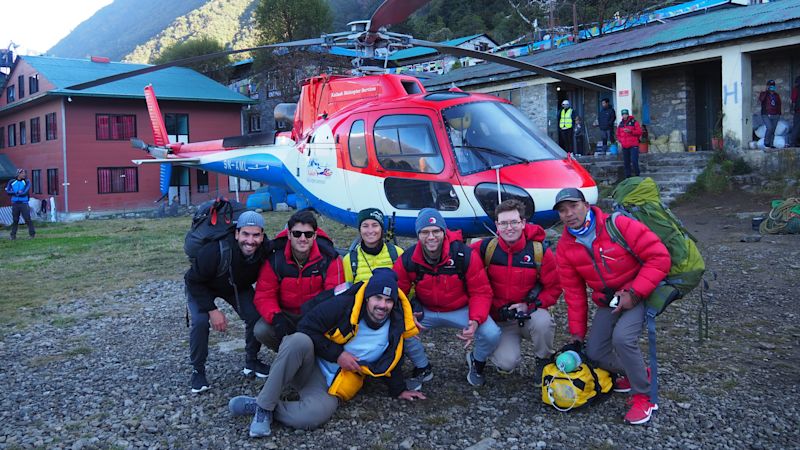 Flying back to Lukla from South Base Camp is an attractive option for many
Tibet Everest Base Camp trek itinerary
Usually a North Base Camp trek route looks something like this:
Day 1: Trek from Tingri to Lungthang (4,510 m)

Day 2: Trek to Lamna La (5,150 m)

Day 3: Trek to Zommug (4,790 m)

Day 4: Trek to North Base Camp (5,150 m)!!
While this is a much shorter itinerary than the Nepal EBC trek, it must include acclimatisation days in Lhasa beforehand if you're not to get sick from the high altitude. Usually trekkers allows themselves at least two or three days in Lhasa to acclimatise.
Most folks opt to drive back to Lhasa after the trek.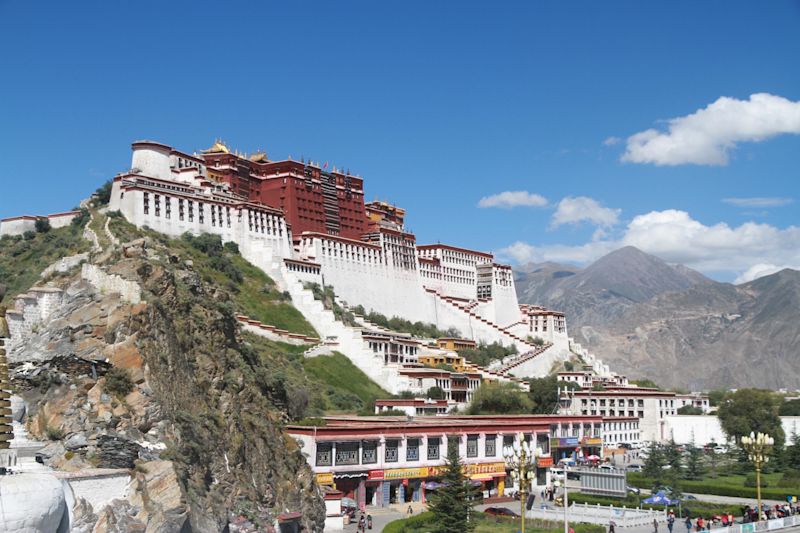 Potala Palace in Lhasa – you acclimatise in Lhasa before doing the Tibet EBC trek
Nepal Everest Base Camp trek itinerary
The classic Everest Base Camp trek itinerary usually looks something like this:
Day 1: Trek from Lukla to Phakding (2,610 m)

Day 2: Trek to Namche Bazaar (3,440 m)

Day 3: Acclimatisation day

Day 4: Trek to Tengboche (3,870 m)

Day 5: Trek to Dingboche (4,360 m)

Day 6: Trek to Lobuche (4,950 m)

Day 7: Trek to South Base Camp (5,364 m)!!
As mentioned, there are variations to the above trek route. You can stay at different villages, and also lengthen or shorten the trek by a day or two. But the above itinerary is roughly the sort of one you'd follow to reach South Base Camp.
As to the return trip, you can trek back via the same route, do a loop to Gokyo Lakes that has you meet up with the outward route only at Namche Bazaar, or fly back to Lukla via helicopter.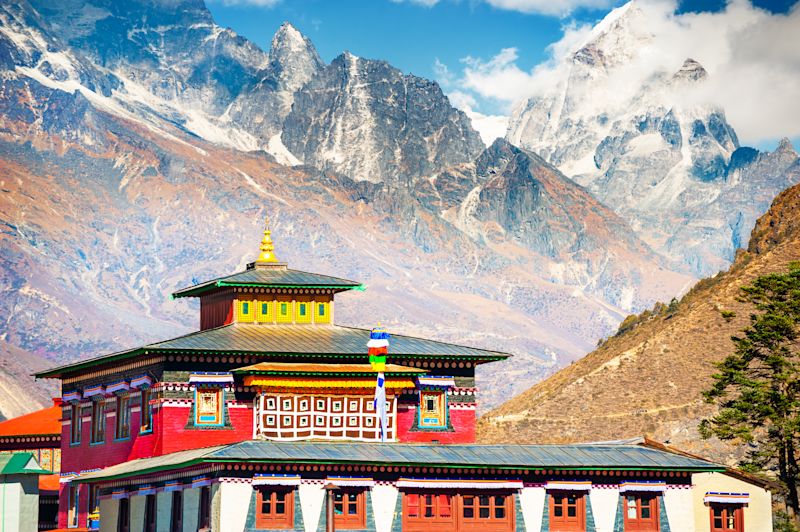 Most Nepal EBC trekkers spend a night in Tengboche and visit its famous monastery
4. Elevation gain on each trek
For the Nepal EBC trek, you climb from 2,860 m (9,383 ft) above sea level at Lukla to 5,364 m (17,598 ft) above sea level at base camp. That's an elevation gain of 2,504 m (8,215 ft). You can understand why acclimatisation is so important on this trek given that massive altitude gain!
For the Tibet EBC trek, you start at 4,349 m (14,268 ft) above sea level at Tingri and end at 5,150 m (16,900 ft). That means you gain only 801 m (2,632 ft) in elevation on the trek.
You gain roughly 2.5 km in altitude on the Nepal EBC trek. In Tibet, on the other hand, the Everest Base Camp trek requires you to climb less than a kilometre in altitude. This is a major difference between the two treks!
It should become clear seeing the elevation gains of each trek why you need to acclimatise before heading off on the Tibet EBC trek, since you start at such high altitude. On the Nepal EBC trek, on the other hand, you start at a modest altitude that doesn't induce altitude sickness. You therefore need to allow yourself to acclimatise during the trek.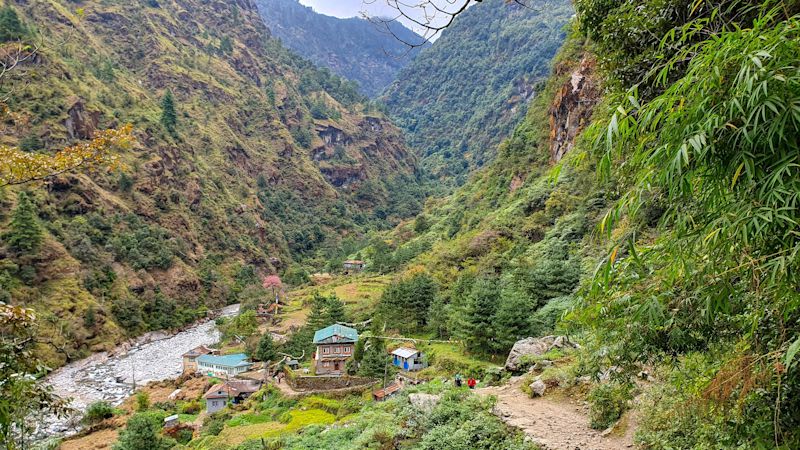 You start the Nepal EBC trek at a modest altitude
5. Temperature at each base camp
The two Everest base camps are on opposite sides of an immense mountain and mountain range, but there's really not much in it when it comes to temperatures differences.
Summer is a little hotter during the day at North Base Camp, while night-time is a little colder. On the other hand, when you turn to mid winter, the average temperature range in North Base Camp between midday and midnight is a little less extreme than in South Base Camp.
While both base camps can get reasonably warm at midday during summer, they're mostly cold or downright icy places to be. Both campsites are naturally often cloaked in deep shadow.
Temperatures at North Base Camp
Tibet's Everest Base Camp experiences a mountain plateau climate. In mid winter (early January) midday temperatures usually go up to -5℃ (23℉) while night-time temperatures plummet to around -15℃. In mid summer, daytime temperatures can go as high as 22℃ (72℉), while at night it can go down to around 4℃ (39℉).
Temperatures at South Base Camp
In mid winter (early January) the midday temperature at Nepal's EBC tends to go up to around 4℃ (39℉) and down to around -17℃ (1℉) at night. In mid summer (July), midday temperatures go up to around 16℃ (61℉) and down to around 8℃ (46℉) at night.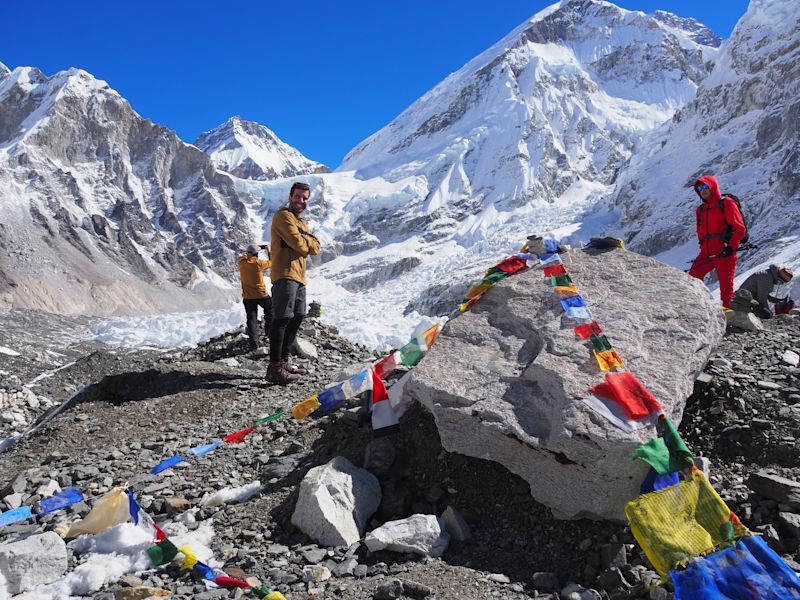 A sunny autumn day at South Base Camp
Scenery on each trek
One of the biggest differences between the two treks is the sort of scenery you enjoy on each. Tibet is in a cloud shadow, meaning it gets very little rain. Nepal, on the other hand, gets monsoon winds and rain coming up from the Indian Ocean. While some of this moisture makes it into southern Tibet, it's not much.
The Nepal EBC trek is therefore a much greener trek, at least during the first few days of hiking. The closer you come to base camp in Nepal, the more barren the landscape. But you start the trek in forested mountains cut by rushing rivers and dotted with waterfalls. In spring, there are lots of flowering trees like rhododendrons decorating the region too. And you also cross a few suspension bridges, which is fun, but isn't the case on the Tibet trek.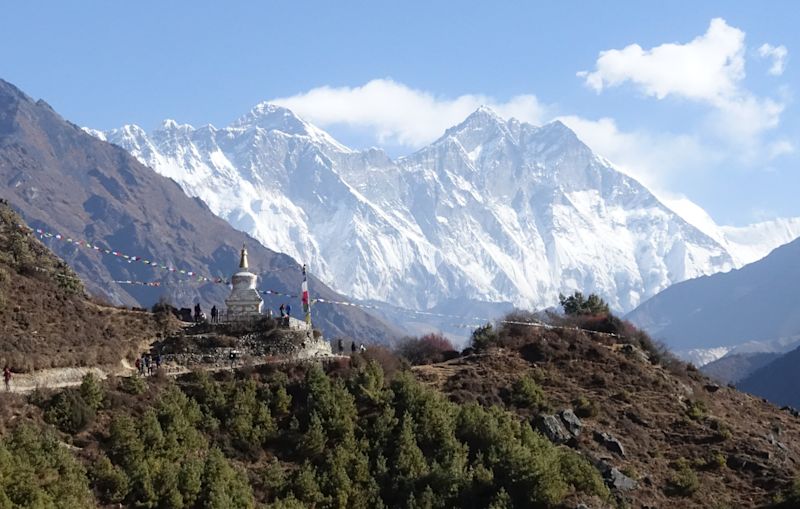 Some of the gorgeous scenery along the Nepal EBC trek
The Tibet EBC trek, on the other hand, takes you through what is overall a more unforgiving landscape. There's less variety in terms of ecosystems and scenery. That said, the scenery is still amazing, and you encounter some gorgeous high-altitude lakes. On both treks you usually encounter yaks, which for many is an exotic delight.
The wide-angle views of the Himalayan range that stretch out before you at certain points along the Tibet EBC trek route are incredible. Because you're hiking along a plateau (albeit one with valleys and mountains of its own), your views aren't in general as 'narrow' as they can be on the Nepal side.
You're generally more 'in' and 'among' the mountains on the Nepal EBC trek, whereas on the Tibet EBC trek you have more panoramic views of the Himalayas stretching out before you.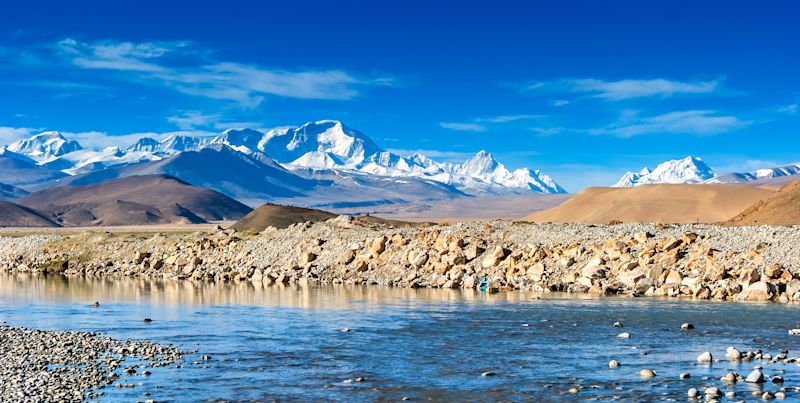 A lakeside view of Mt Everest and its surrounding peaks as seen from Tibet
Most would argue that the Nepal EBC trek is the prettier trek. But of course, both treks are gorgeous and you regularly feel blown away by the scale of everything!
View of Mt Everest from the base camps
While the Nepal EBC trek gets our vote for being the prettier and more interesting trek, Tibet's EBC can certainly claim to offer a better view of Mt Everest itself. As seen in the photo below, you see a great deal of the mountain from base camp – in fact, it's a glorious view!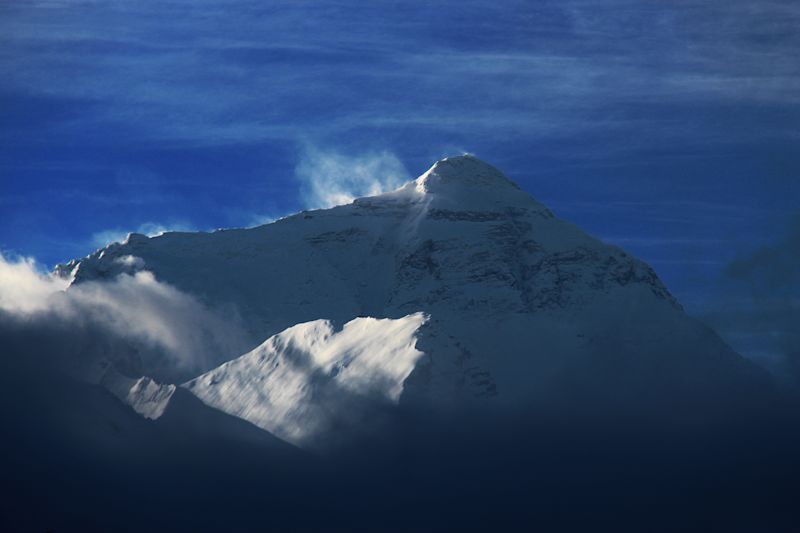 A glorious view of Mt Everest from Tibet's base camp
Nepal's Everest Base Camp, on the other hand, doesn't actually even offer a view of Mt Everest! To see the peak, you would need to start climbing up Everest. Alternatively, you can climb up Kala Patthar, a steep hill not far from EBC that most trekkers include in their trek itinerary in order to get the desired eyeful of the mountain. So you do get to see Mt Everest on the Nepal EBC trek, just not from base camp itself.
It's also worth noting that the view from Kala Patthar isn't quite as spectacular as the view from North Base Camp. North Base Camp offers an unobstructed view of Mt Everest, whereas from Kala Patthar you have other mountains blocking much of it from view. So yes, you can see Mt Everest on the EBC trek, you just see less of it.
It's perhaps worth mentioning that at South Base Camp alone you get to see Khumbu Glacier, which is a breathtaking and special feature in its own right. This is the world's highest glacier and possibly its most iconic one too.
Independent vs guided EBC treks
While you can do the trek to South Base Camp on your own or with a guide, you can't trek in Tibet on your own – you must use a local guide.
We don't personally recommend trekking independently in Nepal. We say this for a few reasons, the main one being the heightened safety that comes from travelling with a seasoned local trek leader. Further to this, trekking with an operator offers much-needed local employment opportunities. A guided trek makes use of trek guides as well as porters. These folks are invariably incredibly hardworking and helpful.
We also love how you get to know your trekking crew during a guided trek. These relationships enrich your journey immensely and help you get to know the local culture and people much better than when trekking on your own.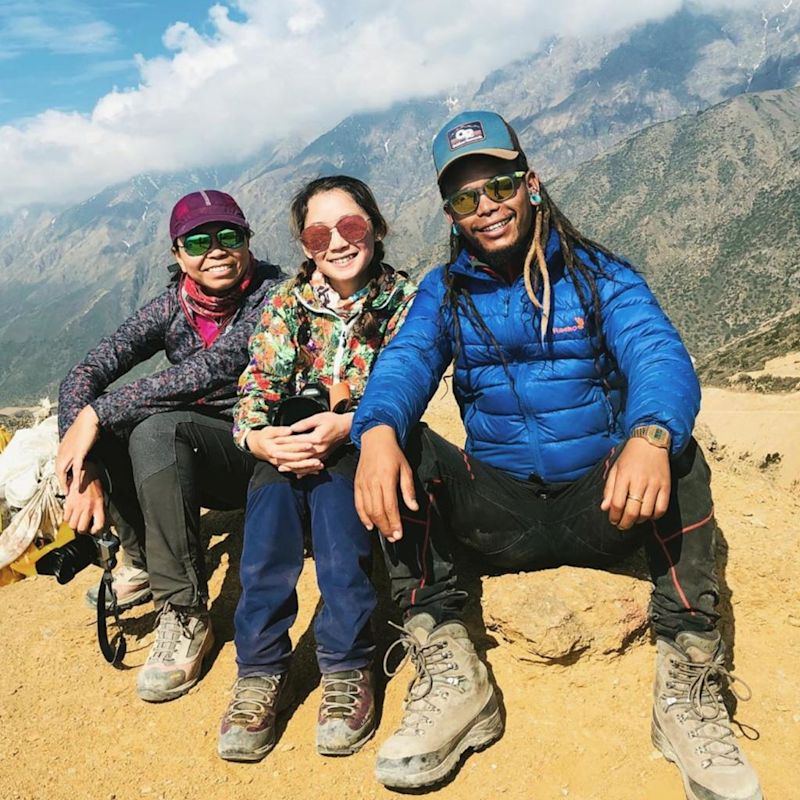 We think getting to know your trek crew is a special part of any EBC trek
Best seasons for each base camp trek
When you consider the weather (things like rainfall, temperature, winds and snowfall), the best times of year for trekking to South Base Camp are spring (late March to mid May) and autumn (late September to November). These are the peak seasons for the Nepal EBC trek. (You can learn more in Best time to trek to Everest Base Camp.)
You don't want to go in summer because of the monsoon rains, and many avoid winter because of how frigid it becomes. (Remember that you're staying in simple accommodations without the benefits of hot baths and bedroom heating.)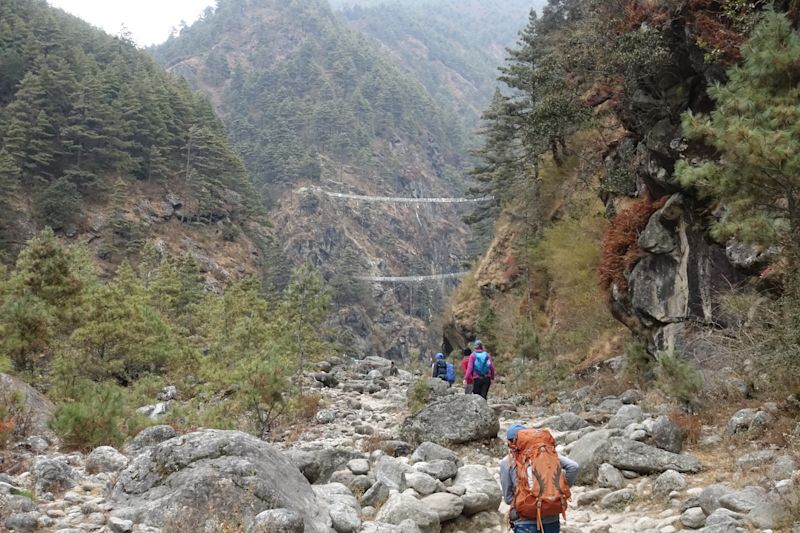 Ideally you want to avoid the wet season when trekking to South Base Camp
For North Base Camp, the best seasons are also spring and autumn. The very best months for the trek are April to June, as the temperatures are their mildest and skies tend to be clear and blue. The next best months are September to November.
Spring and autumn are the best seasons for trekking to both North Base Camp and South Base Camp.
Which is better: Tibet EBC trek or Nepal EBC trek?
This question is always going to lead to a subjective answer. Both treks and base camps are fantastic and offer amazing scenery while also introducing you to an ancient culture and hospitable people.
For ourselves, we feel that Nepal's Everest Base Camp trek is the better trek. We say this primarily because of the greater variety in scenery along the trek route. You can also easily lengthen and diversify your outward and inbound treks so as to see many other fabulous peaks and territory while also tackling challenging mountain passes that offer incredible views. We also love witnessing the majesty of Khumbu Glacier, which you can only see from South Base Camp.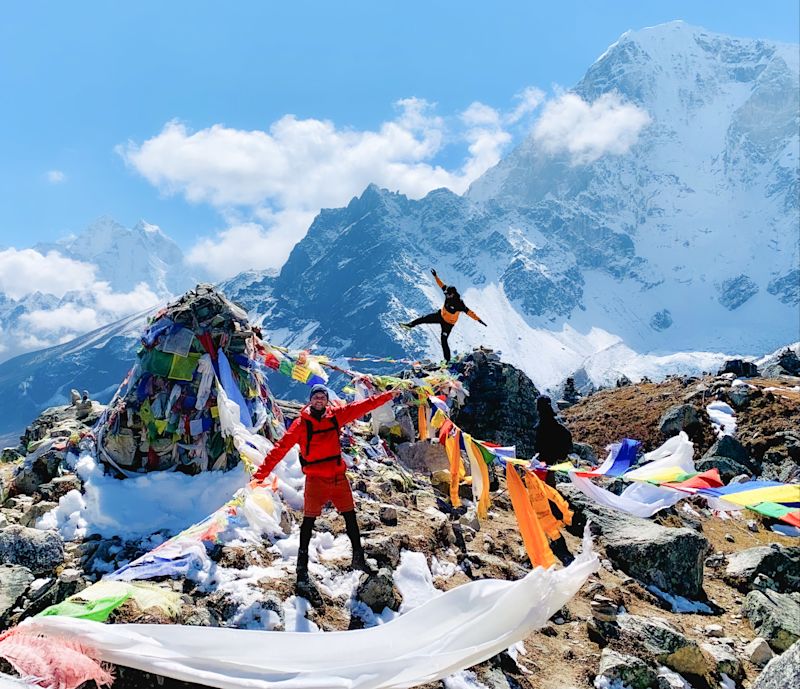 Happy vibes at Everest's South Base Camp!
What about you? Have you done either or both of the treks? Or visited one or both of the base camps at Mt Everest? And what do you think? Can one even really talk about a better trek, or are they too different to compare? Drop us a line – we'd love to hear your thoughts!