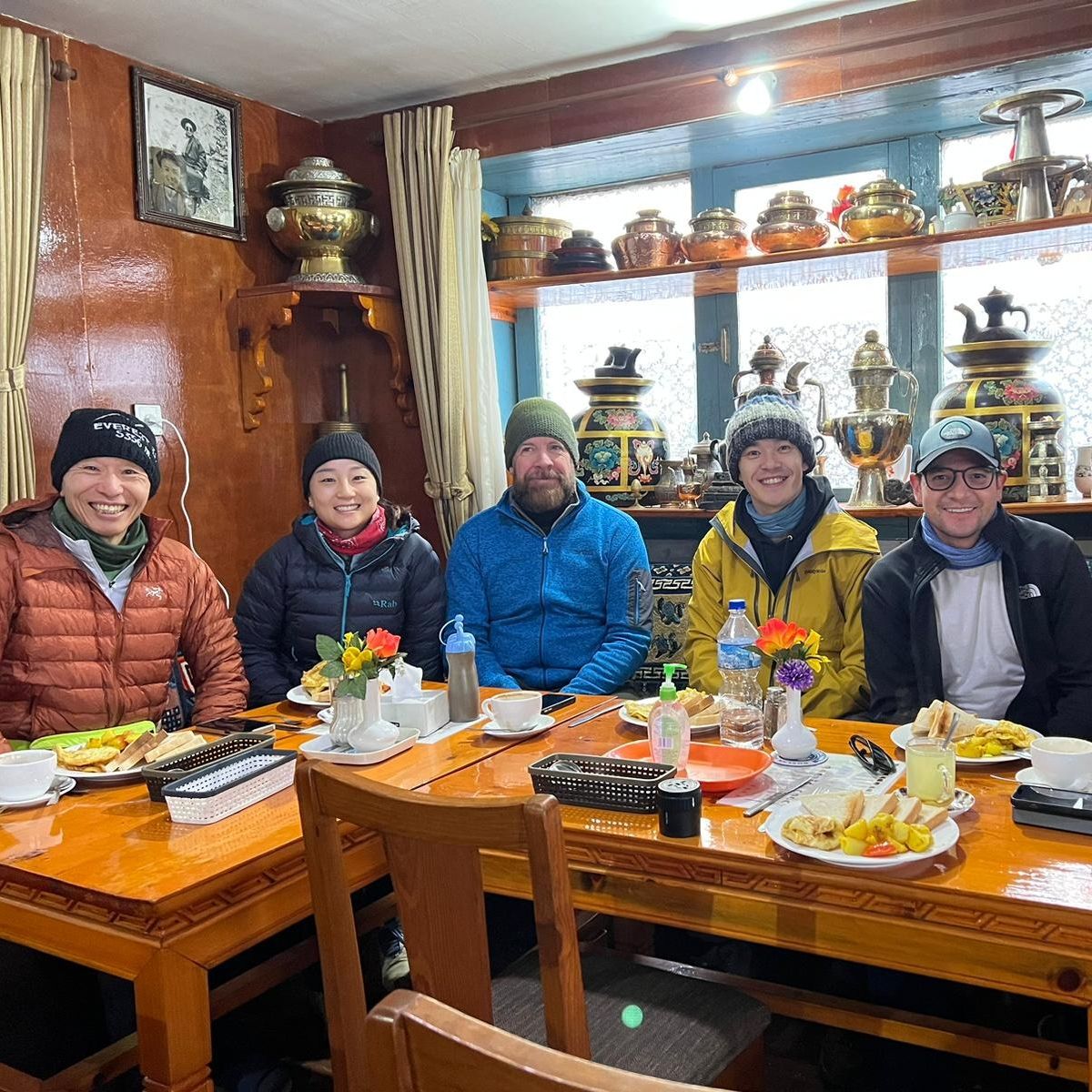 What is accommodation like on the Everest Base Camp trek?
Oct 12, 2023
Reading time: 9 minutes
On the Everest Base Camp trek you stay in lodges known as teahouses. Each one is unique, and some are quite charming! Here's all you need to know about your trek accommodation, from the cost and meals to bathrooms, electricity, Wi-Fi and more.
A big part of the charm of trekking in Nepal is staying in independently owned teahouses. Some are large, multiple-storey affairs, while others are small and can accommodate only a few trekkers at a time. But each is a unique experience and a core part of the whole trekking experience!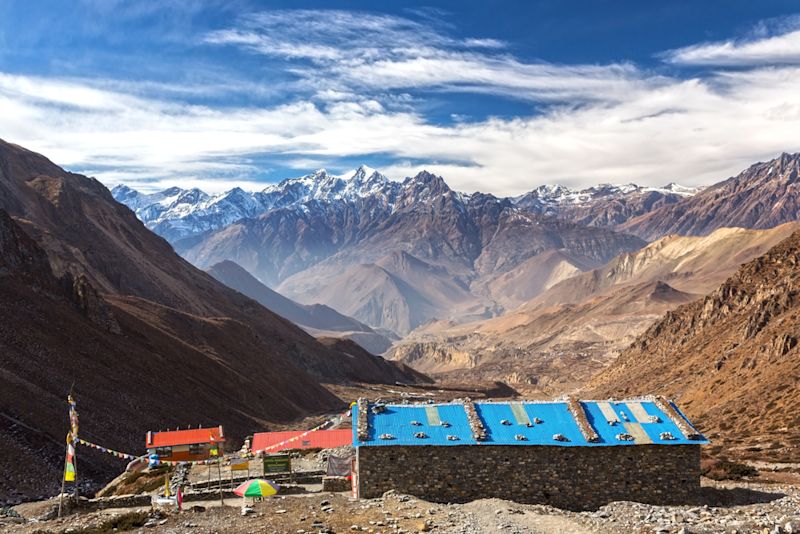 Some teahouses offer sublime views!
Teahouses are pretty cheap
Teahouses offer super affordable accommodation rates. Most rent out a twin-share bedroom for around NPR 400 (US$3) per night.
As we discuss a little further on, most teahouses aim to make their money from selling meals, not accommodation. So it's expected that you purchase your meals there too.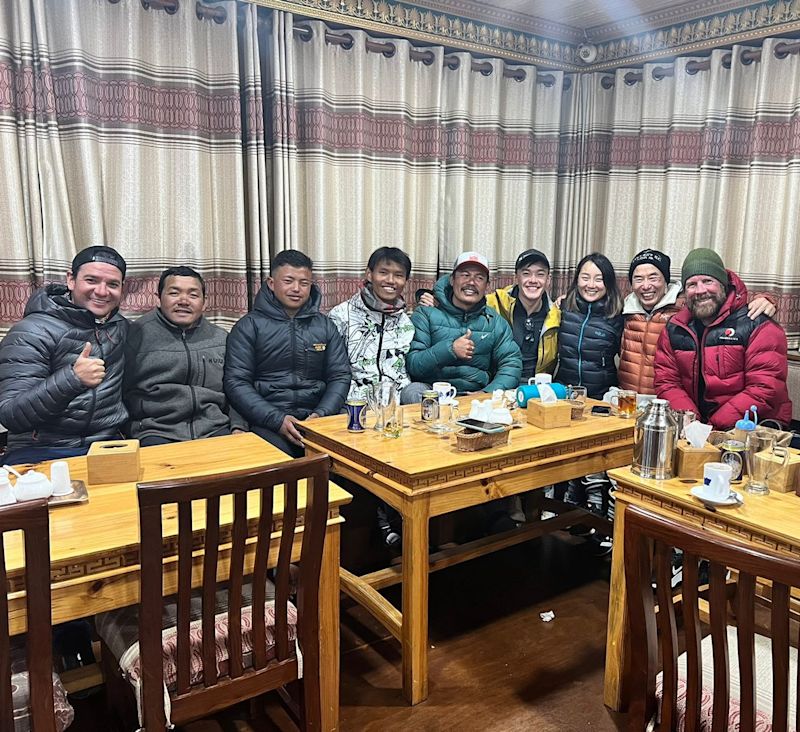 One of our EBC trek groups all cosy in a teahouse dining room
The higher you climb into the Khumbu region on your Everest Base Camp (EBC) trek, the more remote the communities, and the more expensive the meals become. That said, for most trekkers, the exchange rate is still very favourable, making accommodation and food prices on an EBC trek still extremely doable from a cost perspective.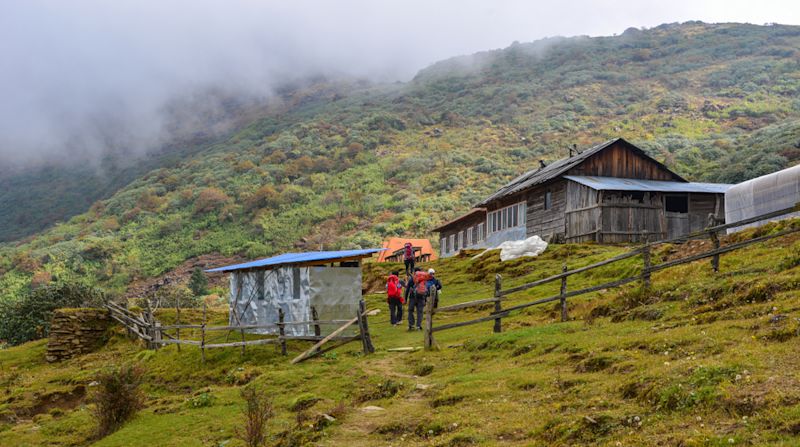 Every teahouse is unique
Teahouse bedrooms are very simple
Teahouse bedrooms are very simple affairs.
Mattresses, sheets, pillows and blankets (or duvets) are usually provided. Note, however, that the blankets and duvets aren't intended as a substitute for your sleeping bag – they're only meant as additions in the quest for a warm night's sleep.
Also, if you intend to use the pillows on offer, be sure to pack a pillowcase to keep things hygienic.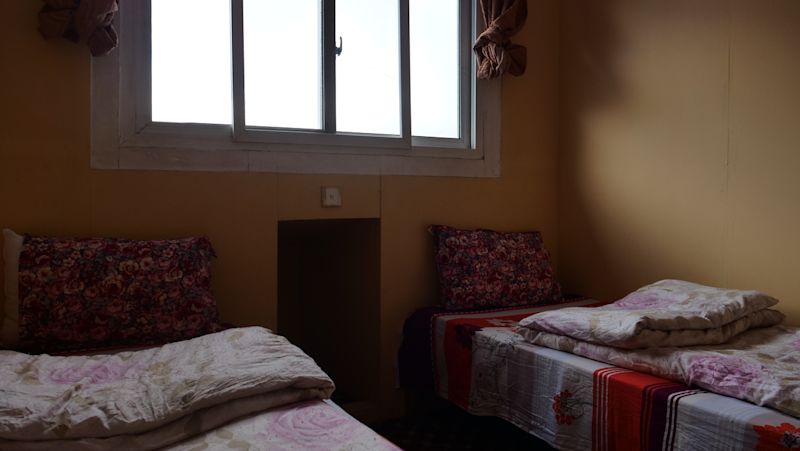 Mattresses, sheets and pillows are provided by teahouses
What's great is that most teahouses put only two beds in a room, which is a nice bit of privacy.
Finally, you might also get a small table or stool. And there will be an overhead light, and a key to lock your door. But don't expect anything much besides that.
As we discuss in Your complete Everest Base Camp packing list, if you want a properly snug night on the EBC trek you need to bring:
This is because there's no heating in the bedrooms. Moreover, the walls aren't insulated, and the windows have single-pane glass. So you can expect the air temperature in your bedroom to be almost as low as that of the air outside.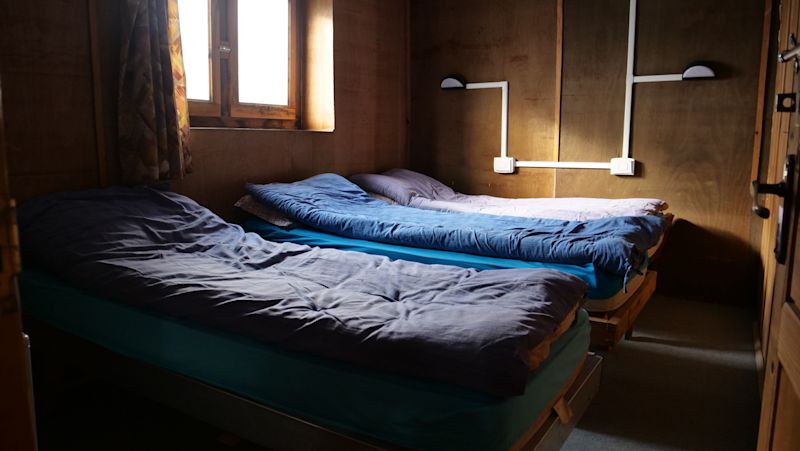 An example of an EBC trek bedroom
In the hamlet of Gorakshep, for instance, where you overnight after reaching base camp, night-time temperatures are almost always below freezing point, and in winter can reach -17℃ (1℉).
Finally, because you're going to be in a shared bedroom, and the walls are thin, as mentioned, we recommend packing earplugs to ensure night owls and snorers don't ruin your sleep!
Teahouse bathrooms aren't always the best
Bathrooms on the Everest Base Camp are usually communal.
Toilets
Some of the teahouses in the lower regions have western-style flush toilets. Others, higher up, might have western-style toilets, but you need to pour in a bucket of water before flushing. Very high up in the Himalayas, there are only long drops. Some are inside, others in outhouses. So be prepared for this.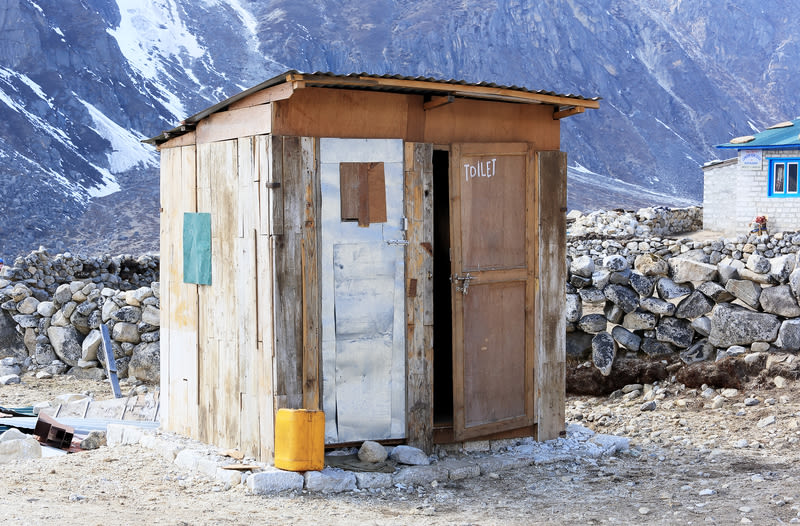 An outhouse high up on the EBC trek
And be sure to carry your own roll of toilet paper on each loo visit! While you can sometimes buy bog rolls from teahouses, rather carry enough for the whole trek with you just to be safe.
Showers
When it comes to showers, again, things vary. Some of the more modern teahouses in the lower villages have showers. Note that you'll probably also need to pay a few dollars for a hot shower (about US$2 to $4).
Don't, however, expect showers (hot or not) in the very high, very remote villages. At some of these teahouses, you can pay for a pot of hot water that you can use to wash yourself.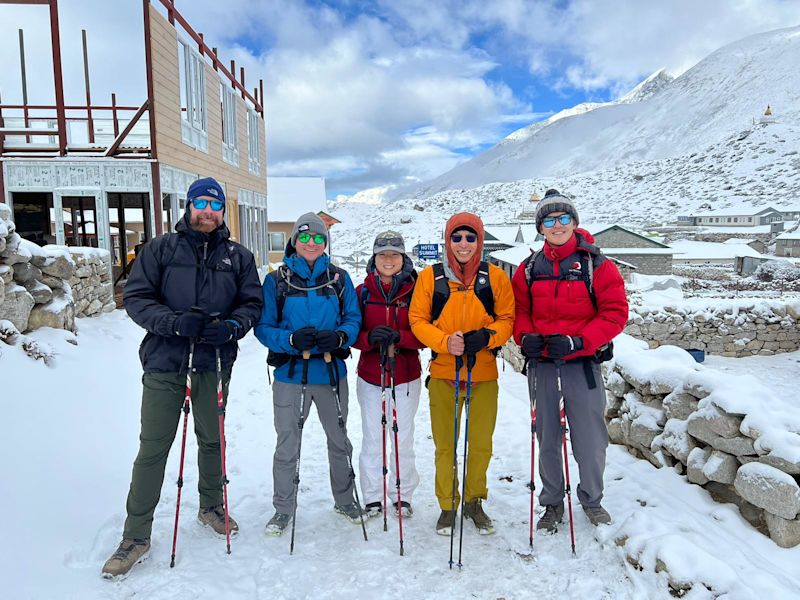 Remember that you're all in that same smelly boat together!
Most trekkers make peace with doing some strategic splashing and wiping with wet wipes in order to feel relatively fresh and hygienic. A hardworking deodorant is also hugely important!
Teahouse common rooms are cosy and social
In teahouses, the common room is the dining room and lounge in one.
The joys of the teahouse common room are many:
There's a lit stove making the room nicely cosy.

The decor is unique and often really interesting.

This is where folks relax, chat, play cards and read.

You enjoy tasty hot food and drinks after a day spent in the elements.

You meet interesting people from all around the world!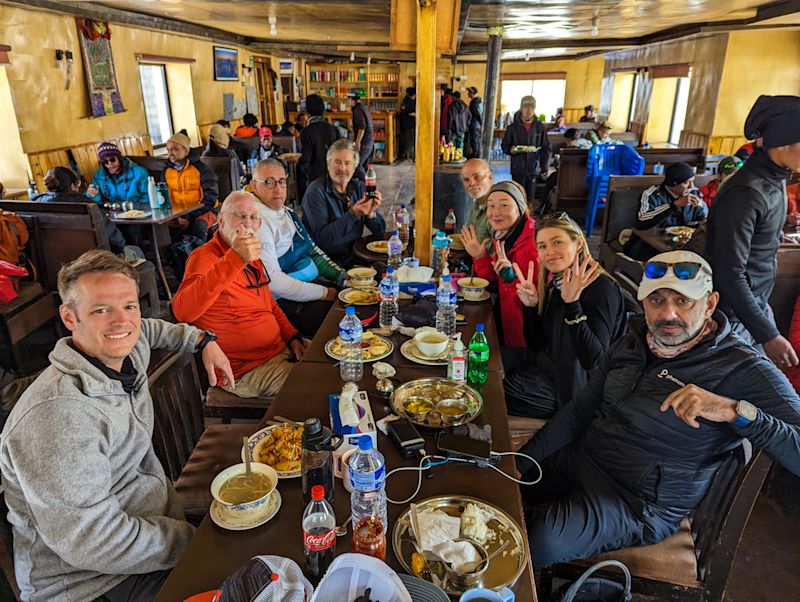 After a long day of trekking, a warm teahouse with hot food is just the ticket!
The common room is normally the only heated room in a teahouse, so it's where everyone hangs out.
Think carefully about what you eat and drink
You need to pay for your hot drinks like tea, coffee and hot chocolate at teahouses. They usually cost around US$1 to $3 each.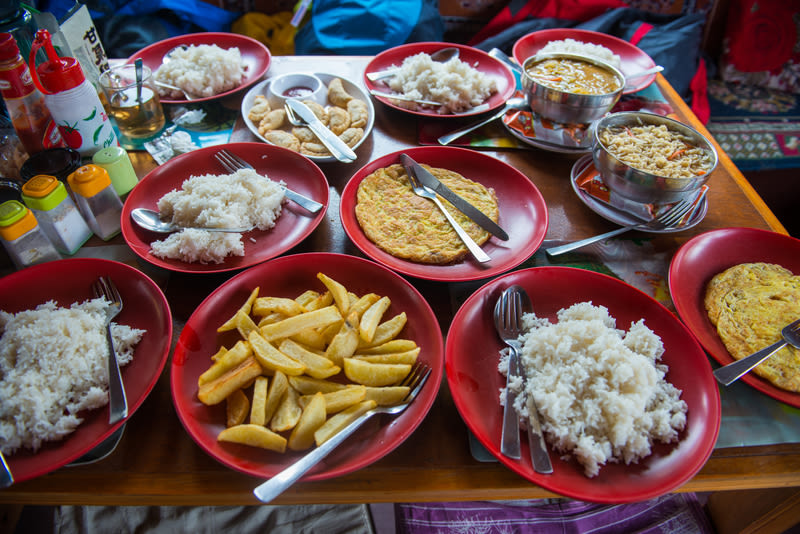 Meal sizes are generous
We recommend not eating meat on the trek, as all meat has to be carried in from below Lukla (the trek's starting point) since Sherpa tradition prohibits the butchering of animals in the Khumbu region. So you could get an upset stomach from eating animal flesh, and it might be a safer option to just eat like a vegetarian. With this in mind, you might then want to pack some protein supplements or shakes for the trek.
As to drinking water, only drink bottled water (which can be bought), or purify the water from the tap (faucet), as drinking it untreated can also lead to stomach upsets.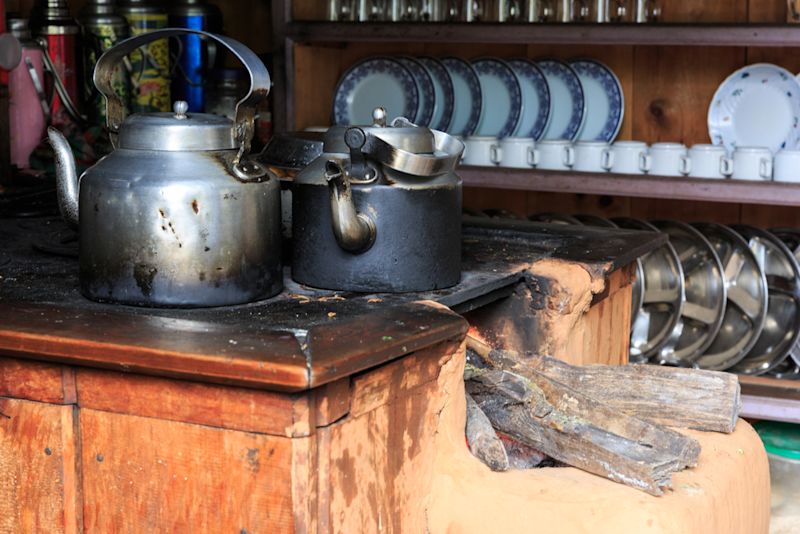 Most teahouses when you climb above Namche Bazaar are fairly rustic
When it comes to meals, teahouses have menus that let you choose your breakfasts and dinners from a decent range of options. Your meal will cost you roughly US$4 to $7.
| Common breakfast options | Common dinner options |
| --- | --- |
| Porridge | Vegetable soup |
| Eggs (omelette, boiled or scrambled) | Pizza |
| Pancakes with fruit and honey | Noodles with veg and chicken or beef |
| Toast with butter, honey and jam | Dal bhat (rice and lentils) |
| Vegetable soup | Vegetable curry with rice |
| Cereals and muesli | Burgers |
| Chapatti (like a roti) | Dumplings |
| Juice | Pasta |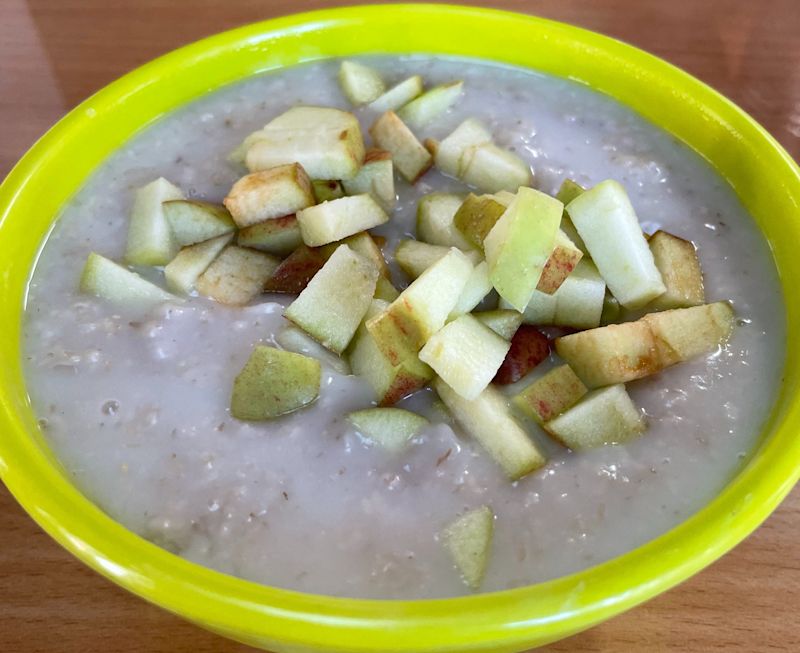 Food tends to be simple but warm and hearty
We recommend that you steer clear of salads, as they're washed with tap water and could cause a stomach issue.
Note that drinking lots of water helps to alleviate the negative symptoms of high altitude. So drink up!
Please note that teahouses charge low accommodation rates, and so make much of their money from meals. It's expected that you eat where you stay. And also order a packed lunch, when needed, for the next day.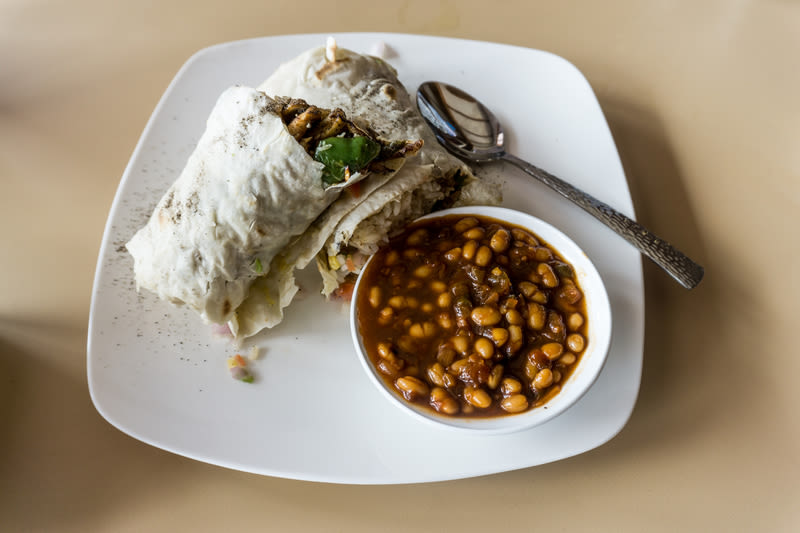 A meal in the town of Namche Bazaar, the hub of the Everest region
You can also buy chocolate (candy), crisps (chips) and other snacks from your teahouses. The cost of such items will naturally increase the more remote the location.
Finally, note that alcohol can worsen the effects of high altitude. It's best to steer clear of alcohol completely on the EBC trek, as well as cigarettes.
The low-down on electricity, Wi-Fi and charging points
We're all travelling with a gadget (or two or three or four) these days, so we know you want to know about the electricity situation and more on your Everest Base Camp trek.
Electricity
Most teahouses have enough electricity for overhead lights and a few electrical outlets, which are usually restricted to the common room.
That said, many teahouses rely on solar power, so you can't rely on having electricity, especially in overcast weather. We suggest that you pack a small solar charger or extra battery if you'd like to increase your chances of powering your devices on the trek.
Be sure to pack a headlamp (and extra batteries) so you can move about your room and the bathroom should the electricity go out.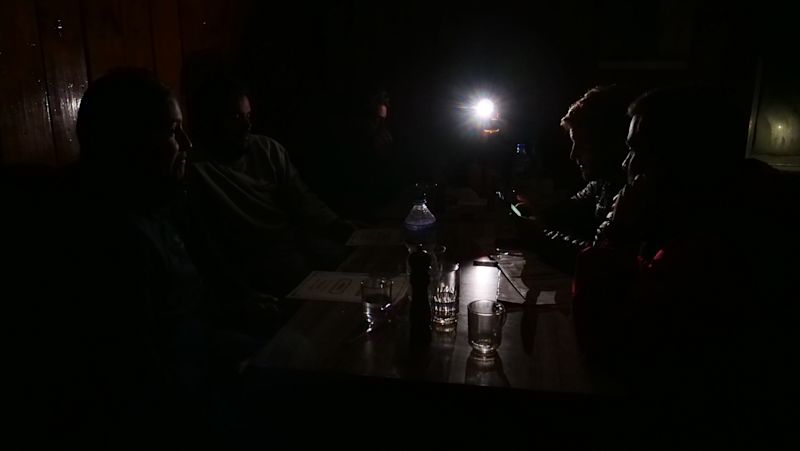 One of our EBC groups enjoying their evening by the light of headlamps!
Wi-Fi
Wi-Fi is available at some teahouses, usually those in larger communities lower down in the mountains. You're usually going to be charged roughly US$3 to $5 for its use. And don't expect Wi-Fi of any speed or reliability. Again, amenities like Wi-Fi become scarcer the higher you climb.
Be sure to have plenty of rupees to hand for small purchases along the trek like charging your devices and buying snacks.
Teahouses on the EBC trek are independent affairs
Plug points (electrical outlets)
As we discuss in Your Nepal travel questions answered, Nepal uses plug types C, D and M. Also, the standard voltage is 230 V and the standard frequency is 50 Hz. So be sure to bring along an adapter and converter if necessary. Or even better, organise between your group who brings what so that you don't carry superfluous devices.
Note that you usually need to pay a few dollars (around US$2 to $5) to charge your devices. Also, there can often be a wait as everyone is keen to charge their devices.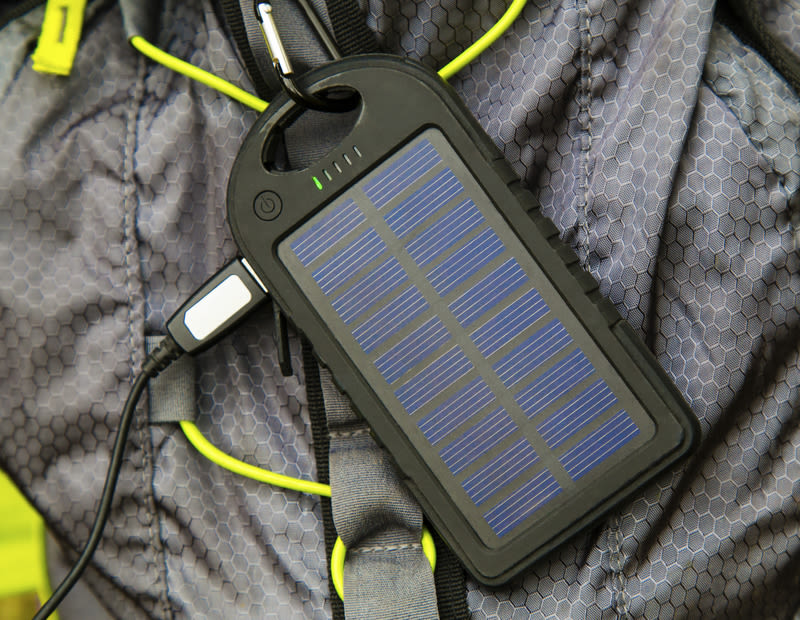 Bring your solar charger on the trek if you have one
As we discuss in 15 things you need to know before doing the EBC trek, a solar chargers can be nice to have so that you can retire to your bedroom when really tired and charge your phone there, rather than be tethered to the plug point in reception.
That said, there is one exception to the rule ... the so-called Italian Pyramid. Learn more in What's all this about an "Italian Pyramid" on the EBC trek?
What to know about booking teahouse accommodation
If you're going to be trekking in the busier months, it's important to book your teahouse accommodation ahead of time to ensure you can stay where you want, and that you do in fact secure a spot!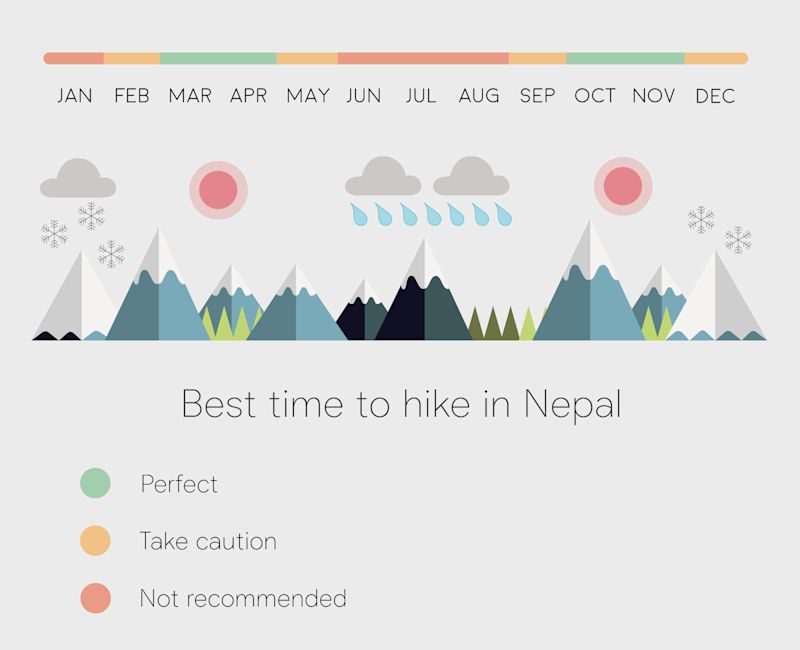 Since trek guides are now compulsory in Nepal, be sure to choose a reputable tour operator so that you can rest assured that your trek guide will book your accommodation for you in time, while also securing the best teahouses wherever there's a choice.
That said, please remember that in some of the smaller villages, there are very few accommodation options, and so your guide can't be held responsible for booking you into simple accommodation when that's all that's on offer!
Teahouses are economic lifelines
When you stay at a teahouse, you're helping to sustain a rural community. For the smaller settlements, especially, teahouses are the economic lifeblood that keep them going.
So you can feel glad that your trek is bringing much-needed cash into underserved areas of the Khumbu region. And if you're able and keen to spend money buying supplies from the local grocers, and so on, then that's a big help to local families too.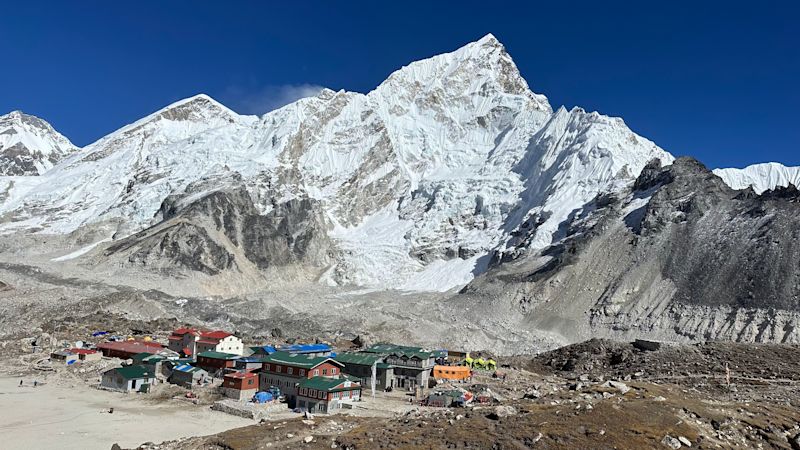 Teahouses are the lifeblood of many remote Khumbu communities
And that's all you need to know about your Everest Base Camp trek accommodation. At least we think it is! Still have a question or two? Please feel free to drop us a line and one of our Nepal trekking experts will be touch soon!