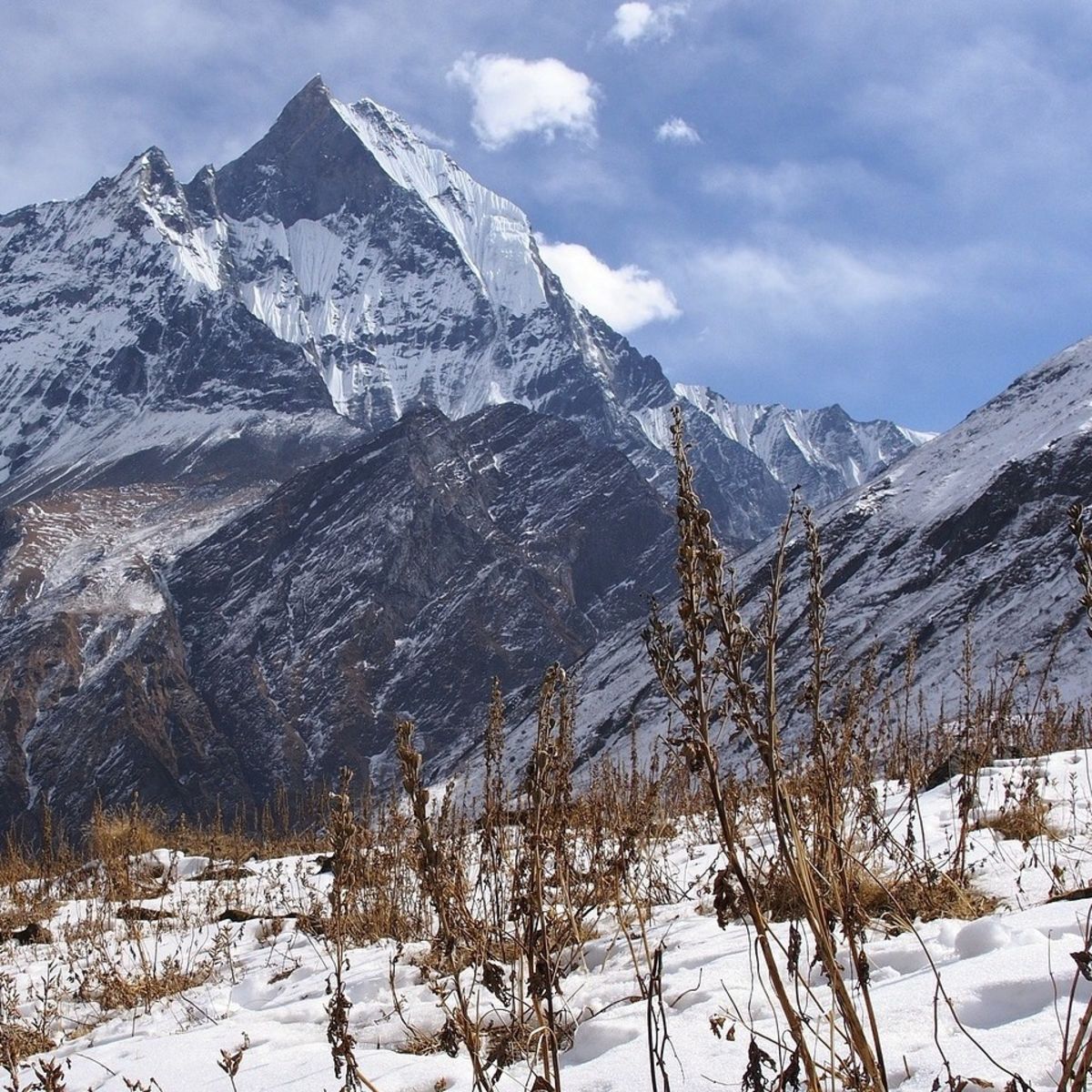 Your Nepal travel questions answered
Jun 21, 2023
Reading time: 13 minutes
Visas, traveller's insurance, vaccines, drawing cash, transport, food ... we chat all about all these practical matters to prepare you to visit Nepal. And we throw in some interesting facts about this mountainous nation too!
Keen to visit Nepal? It's an absolutely fantastic country that won't disappoint! In fact, Nepal was designed for adventure. 😄
For starters, it has eight of the world's 10 highest peaks, including Mt Everest!
It also has a fascinating mix of cultures and religions, as showcased in its historic temples, ubiquitous stupas, colourful villages, Tibetan prayer flags, prayer wheels, and elaborately decorated monasteries.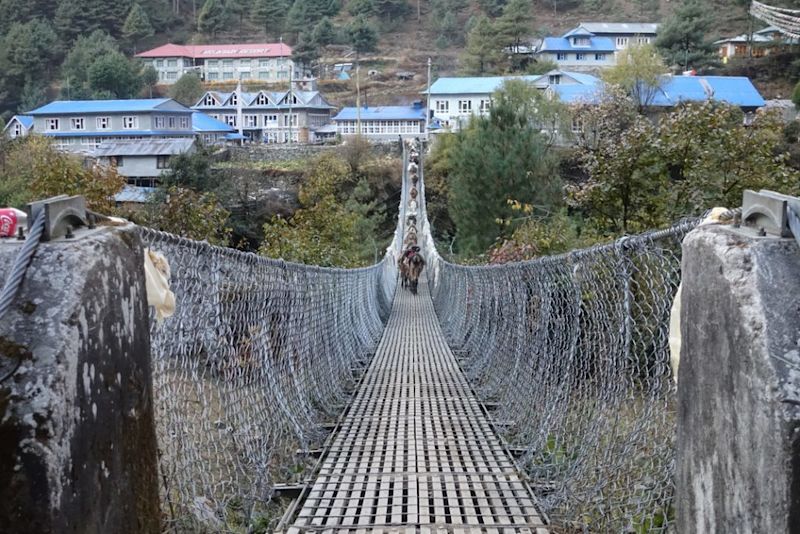 Horses cross a suspension bridge on the Everest Base Camp trek route
And then there's the rare and beautiful wildlife. We're talking the likes of Tibetan wolves, clouded leopards, Bengal foxes, marbled cats, Asian elephants and rhesus macaques.
We want to help you plan an adventure there. So we start by whetting your appetite with some of the country's most interesting facts and descriptions. Then we answer all of your travel questions about things like currency, visa and vaccinations. And finally, we tempt you by describing our own two Himalayan trekking adventures that we run there!
Where is Nepal?
Nepal is a small landlocked country in Southern Asia. It's sandwiched between Tibet and India.
While famous for its Himalayan mountain range – particularly Mt Everest – the entire country isn't mountainous, however, and much of the country has a lush, subtropical climate. Roughly two thirds of the population work in agriculture.
Nepal is home to Lumbini Temple, the reputed birthplace of Gautama Buddha, the founder of Buddhism. The overwhelming majority of the Nepalese population, however, follow the Hindu religion. There are strong historical and cultural ties between the Nepali and their Indian neighbours to the south.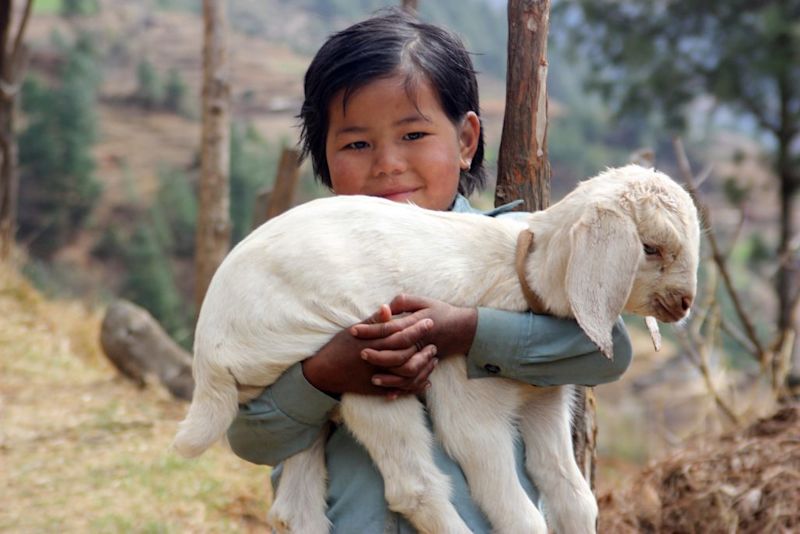 An adorable Sherpa girl carries an adorable little lamb
What makes Nepal special?
Okay, we probably shouldn't pose such hard-to-answer questions like this one! There's so much that makes Nepal special, so how to possibly do it justice here? But let's try ...
Diverse people
Nepal is an incredibly diverse and vibrant society. There are over a hundred different ethnicities!
The northern mountainous region, which is where tourists flock for alpine trekking, is far more sparsely populated than the rest of the country. The people groups here, like the famous Sherpa of the Everest region, have ethnic, cultural and religious ties to their Tibetan neighbours to the north. These ties make them distinct from the rest of the Nepali population.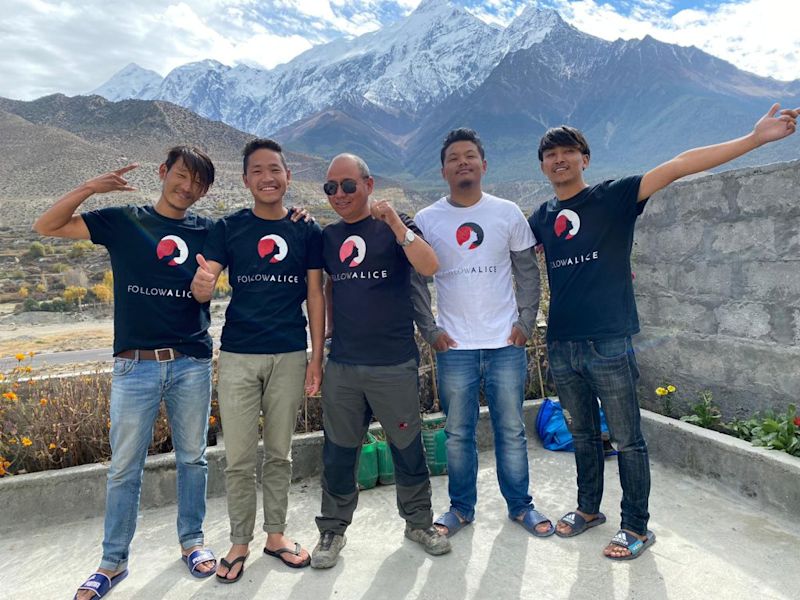 Our Nepal trek guides come from across the country
Amazing landscapes and wildlife
The diversity of the Nepali people mirrors the diversity of the country's landscape. The Himalayas stretch across the northern border of the country where staggeringly high and dramatic peaks that are perpetually covered in snow are just part of the course.
Head south and have you subtropical farming lands. You'll find both livestock and crop farming in Nepal, most of which is done on a subsistence level. To the far south of the country is the Terai region, a tropical area that's only about 100 m above sea level. In fact, Nepal has the greatest elevation disparity of any country in the world: its lowest point is just 59 m above sea level while Everest reaches as high as 8,848 m!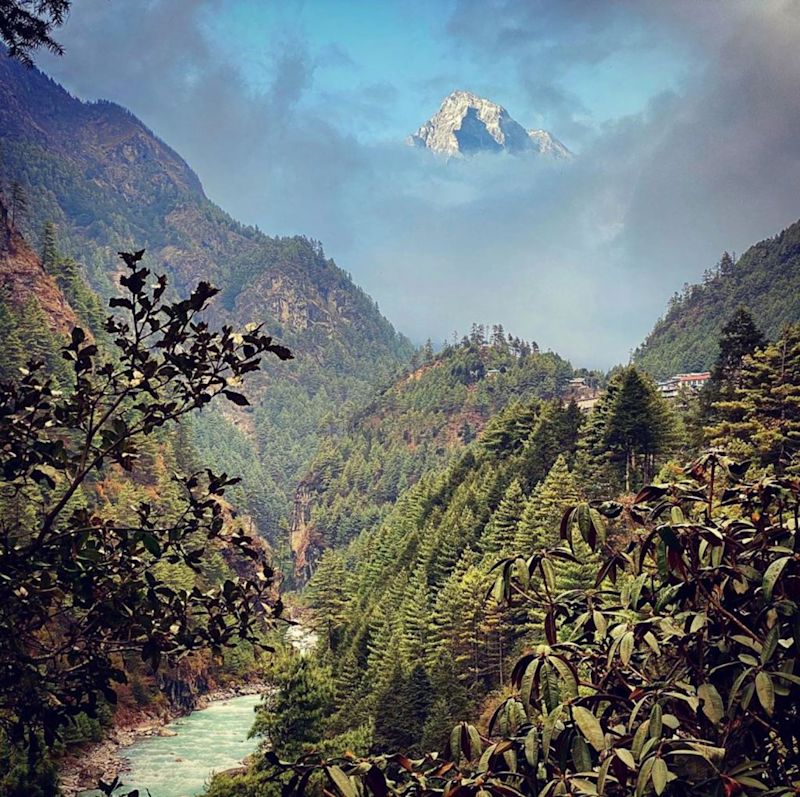 The drama of the Nepali Himalayas are literally second to none!
A super mini history of Nepal
Nepal only achieved its current shape and dimensions in the late eighteenth century. In the centuries leading up to that, the different regions within its borders belonged to various dynasties and monarchies. Nepal walked a difficult road in the twentieth century on its way to becoming a democracy. The 1990s were marked by civil strife. The country was finally declared a republic in June 2008. As of 2019, Nepal has about 29 million inhabitants.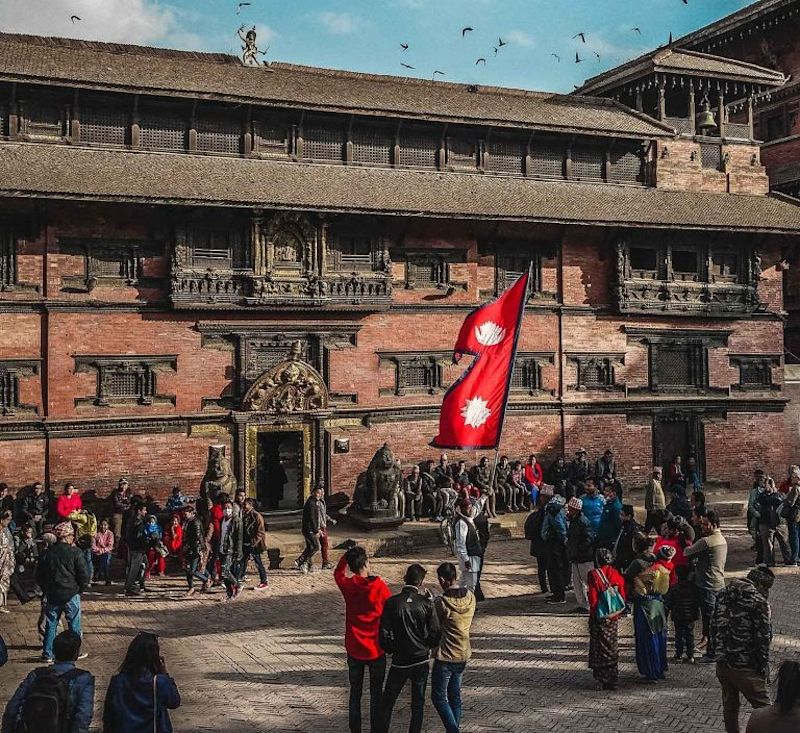 The Nepal flag is unique in shape
Kathmandu, Nepal's capital
Kathmandu is the largest metropolis in the Himalayan region, and is Nepal's capital city. It's not as high as many expect – Kathmandu is only 1,400 m above sea level. You've got to travel a little ways from the city to reach the Himalayas.
The city has a population of 1.4 million, with a further 2.5 million people across the Kathmandu Valley. It's also the only city in the entire country with an international airport. So everyone starts their Nepal adventure in Kathmandu.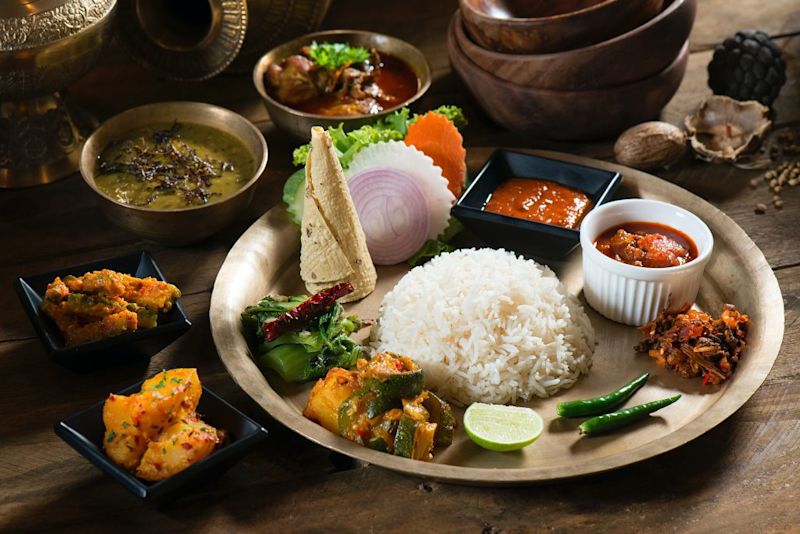 You can expect mouth-wateringly tasty food when you arrive in Kathmandu, whether from a street vendor or in a restaurant
Religions of Nepal
Religion plays an important life in Nepali life. The two main religions in Nepal are Hinduism and Tibetan Buddhism.
The country has many Buddhist and Hindu pilgrimage sites, from sacred lakes to ancient temples. Mount Everest itself is sacred to the Sherpa people who live in the region. Everest is called Sagarmatha in Nepali, which means 'forehead in the sky, and Chomolungma in Tibetan, which means 'goddess mother of mountains'.
Among the nation's adherents to Hinduism, the god Shiva is regarded as the guardian deity of Nepal. Buddhist and Hindus in the country share many beliefs, temples and other sacred sites. For instance, Buddhists and Hindus living in the Kathmandu Valley follow a centuries-old tradition of worshipping a living child goddess, known as the Kumari Devi.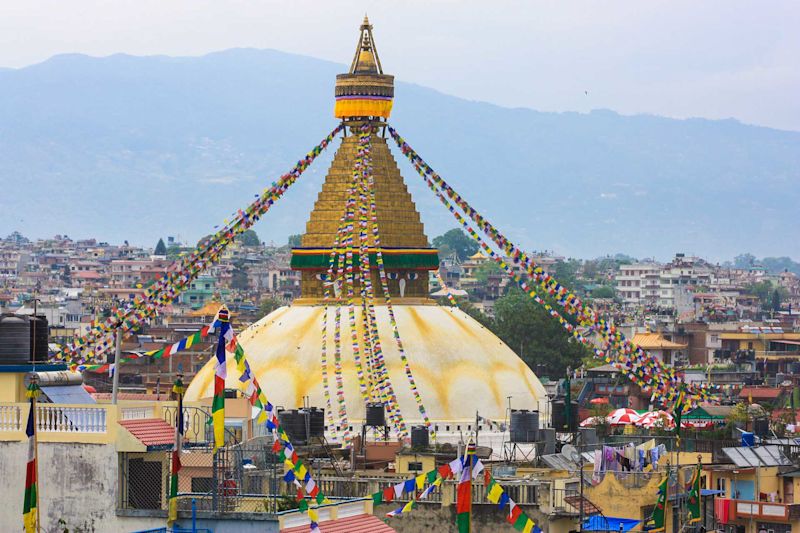 You'll find colourful temples and prayer flags all across Nepal
We now answer some of your common Nepal travel questions ...
What vaccinations are needed to travel to Nepal?
There are no mandatory vaccinations for travel to Nepal. That said, you want to ensure you've had all the standard vaccines, like against measles and polio. If you haven't had these yet, you arguably aren't safe to drive to your local supermarket! And it's always a good idea when travelling abroad to check in with your local GP before your trip. If you're heading to Nepal to visit the Himalayas, he or she might also need to prescribe you some altitude meds.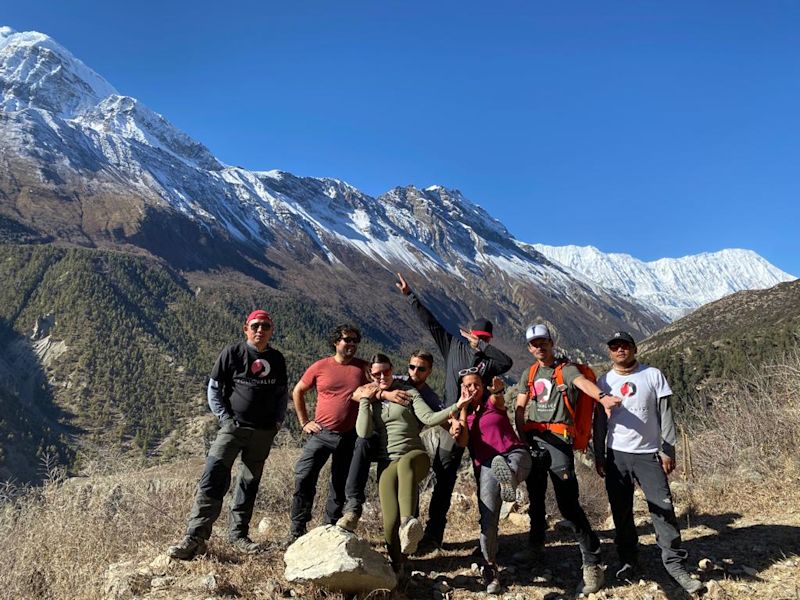 A Nepal trek is an experience you remember vividly your entire life!
What currency do they use in Nepal?
The currency of Nepal is the Nepali rupee, abbreviated as NPR or Rs. Note however that the Indian rupee is also abbreviated to Rs, so be sure not to get confused between the two.
The NPR is a closed currency, which means you can't get your hands on it outside of Nepal. Fortunately you can exchange major currencies for NPR at the airport in Kathmandu, or you can draw local currency from an ATM.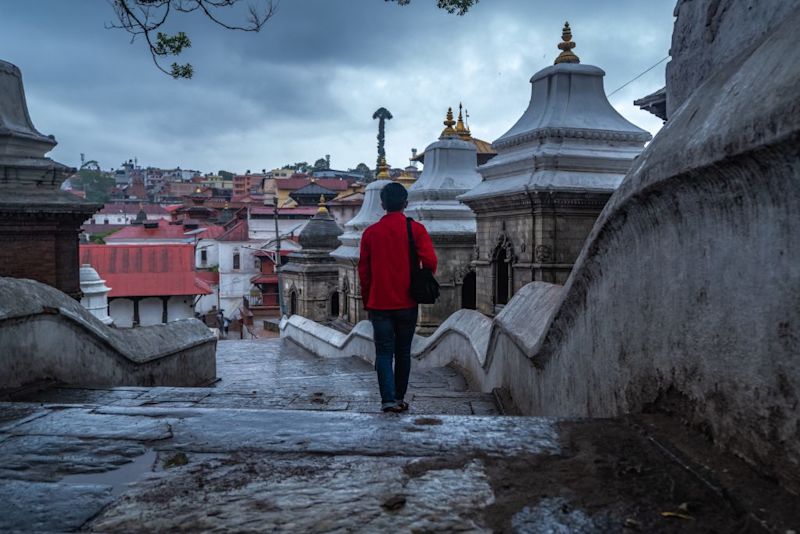 Leaving PashupatiNath Temple in Kathmandu under a moody sky
Is it safe to travel in Nepal?
Let's be honest: stepping out of your front door isn't safe! But yes, travel in Nepal is relatively safe. The country has a low rate of serious crime.
Altitude sickness
Arguably the biggest risk to travelling in Nepal is altitude sickness. Those who visit the Himalayas are generally unused to such high altitude. This is why it's so important to trek responsibly, allowing for acclimatisation days during which the body can adjust to the reduced oxygen.
Those who go trekking in the Himalayas should also never go alone. And ideally, you should trek with an experienced, local trek guide, which is what we do on all of our Follow Alice trek adventures.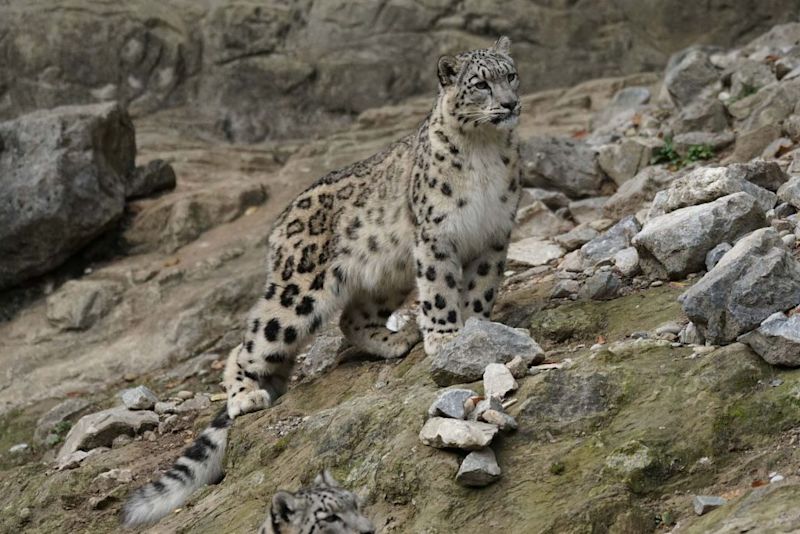 The mountains of Nepal are home to the elusive snow leopard
Unpredictable weather
Another of the primary dangers involved in trekking in the Himalayas is the extreme and often unpredictable weather. We have a healthy respect for mountain weather, and consequently have chosen the seasons with the best weather for our trekking adventures. Our trek guides also keep a close eye on the weather forecast at all times.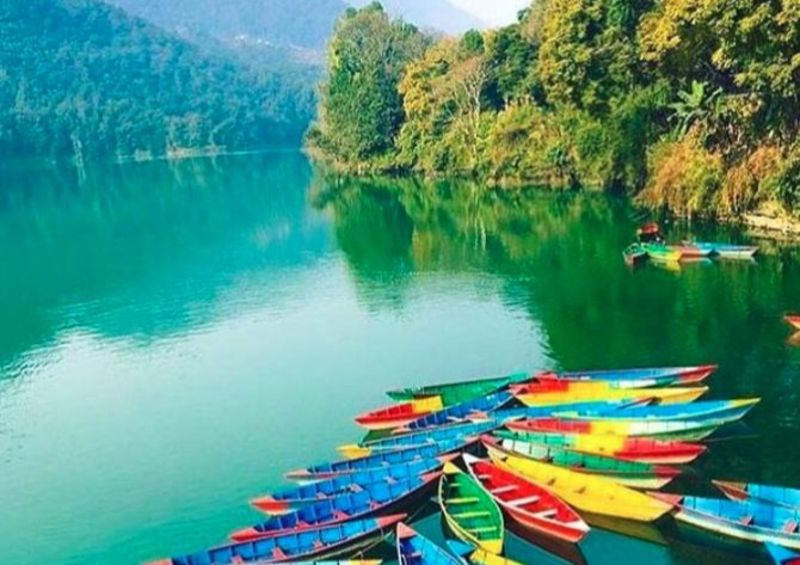 The lakeside city of Pokhara is popular among both Nepali and international travellers
What is transportation like in Nepal?
The most popular form of transport in Nepal is the bus. But for those visiting Nepal with Follow Alice, you won't actually use the bus. Firstly, we meet you at the airport when you land and take you into Kathmandu via taxi.
For the Annapurna Circuit trek that Follow Alice hosts, we do some road tripping. Our mode of transport is a private, air-conditioned taxi. These make our transport faster, safer and more reliable. The drive time is a great opportunity to get to know each other better. The scenery is also amazing.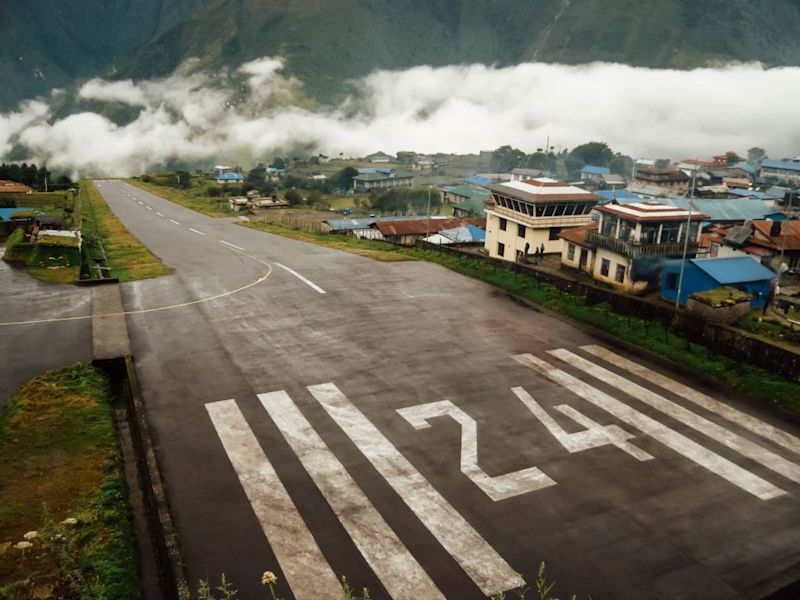 Everyone coming to do the Everest Base Camp trek flies into Lukla Airport
With all Follow Alice trips to Nepal there's some flying involved. Near the end of the Annapurna Circuit trip we have a short flight through the immense Kali Gandaki Gorge on a light aircraft. We also make use of a small airplane to get to and from the town of Lukla, which is the gateway to the Everest Base Camp trek.
You cannot actually get to the start of the Everest Base Camp trek via road – you have to either drive and then hike, or fly. This gives you a good indication of how remote some parts of the country remain.
What languages do they speak in Nepal?
Nepali is the official language of Nepal, and nearly two thirds of the population speak this language. Nepal's Central Bureau of Statistics actually counted 92 living languages in its 2001 census. That's a lot of languages for such a small country! But they point to its rich and diverse history. The 10 main languages spoken by the Nepali are:
Nepali

Maithili

Bhojpuri

Tharu

Tamang

Newari/Nepal Bhasa

Magar

Awadhi

Rai

Limbu

Bajjika
Did you know that Nepali is written in the Devanagari script? It traces its roots to the Sanskrit script of India. The word Nepali is written as follows in Devanagari: नेपाली.
Useful Nepali words and phrases
While you'll have a tour guide on every trip you take with Follow Alice (as well as trek guide on every trek) helping you to get around and taking care of all admin, it can be useful to know a few Nepali phrases. Many Nepali speak some English, but we think it's good to try to engage with local people in their own language, even if just to show a degree of willing.
Greetings
namaste

= hello or goodbye (said with a light bow and the hands together in a prayerful position)

ramro

= pretty, lovely, beautiful, excellent, tasty (an all-purpose compliment)
Food and drink
kanna

= food

piro

= spicy/hot

chiyaa

= tea

umaleko paani

= boiled water (because you only want to drink sterilised water in Nepal)

Pugyo, Diddi.

= I'm full, older sister. (A polite way to say you're full when being plied with more food by a hostess.)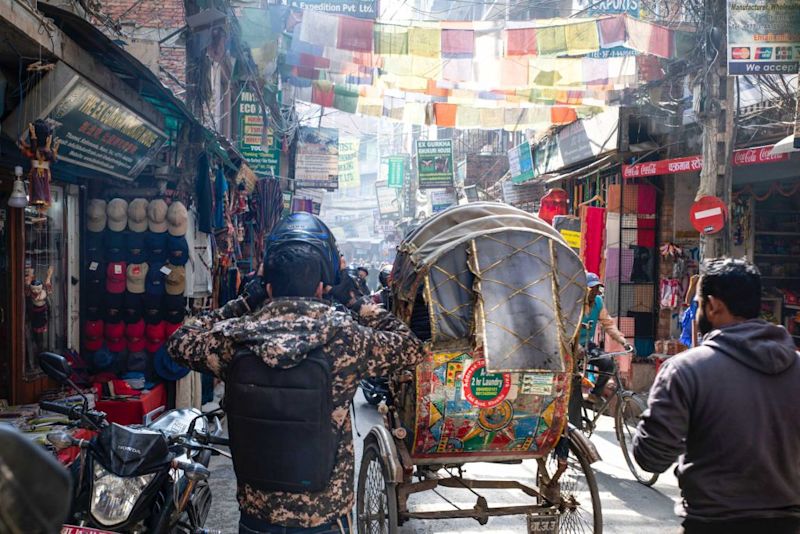 The Nepali people are linguistically diverse, and speak almost 100 different languages!
How do I apply for a Nepal tourist visa?
You can obtain a tourist visa quite easily at Tribhuvan International Airport in Kathmandu when your flight lands. The Government offers 15- and 30-day tourist visas for $30 (€27) and $50 (€45) respectively. The process is fairly simple, though during peak tourist seasons the queues can be quite long.
Nationals of certain countries are, however, required to obtain a visa before flying to Nepal. You'll need to check up on this online. If you obtain a visa before entering Nepal, note that your day count starts from the day you enter the country. Here are all the details you need for obtaining a tourist visa for Nepal.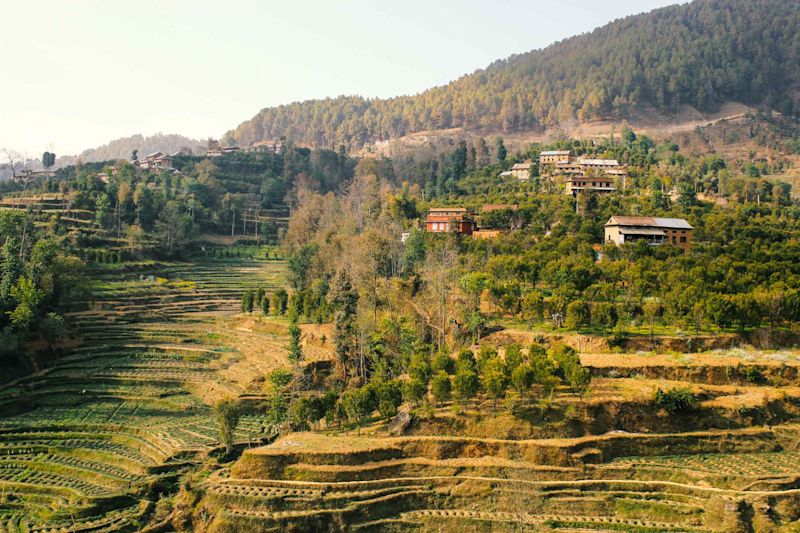 Two thirds of the Nepali population are engaged in farming activities
Do I need travel insurance to visit Nepal?
The simple answer: yes! You always want to take our travel insurance when going on an international trip because regular medical aids don't cover medical expenses incurred outside of your own country. When taking out travel insurance, we advise choosing one that offers cover for all of the following:
delayed, cancelled or interrupted travel

medical insurance

lost or damaged luggage
In fact, if you're travelling to Nepal to go trekking, the Nepalese Government won't grant you a trekking permit without proof of insurance.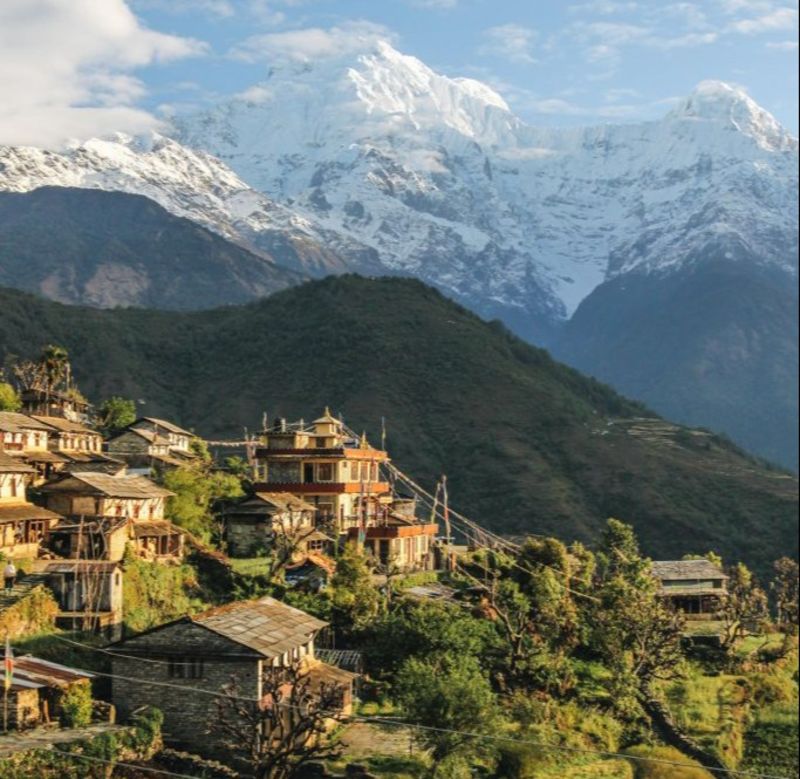 Trekkers mustn't ascend too rapidly into the Himalayas if they want to avoid developing altitude sickness
Can I use my tech gadgets in Nepal?
Of course you want to bring along your gadgets to a trip to Nepal, especially your smartphone and camera. Nepal has types C, D and M power sockets and plugs, so you'll need an adapter that caters for these to charge your devices. Note that the standard voltage is 230 V and the standard frequency is 50 Hz.
Take a look here if you want to know more about power plugs and sockets in Nepal and how they compare to those of your country. You might also want to consider bringing along a power bank.
Note that the electricity supply is unreliable in some of the remote parts of the Himalayas which we climb to on the Everest Base Camp and Annapurna Circuit treks. Some teahouses rely on solar power, for instance, and so the electricity cannot be guaranteed. Some establishments also request a fee for charging your devices.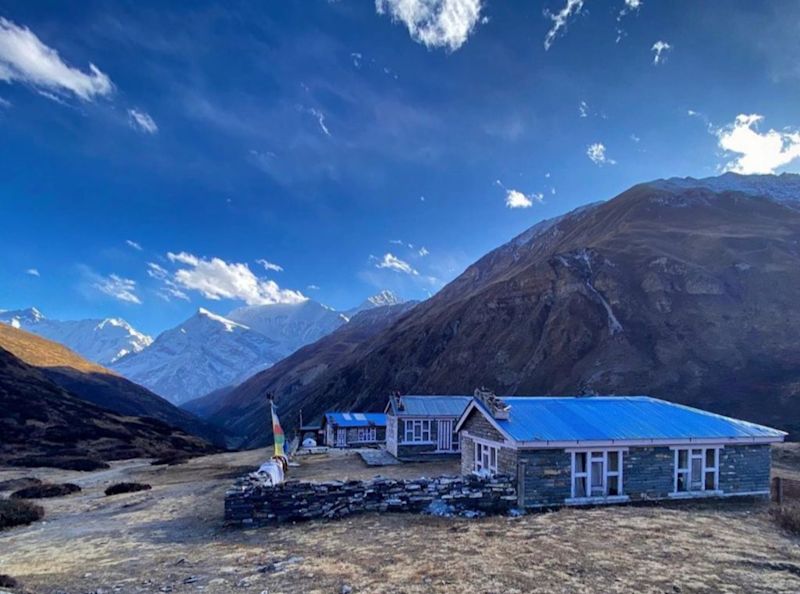 Part of the appeal of a Nepal trek is leaving crowds and modernity behind for a remote and awes-inspiring locale
And finally, here are the details of our two awesome adventure trips in Nepal!
Nepal adventure trips with Follow Alice
We currently offer two exciting (and challenging!) high-altitude treks in Nepal:
Everest Base Camp trek

Annapurna Circuit trek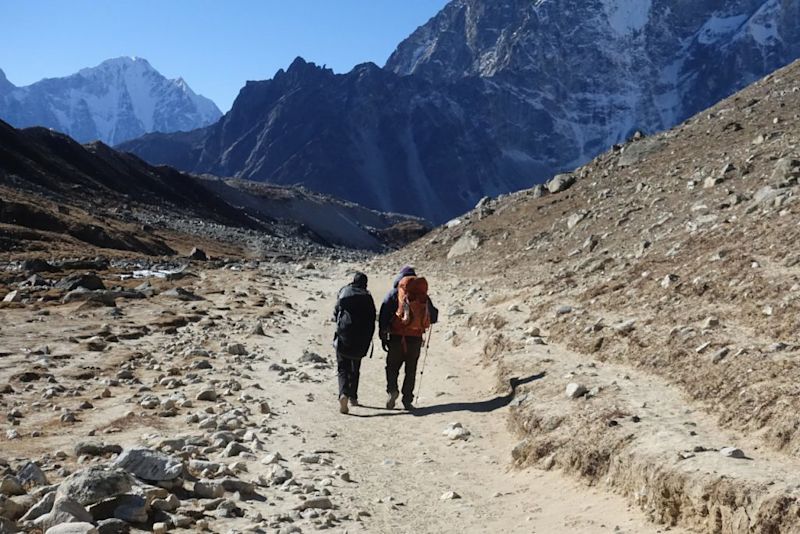 Two hikers on the Everest Base Camp trek route
Everest Base Camp trek
The Everest Base Camp trek is a challenging high-altitude adventure.
There would be a youtube video here.
Sadly, the youtube player requires cookies to work.
We trek from the mountain town of Lukla into Sagarmatha National Park, the home of Mt Everest! Over the space of a week we climb three vertical kilometres from a temperate environment into the harsh and cold alpine environment that is the high Himalayas to reach Everest Base Camp.
After visiting Base Camp at the foot of the Khumbu Icefall, we take a detour to the beautiful Gokyo Lakes. Throughout the fortnight-long trek we stay in traditional Sherpa villages, where we eat local cuisine and explore the rich history and Buddhist traditions of the area.
Alternatively, you can opt to take a helicopter back to Lukla from Everest Base Camp, thereby making your trek that much shorter. You'll also enjoy some seriously enviable views during the helicopter flight!
Annapurna Circuit trek
The Annapurna Circuit trek – rightly known as Nepal's classic trek – is an incredibly varied and exciting journey that takes us well above 5,000 m to the snowy Thorung La Pass. It offers more variety than any other trek of equivalent length.
During the two-week trip we drive, trek and fly through picturesque farming villages, temperate forests, deep gorges, bleak mountain passes and more!
At night we stay in local teahouses and lodges in small, traditional villages that change markedly in culture and look over the course of the trek route. There's never a dull moment on this epic trek!
At the end of the trek, we take a short flight through the Kali Gandaki Gorge, the world's deepest gorge! We arrive in the very pretty lakeside city of Pokhara, where we spend a night. This is a popular tourist destination in its own right, and you can whiz down a thrilling zip line installed high over the city!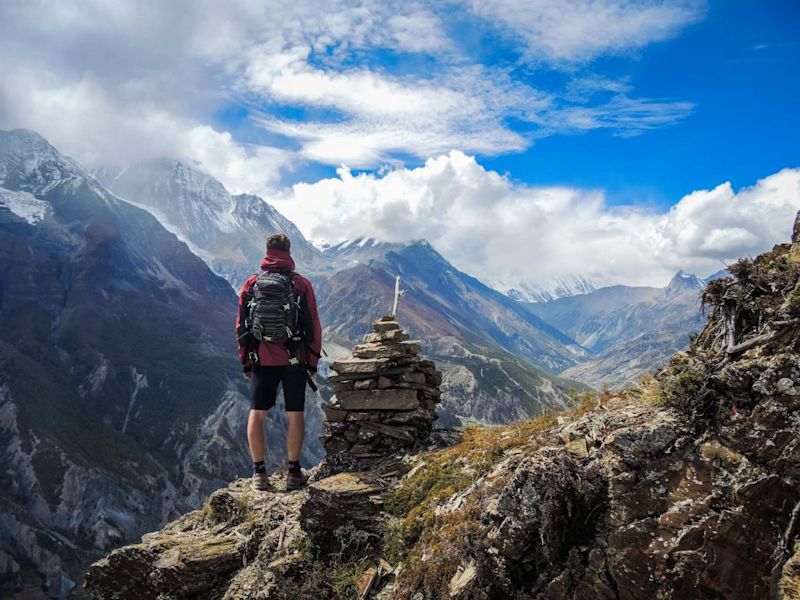 The views on the Annapurna Circuit of the Himalayas are truly inspiring. They are also more varied than on any other Nepali trek.
Time to contact us and book your spot?
We'd love to save you a spot on one of our upcoming Nepal adventures. Or feel free to drop us a line to chat about the trip and ask any questions you have. We'd love to hear from you. 😊