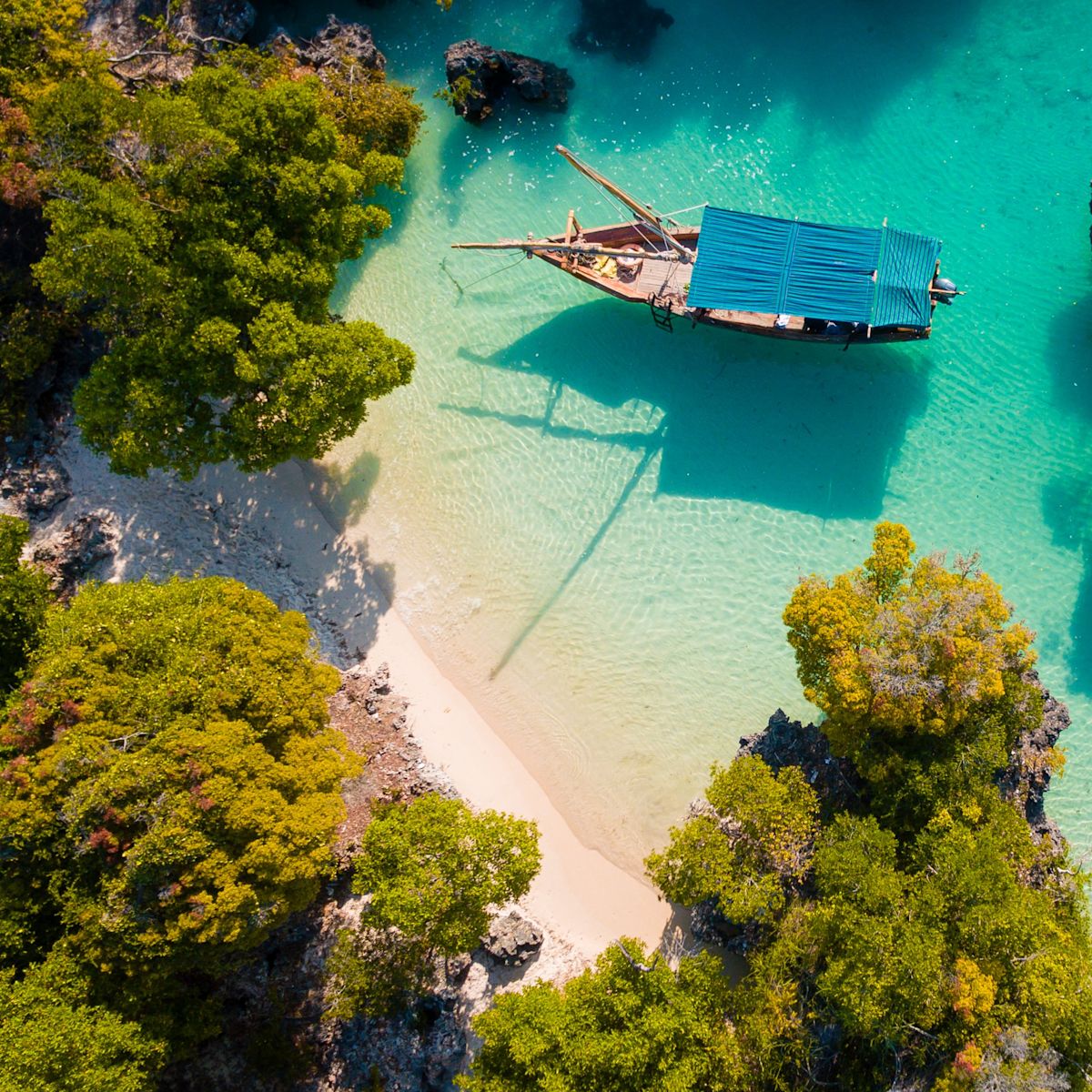 The best time to visit Tanzania
Dec 13, 2022
Reading time: 6 minutes
You can go on an amazing Tanzania safari at any time of the year! But if climbing Mt Kilimanjaro or visiting Zanzibar, we recommend travelling between January and mid March, or between July and October, to avoid the rains and enjoy great outdoor weather!
Whenever planning a trip overseas, it's important to research the seasons to try to travel at a good time of year for exploration and sightseeing. Nobody wants to be sitting in a game park peering through a downpour, trekking through a muddy mire, or sitting on a beach with the sand blowing so hard it stings your legs. No, no. You want clear skies for seeing the animals, cool weather for enjoyable trekking, and warm, calm conditions for splashing in the ocean!
So if you're thinking of heading to Tanzania, here's what you need to know to arrange your trip at a good time of year for the country's top three attractions, namely:
climbing Mt Kilimanjaro

going on a Big Five safari

visiting the beaches of Zanzibar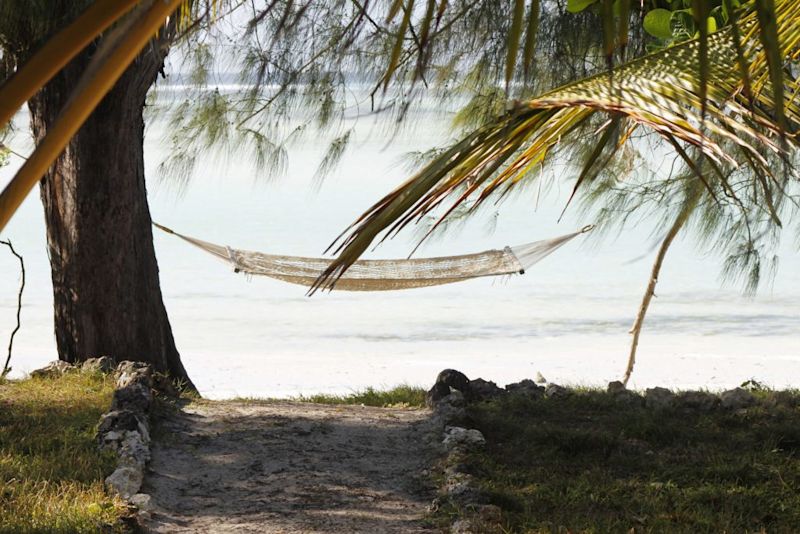 After climbing Kilimanjaro, it can be sheer bliss to hop to Zanzibar for a lazy beach holiday!
Best time of year for climbing Mt Kilimanjaro
Kilimanjaro can be climbed at any time of the year. No months are off limits. That said, some months are better than others in terms of climate and weather, and so offer a better, safer experience. So here's a lowdown on when is the best time to climb Kilimanjaro. (For a more detailed description of the weather conditions per month, please read Best time to climb Kilimanjaro.)
Generally speaking, the clearest skies and best trekking conditions for Mt Kilimanjaro occur between mid December and mid March, and between mid June and October.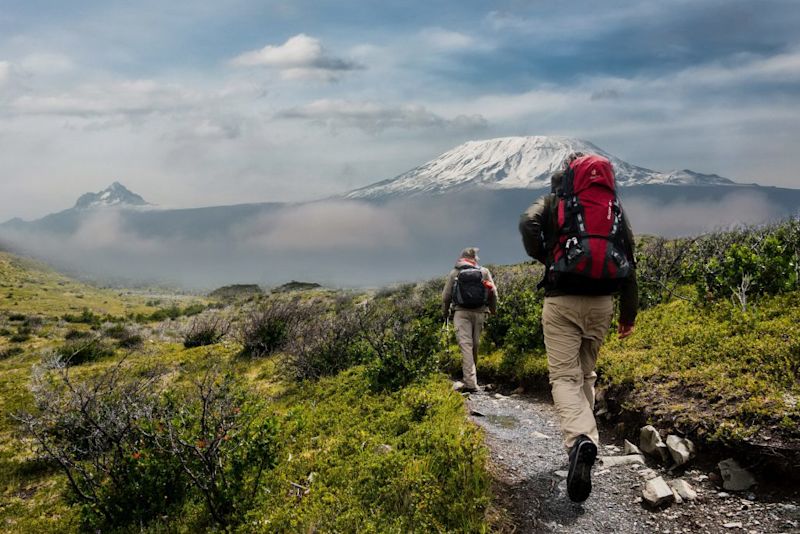 If you're an adventurer at heart, then be sure to prioritise climbing Africa's highest mountain!
In terms of temperatures, the hottest months are usually April, May and November. This isn't at all an issue higher up the mountain, but it can be unpleasantly hot and humid in the rainforest zone.
Kilimanjaro has two rainy seasons: a long rainy season between mid March and mid June, and a short rainy season between November and mid December.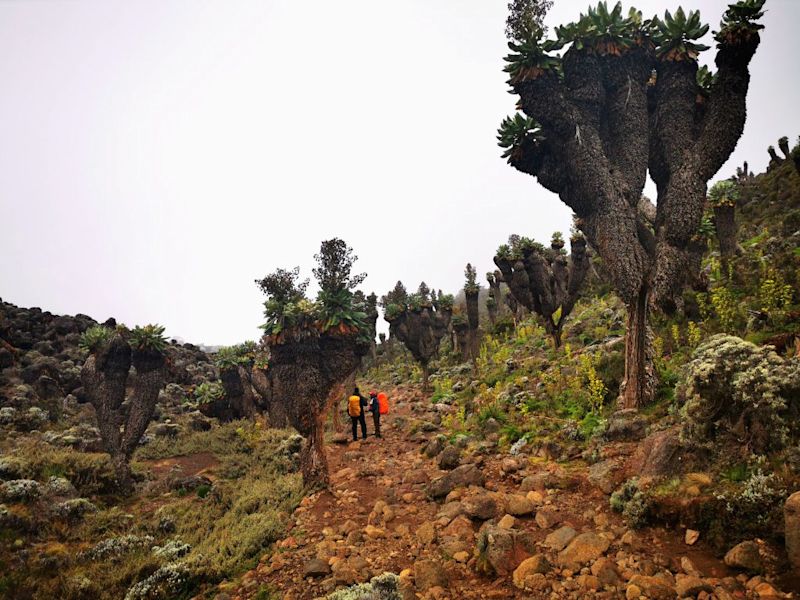 The giant groundsels of the moorland zone of the mountain are Kilimanjaro icons
Expect the unexpected
All that said, it's important to point out that Kilimanjaro is its own boss, and it does what it wants, when it wants! It can rain at any time, snow on the summit at any time … you get the picture. You just never know for sure what the weather and temperatures will be like, and so while you should certainly make an educated decision as to when to trek, it's also good to not expect certain conditions. Always come prepared for anything!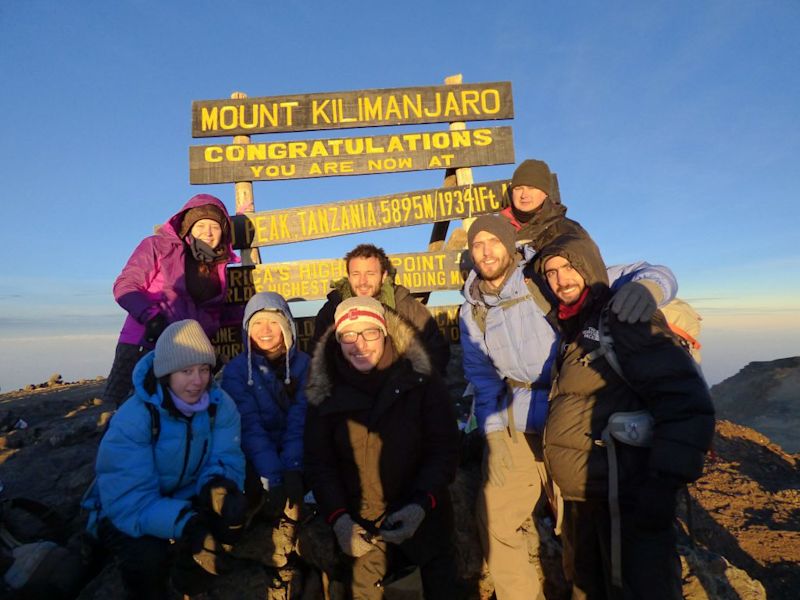 Standing on the summit of Kilimanjaro – 'the roof of Africa' – is an exhilarating feeling!
Best time to visit Tanzania for mini adventures near Kilimanjaro
And finally, many Kilimanjaro trekkers look to optimise their time in the Kilimanjaro region by doing a one or two activities before and/or after their climb. This is a great idea, as there are so many great activities in the Kilimanjaro region.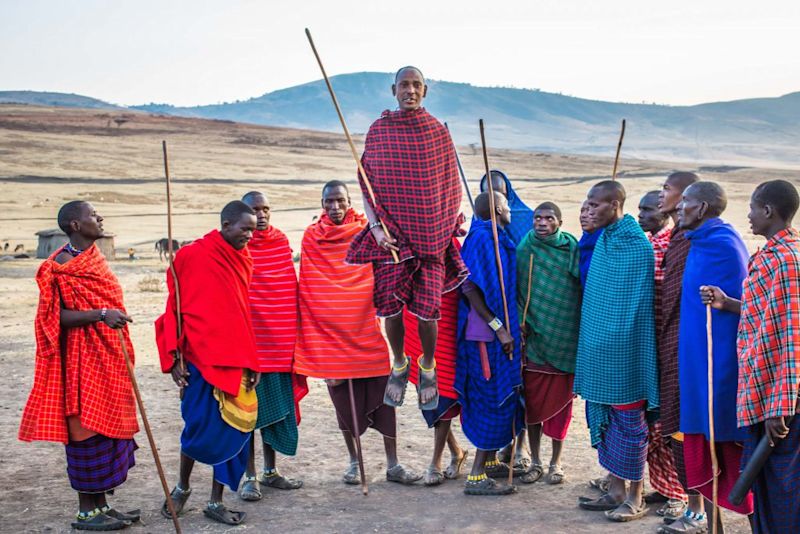 The Maasai of northern Tanzania are a unique and welcoming people with a rich and distinct culture
For instance, many folks choose to visit a Maasai village to learn about this people and their vibrant, proud culture. Others like to visit the nearby Arusha National Park for a game drive or to canoe on the Momela Lakes, while still others like to head to the Kikuletwa Hot Springs for, well ... the beauty of chilling in the hot springs! There are many fantastic mini adventures awaiting you in the Kilimanjaro region.
As these activities are so near to Mt Kilimanjaro, you don't have to spend any time researching the weather conditions – they'll be much the same as the weather at the base of the mountain. Isn't that handy. 🙂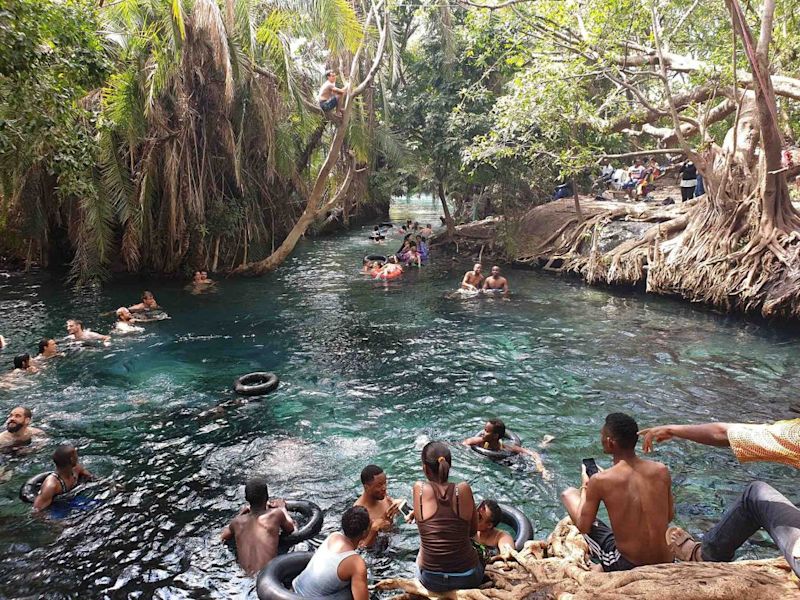 Kikuletwa Hot Spring is a popular way to relax after a tiring Kilimanjaro climb
Best time to visit Tanzania for a Big Five safari
One of the fantastic things about Kilimanjaro is just how close it is to a handful of the very best safari locations in Africa! We're talking Serengeti National Park, the incomparable Ngorongoro Crater, and more! We find adding a Tanzania safari onto the end of your Kilimanjaro trip makes for the ultimate, once-in-a-lifetime African adventure!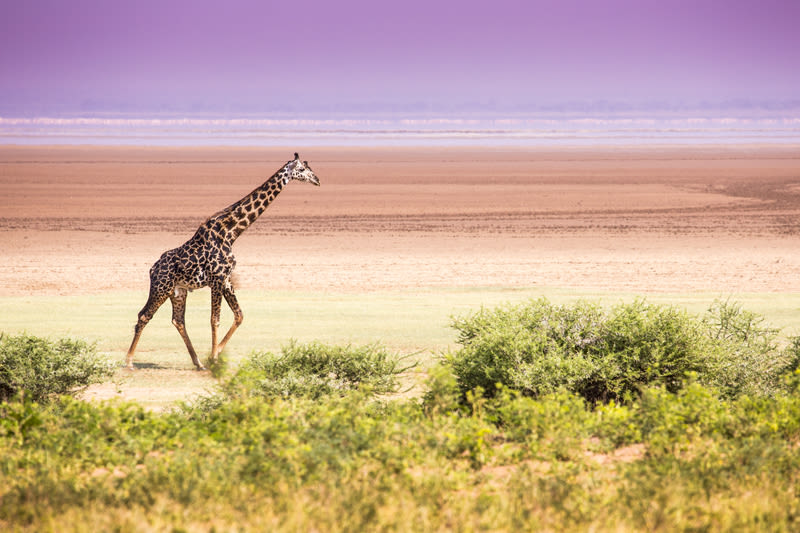 A lone giraffe in Lake Manyara National Park
You can experience a phenomenal safari in Tanzania all year round!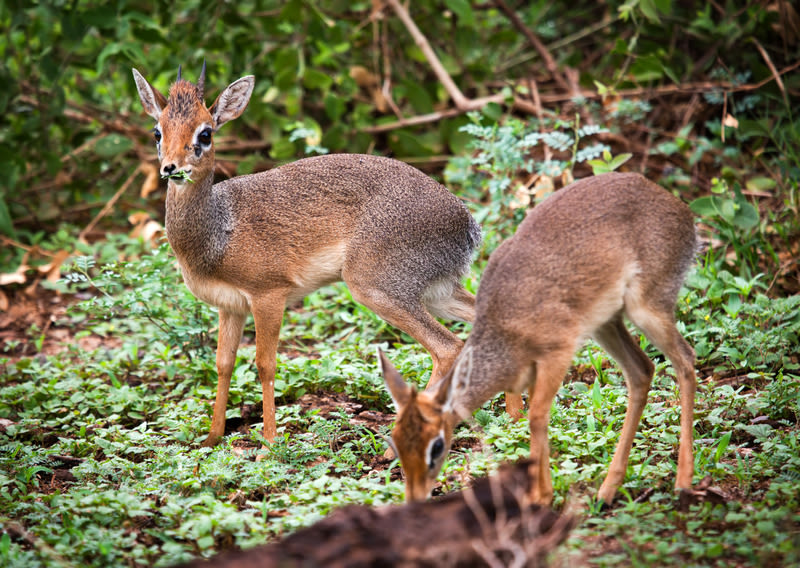 It's not all large game in Africa – some of the most exciting spots are the little guys, like these adorable dik-diks
That said, people generally choose when to go based on what they want to see most, for instance, the infamous river crossings of the Great Migration herds, or the newborns that arrive during calving season. Others prefer to choose a time based on the weather and scenery, whilst still others want to go whenever they'll avoid the crowds.
Best time to visit Tanzania's Northern Circuit
The Northern Circuit is a collective name for the national parks and reserves of northern Tanzania. These are the country's most famous and popular parks, for good reason. They include Serengeti National Park (home of the Great Wildlife Migration), Ngorongoro Crater, Tarangire National Park and Lake Manyara.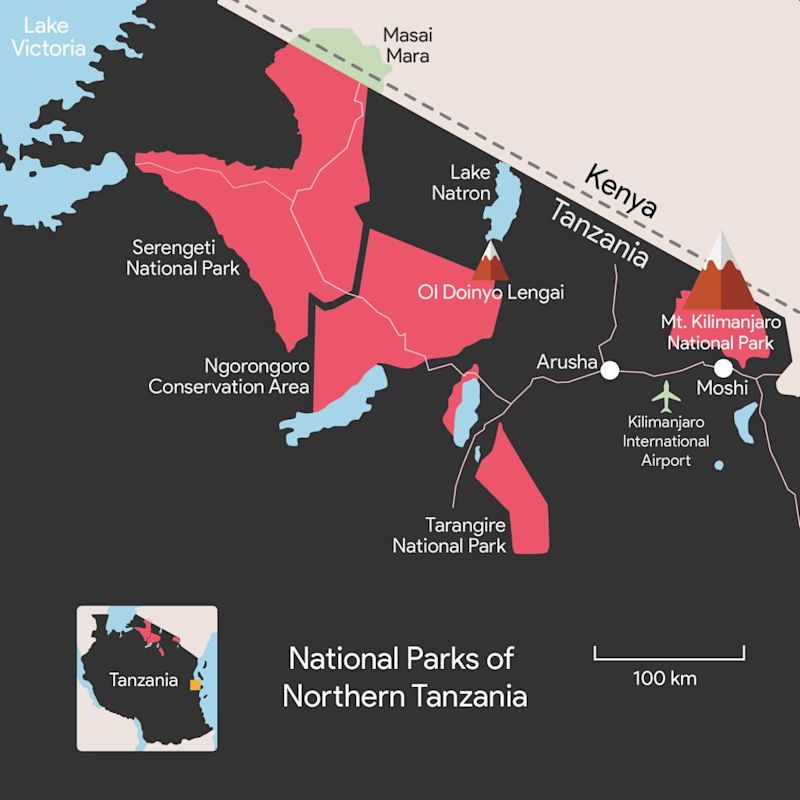 Map showing the most famous parks of Tanzania's Northern Circuit
The table below identifies the best time to visit Tanzania for different types of safari viewing. Honestly, every month is a good month for safari! It's just the they offer slightly different things under different weather conditions.
January and February
Peak season

Pro: Calving season, so you see baby animals!

Con: Most popular parks can be crowded in places
March to May
Off-peak season

Pros: Lush vegetation and quiet, uncrowded parks

Cons:

Lots of rain, and animals are harder to spot
June to October
Peak season

Pros: Sunny weather and the animals are easy to spot!

Con: Large crowds, especially in Serengeti
November and December
Off-peak season

Pros: Fantastic birdwatching and smaller crowds

Con: Tends to be hot and humid
We also discuss the best time to visit Tanzania for safari in our 8 must-know Serengeti safari tips video below.
There would be a youtube video here.
Sadly, the youtube player requires cookies to work.
Best time of year to visit Zanzibar
The beautiful islands of Zanzibar are another very popular addition to a Kilimanjaro climb, and we totally understand why! The pristine waters, white sands, spicy foods and historic Stone Town of Zanzibar are so relaxing. They're the chilled yin to the challenging yang of a Kilimanjaro climb!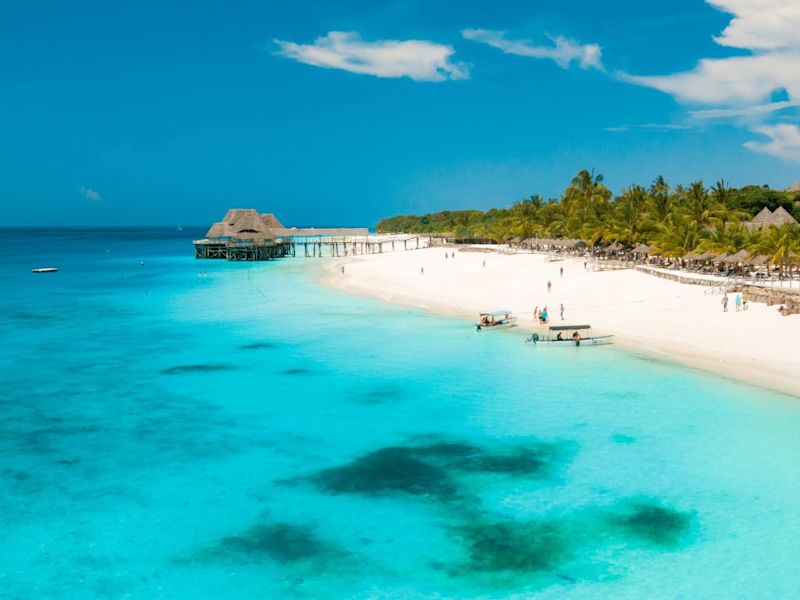 People travel from around the world to visit the white sands and pale, warm waters of Zanzibar
If you're keen to add Zanzibar to your Tanzania itinerary, please give us a shout and we'll happily organise this for you.
Fortunately, one of the best times to visit Zanzibar is the same as it for Kilimanjaro: June to mid October. These months are cooler and drier, so are good for visitors. December to February are also good months for a Zanzibar trip, as they're hot and dry. If you head there between March and May, you're in for afternoon downpours. Not the peachy beach weather you want! Mid October to November also tend to be a bit wet.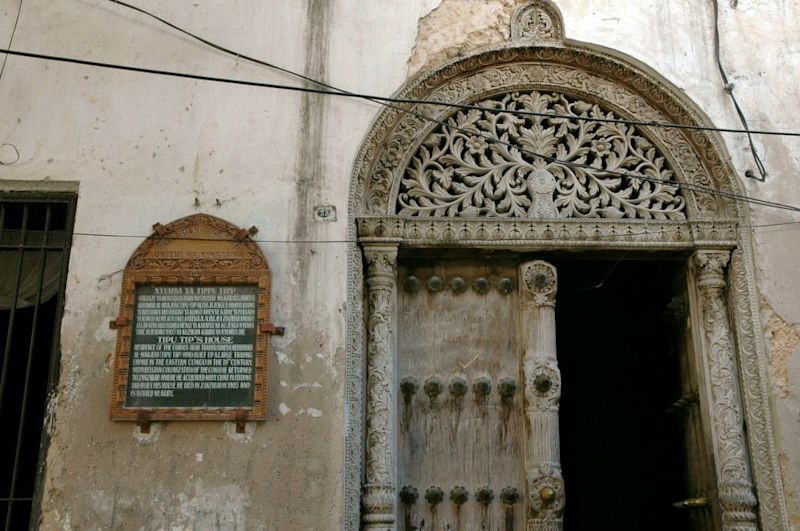 The historic Stone Town of Zanzibar is a great place for an exploratory wander ...
Once you know which activities you'll be doing in Tanzania, you should be able to determine the best time to visit Tanzania based on your itinerary. And if you're still struggling, then please just give us a shout – we'll be happy to advise you!