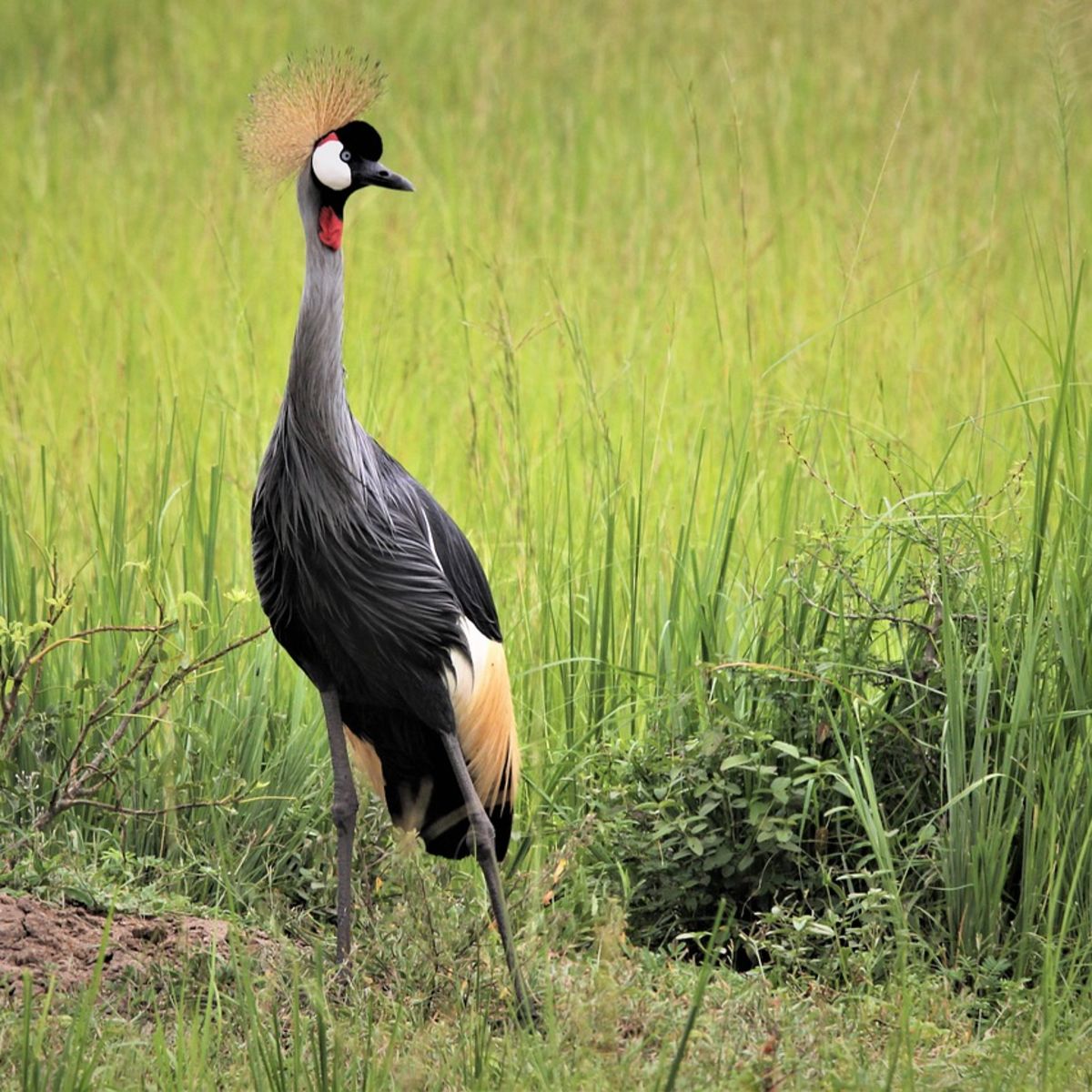 The 10 best things to do in Kilimanjaro region
Jun 12, 2023
Reading time: 18 minutes
If you travel all the way to Kilimanjaro, you also want to see other nearby sights and attractions, right? That's what this list is all about – suggesting great safaris, waterfall hikes, cultural experiences, hot springs and more close to Kili!
Every year roughly 35,000 people attempt to climb Mt Kilimanjaro, Africa's tallest mountain. For most of us, arriving at Kilimanjaro in northern Tanzania is no small feat, requiring hours or even days of travel.
So naturally, we encourage you to make the most of your time there!
We often take guests on a Tanzania safari after their Kili climb, travelling a few hours west to epic locations like Serengeti National Park. But there are also plenty of fantastic (and very affordable) things to do even more locally.
With that in mind, we've put together our list of the 10 best things to do in the Kilimanjaro region.
The Kilimanjaro region offers a fantastic variety of cultural and outdoor activities. And the scenery is incredibly beautiful!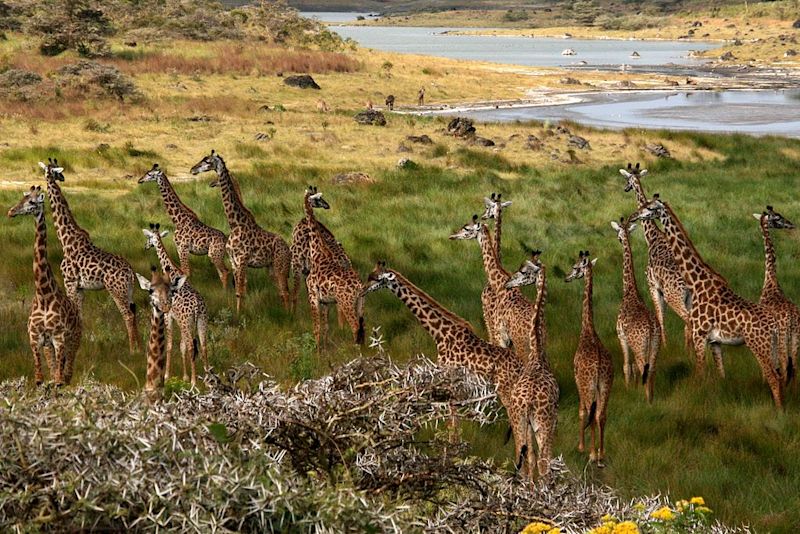 A herd of giraffes in Arusha National Park
Some of the items on our list last half a day, while others take up a whole day, and just one is a multiday affair.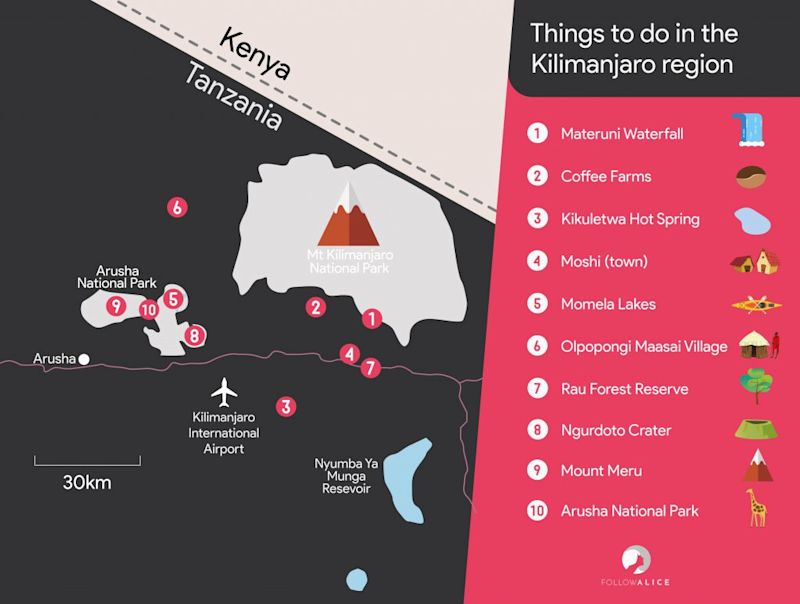 Map showing the locations of the 10 best things to do in Kilimanjaro region
If you just have a morning or afternoon before or after your Kilimanjaro climb, then we highly recommend arranging one of these trips to add a little extra something to your Tanzania trip and memories.
Or perhaps extend your stay in the Kilimanjaro region a little longer to allow yourself time to really immerse yourself in the local landscape, wildlife, history, culture and cuisine? You won't be disappointed!
1. Hike to Materuni Waterfall and swim in its pool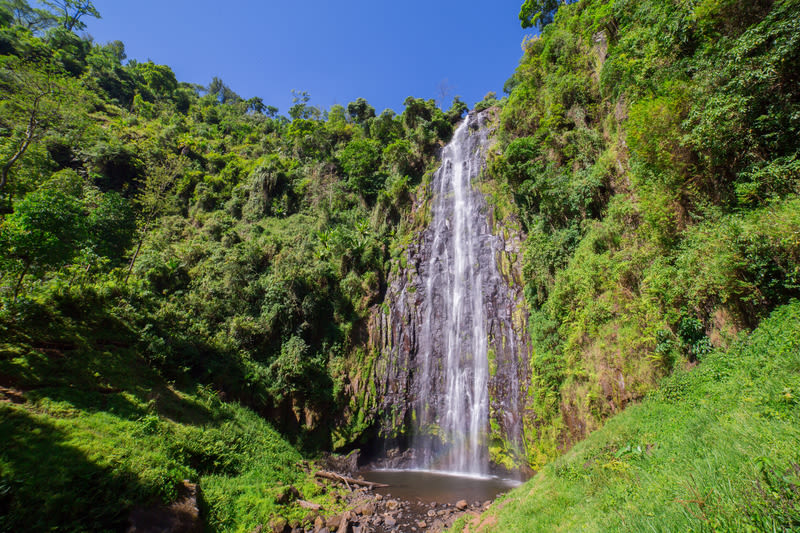 The gorgeous Materuni Waterfall
Location: Just north of Moshi
Duration: 45 minutes of hiking each way
Difficulty: Medium (there are steep sections and you'll get sweaty!)
Cost: $65 per person (includes English-speaking guide, packed lunch and bottled water)
Materuni Waterfall is a spectacular 90 m waterfall in the foothills of Mt Kilimanjaro. A short but taxing hike along a forested footpath brings you to the base of the waterfall, where the water collects in a beautifully clear little pool that's safe to swim.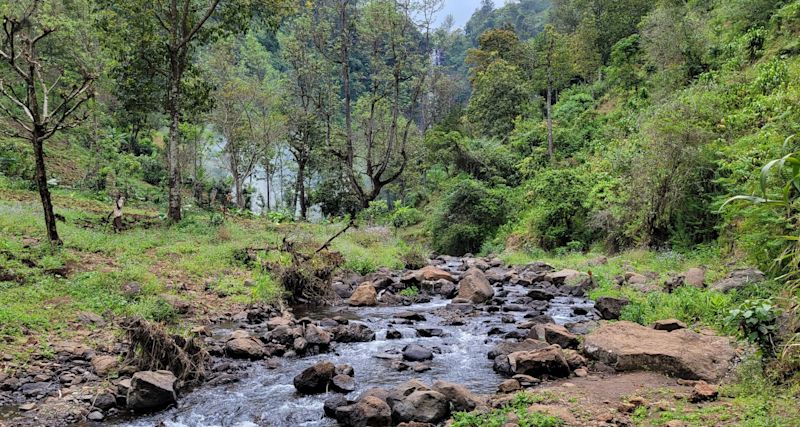 Our loyal client Lucy took this lovely pic on her hike to Materuni Waterfall
During the hike there and back you pass through coffee and banana farms, as well as traverse streams and small footbridges. Keep your eyes open for monkeys, duikers, birds and other small creatures.
This is a perfect half-day outing, and we recommend picnicking at the waterfall.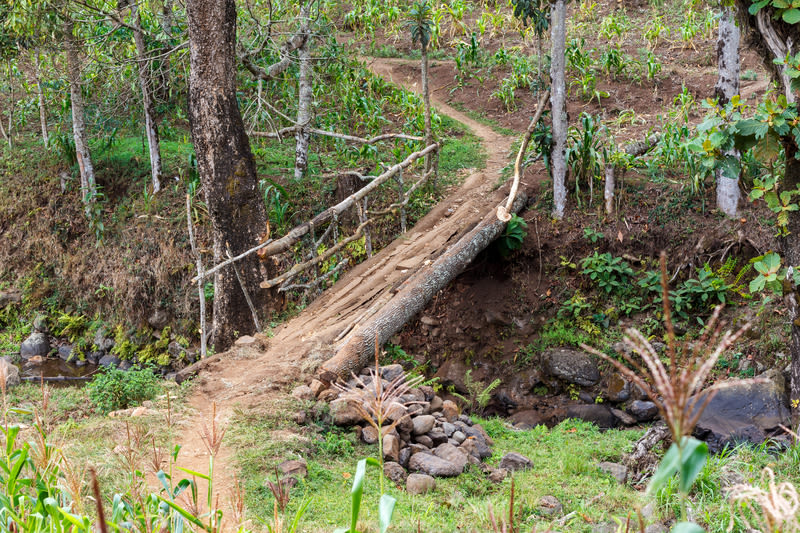 The hike to Materuni Waterfall is a gorgeous 45-min walk through beautiful terrain
2. Go on a Kilimanjaro coffee plantation tour
Location: Just north of Moshi
Duration: Around 2 hr
Cost: Varies, but often offered as a combo with a guided Materuni Waterfall hike – we're happy to arrange either option for you
The lower slopes of Kilimanjaro are a fertile farming area thanks to meltwater from its arctic summit. The coffee farmers here are famous for their 100% arabica coffee, which has a fresh flavour and smooth texture. Tours of the coffee farms are a popular post-Kilimanjaro activity – understandably, as having an expertly brewed cappuccino or americano after a week of roughing it on the mountain is just perfection!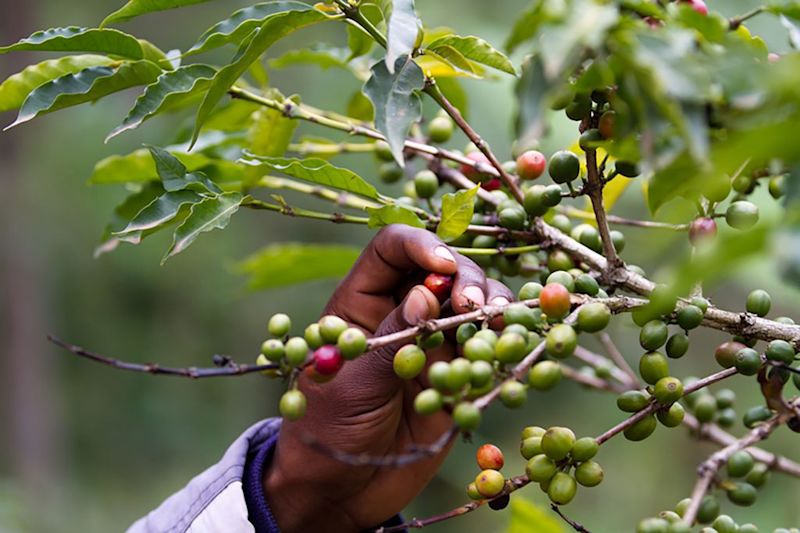 Inspecting the coffee beans on a farm on the lower slopes of Mt Kilimanjaro
What a tour involves
A coffee farm tour includes being shown around the farm to learn how the coffee is grown and harvested. Actually harvesting of the beans take place between July and September. If you're there between October and November, you'll get to see the coffee bushes in bloom, with the flowers giving off a jasmine-like fragrance. Next, you're shown the roasting and grinding process. Often, you can take part in the process so that you can enjoy a freshly brewed coffee near the end using the beans you processed!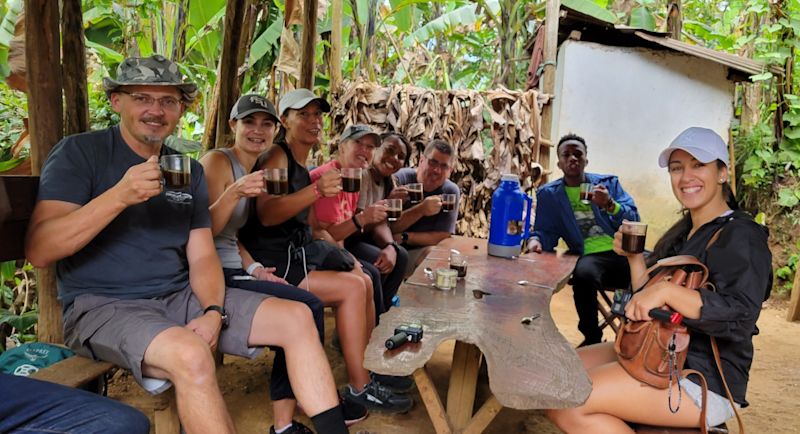 Lucy took this pic of her group on a coffee tour
Meet the Chagga
At some farms employees accompany the coffee roasting process with traditional singing and dancing. It's a wonderful experience to be exposed to the traditions of the Chagga people, a distinct and thriving people group who have lived for centuries along the southern and eastern slopes of Kilimanjaro, among other areas.
Support the local coffee industry
These farm tours help to support the Kilimanjaro coffee industry, with most of the farms being smallholdings. If you don't have time to visit one, we highly recommend at least picking up a bag of arabica beans as the perfect souvenir of your visit to the Kilimanjaro region. 🙂
The Kilimanjaro coffee farm tours help to support the local farmers – and always end with tasty, freshly brewed arabica coffee being served!
3. Take a dip in Kikuletwa Hot Springs
Location: Chemka Hot Springs Campsite, 1 hr drive southwest of Moshi
Duration: Full day
Cost: $95 per person (includes private guide, entrance fee, packed lunch and bottled water)
Swimming in the Kikuletwa Hot Spring is definitely one of the best things to do in Kilimanjaro region – and certainly the most relaxing! The hot spring (also known as Chemka Hot Springs for the nearby campsite) is encircled by trees, giving you a sense of being tucked away from the world and its demands.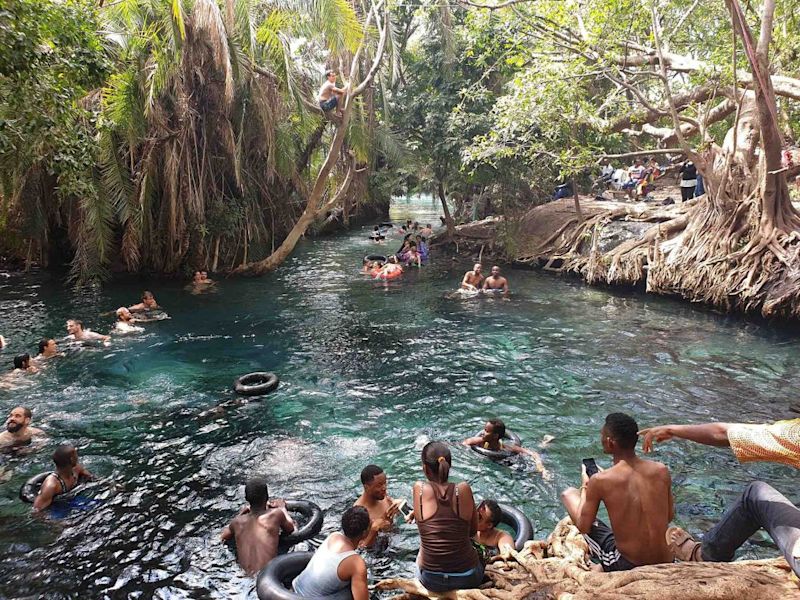 Kikuletwa Hot Spring is the perfect relaxing activity after climbing Mt Kilimanjaro! | Image by BrixL
A relaxing oasis
The hot springs is the perfect post-Kilimanjaro activity, in our opinion. All that's required of you is to slide your weary body into the warm water and …. nothing else. 😉 You can chat with your friends and neighbours, enjoy the birdlife hopping about in the fig trees around you, and let the fingerlings (small fish) nibble the dead skin off of your feet. When you feel revitalised, swing out on the tree rope and see how many expressive shapes you can make with your body as you drop into the water!
There are also food stalls at the hot spring selling delicious hot meals and snacks, so really you can just rock up and stay as long as you want.
The perfect day outing starts with walking to Materuni Waterfall, then going on a coffee plantation tour, and finally relaxing in Kikuletwa Hot Spring!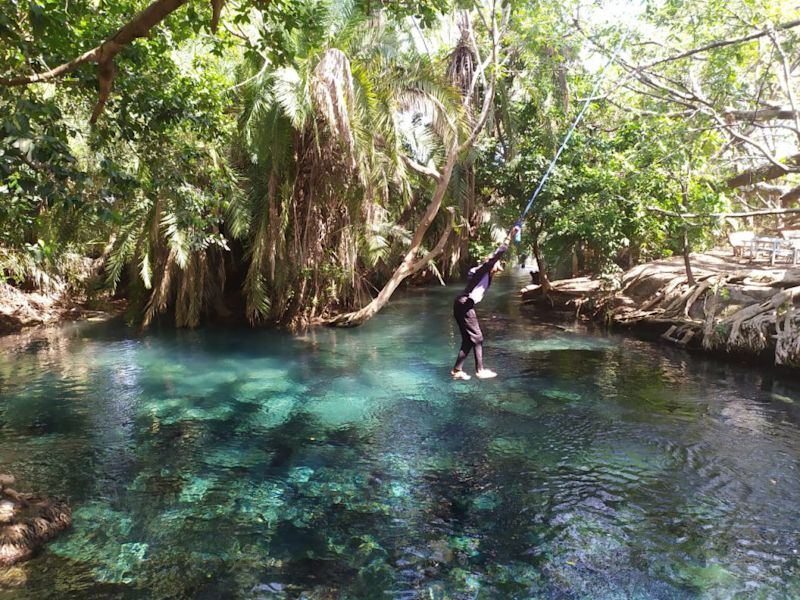 Swing out over the waters of the spring? Yes please!!
4. Explore the treasures of Moshi
Duration: Half a day
Cost: Around $30 per person for an English-speaking guide
Moshi, the capital of Kilimanjaro region, is a 40 km drive from Kilimanjaro Airport (JRO). As the gateway to Kilimanjaro National Park, it's a natural stopover destination for climbers. We always advise our guests to arrive at least a day before the start of their Kilimanjaro climb. This way, if there's an unforeseen delay like a late flight, your climbing schedule isn't jeopardised.
If you do find yourself with some time to kill in Moshi, either before or after your climb, we definitely suggest exploring this pretty little city and its many gems. Even if it's just finding your way to a coffee shop or restaurant so you can drop into a chair and gaze with heroic eyes at the mountain you just conquered.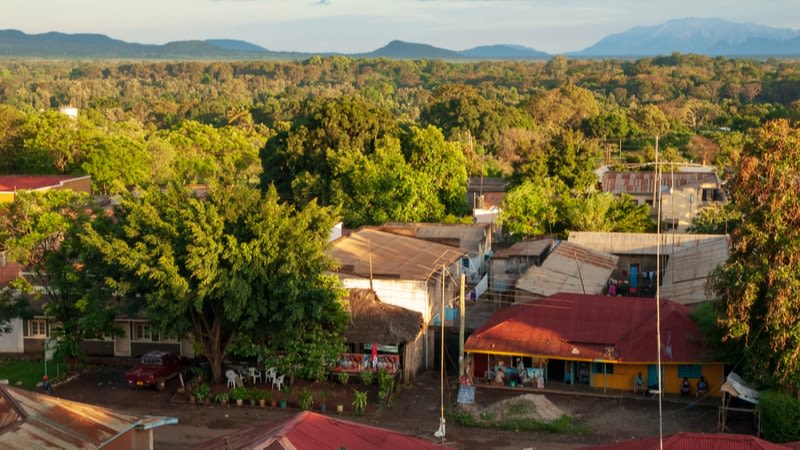 Aerial view of Moshi showing how green and pretty it is
Coffee shops and restaurants
Moshi has some fantastic eateries catering to the tastes of both its local and international customers. While popping into an unknown eatery that you spot and like the look of can lead to a great find, not everyone likes to leave things to chance. If that's you, we recommend the following establishments as having great settings and ambience and offering the best service, food and drinks:
The Coffee Shop

on Hill Street is arguably the best café in Moshi. It serves (most importantly) the region's famous arabica coffee, as well as various other hot and cold drinks, and lots of tasty snacks, including local favourites.

Aroma Coffee House

on Boma Road is a stylishly decorated refuge that serves tasty meals and snacks, including vegetarian options.

Honey Badger Lodge

in Sranga, 6 km east of Moshi, is a very popular restaurant and outdoor bar that serves Tanzanian cuisine as well as stone-baked pizzas.

Indoitaliano Restaurant

on New Street is a fantastic evening option (though latecomers might not get a seat). Sit on the verandah, which is rimmed by leafy pot plants, and choose between Indian or Italian cuisine!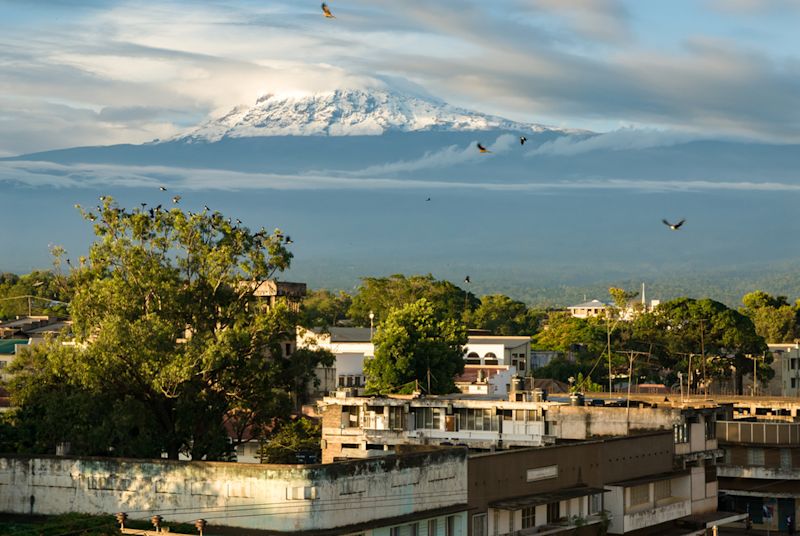 Moshi and Kilimanjaro
Local crafts and produce
If you're looking to take home some local art, jewellery, crafts, coffee beans or other souvenirs, you'll find options all over Moshi. There are so many that are worth a visit, it's hard to pick just a few to recommend! But here are some of the establishments that we think you'll appreciate:
The Central Market

(open seven days a week) is the busiest and most interesting of Moshi's various offerings. We recommend taking a leisurely explore through the warren of alleyways. You'll find locally produced gems like spices, coffee beans and teas sold alongside cheap Chinese imports. This is the working heart of Moshi. Traditional herbalists can also been seen selling their wares.

Our Heritage

crafts shop inside of The Coffee Shop on Hill Street which sells, among other things, coffee beans, teas, cheeses, jams and honeys. Much of the produce is produced locally and supports various community initiatives.

Shah Industries

on Karakana Street is a crafts workshop in an old flour mill that sells highly creative leatherwork pieces and other artworks. Many of the employees have disabilities and the workshop provides them an income.

Mama Africa Gift Shop

in Selous Street is a fantastic and colourful little shop offering a variety of locally made handicrafts and artworks, including dresses, paintings, Khanga and Kitenge materials, carvings, bags and jewellery. It supports several wonderful initiatives, such as Jiendeleze Women Group, Tumaini for Africa and Tuleeni Orphanage.
Moshi is best explored on foot, powered by some of the fantastic local arabica coffee!
5. Canoe on Little Momela Lake
Location: Northeast section of Arusha National Park, 40 min drive north of Arusha
Duration: Half a day
Cost: $360 per person (includes guide, park fee, canoe fee, packed lunch and bottled water)
The Momela Lakes in the northeast of Arusha National Park are seven shallow, alkaline lakes that are fed by underground water. They're a sanctuary for various resident and migratory water bird species.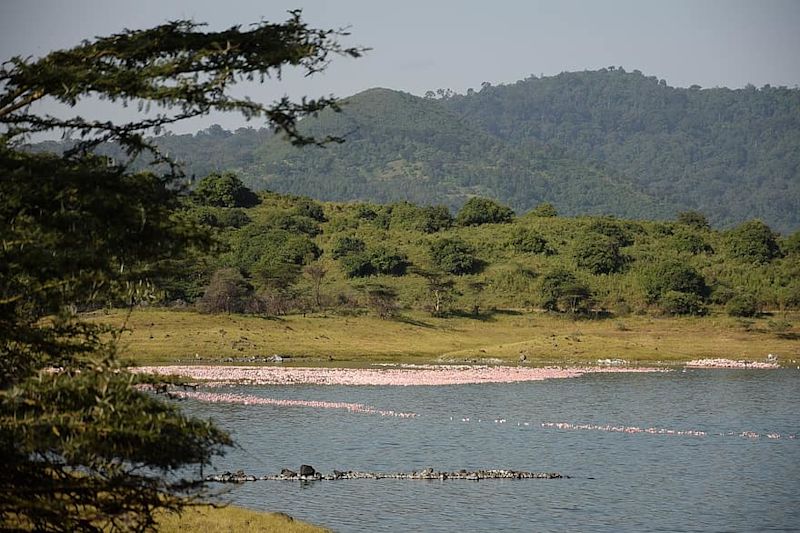 One of the seven shallow Momela Lakes
Canoeing on Little Momela Lake
Visitors to the park are allowed to take guided canoe trips on Little Momela Lake. This is a fantastic experience, and the guides are very knowledgeable. While you paddle on the lake, you look out over grassland, bush and forest, with Mt Meru to the west. Giraffes, buffaloes, zebras, hippos, waterbuck and duikers grace the scene with their presence. And the birdlife on and around the lake is incredibly abundant and impressive.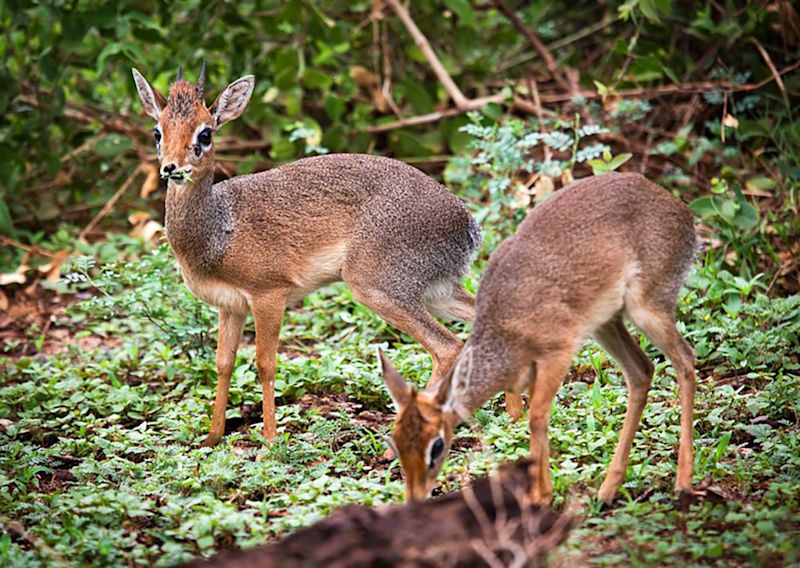 Duikers are pretty little antelopes and can be found in Arusha National Park
Birds of Momela Lakes
The Momela Lakes are a great place for spotting both resident and migrant birds. In fact, when it comes to the lakes' most prolific water birds – flamingoes and pelicans – 'spotting' isn't really the right word, as they're everywhere! The shallow lakes regularly host thick stands of hundreds of greater and lesser flamingoes that stain the water pink when seen from afar. Other water birds commonly seen are Egyptian geese, great crested grebe, southern pochards, Maccoa ducks and African jacanas.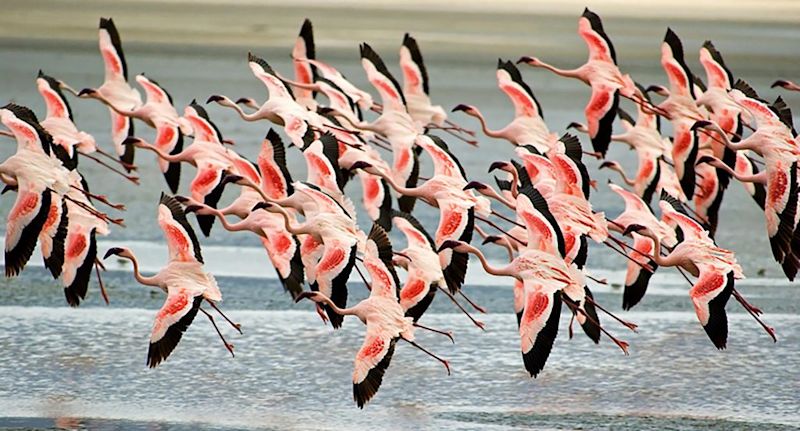 Flamingoes in flight – the birds love the alkaline waters of the Momela Lakes
The Momela Lakes and Ngurdoto Crater of Arusha National Park together make a perfect day's outing from Arusha or Moshi.
6. Visit Olpopongi Maasai Cultural Village
Location: 2 hr drive northwest of Moshi
Duration: Full day or overnight
Cost: Varies according to package; $50 for the full-day option (includes English-speaking guide, entrance fee, packed lunch and bottled water)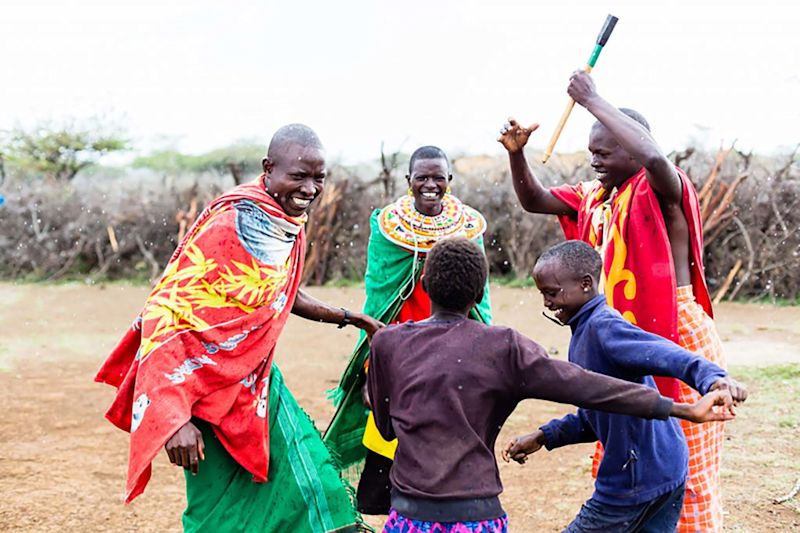 A Maasai family dancing and having fun
Visiting a Maasai village is definitely one of the best things to do in the Kilimanjaro region. The Maasai are the most famous tribe of East Africa and live in Kenya and northern Tanzania. A Nilotic ethnic group numbering around 1.5 million, they're known for (among other things) their warrior culture and hunting prowess, thatched villages, impressive jumping dance, vibrant clothing, and intricately beaded jewellery.
Olpopongi Maasai Cultural Village & Museum
There are many Maasai villages in northern Tanzania offering welcoming and fantastic visitor experiences – tours that are run by and benefit the Maasai themselves, which is important. One such place that's a favourite with our local leader Kazi and we can highly recommend is the Olpopongi Maasai Cultural Village & Museum on the western edge of the Kilimanjaro region.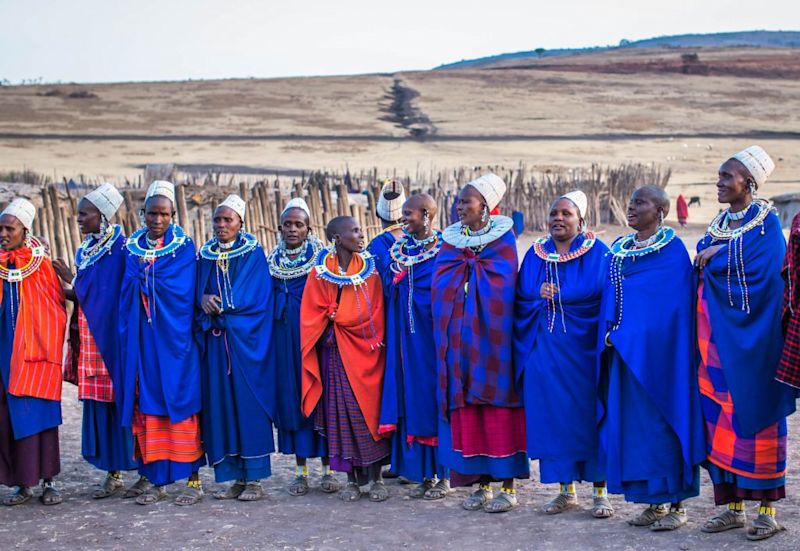 The Maasai are well-known for their colourful clothing and beaded jewellery
Visitors can opt for a day-long or overnight tour. The tours at Olpopongi include the following:
Welcome drinks and traditional cooked meals

Learning the

traditional jumping dance

(it's hard!)

A

guided safari walk

, where you learn about Maasai's warrior culture and customs

A tour of the cultural museum, which includes beautiful artworks

Learning some common Maasai phrases
We really encourage you to visit a traditional Maasai village as it's a unique, enriching and once-in-a-lifetime experience!
Visiting a Maasai village is often the highlight of many people's Tanzania visit, along with hiking Kilimanjaro and going on safari.
7. Mountain bike or hike in Rau Forest Reserve
Location: 10 km northeast of Moshi
Duration: 7 hr for the hike, 6-9 hr for the mountain bike trip
Cost: Around $60 for hiking tour and $90 for riding tour (bikes provided) – add extra for transport
Fancy mountain biking or hiking in pristine forest near the base of Mt Kilimanjaro? Rau Eco & Cultural Tourism is a community-based youth tourism enterprise that always impresses visitors. They offer well-organised mountain biking and hiking day trips through the underground water forest of Rau.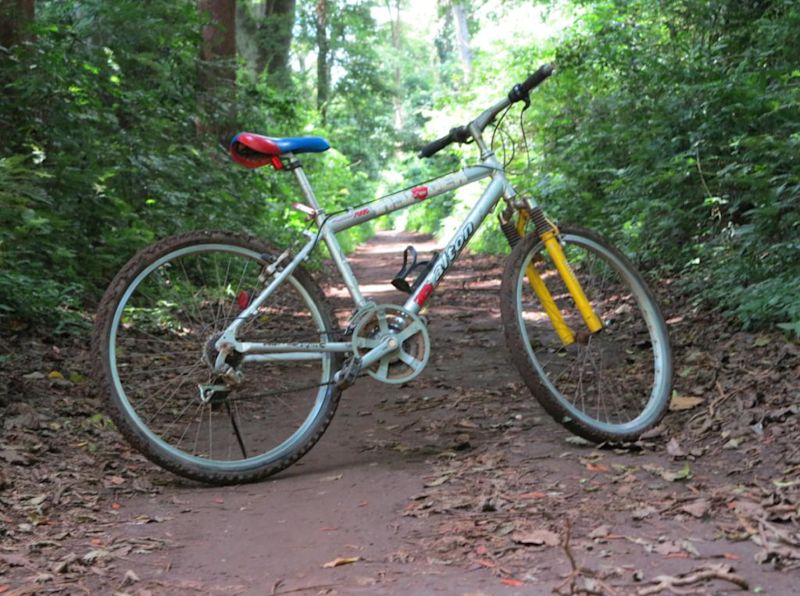 Mountain biking in Rau Forest lets you see lots of this beautiful reserve
Highlights
Highlights of both the biking and walking tour include:
Exploring the rice paddies and learning about the daily life of rice farmers

Passing through local villages like Mnono and Mabogini village (naturally you wander further on the bike trip than on the hiking trip)

Seeing black and white colobus monkeys and blue monkeys up close

Visit an African teak tree believed to be 196 years old that's a sacred site of prayer among locals

Witnessing the many different water birds that love this catchment forest

Tasting local banana beer

Enjoying a delicious cooked lunch (a vegetarian option is available)

Planting a seedling as part of the enterprise's "one trip – one tree" initiative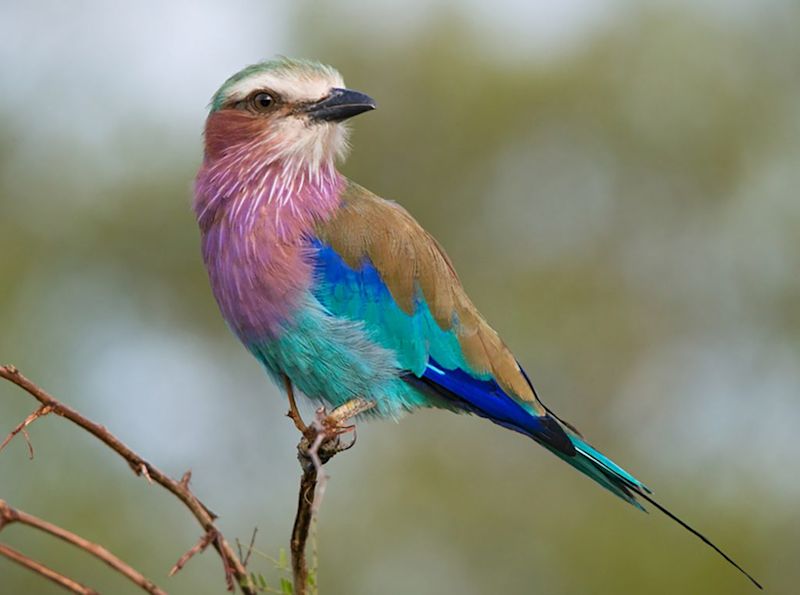 The lilac-breasted roller is a native of northern Tanzania
This is a wonderful opportunity for those wishing to support the local community and explore a lesser-visited part of the Kilimanjaro region.
The "one trip – one tree" initiative means you'll leave Tanzania knowing your tree is growing and helping to fight climate change.
8. Walk the rim of Ngurdoto Crater
Location: Arusha National Park, 40 min drive north of Arusha
Difficulty: Moderate
Cost: $45 per person park entrance fee – add extra for transport and for guide (optional)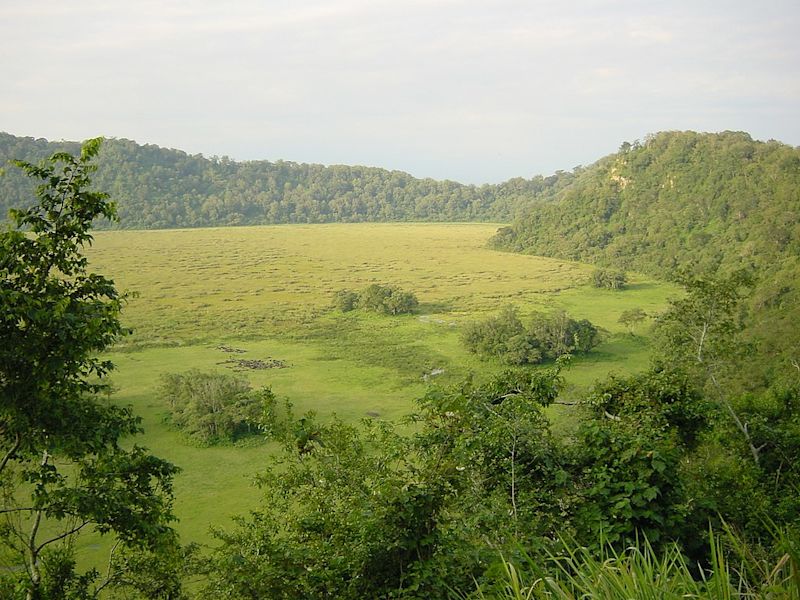 A view down into Ngurdoto Crater in Arusha National Park
In the far eastern corner of Arusha National Park is Ngurdoto Crater. This 4 km-wide caldera is a beautiful and lush oasis for wildlife. Sometimes called the 'little Ngorongoro Crater' (quite understandably, given its similarities to Ngorongoro Crater), the crater differs from its famous counterpart in being a no-go zone. To protect the wildlife, visitors are only allowed to hike along the western and southern rims of the crater and look down on the animals. As it's a relatively shallow caldera (only 100 m deep), the view of the crater floor and its many denizens is the perfect eco compromise.
The floor of the crater contains both swamp, grassland and forest, offering various pristine habitats for its inhabitants. Hiking the rim of Ngurdoto is truly one of the best day hikes and walking safaris in Tanzania.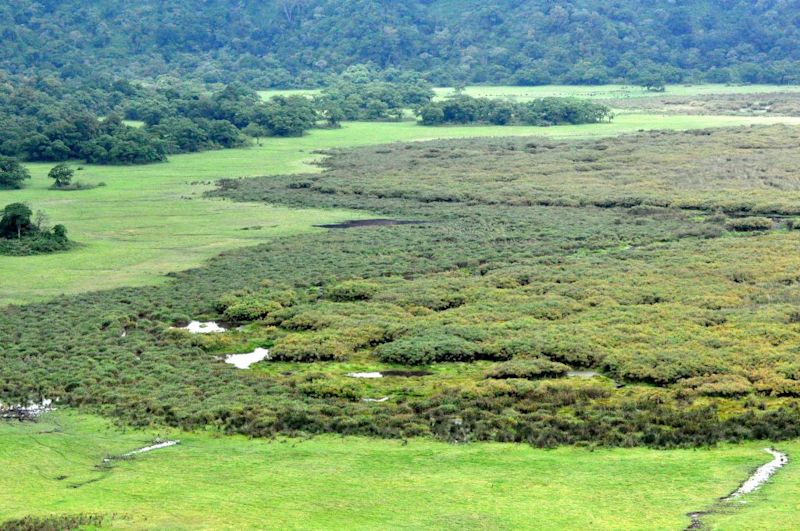 Ngurdoto Crater has been dubbed 'little Ngorongoro'
Animals of Ngurdoto Crater
Some of the animals that call the crater home are giraffes, buffaloes, zebras, warthogs, baboons and black-and-white colobus monkeys. Occasionally you can spot elephants, leopards, rhinos and spotted hyenas.
You have a better chance of spotting the rare black-and-white colobus monkey within Arusha National Park than anywhere else in Tanzania. One reason for this is that it's a quieter park, as most visitors race west out of Arusha towards the famous reserves of the Northern Circuit like Serengeti National Park.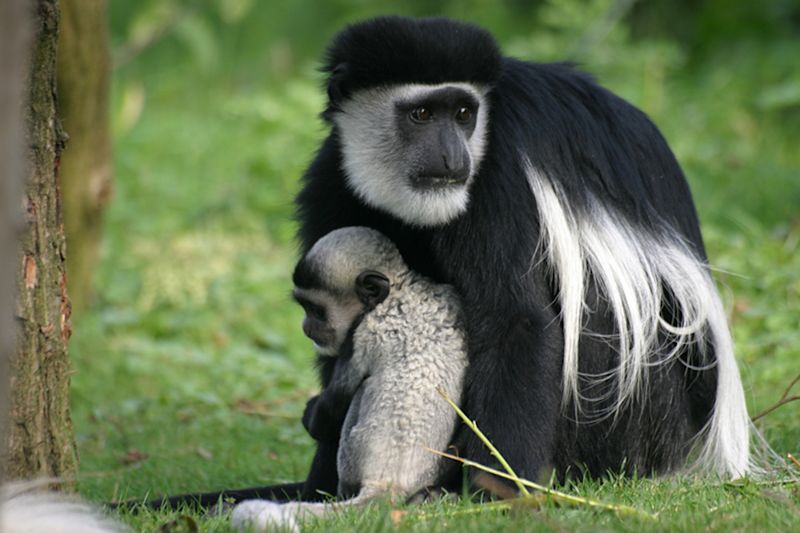 Your chances are high of seeing the black and white colobus in Arusha National Park
So while it's not so well-known, Arusha National Park is actually a sublime park that offers the perfect safari destination for those without the time or finances to travel further afield.
For anyone not heading to Ngorongoro Crater, Ngurdoto Crater is a must-see that's easily accessible from both Moshi and Arusha.
9. Trek to the top of Mt Meru
Mt Meru 4,566 m (14,980 ft) is a beautiful volcanic mountain on the western edge of Arusha National Park, just north of the city of Arusha. It's the second highest mountain in Tanzania, and the fifth highest in Africa. It was once taller than Kilimanjaro, but an eruption blew off its top.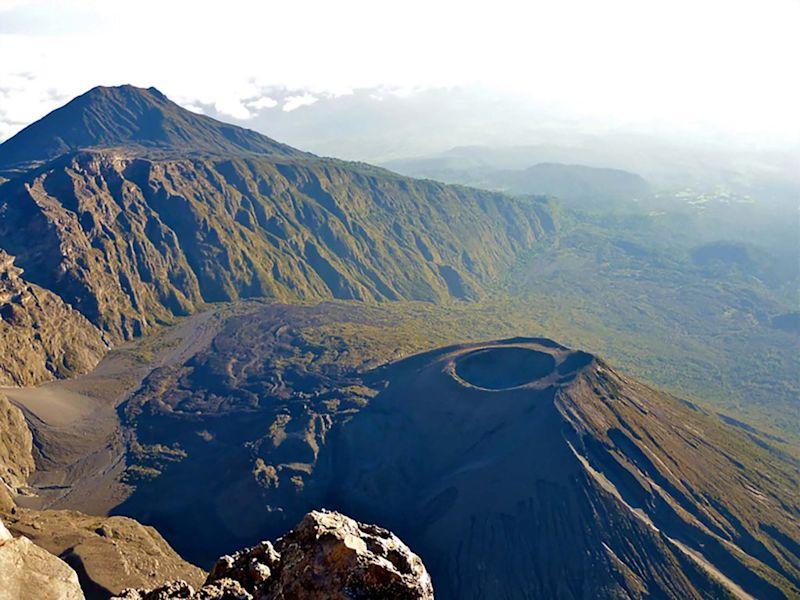 The peak of Mt Meru is in the back corner and its 3.5 km-wide caldera in the foreground
The ideal Mt Meru trekker
The now dormant volcano is a popular three- or four-day trek. It's a great option for anyone who:
only has a few days or wants a more affordable climb

is not (as yet) strong enough to climb Kilimanjaro

is keen to trek a quieter mountain

wants a challenging mountain climb without such a high risk of altitude sickness

wants to tackle an acclimatisation hike that prepares them for Kilimanjaro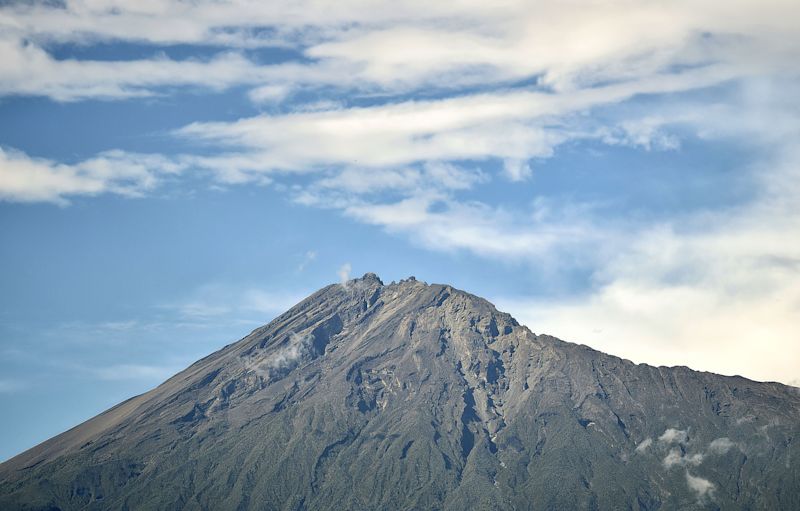 The barren peak of Mt Meru
While Mt Meru isn't as tough or long as Kilimanjaro, it's still a challenging trek, so don't think you'll breeze on up to the summit!! But it's a very rewarding climb. For starters, the scenery is exceptional, and include a great view of Kilimanjaro 70 km to the east! The wildlife is also arguably better than on Kilimanjaro, and is easier to spot. You can hope to spy animals like buffaloes, giraffes, warthogs, bushbuck, duikers, black-and-white colobus monkeys, and tawny eagles.
So could Mt Meru be a good trek for you? Here's what you need to know …
Trek itinerary
Mt Meru can be climbed over three or four days. The first two days are for climbing up, with the third day serving as summit day. Some hike back down the same day, while others spend another night on the mountain for a more relaxed descent. Note that trekkers stay over in mountain huts, so this isn't a camping climb.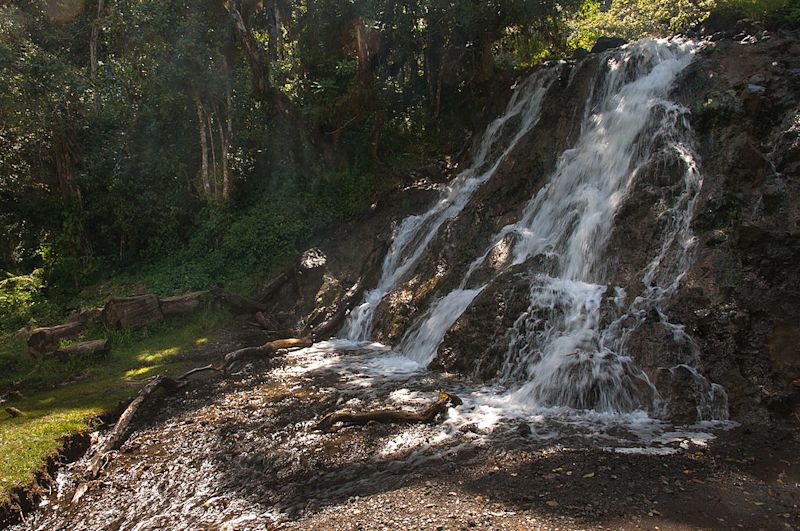 The lower slopes of Mt Meru are lush and covered in dense forest | Image by Y. Lerner
Climate and vegetation
The climate and vegetation zones of Meru are similar to those of nearby Kilimanjaro: you have dense forest, followed by meadows, then giant lobelias and giant groundsels, and finally montane desert. Only the top zone of Kilimanjaro – which is an arctic world of ice fields and glaciers – is missing on Meru.
Mt Meru is an excellent acclimatisation hike for those wanting to climb Mt Kilimanjaro.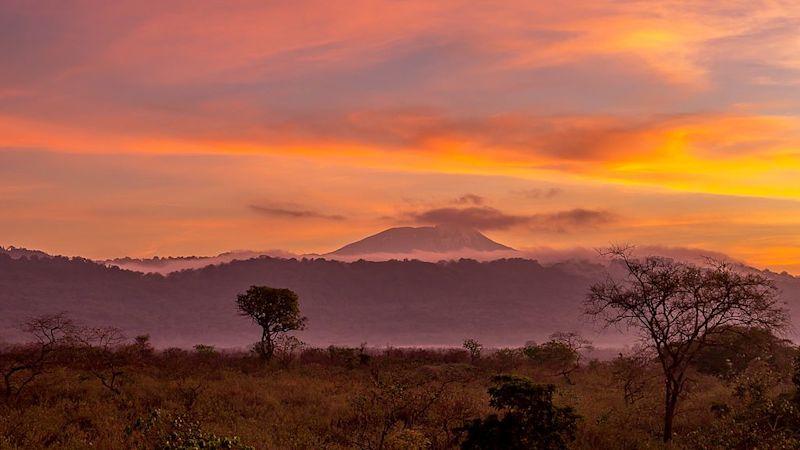 Mt Meru is an impossibly beautiful mountain and Tanzania's second highest peak
10. Go on a game drive in Arusha National Park
Location: 40 minute drive from Arusha
Duration: Half day or full day, and can be combined with canoeing on Momela Lakes and/or walking the rim of Ngurdoto Crater
Cost: $490 per person (includes transport, park fee, game drive, English-speaking guide, packed lunch and bottled water)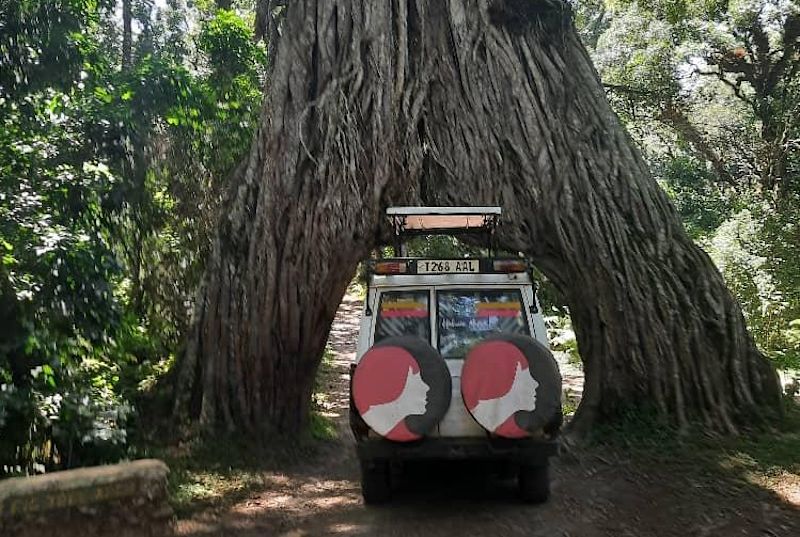 Kazi took this snap of one of our vehicles by the park's Fig Tree Arch
Arusha National Park is a lesser-known reserve in northern Tanzania that offers an uncrowded and very rewarding safari experience. It's also a perfect option for those not having the time to travel west to the bigger, more famous game parks like Serengeti, as it's just a stone's through north of the city of Arusha. We'd love to take you on a game drive in this beautiful game park before or after your Kili climb!
A unique park
The landscapes of Arusha National Park are a real delight. You have volcanic mountains and calderas, with Mt Meru and Ngurdoto Crater inside the park's borders, and Mt Kilimanjaro to the east. You also have the gorgeous Momela Lakes, the exquisite rainforest, Lokie Swamp, and expansive views.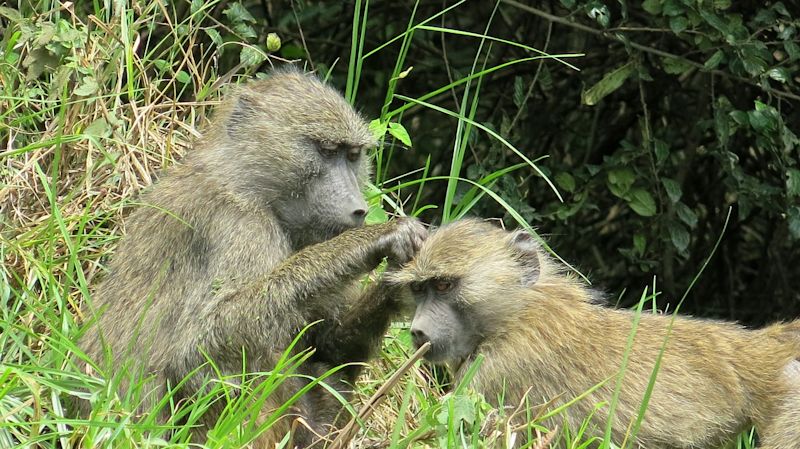 Olive baboons having a grooming session
Wildlife of Arusha National Park
The park is home to much fantastic wildlife. Safari-goers should be on the lookout for elephants, zebras, wildebeests, giraffes, hippos, warthogs, antelopes, black-and-white colobuses, baboons and blue monkeys. There are also leopards and hyenas, but they're not easy to find.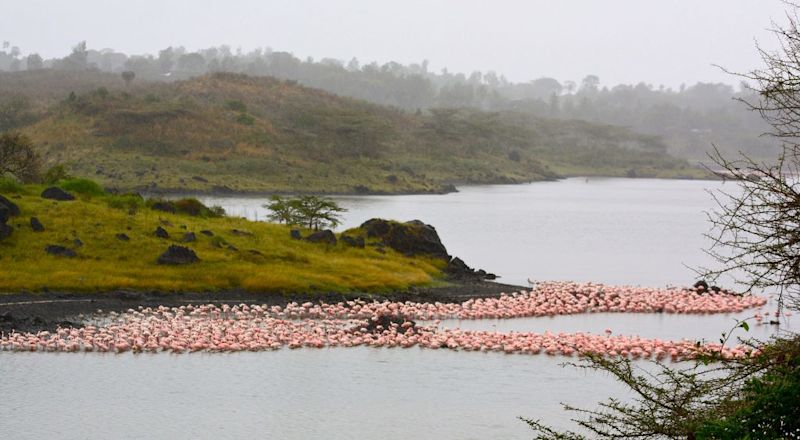 Flamingoes beautify Momela Lakes | Image by K. Taylor
Bird lovers will enjoy the flamingoes that flock to the lakes. And there are 574 other known bird species in the park, so bring that bird guide and your binos with you!
If you're keen to do any of these activities before or after your Kilimanjaro climb or Tanzania safari, just let us know and we can organise them for you! 😀
One final idea ...
Bonus idea: Join a community project
We work closely with a few NGOs in the Kilimanjaro region that are active in the upliftment of the local community through various initiatives. If you're interested in getting involved in a community project, chat to us and we can link you up with a project that means something to you. We find that travellers who engage in some form of outreach really enjoy the experience and go home feeling even more connected to the Kilimanjaro region and its beautiful people!