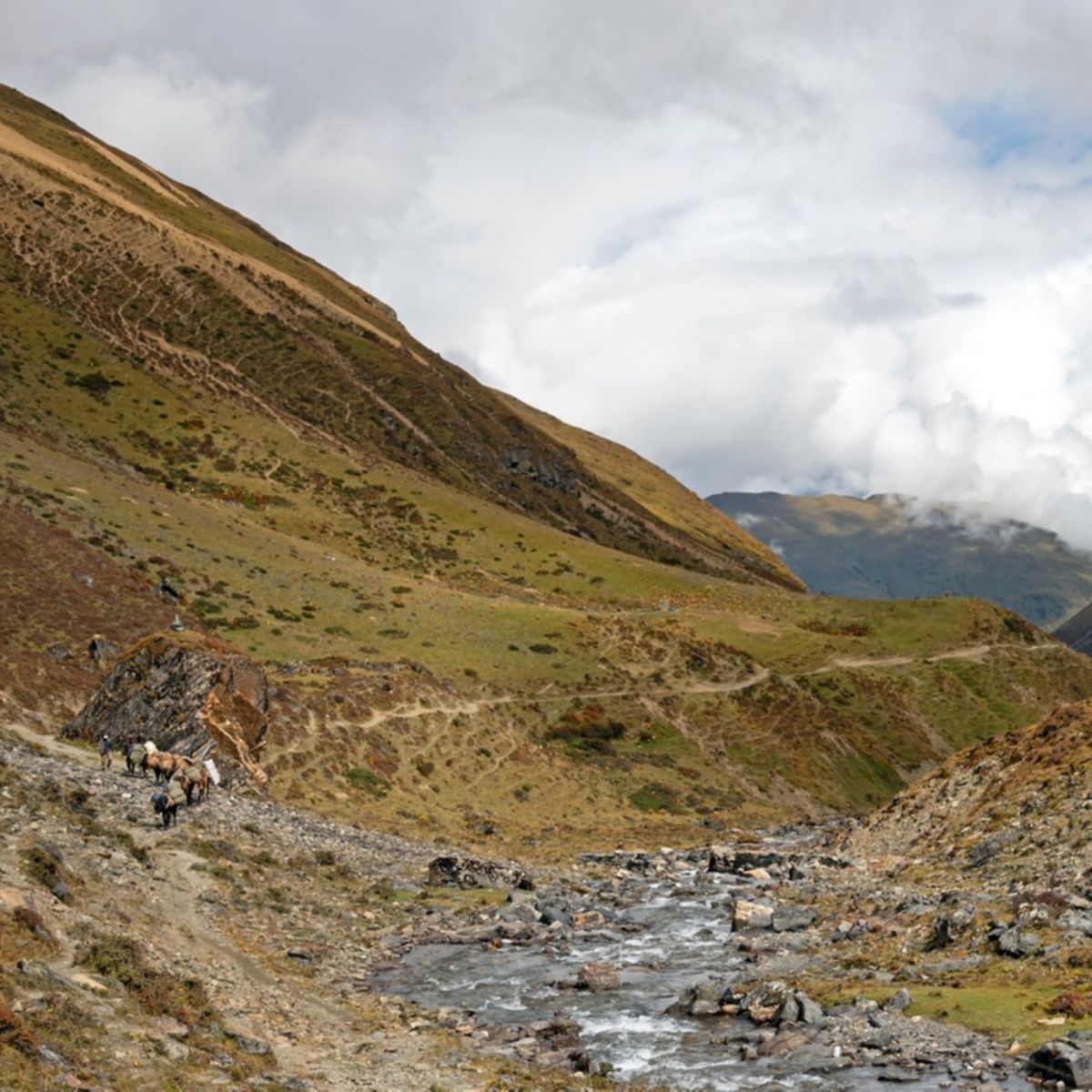 What Bhutan's Jomolhari trek route looks like
Aug 22, 2023
Reading time: 8 minutes
Bhutan's Jomolhari trek is the equivalent of Nepal's Everest Base Camp trek – an epic and challenging high-altitude trek through towering peaks that everyone dreams of doing! We discuss the route in detail so you can know what to expect and be prepared.
Jomolhari trek quick facts
Type:

High-altitude guided trek

Duration:

7 days

Difficulty:

Medium to hard

Best seasons:

Spring (April to June) and autumn (September to November)

Start point:

Sharna Zampa, Paro District (2,810 m / 9,219 ft)

End point:

Dom Shisa, Thimphu District (3,350 m / 10,991 ft)

Highest elevation:

4,930 m (16,175 ft)

Elevation gain:

2,120 m / 6,956 ft

Accommodation:

Camping

Highlights:

Incredible scenery, remote locations and view ​​of Mt Jomolhari (7,314 m / 23,996 ft)
Location of trek
The Jomolhari (or Jhomolhari) trek takes place within Bhutan's spectacular Himalayan range within Jigme Dorji National Park. The park, which can be seen in the map below, sits in the northwest of the country.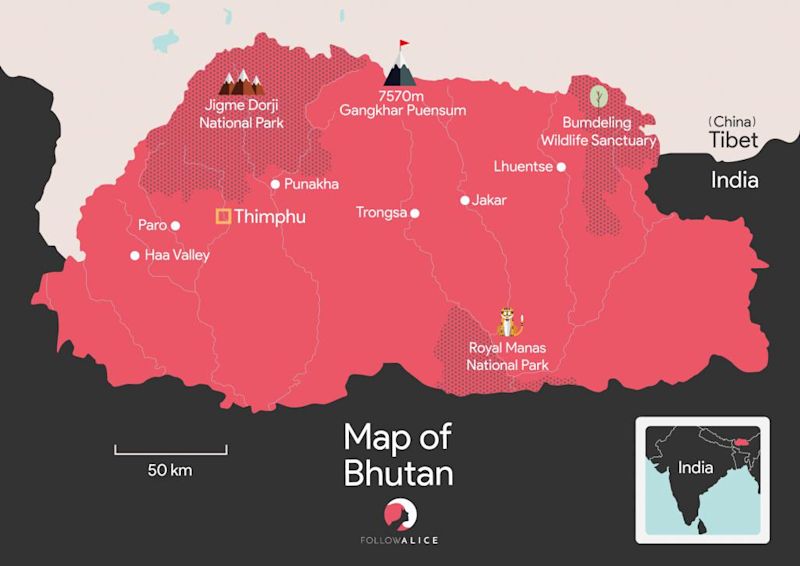 The Jomolhari trek takes place mostly within Jigme Dorji National Park
Trek overview
The Jomolhari trek route – together with its shorter Jomolhari Loop variation – is Bhutan's most popular trek route. And for good reason. The scenery, vegetation and animals are varied, beautiful and rare. And you pass through many remote and unique villages.
The Jomolhari trek route starts not far north of the pretty valley town of Paro. For the first two days you head north up the Paro Chhu valley via a steadily climbing trail.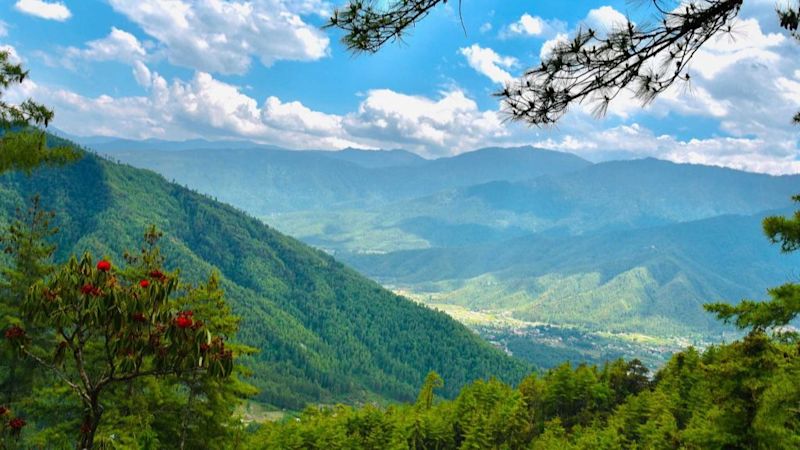 The Jomolhari trek route starts in Paro Chhu valley
The name of the trek – Jomolhari – refers to Mt Jomolhari (7,314 m), and on Day 2 you're rewarded with a view of this sacred mountain. You can also see other Himalayan beauties like Jomolhari's companion peak, Mt Jichu Drake.
At Jangothang Camp you enjoy a rest day, during which you can do some fabulous exploratory hikes to see further peaks, maybe some blue goats, gorgeous lakes, and (in season) flowers.
On Day 4 you continue trekking in a northeasterly direction, and cross the scree-covered mountain pass Nyile La (4,870 m). You then descend and spend a night in the remote village of Lingzhi, which is a real highlight of the trek. But more on that in just a moment.
The next day you turn south and cross the pass Yeli La (4,930 m). This is the highest point of the trek and on clear days you can see some fantastic peaks like Mt Gangchhenta and Mt Tserim Kang.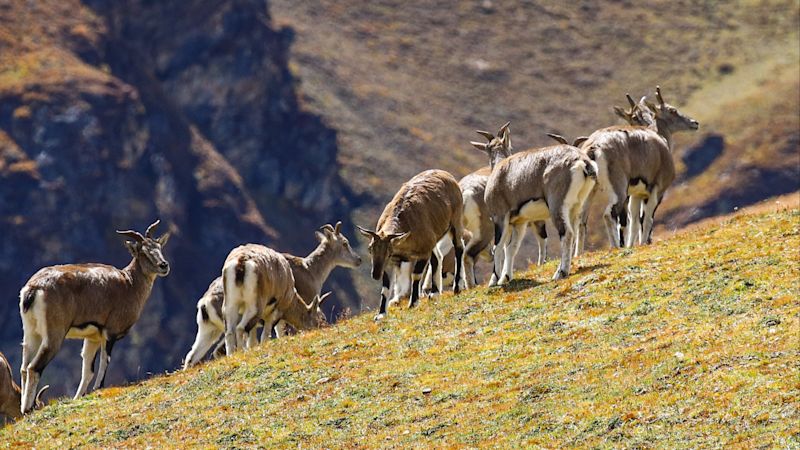 Himalayan blue sheep (bharal) can be seen along this section of the trek route
After a night at Shodu campsite, you spend the day walking east along the river valley of Wang Chhu to reach the campsite Barshong.
Finally, on your final day, you hike a short distance down to the campsite Dom Shisa. There's a dirt road here that allows you to be fetched by vehicle and driven south to the capital city of Thimphu.
But that's just a skeleton itinerary. Let's now delve into the juicy details ...
Jomolhari trek itinerary
Below we provide the itinerary for the Jomolhari trek route, which we think will get your super excited to book this adventure! Note that you'll be accompanied by pack horses, as these carry your camping equipment. These could be substituted for yaks in the higher regions.
Day 1 – Sharna Zampa to Thangthangka
Distance:

15 km / 9 mi

Duration:

6 hr

Ascent:

770 m / 2,526 ft

Descent:

10 m / 32 ft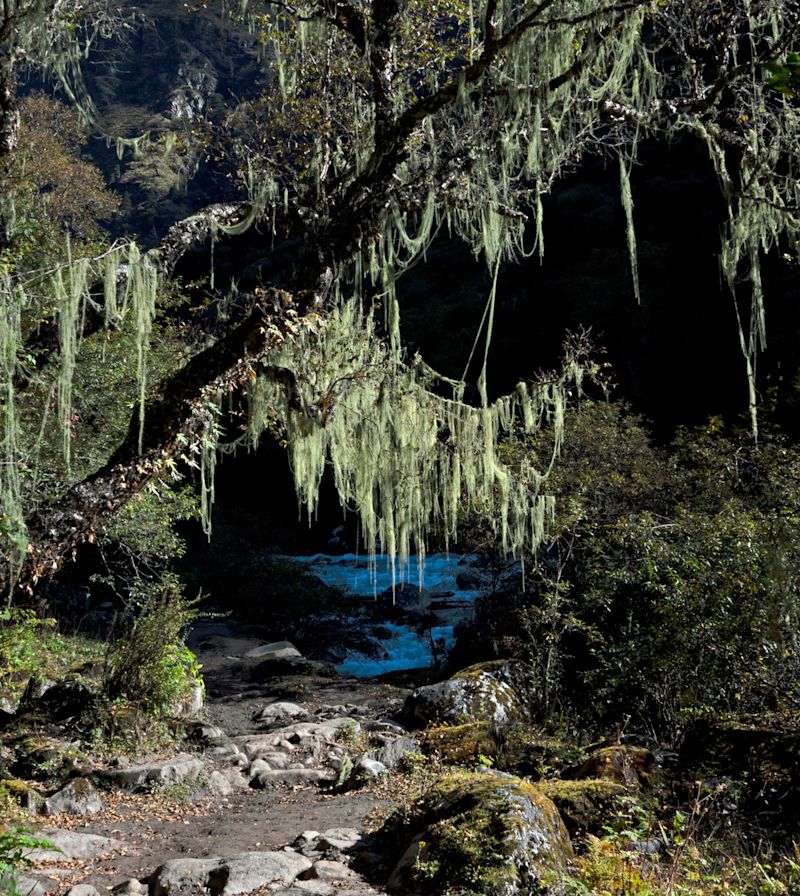 Moss hangs from a tree on the trek route
Your first day on the trail is tough, with lots of ups and downs. The trail is often muddy too. But the scenery is wonderful.
Today you walk alongside the Paro Chhu and must sometimes cross it via wooden bridges. The trail takes you among rhododendrons, ferns, oaks, larches, blue pines, maples, birches, firs and cedars.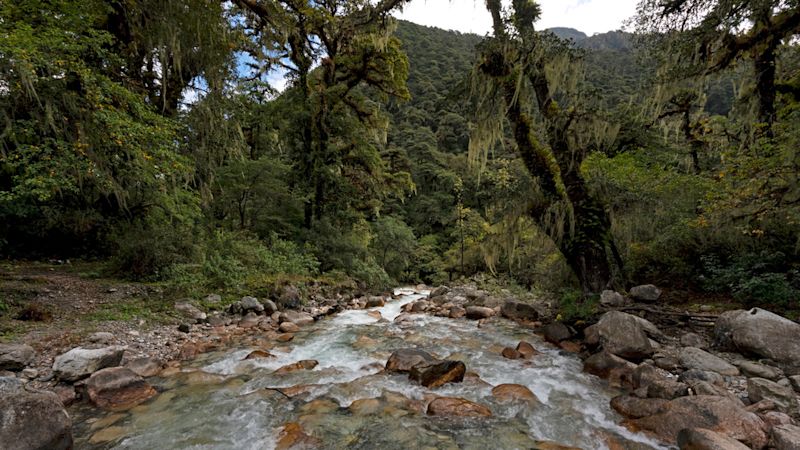 Pretty Paro Chhu
A popular lunch spot is the clearing by the stone house Shing Karap, as this offers a break in the trees for a magnificent view.
The campsite at Thangthangka is located in a pretty meadow, and has a little kitchen area and permanent toilets. It also offers a view of Mt Jomolhari!
Day 2 – Thangthangka to Jangothang
Distance:

13 km / 8 mi

Duration:

5 hr

Ascent:

450 m / 1,476 ft
Today is a great day, as you're headed to the campsite Jangothang, which offers an incredible view of Mt Jomolhari (which straddles the border between Bhutan and Tibet) to the west.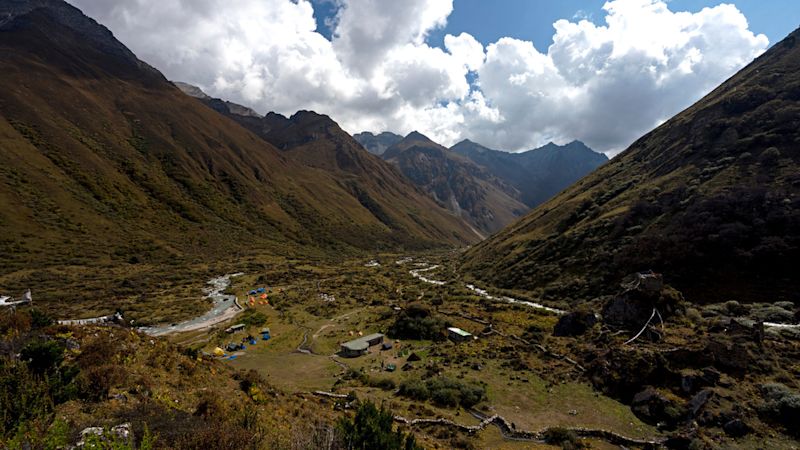 View of Jangothang Camp
The trek today isn't quite as arduous, but it can still be quite muddy, so you might be hopping around puddles at times.
You'll pass an army base today – you're not far from Tibet and there's a lot of military history in the region you can ask your guide about.
Today takes you into yak territory, and you should see yaks grazing in meadows en route. You also pass the farming villages of Soe, Takethang and Dangochang.
A yak herd dwarfed by the mountain on the Jomolhari trek
Jangothang, like Thangthangka, has a kitchen area and permanent toilets. This is a busy and popular campsite, as it's used by many as an acclimatisation stopover. And, of course, the view of Mt Jomolhari is spectacular!
The Govt of Bhutan forbids climbing Mt Jomolhari as it's a sacred place.
Day 3 – Acclimatisation and exploration
To avoid developing altitude sickness, most Jomolhari trekkers take a rest day at Jangothang.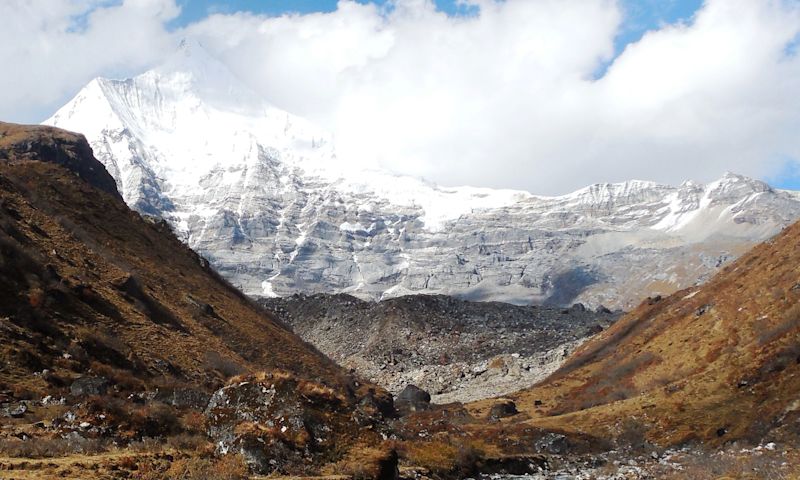 Mt Jichu Drake as seen from the ridge above Jangothang | Image by S. Pastor
There are a handful of rewarding day hikes you can do. Most opt for the four-hour trip that sees you clamber up the slope to the north of the camp. This climb gives you a great view of Mt Jichu Drake (or Jitchu Drakye), as seen above, and then, a little further up, another view of Mt Jomolhari.
Jangothang means 'land of ruins', as the remains of a small fortress can be found nearby.
Day 4 – Jangothang to Lingzhi
Distance:

18 km / 11 mi

Duration:

6-7 hr

Ascent:

840 m / 2,756 ft

Descent:

870 m / 2,854 ft
Today involves a big jump in altitude. You exit Paro Chhu valley and enter a glacial valley filled with moraines. The landscape is markedly different here; you'll see juniper bushes, grass and tundra. At various points you enjoy views of the different mountain peaks.
During the day look out for more blue sheep, as well as marmots (giant ground squirrels).
The main challenge today is the pass Nyile La, which is a stiff climb. But the peaks one sees are magnificent: Mt Jomolhari and Mt Jichu Drake on the one side, and Mt Tserim Kang (6,789 m) on the other. A good place for a lunch stop is when you reach the valley floor on the other side of Nyile La.
Today you cross Nyile La, the first of two mountain passes on the Jomolhari trek.
Next you walk a high contour path, eventually descending into the valley Jaje Chhu. You overnight at Chha Shi Thang campsite, which sits on the opposite side of the valley to the village of Lingzhi.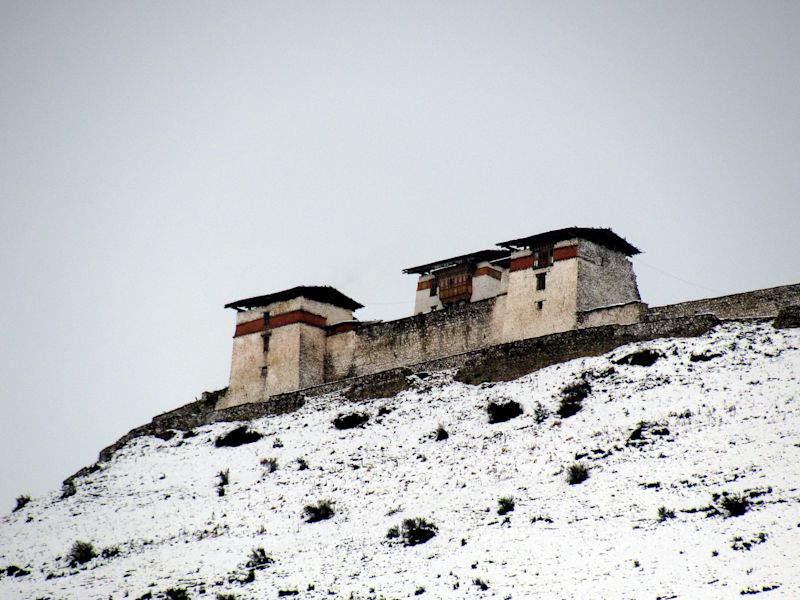 Lingzhi Yugyal Dzong is a working monastery above Lingzhi | Image by C.J. Finn
Day 5 – Lingzhi to Shodu
Distance:

22 km / 14 mi

Duration:

8-9 hr

Ascent:

940 m / 3,089 ft

Descent:

920 m / 3,018 ft
Today is a strenuous day, so an early start is important. To start you climb up out of the valley onto a ridge. You've been heading northeastwards until this point, but you now turn south and enter the deep Mo Chhu valley. So this is a sharp turn on the map.
After hiking down Mo Chhu valley for a while, you must climb up to Yeli La. The pass is a narrow cliff path that's carved into rock face. On a clear day, you can see Mt Jomolhari, Mt Tserim Kang and Mt Gangchhenta ('Great Tiger Mountain').
At 4,870 m, Yeli La is the highest point along the trek.
Near the end of the day's trekking you enter into the upper Wang Chhu valley, and a little further on reach Shodu Camp.
Day 6 – Shodu to Barshong
Distance:

16 km / 10 mi

Duration:

5-6 hr

Ascent:

250 m / 820 ft

Descent:

670 m / 2,198 ft
It's an easier day of trekking today, with more descending than ascending. Early on you pass under some yellow cliffs that have meditation caves carved into them.
You crisscross the river a few times today. The south side has cypress forest, while the north side has steep canyon walls.
To reach Barshong, you climb for around an hour. There's a campsite here, but if it turns out to be too muddy, you can always push on to Dom Shisa, tomorrow's campsite.
Day 7 – Barshong to Dom Shisa, drive to Thimphu
Distance:

7 km / 4 mi

Duration:

1 hr 45 min

Descent:

350 m / 1,148 ft
The walk from Barshong to Dom Shisa is short, and it's here you're fetched by car and driven to Thimphu for the night. You can learn more about the many attractions of Bhutan's capital city in Top 12 places to visit in Bhutan.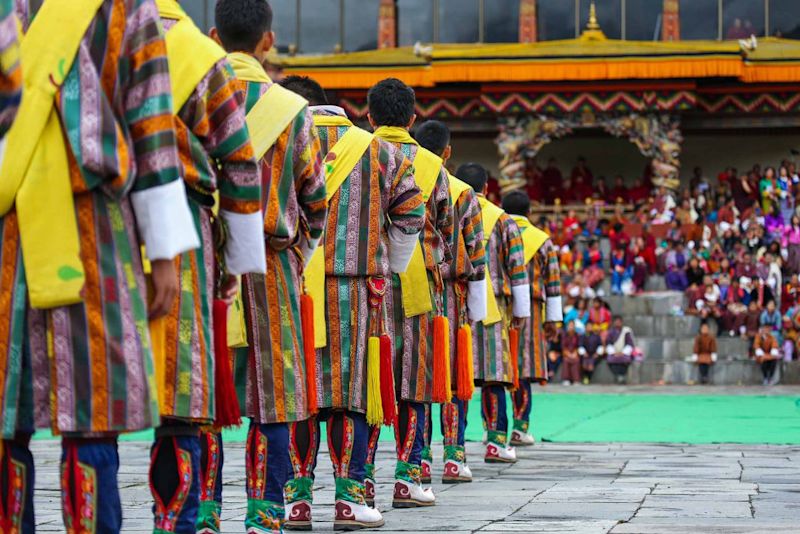 Thimphu Tschechu is an annual festival – it's a fantastic experience for visitors
Best time of year for the Jomolhari trek
The best seasons for doing the Jomolhari trek from a weather perspective are spring (April to June) and autumn (September to November). That said, the trek can usually be done all year round, provided snow doesn't cause the high passes to be closed in winter. If you want a quieter trek, you might consider doing the trek during off-peak season. But be warned that it can be really tough going in the rain.
The very best months for the Jomolhari trek are April and October.
As mentioned before, you can't trek alone, so whenever you choose to do the Jomolhari trek, you'll have an experienced guide with you.