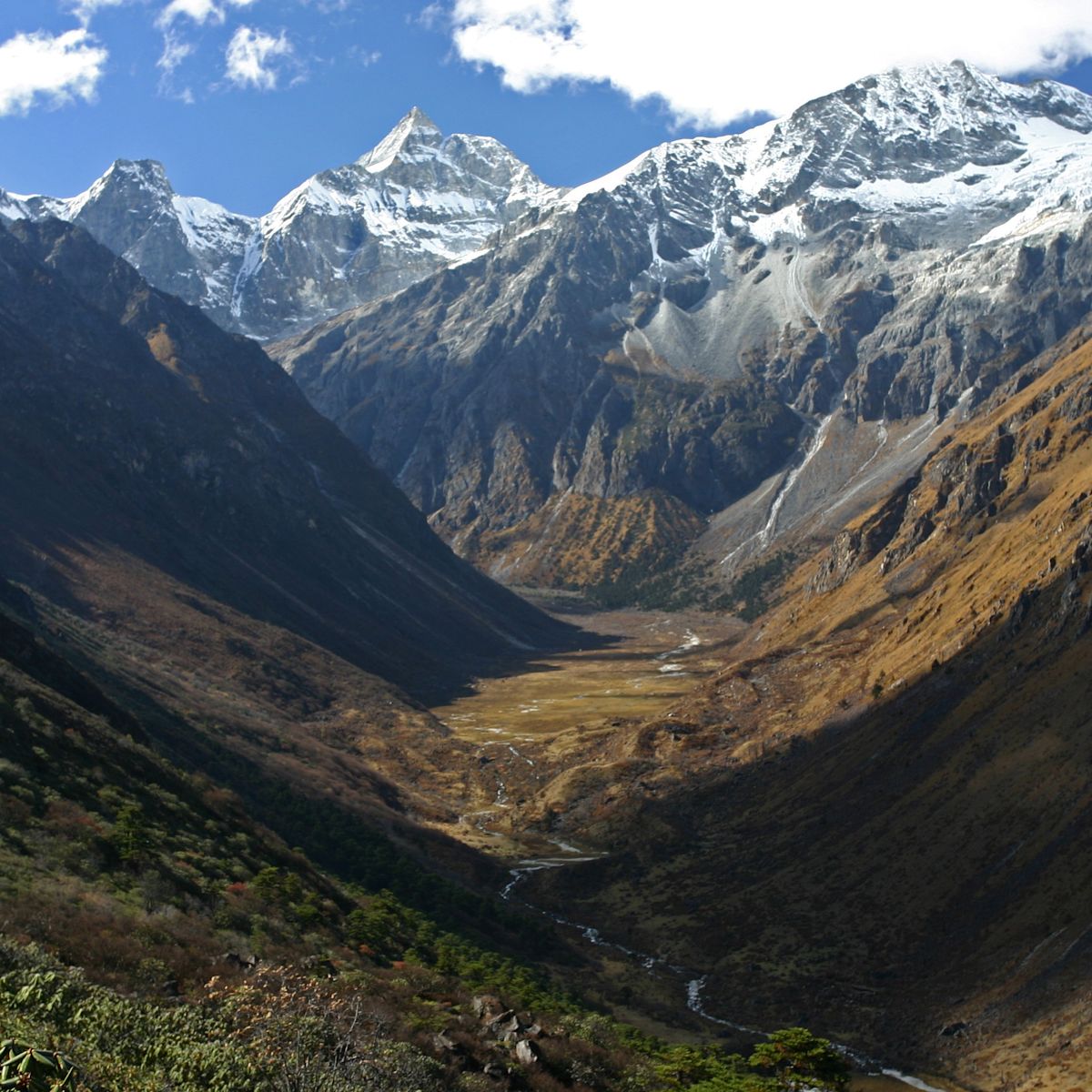 Bhutan's Laya trek route
Aug 22, 2023
Reading time: 13 minutes
The Laya trek (also known as the Jomolhari–Laya–Gasa trek) is a challenging multiday adventure in Bhutan's gorgeous and super remote western Himalayas. We discuss what to expect each day to prepare you for this incredible trek of a lifetime!
Laya trek quick facts
Type:

High-altitude guided trek

Duration:

10 days

Difficulty:

Hard

Best seasons:

Spring and autumn

Start point:

Sharna Zampa, Paro District (2,810 m / 9,219 ft)

End point:

Koina, Gasa District (3,278 m / 10,755 ft)

Highest elevation:

5,005 m (16,421 ft)

Accommodation:

Camping
Laya village is the highest settlement in Bhutan
Highlights of the trek include the spectacular mountain views, visiting remote Laya village, and possibly seeing takins, blue sheep and blue poppies.
Location of the trek
The Laya trek (also referred to as the Jomolhari Laya trek trek) takes place within Bhutan's spectacular Himalayan range, and almost entirely within Jigme Dorji National Park. The park (which is a biggie!) can be seen in the map below.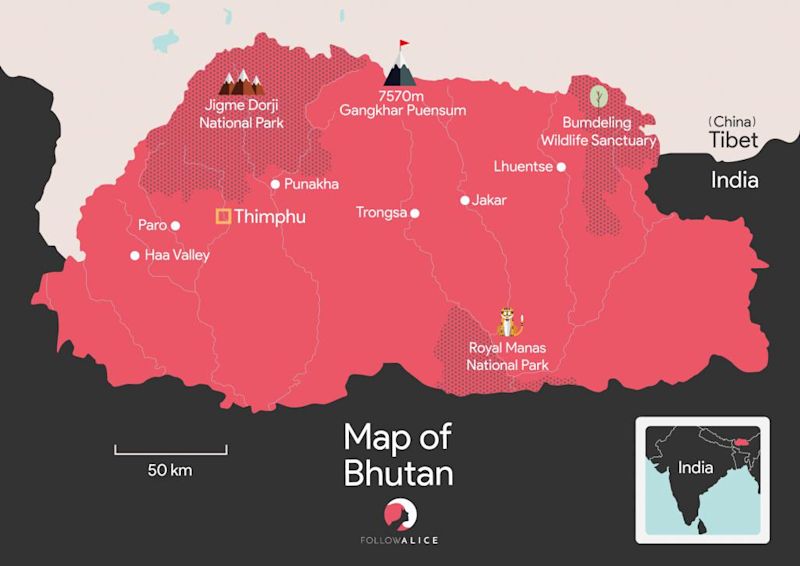 Map showing Jigme Dorji National Park, where the Laya trek takes place
The Laya trek is an extension of the Jomolhari trek, and thus is sometimes also called the Jomolhari Laya trek.
Trek overview
The Laya trek follows a beautiful and varied route into the Himalayas, and as such one of Bhutan's most popular high-altitude treks. It also introduces you to a small and culturally distinct community in the highlands of the far north known as the Layaps.
During the trek you sleep in tented camps and your guides prepare your food for you.
These campsites invariably offer truly splendid views of the surrounding mountains. Jangothang in particular, where you spend two nights in order to acclimatise, has a great view of Bhutan's sacred and tallest mountain: Mt Jomolhari (or Chomolhari).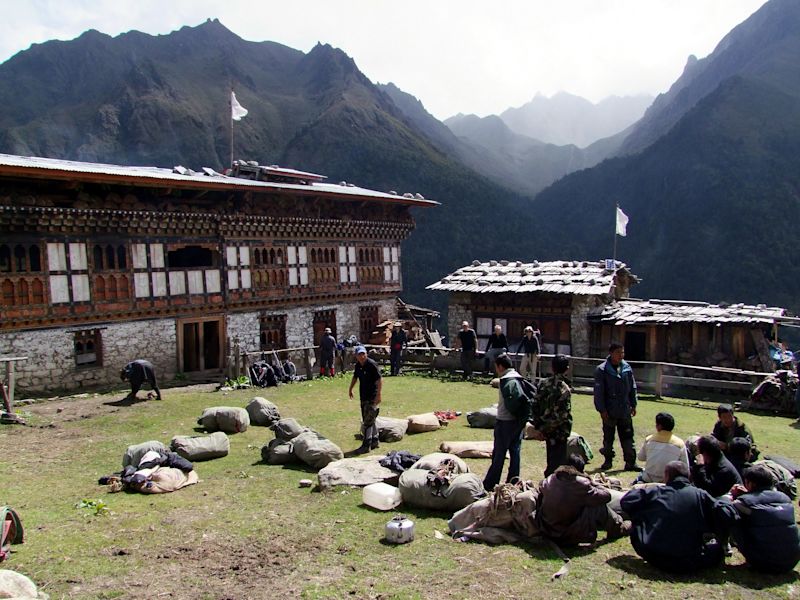 You camp throughout the trek at sites like this one in Laya village | Image by Mark Horrel
En route you walk through wet forests, across meadows, along exposed contour paths, over mountain passes, and through steep canyons. In spring there are beautiful flowers, including Bhutan's exotic blue poppy.
Unusual animals like takins and blue goats live in the highlands that you visit. And yaks can be seen throughout, especially since they're used by your porters in the higher sections to carry supplies.
It's a difficult trek
The Laya trek is difficult, make no mistake. Why? There are a few reasons:
On many days you're trekking for six to seven hours.

Further, the ever-increasing altitude makes every step that bit more taxing.

You must navigate some muddy and rocky paths.

You climb up and down steep, scree-strewn mountain passes.

There's the extreme cold to manage, as well as the possibility of snow.
But, of course, it goes without saying that the views are incredible and super rewarding! And the opportunity to visit small, remote villages and communities is truly a privilege that few foreigners will ever get to enjoy.
An aerial view of the pretty meadow campsite Jangothang | Image by Graham
Laya trek itinerary
For the first four days of the trek, you follow exactly the same route and itinerary as the Jomolhari trek. It's only on Day 5 where the path deviate, continuing northwards where the Jomolhari trek route takes a sharp turn to the southeast.
Day 1 – Trek to Thangthangka
Distance:

15 km / 9 mi

Duration:

6 hr

Ascent:

770 m / 2,526 ft

Descent:

10 m / 32 ft

Thangthangka elevation:

3,610 m / 11,844 ft
The trail starts in Sharna Kampa, the starting point for a few treks, including the different variations of the Jomolhari trek. So you can expect to share the trail today with other trekking groups.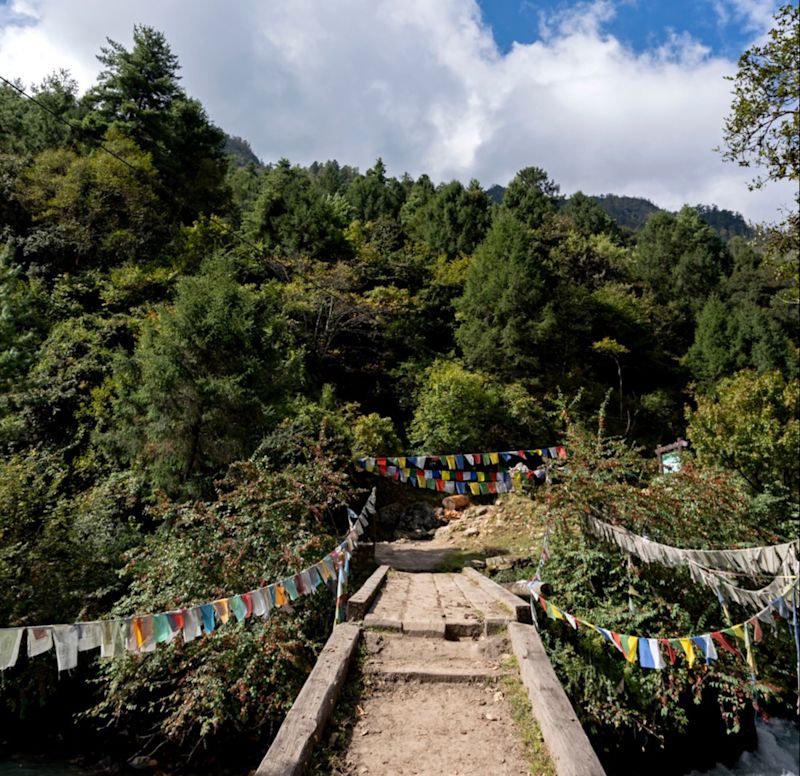 The first bridge you cross at the start of the trek
Your first day on the trail is taxing, as it can be muddy and there are plenty of ups and downs. But it should go without saying that the scenery is incredible, and you'll be ooh-ing and aah-ing even as you possibly puff and pant.
The trail runs roughly parallel to the river Paro Chhu, and sometimes crosses it via wooden bridges. You walk among beautiful trees, including rhododendrons, ferns, oaks, larches, blue pines, maples, birches, firs and cedars. In spring, the rhododendrons are ablaze with vibrant pink blooms.
This region of the Himalayas is littered with historic buildings, ruins and fascinating history
A popular lunch spot on Day 1 is the clearing by the stone house Shing Karap. This spot has a break in the trees and you have a fabulous view of the surrounding mountains.
You overnight at a meadow campsite in Thangthangka. Here, like at many campsites along the Laya route, there's a little kitchen area where your trek crew can prepare your meal. (Fires aren't permitted.) There are also permanent toilets.
There's a great view of Mt Jomolhari from the campsite on night one. 😀
Day 2 – Trek to Jangothang
Distance:

13 km / 8 mi

Duration:

5 hr

Ascent:

450 m / 1,476 ft

Jangothang elevation:

4,080 m / 13,386 ft
Today is a great day, as you're headed to the famous campsite Jangothang, which offers an incredible view of Mt Jomolhari to the northwest. Mt Jomolhari, like many Himalayan peaks, straddles the border between Bhutan and Tibet.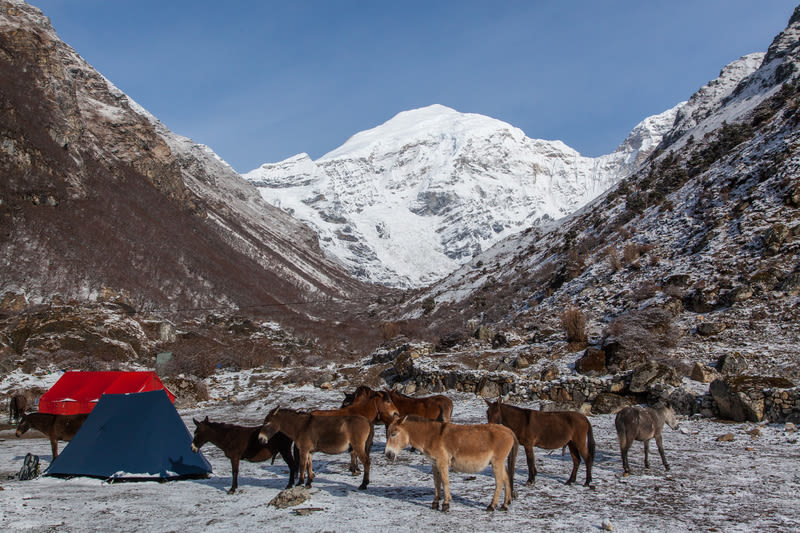 Mt Jomolhari is Bhutan's highest mountain, and a highlight of the Laya trek
Today's hike isn't quite as arduous as yesterday's. Conditions can, however, still be quite muddy and puddly. You pass into yak territory, and you should see yaks grazing in meadows. Did you know that in Tibetan the word yak only actually refers to the male of the species? They call a female a dri or nak.
Jangothang, like Thangthangka, has a kitchen area and permanent toilets. This is a busy campsite – one of the busiest of all Himalayan campsites in fact! It's a popular acclimatisation stopover and base from which to explore the surrounding area.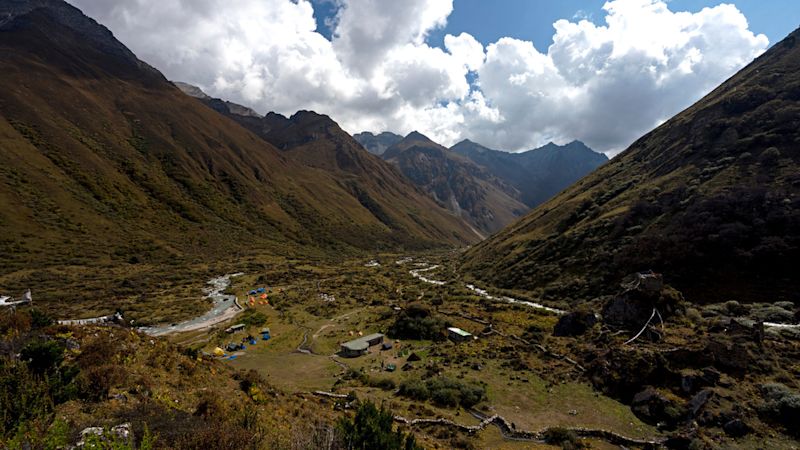 Jangothang Camp in springtime
The Govt of Bhutan forbids climbing Mt Jomolhari as it's a sacred place.
Day 3 – Acclimatisation and exploration
We stay put in Jangothang for another night primarily to acclimatise and avoid the possibility of developing altitude sickness.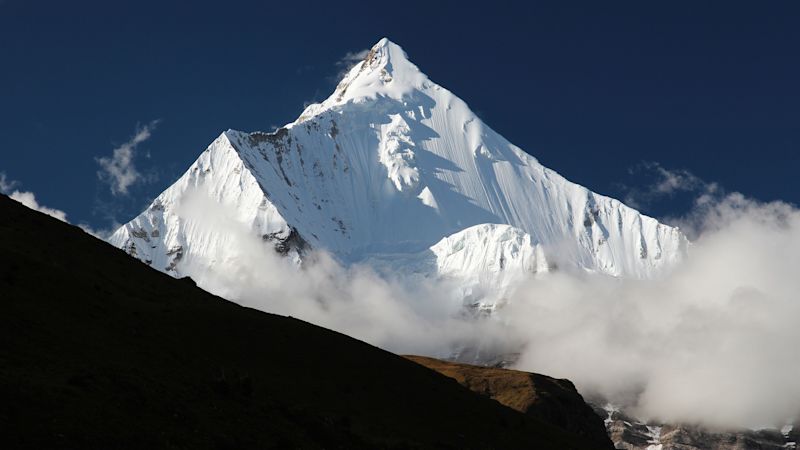 The beautiful Mt Jichu Drake
The area around Jangothang is beautiful and so is a great base for day hikes and exploring.
You might like to do the four-hour round-trip hike up the slope to north of the camp to enjoy stellar views of both Mt Jichu Drake (or Jitchu Drakye) and Mt Jomolhari.
Jangothang means 'land of ruins', as the remains of a small fortress can be found nearby.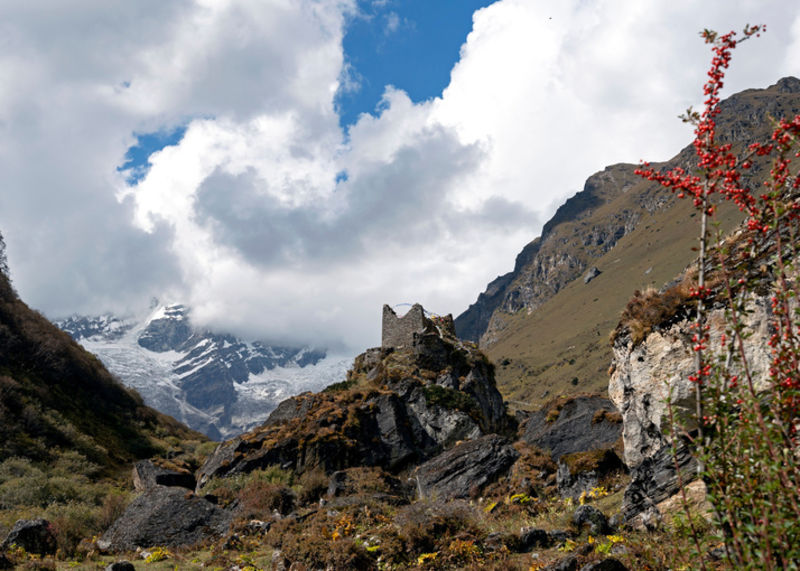 The ruins you can visit on a day hike from Jangothang
Day 4 – Trek to Chha She Thang
Distance:

18 km / 11 mi

Duration:

6-7 hr

Ascent:

840 m / 2,756 ft

Descent:

870 m / 2,854 ft

Chha She Thang elevation:

4,010 m / 13,156 ft

Nyile La elevation:

4,870 m / 15,978 ft
Today you leave Paro Chhu valley and climb up into a glacial valley filled with moraines. The landscape changes and moves from lush valleys to spare ones of tundra. You should see blue sheep (or bharal) on the mountain slopes. Also look for takins (or gnu goats), the national animal of Bhutan.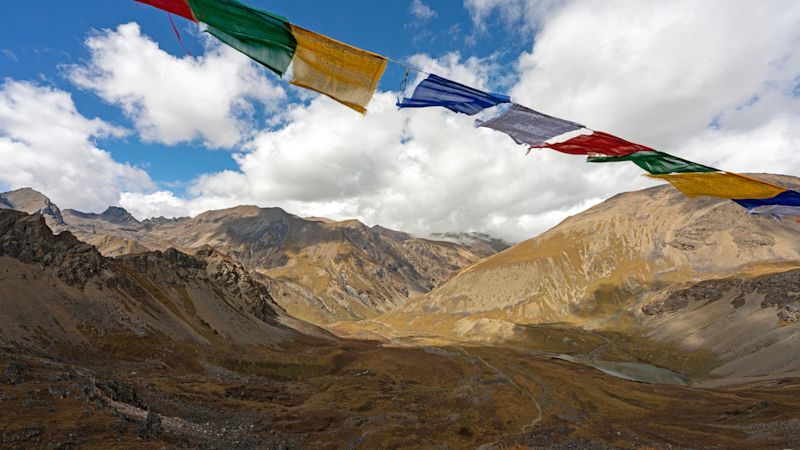 Prayer flags flutter above the mountain pass known as Nyeli La
The main challenge today is Nyile La (or Nyele La), a mountain pass that's a steep climb. But the peaks one sees from the pass are fantastic: Mt Jomolhari and Mt Jichu Drake on the one side, and Mt Tserim Kang (6,789 m) on the other.
Today you cross Nyile La, the first of two mountain passes on the Jomolhari trek.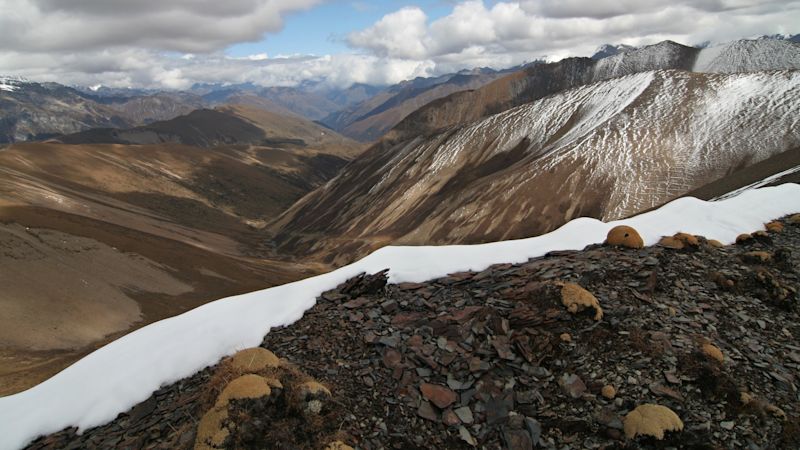 Another spectacular view from Nyile Pass
After conquering and descending the pass, you walk a high contour path, eventually descending into the valley Jaje Chhu. You overnight at Chha Shi Thang campsite, which sits on the opposite side of the valley to the village of Lingzhi (or Lingshi).
Lingzhi Yügyal Dzong, which was built in 1668, is an important Drukpa Kagyu monastery that sits at an altitude of 4,150 m! It was one of the main defensive fortresses in northern Bhutan in their longstanding fight against Tibet.
Day 5 – Trek to Chebisa
Distance:

10 km / 6 mi

Duration:

5-6 hr

Ascent:

280 m / 919 ft

Descent:

410 m / 1,345 ft

Chebisa elevation:

3,880 m / 12,730 ft
To start today's trek you cross a wooden bridge and hike up the opposite side of the valley. You soon pass close to Lingzhi Dzong (also known as Yugyel Dzong), which can be visited via a small diversion in the trail if you wish. You then pass through the farming village of Lingzhi, which has fields of wheat and barley on the slope above it. Interestingly, the National Institute of Traditional Medicine of Thimphu collects and dries herbs here as the area is rich in medicinal herbs.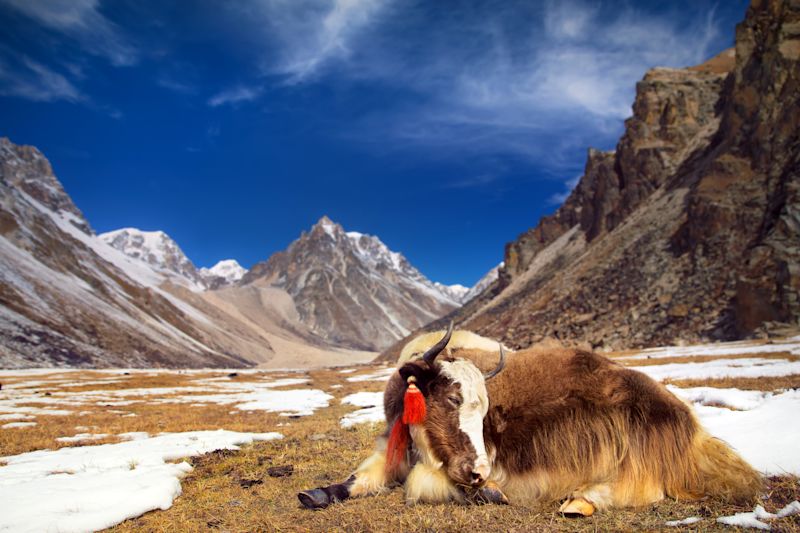 Yaks have incredibly thick fur to help them survive the Himalayan weather
Later in the day you pass through the very pretty hamlet of Gangyul. It sits on the floor of a wide valley, and consists of just a few stone houses and their surrounding fields.
From there, you head northeast to reach the valley of Chebisa. After another climb and descent, and having passed Cheybisa Chorten, you enter the valley and head to your campsite in the meadow opposite the village of Chebisa.
Day 6 – Trek to Shomuthang
Distance:

17 km / 11 mi

Duration:

6-7 hr

Ascent:

890 m / 2,920 ft

Descent:

540 m / 1,772 ft

Shomuthang elevation:

4,220 m / 13,845 ft

Gogu La elevation:

4,440 m / 14,567 ft
You start the day by climbing out of Chebisa valley. Keep an eye open for bharal, or blue sheep, which live in the rocks above. Bearded vultures and Himalayan griffons are also frequently seen flying in the area.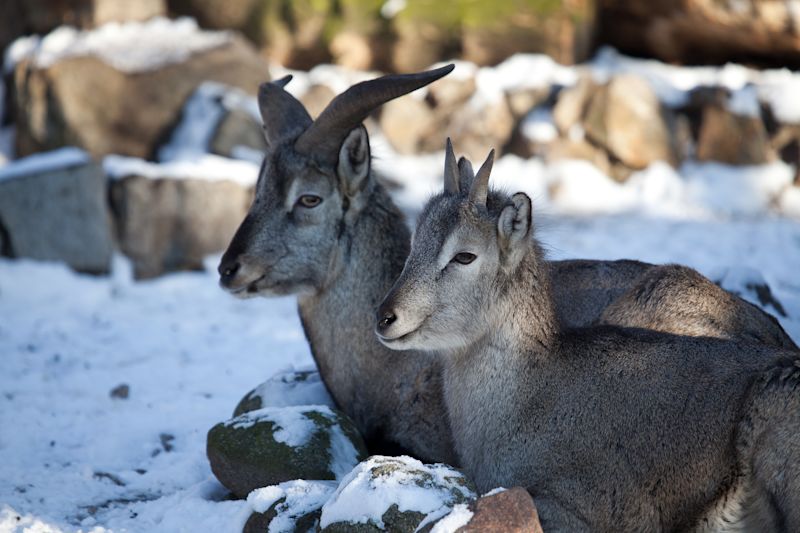 Blue sheep, or bharal, don't look like regular sheep at all!
You must ascend and descend a couple of steep valleys today, so expect to work those legs! You also cross the mountain pass Gogu La and, again, keep you eyes peeled for bharal herds!
There's plenty of forest walking today too, but at the end of the trek you end up in a lovely alpine meadow. We overnight at the campsite Shomuthang, which sits alongside a stream.
Day 7 – Trek to Robluthang
Distance:

18 km / 11 mi

Duration:

6-7 hr

Ascent:

700 m / 2,297 ft

Descent:

760 m / 2,493 ft

Robluthang elevation:

4,160 m / 13,648 ft

Jhari La elevation:

4,750 m / 15,584 ft
Today you tackle pass #3! But first, you must crisscross the river as you head up valley, enjoying the blankets of edelweiss that appear if you're hiking in spring. To the southeast you can also see the peak of Mt Kang Bum (6,526 m).
The trail then ascends into more barren territory as it leads you towards Jhari La (or Jare La). After descending the pass, you may get to see herds of takins, as they migrate to the valley in summer. This area is actually a takin reserve, so your guides will lead you in a route so as not to disturb them.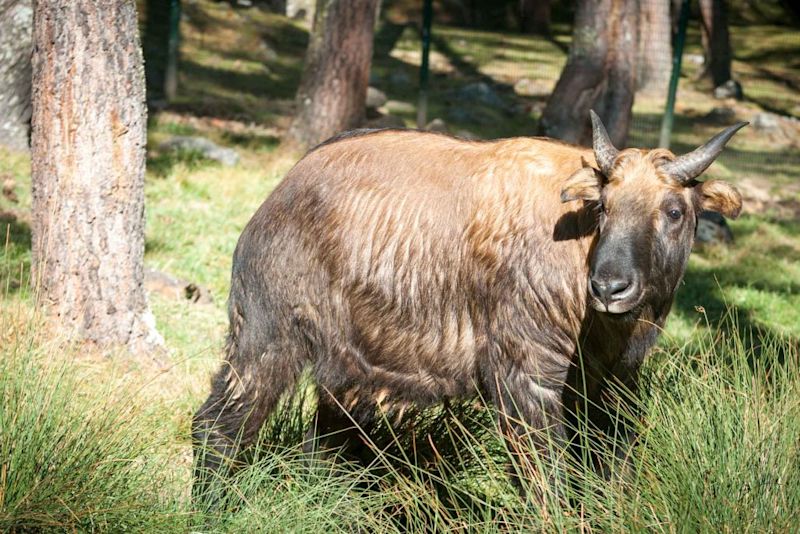 The takin is the national animal of Bhutan
Tonight's campsite is situated in a meadow called Robluthang.
Day 8 – Trek to Limithang
Distance:

19 km / 12 mi

Duration:

6-7 hr

Ascent:

850 m / 2,789 ft

Descent:

870 m / 2,854 ft

Limithang elevation:

4,140 m / 13,583 ft

Sinche La elevation:

5,005 m / 16,421 ft
The path today continues in its northeasterly direction, but after you cross Sinche La, the highest point on the trek, you veer eastwards to reach the meadow campsite of Limithang.
Expect a challenging day, with a tough climb to Sinche La. Sinche La is littered with cairns and prayer flags, like so many passes in Bhutan. And it offers the awe-inspiring view of the surrounding mountains that you'd hope for. And this includes a spectacular view of Mt Gangchhenta to the north!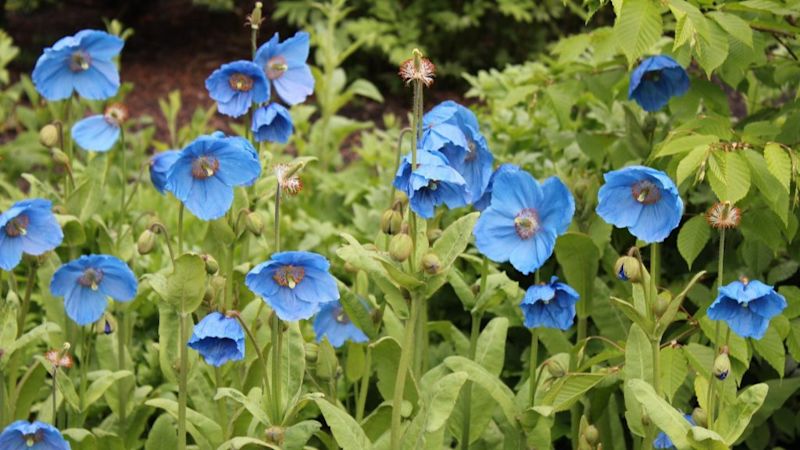 The blue poppy (or Meconopsis gakyidiana) is now its own species
The blue poppy – Bhutan's national flower – has been upgraded to a species of its own! It doesn't produce opium like other poppies.
You walk through glacial valleys and moraines today, but end up in a lovely meadow for your overnight campsite in the valley of Zamdo Nangi Chhu. Mt Gangchhenta can also be seen from your campsite.
Day 9 – Trek to Laya
Distance:

10 km km / 6 mi

Duration:

4-5 hr

Ascent:

60 m / 197 ft

Descent:

340 m / 1,115 ft

Laya elevation:

3,820 m / 12,533 ft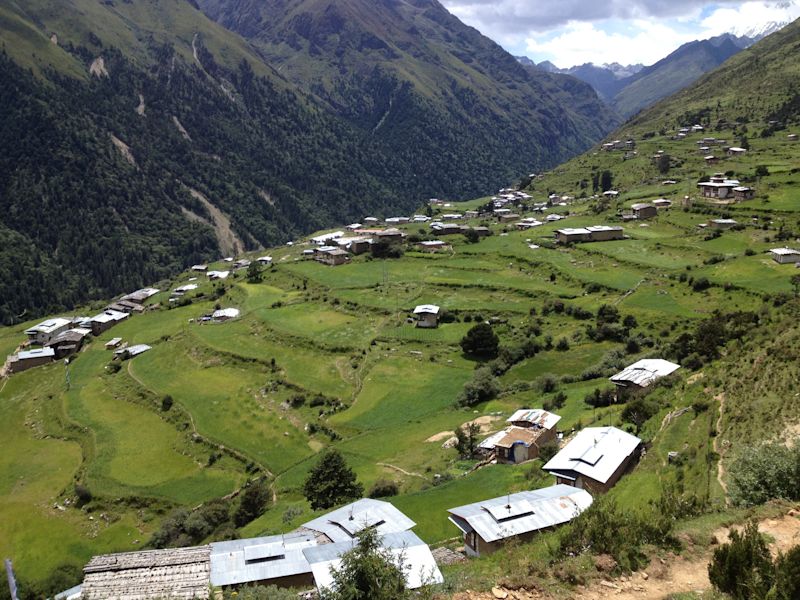 The mountainside town of Laya sits near the Tibetan border
It's a really special day today, as you visit and stay a night with the remote Layap community. But first, to reach Laya village, you must walk through a highly remote, unpopulated forest valley, and tackle quite a few ups and downs.
Laya is a farming town and the biggest settlement that you'll have seen for days. There's a school, shop, hospital and an archery field (remember, archery is Bhutan's national sport). The townsfolk grow wheat and barley, raise yaks, and farm turnips and mustard.
Be sure to ask your guide to share with you the history of Laya and the legend of how the land protected them from Tibetan invaders!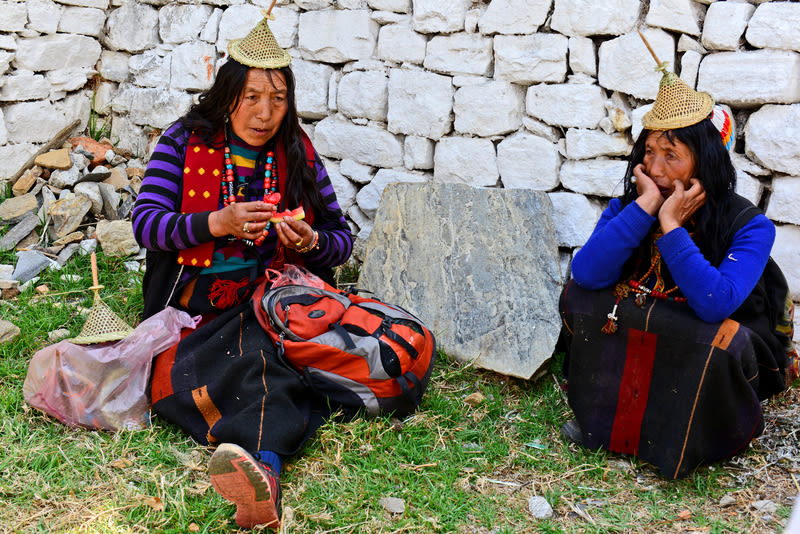 Layap women wearing traditional conical hats
The Layap people have their own language and customs, creating a little pocket of uniqueness in northeast Bhutan. They also wear distinctive clothing. The women wear long woollen skirts that have orange or brown stripes. They also make and wear conical hats (as seen below) from bamboo, and are often happy to sell these to visitors.
Day 10 – Trek to Koina
Distance:

19 km / 12 mi

Duration:

6-7 hr

Ascent:

250 m / 820 ft

Descent:

1,070 m / 3,510 ft

Koina elevation:

3,050 m / 10,006 ft
To leave Laya, you walk through an arched chorten and descend to the river on the valley floor. Crossing the river, you climb to some stone army buildings, where the attendant officer enters your name in a register.
You now spend the rest of the day walking down the Mo Chhu valley, crisscrossing the river as necessary. The valley tightens into a canyon at one point, and so you must also climb up and over ridges in places. Expect to deal with mud and sludge along the trail.
A relatively new road now leads up to Koina, and we leave the trail here, as things really are starting to get very boggy. Your driver will take you south to Thimphu, where you can clean up, relax and enjoy some well-deserved creature comforts after ten amazing days of trekking and camping in the Himalayas!
Best time of year for the Laya trek
The very best times for the Laya trek are April and the third week of October.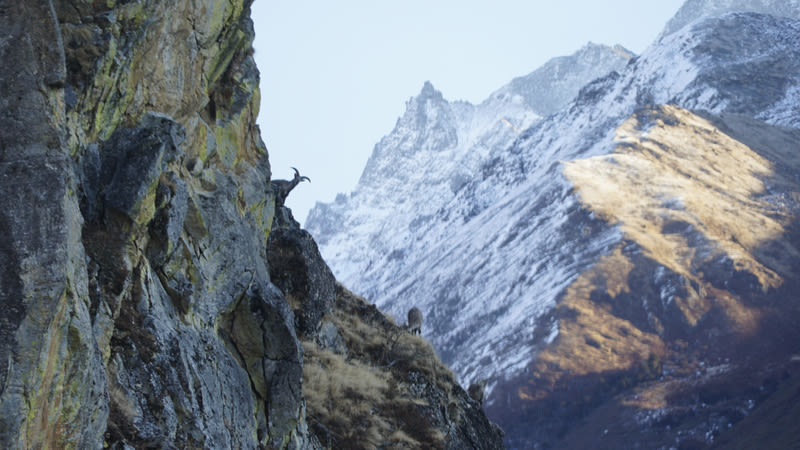 Blue sheep in the Bhutanese Himalayas
Best weather
The best seasons for walking the Laya trek are in terms of weather and trekking conditions are:
Spring (April to June)

Autumn (mid September to mid November)
This is because these seasons don't bring very wet and muddy conditions like summer, nor the extreme cold of winter. Winter also increases the chances of snow forcing certain passes to be closed, derailing your itinerary.
That said, note that snow is always a risk on such high-altitude treks, and a mindset of flexibility is an asset whenever trekking anywhere in the Himalayas!
Best scenery
The very best month for scenery on the Laya trek is April. This is when you're most likely to see exotic blue poppies in the highlands. These are the national flower of Bhutan. The rhododendron forests are also full of colour, and many other flowering trees are in bloom too.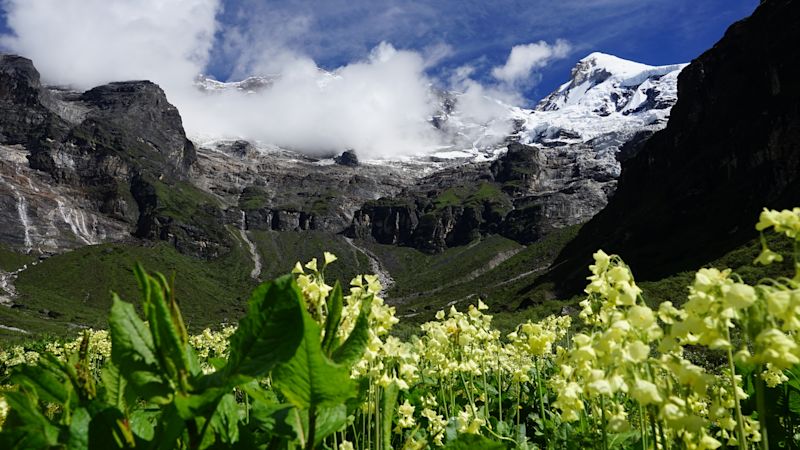 A springtime view of Mt Jomolhari
Best cultural experience
The third week of October is another great month. Not only do you enjoy good weather and trekking conditions, but if you time it right you can attend the new Royal Highlander Festival in Gasa! The festival – which welcomes visitors – includes a 26 km marathon, horse racing, yak and mastiff competitions, wrestling, and traditional dances, poems and songs.
There are also stalls selling local produce like medicinal herbs, plants, yak-based produce, and agricultural tech. To be part of this special festival is a rare privilege for foreigners.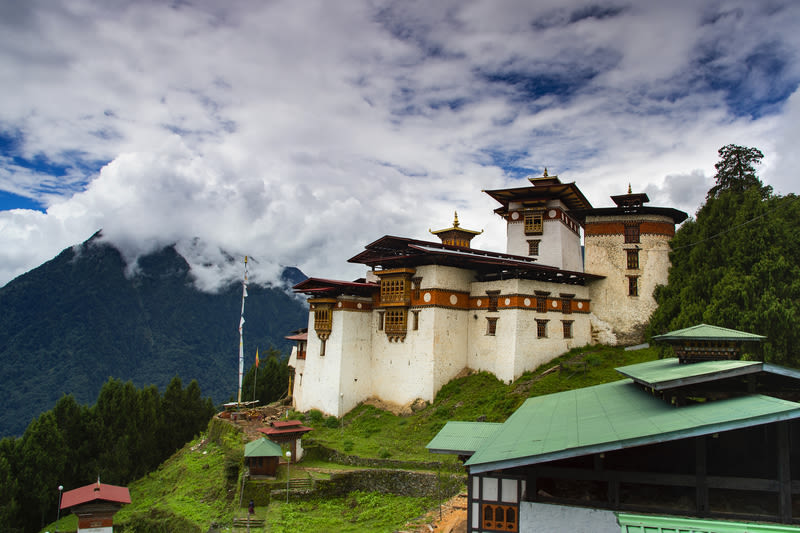 Gasa Dzong, locally known as the Tashi Thongmon Dzong