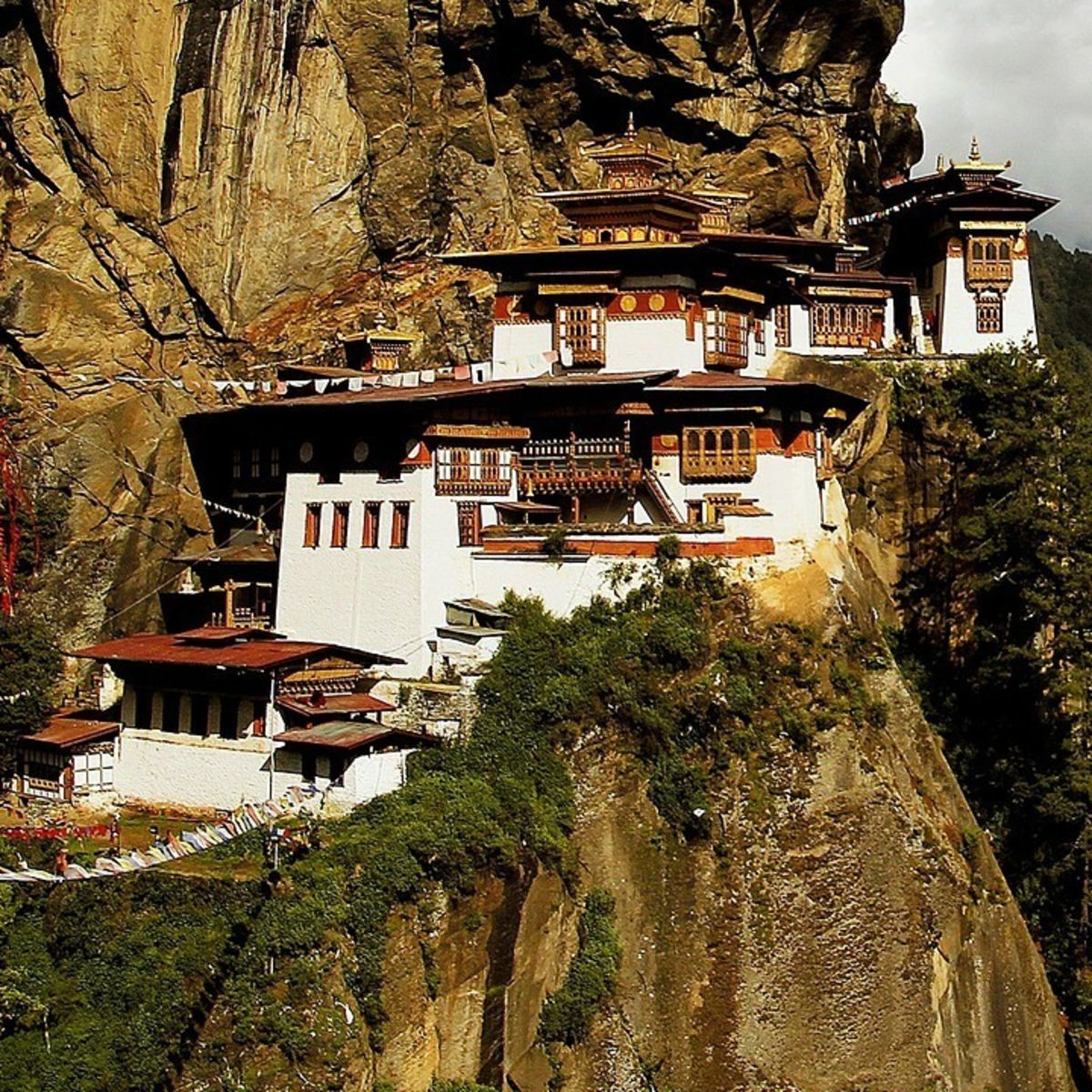 All you need to know to hike to Tiger's Nest
Jun 30, 2023
Reading time: 7 minutes
Tiger's Nest is the beautiful, precariously perched Buddhist monastery that is on every traveller's wish list! We have all the details you need to plan a visit, including how to get there, how long the hike is, and what visitor etiquette to follow.
What is Tiger's Nest?
Tiger's Nest is a working Buddhist monastery that's perched on the side of a cliff in western Bhutan. More specifically, the monastic complex sits on narrow ledges and within caves 900 m above the Paro valley floor.
There isn't a road leading up to Tiger's Nest; you can only reach it by climbing a steep trail. While this requires some effort, it's a beautiful hike and the reward – both in terms of exploring the monastery and the view over Paro valley – is one hundred percent worth it!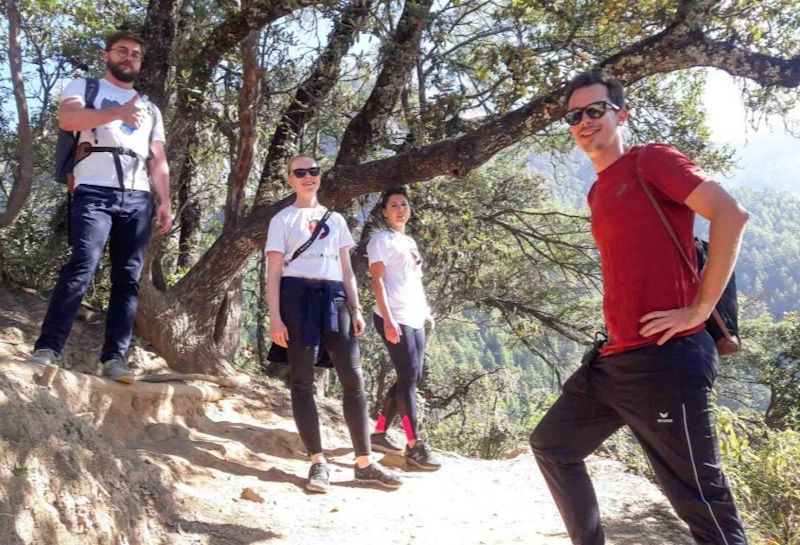 A Follow Alice group tackling the climb to Tiger's Nest
Different names of Tiger's Nest
What we as foreigners refer to as Tiger's Nest – or Tiger's Nest Monastery – is also known by the following names:
Taktshang Goemba

Paro

Taktsang

Taktsang Palphug Monastery
Tiger's Nest is actually one of 13 so-called "tiger lair" caves in which Guru Padmasambhava meditated in the early ninth century in what was then Tibet. (Bhutan used to be a part of Tibet).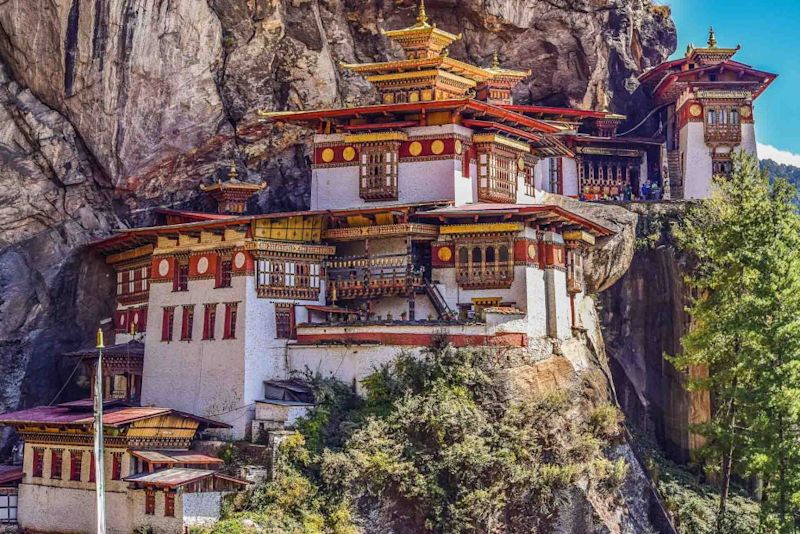 Tiger's Nest clings to the cliffside in Paro valley
Where is Tiger's Nest?
Tiger's Nest can be found in western Bhutan. It's situated just 10 km northwest of the town of Paro. This makes Paro the perfect base from which to make a day trip to Tiger's Nest. And since everyone flying into Bhutan enters through Paro International Airport, you don't even need to travel far to visit this world-class site!
When is it open to visitors?
You can visit Tiger's Nest year round. From October to March it's open to visitors from 9 am to 4 pm. And from April to September it stays open till 5 pm.
How much does entry cost?
Foreigners don't need to pay a special entry fee, as this is included in the daily visa fee. Only nationals of SAARC countries need to pay entrance fees.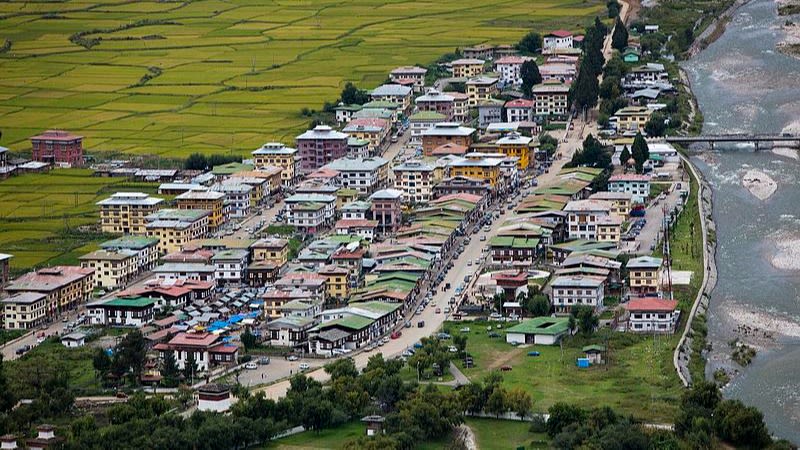 An aerial view of the pretty town of Paro
How do I get to the trailhead?
Every visitor to Bhutan is accompanied at all times by a Bhutanese tour guide-cum-driver (as discussed in 6 things to know before visiting Bhutan). Your guide will drive you the short distance to the end of the access road and the start of the trailhead. He'll likely accompany you on the hike as well.
How long and hard is the hike?
The trail is about 3 km (2 miles) one way, meaning you have a 6 km (4 miles) round trip, as there's just the one path to the monastery. The upwards hike should take you about two to three hours. But of course everything depends on your pace and how many rest stops you take.
The hike is steep in places, and the route can be slippery in places most of the year round. Always take things at your own pace, and perhaps bring along a walking stick or trekking poles if you're not feeling gazelle-footed.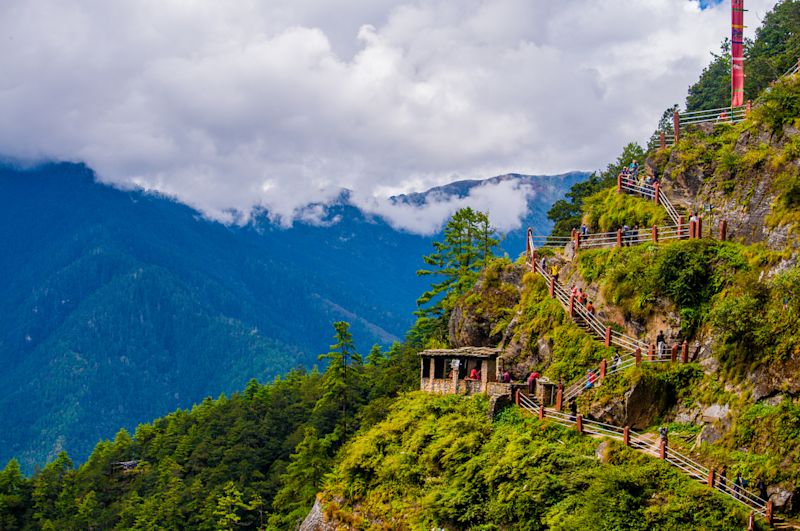 Part of the beautiful route up to Tiger's Nest
Do I need a guide?
No, you don't need a guide to hike to Tiger's Nest – it's a well-defined and busy trail. That said, your Bhutanese tour guide for your trip will accompany you anyway, but at no extra cost. (As we discuss in How much does it cost to travel to Bhutan?, every tourist to Bhutan is given a non-optional tour guide for the duration of their stay.)
What is the trail like?
The hike to Tiger's Nest is a very beautiful one, and there are many rewarding moments along the way ...
The trail starts at the access road parking at 2,600 m above sea level. It's a wide, well-marked and busy path, so getting lost would take commitment. Some visitors choose to ride horses halfway up the trail, but fortunately walkers can avoid the dust kicked up by following some smaller side trails.
Much of the path leads through pretty blue pine forest. But breaks in the trees offer lovely viewpoints. If you want to avoid direct sunshine, hike in the morning. The afternoon, on the other hand, usually offers better photography conditions. So you decide. Either way, bring a hat and carry water.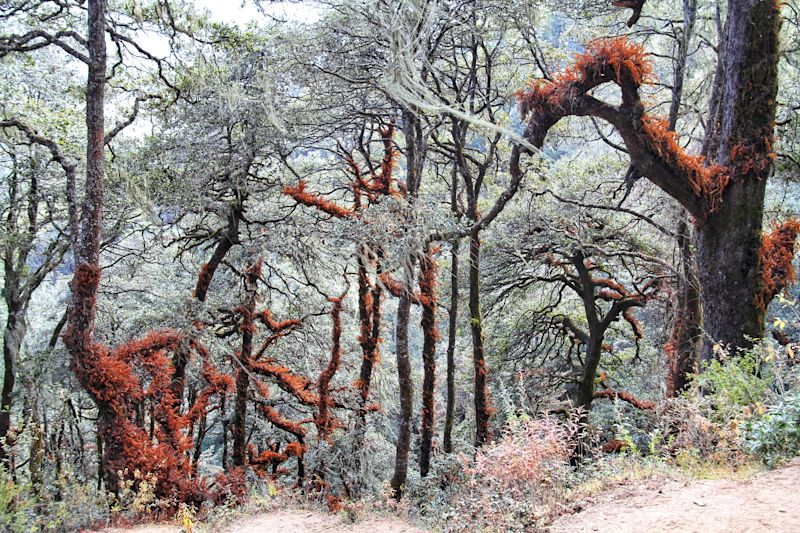 Blue pine forest as seen on the hike to Tiger's Nest
En route you also pass clusters of votive offerings. As well as three water-powered prayer wheels. Prayer wheels are a tradition in Tibetan Buddhism. Each wheel contains or is inscribed with a prayer, and as you run your hand over it you're meant to send up a prayer.
At around 3,140 m you get a break in the trees that offers the classic, straight-on view of Tiger's Nest that you see in so many photos. The monastery is, however, on the opposite side of a valley, and you must still walk past the waterfall by Snow Lion Save to reach it.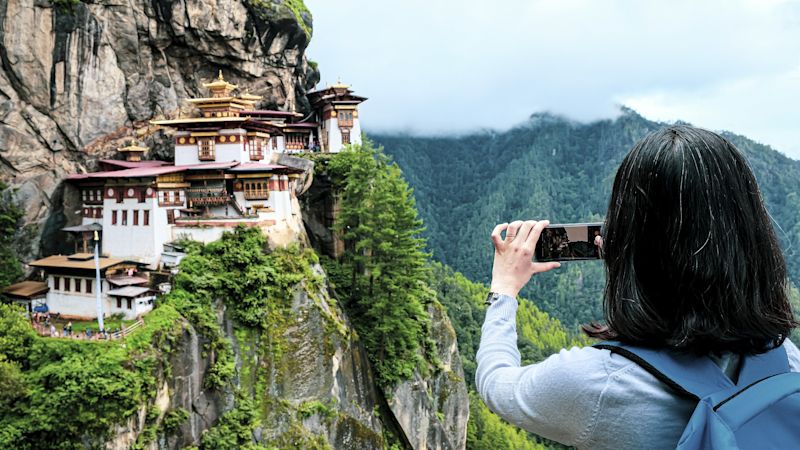 The classic view of Tiger's Nest high up along the trail
Tiger's Nest itself sits at around 3,120 m, though there are different levels to it and so you must climb or descend a bit between each. Anyone who tackles the climb the day after flying into Bhutan might find the altitude quite taxing. It would be better to plan this hike a little later in your stay when you've properly adjusted to the higher altitude.
Parts of the monastery
Tiger's Nest, as you can see from the pictures, isn't one building. Rather, it's a complex containing various buildings and spaces on different levels which are connected by walkways, steps, ladders and bridges.
While the cave became famous in the 800s after Guru Padmasambhava meditated there, and was used as a pilgrimage site in the centuries after, the monastery was only built in 1692.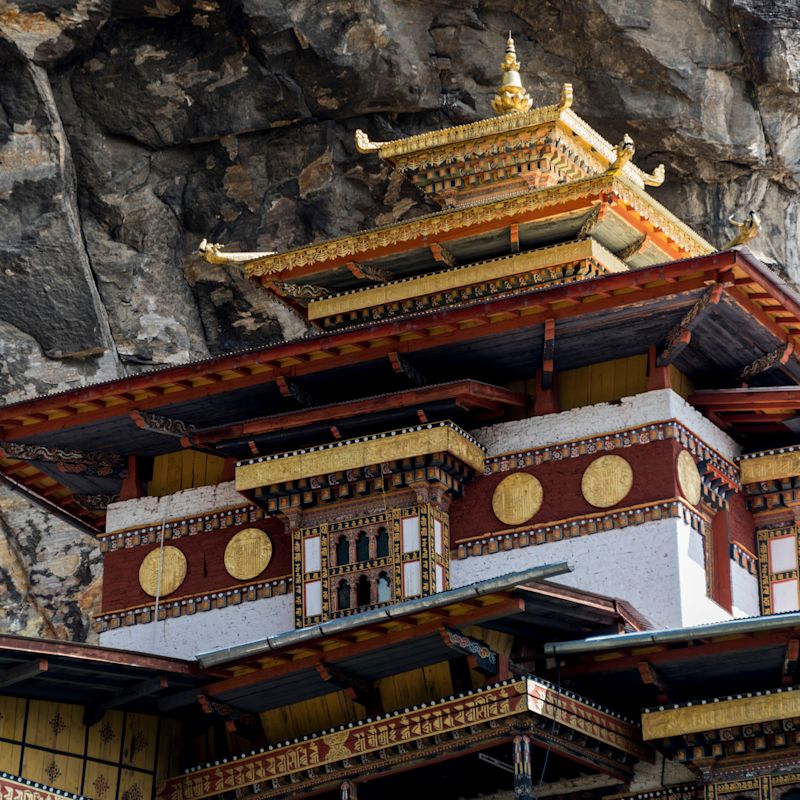 A close up view
The complex includes arches, chapels, caves, chortens, prayer halls, and more. You can look forward to seeing wall paintings, statues, a spring and, of course, spectacular views. You can also light a candle within the butter-lamp chapel if you wish.
Visitor etiquette
When you reach the monastery, you should cover up your arms and legs if they aren't already. You should also remove hats and shoes when entering any of the chapels. And please be sensitive when it comes to photography within the sacred spaces.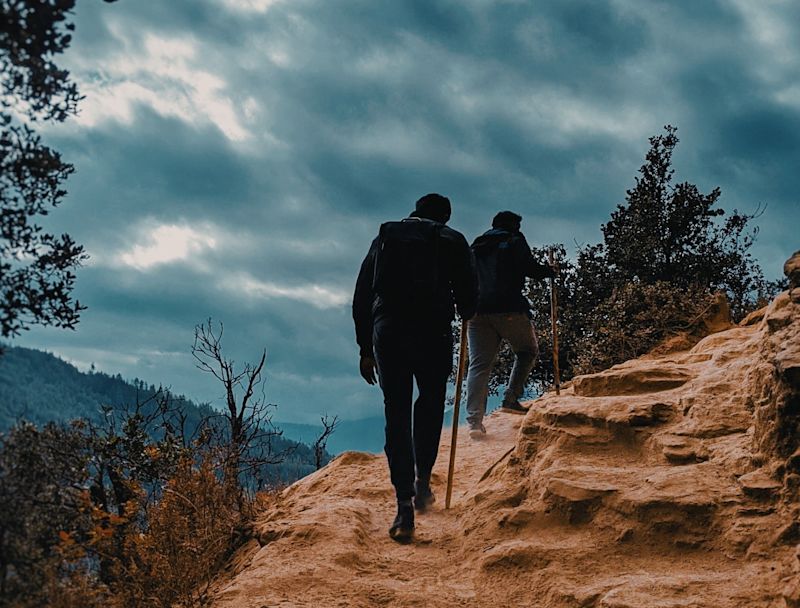 If you wear classic hiking gear like long pants and a long-sleeved top, you'll have the perfect attire to respectfully enter Tiger's Nest
When is the best time to visit?
As mentioned already, Tiger's Nest is open to visitors all year round. And the view will be spectacular no matter the season!
That said, if you want to avoid very cold conditions, as well as the possibility of snow and ice, don't plan for winter (December to February). Summer (July to September) also isn't ideal as this is monsoon season. The path can be slippery in places at the best of times, so you could be dealing with quite a bit of mud.
The ideal seasons for visiting Tiger's Nest (as well as the rest of Bhutan are, as discussed in Best time to visit Bhutan), are spring (March to mid May) and autumn (late September to November). The conditions tend to be dry and the weather not too cold.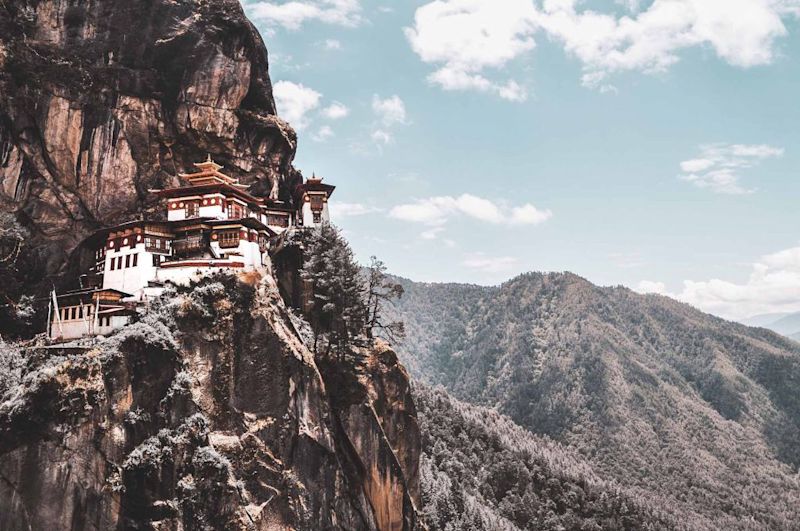 Tiger's Nest can be visited even in winter
So are you amped to hike to Tiger's Nest? Want to do it with us?? Check out our epic Discover Bhutan itinerary! And just a heads up: we can tailor a trip to suit you and your personal Bhutan wish list. 🤓