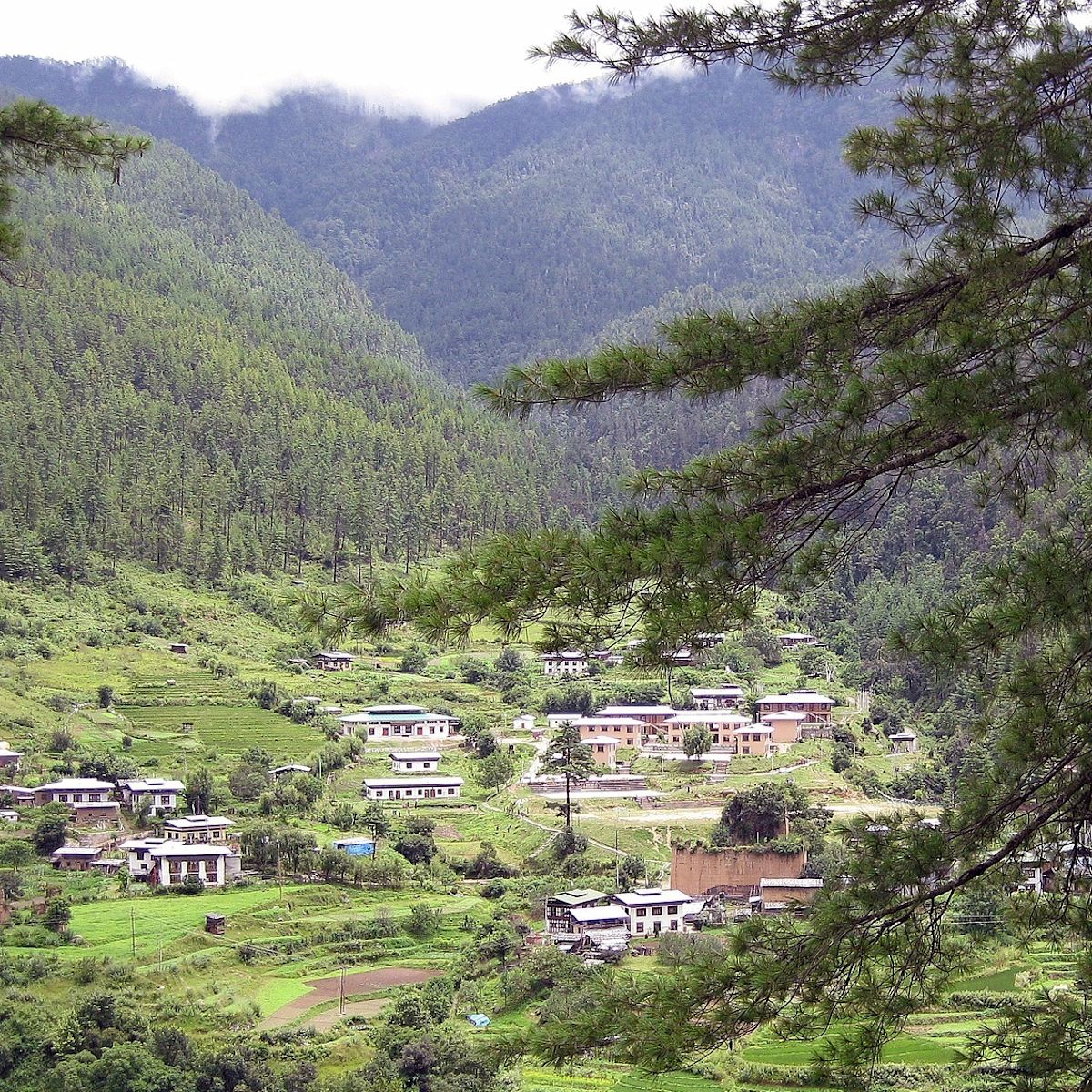 Best time to visit Bhutan to enjoy good weather, pretty landscapes and cultural festivals
Aug 22, 2023
Reading time: 7 minutes
Bhutan is a treat year round. That said, most prefer to skip the coldest months, as well as monsoon season. There are other things to consider too, like busyness and festival dates. We have all the info you need to know on the best time to visit Bhutan.
In this post we introduce you to the seasons of Bhutan, and then discuss which are the best for visitors. This means considering the highlights of each season, from colourful seasonal festivals to great hiking conditions.
Read on and you'll soon know which season is the right one for your Bhutan adventure!
The seasons of Bhutan
If you look at the map of Bhutan below, you can see that Bhutan is in the northern hemisphere. It therefore has winter at the end of the year, and the hottest months occur mid year.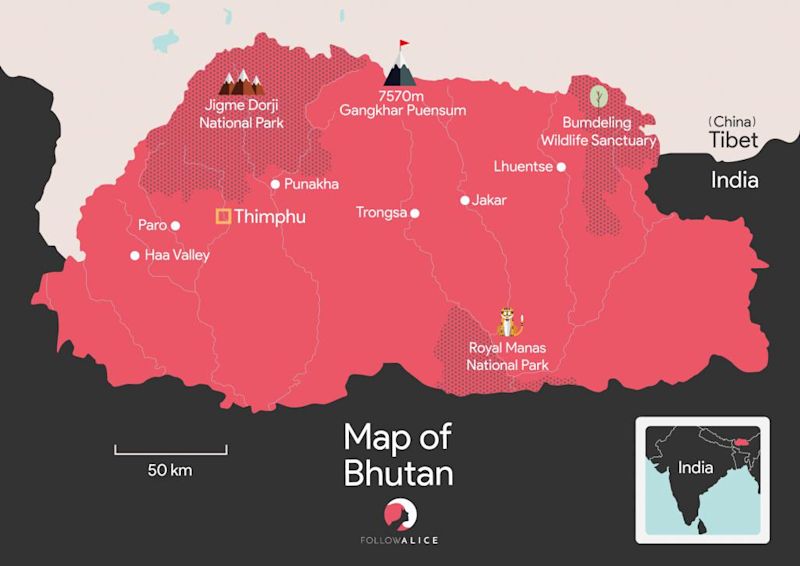 The seasons of Bhutan are as follows:
Winter

: December to February

Spring

: March to May

Summer

: June to mid September

Autumn

: Mid September to November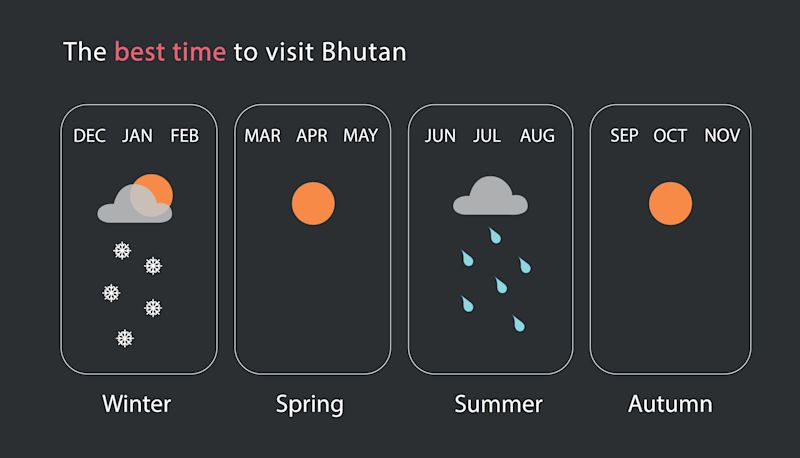 Best months for visiting Bhutan
Bhutan is a great place to visit at any time of year. But arguably the best seasons for visiting Bhutan are spring (March to May) and autumn (late September to November). This is because these months aren't as cold as the winter months (December to February), nor do they experience summer monsoon rains and the accompanying humidity (June to mid September).
Spring and autumn offer the most pleasant weather conditions for touring the country. Not too cold, nor too rainy.
For all outdoor activities – like trekking, hiking, rafting, bicycling, game drives and just general sightseeing – spring and autumn therefore offer the best weather conditions.
Autumn is also a great time to visit Bhutan if you're keen to attend one or more of the lively tshechu (religious festivals) that take place across the country. Spring is a fantastic season in Bhutan for enjoying showy displays of colourful flowering trees like rhododendrons.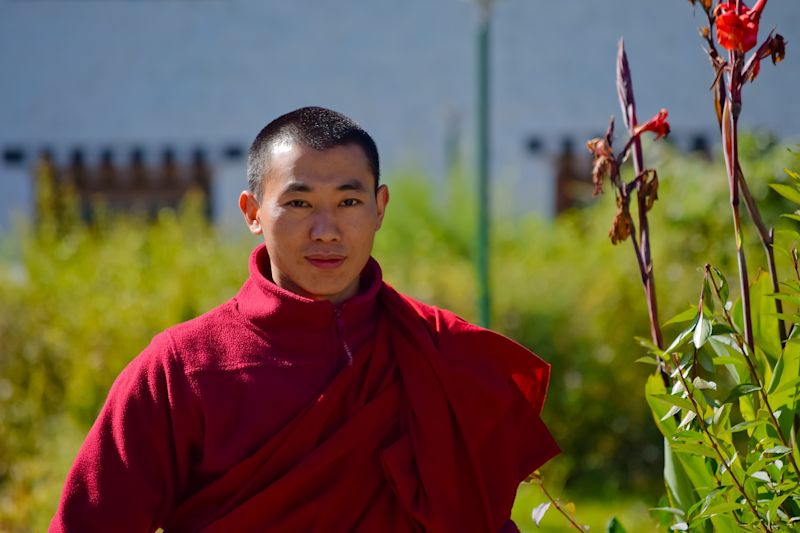 A young buddhist monk standing next to some springtime canna
What to expect in spring
In spring (March to May), much of the snow recedes, you enjoy milder temperatures, and everything is in bloom. Daytime temperatures can reach 21℃ (70℉) in Thimphu, and 25℃ (77℉) in Punakha.
Bhutan's spring colours are gorgeous! Many beautiful flowers emerge, like magnolias, jacarandas, foxgloves, cosmos, hydrangeas, Himalayan poppies, and lilies. Most famous of all are the rhododendrons, which can blanket the sides of valleys in colour.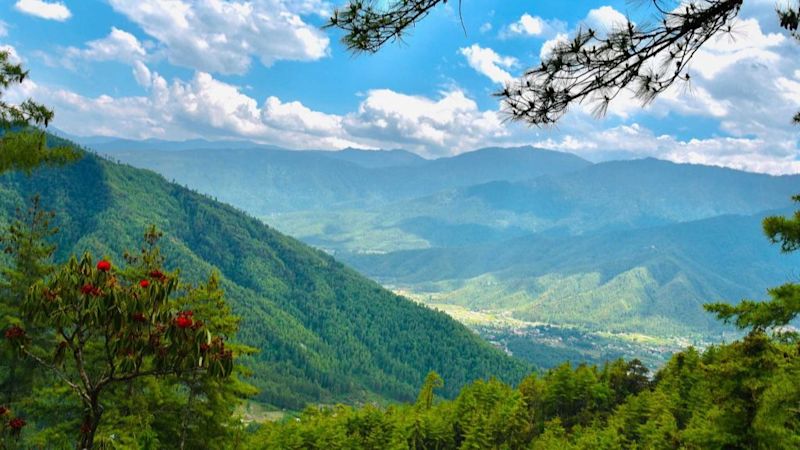 Paro is a western, mountainous district of Bhutan that's great for hiking
The rivers are also glutted with snowmelt in spring, so you have great white-water rafting conditions. We generally recommend going rafting on the Mo Chhu (River) in Punakha, as you go past the incomparable Punakha Dzong. In springtime, the dzong's outer walls are lined with purple clouds from its jacaranda trees.
If you want to go trekking in the Himalayas, March and April are ideal months. Nights are cold and crisp, while the days have clear skies and pleasant temperatures.
Another spring highlight occurs in early April: the famous Paro Tshechu. This days-long festival is an ancient one that's all about celebrating the eighth-century Guru Rinpoche. The Punakha Tshechu is another wonderful festival to attend that usually takes place in early March. It's held within Punakha Dzong, and the grand ending, known as Serda, is a lively procession that re-enacts part of the seventeenth-century war with Tibet.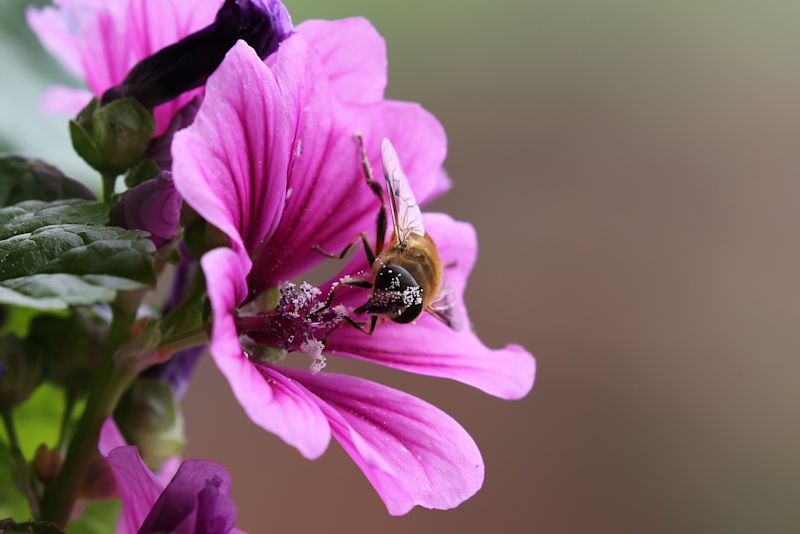 A bee covers itself in pollen on this flower in the Motithang suburb of Thimphu
Highlights of a spring visit
So in summary, some of the highlights of a spring visit to Bhutan are:
Great outdoors and exploring weather.

Beautifully green landscapes with lots of flowers.

Perfect conditions for adventure activities like rafting and trekking.

There are some traditional festivals to attend.
Note that March and April offer better weather than May, especially late May, as things start hotting up then and can get a bit humid. Rhododendrons and other flowers will still be in bloom, but you start to get cloudy weather in May.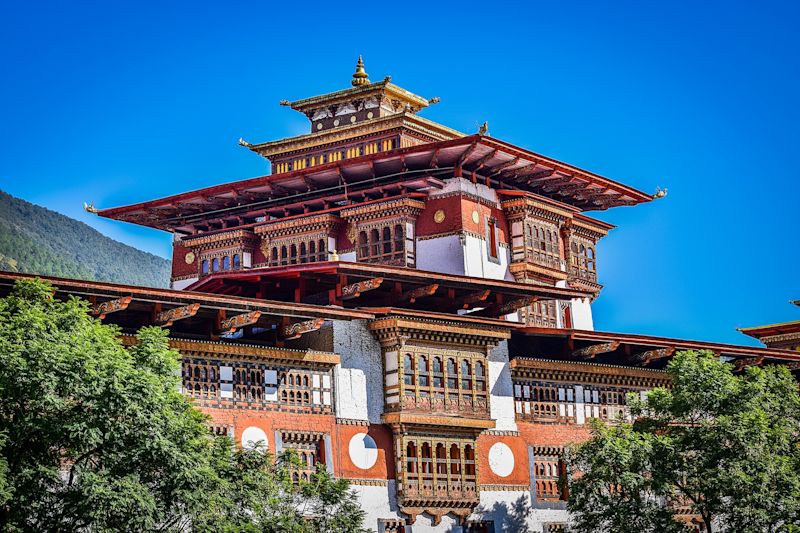 Punakha Dzong is a must see, and spring offers many blue-sky days
What to expect in summer
If you come to Bhutan during summer, you'll get some lovely hot, sunshiny days. But you should bring your wellies and expect downpours! This is monsoon season, when the country receives most of its rain. Punakha especially gets a lot of rainfall. Often the downpours are at night, leaving daytime dry, but you can't bank on it.
Road travel can be a bit harder and more dangerous when there have been bouts of intense rain. So it might be best to stick to the western provinces, or fly to other parts of the country rather than driving there.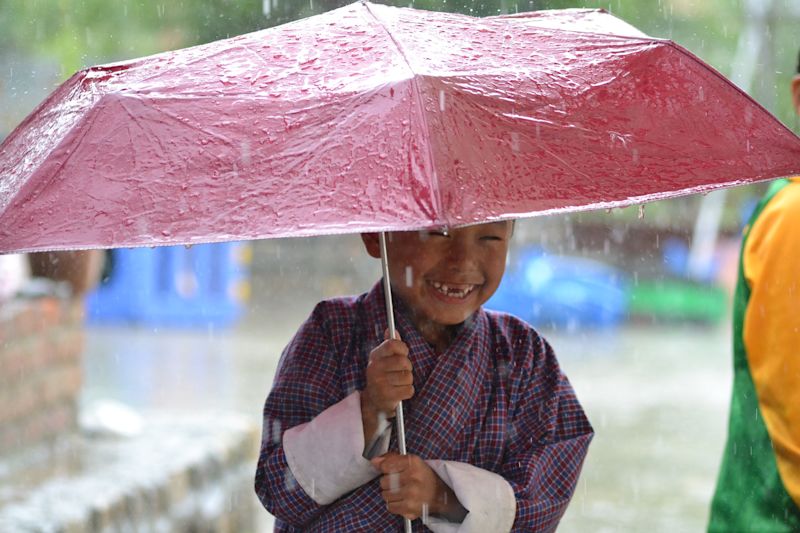 If you decide to visit in monsoon season, be sure to bring an umbrella!
On the plus side, those visiting in summer experience a really authentic part of Bhutanese life that few other tourists ever do. And you won't be sharing the country's attractions with many other visitors. So there are certainly some pluses if you choose to visit at this time of year.
Highlights of a summer visit
Some of the highlights of a summer visit to Bhutan are:
Very few tourists.

Lush landscapes and roaring rivers.
What to expect in autumn
In autumn, the summer monsoon rains have let up and so you once again have great weather conditions: crisp air, clear skies, nice temperatures. It's a perfect season for outdoor activities like hiking and trekking, and it's also great for safe nationwide travel and exploration.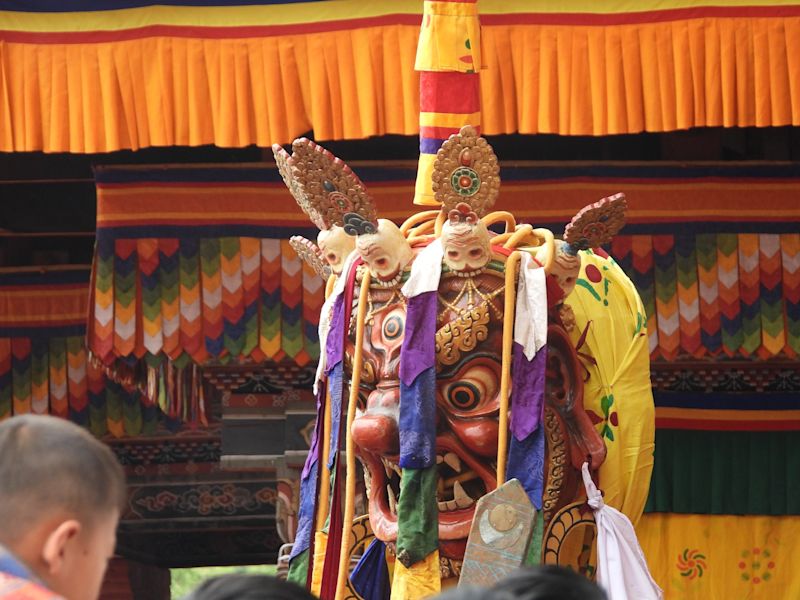 Elaborate costumes and masks are staples of Bhutanese festivals
One of the major attractions of an October visit to Bhutan are all the tshechu (religious festivals) being held at this time across the country. These colourful occasions are welcoming of visitors, so you get to enjoy lively celebrations that include folksongs, masked dances, and music played on traditional instruments like cymbals, flutes, yak-horns and drums.
The Thimphu Tshechu is held in the capital city for three days near the start of autumn, and is one of the country's biggest and most important celebrations. Like all Bhutanese religious festivals, its dates are decided by the lunar calendar. So while the Thimphu Tshechu usually falls within September, some years it only occurs in October.
October and November are perfect months for outdoor activities as well as attending lively religious festivals.
Further, in September and October, around 50 species of migratory birds from northern Tibet and Mongolia start arriving in Bhutan to roost there for the winter. These include rare black-necked cranes, which are a big deal in Bhutan. In fact, they're the reason for the important Black-necked Crane Festival, which takes place on 12 November every year. To witness this special occasion and its festivities is a cultural highlight of a visit to Bhutan.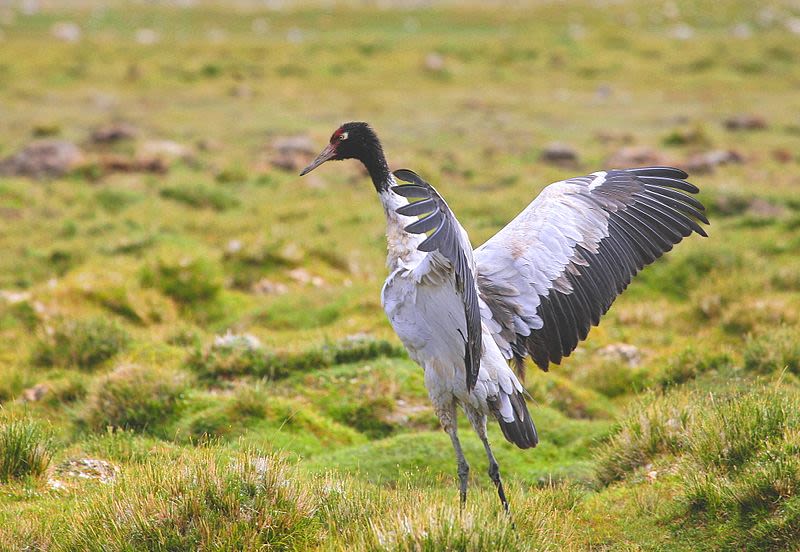 A black-necked crane – inspiration for the country's Crane Festival
Highlights of an autumn visit
So in summary, some of the highlights of an autumn visit to Bhutan are:
Great touring weather.

Many religious festivals to attend.

Black-necked cranes start arriving.
One drawback to the season is that it's peak tourist time, so some of the more popular sites and festivals can become crowded and so lose a little of their charm. October is the country's busiest tourist season by far. We suggest that if you come at this time, that you balance the highly popular attractions with some more remote, off-the-beaten-track options as well.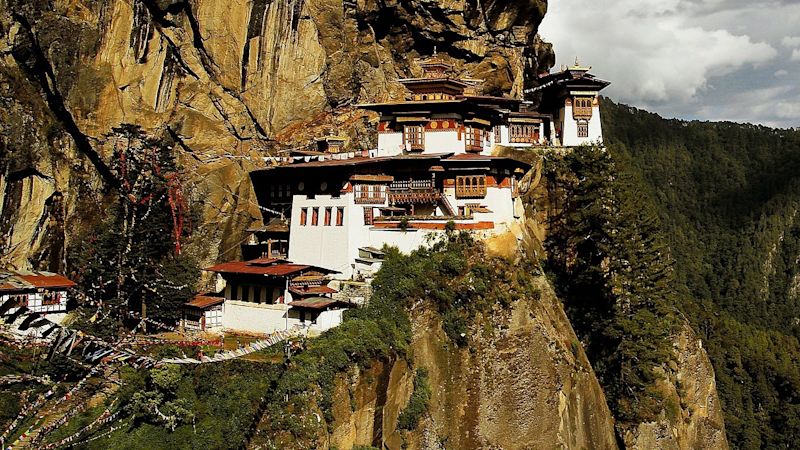 Autumn is perfect for tackling the uphill hike to Tiger's Nest
If you'd like to know more about the country's many festivals and which to visit and when, please read Bhutan's best festivals.
What to expect in winter
Many choose not to visit Bhutan in winter because of the cold. Most of the country – and especially the most touristy parts – lie within the Himalayan mountain range after all! But for those unafraid of the cold, it can also be a magical time. A time to experience a Bhutanese type of hygge, if you will.
Thimphu Valley as a winter wonderland
Highlights of a winter visit
Some of the highlights of a winter visit to Bhutan are:
Fewer tourists.

Still the chance to see black-necked cranes and other migratory birds.

Beautiful snowy mountains and landscapes.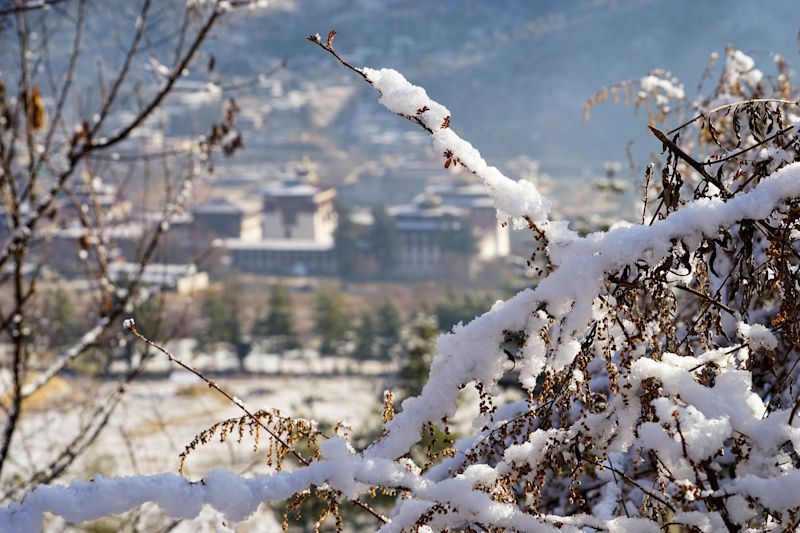 A wintry view of Tashichho Dzong