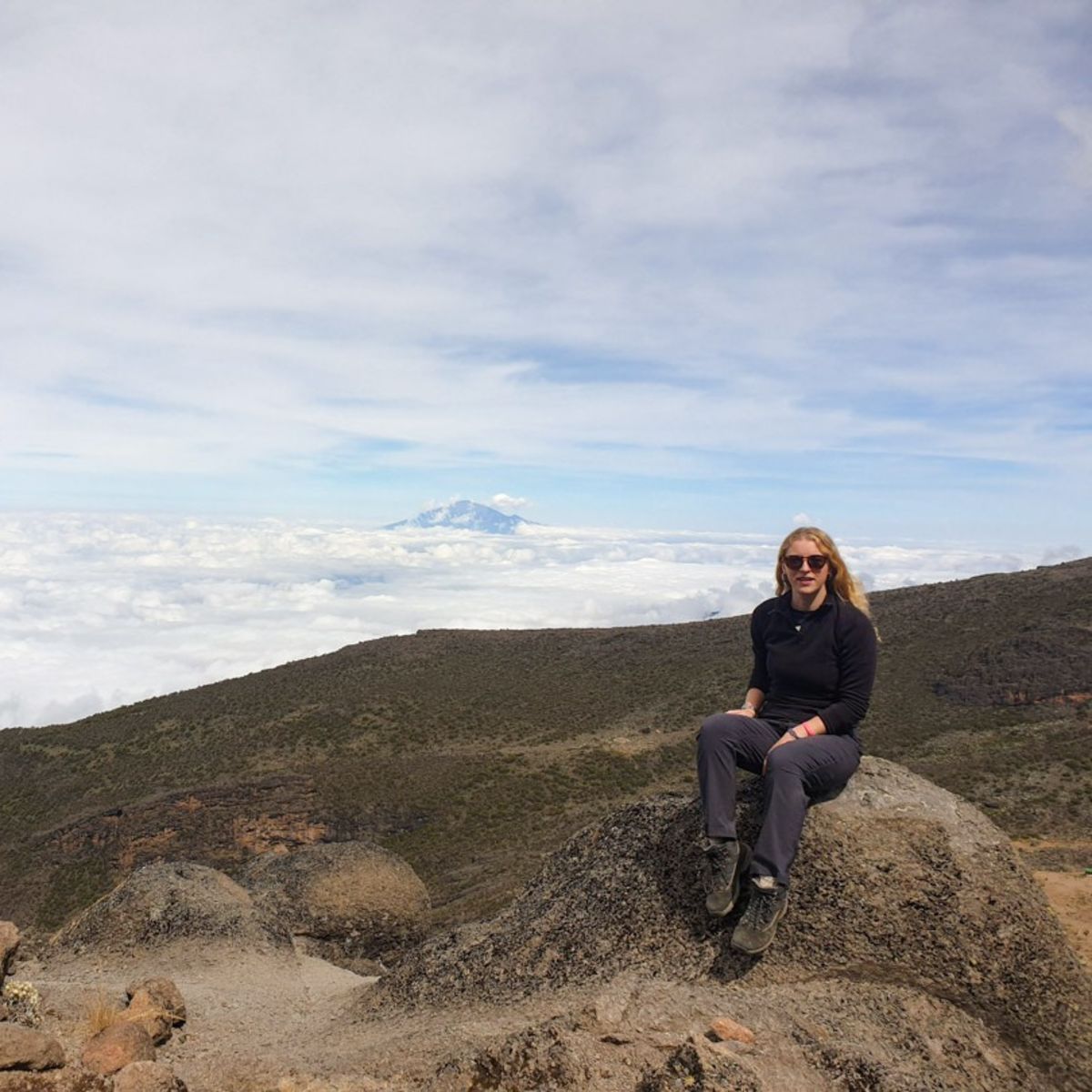 Tash's Kilimanjaro journal
Oct 20, 2022
Reading time: 23 minutes
In August 2019, Tash King finally got to live her dream of climbing Mt Kilimanjaro. She bravely decided to record her entire adventure to share with others, so we'd all know what to expect (both bad and good!).
Trekking the seven-day Lemosho route, Tash dutifully took photos and videoed the scenery as well as her thoughts and reactions along the way. She also kept a journal detailing what she wore and carried in her backpack each day, as well as how she felt about and experienced things. We hope the video and journal entries below are helpful in preparing and enthusing you for your own future Kilimanjaro climb!
Tash's video journal
Want to really know what it's like to climb Mt Kilimanjaro? Then we suggest you grab a drink, put up your feet, and join Tash as she chronicles her climb up the highest mountain in Africa!
There would be a youtube video here.
Sadly, the youtube player requires cookies to work.
Day 1: Lemosho Gate to Mti Mkubwa Camp
For the first day of our Kilimanjaro climb, we trekked from Lemosho Gate (2,100 m) through gorgeous montane forest 🌲🌲 to reach Mti Mkubwa Camp (2,895 m) for our first night of camping.
I wore:
Leggings, short-sleeved synthetic t-shirt, hiking socks, hiking boots
Daypack items:
3ℓ water bladder (full), 1ℓ water bottle (full), fleece, sunhat, electronics, small toiletries bag, sunglasses, passport and money
Journal entry
9 am. Bye-bye comfy hotel
We were picked up from the hotel this morning by two members of the Kili team. We then drove for about an hour or so to the junction on the main road that goes towards Kilimanjaro. We stopped off at a small supermarket for snacks and three litres of water each.
10 am. Drive to Londorossi
We then hit the road again and drove to Londorossi Gate. This took another two or so hours. The scenery on the drive was really beautiful: green, small towns; sunflowers; butterflies; Mt Meru; and Mt Kilimanjaro. It was cloudy, so we only got a partial view of Kilimanjaro. On a clear day, the view of the mountain is apparently spectacular.
12:30 pm. Sign into Kilimanjaro National Park
When we arrived at Londorossi Gate in Kilimanjaro National Park we had our bags weighed along with all of the porters and guides. Then we waited a bit whilst everything was checked by Chris Sichalwe, our lead guide. Chris is very funny and charismatic – a great leader. All of the bags were then loaded onto buses and we drove to Lemosho Gate. The drive took around 40 minutes.
1:30 pm. Lemosho Gate – the trek begins!
When we arrived at Lemosho Gate, our bags were weighed once again and then we set off into the forest. We climbed for about two hours, covering just under 5 km. The forest is beautiful. Our assistant guides Francis and Msafari are super friendly. They're also very knowledgeable and encouraged us to be transparent about how we're feeling along the way, reminding us that they're there to help.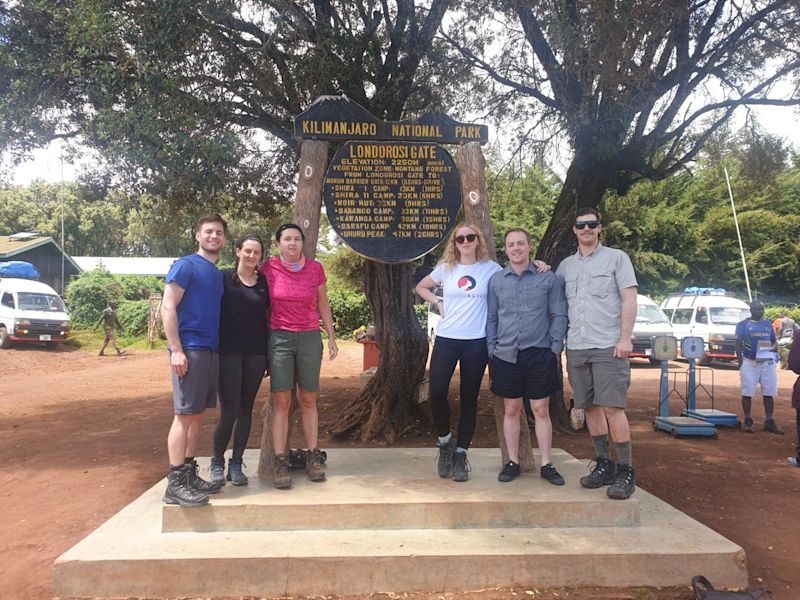 Londorossi Gate, where you check into Kilimanjaro National Park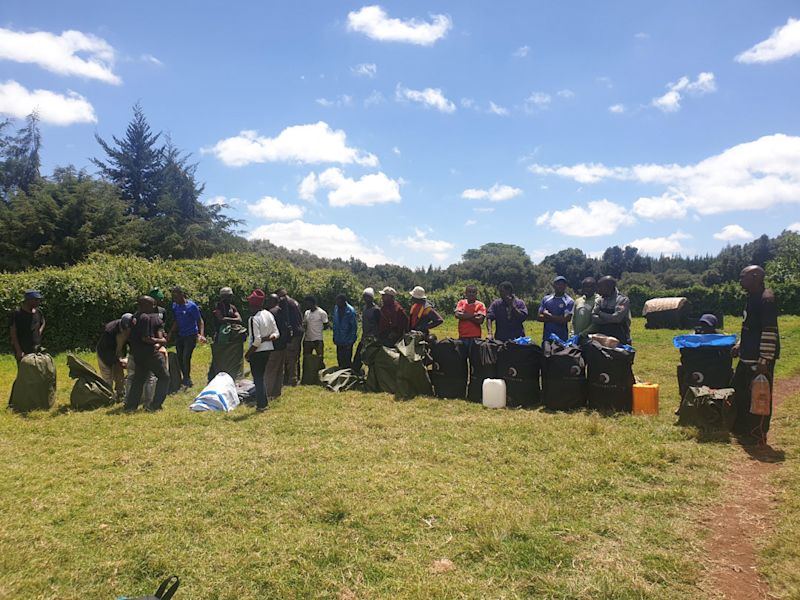 The Follow Alice mountain crew doing a final check on the equipment ...
4 pm. Mti Mkubwa Camp
Mti Mkubwa is a really nice camp; it's in the forest, so there are lots of trees. Our Follow Alice camp was already set up by the time we arrived (the porters had hiked on ahead of us). So we undid our boots and chilled out for a bit.
5 pm. Afternoon tea
We had popcorn and tea in the mess tent while Chris gave us a briefing on tomorrow's trek. The briefing was really thorough and I felt prepped for the next day. We were advised about what clothing to wear for tomorrow, what to expect from the terrain, and about when and where to use the bathroom.
6 pm. Pulse oximeter check
We all had our pulse oximeter check-up, just to check how we're managing with the altitude.
7 pm. Dinner
Dinner was pumpkin soup, fried potatoes, spinach, tomato sauce (thick with veggies), and fruit salad. It was yummy and I'm so full now, wow! Our waiter, Rama, and cook, Raja, are awesome. The first dinner was a great bonding time for the team – there was lots of laughter.
8 pm. Bedtime
Time for bed! At 8 pm everyone heads for bed.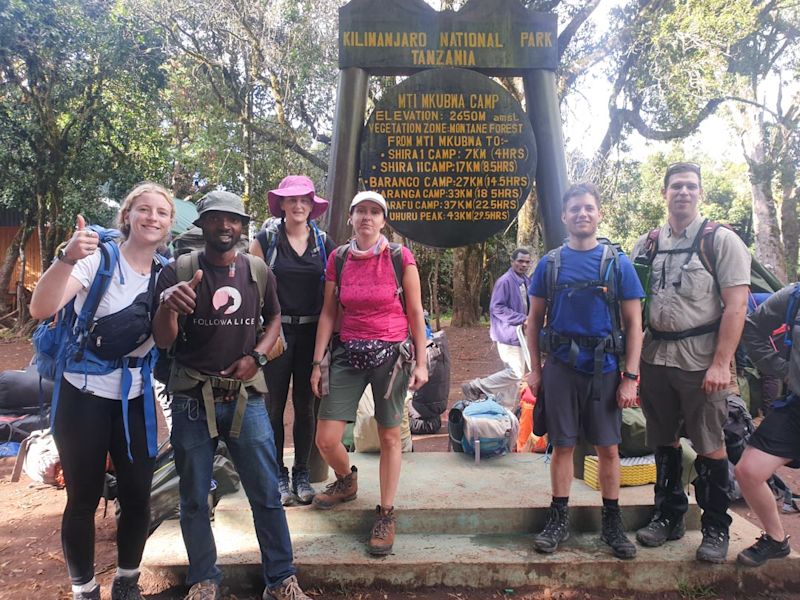 Mti Mkubwa Camp – first day of hiking: ✓
Day 2: Mti Mkubwa Camp to Shira 2 Camp
Day 2 of our climb saw us leave Mti Mkubwa Camp (2,895 m) and hike above the tree line into the otherworldly (and beautiful) moorland zone. We stopped for the night at Shira 2 Camp (3,505).
I wore:
Leggings, short-sleeved synthetic t-shirt, fleece, waterproof jacket, sunhat, sunglasses, sunscreen, hiking socks, hiking boots
Daypack items:
3ℓ water bladder (full), 1ℓ water bottle (full), electronics, toiletries bag, passport and money
Journal entry
5 am. Rise and shine
We woke up at 5 am (well, Rama woke us up by bringing tea to us in our tents). I didn't want to get up, but once I'd had my tea and started packing my bags, I felt okay.
5.30 am. Washy washy
We then did 'washy washy' (which means washing what you can from a bucket of water), though I didn't really use much water this morning, as I just washed my hands and face. We then had to pack our bags to be ready by 6 am for breakfast. The porters packed away our tents.
6 am. Breakfast in the mess tent
Breakfast today was porridge, bread, eggs and sausage. I have decided I'm not drinking coffee during the climb as it messes with my stomach (which I can't afford to have on this trip!).
7 am. Climb above the forest
We left camp at 7 am and walked through the forest for a couple of hours. It was so green and lush in every direction you turned, and we were lucky enough to see some black and white monkeys in trees above us. We then emerged out of the forest into moorland. Having emerged from the forest, it was a steep walk up to Shira 1 Camp. I really enjoyed this section; the terrain is beautiful, and the views stunning. We took pictures on a rock, all together. We arrived at Shira 1 Camp after about four hours of hiking.
11 am. Shira 1 Camp
We stayed at Shira 1 Camp for at least 1.5 hours. Those doing the eight-day version of the Lemosho route stay the night here. So plenty of people were setting up camp and chilling. There's a stunning view of the summit from here. I can imagine it would be nice to spend the afternoon here, relaxing and acclimatising.
12 pm. Lunch
Lunch was cucumber soup, pasta, beef and veggies. There was also watermelon. We rested here for a little while after lunch. I set up the GoPro to get a couple of time-lapses. And then I nearly left the GoPro at camp when we started hiking again – whoops!!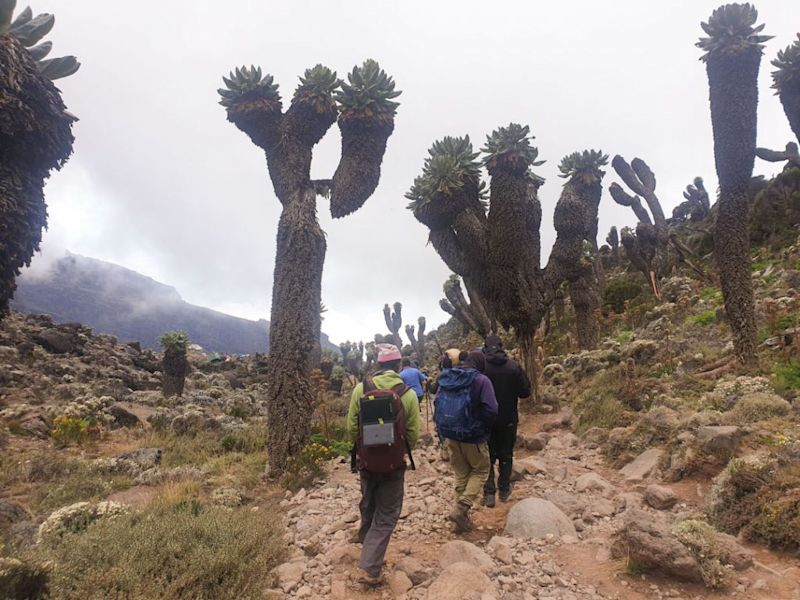 Giant groundsels are unusual trees found only on Mt Kilimanjaro in the moorland zone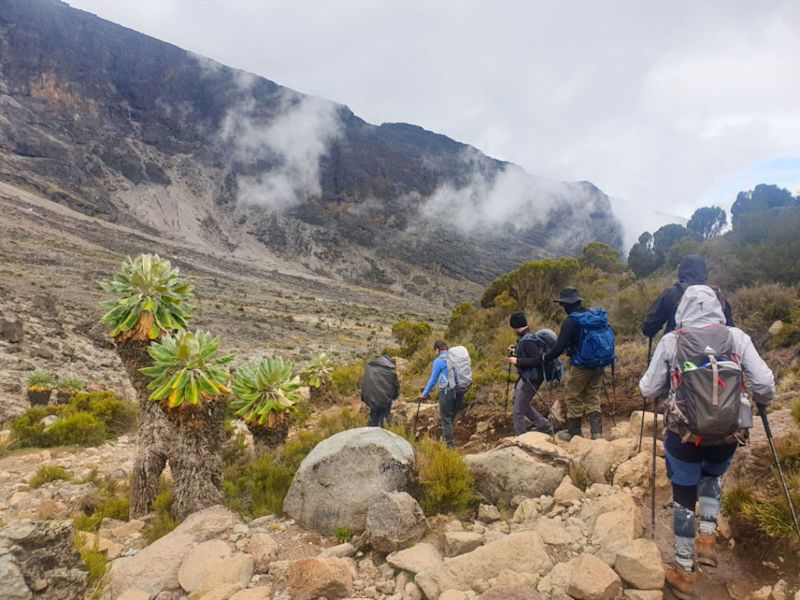 This is a very pretty section of the Kilimanjaro trek
12:30 pm. Afternoon trek through moorland
The afternoon trek took us through a flatter section of moorland. I was feeling tired by this point, so I found it harder than the first section of the day. I needed to pee so many times, so I did a lot of rock toilets.
5 pm. Arrival at camp
When we arrived at Shira 2 Camp, we did washy washy pretty much straight away (though I couldn't find my towel, so I used my fleece instead, lolz). I then got changed into my clothes for tomorrow.
6 pm. Peanuts and briefing
We headed to the mess tent for a snack of peanuts and a briefing from Chris about the next day's trek, which includes climbing Barranco Wall and stopping off at Lava Tower for some acclimatisation. It's going to be another nine-hour trek day!
6.30 pm. Sunset
We went outside to watch the amazing sunset. There was orange and pink mixed in with the clouds all across the sky.
7 pm. Dinner
Dinner tonight was potato soup, chicken, rice and cabbage – so yummy! There was also vegetable sauce and avocado (the sweetest I have ever had).
8 pm. Bedtime
The sky tonight was beautiful – full of stars!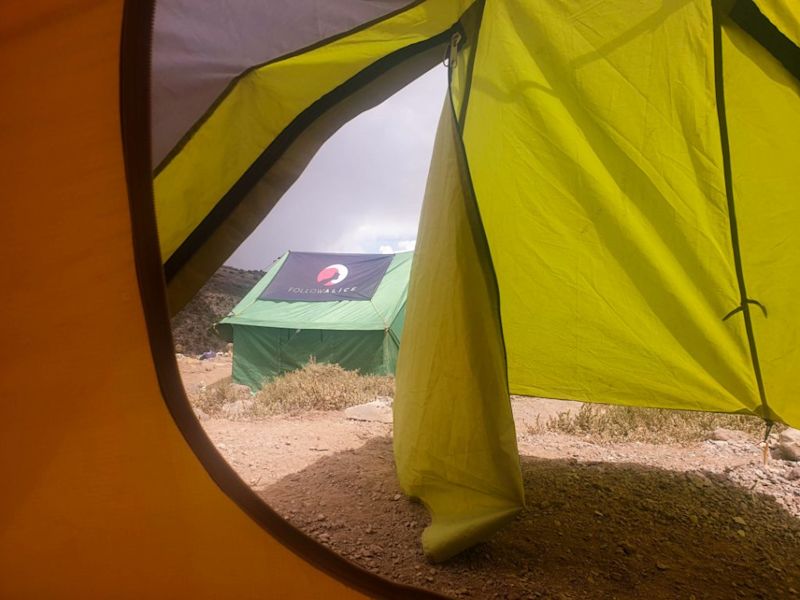 At the end of a long day, there's nothing better than plonking into your cosy tent!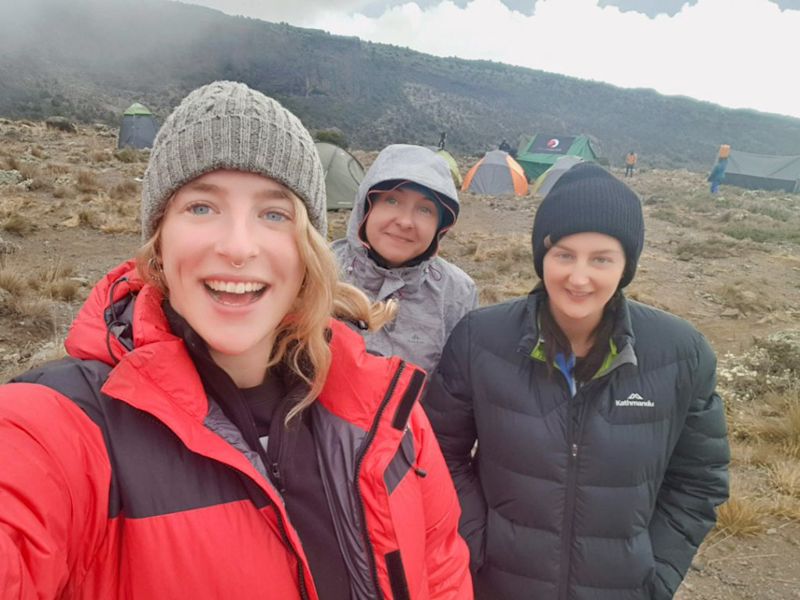 Did I mention that camp gets cold at night??
Day 3: Shira 2 Camp to Barranco Camp
Today we trekked from Shira 2 Camp (3,505 m) up to Lava Tower (4,630 m). We then hiked down to Barranco Camp (3,976 m). Things were pretty darn cold by this stage!
I wore:
Leggings, short-sleeved synthetic t-shirt, black fleece, black down jacket, waterproof jacket, liner gloves, waterproof gloves, balaclava, warm hat, hiking socks, hiking boots
Daypack items:
3ℓ water bladder (full), 1ℓ water bottle (full), packed lunch, sunglasses, sunhat, electronics, toiletries bag, medical kit, passport and money
Journal entry
6 am. Tea in bed
Rama woke us up with tea in bed at 6 am, an hour later than our early start yesterday. I had a bad sleep last night – woke up quite a few times and struggled to get back to sleep. One time I felt very sick and felt a bit panicky. But I remembered that Chris said it's normal to experience these symptoms. I popped some paracetamol when I woke up and it took the headache away. I think the fresh air also helped, as did getting out of the tent.
7 am. Breakfast
I realised half way through breakfast that I had started my period (quite a few days before due), but I felt okay about it. No pain (well, a bit, but nowhere near as bad as it usually is). Logistically, it's been a bit annoying.
8 am. Start trekking
We left Shira 2 Camp and it was very cold and sunny. My polarised sunglasses have proved amazing! We walked up through the alpine desert for about four hours to get to Lava Tower. We went up in altitude to over 4,000 m. It got even colder as we climbed higher. We took it slow. We passed through the junction where the Machame and Lemosho routes meet.
12 pm. Lava Tower
We reached Lava Tower at noon and ate our packed lunches. It was very cold there. I needed to poop really badly, but decided to wait until we got to Barranco Camp so I could use the toilet tent.
1 pm. Afternoon trek
We pulled out our trekking poles for the first time, and I also used my warm hat and balaclava for the first time. My hands were very cold, so I put on my glove liners as well as a second pair of waterproof gloves. We walked down steep rocks for a while and it started to get a bit warmer and flatter the lower we got. It also grew greener. All the guides are trained in the various flora and fauna so they taught us all about them, which was really great. We then walked through rocky paths where we also saw waterfalls. I really enjoyed this section. You eventually get a view over Barranco Camp (you can hear people singing before you see it!). You can also see the Barranco Wall. It looks very impressive and a little bit scary. Chris assured us that it's really not.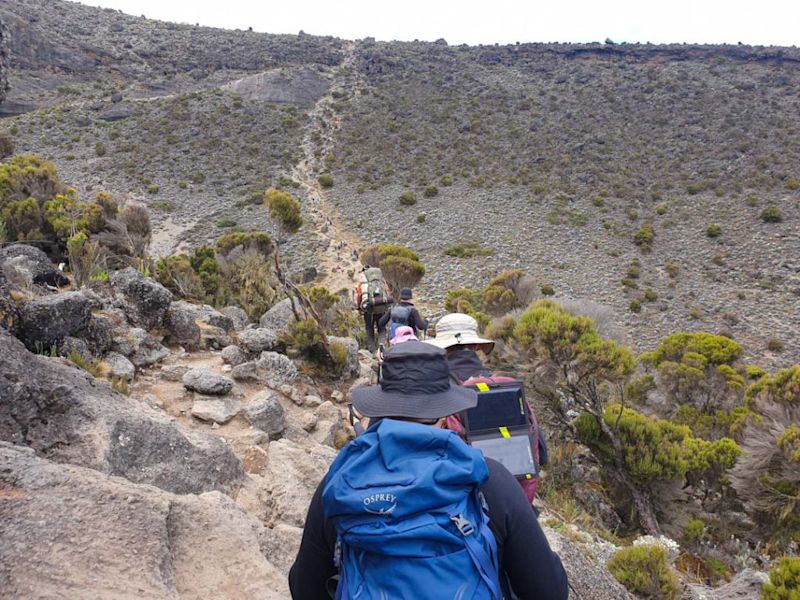 A trail of trekkers – for a week you're part of a very special little community living on the mountain
3 pm. Washy washy
Our porters greeted us at camp to help us with our bags. We signed in and headed over to the Follow Alice tents. Then it was time for washy washy. Tea was popcorn (sweet and salty), biscuits and tea.
6 pm. Supper
We had a dinner of vegetable soup, spaghetti bolognese, green beans (yummy – reminded me of Jess), and watermelon.
7 pm. Ukelele time!
I got the ukelele out (yes, I brought my ukulele, haha!), played a bit, had some tea, and then readied myself for bed. I want to get up at 7 am tomorrow to film the sun rising – let's see if it happens (me waking up, not the sun rising!).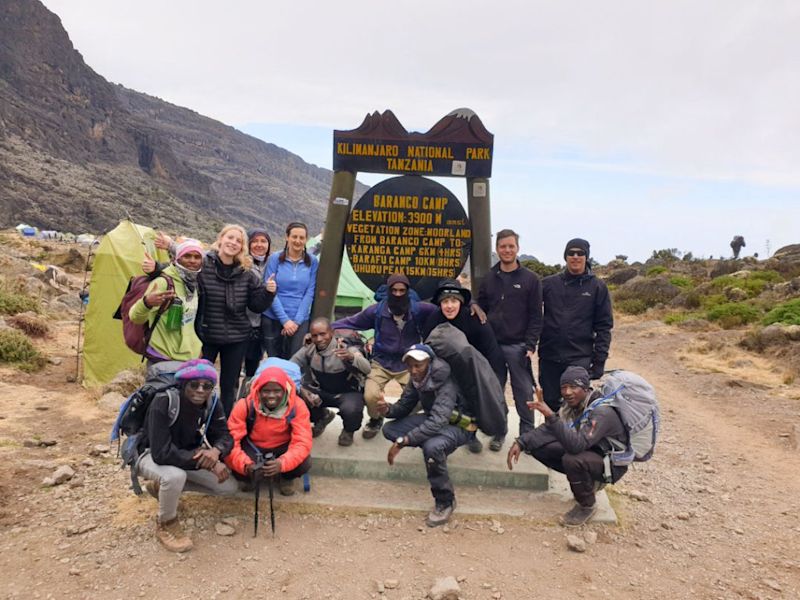 Arriving at Barranco Camp
Day 4: Barranco Camp to Karanga Camp
Today we trekked from Barranco Camp (3,976 m) to Karanga Camp (3,995 m). This meant tackling the famous Barranco Wall!
I wore:
Leggings, hiking trousers, long-sleeved thermal vest, short-sleeved synthetic top, black fleece, down jacket, hiking socks, hiking boots
Daypack items:
3ℓ water bladder (full), 1ℓ water bottle (full), inner gloves, waterproof gloves, waterproof jacket, waterproof trousers, toiletries bag, medical kit, electronics, passport and money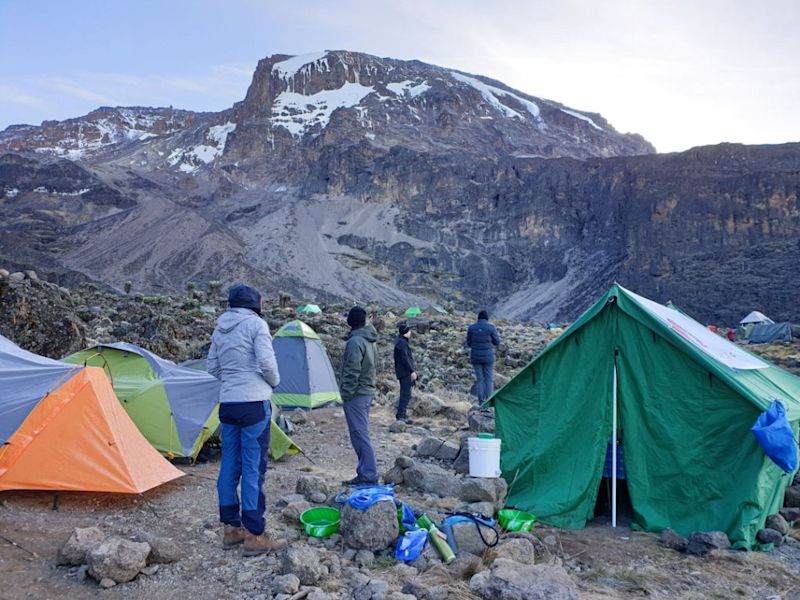 Barranco Camp, where the scenery is next level
Journal entry
7 am. Wakey wakey
I had a really good sleep last night – my first proper sleep during the trek. It brought home the importance of a good night's sleep while on the mountain.
8 am. Breakfast
Breakfast today was porridge, eggs, bread and sausages. I am doing well with my appetite, still feeling hungry and looking forward to meal times.
9 am. Barranco Wall
We left camp and headed off to the Barranco Wall. There was lots of foot traffic on the wall, so that meant a lot of waiting. A couple of sections of trail are single file, so it took a while for people to funnel through. I actually enjoyed having more people around; it was a nice atmosphere, with music playing and people talking on the way up. It created a nice sense of camaraderie and togetherness! The entire wall took about two hours to climb. It was all uphill and there were a few scrambling parts. It was perfectly manageable, but could be hard for people who aren't able to get on their hands and knees so easily. We passed the 'kissing rock', 💋 which really wasn't as scary as people make it out to be! In general, I would say that the Barranco Wall is manageable if you're okay with scrambling. There's nothing too technical. It's not too steep and all you need to do is take it slowly (pole, pole), and you'll be fine. We had amazing views over the clouds along the way. At the top of the Barranco Wall we took a really nice group picture. A lot of people like to do a jumping picture here – I can see why!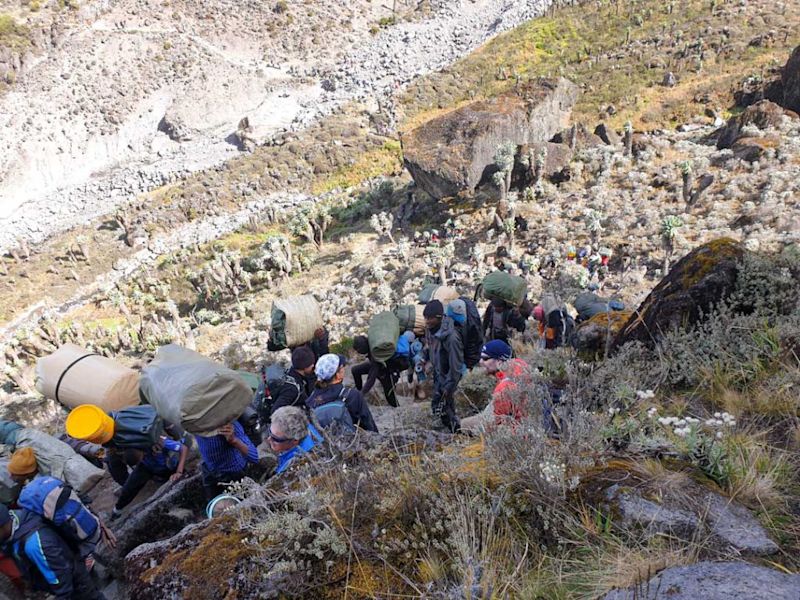 Just another day on the great Barranco Wall!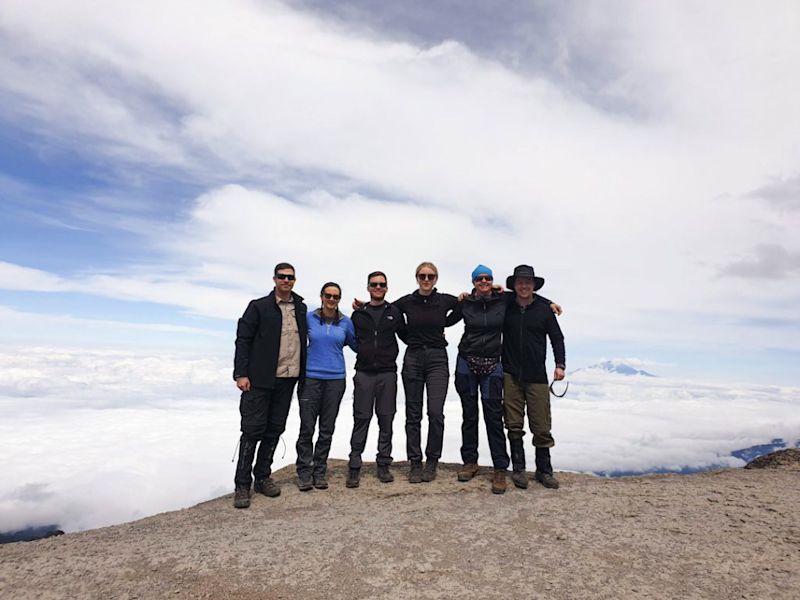 Feeling chuffed, as we'd just completed the Barranco Wall
11 am. Alpine desert
We then took out our trekking poles and made our way to Karanga Camp. The views as you walk are beautiful. It felt like walking on Mars at a couple of points. I say this because the of the alpine desert landscape – there are lots of loose rocks and its sandy underfoot. We then approached the Karanga Valley. We went down into the valley, stopped briefly for a break at the bottom by the stream (the last water point on the mountain), and then made our way up the other side. This was another relatively short climb, then we made it to Karanga Camp.
1:30 pm. Karanga Camp
The setup at Karanga Camp is great, with beautiful views over the clouds. We just chilled out at camp for a while after arriving. At one point I spoke with Chris about Follow Alice and how it all started – our chat made me really emotional. What a wonderful team to belong to! The guys here work so hard and it's amazing to be part of something so special. We all chilled out and played cards. I also played the ukelele and recorded some videos. We also had a briefing from the guys about the next day.
7 pm. Dinner
Dinner tonight was another tasty and hearty meal, and you really tuck in having hiked so long and hard!
8 pm. Bed, sweet bed
I'm now in bed, contemplating the next couple of days. I need to get a good sleep as we won't get one tomorrow (summit night). I'm hoping that I sleep as well as I did last night. I'm also feeling more motivated than ever to make it to the summit!! 🏔
Karanga Camp above the clouds on Kilimanjaro
Day 5: Karanga Camp to Barafu Camp
We hiked today through high alpine desert from Karanga Camp (3,995 m) to Barafu Camp (4,673 m), a major rise in elevation. Barafu Camp is one of Kilimanjaro's base camps for summit attempts.
I wore:
Leggings, hiking trousers, long-sleeved thermal vest, short-sleeved synthetic top, black fleece, down jacket, hiking socks, hiking boots
Daypack items:
3ℓ water bladder (full), 1ℓ water bottle (full), inner gloves, waterproof gloves, waterproof jacket, waterproof trousers, toiletries bag, medical kit, electronics, passport and money
Journal entry
7 am. Wake up
There were such beautiful views over the clouds from our campsite this morning. And with the mountain behind us, we can see the challenge ahead so clearly.
8 am. Breakfast
Breakfast today was millet porridge, egg omelettes and fried bread. Wasn't feeling as hungry today, but ate a decent amount.
9 am. Trek in alpine desert
Today's hike was a short one: we walked for about three hours up a steady incline to get to Barafu. Barafu apparently means 'ice' in Swahili. I noticed my hands were swelling up a lot!
12 pm. Barafu Camp
Barafu is a big camp, as it's one of two summit base camps. Barafu is the meeting point of four of the seven Kilimanjaro routes (Lemosho, Shira, Machame and Rongai), while Kibo is the joining point for the other three routes (Umbwe, Northern Circuit and Marangu). We arrived at Barafu at around midday. The FA team were setting up our tents and preparing lunch for us.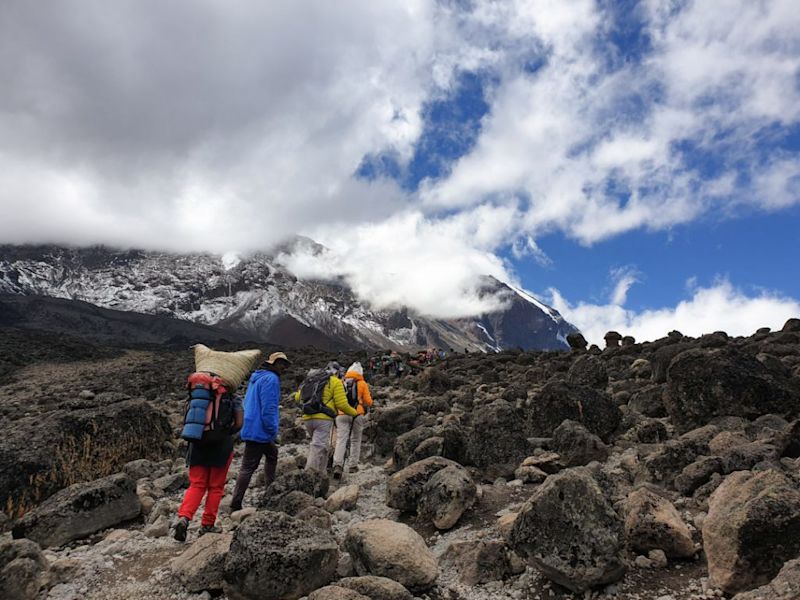 You enter a zone of alpine desert near the top of Kilimanjaro – breathing becomes laboured here, as the air is very thin
12:30 pm. Lunch
Lunch turned out to be chicken and chips with avo salad and watermelon! It felt like such a luxurious meal at such high altitude. Raja is such a talented cook and Rama is such an attentive and charismatic guy in his role as waiter, bringing our meals to the mess tent, bringing tea to us in bed in the mornings. What an amazing, talented and hard-working bunch of guys! (Who knew chicken and chips could evoke such emotion – haha!)
1 pm. R&R
We had a rest after lunch for a few hours.
5 pm. Dinner
Dinner tonight was potato soup, toast, and spaghetti omelette with vegetable sauce. We also had a 30-minute briefing from Chris, Francis and Msafari about summit night. They introduced the fourth guide who will be assisting us, Humphrey. Chris told us to layer up for our summit attempt and to try to get some rest.
7 pm. Bed ... briefly!
I'm now in bed, and will hopefully manage a few hours of sleep. We need to be up at 11 pm. Crunch time!!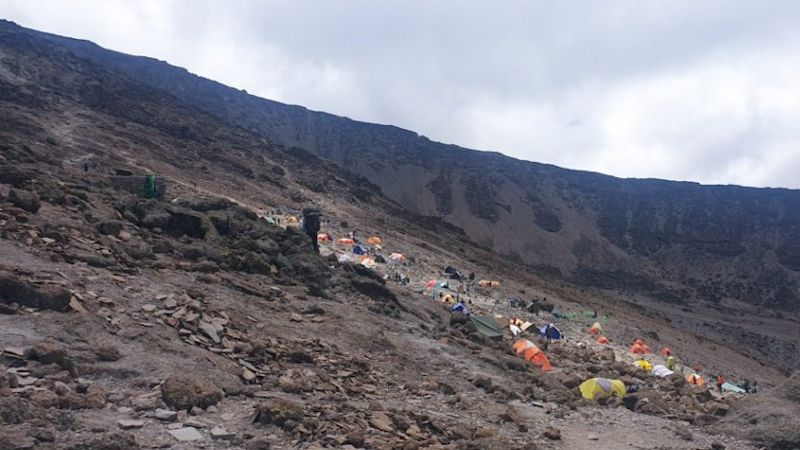 Barafu Camp, perched on a slope of Mt Kilimanjaro in the harsh alpine desert zone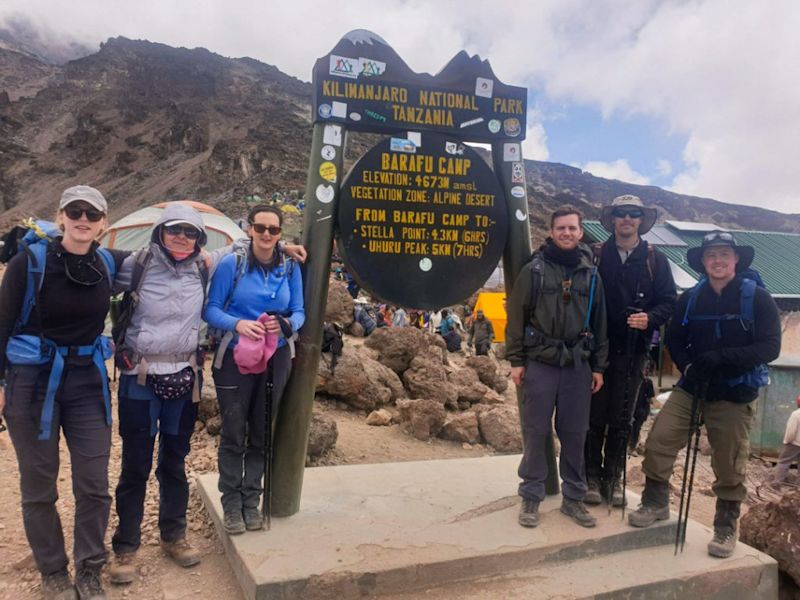 Celebrating having another day of hardcore trekking under our belts!
Day 6: Barafu Camp to Uhuru to Mweka Camp
Today was summit day!! We left Barafu Camp (4,673) at midnight to climb to Uhuru Peak (5,895), the highest point on Mt Kilimanjaro. After we made it the summit 🎉 , we hiked down to Mweka Camp (3,068 m) for the night.
I wore:
Leggings, hiking trousers, waterproof trousers, long-sleeved thermal vest, short-sleeved synthetic top, black fleece, down jacket, inner gloves, waterproof gloves, balaclava, polarised sunglasses, sunscreen, SPF lip balm, warm hat, sock liners, summit (thermal) socks, hiking boots (basically everything I had with me!)
Daypack items:
3ℓ water bladder (full), 1ℓ water bottle (full, and turned upside down, as water freezes from top down), toiletries bag, medical kit, electronics, passport and money
Journal entry
11 pm. Get ready for summit attempt!
We were all 'woken up' at 11pm, but I hadn't slept at all – my mind was too busy racing! It felt strange getting ready at this time, also because it was dark and I knew it wasn't going to be getting light anytime soon. I appreciated having prepped my attire and gear beforehand so there wasn't much rushing around. I was already in my layers, so just had to put the bigger, outside layers on. We all ensured our one-litre water bottles and water bladders were filled up. I could hear lots of scurrying around in the dark to get everyone prepped and ready to start. I felt the nervous (but excited) energy.
12 am. Nighttime trek to Uhuru Peak
We could see a line of torchlights already heading up the mountain – onwards we went and followed them! We started slowly and kept this pace. I was out of breath right at the start, and felt slightly worried and a little nervous. The cold and the wind were aggressive.
1 am. Emergency clothing change
About an hour or so into the climb the zip on my leggings was digging into my side so badly that I needed to take them off. (This is what you get when you wear a pair of leggings you've never tried out before – I should've known better!) The leggings were my second layer, so you can imagine what a mission I faced in removing them! Fortunately, I experienced another occasion of invaluable team support in this moment – the guys gathered around to protect me from the wind, and basically did all the pulling off and tugging back on for me! Yet another reason I say I wouldn't have made the summit without the aid of the mountain crew!
3 am. Looking up at the stars
I desperately needed a wee, so I stopped quickly behind a rock whilst the team took a drink break. I looked up at the stars properly for the first time while behind the rock and was blown away by the beauty of the twinkling sky. Separate from the group and the rest of the people making their way up the mountain, I stared upwards and had a really special moment between me and the stars that I will treasure forever.
5.30 am. Sunrise
Today I witnessed the most spectacular sunrise of my life. We stopped walking and turned to face the horizon, and watched as the sun peeked over the clouds and the sky changed colour. It really felt like we were on top of the world, watching it wake up.
7 am. Stella Point
I was pretty exhausted by this point, and also quite cold. We celebrated making it to this milestone, and took a brief break to prepare for the last stretch.
8 am. Uhuru Peak!
I made it to the summit! We had spectacular 360 views. All the hard work and effort was worth it – we finally reached our goal!! I was so happy (and so relieved)!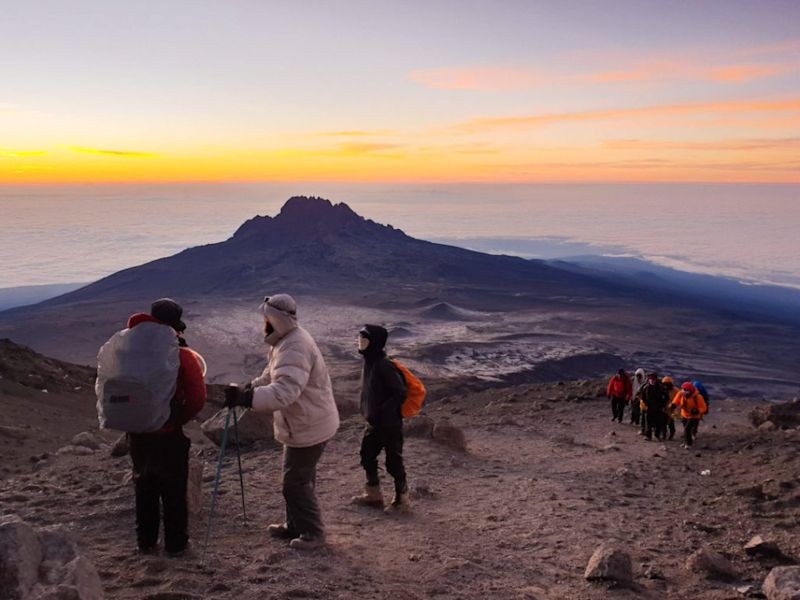 The sunrise on summit day gives you renewed encouragement to make that last push to Uhuru Peak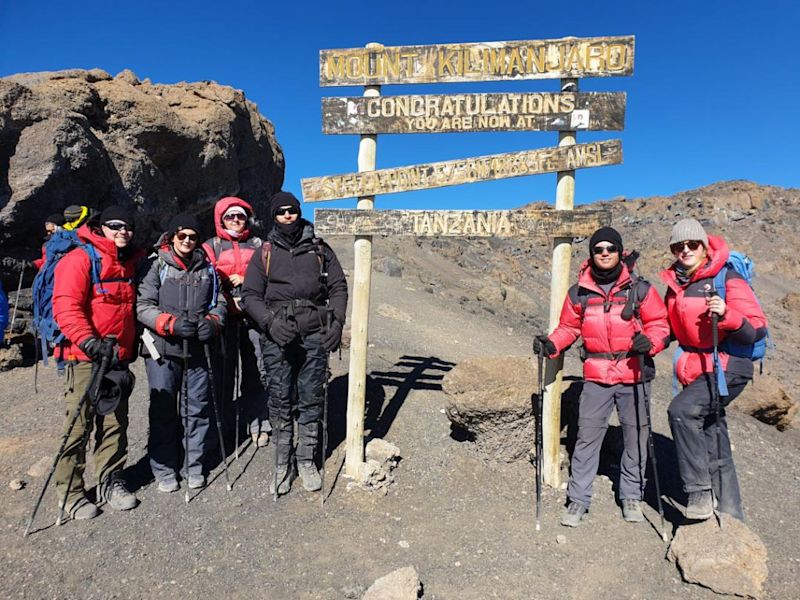 Celebrating reaching Stella Point – not far to the summit now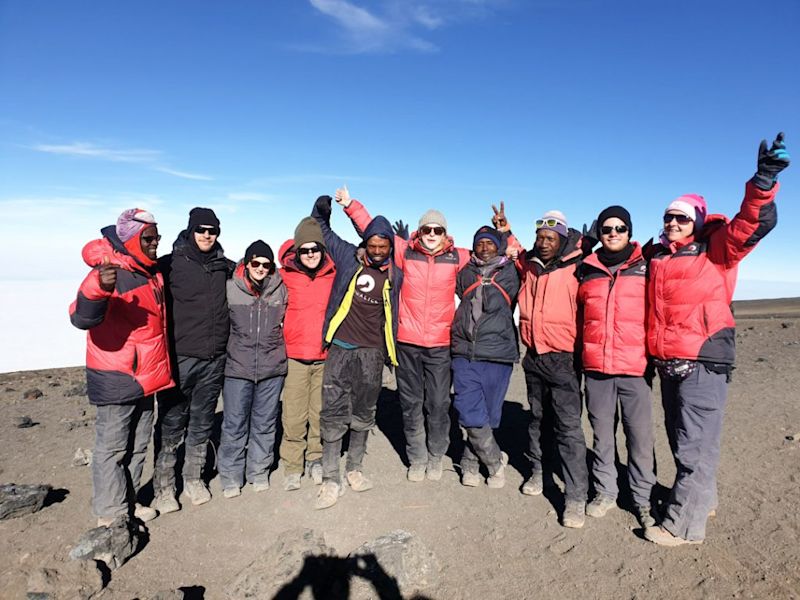 At the summit – VICTORY!
8:15 am. Starting back down
We spent about 15 minutes at the summit before making our way back down to Barafu Camp. The scree was so loose at one point it felt like we were skiing down the mountain. I didn't have gaiters and while I didn't really need them for this climb on the whole, it would've been nice to have them for this section, and I'd recommend them to others.
12 pm. Arrival back at Barafu Camp
We made it back to base camp after a really enjoyable descent from the summit. Lunch felt victorious!
2 pm. Trek to Mweka Camp
I felt really tired by this stage and it took a lot of effort to pick myself up after our break and continue the downhill trek. The afternoon trek wasn't long, but it was hard because I was so tired. I also had to pay a lot more attention to where I was going downhill to avoid tripping or falling (no more scree-skiing). My knees and toes were hurting. The trail itself was beautiful. At one point all you could see was rolling clouds and it looked like people were walking into them – it was almost an optical illusion.
4 pm. Mweka Camp – beautiful place of rest!
Mweka Camp was a sight for sore eyes! Not only is it so pretty, having lots of trees, but it meant we could take off our shoes and plop into chairs. Such bliss.
5 pm. Early dinner
Dinner tonight was early, because we were all finished! We were all jovial at dinner, but fatigue was the primary emotion (yes, fatigue can be an emotion sometimes!). I know I'll sleep well tonight.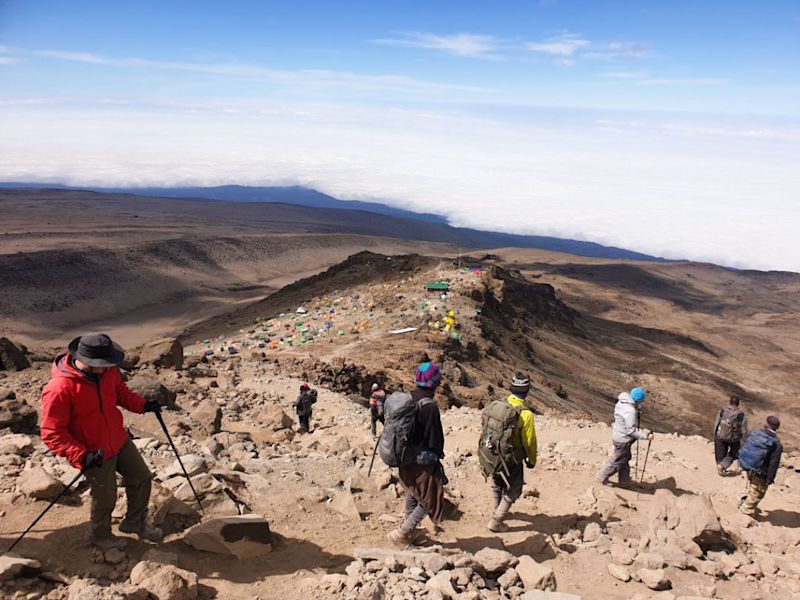 On the way back down from the summit
Day 7: Mweka Camp to Mweka Gate
Today (our final day on the mountain 😢), we hiked down from Mweka Camp (3,068 m) to Mweka Gate (1,640 m). The two locations may have the same name, but don't let that fool you – you must trek for hours to get from one to the other!
I wore:
Leggings, hiking trousers, waterproof pants, waterproof jacket, short sleeved top, long sleeved top
Daypack items:
3ℓ water bladder (full), 1ℓ water bottle (full), toiletries bag, medical kit, electronics, passport and money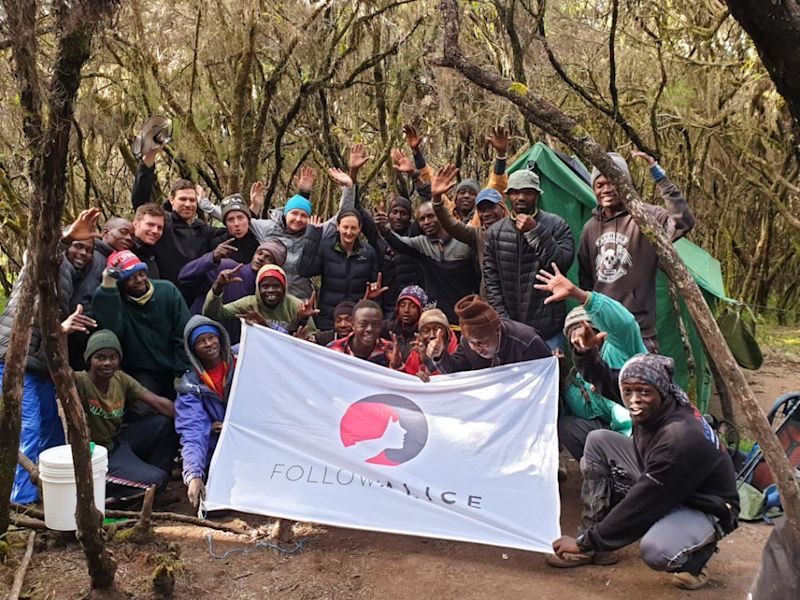 Group photo at Mweka Camp!
Journal entry
I didn't actually write a proper journal entry for the last day of the trek – I was simply too exhausted!! 😅
That said, I can say from memory that I was a real mix of emotions on the last day. I was happy because of what I had achieved, but also sad because it was all coming to an end. It was a heady thing trying to process the realisation that all my preparation had been worth it, but also that the time on the mountain had passed so quickly. I reflected lots on why I had come on this trip, and also on how grateful I was for the team and support around me.
It also rained on this last day, which I was actually quite stoked about! We hadn't experienced any rain on our entire trip (super lucky us!), but it was quite nice to experience the rainforest in this state for a little while.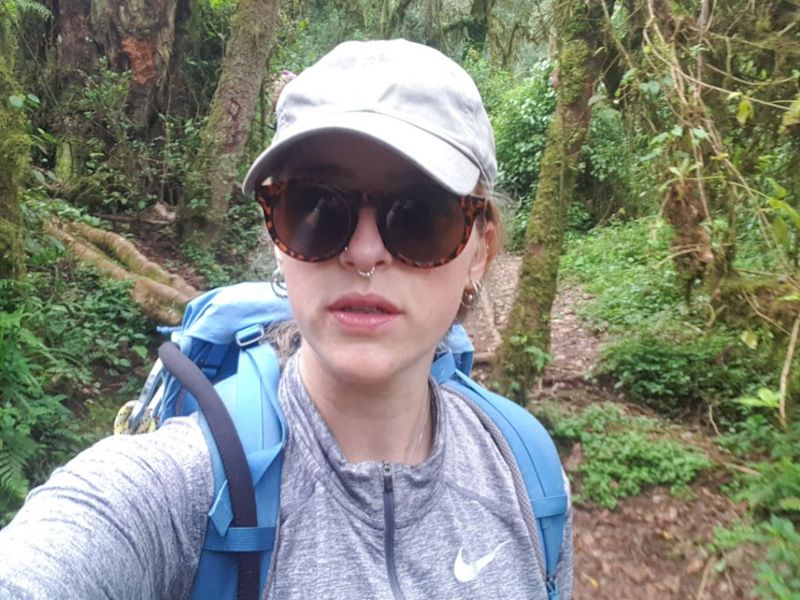 Selfie in the forest ... I loved the rainforest zone, it's so beautiful!
Back at the lodge
In the afternoon we were deposited back at Kigongoni Lodge in Arusha. The highlight was having a long, hot shower ... heavenly. And then the day ended perfectly: the group sharing stories, reflecting together, and enjoying some very, very welcome beers! 🍻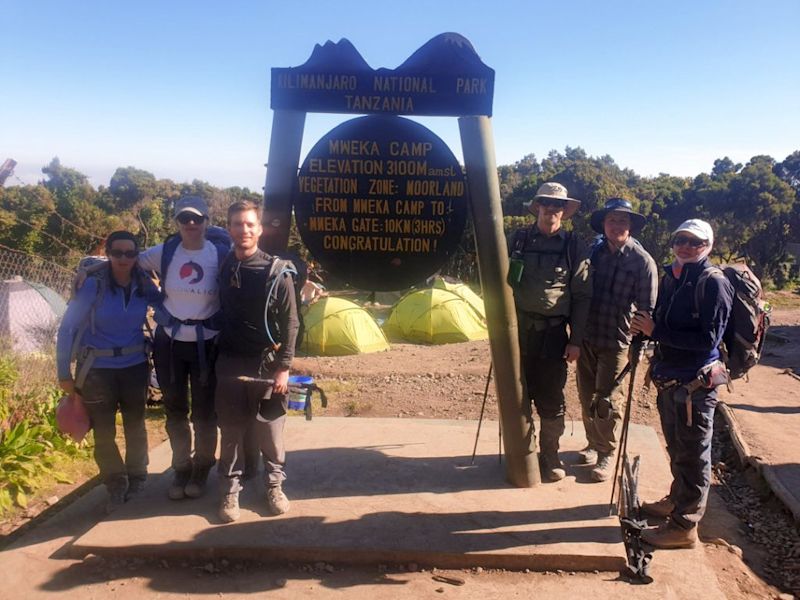 Celebrating making it all the way down to Mweka Camp!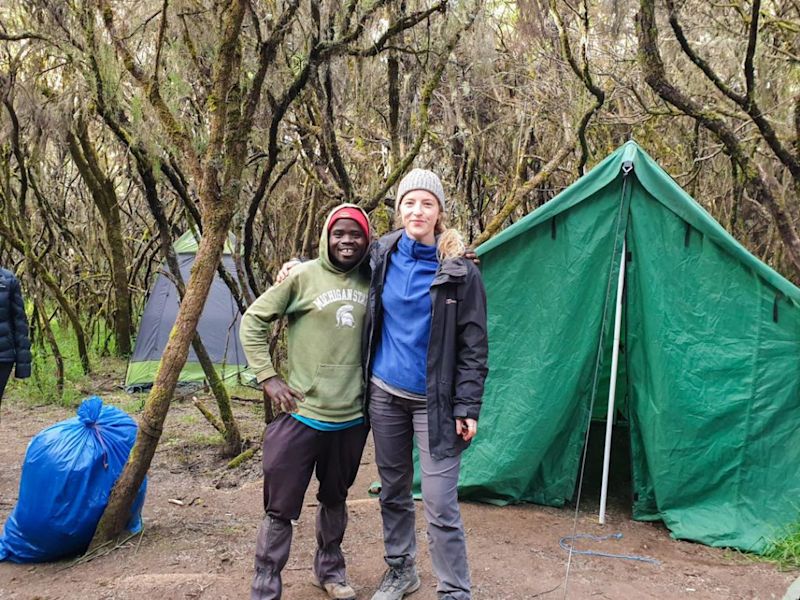 Florian and me at Mweka Camp
Is it your turn to climb Kilimanjaro?
If you think you'd like to climb Kilimanjaro, we say: go for it! It's an adventure trip that creates amazing memories, leads to new friendships, and brings experiences that will change you forever. We cannot recommend it enough! Whether booking for a group, coming as a couple, or wanting to trek as a solo traveller, we're the company to partner with to make your dream a reality. 😀
Please feel free to chat to us about any questions or concerns – we're here and happy to help!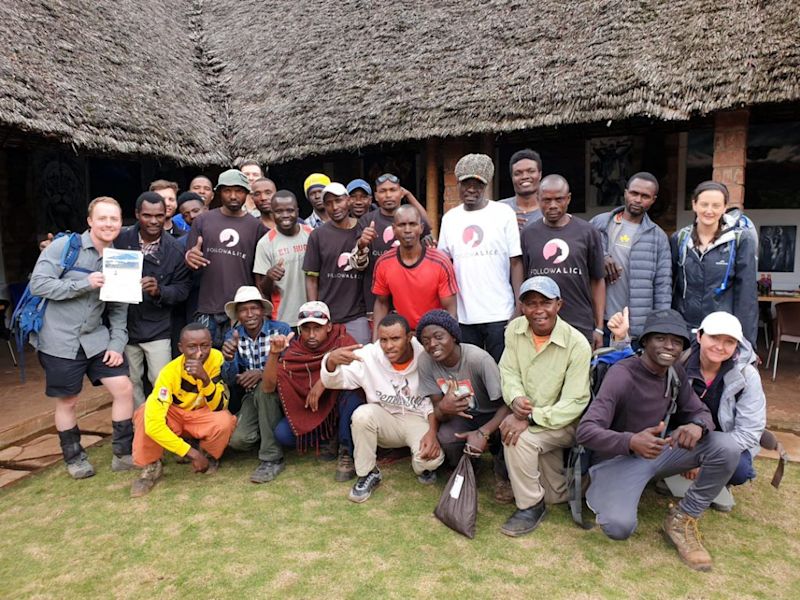 Climbing Kilimanjaro is always a team effort!!