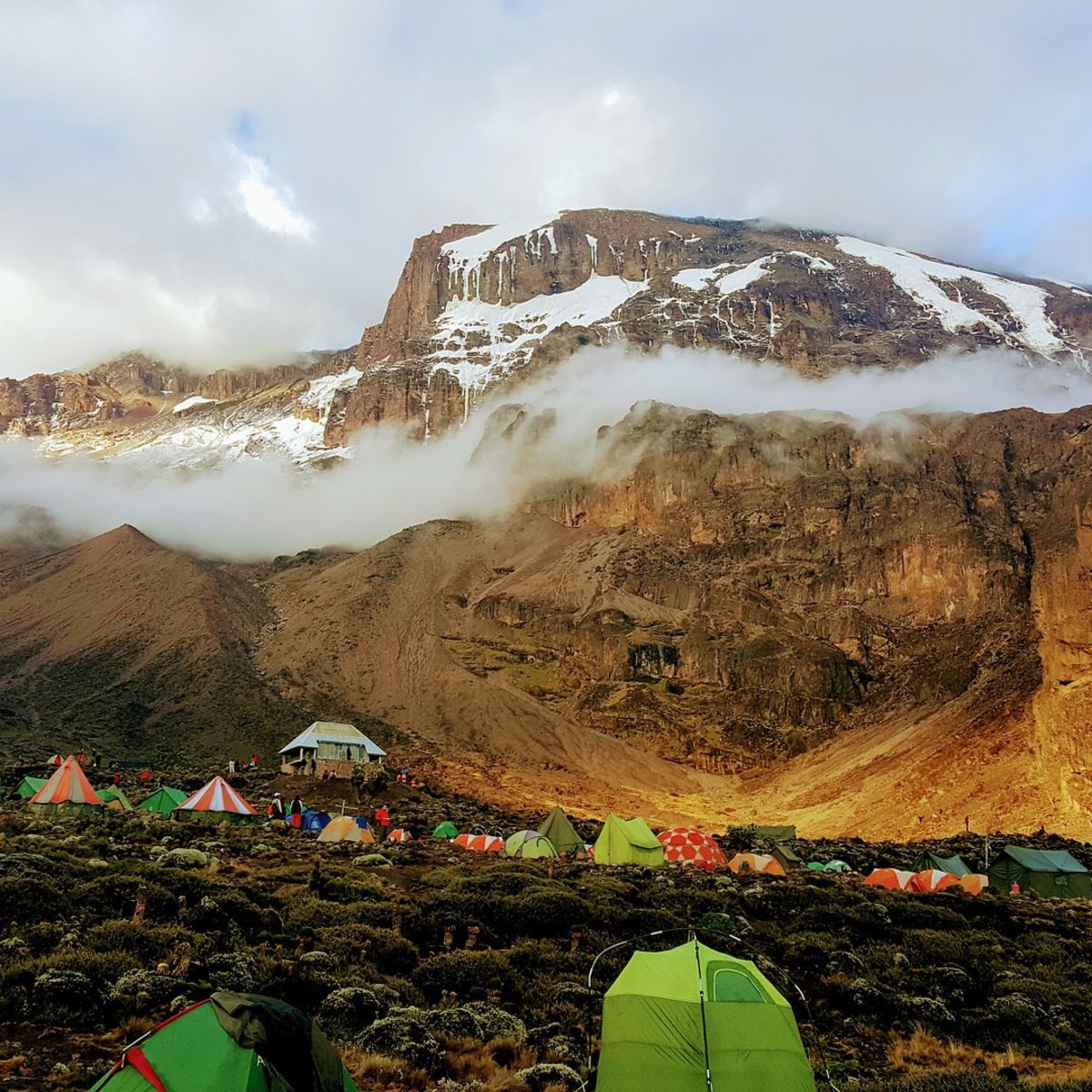 The Barranco Wall on Kilimanjaro
Aug 24, 2022
Reading time: 9 minutes
The Barranco Wall is a steep ridge halfway up the south slope of Kilimanjaro. From a distance, it looks like a wall of un-climbable rock, but it is actually totally doable! We tell you all about this famous Kilimanjaro feature and what to expect of it ...
The Barranco Wall on the southern slope of Kilimanjaro is one of the most famous and challenging aspects of the whole mountain.
In fact, it's such an impressive and imposing feature of Mt Kilimanjaro that it's often referred to as the Great Barranco Wall.
We share with you here:
What the Barranco Wall is

How hard it is to climb

How long it takes to climb

If you need special equipment to scale it

If it's dangerous

Which routes include the Barranco Wall
We also introduce you to the Kissing Rock!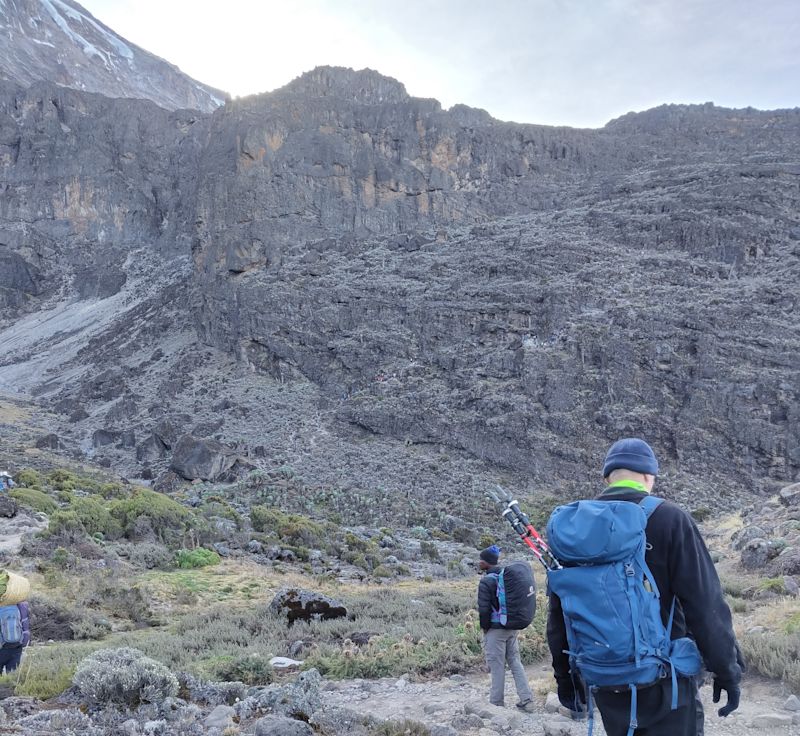 Our client Frederik Mann took this pic of his group walking towards Barranco Wall
Barranco Wall video
Before we chat bout the Barranco Wall, we know that some folks are more visual than others ... if that's you, you might just like to watch our Barranco Wall video below. 🤓
There would be a youtube video here.
Sadly, the youtube player requires cookies to work.
What is the Barranco Wall?
The Barranco Wall is a steep ridge about halfway up the mountainside of Mt Kilimanjaro.
From a distance, the Barranco Wall looks like a wall of rock, hence its name.
However, up close, the Barranco Wall is much easier to climb than you might imagine. There's even a well-trod, zigzag path that leads up it.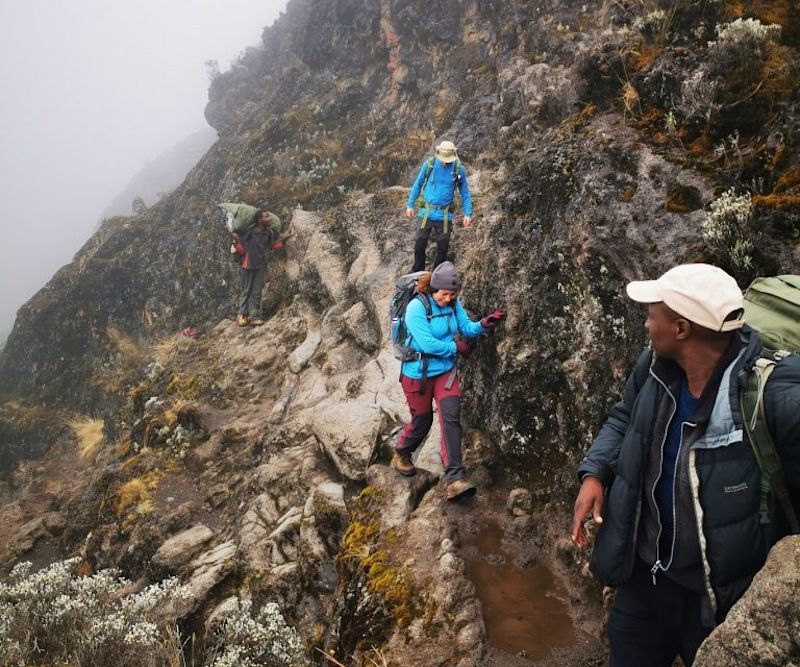 On the path leading up Barranco Wall
Far from being a vertical wall or cliff face, the Barranco Wall is actually a steeply sloped, solidified tumble of rocks dotted with bits of earth and vegetation. In many places you can simply walk the path, though in others you'll need to use your hands – and maybe knees – to scramble up.
Note that not all Kilimanjaro routes lead up the Barranco Wall, as discussed a little further on.
The Barranco Wall was formed long ago when Kilimanjaro was an active volcano. A massive landslide deposited a mess of large rocks on the portion of the mountain that is now Barranco Wall.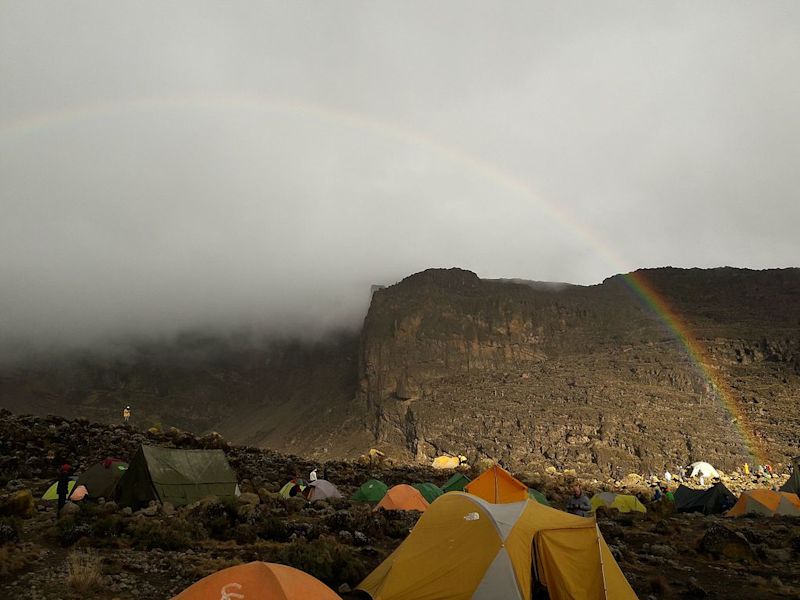 Barranco Wall and Barranco Camp adorned by a rainbow | Image by KpokeJlJla
Where is the Barranco Wall?
The Barranco Wall is on the south side of Mt Kilimanjaro. You scale it after spending a night at Barranco Camp, which is usually on Day 3 or 4 of your climb.
As discussed below, only four of the seven Kilimanjaro routes take you up Barranco Wall. The other three routes wend their way up different sides of the mountain at this elevation.
How high is the Barranco Wall?
The Barranco Wall is just 257 m from base to top. Many people think of it as being more than that. But as with many natural features, the Barranco Wall looks more treacherous and intimidating from far away than it when you're actually on it.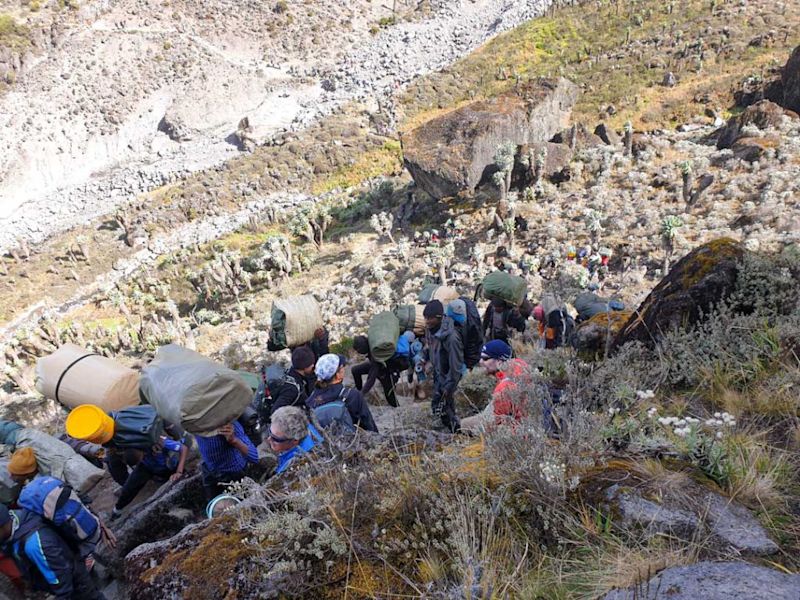 Looking back down Barranco Wall
All that said, it's still an impressive feature that takes some guts to scale! But it's not quite as fearsome as many conjure in their minds before encountering it in person.
There are no places on the wall, for instance, where you need chain ladders or anything of the sort. The Barranco Wall just requires a few big steps and at times for you to take hold of the rocks around you for extra balance and leverage.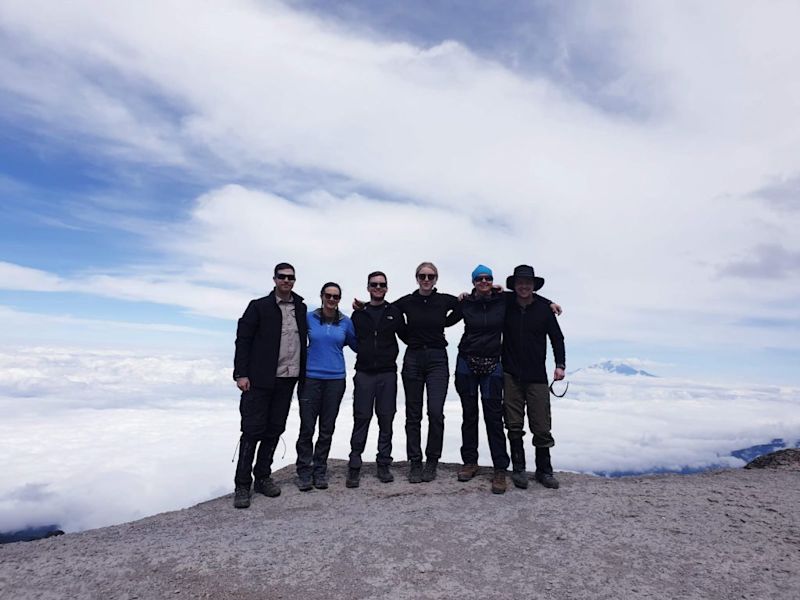 Naturally, you mark the occasion with a group shot!
How bad is the wall if you're terrified of heights?
At no point on the Barranco Wall do you find yourself teetering over a precipice. It's a steep mountainside climb that's a jumble of rocks and vegetation – it's not a cliff. At points you'll be using your hands and maybe even knees to do some scrambling, but that's it.
We've never had anyone turn back from the wall climb, saying it's too scary – everyone manages!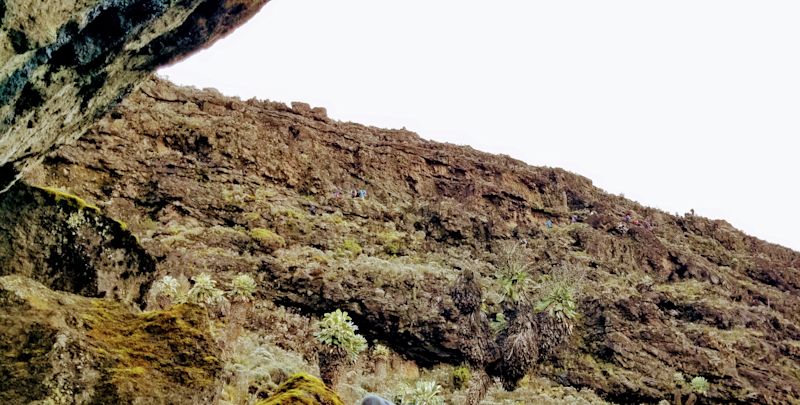 Another view of Barranco Wall from below
Salwan, Head of Marketing at Follow Alice, says:
At first, the Barranco Wall looks intimidating, but it is really not that difficult or steep once you are on it.
That said, if you are someone with a real phobia of heights, then we might suggest you take a different route up Kilimanjaro so as to avoid the Barranco Wall. We discuss the different route options below.
Once you're on the Barranco Wall, you find it's more manageable than you thought
The only part of the Barranco Wall that requires some real focus to avoid falling is the Kissing Rock ...
The Kissing Rock
There's a section near the top of the Barranco Wall where the path narrows and you have to hold onto the rock known as the Kissing Rock to move on safely. It's called the Kissing Rock because you hug it so closely that you could easily just plant a kiss on it. Most do!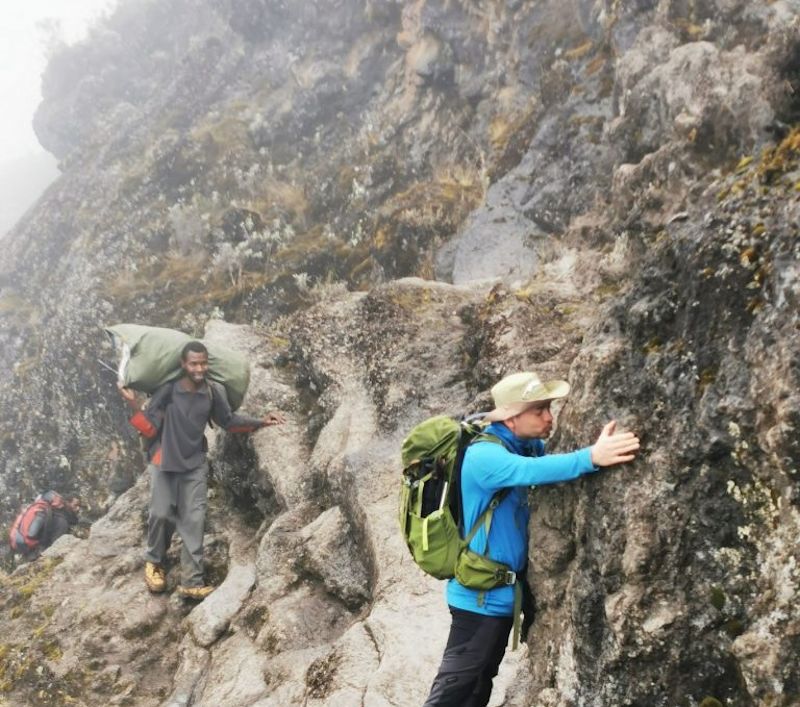 Matthieu about to plant one on the Kissing Rock!
The Kissing Rock is the trickiest and most often the scariest part of the Barranco Wall climb. But as with everything, if you take it slowly and carefully, you'll be 100% okay!
How long does it take to climb?
It usually takes trekkers about one to two hours to climb the Barranco Wall.
Take note that the trail up the wall is narrow, and it must be walked in single file. The Barranco Wall therefore funnels all trekkers into a line. This means that some will advance up the wall slower than they might if nobody was ahead of them.
But Kilimanjaro isn't a race, and if you're forced into a standstill, embrace the time to enjoy the epic view!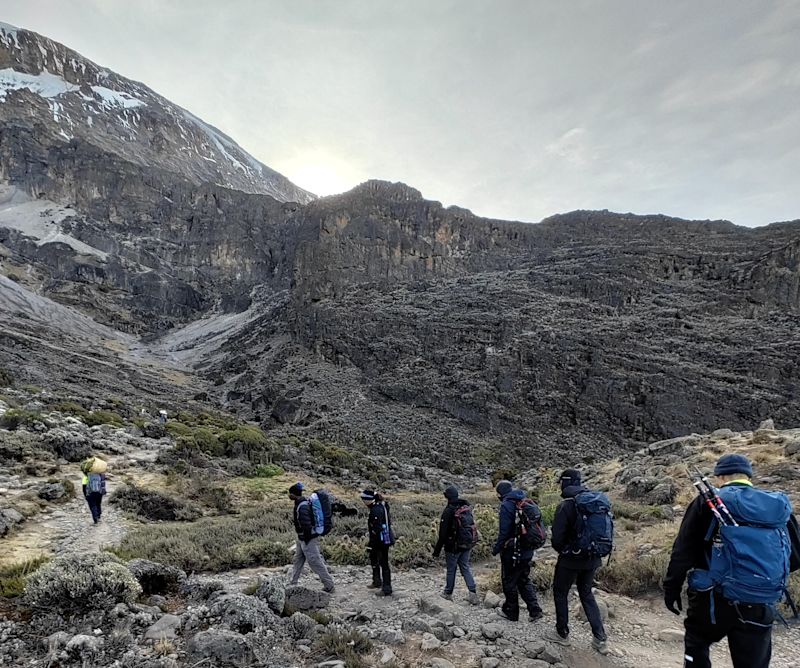 En route to climb the wall
All that said, there are points where you can pass a climber. Just be careful and courteous about it.
Note that the porters will often be passing you, but they usually do so by walking off the trail along sections that most of us mere mortals would consider complete no-go's! Kilimanjaro porters are wizards!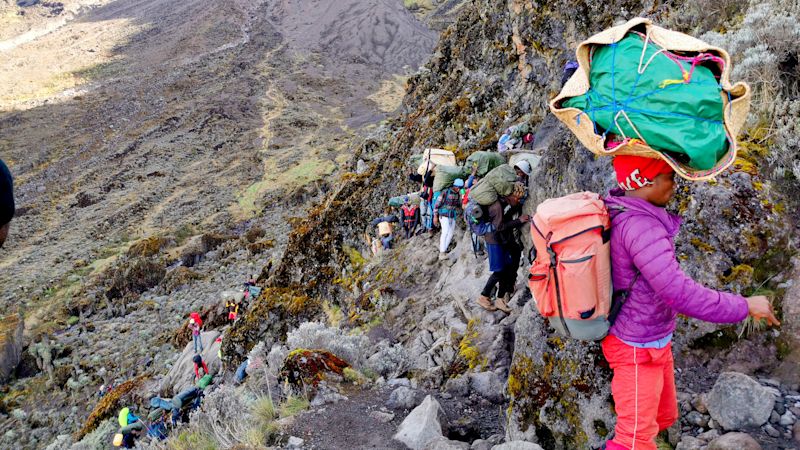 Porters on the Barranco Wall showing how hardcore they are!
The community spirit of the Barranco Wall
Barranco Wall, as mentioned above, funnels everyone trekking four of the seven Kilimanjaro routes onto a single path. This makes it one of the most crowded spots on the mountain.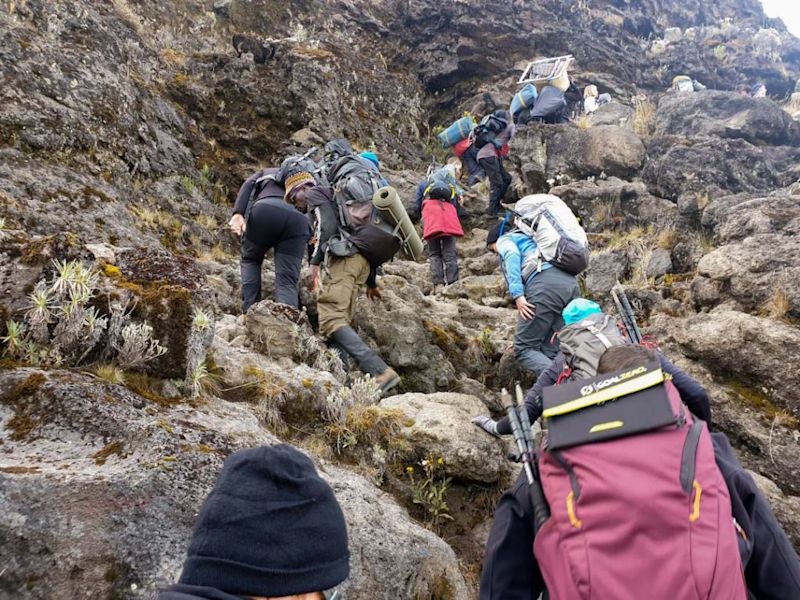 Climbing the Barranco Wall is never done alone!
But don't let the word crowded bum you out. Because the camaraderie that emerges as everyone climbs the wall together is actually something very special. Oftentimes people sing, and there's a sense of being part of a very big team climbing the mountain.
Climbing Barranco Wall is a unique and special moment in your Kilimanjaro adventure.
Tash's Kilimanjaro adventure
Tash, our Head of Sales, climbed Kilimanjaro in 2019 and recorded her experience in her Climb Kilimanjaro video journal. She climbed the Lemosho route, which takes you up Barranco Wall. So have a watch and see show she fared while tackling this special feature of Kilimanjaro!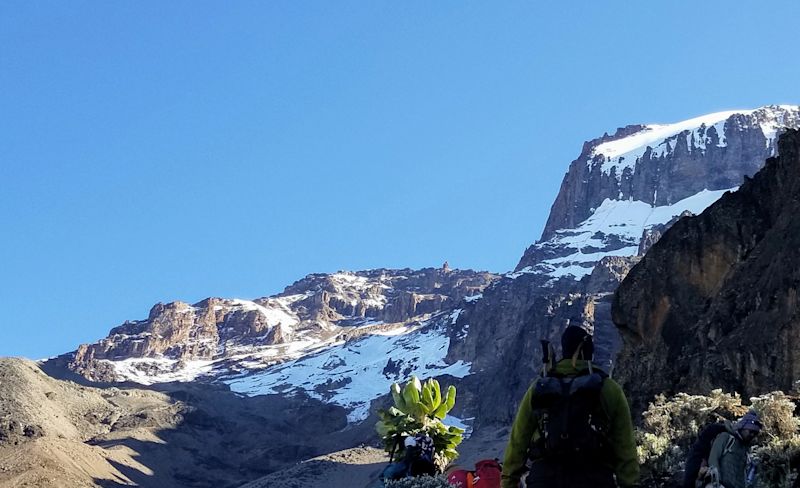 The glorious view from atop Barranco Wall – what a reward!
Do I need climbing equipment?
No, you don't need any special equipment to climb Barranco Wall.
Many people climb Kilimanjaro using trekking poles. When you get to the Barranco Wall, you'll want to stow these so that you have your hands free. Climbing the Barranco Wall involves some scrambling, which is why you don't want to be encumbered with trekking poles.
All you need to climb the Barranco Wall are some sturdy boots, your hands, maybe knees, and a sense of adventure!
Given that the Barranco Wall requires some scrambling, it's important for you to be reasonably flexible to manage it well. If you're a bit older or aren't very bendy, we recommend that you do some flexibility training in addition to your cardio and strength training before the climb. Proper Kilimanjaro preparation is vital to a successful and enjoyable climb.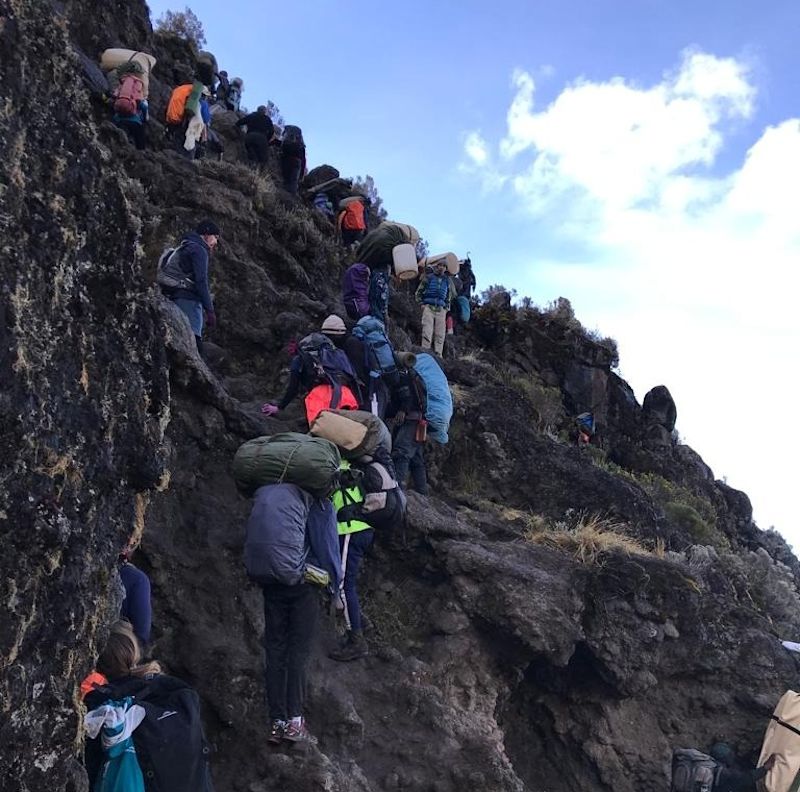 And up and up we go, taking it pole, pole (slowly, slowly)!
Also note that since you'll be using your hands while climbing the Barranco Wall, you might want to don a pair of waterproof gloves at the time. On certain days your hands will otherwise get very cold and wet.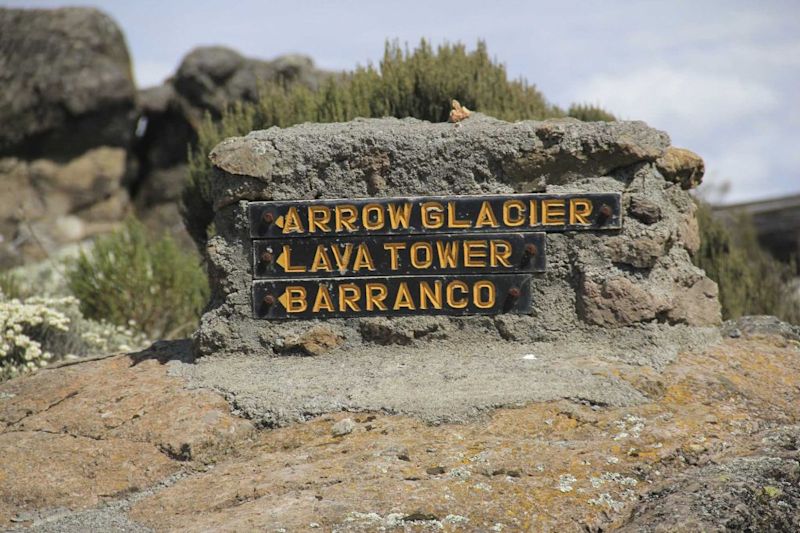 The Barranco Wall beckons all who are adventurous at heart
Is the Barranco Wall dangerous?
Many who are looking into climbing Kilimanjaro want to know if the Barranco Wall is dangerous. Quite rightly. The good news is that it's not nearly as dangerous as one might fear after seeing photos from certain angles.
Further to this, if you take it pole, pole (slowly, slowly) and concern yourself only with your own progress, as your Kilimanjaro guides will advise, you'll be just fine.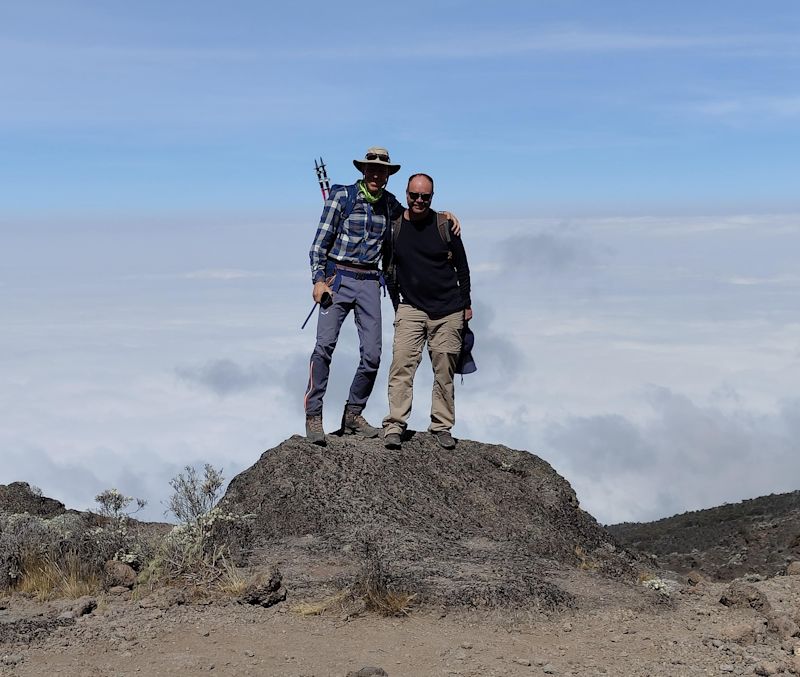 Celebratory photo at the top of Barranco Wall!
What past climbers say about the wall
Salwan has the following to say of Barranco Wall:
You get some incredible views and as most of the trip so far has been open, 'flat' landscape, so it's really nice to be on higher cliffs with a drop that gives you a real sense of the height you are at.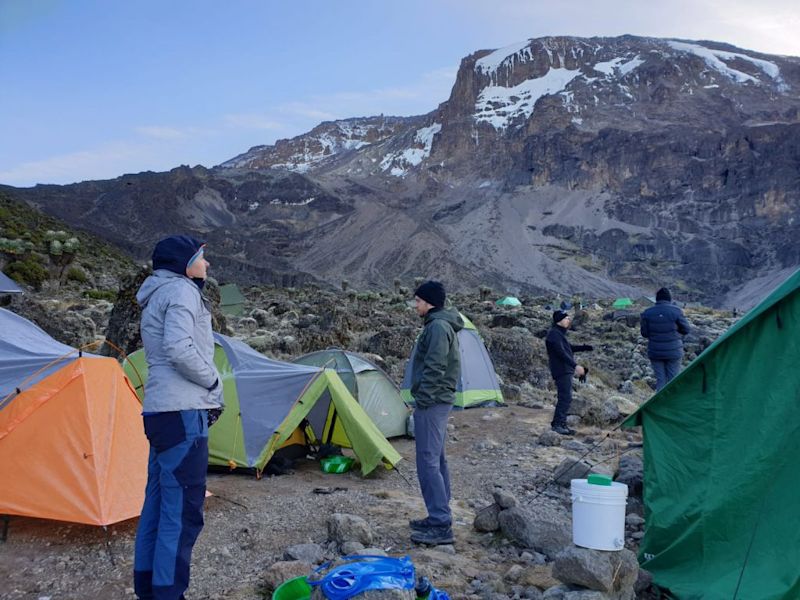 Getting ready to leave Barranco Camp and head for the Great Barranco Wall!
Joel, our Sales and Marketing guy at Follow Alice, says:
For us this was one of the parts where we got even more impressed with the porters. While the hiking groups were going up the wall zigzag the porters just walked straight up with their 20 kg on the head.
Tash says the following of the Barranco Wall:
The Barranco Wall looks intimidating as you walk towards Barranco Camp. You get your first glimpses of it as you pass through the
Dendrosenecio kilimanjari
trees from Lava Tower. It looks a lot scarier than it actually is. You just need to take your time and be conscious of the porters wanting to get past faster on the narrow path.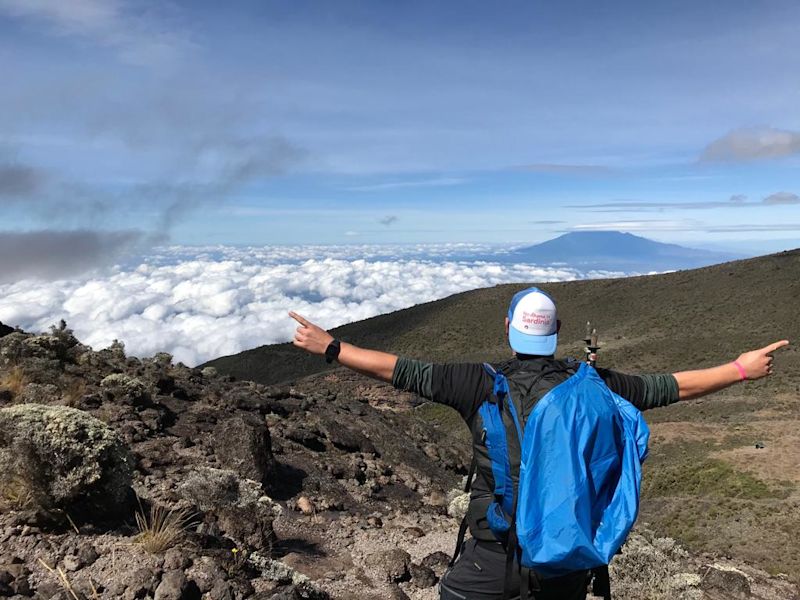 And then finally you're standing at the top of the Barranco Wall, revelling in your achievement!
Which routes go via the Barranco Wall?
There are seven routes up Mt Kilimanjaro, and not all take you via the Barranco Wall. If you are very nervous about the wall, you might prefer to trek a route that leads you to the summit a different way.
The Kilimanjaro routes that include climbing Barranco Wall are:
Lemosho (our favourite route!)

Machame (also a great option)

Shira

Umbwe
And the Kilimanjaro routes that take you up the mountain without the need to scale Barranco Wall are:
Marangu

Rongai

Northern Circuit (a fantastic route)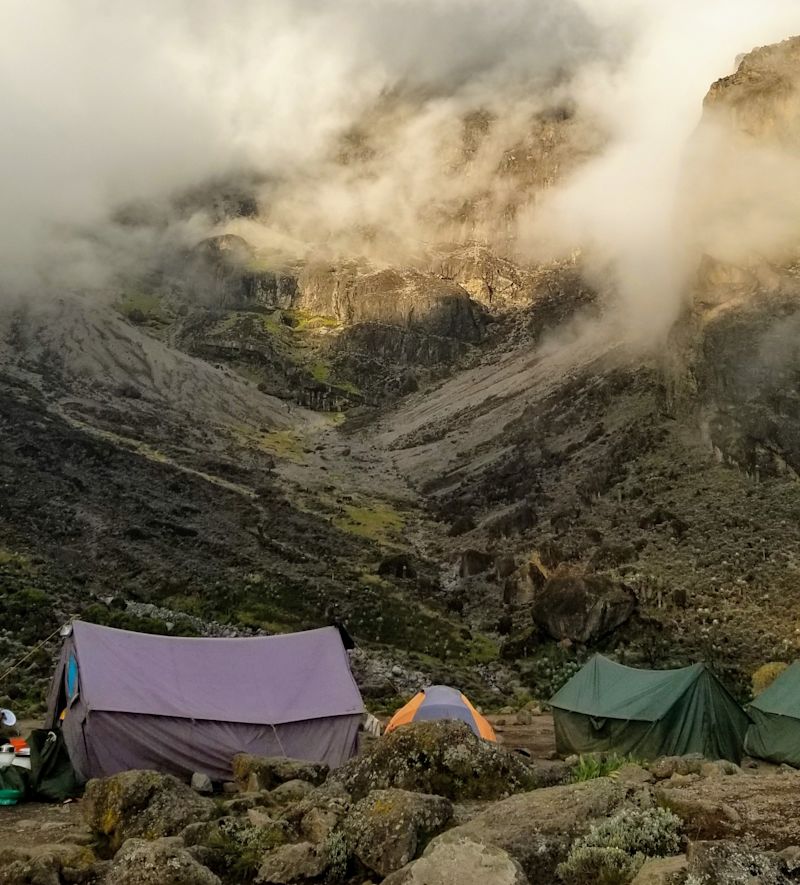 You overnight at Barranco Camp before climbing Barranco Wall
Still have questions about the Barranco Wall?
Drop us a line and we'll call or text you back and we can chat through it all with you. Climbing Kilimanjaro is an absolutely epic adventure – we don't want anything to stand in your way of taking on this fantastic mountain adventure!