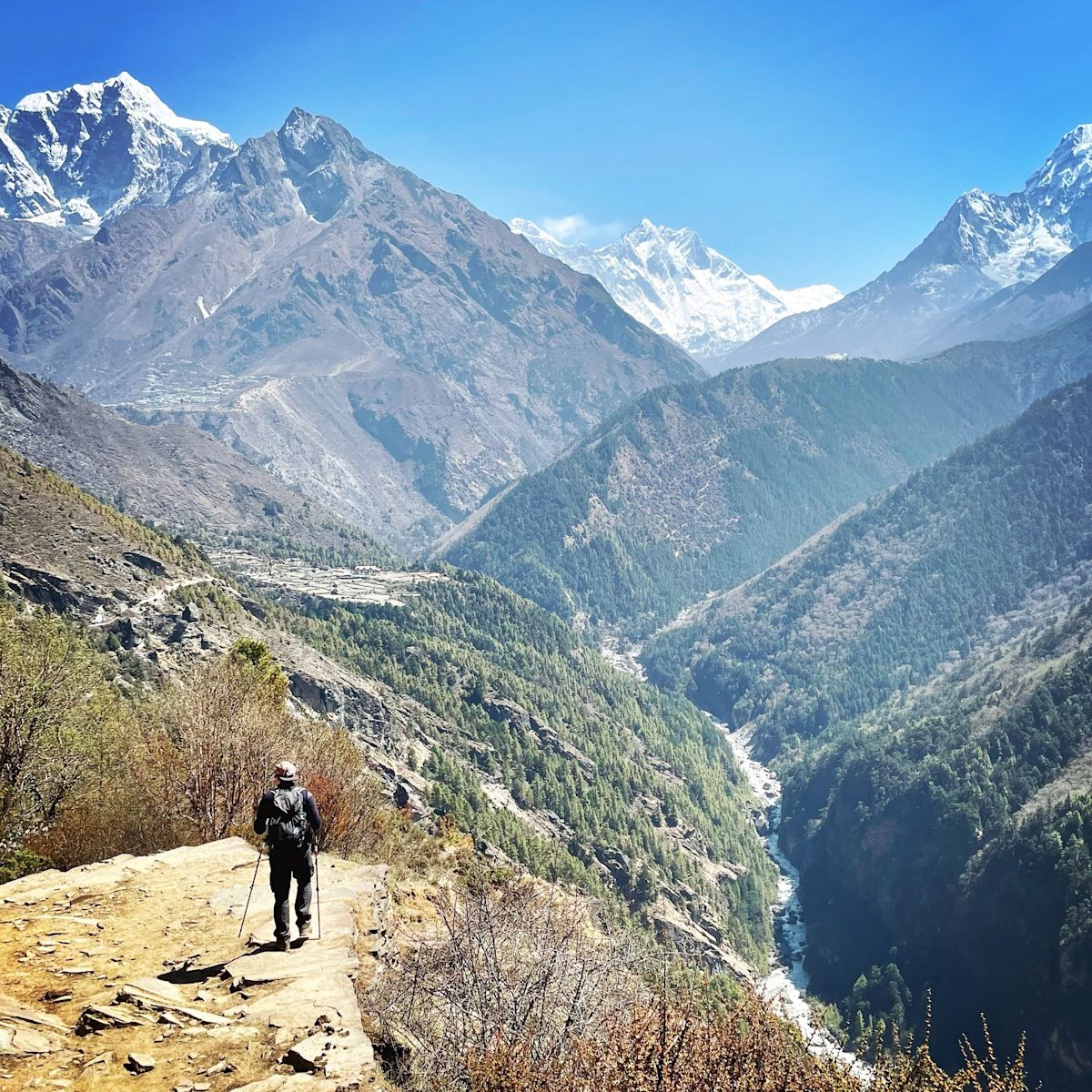 Altitude sickness on the Everest Base Camp trek
Dec 21, 2022
Reading time: 8 minutes
It's normal to experience some form of mild altitude sickness on the Everest Base Camp trek. But you want to ensure it doesn't develop into something serious. We discuss what altitude sickness is and how to acclimatise properly on the trek to stay safe.
What is altitude sickness?
Altitude sickness is when the body reacts badly to being made to ascend to a high altitude too quickly.
Altitude sickness can strike from anywhere around 3,000 m (9,840 ft) above sea level.
The percentage of oxygen in the atmosphere at sea level is about 21%. As you climb higher in altitude, the percentage remains the same but the number of oxygen molecules per breath is reduced. At 3,600 m (12,000 ft), for instance, there are roughly 40% fewer oxygen molecules per breath.
This is why we breathe more heavily at high altitude doing tasks that at ocean level don't tax us at all.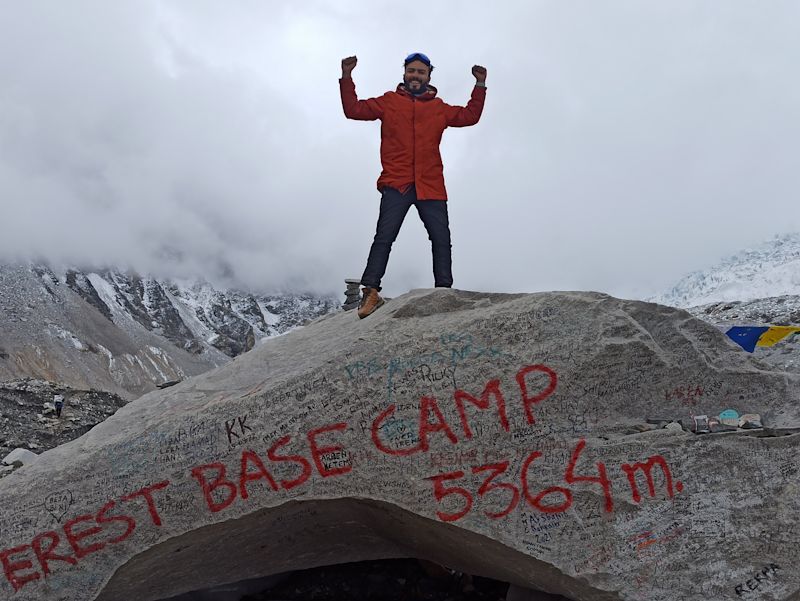 Our client Stefano at base camp!
Some degree of altitude sickness is common on a high-altitude trek like the Everest Base Camp trek.
So yes, your body doesn't function as normal when you go into a high area where it must manage with less oxygen. Very importantly, you need to give it adequate time to adapt to the reduced oxygen intake. This is what we call acclimatisation. More on that in a moment.
Please note that altitude sickness isn't a problem for most people – it's just unpleasant. However, if your altitude sickness worsens and becomes acute mountain sickness, you've got a serious problem on your hands. Acute mountain sickness (AMS) can be fatal.
We discuss in a moment how to avoid and treat altitude sickness, but the main point we want to make straight off the bat is that if you develop AMS, you must descend in altitude pronto. Descend, descend, descend.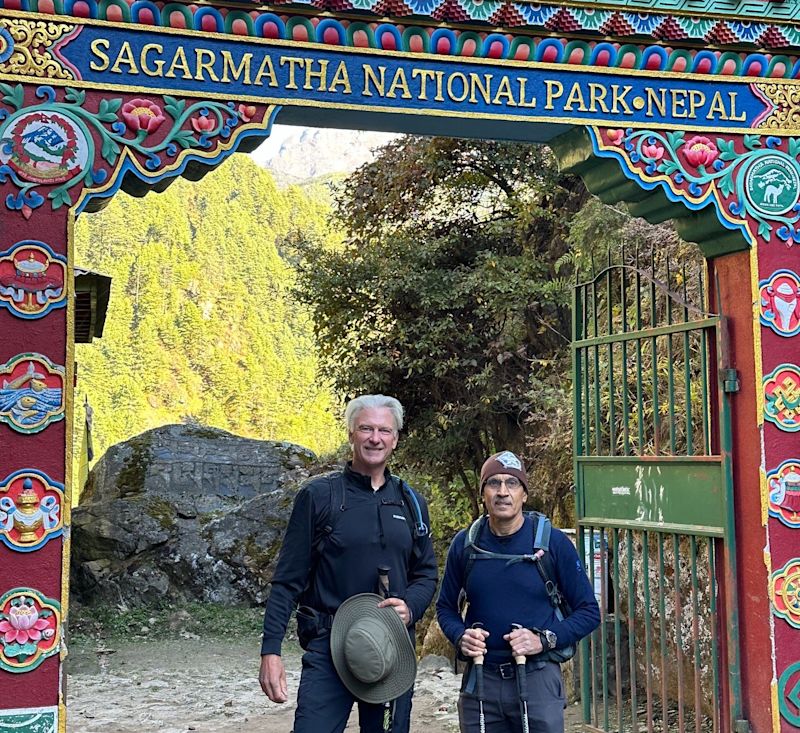 You start the EBC trek well below 3,000 m above sea level
What are the symptoms of altitude sickness?
The symptoms of altitude sickness include:
shortness of breath or rapid breathing

fatigue

nausea (and sometimes vomiting)

dizziness

headaches

loss of appetite

erratic sleep

insomnia

vivid dreams
Everyone should expect to feel some normal symptoms of altitude sickness on the Everest Base Camp trek.
It's perfectly normal to get altitude sickness on the Everest Base Camp (EBC) trek. In fact, on the day you trek up to Namche Bazaar around 75% of climbers will experience at least some form of mild altitude sickness. Or the symptoms might kick in that night or the next day.
Does altitude sickness affect everyone?
Short answer: yes. But to varying degrees. And there are things you can do to mitigate the symptoms, as we discuss in just a moment.
As mentioned, pretty much everyone will feel some degree of altitude sickness on a high-altitude trek like the Everest Base Camp trek. Folks who already live at very high altitude will, however, only experience altitude sickness later on in the trek – when close to base camp.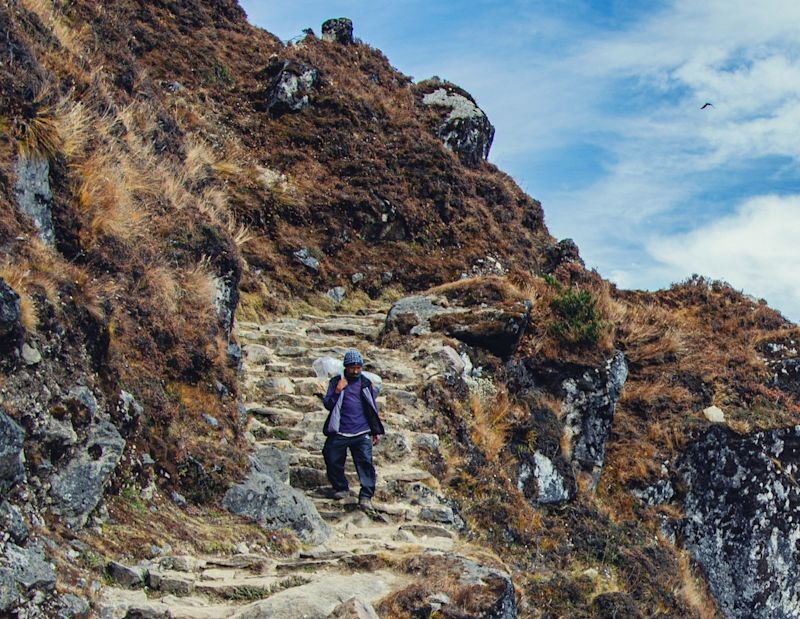 The Sherpas of the region are used to the thin air of the region
As to demographics, altitude sickness affects everyone regardless of age, sex or physical fitness. A very fit person in the prime of physical health could well get worse altitude sickness than an older, not-so-fit person. There really isn't a way to predict who it will strike, and with what force.
What is acclimatisation?
Acclimatisation is about giving your body adequate time to adjust to a new elevation before pushing it to go even higher. With good acclimatisation, you still feel some mild symptoms of altitude sickness, but you stay healthy overall and can in due course travel even higher.
Three acclimatisation strategies
There are three acclimatisation strategies to implement on the Everest Base Camp trek to try to ensure you don't develop acute mountain sickness (and only experience mild altitude sickness).
Acclimatisation strategy #1
Acclimatisation strategy #1: Give yourself enough days for the ascent.
The most important acclimatisation strategy is giving yourself enough days for the ascent. When you gain altitude at a reasonable pace, your body adjusts well and doesn't develop severe altitude sickness.
There are numerous villages along the EBC trek route, so there are plenty of options of places to overnight. As we discuss in Short Everest Base Camp trek, we don't recommend trying to get from Lukla (the trek's trailhead) to base camp in fewer than seven days. These seven days include an important acclimatisation day in Namche Bazaar.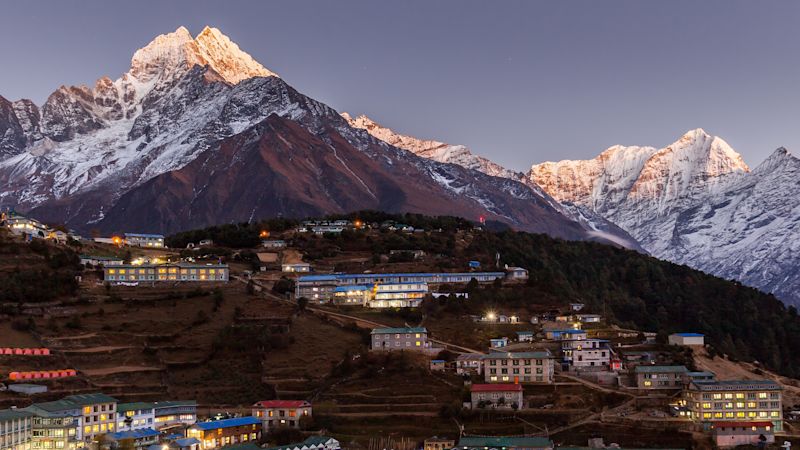 There's lots to explore in Namche Bazaar
It's vitally important that you don't try to get to Everest Base Camp too quickly. Just because your legs could carry you to the next village, doesn't mean you should let them. You may 'win' the day but ultimately lose the trek to altitude sickness.
Acclimatisation strategy #2
Acclimatisation strategy #2: Include rest days along the ascent route.
Another good acclimatisation strategy for the EBC trek is staying for a night or two. In other words, don't try to blaze along the trail to base camp without any rest days.
Most EBC trekkers take a rest day – or acclimatisation day – in Namche Bazaar, the main town in the Khumbu region. This is because you start that day in the village of Phakding at 2,610 m (8,563 ft) above sea level – or somewhere else of similar altitude – and climb up to 3,440 m (11,286 ft) to reach Namche Bazaar. That's a big jump in elevation! And remember that we said altitude sickness usually strikes from around 3,000 m above sea level?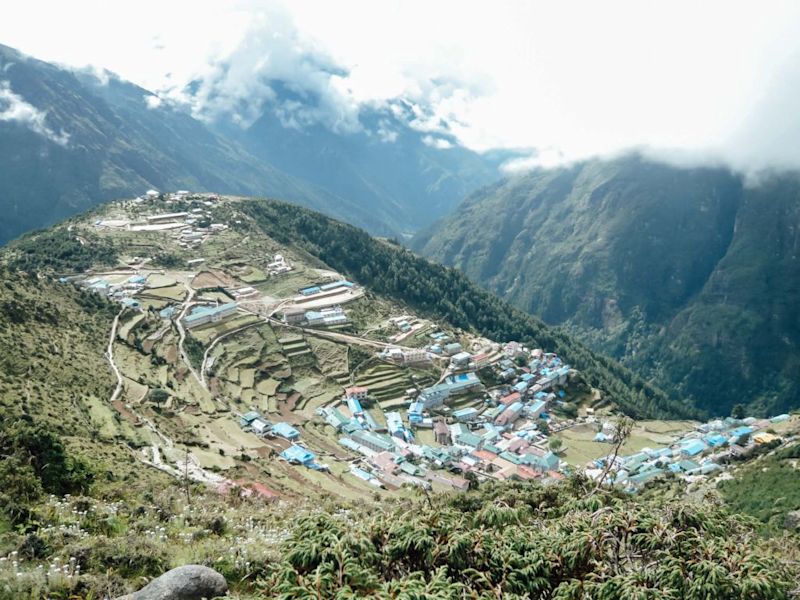 The Sherpa town of Namche Bazaar
If you're doing a longer and more arduous version of the Everest Base Camp trek, like Everest Base Camp and Three Passes, we recommend taking at least two acclimatisation days during the ascent. We usually recommend a rest day in the settlement of Chhukung, which is 4,730 m (15,518 ft) above sea level.
Finally, if you realise you're struggling with altitude sickness and have flexibility in your trekking schedule, then add another rest day when and where you need it. Rather than pushing yourself to press on when you're struggling, allow yourself to acclimatise even better and then move on when you're stronger and healthier. You're much more likely to finish the trek this way!
Acclimatisation strategy #3
Acclimatisation strategy #3: Climb high during the day and then sleep at a lower altitude.
Note that acclimatisation days don't need to be idle days. In fact, calling them rest days is a misnomer! Because you can go on epic day hikes on these days. You're in the beautiful Everest region, after all, and naturally want to see as much scenery and visit as many villages as possible!
Day hikes to higher elevations are actually part of another great acclimatisation strategy. We call this strategy 'climb high, sleep low'. It's really good for helping your body to adjust well to the altitude.
Depending on the trek you're doing, there are sometimes natural dips in the route that allow you to sleep lower than what you hiked that day. That isn't the case on the Everest Base Camp trek. So what we do is simply include hikes to higher elevations on our acclimatisation days!
When having a rest day in Namche Bazaar, a great day hike is a visit to Hotel Everest View. The highest hotel in the world, it sits at 3,962 m (13,000 ft) above sea level. And as you'd expect from the name, it enjoys a world-class view!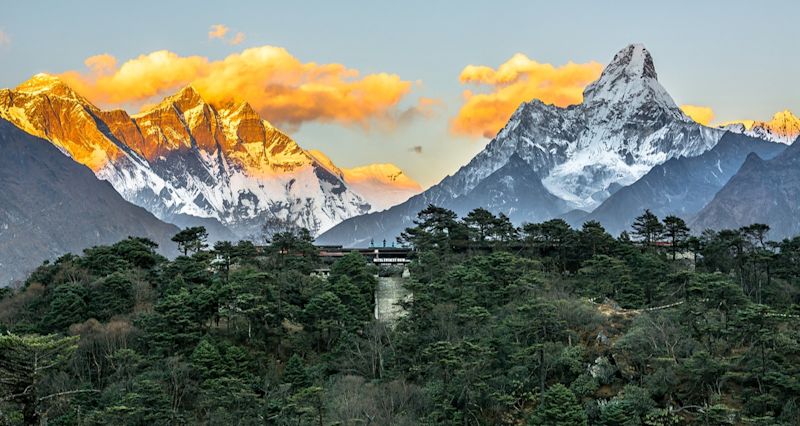 Everest View Hotel
You can hike to the hotel and have a drink and bite to eat before heading back to Namche Bazaar for another night. It's a great day's hike in and of itself, but it also helps your body to acclimatise well!
Can I alleviate my altitude sickness?
Let's now discuss two ways to lessen the effects of altitude sickness.
Firstly, there are altitude meds like Diamox that contain acetazolamide, which helps to prevent and reduce the symptoms of altitude sickness. You can visit your doctor before travelling to Nepal and ask for these meds. It's a good moment to also discuss your planned trip, as your doctor can then give you any advice or further medications based on your personal wellness and medical history.
The second way to lessen the effects of altitude sickness is drinking plenty of water. This is because drinking water increases your blood oxygen levels to help you recover from altitude sickness faster.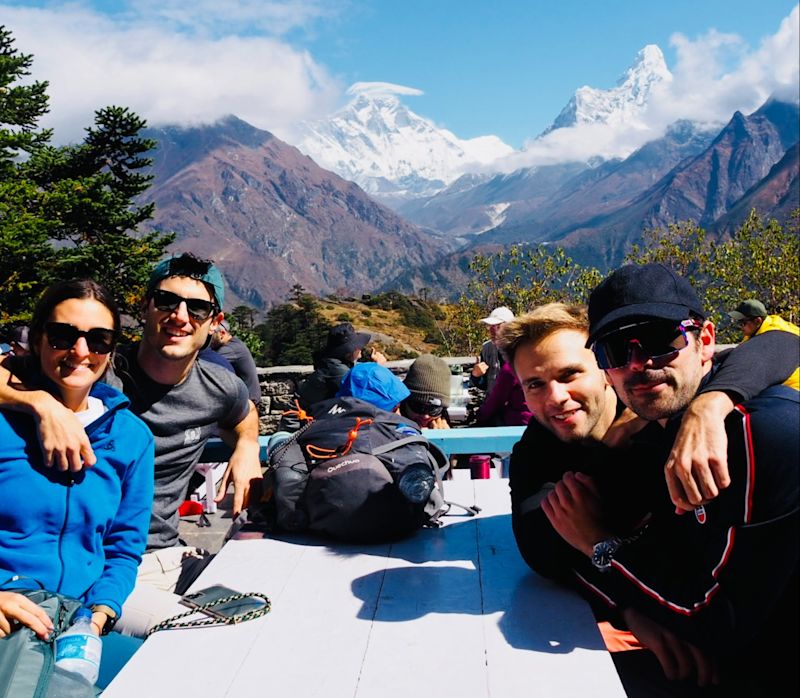 Lunch stop with a view on the EBC trek
On that line of thought, please also be sure to eat plenty of nutritious food at mealtimes on the EBC trek even if you don't feel hungry. You need the fuel for your long and tough days of hiking.
When must I turn back?
One of the risks of a high-altitude expedition like the EBC trek is that you may have to turn back if your altitude sickness worsens and becomes acute mountain sickness (AMS). If you're trekking in the company of a trek guide, as you do with Follow Alice, your guide is trained to identify AMS and advise you on when to turn back if necessary.
If your trek guide says you're too sick to continue with the trek and must turn back, you need to listen him. EBC trek guides are trained in identifying AMS symptoms, and you should always take their advice on this matter. It's a huge disappointment to have to turn back on such an epic adventure, we know, but your health must always come first.
AMS can be fatal, remember.
Is there an evacuation service?
Should someone become so sick with AMS that they cannot walk themselves back down to a lower and safer altitude, then a helicopter evacuation is a possibility. If you're doing the EB trek with a tour operator, your trek guide will organise this for you.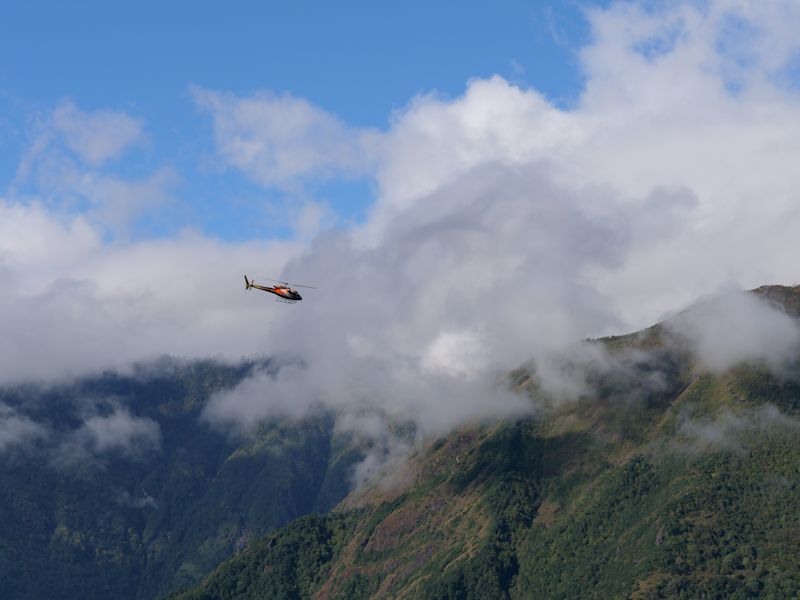 Helicopter evacuations are possible on the EBC trek
But please note that helicopter evacuations are extremely expensive, and are not covered by most tour operators. It's therefore vital that you buy a comprehensive travel insurance policy that covers medical evacuations.
Chat with us
If you're unclear on any of the aspects of altitude sickness, or feel anxious about anything, please feel free to get in touch with us. High-altitude trekking is our thing, and we're happy to answer any questions you might have!