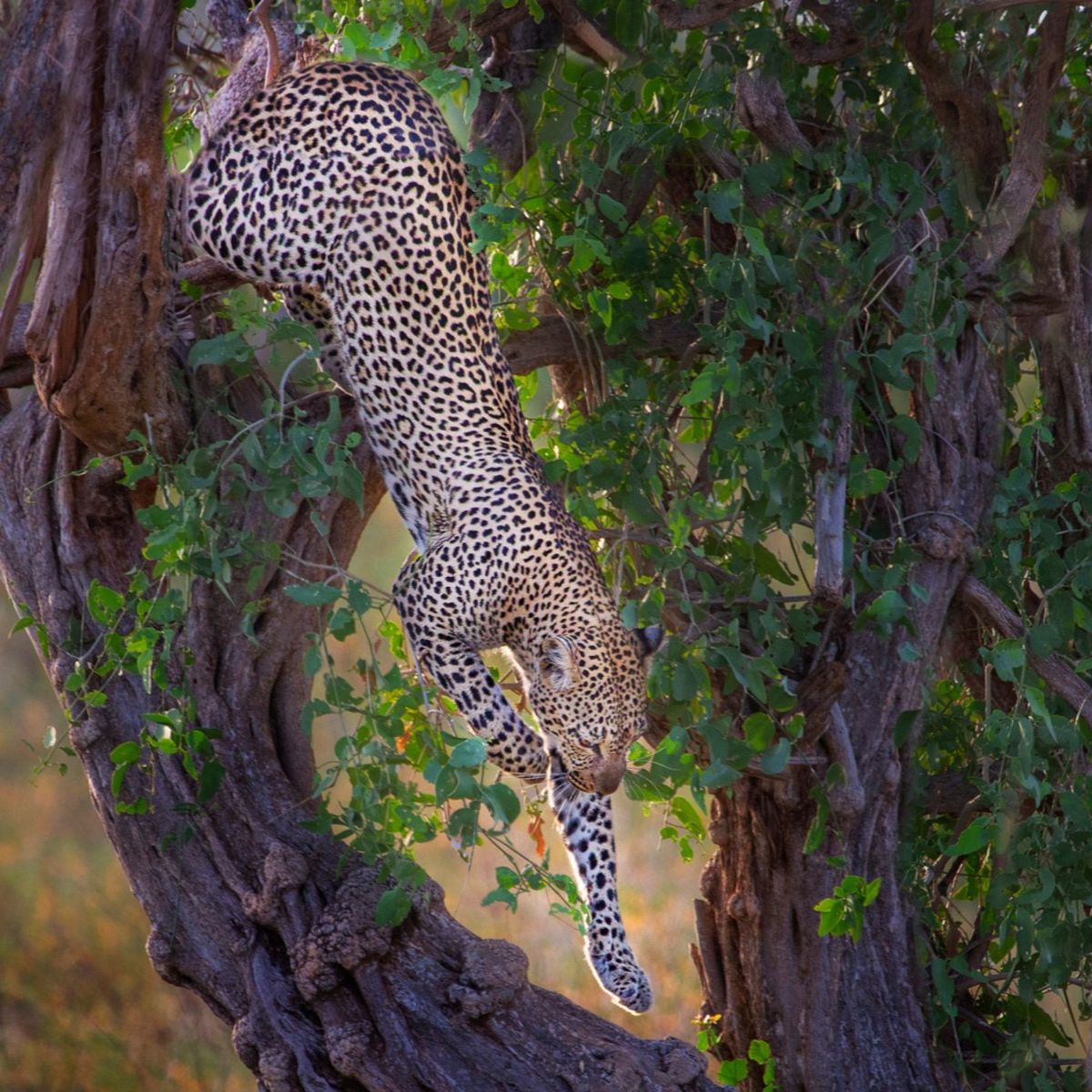 Why Samburu safaris are Kenya's best-kept secret!
Jul 28, 2023
Reading time: 7 minutes
We love taking clients on safari in Samburu National Reserve in north-central Kenya where the crowds of tourists don't exist! Here you can see elephants, leopards, lions, crocs, gerenuks and more, as well as visit the inspiring Reteti Elephant Sanctuary.
Our Kenya trip manager Michael was recently on safari in Samburu County in north-central Kenya.
He loves Samburu County and hopes to send more clients there, because, as he says:
The Samburu region is less visited than the Maasai Mara so you enjoy safaris away from the crowds. The landscape is drier and has a different beauty, and is home to animals such as gerenuk found nowhere else in Kenya. Also, you get to meet the friendly and flamboyantly colourful Samburu people – also known as the 'butterfly people'.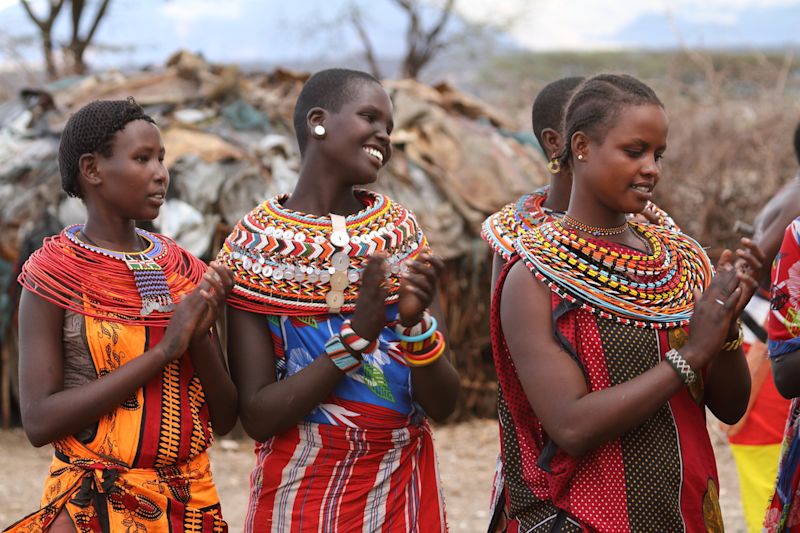 Samburu girls wearing beautiful traditional outfits
Moreover, when you're in Samburu County, you can, as Michael did, visit the groundbreaking Reteti Elephant Sanctuary to see how this community-led initiative is rehabilitating orphaned elephants.
Learning about the Samburu culture while also going on safari in the reserve and being allowed to visit with baby elephants makes for a unique, varied and incredibly rewarding experience!
Here's a little more tantalising detail about each of the above drawcards ...
Unique safaris in Samburu National Reserve
Samburu National Reserve is a fantastic piece of protected brushland in the country's northern lowlands. The Ewaso Nyiro River, which runs along its southern border and separates it from Buffalo Springs National Reserve and Isiolo County, is what sustains its bountiful wildlife population.
The Ewaso Nyiro River is a magnet for thirsty wildlife. Samburu safari-goers thus head straight to the river for incredible wildlife sightings!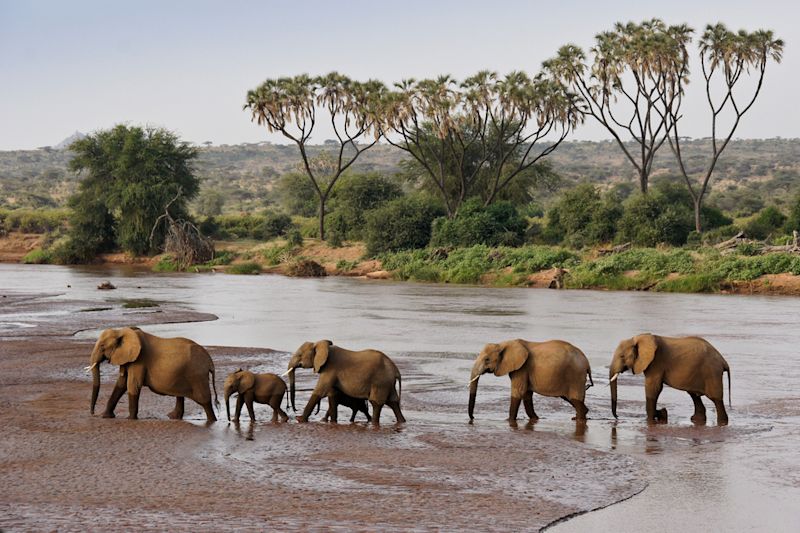 Elephants crossing the Ewaso Nyiro River
What wildlife lives in Samburu National Reserve?
Samburu National Reserve hosts a variety of wildlife, including elephants, lions, cheetahs, leopards, hippos and Cape buffaloes. Other animals that are frequently spotted on safari in the reserve are the Samburu Special Five (see the section below to learn what these are!), warthogs, waterbucks, Grant's gazelles, Kirk's dik-diks, impalas and olive baboons.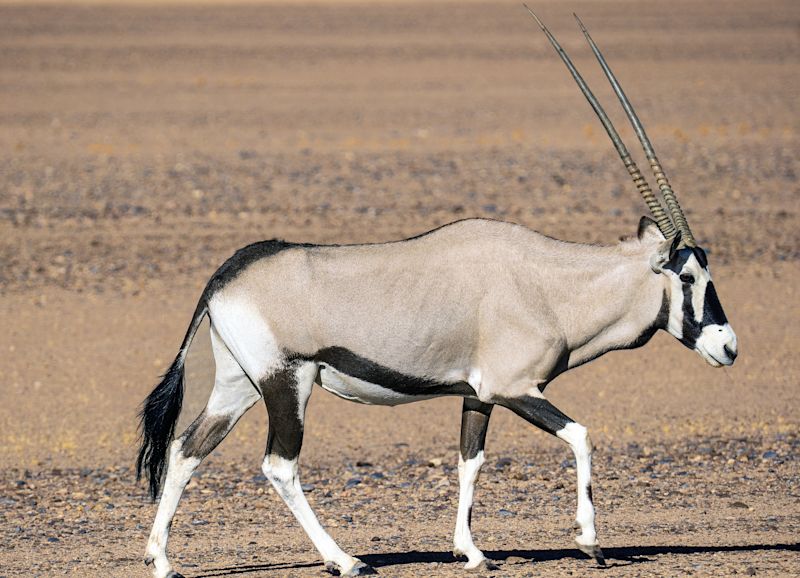 An East African oryx
When looking for wildlife on safari in Samburu, your guide will certainly take you to the Ewaso Nyiro River, as this is where the animals congregate, especially in the drier seasons. Be sure to look for lions and other animals sheltering in the shade of the riverine trees. And keep your eyes peeled for Nile crocodiles both in the river and on its banks.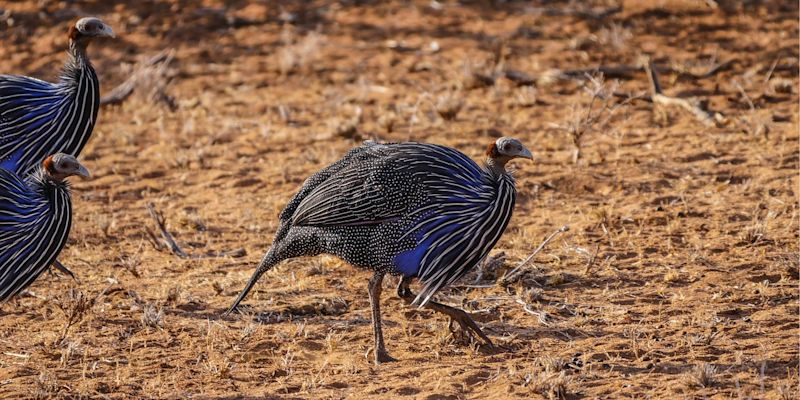 A vulterine guinea fowl
There are also over 350 bird species to look for during your visit! These include many raptors, like the fearsome martial eagle as well as the pygmy falcon, Verreaux's eagle and palm-nut vulture. Other birds to look for include the vulterine guinea fowl, secretary bird, lilac-breasted roller and superb starling.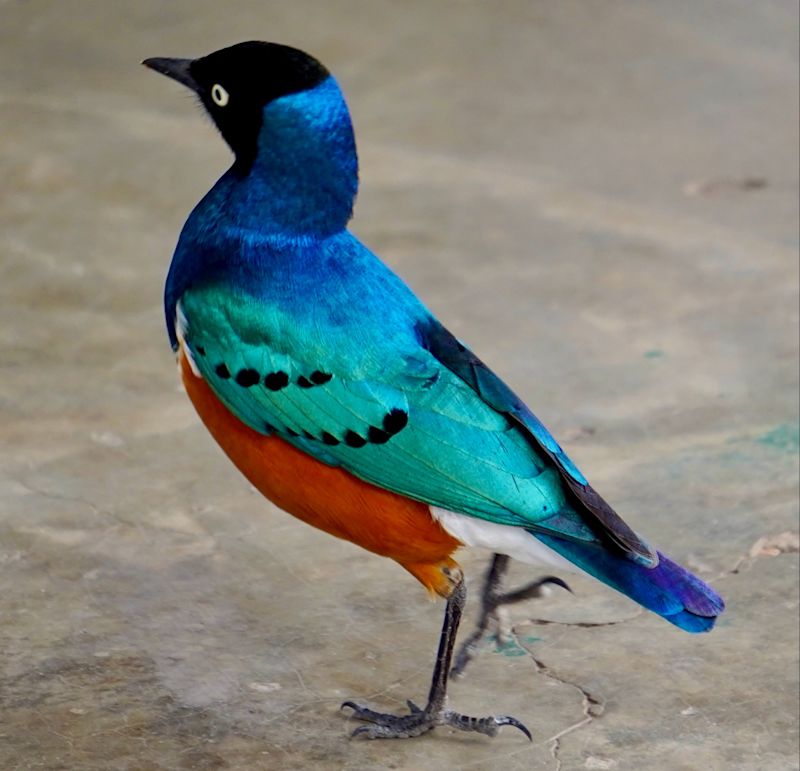 Our client Wiley took this snap of a superb starling
What is the Samburu Special Five?
As we discuss in detail (and with some great pictures!) in our blog on the Samburu Special Five, there are five wild animals that you can find in Samburu National Reserve but not in the south of Kenya, and also nowhere else in the country in one place:
Gerenuks (dainty and long-necked antelopes – see below)

Grevy's zebras (the rarest kind of zebra)

Reticulated giraffes (which have a very different patterning to Maasai giraffes)

East African (or beisa) oryxes

Blue-necked (or Somali) ostriches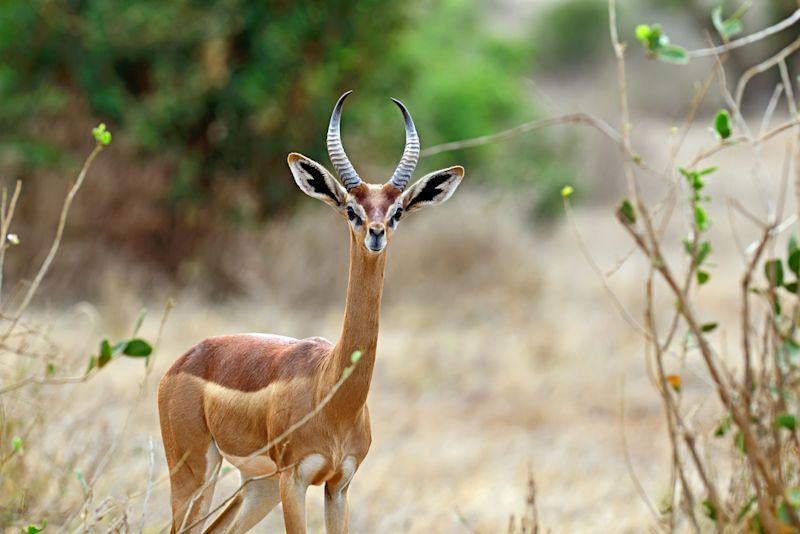 Gerenuks have long legs and a long neck
Similar to the Big Five and the Elusive Eleven, many safari-goers have the Samburu Special Five on their bucket list. (A worthy bucket-list item indeed!) Very few foreigners make the effort to head north in Kenya and so miss out on seeing these unique (and mostly threatened) species.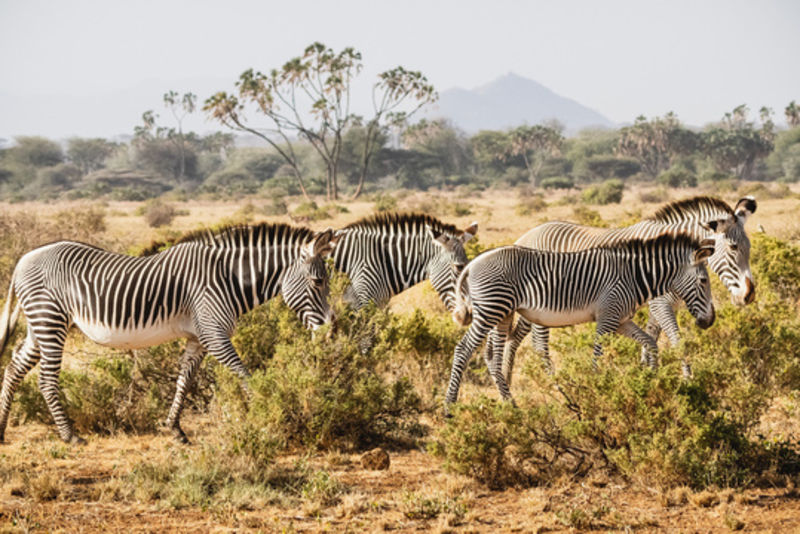 Grevy's zebras have tightly packed and thin stripes
What's that hill in many photos of Samburu?
Samburu National Reserve is in the arid lowlands of northern Kenya, but the hill of Koitogor rises up in the middle of the park, offering a great backdrop for many pictures and an easy way to orientate yourself.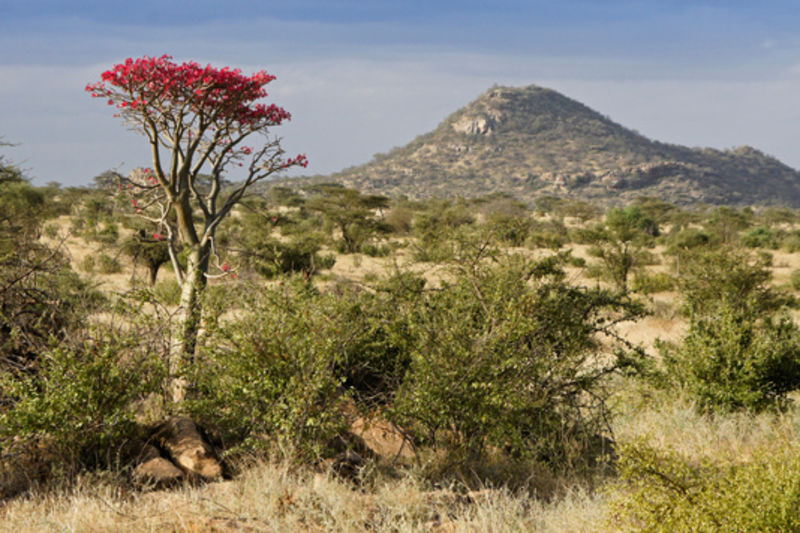 A desert rose tree in bloom in Samburu National Reserve
Excitingly, visitors are allowed to hike up the hill. The panoramic views from the top are well worth the effort! What's more, we find that you're always eager to stretch your legs in the middle of a safari, as you're sitting in a vehicle for long stretches.
Walking safaris are, in fact, relatively rare (as you mostly need to stay in your vehicle for safety reasons). With this in mind, we encourage anyone visiting Samburu to climb Koitogor while there. You get to appreciate the vegetation up close, spot some smaller wildlife and enjoy the softer sounds of nature.
Where is Samburu National Reserve?
Samburu National Reserve is 350 km north of Nairobi. It takes the better part of the day to drive there, though you could break up the journey by visiting some incredible places en route like Hell's Gate National Park, Ngare Ndare Forest or Lake Naivasha.
You can also fly to Isiolo Airport just to the south of Samaburu County or to one of the local reserve's airstrips.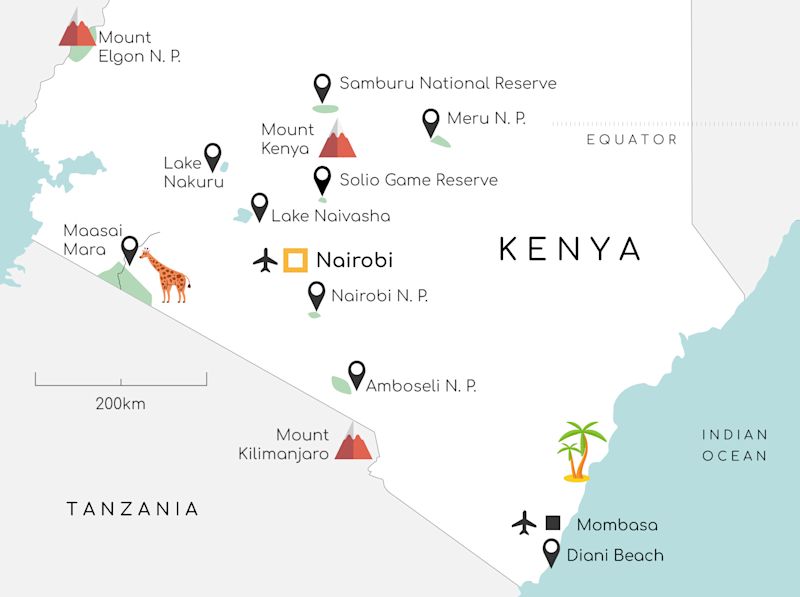 Map showing the location of Samburu National Reserve in north-central Kenya
The inspiring Reteti Elephant Sanctuary
Reteti Elephant Sanctuary is a special place. It rescues orphaned, abandoned and injured elephants found in the Samburu region, often when one has fallen into a well.
Once rescued, the calves are taken to the sanctuary where they receive medical attention. They are then looked after until they can be safely reintegrated into the wild. Those with lifelong need that cannot be rewilded then make Reteti their forever home.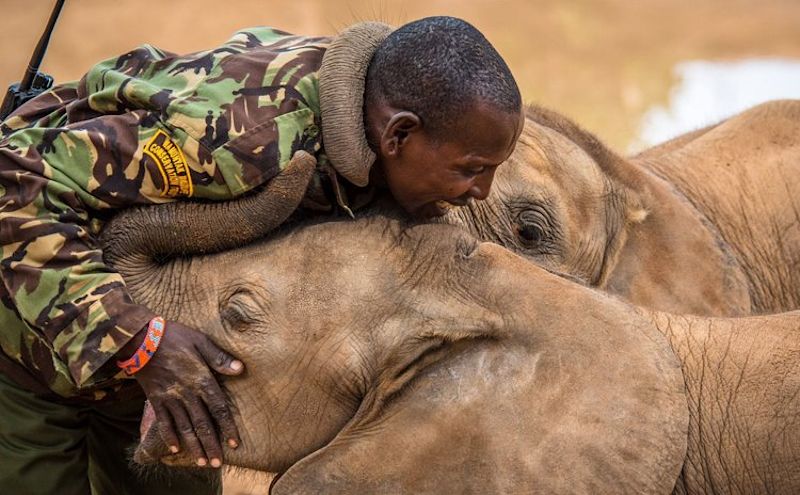 Each orphaned elephant is paired with a trained keeper at Reteti
Another remarkable aspect of Reteti Elephant Sanctuary is that it is owned and run by members of the Samburu tribe. Most such sanctuaries are staffed largely or in part by outsiders. But elephants and the Samburu have a long and entwined history, with the former featuring in the Samburu's creation legends.
The staff at Reteti are all Samburu, from the vet to the admin staff.
Can I visit Reteti Elephant Sanctuary?
Visitors play a key role in funding the wonderful work done at Reteti, so if you're keen to visit ... do!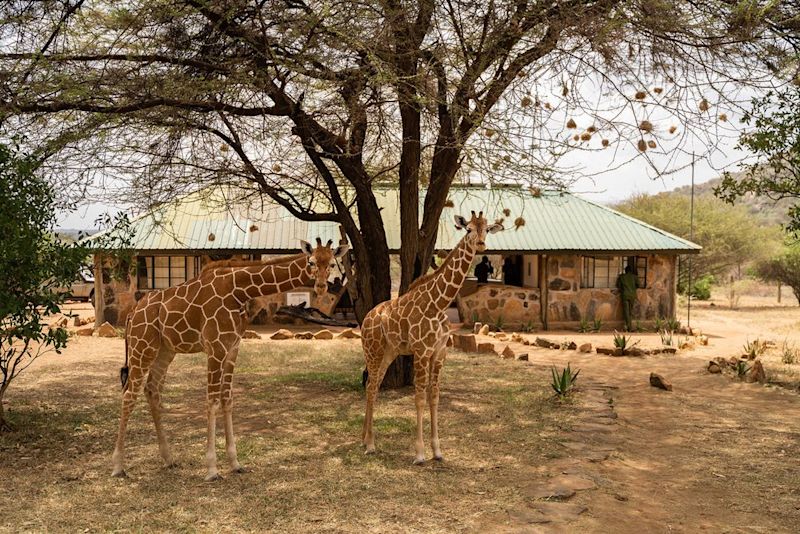 Reteti also looks after a few abandoned giraffes
During your one-and-a-half-hour visit, you can expect to meet some of the orphans up close, be shown around the sanctuary, and hear fascinating rescue and recovering stories.
We discuss the sanctuary in more detail in Kenya's Reteti Elephant Sanctuary is saving calves and paving a new path for wildlife conservation, where we showcase some of the incredible and important work being accomplished here.
The Samburu tribe – the 'butterfly people'
The Samburu are one of 42 official tribes in Kenya. They are traditionalists and are actually related to the famous Maasai, who live nearby. That said, the Samburu have a culture all their own and speak a different dialect of the Maa language from the Maasai.
Note: the word tribe isn't pejorative in Kenya. It's how Kenyans refer to themselves.
Kenya is one of the world's most diverse countries, having around 150 different ethnicities within its borders. A fair number live very traditional lifestyles, and the Samburu are one of them.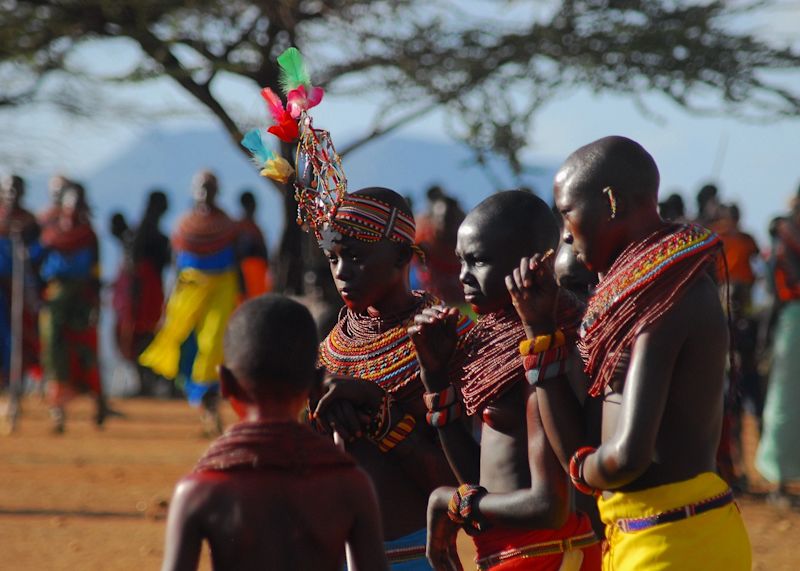 Samburu teenage boys
The first thing visitors to the Samburu region notice is the colourful attire and intricate beadwork worn by both Samburu men and women.
Yet it's only by talking with some local Samburu folks that you can learn about the many customs and beliefs that define their culture and way of life. For instance, did you know that Samburu men cannot marry until they're over the age of 25?
Be sure to speak with the Samburu men and women you meet, whether it's your safari guide or staff members at your accommodation.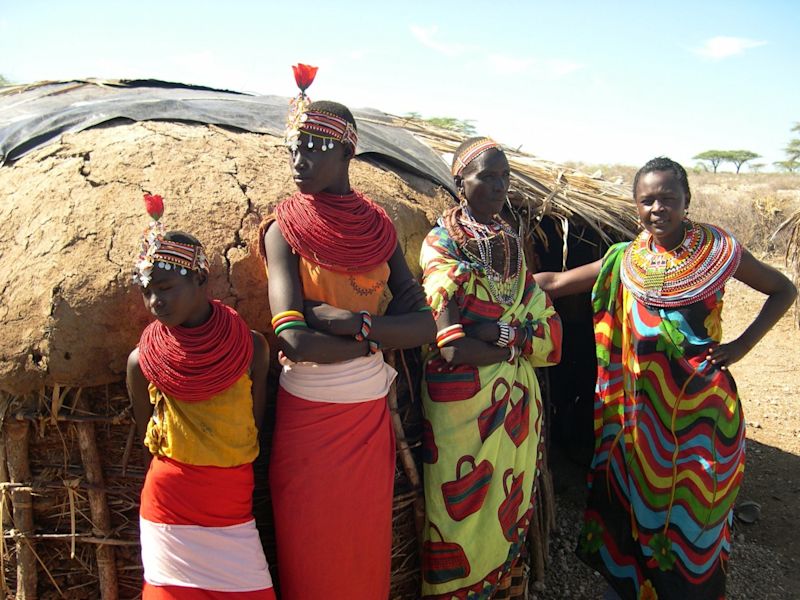 The Samburu live in traditional rondavels (round, single-room huts)
En route to Reteti Elephant Sanctuary you drive through several Samburu villages where you can see locals working in the fields and herding cattle. You can support the ladies, if you like, by buying some of their beautiful jewellery, which they sell on the roadside.
If you're interested in going on safari in Samburu National Reserve and visiting Reteti Elephant Sanctuary, please take a look at our exciting Undiscovered Kenya itinerary, and don't be scared to hit us up with any questions!