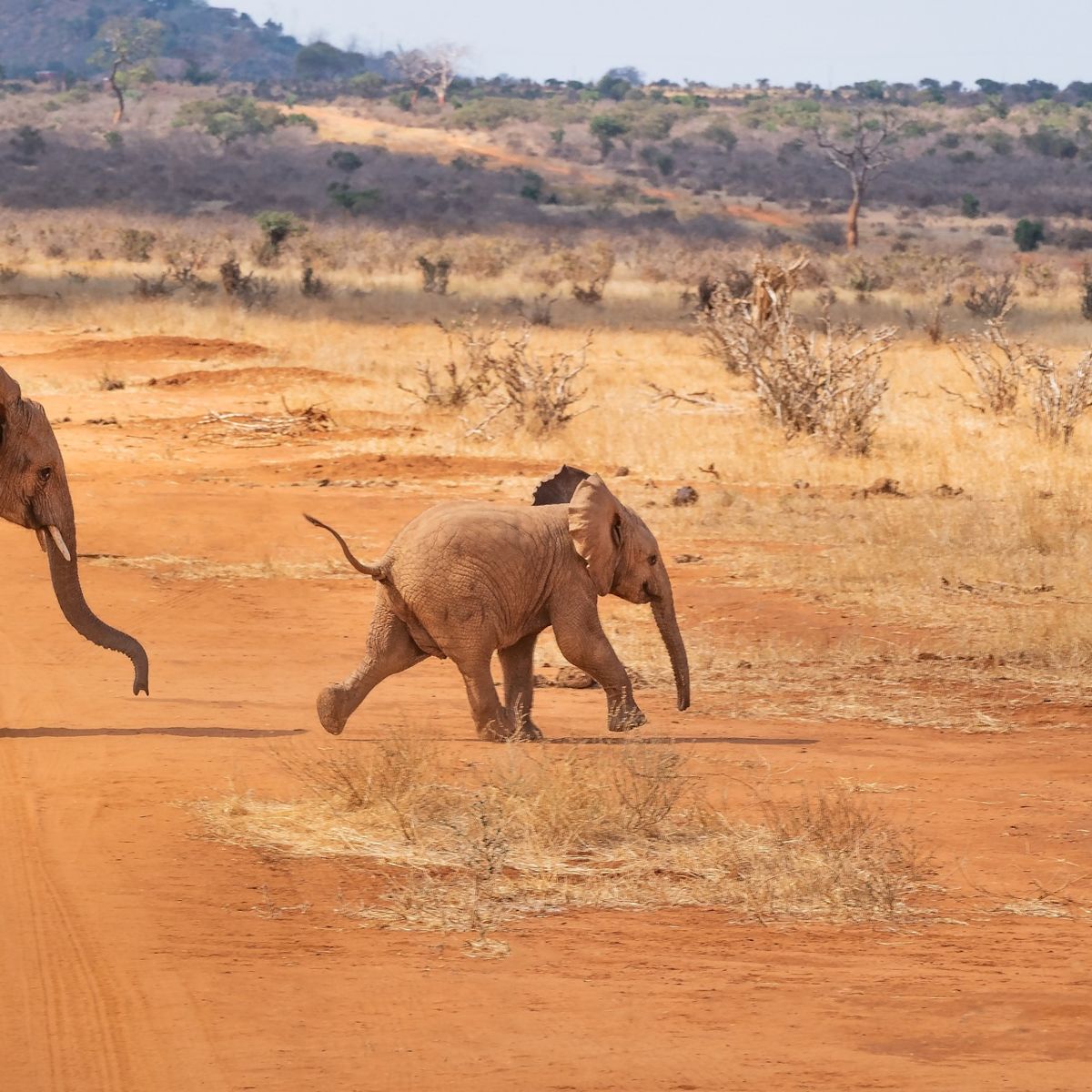 Undiscovered Kenya
10 days
Most people only visit south Kenya when on safari. While that's an excellent plan, as the Maasai Mara is one of the world's best game parks, you can have an even more epic experience by heading north to Samburu too! Join us in northern Kenya for striking landscapes and a wholly different sort of safari, then head south as well to enjoy the incredible spectacle that is the Great Migration!
Detailed Itinerary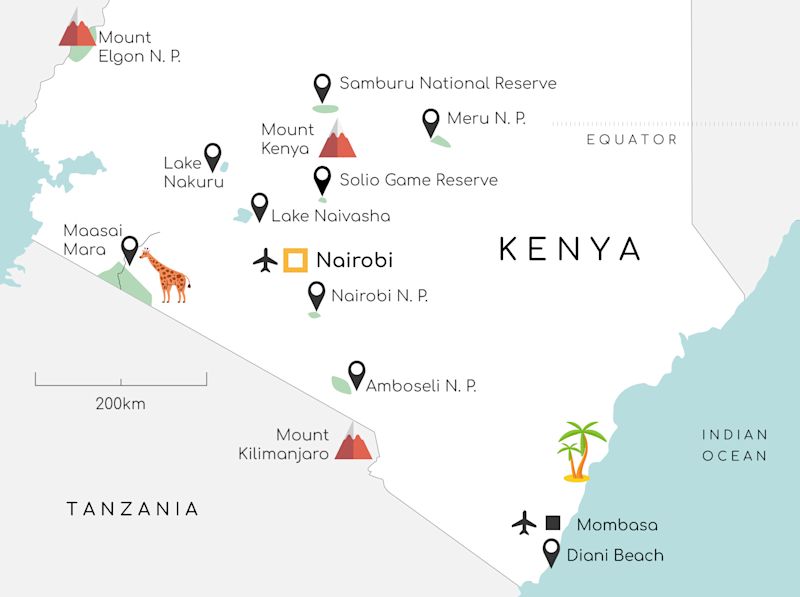 Day 1: Arrival day
Your local leader meets you when you arrive at Nairobi's Jomo Kenyatta International Airport (NBO) and drives you to your hotel where you can freshen up after what's probably been a long journey! If there's still time in the day, we can take you to meet endangered Rothschild's giraffes at the Giraffe Centre or visit the Karen Blixen Museum which was made famous by the book (and movie) Out of Africa. There's also a lovely coffee garden at the museum which is a great place for afternoon tea.

Day 2: Drive north to the Samburu region
You have an early start today as you need to cover a fair distance on today's drive north to the Samburu region in the Rift Valley. The Samburu people, who have close historical ties with the Maasai, are sometimes referred to as the 'butterfly people' because their clothing and jewellery are so colourful! The northern half of Kenya where the Samburu live is much drier than the south and has a different sort of beauty. The drier landscape also makes wildlife easier to spot!

Day 3: Go on a Special Five of Samburu game drive
Samburu National Reserve has a so-called Special Five, which are five unusual animals you can't spot anywhere else in Kenya! They are gerenuks (dainty, long-necked antelopes), Somali ostriches (also called blue-necked ostriches), Grevy's zebras (which are endangered and have thin stripes), reticulated giraffes (an endangered species with a very 'neat' grid patterning), and beisa oryxes (which only live in the Horn of Africa and have straight horns of around 80 cm!).
Day 4: Reteti Elephant Sanctuary
Today you drive through traditional Samburu villages to visit the incredible Reteti Elephant Sanctuary. This community-run elephant orphanage rescues and homes elephant calves and some other orphaned animals like giraffes. Your tour of the sanctuary includes watching a fun and frenetic feeding session, where the calves jostle excitedly for the bottles of milk wielded by their keepers!

Day 5: Visit Il Polei mountain and go on a baboon walk
It's another exciting day in northern Kenya! This morning you visit Il Polei (1,988 m), a pretty mountain in the Udzungwa range. It's then on to Twala-Tenebo, a Maasai women's cooperative that engages in sustainable aloe farming and tourism. Learn about the manyatta (settlement) and Maasai culture, and also go on a guided walk to visit a troop of habituated baboons!

Day 6: Do a game drive in Solio to find rhinos
This morning you travel to Solio Game Reserve, which is home to a very successful rhino conservation programme. In fact, the reserve has over 200 black and white rhinos, as well as an abundance of other animals like lions, black-backed jackals and hartebeests. There's also a lovely marsh to visit, and birders can look for over 300 different species, including frequent sightings of crimson-rumped waxbills.

Day 7: Visit Lake Naivasha and walk among giraffes
Today you travel to Lake Naivasha in the Great Rift Valley. You enjoy a boat ride on the lake, and are even able to stretch your legs on Crescent Island. Here, the resident giraffes and zebras are very tame and let you come remarkably close, all the better to appreciate their beautiful patterns. The lake is also home to large populations of flamingoes, pelicans and other waterbirds, who paint stripes of colour across the water from a distance.

Day 8: Afternoon game drive in the Mara Triangle
Travel south to Maasai Mara National Reserve today and enjoy a late afternoon game drive in the Mara Triangle, the southwestern corner of the reserve, known for its wonderful density of wildlife. Keep your eyes open as you travel across vast plains and through acacia forests for the Big Five (lions, leopards, elephants, buffaloes and rhinos) as well as other notable faces like giraffes, elands, hippos and cheetahs.

Day 9: Great Migration safari drive
Today you have a full day in Maasai Mara National Reserve to witness the enormous wildebeest, zebra and antelope herds of the Great Migration. The world's largest land-based animal migration, this is a spectacle you have to see for yourself to truly appreciate! If you're lucky, things might even be timed right for you to see some of the herds undertaking a dangerous (and often chaotic) river crossing.

Day 10: Travel back to Nairobi and fly out in the late evening
It's your last day in Kenya, but you can expect to enjoy some further animal spotting during your drive back to Nairobi. Your local leader drops you off at the airport for your flight home, memories galore in your back pocket for reliving over a lifetime!

Inclusions
Price Includes
All transport from start to end of trip
A spacious safari vehicle for game drives
Professional, English-speaking safari guide and driver
All meals except for any in Nairobi on arrival day and any meals after breakfast on departure day
Bottled drinking water in the vehicle throughout the trip
Where you'll stay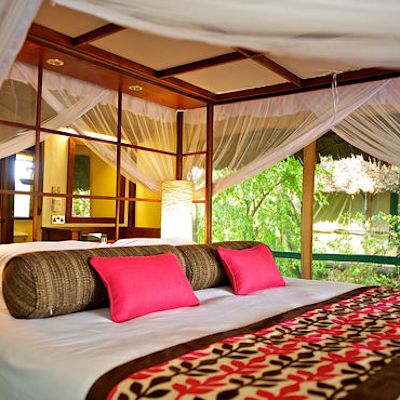 Samburu Intrepids
Samburu Intrepids is an oasis within Samburu Game Reserve. The tented luxury camp overlooks the great Uaso Nyiro River where elephants sometimes make an appearance and crocodiles lounge on the banks.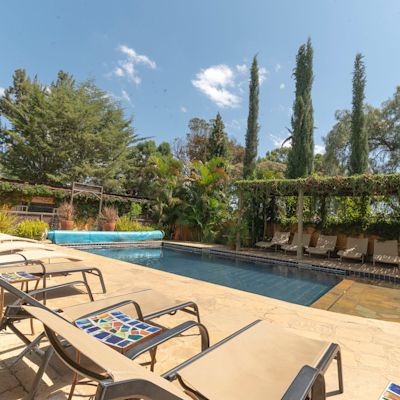 Le Rustique Hotel
With an open-air heated pool, this charming hotel in the Kenyan highlands feels like a rustic country manor in Morocco. What's more, its fine-dining restaurant offers delicious Mediterranean cuisine.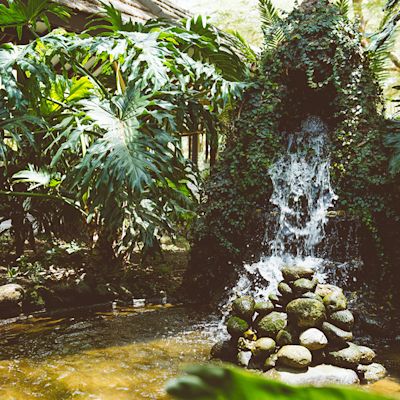 Lake Naivasha Simba Lodge
This beautifully situated lodge offers the ideal resting place between your different daytime adventures! All bedrooms have a private balcony where you can sit and enjoy the resident wildlife.
Book your trip
We do our best to provide you the best experience ever
10 Day - Undiscovered Kenya
Jan 10, 2024
from
$3760.00
Deposit
$1300.00
10 Day - Undiscovered Kenya
Jan 25, 2024
from
$3760.00
Deposit
$1300.00
Don't see your dates?
We can make it happen!
Adventuring made easy
Our dedicated travel consultants make adventuring easy for you by taking away all of the admin. Your only jobs are to train for the adventure if necessary and then pack your bags!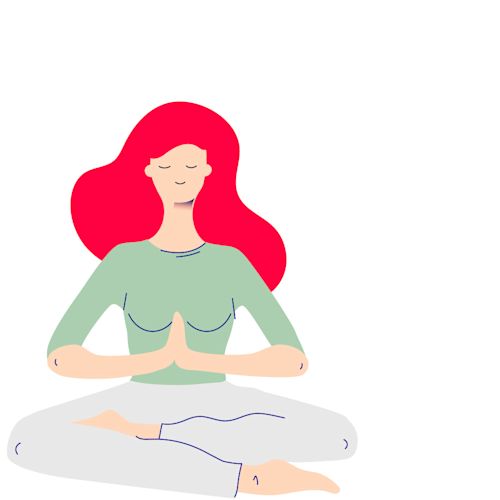 Local guides
Our local guides look after you in every way. Our goal is to give every traveller the feeling you get when a friend is showing you their country.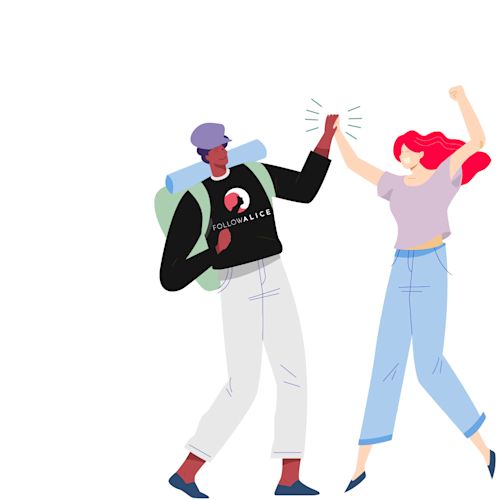 Responsible travel
On average, over 70% of your trip price stays in the local economy. It's important to us that the visited communities benefit the most since they're the ones hosting travellers.