Kenya's Reteti Elephant Sanctuary is saving calves and paving a new path for wildlife conservation
Jun 28, 2023
Reading time: 13 minutes
Reteti Elephant Sanctuary in Kenya rescues orphaned and abandoned baby elephants and rehabilitates them for release back into the wild. It's run by the local Samburu community and you should definitely visit! Here's what you need – and want – to know.
Reteti Elephant Orphanage is a special place. We love to take clients there to visit with the baby elephants and see the fantastic work being done in wildlife rehabilitation.
Reteti not only gives orphaned elephants a second chance at life by providing food, shelter and medical attention, but it also gives them the very important experience of being loved and cared for by a keeper who acts as their surrogate mother.
An elephant keeper basically takes on the role of surrogate mother to a calf.
Another of the things making Reteti so special is that the sanctuary is owned and run by the local Samburu community. It's Samburu men and women who staff the sanctuary, which is a critical part of why the sanctuary is proving such a great success!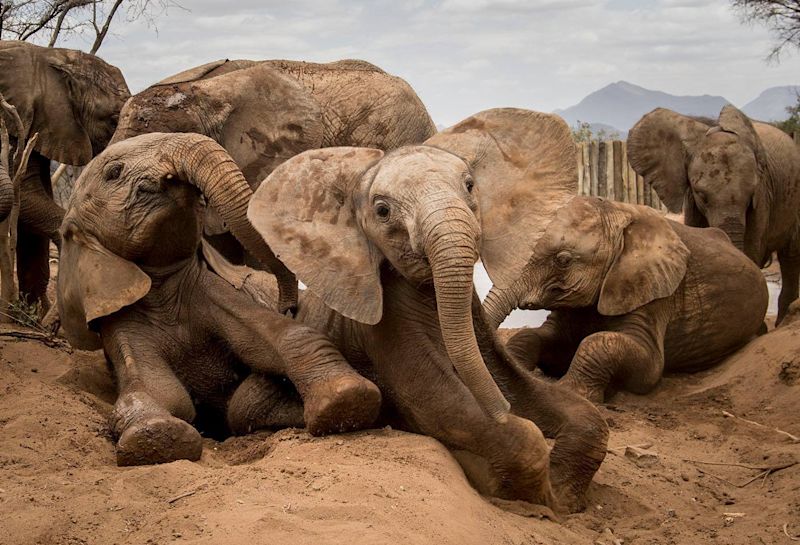 Elephant calves playing and bonding at Reteti Elephant Sanctuary
Where is Reteti Elephant Sanctuary?
Reteti Elephant Sanctuary can be found in the mountainous central-northern region of Kenya. This part of the country is remote and sparsely populated, and very picturesque.
More specifically, Reteti is located within Namunyak Conservancy at the foot of the Matthews Range, which is part of the Eastern Great Rift Valley.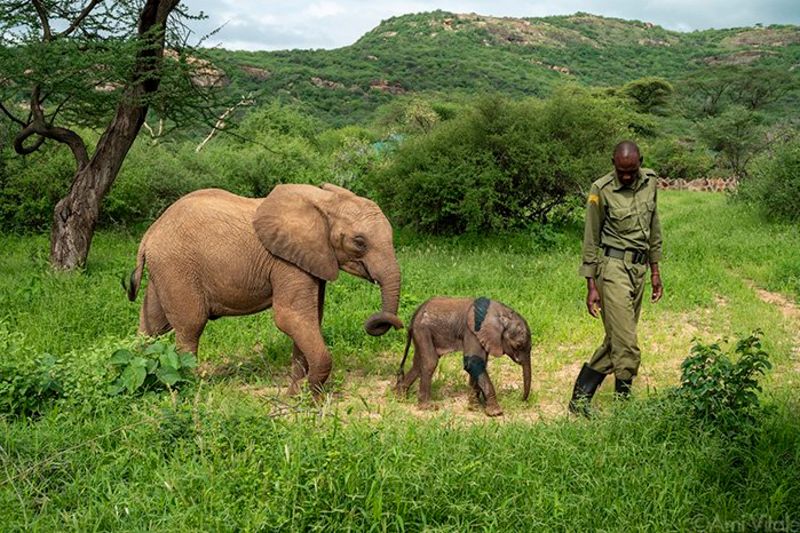 The elephants are looked after 24-7 by their keepers
Elephant calves are naturally the star attraction at Reteti. And who doesn't love baby elephants?? But there's also far more going on at the sanctuary, and it's all of these things together that make Reteti so special ...
What makes Reteti special and worth visiting?
There are other elephant orphanages in Kenya, including the well-known Sheldrick Elephant Trust in Nairobi, so why make the effort to head north to Reteti?
There are a handful of reasons ...
1. Reteti is Africa's first community-owned elephant orphanage
Reteti was set up in 2016 by the Samburu County Governor in collaboration with the local Samburu community and a number of local and international organisations.
Crucially, Reteti was established in response to the wishes of the local Samburu community to preserve the dwindling elephant population in the region. Elephant numbers here are constantly under threat from poaching, human-animal conflict and drought.
Reteti is Africa's very first community-owned elephant orphanage!
It's a very rare thing for an animal sanctuary to be completely owned and run by a local community. In fact, as already mentioned, Reteti is the first community-owned and run elephant orphanage in the whole of Africa.
Importantly, it won't be the last if its success is anything to go by. Reteti Elephant Sanctuary has become a flagship for other community-driven conservation projects in Africa!
2. Reteti is driving socioeconomic empowerment among the Samburu
Given that the elephant sanctuary is owned and run by the Samburu tribe (the word tribe isn't pejorative in Kenya, just FYI), it's Samburu men and women who work here and are making the sanctuary a success.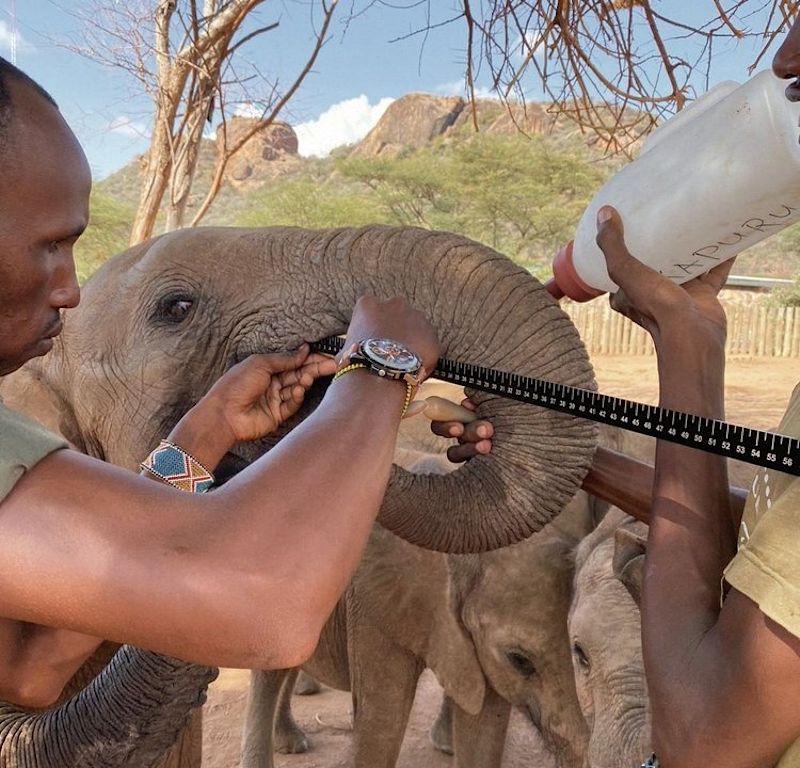 Coleman, a member of the Samburu, is a researcher at Reteti
Reteti employs dozens of local Samburu men and women in different staff roles. There are the keepers, of course, as well as a veterinarian, researcher, and all the various staff involved in the management, administration and financial sides of the organisation. The staff receive training in various functions and skills, from elephant biology to first aid, booking systems and more.
Reteti also offers a financial lifeline for hundreds of local Samburu families as it buys hundreds of litres of milk from them every day to feed the calves.
3. Reteti claims another first: it employs women elephant keepers
Many of the elephant keepers at Samburu are women. As reported in LifeGate, women haven't been used before as elephant keepers in Africa. Yet when you hear that they're now being used, you can't help but think: well of course women would make excellent elephant keepers!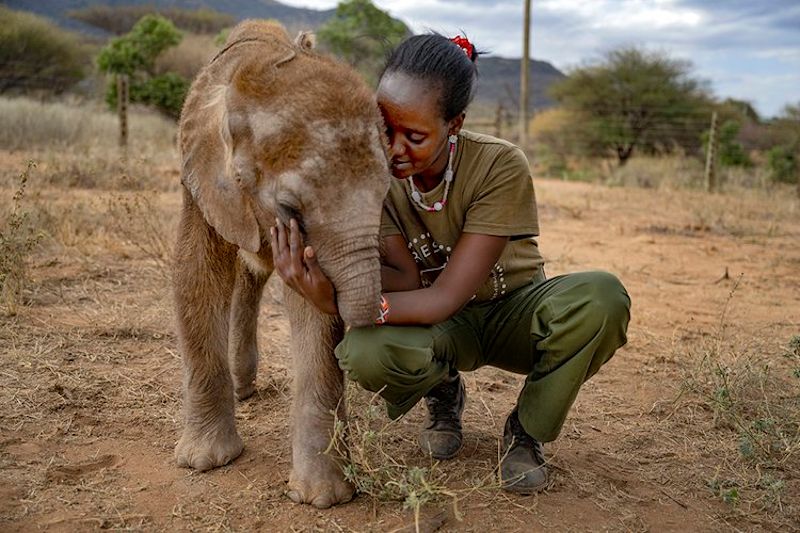 Women form an integral part of the Reteti team
An elephant keeper doesn't just feed an elephant calf – they spend every waking hour with them, as they would with human babies. This is because elephants are extremely intelligent and, like human children, need constant care, companionship, stimulation and guidance.
4. Elephant calves are rescued and given round-the-clock care
The rescued elephants brought to Reteti are given essential veterinary care, fed every two hours throughout the day and night, and cared for around the clock to help them regain their strength.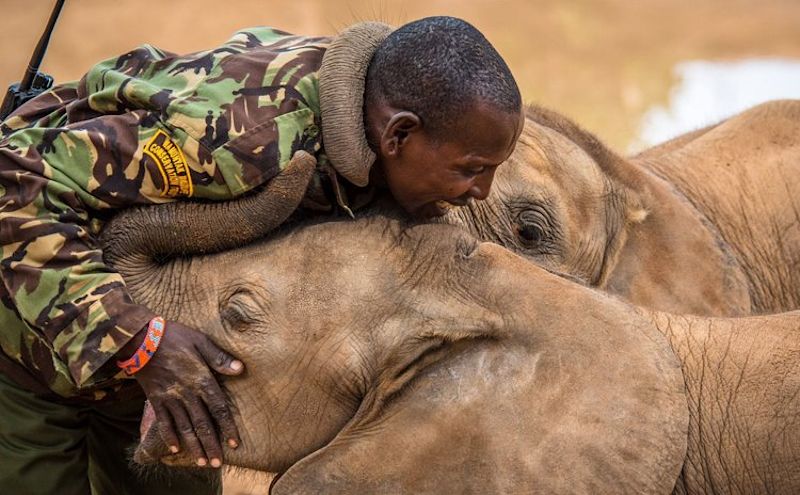 Reteti keepers and elephants form incredible bonds
They are then hand-raised, just as intensively, until they're at least three years old before any possible rewilding is considered.
Specifically, the rescued elephant calves are hand fed by bottle with a goat's milk formula that's supplied by Samburu pastoralists.
Each calf has its own specific health and dietary needs on the journey to rehabilitation, so each one's milk formula is prepared on-site by their keepers, who mixes in whatever supplements are needed. The aim is to provide them with all of the nutrition they would have gotten from their mother's milk.
Sometimes other orphaned or abandoned wild mammals are also taken into the Reteti fold and nurtured until strong enough to be rewilded.
5. The sanctuary's aim is rewilding the elephants
Yes, elephants at Reteti Elephant Sanctuary are eventually rewilded when possible.
Part of the daily care routine involves the keepers walking into the bush with their elephant charges for lessons on how to survive in the wild. Lessons includes learning how to navigate the hilly, difficult terrain to how to browse on leaves and find water. In this way, the keepers replicate as far as possible what the calves would've learned from their mothers.
Elephants are highly intelligent and emotionally sophisticated herd animals who depend on strong social bonds for survival in the wild.
Each elephant at Reteti is given a name and has their own story that's celebrated by the staff. Here for instance is Kapai, who was found on her own at just one month of age (you can read her story here) ...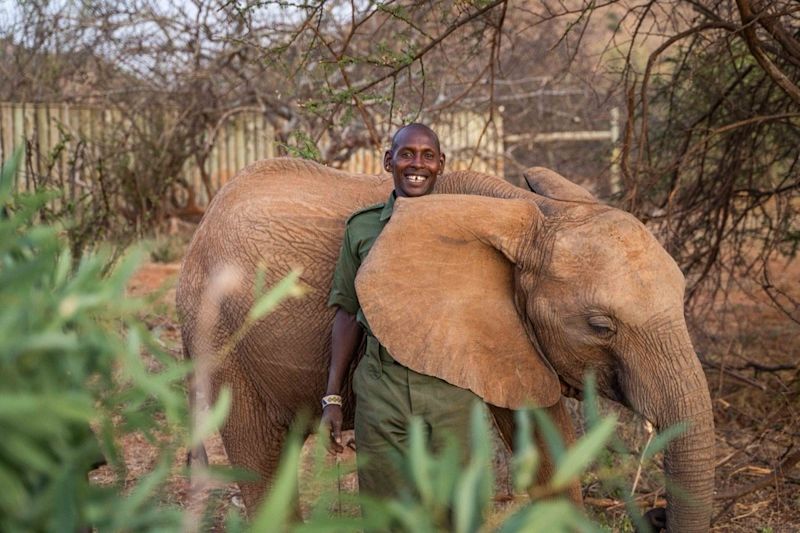 Kapai and her keeper
Provided the calves are strong enough by the age of three and deemed able to survive in the wild, they're then released to rejoin their herds.
Most elephant orphans can be successfully rewilded. The few that cannot are kept at Reteti to fill all-important roles as big brothers and sisters for the younger orphans.
6. School visits aim to reduce human-elephant conflict
Another fantastic aspect of Reteti is how it's transforming the ways in which many of the Samburu think of and relate to elephants. Schoolchildren who have never seen an elephant or are afraid of them come to the sanctuary to meet the calves and learn about them.
This engagement between Reteti and the local community is a massive gain for the longevity of elephant conservation. Because humans are one of the biggest threats to the existence of elephants in northern Kenya.
So let's talk more about that ...
Why are there so many orphaned elephants?
Every year between 10 and 25 elephant calves are rescued in northern Kenya, many of them in the area around Samburu.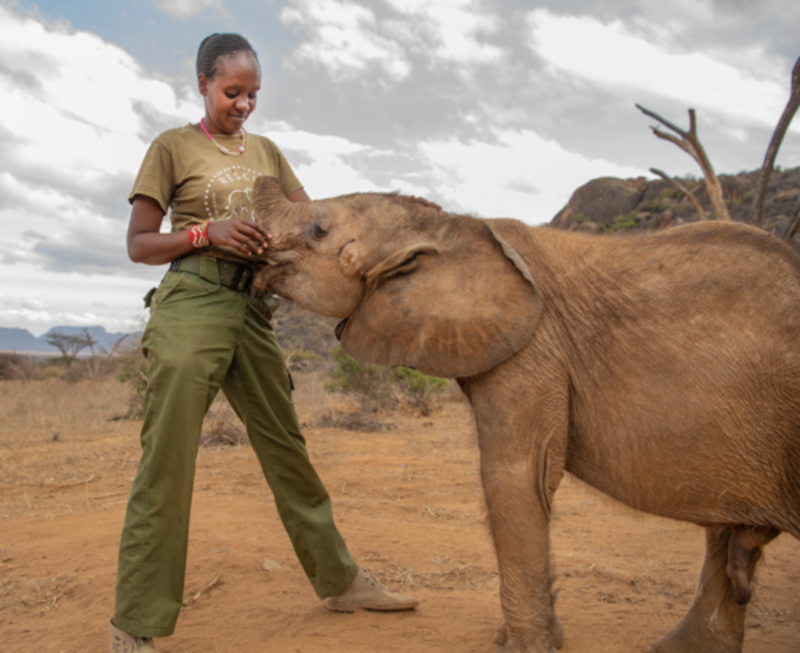 Long'uro was rescued at one month old after losing his trunk to a hyena
Many elephants are orphaned when poachers kill their mothers. Others are newborn, sick or injured calves that have been rejected and abandoned by their mothers for the safety and survival of the herd. Some are injured when they fall into wells.
Too young to fend for themselves, these orphaned baby elephants face certain death by starvation or predation unless humans intervene.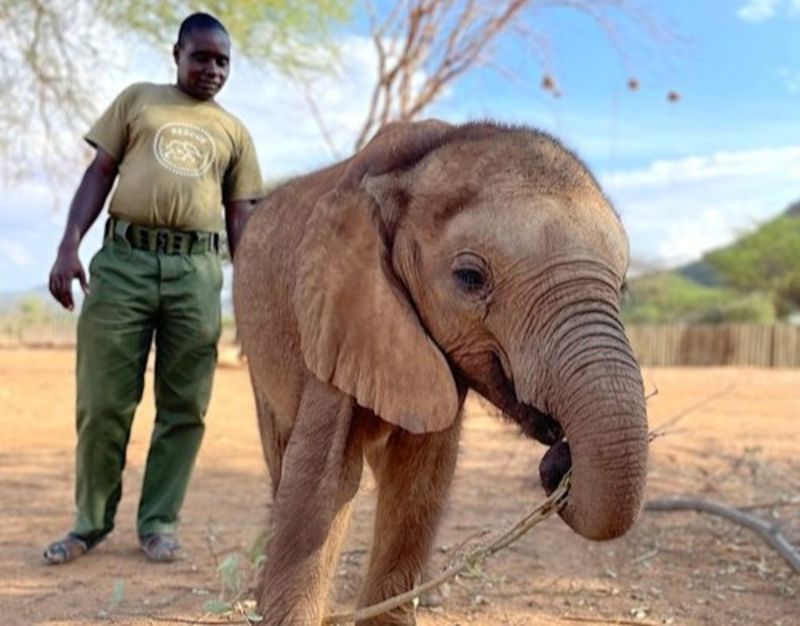 Milgis fell into a well when she was just one month old
The rescue operations are, however, far from easy, for various reasons:
Even newborn calves are heavy – they usually come out of the womb at around 100 kg (220 lb)!

The calves often need to be extracted from wells.

This area of the country is remote and vast, the terrain mountainous, and there are few roads.

The calves are often in severe distress and dangerously dehydrated by the time the rescue team gets to them
For all of these reasons, an elephant rescue operation is a big affair. Firstly you need a skilled team comprising a vet, assistants, and ground and air transport personnel. The team also needs special equipment to provide stabilising medical care for the calves en route to Reteti.
There would be a youtube video here.
Sadly, the youtube player requires cookies to work.
The Samburu's deep connection with elephants
The Samburu tribe and elephants have long shared the same land and as such have a history that's deeply intertwined.
While funding initiatives, tourism and partnerships with outside organisations take care of the money side of things at Reteti, at the very heart of the sanctuary's success is the Samburu people's deep and long-established connection with elephants.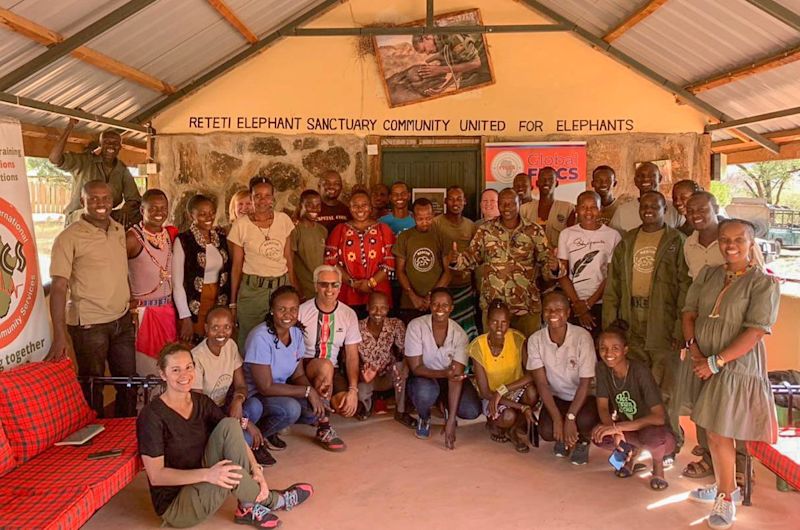 Empowering the local community is a core function of Reteti
Samburu legend says elephants and humans are related by blood.
Another local legend is that elephants used to live alongside the Samburu and their livestock and helped the women to gather firewood and do other jobs.
The Reteti keepers are quick to tell visitors about the importance of elephants in their culture, and why they love and care for the orphaned babies as if they were their own children. Learning about this and seeing it in person is a major part of what makes a visit to Reteti so worthwhile.
What does a visit to Reteti look like?
Reteti Elephant Sanctuary loves visitors. In fact, they want you to know that:
Your visit will help strengthen the local community and support our mission to rescue, rehabilitate and release.
So this is a beautiful animal encounter that you can feel good about!
Each Reteti visit includes three exciting aspects ...
1. Learn about the sanctuary and its elephants
During your visit to the sanctuary, you're paired with one of the Samburu keepers. They answer your questions and tell you all about the individual elephant orphans and the work that's done at Reteti. You get to see the elephants being fed, watch their playtime in mud-holes, and go on a tour of the sanctuary.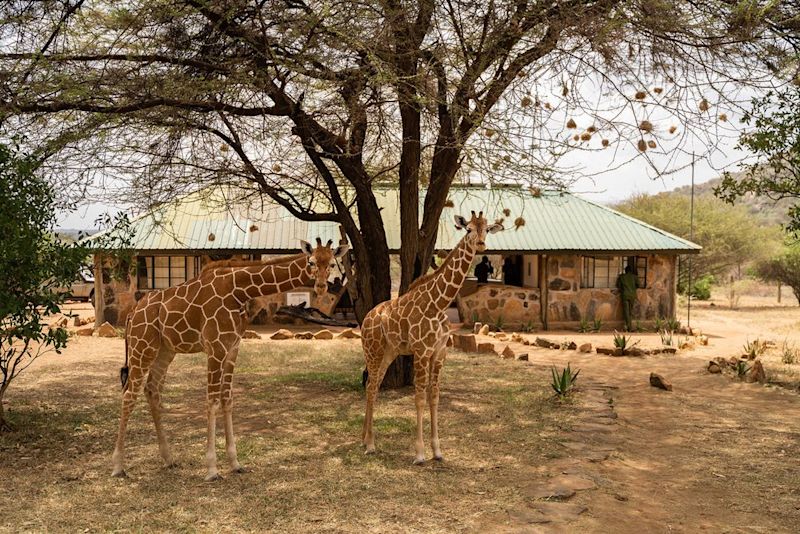 By the way, elephants aren't the only animals you'll see when visiting Reteti!
2. Attend a feed time – it gets lively!
Visitor hours are set to coincide with daytime feeds, so you get to be present when the calves are given their milk bottles.
Feeding time at the Reteti Elephant Sanctuary is guaranteed to put a smile on your face!
The baby elephants are adorable as they race across the open enclosure in front of the feeding station and viewing deck, ears flapping and trunks stretched out in anticipation, ready to grab the giant baby bottles their keepers have ready for them.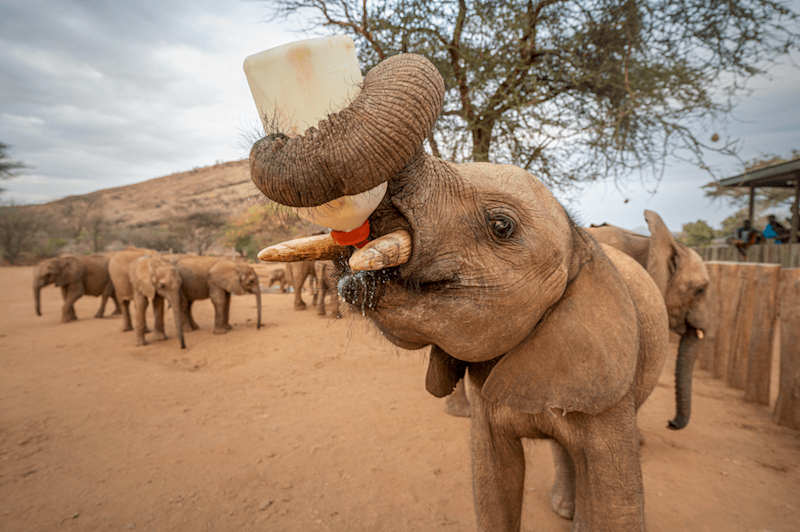 Meibae with his bottle of goat's milk
Just like human children, each elephant calf has a distinctive character and personality. Just ask any of the keepers! Although you'll see it for yourself as well.
There are the shy, reserved babies who politely take their bottles of goat's milk like the well-behaved youngsters they are. Then there are the bolder, more unruly characters who grab their bottles and keep their humans busy with trying to stop them from stealing their siblings' bottles too!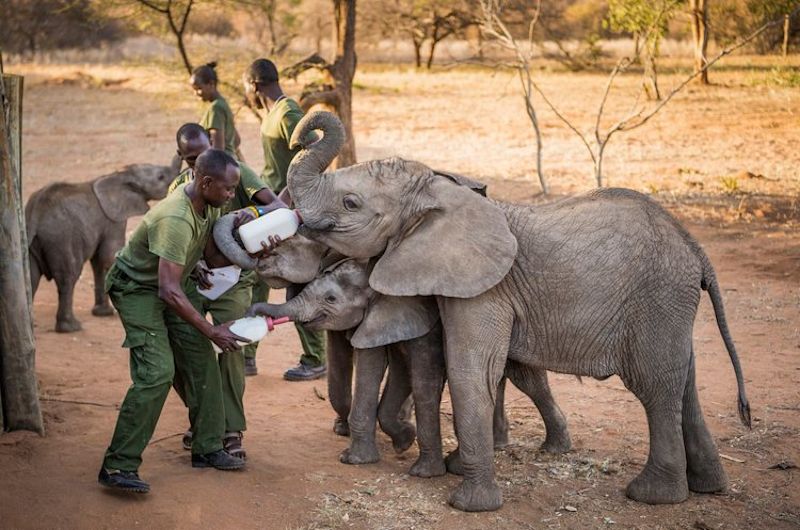 Like we said – feeding time is lively!
3. Learn about the Samburu culture
Finally, your Samburu guide also tells you about the Samburu tribe of north-central Kenya and their connection to Reteti and Namunyak Conservancy. This is a fantastic aspect of a visit to Reteti Elephant Sanctuary, and one that helps to set it apart from some other sanctuaries.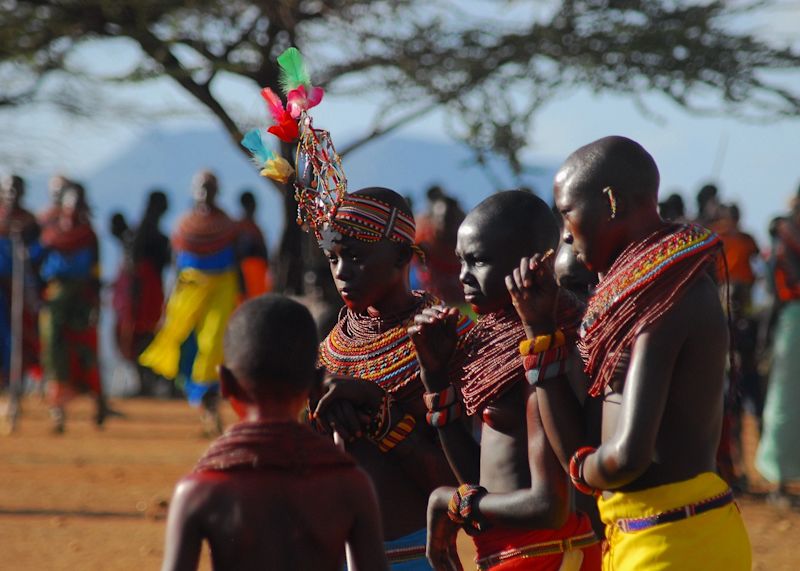 The Samburu are known for their colourful garb and intricate jewellery, among other things
While the focus of any visit to Reteti is naturally the elephants and their conservation, feel free to ask your guide any questions you have about Samburu culture.
The Samburu tribe is actually closely related to the more famous Maasai tribe to the south. They're both Nilotic peoples, have similar languages, and are semi-nomadic pastoralists. It may come as a surprise to some that among their herds, which include the usual suspects like cattle, goats and sheep, they also often have camels.
When can I visit Reteti?
Reteti is open to visitors seven days a week.
There are four visitor slots per day. The earliest slot lets you attend the sunrise feeding at 5:30 am, while the latest lets you be there for the sunset feeding at 5:30 pm. But note that the early morning and evening slots are restricted to guests staying overnight at nearby Sarara Camp.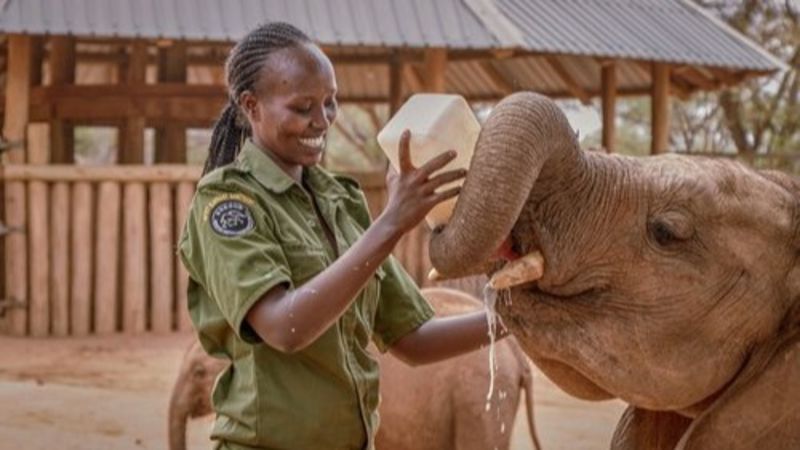 Every visitor gets to attend a feeding session
The mid-morning visit from 8:30 am is reserved for a group visit if any are booked, but it becomes open to the public if no group is booked. The mid-day slot starting at 11:30 is open to the public.
Each visit lasts for 1.5 hours. Visiting times coincide with feeding times, with each feeding taking place half an hour into the visiting time slot. For this reason, you must be on time. Hungry baby elephants are ... hungry baby elephants! So feeding time cannot be delayed.
What does it cost to visit Reteti?
There are staggered rates with different rates for tourists, groups of 15 or more (considered exclusive groups), and local residents. The cost per person per visit is US$35 for tourists. There's an additional US$500 charge per group for exclusive group visits.
Where can I stay when visiting Reteti?
You cannot stay overnight at the sanctuary itself, but there are options for camping or lodge accommodation close by.
The neighbouring Sarara Camp has three eco-lodges offering budget to luxury accommodation. The closest of these, the luxury Reteti House Lodge, is only a 10-minute walk from the orphanage.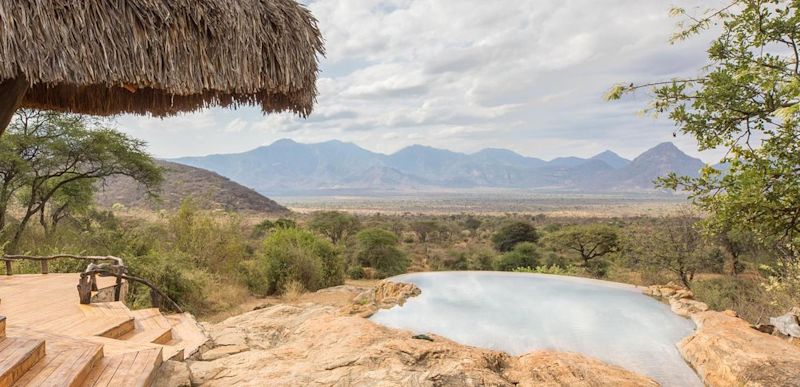 One of the sublime views from Sarara Camp
These lodges also offer game drives in the Namunyak Conservancy surrounding Reteti.
How do I get to Reteti?
It's not easy to reach Reteti, but it's so worth it!
If starting in Nairobi, you need to drive north for eight hours or catch a charter flight. The scenery is fantastic whichever option you take.
That said, you're most likely going to combine a visit to Reteti with other attractions in the area – like a game drive to see the Special Five in neighbouring Samburu National Reserve – so you won't be making the journey north for the sanctuary alone.
Either way, Reteti Elephant Sanctuary is worth the effort to reach!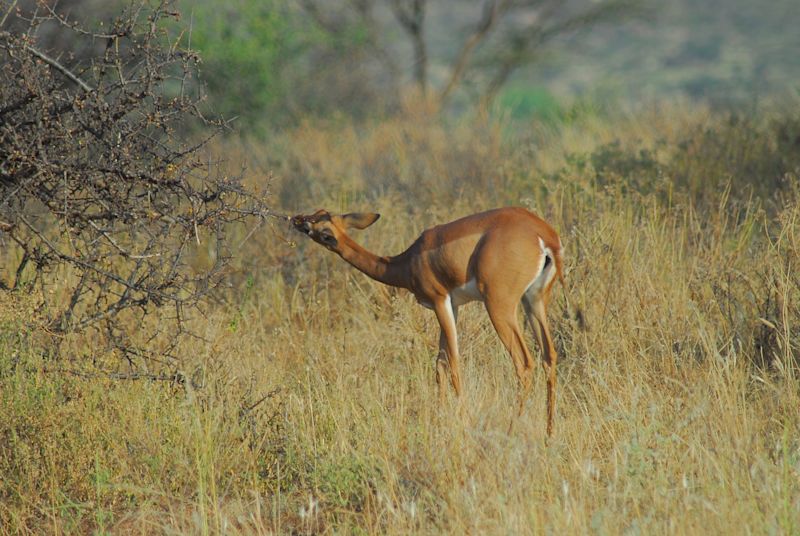 Long-necked gerenuks are a big drawcard at Samburu National Reserve
For those travelling by car, the sanctuary can be reached after an eight-hour scenic drive from Nairobi along the Great North Highway (Isiolo-Moyale Highway).
Alternatively, for a faster journey and a truly captivating experience, consider opting for a chartered plane. You can hop on a plane at Nairobi or at any of the regional airports, but there are also many airstrips to be found at different parks, reserves and lodges.
Can I volunteer at Reteti?
Unlike at most animal sanctuaries in Africa, you cannot volunteer at Reteti. Since the elephant calves are rescued for the express purpose of being rewilded, Reteti minimises interaction between the elephants and humans other than the Samburu keepers.
So no, tourists aren't invited to volunteer, but you are absolutely invited to visit Reteti and see the amazing work they're doing!
A visit to Reteti offers so much more than an unforgettable encounter with baby elephants and the chance to snap pics of them being fed with bottles.
Supporting a wildlife sanctuary like Reteti – whether through a visit, donation or adopting an elephant – is an investment in sustainable tourism. We're sure you'll agree with us that this kind of community-driven conservation project is sustainable tourism at its best, and we hope we can take you there in person someday soon to see it for yourself!