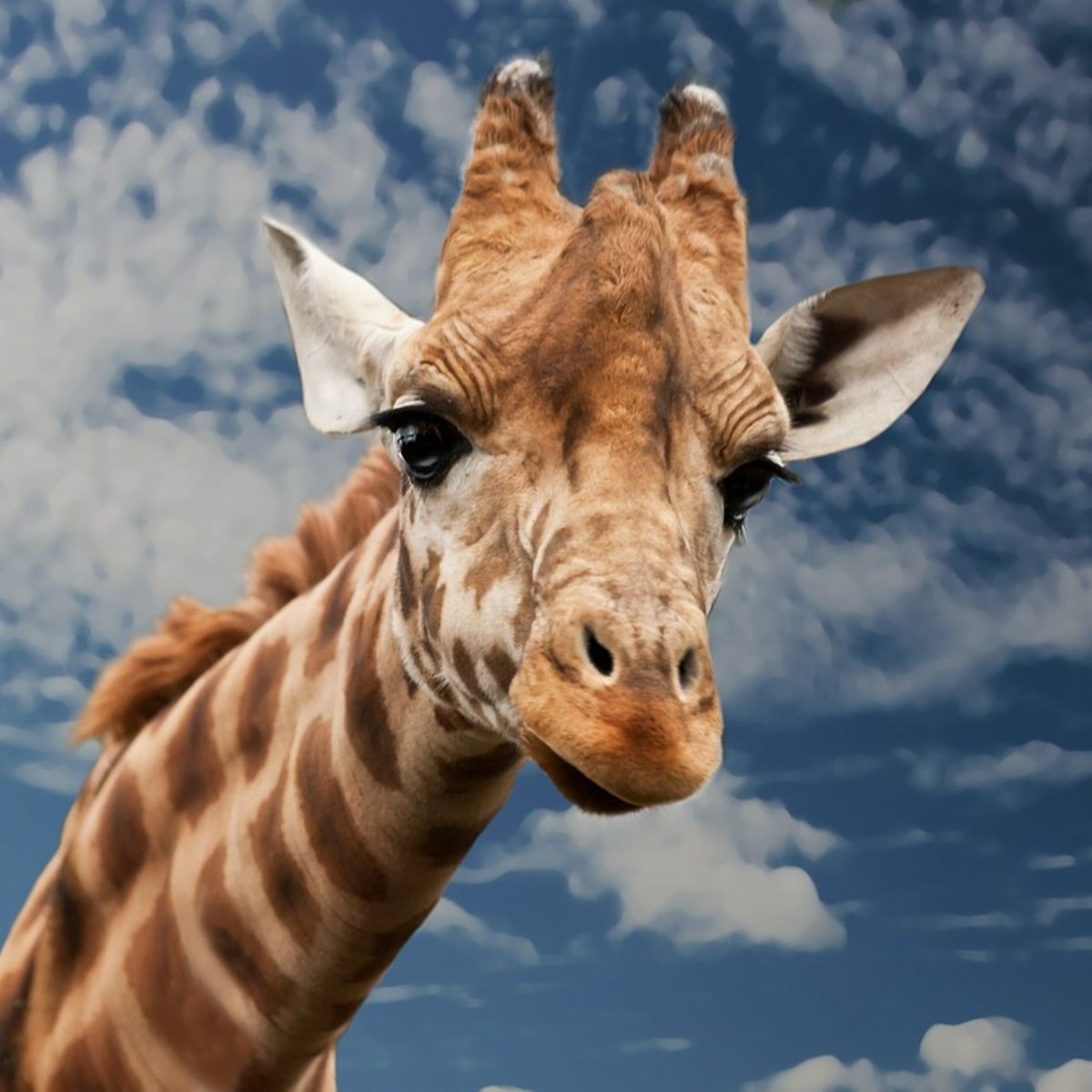 The 6 kinds of African safari
Jun 12, 2023
Reading time: 10 minutes
When you think of going on an African safari, you probs picture cruising around the savannah in an open 4x4. And that's certainly awesome! But did you know that there are five other – and wildly different – kinds of safari you could also enjoy?
There are so many fantastic and world-class parks and reserves across Africa. In fact, many of them set the bar for what it actually means to be 'world-class'!
The wildlife and landscapes contained in these parks are as varied as you could wish. We're talking the Big Five, other fan favourites like giraffes, hippos and cheetahs, and the Great Wildlife Migration. We're also talking rivers hiding sneaky crocs and hippos, bird-choked wetlands, and animal-dotted salt pans. And we're also talking fantastical formations like giant anthills dotted with bee-eaters' nests, lazy river channels teeming with waterbirds, and riverbanks crowded with thirsty antelopes and elephants.
When it comes to wildlife, Africa is where it's at!
But how best to see and appreciate all this gorgeous wildlife? Let's look at the different forms of African safari, starting with the classic game drive and then venturing into more rarified terrain.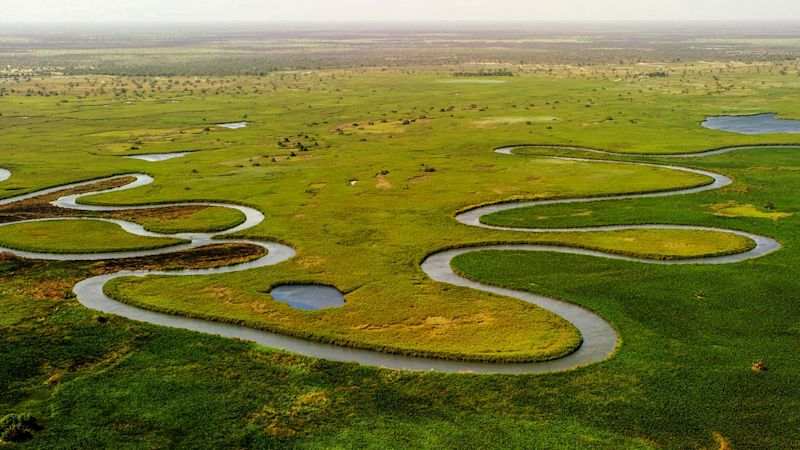 There are many wildlife-rich landscapes in Africa where traditional game drives simply won't cut it!
1. Game drives
Game drives allow you to cover a vast area and see much wildlife in a safe manner. They're a fantastic adventure, and one that (when done responsibly) helps to support wildlife conservation.
We love a good game drive – it's one of the best ways to see many of the wild animals that grace the African continent.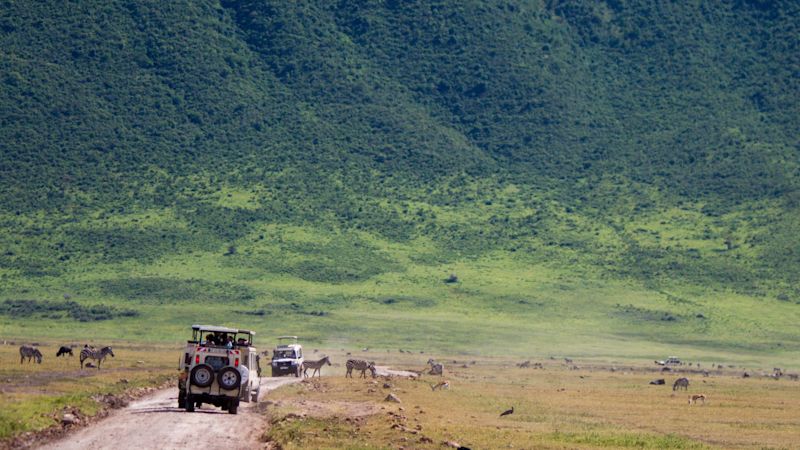 Game drives in Ngorongoro Crater are unique – you descend into a massive crater that's chockfull of animals
Best parks for game drives
It's pretty impossible to whittle down the parks of Africa to just a handful, as there are so many, each with its own fabulous selling points. That said, here are just a handful of the parks teeming with varied wildlife that we consider to be stellar destinations for game drives:
Ngorongoro Crater

in Tanzania boasts the Big Five and unparalleled natural beauty. You get to see so much game in just one drive that you feel utterly spoilt. 😀

Liuwa Plains National Park

in Zambia is a remote, quiet and pristine park full of large game. It also boasts the second largest wildebeest migration after the Serengeti!

Kruger National Park

in South Africa is a massive park that's home to the

Big Five

and is known for its rich concentration of a vast array of wildlife.

Etosha National Park

in Namibia is fantastic for seeing a great numbers of animals as the enormous salt pan (which is a sight in itself) leaves animals exposed to the eager eyes of safari-goers.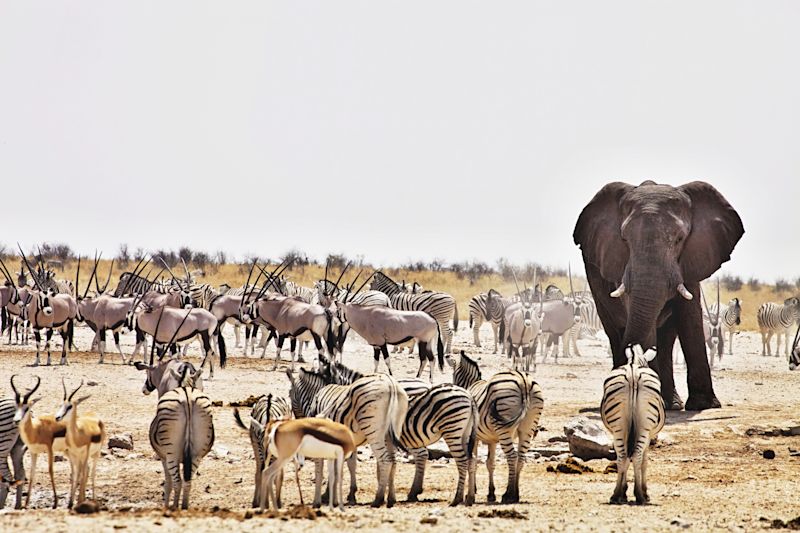 Thirsty animals congregate at a waterhole in Namibia's Etosha salt pan
While there's no replacing the game drive, there are other fantastic types of safari as well. So let's now look at these other, often overlooked, forms of safari that we think you would enjoy.
2. Walking safaris
Walking safaris are not permitted in many parks and reserves. So when a walking safari is on offer, you should always lap up the opportunity!
A walking safari – which is always done in the presence of an armed ranger – gives you a different perspective of the wildlife and its habitat. And sometimes lets you get closer to the animals.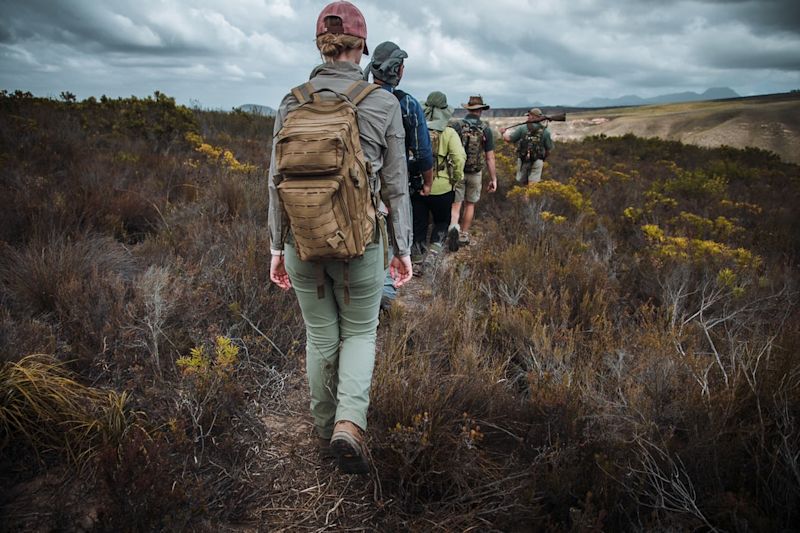 A walking safari gets you so much closer to the sights, smells and sounds of African wildlife
What's also especially interesting on a walking safari is learning from the ranger how he or she tracks the animals by looking at things like spoors (animal footprints), droppings, broken branches and nests.
Not only can you do a walking safari in the usual settings like savannah, bush and grasslands, but you can also walk in more rugged, forested terrain. Most notable among these sorts of walking safaris are gorilla and chimp treks, where you go on a guided hike to see the primates in their natural habitat.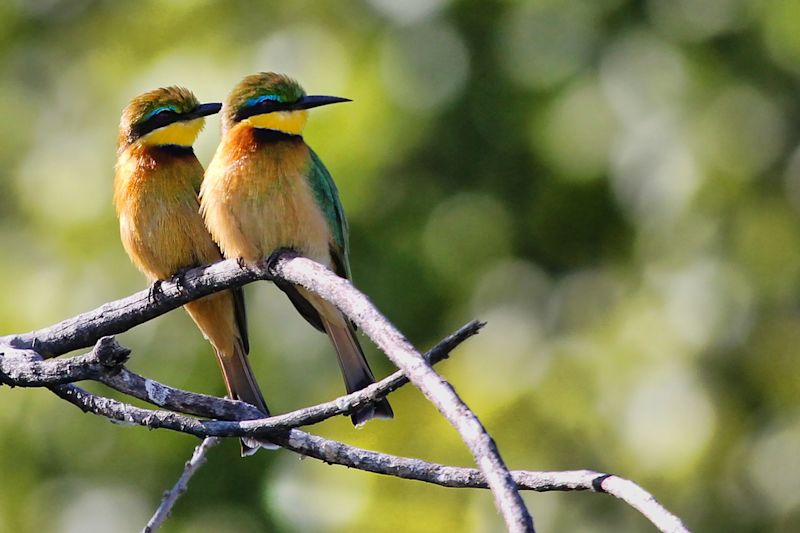 If you're keen to see birds, like these two bee-eaters, a walking safari is ideal as you can move about quietly
Examples of great walking safaris
Some of the best national parks for walking safaris are:
South Luangwa National Park

in Zambia is one of the ultimate destinations for walking safaris. There are excellent guides and rangers who can take you on short nature walks as well as multiday walking safaris.

Kruger National Park

in South Africa also offers absolutely phenomenal short and longer walking safaris. Home to the Big Five, a walking safari is a truly memorable and immersive experience.

A

chimpanzee trek

in Kibale National Park in Uganda takes you through beautiful forest and lets you get close to chimps as well as 12 other primates, including red colobuses, Uganda mangabeys and l'Hoest's monkeys.

In both Rwanda and Uganda you can hike through rugged, remote rainforest to see

mountain gorillas

up close in their natural habitat. This is a truly unique sort of walking safari that's on many a person's bucket list.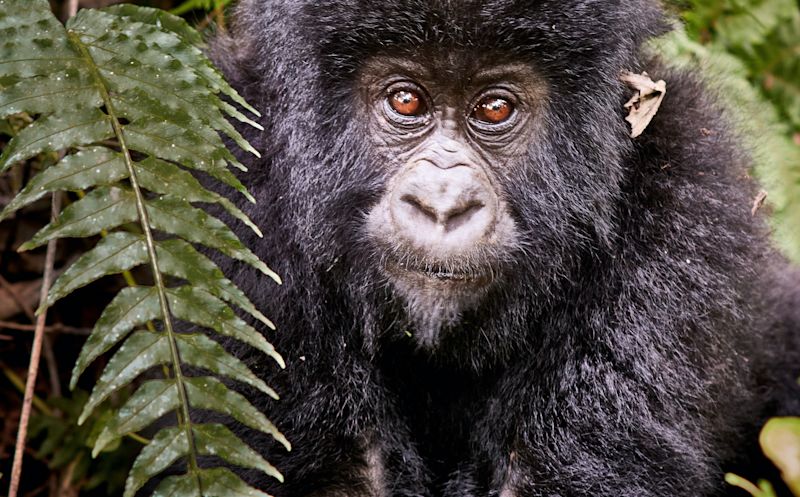 A gorilla trek is a unique and highly coveted type of walking safari
3. Cycling safaris
Cycling safaris in Africa range from easy flat rides through savannah and grassland to challenging rides in the hills or mountains. To view classic African game, like elephants, giraffes, zebras and antelopes, you want to opt for the lowland parks. But if you'd like to see lots of primates, you generally want to head towards more hilly terrain.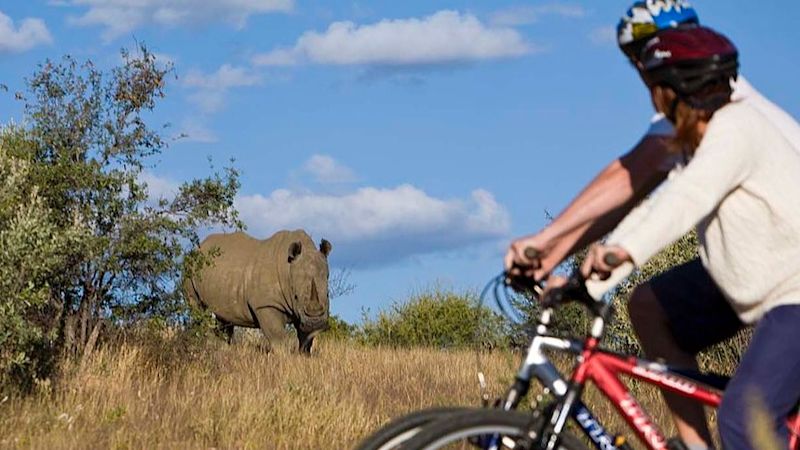 You can cycle in certain game parks across Africa | Image by GocheGanas
Some varied cycling safaris in Africa
Again, we can't begin to mention all of the many wonderful cycling safaris on offer around Africa. So instead here's just a few of those we really like that you can do at national parks:
Lake Manyara National Park

in Tanzania offers sublime cycling tracks on the edge of the Great Rift Escarpment. From here you enjoy expansive views over the lake and its many animals, which include enormous elephant herds and even bigger flamingo stands.

Amboseli National Park

in southern Kenya lets you cycle through its plains and wetlands among the likes of giraffes, elephants, Masai giraffes, hippos and various antelopes. And to top it all off, you have the glory of Mt Kilimanjaro as your backdrop!

Mount Elgon National Park

in eastern Uganda offers a fantastic cycling safari for hardier mountain bikers who want to ride through amazing scenery and see wonderful birds (like the great blue turaco) as well as some of the area's primates, which include red-tailed monkeys, black-and-white colobuses and De Brazza's monkeys.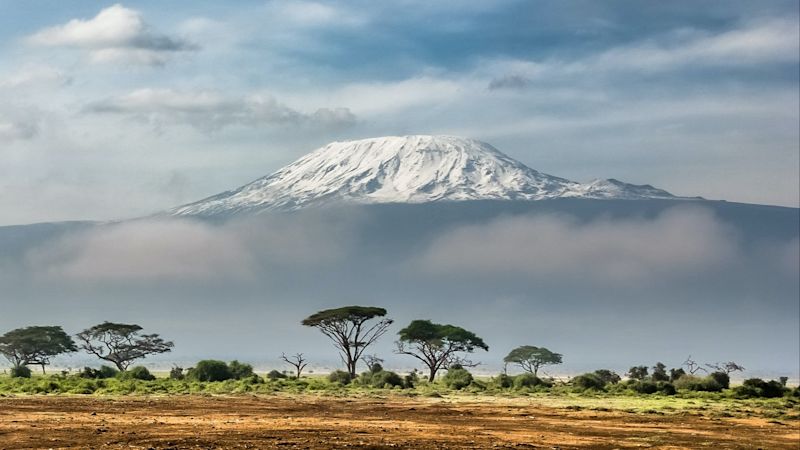 A view of Mt Kilimanjaro from Amboseli National Park in Kenya
The parks and reserves where you can go on cycling safaris generally also offer walking safaris, so you can often enjoy the nature and wildlife of a place through more than one activity.
4. Horse-riding safaris
Horse-riding safaris – or horseback safaris if you're American – are another fantastic way of seeing the wildlife in some of the African game parks. Obviously it's not offered in many parks, but be sure to inquire after it if this option interests you. Your chances of such a safari are higher on a private reserve than at a national park.
The higher vantage point and easy mobility that you enjoy on horseback is wonderful for game viewing. And if you're someone who loves horses, then you get to combine animal spotting with spending time with a horse – yay!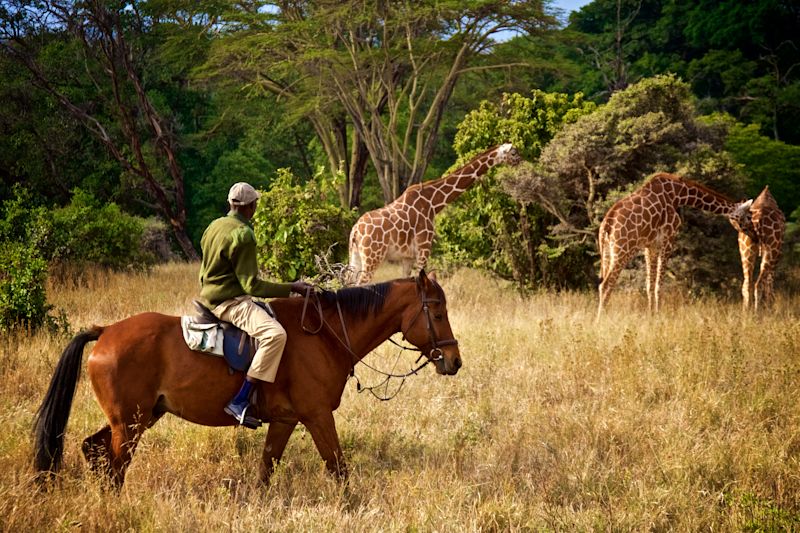 Horse-riding safaris are, of course, guided affairs – you ride with a ranger
Horse-riding safaris can last just a few hours or be multiday affairs where you stay in fly camps.
Two great horse-riding safaris for beginners and pros
Some great examples of horse-riding safaris are:
Lake Mburo National Park

in Uganda is great for short horse-riding safaris. You can go on a two- to five-hour guided safari in hilly country. In fact, this park allows not only horse-riding safaris but also game drives, night-time safaris, walking safaris, guided bird walks, and boat safaris on the lake!

Serengeti National Park

in Tanzania is a truly fantastic place for a multiday horse-riding safari where you follow the herds of the Great Migration. Predators like lions also follow the herds, and so by following the migration you're likely to see a wide array of wildlife.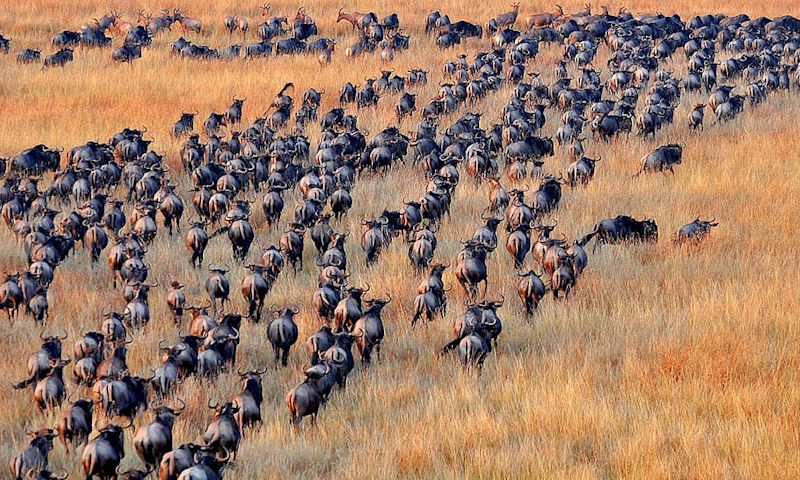 To follow the herds of the Great Migration on horseback is a real privilege
5. Boat safaris
We love boat safaris. It doesn't matter the type of boat, but getting onto the water and seeing the animals from a different viewpoint is a special treat. You also get to often come closer to certain creatures, like hippos, crocs and elephants (who love a good splash).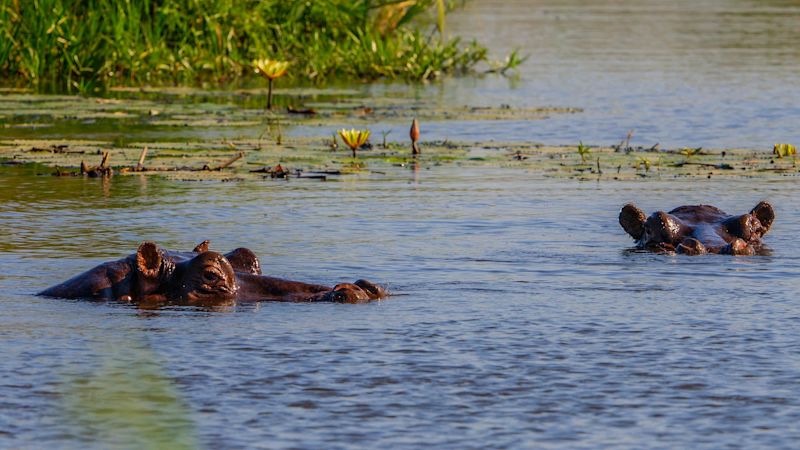 You need to go on a boat safari to see the animals and beauty of the Okavango Delta
A boat or canoe safari offers a quiet, relaxing and yet also exciting way to see a park's wildlife.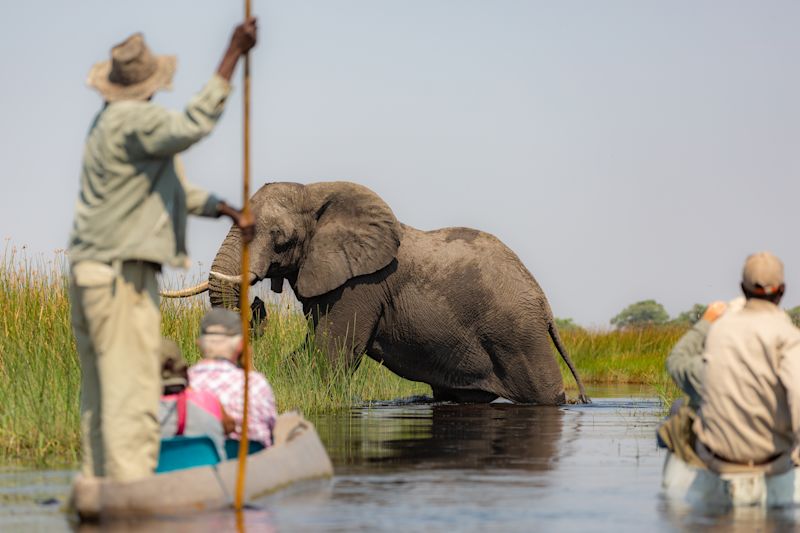 Boat safaris can involve larger boats and snacks and drinks, or smaller vessels like canoes where you or your guide put some muscle into it
Fantastic boat safaris
There are boat safaris on offer in many of the wetlands, deltas, channels and rivers of Africa. Some great examples are:
A boat cruise during the wet season in the

Okavango Delta

is an absolutely epic experience. You travel along winding channels and into lagoons in search of wild animals like elephants, rhinos, crocs, baboons and waterbirds.

The gorgeous

iSimangaliso Wetland Park

near St Lucia in South Africa offers boat cruises that allow you to spot many big animals like hippos, crocs, elephants, black and white rhinos, wild bush pig and buffaloes.

A boat cruise on the

Kazinga Channel

in Uganda's Queen Elizabeth National Park lets you get up close to wallowing hippos and Nile crocs as well as waterbirds and the elephants and other game that come to the water for a drink and wallow.

A canoe safari on the

Zambezi River

in Zambia is a once-in-a-lifetime treat that lets you see fantastic game like elephants, kudus, zebras and crocs. You can canoe on the river and its various channels both above and below the spectacular Victoria Falls.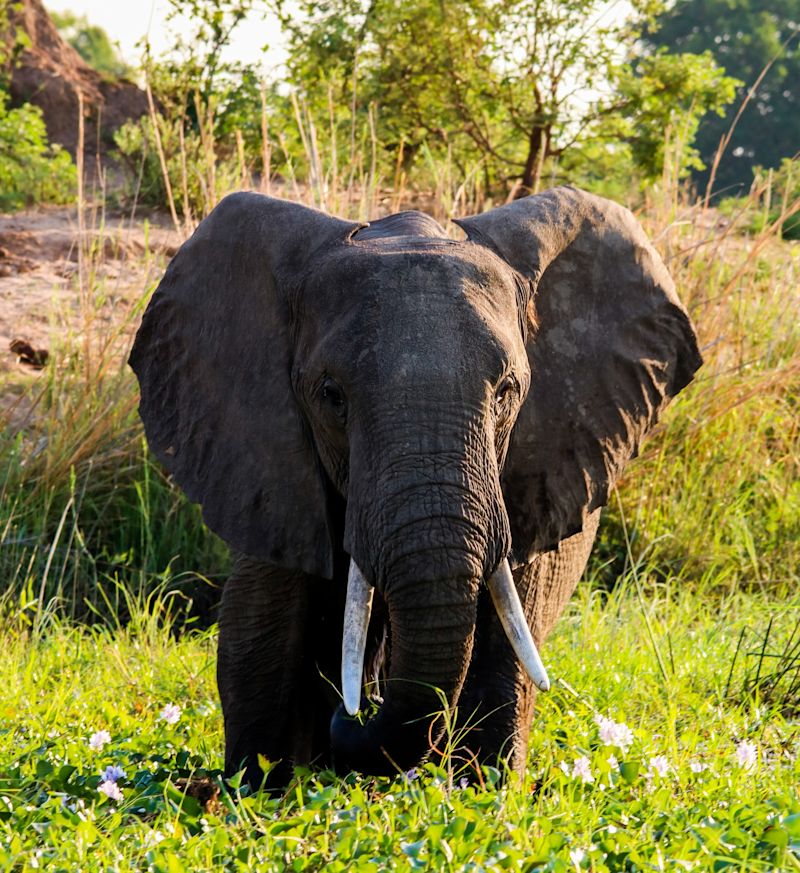 A bush elephant wades into the Zambezi River
6. Balloon safaris
Hot air balloons are a fantastic – albeit expensive – way to go on safari. While you won't get close to the animals, the expansive bird's-eye view you enjoy is truly breathtaking. You get to appreciate the landscape as well as the wildlife and their numbers and patterns of movement on a whole other level.
With the Great Wildlife Migration, for instance, a hot air balloon ride over the Serengeti is a sublime way to see the immense herds of wildebeests, zebras and antelopes stretched for miles across the landscape.
A hot air balloon safari is the perfect add-on to a classic safari itinerary: drive and then head to the sky!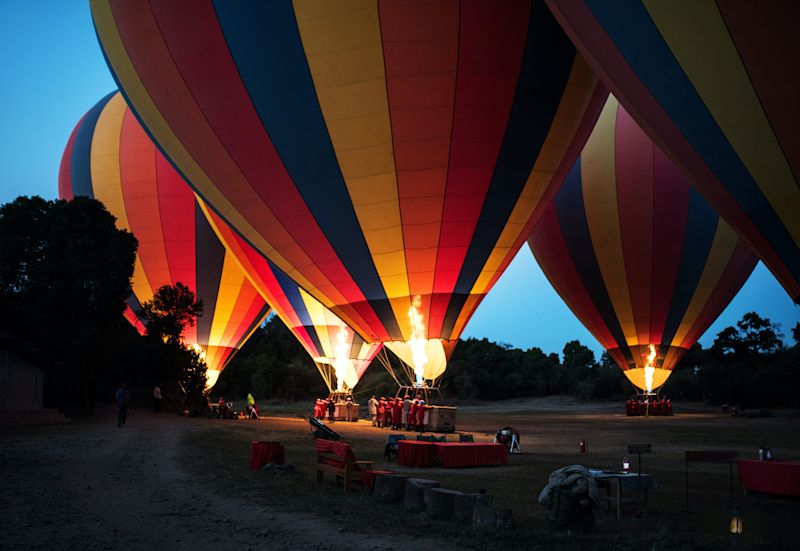 Hot air balloons at Little Governors' Camp in Kenya get ready to take visitors for an early morning safari over the plains of the Serengeti
Two of the very best balloon safari spots
Two very special sites for balloon safaris include:
A hot air balloon ride over the

Serengeti

lets you truly appreciate the

enormous

quantity of animals that constitute the Great Migration – the largest land-based migration in the world. This can be done in

Serengeti National Park

in Tanzania. At certain times of year, it can also be done in Masai Mara National Reserve in Kenya.

A balloon safari over the

Okavango Delta

in Botswana is a must. When flooded, the delta is a hive of activity, and you can see the likes of elephants, cheetahs, rhinos, crocodiles and baboons making their way across the seasonally lush landscape.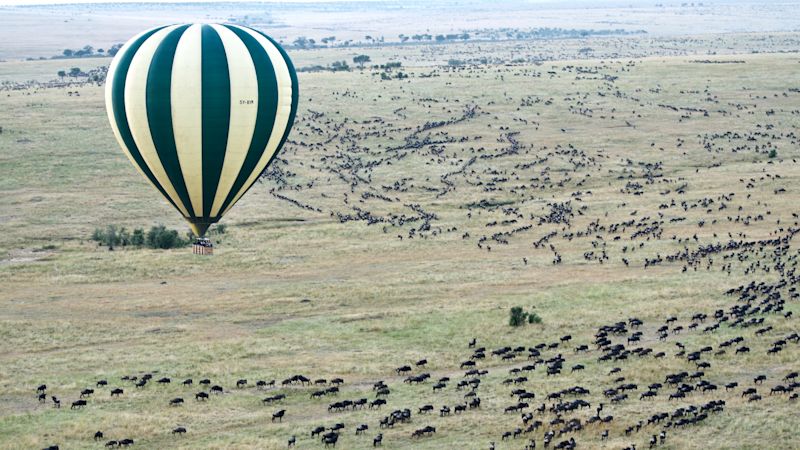 A balloon safari over the Serengeti showing some of the million or so wildebeests that migrate across the plains every year
So what do you think? Which of the above safari types excites you the most? We'd love to hear from you! 🙂