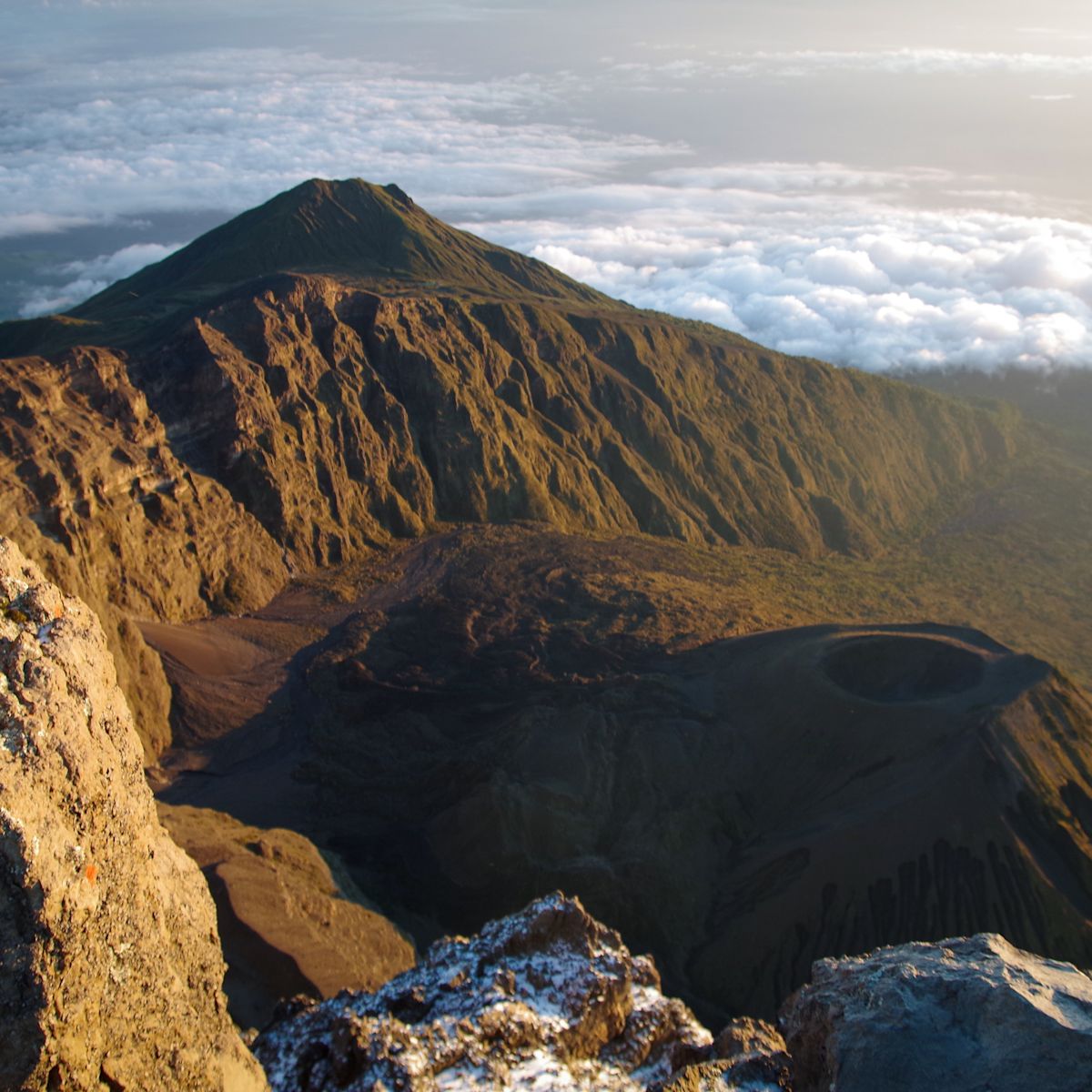 4-day hike
6 days
Mt Meru is a towering dormant volcano that makes for a tough, exciting trek. You hike through rainforest, moorland and alpine desert to reach the summit on the crater rim. From here the view of Arusha below and Mt Kilimanjaro beyond is epic! The four-day version of this climb lets you take longer on the downhill, which protects your knees and lets you savour the scenery and spot more wildlife.
Detailed Itinerary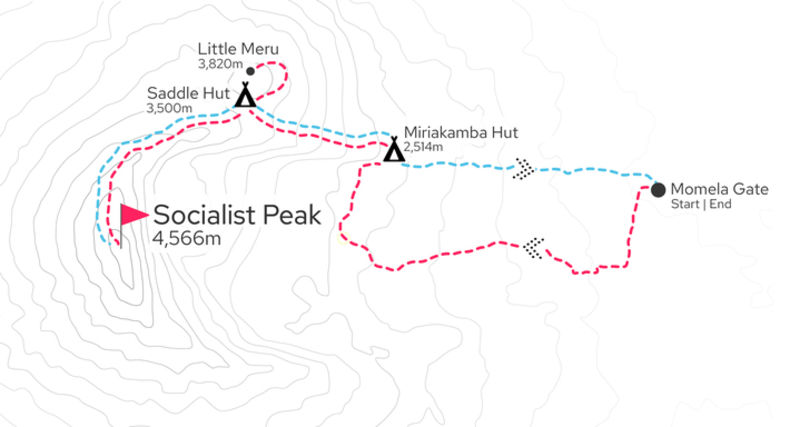 Day 1: Arrival day
Today is about getting settled in and ready for the start of your Mt Meru climb tomorrow. We can fetch you from Kilimanjaro International Airport if you like, and drive you to the hotel. Here you can freshen up, relax after your travels, and meet with your Follow Alice guide, who will brief you on the adventure to come!

Day 2: Begin the climb!
This morning we drive you to Arusha National Park. After your Follow Alice guide has registered everyone, you drive west through the park to the trailhead and can do some game spotting en route! You then start the climb. Today you ascend into the mountain's thick and beautiful rainforest. It takes about five to seven hours to reach Mariakamba Hut at 2,500 m above sea level.

Day 3: Climb to Saddle Hut
Today you wake – if the weather is clear – to the most beautiful sunrise coming from behind Mt Kilimanjaro! You then embark on a steep climb through lush vegetation. You eventually reach the gorgeous moorland band of the mountain. It takes three to five hours to reach Saddle Hut (3,500 m), where you overnight. In the late afternoon, after having spent time relaxing at camp, you go on an acclimatisation hike to Little Meru (3,800 m), a lower peak on the mountain and great view spot.

Day 4: Summit day!
It's an early start today – 2 am – so that you can reach Socialist Peak (4,566 m) in time to watch the sun emerge from behind nearby Kilimanjaro. What an incredible view and amazing achievement! After going snap happy on the summit, you descend and can appreciate the stark alpine desert scenery you climbed hours earlier in the dark. You hike all the way down to the now-familiar Miriakamba Hut for the night.

Day 5: Last day on the mountain
This morning you complete the descent down the remainder of the mountain. But you take a different route from the ascent, which lets you enjoy some different scenery! This includes visiting the famous Fig Tree Arch and the waterfall on Tululusia River, where you can take a dip if you're hot. From here it's a short distance to the trailhead where your vehicle is waiting to take you to your hotel.

Day 6: Departure day (or is it?)
Today is your last day, and we can drive you to the airport if you'd like. However, if you're keen to go on safari, or if Mt Meru was an acclimatisation climb for Mt Kilimanjaro, we can link this itinerary with your next one, and your Tanzania adventure continues!

Inclusions
Price Includes
In-depth preparation documents
Pre-climb Zoom meeting with trip manager and other climbers
Beautiful lodging with dinner and breakfast the day before and day after your climb
Briefing at lodge with climb lead guide before the climb
Private transport to and from trailhead
Price Does Not Include
Traveller's insurance (mandatory)
Tips for mountain crew (customary)
Use of a Follow Alice down winter jacket (US$40 flat rate)
Where you'll stay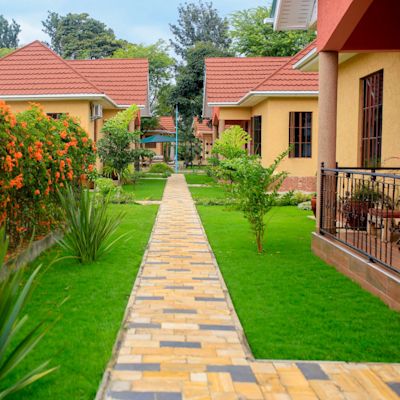 Lindrin Lodge
Lindrin Lodge in the town of Moshi offers chalet accommodation in a pretty and well-maintained garden setting.
Book your trip
We do our best to provide you the best experience ever
Dec 8, 2023
from
USD1,595
Deposit
USD250
Dec 15, 2023
from
USD1,595
Deposit
USD250
Dec 23, 2023
from
USD1,595
Deposit
USD250
Jan 5, 2024
from
USD1,595
Deposit
USD250
Jan 23, 2024
from
USD1,595
Deposit
USD250
Feb 3, 2024
from
USD1,595
Deposit
USD250
Mar 12, 2024
from
USD1,595
Deposit
USD250
Mar 22, 2024
from
USD1,595
Deposit
USD250
Don't see your dates?
We can make it happen!
Adventuring made easy
Our dedicated travel consultants make adventuring easy for you by taking away all of the admin. Your only jobs are to train for the adventure if necessary and then pack your bags!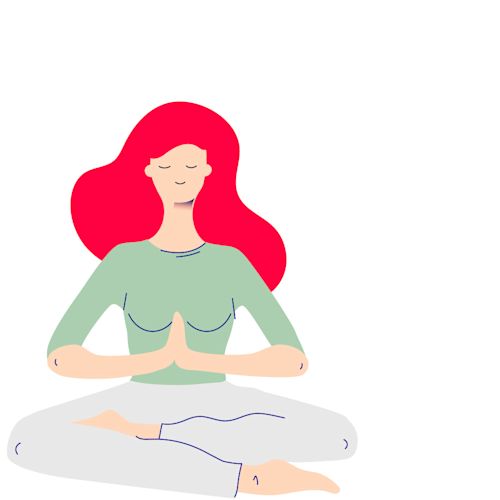 Local guides
Our local guides look after you in every way. Our goal is to give every traveller the feeling you get when a friend is showing you their country.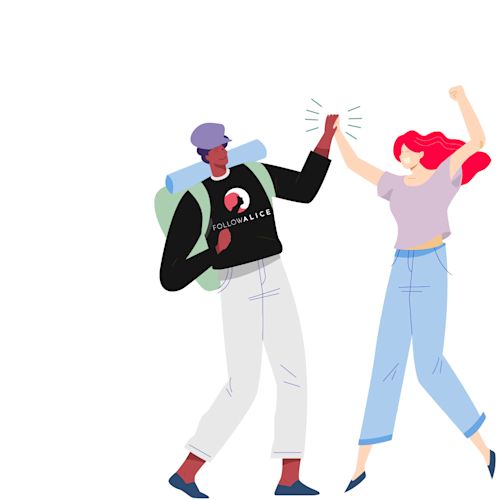 Responsible travel
On average, over 70% of your trip price stays in the local economy. It's important to us that the visited communities benefit the most since they're the ones hosting travellers.