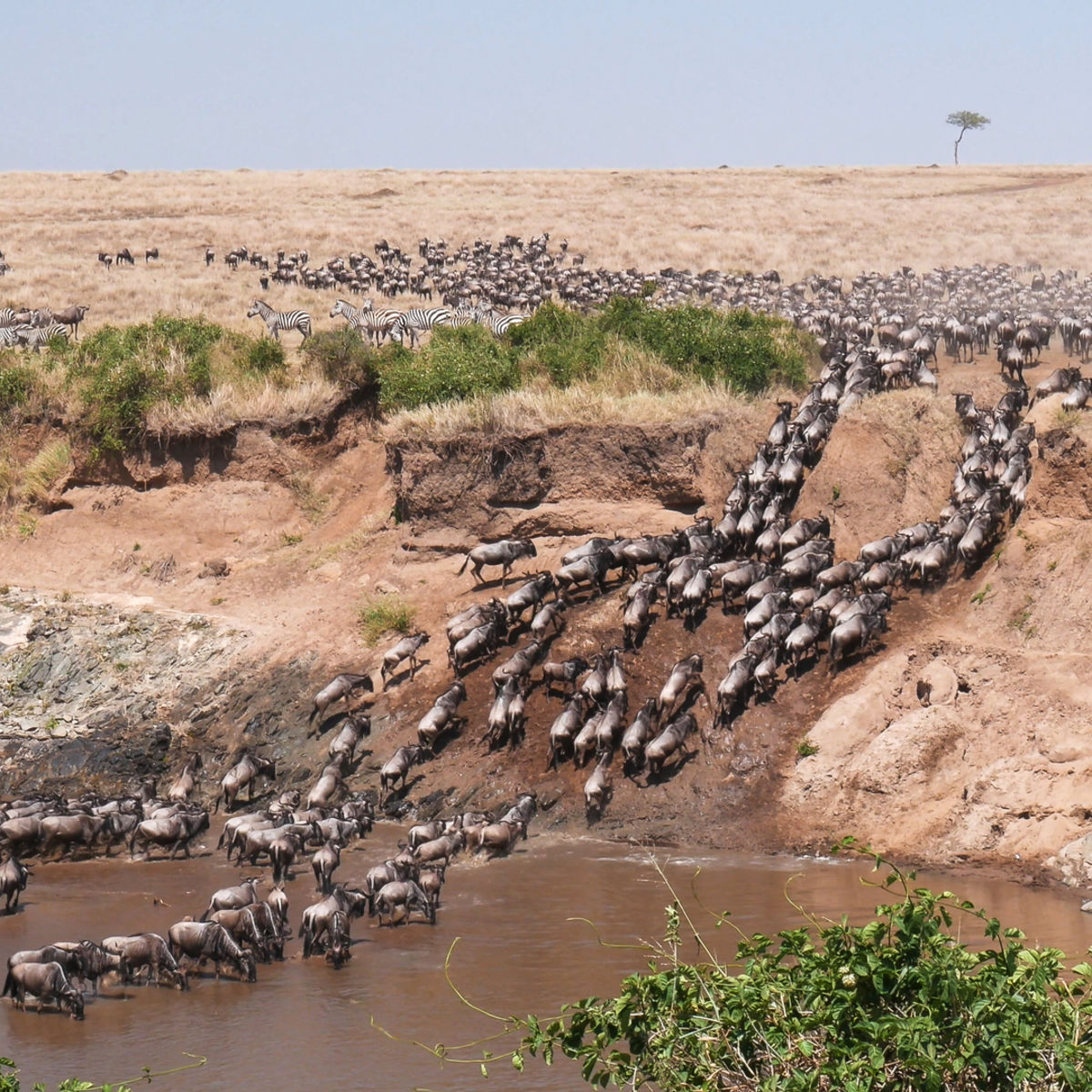 Best time to visit Kenya for safaris, beach holidays and diving
Jul 18, 2023
Reading time: 15 minutes
November to March is the best time for beach and diving holidays in Kenya, while July to October is when you can enjoy a Great Migration safari. Read on for some other important details, as well as our advice for missing the crowds during peak seasons.
Most folks heading to Kenya want to go on safari to see the Big Five as well as the Great Wildlife Migration. But many also know that Kenya offers some of the best diving in the world, as well as pristine, beautiful beaches that make for idyllic beach getaways.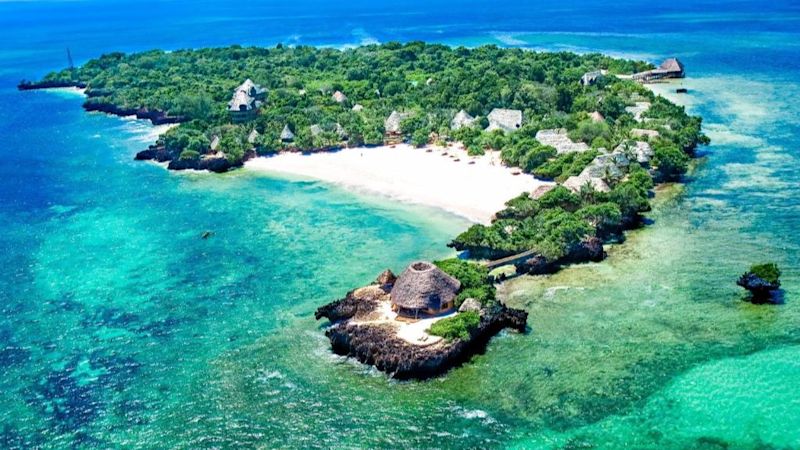 Chale Island has one of Kenya's very best beaches
With this in mind, we discuss the very best time for each, as well as when to go to combine a safari with a beach holiday.
But if you don't want to read a whole blog post and just want a quick answer without any of the reasoning behind it, then ...
August and especially September are the perfect months to visit Kenya if you want to see the Great Migration AND have a great beach holiday that includes some diving.
When can I see the Great Migration in Kenya?
As we discuss in All you need to know about the Great Wildlife Migration, the Great Migration mostly takes place within neighbouring Tanzania to the south. But every year, between roughly June and October, the migratory herds cross the border and spend time in Kenya's Maasai Mara National Reserve to enjoy its greener pastures.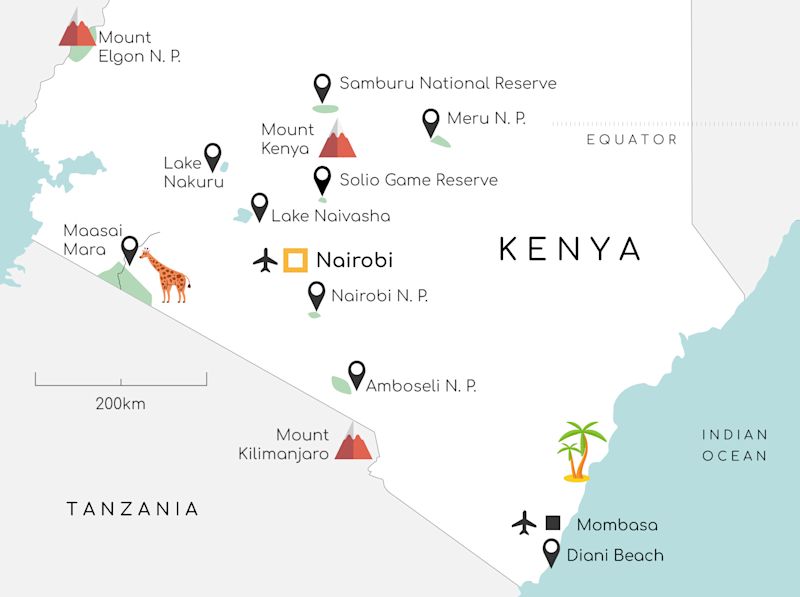 Tourist map of southern and central Kenya
August and especially September offer you the closest thing to a guarantee of seeing the Great Migration in Kenya.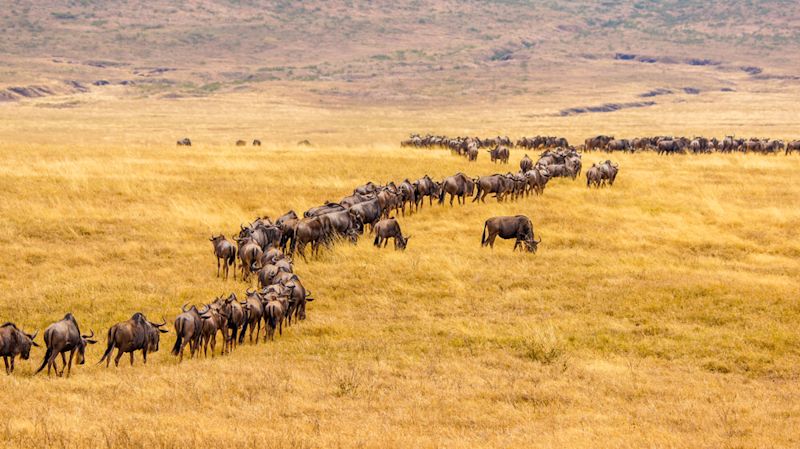 Great Migration wildebeests moving in a long line
While the migration is naturally not something you can timetable exactly, the herds generally arrive in Kenya's Maasai Mara National Reserve in July. Around early or mid October, they then head south into Tanzania again. So the window for seeing the Great Migration in Kenya is July to October.
That said, August and September in particular are the safest bets for enjoying a Great Migration safari in Kenya, as the herds can sometimes arrive in and depart Kenya earlier or later than the norm.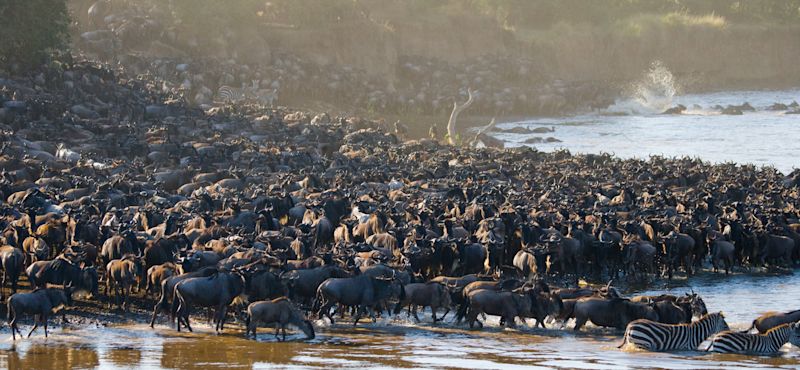 The Mara River crossings of the Great Migration are a massive Kenya safari magnet
If you're interested in witnessing in the Great Migration, you might enjoy reading 7 truly stupendous facts about the Great Migration.
When is the best time for a Kenya safari in general?
Kenya's safari visitors naturally swell in numbers during its Great Migration season. But there are other reasons for visitors to come then or at other times of the year, such as the wish to ...
Avoid the hottest and most humid months

See as many different animals as possible

Witness the birthing season and see baby animals

See lots of predatory action

Enjoy softer, greener and flowering landscapes

See many migratory bird species

Avoid the crowds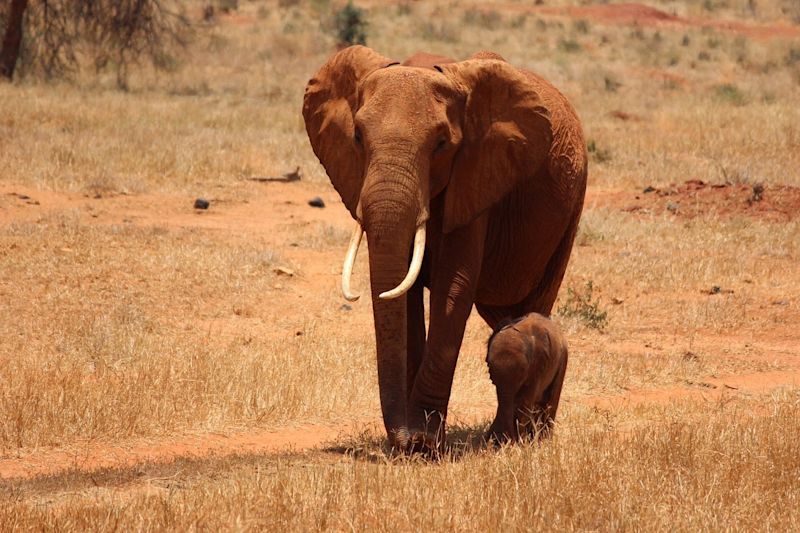 An elephant cow with her newborn calf
So in terms of the above considerations, here's what you should know ...
When is the weather the most pleasant for safari?
Depending where in Kenya you head for safari, the seasons as well as average temperatures and rainfall will vary.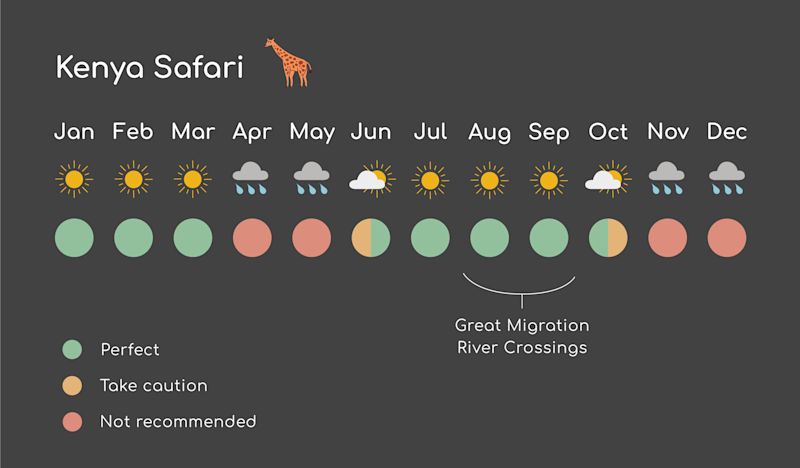 What we can tell you is that Kenya's seasons are roughly the following:
The short dry season (which is good for safaris) is mid December to March.

The long wet season (when a safari isn't a good idea) is April to early June.

The long dry season (which is excellent for safaris and thus peak season) is late June to mid October.

The short wet season (which is risky for safari, but can be rewarding) is November and sometimes early December.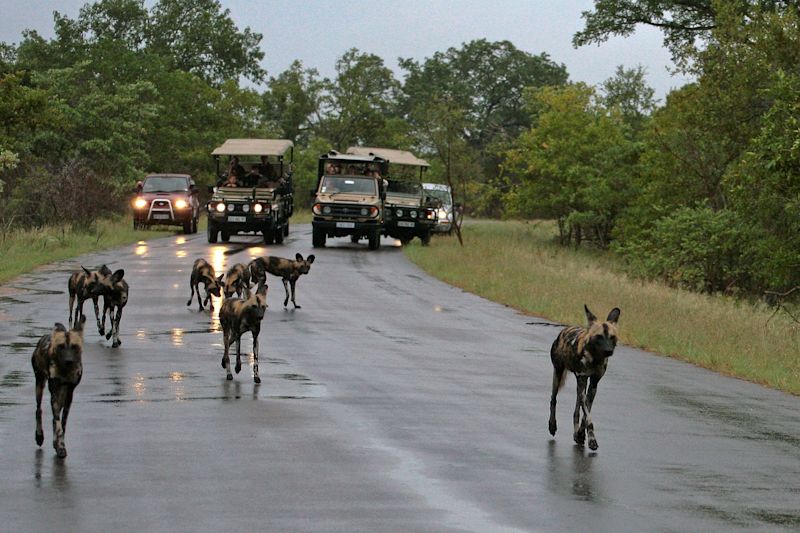 Wild dogs spotted on a rainy safari day
Note that not only does rain mean difficult animal-spotting conditions, but when you're on dirt tracks (which is most of the time), things can also become very muddy. It's not uncommon for a safari vehicle to become stuck, sometimes for hours even, if you try to navigate a too-boggy track.
So you really want clear days as well as overall dry conditions to ensure plain sailing, as it were, on your safari drive. We therefore suggest completely avoiding the long wet season.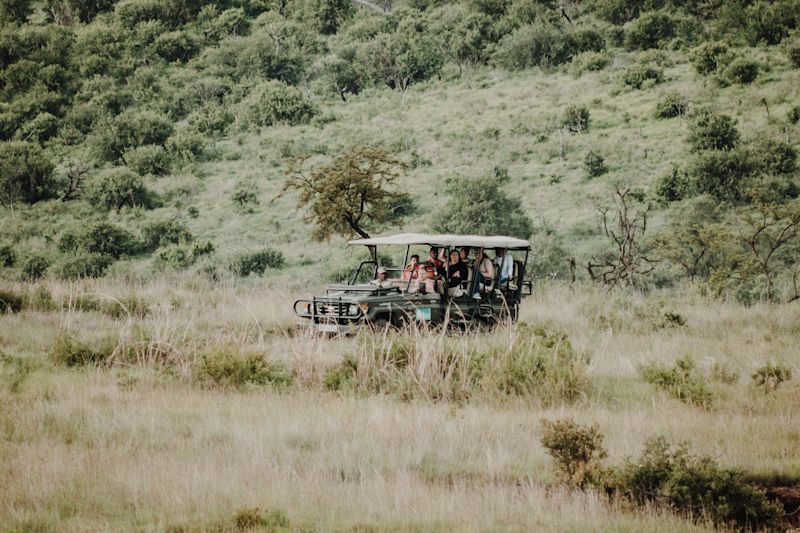 Dry conditions are obviously ideal for safaris
When is peak safari season in Kenya?
There are two peak seasons in terms of Kenyan safaris, namely:
January to March

June to October
July to September are the busiest months, especially in the southern Kenyan parks and reserves like Maasai Mara National Reserve, where you can see the Great Migration.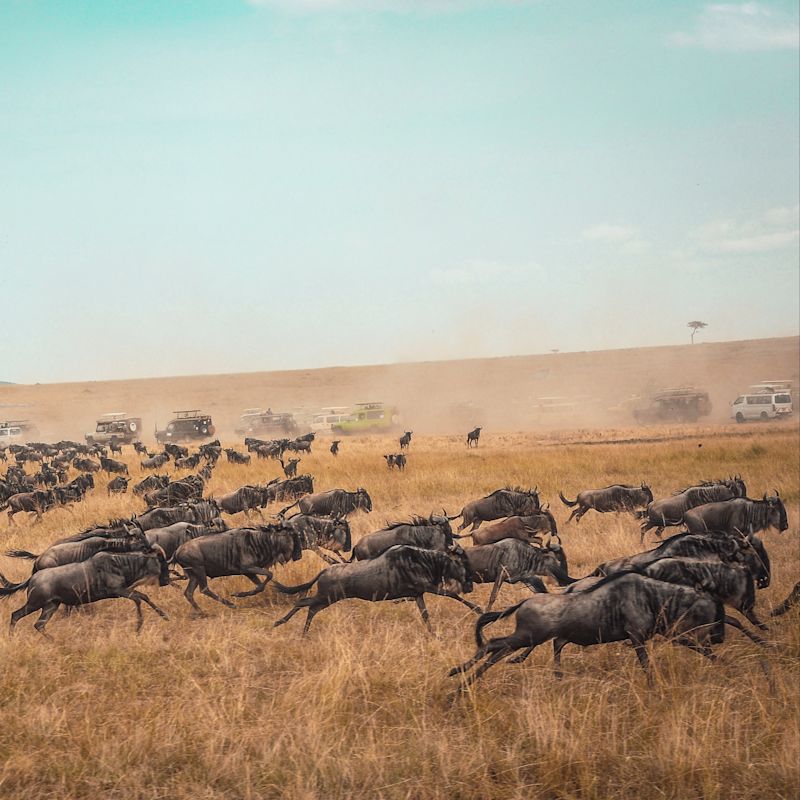 A line of safari vehicles watching the Great Migration herds in Maasai Mara
When will I see the most animals?
If you're looking for sheer quantity of animals, then you can't beat Maasai Mara National Reserve in southern Kenya between July and October. This is because the Great Migration herds – which consist of about two million hoofed animals – cross over into the park at this time from Serengeti National Park in Tanzania to the south.
Even before you add the Great Migration herds, the Maasai Mara is famous worldwide as being one of relatively few African reserves where you can see the Big Five as well as a diverse range of other exciting animals, including crocodiles, cheetahs, hyenas, hippos and giraffes.
In fact, Maasai Mara National Reserve offers, in our opinion, one of the 5 best African safaris. It's also one of the top three African national parks for seeing lions.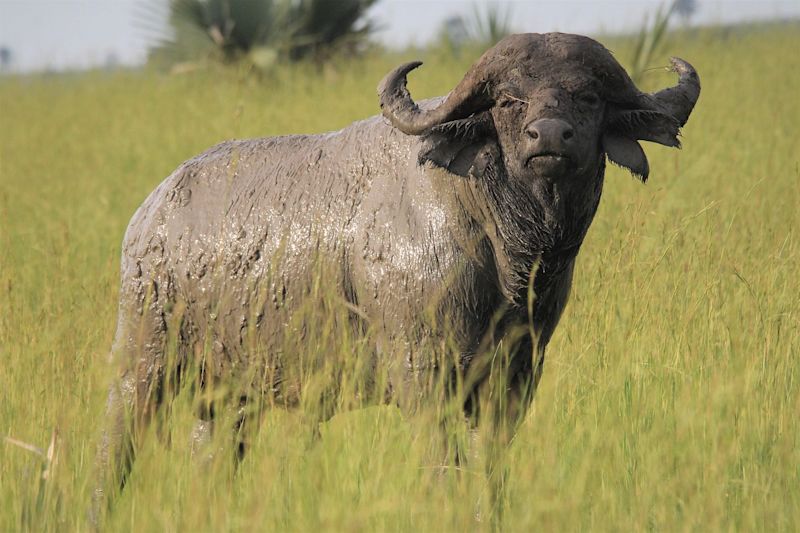 This fella – an African buffalo – just had a very successful mud bath!
Other notable parks for seeing lots of animals, as well as a diversity of species, are:
Amboseli National Park

, especially known for its massive elephant herds and having the majestic Mt Kilimanjaro in the background.

Tsavo National Parks (East and West)

, famous for being one of the largest wildlife conservation areas in the world.

Samburu National Park, Buffalo Springs, and Shaba Reserve

, which are home to unique wildlife species not found in other parts of the country.

Lake Nakuru National Park

in the Rift Valley, which is particularly renowned for its large population of pink flamingos.

Aberdare National Park

in the central highlands of Kenya, which is a lush and scenic park where you can spot a great diversity of wildlife.
When is birthing season so I can see baby animals?
Birthing season for Africa's antelopes, wildebeests and zebras is usually January and February, but some newborns can appear as early as December and as late as March.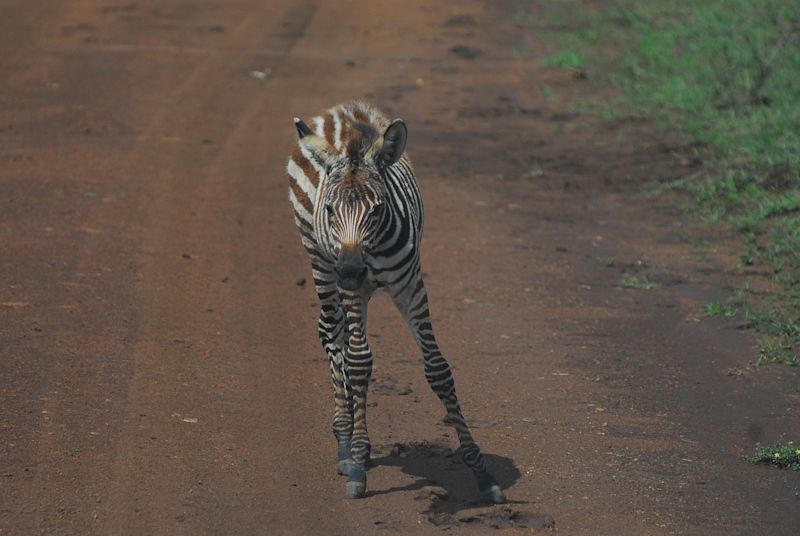 Zebras are among those animals that calve early each year
December to March is the short dry season in Kenya, and so going on a safari in January or February to see calvings and newborn animals is a great idea. The parks can be busy, but they're not as busy as they are in the long dry season later in the year.
What's more, having had the short rains in November, the landscapes also tend to be lusher and prettier at this time of year. The one downside is that the temperatures and humidity levels can be quite high. But this is less of an issue in the highlands than it is near the coast, and we don't think you should let it concern you overly much.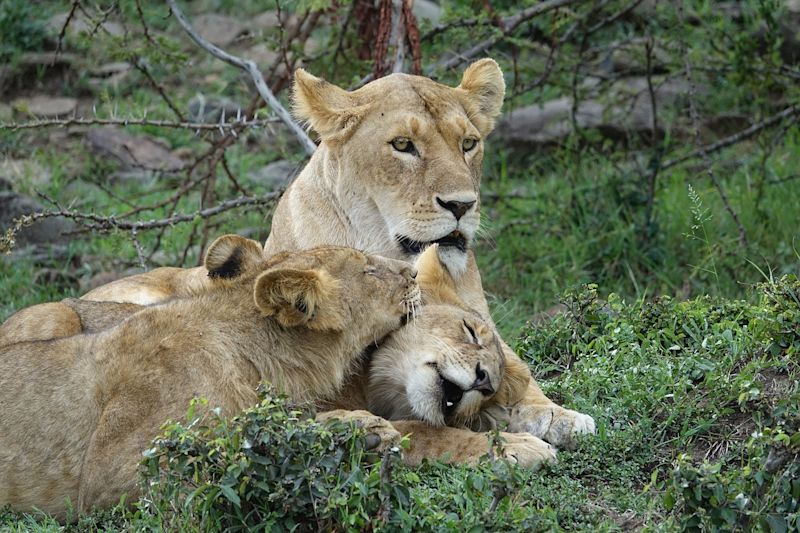 The landscape springs back to life after the November rains
When is the best time for lush, flowering landscapes?
If you want to see lots of animals (which means visiting when there's little rainfall) but also pretty surroundings, then we suggest visiting Kenya between December and March. This period is known as the short dry season and comes just after the November rains, which cause a burst of growth across previously parched landscapes.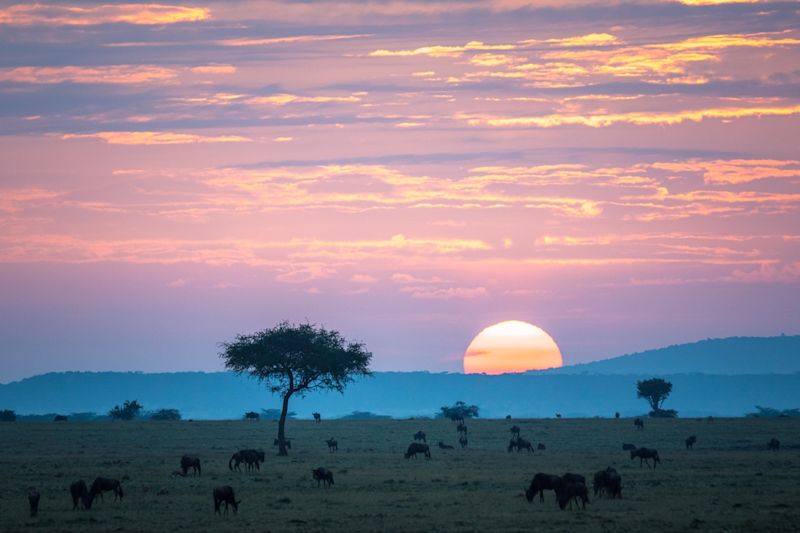 Wildebeests in southern Kenya's Maasai Mara National Reserve
As already mentioned, Aberdare National Park in the central highlands is a particularly green and pretty park if you're keen for a safari in a very scenic part of the country. Here you can find lilies, orchids and lots of alpine flowers.
Two other parks that offer great safaris while also boasting gorgeous scenery and lots of interesting plants and pretty flowers are:
Hell's Gate National Park

, which has towering cliffs, gorges and geothermal activity, and also offers a variety of plant life like red hot pokers and Cape chestnuts.

Lake Nakuru National Park

, whose eponymous lake is surrounded by picturesque acacia woodlands and grasslands that sprout colourful flowers after the rains.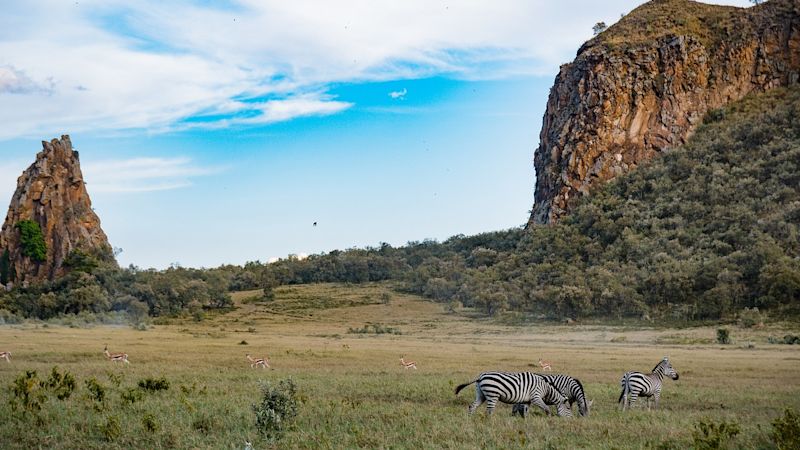 Zebras and Thomson's gazelles in Hell's Gate National Park
When will I be able to see many bird species?
There are many endemic and resident bird species to Kenya, so you can enjoy excellent birdspotting all year round. Some local species that visitors are often excited to see are the Taita thrush, Hinde's pied babble, and golden-breasted starling.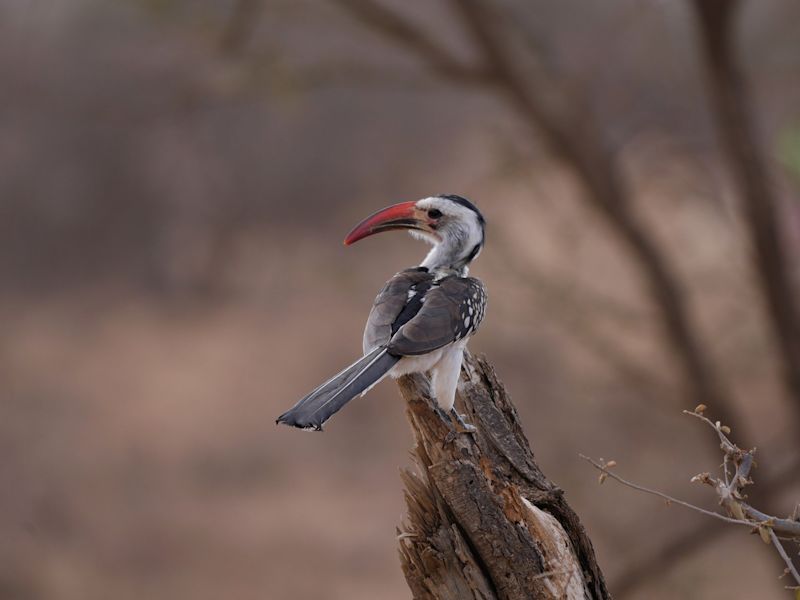 Hornbills are commonly sighted in Kenya
That said, the very best time of year for birdspotting does not, unfortunately, coincide with the best time for big game spotting.
While peak season for safaris is June to October, the prime time for birdspotting is November to April, as this is when migratory birds from northern Africa and Europe are present. Furthermore, many resident bird species are nesting at this time and in their breeding plumage!
When (or how) can I avoid the safari crowds?
In terms of safaris, July to October in the southern parks and reserves like Maasai Mara and Amboseli National Park can be very busy and crowded. It's a common sight to see 10 to 20 vehicles crowded around a 'big ticket' animal like a lion or elephant inside of these parks. And if there's a Great Migration river crossing taking place, you should expect there to be many vehicles on site!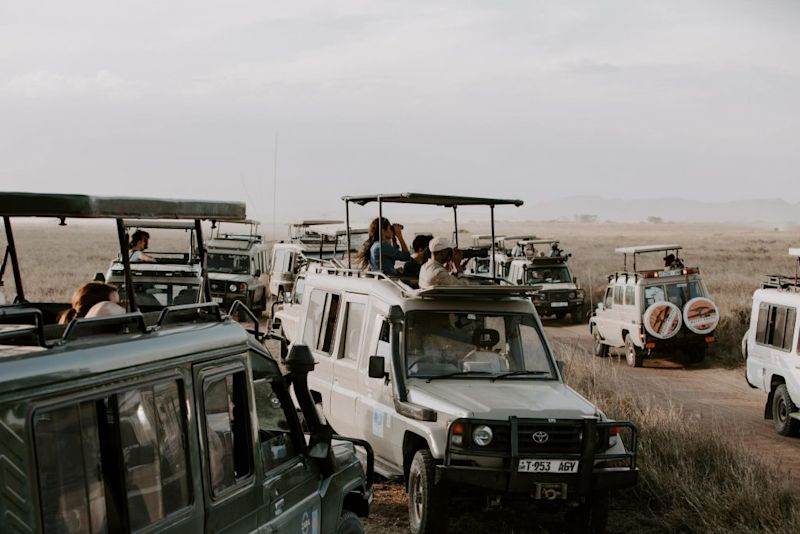 Some Kenyan game parks have some super busy months
For some, sharing the scene with lots of other safari-goers is just part and parcel of the experience and thus not a biggie. Further, if you want to ensure you see the Great Migration, then you need to head to Kenya in August or September, which means visiting during peak season.
If, however, you're one of those folks who hate going out in public only to find that the public is audacious enough to be there as well (!), then you might want to consider doing a safari not centred on the Great Migration.
So if you really want a quiet safari, there are two main ways to avoid the crowds:
Visit during off-peak season or at the very start or end of peak season (thus giving yourself the

chance

of seeing the Great Migration herds).

Go on a northern Kenya safari.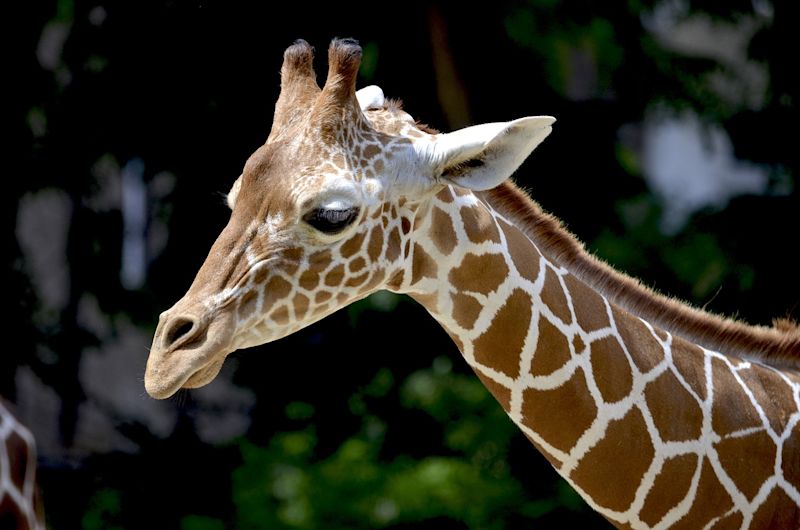 Reticulated giraffes are a great feature of northern Kenya safaris
We refer to our northern Kenya safari as our "Undiscovered Kenya" itinerary, because so few visitors head this way. Those in search of a really quiet safari will thus love it here!
Two other bonuses to a northern Kenya safari are:
The vegetation in this region is drier and very different from the south, and so offers a different sort of beauty to enjoy.

You can look for the 'Samburu Special Five' (gerenuks, reticulated giraffes, Grevy's zebras, Somali ostriches and beisa oryxes), which are found nowhere else in Kenya!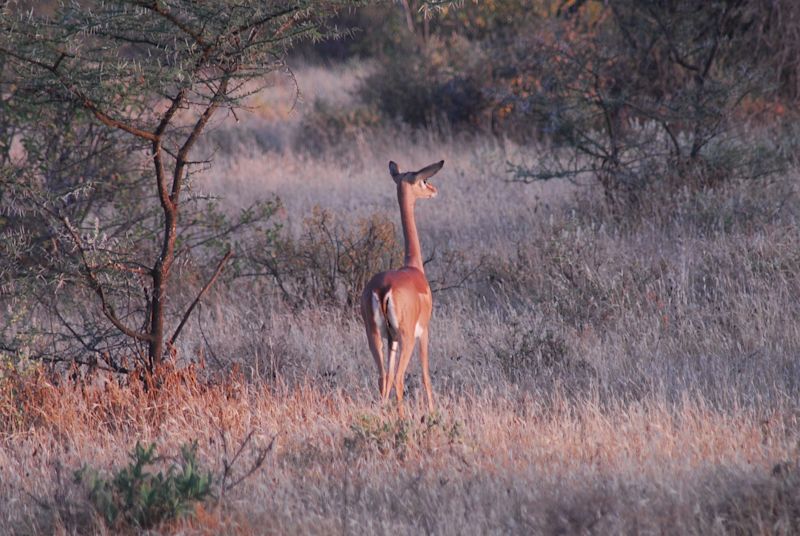 The name gerenuk is Somali and means 'giraffe necked'
A note: While the tourism industry calls safaris in and around the Samburu region "northern Kenya safaris", they're really more central Kenya than northern Kenya. These parks are nowhere near the far north, which is where safety concerns can come into play (because of the troubles in neighbouring Somalia).
Somali (or blue-necked) ostriches can only be found in Northern Kenya
When is the best time for a beach holiday in Kenya?
Kenya – which straddles the Equator – has warm to hot coastal weather all year round. The coast has a tropical climate, and daytime temperatures almost never drop below 20℃ (68℉).
November to March are the best months for a Kenya beach holiday.
This could be you! ☝🏽
The months of November to March have the hottest weather, least number of days with rain, and the most hours of sunshine. If you head to the beach during this time, you'll be in and out of the water all day long to cool off. The perfect beach holiday!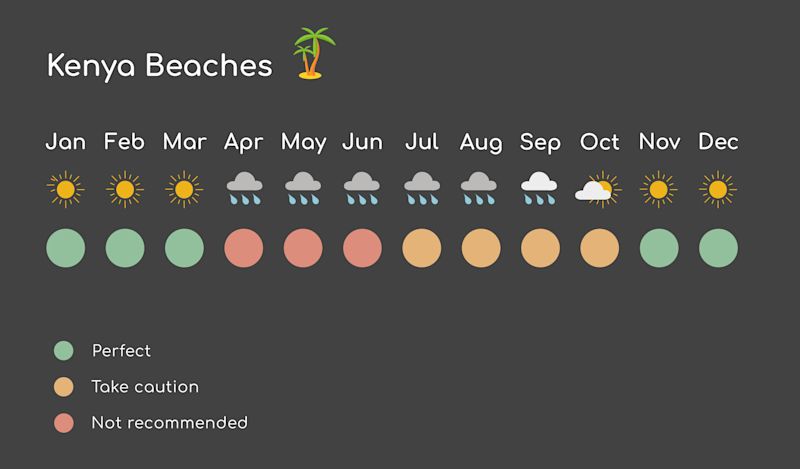 The graph below shows you the annual weather patterns in the port city of Mombasa, which like the rest of eastern Kenya is affected by the Indian Ocean's monsoon cycle.
| | Average days with rain |
| --- | --- |
| January | 6 |
| February | 3 |
| March | 7 |
| April | 15 |
| May | 20 |
| June | 15 |
| July | 14 |
| August | 16 |
| September | 14 |
| October | 10 |
| November | 10 |
| December | 9 |
Being at sea level on the southern coast, Mombasa's average rainfall can be taken as roughly representative of all the popular southern seaside destinations like Malindi, Chale Island and Diani Beach. If you head to the north coast – somewhere like the gorgeous Lamu Archipelago – you can expect roughly half the average rainfall that's experienced along the south coast.
A note on rainfall: It's worth noting that "days with rain" in Kenya generally doesn't equal days of long and steady rain. Rather, rainfall usually comes in relatively short but intense bursts in the late afternoon or evening after a day of big heat.
When is a good time for water sports?
December and March are the perfect months for wind-based water sports like windsurfing, as the winds along the coast of Kenya are strong at these times. November, January and February are also good months. But if you or someone in your group is very big on wanting to laze on the sand, then maybe avoid January, the coast's windiest month.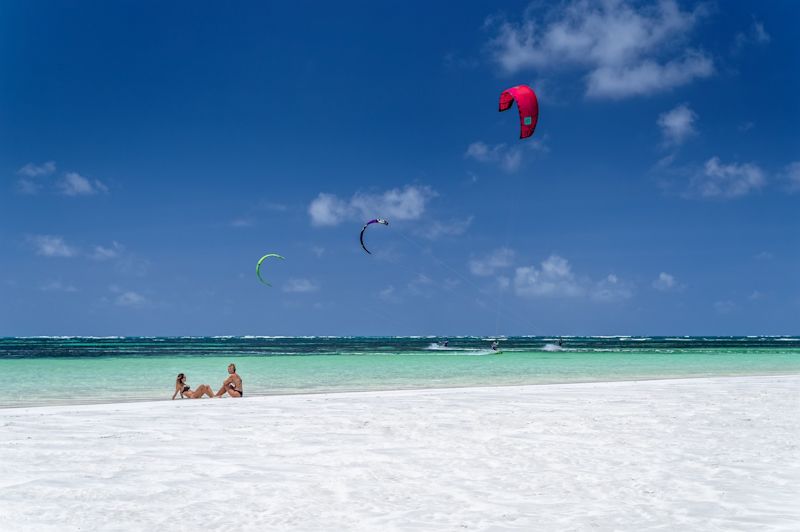 Wind- and kitesurfing are popular water sports along Kenya's coast
The wet monsoon wind (known locally as kusi) brings rains to the Kenyan coast between May and October, with May and June receiving the most rainfall. So we recommend avoiding these two months when planning your Kenya beach vacay.
If you're not a fan of humidity, you'll struggle on the Kenyan coast, as the humidity is always there. That said, just stay close to the water and then you should be fine! February is the least humid month of the year, if that helps, but it's still humid.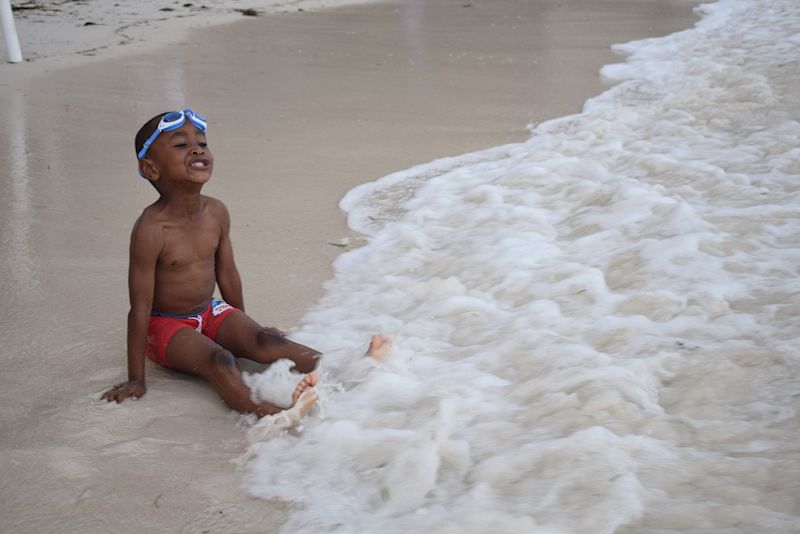 Kenya's gentle waters are the perfect playground for kiddos
When is peak season for Kenya's beaches?
The busiest month along the Kenyan coast is December, followed by November and March. These are some of the months with the best beach-going weather, so no surprises there.
While many can't get leave in February, those that can should consider this month for a Kenya beach holiday as the weather is perfect and the beaches aren't too crowded.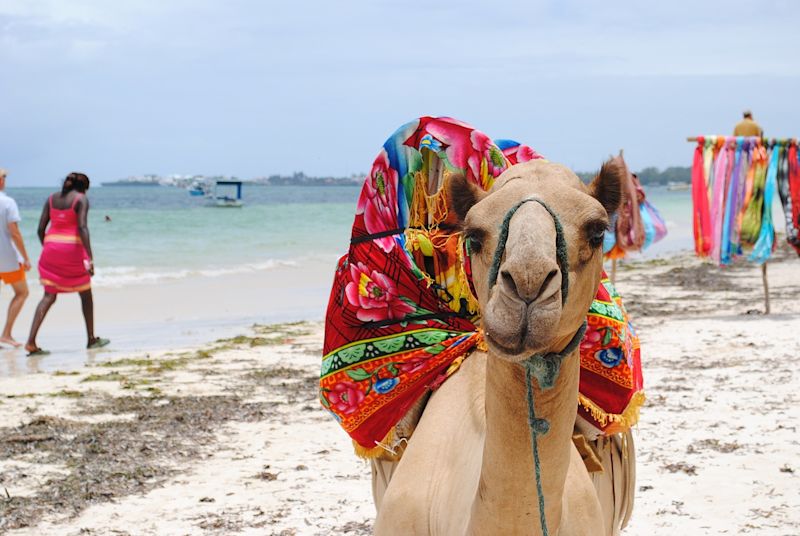 You know you're not in Miami or Thailand when you see camels on the beach!
When is the best time for diving in Kenya?
You want calm waters for a snorkelling and diving holiday in Kenya so that there's good underwater visibility. You don't want to miss seeing the country's incredible coral reefs and diverse marine life in their full glory!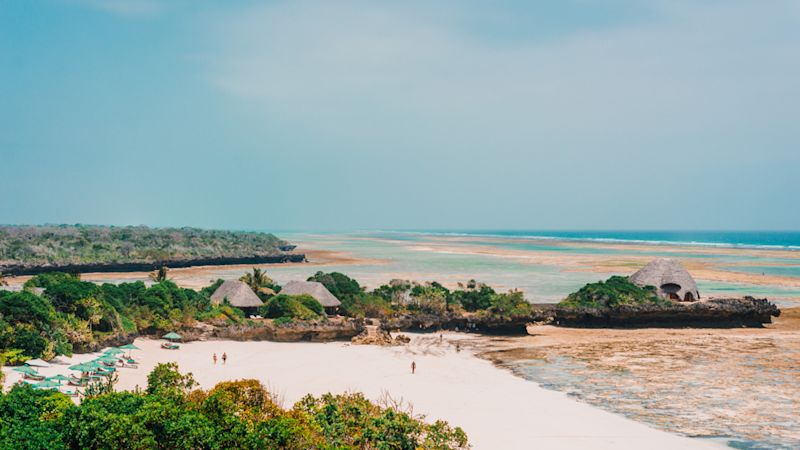 The Sands at Chale Island is a perfect base for diving in Kenya
The best time of year for diving and snorkelling is the same as the best time for a beach holiday in general: November to mid March.
November, December and March generally offer the calmest waters and thus best visibility for snorkelling and diving in Kenya.
Note that early March is a safer bet than later March, in case the kusi monsoon rains arrive early the year you're there.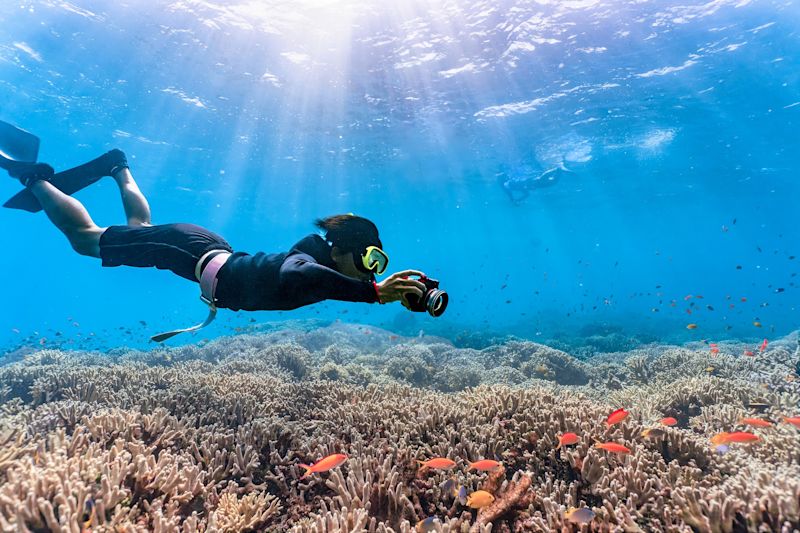 Calm waters are key for a good snorkelling or diving expedition
The good news is that the shallows and channels along the southern Kenyan coastline are always relatively calm, as there are many coral reefs protecting them. The village of Shimoni and the island of Kisite, both in the south of the country, have the highest coral diversity, just FYI.
Excitingly for divers, Kenya has over 250 coral reef species on offer!
An aside: seafood is great option for mealtime when staying on the coast of Kenya! And while it may come as a surprise to some, sushi is a popular dish here.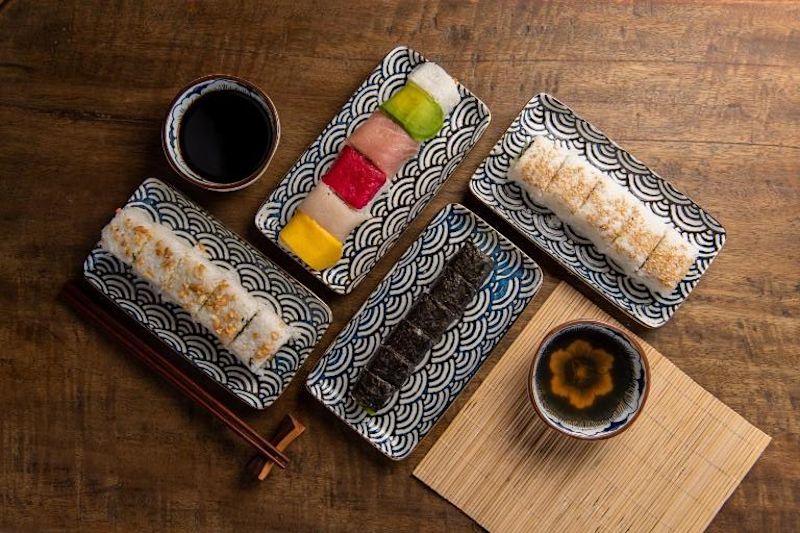 Delicious sushi at Sands of Chale Island in southern Kenya
When it comes to sea water temperature, you're golden all year round in Kenya. The country's super popular Diani Beach is a case in point ...
Diani Beach's average sea temperature
If you look at the average sea temperatures for Diani Beach on the south coast of Kenya in the table below, you can see that only the most lily-livered (ahem, sensitive) soul could object to the water temperature at any time of year.
| | Average sea temp (℃/℉) |
| --- | --- |
| January | 26-30 / 80-86 |
| February | 26-30 / 80-86 |
| March | 26-31 / 80-89 |
| April | 27-31 / 81-89 |
| May | 26-30 / 80-86 |
| June | 25-29 / 77-84 |
| July | 24-27 / 75-81 |
| August | 23-27 / 73-81 |
| September | 23-27 / 73-81 |
| October | 24-28 / 75-82 |
| November | 25-30 / 77-86 |
| December | 26-30 / 80-86 |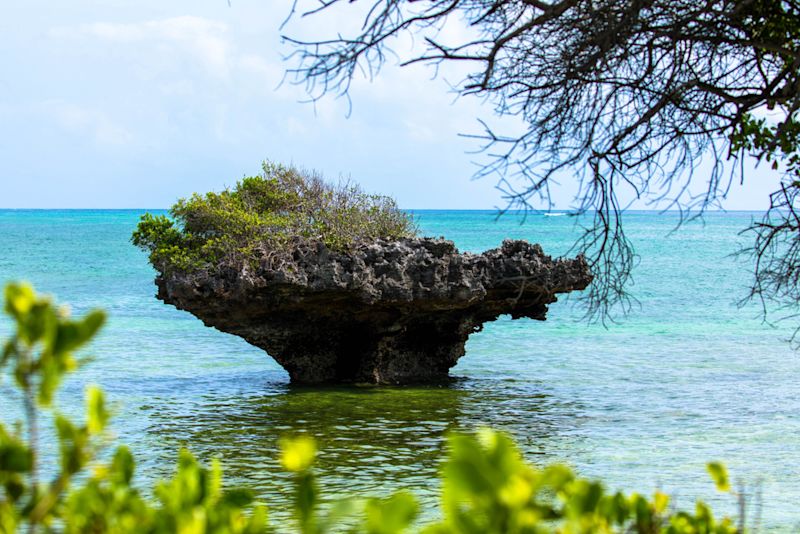 Kenya's coastline is an explorer's dream world
When is the best time for a safari AND a beach holiday in Kenya?
If you want to pair your beach and diving trip with a Great Migration safari, then we recommend visiting during September. This is the perfect month for an almost guaranteed Great Migration sighting while still offering pretty decent weather conditions along the coast.
To increase your chances of good coastal weather, head to Maasai Mara National Reserve for the Great Migration before heading to the coast.
While September isn't the best month for a beach and diving holiday, you don't have much wiggle room with the Great Migration. And as mentioned, Kenya's coast has warm weather and waters all year round. So a September beach holiday can still be a fantastic experience. And it will have the added bonus of being free from the peak-season crowds.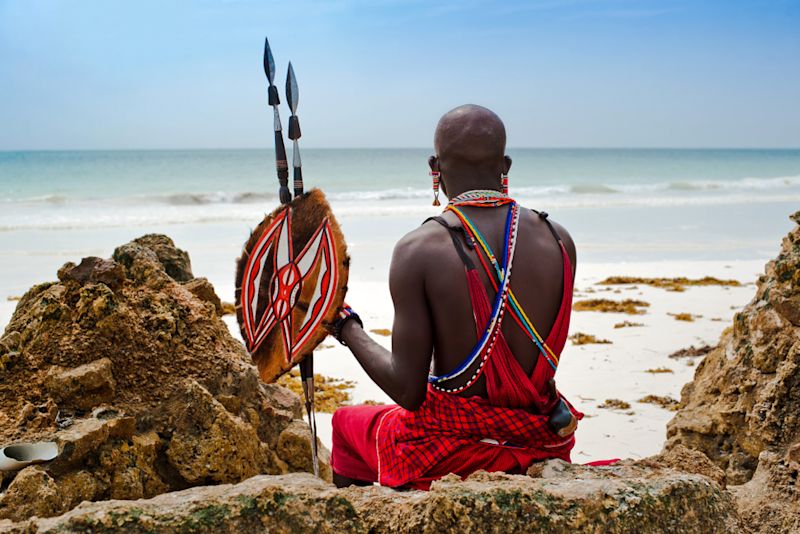 A Maasai man in traditional warrior garb on the beach in Kenya
Alternatively, if you really want to enjoy a Kenya beach holiday in peak season, why not consider visiting the Great Migration in Tanzania, which borders Kenya to the south? The Great Migration herds are in Tanzania from November to June, and you can have an equally incredible safari there, as we discuss in Kenya vs Tanzania – which offers the better safari?