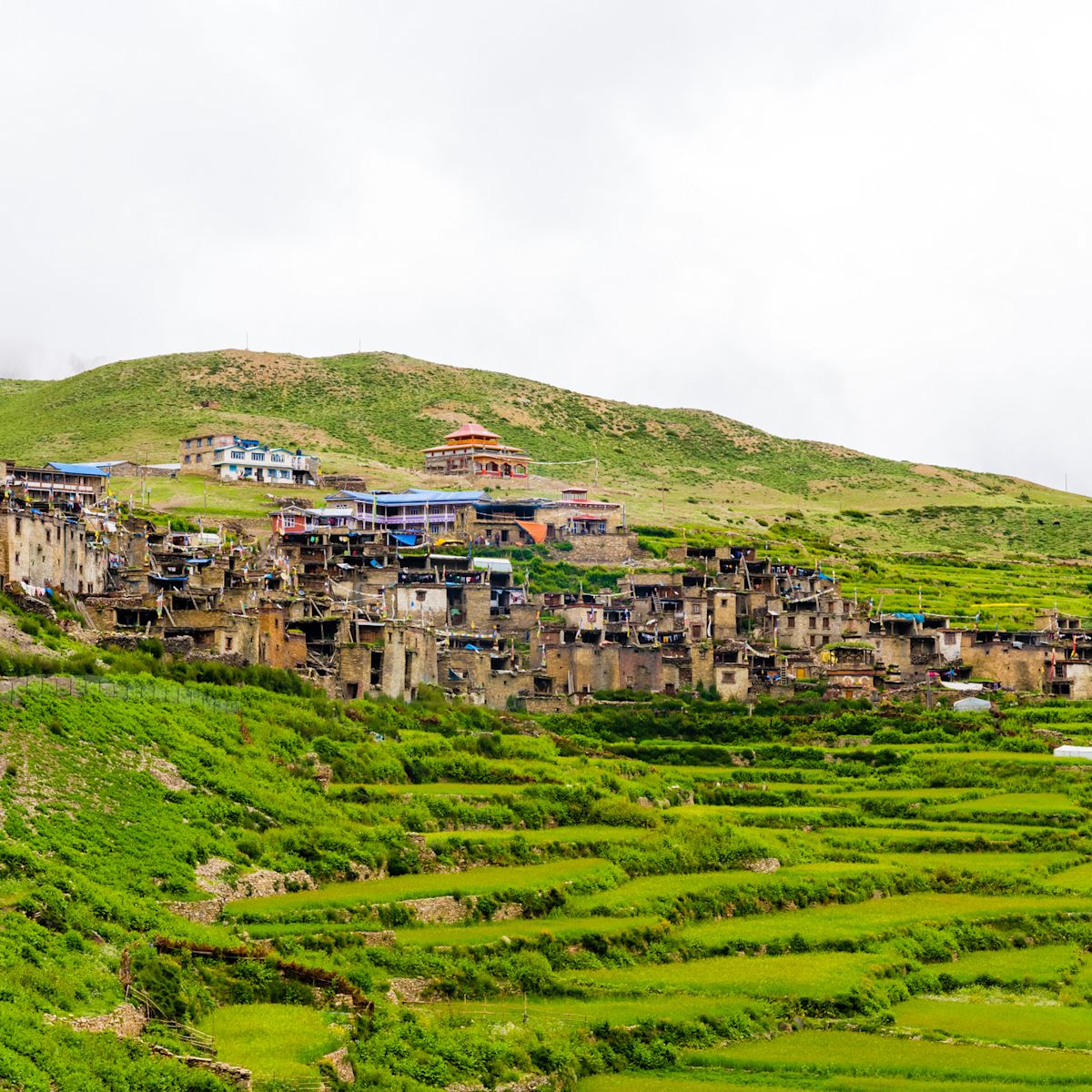 Nar–Phu and Annapurna Circuit trek route
Nov 2, 2023
Reading time: 24 minutes
The Nar–Phu and Annapurna Circuit trek is a fantastic, extended version of the classic Annapurna Circuit trek. It takes you into the quiet valleys of Nar and Phu where the scenery is otherworldly and dramatic. We discuss the route below to get you excited!
Nar-Phu and Annapurna Circuit route
If you're going to make the effort to travel all the way to the Annapurna mountains, we think there's no trek more rewarding than the Nar–Phu and Annapurna Circuit trek.
This 16-day trip (which includes 11 days of trekking) offers all the same highlights, views and excitement of the classic Annapurna Circuit, while increasing the number of trekking days, adding another mountain pass into the mix, and introducing you to the postcard-perfect villages and little-known culture of the Nar–Phu people.
Few trekkers take the time to turn off the main Annapurna Circuit trail and head into the Nar and Phu Valleys, but those who do find usually these quiet valleys to be the highlight of the trek!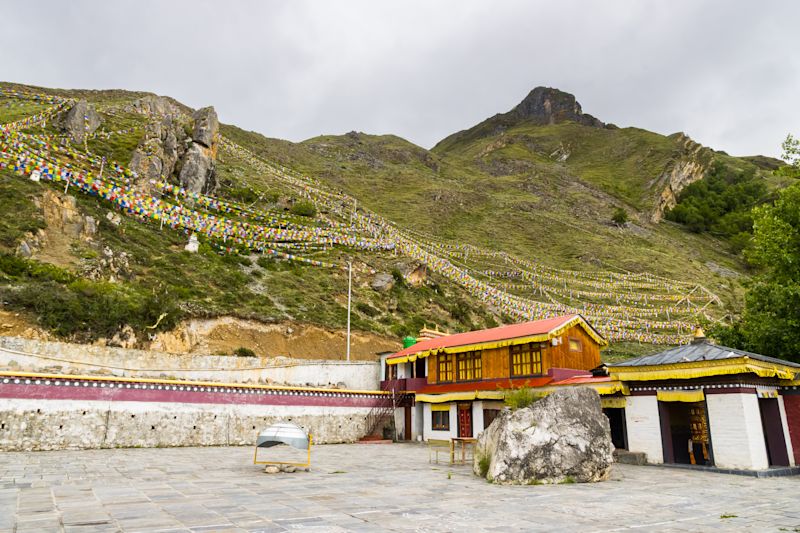 The region of Jomsom which you enter near the end of the trek
Let's look at a breakdown of the trip itinerary to give you more detail of what to expect, both logistically and in terms of the mountains, villages and cultures you will encounter on this epic trek.
Warning: you WILL start to plan a Nar–Phu and Annapurna Circuit trek after reading this. 😜
Trip itinerary
Here's a breakdown of the 12-day Annapurna Circuit trek as organised by Follow Alice. It begins with your arrival in Kathmandu and ends with your flight home.
Day 1:

Arrive in Kathmandu

Day 2:

Drive to Ngadi via Besisahar for lunch

Day 3:

Drive to Bagarchhap, then trek to Koto (3 hr)

Day 4:

Trek to Meta (7 hr)

Day 5:

Trek to Phu (7 hr)

Day 6:

Explore Phu and optional day hike to Himlung Himal Base Camp (5 hr)

Day 7:

Trek to Nar Phedi Monastery (6 hr)

Day 8:

Trek to Nar (3 hr)

Day 9:

Trek to Ngawal via Kang La (8 hr)

Day 10:

Trek to Manang (6 hr)

Day 11:

Trek to Yak Kharka (6 hr)

Day 12:

Trek to Thorung Phedi (5 hr)

Day 13:

Trek to Ranipauwa via Thorung La (7 hr), then drive to Jomsom

Day 14:

Fly to Pokhara, explore city

Day 15:

Fly to Kathmandu, explore city

Day 16:

Departure day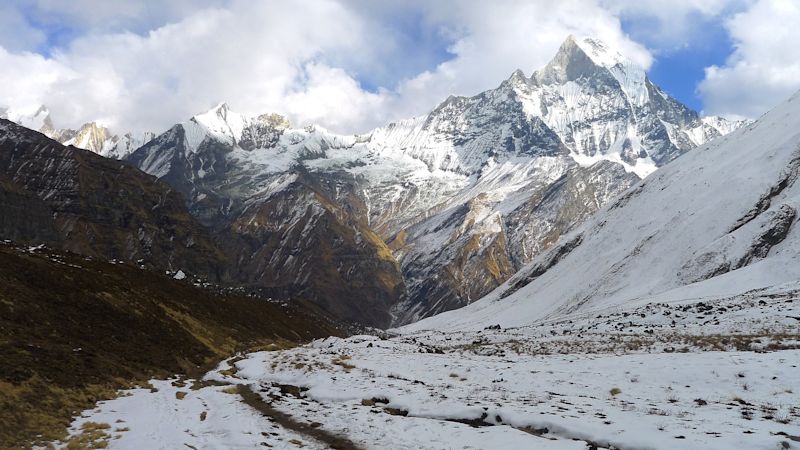 The Annapurnas are a sub range of the Himalayas and contain some of the world's tallest mountains
Day 1: Arrive in Kathmandu
Drive time:

40 min from airport to hotel

Overnight:

Hotel in Thamel, Kathmandu
First things first: we need you to fly into Nepal! Our local leader will meet you at Kathmandu's Tribhuvan International Airport (KIA), which is on the outskirts of the city. He'll then drive you to the hotel in the Thamel district of Kathmandu. This is a great part of the city, full of vibrant colours, the sounds of many lives being lives, and spicy fragrances.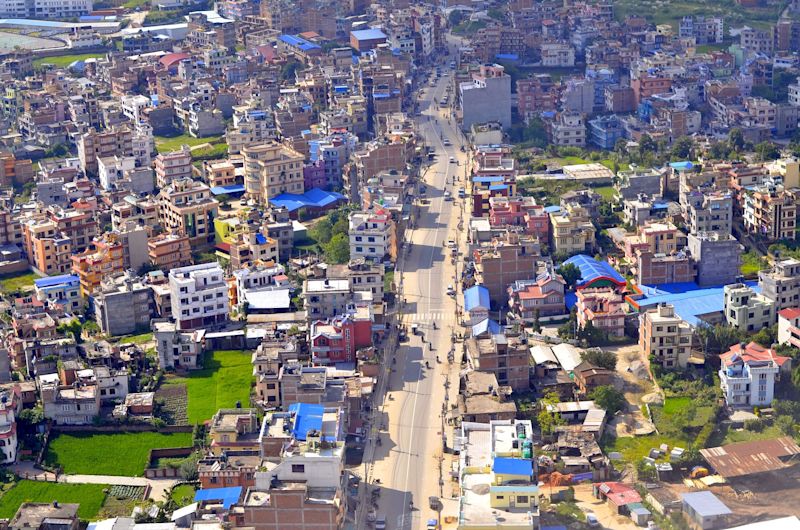 An aerial view of part of Kathmandu
Getting cash
As discussed in Annapurna Circuit cost, you might wish to exchange some money for Nepalese rupees while still at the airport. There's also free Wi-Fi in the international terminal, so you can easily let family know that you've arrived safely.
Hotel in Kathmandu
We usually have clients stay at Arushi Boutique Hotel, which we love. Drinks on the roof while chilling in the infinity pool and looking out over the valley bowl that is Kathmandu ... bliss!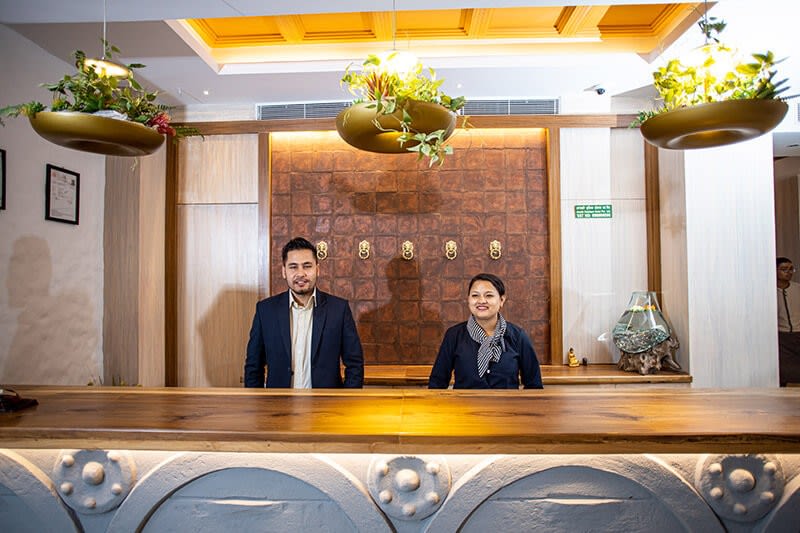 The lobby in Arushi Boutique Hotel
District of Thamel
If you arrive and there's still something you need for the trek, rest assured that Thamel is awash with shops servicing high-altitude trekkers. You can just wander out of the hotel and you're in the heart of a thriving shopping district. You can pick up whatever you need here, from a SIM card to thermal socks, snacks and trekking poles.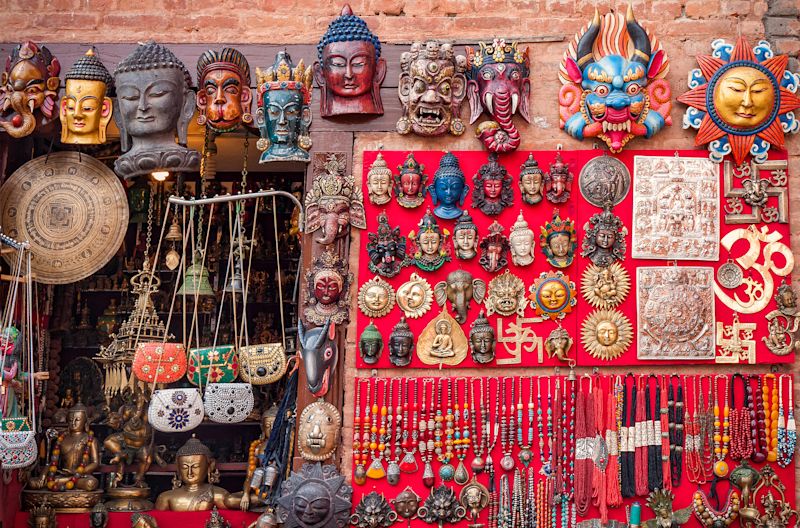 A souvenir shop in Thamel
Note that you can also just rent what you need in Thamel. For instance, you could rent a winter jacket or a sleeping bag – you don't have to buy such things.
There's also plenty of restaurants and food stalls in Thamel if you and your fellow trekkers want to have dinner out. But if you're tired, the hotel also has a restaurant that serves up some Western as well as Asian and local dishes.
Day 2: Drive to Ngadi
Drive time:

8-9 hr

Overnight:

Teahouse in Ngadi
Today we drive west in our private, air-con vehicle to reach the village of Ngadi in the Annapurna mountains for the night. It's a long day of driving, but the scenery keeps you entertained, and it's a great time to chat and bond with your fellow trekkers. We also break up the drive with a lunch stop in the town of Besisahar.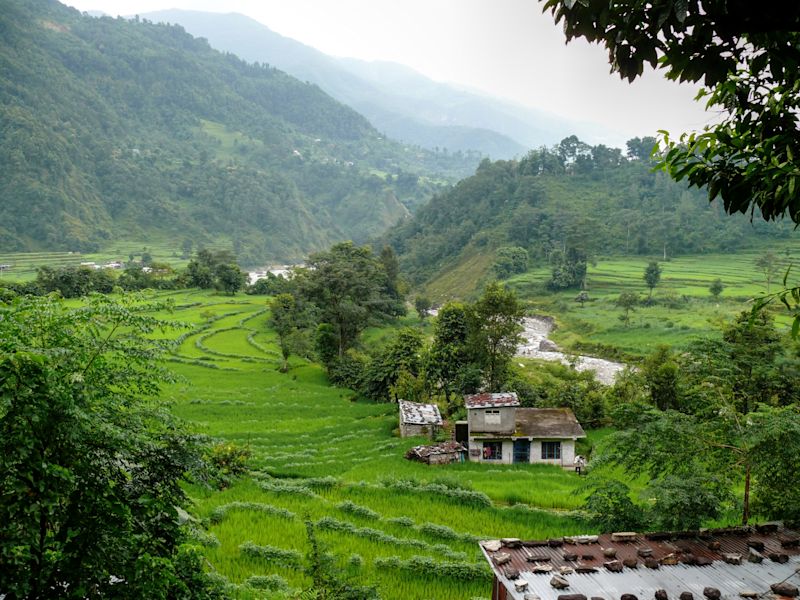 Many start the trek near the town of Besisahar
Besisahar
Besisahar (or Besi Sahar) is a busy town of about 40,000 in Lamjung District. The climate is subtropical, and the population a real mix of ethnicities and religions.
There are ATMs in Besisahar should you need to draw cash.
Besisahar is the traditional starting point of the Annapurna Circuit. These days, however, most opt to begin the trek further up in the mountains, because there's now a road connecting Besisahar and the first few days' destinations as far up as Chame.
We fall into this group: we prefer not to start trekking in Besisahar because you must then share the trail route with cars and trucks. It also makes the trek that much longer, and many of us just can't commit to such a lengthy journey.
Ngadi
Ngadi village, which is located in Manang District, is worlds apart from Besisahar. Here you really feel that you've left the hustle and bustle behind, and your adventure in the mountains begins!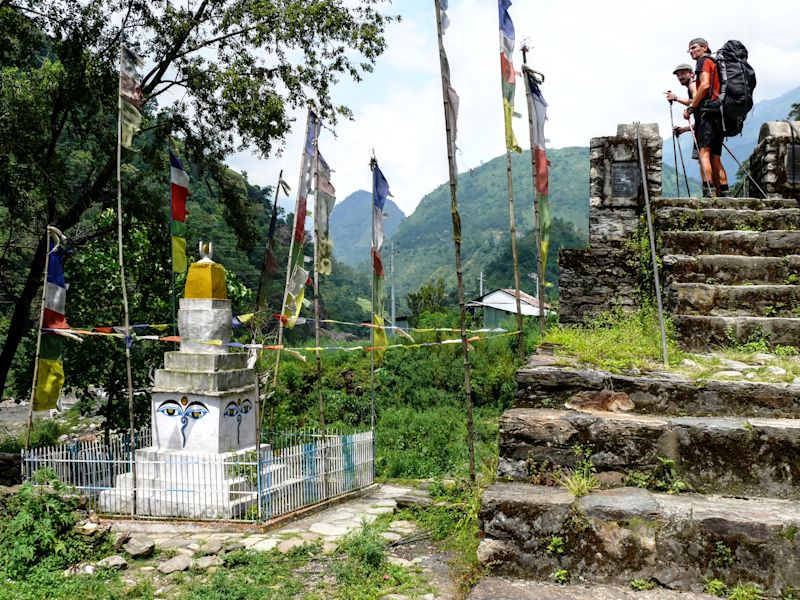 A stupa near the village of Ngadi
The village of Ngadi sits alongside the Ngadi Khola (River), and you might be lucky enough to spot a langur monkey or two while here.
Teahouses
Tonight you book into your first teahouse. Teahouses (lodges) are synonymous with Nepal treks. They're usually modest, family-run affairs, and each has its own unique character, adding to its charm.
While there are many teahouses to choose from along the classic Annapurna Circuit route, there are far fewer in the quieter and less touristy Nar and Phu Valleys. The variety of accommodation that you experience on the trek is part of the adventure, in our opinion!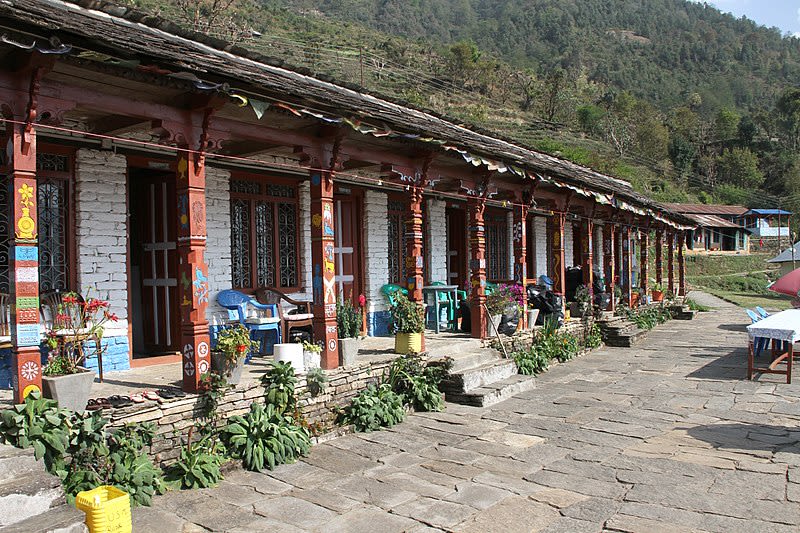 A teahouse on the Nar–Phu and Annapurna Circuit route
You always eat dinner and breakfast in the dining area of the teahouse where you overnight. These meals are a key part of the owners' income, as your room fee is not very much at all.
Dining rooms are where the fireplaces are at, so they're the warmest room in any establishment. Guests congregate there for meals and drinks but also to chat, read and play games. They're usually lively places where you can meet interesting people from all around the globe.
One of our favourite things about Nepal's teahouses is how they bring together explorers from all over the world – you never know who you might meet in a teahouse dining room!
Day 3: Drive to Bagarchhap, trek to Koto
Drive time:

3 hr

Trek distance:

12 km / 7 mi

Trek time:

3 hr

Koto elevation:

2,600 m / 8,530 ft

Elevation gain on trek:

440 m / 1,444 ft

Overnight:

Teahouse in Koto
Today is your first day of actual trekking! But first, you're driven deeper into the mountains in the morning to reach the village of Bagarchhap. From here, you give your duffel bags to the porters, and, escorted by your trek guides, you head off on foot, carrying just your daypacks.
Expect to climb on today's hike, as you gain nearly half a vertical kilometre today in altitude. There's no gentle easing into things on the Nar–Phu and Annapurna Circuit!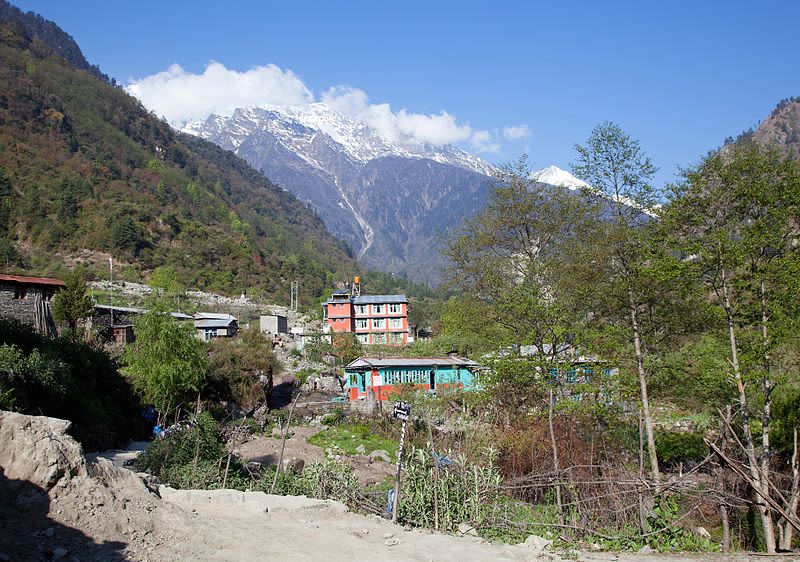 Bagarchhap, where the trekking begins!
Koto
Your overnight destination is Koto, also called Qupar. Koto is a pretty little village that sits on the valley floor alongside the Marsyangdi River.
Koto is the entrance to Phu Valley to the north, where you head tomorrow. Most trekkers, however, will continue westward along the classic Annapurna Circuit route. So Koto will be the buzziest settlement you stay in for a while – after this, things start to feel truly remote.
Note that Koto and Manang are the only places along your trek where there are shops to buy supplies.
The main street of Koto village
Day 4: Trek to Meta
Trek distance:

14.5 km / 8.5 mi

Trek time:

6-7 hr

Meta elevation:

3,560 m / 11,680 ft

Elevation gain:

960 m / 3,150 ft

Overnight:

Teahouse in Meta
This morning you head north into the mesmerising Phu Valley. By doing so, you leave the main Annapurna Circuit route. The Nar–Phu valleys are not nearly as frequented as the valleys of the main Annapurna Circuit, and you'll see a marked drop in trekker numbers.
A bridge in Phu Valley
You must show your restricted-area permit at the police check when exiting Koto. You then cross a suspension bridge spanning the Marsyangdi River to enter the Nar Valley. The path today runs almost entirely alongside the Nar Khola (River) within a deep, shaded gorge.
The Nar–Phu region is considered a 'baeyul', which means 'hidden land'. Most Annapurna Circuit trekkers walk past the branch in the trail to Phu Valley, never realising what treasures lie tucked away just a little further up that trail.
Today's trek increases your elevation by nearly a vertical kilometre, which is one of the biggest jumps in elevation anywhere along the Nar–Phu and Annapurna Circuit trek route!
Meta
Meta is located near the point where the Nar Valley intersects the Phu Valley. It's used as a winter settlement by residents of Nar village. It's also used as a base camp for climbers of Kang Guru (6,981 m / 22,904 ft), a beautiful mountain with sharp and steep ridges.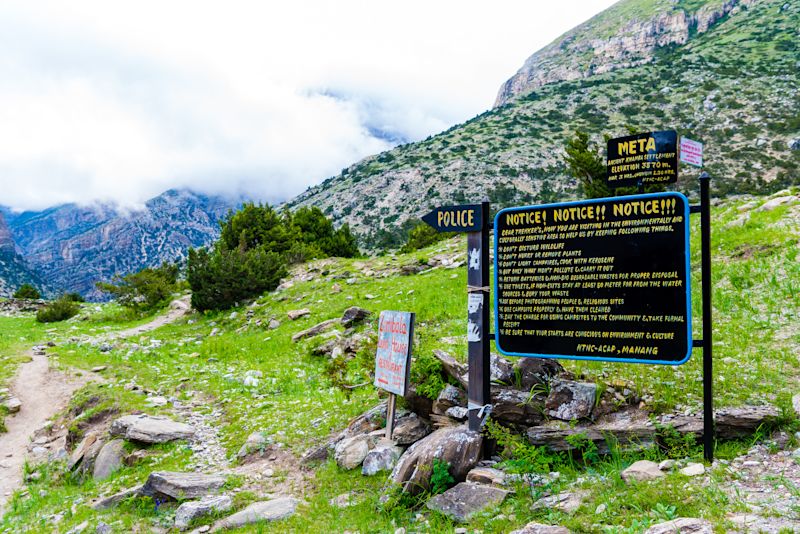 En route to Meta village
You should expect very basic accommodation in Meta.
Day 5: Trek to Phu
Trek distance:

16.5 km / 10 mi

Trek time:

7 hr

Phu elevation:

4,080 m / 13,386 ft

Elevation gain:

520 m / 1,706 ft

Overnight:

Teahouse in Phu
Today you trek north to the head of Phu Valley and its eponymous village of Phu. You keep to the righthand side of Phu Khola, often walking along a ledge carved into the cliff face. This is not a trek for those fearful of heights! But for those who can imagine, the Indiana Jones-esque scenery is incredibly exciting and rewarding.
The name Phu means 'head of the valley'. And yes, the village of Phu sits at the head of its valley.
The valley becomes very barren, with no trees, the further up you go. If you're lucky, you might see bharals (blue sheep).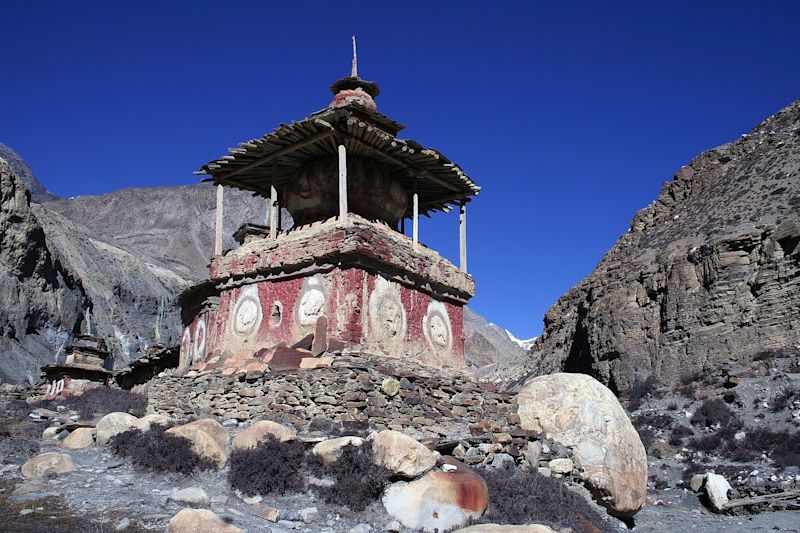 A chorten in Phu Valley
Near Phu village there's a ruined dzong (fortress), as well as chortens (Buddhist shrines), multicoloured prayer flags, and caves containing plenty of history. This is one of the reasons why trekking with a local guide is so invaluable – you'll hear all the stories and legends surrounding the landmarks you pass.
To reach Phu, you cross a suspension bridge, which adds to the charm of the approach.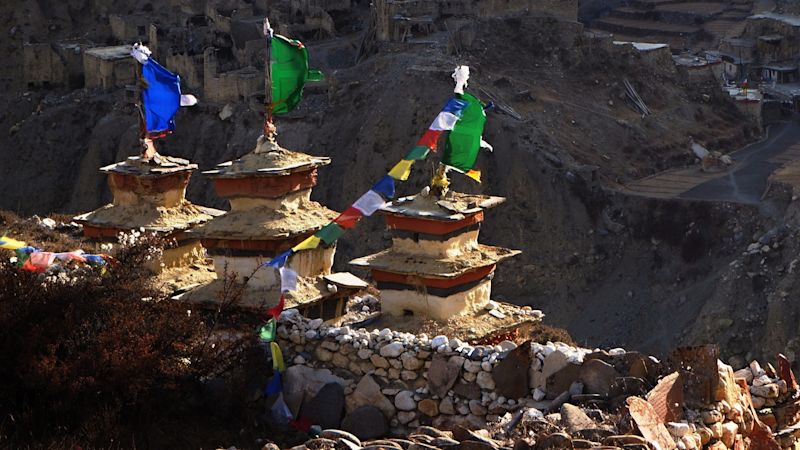 A view of Phu with chortens and prayer flags in the foreground
Altitude sickness
You gain another chunk in altitude today, and end up above 4,000 m in elevation. It's at this point that some trekkers experience symptoms of altitude sickness. It's nothing to be worried about, unless your symptoms become severe (and your trek guide will be monitoring you to see if you fall into this category).
For most, the side effects of the high altitude are mild, and simply a nuisance. Drinking lots of water can help to alleviate some of the symptoms like headaches. It's best that you come mentally prepared for the possibility of unpleasant altitude effects.
Drinking lots of water helps to alleviate any symptoms of altitude sickness.
Phu
The village of Phu is truly remarkable, like a fabled place that you're not quite sure is real. Perhaps it's just a drawing from a children's book? The small village (there around 40 homes) perches precariously on a bluff at the junction between Phu Valley and a side valley. The drop down to the valley floor is heady stuff.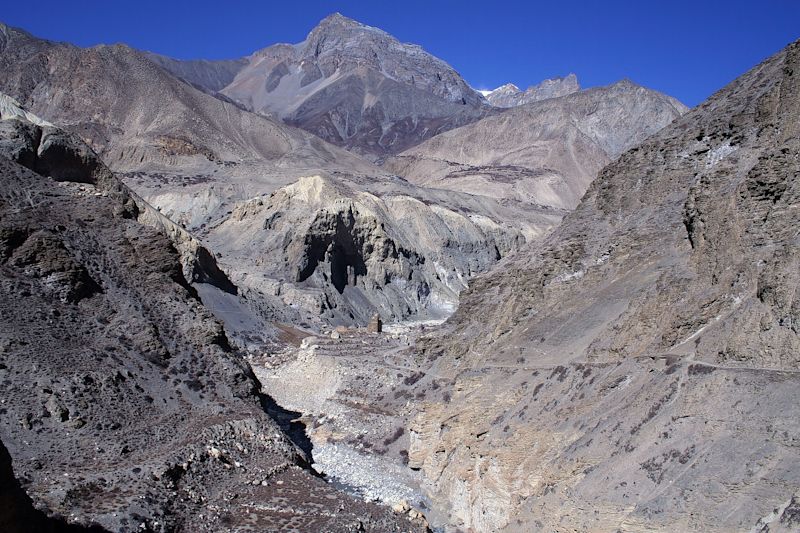 The winding route to Phu
Given its remote location at the head of a valley, supplies in Phu are minimal. There are no shops, and everything has to be brought in by mule from Koto. In winter, between December to March, almost all residents migrate to settlements lower down the valley.
The upper section of the village is deserted and falling apart. This was the fortified section that suffered from Tibetan raids.
Day 6: Explore Phu and day hike
Hike distance (roundtrip):

21 km / 13 mi

Hike time:

5 hr

Himlung Base Camp elevation:

4,842 m / 15,886 ft

Overnight:

Same teahouse in Phu
Today can be more than one thing, depending on your fancy. If you feel you need time to just rest, then go for it. You can stroll around the village, read your book, do what makes you happy. There are some places of exceptional cultural interest to visit, like Tashi Lhakhang Gompa ...
Tashi Lhakhang Gompa
Make sure to visit the village's Tashi Lhakhang Gompa. It's the most important monastery in the Nar–Phu region. A nun will give you a tour, showing you the prayer hall and its many treasures, the library, the apothecary and the chapel.
You can also visit Samtenling Gompa just above the village, but it's likely to be closed, so it'll just be for admiring from outside..
Hike to Mt Himlung Base Camp
Alternatively, for those who possess endless energy and hiking enthusiasm, there's a great (and challenging) day hike to the nearby Mt Himlung Base Camp. This hike is demanding as you climb nearly a kilometre in altitude.
You can also (or instead) visit the summer pastures of Ngoru Kharka for a view of Mt Himlung (7,125 m / 23,376 ft), as you can't see the peak from base camp.
Day 7: Trek to Nar Phedi Monastery
Trek distance:

15 km / 9.5 mi

Trek time:

6 hr

Nar Phedi Monastery elevation:

3,490 m / 11,450 ft

Elevation loss:

590 m / 1,936 ft

Overnight:

Nar Phedi Monastery
Today you go back down the Phu Valley as far as the junction with the Nar Valley. This is the only day on the entire Nar–Phu and Annapurna Circuit trek where you retrace your steps for part of the journey.
You actually go down in elevation on today's trek. This is good respite for your body, and will help it cope with the altitude jump involved in the climb up to Thorung La in a few days' time.
The route as you turn into Nar Valley is truly spectacular. You pass hoodoos (earth pyramids), for instance, as well the ruined and iconic Zampa Cho Dzong. And you must cross a bridge over a slot canyon that's 80 m deep! It's an adventurer's dreamscape.
Nar Phedi Monastery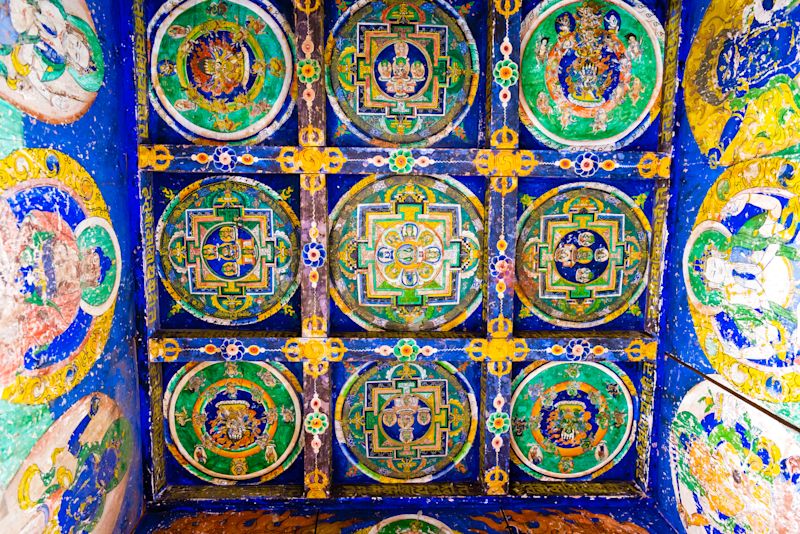 Beautiful ceiling work in Nar Phedi's monastery
It's quite a special evening as you overnight at Nar Phedi Monastery. It's a Tibetan Buddhist monastery constructed in the traditional style, and its exterior (painted in red, white and gold) stands in stark contrast to the surrounding landscape. The columns feature elaborate and colourfully painted capitals, and gold spires shine like beacons when there's sunshine.
Your hostesses are the monastery's nuns, and they cook for you over an open fire.
Day 8: Trek to Nar
Trek distance:

5 km / 3 mi

Trek time:

3 hr

Nar elevation:

4,110 m / 13,484 ft

Elevation gain:

620 m / 2,034 ft

Overnight:

Teahouse in Nar
It's a very short trek today, requiring only about three hours of hiking. So you'll be in the historic and fascinating village of Nar by the time lunch rolls around.
Nar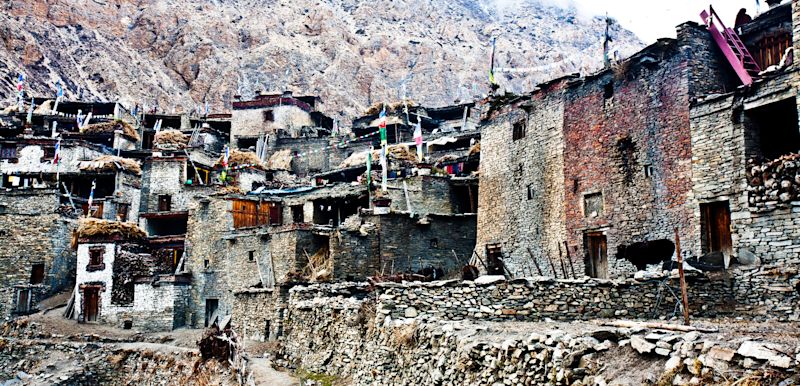 The village of Nar in upper Nar Valley
Nar is a very old farming village situated in a bowl. There are about 65 homes here, a school, chapels, gompas, and prayer wheels. There's also a shop should you need anything. Terraced barley fields flow outward from the hub of buildings. In spring and summer, the valley turns a lovely, soft green.
The name Nar means 'Place of the blue sheep'. Blue sheep (or bharals) are locals of the valley.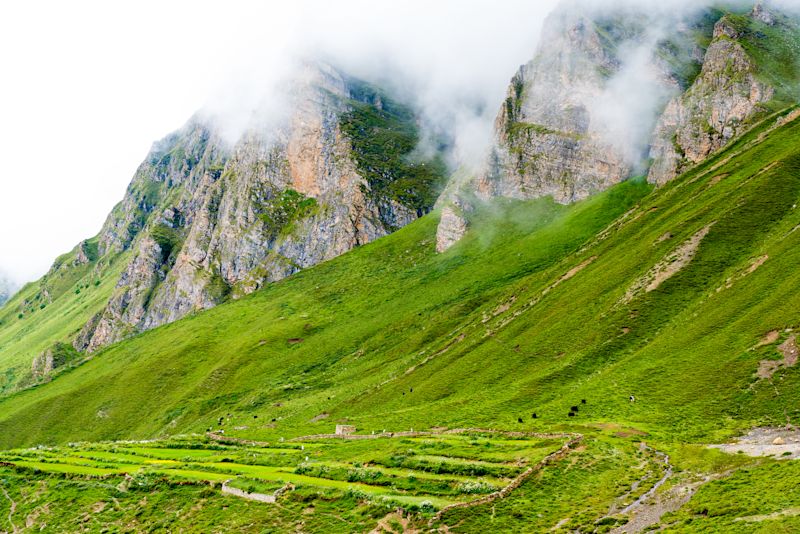 A springtime view of the terraced fields of the village Nar
The Nar–Phu language
Interestingly, the highly localised Nar–Phu dialect is unintelligible to Manangies living in just the next valley!
The people of the Nar and Phu Valleys speak a Sino-Tibetan language known simply as the Nar–Phu language. It forms a dialect continuum with the neighbouring language of Manangba (also just called Manang), yet the inhabitants of the Nar and Phu Valleys use secret words to keep their neighbours from understanding them.
Nar-Phu is an unwritten language.
Day 9: Trek to Ngawal via Kang La
Trek distance:

14 km / 8.5 mi

Trek time:

8 hr

Kang La elevation:

5,240 m / 17,191 ft

Elevation gain:

1,130 m / 3,707 ft

Ngawal elevation:

3,615 m / 11,860 ft

Elevation loss:

1,625 m / 5,331 ft

Overnight:

Teahouse in Ngawal
It's a big, big, glorious day of trekking today! You're going to climb more than a vertical kilometre, and then drop down by over 1,600 m! And you'll be on your feet for roughly eight hours to accomplish all this. So: whew. But needless to say, the scenery, fresh Himalayan air, mountain views and sense of achievement are all going to make it feel supremely worthwhile.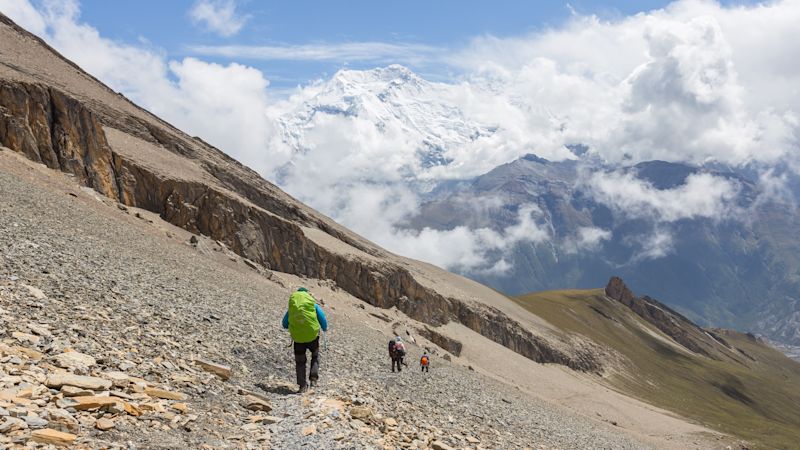 Trekkers on the mountain pass known as Kang La
Kang La
The ascent up the mountain pass of Kang La is decently manageable, especially in good weather. Snow or mist can make it trickier; snow can sometimes linger as late as September. While not as many trekkers climb Kang La as do Thorung La, yak herders add to the foot traffic helping to keep the path defined.
From the top of the pass you can gaze down into Marsyangdi Valley as well as see Annapurna II, the Tilicho peaks and Gangapurna. Reward indeed!
On a clear day, the view from the top of Kang La over the Annapurna range is endless and gorgeous.
The initial section of the descent is very steep. It's a good idea to pack strap-on snow grips just in case there's snow and ice to deal with.
Ngawal
It takes about three hours from the summit of Kang La to reach the mediaeval village of Ngawal. The top of Ngawal (or Nyawal or Nawal) is guarded by prayer flags and chortens. There's also a sacred cave about the village containing a statue of Guru Rinpoche, a hugely important figure in Tibetan Buddhism who lived in the eighth and ninth centuries.
Day 10: Trek to Manang
Trek distance:

11 km / 7 mi

Trek time:

5 hr

Manang elevation:

3,540 m / 11,614 ft

Elevation loss:

75 m / 246 ft

Overnight:

Teahouse in Manang
You link up today with trekkers walking the classic Annapurna Circuit route. You can also expect to pass plenty of locals going about their daily affairs, including farming and herding livestock.
The trek to Manang is incredibly scenic, and Manang itself is in a lovely location that offers great views both up and down the valley. En route to Manang you pass plenty of villages of varying sizes, gompas and fields.
Braga
Be sure to stop over in Braga (or Bragha), which you pass a little before reaching Manang. This steeply sloped, mediaeval village is absolutely one of the prettiest settlements along the Annapurna Circuit.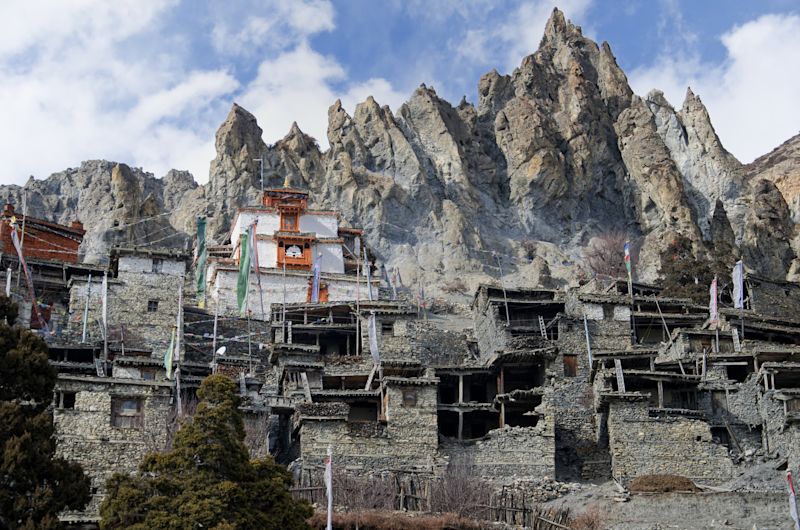 Bragha Gompa
The village is well-known for Bragha Gompa, which sits on a crag above the rest of the buildings. You can pay to go inside for less than a dollar. It has a great collection of statues, manuscripts and religious paintings that are hundreds of years old.
You can even stop in one of three establishments for filter coffee and yummy baked goods.
Manang
Manang is the hub of the region, and the largest town. Many trekkers on the classic Annapurna Circuit allow one or two days for acclimatisation here. We don't do that on the Nar–Phu and Annapurna Circuit as the time in Phu and the Kang La crossing have already provided excellent acclimatisation.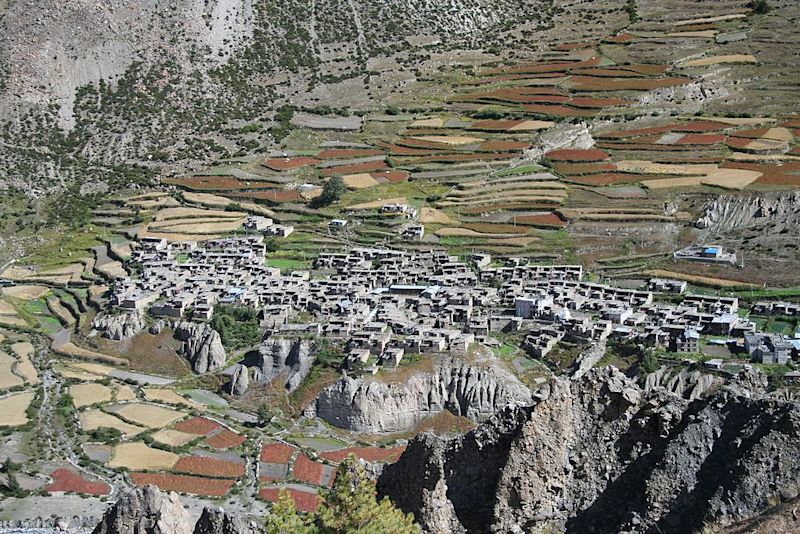 A fantastic aerial view of Manang by Schutz
If there's time, you might like to visit the Himalayan Rescue Association Clinic while in town. This is also a good place for stocking up on any items or snacks you might need going forward.
Day 11: Trek to Yak Kharka
Trek distance:

10 km / 6 mi

Trek time:

5 hr

Yak Kharka elevation:

4,110 m / 13,484 ft

Elevation gain:

570 m / 1,870 ft

Overnight:

Teahouse in Yak Kharka
The trail from Manang to Yak Kharka takes you through very pretty scrubland and offers some amazing panoramic views. Be on the lookout for goats and cattle, as the sparse vegetation makes them easy to spot even when far off. There are often eagles and other raptors flying overhead.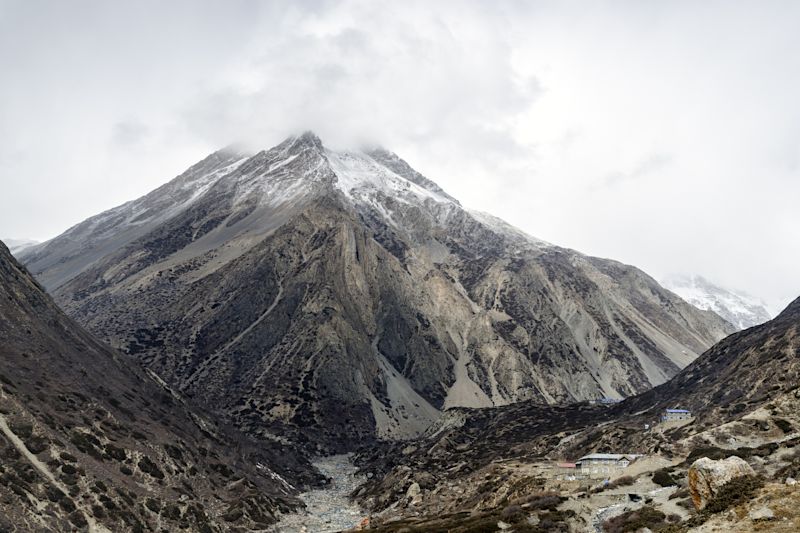 A camouflaged Yak Kharka
Yak Kharka
Yak Kharka is your second-to-last stop before the big push to summit Thorung La. It's a small settlement with reasonably big teahouses. The village is perched on the slope to intersect the trail.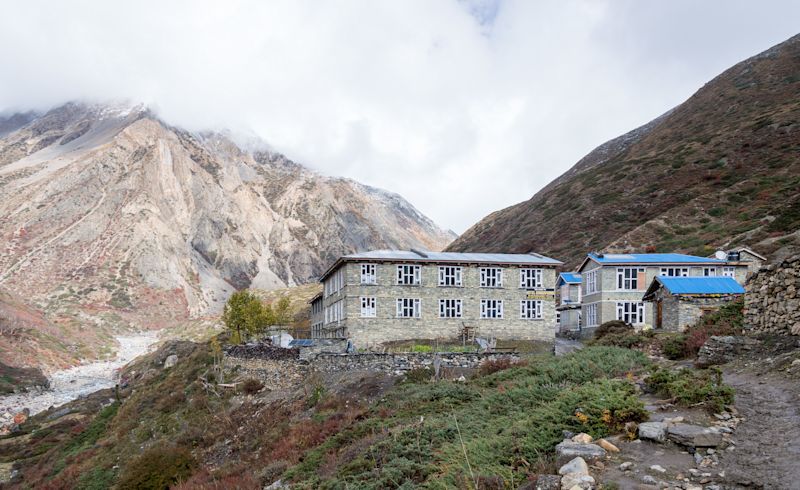 Looking up at the settlement of Yak Kharka
The name Yak Kharka translates as 'yak territory'. Yaks used to graze here, and you can still see yaks grazing nearby.
You can expect to be tired from the trek and high altitude and so be keen for an early night.
Day 12: Trek to Thorung Phedi
Trek distance:

8 km / 5 mi

Trek time:

4-5 hr

Thorung Phedi elevation:

4,540 m / 14,895 ft

Elevation gain:

430 m / 1,411 ft

Overnight:

Teahouse in Thorung Phedi
Today you ascend slowly up the Thorong Khola valley to Thorung Phedi. We say slowly, because you'll certainly be feeling the effects of the high altitude.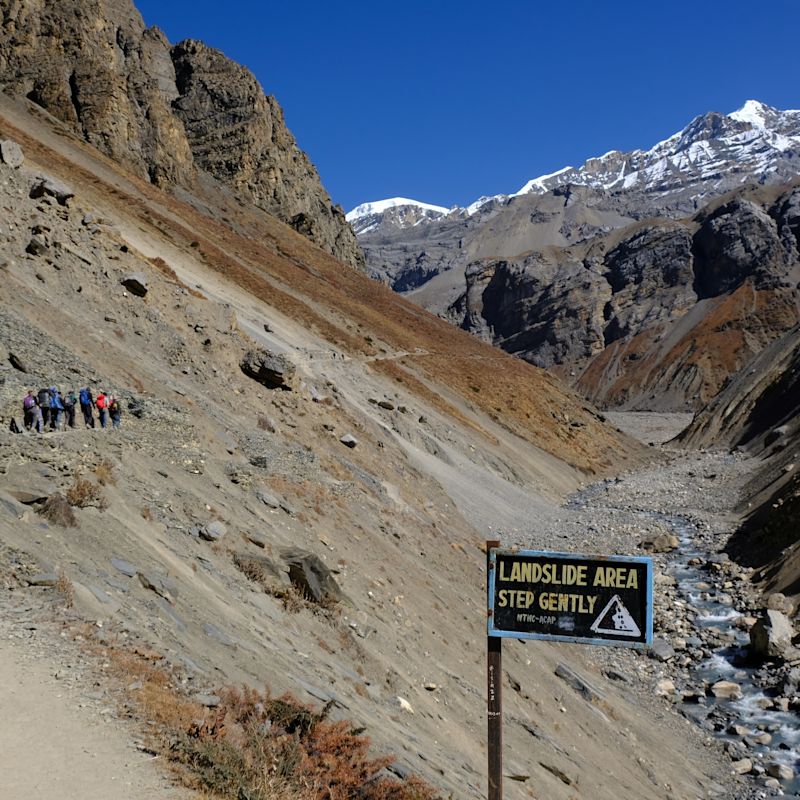 A contour path between Yak Kharka and Thorung Phedi
During today's trek you cross a large suspension bridge over Jarsang River, which is a special moment. You can also look forward to streaky cliff faces, slate-coloured scree, a boulder-clogged river, snowy ridges, and spiky peaks. Unless there's mist, in which case you'll have the feeling of trekking in a quiet otherworldly bubble.
Thorung Phedi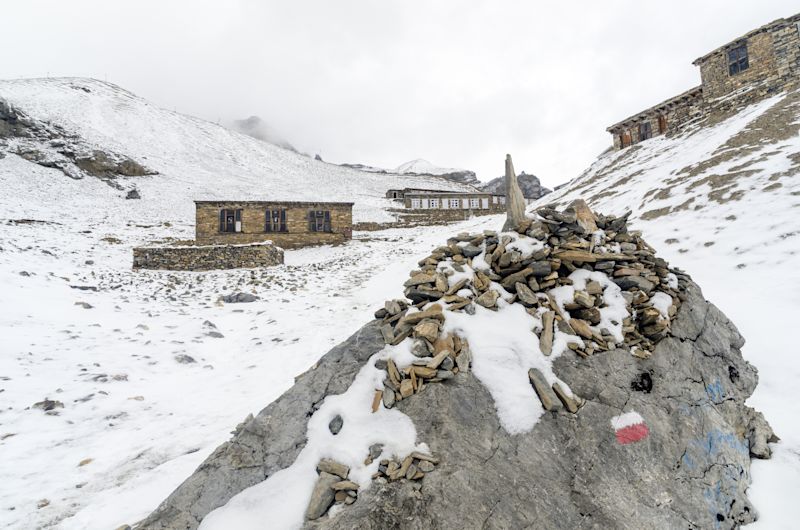 Thorung Phedi is the village nearest the mountain pass of Thorung La
Thorung Phedi is a small settlement surrounded by soaring cliff faces. Its primary function is catering to trekkers. It has a handful of simple, stone Buddhist chortens or stupas that are connected by battered prayer flags.
Day 13: Trek to Ranipauwa via Thorung La, drive to Jomsom
Trek distance:

13 km / 8 mi

Trek time:

6-7 hr

Thorung La elevation:

5,416 m / 17,769 ft

Elevation gain:

876 m / 2,874 ft

Ranipauwa elevation:

4,018 m / 13,182 ft

Elevation Loss:

1,398 m / 4,587 ft

Overnight:

Teahouse in Jomsom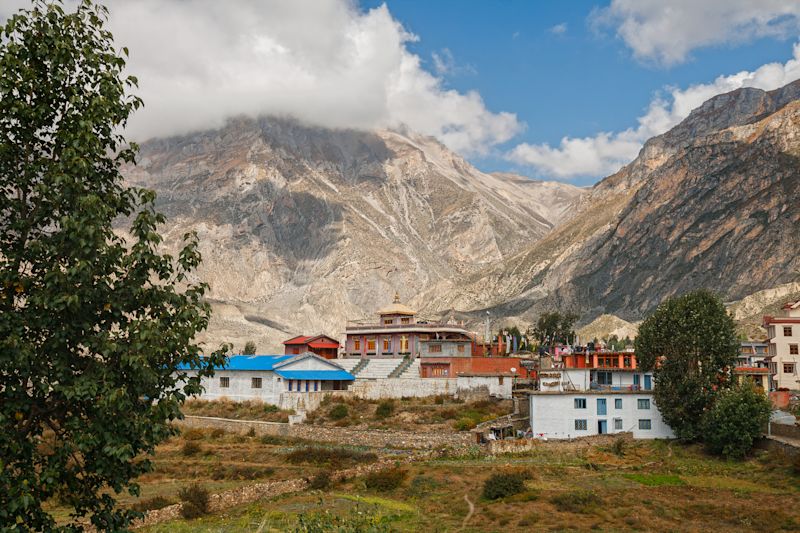 The village of Ranipauwa
Today is a big day, requiring physical and mental grit and stamina. But the reward is immense: the satisfaction of standing on the mountain pass of Thorung La and gazing out over the Annapurna range from a gloriously high vantage point.
Starting early, you take it slow and steady in the ascent to Thorung La. This is a team effort, and you should lean on your guides (metaphorically, not physically) to make it there.
Today is an exciting and challenging day, as you climb to the highest point of the entire Nar–Phu and Annapurna Circuit trek!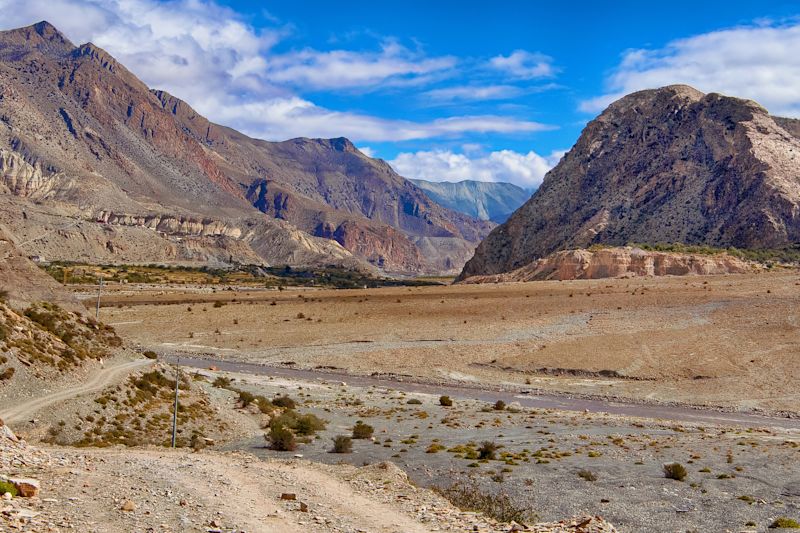 A section of the road to Jomsom
Thorung La
Thorung La (or Thorong La) is the pass that sits between the mountains of Khatung Kang and Yakawa Kang. You ascend it from the east and Manang District, and descend westward into Mustang District.
You start off early today, often in the dark, in order to make good time. Expect intense cold and perhaps wind, and to feel the effects of the altitude. Mental preparation and hardiness is at least half the battle here.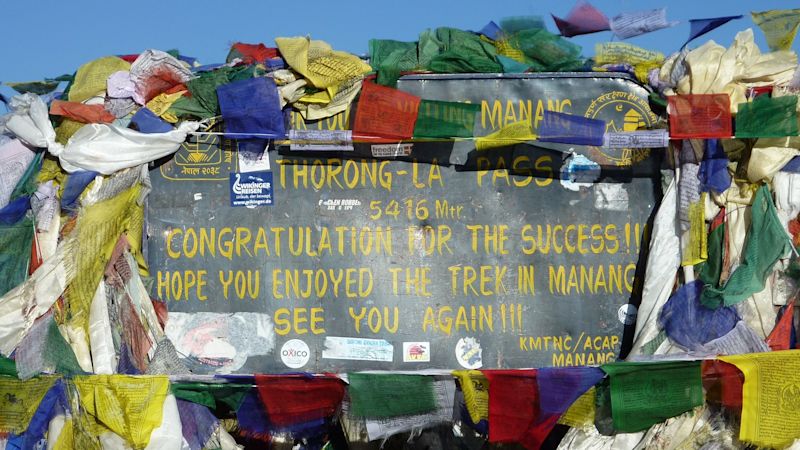 The sign at Thorung La
Reaching Thorung La is a major moment of celebration. A rock and a happy mess of prayer flags adorn the summit of the pass. Everyone likes to take group photos and also simply admire the staggeringly expansive and impressive 360° views.
You won't stay long here, however, as the cold is challenging, and most opt to soon move on and downwards before finding a more sheltered spot for a break and a hot drink.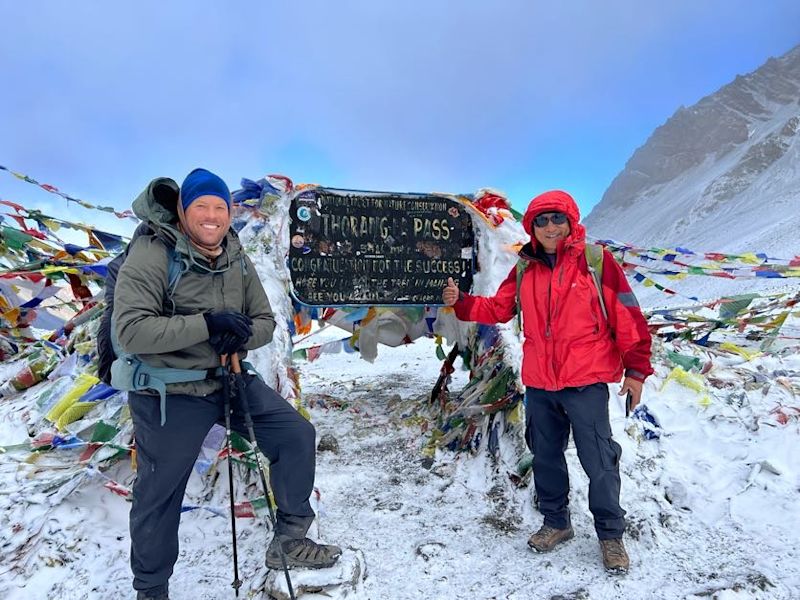 Victory photo time!
Mustang District
Mustang District is one of Nepal's largest districts, whilst also being its second most sparsely populated district. The mountainous landscape is dramatic and the climate is unforgiving.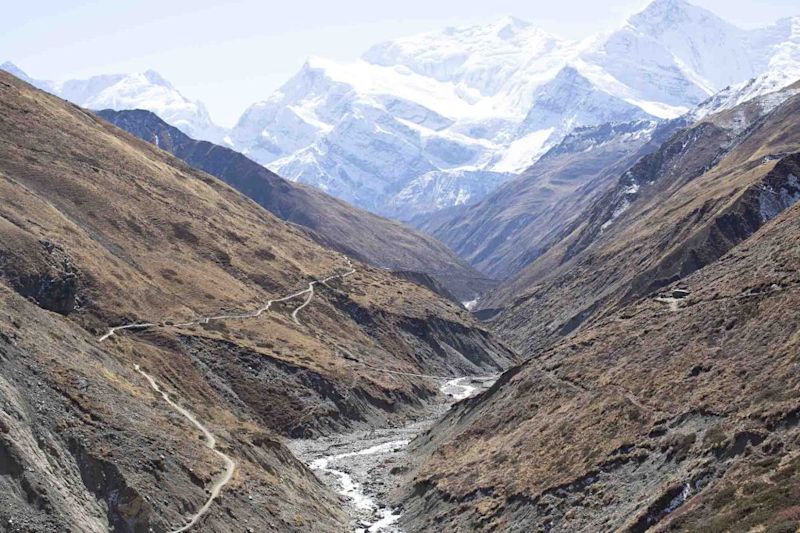 The trail leading down from Thorung La to Ranipauwa in Mustang District
Mustang is an ancient forbidden kingdom that retains a strong Tibetic identity.
Tibetan traditions remain very strong in Mustang District region. One reason for this is the geography of the region: the Tibetan Plateau is a barrier to the north, while soaring mountains like the Annapurna and Dhaulagiri massifs also rise up around it.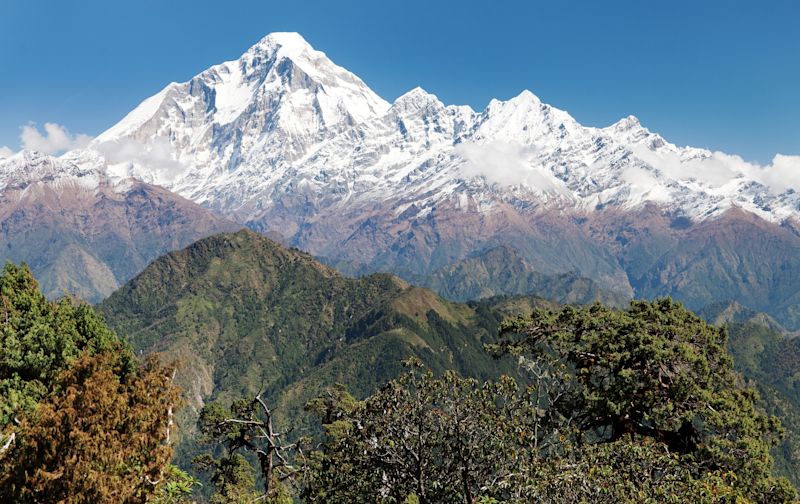 Mt Dhaulagiri
Another reason its culture hasn't been diluted like elsewhere is that Upper Mustang was a restricted demilitarised zone until 1992. Further to this, there are strict regulations as to the numbers of tourists that can come and go.
For anyone interested in meeting and learning about different cultures and communities, this is a truly incredible place to visit.
Ranipauwa
The small town of Ranipauwa survives mainly by having hotels, guesthouses, restaurant, cafes and shops that cater to Annapurna Circuit trekkers as well as Hindu and Buddhist pilgrims headed to nearby Muktinath Temple. For anyone trekking the Annapurna Circuit in a clockwise direction, this is the last stop before Thorung La.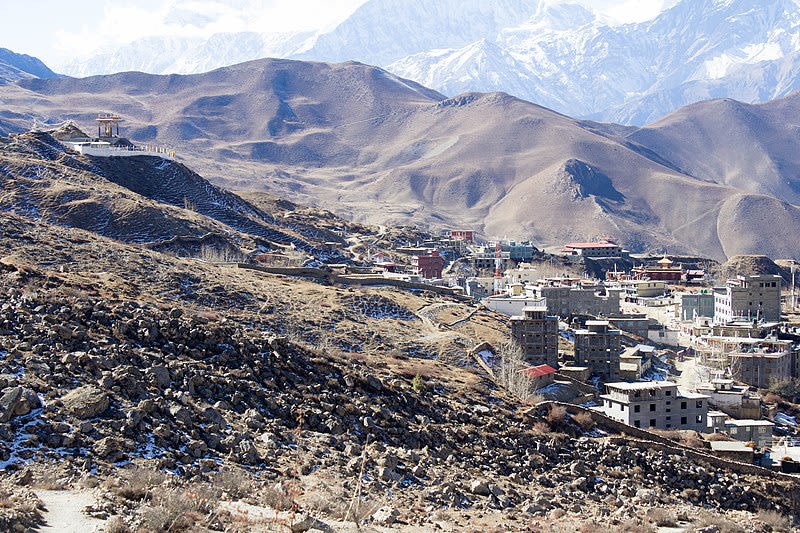 The town of Ranipauwa in Mustang marks the end of your trek!
Jomsom
Jomsom (or Dzongsam, which means 'New Fort') is a bustling little centre of travellers, bureaucrats, business owners and military personnel. There are banks, a light aircraft airport, army buildings, hotels, lodges, restaurants and shops.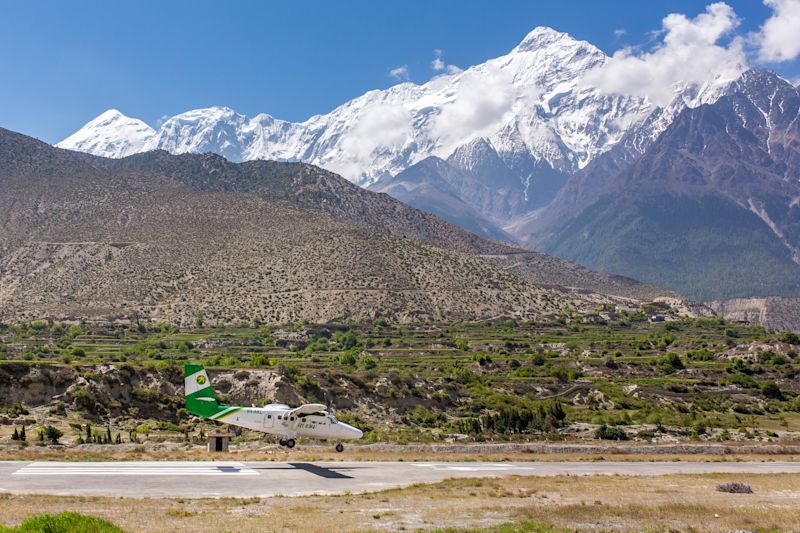 Somsom Airport in Kali Gandaki Canyon
If you have time in Jomsom this afternoon or tomorrow morning before your flight, you might like to pop into the Mustang Eco Museum. It showcases the region's herbal medicine and also has a chapel.
Day 14: Explore Pokhara
Flight time:

20 min

Overnight:

Lakeside resort in Pokhara
The day starts with a thrilling plane ride through the Kale Gandaki gorge. Look it up, and you'll see that by certain measurements, this is the largest gorge in the world! The plane winds its way through the canyon, and so you have the towering peaks of the Annapurna mountain range rising up around you throughout the trip! It's mesmerising stuff.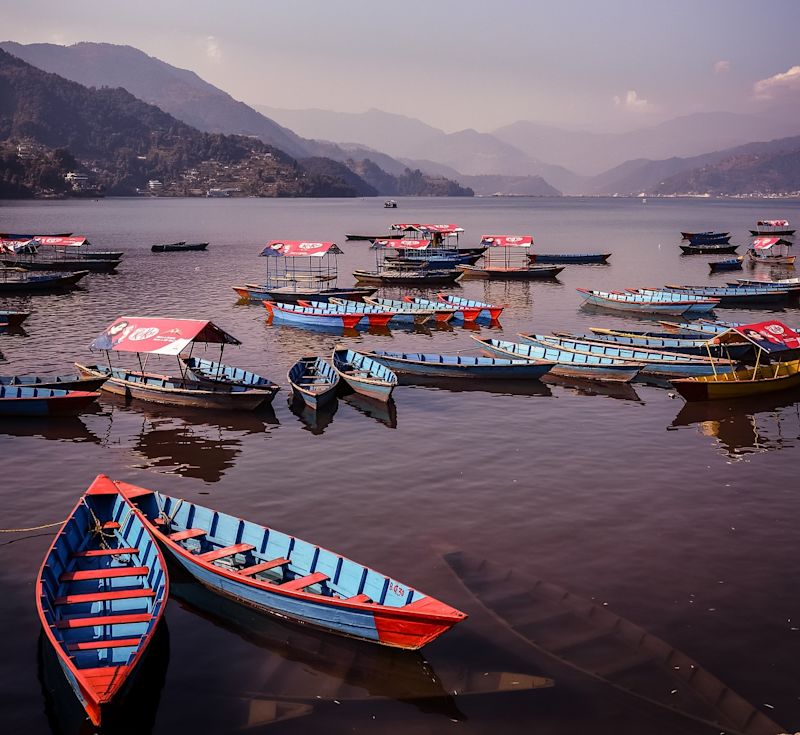 Lake activities are big in Pokhara
Pokhara is a beautiful, warm-weather city that attracts local and foreign visitors who enjoy the outdoor activities and culture. We stay at a lakeside resort with a swimming pool and spa, so you might fancy a relaxing day within the resort.
For those keen to get out and explore the city, some popular activities are:
You can

canoe on Phewa Lake

in a brightly coloured boat and visit the island containing the

Tal Barahi Temple

.

There's also a fabulously long

zip line

you can ride from the nearby mountains down to Pokhara.

You could also opt to go

paragliding

for a fabulous view of the city, lake and surrounding mountains!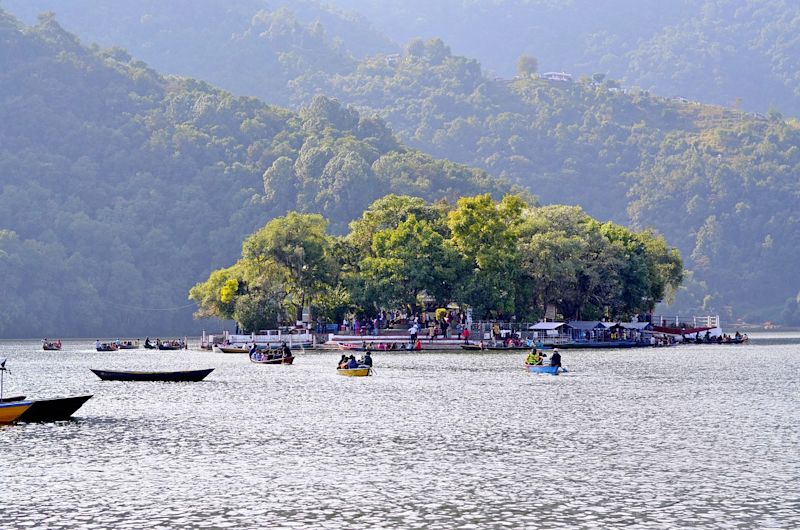 The temple in Phewa Lake
Day 15: Explore Kathmandu
Flight time:

30 min

Overnight:

Hotel in Thamel, Kathmandu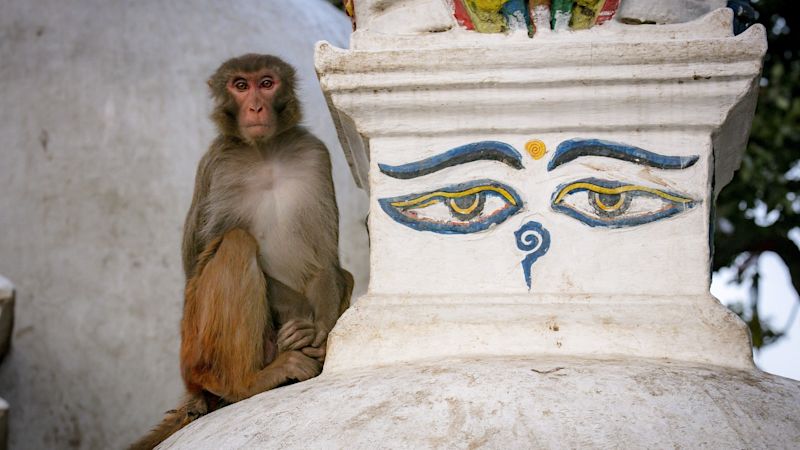 This stupa looks resigned to being a monkey seat
This morning you fly back to Kathmandu. As it's such a short flight, you still have most of the day to suit yourself within the fascinating city that is Kathmandu. There's much to see and do, even just within the District of Thamel.
Some suggestions:
Our top pick would probably be

Kathmandu Durbar Square

, which

is just 1.6 km from the hotel. This UNESCO World Heritage site is chockfull of magnificent historic buildings like palaces and temples.

Then there's the ancient

Swayambhunath temple complex

. This is 2.4 km from the hotel and has an entrance fee of $1.65. The stupas here are enormous and festooned with prayer flags.

If you're feeling 'travelled out', there's the beautiful

Garden of Dreams

just a stone's throw from the hotel where you can stroll or sit quietly (entrance fee is $1.65).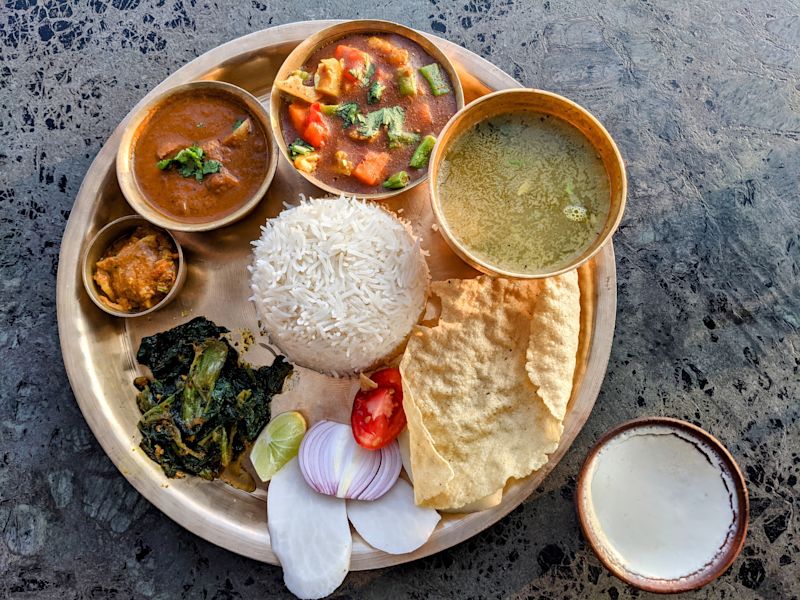 Most groups go out on their final night together for a meal
Day 16: Departure day
Drive time:

40 min from hotel to airport
All adventures must come to an end. We'll drive you to the airport to catch your homeward flight. Fortunately all the memories will travel home with you. 🙂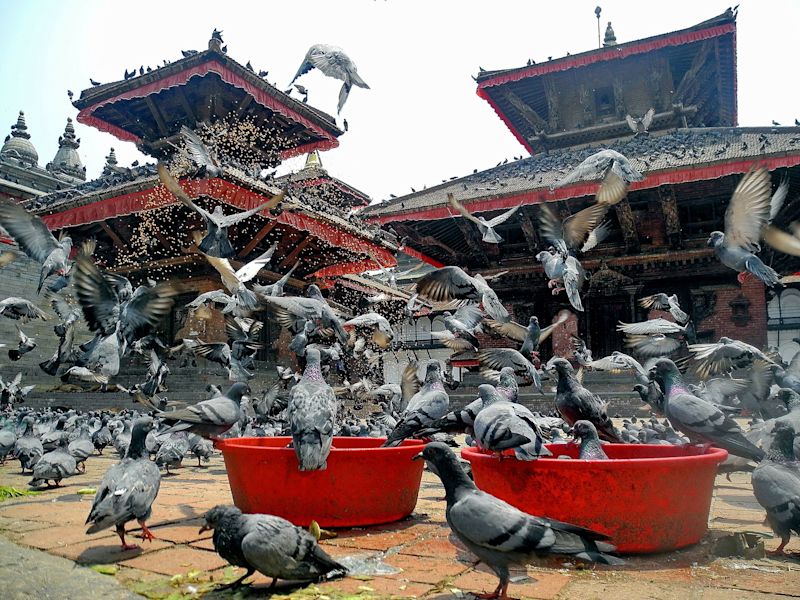 Time for you to fly away, much like a startled pigeon
Best time to trek the Nar–Phu and Annapurna Circuit
While the Nar–Phu and Annapurna Circuit is never 'closed' per se, there are certainly some months that are better for trekking than others.
As the infographic below shows, the best months for trekking in the Annapurna region are March, April, October and November. These months are the heart of spring and autumn.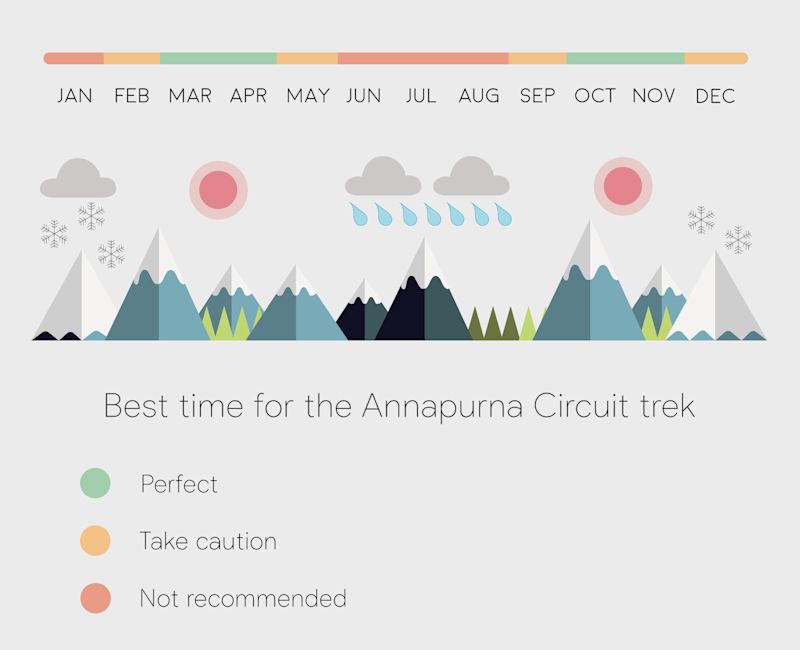 Infographic showing the best seasons for the Nar–Phu and Annapurna Circuit trek
Summer is monsoon season, so you risk having to hike in heavy downpours in the lower altitudes. December to February are winter, and it's bitterly cold. Further, you risk mountain passes being closed due to large dumps of snow. Also, Phu village is largely abandoned by residents in winter for warmer locations.
Naturally the better trekking seasons are busier. But this only really applies to the main Annapurna Circuit route. The Nar and Phu Valleys are never crowded. So even if you're not a huge fan of busy trek routes, you'll still have half of your trek be relatively quiet.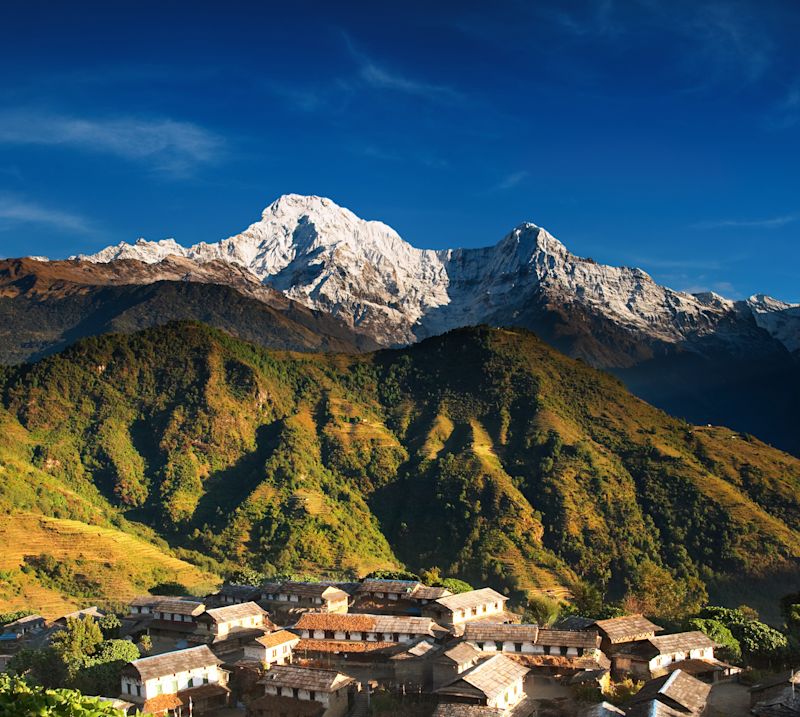 Mt Annapurna South
If you have further questions about the route or when to trek, please feel free to drop us a line. We'll happily answer your questions!