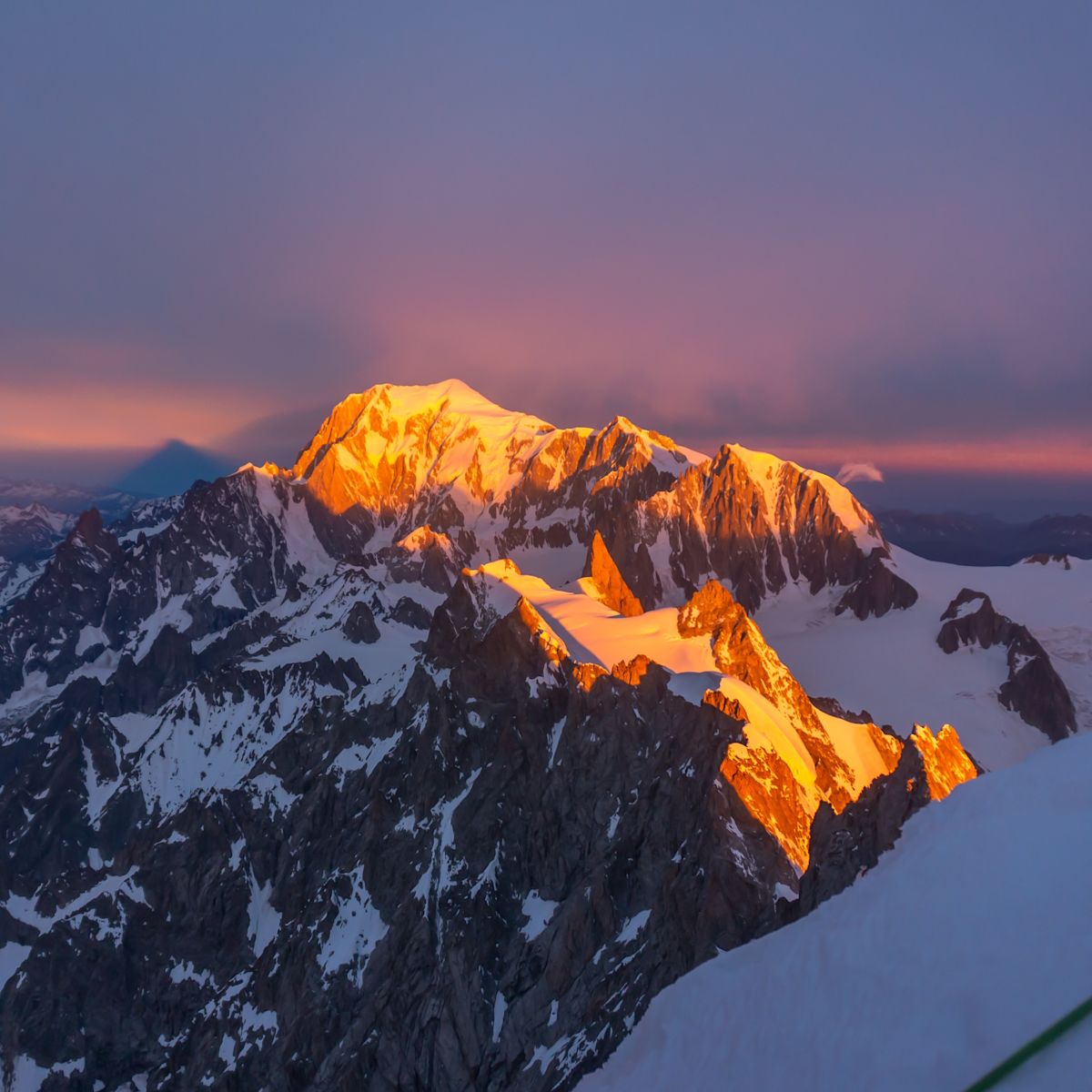 Mont Blanc vs Kilimanjaro: 2 VERY different climbs
May 23, 2023
Reading time: 11 minutes
Both Mont Blanc and Mount Kilimanjaro are iconic mountains and major climbs. Yet they're very different challenges! Mont Blanc is for mountaineers, Kilimanjaro for hikers. Yet Kilimanjaro is higher and takes longer! Here's what it takes to summit each one.
Humans love to climb mountains, and naturally that means we want to climb the biggest and baddest!
Mont Blanc is western Europe's most famous mountain, and Mount Kilimanjaro is Africa's. That makes them two of the world's Seven Summits.
But getting to the summit of each mountain is a very different affair, as we discuss here. We consider things like mountain height, elevation gain, climb duration, routes, accommodation, dangers, and more.
But first, here are a few basic facts about each mountain ...
Mount Blanc facts
Mont Blanc ('White Mountain') – the tallest mountain in the Alps and in western Europe – is perpetually covered in a beautiful white icecap. The mountain rises to 4,808 m (15,774 ft) above sea level and sits on the Italian–French border.
Mont Blanc is the highest peak of the Mont Blanc Massif
The main towns around Mont Blanc are Chamonix and Saint-Gervais-les-Bains in France, and Courmayeur in Italy. Naturally, the name for the mountain in Italy is Italian: Monte Bianco.
There's a tunnel that runs through the Mont Blanc Massif. There's also a cable car that runs through the Col du Géant (the main passage over the massif), connecting Chamonix and Courmayeur.
Kilimanjaro facts
Mount Kilimanjaro – which is 5,895 m (19,341 ft) above sea level – is the tallest mountain in Africa. It's also the tallest free-standing mountain in the world!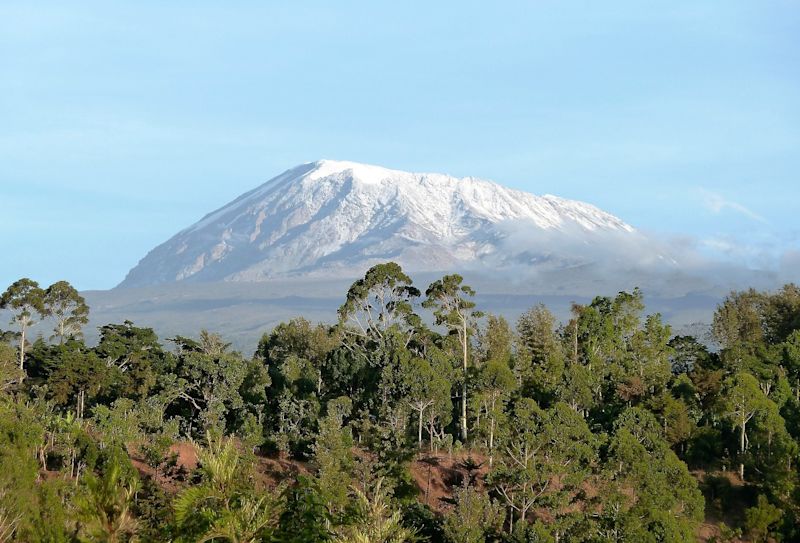 Kilimanjaro is a free-standing, volcanic mountain
It sits in the northernmost part of Tanzania, but its northern foothills extend into Kenya. The two main cities serving as bases for Kilimanjaro climbs are Moshi and Arusha, both of which are to the south of the mountain in Tanzania.
While being much higher than Mont Blanc, the summit of Kilimanjaro tends to have seasonal snow. That said, there are a few permanent (though shrinking) glaciers at the top.
Mount Kilimanjaro is a dormant volcano, and it has three volcanic cones.
Climbing Mt Blanc vs climbing Kilimanjaro
Here's an overview of the differences between climbing Mont Blanc and climbing Mt Kilimanjaro.
1. Highest altitude
You only climb to 4,808 m (15,774 ft) above sea level for Mont Blanc, while you must climb a further thousand metres to reach Kilimanjaro's 5,895 m (19,341 ft) summit.
You're often above the clouds on both climbs, as in the photo below, which was taken near the summit of Kilimanjaro.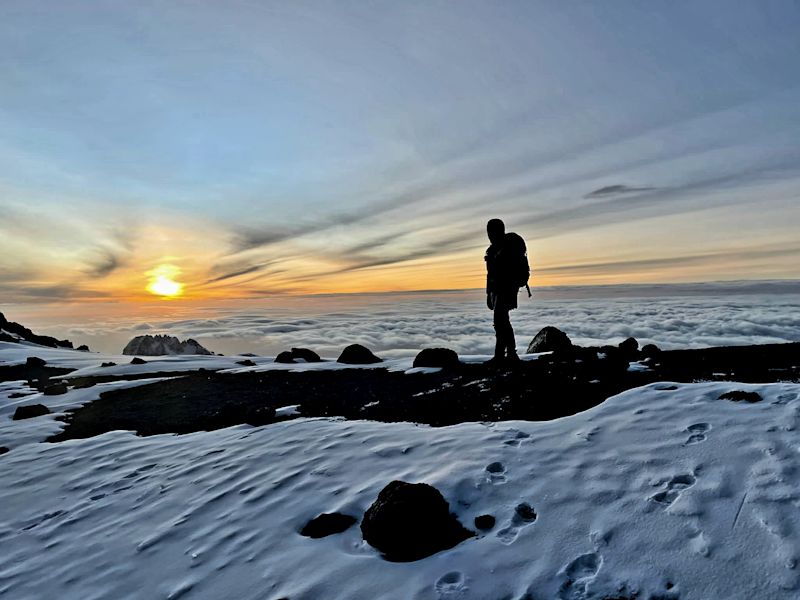 Our client George took this great sunrise pic from near the summit of Kilimanjaro
2. Guides
You can climb Mont Blanc on your own, or in the company of a guide. Naturally, we'd advise going with an experienced guide instead of on your own unless you or someone in your party is a very experienced mountaineer.
You cannot climb Kilimanjaro (legally or practically) without a mountain crew.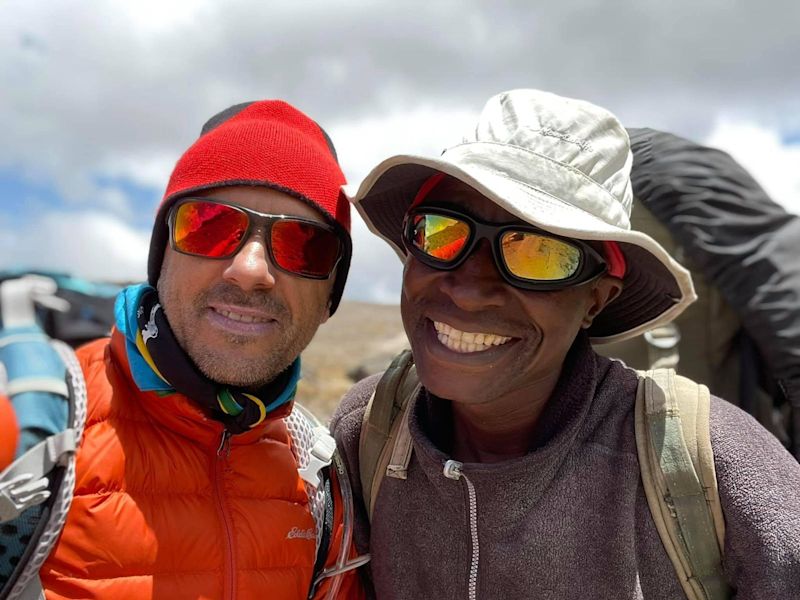 Your guides are your biggest source of support on your Kilimanjaro climb
Every Kilimanjaro mountain crew is sizeable as you need guides, a cook, and porters. Porters not only help to carry your personal belongings but also carry everything else needed on the mountain (think tents, portable toilet, cooking equipment, food and safety gear).
3. Mountaineering experience
You need mountaineering experience and equipment to climb Mont Blanc if you're doing it on your own. If you're going with a guide, you don't need any mountaineering experience, as they will train you and and provide the necessary equipment.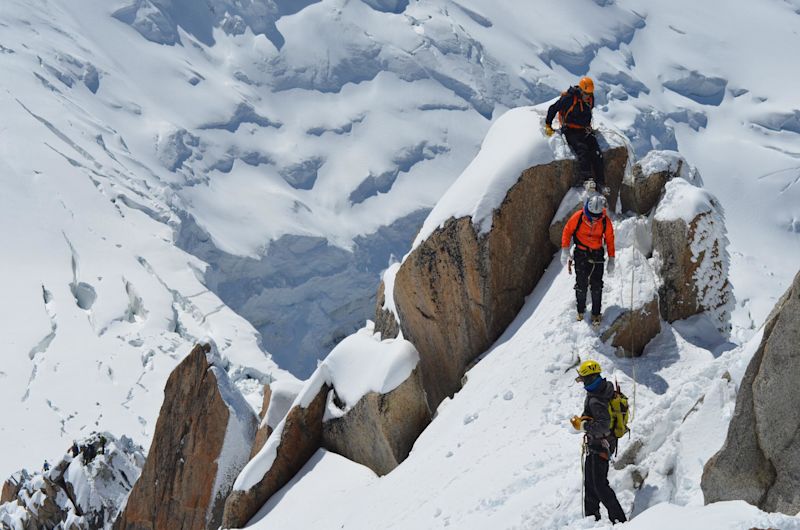 You need mountaineering equipment for a Mont Blanc climb
On a Kilimanjaro climb, however, you don't need any special equipment or expertise – you just hike to the summit.
4. Climb duration
A Mont Blanc climb usually lasts three days. This includes a first day of climbing, another day of climbing to the summit, followed by some descent to that night's hut, then a day of descent.
Some outfitters include a training and acclimatisation hike as part of their Mont Blanc package, where you learn snow and ice skills and summit a nearby, smaller peak immediately before heading to Mont Blanc. They do this to teach your the necessary mountaineering skills as well as ensure you're better acclimatised for the climb. It's a great strategy, and will usually add three days to your expedition.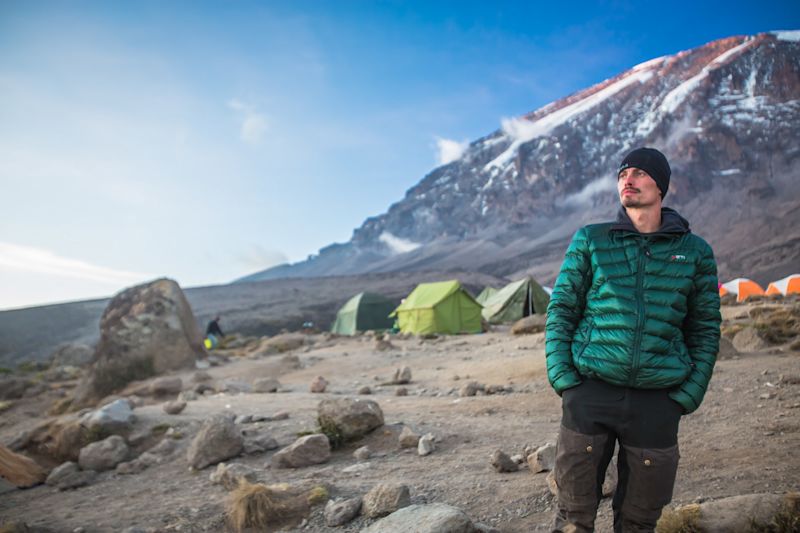 We always say that you shouldn't rush a climb – it's not a race!
A Kilimanjaro climb takes between five and 10 days from start to finish. It takes four to eight days to reach the summit, depending on the route you choose and how long you take over that route. You should really give yourself at least six days for the ascent to avoid altitude sickness.
5. Routes and elevation gains
There are several established routes leading up Mont Blanc. The most common routes are shown below.
| Route | Approach | Details | Elevation gain |
| --- | --- | --- | --- |
| Goûter (or Voie Royale) | From the north at Gare du Nid d'Aigle lift station in France | Most popular and least technical route | 2,446 m |
| Italian (or Gonella) | From the south in the hamlet of Freny in Val Veny, Italy | Arguably has the best scenery | 2,294 m |
| Trois Monts (or La Traversée) | From the north at Aiguille du Midi lift station in France | Most technical route | 966 m |
The Goûter is the most popular route up Mont Blanc. It's the ideal route for most climbers as it's not technical.
There are seven well-established routes on Kilimanjaro, as shown below. The descent route for most of them is the Mweka route; only on the Marangu and Rongai routes do you descend via the Marangu route.
| Route | Duration | Details | Approach | Elevation gain |
| --- | --- | --- | --- | --- |
| Marangu | 6 or 7 days | The original route | Eastern slope | 4,052 m |
| Umbwe | 5 or 6 days | The shortest and steepest route | Southern slope | 4,095 m |
| Machame | 6 or 7 days | The most popular route | Southern slope | 4,255 m |
| Lemosho | 7 or 8 days | A very beautiful route | Western slope | 3,795 m |
| Shira | 6 or 7 days | Has the highest starting elevation | Western slope | 2,481 m |
| Northern Circuit | 9 or 10 days | A varied and beautiful route | Western slope | 3,795 m |
| Rongai | 6 or 7 days | Only route to start from the north | Northern slope | 3,945 m |
Climate zones
You hike through just two climate zones when climbing Mont Blanc: alpine and arctic.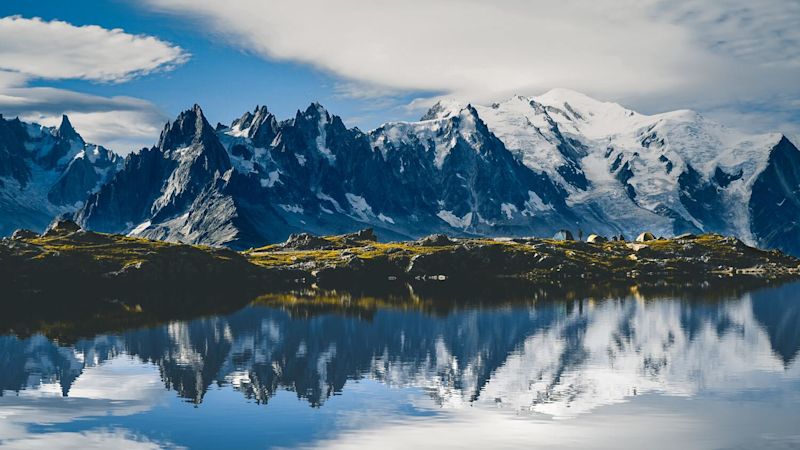 In summer, you start your Mont Blanc climb with some greenery
For Kilimanjaro, however, you hike through four climate zones: rainforest, moorland, alpine desert, and an arctic summit.
This variety of climates is because Kilimanjaro is very near to the Equator. And it's why we often say that climbing Kilimanjaro is like hiking from the Equator to the North Pole in a matter of days!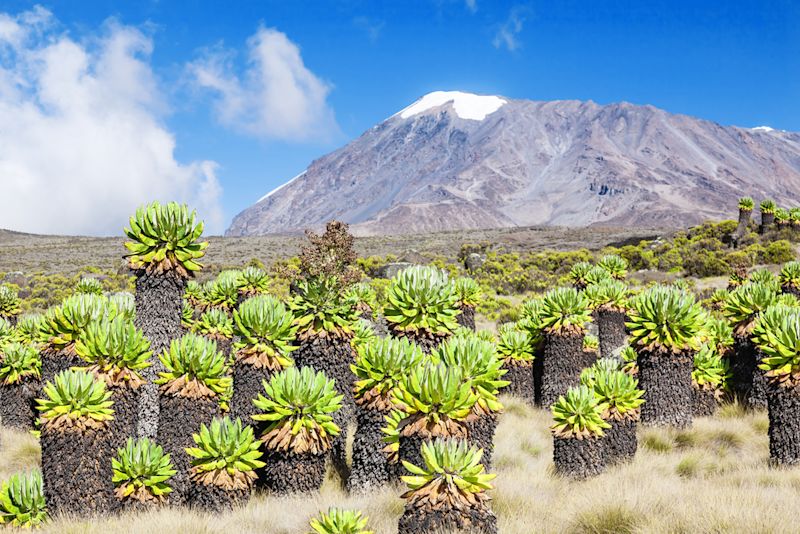 Kilimanjaro's moorland zone is particularly beautiful
6. Summit success rate
Roughly 60% of Mont Blanc trekkers don't make it to the summit, mostly because of altitude sickness. Your best chance of success is via the Goûter route after completing an acclimatisation climb elsewhere.
Kilimanjaro has a similar success rate of around 50 to 60%. That said, the seven routes leading to the summit are very different in nature and success rates. The route with the highest summit success rate is the Northern Circuit – around 90% of climbers on this route make it to the summit!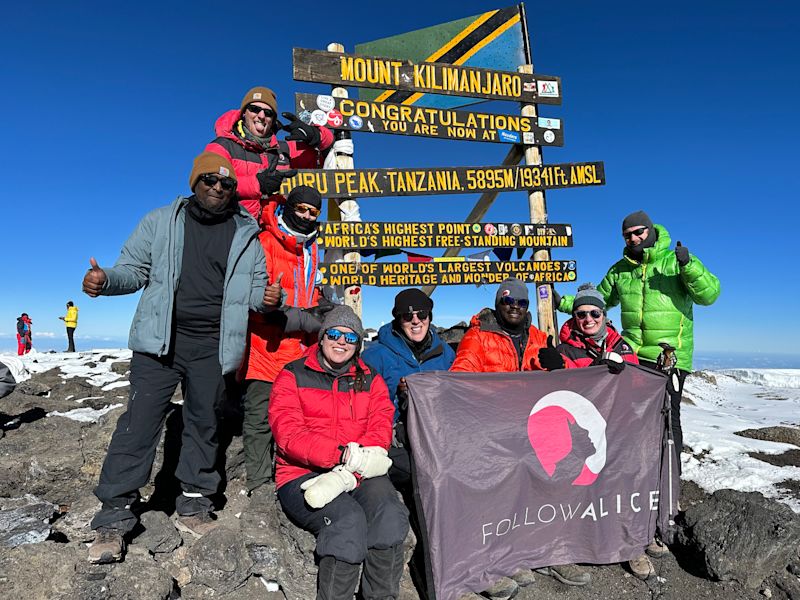 Uhuru Peak is the highest point on Mt Kilimanjaro
7. Accommodation
On a Mont Blanc climb, you stay in well-built communal mountain huts and eat your meals in their dining rooms. On the Goûter route, you stay in the Tête Rousse and Goûter Huts, which have dormitory-style rooms.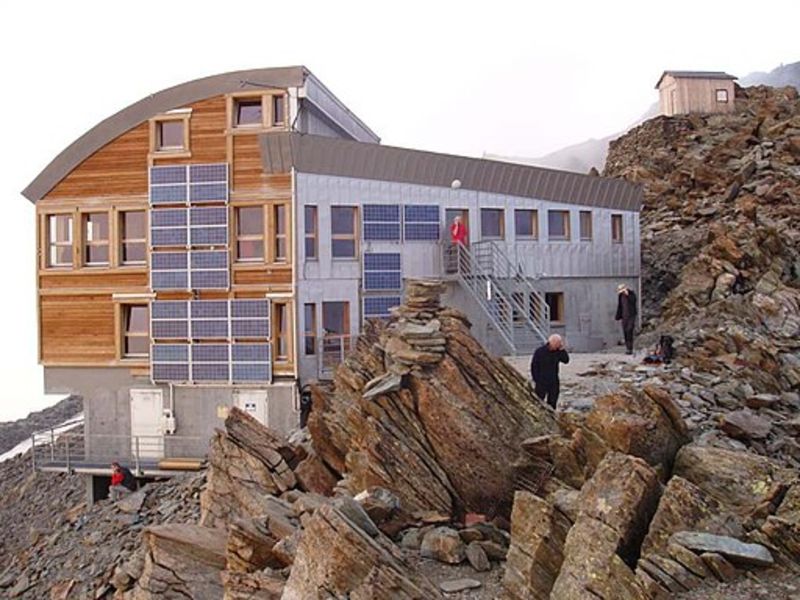 Rousse Hut on Mont Blanc's Goûter route as snapped by Keilig
Your accommodation on a Kilimanjaro climb is either communal A-frame wooden huts (the Marangu route) or tents provided by your tour operator (all other routes). Providing you climb with a good tour operator, camping is actually the nicer, more comfortable option. You sleep in small tents, eat in a mess tent, and use a chemical toilet housed in a small tent.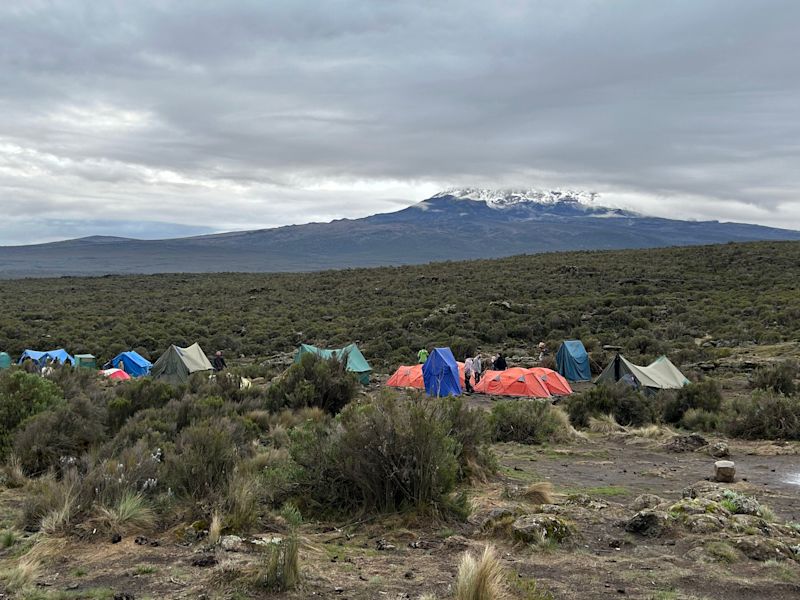 Our client Romy took this campsite pic on the second night of his Kilimanjaro climb
8. Climbing seasons
Mont Blanc is technically open for business year round. That said, it's inadvisable for all except the experts to tackle a winter climb. And the Italian route is only usually tackled in summer.
Further to this, Mont Blanc climbs often can't take place as planned when there's bad weather.
According to Mont Blanc Guides, bad weather ends up delaying roughly 33% of climbs.
Also, the the Grand Couloir ('Large Gully') on the Goûter route can become impassable in dry weather as there isn't much snow binding its surface rocks together (although the route should be closed when it becomes too dangerous).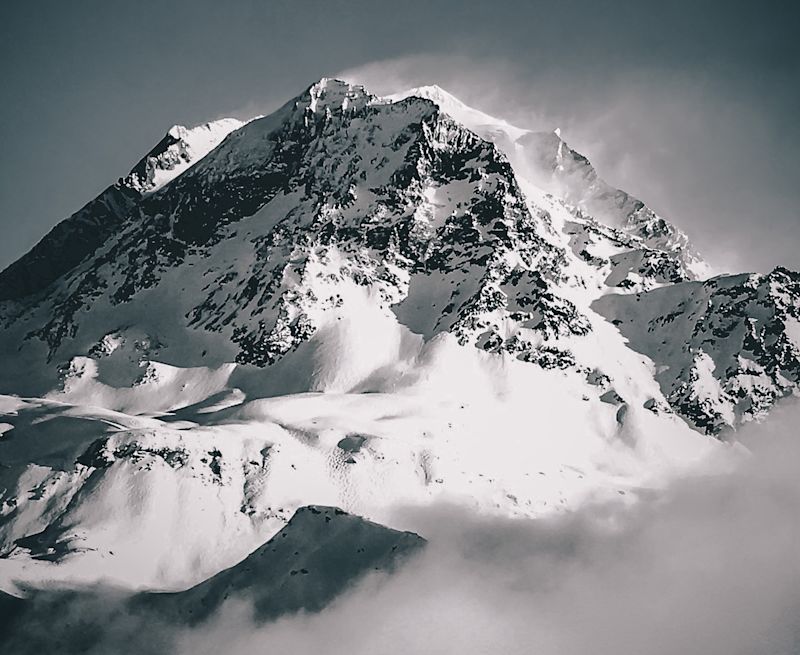 Bad weather can postpone a Mont Blanc climb
Kilimanjaro can be climbed at any time of the year and we've never had to postpone a climb because of bad weather. During the rainy season you may have muddy conditions on the lower half of the mountain, but you can still go ahead with your climb.
The only time when a Kilimanjaro climb may be interrupted is during one of the mountain's infrequent fires. Although even then, you can often just change your route and still climb, as Kilimanjaro is an enormous mountain.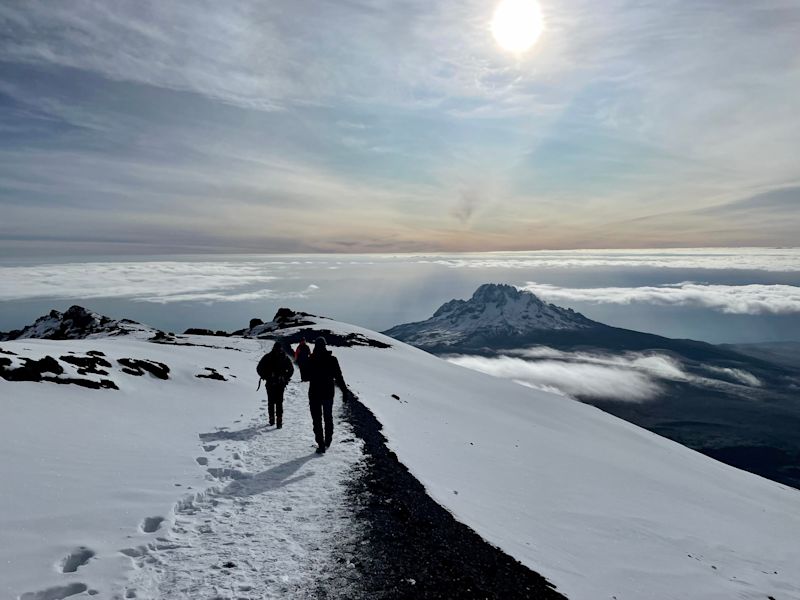 Our client George took this snap on the summit of Kilimanjaro in winter
9. Dangers
Mont Blanc is the more dangerous mountain by far. It's a mountaineering mountain, after all, while Kilimanjaro is only a hiking mountain.
The main dangers in climbing Mont Blanc that you don't get on Kilimanjaro are:
Often people try to climb it alone even though they're not experienced enough to do so. This is when most accidents happen.

You walk some narrow ridges and the sides of the mountain are very steep. A fall on Mont Blanc can be fatal.

Stonefall, seracs, crevasses and avalanches are real dangers.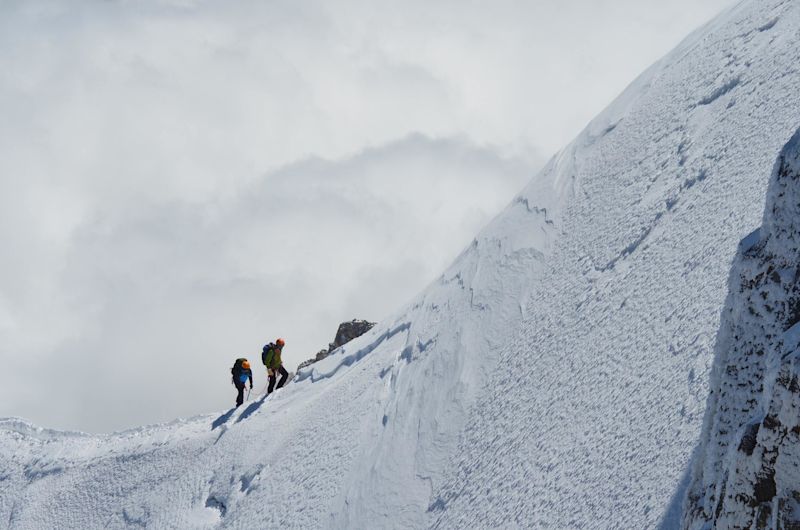 You need mountaineering snowshoes to climb Mont Blanc
On a Kilimanjaro climb there's only snow and ice right at the summit. And in the dry season, you may not come across any snow on the trail. Also, you don't walk along narrow ridges or have the same overall level of steepness as on Mont Blanc.
That said, an exception is the Barranco Wall, which you scale on some routes. But accidents almost never happen here, as there are so many good places for secure handholds when scrambling feels necessary.
There would be a youtube video here.
Sadly, the youtube player requires cookies to work.
All that said, Kilimanjaro is still a whoppingly big mountain, and every year there are deaths on it. So even though it's a safer adventure than Mont Blanc, it still needs to be approached respectfully and with care.
Acute mountain sickness
It's worth mentioning that one of the biggest dangers on a Mont Blanc climb – and the single biggest danger on a Kilimanjaro climb – is altitude sickness.
Severe altitude sickness is a life-threatening form of altitude sickness. If you or your guide suspect you're developing moderate or severe altitude sickness, then you must descend in altitude immediately.
You can get altitude sickness on a Mont Blanc climb if you ascend too quickly
10. Cost
Mont Blanc climbs are cheaper than Kilimanjaro climbs. For starters, you don't need to pay as many people, as a Kilimanjaro mountain crew is quite big. You're also probably going to be trekking for more days on Kilimanjaro.
Operator prices for Mont Blanc climbs vary greatly depending on various factors like whether you're doing a guided climb or not, and how many days you're taking over it all (and are you including a training hike?).
You could be looking at anything from around US$500 to $2,000 for a guided Mont Blanc climb. As always, please do your homework with any tour operator you're considering using, as your mountain guide is your main source of safety.
When researching a climb's cost, always check to see what's included and excluded. For instance, is accommodation on either side of the climb included in the price?
Operator prices for Kilimanjaro climbs vary widely too, as we discuss in Why tour operator prices for Kilimanjaro vary widely. For a seven-day Kilimanjaro climb with Follow Alice you're looking at US$2,765 as of 2023. This includes accommodation the night before and the night after your climb, as well as the use of one of our season four sleeping bags.
Follow Alice is an upper mid-range operator, and you get budget and luxury operators who will offer much cheaper and more expensive Kilimanjaro climbs respectively.
So what do you think? Is a Mont Blanc or Mount Kilimanjaro climb in your future? Or maybe both? They're both amazing challenges that often turn out to be life-altering – or should we say life-affirming – experiences!