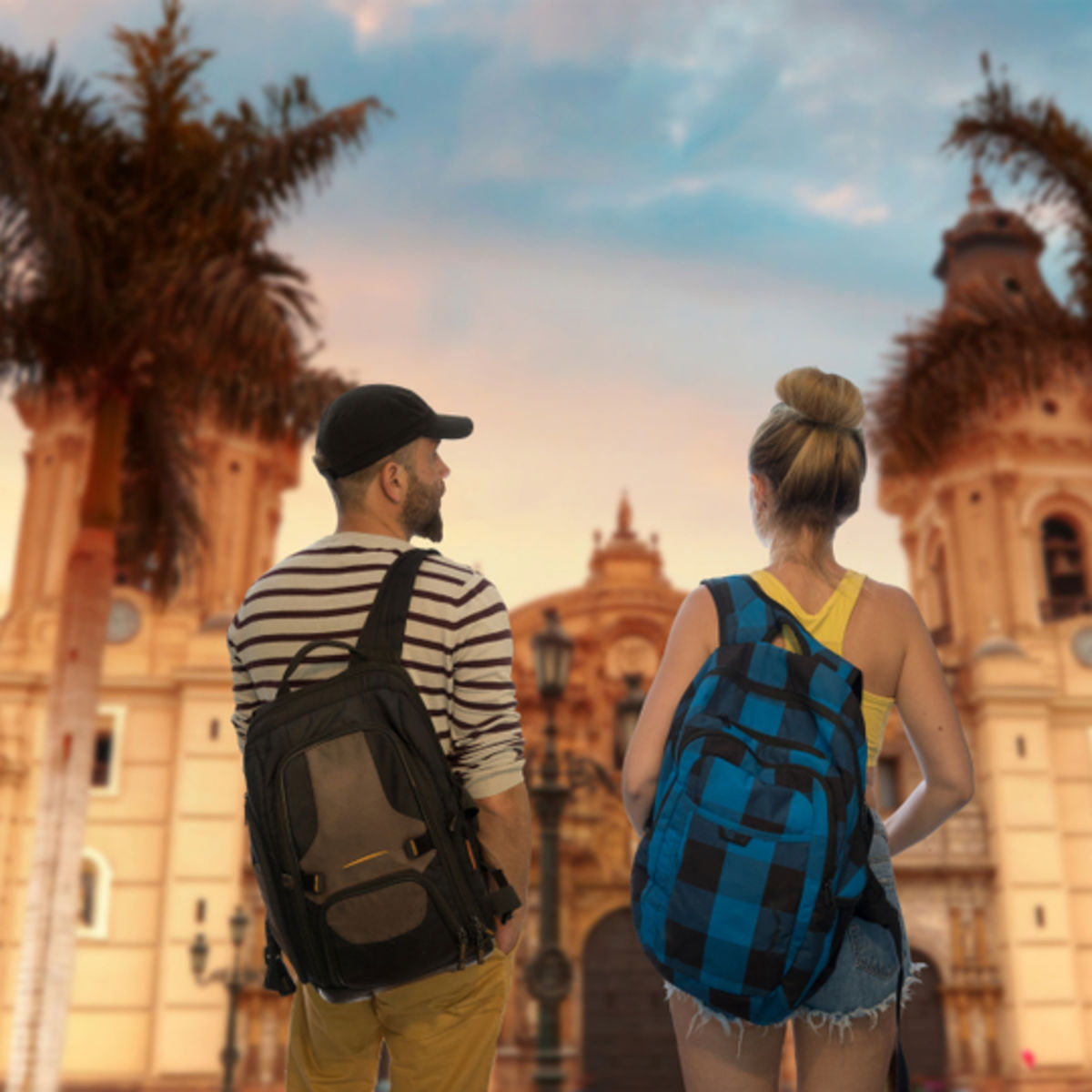 Lima in a day – the very best things to do, see and eat
Nov 8, 2023
Reading time: 18 minutes
Unless you love doing all of your own research, you might appreciate our carefully chosen selection of the very best things to do, see and eat if you only have 24 hours to explore Lima! We've included history, culture, beautiful sights and tasty treats. 😋
There's so much to do and see in the clifftop capital city of Lima that it'd be easy to spread yourself too thin and dilute your overall experience of the city.
So rather than spending your day in Lima cramming in as much sightseeing and activities as you can, we suggest that you select a few iconic Lima activities and focus on just those for a relaxed and rewarding visit.
We also tell you about some of the best foods and drinks to try during your visit so you can enjoy some really local flavours and delicacies.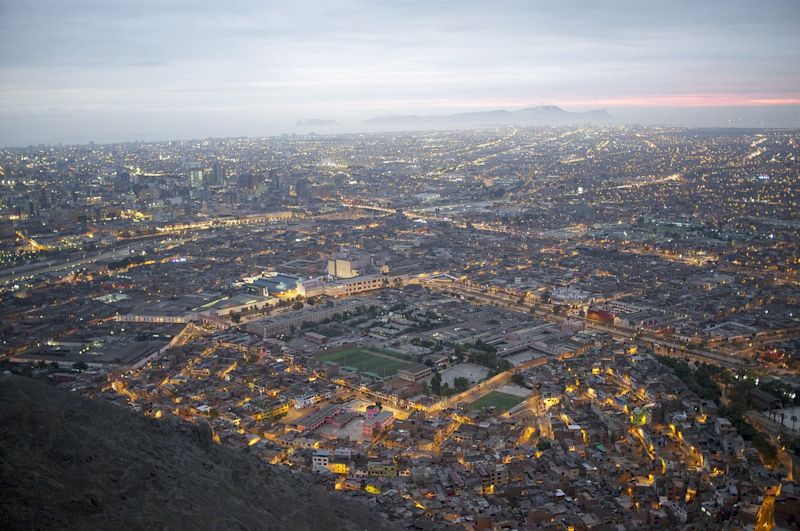 Many foreigners are unaware of how vast Lima actually is!
Lima is home to over 11 million people! The clifftop city is aptly nicknamed El Pulpo ('The Octopus') for the shape of its urban sprawl.
El Pulpo has 43 distinct districts, but you only really need to visit the central ones for the best in sightseeing, activities, food and cultural attractions. We recommend visiting:
Pueblo Libre

, a small district that's centuries old.

The

Historic Centre

, also known as

Ciudad de los Reyes

('City of Kings').

Miraflores

, just to the west of the Historic Centre, which runs along the clifftop.

Barranco

, which also extends along the clifftop just south of Miraflores.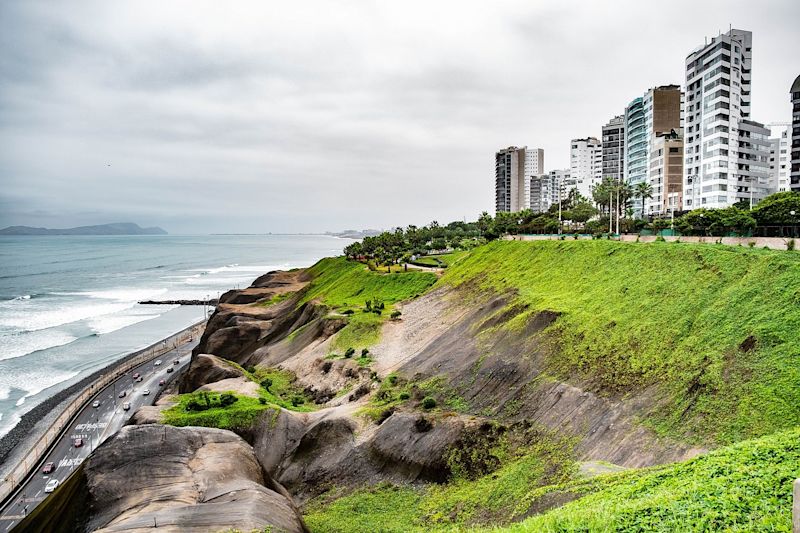 The city of Lima is separated from the ocean by a cliff
It's easy to travel between these adjacent districts – in fact, you can even do much of it on foot. Win! And since you'll most likely be staying at a hotel in Miraflores (as it's close to the airport), we start our suggested day's itinerary from there ...
In the morning, do a guided or independent walking tour
After a decently sized breakfast at your hotel (you'll need fuel for the day!), we recommend you head to the following three sites in this order ...
Larco Museum, to learn about pre-Colombian Lima
As you head east towards the Historic Centre of Lima, make a stop in the Pueblo District to visit the Larco Museum (or Museo Larco).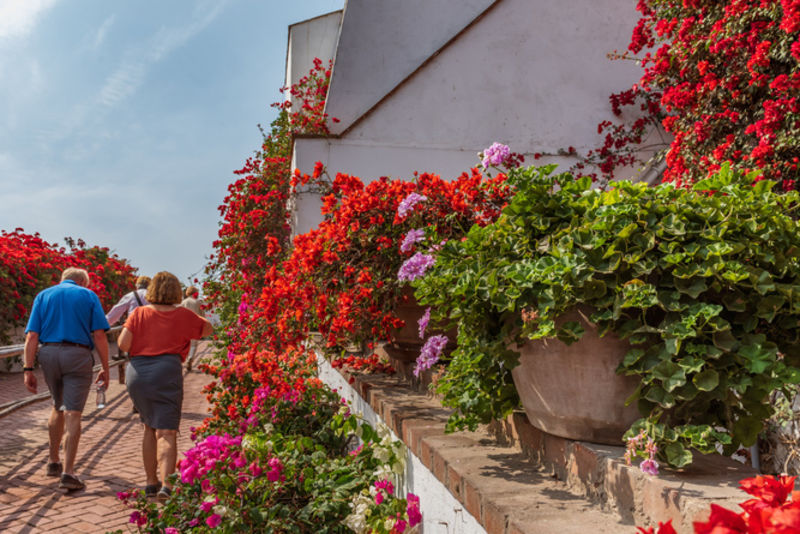 The entrance to Larco Museum is a beautiful story of bougainvilleas
The museum is a must for anyone who loves ancient history. It offers rare insights into a succession of pre-Colombian cultures that dominated what is now Lima and Peru over the millennia up until the arrival of the Spanish conquistadors.
The museum's collections include ancient pottery as well as other ceramics. Then there's also the famously explicit artworks that reveal a deep fascination with various sexual acts.
All that said, the Larco Museum is worth visiting for more than just its collection of bizarrely explicit pottery; the eighteenth-century vice-royalty building is a beautifully preserved piece of colonial architecture.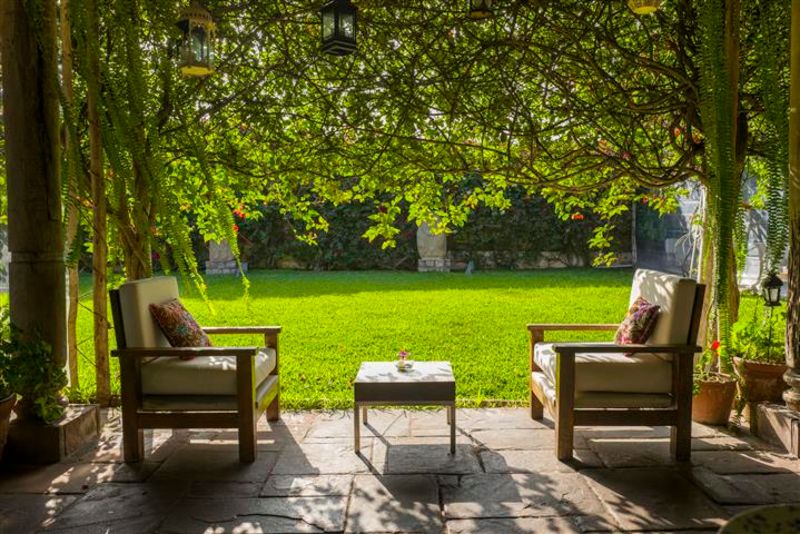 The Museo Larco Café-Restaurant offers a beautiful setting
Also, the gardens are simply gorgeous. The Museo Larco Café-Restaurant is the perfect place to enjoy the view. And there's even a vegan and gluten-free menu, so if that matters to you, perhaps shuffle your itinerary around to end up here at lunchtime.
Useful info
Opening hours:

Weekdays and weekends, 10 am to 7 pm

Entrance fee:

Around US$10
Lima Main Square (Plaza de Armas), for a dose of colonial history
We suggest your next port of call for the day be the city's Historic Centre.
This district drips with history: ancient, pre-Colombian, colonial and modern. In fact, there's so much rich history in this one spot that the Historic Centre of Lima was designated a UNESCO World Heritage Site in 1988. With this in mind, you simply have to start your Lima day with visiting some of its top historical sites!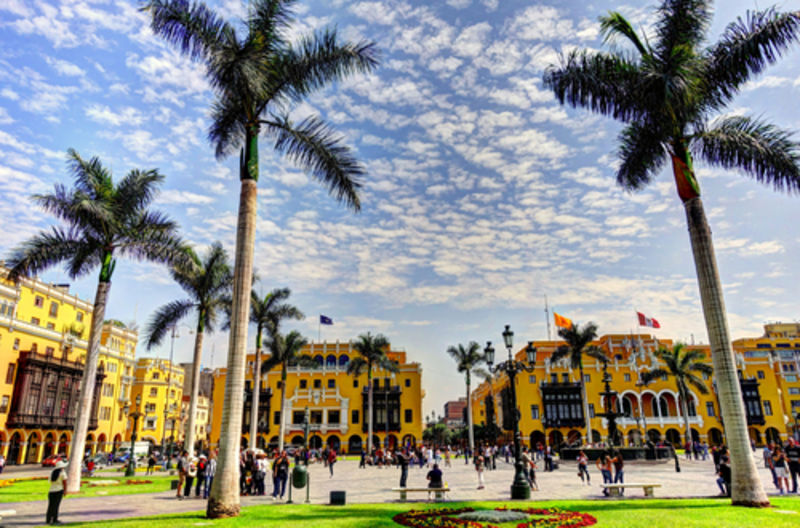 Palm trees line Lima's Main Square
When you reach this district, head to Lima Main Square, or Plaza de Armas in Spanish.
Dubbed 'the cradle of Lima' thanks to its ancient past as well as its role as the seat of administrative power throughout Lima's history, Plaza de Armas is where Spanish conquistador Francisco Pizarro officially founded Lima in January 1535.
The plaza's name literally means 'Weapons Square' and is a good reminder of the violent conquest of what is today Peru by the Spanish conquistadores.
Some of Lima's most beautiful colonial architecture is on display in the buildings surrounding Plaza de Armas (also known as Plaza Mayor).
Perhaps most notable of all are Lima Metropolitan Cathedral, whose relatively simple exterior belies its far more ornate and lavish interior, and the compact Archbishop's Palace (see below) with its distinctive and ornately carved cedar balconies.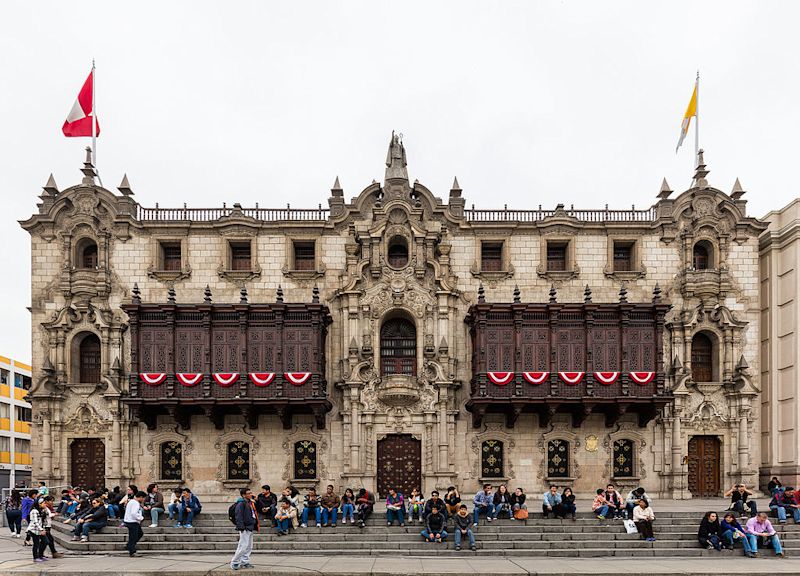 The baroque Archbishop's Palace on Plaza de Armas | Photo by D. Delso
The central garden and fountain of the Plaza de Armas are also a very pretty sight and popular photo spot.
Useful info
You can watch the

changing of the guard ceremony at the Presidential Palace if you're in the plaza at 11:45 am.

You can explore the plaza yourself or join a free guided walking tour. Just note that tour groups meet at the Tourist Information Centre on Avenida Jose Larco 799 in Miraflores.
Basilica and Convent of San Francisco, for beautiful architecture and artworks
A UNESCO World Heritage Site, the Basilica and Convent of San Francisco is situated just around the corner from Plaza de Armas. This religious complex was founded by Dominican friars in 1535.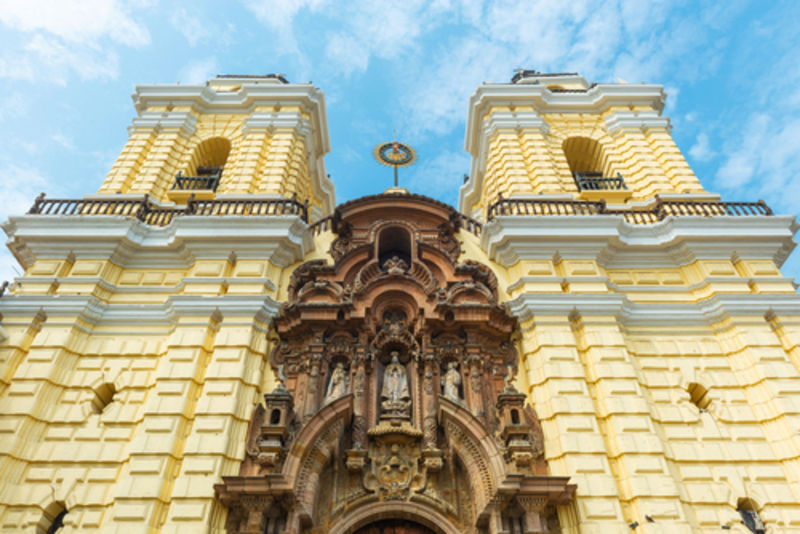 The baroque facade of the San Francisco Basilica
This impressive religious complex houses an extensive collection of religious artworks and historical texts. Rather macabrely, the complex also features catacombs with a neatly arranged ossuary (display) of around 70,000 human remains!
Importantly, the monastery also is home to Iglesia de Santo Domingo, which is baroque architecture at its finest.
Useful info
Opening hours:

9 am to 8:15 pm daily

Entrance fee:

Around US$3
Have lunch and rub shoulders with locals in Kennedy Park – the 'cat park'
For lunch, we recommend heading to Kennedy Park on the edge of Miraflores. This is a pretty, vibrant spot frequented by locals and visitors alike.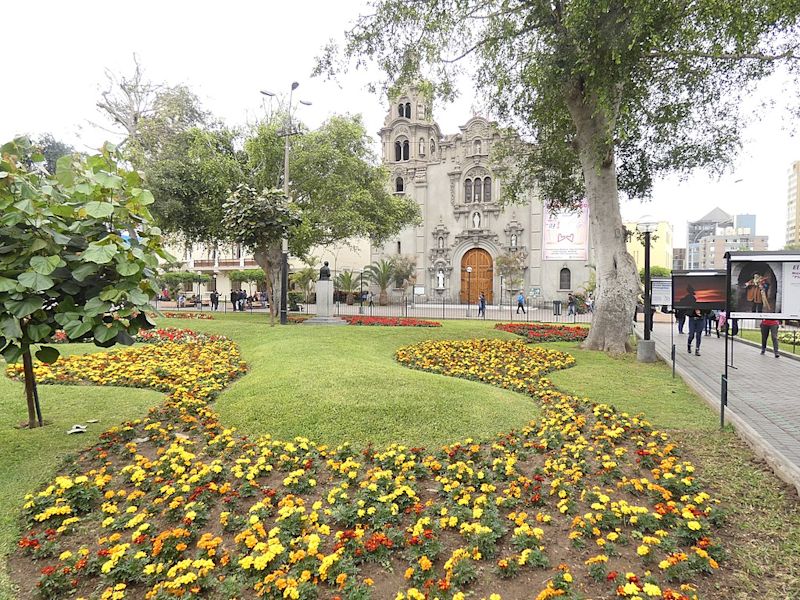 The Church of the Miraculous Virgin faces a portion of Kennedy Park – pic by Catatine
The park regularly hosts art exhibitions, concerts and other cultural events, but even if there's nothing happening when you're there, it's well worth a visit simply to walk between beautiful flower displays.
This is also a great place to buy something relatively affordable to eat from one or more of the food stalls. (We don't recommend a heavy lunch, otherwise you might lose energy for the rest of the day! Rather go big on dinner, we feel.)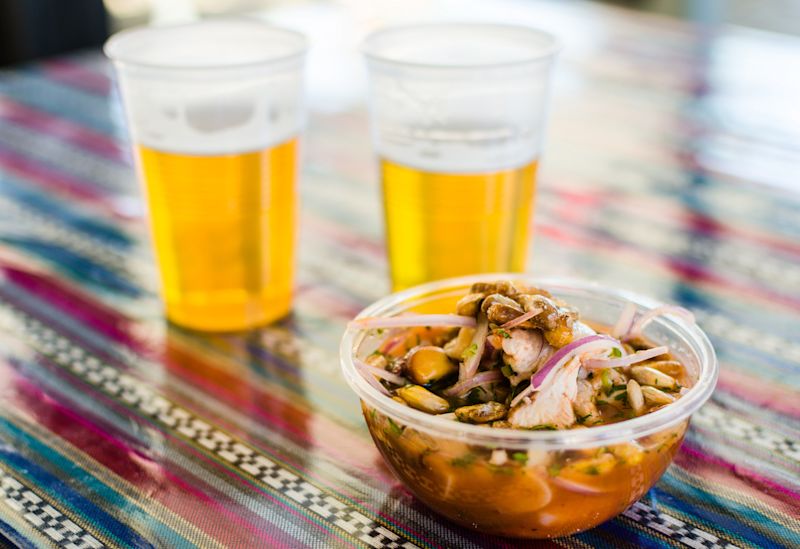 Ceviche and beer is a popular combo in Peru
You can find favourites to try like ceviche (seafood 'cooked' in lime juice), butifarra (a Peruvian ham sandwich with yellow pepper, red onion, lettuce and mayonnaise on French bread) and picarones (squash and sweet potato doughnuts).
There are also eateries in the buildings surrounding the park should you not find something you fancy at the food vendors.
This sweet tabby was snapped sitting in a flower bed in Kennedy Park
The park is also called Miraflores Central Park (Parque Central de Miraflores), or, more interestingly, 'the cat park'! Hundreds of stray cats have the run of the park and are taken care of by the city.
There are also craft stalls where you might find something you like. It's also just nice to browse the wares to see what locals are making and selling.
Grab some post-lunch coffee and chocolate
There's no time for a post-lunch slump when you have only a day in Lima for exploring. So we suggest you make time to caffeinate yourself afterwards. And also treat yourself to some chocolatey sweetness.
Peru is a big coffee-growing nation, and its beans produce deliciously smooth and mellow coffees. While many places around the world make good coffee, there's nothing quite like the coffee on offer in Lima. Seriously. And happily many places offer milk substitutes for those who don't want dairy.
It's well-known that Peru produces some of the very best coffees and chocolates in the world!
You can also buy an incredible variety of heavenly chocolates in Lima. Or alternatively, go for a hot chocolate that you can sip and savour for longer.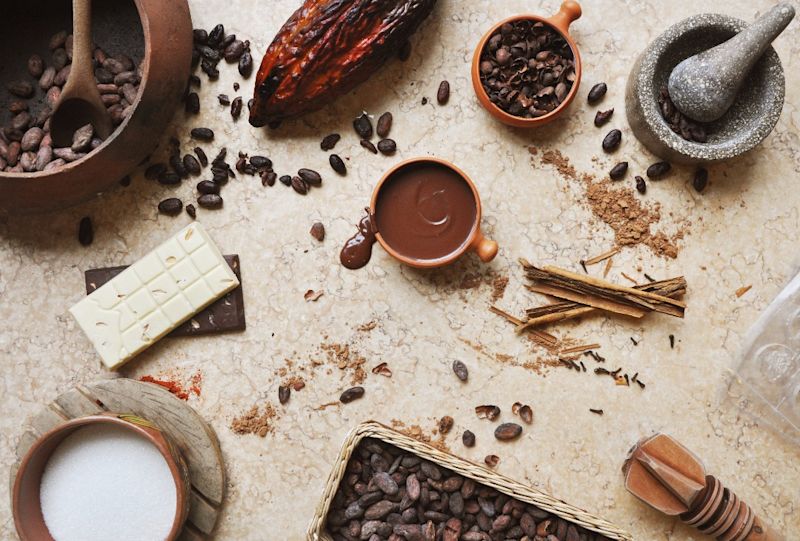 Chocolate is a big deal in Peru!
You can get your choccies (which also make a great gift for anyone back home) from any one of a few dedicated chocolate shops in Miraflores. But there's actually no need to go searching, as one of the best places for coffee and chocolate is ChocoMuseum, which is directly opposite Kennedy Park to the west.
In fact, if you really love a good chocolate, you might want to consider ditching some of our other ideas for the day to make time for the two-hour chocolate-making workshop at ChocoMuseum!
In good weather, spend the afternoon outdoors in clifftop Miraflores
There's plenty to keep you busy in Miraflores, Lima's most modern but also most ancient district. In fact, Miraflores is the ideal district for a temporary parting of ways with any travel partner who wants to go shopping or do something else you don't fancy. Just meet up later at the Malecon Walkway (which we discuss in a moment).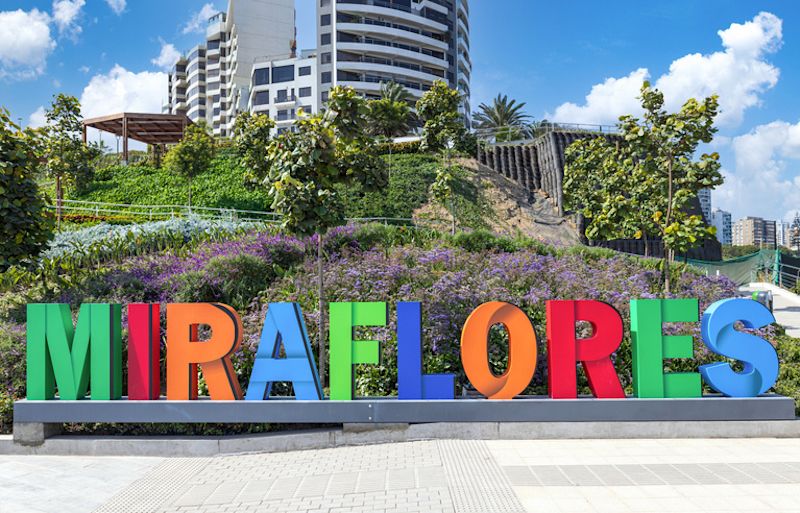 Miraflores is the perfect afternoon destination in good weather
But first, if you're interested in history, architecture and the unusual, we suggest you start the afternoon with a pyramid visit ...
Visit the pre-Inca Huaca Pucllana pyramid
The ruins of the Huaca Pucllna Great Pyramid are a must-see on any visit to Lima. Truth is, if you're wandering around Miraflores, you couldn't miss Huaca Pucllana if you tried!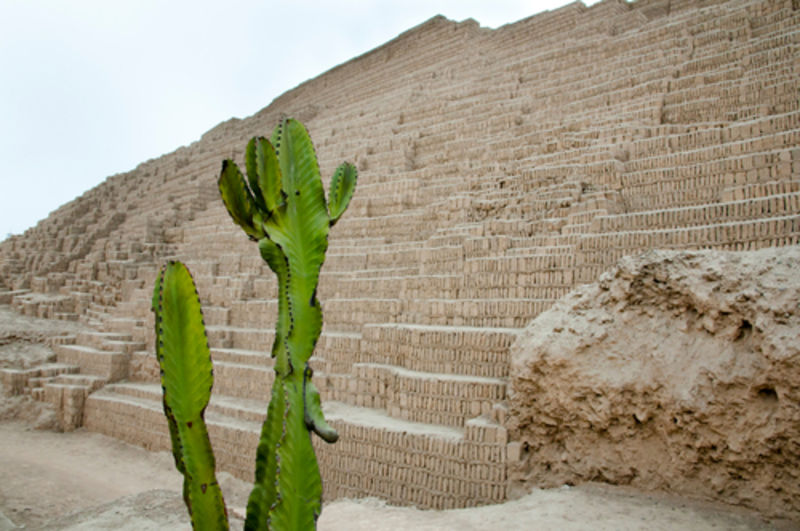 The incredible Huaca Pucllana pyramid
The pyramid was built by the pre-Inca people who inhabited the area between 200 and 700 AD and after whom the city is named. It's remarkably intact, which speaks to their remarkable engineering skills and knowledge.
The pyramid served the Lima people as a ceremonial and administrative centre. Many artefacts such as pottery, textiles, tools, the remains of alpacas and other animals, and even food items have been found during the excavations of the ruins, giving us a fascinating view into this ancient civilisation.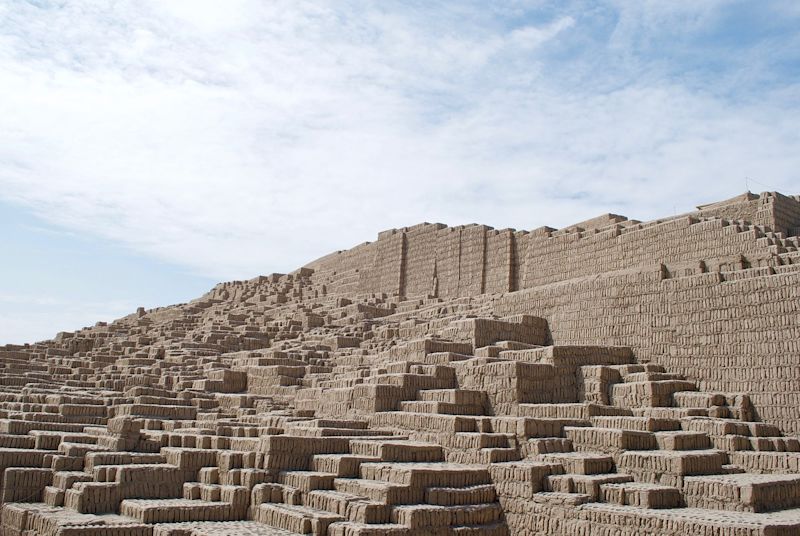 The Great Pyramid is a very different shape from the world-famous Egyptian pyramids
The artefacts can be viewed at the adjacent Huaca Pucllana Site Museum.
Useful info
Opening hours:

The site is open to the public from 7 am to 5 pm and again from 7 pm to 10 pm every day of the week except for Tuesday

Entrance fee:

Around US$5

Guided tours:

The tours provided by the museum are free, but note that you need two to three hours for a full tour
Stroll along the clifftop Malecon Scenic Walkway
The Malecon Scenic Walkway is a wide, flat pathway of roughly six miles that runs along the edge of the city cliff in Miraflores.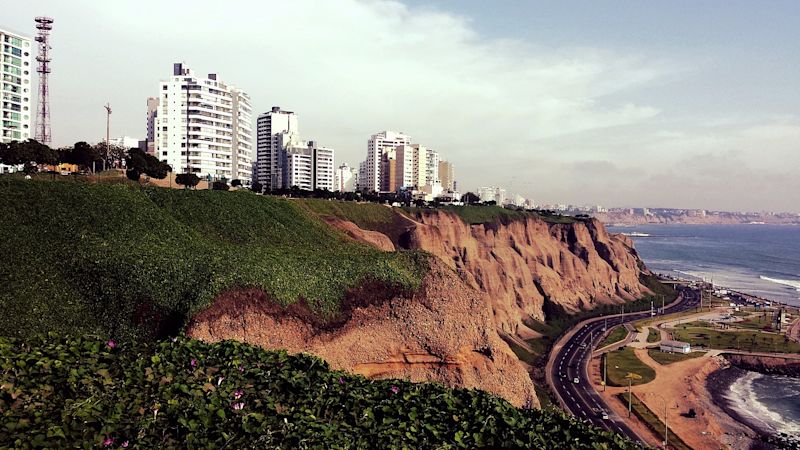 The Malecon Scenic Walkway runs along the city's clifftop in the district of Miraflores
This well-maintained path connects several beautiful parks with stunning coastal views and monuments, with other tourist hotspots such as the Larcomar Shopping Centre and Raimondi Park.
Amble along the Malecon to enjoy the lush scenery of Lima's greenbelt. Or hire a bicycle and ride along the walkway. You come across a series of parks and you can stake your claim of one of their benches overlooking the Pacific in time for one of the city's famous sunsets.
Follow Alice's Lexy and Arturo on the Malecon a sunny September day
The Malecon can be enjoyed year-round, but summer is the best time of year for clear views, a green landscape and a worthy sunset. Although Lima is surrounded by desert, the city itself has many species of plants and trees typical to Peru. And there are many lovely manicured flowerbeds in season.
A favourite spot on the walkway among visitors and locals alike is Parque del Amor ('The Love Park'). Dedicated to all things romantic, and featuring a famous statue called 'The Kiss', the park is definitely one to visit if you're travelling with a significant other.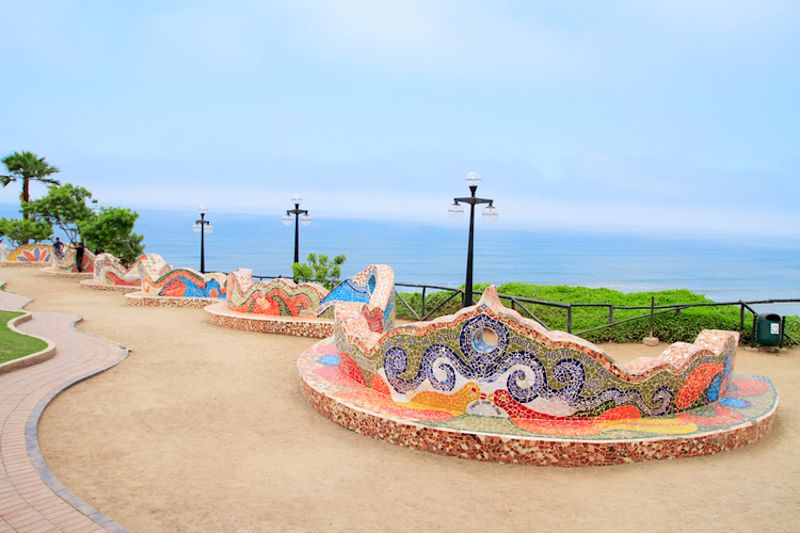 The Malecon Scenic Walkway winds through Parque del Amor ('The Love Park')
Go on a guided paraglide from the clifftop to the beach
If it's a clear day, a must-do activity for the adventurous is a guided tandem paraglide off the cliff at San Isidro on the Malecon Walkway.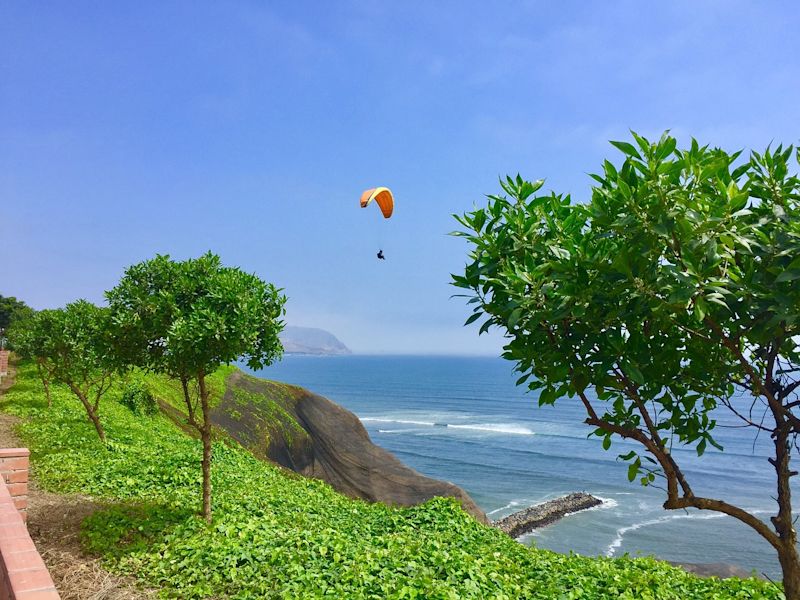 Paragliding off the cliff is a popular activity in Miraflores
This activity is sure to leave you with an unforgettable memory of Lima as you see the coastal greenbelt (the Costa Verde) from the air. (However, please note that it's a no-go when the fog rolls in from the sea, as it frequently does in winter months.) Summer is the best time of year for paragliding, and late afternoon is the best time of day.
Useful info
Tickets:

These can be purchased at the kiosk in Antonio Raimondi Park

Cost:

US$50 for a 10-minute flight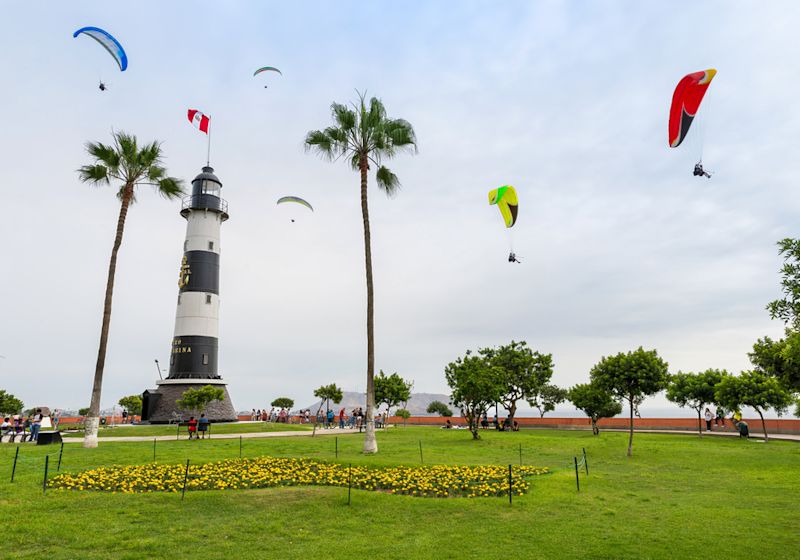 Paragliders and the Marina Lighthouse in Miraflores
Take a surf lesson at Waikiki Beach
Peru is blessed with some of the longest waves in the world, and has year-round swells. So if it's a sunny day, take the plunge and go surfing at Waikiki Beach in Miraflores. Or even if there's no sun – if you're already a surfer, then you'll know that you can't miss riding the waves off the coast of Lima, whatever the weather has a mind to do!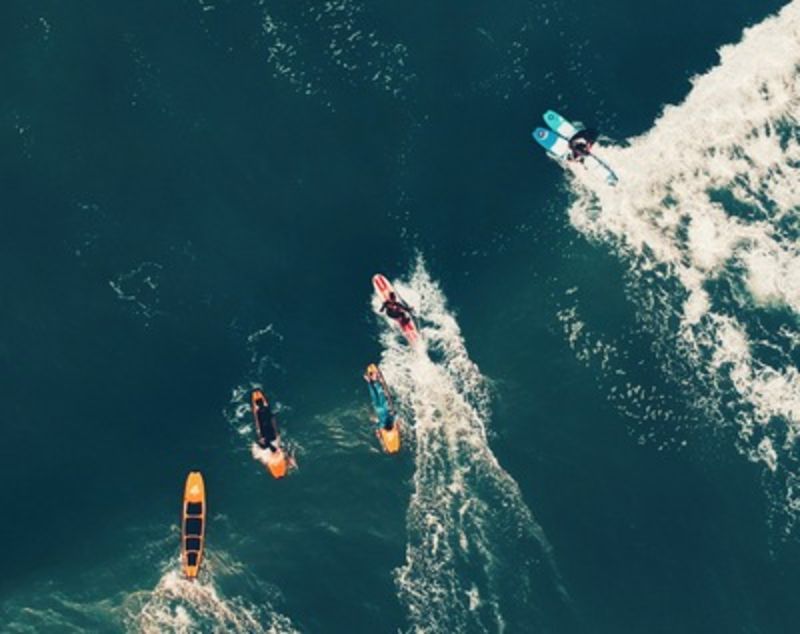 Waves off the coast of Peru are among the world's best
Peru is known among experts as having some of the best surfing conditions in the world – if not THE best!
There are several surf schools operating from Miraflores if you're a novice. Tourist kiosks along the Malecón Walkway are able to provide details if you want a lesson, or just want to rent a surfboard.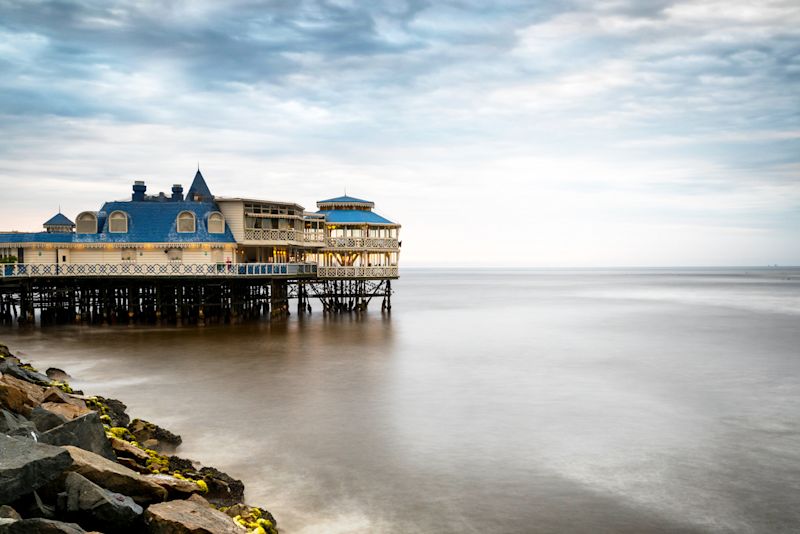 The pier restaurant on Waikiki Beach
Useful info
Duration:

You'll need around an hour for a surf lesson

Cost:

US$25 for an hour of surf instruction + US$10 per hour for surfboard rental and US$4-5 for wetsuit and booties rental.
In poor weather, spend your afternoon exploring colourful Barranco
That brings us to the final district we recommend as a 'must-visit' (especially in winter when Miraflores can be grey and blanketed in fog): Barranco.
In good weather we suggest heading here for dinner, but in poor weather, consider spending your afternoon exploring this district. You can reach it by walking south along the Malecon Walkway from Miraflores, as Barranco is its neighbour to the south.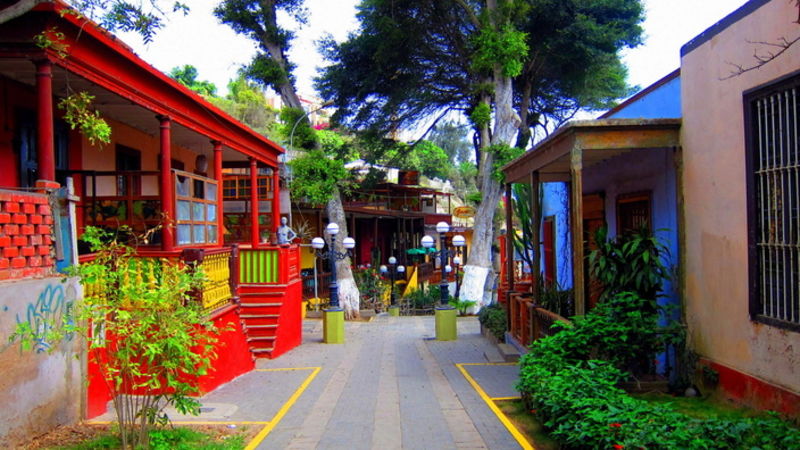 A colourful Barranco street
Wander the colourful streets of Lima's artistic district
Barranco is Lima's most colourful district, and it offers visitors a less curated side of Lima. If you'd like a feel for local sentiment, then this is a great part of the city to wander around as the streets are filled with extraordinary street art.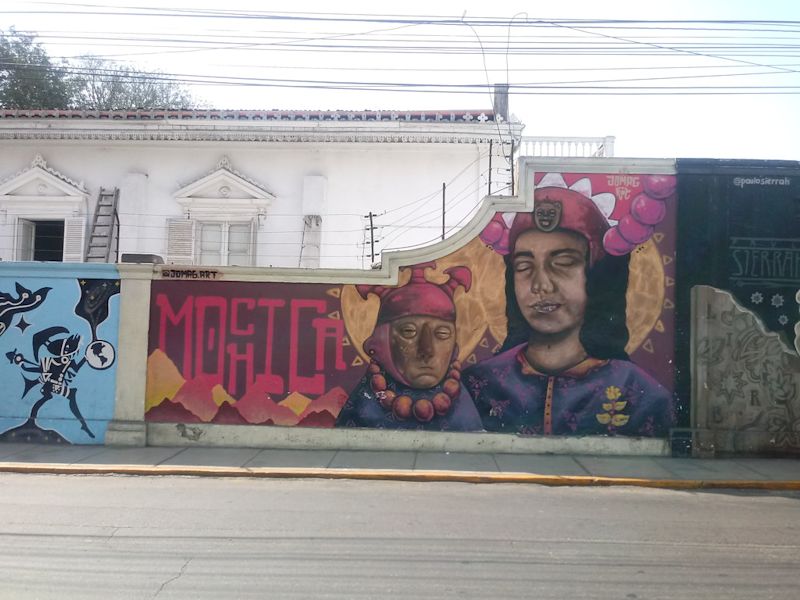 Barranco is known for its ubiquitous street art
Murals showcasing contemporary Peruvian culture and faces adorn buildings, overpass bridges and almost every available wall space throughout Barranco. Some are permanent, but others change as Lima's local muralists paint over and add to the district's modern street art collection.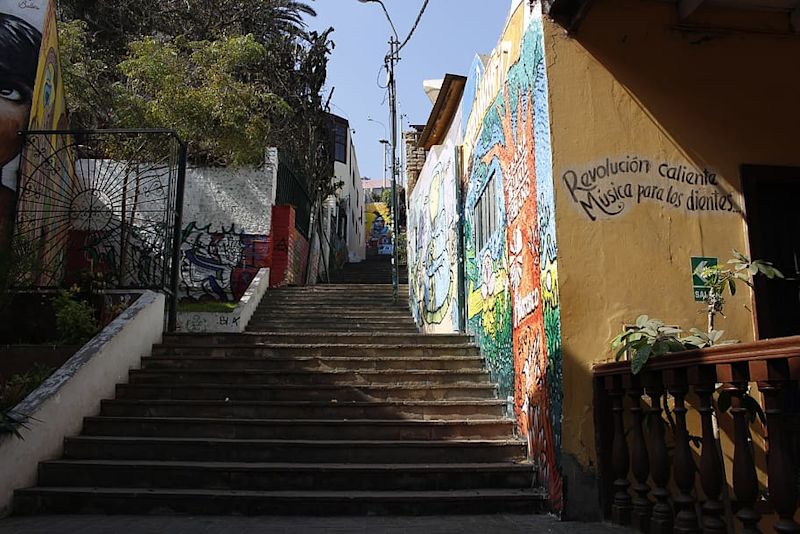 Lima's district of Barranco is synonymous with street art
Try lucuma ice cream
We highly recommend that you buy yourself a Peruvian lucuma ice-cream cone. Even if it's a cold, grey day.
A bowl of delicious lucuma ice-cream
Lucuma ice-cream has a fruity flavour, as it's made with lucuma fruit, which is native to the Andes. Lucuma has a unique flavour that's something akin to a mixture of sweet potato, caramel and maple syrup.
Peruvian ice cream is as unique and delicious as Peruvian chocolate and coffee, and that's really saying something.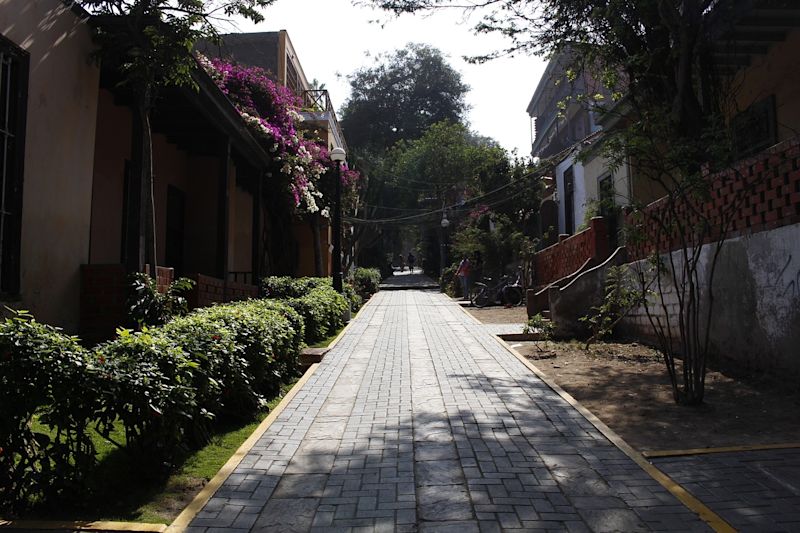 An unhurried walk with an ice-cream in hand is truly one of the best ways to explore a new area!
Visit markets and boutiques to support local artisans
Barranco is an ideal place to shop for souvenirs and keepsakes if you want to pick up something authentically Peruvian and support local artisans.
There are many wonderful boutiques and markets where you can buy local wares such as traditional Peruvian clothing, rugs, bolts of cloth made from alpaca wool, ceramics, traditional musical instruments and more.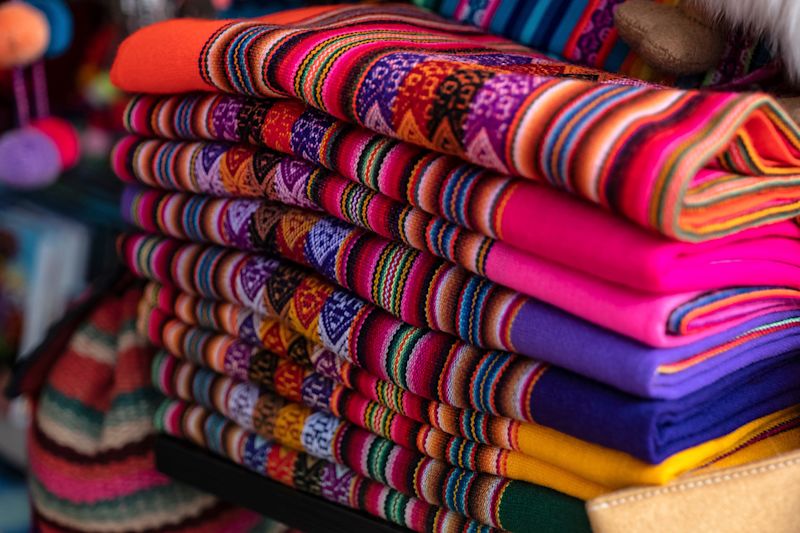 Peruvians across the country have a tradition of very vibrant clothing
Peruvian textiles tend to be very colourful and make for some truly fantastic treasures when unpacking your luggage back home.
If you're a foodie, then it can be great fun to stroll among the fresh produce in a Barranco market and appreciate the look and smell of the unusual fruits and veggies on offer.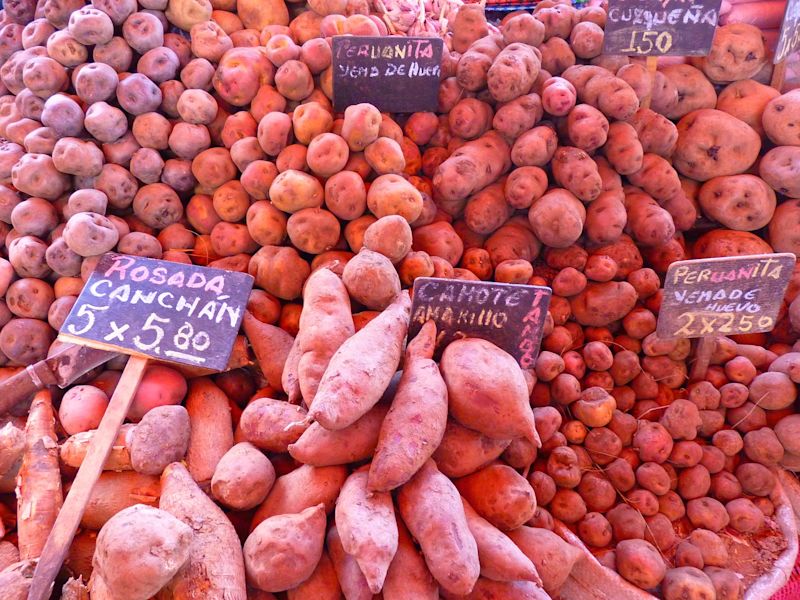 Potatoes are native to South America and there's a huge variety in Peru
Further to this, there are many art galleries in the district showcasing the works of local artists, and others where you can view and buy items featuring traditional Peruvian art motifs.
At dusk, visit a unique water fountain
The Magic Water Circuit of the Reserve Park (or Circuito Mágico del Agua) is an amazing water attraction in Lima. It's best seen after dark when the magnificent stretch of fountains dances to a musical symphony. The fountains create a dazzling rainbow-coloured display that will leave you stunned.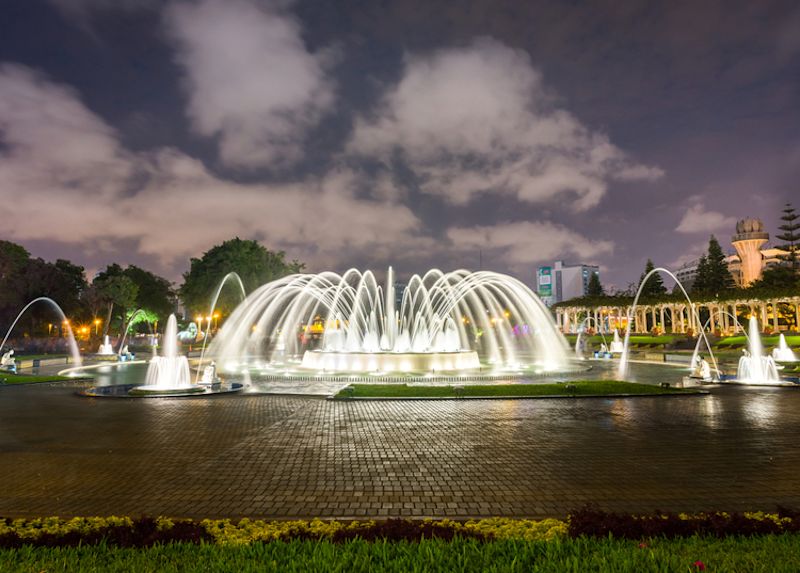 The centrepiece of the Magic Water Circuit
The Magic Water Circuit of the Reserve Park is the biggest fountain complex in the world, recognised by the Guinness World Book of Records.
Note that the fountain is 9 km north of Miraflores, so it's more an option if you spent your afternoon in Miraflores (rather than in Barranco).
Head to vibey Barranco for dinner and nightlife
After the fountain, catch a taxi down to Barranco for dinner, as this is the district that serves some of the best authentic local food. Happily, this eclectic and bohemian neighbourhood is also famous for its bars (many with dance floors) and nightlife.
If you're staying overnight in Lima, Barranco is where you want to be to join the throngs after dark.
On your way to dinner, weave past the Bridge of Sighs if you can. It's said that if you hold your breath while you cross the 144-foot-long bridge, your wishes will come true. There's no evidence of this, of course, but it's a fun rite of passage for visitors to Lima.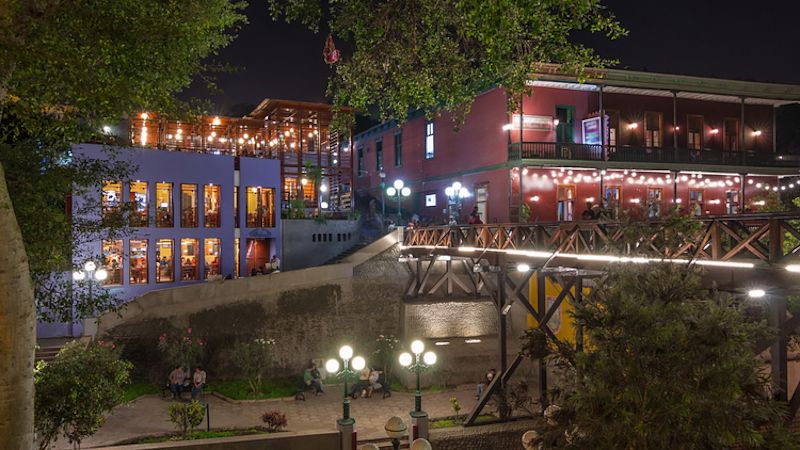 The Bridge of Sighs in Barranco
The best local dishes and drinks to order for dinner
Lima is thick with eateries of every description, from food stalls to some of the world's top restaurants. There's also a strong street food tradition, with plenty of opportunities to eat on the trot if you feel you still need to fit in some sightseeing over dinnertime.
Lima is the culinary capital of South America, so be sure to try a local dish for dinner to really get the full Limeño experience!
Lima is a master when it comes to seafood dishes
That said, here are three very popular local dishes to consider ordering for your dinner, followed by some great local drinks ...
Ceviche
The iconic Peruvian dish you really must try during your day in Lima is ceviche.
Considered Peru's national dish, ceviche is made from thin strips of raw fish, octopus, scallops and other freshly caught seafood marinated in leche de tigre (or 'tiger's milk').
But don't let this description put you off!
Firstly, the marinade is not any form of animal milk; it's made up of a mix of citrus juices (mostly lime, but also lemon and orange) flavoured with coriander (cilantro), chilli, onions, garlic and other fragrant ingredients.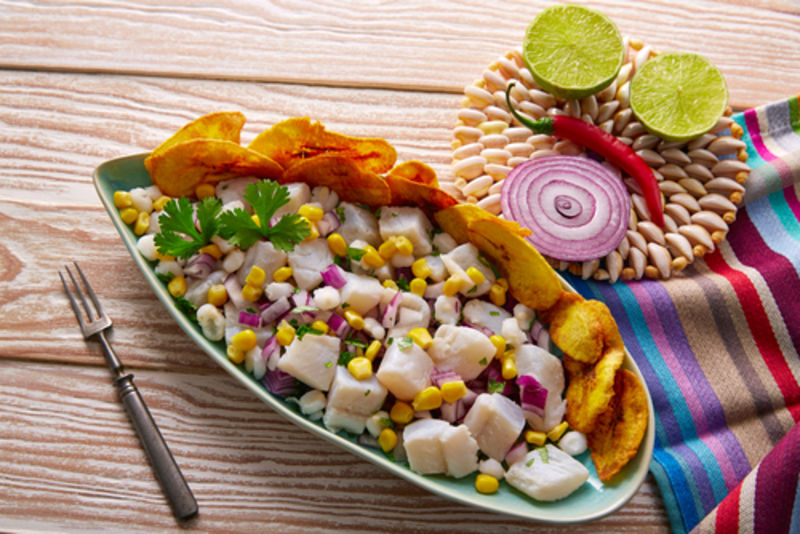 Ceviche with fried banana slices
Secondly, the fish is not raw by the time you eat it. The citrus marinade cold-cooks the raw seafood, instantly but delicately, making ceviche both delicious and perfectly safe to eat. You will find it everywhere, in every kind of eatery, in a multitude of unique variations and signature dishes.
Interestingly, locals traditionally go on to drink more of the marinade as an 'apres-ceviche' digestif.
Lomo saltado
Lomo saltado is a dish of beef strips that have been sautéed with onions, tomatoes and soy sauce. It's usually served with french fries and rice. It's an iconic Peruvian fusion dish, as it combines traditional Peruvian cuisine with Chinese influences (there are many thousands of Chinese Peruvians living in Lima).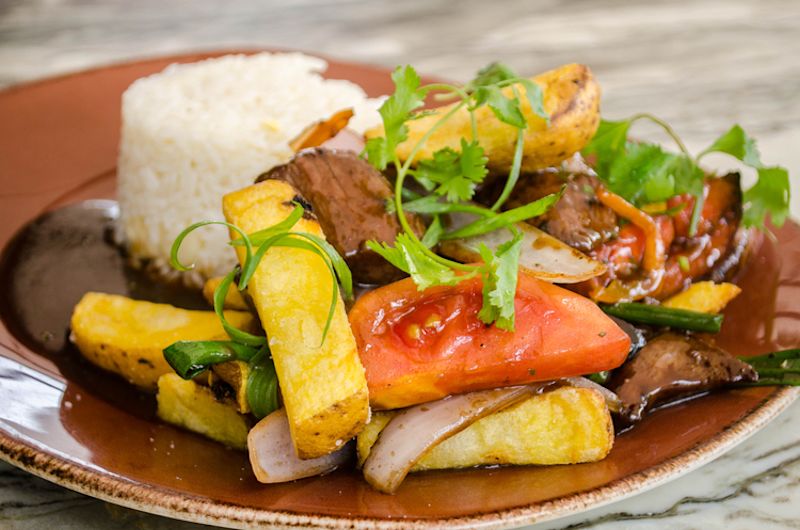 A dish of the popular lomo saltado
Rocoto relleno
To make rocoto rellena, very hot Peruvian rocoto peppers are stuffed with ground beef, olives, raisins, cheese, onions and garlic. Warning: this dish is hot, hot, hot! So line up the pisco sours – you'll need them!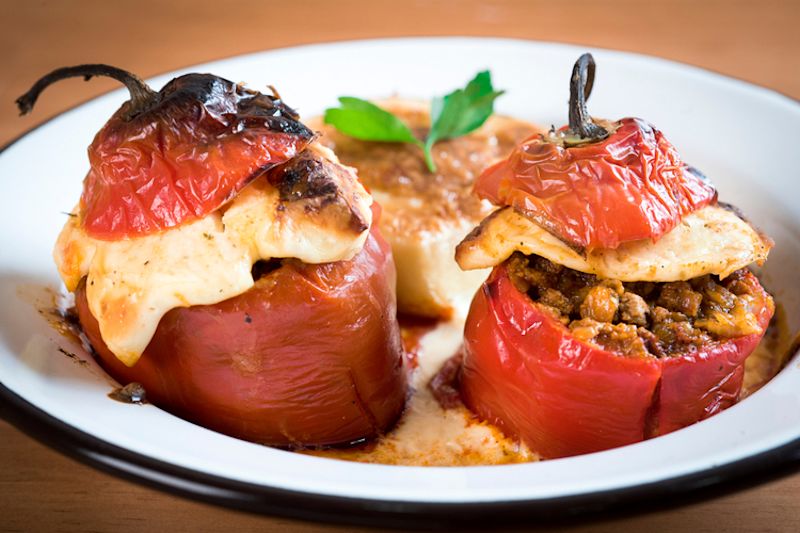 Rocoto rellena is a very spicy traditional Peruvian dish
And speaking of pisco sours ...
Pisco sour
Pisco sour is Peru's national drink (they also love it in Chile, but it originated in Peru).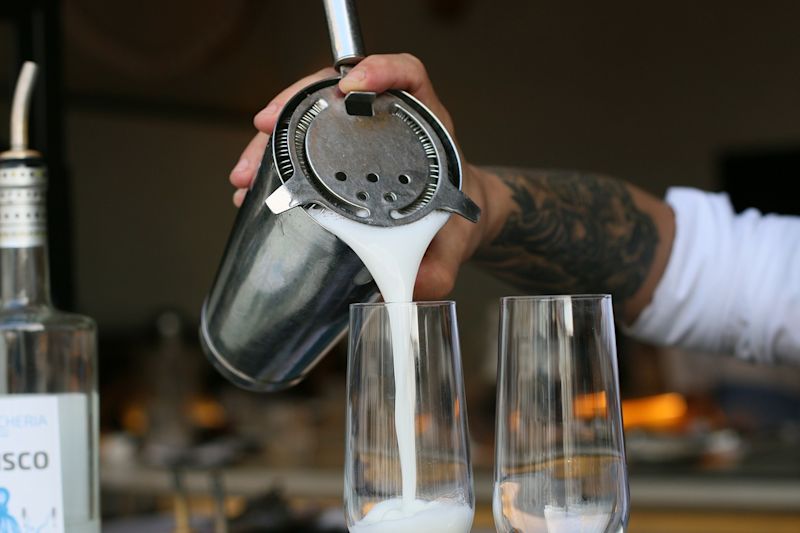 Pisco sour could almost be said to be Peru in a glass
The cocktail is a tangy and famously refreshing concoction of grape brandy, lime juice, cocktail syrup, egg whites and Angostura bitters.
Pisco Sour is as ubiquitous in the Lima food scene as ceviche.
Chicha morada
Made from purple corn boiled up with spices and sugar, this uniquely flavoured, deliciously sweet bright purple potion is Peru-in-a-glass. But maybe don't wait for dinner for this one – pick some up in Kennedy Park or elsewhere, as it'll give you a boost as you go about your day of sightseeing in Lima.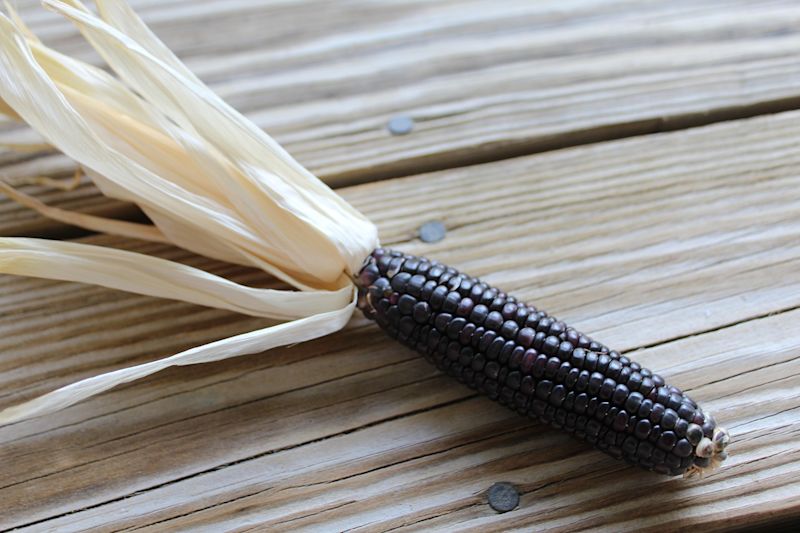 Chichi morada gets its vibrant colour from the purple corn used to make it
Peruvian beer
If you aren't too keen on experimenting with unfamiliar flavours, or if a good old ale is your steadfast thing, there's no need to miss out on imbibing quintessential Peru. Traditional local brews such as the low-alcohol Chicha de Jora or a smooth and crisp golden lager called Cusqueña Beer offer respite from the mid-day heat.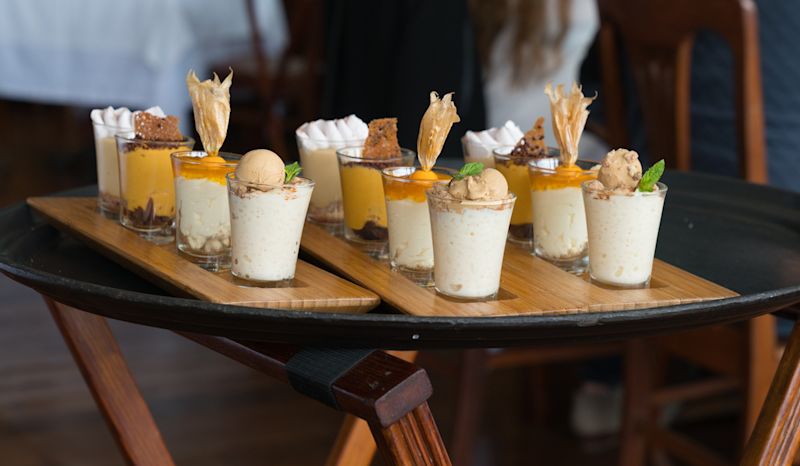 If you still have space after dinner, be sure to treat yourself to a dessert!
We hope you found our 'Lima in a day' itinerary helpful and inspiring!
However you decide to spend your day in Lima, we're confident you'll end it full of delicious food and drink, as well as filled to the brim metaphorically, having feasted with your eyes and soul while exploring the city's unique culture, heritage and vibe!