Best time to hike Annapurna Circuit
Feb 22, 2023
Reading time: 17 minutes
The Annapurna Circuit can be trekked all year round. But spring and autumn offer the best trekking conditions – that's February to May, and September to early December. We discuss the different seasons' temperatures, rainfall, visibility and crowds.
Most people choose to trek the Annapurna Circuit in spring or autumn, as these seasons offer more moderate weather and better hiking conditions. We use this post to discuss matters of weather, trail and trekking conditions, crowds, seasonal plants and animals, packing requirements, and costs. This is done in a bid to help you decide when you'd most like to go. We also give our advice and opinion on what we think is the best time of the year to hike the Annapurna Circuit.
Spring and autumn offer more moderate weather and better hiking conditions in the Annapurna mountain range.
Best time to hike the Annapurna Circuit
This graph gives an overview of the seasons of the Annapurna Circuit. For a more detailed analysis of when is the best time to hike the Annapurna Circuit, please keep reading!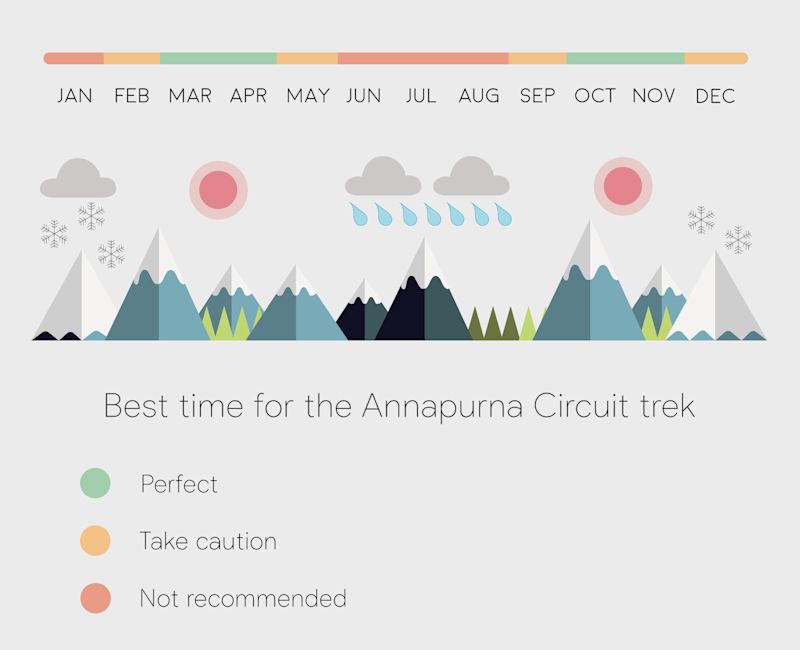 Annapurna Circuit weather
It's not actually all that easy to talk about the weather of the Annapurna Circuit. This is because the trail winds through a vast region within which the landscape experiences dramatic changes. The original multi-week Annapurna Circuit route (which is far longer than the route most of us trek nowadays) began in the subtropical zone. It took some days before hikers climbed up into temperate valleys and then ascended into the mountain zone. Having climbed to Thorung La, which at 5,416 m above sea level is the trek's highest point, trekkers descended back to temperate and, eventually, subtropical areas. The Annapurna Circuit has always been about variety, and the changing landscape and climate are at the heart of it all.
As just mentioned, most people no longer trek the entire route. One of the key reasons for this is the growing infrastructure in the area over the past couple of decades, which has made all but the highest portion of the trek route accessible by road. The earliest and latest stages of the trek route have consequently lost some of their appeal. Further, not all of us have the luxury of taking time off for a three-week trek.
At Follow Alice we've put together an exciting 12-day Annapurna trip that sees us trekking for a week in the highest and most remote part of the Annapurna trek route.
How high does the circuit go?
The graph below shows where we as a group join and exit the Annapurna Circuit, as well as important natural features along the way. One of these is Kicho Tal, or the Ice Lakes, which is a pristine set of lakes tucked up high among the mighty mountains. By studying the great changes in elevation along the trek route, it's easy to appreciate how much the climate zones and weather systems of the route change too.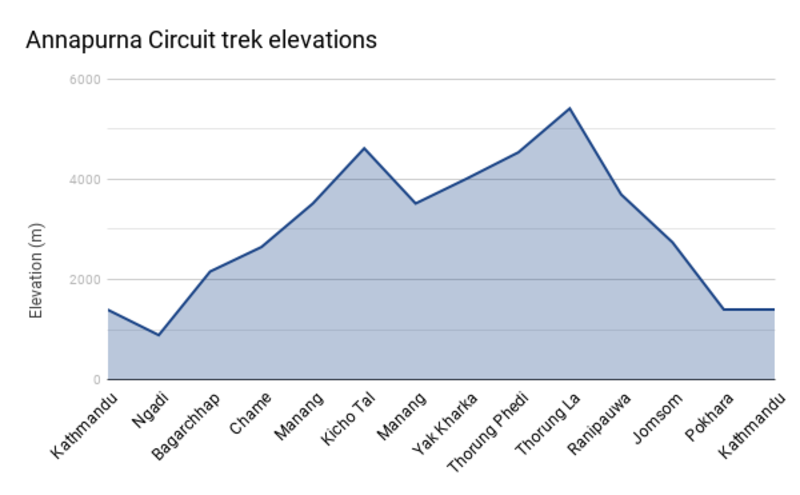 Annapurna Circuit elevation
The three climates of the circuit
As you now know, the Annapurna trek route encompasses subtropical, temperate and mountain climates. While we only start hiking in the temperate zone, we witness the monkeys, banana trees and rice paddies of the low-lying subtropical area during our drive time before and after the trek.
High-altitude trekking requires more careful consideration and planning than low-altitude trekking. this is because mountain weather can be dangerously fierce and changeable. Fortunately we've put down all the key facts you need to know about the weather of the Annapurna region in this blog post, so your research has been done for you! The main things to consider weather wise for a high-altitude climb are rainfall and temperatures.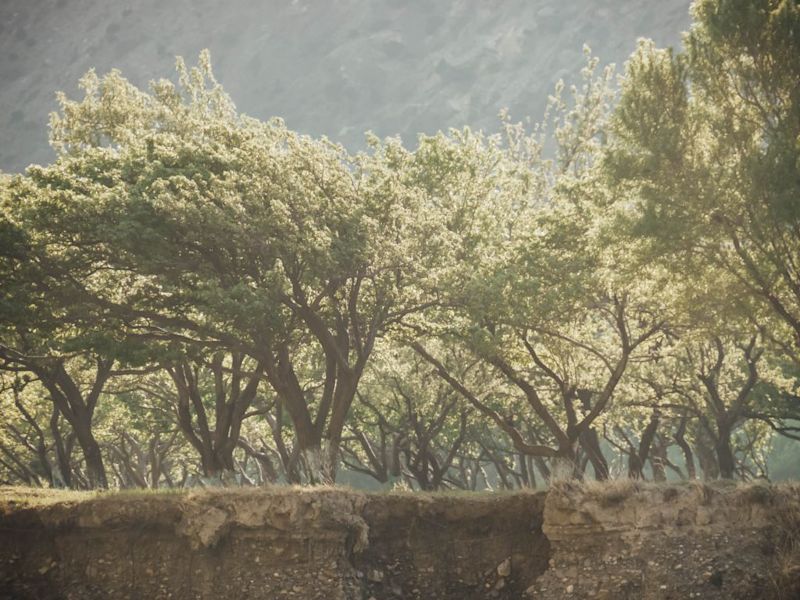 Not everyone realises how many trees and forests you walk through on the Annapurna Circuit trek – as well as how beautiful they are!
How much rain does the Annapurna range receive?
The higher portion of the Annapurna Circuit lies within a rain shadow. A rain shadow is an area cut off from rain systems by a natural barrier (in this case, the Annapurna Massif). This means the highest part of the Annapurna Circuit is largely unaffected by the summer monsoon that affects the rest of Nepal.
Being in a rain shadow, the higher part of the Annapurna route is 'trek-able' all year round from a rainfall point of view. However, to get to this area you have to trek through the temperate zone, which receives heavy monsoon rains. July and August in particular are incredibly wet months. March, June and September also receive a good deal of rain.
The graph below shows the mean annual rainfall for Upper Pisang, which is in the temperate zone. We walk through this village on our second day of trekking.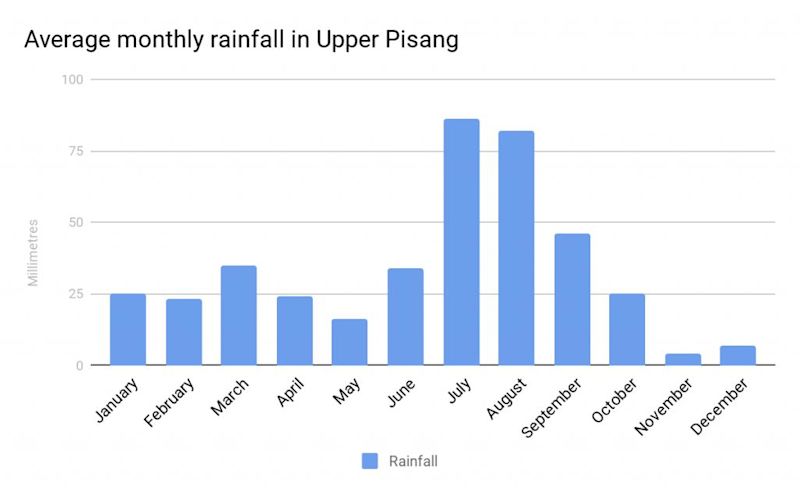 Average monthly rainfall in Upper Pisang
As you can see, one wants to avoid Annapurna during summer, as well as perhaps March, given the extremely high precipitation during these months. And yet that doesn't mean any other month of the year is our playground, as a rainfall assessment doesn't take into account that all-important issue of temperature.
How cold is the Annapurna Circuit?
In the colder months of the year the temperatures in Annapurna's temperate and mountain zones can be decidedly frosty. Temperatures regularly drop below freezing point along the portion of the trail that we trek. This is a result of the altitude as well as the influence of the winter monsoon, which brings icy winds from northern Asia.
In a town like Manang, for example, where we spend two days acclimatising to the altitude, night-time winter temperatures are generally always below freezing. And while daytime temperatures tend to rise a little above freezing point, the wind chill can easily give a real feel that's back below freezing. The coldest months in the Annapurna are generally December to February, with November and March also being very cold at times.
To give you a feel of the dramatic changes in temperatures that take place at our major pitstops, look at the graph below. Note that we'll also be trekking to even colder locations than those shown above, such as when we climb to the Ice Lakes and Thorung La Pass.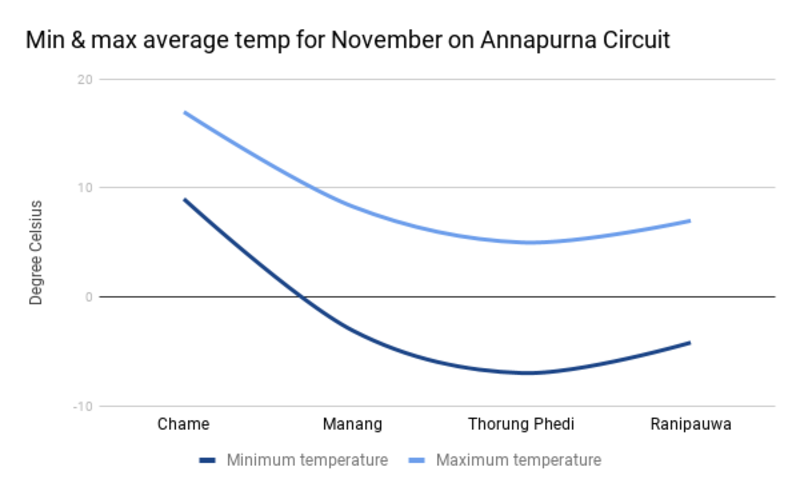 Annapurna Circuit average temperatures in November
When can I hike the Annapurna Circuit?
The trekking conditions along the Annapurna Circuit vary according to location and season. Many want to know if there's a best season for trekking the Annapurna Circuit? Below we consider how trekking conditions are affected by the different seasons, and explain why we think autumn is the best season for hiking in Annapurna.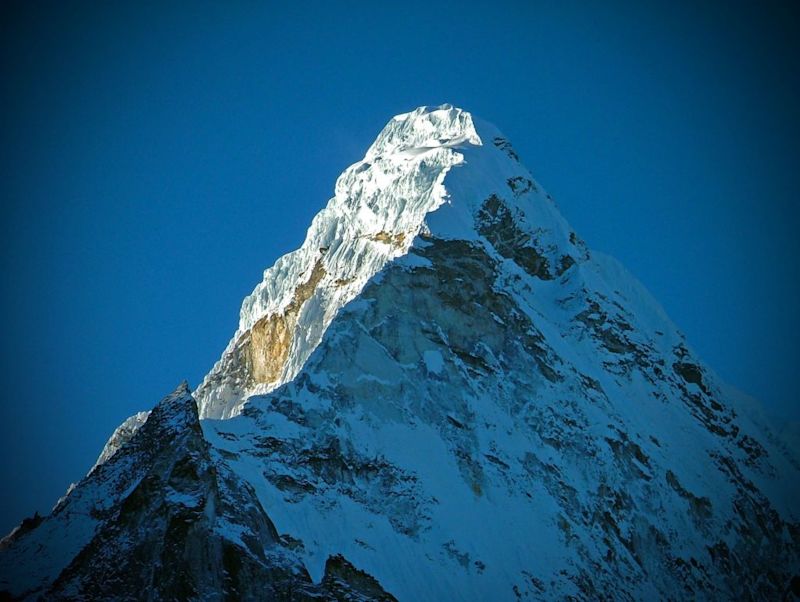 November generally offers clear views of the mountains on the Annapurna Circuit
Summer Annapurna trekking conditions
In summer, when the monsoon rains wash across much of the circuit, the lower paths can become a slippery mess. Much of the trail is rocky and gravelly, and slick rocks are nobody's friend. There's also a heightened chance of land- and rockslides in summer. Further to this, you'd be hiding under your waterproof gear much of the time but getting wet nonetheless, because these aren't delicate drizzles but monsoonal downpours.
Rains and downpours also mean limited or no mountain views, and that sounds pretty tragic to us. The entire point of an Annapurna trek is marvelling at the height and drama of the Himalayas. Even when the rains let up, there's a strong chance of haze and humidity. Given these subpar trekking conditions, we feel it best to leave the Annapurna mountains to themselves in summer. We'll visit them at other times of the year, thankful for all the life-giving rain that we missed witnessing firsthand!
Trekking conditions aside, we also want relatively safe driving weather when we travel from and to Kathmandu on either side of the trek. Further to this, we overnight in the lakeside city of Pokhara on the way back to Kathmandu, and we want to enjoy the scenery and beautiful outdoors there too.
Autumn Annapurna trekking conditions
When the rains let up in October and November, trekking conditions along the Annapurna Circuit become wonderful. The days are warm, the visibility is great, and the paths are no longer little rivers. Of course most people know this, which does mean sharing the trail with a number of other trekkers. This bothers some, but others enjoy the camaraderie and buzz of the peak season. You'll also be sharing the paths with locals (and sometimes their herds), but standing back for a yak or a drove of goats is surely part of the charm of visiting this part of the world.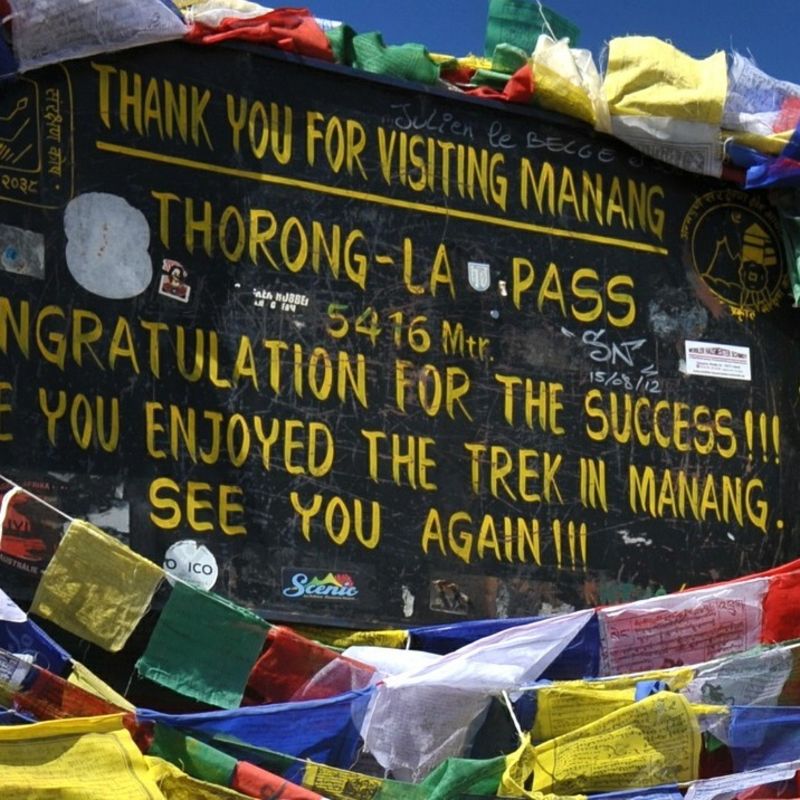 Safety is always our primary concern at Follow Alice. When embarking on a fun yet somewhat daring adventure like a high-altitude trek, safety simply has to be a key focus. Autumn is one of the safer periods to do the Annapurna trek as the temperatures are milder, the mountainsides less water-clogged and likely to slide, and the paths compacted by many feet. Some of the paths we hike are narrow contour paths that permit only one person at a time, and often the drop-off to the one side is steep. It's important that the paths and mountainsides be as stable as possible.
Safety is always our primary concern at Follow Alice.
Note that that trekking in October or November doesn't preclude the possibility of trekking in snow, especially at the higher elevations. We recommend bringing trekking poles to help with your footing. Trekking poles also take some of the strain off your knees when we descend from Thorung La to Ranipauwa, a one-day descent of over 1,500 m.
Winter Annapurna trekking conditions
Winter is a popular trekking month with a few hardcore trekkers because the trail is much emptier and the views crisp. For newbies, or relatively new trekkers, we don't advise hiking the Annapurna Circuit in such extreme conditions. The danger level is that much more, and even even if you relish the prospect of sub-zero hiking conditions, the fact that Thorung La Pass is sometimes closed when the weather is bad might put you off. Most of us can't afford to hunker down in place without it affecting our travel itinerary problematically.
Note: most teahouses will give you an extra blanket if you ask for one.
Spring Annapurna trekking conditions
Spring is a good time of year to trek the Annapurna Circuit. Temperatures thaw, the rivers swell and create picturesque waterfalls, flowers go bonkers, birds are busy doing their thing, and the path is relatively stable. Spring also offers clearer skies and better views, though there can sometimes be a haze at lower altitudes. Spring also brings back the crowds, so the hiking trail becomes busy again.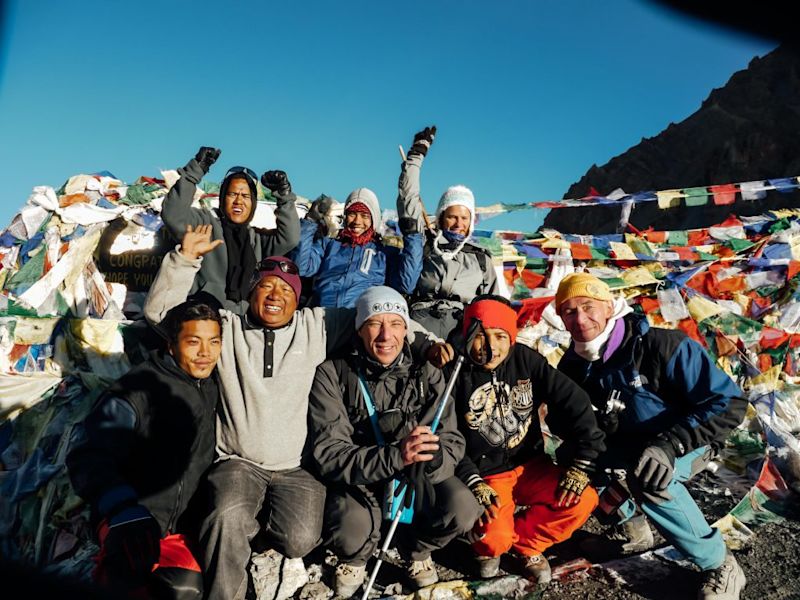 No matter when you choose to do the Annapurna Circuit trek, Thorung La Pass is always cold!
Best time to hike for greenery and flowers
For those of who love trekking partly because of the trees, plants and flowers it allows us to see, then knowing which species are on show, and when, is important.
Spring and summer
It probably won't surprise you to hear that winter isn't the time for flowers in Annapurna. When the winter snows melt and spring arrives, that's when the flowers come out to play. Some of the spring and summer flowers to look forward to are buttercups, cinquefoils, orchids, rhododendrons, magnolias, blue irises, primulas, and Himalayan poppies. But there are many more.
For instance, and deserving a paragraph all its own, you might get the incredible privilege of seeing the Himalayan blue poppy, also known as the Queen of the Himalayas. The blue poppy grows in the Annapurna Conservation Area (ACA), but it is the snow leopard of the floral world, being very hard to find. It has a wonderfully delicate, cool blue and partly transparent bloom.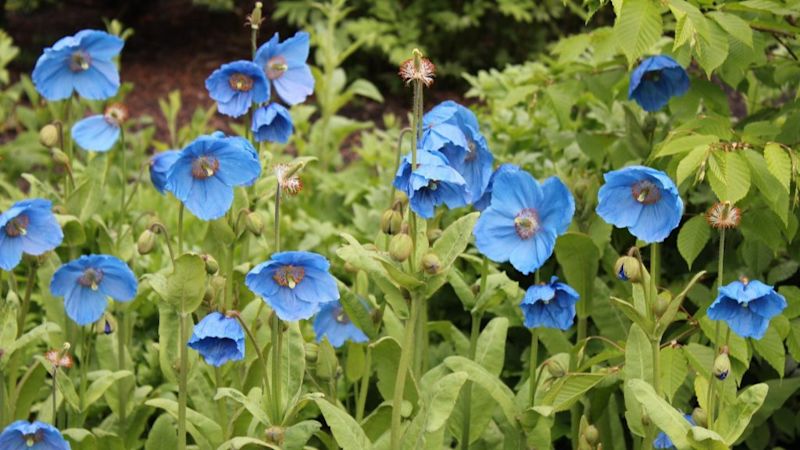 Himalayan blue poppies
Spring and summer are wonderful seasons to visit the Annapurna mountains.
Spring and summer are wonderful seasons to visit the Annapurna mountains if you love to be surrounded by green. Even in the temperate zone you're surrounded by greenery, which surprises some. March or April is the best time of year to hike the Annapurna Circuit if you want to see the flowering rhododendrons, which are the national tree and iconic to the Himalayas.
While every season offers some plant life to enjoy, overall spring and summer are the best times of year to hike the Annapurna Circuit if you love your flowers.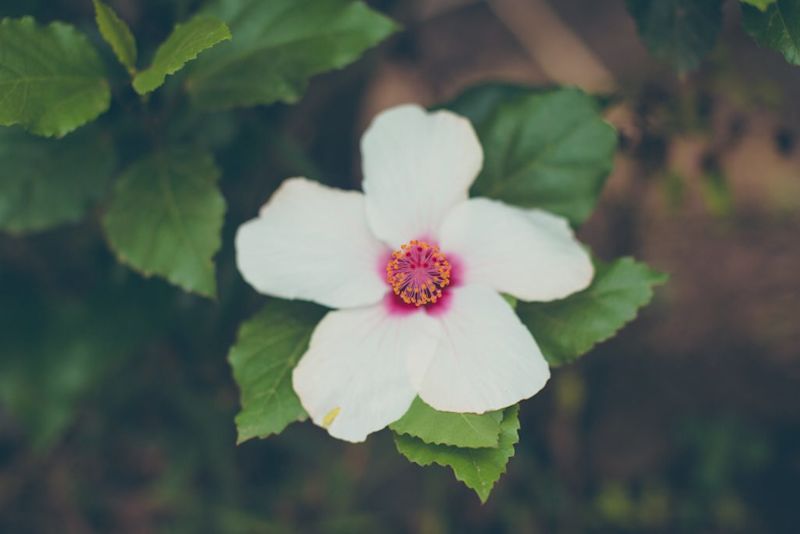 Spring means flowers, and the Annapurna Circuit has plenty to show you
Autumn
In autumn, many of the flowers are gone, though you do get beautiful flowering cherry trees. In the alpine region there are gorgeous, stately forests made up of trees such as junipers, pines and oaks. The beauty of the forests is that they're there for us to enjoy all year round.
How should I prepare for the circuit?
Your packing list for the Annapurna Circuit doesn't vary much by season. This is because you have to come prepared for any eventuality, including a surprise downpour outside of monsoon season, snowfall during the warmer months, a heatwave, and an unseasonal cold spell. In 2019 the weather felt rebellious and did all sorts of unexpected things. For instance, it soared above 30° C in May in Manang when it usually stays in the mid 20s. In January, the minimum temperature averaged 8° C compared with its usual 0 to -1° C. Also, visibility from January to June in 2019 was an extra 2 to 3 km when compared with the same period of every other year in the preceding decade.
Not all the climate surprises are limited to the year 2019, of course. The summer rains for each year between 2015 and 2019 clocked in between 400 and 600 mm per month. Those of the years between 2009 to 2014, on the other hand, never exceeded 180 mm per month. Some years the wind gusts are more than three times the strength of those of other years.
Winter versus summer equipment
If you travel during winter, or in the months alongside it, you do have to pack more (and in some respects higher quality) clothes and equipment than if you were to trek the Annapurna Circuit in summer or near to it.
A winter sleeping bag, for instance, with its superior insulation, sets you back more than a light summer bag. (You can learn more about the sort of sleeping bag you need for this trek in The best sleeping bags for trekking in Nepal.) But you most certainly need a winter sleeping bag to be warm and safe on an Annapurna Circuit trek!
You also need a winter jacket, warm over pants, winter gloves, a beanie, and plenty of thermal inner wear.
You can rent one of our Follow Alice down winter jackets for the trek if you don't have a suitable jacket of your own.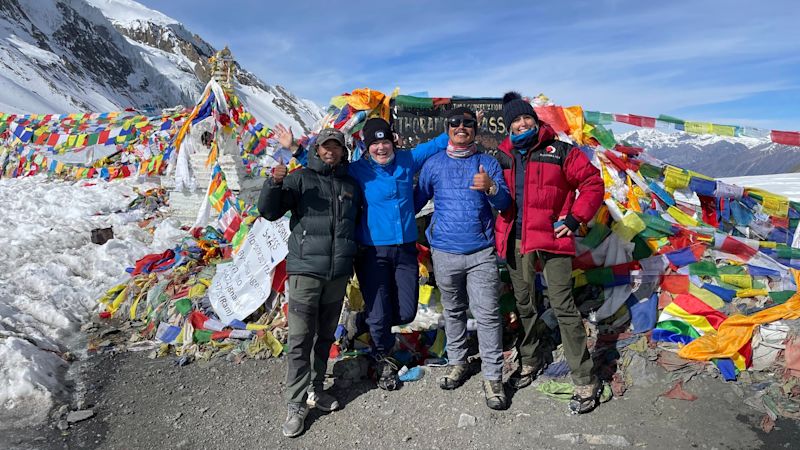 You can see one of our Follow Alice red-and-black down jackets in this summit pic
That said, most of the equipment, like backpacks, trekking poles and hiking boots, are the same whenever you trek.
And while you may not ever need that down jacket, you still have to pack for just in case. Anything can happen in the Himalayas, and you need to pack to ensure you're ready for it all. So the packing list for each of the four seasons doesn't vary much.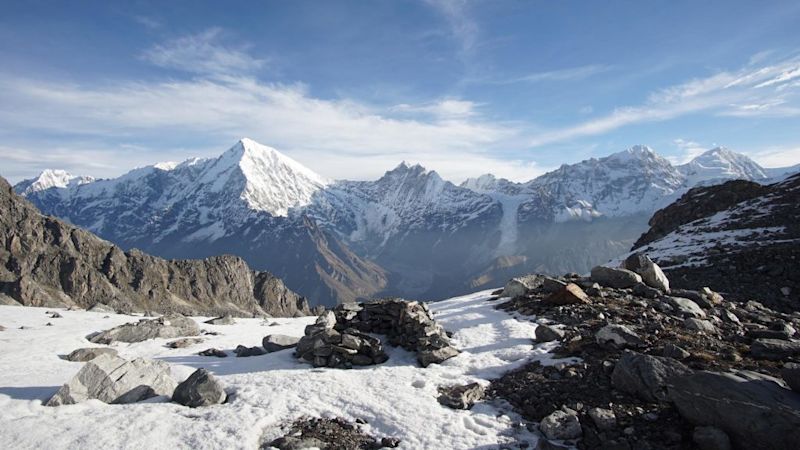 In winter, the temperatures on the Annapurna Circuit plummet to well below freezing at night
Cheapest time to hike the circuit
Many looking for the best time to hike the Annapurna Circuit would also like to go when it's most affordable. Life is expensive, right? Given that autumn and spring are the peak trekking seasons, you might be wondering if trekking in one of these months makes the trip any cheaper or more expensive.
Cost of flights
The cost of flights to Nepal varies according to your departure destination, when you book, and more. This means you'll need to do a little online research to determine when the cheapest times of year are for you to fly to Nepal from your part of the world.
Another of the keys to obtaining affordable flights to Nepal is purchasing them in advance. Try to buy your tickets at least three weeks before your planned travel date. And if you know your travel times well in advance, you can also keep an eye open for specials.
Keep a look out for flight specials – these can really reduce your overall costs.
Cost of trekking permits
The trekking permit for the ACA, which costs 3,000 Nepalese rupees (NPR) or about €23 as of December 2021, is the same throughout the year. The same goes for the Trekkers' Information Management System (TIMS) card, which is 2,000 NPR (or €15). Both of these permits are obtained for you by the Follow Alice team, and the fees are covered by your Follow Alice package fee.
Cost of accommodation
Accommodation along the Annapurna Circuit is blessedly affordable, costing only a handful of euros a night. Most teahouses (lodges) make their primary income from the sale of food and drink. It's understood that you'll purchase meals from the establishment where you're staying. All accommodation and meal costs are included in your Follow Alice package fee.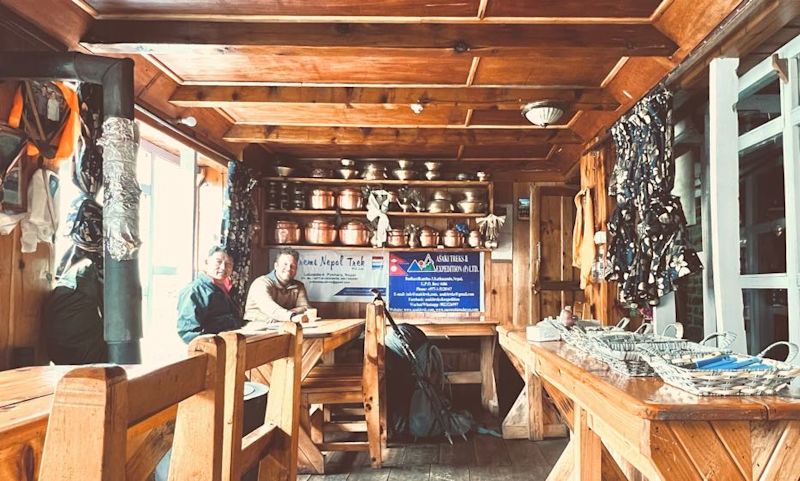 Our client Hala took this snap inside a teahouse on this Annapurna Circuit trek
If you hike the Annapurna Circuit in winter, some of the teahouses and other establishments like grocery stores will be closed. Those that are open are sometimes amenable to bargaining, as numbers are low. But if your budget isn't too constrained, you might consider not bargaining, since your income is sorely needed, especially in the wake of the coronavirus when there were months with no trekkers at all. In peak seasons, accommodation is usually booked up by trekking groups, and there's no space for bargaining.
If you're really looking for the most affordable Annapurna Circuit experience, then winter is a good time to go, as flights are usually cheaper (depending on your starting destination) and you could save a few pennies on accommodation and food. Personally, however, we don't feel the price difference between seasons is at all great enough to really warrant finances becoming a deciding factor. Especially in light of the other, generally more important variables.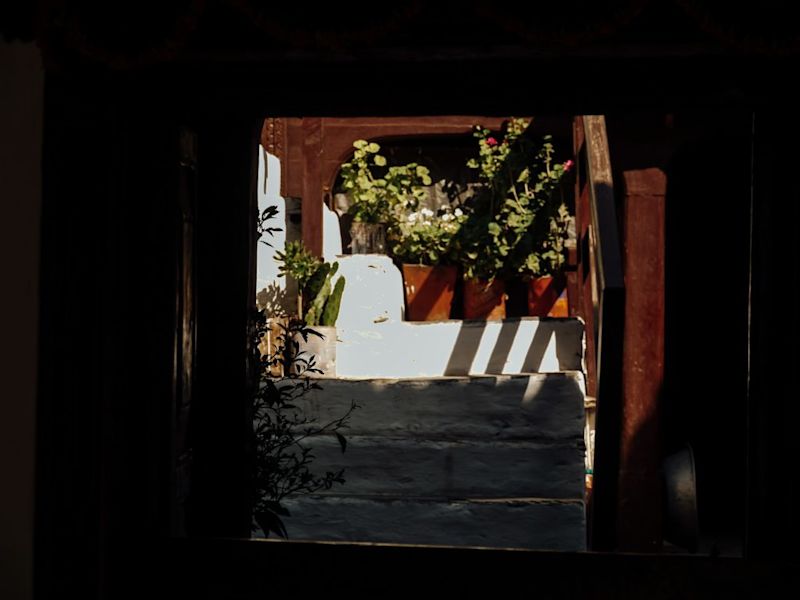 Part of the charm of the Annapurna Circuit is staying in independent teahouses
Summary of the best time to hike the circuit
There's no definitive best time to hike the Annapurna Circuit. Every trekking group or individual decides which factors are the most important or are deal-breakers. We'd sum up the appeal of each season as follows:
Winter is for crisp views and no crowds.

Spring is for flowers and mild temperatures.

Summer is for an empty trail.

Autumn is for clear skies and mild temperatures.
Annapurna Circuit peak seasons
The busiest time of year along the Annapurna Circuit is October and November, as previously mentioned. This is because the monsoon rains have washed and refreshed the landscape, day-time temperatures are mild, and there is great visibility. The day and night skies are also very clear, allowing for sunny day-time pictures and night-time stargazing. The other peak season is late March to May.
The sights of the Annapurna Circuit trek will stay with you for a lifetime!
We at Follow Alice don't think it necessary to freeze our toes off at night, so we prefer not to trek in winter. The higher trekker numbers also aren't always a bad thing – it's fun to meet people from all around the world with a similar passion for hiking in world-class landscapes. Further, we always veer towards safety, as mentioned. Always, always.
What we really want is for you to have an experience that ends with beautiful memories.
What we really want is for you to have an experience that ends with beautiful memories, not grazed hands or a rattling cough. We want you to leave Nepal scheming your next trekking adventure because it was just too fun to not repeat. For these reasons we think that the best time to hike the Annapurna Circuit is in autumn, as this is when the weather is mild and the trek route most secure.