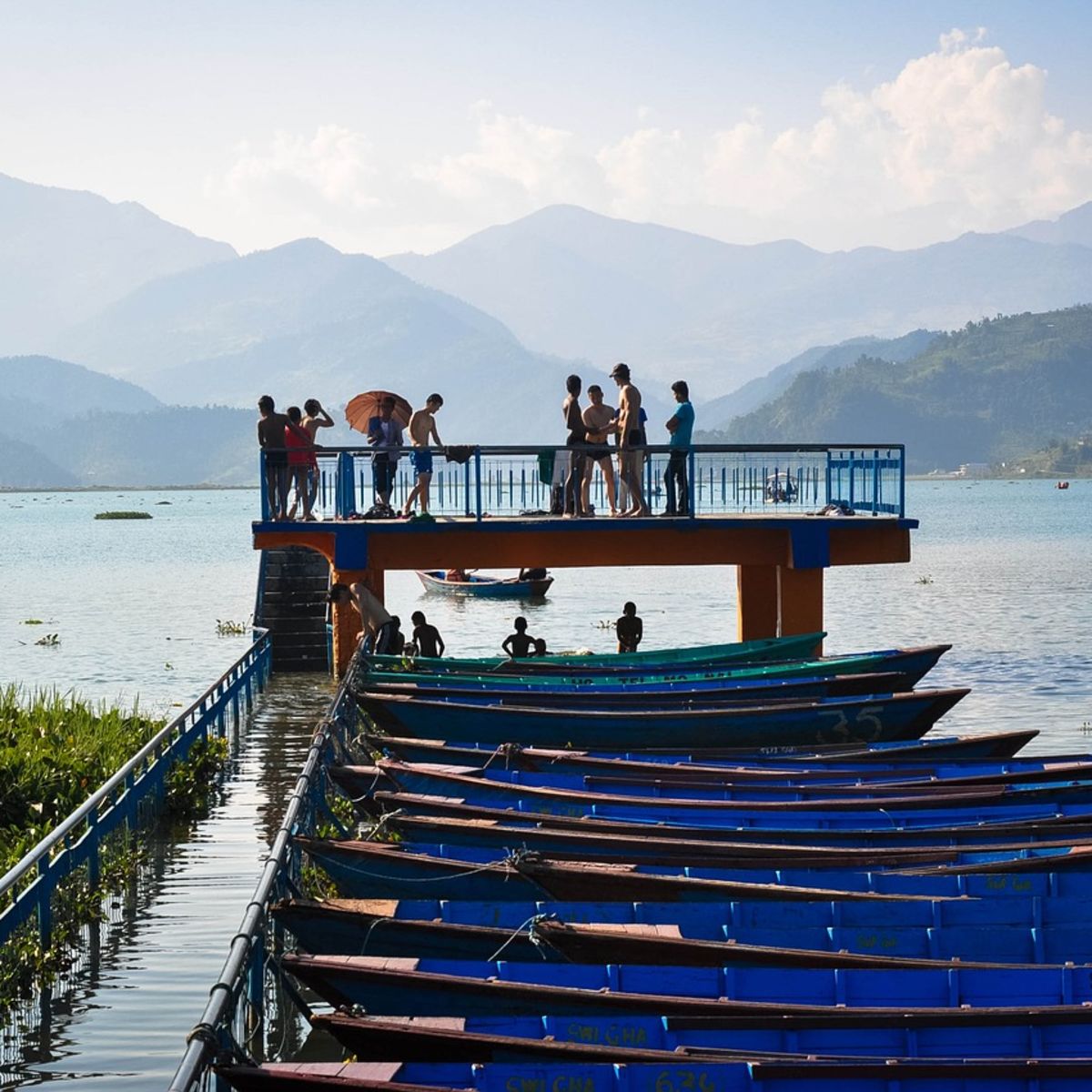 How to spend one day in the lakeside city of Pokhara
Apr 20, 2023
Reading time: 7 minutes
There's so much to do in Pokhara, that your only issue is selecting the tippity-top things! Here's what we think makes for the perfect Pokhara day, from a glorious sunrise spot to a rooftop dinner, with some sun, exercise and culture sandwiched in between!
The valley city of Pokhara sits on the edge of the towering Annapurna Mountains and on the shore of beautiful Lake Phewa. It's little surprise, then, that it's a super popular resort destination with both locals and foreigners.
Pokhara's regional airport is also a stopover for those who've been trekking in the Annapurna range. For this reason, many have just a day to spend in the city before flying onwards to Kathmandu.
So whether you have just one day, a few days, or one afternoon and then a morning, here are some of the very best ways to maximum your time in Pokhara ...
Sunrise viewpoint
If you're able to peel away from your sheets before dawn, drive to Sarangkot Hill Viewpoint to the west of the city for an eyeful of the emerging sun's colouring of Annapurna Mountains and Pokhara Valley and Phewa Lake below.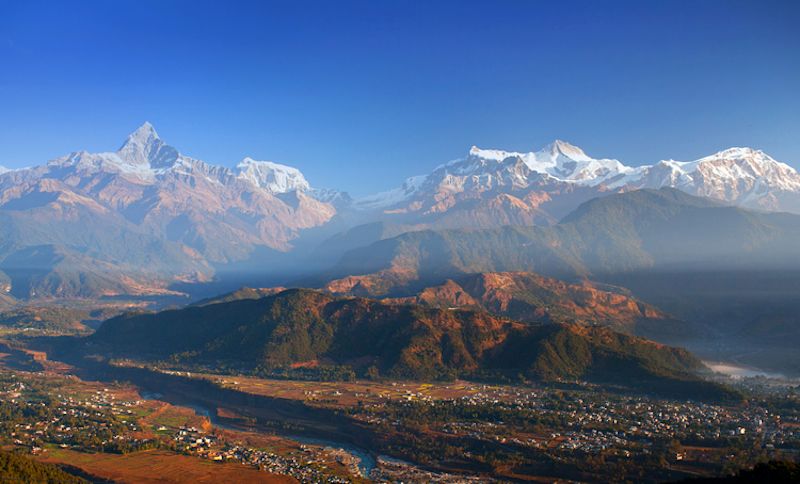 You can see the distinctive Machhapuchhare (or Fishtail Mountain) from Sarangkot Hill
Pre-breakfast zipline
One of the world's most epic ziplines starts at Sarangkot Hill. So instead of driving back down to Pokhara after sunrise, catch this famous 1.8 km long zipline instead!
The Pokhara zipline offers an exhilarating ride while gifting you incredible views of the surrounding mountains and valley below.
The zipline ride ends in the village of Hemja, just to the north of the city of Pokhara.
Lakeside breakfast
If you took the zipline, then we recommend having breakfast in Hemja, where the ride ends. But if you choose not to do the zipline, then we recommend that you drive down to Phewa Lake (also known as Fewa Lake) to enjoy breakfast at one of the many cafés lining its shores.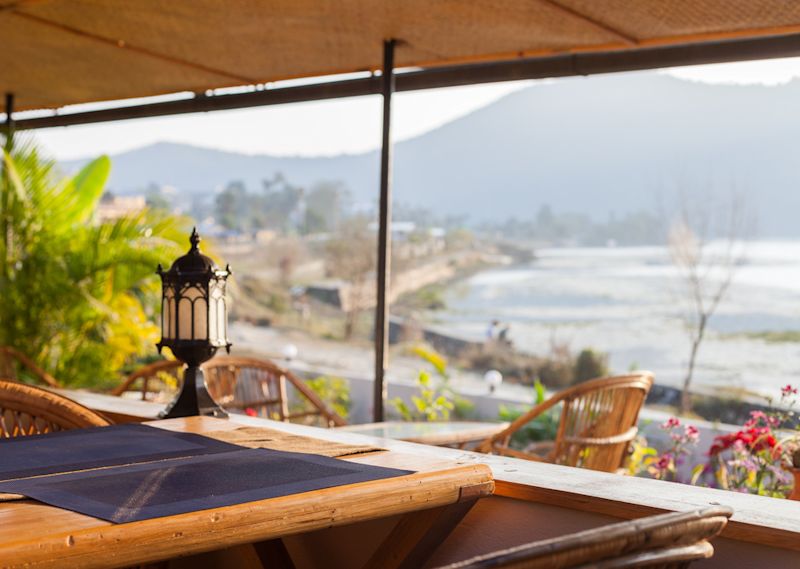 A café alongside Lake Phewa
Wherever you end up having breakfast, we recommend trying one or more traditional Nepali breakfast foods, like:
Masala chai tea – a Nepali staple made from black tea, spices and milk

Sel roti

– a sweet doughnut made from rice flour

Samosas – a favourite the world over!

Balep korkun

– a round, thin flatbread (also called Tibetan bread)

Calledaloo paratha

– a flatbread stuffed with spiced potato

Kukhura ko masu

– chicken curry served with steamed rice
Morning adventure activity
With your belly full, it's time to get moving! We think an adventure activity is the perfect way to do this. Here are some options ...
Hemja bungee jump
If you did the zipline down to Hemja, you're exactly where you need to be to do an exciting bungee jump from the local bridge! Spanning the Seti Gandaki River is an 80-metre suspension bridge – take a leap from here for an intense shot of adrenalin and a memory you won't ever forget!
Ultra-light flight
Another fantastic activity is to take an ultralight flight! Park yourself behind the pilot in a tiny, two-seater, windowless ultralight plane and spend an hour or so being flown over the valley to enjoy the world-class scenery!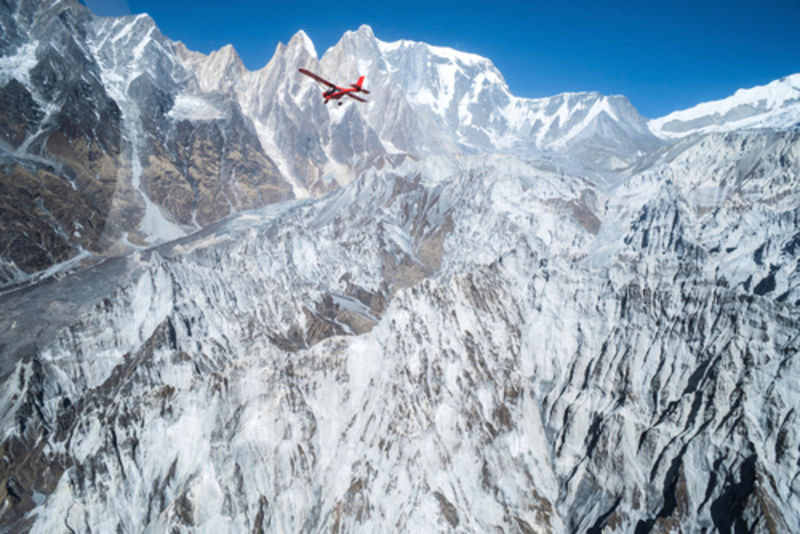 An ultralight plane flies over Pokhara
Paragliding
You can also enjoy the incredible Himalayan scenery by going paragliding! There are plenty of paragliding businesses situated near to Lake Phewa, so take your pic and spend your morning floating about the city and lake.
Trishuli white-water rafting
Not everyone likes to be airborne. For you, we recommend heading to nearby Trishuli River, which offers an exciting white-water rafting experience, with varying classes of rapids.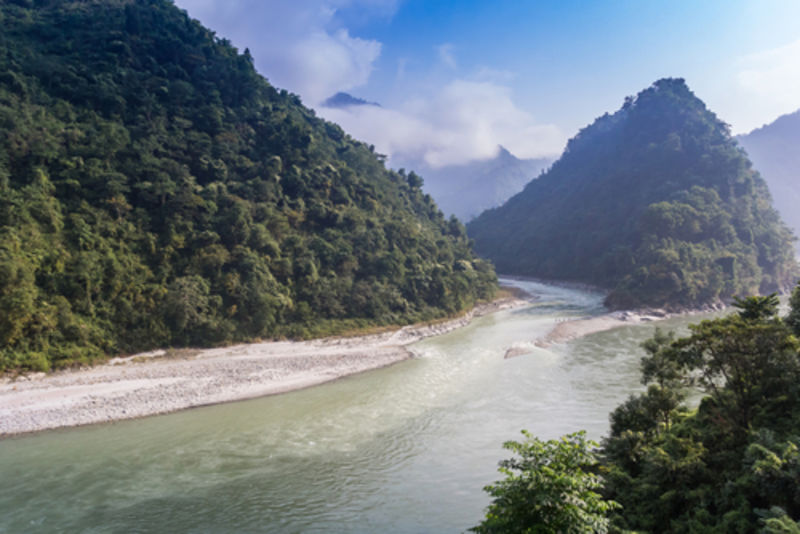 The Trishuli River near Pokhara
Rural mountain biking
Our final suggestion is to rent a mountain bike and explore the surrounding hills and villages. This is a great way to experience the natural beauty as well as the culture of the region.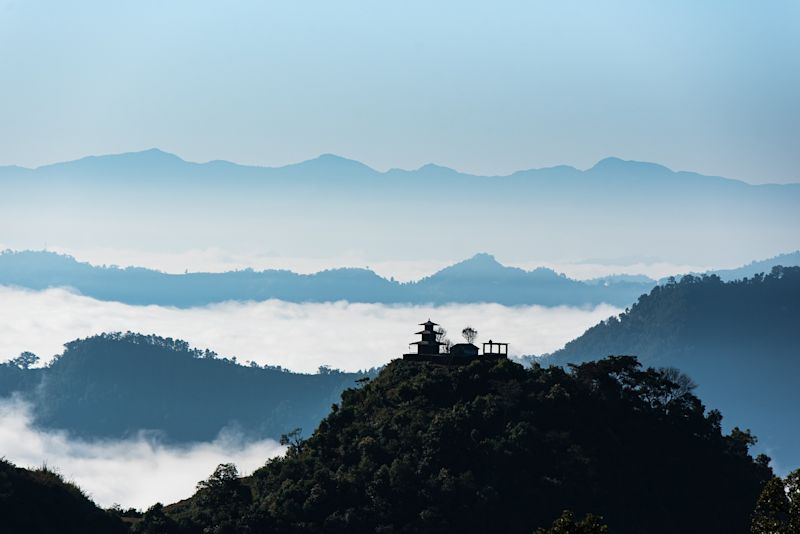 The mountains and hills rise above a mist-cloaked Pokhara
Old Bazaar lunchtime visit
The Old Bazaar is a lively market that offers a glimpse into the local culture and way of life. You can find traditional handicrafts, souvenirs and street food here.
We suggest that you get something to nibble and drink at the market to tide you over to dinner. A good drinks option is fresh, spiced pineapple juice.
This is also the perfect moment to grab any souvenirs or gifts. Bagh-Chal (the 'Tigers and Goats' game) would make the perfect souvenir in our opinion, as this two-player board game was developed in Nepal and is still popular in many regions.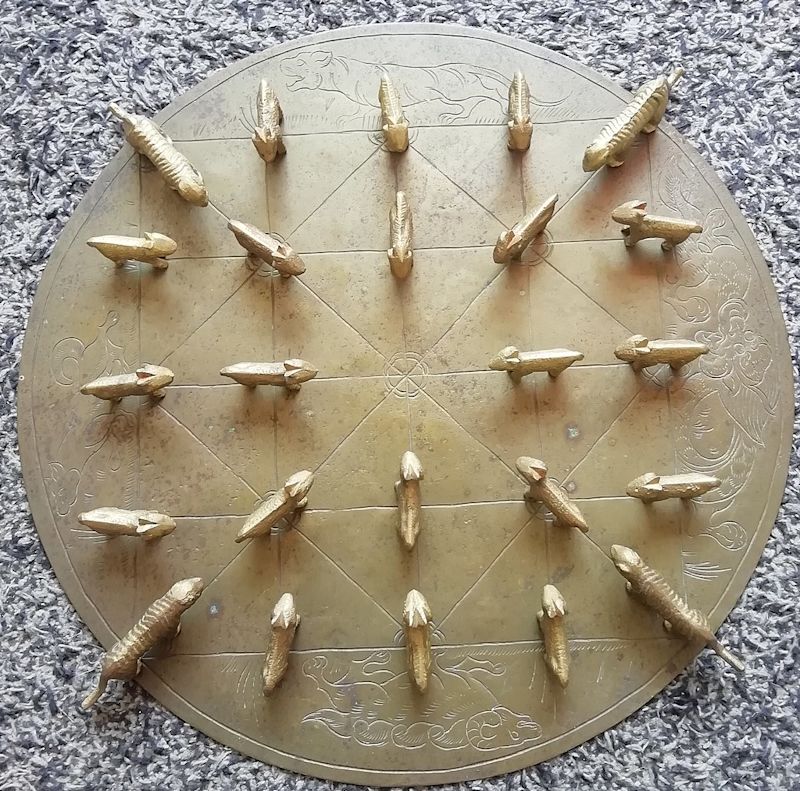 Tigers and Goats is a traditional Nepali board game
Afternoon boat ride, history fix or waterfall visit
Depending on your tastes, we suggest choosing one of the following three great ways to spend your afternoon in a truly 'Pokharan' way.
Phewa Lake boat ride
Consider hiring a canoe and paddling out onto Phewa Lake, the second-largest lake in Nepal. Surrounded by forest and enormous mountains, the lake offers incredible views.
You can also visit the Tal Barahi Temple, a Hindu temple of the goddess Barah that sits on an island in the middle of the lake.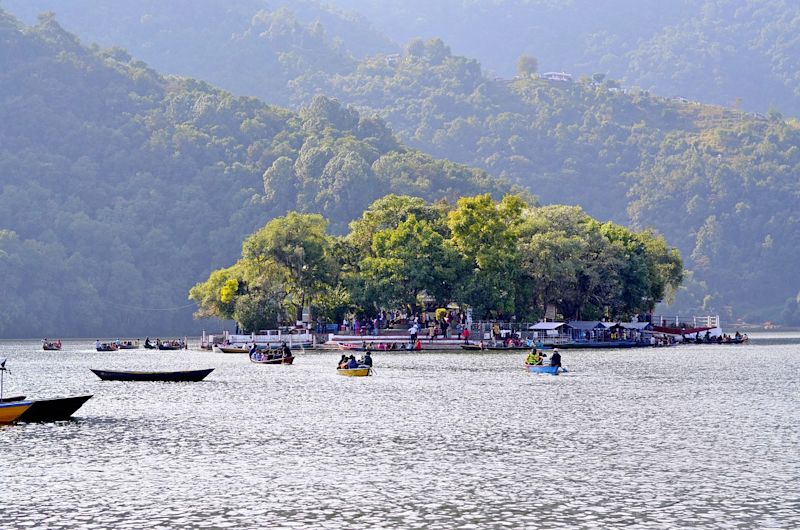 Tal Barahi Temple sits on a small, tree-choked island
You could also head to the southern shore to see the hilltop World Peace Pagoda. Be sure to climb the steps of this Buddhist monument of peace for some great views.
International Mountain Museum
Pokhara isn't only known for its natural beauty and adventure activities – it's also proud of its rich cultural and mountaineering heritage.
The International Mountain Museum in the south of the city is our top pick for learning some of the fascinating history of the region. The museum has more than the usual offerings, as it's a pretty and sprawling complex on the banks of the Seti Gandaki River that offers you the chance to do some rock wall climbing, among other things.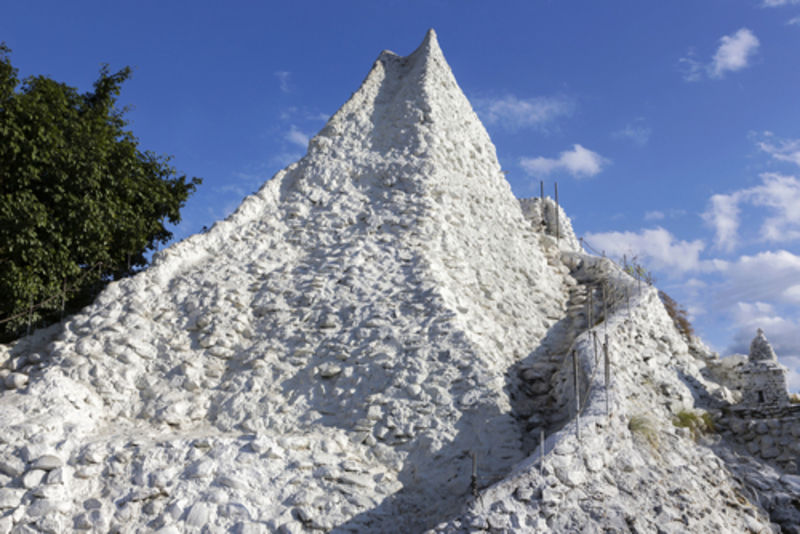 Large Mt Manaslu model at the International Mountain Museum
Importantly, a visit here lets you learn about the storied history of the Annapurna Mountains and its brave mountaineers. It also showcases the animals and biodiversity of the region (including snow leopards and yaks), traditional clothing and homeware, and more.
Devi's Falls and Gupteshwor Mahadev Cave
If nature is your happy place, then Patale Chhango (also known as Davis Falls and Devi's Falls) is a total must when spending a day in Pokhara.
This riotous, jungle-fringed waterfall can be found in southwest Pokhara. A set of stairs lets you walk alongside much of the waterfall, which disappears at turns into caves and tunnels.
And while near the Falls, you can also visit the limestone Gupteshwor Mahadev Cave, which is haunting with its creatively lit chambers and passages.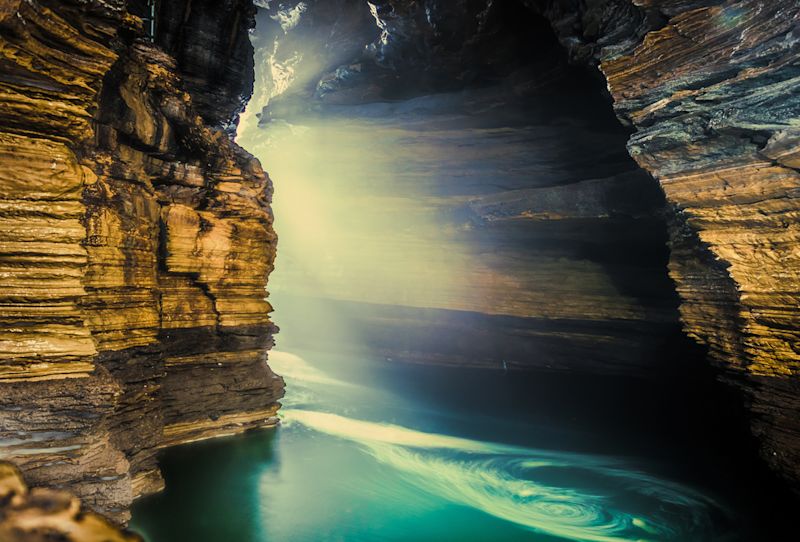 The water from Devi's Falls flows through Gupteshwor Mahadev Cave
Late afternoon pamper session
Finally, if there's an hour left in your day before dinnertime, and you've arrived in Pokhara after some trekking that's left you stiff as a pretzel, we highly recommend visiting a salon for a massage.
Alternatively, if a long trek has left you looking like a mountain goat, why not get a haircut and blowout or a shave before leaving the region? You'll certainly be looking your best for dinner tonight!
Rooftop dinner
As night starts to fall, we think the perfect way to end your day in Pokhara is at a rooftop restaurant, of which there are plenty, especially on the shore of Lake Phewa. Enjoy the setting sun and the city lights while feasting on delicious food that you earned through having one extremely busy and active day!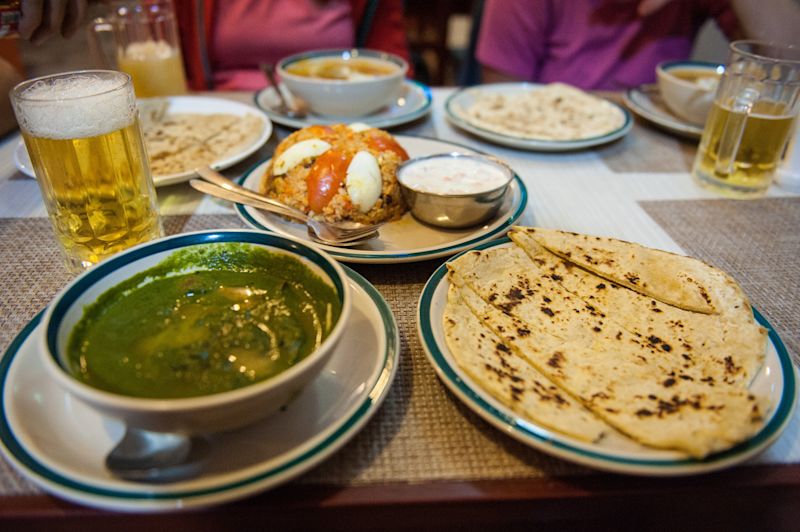 Whilst plenty of Pokhara's eateries offer Western dishes, you might like to try something more local, like yak-cheese pizza or momos (steam-filled dumplings). If you decide to order chicken, be sure to ask for one that's been deboned.
Finally, the Longest Bar Pokhara, near Lake Phewa, is known for its incredible cocktails and draft beers, so you could also head there for memorable post-dinner drinks. 🍻
After that, we defy you to be up for anything except a dive into bed and some deep sleep!