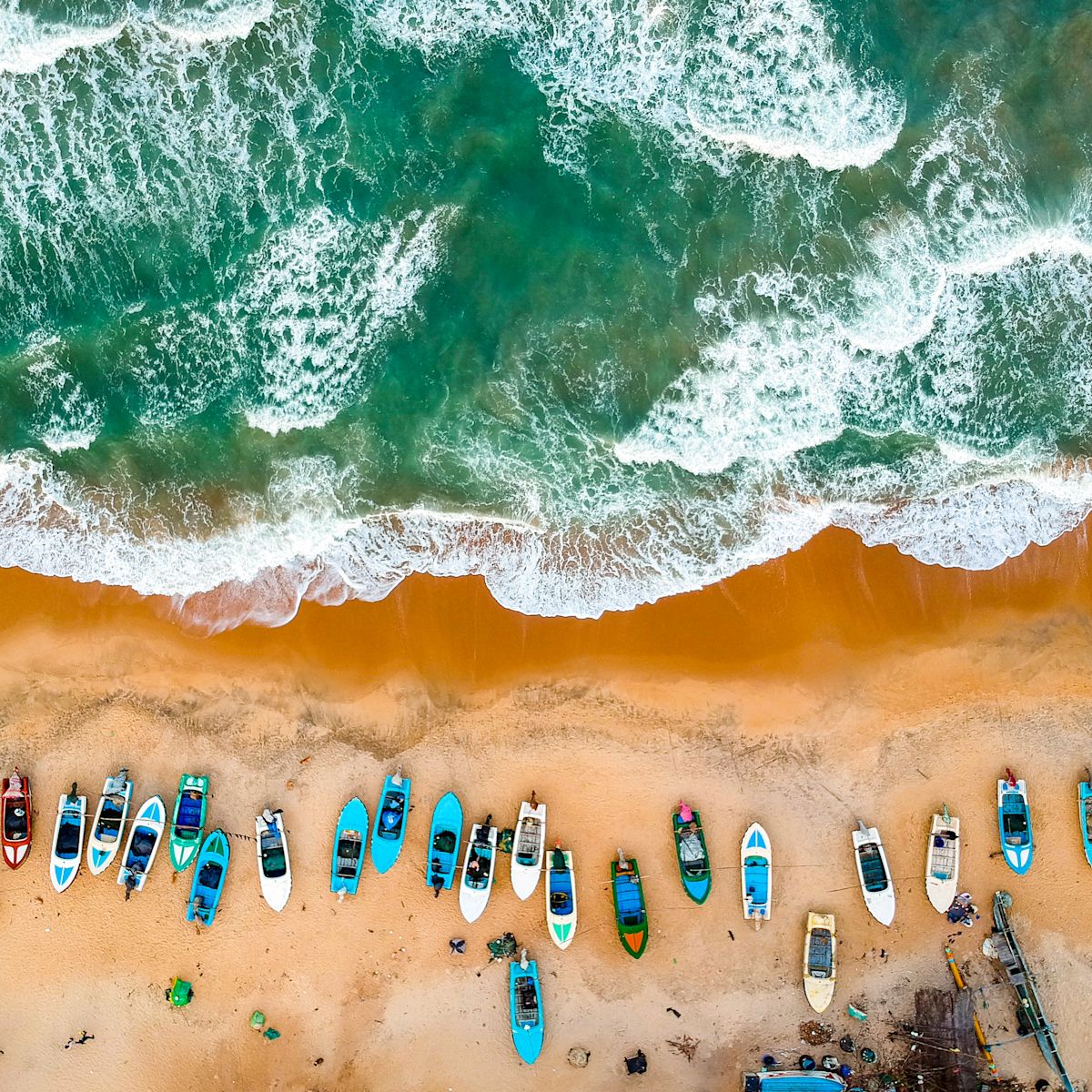 All your Sri Lanka travel questions answered
Apr 26, 2023
Reading time: 10 minutes
In this post we talk practical matters, like language, currency, visa, safety, transport, food and climate. It's everything you need to know to organise your Sri Lanka adventure in one handy place!
Sri Lanka is a multicultural, multi-linguistic tropical island nation in the Indian Ocean. We aim to answer all of your questions like what languages are spoken and what sort of transport is on offer to help you prepare a trip there. And if you find you still have some questions at the end? Please feel free to contact us and we'll happily help you further!
What languages do Sri Lankans speak?
The three main languages of Sri Lanka are: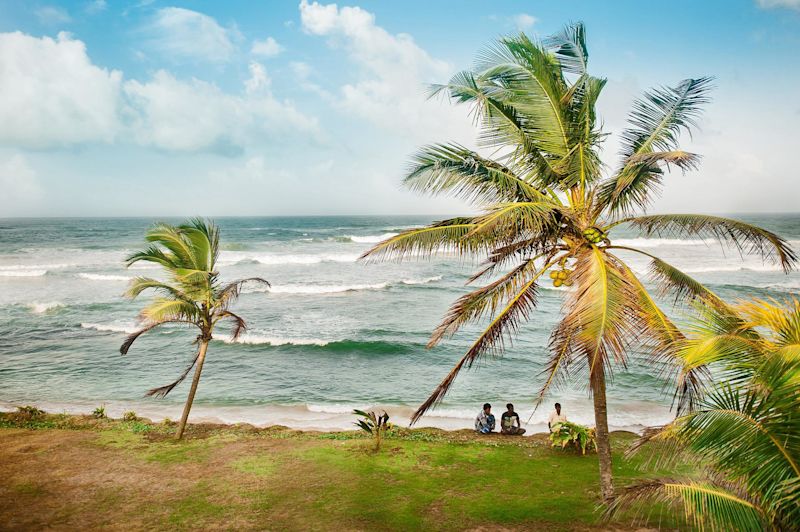 Sinhalese
Sinhalese is the national language of Sri Lanka as well as the native language of the Sinhalese people, who total about 16 million (or roughly 70% of the population). An additional four million people speak Sinhalese as a second language.
The oldest record of the Sinhalese dates back to the sixth century BC! Modern Sinhala is thought to have developed in the twelfth century AD.
Here are some handy phrases in Sinhalese:
Hello. –

Ayubowan.

How are you? –

Kohomadha?

What's your name? –

Oyāgē nama mokakda?

My name is __. –

Magē nama __.

How much is this? –

Meyka keeyada?

Thank you. –

Istuti.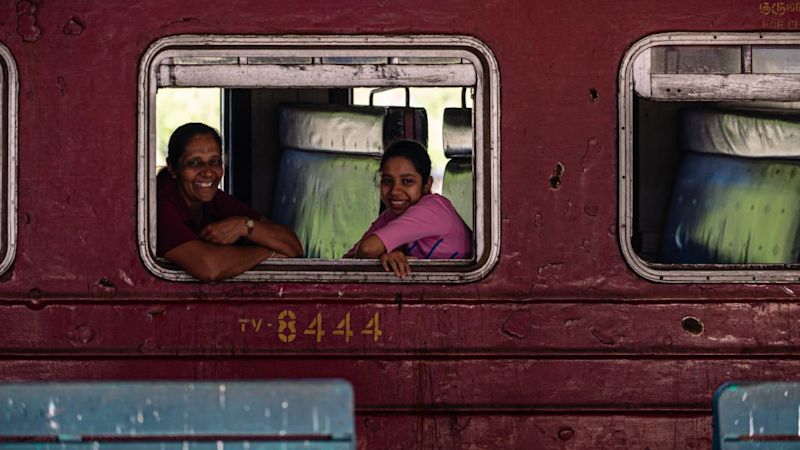 Sri Lankans are a very smiley people!
Tamil
Tamil is Sri Lanka's other official language. It's the mother tongue of about five million people (or 15% of the population). It's almost exclusively spoken in the northern and eastern parts of the country.
Tamil was brought to the island centuries ago by traders, invaders, immigrants and others coming from southern India.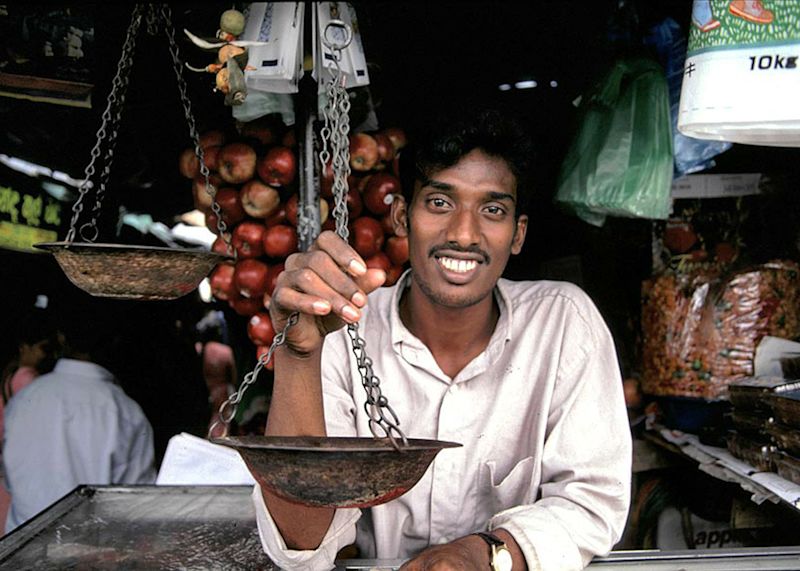 You'll always get friendly service in Sri Lanka!
English
English is widely spoken and it's the language with which Sri Lanka communicates with the outside world.
Despite being the language of the former colonial power, English is nowadays a politically neutral language. Most of the people you're likely to encounter in shops, hotels, restaurants and when travelling on public transport are likely to speak enough English for you to get by. Taxi drivers usually speak some English, and bus and railway personnel are usually quite fluent.
In the countryside, English is less widely spoken, though it's rare to find yourself completely unable to communicate.
Sri Lankan English is similar to British English, but with lots of local words infused. Also, foreigners might need to listen closely at first to understand the accent.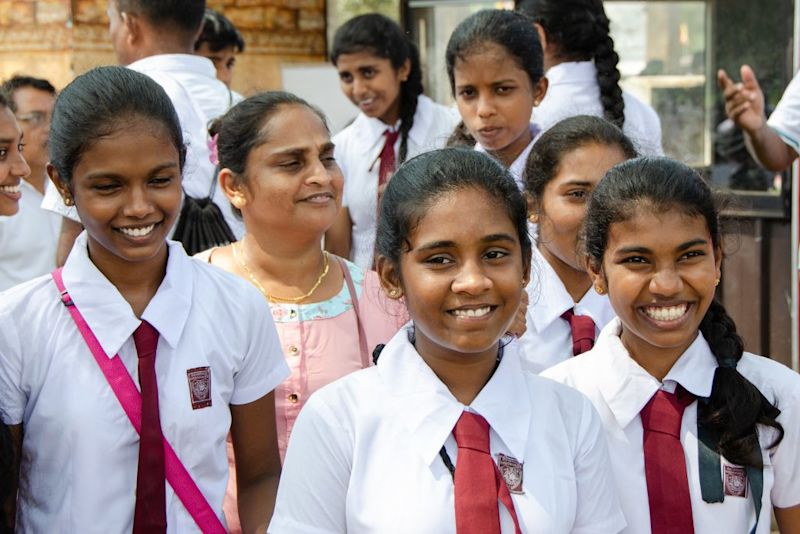 English is taught as a second language from primary school
What currency is used in Sri Lanka?
The official and only currency used in the country is the Sri Lankan rupee (LKR). Wait until you arrive in Sri Lanka to get the bulk of your money changed.
Money exchange offices in Sri Lanka can change British pounds or any other currency into Sri Lankan rupees. You can bring up to LKR 5,000 to Sri Lanka from abroad, which is approximately £25, or you can bring up to the British pound equivalent of USD $5,000.
How should I change or withdraw money in Sri Lanka?
You can either get your money changed at exchange offices, or withdraw money from an ATM.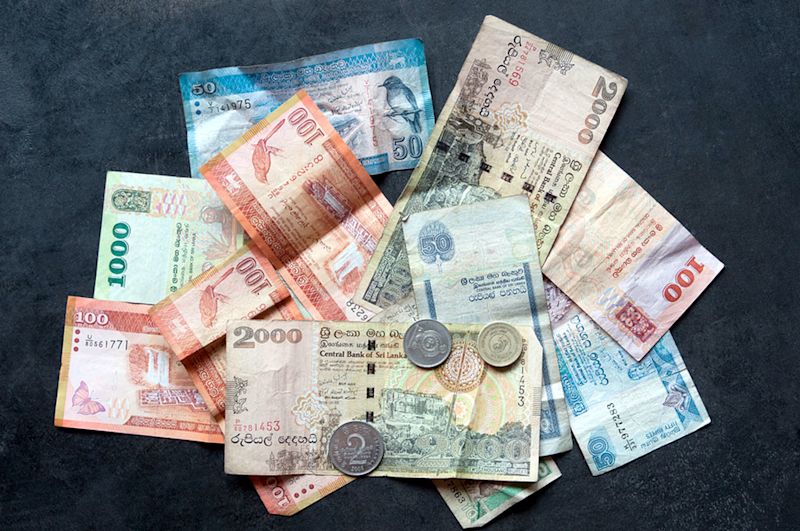 Colourful Sri Lankan rupees
Exchange rates
There are exchange offices at the Colombo and Hambantota airports – open 24/7 – that actually offer rates that compete with what you can get on the street. So either get your cash changed here, or go to a licensed money changer such as jewellers and designated exchange offices.
It's important to note that the exchange rate may change depending on the denominations you want to change. For example, you may be able to get a better rate exchanging £50 notes compared with £10 notes.
If you can, avoid changing money at your hotel. Hotels usually offer a worse rate than banks and dedicated money changers, and a commission may also be applied to the transaction.
The second option is to withdraw cash from an ATM. Cash withdrawals are subject to the Visa or Mastercard foreign exchange rate. The downside to going this route is the fee for using an international ATM. A local ATM operator fee and international ATM fee will apply (some banks don't charge a fee).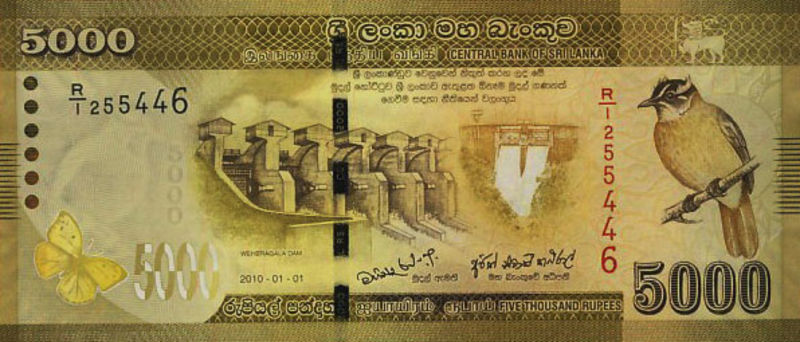 A LKR 5,000 banknote showing the endemic songbird the yellow-billed bulbul
Reputable banks
We would recommend using any of these banks for money exchanges:
Sampath

Commercial Bank

Hatton

National Bank

HSBC

Standard Chartered Bank
Banknotes
Sri Lankan banknotes come in the following denominations:
20 rupees

50 rupees

100 rupees

500 rupees

1,000 rupees

5,000 rupees
Not only are the banknotes very colourful, but each one also showcases a local bird. What a wonderful decision!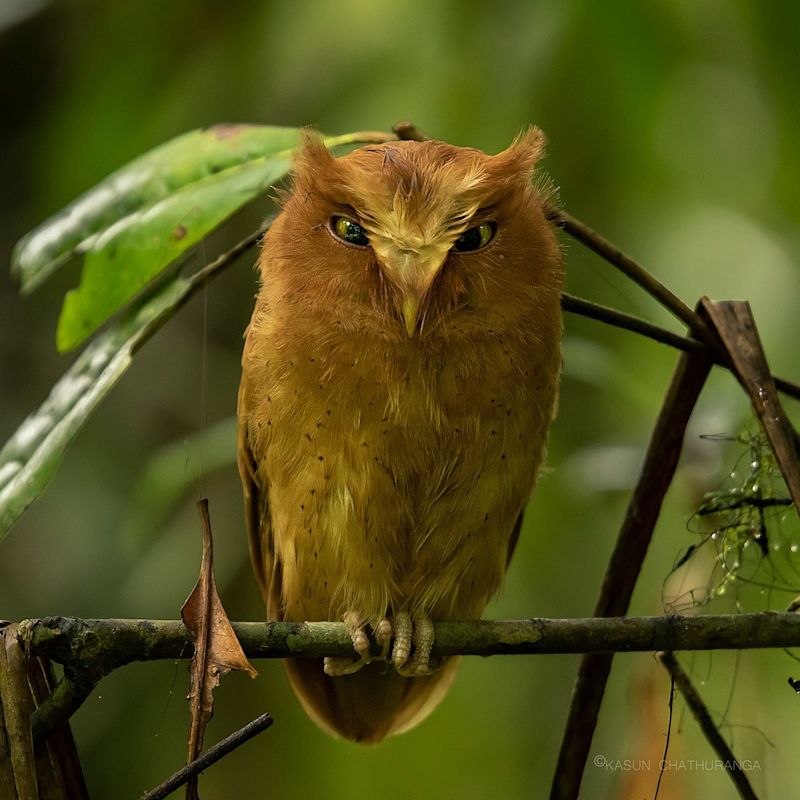 The recently discovered Serendip scops owl graces the LKR 20 banknote
Booking through Follow Alice made our 12-day trip to Sri Lanka feel like a relaxing three weeks.
– Cathy Hicks
What is the climate like in Sri Lanka?
The climate is tropical and warm, due to the moderating effects of ocean winds, which makes Sri Lanka such a popular beach holiday destination. For a small country, Sri Lanka's climate can be rather complicated, and there is a lot of confusion around when the best time to visit is. This is due to the fact that the island is affected by two separate monsoons, though this also means that there is usually good weather somewhere on the island, at most times of the year. Sri Lanka is therefore a perfect year-round destination.
And though the weather doesn't run like clockwork here, there will rarely be weather so dramatic that it will stand in the way of a brilliant holiday with plenty of warm weather and sunshine.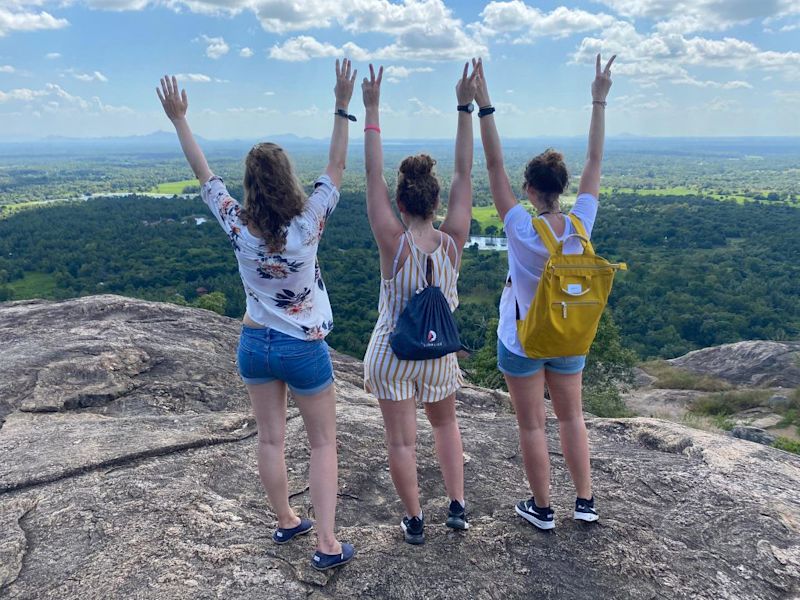 You'll likely spend most of your trip in shirts and shorts
Best time to visit Sri Lanka
In practical terms and as a rough guide, the best time to visit the west and south coasts and hill country is from December to March. The best weather on the east coast is from April or May to September.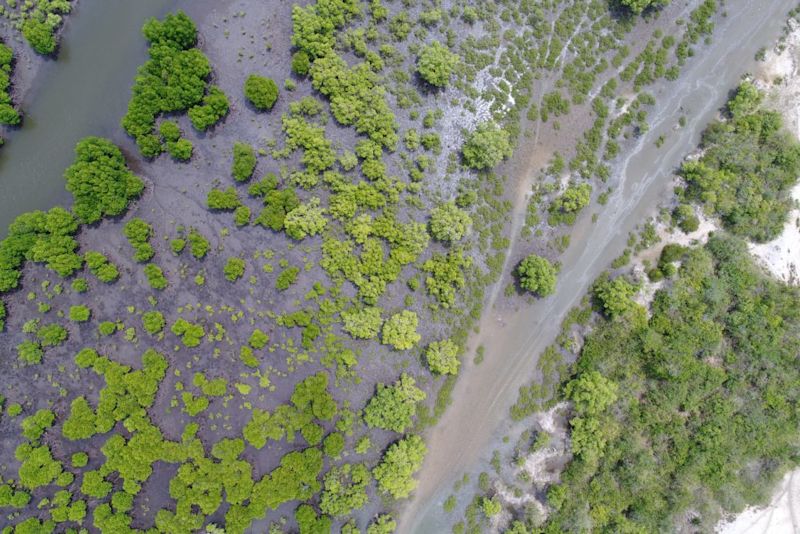 An aerial view of the fresh-water wetland of Trincomalee in eastern Sri Lanka
Temperatures
Sri Lanka's position close to the Equator means that temperatures remain fairly constant year-round.
Coastal and lowland areas

enjoy average daytime temperatures of around 26 to 30 °C (often climbing well above 30° C during the hottest part of the day).

Things are pleasantly mild during the day in the

hill country of the interior

. Days are often between 14 to 22 °C (57 to 72 °F). Nights can be quite chilly, with temperatures sometimes dropping to near freezing.
Humidity is high everywhere, rising to a sweltering 90% at times in the southwest, and averaging 60 to 80% across the rest of the island.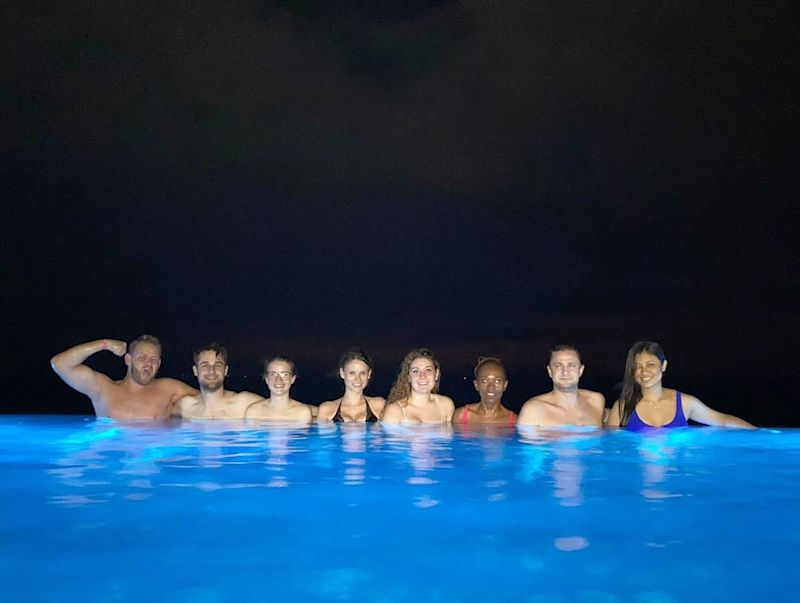 You'll be swimming a lot during your Sri Lanka adventure – trust us!
What is transport like?
In Sri Lanka you can travel by:
Private car with driver
Hiring a private car and driver is one of the most popular ways to see Sri Lanka. It can also be done at a very reasonable price. You can hire a car for self-drive for the length of your stay, or just hire one for the day through an app such as PickMe.
On a Follow Alice Sri Lanka trips, we have you explore this exotic island in a private air-conditioned vehicle. Having your own private vehicle means you can stop when and where you like, and go at your own pace.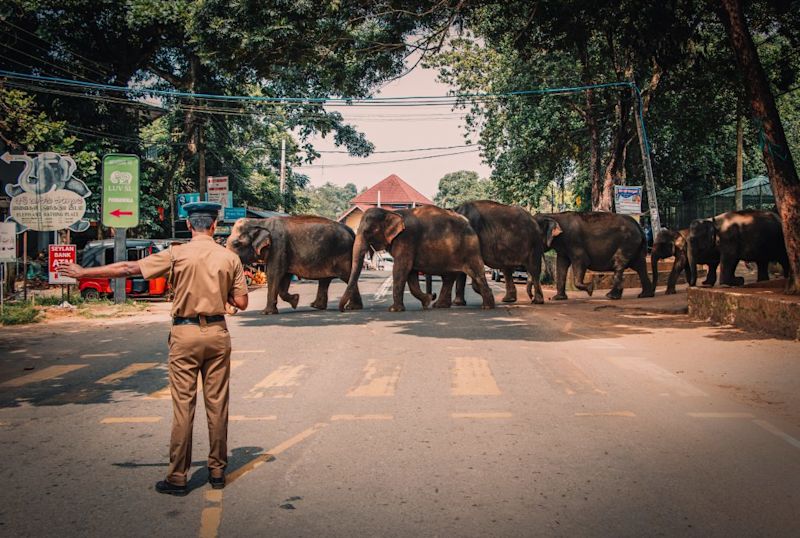 Elephants have right of way, naturally
Taxi
Sri Lankan taxis are common in all sizeable towns. Only some are metered (mostly in Colombo), but over longer distances their prices are comparable to those of three-wheelers, and they provide more comfort and security. You can count on most taxi rides costing around LKR 60 to 100 per kilometre.
Hotels and restaurants can usually get you a ride for a modest cost. In Colombo you can count on taxis dispatched via apps such as Uber and PickMe.
Three-wheeler
Three-wheelers, known in other parts of Asia as tuk-tuks, bajajs or auto-rickshaws, are waiting on nearly every corner in Sri Lanka. A general rule of thumb is to only get in three-wheelers that are metered, but this is easier in the cities.
In some areas you may need to bargain and agree on the fare before you get in the three-wheeler. Three-wheelers and taxis waiting outside hotels and tourist sights expect higher-than-usual fares. Walk a few hundred metres to get a better deal or find one with a meter. You can also order tuk-tuks on the mobile app PickMe.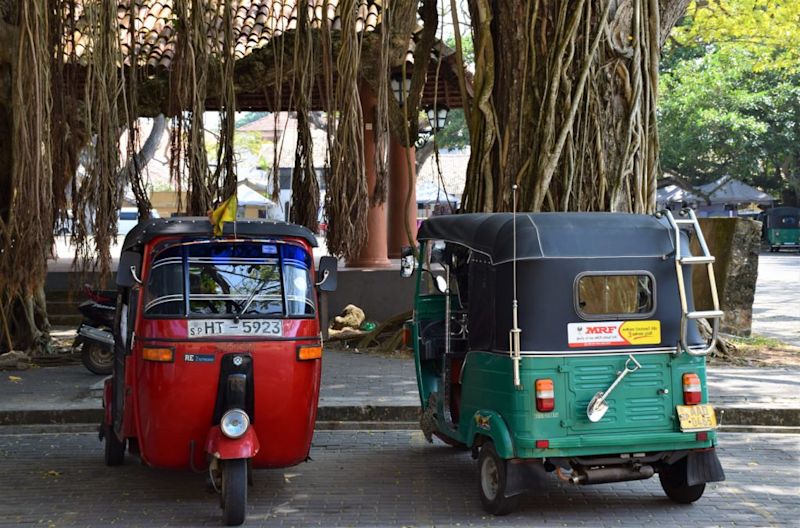 Three-wheelers are a popular and cheap mode of transport in Sri Lanka
Bus
Local buses go to most places, including villages outside of main towns. Fares tend to range from LKR 10 to 50.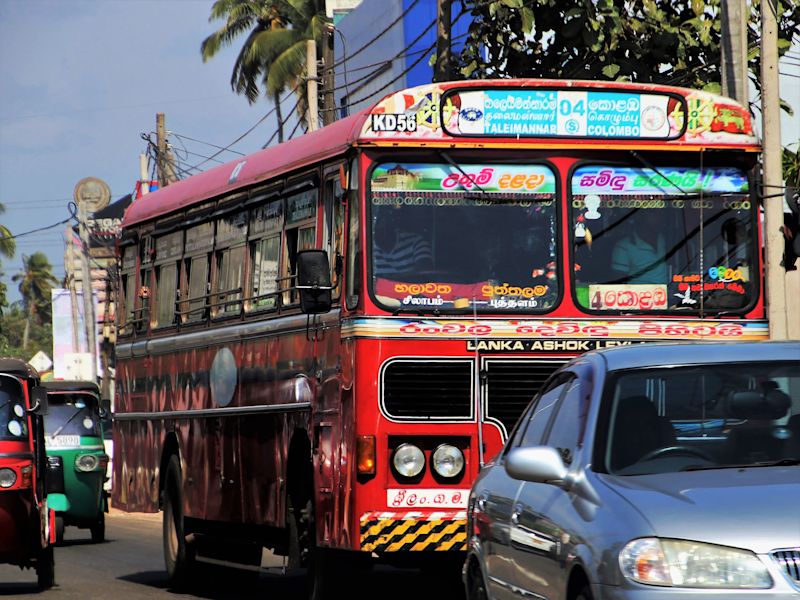 A colourful local Sri Lankan bus
Train
In Sri Lanka, the trains are not only superior to buses in terms of comfort and luggage options, but they're also a tourist attraction in themselves! The Colombo–Kandy–Nuwara–Eliya–Badulla line takes you through three of the most scenic stretches of the country. This trip is a highlight of any Sri Lankan tour. Be sure to get yourself a seat by the window and get your camera ready!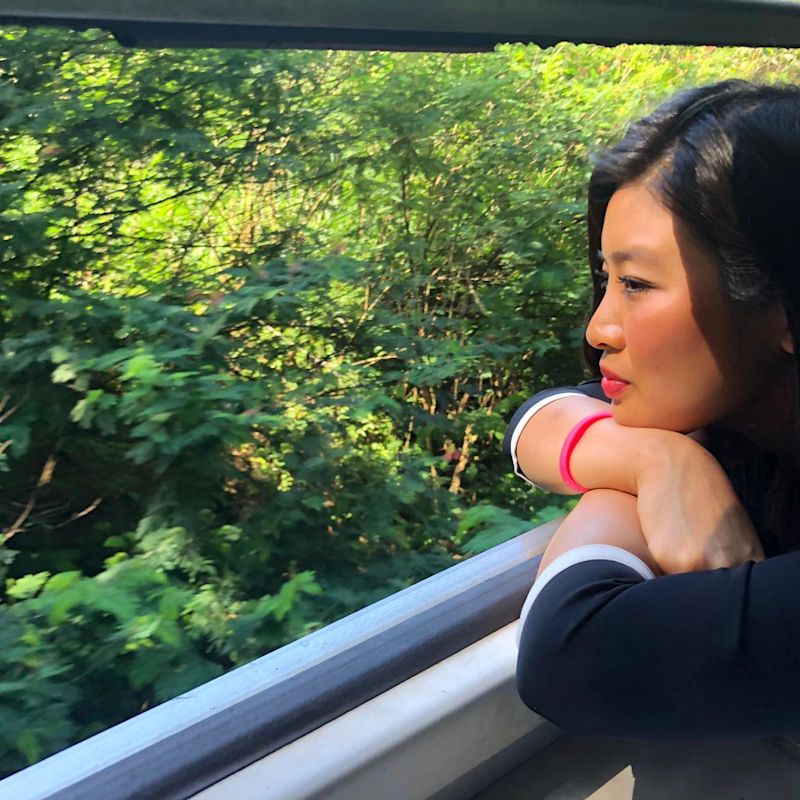 Travelling by train through the hill country is a truly special experience
Is it safe in Sri Lanka?
Sri Lanka is a remarkably safe place to travel in, and violent crime against foreigners is virtually nil. The only thing to be wary of are scams and touting.
The vast majority of Sri Lankans who approach you will be perfectly honest, and simply keen to have a chat. At its simplest, you'll encounter low-level hassle from people who want you to visit their shop, stay in their guesthouse or be your guide (or, alternatively, who want to take you to a shop or guesthouse where they'll receive a commission).
For further up-to-date travel advice, please speak to us or visit the gov.uk website.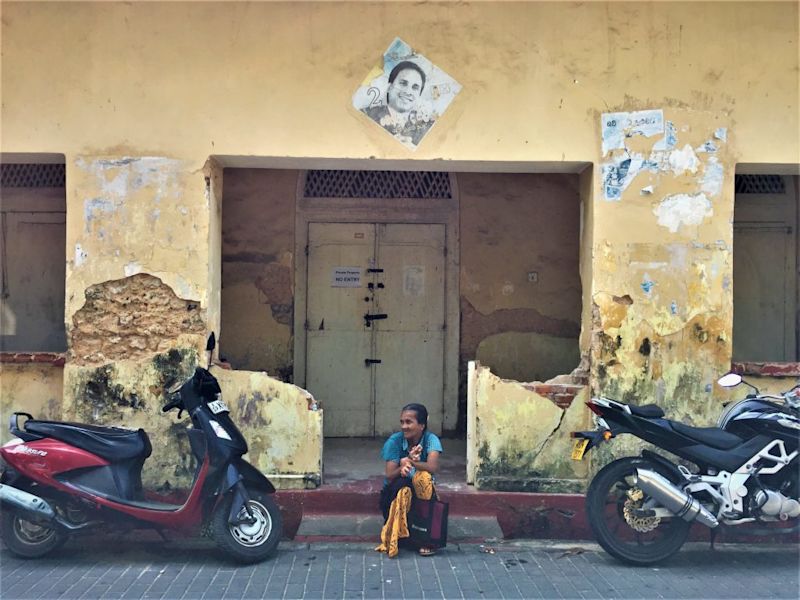 You can expect friendly interactions from most Sri Lankans
A new day
The decades-long Sri Lankan Civil War ended in May 2009. Since then, the entire island has been at peace and almost all travel restrictions have been lifted. Sri Lankans have embraced tourism and are proud to show off the beauty and mysteries of their nation.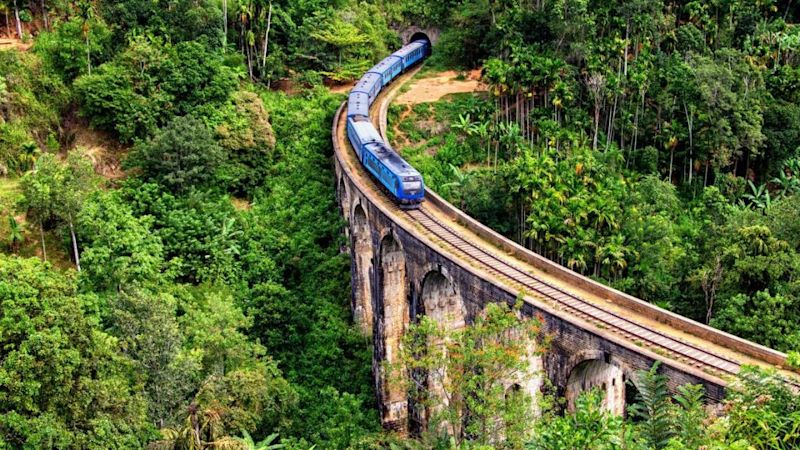 The colonial-era Nine Arch Bridge in the hill country of central Sri Lanka
How do I apply for a Sri Lankan visa?
In order to enter Sri Lanka, you need to purchase an electronic travel authorisation (ETA) visa before travelling there. Head over to the visa issuing website to nab yourself one. Don't worry – it doesn't take long at all!
This tourist visa gives you 30 days to explore the Pearl of the Indian Ocean. Print off the visa, or you can show the immigration officer the visa on your phone at the airport.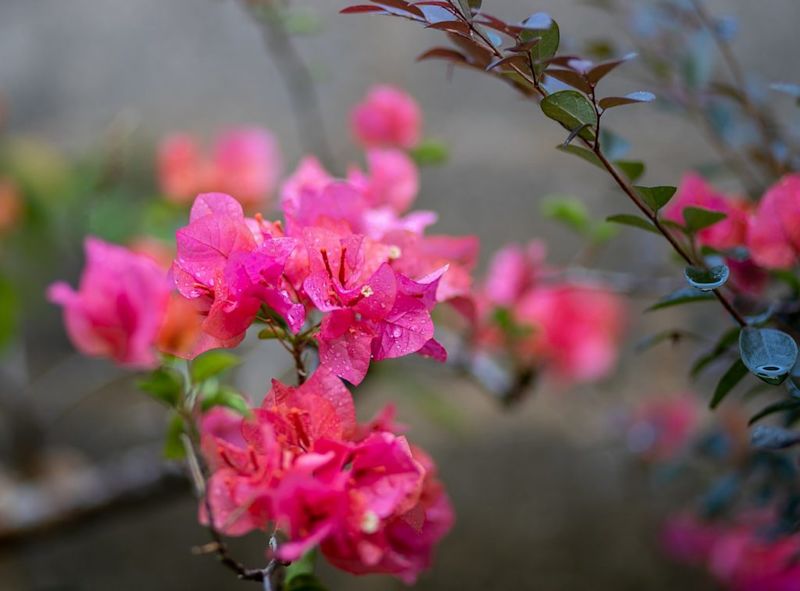 Bougainvilleas flourish in Sri Lanka's warm climate
Follow Alice to Sri Lanka
Our bespoke trips to Sri Lanka take you through the best of the country. We take you to not just the big tourists destinations like Kandy, Galle and Ella, but also to lesser-known (yet equally fascinating) places such as Kalpitiya Beach, the small , pretty town of Deniyaya, and Knuckles Mountain Range.
In fact, our bespoke tours are all about these lesser-known places that bring you face to face with the heart and soul of Sri Lanka. Be prepared to embrace a wealth of new experiences. There will be new landscapes every day, an incredible variety of wildlife, and lots of adventure!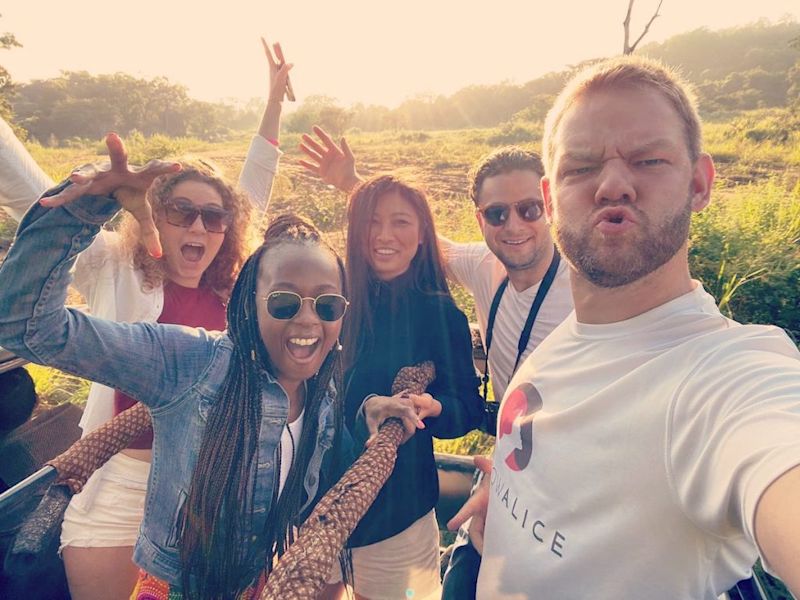 Every Sri Lankan holiday is full of fun and priceless memories 😍
Based on our suggested destinations, Follow Alice planned a practical route to follow and I feel we got to see pretty much everything. They suggested amazing accommodation to suit our budget and taste.
– Rosalind Eleazar
Meet Dinesh, our Sri Lanka local leader
Leading the tour will be Dinesh Perera, our local leader who speaks both English and Sinhalese. Born and raised in Sri Lanka, Dinesh has exceptional knowledge about the culture and peoples of the island. Wherever you travel with him, you'll be in safe hands!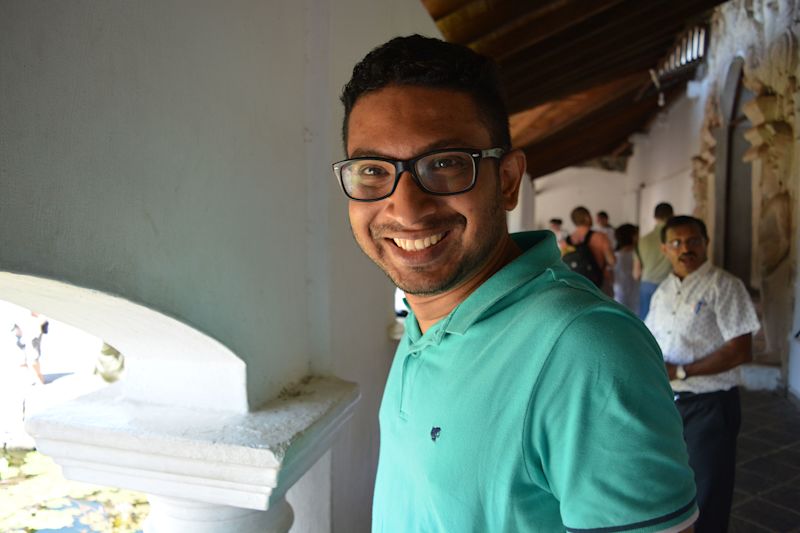 A grinning Dinesh – one of the treasures of Sri Lanka!
Our guide was respectful, honest, funny, kind and knew the island like the back of his hand. I got the royal treatment wherever we went. All the details were perfect and, and on a couple of occasions he changed plans because he knew I wouldn't like the plans that had been made.
– Eric Johnson