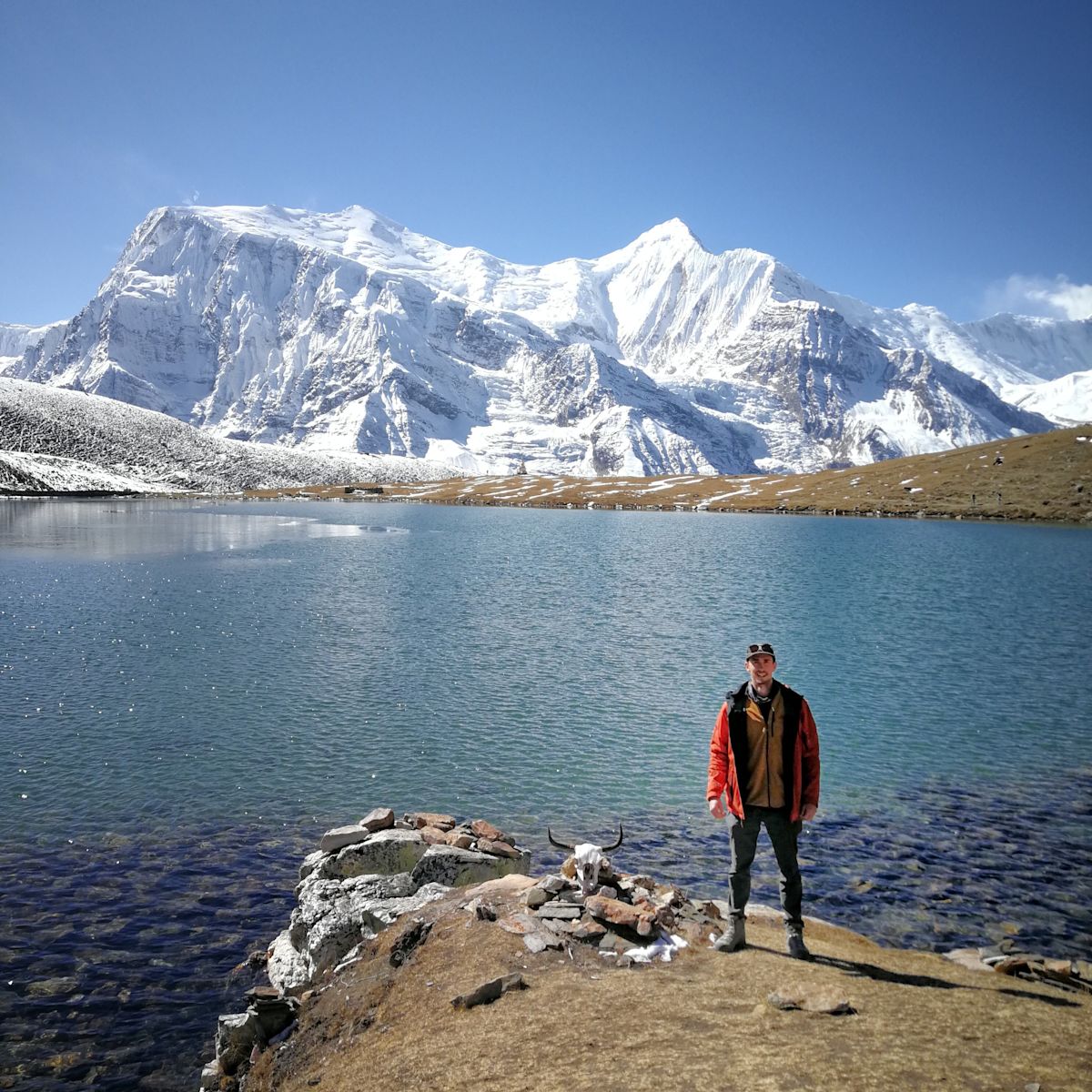 Nepal trekking guide: Where to trek on your Nepal trip
May 23, 2023
Reading time: 32 minutes
The number and diversity of trekking routes in Nepal is epic. But for this reason it can also be overwhelming to choose a trek route. So we put together this Nepal trekking guide. It's aim is to help you decide where to trek on your next Nepal trip. 🙂
There really is a trek for everyone in Nepal, from beginner to seasoned trekker, cultural devotee to nature lover, birdwatcher to adrenaline junkie.
We introduce you here to 12 of Nepal's best trekking trails. We've done our best to provide a range of trails in terms of duration, difficulty, altitude, region and remoteness.
Some of the treks included are world-renowned, while others will result in a questioning brow raise when mentioned. Read on to find out which trek is right for you!
The Himalayas of Nepal
Nepal is an elongated country that runs roughly east–west with the Himalayas. The southern half of the country is relatively flat and fertile, while the northern half is mountainous and stark. The famous peaks of the Himalayas are a set of jagged teeth serving as a border with Tibet to the north.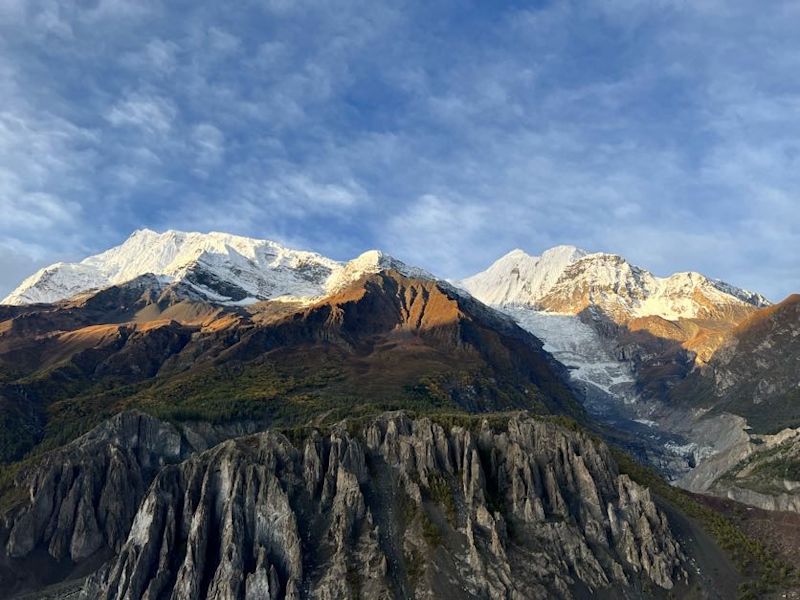 Our client Hala Macknight captured this shot of the Annapurna Mountains
The Himalayas aren't a complete barrier, however; over the centuries, culture, trade, language, religion and more have been shared and traded between the peoples of present-day Tibet and northern Nepal. The obvious example here is the well-known Sherpa people of northeast Nepal. The Sherpas, who rose to prominence in the twentieth century by helping mountaineers to summit Mt Everest, have Tibetic features and their culture and religion is closely tied to that of Tibet.
National parks of Nepal
Most of Nepal's national parks and conservation areas are in the northern half of the country. All of these parks offer excellent and challenging trekking routes. The map below shows the country's different protected areas. Annapurna is by far the largest area, which is why a large number of the treks we include in this post take place there.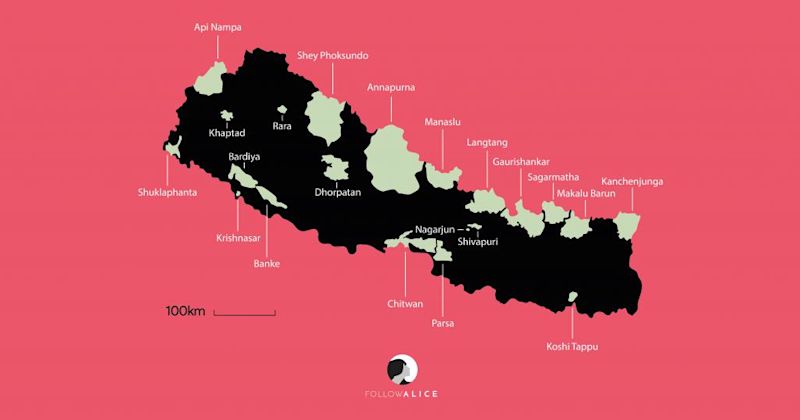 Protected areas of Nepal
List of the 12 best treks in Nepal
Any list of the best treks in Nepal will by nature be subjective. So of course there are other treks that you might feel should be on this list - please feel free to hit us up in the comments with your suggestions!
Annapurna Conservation Area

Annapurna Base Camp

Annapurna Circuit

Poon Hill

Upper Mustang

Sagarmatha National Park

Everest Base Camp

Everest Base Camp and Gokyo Lakes

Everest Three Passes

Kanchenjunga Conservation Area

Langtang National Park

Helambu Circuit

Langtang Valley

Manaslu Conservation Area

Shey Phoksundo

National Park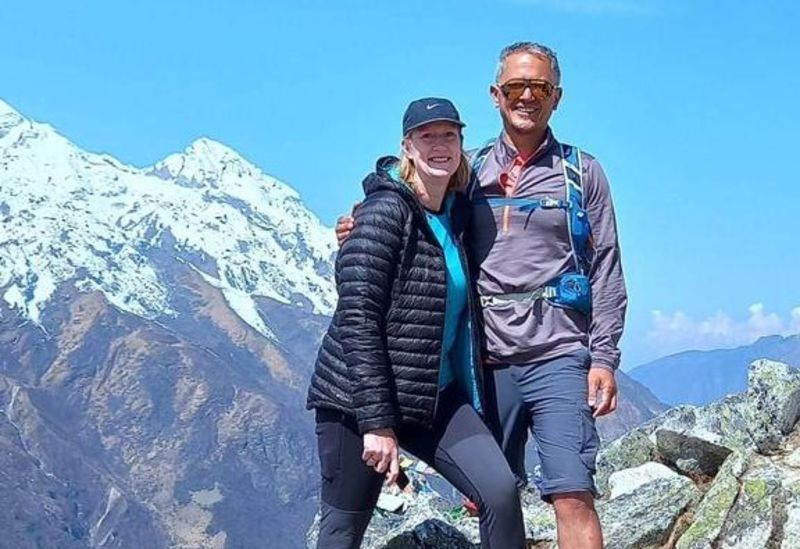 Our clients Nikki and Bryan trekking in Langtang Valley
Map showing 12 of the best treks in Nepal
Here's a map showing the 12 treks we think rank among Nepal's very best.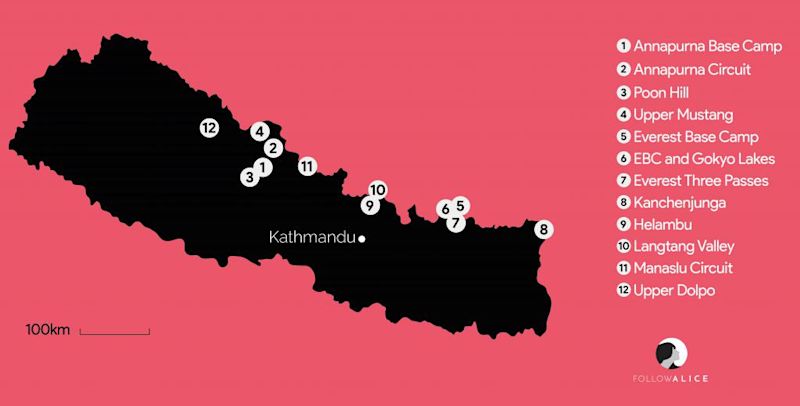 Some of Nepal's most exciting, beautiful and rewarding treks
A note about altitude
For each of the treks listed below we indicate the maximum altitude reached. Anything above 3,000 m can be classified as high-altitude trekking. And high-altitude trekking can lead to altitude sickness (think headaches, dizziness and nausea).
Many of the treks listed here take you well above the 4,000 or 5,000 m mark. Breathing and exercising at such extreme altitude is taxing on the body and mind. So bear this in mind when thinking about which trek to tackle: the higher the trek, the harder it is.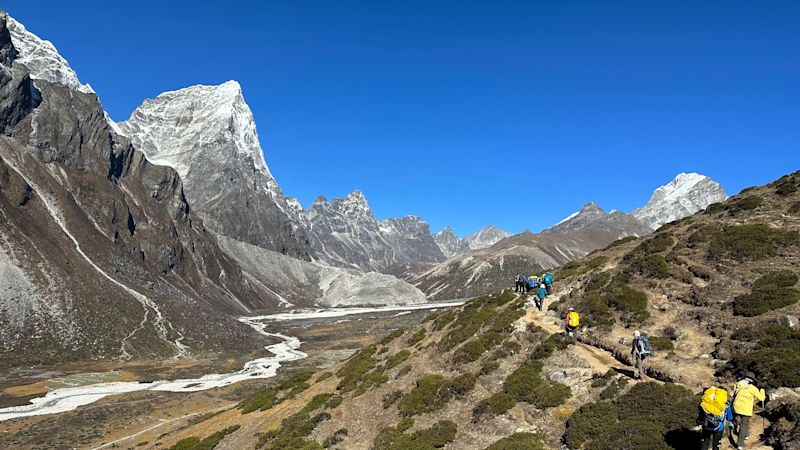 Our client Ross Anker took this great shot along the EBC trek
Note too that when you trek above 4,000 m you need to include acclimatisation days in your itinerary. These are rest days that give your body time to adapt to the higher elevation. Acclimatisation days are essential in preventing altitude sickness.
Annapurna Conservation Area
The mountainous Annapurna region in north-central Nepal is by far the country's most popular trekking region. Little wonder, given its beautiful and varied landscapes, vegetation and cultures. The Annapurna Massif also boasts some of the world's highest mountains, including Annapurna I, which rises to 8,091 m (26,545 ft) above sea level.
About half of all trekkers coming to Nepal head to Annapurna. It's also the country's largest protected area, which has led to the development of many stellar trekking trails.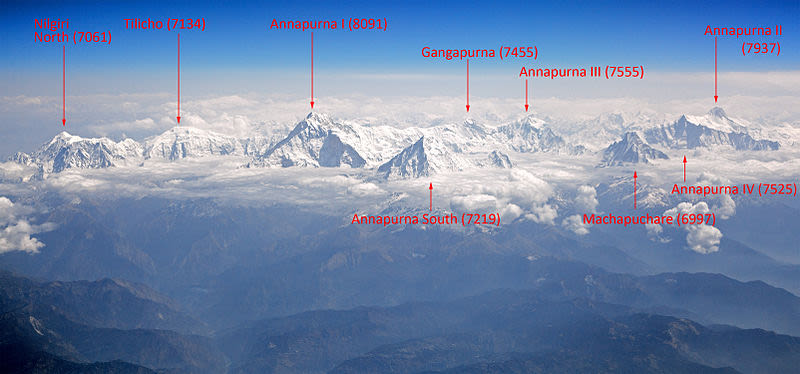 Major peaks of the Annapurna range | Image by Solundir
If you're new to trekking in Nepal, Annapurna is a great place to start. It has a fascinating mix of cultures, religions, climates, wildlife and more. It also has a range of trails in terms of difficulty, so you can tackle something that suits your fitness level and other requirements. And finally, being such a well-established trekking area, there are plenty of lodges and teahouses along the various routes, some even offering hot showers!
Note that it takes two to three days to drive to the region from Kathmandu, so you'll need to factor this travel time into your itinerary.
1. Annapurna Base Camp
Difficulty:

Medium

Distance:

±80 km

Duration:

9-11 days

Highest elevation:

4,190 m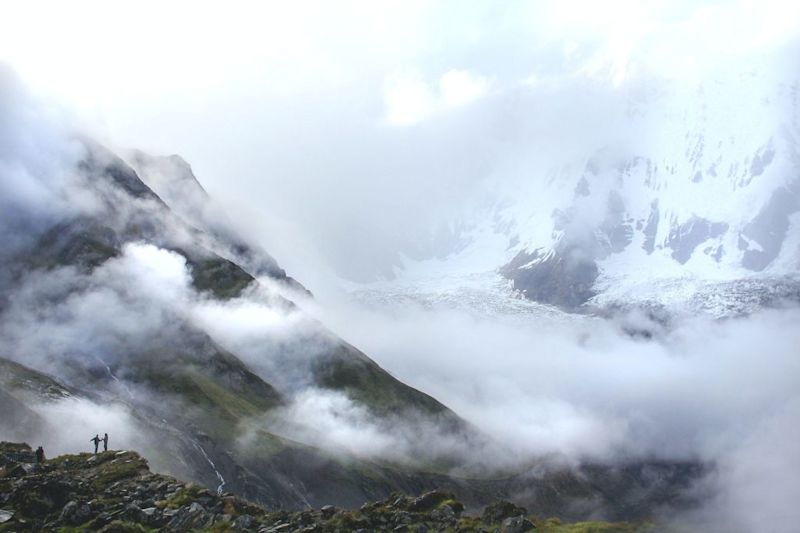 Two teeny-tiny trekkers offer a sense of scale to the surrounding mountains
The Annapurna Base Camp trek is a popular and busy route. You can expect to meet people from all around the world, both on the trail route and in the communal dining rooms of the teahouses at night.
The views on the trek are incredibly rewarding. There are green, terraced fields in the lower valleys, and traditional Gurung and Marag villages. The trees and plants are varied and beautiful; the vibrant rhododendrons and orchids in particular are gorgeous. As to animals, look for wild goats, yaks, blue sheep, tahrs, musk deer, and even snow leopards. And of course you come up close and personal with towering white mountains.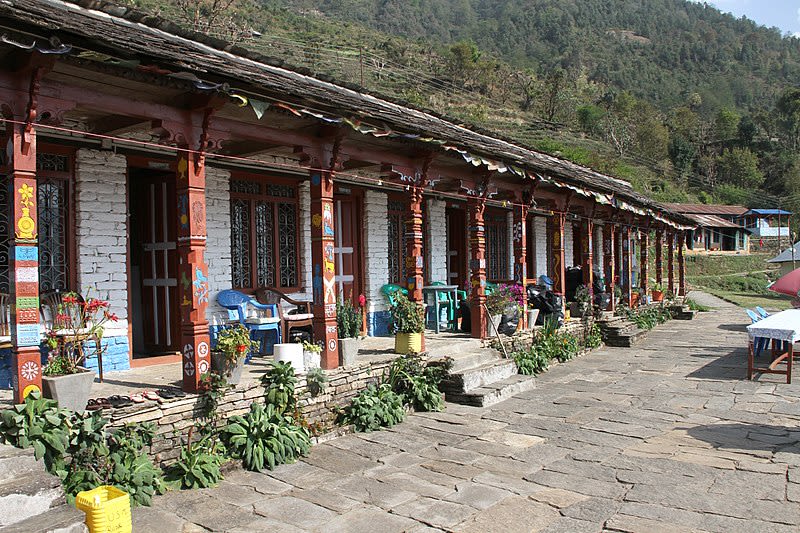 A teahouse in Landruk, one of the villages visited along the trek route | Image by G. Eichmann
The first half of the route is open to variations, and can be turned into a loop so that your outgoing and incoming routes differ. The second half of the route, however, is a one-way path leading to Annapurna Base Camp. On this section of the trail you walk with your gaze lifted up to the mountain gods:
Machhapuchhre (6,996 m)

Annapurna South (7,219 m)

Gangapurna (7,454 m)

Annapurna I (8,091 m)

Annapurna III (7,555 m)

Khangsar Kang (7,485 m)
Reaching base camp ...
The highest point on the trek is Annapurna Base Camp (4,190 m), which is reasonably low when compared with the elevations of some other Himalayan treks. If you're nervous about altitude sickness, this is a good trail to test how you fare high high-altitude trekking. The trail itself is relatively easy, though of course you still need decent fitness to manage it. The moraine trails near the base camp can be a little tricky underfoot.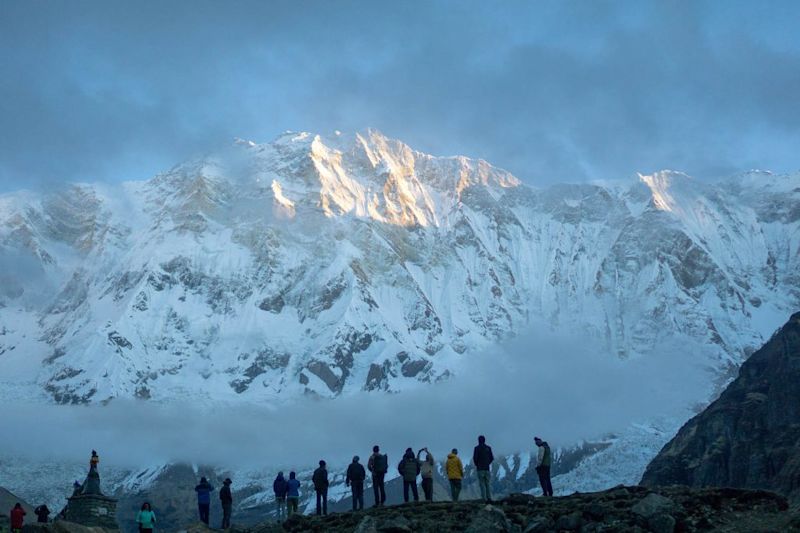 Trekkers getting their full of the glory of the Himalayas at Annapurna Base Camp
Autumn and spring are the best seasons for the Annapurna Base Camp trek. Go in winter, and you'll be crunching snow.
2. Annapurna Circuit
Difficulty:

Medium

Distance:

Varies

Duration:

6-21 days

Highest elevation:

5,416 m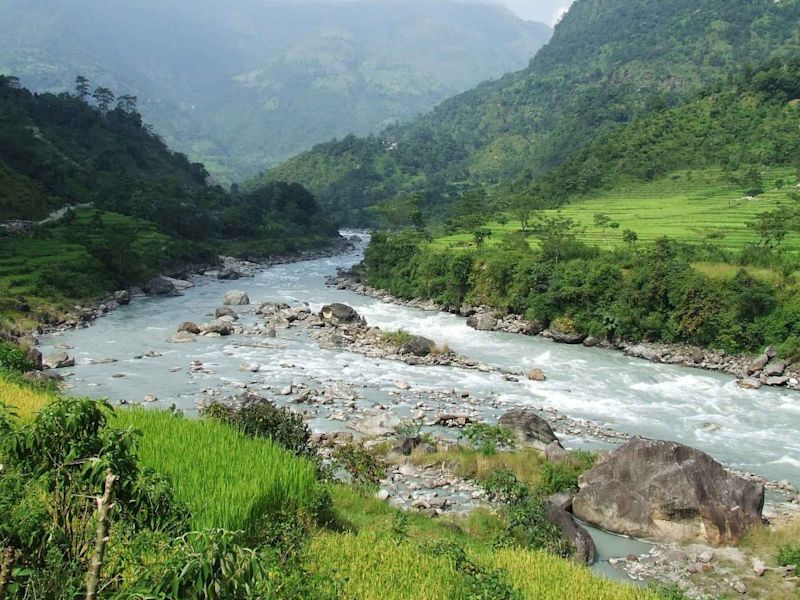 The lower regions of the Annapurna Conservation Area are incredibly green and lush
The Annapurna Circuit is a circular, anticlockwise route through the Annapurna Massif. Whereas the Annapurna Base Camp trek brings you to a viewpoint to the south of the Annapurna peaks, the Annapurna Circuit has you witness them from the north.
The Annapurna Circuit a wonderful introduction to the diversity of the region's people, landscapes, climates and vegetation. From subtropical farming land to stark and steep mountain valleys, this trek has it all!
Perhaps the most exciting portion is when you head deep into the Himalayas and encounter the Manang and Mustang peoples, who live truly remote lives. Tibetan Buddhism is the primary religion here, and prayer flags, colourful monasteries, gompas and prayer wheels proliferate.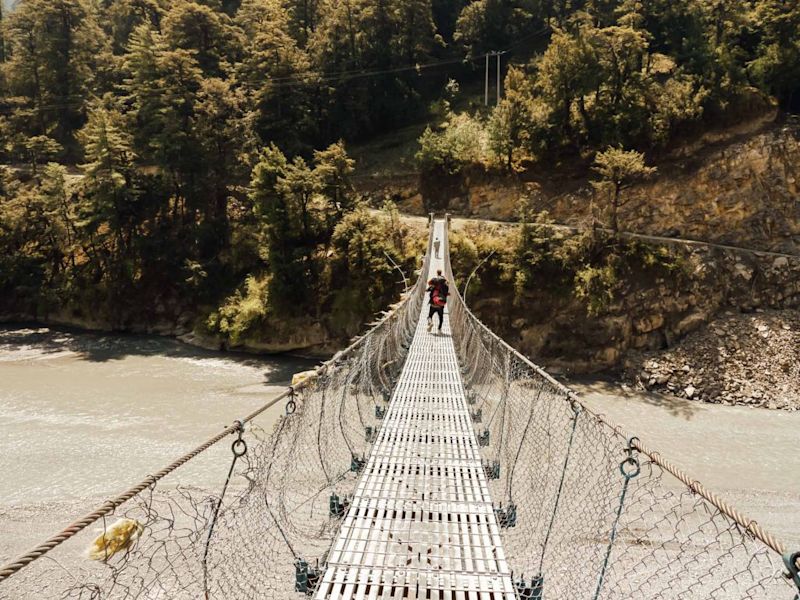 A suspension bridge on the Annapurna Circuit route
A varied route
The trek route ranges from around 50 to 230 km. The longer route is the original one popularised in the 1970s, and this takes around a fortnight. Given the advancements in infrastructure over the past few decades, Annapurna is no longer as remote as it once was.
At Follow Alice we trek an abbreviated version of the original Annapurna circuit trek which takes in just the highest, remotest and prettiest portion of the route. Our specific route covers around 50 km (31 mi), not counting the optional day hikes to the beautiful Ice and Gangapurna Lakes.
We start trekking at the small mountain village of Pisang in Manang District, and end at the town of Ranipauwa in Mustang District.
The highest point on the trek route is snow-covered Thorung La Pass (5,416 m).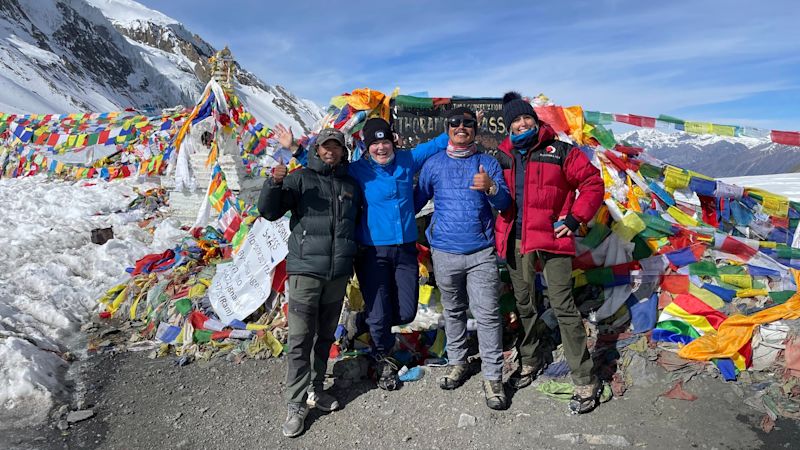 It's all smiles when you stand atop Thorung La!
We drive from Ranipauwa to Jomson, and then take a small plane ride through the astonishingly deep and spectacular Kali Gandaki gorge to reach the lakeside town of Pokhara.
3. Poon Hill
Difficulty:

Easy

Distance:

51 km

Duration:

5 days

Highest elevation:

3,210 m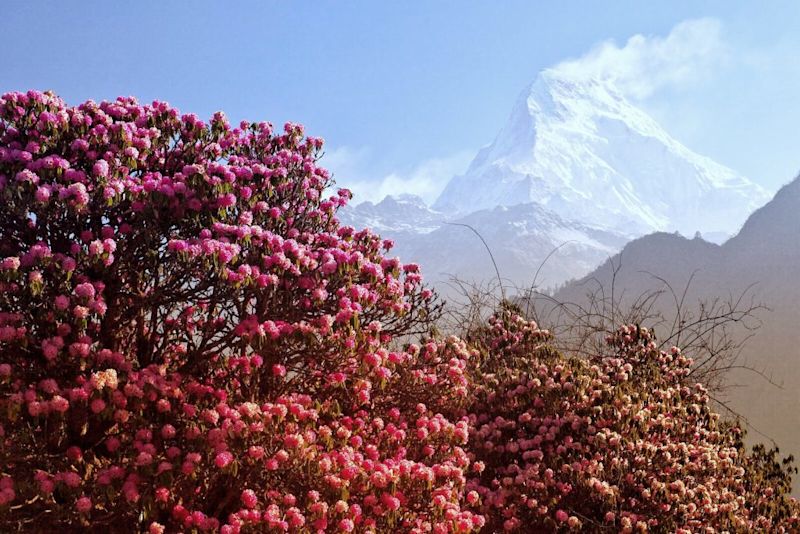 Rhododendrons blanket Annapurna's valleys in glorious colour every spring
The Poon Hill trek – also known as the Ghorepani trek – is a relatively easy and short circular trek in the Annapurna mountains. It takes you past traditional villages, through forests, across rivers. Perhaps the most challenging aspect of the trek is the Stairway to Heaven, which is a set of 3,600 shallow stone steps. The stairway, which is overgrown with creepers, is a picturesque tunnel leading you through lush subtropical rainforest.
While Poon Hill trek is an easy expedition in comparison to many other Nepal treks, it's still a tough exercise that requires plenty of energy and stamina. But there are plenty of rewards of varying nature along the trek route, including luxuries such as WiFi and hot showers, and also the Jhinu Dada hot springs where you can stop for a relaxing soak.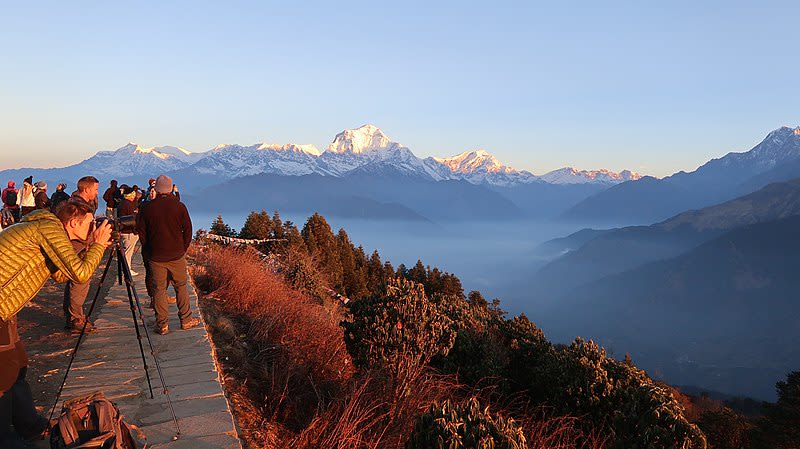 Sunrise over the Annapurna range as seen from Poon Hill | Image by Thapaliyashreeram
Standing on Poon Hill
Poon Hill itself is a truly special spot. At 3,210 m above sea level, it affords you magnificent views of both the Annapurna mountains in the east and the Dhaulagiri mountains in the west. You'll see peaks such as Annapurna I (8,091 m) and Machhapuchhre (6,993 m), as well as the world's seventh highest mountain: Dhaulagiri (8,167m).
If you're wanting to trek the Himalayas with kids, Poon Hill is a great option. And because you don't climb any higher than Poon Hill, you don't need to incorporate any acclimatisation days into your itinerary.
Machhapuchchhre (Fish Tail) peak
If you'd like to see Nepal's famous rhododendrons (the national flower) in full bloom – and believe us, you do want to see them! – you should plan your trek for somewhere between March and early May. There are various rhododendron species along the Poon Hill trek route, including trees, shrubs and smaller plants boasting red, purple, blue and white blooms.
You can combine the Annapurna Base Camp and Poon Hill treks to make one slightly longer, even more epic trek!
4. Upper Mustang
Difficulty:

Moderate

Distance:

±125 km

Duration:

11 days

Highest elevation:

4,090 m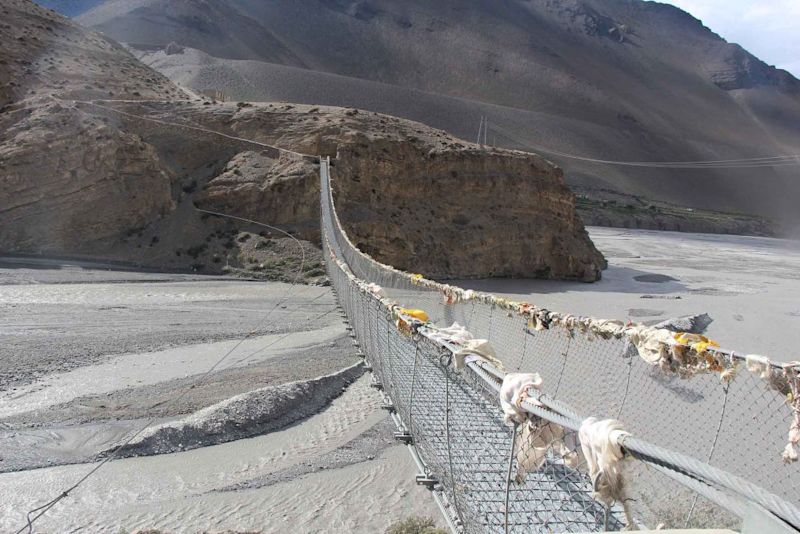 A bridge near the ancient town of Kagbeni in the remote and culturally distinct Mustang District
The Upper Mustang trek route is a circular route through the Annapurna mountains that takes you almost to the border with Tibet. The highest point on the trek route is 4,090 m, which is when you cross Gyu La Pass.
Unlike most Nepal treks, which are best done in spring or autumn to avoid monsoon rains and snowfall respectively, you can trek the Upper Mustang route any time of the year as it exists in a rain shadow. The landscape is consequently stark and unforgiving. Trekkers delight in the dramatic cliff faces, hidden caves and their Buddhist paintings, centuries-old monasteries, and crumbling villages which serve as small oases in the browned environment.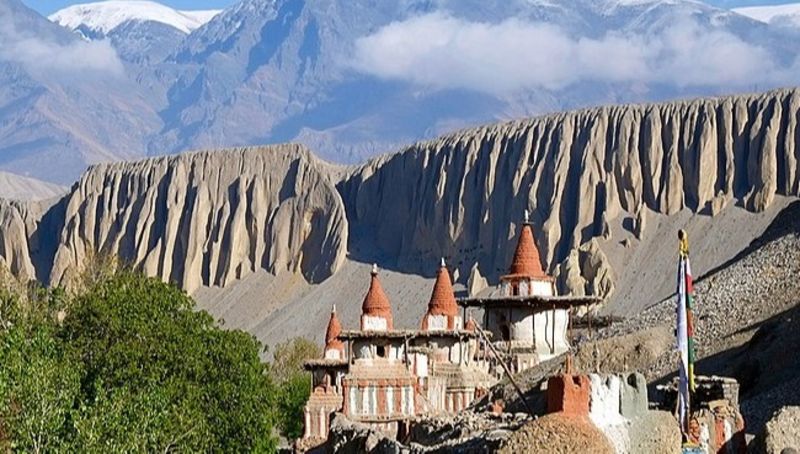 Upper Mustang offers a unique cultural experience for the intrepid trekker
The Upper Mustang trek follows the old salt caravan trade route between the Kingdom of Lo and Tibet. For centuries, Mustang traders travelled back and forth across the unforgiving Himalayas with their herds of yaks, exchanging salt for grain, rice, sugar and fuel.
A distinct culture
As part of Nepal, Mustang was a restricted demilitarised area until 1992. This isolation helped the Mustang to preserve their cultural identity. Most people in Mustang still speak traditional Tibetic languages. This is a fantastic area to trek if you're keen to meet Nepali people whose lifestyle is almost devoid of Western influences.
Mustang used to be part of the Kingdom of Lo, which in turn was part of the Tibetan Ngari Kingdom. Mustang is a fantastic place for witnessing a very undiluted form of Tibetan Buddhism. The monasteries of the region are distinct, being painted with red, white and black (or grey) vertical stripes. If you visit during the Tiji Festival, you'll have the amazing experience of witnessing the colourful and unique monks' dance.
This is a great trek if you appreciate stark, desolate and isolated places. The sorts of places you feel exist in spite of things.
Note that this is a tough trek, and it's walked mostly on jeep tracks. The afternoon winds can be fierce, adding to the trek's difficulty.
Sagarmatha National Park
Sagarmatha National Park is home to Mt Everest (8,848 m) and its famous base camp. It's also home to many other great peaks, as well as the famous Khumbu Glacier.
Sagarmatha is one of the traditional homelands of the Sherpa people, a small but well-known people group with strong ethnic and cultural ties to their Tibetan neighbours to the north. A trek in Sagarmatha has you staying in traditional Sherpa villages and encountering colourful landmarks of Tibetan Buddhism like monasteries, gompas, stupas and prayer flags.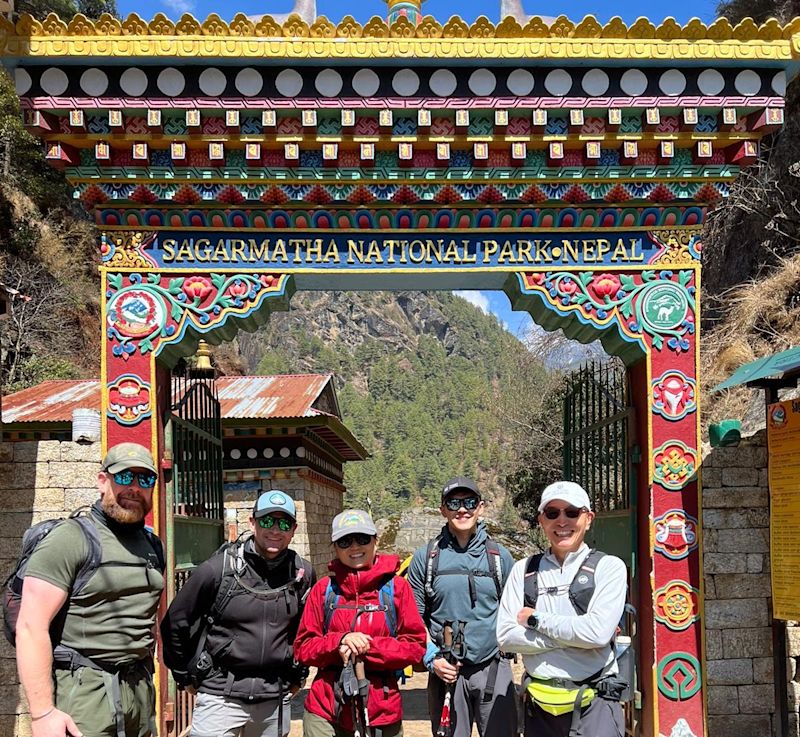 Some of our clients entering Sagarmatha
To get to Sagarmatha National Park, you have to fly into Lukla Airport or trek there. There are no connecting roads. Most folks want to get straight to the business of trekking to Everest Base Camp, so they opt for the short flight from Kathmandu.
If, however, you want to trek to Lukla, that is also totally possible. You'll need to catch a bus to the town of Jiri. From there, you trek for three or four days to each Lukla. This is a gorgeous route that sees very few trekkers, so you'll have the trail mostly to yourself. You'll also pass through some picturesque, traditional Sherpa villages.
5. Everest Base Camp
Difficulty:

Tough

Distance:

130 km

Duration:

15 days

Highest elevation:

5,643 m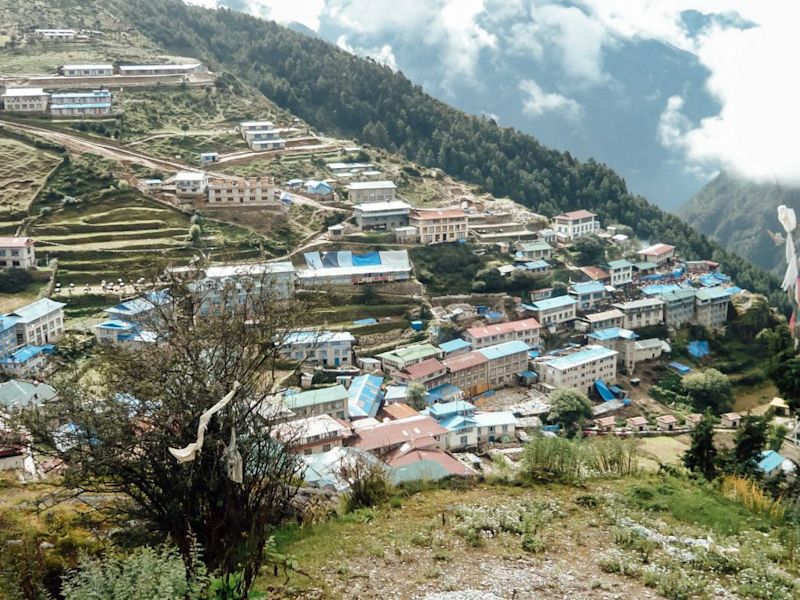 You pass through various Sherpa villages en route to Everest Base Camp
Not everyone can climb Mount Everest, but most of us can make the trek to its famous base camp. The Everest Base Camp trek is a linear route of 65 km when you walk the most direct path. That gives you a roundtrip of 130 km.
The trek starts and ends in the mountainside town of Lukla (2,860 m). For the first half of the trek you head up the Dudh Kosi River valley. The valley is a beautiful temperate zone of steep, forested valleys, suspension bridges, waterfalls and icy water. You pass through many small, traditional Sherpa villages along the way. Yaks are used by porters to carry trekkers' gear, and they're a common sight on the trek route.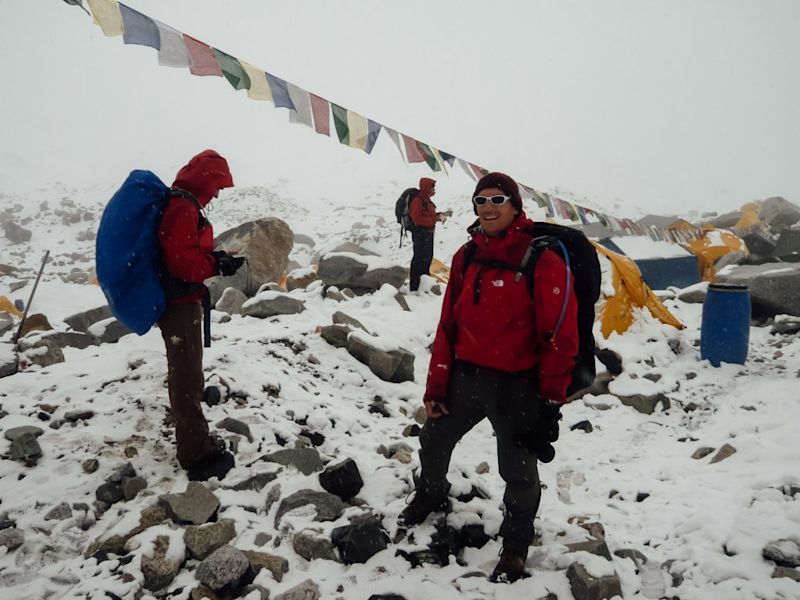 Reaching Everest Base Camp is no mean feat!
Namche Bazaar
A highlight of the trek is stopping over in the mountainside town of Namche Bazaar (3,440 m). Most people spend a couple of nights here to help their bodies acclimatise to the high altitude. Namche Bazaar is a picturesque mountainside town of blue and red roofs and terraced fields. It's the main trading hub of the Khumbu region, and if you're there on a Saturday you'll be able to visit the morning market.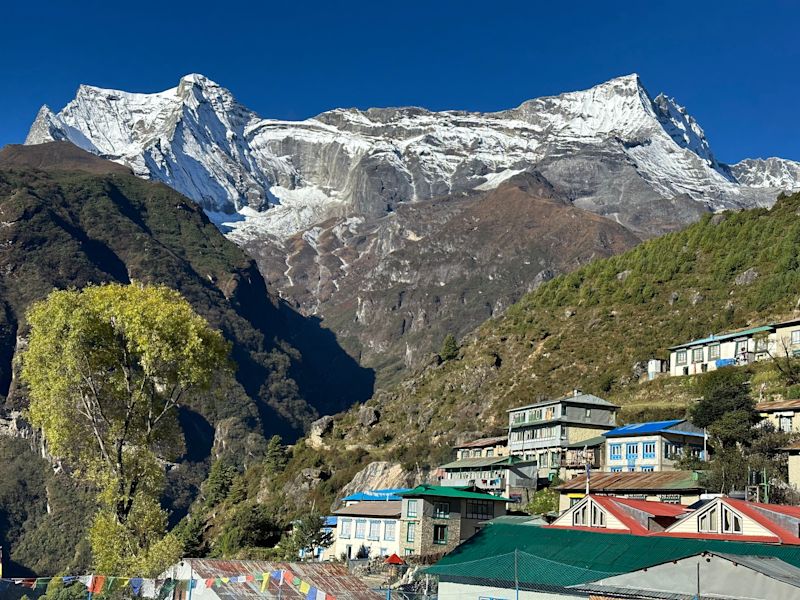 Picture of Namche Bazaar by our client Ross
Namche is a Sherpa community whose citizens follow Tibetan Buddhism. The town has many attractions to offer, from the Sherpa Culture Museum to Namche Monastery, which is very welcoming to visitors.
Shortly after Namche Bazaar you hike up into a wind-blasted, semi-arid and sparsely populated region. The settlements become smaller and more functional than attractive. Here you spend your days trekking across desolate valley floors and lake beds, over rocks and scree, along high contour paths, and eventually, over ice and snow as you near the famous Everest Base Camp.
The air is very thin as you near Everest Base Camp and many people experience mild symptoms of altitude sickness.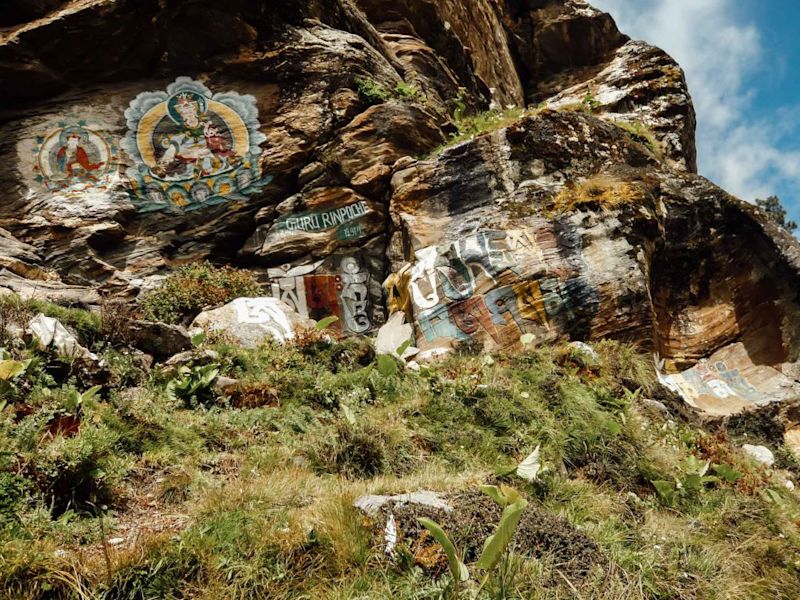 Religious rock paintings of Guru Rinpoche, an important Buddhist figure, along the Everest Base Camp trek route
Everest Base Camp
Everest Base Camp is situated on the south side of Mt Everest (8,848 m). It's at the foot of the Khumbu Glacier, the world's highest glacier. If you wish to see it as the hive of activity you've probably seen on TV or online, then you should head there in May, as this is climbing season.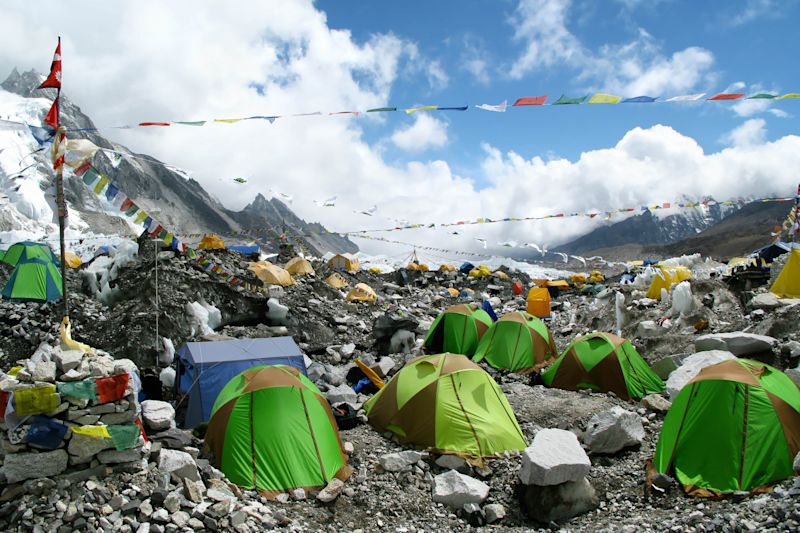 Everest Base Camp in climbing season
At all other times of year the base camp is a quiet place marked more by a tangle of prayer flags around the signpost than anything else. Either way, it's an immense accomplishment to stand at Everest Base Camp and think of the many miles you conquered to reach this famous point on the globe.
6. Everest Base Camp and Gokyo Lakes
Difficulty:

Tough

Distance:

150 km

Duration:

18 days

Highest elevation:

5,643 m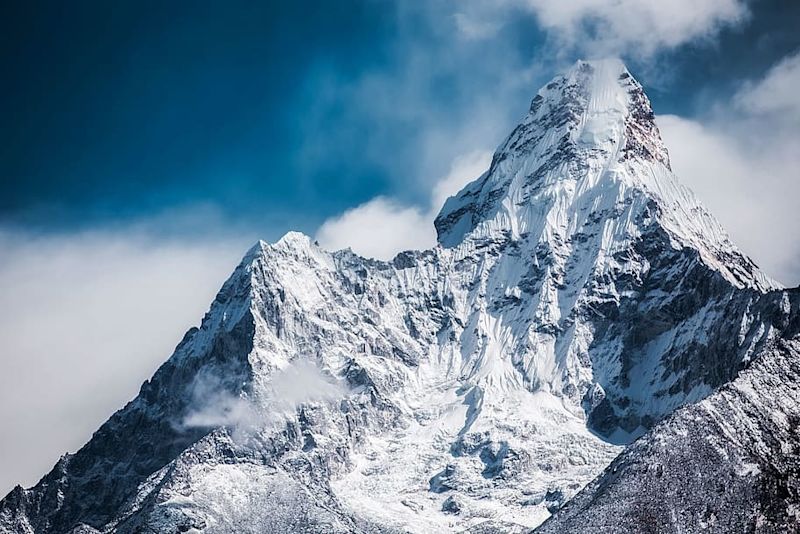 The easily recognisable Ama Dablam keeps trekkers company for much of their time in Sagarmatha National Park
The Everest Base Camp and Gokyo Lakes trek is a fantastic trek that takes you on a counterclockwise loop through Sagarmatha National Park. As the name suggests, the two key destinations are Everest Base Camp and the Gokyo Lakes.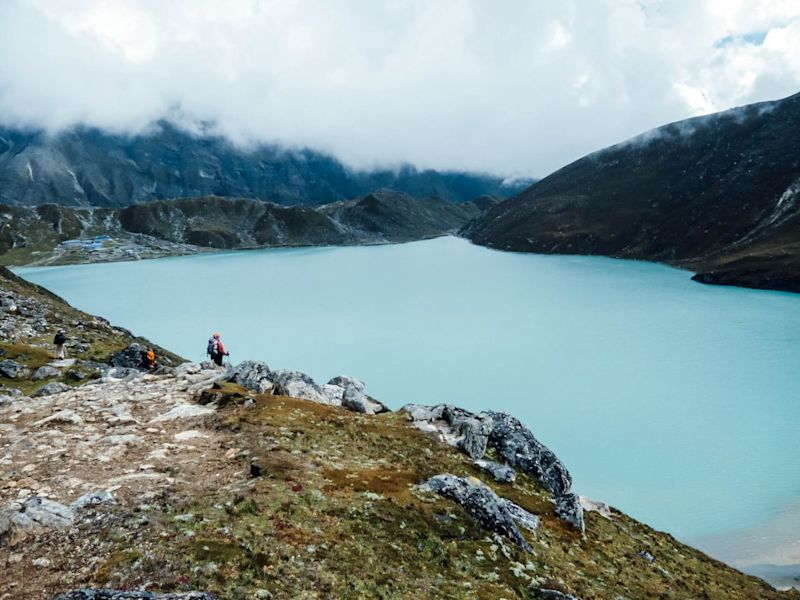 The Gokyo Lakes are a pristine high-altitude wetland system
This trek route lets you see more of the region's beauty and drama than does the classic Everest Base Camp trek. The first half of the trail is the same as that of the EBC trek: you head from Lukla to Everest Base Camp along the original and most direct route.
Having visited Base Camp, however, you then break from the crowds by heading west towards Cho La Pass (5,420 m) and the Gokyo Lakes. For anyone craving intense remoteness and landscape photographs devoid of humans, this half of the trek is for you.
Gokyo Ri
One of the highlights of the Gokyo Lakes detour is that you get to summit Gokyo Ri (5,357 m). From here, you have a panoramic view that includes:
Everest (8,848 m), the world's mightiest and most famous mountain

Lhotse (8,516), a hulking mountain and the world's fourth highest peak

Makalu (8,485 m), the world's fifth highest mountain and part of the border with Tibet

Cho Oyu (8 201 m), the world's sixth highest mountain, which sits on the border with Tibet and whose name means "Turquoise Goddess" in Tibetan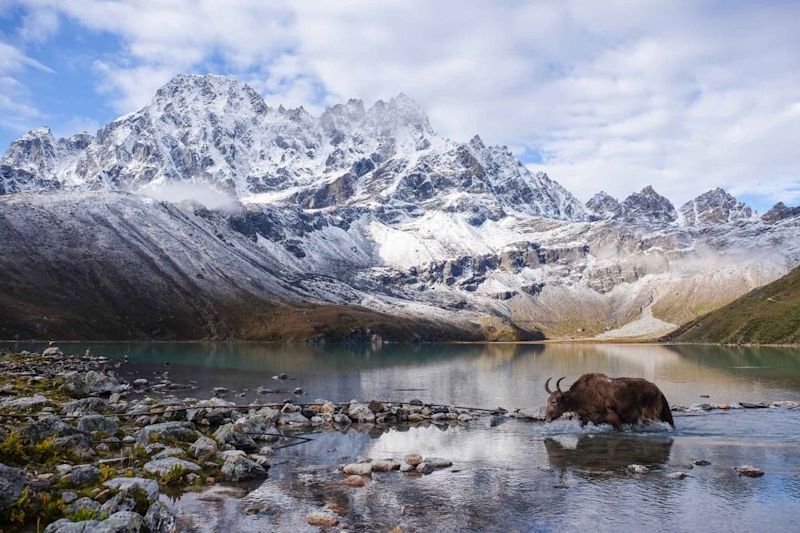 A yak in the icy waters of Gokyo Lake, which is part of an important high-altitude wetland system
The Gokyo Lakes
The Gokyo Lakes are a high-altitude lake system of 19 lakes that together form an important wetland. It's a sacred space of pilgrimage for both Hindus and Buddhists, who visit the main lake every year.
The detour to Gokyo Lakes makes an Everest Base Camp trek more strenuous, as not only does it lengthen it, but there are also some particularly steep ascents and descents. The extra exertion is, however, 100% worth it, as the Gokyo Lakes and Gokyo Ri are sublime destinations.
At Follow Alice we lead an Everest Base Camp and Gokyo Lakes trek. Learn more about the route and its highlights here.
7. Everest Base Camp and Three Passes
Difficulty:

Very tough

Distance:

165 km

Duration:

±18 days

Highest elevation:

5,643 m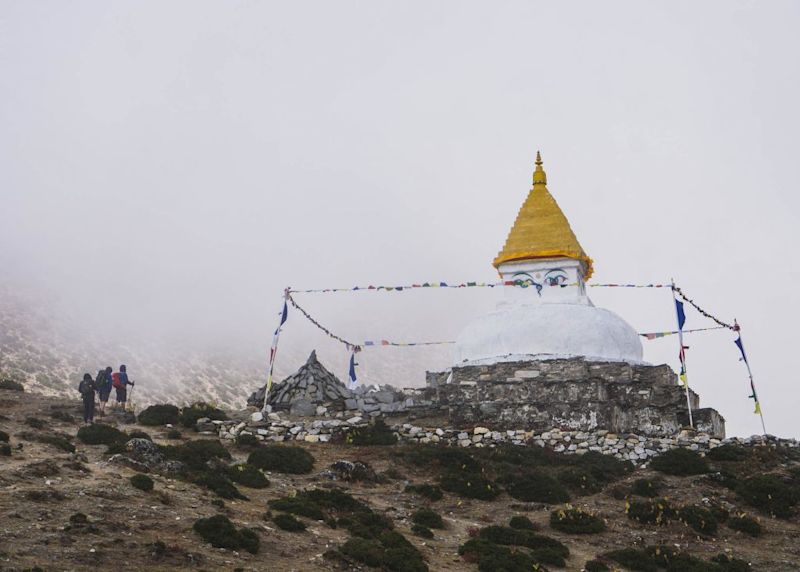 Stupas, which are Tibetan Buddhist commemorative monuments, can be found throughout Sagarmatha
The Everest Base Camp and Three Passes trek is an exciting multi-week circular trek through the Himalayas of Sagarmatha National Park. It shares a lot of the same DNA as the Everest Base Camp and Gokyo Lakes trek. Both treks start in Lukla, lead you up the Khumbu Valley, have you stay in traditional Sherpa villages, take you to Everest Base Camp (5,364 m) and up Kala Patthar (5,643 m), and include overnighting at the beautiful Gokyo Lakes.
But the Everest Base Camp and Three Passes trek is the more challenging and exciting trek. We say this for four reasons ...
Firstly, it's a longer trek. Secondly, you also get the chance to see more of Sagarmatha National Park, including some of its truly remote corners.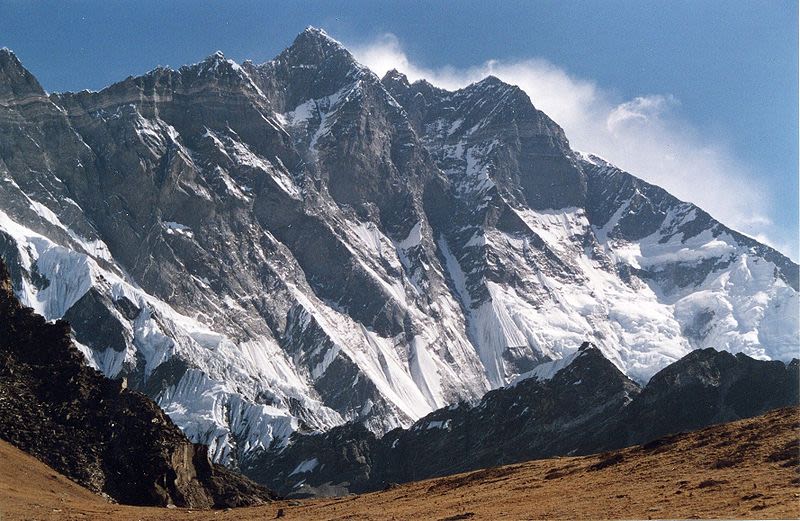 View of the magnificent Mt Lhotse from Chhukung Ri | Image by U. Gille
The Three Passes
Thirdly, the Everest Base Camp and Three Passes trek involves crossing two additional high mountain passes. As the trek name suggests, you summit and cross three passes on this trek route:
Kongma La (5,550 m)

Renjo La (5,360 m)

Cho La (5,420 m)
These rocky mountain passes make the trek very challenging, but they are imminently doable for the seasoned, surefooted trekker.
And finally, the Everest Base Camp and Three Passes trek also takes you up the lesser-known and quieter peak of Chhukung Ri (5,550 m). Chhukung Ri sits tucked under the immense Lhotse-Nuptse wall and offers fantastic views of Imja Tse or Island Peak (6,189 m), the iconic Ama Dablam (6,812 m) and Makalu (8,485 m). If you're a seasoned trekker, this is the trek for you!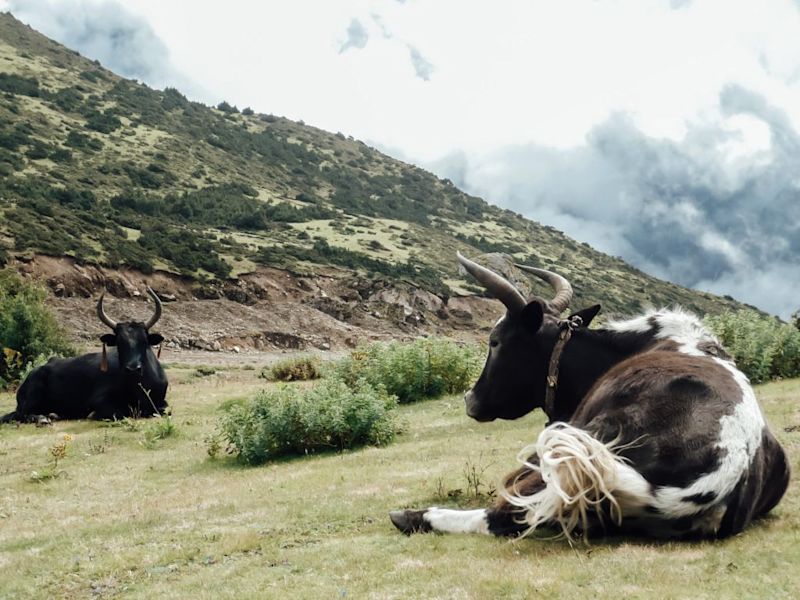 You can expect to see plenty of yaks in Sagarmatha National Park
Kanchenjunga Conservation Area
Kanchenjunga Conservation Area is a protected area in the far northeast corner of Nepal. Its most famous landmark is Mt Kanchenjunga (8,586 m), which is the world's third highest mountain and sits on the border with India. It's an incredibly remote region of Nepal that appeals to visitors wishing to experience an uncrowded trek.
To reach Kanchenjunga, most people take an 80-minute flight from Kathmandu to the town of Suketar. Suketar is in Taplejung District in the northeast of the country. You'll then need to drive or trek to picturesque Taplejung, the usual starting point for any Kanchenjunga trek. Taplejung was named after the mediaeval king Taple, and means 'Fort of King Taple' in the Limbu language. It's an incredibly picturesque place: think terraced fields, thick forests, waterfalls, rocky outcrops, suspension footbridges and colourfully painted homes.
8. Kanchenjunga Circuit
Difficulty:

Very tough

Distance:

±100 km

Duration:

±18 days

Highest elevation:

4,785 m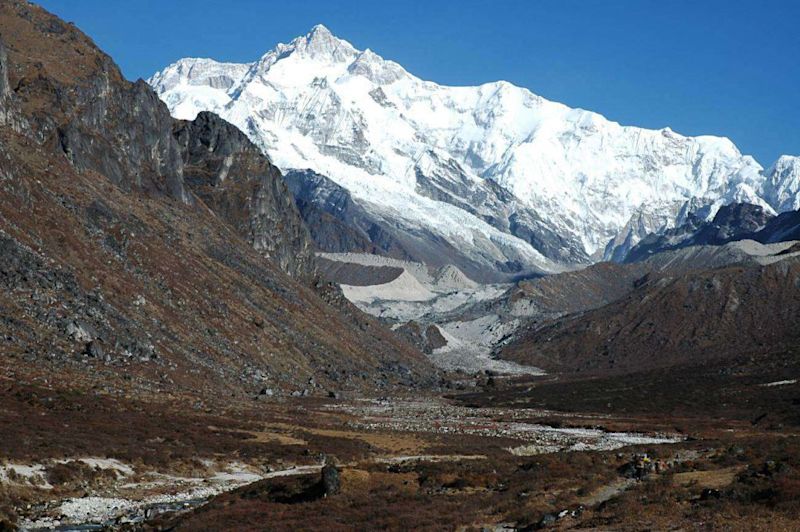 View of Kanchenjunga – the world's third highest mountain | Image by Carsten.nebel
The Kanchenjunga Circuit trek is a mostly circular, clockwise trek route that takes you to Kanchenjunga Base Camp (as well as Yalung Base Camp if you wish).
More specifically, if you wish to trek to both base camps, the route follows the outline of a yak's head: up the left-hand side and a horn to reach Kanchenjunga North Base Camp (4,785 m), then back down the horn and across the head via two passes before turning left and heading up the right-hand horn to reach Kanchenjunga South Base Camp (4,500 m). You then head back down the horn and continue down the right-hand side of the face to reach your starting point of Taplejung at the chin.
As you can see in the photo below, Kanchenjunga is a wide and imposing mountain. It has five summits, as follows:
Kanchenjunga Main (8,586 m)

Kanchenjunga West, or Yalung Kang (8,505 m)

Kanchenjunga Central (8,482 m)

Kanchenjunga South (8,494 m)

Kangbachen (7,903 m)
The people, culture, traditions, architecture and more of this region are distinct from those encountered on other treks in Nepal. The main inhabitants of the district are Limbu, Chhetri, Tamang, Brahman, Sherpa, Bhote, Newar, and Gurung. The Sherpa people of this district are culturally distinct from the Sherpa living elsewhere in the country.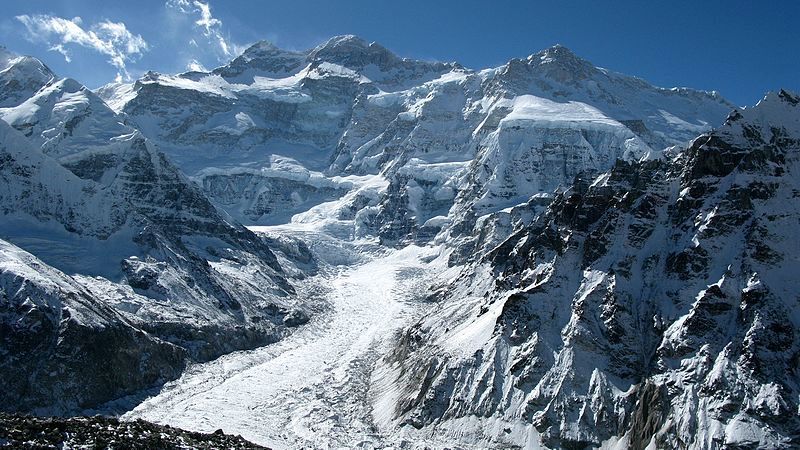 Of the three summits in the centre of this photo, it's the one to the left (which looks a smidge lower) that's the main summit of the Kanchenjunga Massif | Image by Tomabarker
Sele La Pass
A highlight of the Kanchenjunga Circuit trek is crossing Sele La Pass (4,240 m). The mountainside is covered in beautiful, hardy scrub and offers amazing views of the surrounding mountains. It's just layer upon layer of staggeringly tall snowy peaks as far as the eye can see.
During the trek, be on the lookout for blue sheep (with their massive curved horns), snow leopards, musk deer, yaks and jokpes (cow–yak hybrids), among other animals. The sound of myriad jingling bells as a yak herd passes you in a wide, empty valley is a treat.
A rough trail
Trekking poles are incredibly useful on most Nepal treks, especially Kanchenjunga Circuit. You often make your way along very narrow, mountainside contour paths that have seen landslides and are covered in scree. Further, Nepal is no Western nanny state, and the trek path is hazardous in many places. There are river crossings, rudimentary plank bridges and steps, slippery forest paths, and just generally many chances to throw yourself into a river or valley if you don't pay attention.
You regularly hike for seven to 10 hours a day on the Kanchenjunga Circuit trek. This is a big part of what makes this trek so tough.
As Kanchenjunga is less frequented by trekkers than areas like Annapurna and Sagarmatha, the accommodation options and facilities are generally more rustic. The further into the mountains you go, the leaner the amenities. Outhouses, for instance, are the name of the game.
Langtang National Park
Langtang National Park is found in the mid north of Nepal on the border with Tibet. It's part of the Sacred Himalayan Landscape, a large trans-boundary sanctuary that extends into Nepal, Bhutan and India. The park is also incredibly beautiful, boasting picturesque hillside villages, diverse vegetation, and various endangered species, including the red panda and snow leopard. There are 18 different ecosystems within Langtang National Park, ranging from tropical forest to alpine forest and, of course, perennial ice on the mountain peaks. The park's highest point is Langtang Lirung (7,234 m), which is part of the Langtang Himal, a Himalayan subrange.
Langtang National Park is less than 50 km from Kathmandu, which makes it a great option for those not wanting to spend much time in transit before starting their trek.
9. Helambu Circuit
Difficulty:

Easy

Distance:

70 km

Duration:

6 days

Highest elevation:

3,650 m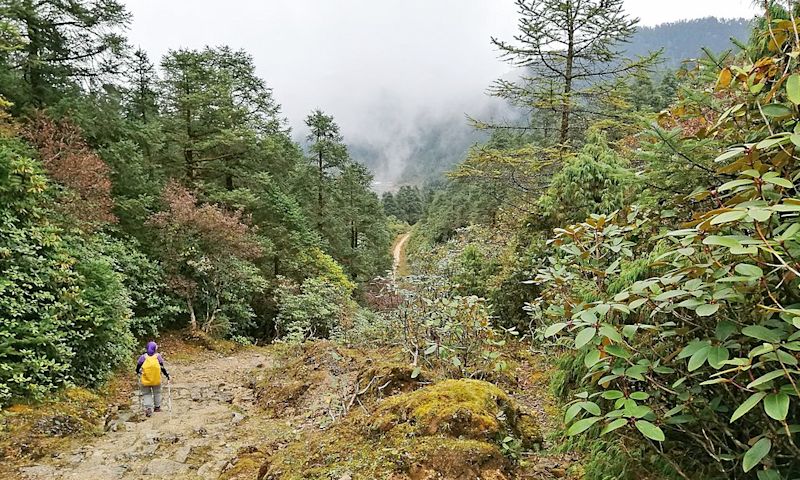 The Helambu trek is a relatively easy trek that takes you through a beautiful part of the Himalayas | Image by BusyBeaver-de
The Helambu Circuit is a relatively easy trek requiring no real acclimatisation. There are, however, plenty of ups and downs on the route, as you climb the valleys and ridges of the area. So you do need to be reasonably fit to manage the route well.
The trek route is diverse and extremely pretty. There are bamboo, larch, oak and rhododendron forests, energetic rivers and waterfalls, suspension bridges offering fantastic views up and down the valleys, and plenty of traditional mountain villages ringed by terraced rice paddies. The mountain views witnessed along the higher portion of the circuit are spectacular. You can look forward to seeing many magnificent peaks, including Mt Langtang Lirung (7,234 m), Gaurishankar (7,134 m) and Dorje Lakpa (6,966). The highest point reached on the trek is Tharepati Pass (3,576 m).
The villages and communities you'll meet on the route include Sherpa, Tamang and Hyolmo. The Hyolmo are a people group native to the Helambu Valley who have a distinct culture and mixed religion. The main religion of Helambu, however, is Tibetan Buddhism, and there are monasteries, stupas, gompas and prayer flags all along the trail.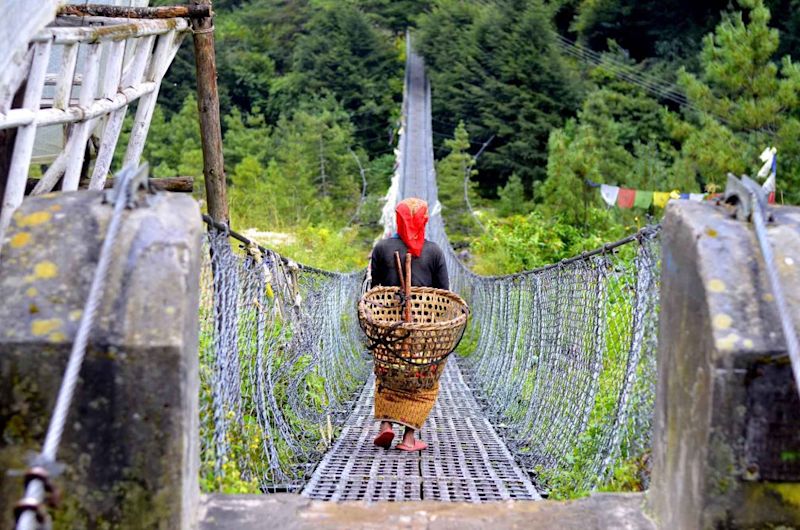 Suspension bridges are found everywhere in Nepal, including the Helambu trek route
An easier trek route
The Helambu Circuit is a great trek to tackle if you:
have never been trekking before (or aren't the strongest walker) and want to take on a relatively easy – yet still challenging and rewarding – trek route

want to bring the kids along

are nervous of the small airplanes folks heading to other trekking areas in Nepal must board (Helambu is a short drive from Kathmandu)

don't want to trek a route where the facilities are

too

rustic

want to trek up into the mountains but don't want to go too high and risk altitude sickness (you don't go above 4,000 m)
It's also worth noting that you can trek the Helambu circuit in winter (December to March). Most other Nepal trek trails are arguably too dangerous and uncomfortable for winter trekking. And while the area isn't far from Kathmandu, the scenery is unspoilt and pastoral.
As with most Nepal treks, there are variations and add-ons to the Helambu trek route. The most common route, however, is a semicircular one of about 70 km that takes place within Langtang and Shivapuri National Park.
10. Langtang Valley
Difficulty:

Medium

Distance:

±60 km

Duration:

6 days

Highest elevation:

4,773 m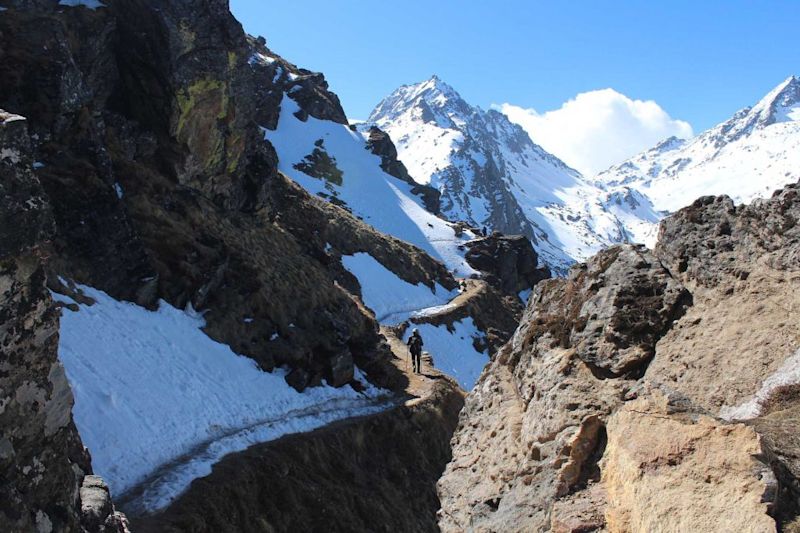 An exciting mountainside trail on the Langtang Valley trek
The Langtang Valley trek is a classic and popular Nepal trek not far from Kathmandu. It takes place further north and deeper into the Himalayas than the Helambu trek. It's a truly rewarding trek of excitingly narrow mountainside trails and magnificent, close-up mountain views. Some of the animals to keep your eyes peeled for include pheasants, deer, bears, langur monkeys, wild boars, and even red pandas!
Near the beginning of the route you hike rocky forest footpaths with oak, maple, spruce, fir, larch and blue pine providing a thick canopy above you. Like any self-respecting Nepal trek, the trail includes plenty of river-crossings and footbridges. The icy waters of the Bhote Kosi ('Tibet River') flow down from Tibet to the north.
The best time of the year for the Langtang Valley trek is spring and autumn. The rhododendrons burst onto the scene in spring and are simply gorgeous.
Amazing views
The pinnacle of the trek (pun intended) is reaching the top of Kyanjin Ri (4,773 m). Kyanjin Ri is rather like Kala Patthar of the Everest Base Camp trek: it's the highest point on the Langtang Valley trek and offers amazing views of the surrounding peaks and glaciers. Some of the mountains you encounter along the route are Dorje Lakpa (6,996 m), Langtang Ri (7,205 m) and Langtang Lirung (7,227 m).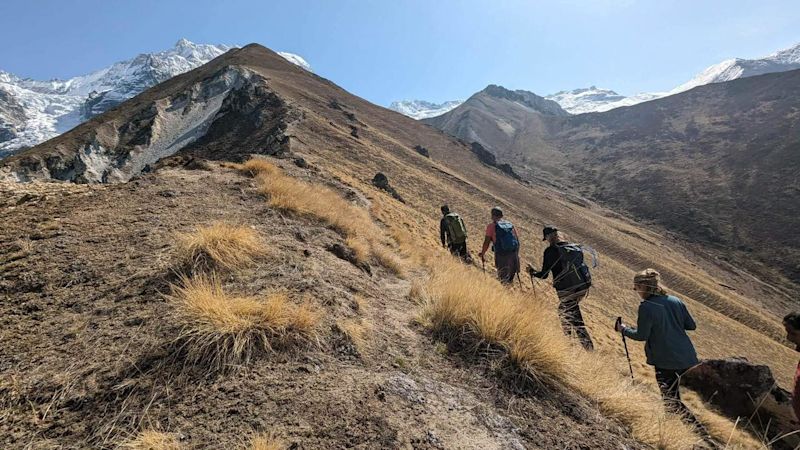 One of our groups on the Langtang Valley trek
Trekkers on the Langtang Valley trek encounter both Tamang and Sherpa communities along the way, two people groups of very different origins and culture. The village of Kyanjin is a favourite with trekkers. It lies on the valley floor and is surrounded by immense, snowy peaks. Its language, culture and legends speak of its historical connection with Tibet. There's a small, ancient Tibetan Buddhist monastery you can visit, as well as a cheese factory!
Langtang Valley was hit very hard by the 2015 earthquake, but the locals have rebuilt many of the lodges and teahouses. Visiting the area supports them in their efforts.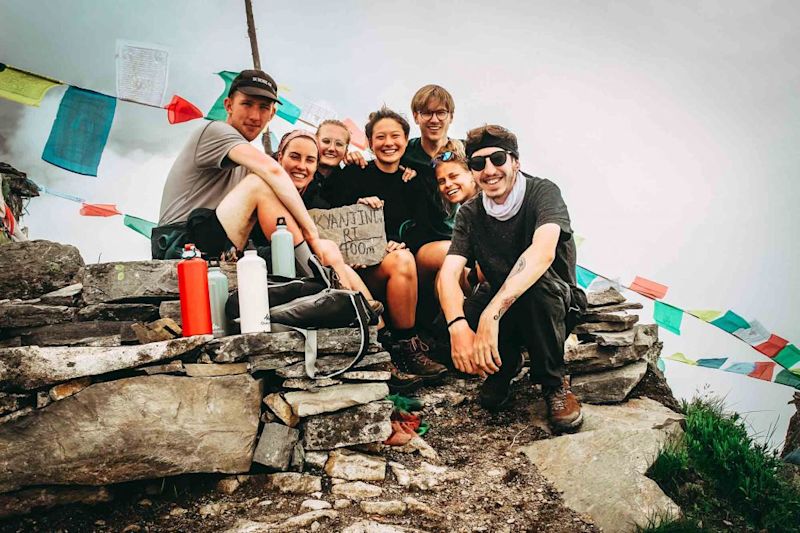 Kyanjin Ri (4,773 m) offers amazing views of the peaks and glaciers of Langtang Valley
Manaslu Conservation Area
The Manaslu Conservation Area was only established in 1998. It's situated in the central northern Himalayas of Nepal on the border with Tibet.
Trekkers can take a public bus or hire a private jeep to drive them from Kathmandu to Manaslu Conservation Area. The drive to Soti Khola – the most popular starting point for trekking in Manaslu – takes around nine hours. Much of the route is a bumpy trip along dirt roads.
Manaslu Conservation Area is home to many vulnerable and endangered animals, including the red panda, black bear and snow leopard. Also keep your eyes peeled for some special creatures like the adorable Himalayan goral and black-lipped pika, as well as lynx, woolly hare and dhole, the latter of which looks like a cross between a fox and a wolf. There are also the usual suspects like blue sheep and tahr, which can be found in large herds of up to about 50!
11. Manaslu Circuit
Difficulty:

Tough

Distance:

177 km

Duration:

12 days

Highest elevation:

5,106 m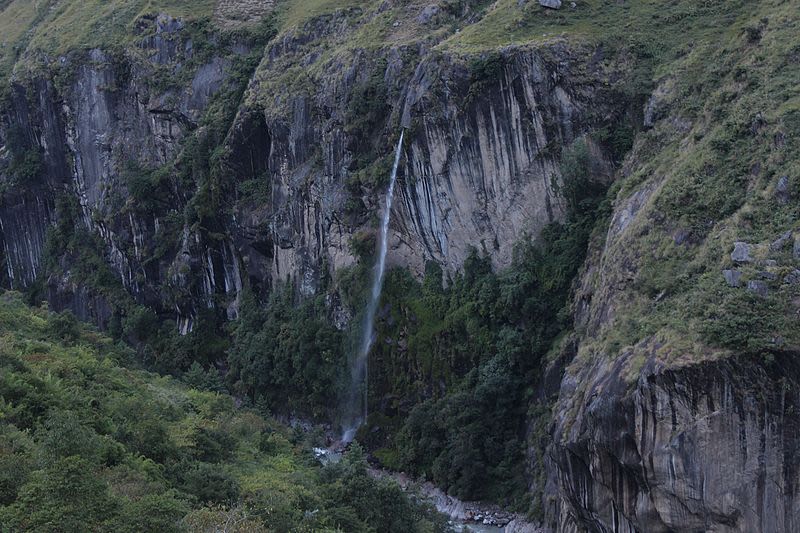 The steep valleys of the lower Manaslu Circuit trek make for truly exciting hiking | Image by P. Dhamala
The Manaslu Circuit is yet another epic Nepal teahouse trek. It's arguably one of the most beautiful treks in the Himalayas. It's steadily gaining in renown and popularity, but at present remains a quieter trek. If you wish to enjoy it at its best before word spreads too widely, now is the time to go!
The Manaslu Circuit route is a semicircular route that starts in Soti Khola (77 m) and has you trek anticlockwise to Dharapani (1,860 m), your endpoint. In the subtropical and alpine sections of the trek, you can look forward to a richly green landscape and the roar of rushing rivers and waterfalls. There are many thin waterfalls falling off the tops of high cliffs as well as large and powerful multiple-stage waterfalls. You pass through many villages of stone, wood, prayer flags, brightly painted stupas, goats, cosmos and playful children. You can expect busy rice paddies and terraced fields, as well as locals with heavy loads on their back and strings of pack-carrying horses.
An ancient trade route
The Manaslu trek route follows the same route that has been used for millennia by those trading between Nepal and Tibet. Naturally, there are many river crossings as you wind your way up the steep valleys. The bridges as well as cliffside walkways are sturdy and well constructed.
In the higher portion of the trek the culture is different and the people mainly adhere to the tenets of Tibetan Buddhism. Here they grow and subsist on buckwheat, wheat, potatoes and beans. The communities rely on the money from tourism to send their children to school. The nights here are icy and the lower reaches of the mountains are covered in scrub, while the upper parts are caked in snow.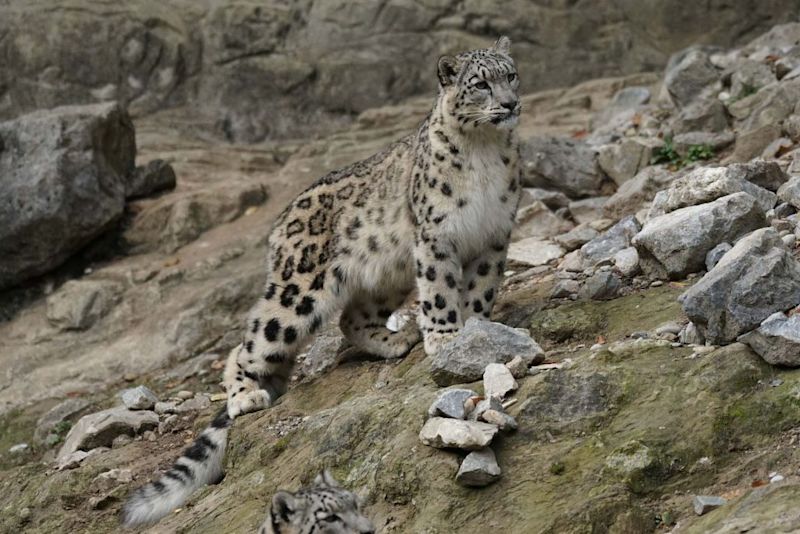 The snow leopard is a master at camouflage
Larkya La Pass
The highest point on the trek is Larkya La Pass, which is 5,106 m above sea level. It's on the longest passes in the Nepal Himalayas. From here you have a gorgeous view of the surrounding mountains, including the pièce de resistance: Manaslu. Mt Manaslu (8,163 m) is the world's eighth highest peak. It's name means 'mountain of the spirit' and is derived from the Sanskrit for soul or intellect.
The summit of Mt Manaslu is a sharp peak that pierces the sky and gives it a distinctive profile.
Some like to add an extra arm to the trek by hiking up the Tsum Valley, which was only opened to trekkers in 2007. This side trip, which comes about a third of the way into the trek, introduces you to a wholly different part of Nepali society. Here you'll meet the Tsumbas, who have a unique culture, tradition and even dialect. They're also known for their legends about Mehti (or Yeti) and for practising polyandry (where women take more than one husband). The Tsum Valley side trip serves as excellent acclimatisation before heading into the higher elevations near Mt Manaslu.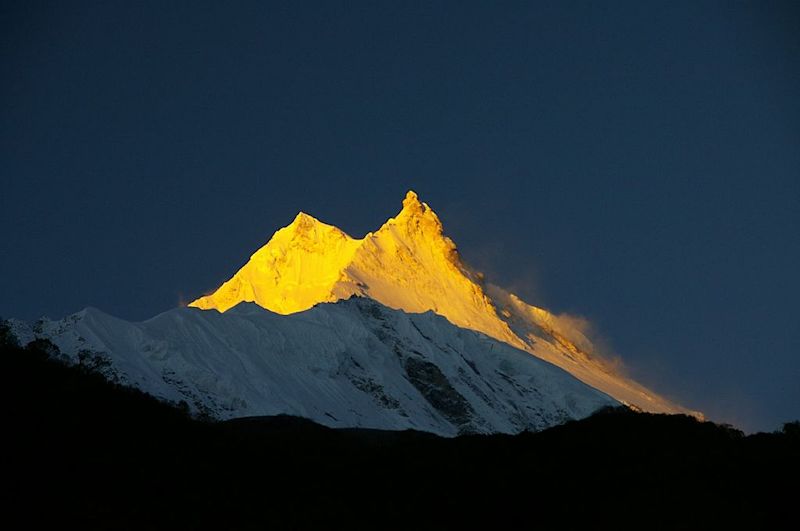 Sunrise lights up the top of Mt Manaslu, the world's eighth highest mountain | Image by B. Tubby
Shey Phoksundo National Park
If you want to trek somewhere truly remote - to trek where you'll see no other trekkers - you head to west Nepal and Shey Phoksundo, Nepal's largest national park. Shey Phoksundo NP is one of the most scenic and dramatic mountain parks in the world. Here you'll find jagged snow-covered mountain peaks, steep, tree-covered valleys, turquoise lakes, pristine glaciers, the country's highest waterfall, never-ending and wind-blasted plateaus, isolated Tibetic communities, ancient fortresses and monasteries, and deserted trails. The park is also home to an array of wild animals, including the elusive snow leopard, Himalayan black bear, tahr, jackal, grey wolf, musk deer and blue sheep.
Reaching Shey Phoksundo is no small feat, as you cannot fly to the region from Kathmandu. You must first take a plane from Kathmandu to Nepalgunj. Then, you hop on a small aircraft and fly to the airstrip at either Jumla or Jufal, towns to the west and south of the park respectively.
12. Upper Dolpo
Difficulty:

Very tough

Distance:

Varies

Duration:

13-21 days

Highest elevation:

5,190 m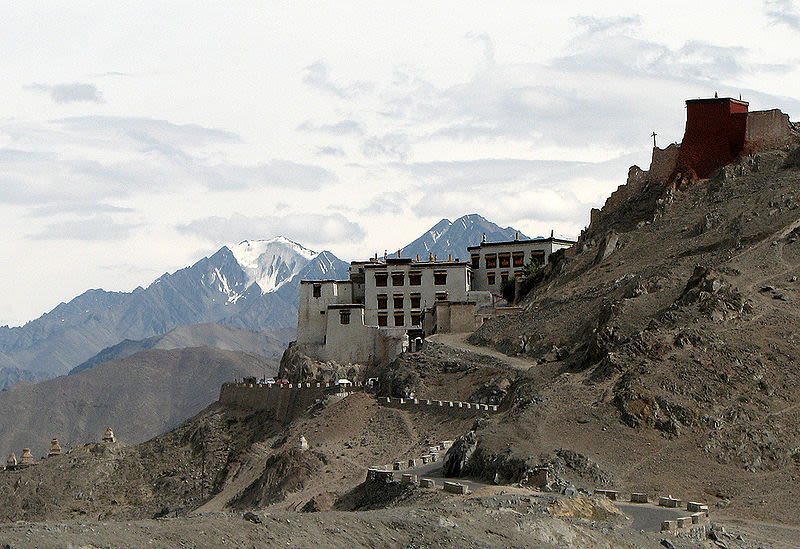 Shey Gompa | Image by K. Rayker
The Upper Dolpo trek takes you through the eponymous region of Upper (or Inner) Dolpo in the midwest of Nepal. It's a very tough but highly rewarding multi-week trek through a stark and highly isolated part of Nepal. If you're looking for true adventure, the Upper Dolpo trek is the trek for you.
Similarly to the Upper Mustang trek, the Upper Dolpo trek takes you through a highly remote, northern border region of Nepal where the culture has remained largely untouched by globalisation. The people here are also Tibetic in language and culture. The main ethnic groups are Sherpa and Thakali. While many Upper Dolpo residents practice the Buddhist faith, others follow the ancient shamanistic Bon-Po religion.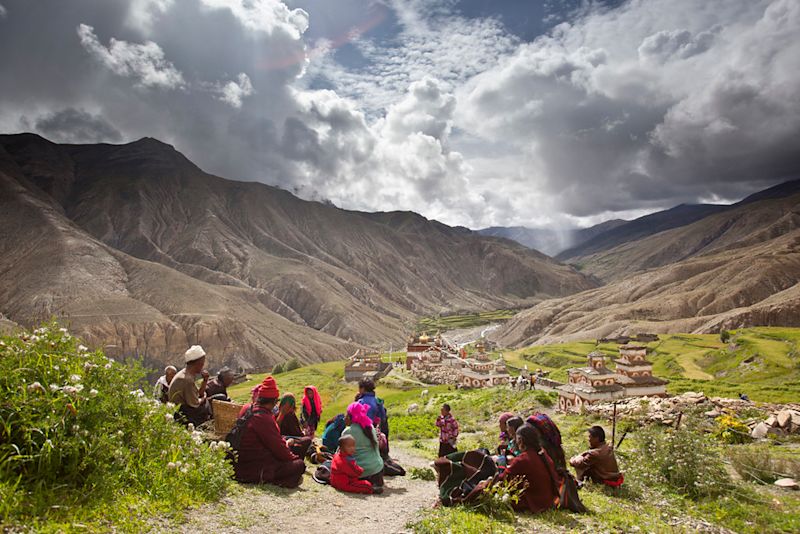 Locals sit on the grass with Saldang Gompa behind them | Image by S.J. Thapa
A tough trek
You trek for four to seven hours each day on the Upper Dolpo trek, mostly within the Shey Phoksundo National Park. Often you're walking more than 4,000 m above sea level. The mountain passes take you above 5,000 m and offer spectacular views of the Dhaulagiri mountain range. The highest point on the trek is Numa La Pass at 5,190 m. Acclimatisation days are essential during the trek to avoid altitude sickness.
The landscape varies dramatically throughout the trek. During the trek you walk through juniper, pine and birch forest, tread cliffside trails, trek through semi-desert highland, pass terraced fields, traverse a boggy floodplain, and descend into deep and narrow gorges. Along the way you'll also visit the old fortress town of Tarakot, camp alongside the alpine Shey Phoksundo Lake, and explore the fascinating Shey Monastery and Palace complex, first built in the 11th century.
The Upper Dolpo trek provides some teahouse accommodation, but many opt to camp. The campsires are picturesque and pleasant.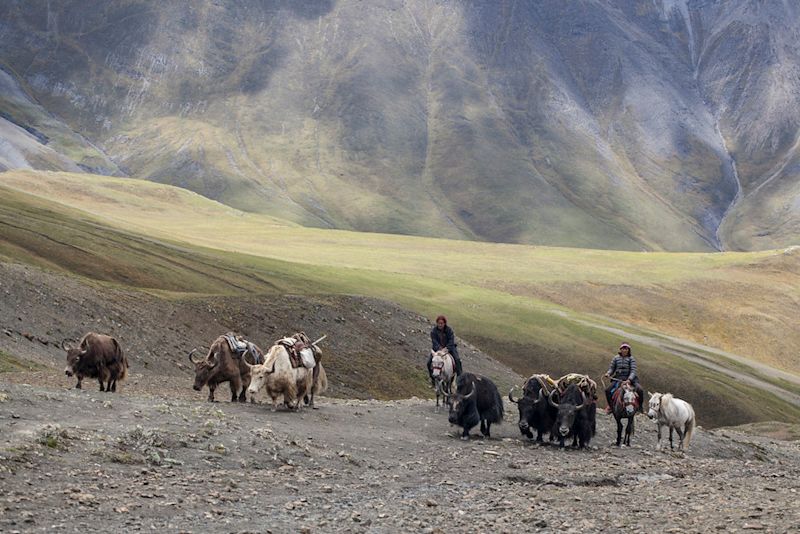 A yak caravan in the Upper Dolpo on its way to Tibet | Image by S.J. Thapa
The Flickr account of Nepali photographer Samir Jung Thapa is an absolutely gorgeous resource showing the isolation, peoples, culture, landscape and trek route of the Upper Dolpo.
And so there you have it – 12 epic Nepal treks to choose from! We'd love to hear which ones excite you the most, and if you've hiked any already! 🙂