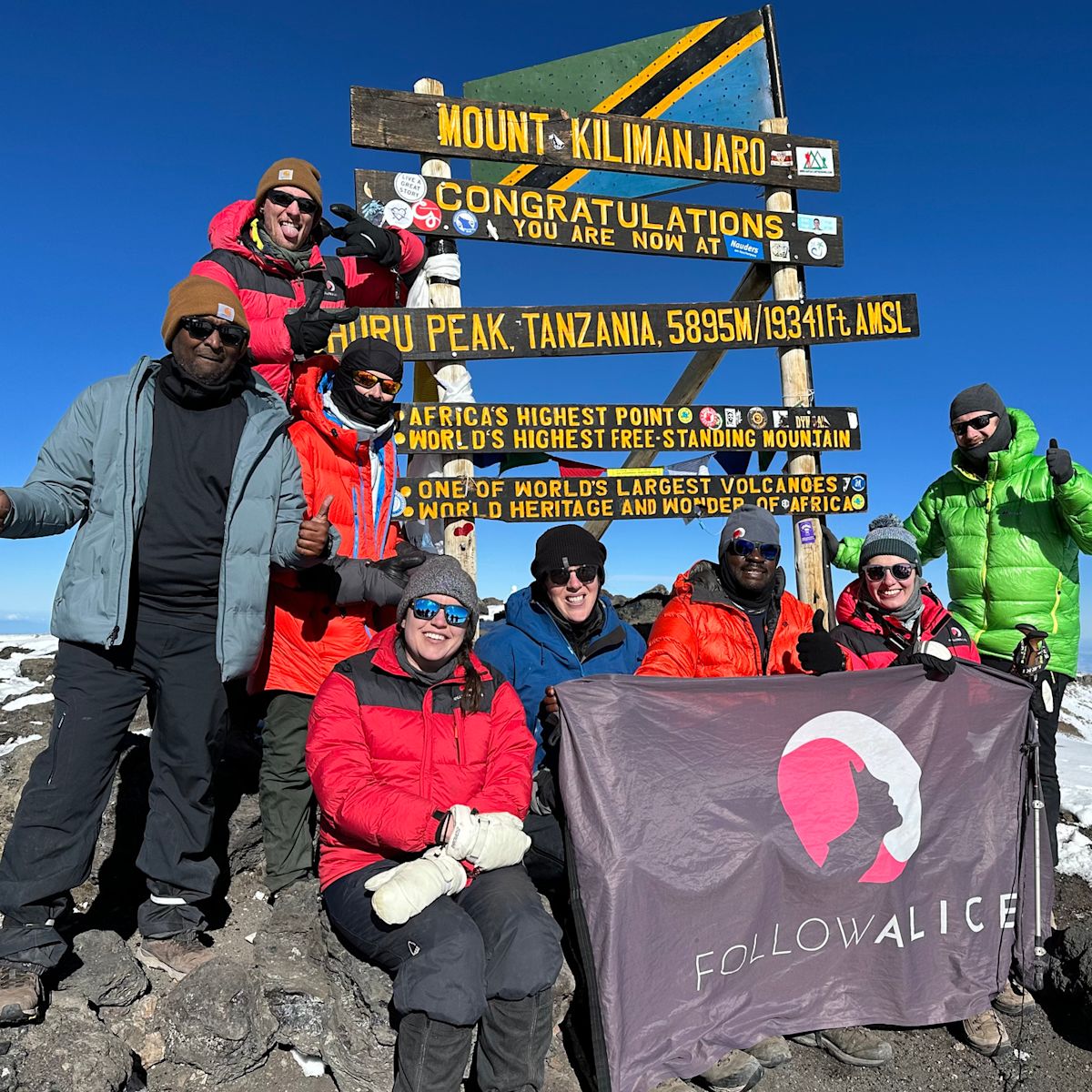 My New Year's Eve Kilimanjaro climb
Feb 22, 2023
Reading time: 26 minutes
Romy, an architect from the Netherlands and one of our lovely clients, shares with us his Kilimanjaro journal and epic photos. He hiked the Lemosho route and reached the mountain's summit for sunrise on New Year's Day 2023! What a way to start the year!
Arrival in Moshi
So far 2022 has been a great year! And I've got one last exciting challenge left before starting 2023. This morning I enabled my out of office reply and me and my duffel bag made our way to our holiday destination for the next two weeks. 💪🏻
I'm very much looking forward to this. As a flatlander who lived below sea level most of the time, I hope I'll be able to complete the task ahead. 🤞🏻
The tour operator I've joined for this trip – @followalice.travel – arranged one of their guides to drive me into Moshi to show me around and help me arrange a SIM card.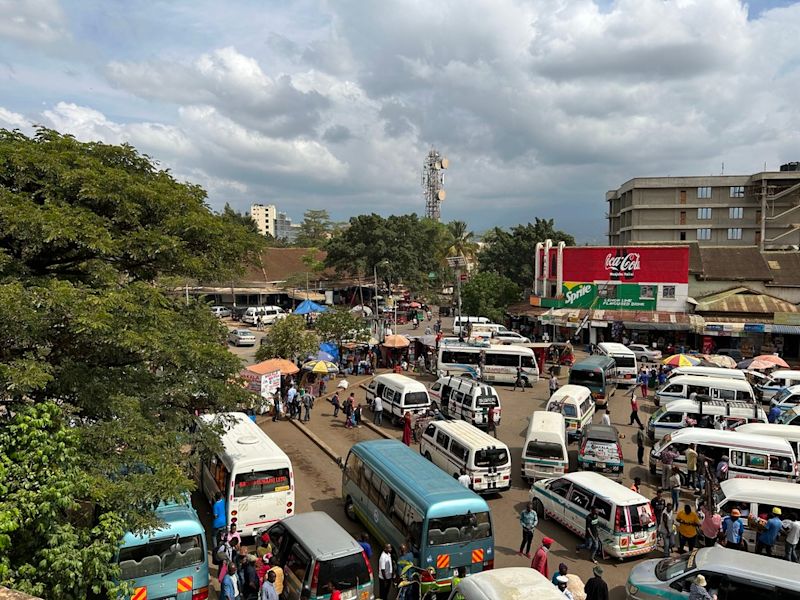 The city of Moshi
The lodge I'm staying at is a 20-minute drive from the town, and on our way there I got my first look at next week's challenge: Mount Kilimanjaro.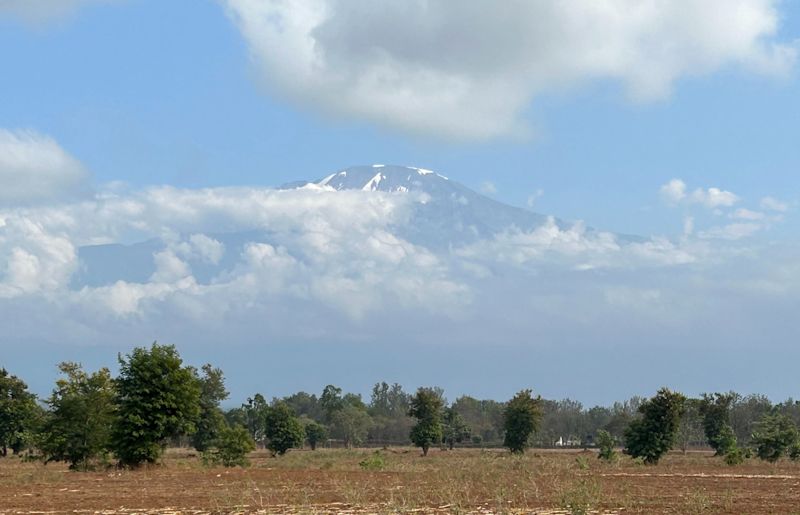 Mt Kilimanjaro seen from Moshi
It just showed its snow-capped top through the clouds and I must say that I felt quite intimidated, finding it hard to imagine I'm going to climb/walk all the way up there to stand on its peak. And while I know it's 5,895 m tall, looking at it, it felt quite high. 😅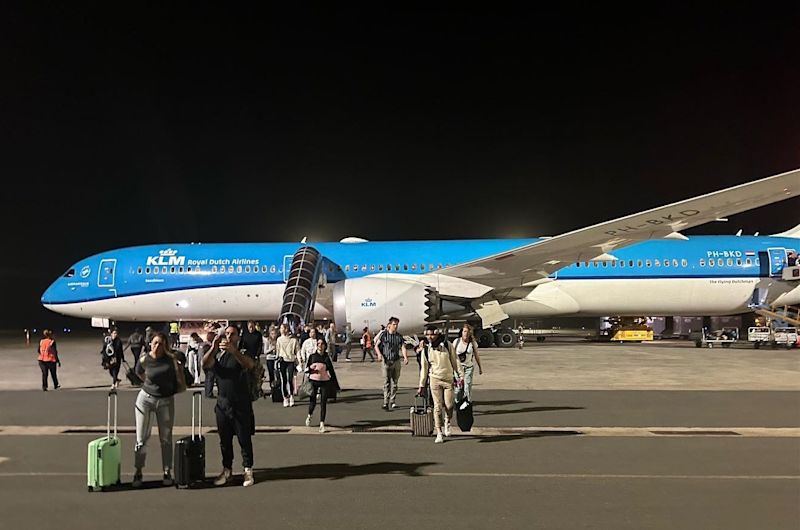 Kilimanjaro International Airport is very small
Today was a nice easy day, strolling around the town. Highlights were the market and Gideon the guide teaching me some basic Swahili and treating me to banana wine, although it tasted mostly like wine without actually having a hint of banana in it. 🙈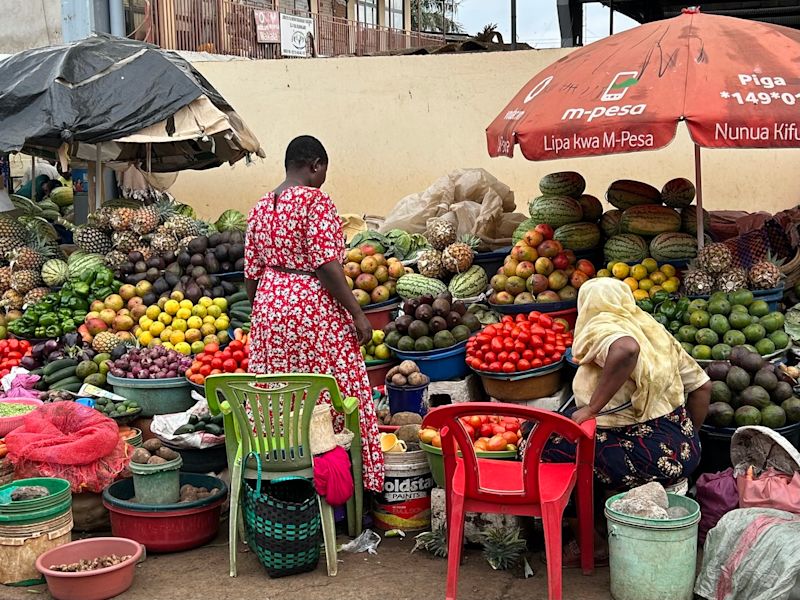 There are fruit and veg stalls all along the main road
Gideon also explained where the name of the tour operator comes from: it means follow Alice down through the rabbit hole into a wonderland, which I think is quite a nice life philosophy.
Materuni Waterfall bike and hike
The end of the work-year has been so busy that I thought we were starting our climb today, but it turns out that we only start tomorrow, meaning I had an extra day to fill.
When I was in Tanzania in 2019, the TDA Foundation supported a company called One Bike Tanzania (@onebiketz). This NGO:
Helps locals to maintain their bikes.

Promotes locals using their bikes.

Organises bicycle clean-up tours.

Organises regular tours by bike in and around Moshi.
I've followed them on Instagram since I met them in 2019, and today offered a nice opportunity to join them on one of their tours. 🙂
I booked a day excursion with them to Materuni Waterfall. I met up with Roger from One Bike TZ at around 9 am and we rode our bikes up to the waterfall. I thought it would be some moderate climbing, but the road proved to be quite steep and under construction.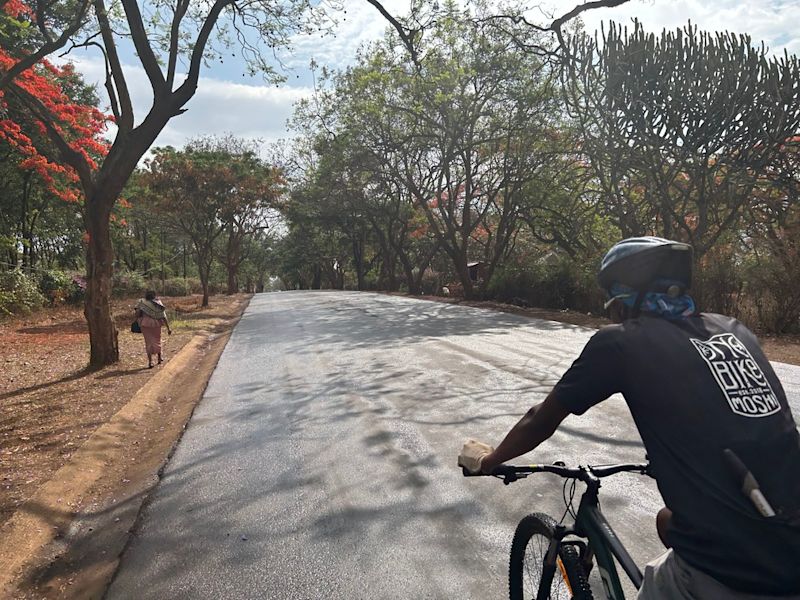 On a ride with One Bike
We rode some 15 km and climbed some 750 m over shitty roads with loose gravel. After that we continued for another 2 km on foot. I must say that I managed quite well after being terrorised by a stubborn cold for the past 1.5 weeks. 🙂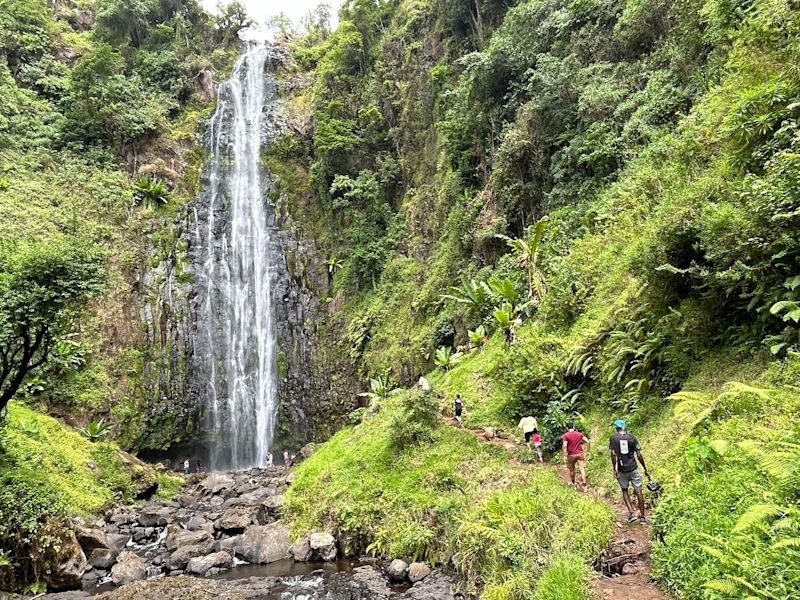 Materuni Waterfall is a popular day hike from Moshi
The waterfall of some 150 metres high offered a pretty sight and a nice refreshing swim in the water that comes all the way from the top of Kilimanjaro, some 4,000 metres higher.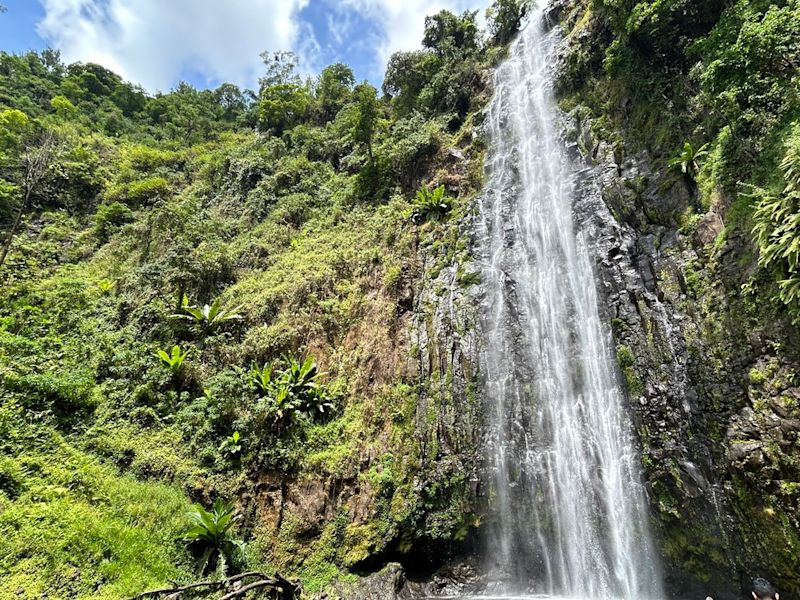 You can swim in the waterfall's pool
After the waterfall we visited a coffee plantation where I was educated on the process of making coffee, which was very interesting. And it was fun to see the locals working while singing and clapping.
After that we walked back to our bikes and descended back to Moshi, where I had my first climb briefing. Tomorrow at 9:30 am the real thing starts (with a three- to four-hour drive to the start of the trek). 😅 Not sure what I got myself into. 🙈
Kilimanjaro Day 1 – A misty forest
So I'll be spending the next eight days on Mount Kilimanjaro.
The main reason for coming here is because back in 2019 – when we passed really close during the TDA trip – I didn't get a proper view of the mountain because it was hiding in the clouds, which back then was somewhat disappointing to me. So I'm simply here to take revenge and witness Africa's highest mountain in all its beauty. What better way of doing that than by climbing it. 😊 Yesterday afternoon we had our first climbers' briefing, during which I met the group I'm climbing with for the first time, including our guides Robert, Christopher and Alex.
We are seven climbers in total:
A guy from India/US

A girl from Canada

A guy and a girl from Germany

A father and his 13-year-old son from the UK

And me of course 🙂
All of us will be supported by a total of 32 porters who carry up our tents, sleeping mats, sleeping bags, food and other necessities.
It feels a bit like cheating, but it's actually a big logistical operation to be on our way for eight consecutive days without any shops or other facilities along the route. This morning we gathered at 9:30 am at the reception of the lodge and loaded all of our gear into the minivan.
After that followed a three-hour drive to the Lemosho Gate of Kilimanjaro National Park, from which we'll start the Lemosho route all the way up to Uhuru Peak, Mount Kilimanjaro's highest point, where we'll summit very early in the morning of the seventh day, which is 1 January.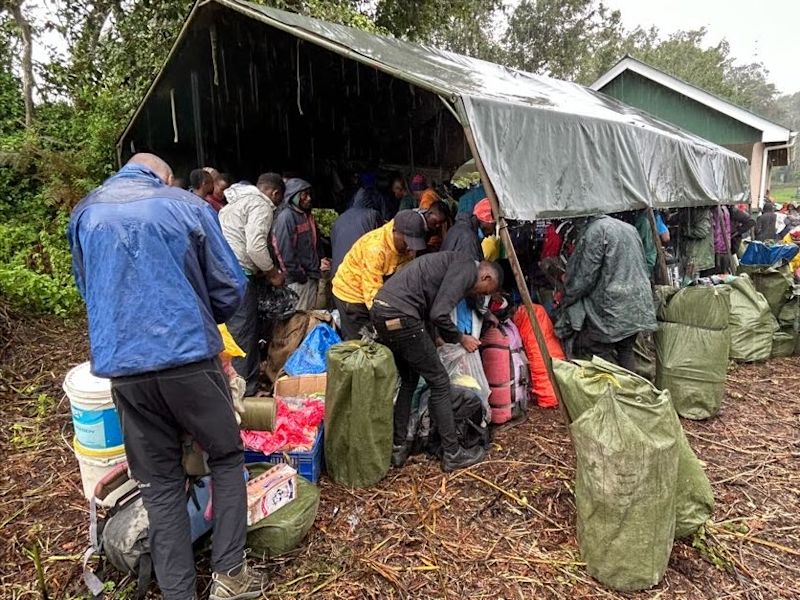 Follow Alice porters readying their loads
Once we arrived at the gate of the park, the crew signed us in while we as climbers had lunch.
At around 1:30 pm we actually started our first bit of the climb, which was only some 6 km in length, with an elevation gain of some 550 meters, from an altitude of 2,250 m to 2,800 m.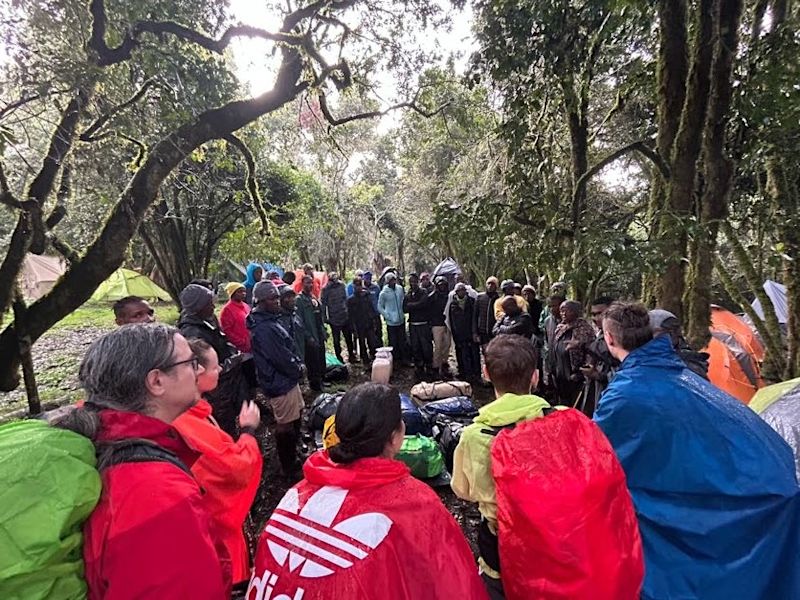 We had a rainy start to our Kilimanjaro adventure!
By the time we started on the trail it had also started to rain and there was thunder in the sky. The track was one big muddy river and it felt as if the mountain was roaring at us. All very suitable for a walk through the rainforest. 😅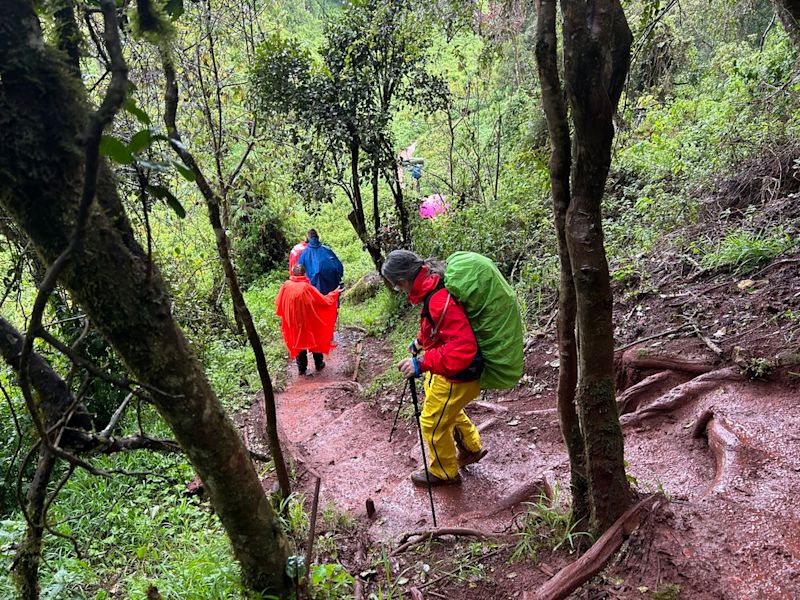 Walking in the rainforest on Day 1
At least I'm very happy I invested in proper rain gear (waterproof hiking shoes) and a pair of trekking poles. They've all proven very useful already. 😊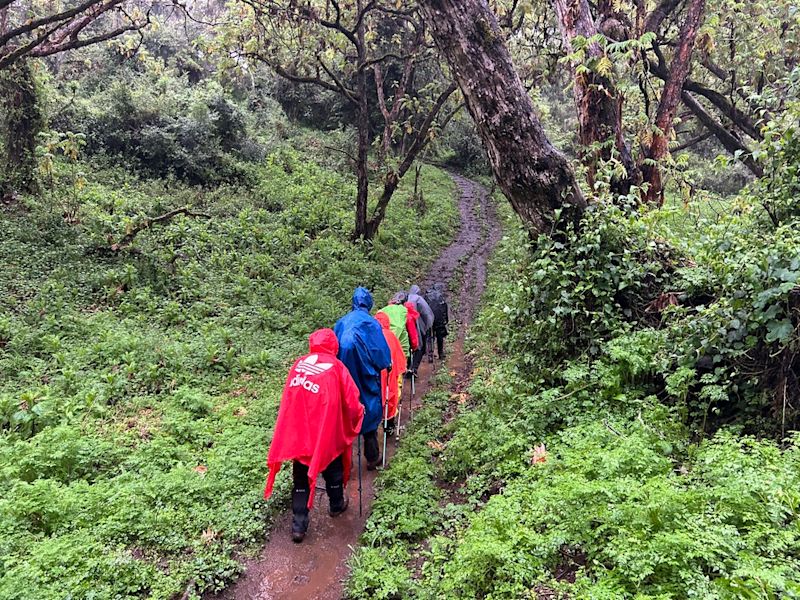 Thank goodness for good rain gear!
Kilimanjaro Day 2 – Into the moorland
I actually slept pretty well despite being 2,800 m high up a mountain. 😅 When I woke up at 4:30 am it actually rained again.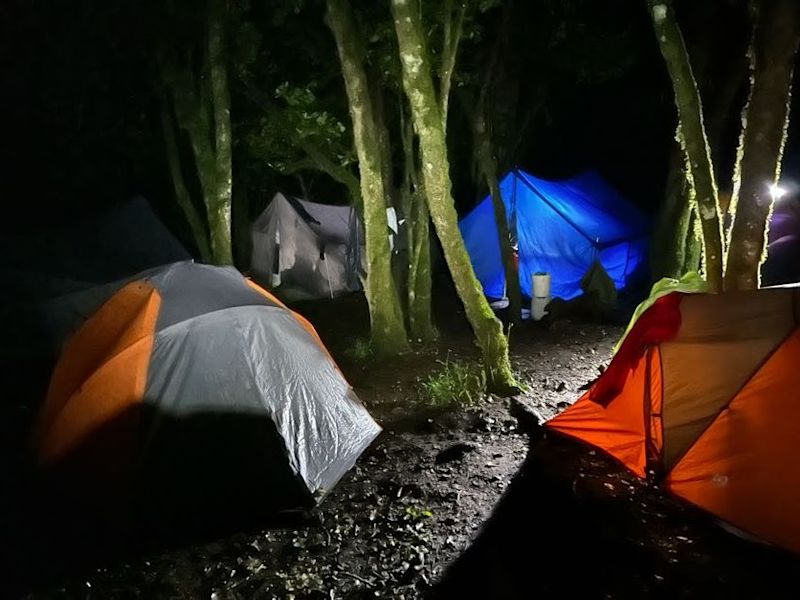 Our first night's campsite
When, at 5:30 am, the rain still hadn't stopped, I started packing my bags in order to be ready for breakfast at 6 am. Right before breakfast I slipped into yesterday's wet clothes in order to keep other clothes dry. Breakfast was great and elaborate, and we were really encouraged to eat well to be properly fuelled for today's hike.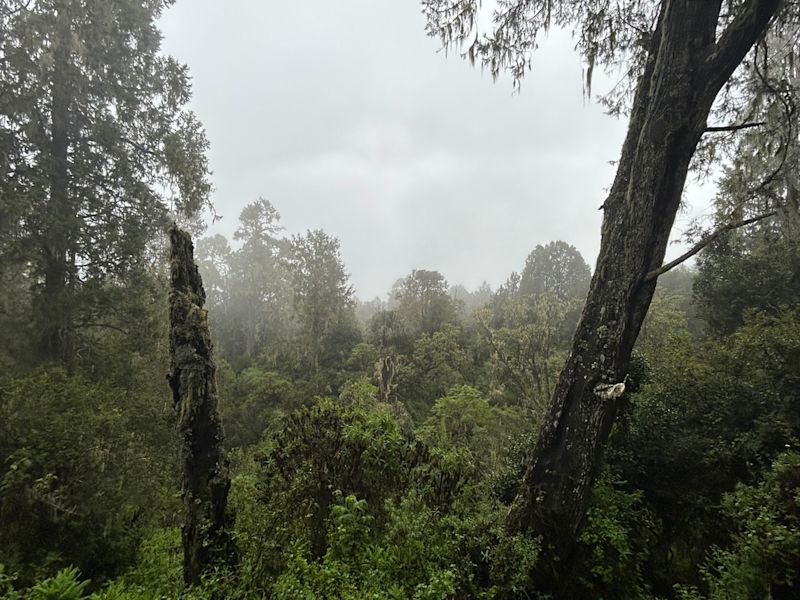 A misty rainforest view
At around 7 am we were ready to start the day and it was still raining, and it wouldn't really stop again. Although the wet clothes were a bit cold during breakfast, I warmed up quite fast during our hike out of the rainforest.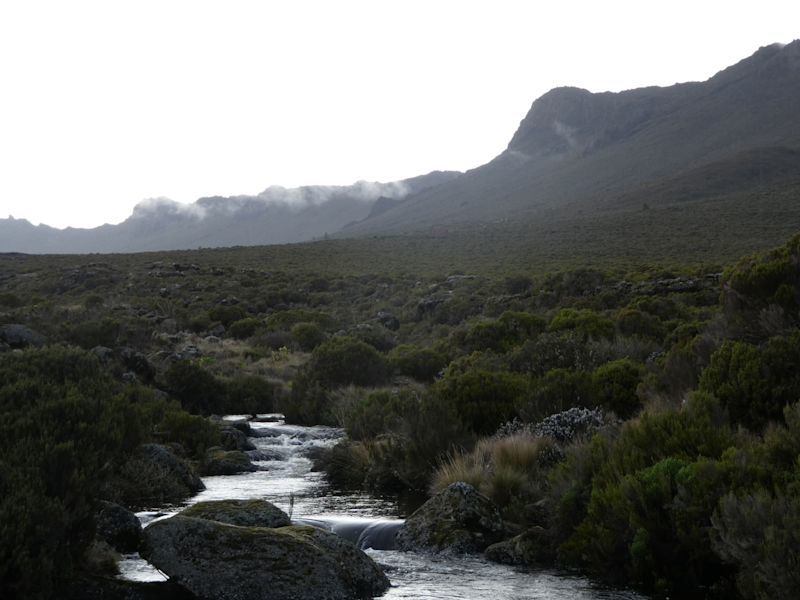 A moody Kilimanjaro scene in the moorland section
After about 1.5 hours we reached the height of 3,000 m, at which all trees collectively decided to stop growing and we entered a new climate zone with only low shrubs. This was nice, because this came with some proper views as well. 🙂
Our lead guide Robert
We climbed over a ridge to 3,200 m and then descended again to 3,000 m, after which we started the climb of the 500-metre high Shira Ridge. It was quite a steep and very muddy climb, but quite doable.
Very happy with my trekking poles, which make climbing a lot easier.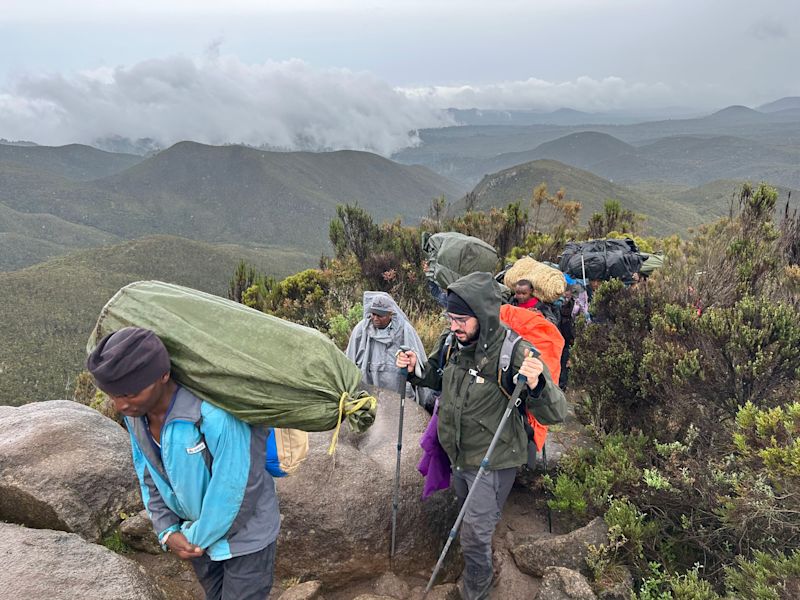 Trekking poles for the win
We made it to camp at around 1,330 m above sea level, so it took us 6.5 hours, mainly due to congestion on the route because everybody wants to celebrate the new year at the summit. 😅 We walked some 7.5 km and climbed a total of 1,100 m, although we only gained 700 metres since the last camp.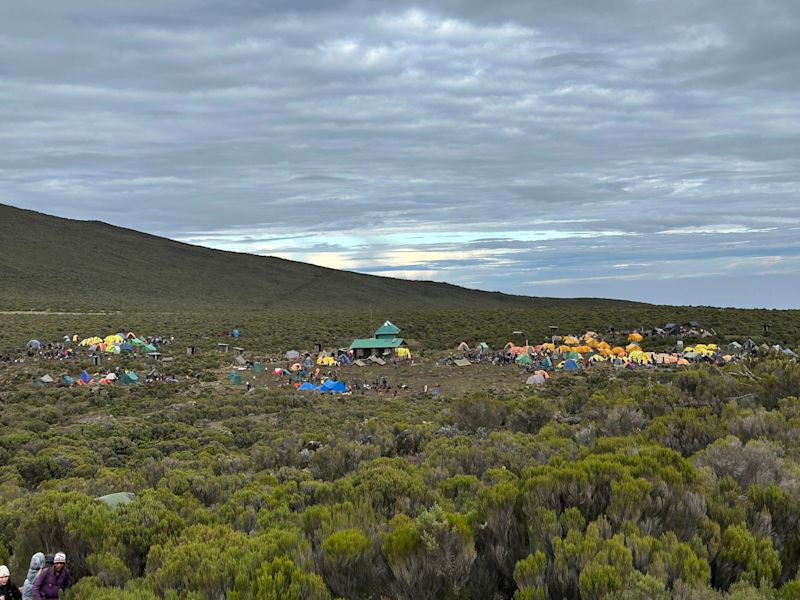 Shira 1 Camp
We are now at Shira Plateau, which was once believed to be a mountain as tall as Kilimanjaro itself until it exploded some 700,000 years ago. After settling in our tents we got our lunch – spaghetti – and after that we spent the rest of the afternoon chatting and playing cards. Happy to say we have a nice group of people and very friendly guides.
At one moment the rain stopped and we took a little stroll towards and right at that time the peak of Kili showed itself through the clouds.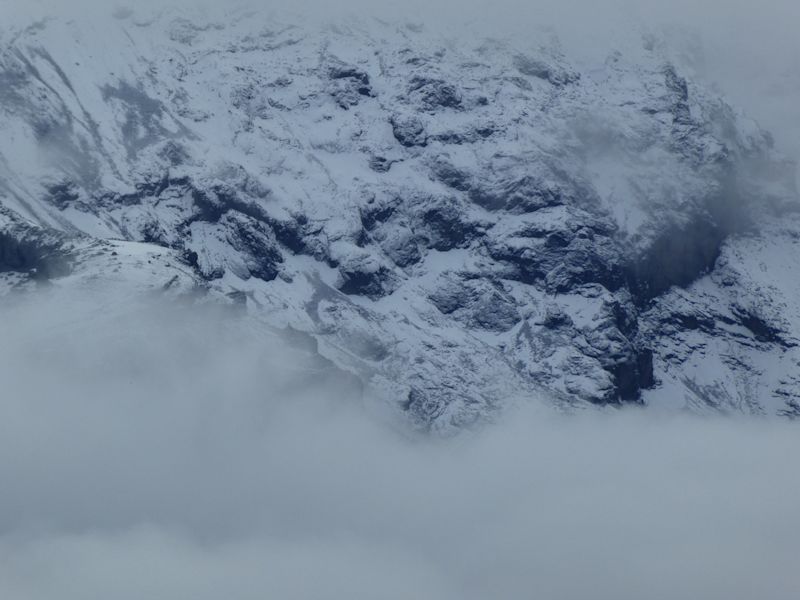 Zoomed-in snap of the snowy peak
There is actually quite a lot of snow on top, ☃️ indicating that it's only going to get colder as we rise further. Very happy I managed to keep the majority of my clothes dry.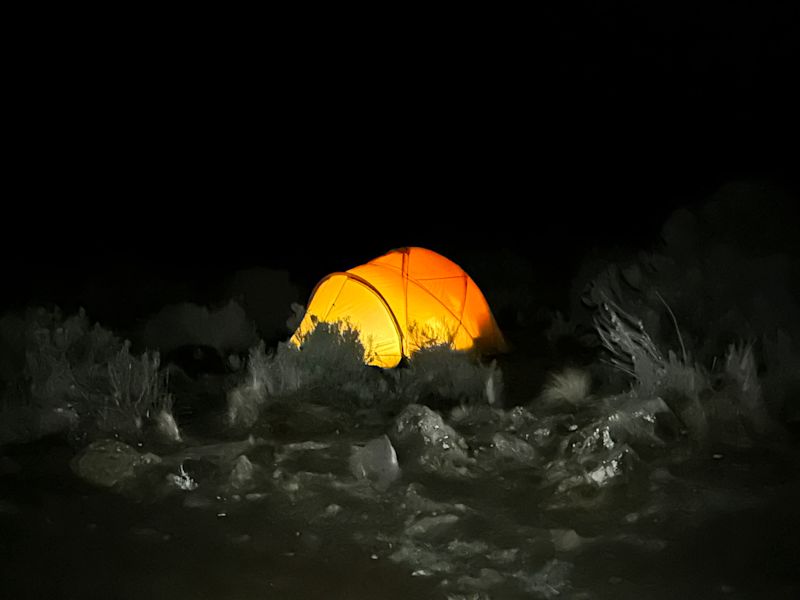 My cosy tent on Shira Plateau
Kilimanjaro Day 3 – Shira Plateau traverse
Had another good night's sleep. Went directly to bed after dinner and had to be woken up at 5 am. Woke up a bit groggy, but at least it was dry. 😊
Breakfast was at 6am and we were ready to start our day around 7 am. It was still dry and not long after we started we were even treated with a clear view of Kili's snow-capped peak.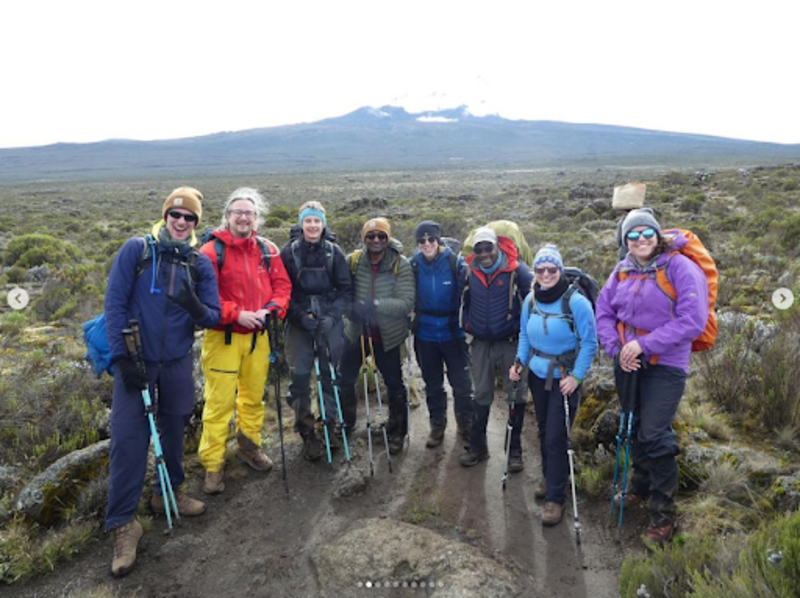 Group pic with Uhuru Peak in the background
December is actually the month during which the most snow falls on the mountain, so the peak is nice and white. Unfortunately the mountain is often hiding in the clouds, so the clear view was the right opportunity to take some pictures of ourselves and the peak. 😊 Today we traversed the Shira Plateau and made our way to Moir Hut Camp at 4,200 m, meaning we had some 700 metres of climbing to do over a distance of about 11 km.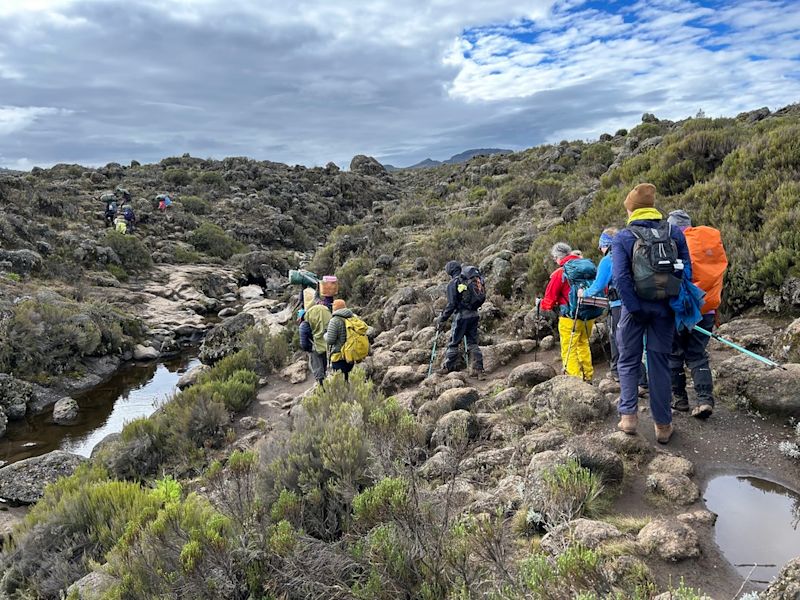 The trek today began with a fairly flat hike
The trek started flat, but towards the end it became steeper and steeper. Furthermore, it became more and more noticeable that we were at great altitude of above 3,500 m.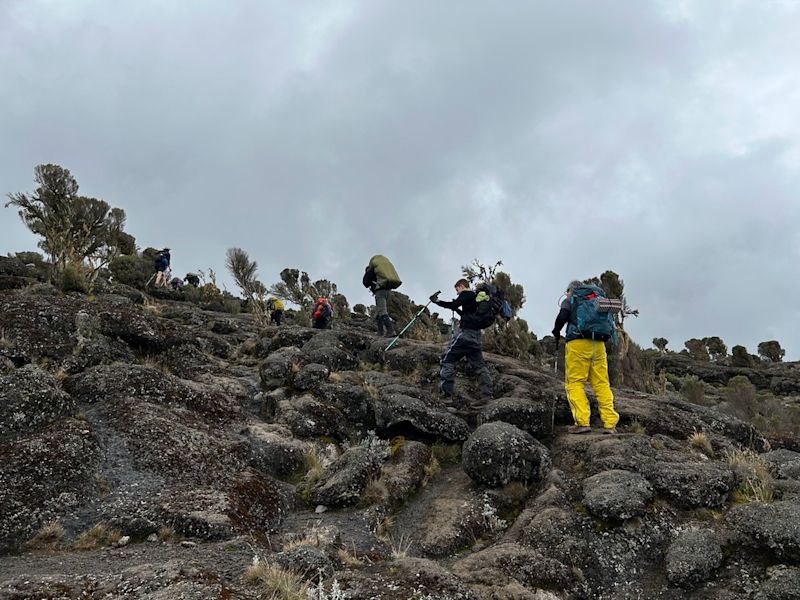 Things got steeper later on
When signing up for this trek, I didn't quite know what to expect. I heard many people say that climbing Mount Kilimanjaro is not that difficult. In my head I imagined there would just be this single track trail leading all the way to the top, meaning you could just walk there.
However, up till this point I've experienced that it really is much more a climb than it is a walk. In some places there hardly is a trail visible at all. 😅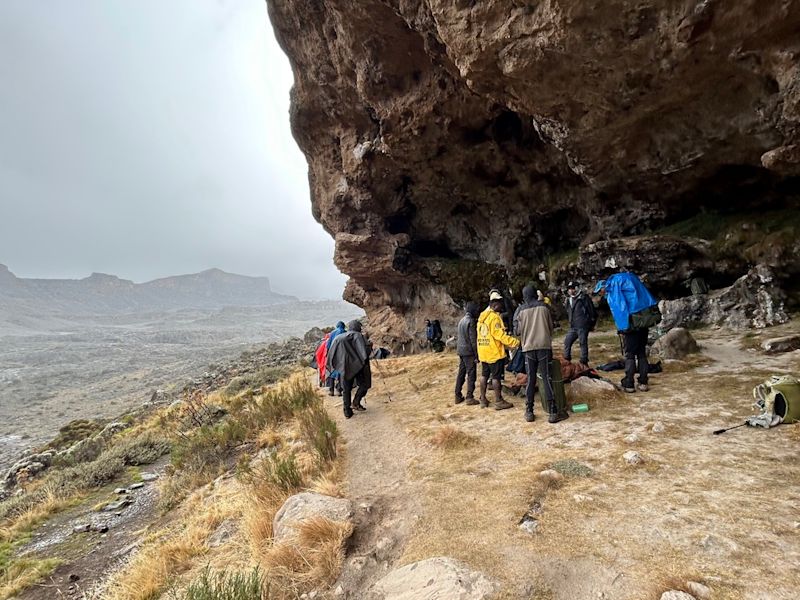 We're a colourful team in our rain gear
Today it was nice to climb higher and higher above the Shira Plateau and to see where we had come from. In the distance we could see a great sea of clouds floating above the great plains of Kenya. And slowly the low shrub disappeared and only bare rock remained. However, towards the end of the trek it started to rain again, which creates pretty sights as well.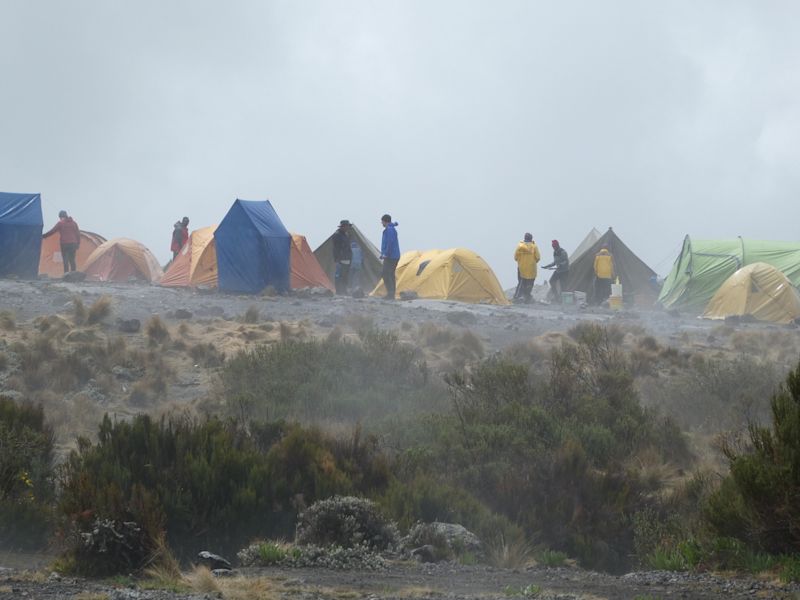 We camped at Moir Hut
By the time we reached camp, I could truly feel we were up high. I was simultaneously hungry but didn't have an appetite at all. I had a slight headache and a sort of brain fog, making me just want to sleep.
Climbing Kilimanjaro is a challenge alright! We humans are not supposed to spend time at an altitude where even trees don't want to live. 😅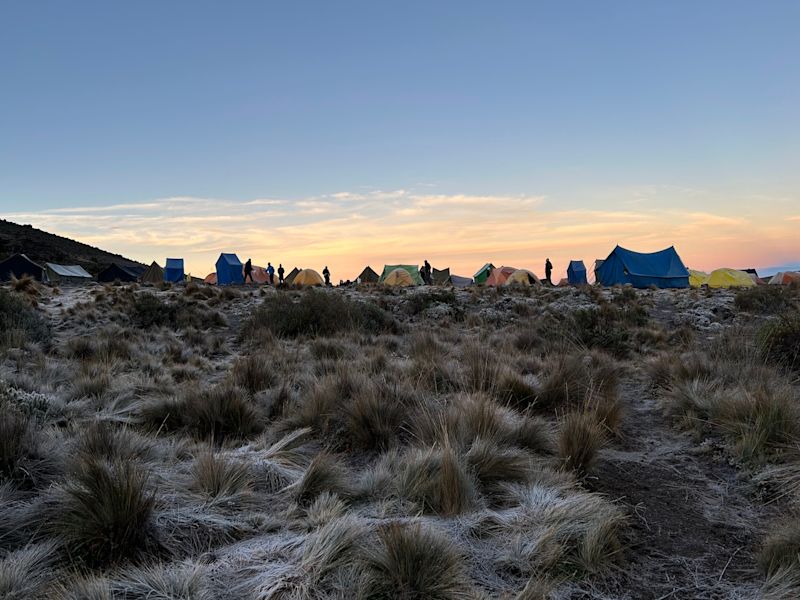 The mist eventually cleared
Hopefully a good night's sleep gets me properly adjusted to this altitude.
Kilimanjaro Day 4 – Lava Tower
After I finished dinner yesterday, I went straight to bed. All I wanted to do was sleep. But even though I wanted to, sleep didn't come. Simultaneously my head was not in the mood for anything else, like sorting my pictures, writing my journal, or reading. So I just lay in my tent. 😅
Just lying there, I did get some proper rest, but it was a long night till 6 am in the morning. When I 'woke up', I hoped the night would have properly adjusted me to the altitude, but this was not the case. I felt as though I had drunk one or two bottles of wine too much and still had some brain fog and a lack of appetite.
Still managed to eat some breakfast, because for today a 400-metre climb to Lava Tower was scheduled. I considered taking some meds against altitude sickness, but I also knew that after reaching Lava Tower we would continue to Barranco Camp at 3,900 m, which is 300 metres lower than last night's Moir Hut.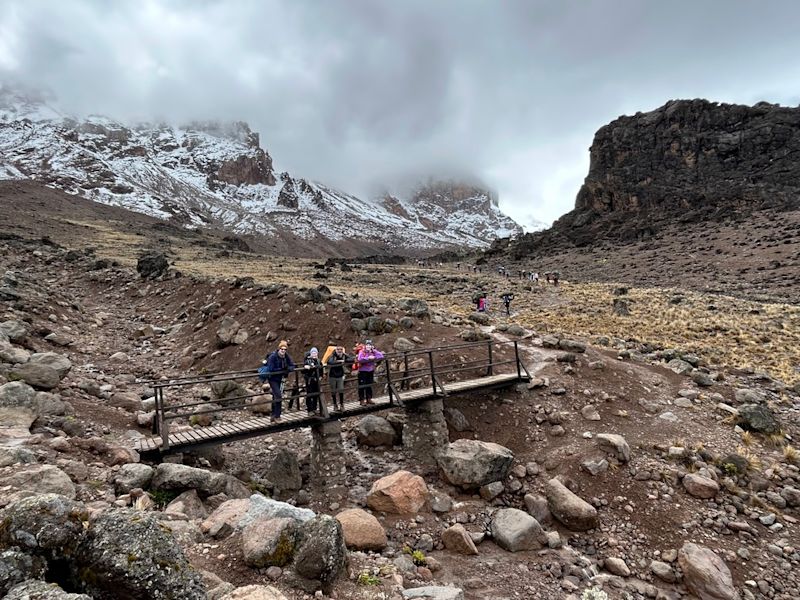 En route to Lava Tower
Today is intended as an acclimatisation day, first increasing altitude sickness by climbing higher, followed by a descent to take the symptoms away again. Apparently this is the way to make the body adjust to high altitude. Climbing up to Lava Tower at 4,600 m was quite a challenge. Europe's highest Alp is around 4,800 m high. However, for the first time, we had a clear blue sky and some beautiful views of the snow-capped peak of Kili, which is already getting closer. 🙂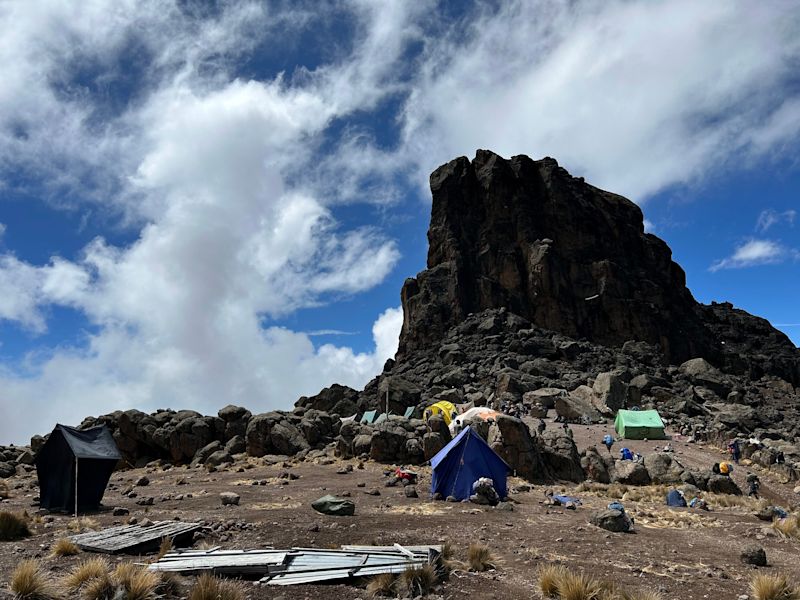 We stopped for a hot lunch at Lava Tower
At Lava Tower my headache had increased and my appetite had disappeared completely. Although I was really hungry after the 400-metre climb, I also felt nauseous and I skipped lunch and just drank some sports drink.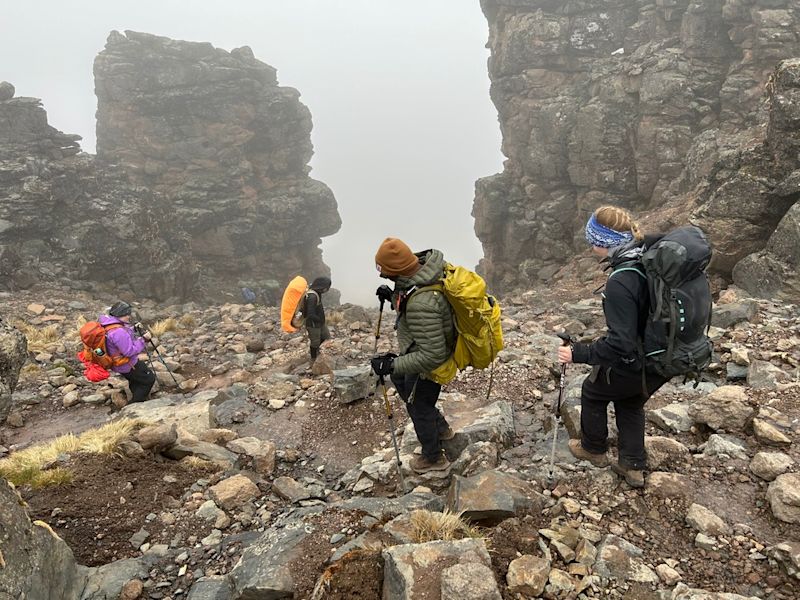 Descending to Barranco Camp
After that followed a 700-metre descent to Barranco Camp, during which it started to rain again, but during the descent most of my symptoms disappeared. 🙂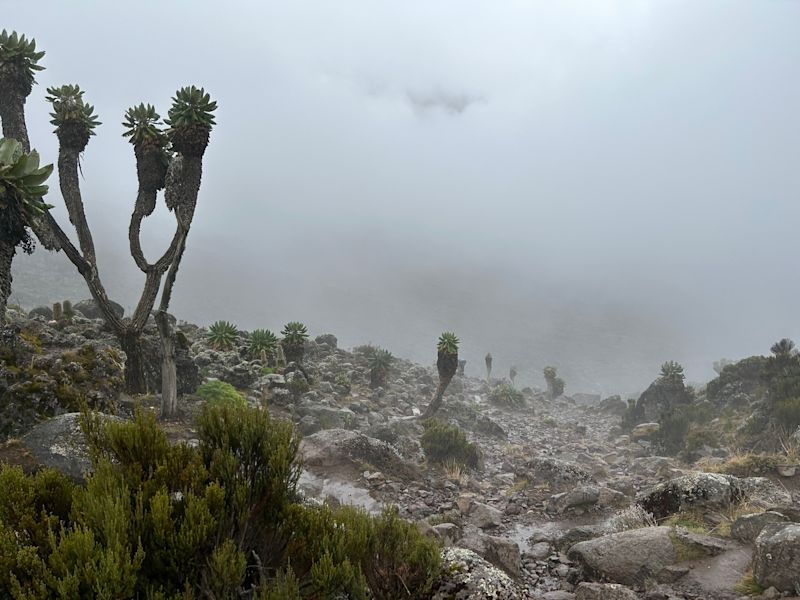 Giant groundsels in the mist
I was a bit scared of the downhill because I really messed up my knee coming down off Table Mountain in 2019, which was around an 800-metre descent. Luckily the hiking poles provide a great deal of relief during the downhill!
Our group consists of some very experienced hikers, but everybody was – to a more or less degree – suffering from symptoms of altitude sickness. I think I did quite alright. 😊
Kilimanjaro Day 5 – Barranco Wall
It was another long night. 😅
Went to bed after dinner again and wake-up time was not until 6:30 am. I fell asleep straight away, but woke up at 1:30 am and was quite awake.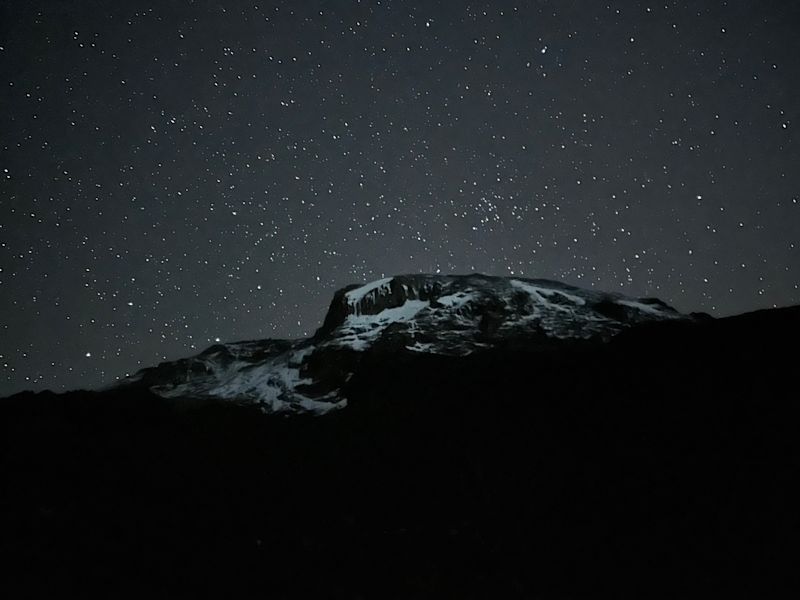 Snow-capped Uhuru Peak
At around 3 am I left the tent to use the bathroom and encountered a crystal clear sky, while when going to bed it was foggy. Scenery was absolutely stunning, with a clear view on the snow-capped peak of Kili, a beautiful starry sky with a clearly visible Milky Way, and the lights of Moshi at the foot of the mountain, some 3,000 metres below.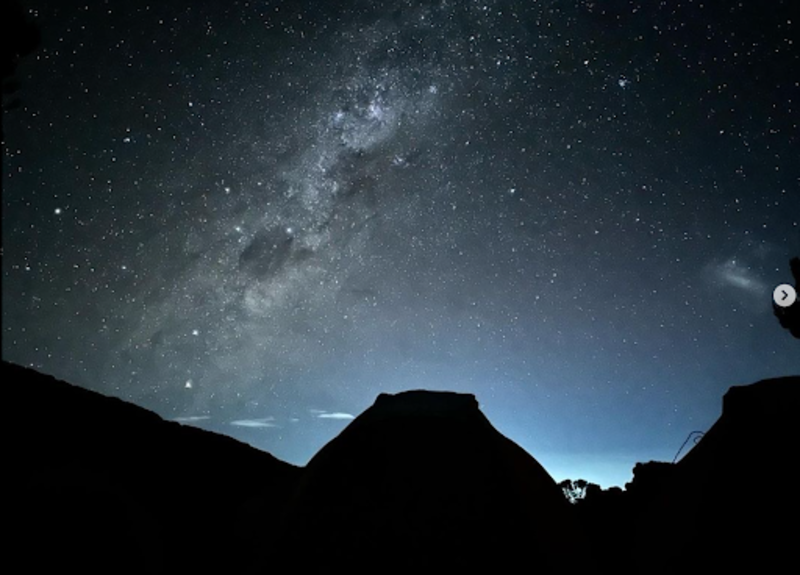 Beautiful dawn sky
As I was wide awake, I decided to try to take some nightscape pictures with my new camera. And although those attempts failed, it turns out my new phone actually takes some very decent nightscape pictures.
After fumbling around for some time in the freezing cold, I made my way back to my tent and listened to some music. Once it was time to wake up the sky was still clear from clouds, which provided some nice sunrise views as well.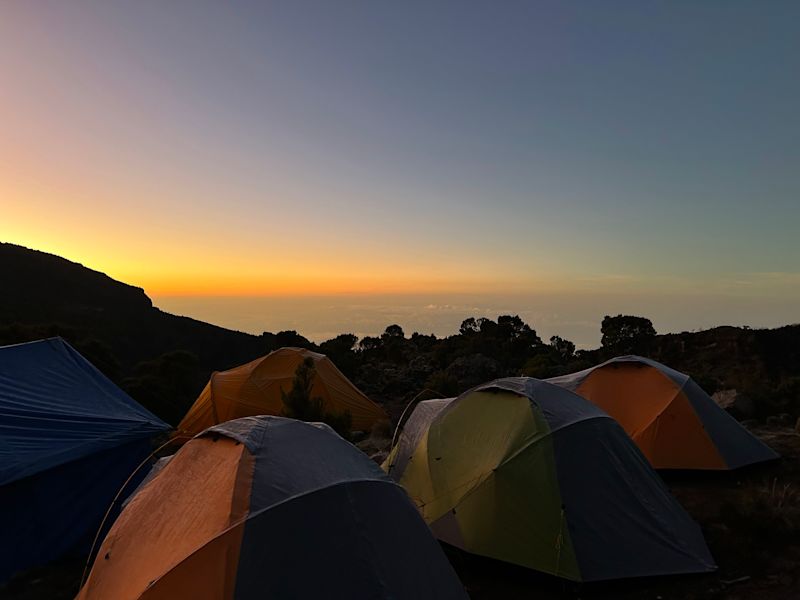 Sunrise over Barranco Camp
We could now also see our challenge for today: the Barranco Wall. A 250-metre-tall cliff face.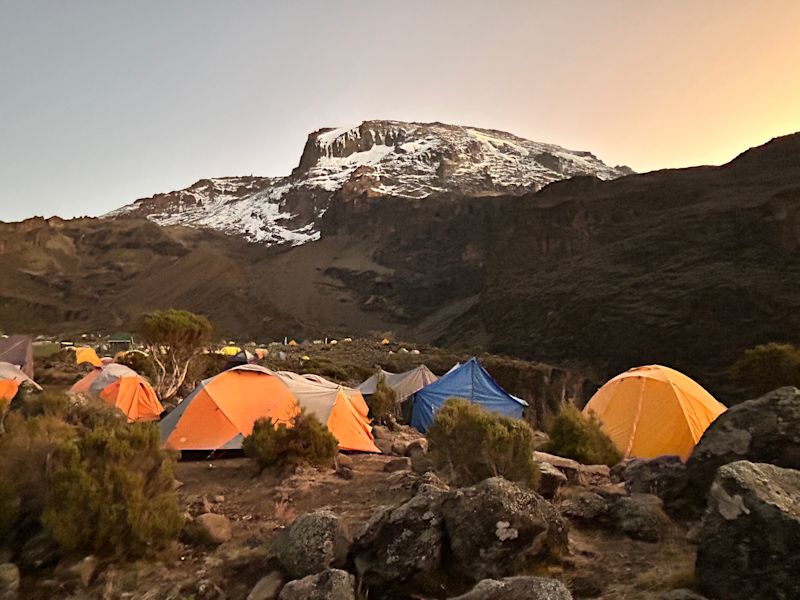 Barranco Camp and Barranco Wall
From our camp we could clearly see a line of people snaking up along the wall and it was clearly very congested on the route. Apparently many people want to celebrate the new year at the top of Kili.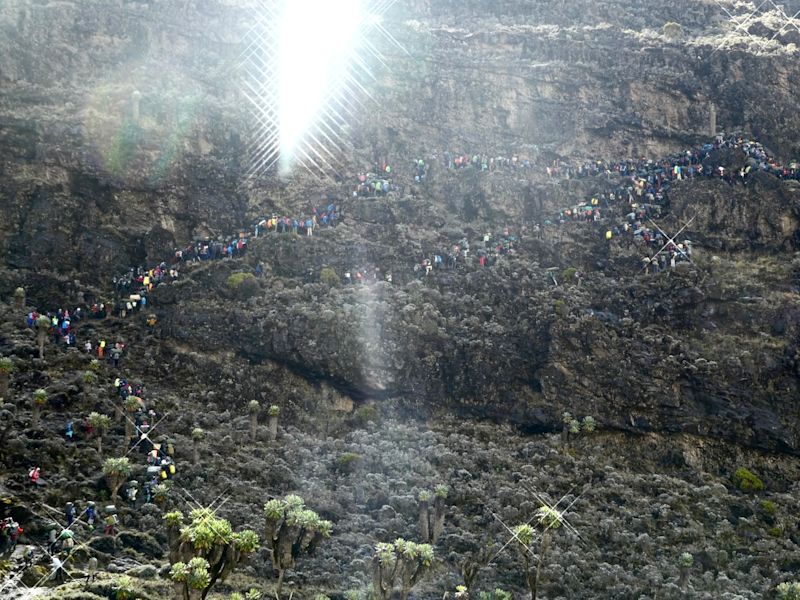 The long line of trekkers tackling Barranco Wall!
Our guides decided to start as late as possible to avoid the congestion, but this strategy hardly worked. The climb should have lasted about an hour and we ended up spending three hours on the wall, mainly waiting in line at bottlenecks.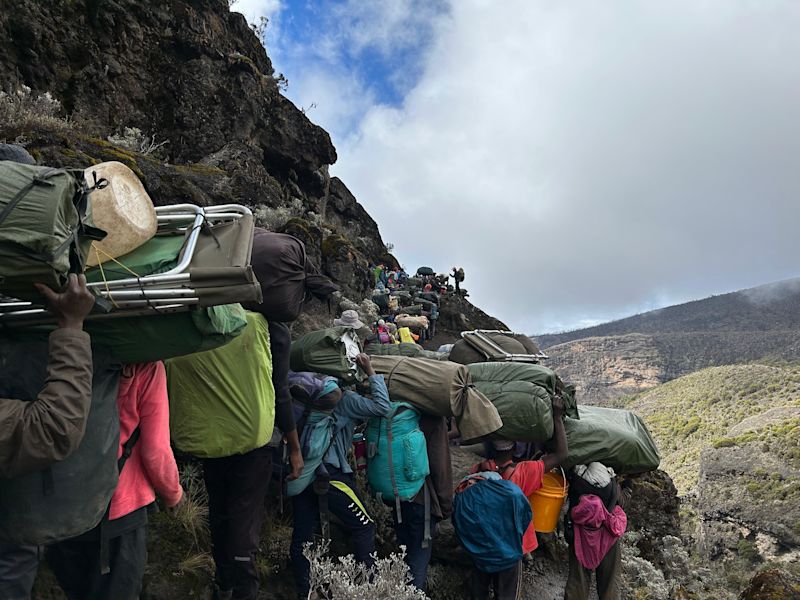 Making our way up Barranco Wall
The climb was magnificent, but after finishing it everybody was quite tired, but we still had to complete the rest of the hike to Karanga Camp.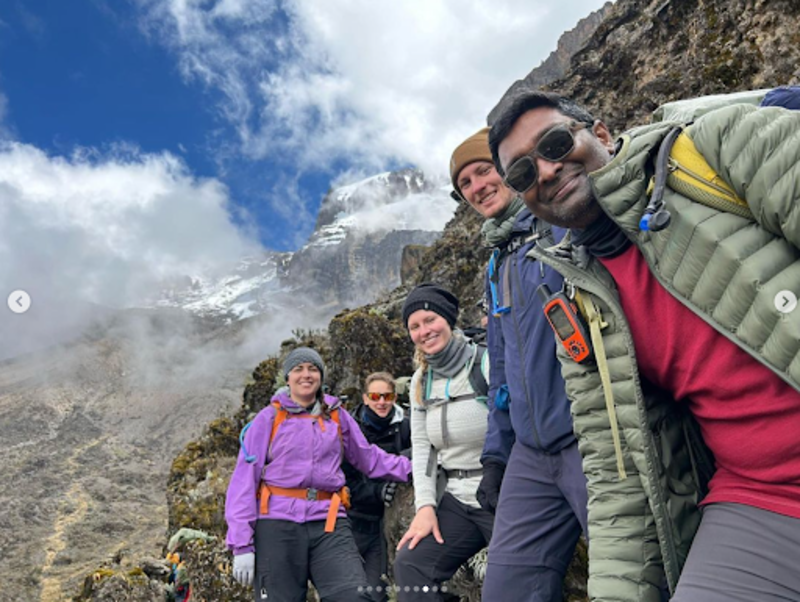 So proud of our efforts so far!
I definitely felt that I spent too much time with my camera during the night. 😅🙈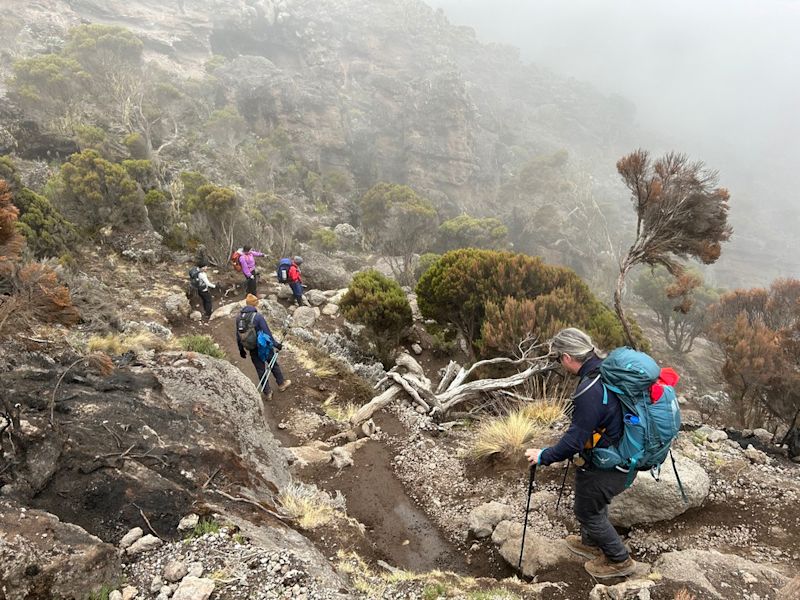 En route to Karanga Camp
Eventually we pushed through and reached camp at 3 pm.
I had a slight headache and I'm still very hungry while simultaneously also slightly nauseous, so eating goes with small bites. The ultimate climber's paradox. Other than that and feeling tired, I feel fine!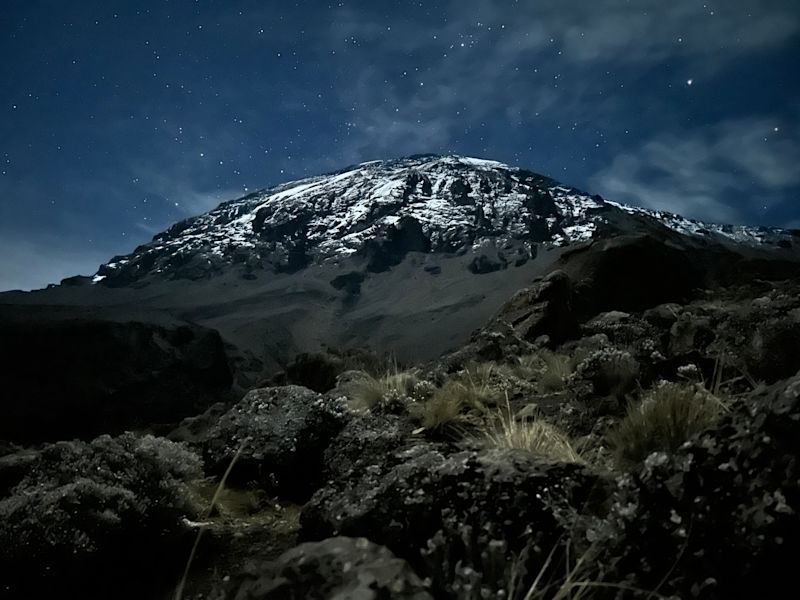 Uhuru Peak is closer than ever!
Tomorrow we'll make our way to base camp! Four hours and some 600 metres up to 4,600 m, the same level as Lava Tower, although by now we should be properly acclimatised to that altitude.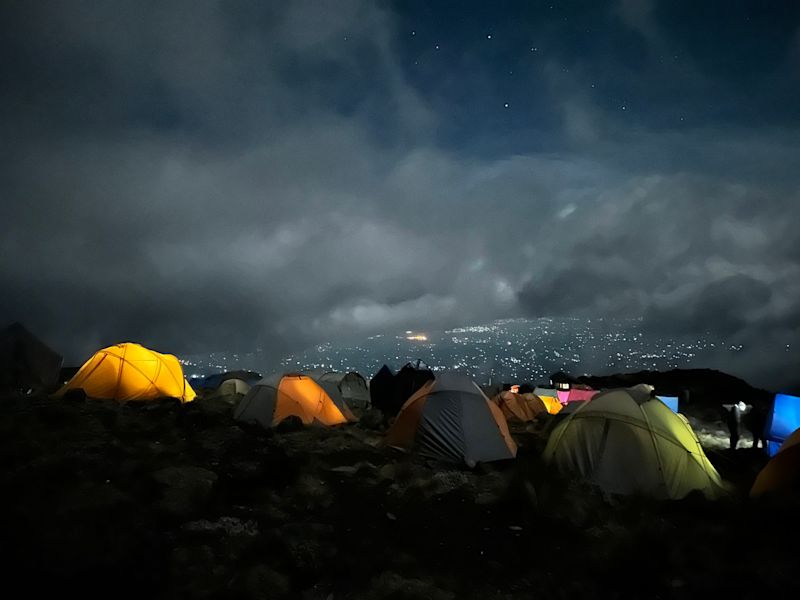 View from Karanga Camp
Although it was foggy when we arrived to camp yesterday, after dinner the sky had cleared and we got another great view on the peak and the world below the clouds, allowing for some more great nightscape pictures. Pretty amazed by the phone.
Kilimanjaro Day 6 – Head to base camp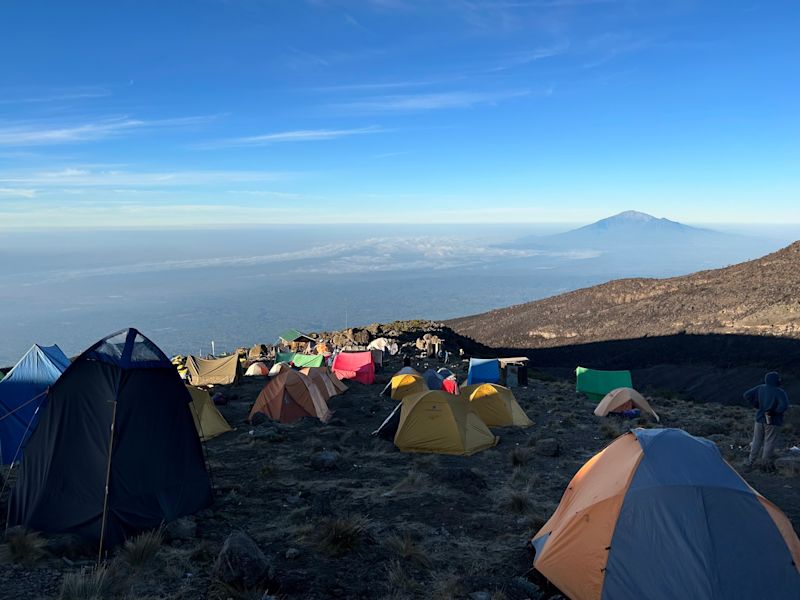 Mt Meru can be seen in the distance today
Unlike yesterday, I had a great night's sleep from around 9 pm to 5:30 am. I felt pretty good once I woke up, meaning no headache, no nausea, and a healthy appetite.
My climb group!
I was quite happy with that, because I was quite daunted by today's challenge: a 600-metre climb to the base camp at Barafu Camp at 4,600 m.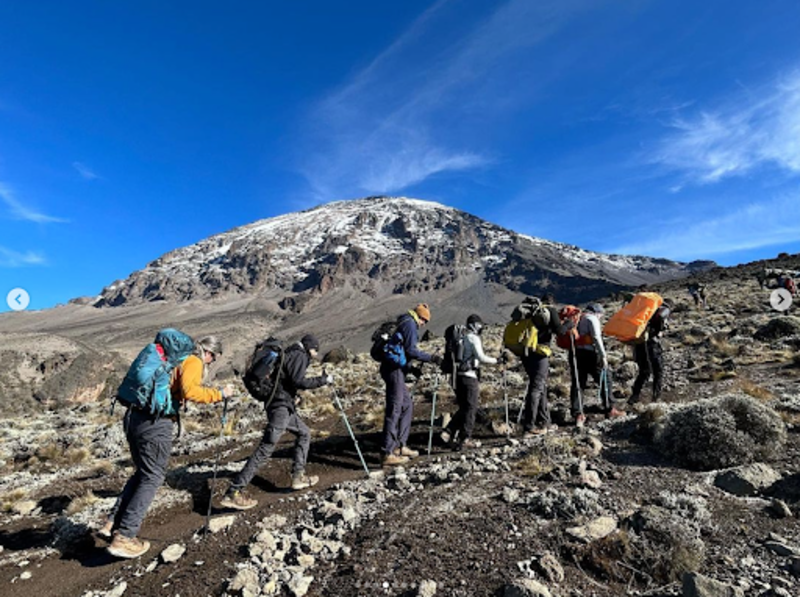 Kilimanjaro's alpine desert
This is the same height as the Lava Tower, where I felt actually pretty shitty. However, that climb was intended as an acclimatisation climb to prevent me feeling like that again.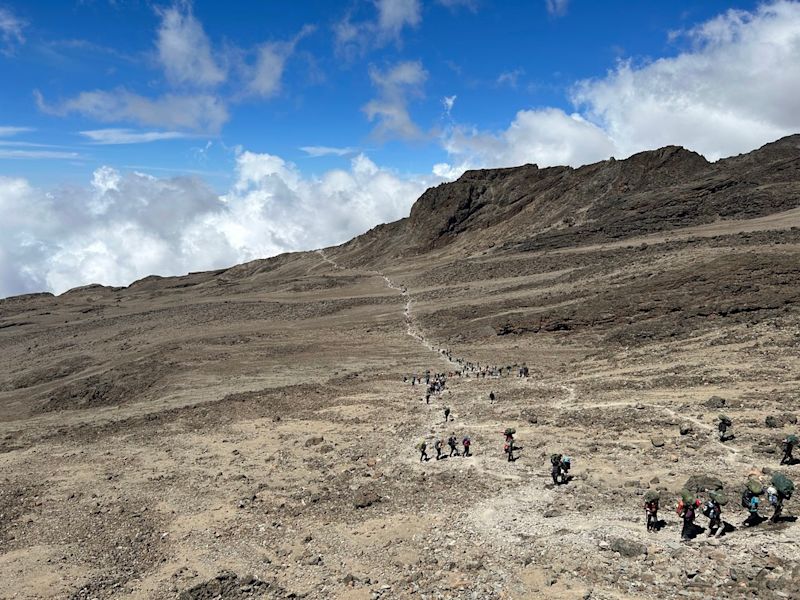 En route to Barafu Camp
And I'm happy to say that that strategy has worked. We arrived at camp around noon and I feel fine and fit. 🙂
That's quite a reassurance, because at midnight we start our ascent to the summit, which is at 5,895 m altitude, some 1,300 metres higher than the current 4,600 m. I can hardly imagine how I would do that if I would already feel unfit at 4,600 m.
Because of tomorrow's ascent to the summit, today is quite an easy day, meaning we had lunch and now have the rest of the afternoon to rest and enjoy the sun and the beautiful view over the clouds and Mawenzi, Kili's little sister. At 5 pm we'll have dinner and go to bed after that.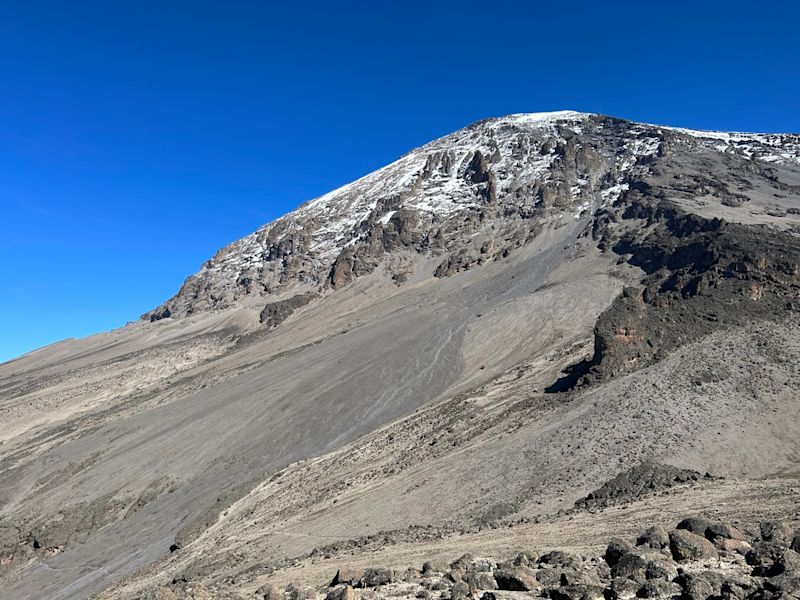 Close up of tomorrow's challenge: Uhuru Peak
At 11 pm we'll start to get ready to make our way to Uhuru Peak. Quite insane that the first thing I'll do in 2023 is try to make my way to the top of this beautiful and spectacular mountain. Very privileged. Fingers crossed.🤞🏻
Kilimanjaro Day 7 – New Year's summit!
Today was the day. Day 7. Summit day. 😳
We're going 1,300 metres up from Barafu Camp at 4,600 m to Uhuru Peak, the highest tip of Kilimanjaro at 5,895 m.
Yesterday's dinner was at 5 pm so we could go to bed at 6 pm. We were then woken up at 11 pm to start the climb at midnight.
I managed to get some sleep, but it also was very cold and windy. I had a hard time imagining us making it to the top in such conditions and felt a bit daunted. Whoever thought it was a good idea to climb a mountain again. 😅
I got out of bed and put on all possible layers of clothing. Long merino underpants, trekking pants and wind-blocking rain pants. A merino t-shirt, a long-sleeved merino base layer, a merino vest, a down jacket and a wind-blocking raincoat. Thick socks and thick gloves, and a balaclava, multiple buffs and a warm hat. And a head torch, because we would be making our ascent in the dark.
Breakfast was served in the mess tent, where I tried to carb up as much as possible.
Then, just before midnight, we were all ready to go! Just the count down into the new year!
The staff celebrated by playing some local music, and best wishes for the new year were passed around. Quite strange to celebrate the new year with people I've just known one week. 😅 But what a thing to start the new year by climbing a 5,895 m high mountain.
After the celebrations it was time to really start the climb. As it was dark, we couldn't see much, but what we could see was a line of head torches – worn by people – snaking up the first ascent.
Soon we became part of that climb.
And it was a long climb. We would see these snakes of lights switchbacking up the mountain, and then once we would reach the end of such a snake, a new snake would appear. At some point we figured that surely the end of that snake must be the top, only to find ourselves presented with a new snake. 😅
At the start of the climb we had to scramble up some rocks and I got pretty warm with all my layers on, so I decided to shed the down jacket. However, just after the scrambling we were just walking up, steep and slowly, with the cold wind straight in our faces.
This lasted for a few hours and I got really cold, being afraid to get hypothermic. I figured that this wind was going to prevent us from getting to the top. Even when I put my down jacket on again, it was still really cold. And the higher we got, the lower the temperature.
The amount of snow we walked through increased gradually with our ascent, until we found ourselves in a completely white world.
But at some point up the hill, the wind disappeared. 🙂 It made the climbing so much more comfortable. 🙂
I did feel hungry at points and tried to stay fuelled as well as possible. However, with all the hiking we had already done last week, I already was in a massive calorie deficit. And the higher we got, the harder it became to battle that feeling of hunger.
Then we reached the point that light started showing at the horizon and we knew that we must be getting close to the top. One last snake of switchbacks.
Towards the end of this last snake I got hungry again and probably I should have eaten something again, but in a big, cold and tired group of people it is hard to demand to stop to eat or drink. So I decided to push through to the end of the snake, which was a mistake.
Right before reaching the end of the last snake, I hit the wall and felt completely depleted of energy.
We were now at Stella Point and we could look into Kili's crater.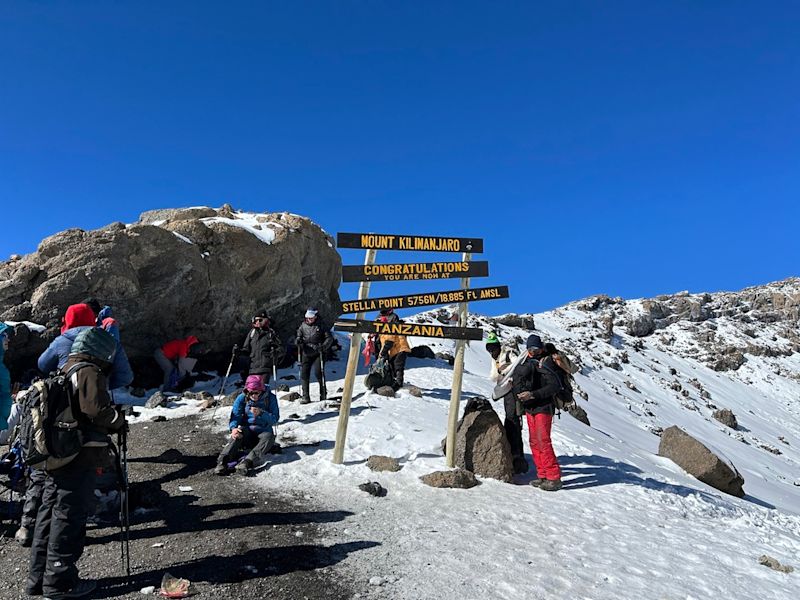 Stella Point is a major milestone en route to the summit
However, Uhuru Peak was some 150 metres farther up. While the others celebrated and took pictures with the sign indicating Stella Point and its altitude, I tried to work down some food and sports drink. I didn't feel sick, just completely drained. And the food and drink hardly kicked in anymore.
Then our guide pushed us to move along to Uhuru, another hour of very slow going.
I really pushed myself up there and once we got there I felt even more miserable. I just sat down on a rock, wondering how the hell I would get down this mount again.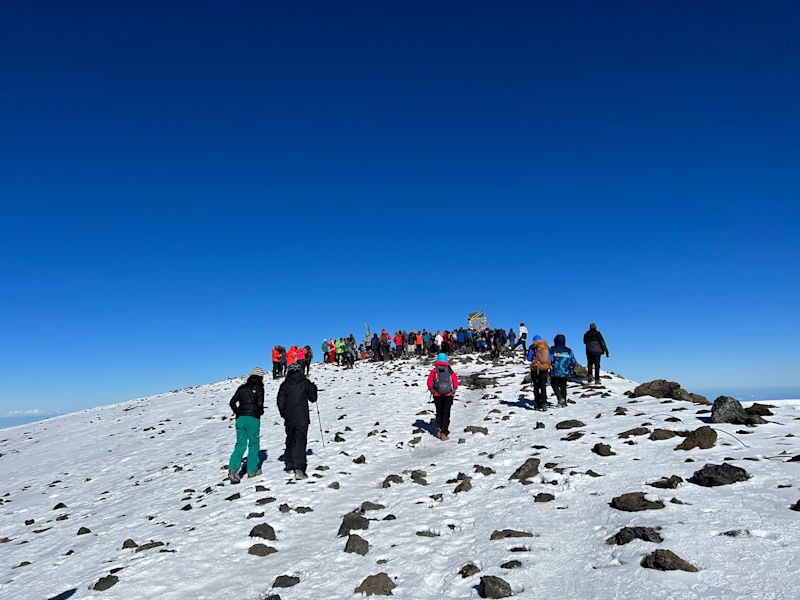 The summit can get crowded
People lined up for pictures and once it was our turn I was forced into some of them as well.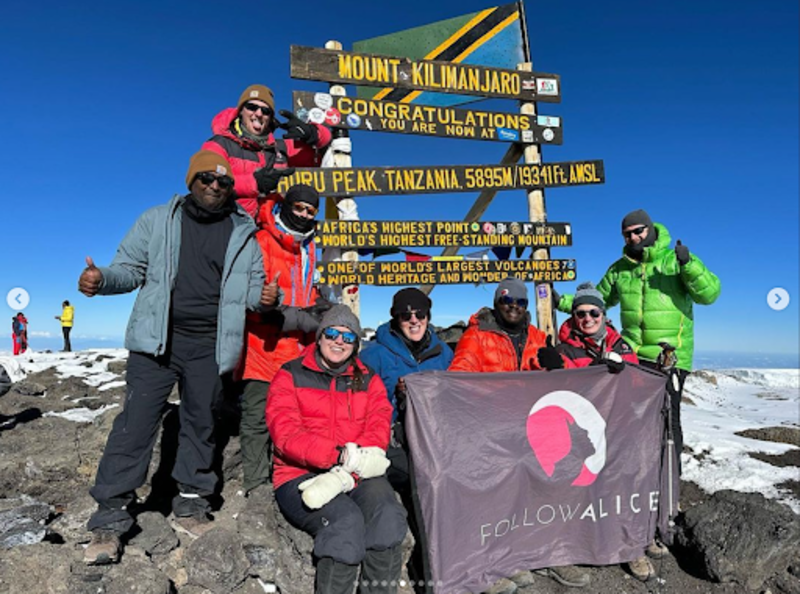 We made it to the summit! Happy new year!
After that I explained to our guide how I felt, and he suggested I'd go down as fast as possible and assigned one of the assistant guides to me to assist me.
So then started the 1,300-metre descent – first gradually over the snow-packed edge of Kili's crater after that steeply downhill over loose gravel.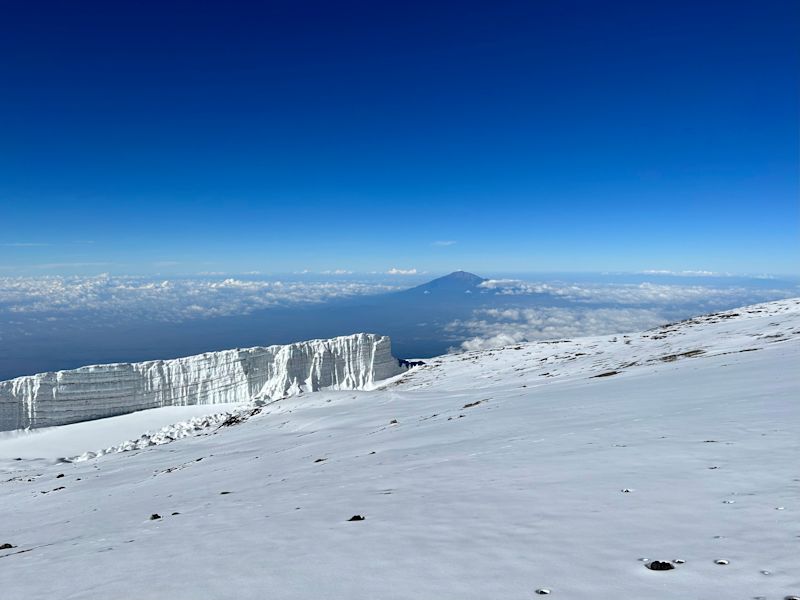 The snowy summit with a view of a glacier and Mt Meru
The farther we got down, the less depleted I felt, which was a good thing and gave me confidence that I could actually make it down!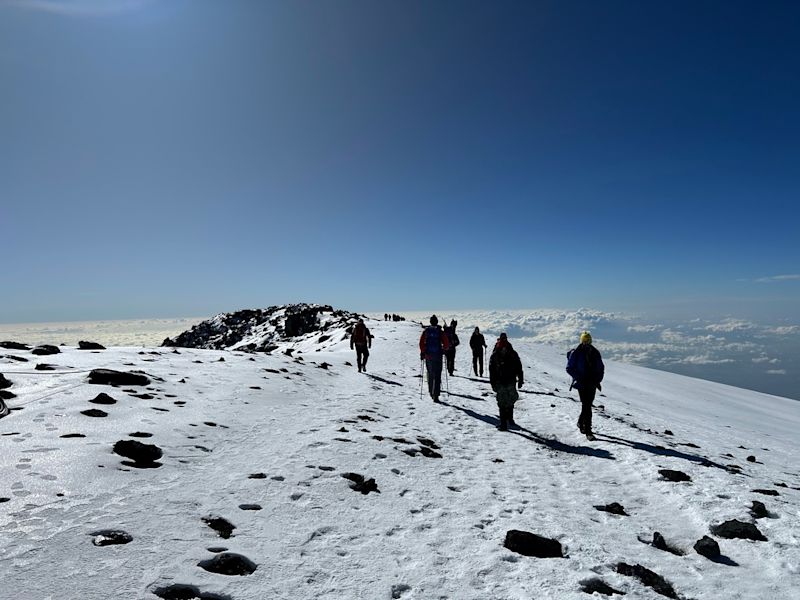 Time to start the descent
We made good progress, though halfway down I stopped to get some food and drink in, but for some reason I threw it up again, without feeling sick or nauseous or something. High altitude just is a strange thing.
After I was done barfing, we continued again.
We left Uhuru Peak at around 08:40 am and I found myself back at camp at 11:30 am. When we came down the last bit of trail we came across other climbers on their way up who congratulated me on a great climb, which was nice but also a bit unreal because I had just been so focussed on getting down again.
Back in camp I was congratulated by the staff. I was just really happy I had made it back to camp by myself, and that I felt good again now I was back down.
It felt surreal that I actually had been on the top. In retrospect I wish I could've enjoyed the top a bit more. The pictures I have I took in a rush. Would have loved to just spend some time there and enjoy, but it was not meant to be.
Now this actually had been quite an insane day already, but it was not over yet. During the afternoon we were supposed to walk down another 1,500 metres to the next camp, another four-hour hike. After the eleven-and-half-hour hike I just finished! And I was first back in camp.
I got into my tent and got some sleep.
At 2 pm I was woken up and told lunch was served. At that time the last people had just returned from the top. We ate lunch and then got ready for the last stretch of the day, starting at 3:30 pm.
Walking downhill is a challenge of its own, and puts a big strain on your knees. I was already happy that I didn't hurt my knees during the morning descent, but towards the end of this last stretch I really started to feel them.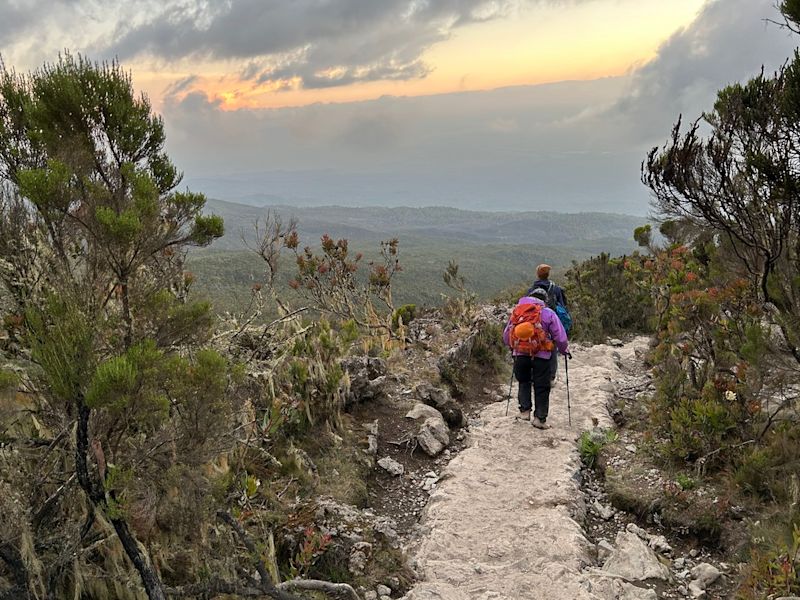 From alpine desert all the way down to rainforest
It was a shitty path with many steps and lots of big, uneven rocks.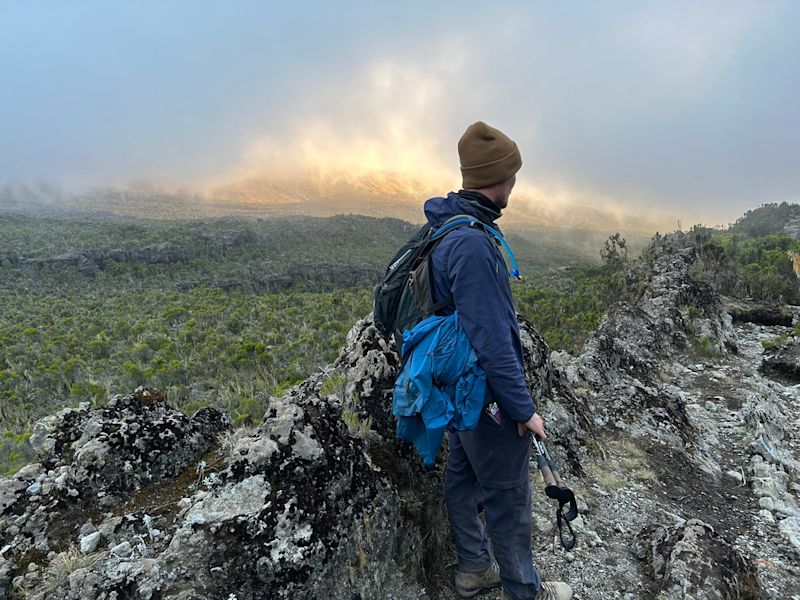 It's been a long day!
Towards the end we were walking in the dark again and we got our head torches out again.
We made it to camp at 7:45 pm and then were served food, which we gorged down. I went to bed at around 9 pm and by then the last people hadn't made it to camp yet.
For me it was already an insane day, with nearly 16 hours of hiking, let alone for those who made slower progress and easily spent four or five hours more on the trail. What a great and insane start of the new year.
Tomorrow's our last day. Tonight we sleep at 3,000 m. What's funny is that this morning we stood ankle deep in the snow and now we're back in the rainforest.
Tomorrow we'll make our way to the gate of Kilimanjaro National Park at 1,500 m. I can't really believe I've actually been all the way up there.
Kilimanjaro Day 8 – Final descent
Last day on the mountain!
We slept at Mweka Camp at 3,100 m and still needed to come down to the Mweka Gate of Kilimanjaro National Park at 1,600 m, another four- to five-hour hike down.
We were awoken at 6 am and had breakfast at 6:30 am.
During breakfast we learned that the last people of our group coming into camp only arrived at 10:30 pm last evening. They had also started their ascent earlier than the rest of us, meaning they came very close to a full 24 hours on the trail yesterday. 😳 And I already thought my 16 hours were crazy. 🙈
After breakfast we had our tipping ceremony.
Tipping is custom in Tanzania and it's encouraged to increase the base salary of the guides, porters and other support staff. And all of them worked insanely hard, spending long hours on the same trails as we did, carrying heavy loads for long hours, putting up our tents, cooking dinner, keeping the toilets clean, coming back onto the trail to help struggling climbers and carrying their backpacks, keeping the spirits high, and all the other little things that they did.
As a group we raised a nice tip for each of the staff members and handed it ceremoniously to them, accompanied by some collective words of gratitude for helping all our group members to the top of Kilimanjaro.
They replied to our thank you with a number of traditional local songs. And it was not only saying thank you, but it was also saying goodbye, because after the ceremony we would not see most of the staff again.
All in all it was a great conclusion of a great trip. Definitely would not have been able to make it to the top without the support of all the staff.
After that followed the last 11 km and 1,500 m descent.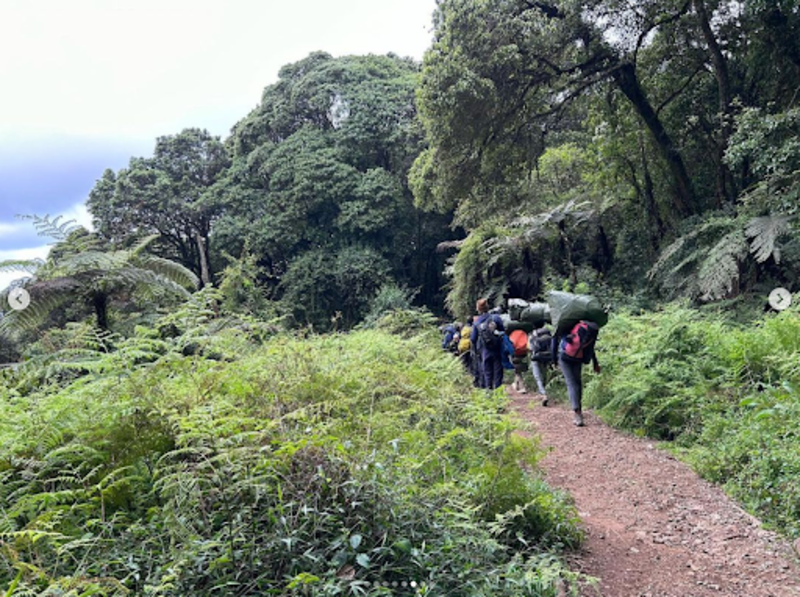 The Mweka is the main descent route
Everybody always talks about how hard it is to get to the summit, but walking down for me is quite strenuous as well. I feel it in my knees and upper legs and, because I used the trekking poles, a lot also in my arms.
Walking down yesterday I developed my first blisters and my toes keep banging into the front of my shoes, which my toenails don't like.
Thank you, Romy, for sharing your Lemosho route journal with us! We're so glad that you had a wonderful Kilimanjaro adventure, and we're sure that the memories will stay with your for a lifetime!