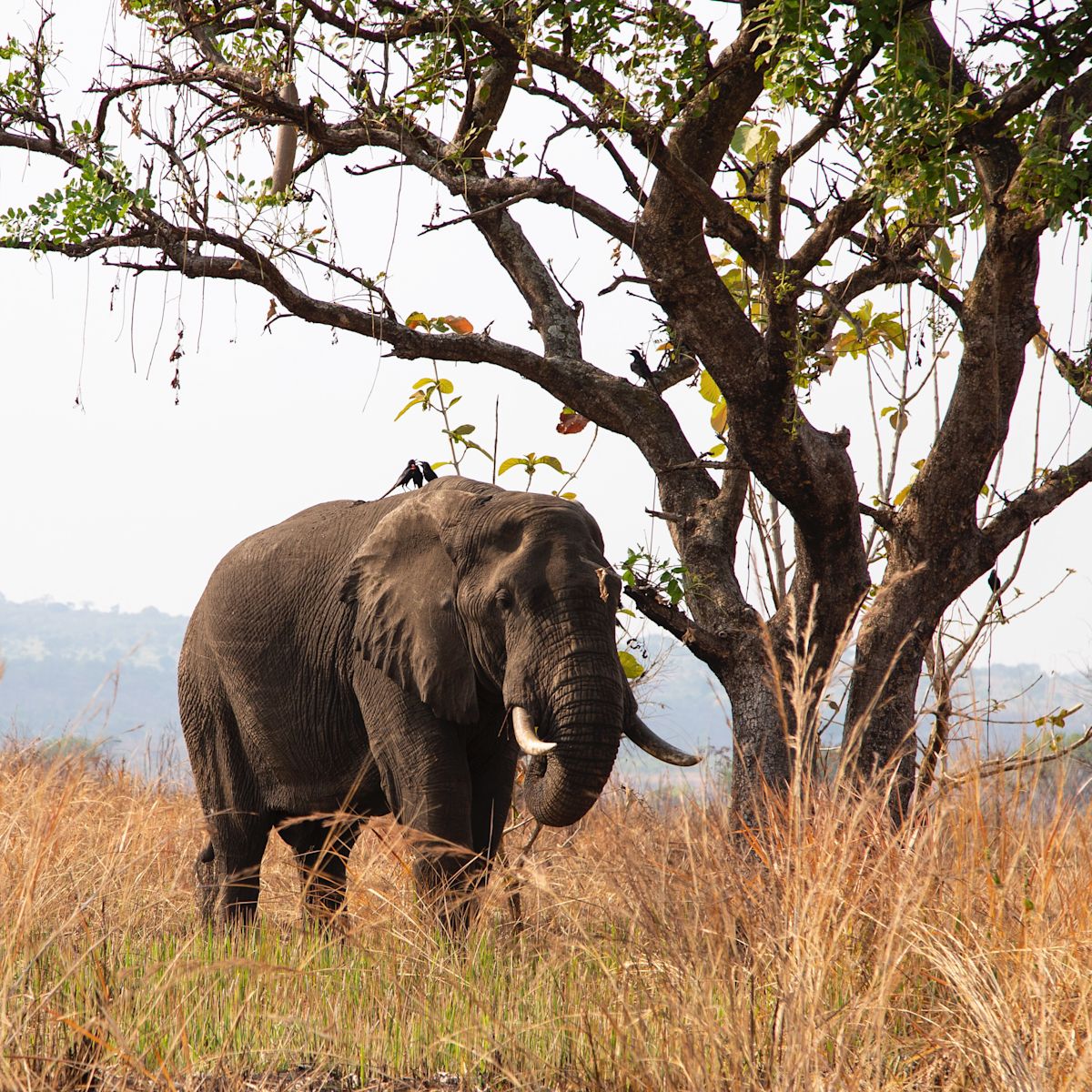 Best adventure trips for 2023
Dec 20, 2022
Reading time: 20 minutes
We've scoured the globe and sent out our minions to find the best adventure holiday spots for the young and young-at-heart. We're pretty thrilled with what we've found, and we think you will be too, as there's something for everyone.
We have what we consider to be a diverse and truly stellar list of adventure trips for 2023. Here are the exciting adventure trips currently on offer from Follow Alice ...
Climb Kilimanjaro

Tanzania safari

Gorilla trek in Uganda

Everest Base Camp trek

Annapurna Circuit trek

Discover Bhutan
Here are the details for each of these epic adventure holidays ...
1. Climb Kilimanjaro
The Kilimanjaro trip is where it all began with Follow Alice, so it's a trip very close to our hearts. And climbing Kilimanjaro is a true adventure, requiring sweat, perseverance, and team spirit. It's about pushing your boundaries and awakening you to your own potential and capabilities.
The crater peak of Kilimanjaro is usually high above the clouds
Mount Kilimanjaro is the tallest mountain in Africa, and the tallest free-standing mountain in the world! Join us on an epic adventure as we climb to the summit of this mighty mountain at 5,895 m above sea level. Each day of the trek we enter a new and rich ecosystem: savannah, forest, moorland, alpine desert, and then ice caps. We start our night climb to the summit around midnight so that when the sun rises we'll be standing on Uhuru Peak, overlooking the world! Kilimanjaro is a challenging and exciting experience that leads to new friendships, greater confidence in your own capabilities, and a renewed sense of wonder at the majesty and diversity of Mother Earth.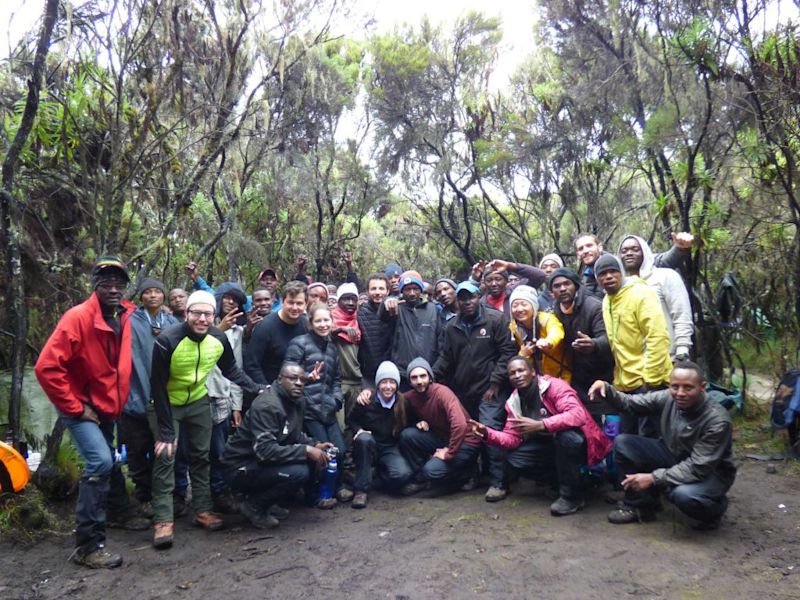 Your trekking group quickly becomes your trekking family on Kilimanjaro!
One of the Seven Summits
You already know that Kilimanjaro is Africa's tallest mountain. This means it's one of the so-called Seven Summits, which are the highest mountains from each of the continents. The first person to climb all seven summits, Richard Bass, only did so in 1985.
Kilimanjaro is also the world's tallest free-standing mountain. But it isn't a mountain in the traditional sense, because it's actually a dormant volcano. At the top of Kilimanjaro are three volcanic cones: Shira, Kibo and Mawenzi. The highest point of Kilimanjaro is Uhuru Peak, which is on Kibo's crater rim.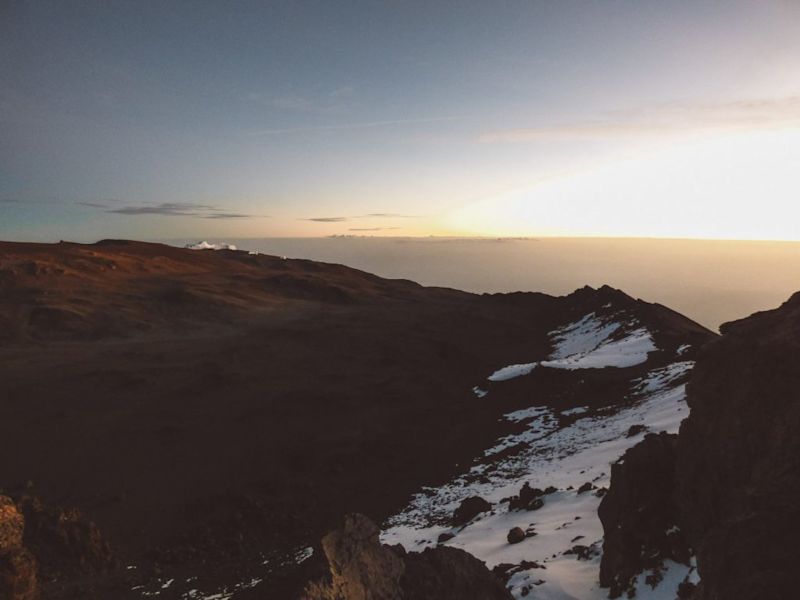 The morning sun sheds light over the summit of Kilimanjaro
The five climates of Kilimanjaro
Kilimanjaro, which is in the northeast of Tanzania, offers a fascinating diversity of terrain, wildlife and plants. Every day on the trek you literally enter a different ecosystem. This is part of what makes the trek so interesting! Climbers generally start the trek in shorts and t-shirts and end it swaddled in every warm item they packed!
On Day 1 of the climb we walk through the savannah of Kilimanjaro's lower slopes, which is where the local Chagga people live. The next day we walk along forest trails surrounded by lush trees. The following day we ascend into heather and moorland, and things get much cooler. The next ecosystem we enter is the alpine or highland desert zone. And finally, at the top of Kilimanjaro, we enter the arctic zone, where's it all about scree, ice patches, dramatic glacier walls and freezing temperatures.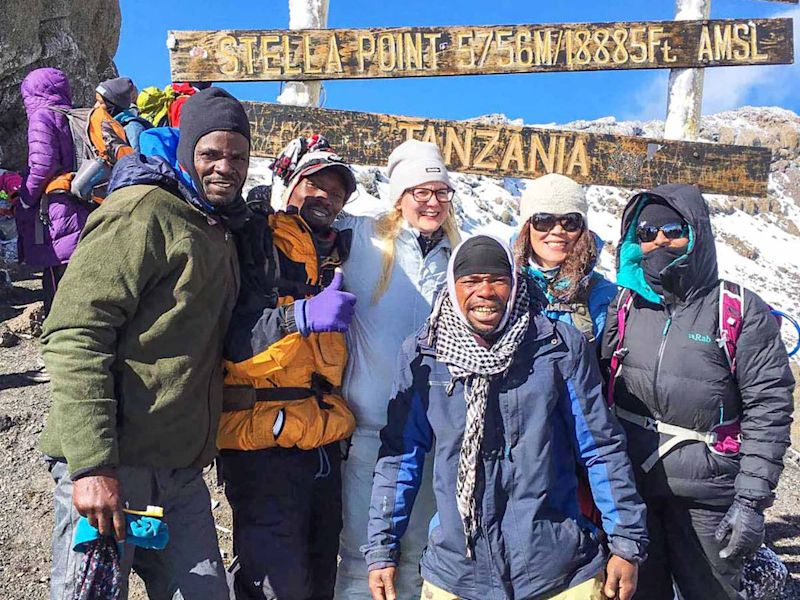 The top of Kilimanjaro is a cold, cold place!
I climbed Kilimanjaro last year with Follow Alice and it was an unforgettable experience!! All the planning was made at their side and I just enjoyed the beautiful climb – so simple and well delivered.
– Silvia Coimbra
Follow Alice's favourite Kilimanjaro routes
There are currently seven routes up Kilimanjaro. At Follow Alice we lead groups up all of the routes, but these are the most popular three routes:
We encourage trekkers to choose one of these routes for two reasons. Firstly, they have high success rates, meaning a high proportion of people who attempt them make it to the summit of Kilimanjaro. This is because they have good acclimatisation profiles. In other words, they don't push trekkers to climb too high, too quickly, and so wind up developing altitude symptoms. The second reason we like these routes is that they offer some of the most beautiful and varied scenery.
The Machame, Lemosho and Northern Circuit routes are great for acclimatisation because of the many 'climb high, sleep low' opportunities they offer.
Further reading for the interested trekker ...
If you'd like to know more about climbing Kilimanjaro, we have a wealth of resources available to you: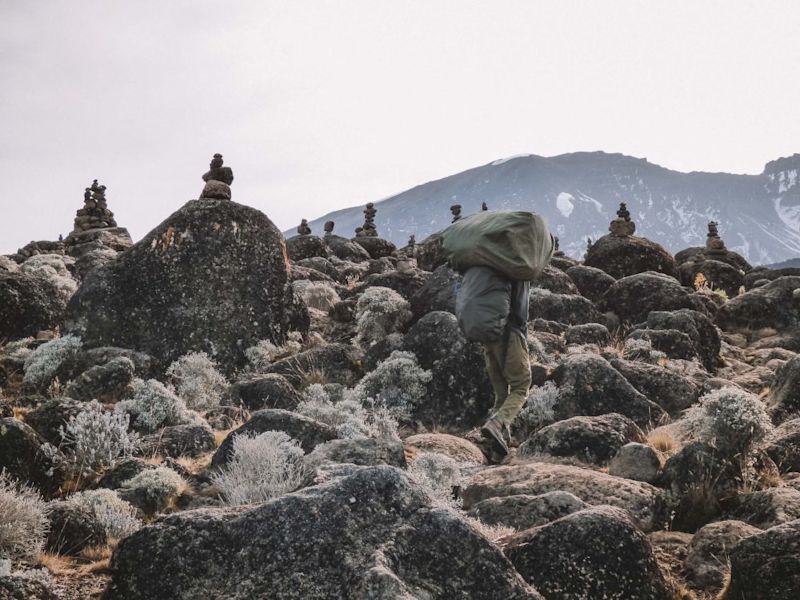 One of our porters giving a masterclass in camouflage
Want to make your Kilimanjaro trip even more epic?
Many of our clients follow up their Kilimanjaro trek with a Tanzanian safari, so we introduce you to that trip next ...
2. Tanzania safari
Tanzania is arguably the ultimate safari destination for wildlife lovers. With 16 beautifully maintained national parks, it offers some of Africa's best game viewing. Some of the animals one can find on a Tanzania safari include African elephants, lions, zebras, giraffes, buffaloes, hippos, wildebeests, dik-diks, antelopes, gazelles, elands and kudus. Tanzania has dedicated more of its land to its national parks than any other wildlife destination in the world. In total the country has 42,000 square kilometres of national park!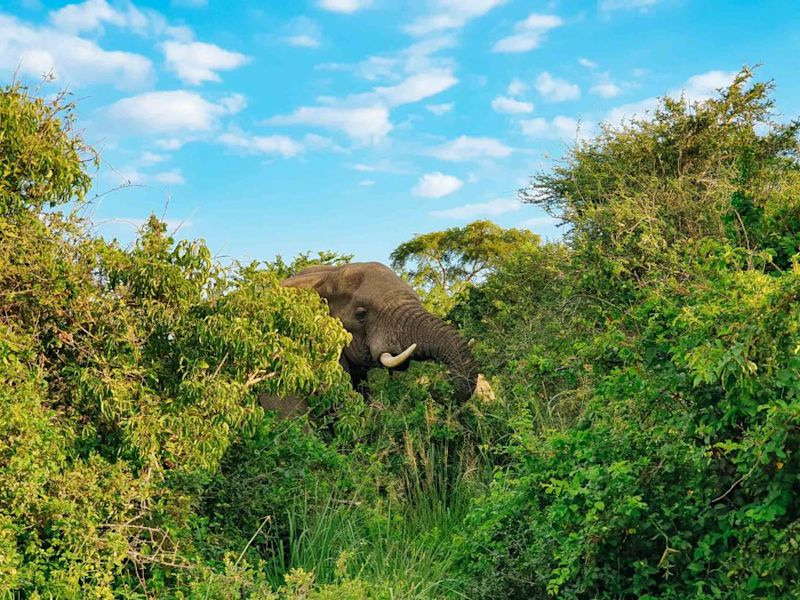 Highlights of a Tanzania safari
Some of the highlights of our Tanzania safari trip are:
Go on safari in the UNESCO-listed Serengeti National Park

Spot lions, leopards, Cape buffaloes, African elephants, cheetahs, giraffes and much more!

Camp overnight in some of Africa's most beautiful national parks

Watch the sunrise over the African savannah

Experience the rich culture of local Tanzanian tribes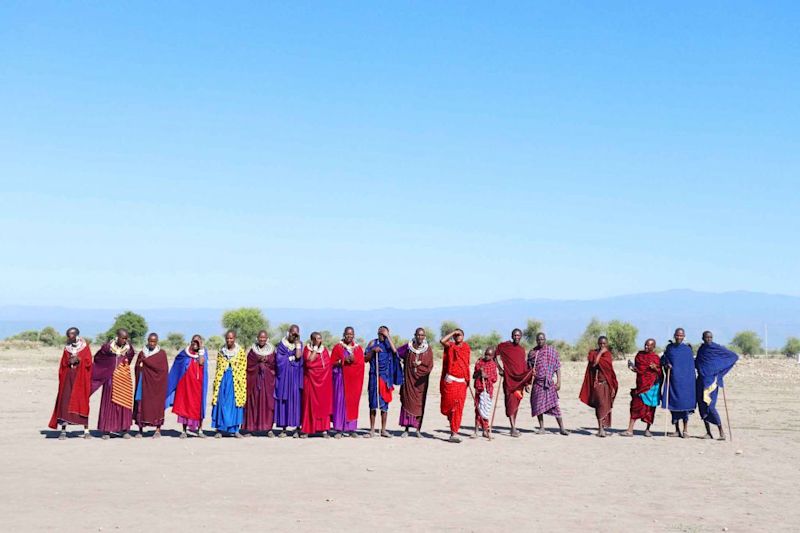 Maasai people of Tanzania
Our exciting destinations
During our time on safari we visit the following world-famous sites:
Lake Manyara National Park

Serengeti National Park

The Ngorongoro Crater
Lake Manyara National Park
Lake Manyara National Park is one of Tanzania's smaller parks, but it packs a real punch, boasting savannah, bush plains and evergreen forest. The chance to see elephant families moving through the forest is reason enough on its own to visit this gem of a park!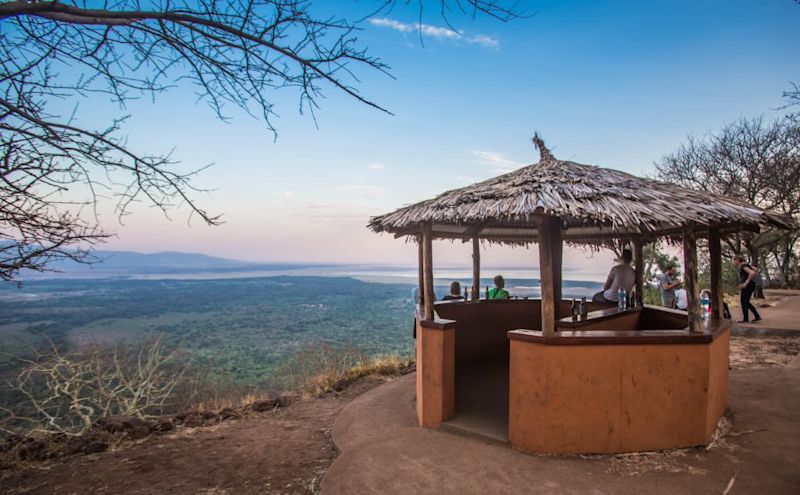 Drinks with a view of Lake Manyara
Serengeti National Park
The word serengeti means 'endless plains' in the Maasai language, and this is truly apt. Serengeti National Park is home to the Great Migration, the famous annual migration of over two million grazing animals like wildebeest, zebra and gazelle. Our drive in the park affords us ample game-watching opportunities, as well as the chance to visit the beautiful Olduvai Gorge. We'll also visit the Maasai Culture Boma to learn about the history and culture of this fascinating tribe.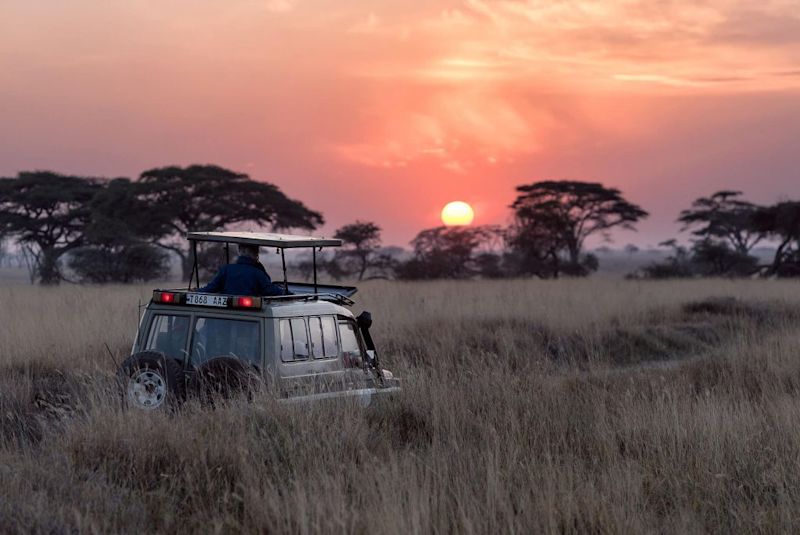 Another day, another beautiful sunrise over the African savannah
The Ngorongoro Crater
Directly south of Serengeti National Park is Ngorongoro Crater, the largest collapsed volcanic crater in the world! The walls of the crater have protected the area over time and created an oasis of wildlife. You can expect to see lions, elephants, zebras, hippos, wildebeest, jackals, kobs, eagles, vultures, and so much more. There are also brightly coloured flamingoes in the crater lake and hippos in the swamp, which is where we stop for lunch!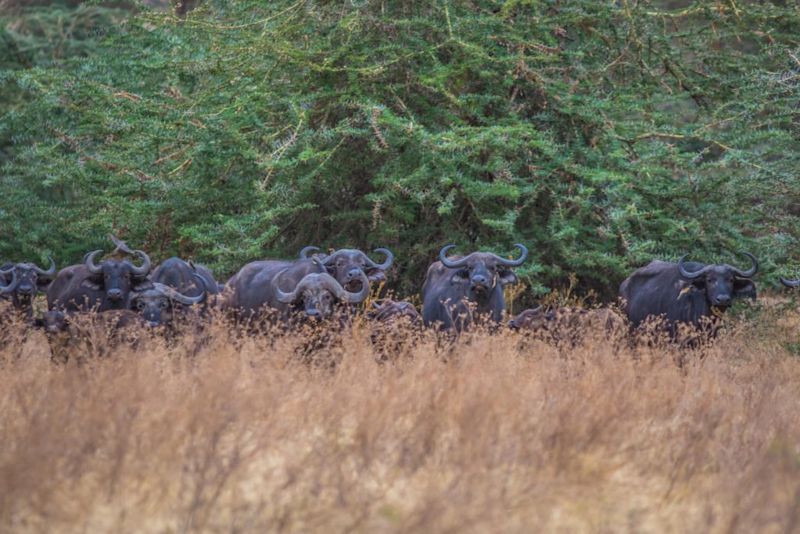 A buffalo herd in the Ngorongoro Crater, the world's largest caldera
Take your African safari to the next level
As with all Follow Alice itineraries, nothing is set in stone. With each adventure trip we put forward an itinerary as a starting point, and if desired you can tweak it as much as you like to craft your ideal getaway. This safari has been designed as the ideal accompaniment to our Climb Kilimanjaro trip, and so takes place in the same corner of Tanzania as the famous mountain to reduce travel time. So how about it: should you maybe be combining your Tanzania safari with a Kilimanjaro climb?!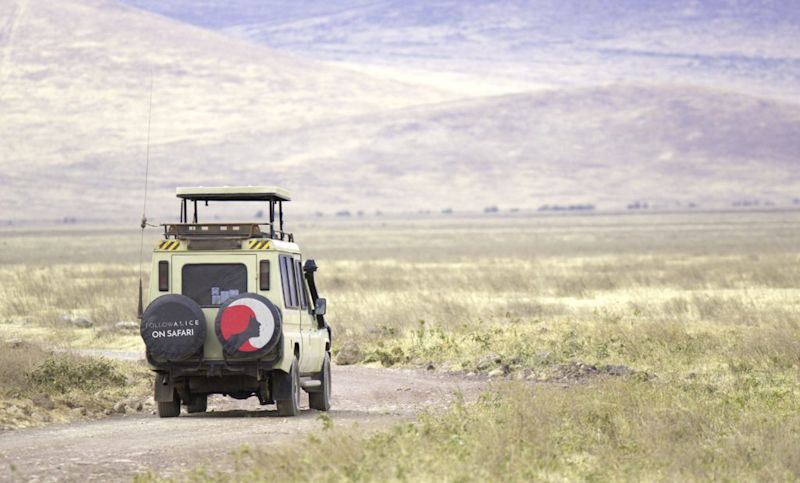 Everyone should go on an African safari at least once in their life!
3. Gorilla trekking in Uganda
Uganda is known as the pearl of Africa, for very good reason. This lush country has mountains, jungle, mountain gorillas, savannah, the Big Five, island-dotted lakes, rich culture, welcoming people, and so much more. At Follow Alice we've put together a wild Uganda adventure holiday including gorilla trekking that takes in the best the country has to offer: we explore the capital city of Kampala, go on a mountain bike safari, row in traditional boats on the lake, zip-line into the water, visit chimpanzees in the wild, and go on a boat cruise. And finally, our pièce de resistance: we take a trek in the rainforest to see mountain gorillas in their natural habitat. It's all epic times in Uganda!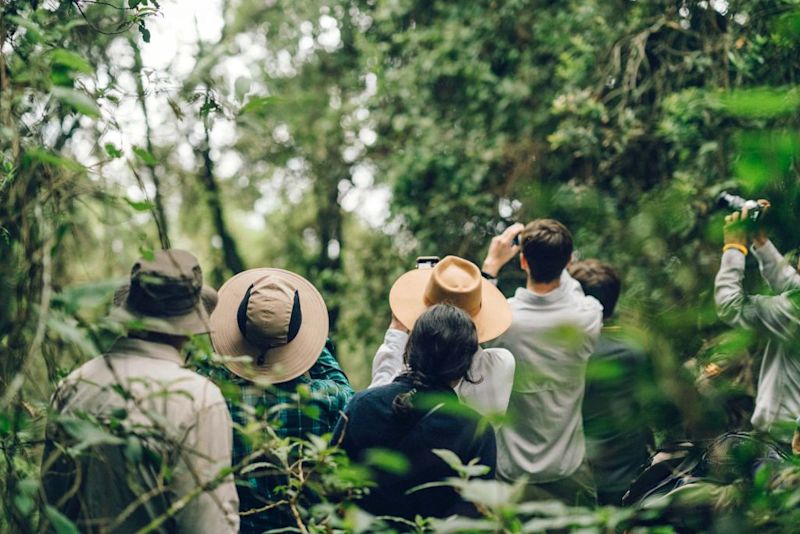 We trek into the Bwindi Impenetrable Forest to see mountain gorillas
An adventure-packed itinerary
During our eight-day stay in Uganda, we take you to various beautiful spots around the country. Some of the exciting activities on the cards are:
Visit Ndere Cultural Centre in Kampala, Uganda's capital city

Go on a mountain bike safari in Lake Mburo National Park

Hike to see chimpanzees in the wild

Take a boat cruise on Bunyonyi Lake and zipline into it

Quad bike around Bunyonyi to explore local villages

Row in traditional dugout canoes on the lake to visit some of its islands

Take an evening walk into the town of Kabale

Go on a jeep and boat safari in Queen Elizabeth National Park

Trek in Bwindi Impenetrable Forest to see a gorilla troop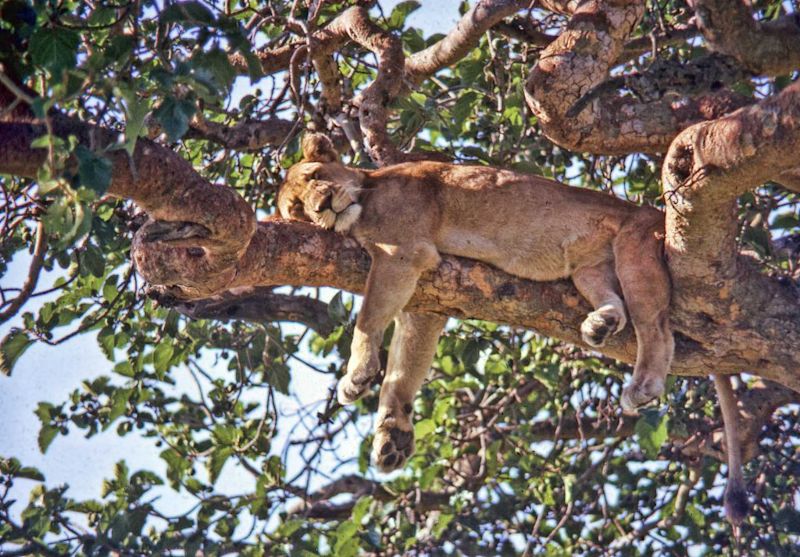 A Ugandan safari is a must when you visit the country
Trekking to see mountain gorillas
The gorilla trek is the highlight of our trip. And for good reason. The mountain gorilla is an endangered animal – there are estimated to be fewer than 900 in the wild. They live only in Uganda, the DRC and Rwanda. We'll take a guided trek through the Bwindi Impenetrable Forest to find a troop to observe. As the name of the forest suggests, we'll be trekking through dense vegetation. You can expect overgrown trails, walls of green, dripping leaves, rivers and rivulets, forest sounds, mist and perhaps the odd downpour! Trekking through such an untouched and thick forest like this is a treat in and of itself.
Gorillas live in troops, each of which is headed by one or two silverbacks, which are the dominant males. Their babies are called infants. Mountain gorillas are known for being mostly gentle and shy. The gorilla troops that are visited are habituated ones, meaning they're used to the presence of humans. It's wonderful to watch them interact among themselves, and hear their grunts and barks. Very few people are afforded the opportunity to view these gentle giants in their natural habitat – those who do rarely leave the forest unaffected.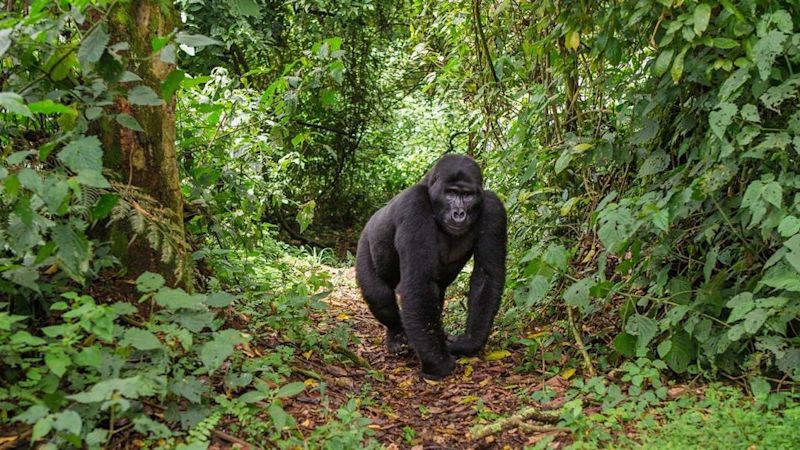 Mountain gorillas are gentle giants, so we get to see them up close
Keen to know more?
Read our blog posts 20 things to know about mountain gorilla trekking and Top things to do in Uganda.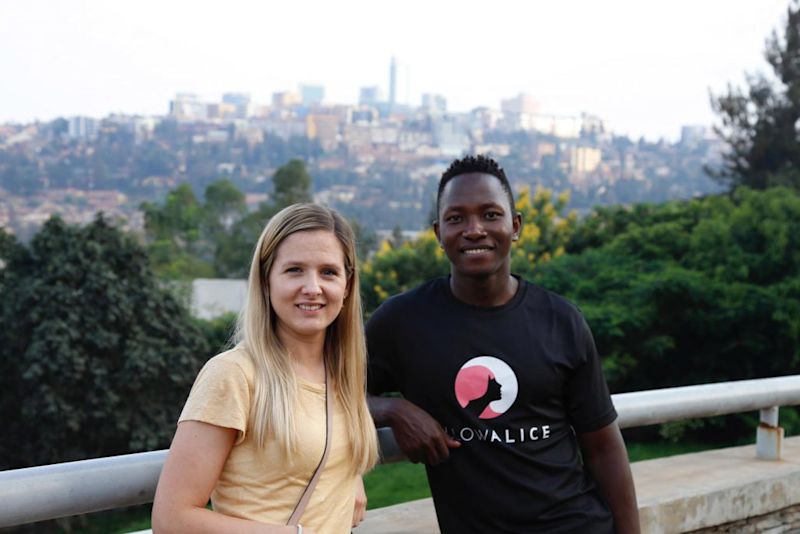 Join us in Uganda and you'll meet Dan, our fantastic local tour guide
4. Trek to Everest Base Camp
Not everyone can climb Mount Everest, but most of us can make the trek to its famous base camp. The Everest Base Camp trek is a challenging but ever-so-rewarding two-week hike through the Himalayas. It starts in the temperate zone at around 2,500 m and requires you to climb up to the alpine zone at over 5,000 m. During the trek we hike as a group up steep, forested valleys, over suspension bridges, across desolate valley floors and lake beds, along high contour paths, and over snowy mountain passes.
We stay in traditional Sherpa villages, eat Nepali food, visit Buddhist monasteries, stand back for passing yaks, dip our toes in icy high-altitude lakes, and marvel at snow-capped mountain peaks every way we turn. And in the middle of it all, we get to stand in Everest Base Camp, where the prayer flags are pulled at relentlessly by the wind and we contemplate the start of the trail taken by many greats to reach the top of the world's highest mountain.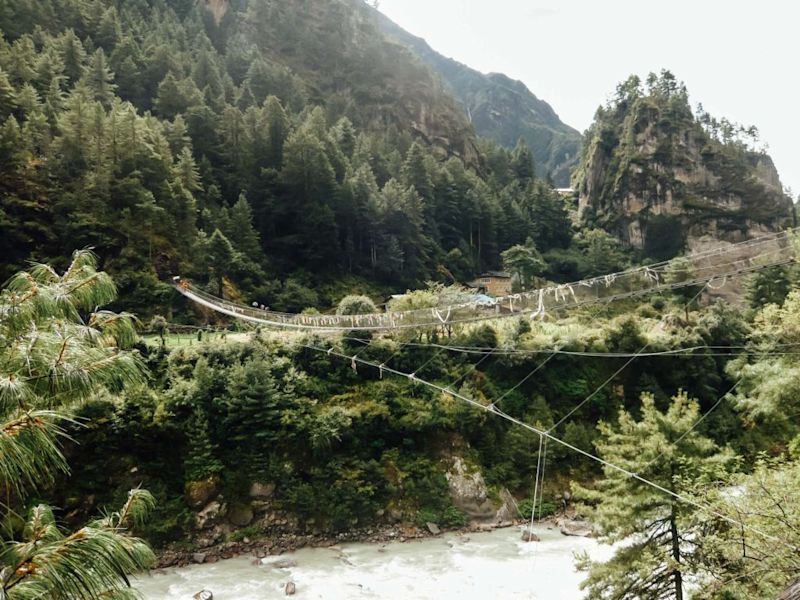 Suspension bridges are common along the lower parts of the Everest Base Camp trek
Highlights of the Everest Base Camp trek
This two-week trip to the Himalayas of eastern Nepal is not just about standing at Everest Base Camp. No, no - it has so much more in store for the curious and intrepid traveller. When you travel to do the Everest Base Camp trek with Follow Alice, you'll:
Take an exciting flight from Kathmandu to the mountain town of Lukla

Trek for two weeks through the beautiful Sagarmatha National Park

Stay in traditional Sherpa villages and experience the local culture and cuisine

Visit Tibetan Buddhist monasteries and other important cultural sites

See wild and domesticated animals like musk deer and wild goats

See Mt Everest, Khumbu Glacier and many other spectacular Himalayan peaks and glaciers

Visit the world's most iconic base camp

Stay on the shore of the beautiful Gokyo Lake

Challenge yourself physically and mentally as you trek at great altitude

Make friends with fellow trekkers from around the world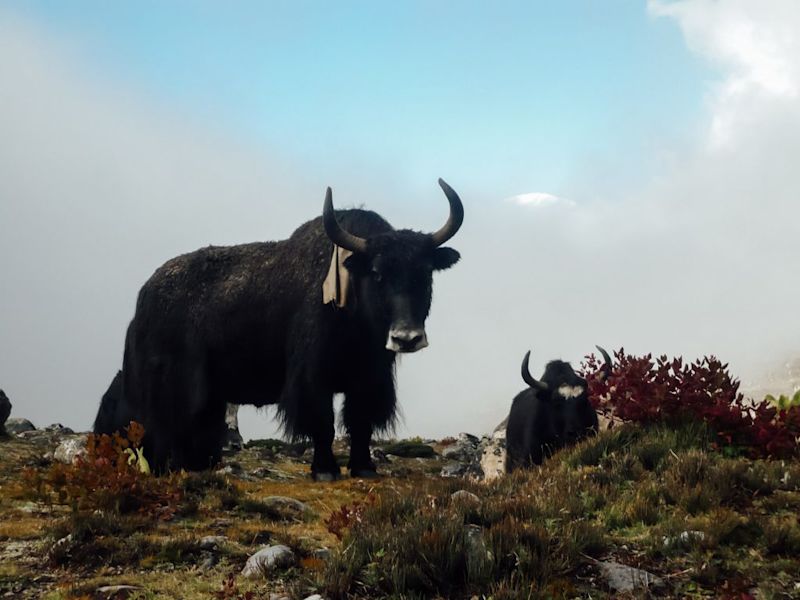 Yaks are a common sight on the Everest Base Camp trek, not least because they're used by porters to carry trekkers' luggage
How far is the trek to Everest Base Camp?
The Everest Base Camp trek is 65 km each way when you walk the most direct route. This is the traditional trek route. There are, however, variations to this route, a common one being the Everest Base Camp trek via Gokyo Lakes.
Everest Base Camp trek via Gokyo Lakes
We at Follow Alice hike the Everest Base Camp trek via Gokyo Lakes. This is a popular alternate route to the classic one. It involves trekking the usual route to Everest Base Camp, then taking a detour to the Gokyo Lakes on the return journey.
There are a few pros to doing the Everest Base Camp trek via Gokyo Lakes. Firstly, it creates a loop in the trail, meaning for most of your return hike you walk through fresh territory. There's so much cultural and natural richness in Khumbu, we feel it would be a pity to tramp the same path when you can divert just a little and enjoy more of it. Secondly, this alternate route gives us the chance to cross Cho La Pass, summit Gokyo Peak (5,357 m), see the magnificent Ngozumpa Glacier, and visit the beautiful Gokyo Lakes. And finally, this slightly longer route is quieter than the main one, allowing us to experience an even more remote part of the Himalayas.
We hike the Everest Base Camp trek via Gokyo Lakes, an exciting alternative to the classic trek route that takes in more of the area.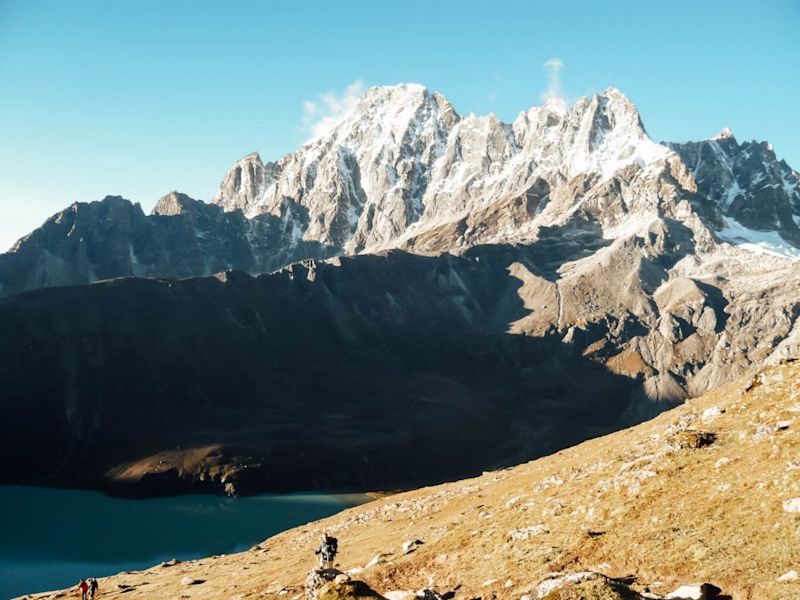 The Gokyo Lakes are an incredibly beautiful corner of the Himalayas
Who should do the Everest Base Camp trek?
If you're a curious soul who doesn't mind a little discomfort for the sake of new experiences, then the Everest Base Camp trek is for you! You don't need any mountaineering skills or equipment, nor do you need to be an athlete. You do, however, need to be reasonably fit. Simply put, if you're able to go on a day-long hike wherever you live without falling over with fatigue and complaining that life is no fun, then you should be perfectly able to tackle Everest Base Camp.
If you'd like to know more about the challenges of the trek, we recommend you read How hard is Everest Base Camp? This blog post describes the trek route and surrounding terrain, daily hiking hours, the dangers of altitude sickness, and more. You might also like to read: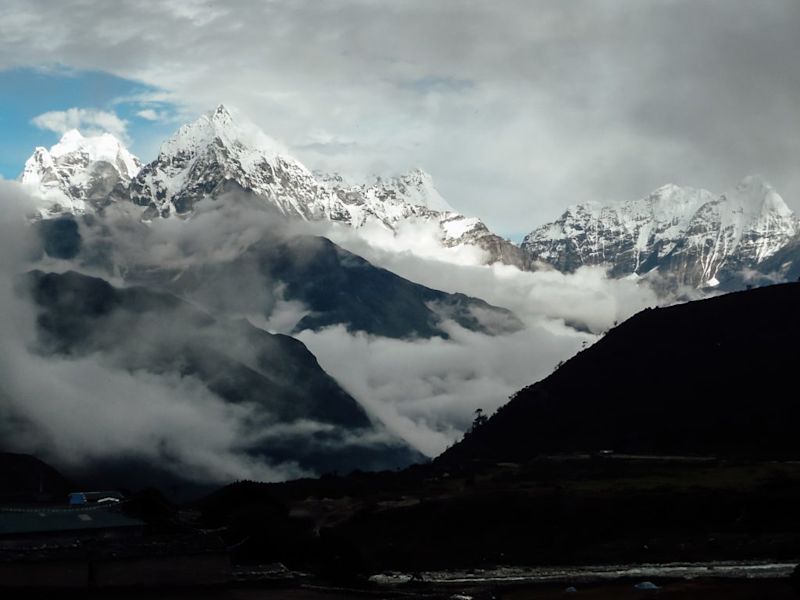 The mountains of the Everest Base Camp trek are the uncontested stars of the show
5. Trek the Annapurna Circuit
The Annapurna Circuit trek is an incredibly varied and exciting high-altitude trek. Located in Nepal's central Himalayas, the Annapurna region boasts some of the world's highest mountains. Most famous is Annapurna I, the seventh highest peak in the world at 8,091 m (26,545 ft).
On the Annapurna Circuit trek we hike deep into the Himalayas. We wind our way up steep, forested valleys and canyons, walk narrow paths that snake round the sides of mountains, visit an ice lake, and cross a bleak summit pass. The higher we climb, the fiercer the weather, with strong winds and temperatures that drop below freezing at night. It's an adventure trip for the spirited traveller who wants a challenge and something out of the ordinary!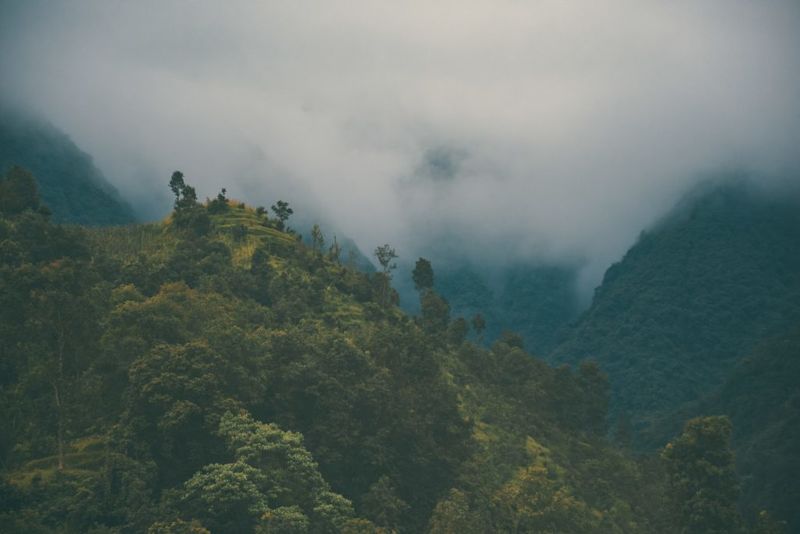 The Annapurna Circuit takes you through forests before climbing above the tree line and into a rain shadow
Annapurna circuit people and culture
The people groups we meet along the Annapurna trek route vary greatly. At the trail's start we meet Hindu communities with close ties to Indian culture, but when we enter into the remote mountains we meet Tibetic groups who are closely connected in culture to their neighbours to the north. Along the trail we encounter temples, prayer flags, stupas, gompas, prayer wheels, and more. Every day on the Annapurna circuit introduces you to something new and surprising.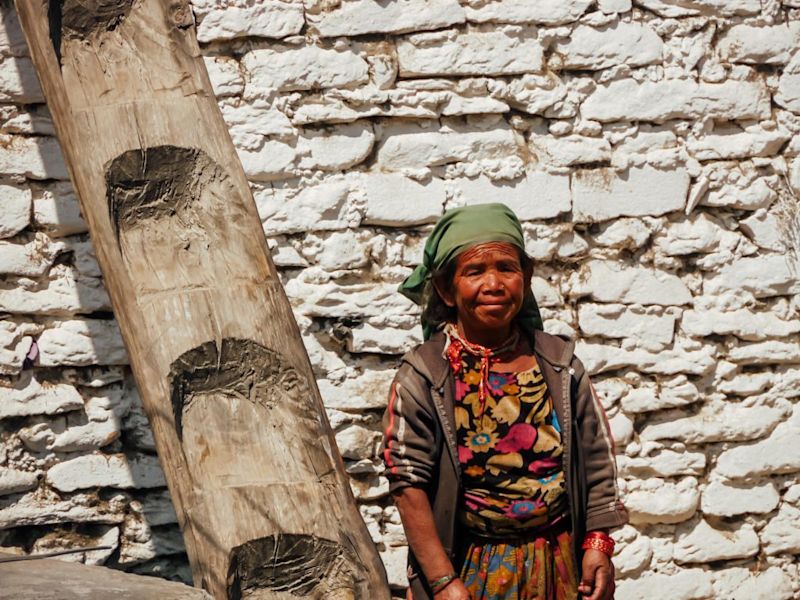 We stay in traditional villages along the Annapurna Circuit, meeting many local people
Getting to Annapurna
Our trip starts in Kathmandu and involves a two-day road trip west to reach the Annapurna region. But don't worry – the road trip is part of the fun! We drive in a private minibus, all the better to chat and get to know your fellow trekkers. We also stop off in some beautiful towns and villages. The last part of the drive takes us deep into the Annapurna range along winding and narrow mountain roads.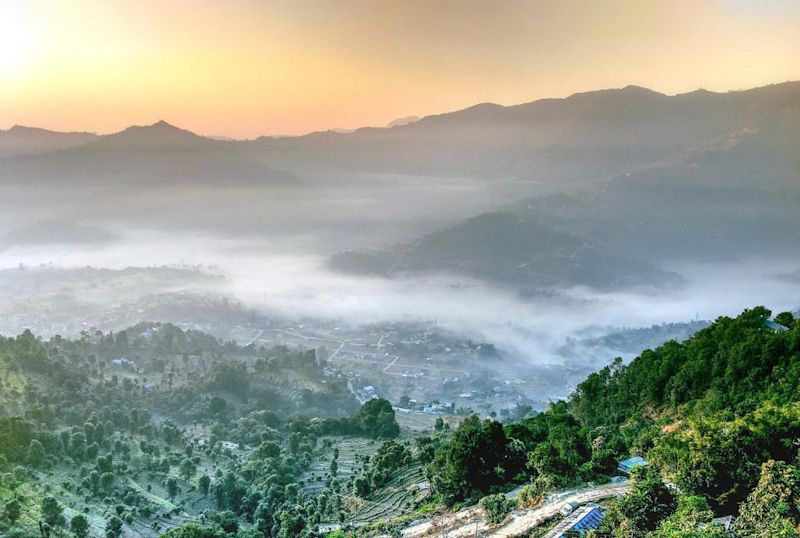 The drive to Annapurna from Kathmandu is full of gorgeous scenery
The Annapurna Circuit trek route
Many treks around the world involve hiking from Point A to Point B and then back along the same route, often because the terrain dictates it. Not a problem, but arguably not ideal.
The Annapurna Circuit route, by contrast, is a roughly circular route that takes you anticlockwise through the valleys and gorges and over some of the heights of the Annapurna Massif. Every day brings something new!
We start in the village of Bagarchhap. Over the next few days we hike deep into the remote mountains, eventually climbing up into a rain shadow. Colourful prayer flags and Buddhist stupas (religious monuments) can be seen all along the trek route.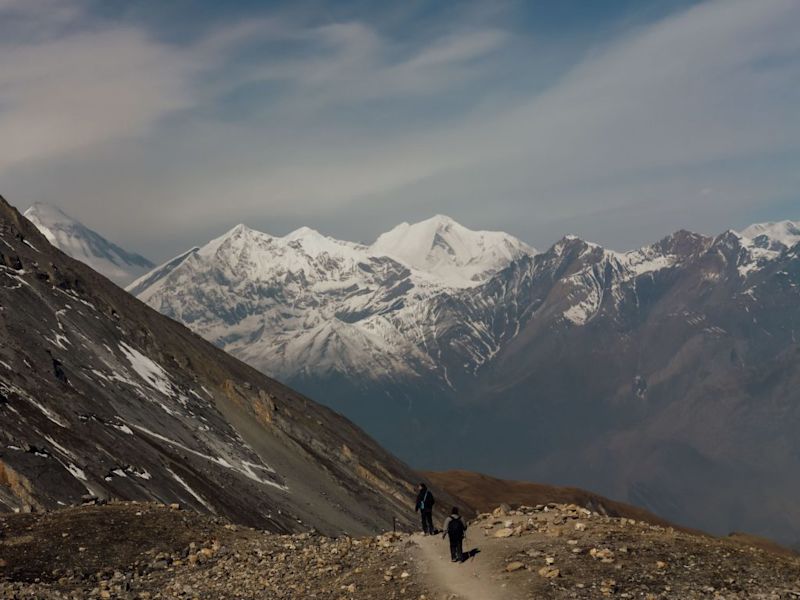 The Annapurna Circuit trek route takes us high into the Himalayas
Thorung La Pass
The pinnacle of the trek – both literally and mentally – is reaching the top of the mountain pass Thorung La. Thorung La is 5,416 m (17,769 ft) above sea level. It's a snow-covered spot that's blasted by fierce winds.
After this special moment of victory, the trek's descent begins. The route drops down from the chilly heights into the woods before reaching the hills and plains of the Mustang District.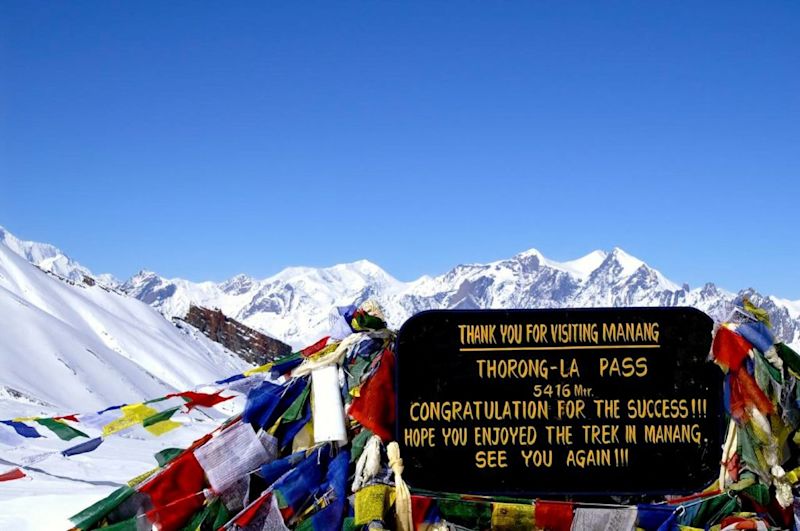 Thorung La Pass, the highest point of the Annapurna Circuit
Accommodation along the trek
Throughout the trek we stay in traditional and often incredibly picturesque towns and villages, which grow smaller and more modest the higher we climb. In the evenings we gather together in heated communal dining rooms for warm meals of local cuisine and chitchat with fellow trekkers from all around the world.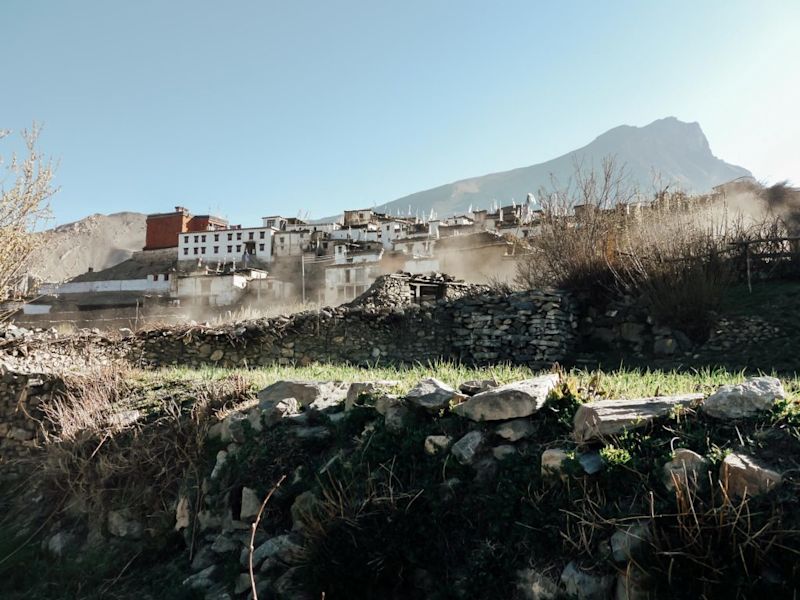 We visit and overnight at many small villages in the Annapurna mountain range
Fly to beautiful Pokhara
Near the end of the trip, once our trekking days are done, we fly in a small aircraft through the famous Kali Gandaki Gorge. This is the world's deepest gorge! This is a flight you'll ever forget, as we wind our way through the gorge with the Annapurna mountains towering above us on both sides.
We then spend a night in the beautiful lakeside city of Pokhara, a popular tourist destination. We have the option of exploring the city, canoeing on the lake, zip-lining above the trees, and more!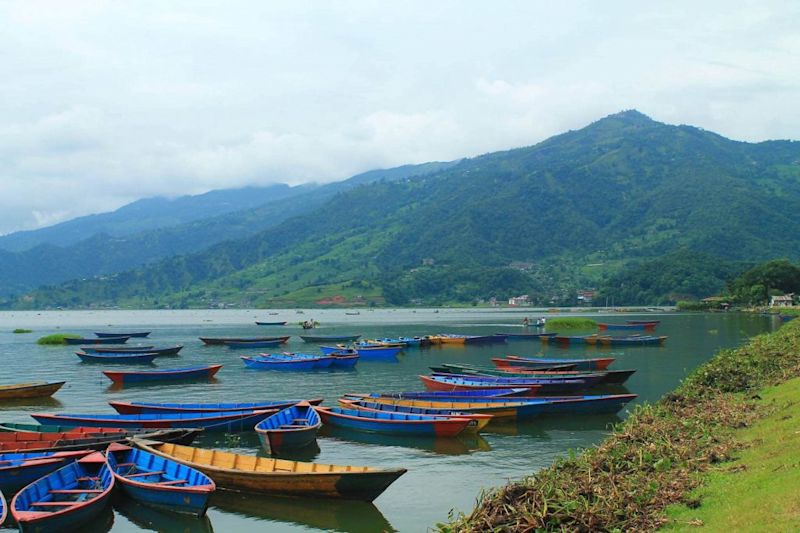 Pokhara is a beautiful lakeside city popular with local and international tourists
Who should hike the Annapurna Circuit?
The Annapurna Circuit trek is one of the most popular treks worldwide. This is because of the sheer diversity and beauty of the trek route. We can vouch for the fact that every day on this trip is new and exciting. And also that the hard work and sweat to complete it is one hundred percent worth it. The views, the people and the memories are truly special.
The Annapurna Circuit is a non-technical route, which means you don't need any special experience or skills to complete it. You just need a good pair of hiking boots and a decent level of fitness. So if you're a reasonably fit person with an adventurous spirit, we hope to share the experience of trekking the Annapurna Circuit with you soon!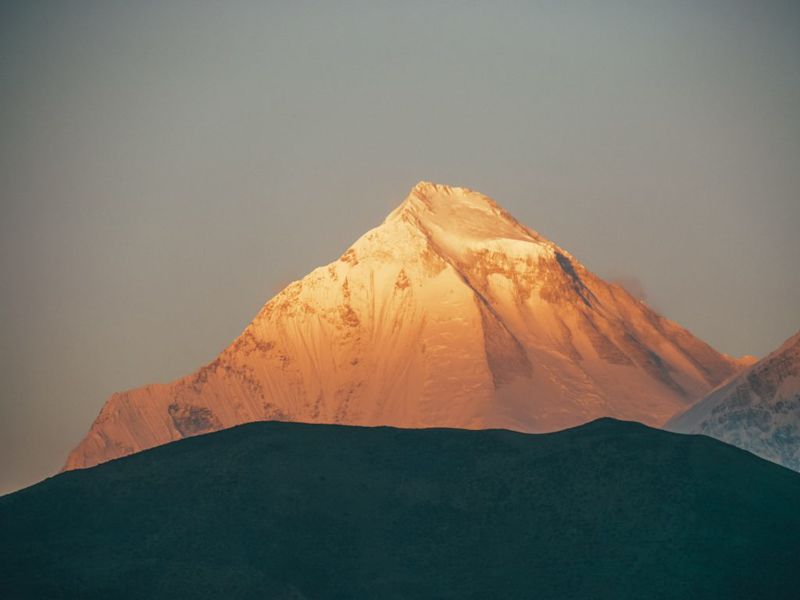 The Annapurna Mountains are among the highest in the world
6. Discover Bhutan
Bhutan is a small country sandwiched between China and India that has the Himalayan mountain range running through its northern section. It has an abundance of natural beauty, and is also rich in culture, religion and history.
At Follow Alice we've put together an exciting itinerary that takes in some of the most culturally rich and picturesque spots of Bhutan. This is an adventure holiday you'll remember for a lifetime!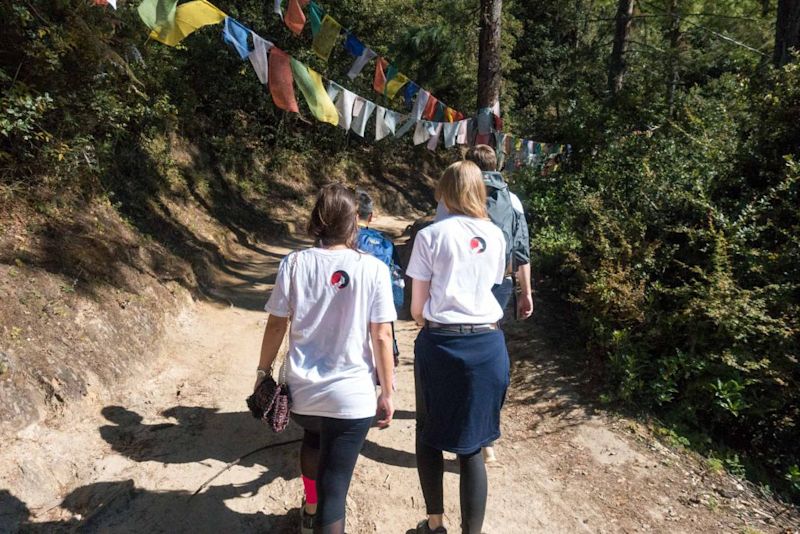 One of the highlights of our time in Bhutan is hiking to Tiger's Nest
A stellar and exciting itinerary
Our Discover Bhutan itinerary has three themes: adventure sports, history and culture, and R&R. Put together we think they're a recipe for the perfect getaway! Some of the exciting adventure activities on offer are:
Take a sightseeing hike around the Himalayan town of Punakha and visit its beautiful 17th-century fortress Punakha Dzong.

Go white-water rafting down the Mo Chu river.

Take a bike ride from Paro to Thimphu, passing through paddy fields, virgin forests and sleepy villages.

Hike to Taktshang Monastery, also known as Tiger's Nest, which clings to the side of a cliff.
Some of the culture and history fixes we've got planned are:
Spend a day exploring the culturally rich Thimphu, Bhutan's gorgeous capital city.

Visit Motithang Takin Reserve to see gnu goats, also called takins.

Learn about Bhutanese arts and crafts at the National Institute of Zorig Chusum.

Tour a traditional Bhutanese farmhouse and farm before being treated to a delicious lunch.
Bhutan, Land of the Thunder Dragon
The local name for Bhutan is Druk Yul, which means 'Land of the Thunder Dragon'. It's so named for the violent thunderstorms that descend from the Himalayas. Such a storylike name only serves to heighten the somewhat mystical image of the country in the eyes of most foreigners. Bhutan only really began to open up to outsiders in the 1970s. This small, hard-to-reach nation of mountains, valleys and rivers has fewer than a million inhabitants.
In recent years the world has learned with fascination of Bhutan's official public policy of pursuing Gross National Happiness. The idea behind the policy is rooted in Buddhist values that measure quality of life based on your spiritual and mental well-being.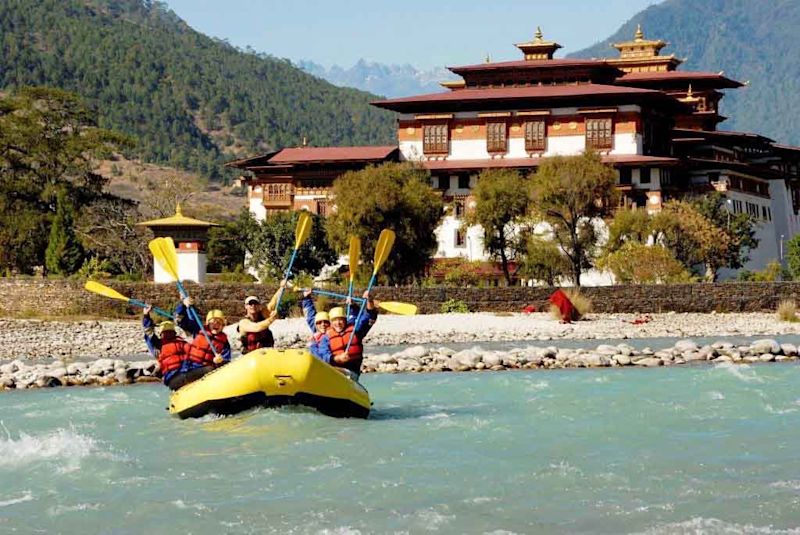 One of our Follow Alice groups rafting the Mo Chu River in Punakha
You might like to learn more in 7 to know before visiting Bhutan and Top places to visit in Bhutan.
Craft your own holiday itinerary
At Follow Alice we're in the business of putting together awesome adventure holidays, knowing that what's awesome for you might be different from what's awesome for someone else.
For this reason, we invite clients to let us know their preferences so that we can alter plans to suit you. Want to up the adventure sports on a particular trip? No problem. Want to inject a little more cultural exploration? Done.
Just give us a shout and we can make a plan together to create a holiday itinerary that has you hopping with excitement!