8 must-know Serengeti safari tips
Dec 13, 2022
Reading time: 10 minutes
The Serengeti offers one of the best safaris in the world. But you should know a few things before you go. Like when you can see the Great Migration river crossings. Here are 8 must-know Serengeti safari tips to help make your trip as magical as possible.
Serengeti National Park encompasses an enormous expanse of pristine wilderness that is home to not only the Big Five – lions, Cape buffalos, leopards, rhinos and elephants – but also crocodiles, hyenas, hippos, cheetahs, wildebeests, warthogs, zebras, kudus, gazelles and much more!
Here are eight must-know Serengeti safari tips to help make your adventure there as smooth and magical as possible. It's your choice if you want to read the tips, or learn about them in the video below ...
There would be a youtube video here.
Sadly, the youtube player requires cookies to work.
1. Choose a season based on what you want to see
The Serengeti is governed by two distinct seasons: wet and dry. The dry season, which occurs June through to October, is generally viewed as the most optimal for wildlife spotting. This has nothing to do with the volume of animals, but instead the ease of seeing them. Shorter grass makes animals more easily visible, whilst drying streams and shrinking waterholes cause many animals to flock to an increasingly smaller area.
However, this by no means insinuates that other months offer lousy safaris. Not at all. The Serengeti offers absolutely phenomenal wildlife spotting all-year round. And, in fact, visiting out of season has its advantages too, as discussed in a moment.
The Serengeti offers absolutely phenomenal wildlife spotting all-year round.
The infamous river crossings
Undoubtedly one of the most unique and popular times to visit the Serengeti is during the famous Grumeti and Mara River crossings. This is where streams of wildebeest brave the crocodile-infested waters to press on northwards towards the Masai Mara Reserve in Kenya and the promise of greener pasture.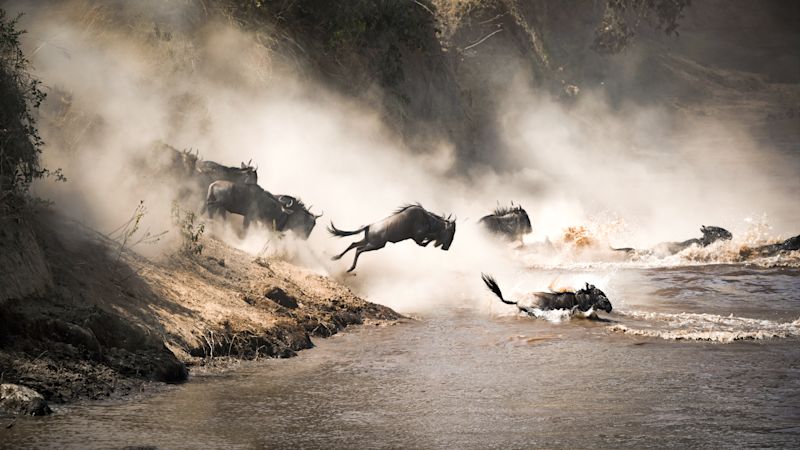 Wildebeests sense the danger and try to cross rivers as quickly as possible
Book early to see the river crossings
These river crossings typically occur around June to September each year. But camps in good proximity to the river crossings tend to book up quickly. The river crossings also coincide with the peak dry season, so we highly recommend booking at least several months in advance to give your operator the best chance of securing first choice accommodation. This is especially true for large groups.
The calving season
Another notable event in the calendar occurs around late January, February and March in the southern portion of Serengeti National Park. This is the calving season, which sees the miracle of new life collide with an ominous massing of opportunistic predators. Thousands of new wildebeests and other animals are calved every day, and lions and other predators lurk around, waiting for an easy kill. It's quite the drama!
A birder's paradise
For those keen to skip the heavier crowds, the wet season can bring a feeling of having the park all to yourself. April and May experience the 'long rains', where you can expect overcast skies and lingering rain most days. For the bird enthusiasts amongst you, these months are optimal for spotting the 500+ species of resident and migrant birds of the Serengeti. You'll also have the park seemingly all to yourself.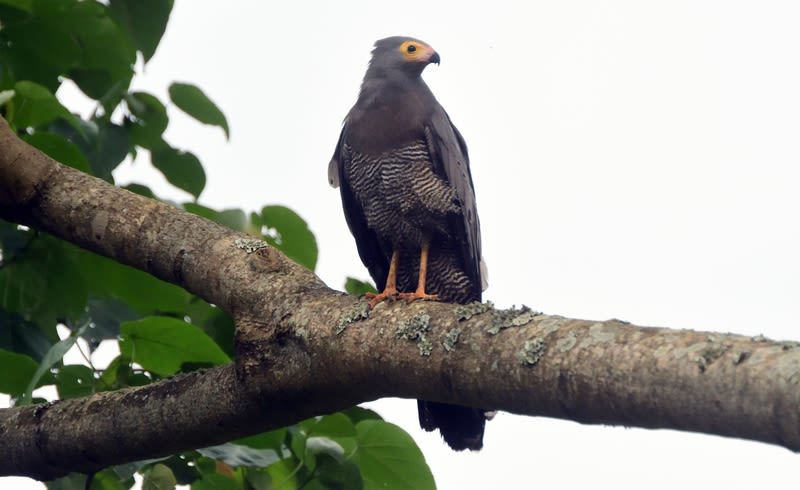 An African harrier hawk – they can be spotted throughout the Serengeti
2. The Great Wildlife Migration
The Serengeti is the primary location for one of earth's most spectacular natural events: the Great Wildlife Migration. This is a colossal movement of over two million animals – primarily wildebeests – across the landscape in an endless pursuit of fresh water and grass. To see such a massing of animals is a mesmerising sight.
The wonderful thing is that the Great Migration is not a singular, annual event. In fact, it's never-ending, and follows a loose, circular path around the park, as shown in the map below. So regardless of when you visit Tanzania, you have the possibility of catching it.
The Great Migration is the largest land-based animal migration in the world!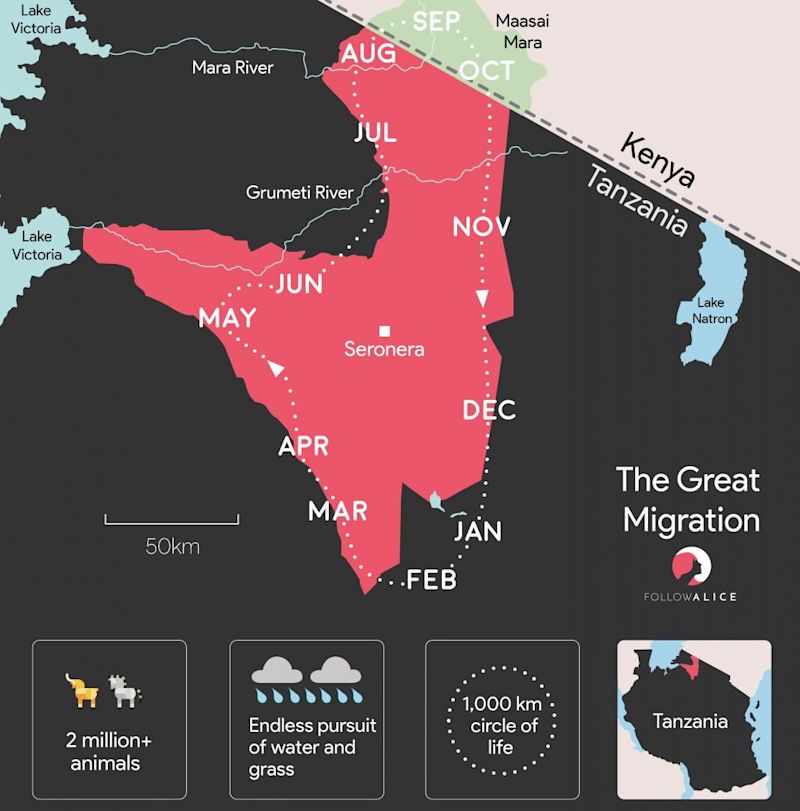 Map showing the general movement of the Great Wildlife Migration
Did you know ...
Did you know that the Great Migration not only consists of wildebeests? In fact, of the millions of animals on the move, around 200,000 are zebras and 500,000 are Thomson's gazelles. Other animals that travel in large numbers with the migrating herds are elands, Grant's gazelles and impalas.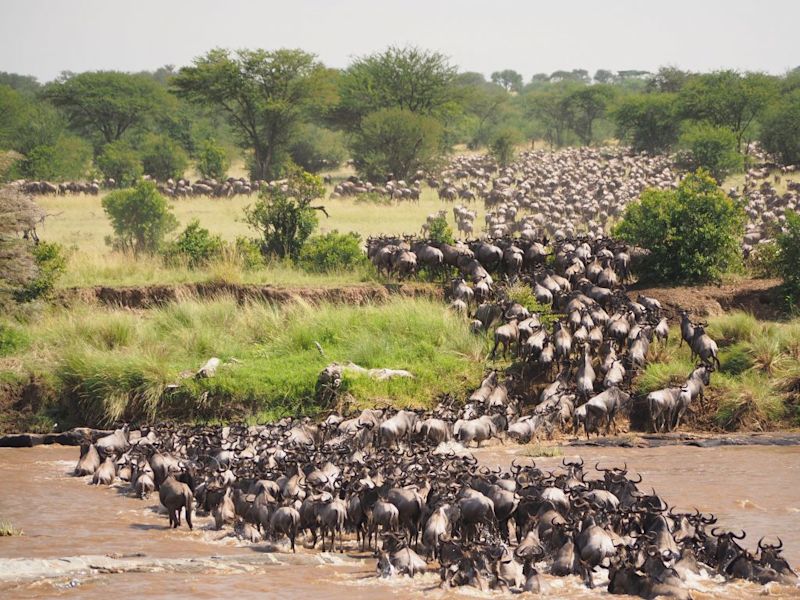 Wildebeests charge across the rivers as they sense the danger
3. Choose your safari guide carefully
Your guide is probably the most important component of your safari. A good guide can deliver a life-changing safari, while a bad guide can ruin your trip. You'll be spending several days with this individual, after all. You want someone who's knowledgeable, friendly, communicative and professional. You'll be taking long game drives together, sharing meals, and chatting around the campfire. So it's important to choose the right sort of person!
Read reviews
We recommend investing some time in researching reputable safari operators. A great starting place is online reviews; Trustpilot and Google are good places to check. See what past clients say about each company's guide or guides. Our talented safari guide is Kazi Khatibu, a seasoned safari driver and guide whose passion for Tanzania, its parks and wildlife is contagious!
Often your guide becomes one of the best memories of your Tanzania safari adventure!
Bonus tip ...
Learn a few Swahili phrases and you'll be met everywhere you go with boundless smiles and appreciation!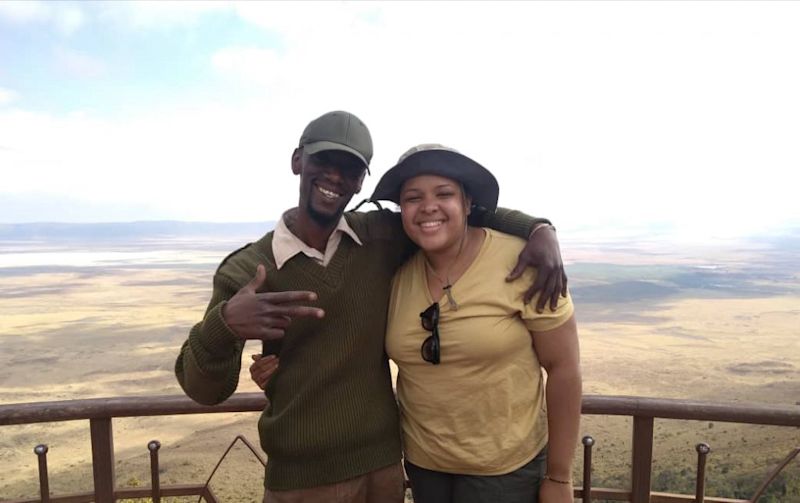 Kazi is our stellar Tanzania safari guide – he's a true gem!
4. A longer safari ups your chances of seeing the Big Five
The Big Five is a term used to refer to the African lion, Cape buffalo, African leopard, African elephant and the rhino. Most safari-goers are understandably very keen to spot all of the Big Five, along with some other famous animals like cheetahs and hippos. Unfortunately nothing can be guaranteed on a safari, since you're game-spotting in the wild, after all! You could see all the major animals in just a few days – but you might not. Inevitably, the longer the stay, the better your chances of seeing as much wildlife as possible.
Lions, elephants and buffaloes are fairly easy spots
That said, you have very high chances of seeing elephants, lions and buffalo during a Serengeti stay, even if your visit is just two or three days. One reason for this is the high number and density of these animals. In fact, the Serengeti has more lions than anywhere else in Africa! The park's lion population sits around 3,500.
Leopards and black rhinos are harder spots, so again, the longer your safari, the better your chances of managing to spot one.
Did you know ...
The Big Five earned this name from colonists not because of their size, but because of their fierceness and difficulty to hunt. Fortunately, Tanzania's wildlife is now protected, and the only shooting tourists do is with their cameras! Incidentally, there's also been a push by some for the naming of a NEW Big Five.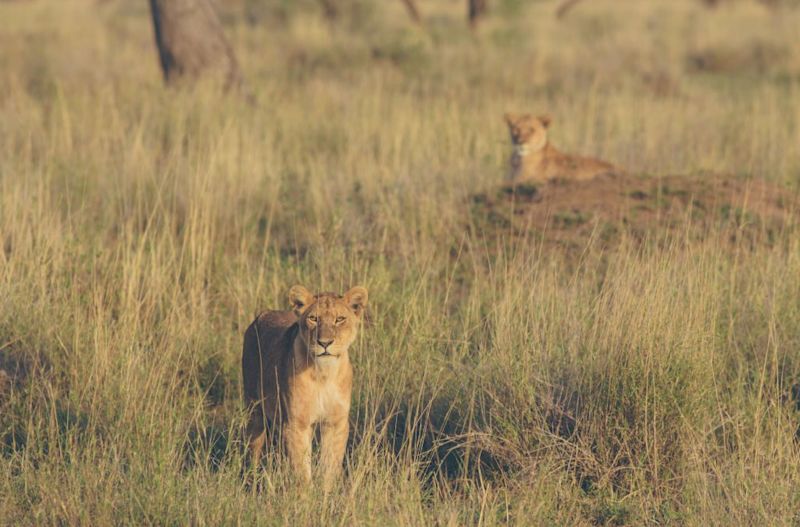 There are around 300 prides of lion in Serengeti National Park!
5. Wear the correct clothing
Turns out there's some science behind the khaki and earth tones people wear on safari! These neutral colours repel the heat and do a good job of disguising any splotches of African dust and soil. Two colours to avoid are blue and black, as these have been found to attract pesky tsetse flies. Not what you need in your life! In terms of fabrics, you want to wear light and breathable materials, as it can get really hot out on a safari drive.
Protect yourself from the sun
You should cover up on a game drive, as you spend many hours outdoors. Don't be the red-faced tourist with the peeling nose. Instead, wear a wide-brimmed, round hat, sunglasses, sunscreen, and a long-sleeved top, preferably one with a collar. Zip-off trousers are a good option so that you have the best of both worlds.
Covering yourself is also a handy way to help avoid mosquito bites. (You do, of course, also want to carry mosquito repellent, which you should reapply regularly.) You might also like to read more Safari safety tips (not just for dummies).
It can get cold at night
Lastly, it comes as a surprise to many visitors, but as the sun sets, the temperatures cool considerably in the Serengeti. Don't expect to be sleeping au naturel. Long-sleeves, trousers and jackets are very wise for camp!
Did you know ...
Did you know that the Maasai wear red in the belief that it scares away dangerous animals? Young warriors will almost always wear the colour red.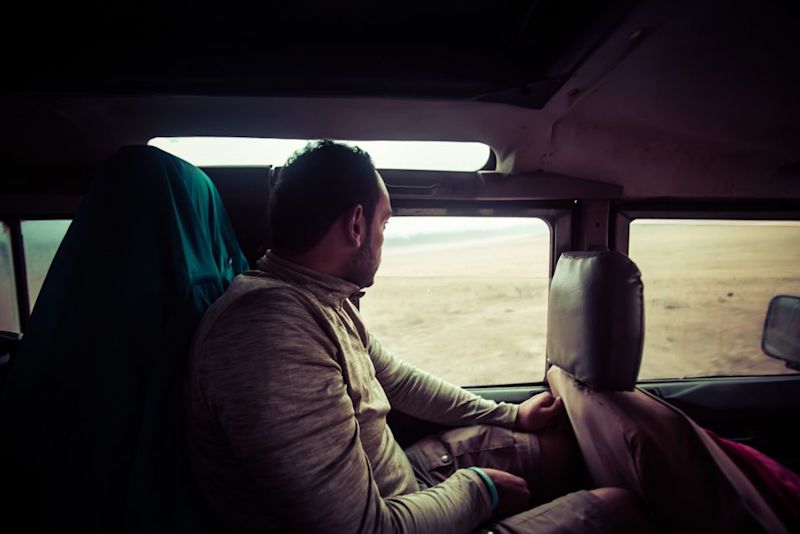 Sal is wearing an earth-toned top – he did his safari clothing homework!
6. Bring the right photography or video equipment
For those hoping to capture excellent photography out on safari – equipment is key. The truth is that a smartphone or basic point-and-shoot won't really cut it on safari. You'll see plenty of wildlife up close, but a strong digital zoom or a lens with a focal length of at least 200 mm and above is necessary for those more distant shots.
Don't view the animals through a lens
Our advice for those lacking the right equipment is to actually put your camera or smartphone down and soak it all up with your eyes. Remember, you can watch safari videos online at any time – being where you are and seeing the animals without a filter is what it's all about! We're not saying to take no photographs, just that a vision burned into your memory will beat any number of pixelated photos on your phone.
A small bean bag is useful
For those equipped with larger lenses, a small bean bag can be invaluable in stabilising your shots on the vehicle. Some guides do come equipped. However often sandbags are instead provided, but they can be a little too firm.
A note on drones ...
Capturing some aerial footage of the animals, especially the Great Migration, sounds like a great idea. But drones are prohibited in Serengeti National Park and are confiscated if found. So please don't bring your drone and risk losing it.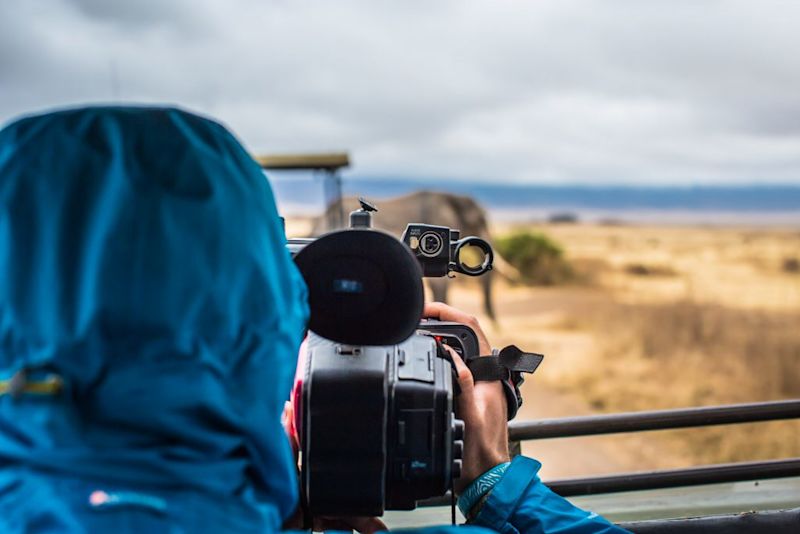 You need a good zoom on safari to properly capture the animals on film
7. Combine two adventures for an even more epic trip!
For many, the journey to Tanzania is a pretty long one. This makes combining a Tanzania safari with another of Africa's bucket list adventures a great idea! Thankfully Tanzania is blessed with some of the world's most epic adventures and many travellers choose to combine a safari with a Mount Kilimanjaro climb or a relaxing beach holiday in gorgeous Zanzibar. Both of these make wonderful additions to your safari adventure.
Another great tandem adventure is popping over the border into Uganda to meet rare mountain gorillas. Here you trek into the dense jungle to get up close and personal with these gentle creatures in a remote mountain environment. The trek into the jungle of beautiful Bwindi Impenetrable Forest is an adventure in itself!
Why not pair your Serengeti safari with a mountain gorilla trek or Kilimanjaro climb??
Did you know ...
Did you know that the lyrics in Toto's 1980s hit song Out of Africa are factually incorrect? They sing "As sure as Kilimanjaro rises like Olympus above the Serengeti," but, in fact, you cannot see Mount Kilimanjaro from the plains of the Serengeti. Still a great song, though!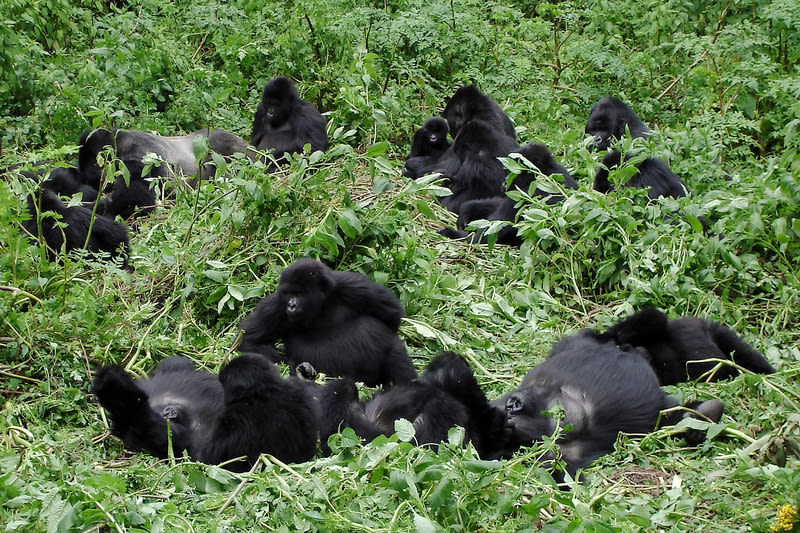 A mountain gorilla trek brings you into very close proximity with these gentle giants
8. Manage your expectations
Lastly, but not least, some travellers make the mistake of heading off on a Serengeti safari with a checklist mentality, or set of well-defined expectations. Remember that this is raw wilderness, and there are no scripts here. So we encourage you to leave the checklist at home, and just bring an open mind and sense of adventure. Everyone's African safari is a unique experience, and who knows what surprises and delights await you?
Arriving with an open mind and simply allowing yourself to succumb to the spell of the African bush will make the experience much more enjoyable. ❤️
When heading to the Serengeti, leave the goal-driven mentality at home. Come and surrender to the rhythms of the bush, and enjoy what you do see.