6 tips for happy feet on Kilimanjaro
Jul 7, 2022
Reading time: 6 minutes
Don't let uncomfortable, blistered or cold feet ruin your Kilimanjaro adventure! Here are our six expert tips for happy feet on Kilimanjaro!
Most folks know they need a quality pair of hiking boots that has been broken in properly to climb Kilimanjaro. They may also know they need three kinds of socks for a warm and comfortable trek. So if you have the boots and socks, are you assured of happy feet on the climb? Hopefully yes, but to just to be sure, here are six tips for helping to ensure that's the case ...
1. Clean your boots on the trek
If your boots are an investment (which they are), then you should treat them with care. For one thing, this means giving them regular cleanings. We won't get into long-term care here (though this is definitely an important aspect of proper boot maintenance), but rather touch on the attentions you can give your boots during your Kilimanjaro climb.
Every evening in camp, we recommend that you firstly bang the soles of the boots together to shake off dust and mud. Then remove what remains on the upper boot with a stiff brush. Next, take a sturdy item like a mini screwdriver or strong twig to gently dislodge stubborn mud and stones caught in the tread and along the rand (where the sole and boot upper meet). Removing mud is especially important with leather shoes, as it draws out moisture and weakens the fabric. If the mud is proving intractable, use a little water to soften it so that you can get it off.
Finally, we suggest determining beforehand that you will give your hiking boots a few moments of your time at the end of each day. We say this for two reasons:
You'll be tired and perhaps inclined to kick them off and forget about them.

Not everyone will be looking after their boots properly, so you won't necessarily receive encouragement in your diligence! It's a fairly meaty process to find the right pair of hiking boots. So take good care of the ones you have and save yourself the trouble and expense of having to replace them too soon.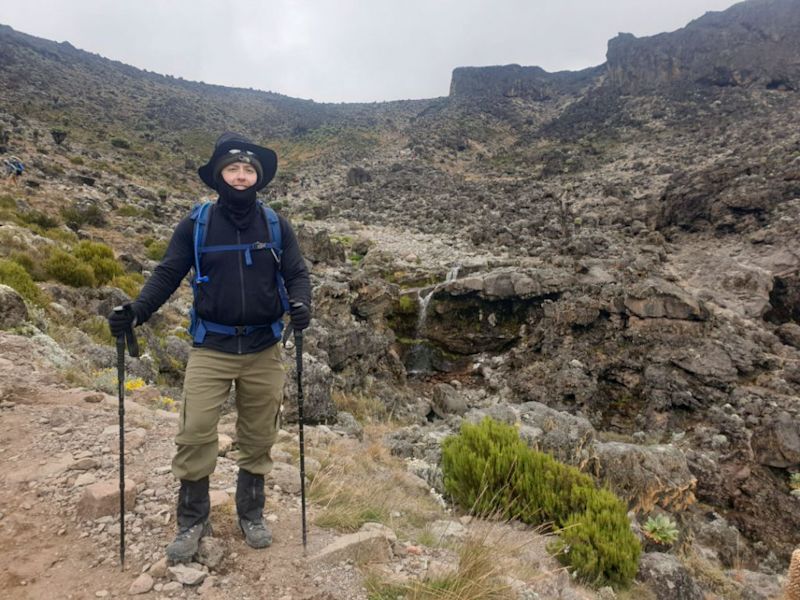 Your boots get really dusty and muddy in turns on a Kili climb
2. Bring sneakers to wear at camp
Many trekkers find that when they reach camp they love to kick off their boots and slip into some softer sneakers. It's all about giving your feet (and shins) a rest from your boots, which will probably be pretty hot and sweaty. That said, our Head of Sales, Tash King, loves her hiking boots so much that she just undid the laces when she reached camp and chilled in her boots. She was happiness itself with this situation. So as with any advice: use it, don't use it. You do you, Boo.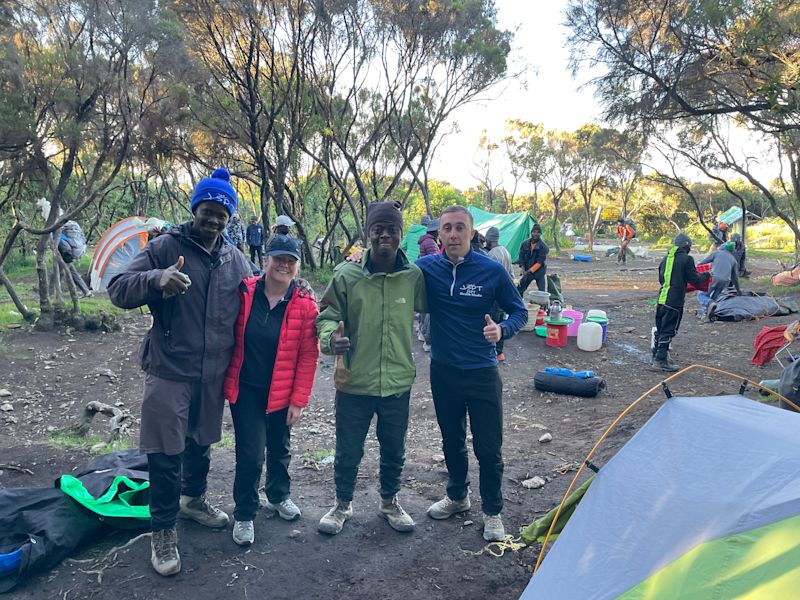 Trekking sandals are also a nice option for letting your feet breathe. They can be worn with socks when things get chilly. But they're arguably not quite right for Kilimanjaro as they won't serve well at the higher elevations where things are downright frosty. On these days you'd need sneakers as well. But again, you know you best. If trekking sandals are your happy shoes, then go with them.
3. Swiftly address any hint of a blister
Blisters. How are they not a swear word? During your Kilimanjaro climb you need to take every precaution possible to prevent these trek-wreckers from setting up shop. Common causes of blisters are:
tight spots in your boots

wrinkles in socks

excessive moisture
Even with the best hiking boots in the world, blisters can happen. Bog standard blister plasters from the chemist don't work on hikes as they tend to bunch or even slide off given the non-stop action of hiking. We recommend that you bring moleskin plaster with you on the climb so that you can cover any hot spots you feel developing. An alternative to moleskin is leukotape, a very sticky and breathable tape that won't budge even when wet. Just note that with leukotape you need an under-wrap as well to protect your skin from the adhesive.
4. Keep a fresh pair of socks just for summit day
Summit day is by far the hardest day of any Kilimanjaro climb. Not only do you have the exhaustion that comes with exercising at high altitude, and the intense cold to battle, but you're also on your feet for around 12 hours! Having a fresh pair of thermal socks to put on when you're woken up at midnight to prepare for the Big Push is not only a small comfort, but a smart move. Your feet will take strain, and a dry, clean pair of socks can help to combat common issues like blisters and infections. Summit day is also a good day for a fresh pair of sock liners. You can thank us later.
5. Wear gaiters
Gaiters aren't essential while climbing Kilimanjaro, but we do recommend them. Chris Sichalwe, our Kilimanjaro lead guide, swears by them. You'll never see him without his trusty gaiters in place. The benefits of gaiters include:
helping to keep your calves and feet dry

preventing gravel and stones getting into your shoes (super annoying!)

protecting you from ticks, snakebites and other nasties
The first day of your Kilimanjaro climb is spent walking through the forest, so gaiters help to keep your feet and lower legs dry and free from mud. Then, on summit day, you hike through snow and ice, so they're especially helpful during that stage of the trek too. As to keeping out dust and stones – gaiters are super helpful when you start your descent of the mountain. You'll spend a fair amount of time skidding down scree, and this sends dust and pebbles flying everywhere!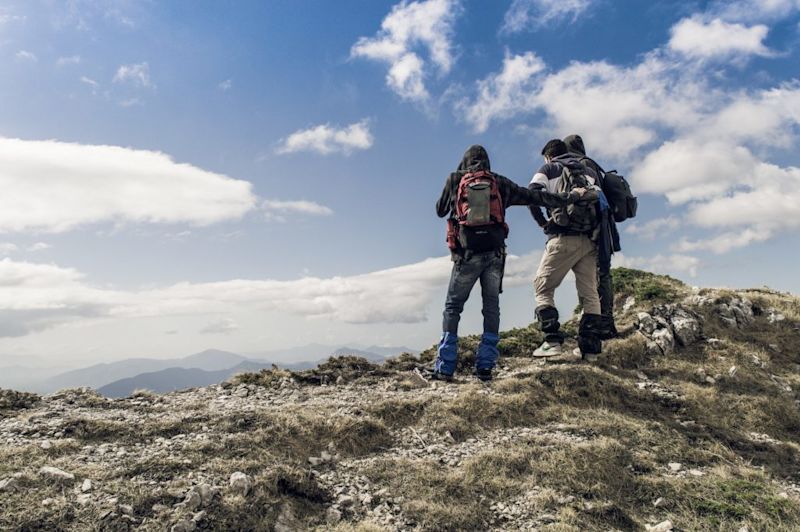 Gaiters keep your feet dry, keep out small stones and dirt, and protect your from snakebites and ticks
6. Keep your boots with you when you travel
We've just discussed all of the time, effort and money that goes into finding the right pair of hiking boots. It's a lot. So the very last thing you want after finding your 'sole-mates' is for them to go missing, get stolen or in any other way end up somewhere that isn't with you! To this end, we always recommend that clients keep their boots on their person when travelling to Tanzania.
When flying to Tanzania, you could put your hiking boots in your hand luggage, but they tend to be bulky and heavy. So usually it's best to just wear them while travelling. This way, should your luggage disappear or be delayed en route to Tanzania (this does happen sometimes), your Kili climb isn't derailed. We always do our best to help clients with any needed items, but new or rented hiking boots could compromise your climb in a big way.
Side note: If for whatever reason you decide by the end of the Kili climb that your boots just aren't for you, know that any of the porters would be super grateful to have them. Just hand over the boots and travel onwards with lighter luggage and the knowledge that your boots are going to enjoy a full and rewarding second life!