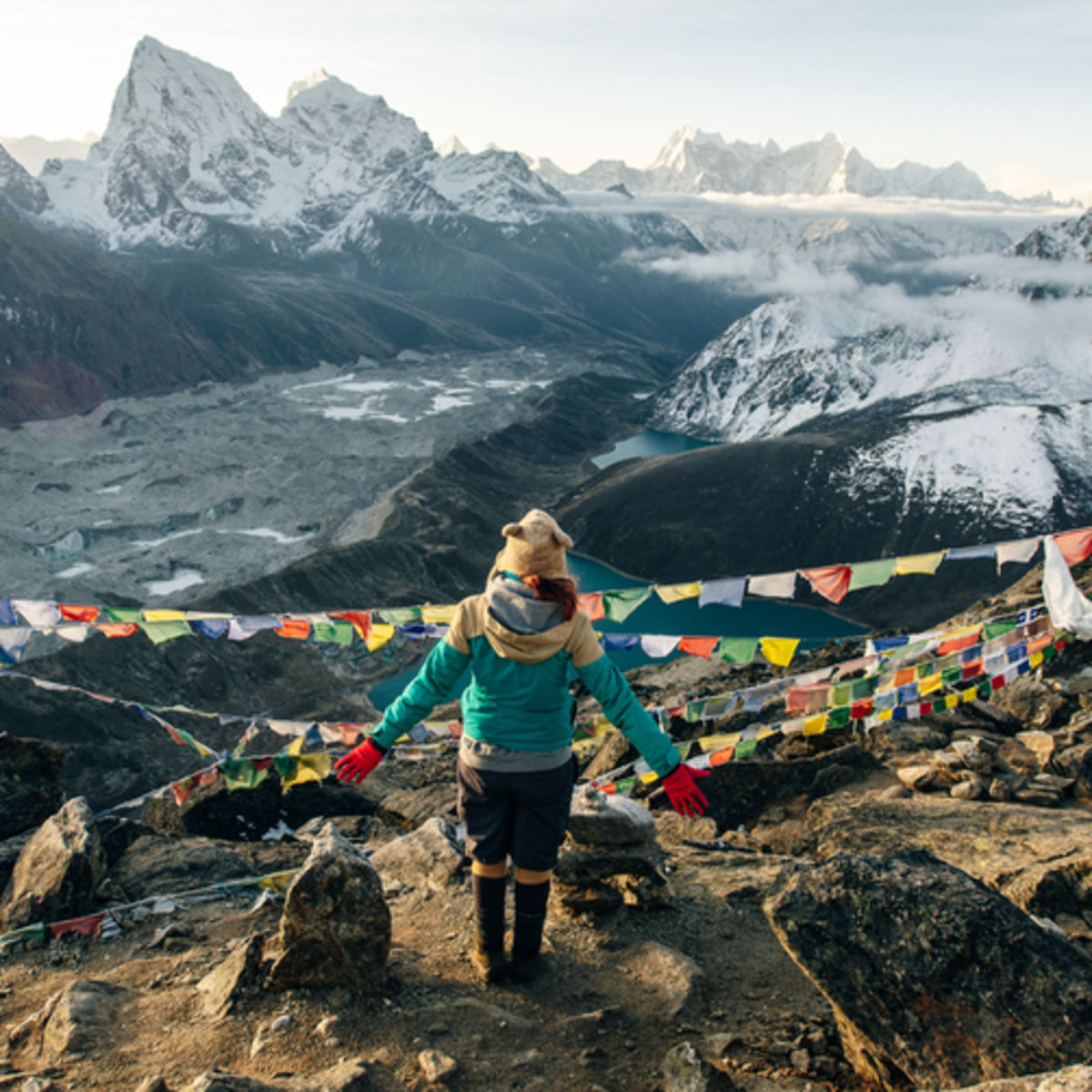 15 of the world's best multiday treks
Jun 30, 2023
Reading time: 26 minutes
We all love a good list, right? And for adventure travellers, an important list to have is one describing the world's best multiday treks! Here are the most beautiful, challenging, diverse, immersive and photogenic multiday treks from all over the globe!
We love a multiday trek at Follow Alice! It's kinda our thing, after all. 😉
So what are the best multiday treks around the world?
Well, for our list, we're looking at non-technical treks that last at least three nights, but are often much longer than that.
Some of the treks described below are trips that we offer, while others are fabulous treks that we might one day offer! Because we're sure you'll agree that all of them are unbelievably beautiful, highly exciting, and very challenging. And in an ideal world, we all get to trek them all!
AFRICA
So let's start with Africa. Here are three of our favourite, non-technical multiday treks on this grand and diverse continent ...
1. Mini Traverse, South Africa and Lesotho
This trek is for those wanting a wild and windswept hike where there's an abundance of panoramic mountain views.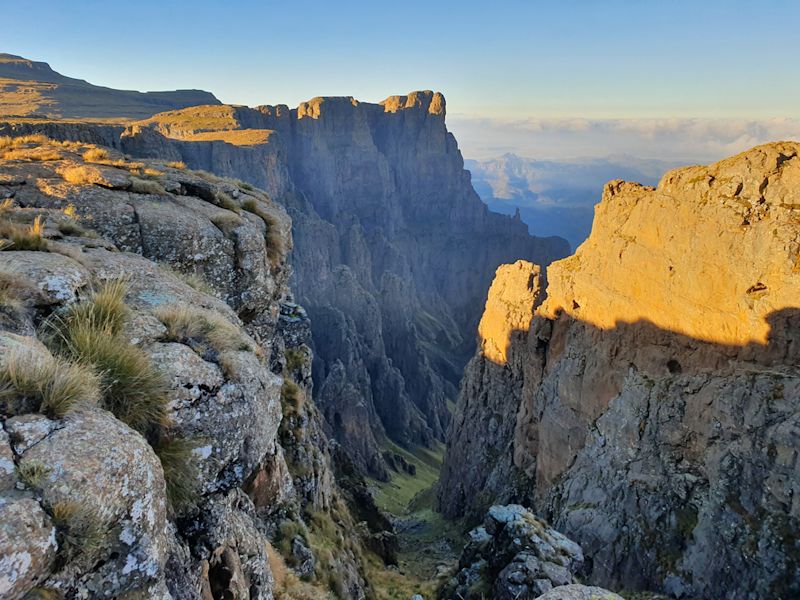 The Drakensberg range gets its name from the Afrikaans for "Dragon's Teeth"
Where:

The Maloti-Drakensberg Park World Heritage Site, which straddles the Lesotho–South Africa border

Duration:

4-5 days

Best time:

April to August (autumn and winter)

Accommodation:

Camping and caves

Porters:

Yes
Highlight: Gazing upon Tugela Falls, possibly the world's longest waterfall!
The Drakensberg mountain range is known locally as the 'Barrier of Spears'. This is because it's the craggy intersection where the rolling hills of the South African province of KwaZulu-Natal rise up sharply to form the high plateau of the landlocked country of Lesotho.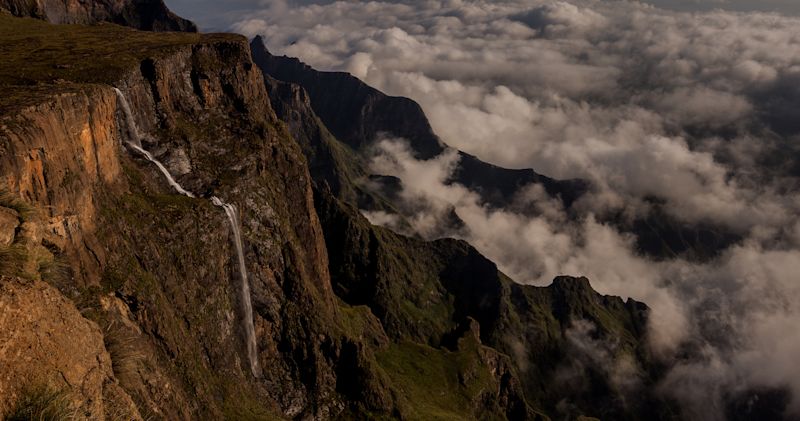 Tugela Falls flows over Mont-aux-Sources
The Mini Traverse is an 80 km (50 miles) that takes you along the northern section of the Drakensberg. Most of the trek takes place along the Lesotho plateau at an elevation of about 3,000 m (9,840 ft). It's so named because it's a shortened version of the longer Grand Traverse, which continues south to include the entire mountain range.
You should know that there is seldom a clear, well-defined path. You need sturdy boots and strong ankles, as you walk across alpine grassland speckled with tufts and rocks, and when the wind picks up, you can be buffeted quite strongly.
Also, while the average altitude for this trek is just 3,000 m above sea level, so altitude isn't a problem, you do hike long distances each day and so need good stamina.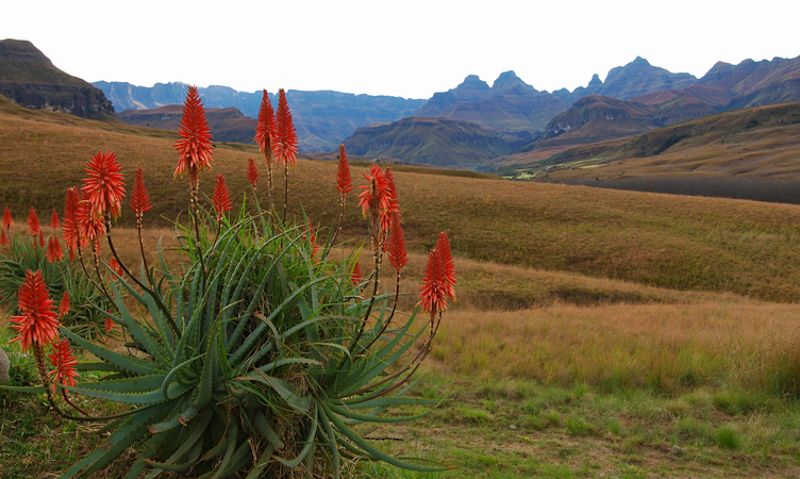 Aloes near the Cathedral Peak area
On this beautiful trek, you see many natural wonders and dramatic sights, including Tugela Falls, possibly the world's highest waterfall! It has a single drop of 411 m (1,348 ft)! You also see some famous and stunning mountains like Cathedral Peak, Champagne Castle and Giant's Castle.
2. Kilembe Trail, Uganda
Also known as the Southern Circuit, this trek is for those wanting to visit a quiet and mist-shrouded corner of the world with rare and otherworldly vegetation.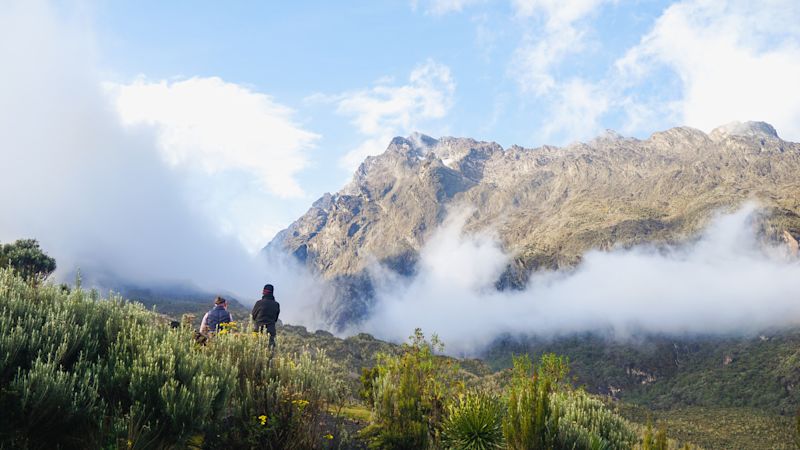 Sunrise in the Rwenzoris
Where:

Rwenzori Mountains National Park

, western Uganda

Duration:

6 days

Best time:

December to February (summer), or June to August (winter)

Accommodation:

Rustic communal huts

Porters:

Yes
Highlight: Trekking in a seldom-trod mountain range among unique vegetation and a misty, ethereal landscape.
The Rwenzoris – also known as the Mountains of the Moon – are a little-known mountain range in equatorial Africa that rise up out of rainforest to become towering, snow-covered peaks. In fact, the Rwenzoris have three of Africa's 10 tallest mountains!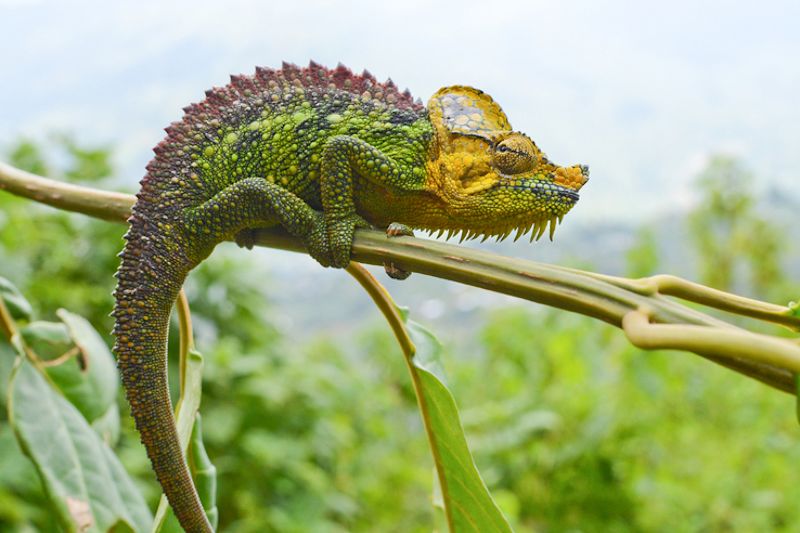 Chameleons are commonplace in the Rwenzoris
The Kilembe Trail begins at 1,450 m above sea level in dense and ancient rainforest that's chockfull of vines, monkeys, butterflies, birds and other wildlife. You quickly work your way up into an ethereal and astonishingly beautiful moorland zone. Here, you have unusual and striking Afro-montane plants like giant groundsels and giant lobelias, which help to give the landscape its unique look.
Next, it's up into the alpine zone and you make the ascent to the two peaks of Mt Luigi di Savoia, the highest of which is 4,627 m (15,180 ft) above sea level. On a clear day, you can see north to Mt Stanley (also called Ngaliema), which is 5,109 m (16,767 ft) above sea level and Africa's third highest mountain!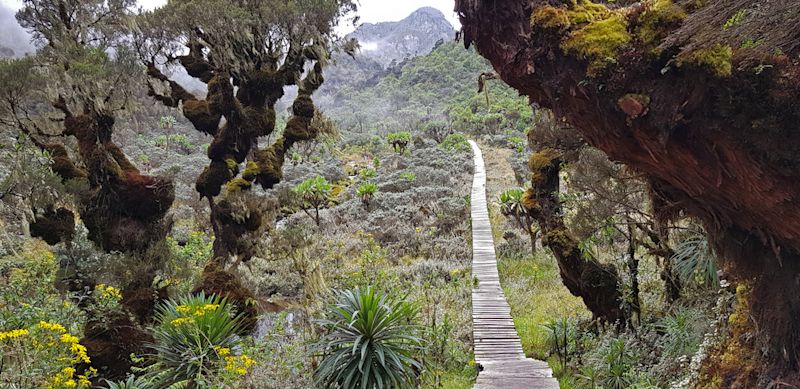 A footbridge in the moorlands of the Rwenzoris
You should know that the ascent to Mt Luigi di Savoia isn't normally technical, but if there's snow and ice, ropes and crampons are needed.
3. Mt Kilimanjaro, Tanzania
This trek is for those wanting to conquer one of the world's Seven Summits!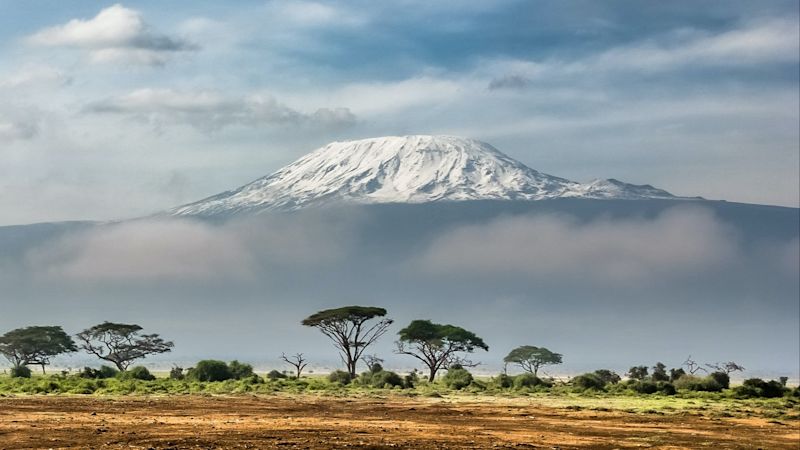 View of Mt Kilimanjaro from the north in Kenya
Where:

Kilimanjaro National Park

, northern Tanzania

Distance:

53-98 km, depending on your route

Duration:

5-9 days

Best time:

Mid December to March (summer), or mid June to October (winter)

Accommodation:

Camping on all routes except on the Marangu route which has dorm huts

Porters:

Yes
Highlight: Standing on Uhuru Peak at 5,895 m – you're the highest person in Africa!
Ah, Mt Kilimanjaro, Africa's most famous mountain. And also one of its best and most beautiful multiday treks!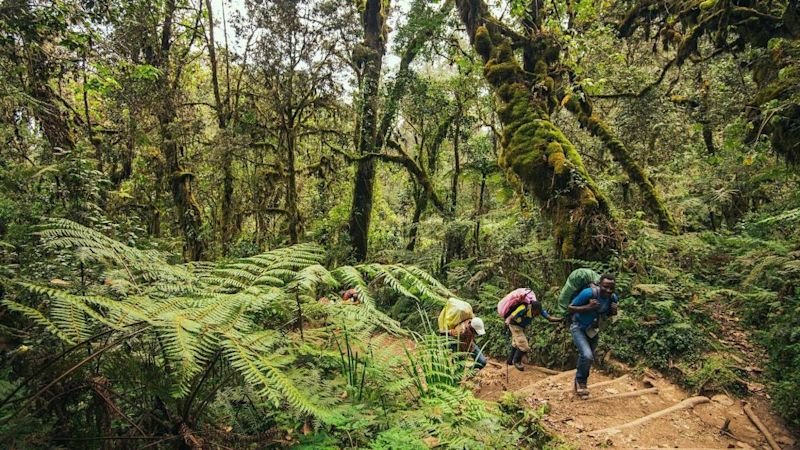 The beautiful rainforest zone of Kilimanjaro
What's so special about a Kilimanjaro climb is that you journey through five different climates zones:
farmland

rainforest

moorland

alpine desert

arctic summit
It's like trekking from the Equator to the North Pole in a matter of days! Consequently, the vegetation and views are always changing and are incredibly beautiful and photogenic.
This is a thrilling and life-changing adventure – one that includes an exciting but challenging midnight start to summit day. But when you're watching the sun rise over the plain below while standing on the roof of Africa, it all feels very much worth it!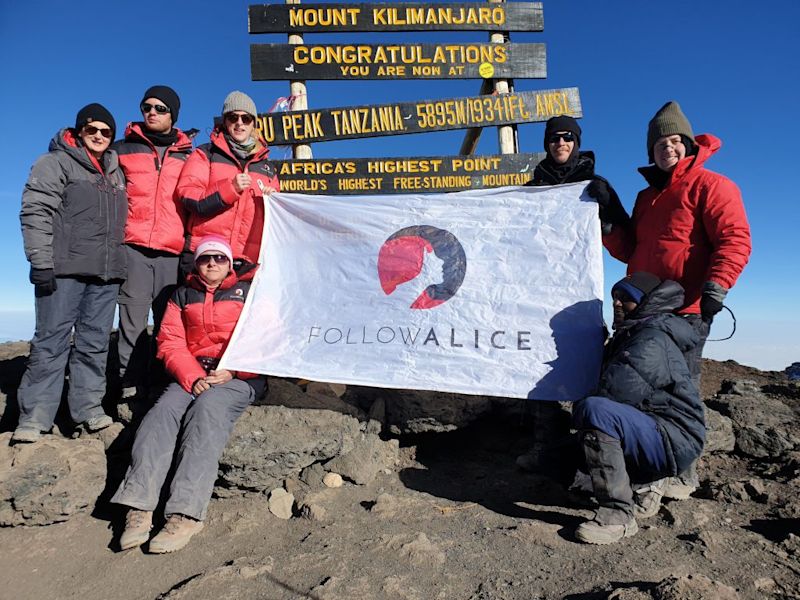 Uhuru Peak is the highest point on Kilimanjaro
For anyone wanting to trek this mighty volcanic mountain, you need to know that you must choose one of the seven different Kilimanjaro routes.
Your choice of route is really important because inadequate acclimatisation is the top reason roughly half of all Kilimanjaro climbers don't make it to the summit! So you want to choose a route that ascends slowly enough to allow your body to adjust to the elevation gains. We recommend the Lemosho, Machame or Northern Circuit routes to allow you adequate acclimatisation.
Finally, note that you cannot climb Kilimanjaro on your own – the Government doesn't allow it. You must climb with a registered tour operator. Your mountain crew carries all your supplies for you, like tents, cooking equipment and food.
THE AMERICAS
And what about the Americas? We all know they boast some glorious and breathtaking landscapes! Here's our pick of the most beautiful multiday treks in South and North America ...
4. W-trek, Chile
This trek is for those wanting to explore one of the wildest sections of the remote and untamed region of Patagonia!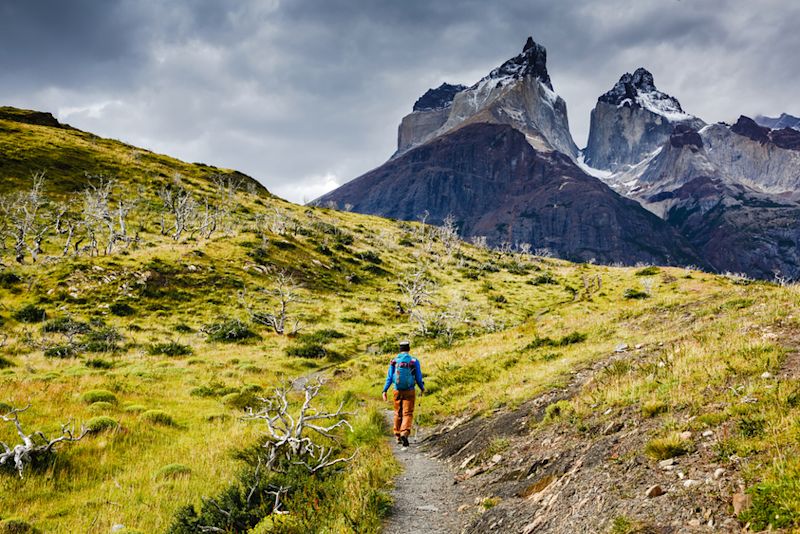 A lone trekker in Torres del Paine National Park
Where:

Torres del Paine National Park, southern Chile

Distance:

80-100 km / 50-62 miles

Duration:

4-5 days

Best time:

November to March (spring and summer)

Accommodation:

Camping, dorms or private cabins

Porters:

Yes (but they're very pricey)
Highlight: It's almost impossible to pick just one, but we're going to say it's gazing upon the thick, craggy edge of the Grey Glacier where it rests above the Grey Lake.
The W-trek takes you through the incredibly dramatic and heartstoppingly beautiful landscape of Torres del Paine National Park in the extreme south of Chile. It's a linear trek that's shaped like the letter 𝒘, hence it's name. You start the trek in the east (or the upper right point of the 𝒘) in Ascencio Valley, and end in the west (or the upper left of the 𝒘) near Grey Lake.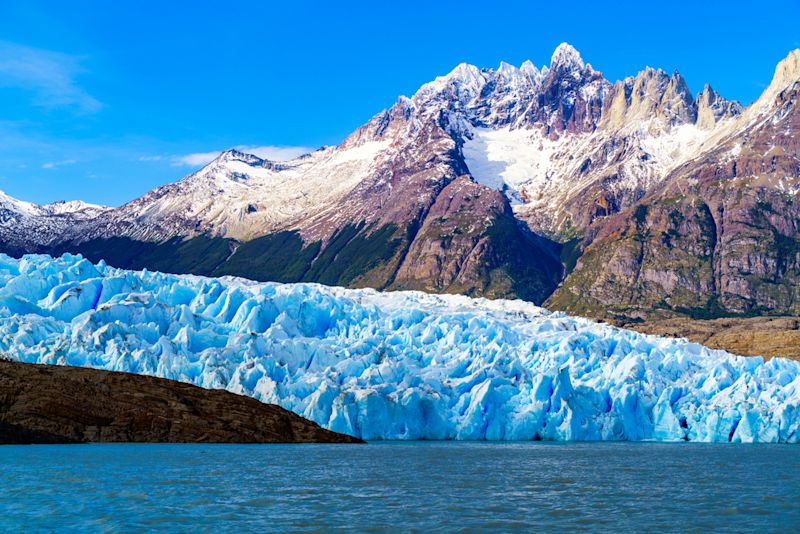 Grey Glacier at the Grey Lake
We think the W-trek is a great introduction to multiday trekking, as you don't have to deal with high altitude and the visual rewards for your efforts are out of this world! Just three of the iconic sights you see on the W-trek are:
The Base Torres, which are the park's three soaring granite peaks – they're jagged, sharp peaks like dragon's teeth.

The hanging glacier Francés in the French Valley (Valle Francés).

Grey Lake, which is at the end of the trek and hosts cobalt-blue ice floes and the terminus of the magnificent Grey Glacier!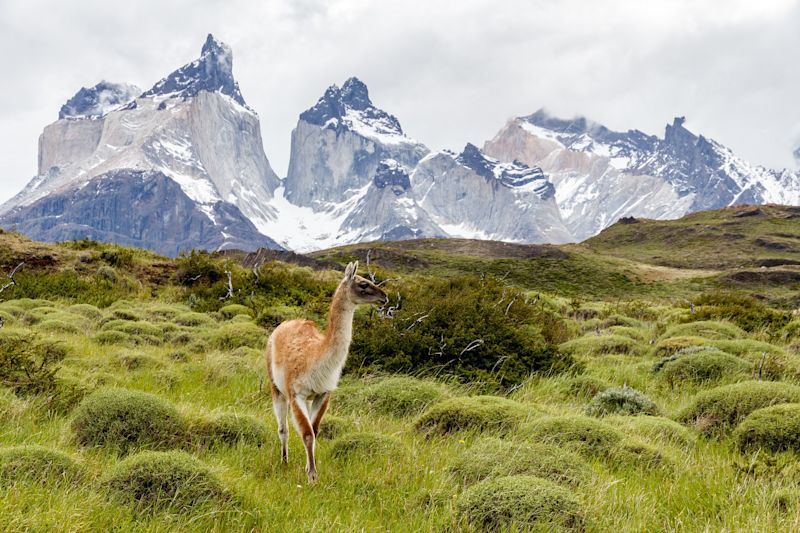 A guanaco – a close relation of the llama – in Torres del Paine
At the end of the trek, we recommend that you go ice hiking on the Grey Glacier!
Please note that while the trail isn't particularly difficult, and you're not dealing with high altitude, you need really good walking legs as you regularly cover over 20 km (12 miles) per day. Also note that December and January can be crowded on the trail.
5. Inca Trail, Peru
This trek is for those who love history and archaeology. Oh, and gorgeous mountains too!
Macchu Pichu has highly sophisticated dry-stone walls
Where:

Cusco region, southern Peru

Distance:

42 km / 26 miles

Duration:

4 days

Best time:

May to September

Accommodation:

Camping

Porters:

Yes
Highlight: A lesser-known highlight of the Inca Trail is catching a ride back on a panoramic train – that means 360° views of the Andes!
Anyone up for a trek in the Peruvian Andes? Game to see a fifteenth-century Incan citadel? Keen to walk in a cloud forest?
Of course we know your answer! Naturally you want to do it, which means you want to trek the world-famous Inca Trail!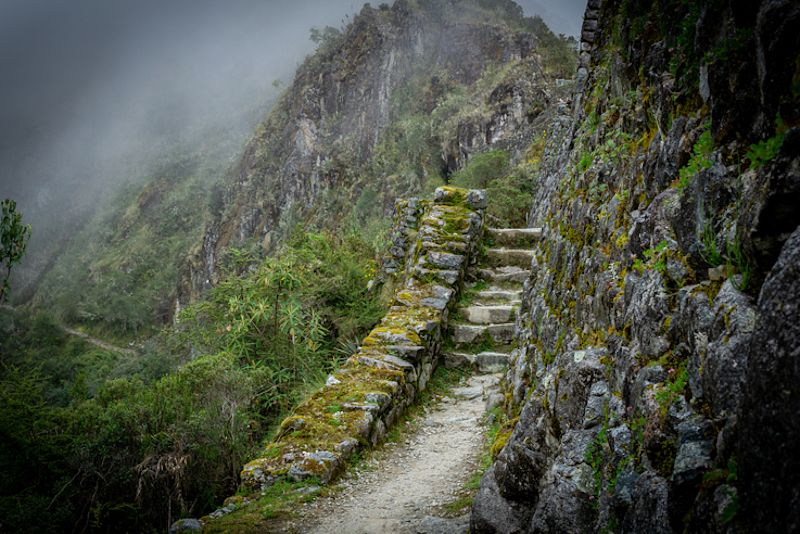 The path you follow on the trail was used by the Incans
This gorgeous trek takes you northwest from the mediaeval city of Cusco along forested trails and steep contour paths to reach the ruins of Machu Picchu.
The history entwined with this trek is incredible. The path you follow is the one that was used by the Incans! And en route you pass multiple Incan ruins. Macchu Pichu, of course, is the most epic ruin.
Macchu Pichu means "old peak" in the Quechua Indian language. The city was built in 1450 on the flat-ish top of a mountain at 2,430 m (7,972 ft) above sea level. There are the remains of about 150 buildings, as well as terraces that step down the mountainsides at hair-raisingly precipitous degrees!
Machu Picchu was founded in 1450 and abandoned in 1572, though nobody can give the reason for this with any certainty.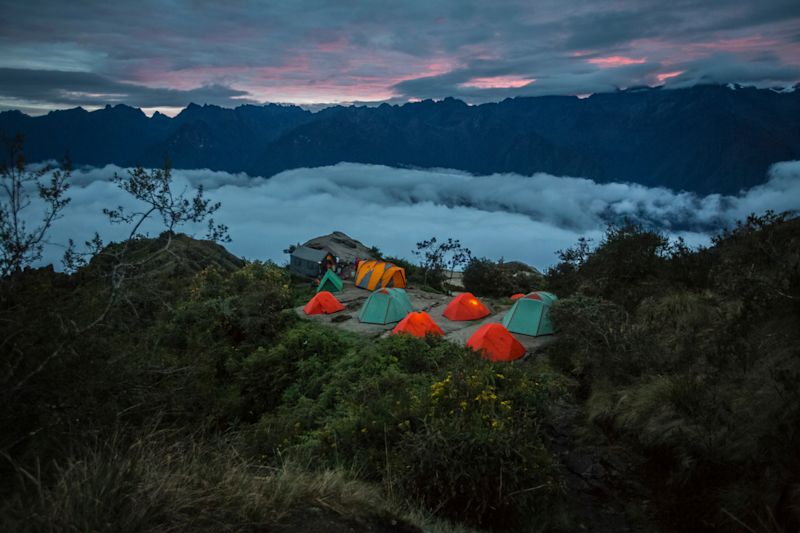 You camp on the Inca Trail in beautiful locations
Your highest elevation along the trek route is 4,200 m (13,828 ft), so this is technically a high-altitude trek. But most trekkers experience mild symptoms upon arriving in Cusco, which is a whopping 3 399 m above sea level, so by the time they start the Inca Trail the next day, the symptoms have abated.
6. John Muir Trail, USA
This trail is for die-hard trekkers who want to immerse themselves in the wildest of nature and relish the isolation that comes with it.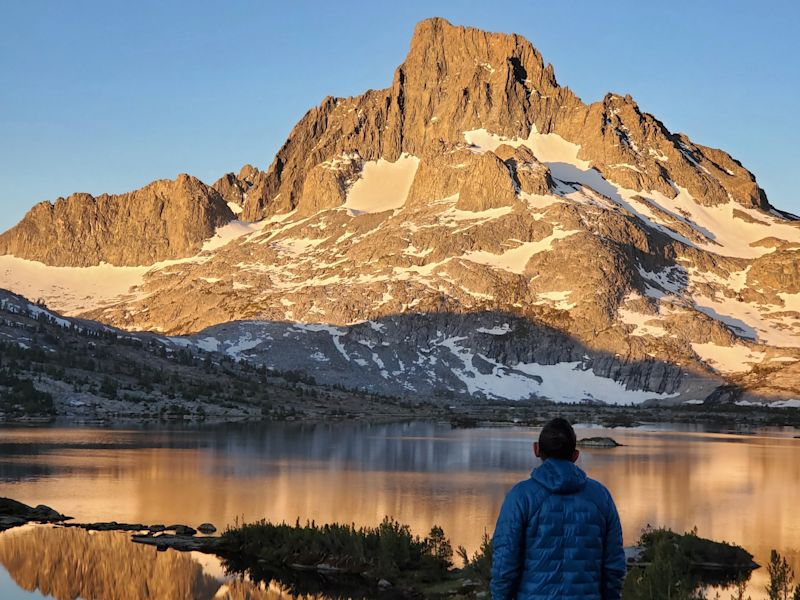 The John Muir trail is a route of lakes and mountains
Where:

Sierra Nevada mountain range, northern California

Distance:

356 km / 221 miles

Duration:

About 3 weeks

Best time:

July to September

Accommodation:

Camping

Porters:

No
Highlight: Exploring so many different types of landscapes and vegetations, including California's legendary sequoia trees!
The John Muir Trail is an exciting and varied linear route that runs roughly north to south along the Sierra Nevada mountain range. The trek takes places in the High Sierra and within several beautiful and well-preserved parks:
Yosemite National Park

Inyo National Forest

Ansel Adam Wilderness

Sequoia National Park

Kings Canyon National Park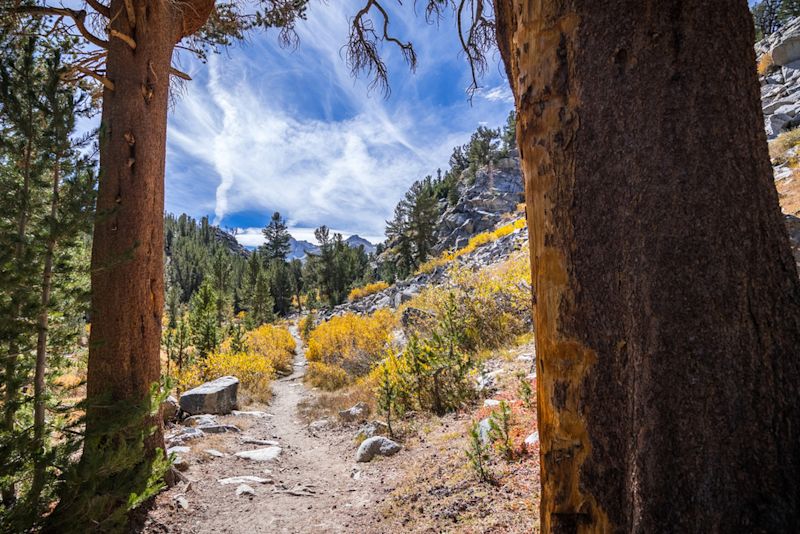 The John Muir trail is well trod
While on the trek, you're in pure wilderness – you won't see any towns or highways. It's just you and an enormous swathe of nature for three whole weeks! That said, there are a handful of spots where you touch the edge of civilisation, and here you can purchase supplies for the onward journey.
The John Muir Trail is a trek of many beautiful landscapes and sights – you can look forward to seeing crystal-clear lakes, deep canyons, mountain passes, towering forests, and alpine meadows.
One of the highlights of the John Muir Trail is most certainly seeing the iconic and beautiful Nevada Falls in Yosemite, as well as the famous Half Dome mountain! Trekkers pass many gorgeous lakes on the trail, including Thousand Islands Lake and Garnet Lake, where you can swim if you wish.
Another highlight among many highlights is walking through Evolution Basin, which many feel is one of the most beautiful areas in all California. Here you find heavenly glacial lakes and pristine alpine meadows.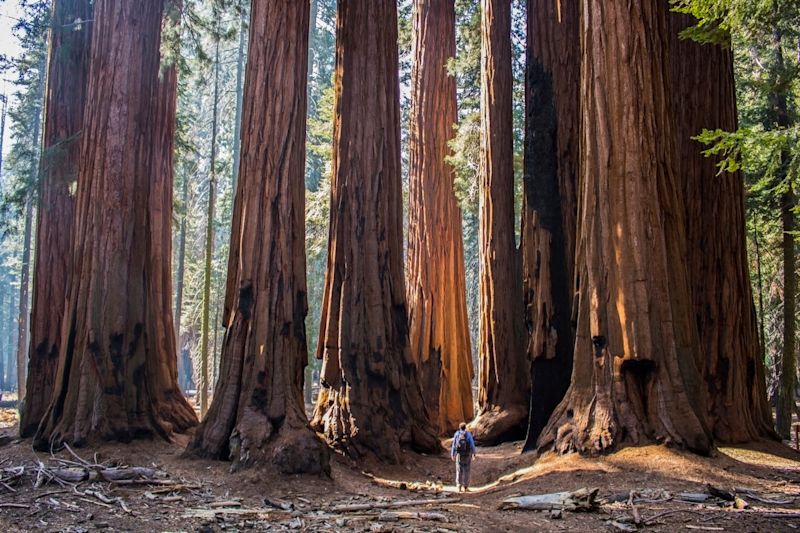 Redwoods are believed to be the oldest living things in existence!
Undoubtedly, a major highlight of the John Muir Trail is coming face to base in various locations with the giant sequoia and redwood trees that dwarf everything in the vicinity. Not only are the trees enormous, but they're also incredibly long-lived. In fact, the Sierra redwood (Sequoia gigantea) can live for over 3,000 years!
Please note that the John Muir Trail is a high-altitude trek. You start in the north at Happy Isle bridge in Yosemite at just 1,230 m (4,040 ft) above sea level. But right at the end of the trek you summit Mt Whitney, which at 4,421 m (14,505 ft) is the highest point in the contiguous United States!
The John Muir Trail officially ends at the summit of Mt Whitney, which at 4,421 m (14,505 ft) is the highest spot in the lower 48 states!
During the trek you also cross six mountain passes, including Forester Pass which is 4,009 m (13,153 ft) above sea level. And you'll be climbing up and down these passes with your camping and cooking equipment on your back! So you need really strong legs and good endurance to enjoy this epic American trek!
7. Wonderland Trail, USA
This trek is for those who love wildflowers and also want a constantly changing landscape!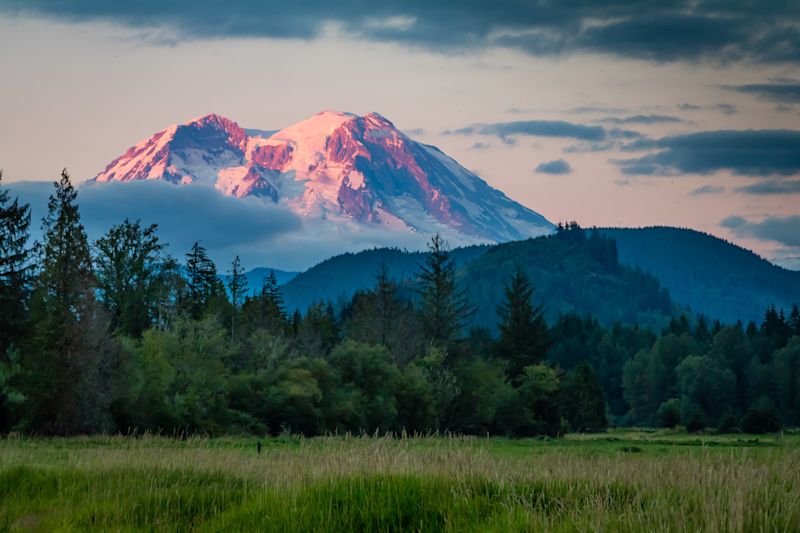 The sublime Mt Ranier
Where:

Mount Rainier National Park, Washington

Distance:

150 km / 93 miles

Duration:

7-10 days

Accommodation:

Camping and simple hut shelters

Best time:

August and September

Porters:

No
Highlight: Exploring the many different ecosystems surrounding Mt Ranier while having its snow-capped peak as your constant backdrop!
The route circumnavigates Mount Ranier, a large volcano in the Cascade Range of the Pacific Northwest that rises to 4,394 m (14,417 ft) above sea level. Mount Ranier is arguably the poster child for beautiful mountains: it's a neatly conical and free-standing mountain draped in snow and ice that rises above a landscape of pointy evergreen trees and rich-green meadows. It's the sort of sight that feeds the soul.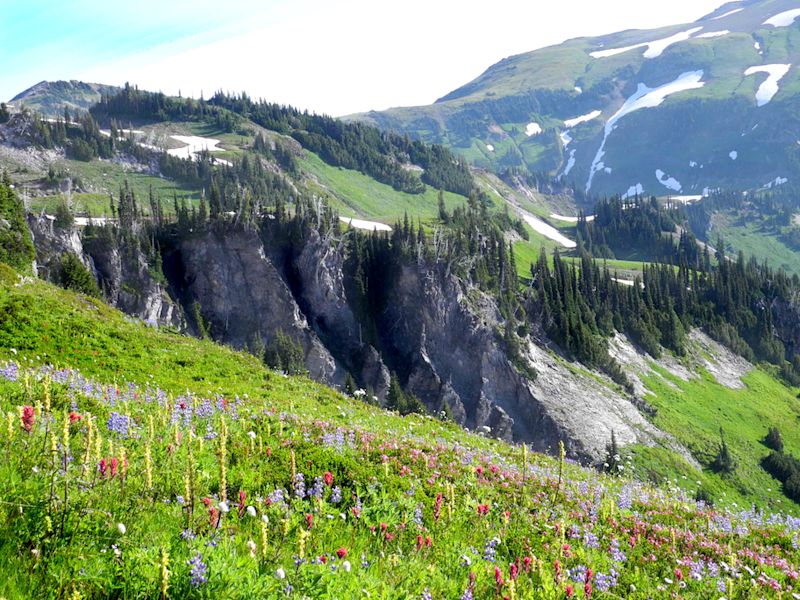 Wonderland Trail wildflowers
The Wonderland Trail has perhaps the best name of any multiday trek, because yes, this trail truly does take you through a 'wonder land' of beautiful scenery! And every day has something different to offer.
Sometimes, for instance, you hike alpine ridges with unique tundra flowers and then drop down into lush, flower-strewn meadows. You also enter old-growth forest with towering trees, and pass powerful waterfalls and crystalline lakes. And there are plenty of beautiful streams and rivers to be crossed. No two days are anything alike!
Some of the larger animals to look for on the trek are black bears, elks, black-tailed deers, mountain lions, red foxes, bobcats and mountain goats. Smaller mammals include marmots, adorable pikas, porcupines and golden-mantled ground-squirrels.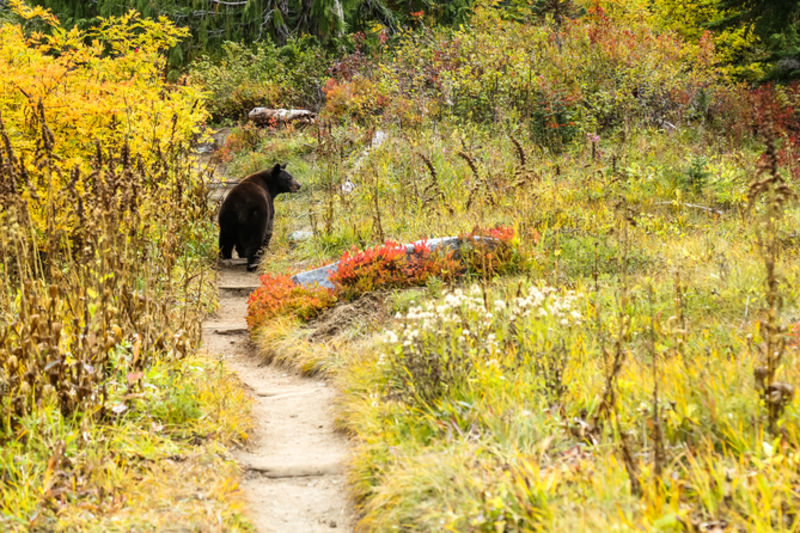 Female black bear on Wonderland Trail
Note that you need a coveted backcountry permit to trek the Wonderland Trail. And you need to make reservations for the different campsites. Also note that the trail is one of ups and downs – there are almost no flat sections. This is because you're constantly ascending or descending the ridges radiating outwards at the base of the mountain.
The Wonderland Trail requires no acclimatisation, as your highest elevation on this multiday trek is just 2,060 m (6,750 ft) at Panhandle Gap. And it's only accessible in summer, which is from late July to the end of September.
AUSTRALASIA
Moving on to Australasia, which has an outsized number of epic multiday treks, our picks are as follows ...
8. Overland Track, Tasmania
This trek is for those who love to visit places with rare ecosystems and beautiful scenery.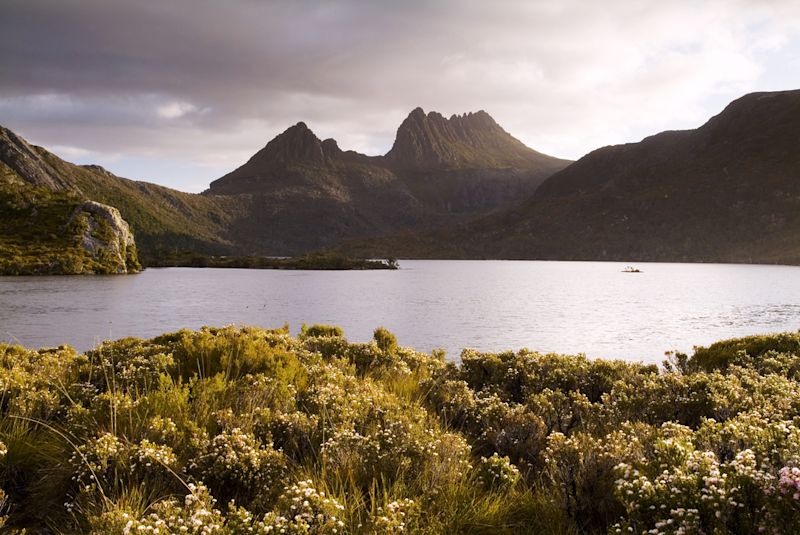 Cradle Mountain and Dove Lake, an iconic image of Tasmania
Where:

Cradle Mountain-Lake St Clair National Park, Central Highlands of Tasmania

Distance:

65-70 km / 40-44 miles

Duration:

5-7 days

Best time:

January to March (summer)

Accommodation:

Public and private huts, and camping

Porters:

No
Highlight: Every day the scenery is changing and utterly breathtaking!
The Overland Track is a popular trek that runs roughly north to south through the Tasmanian Wilderness World Heritage Area.
It's known around the world for its spectacular scenery, which includes craggy mountains, lakes, tarns, waterfalls, forests, moorlands, and alpine meadows. Be sure to keep your eyes open for wombats and other wildlife living in the area.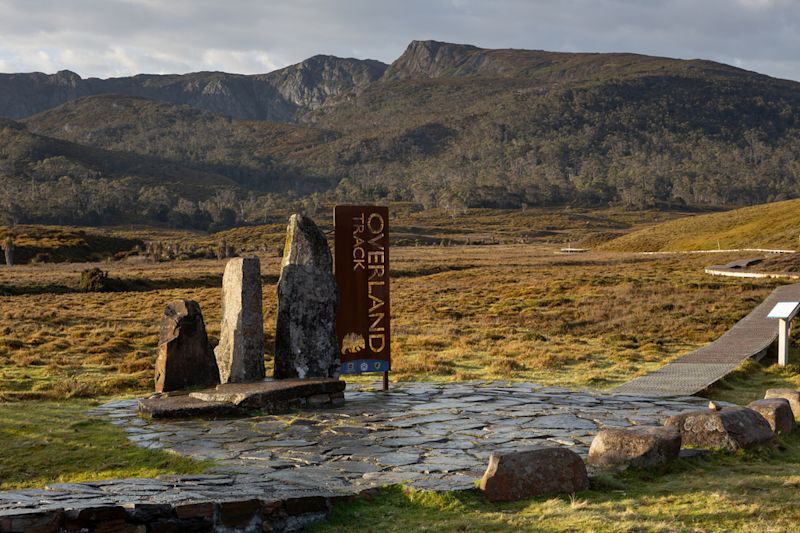 Start of the Overland Track in Lake St Clair National Park
You start the Overland Track at beautiful Cradle Mountain in the north, then trek south through the highlands to end at the utterly sublime Lake St Clair. The Aboriginal name for Lake St Clair is beautiful: leeawuleena. It means 'sleeping water'. And yes, this glacier-formed landscape with its deep and tranquil lake really is a quiet oasis where one can come for a moment of peace in our busy world.
There are various side tracks you can do on the trek. Two of the most popular (and difficult) are summiting of Cradle Mountain (1,545 m / 5,069 ft) and Mount Ossa (1,617 / 5,305 ft), Tasmania's highest mountain. We highly recommend making the effort to climb these two mountains, as the 360-degree views that you earn at the top as reward are EPIC.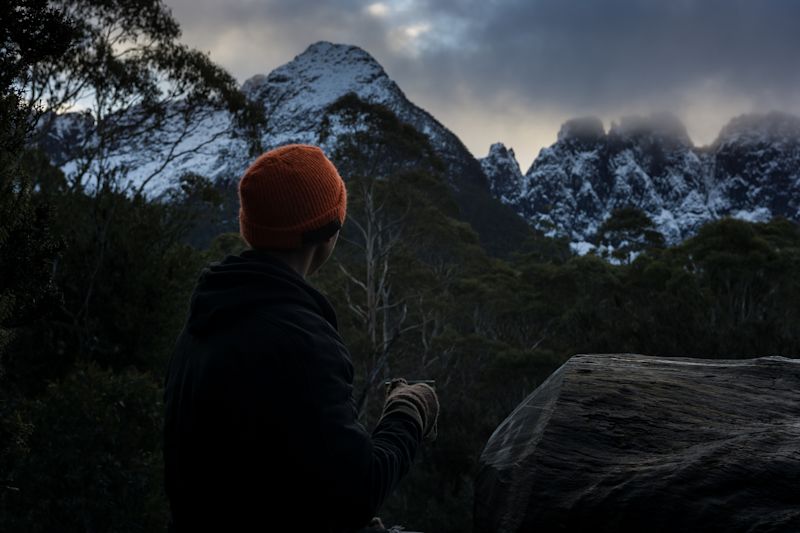 A cold morning with a hot drink on the Overland Track
The Overland Track has a maximum elevation of 1,270 m (4,165 ft), so this isn't a high-altitude trek. It also isn't a very difficult trek in terms of distance, as you only need cover about 12 km a day. That said, you must carry a lot, because while there are huts, it's mandatory for all trekkers to carry tents in case the huts are full or you don't make it to a hut at night for whatever reason.
You should also know that the sections of the trail that are dirt path can get pretty muddy at times. And finally, the sections of duckboard path can become slippery with ice in winter. Quality trekking boots are a must, and you should consider bringing crampons in winter.
9. Kepler Track, New Zealand
This trek is for those who are all about the scenery! It's wild, dramatic and beautiful.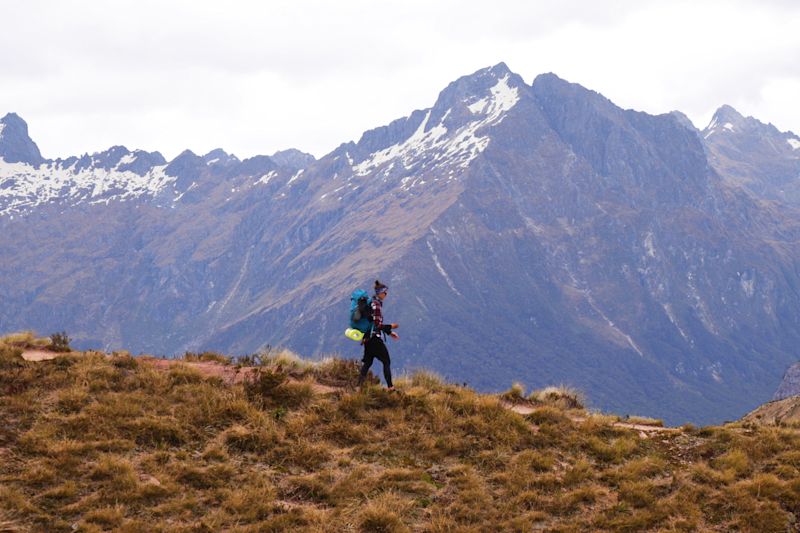 You walk some high ridges that offer sublime views on the Kepler Track
Where:

Fiordland National Park in the southwest of South Island

Distance:

60km / 37 miles

Duration:

3-4 days for Keplar Track

Best time:

October to April

Accommodation:

Communal huts

Porters:

No
Highlight: The natural beauty along the Kepler Track is simply off the charts! This is New Zealand, after all.
Highlight: The natural beauty along the Kepler Track is simply off the charts! This is New Zealand, after all.
One of the most famous of the New Zealand Great Walks, this stunning trek is a loop route that you can do in either direction.
Luxmore Hut in winter
The landscapes you encounter along the trek route are truly sublime! You walk many high ridge lines that offer endless views. You also walk through deep gorges, along beautiful lakes shorelines, and through tall and mossy beech and pine forests. You also see rare wetlands, thundering waterfalls and fantastical limestone formations.
The Kepler Track is rated moderate for difficulty. You trek for about four to six hours each day, and must carry your own food and cooking equipment. There are some steep ascents and descents to tackle.
What certainly helps, however, is how well-constructed and maintained the route is. There are sturdy steps on the steep sections, boardwalks across bogs, and most streams have bridges.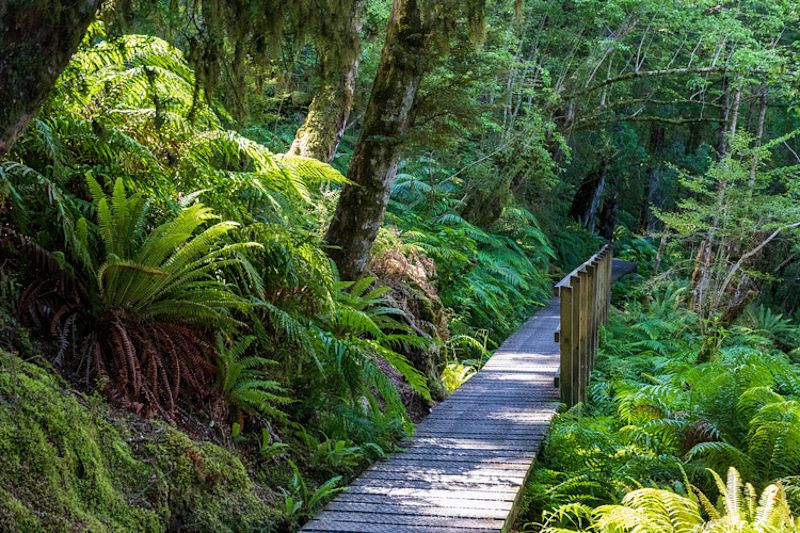 A boardwalk makes for easy walking on the Kepler Track
Please note that you should only tackle the Kepler route between May and October if you are experienced in snow trekking and have navigational and river-crossing skills.
ASIA
Asia has the Himalayas. So of course it has some of the world's best and most beautiful multiday treks in Asia ...
10. Laya or Snowman Trek, Bhutan
These treks are for those who want a truly remote and uncrowded experience in a seldom-visited part of the majestic Himalayas.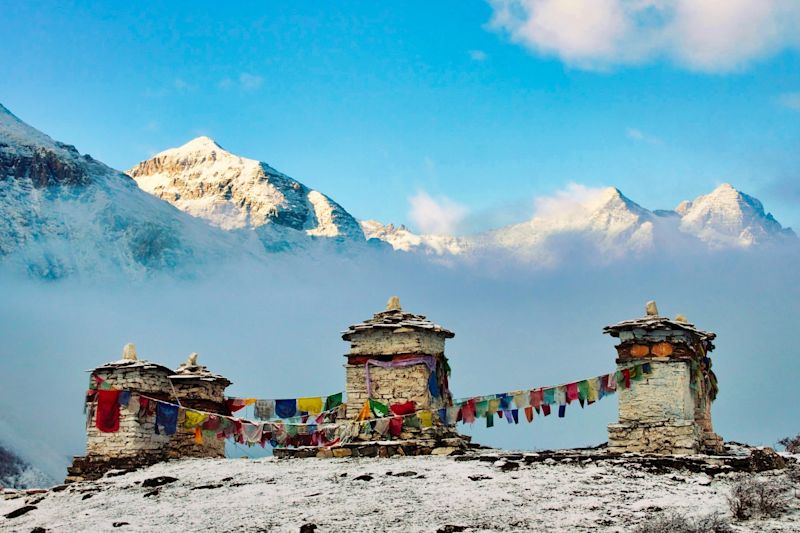 Tibetan Buddhist stupas near Jomolhari mountain
Where:

Mountains of northwestern Bhutan

Distance of Laya trek:

166 km / 103 miles

Distance of Snowman trek:

347 km / 2016 miles

Duration of Laya trek:

10 days

Duration of Snowman trek:

±24 days

Best time for Laya trek:

March to May (spring), or mid September to November (autumn)

Best time for Snowman trek:

September and October

Accommodation:

Camping

Porters:

Yes
Highlight: Staying in the village of Laya, where the people have a unique, well-preserved culture all their own.
The Laya and Snowman treks take you through the absolutely beautiful and pristine Himalayas of northwest Bhutan.
The Snowman trek is an extension of the Laya trek, and on both routes you stay in the famous campsite Jangothang. From here, you have an incredible view of Mt Jomolhari, a sacred mountain that cannot be climbed, as you would disturb the mountain goddess.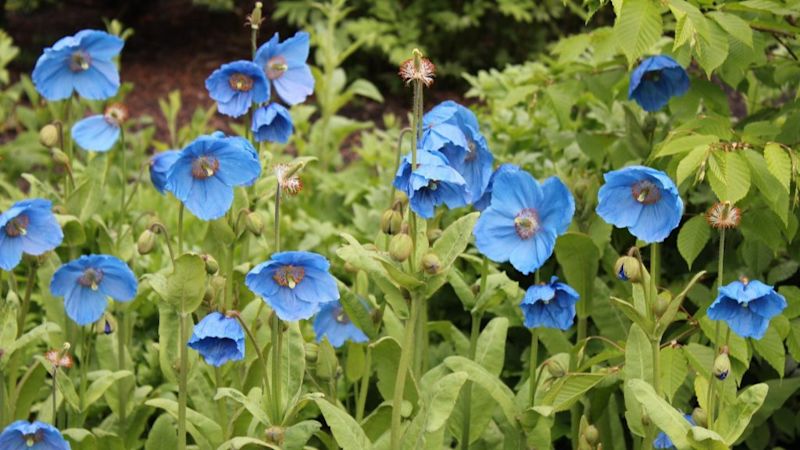 If you trek in spring you might be lucky enough to see blue poppies
The Snowman trek is a significant extension of the Laya trek, and so ups the ante a lot, both in terms of duration and endurance.
The Snowman trek is, in fact, one of the hardest multiday treks in the world. Only about 50% of those who attempt it actually finish (usually because of the challenges to do with high altitude and snowfall). On the Snowman trek you cross ten high passes, the highest of which is 5,320 m (17,454 ft)!
The Laya trek is the much shorter (and thus more accessible and doable) version of the Snowman trek. But it still includes many of the best highlights of the Snowman trek, which is why we think it's a great option for anyone wanting to do a Bhutanese multiday trek in the Himalayas!
On both treks, for instance, you stay at Laya. This mountainside village is near the Tibetan border and engages in farming and yak breeding. The Layaps have their own language, customs and distinct way of dressing.
Laya village is the highest settlement in Bhutan at 3,820 m (12,533 ft)
The highest point on the Laya trek is Sinche La, which is 5,005 m (16,421 ft) above sea level. It's thus important to allow for adequate acclimatisation on the Laya trek to ensure you don't get altitude sickness.
11. EBC and Gokyo Lakes Trek, Nepal
The Everest Base Camp (EBC) and Gokyo Lakes trek is for those wanting to walk in the footsteps of mountaineering giants!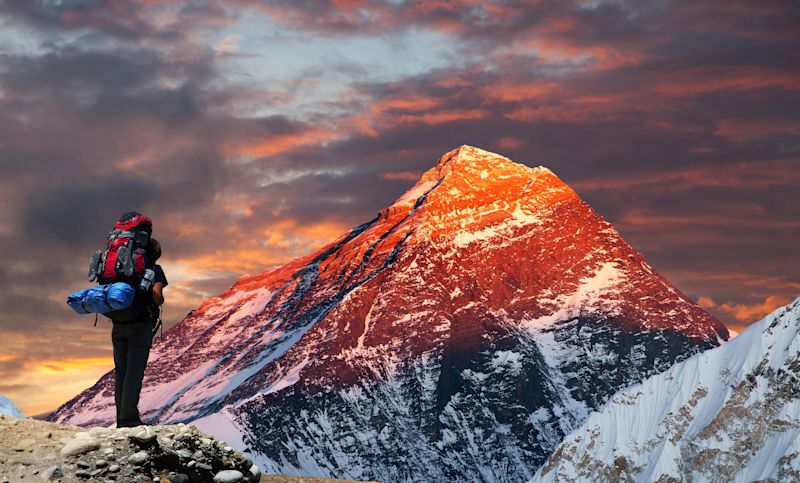 View of Mt Everest from Gokyo Ri
Where:

Solukhumbu District and Sagarmatha National Park, eastern Nepal

Distance:

150 km / 93 miles

Duration:

14-15 days

Best time:

March to May (spring), or mid September to November (autumn)

Accommodation:

Simple guesthouses and lodges

Porters:

Yes
Highlight: Apart from the obvious highlight of standing in Everest Base Camp, there's standing atop Kala Patthar for an eyeful of Mt Everest!
The Everest Base Camp and Gokyo Lakes trek is a challenging, beautiful and rewarding trek that takes you deep into the harsh and forbidding Himalaya range. You start in lush alpine valleys, but work your way up numerous valleys to stand in the most famous base camp in the world!
After visiting base camp, you then take a detour to the Gokyo Lakes instead of retracing your steps as you do on the classic EBC trek. This loop takes you into a more remote section of Sagarmatha National Park, and one that is especially beautiful!
This pristine lake system is the highest fresh-water lake system in the world! It's also a sacred site for both Hindus and Buddhists, and receives many pilgrims ever year.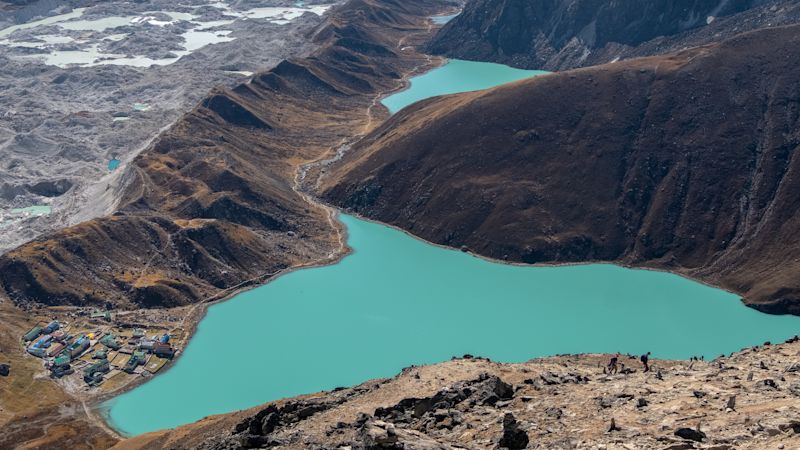 The beautiful, sky-blue waters of Gokyo Lakes
You need to know that the EBC and Gokyo Lakes trek is a high-altitude trek that requires proper acclimatisation in order to avoid developing altitude sickness. We recommend including at least one acclimatisation (rest) day on the ascent in the town of Namche Bazaar.
Some of the dizzying heights that you reach on this trek are:
Everest Base Camp

itself, at 5,364 m (17,598 ft) above sea level

Kala Patthar

, the 'Black Rock', which is 5,644 m (18,517 ft) above sea level

Cho La

, a mountain pass that's 5,420 m (17,782 ft) above sea level

Gokyo Ri

, a mountain peak that's 5,357 m (17,575 ft) above sea level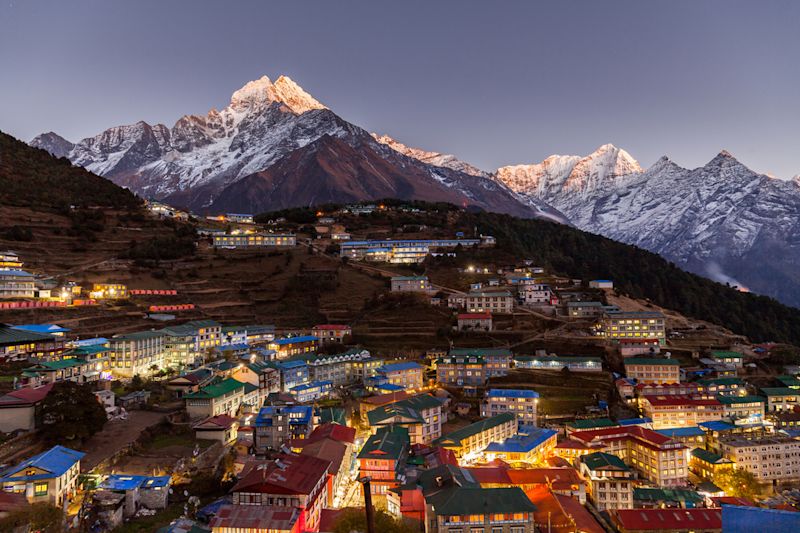 The town of Namche Bazaar is a great acclimatisation stopover spot
12. Nar–Phu and Annapurna Circuit Trek, Nepal
This trek is for those wanting to stay in authentic and rural Himalayan villages and meet diverse cultures.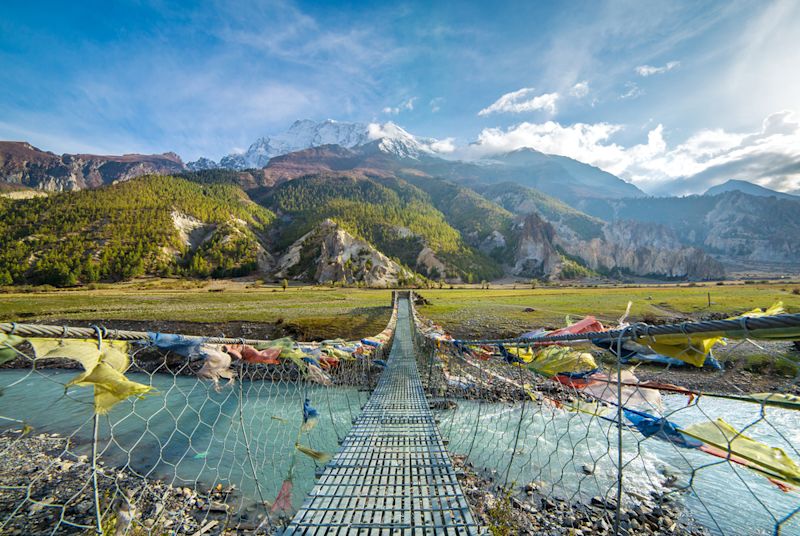 A suspension bridge on the Annapurna Circuit
Where:

Annapurna Conservation Area, northern Nepal

Duration:

11 days

Best time:

February to May (spring), or September to November (autumn)

Accommodation:

Simple guesthouses and lodges

Porters:

Yes
Highlight: Staying in traditional teahouses and meeting people of diverse ethnic groups, cultures and religions.
The Annapurna Circuit is a world-famous, fan-favourite of multiday treks, as we discuss in Why the Annapurna Circuit is Nepal's golden child. It has stood the test of time, being developed in the 1970s and remaining as popular today.
The Nar and Phu Valleys are mostly left out by trekkers of the Annapurna Circuit. But we think they make an already epic trek that much more epic!
Nar and Phu are quiet side valleys that few Annapurna Circuit trekkers visit. As such, they remain much more untouched in character and infrastructure than the villages along the main route. If you're looking for a super authentic dip into the culture of the Tibetan Buddhist people of the high Annapurna range, then this addition to the classic route is for you!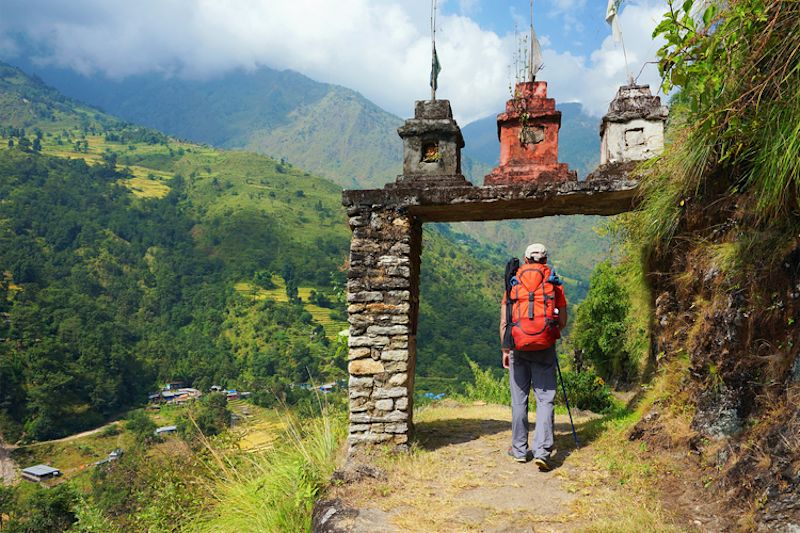 Many of Nepal's Tibetan Buddhist villages have entry archways
One of its main drawcards of the Nar–Phu and Annapurna Circuit is the diversity of landscapes, climates, vegetations and people groups that one encounters along the way. You also trek in a loop, so never have to retrace your steps.
The other major pull of the trek, of course, is the fact that you're experiencing all of this to the backdrop of the mighty Annapurna and Dhaulagiri mountains!
The Annapurna mountains are a subrange of the Himalayas and include some of the world's tallest mountains, including:
Dhaulagiri I

, which is 8,167 m (26,795 ft) above sea level and the seventh highest mountain

Annapurna I

, which is 8,091 m (26,545 ft) above sea level and the tenth highest mountain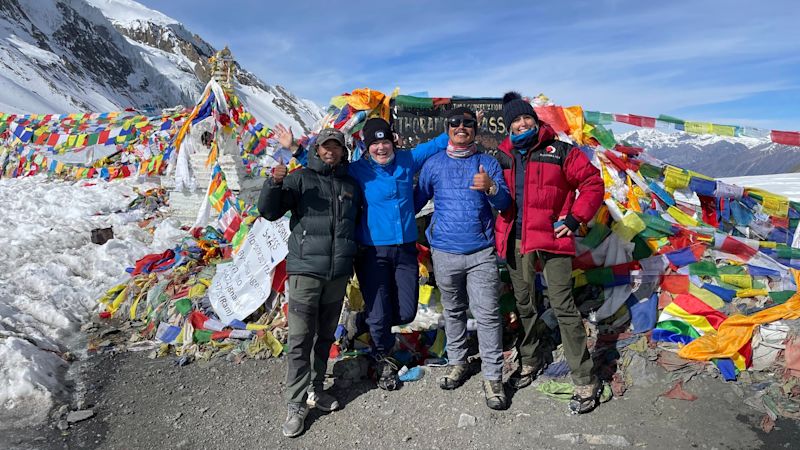 Making it all the way up to Thorung La is a major achievement!
Please note that you need to acclimatise properly to cope with this trek. The highest point is Thorung La, a snowy mountain pass that's 5,416 metres (17,769 ft) above sea level!
Post-trek highlight: Flying back through the Kali Gandaki, the world's deepest gorge!
EUROPE
And finally, as for Europe, we're gaga over these three multiday treks ...
13. Laugavegur Trek, Iceland
This trek is for those who find freedom in wide, open spaces and delight in the beauty of striking and austere landscapes.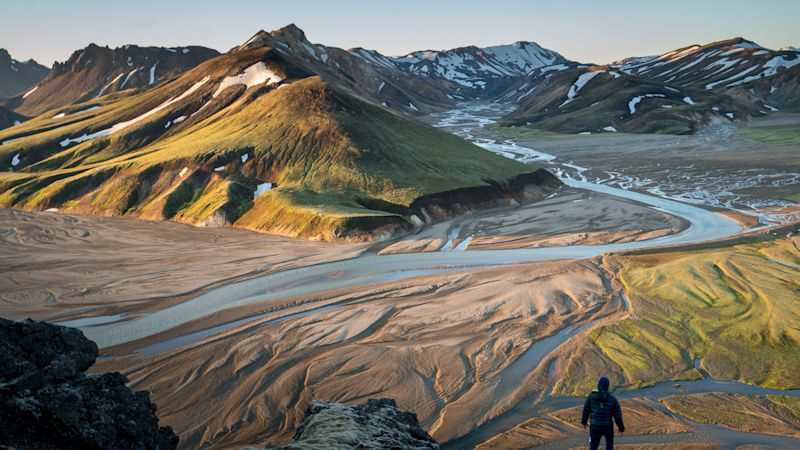 In summer, Iceland's interior softens to reveal some greenery
Where:

Interior highlands, southern Iceland

Distance:

55 km / 34 miles

Duration:

3-4 days

Best time:

July and August (summer)

Accommodation:

Huts or camping

Porters:

Yes
Highlight: Seeing the beautiful, streaky colours of Iceland's famous rhyolite mountains!
Iceland's most famous trail, the Laugavegur, takes you across the mountainous terrain of the country's interior highlands. Specifically, you trek from to Landmannalaugar and Thórsmörk, and en route you encounter bubbling hot springs, glaciers, active volcanoes, lava fields, black-sand desert, steep ravines, flat valleys threaded with rivulets, crystal-clear lakes, forest, and more!
Trekkers tackle Iceland's highlands on the Laugavegur route
Most of the options in this list of the best multiday treks require quite a time commitment, and require careful acclimatisation. The Laugavegur is a fantastic option for an adventure that you can do in just a few days. You also don't need any acclimatisation, as your maximum altitude is around 1,500 m (4,920 ft).
That said, if the trek is too short for you, then you just stay some more nights in Thórsmörk. This beautifully lush and flowering valley is a great base for many beautiful day hikes!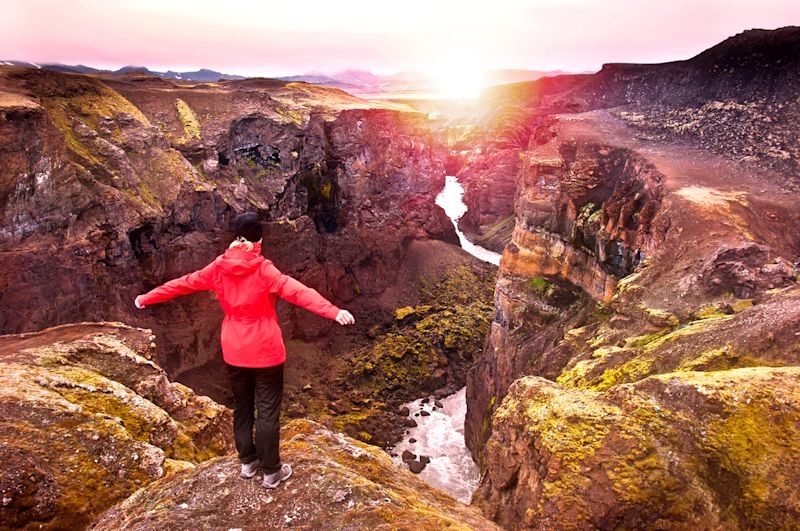 Sunset over the canyon known as Markarfljotsgljufur
There are few treks where you can get away from civilisation so quickly and almost instantly immerse yourself in a primitive landscape and have a wild adventure to boot!
Note that you can only do the Laugavegur trek between June and October. Also note that there are some slippery river crossings involved.
14. Berliner Höhenweg, Austria
This trek is for those who want to immerse themselves in the history and traditions of the historic Tyrol region, while also enjoying majestic mountain scenery.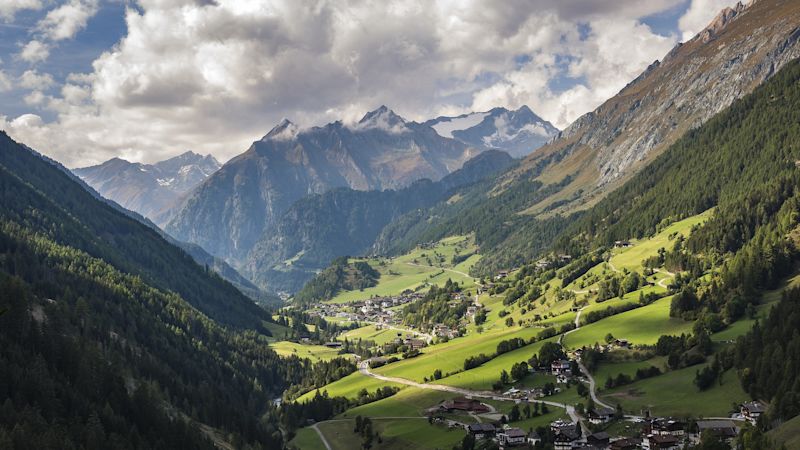 Tyrol is a culturally rich and simply gorgeous part of the world
Where:

Zillertal Alps Nature Park, Tyrol region of western Austria

Distance:

85 km / 53 miles

Duration:

7-8 days

Best time:

July to mid September (summer)

Accommodation:

Huts and inns

Porters:

No
Highlight: Trekking each day in a new and pristine alpine landscape – one that's full of lakes, peaks, glaciers and beautiful flora and fauna!
Known in English as the Berlin High Trail, the Berliner Höhenweg is a challenging circular trek that takes place in the Zillertal Alps of Tyrol.
The accommodation along the trek is a trekker's dream
It's an utterly gorgeous route of steep-sided mountains, blue lakes, glaciers, historic villages and picturesque pasturelands. Walking the Berliner Höhenweg is the closest most of us will get to feeling we've dipped into a Heidi life!
Another highlight on the trek is staying in picturesque and comfortable huts and lodges. We must especially mention the Berliner Hütte, a listed building with wood-panelled rooms and chandeliers in the dining room!
Two alpine ibexes
Note that on the Berliner Höhenweg you hike for anywhere from four to nine hours a day, so strong hiking legs are a must for you to manage the trail. Also, we should point out that anyone fearful of heights should think seriously before embarking on this trek. There are fixed cables in place along certain steep sections of the path, but the drops to the side might be hair-raising for some.
15. Walker's Haute Route, France and Switzerland
This trek is for those wanting a beautiful and challenging mountain adventure without the possibility of altitude sickness.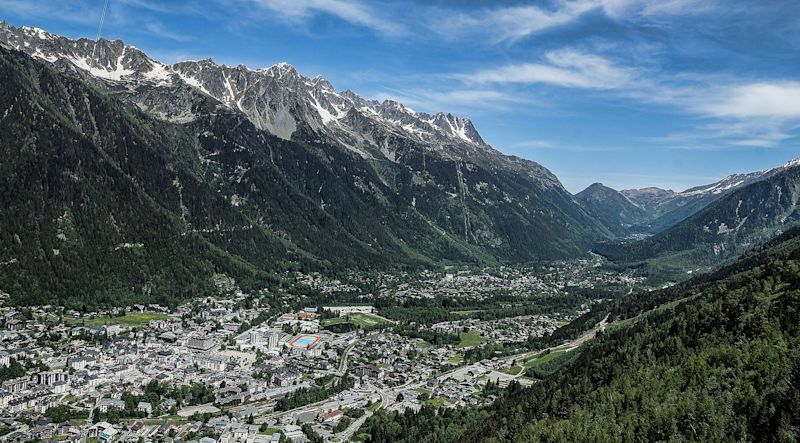 The trek begins in the famous French town of Chamonix
Where:

French and Swiss Alps, starting in Chamonix, France, and ending in Zermatt, Switzerland

Distance:

200 km / 125 miles

Duration:

13-15 days

Best time:

April to November (spring to autumn)

Accommodation:

Huts, inns and hotels

Porters:

No
Highlight: Enjoying day after day of fresh mountain air and breathtaking mountain views as you challenge yourself physically and then sleep the sleep of the blessed at night!
Known in English as the High Route, the Walker's Haute Route takes place between the mountains Mont Blanc in France and the Matterhorn in Switzerland. It's a varied two-week trail that takes you past pretty towns, through idyllic farming villages and pasturelands, and up and over mountain passes and into remote and craggy parts of the Alps where eagles soar over glaciers and the wind is all you can hear.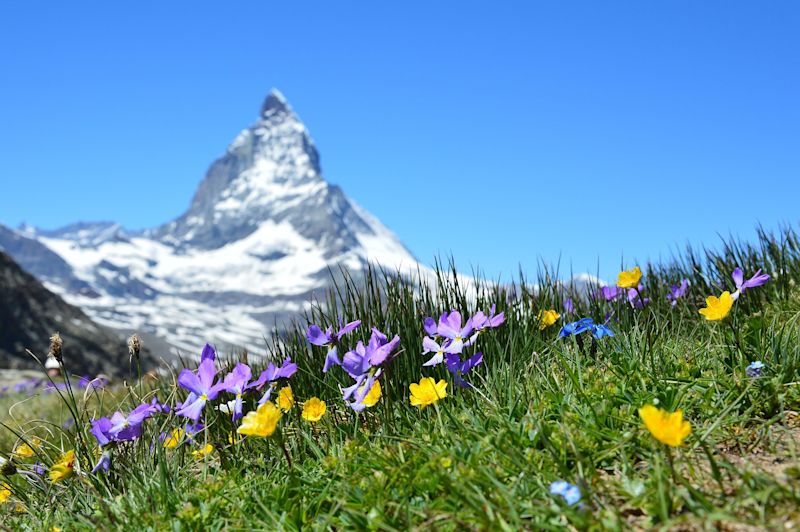 The iconic Matterhorn with pretty spring flowers in the foreground
While it's a mountain climb and you can be sure you'll be taking on some super challenging climbs (!), you never go above 3,000 m (9,842 ft). This means you don't need to think about altitude sickness. Yay!
One of the highlights of the Walker's Haute Route is hiking the Fenetre d'Arpette, a high rocky pass that offers incredible mountain views. Trekkers also especially love the final days of the trek between Grächen and Zermatt; many consider this stretch to be the most beautiful two-day hike in all of Europe!
Accommodation on the Walker's Haute Route is a dream. There's a variety of options, including hotels, which makes this fortnight-long trek that much nicer, as you can enjoy some real luxuries at day's end.
You also stay in some swoon-worthy villages, like the lakeside village of Champex and the mountainside villages of Verbier and Gruben.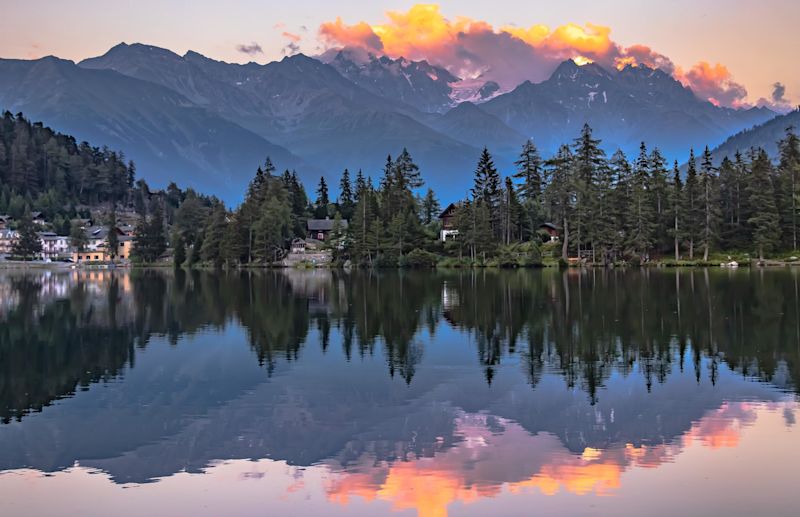 The gorgeous village of Champex on Lac de Champex
Note that you need to be walking fit to enjoy this trail, as you walk between six and eight hours a day. You should also be comfortable with sometimes navigating very steep, loose and rocky paths.
It's also easy to get lost and take the wrong path, so you should travel with an experienced guide or have a good navigator among you who is competent with a compass and a map.
Finally, you should know that if you trek the Walker's Haute Route in winter, it becomes a technical route that requires equipment. If you do it in spring, summer or autumn, however, it's completely non-technical.