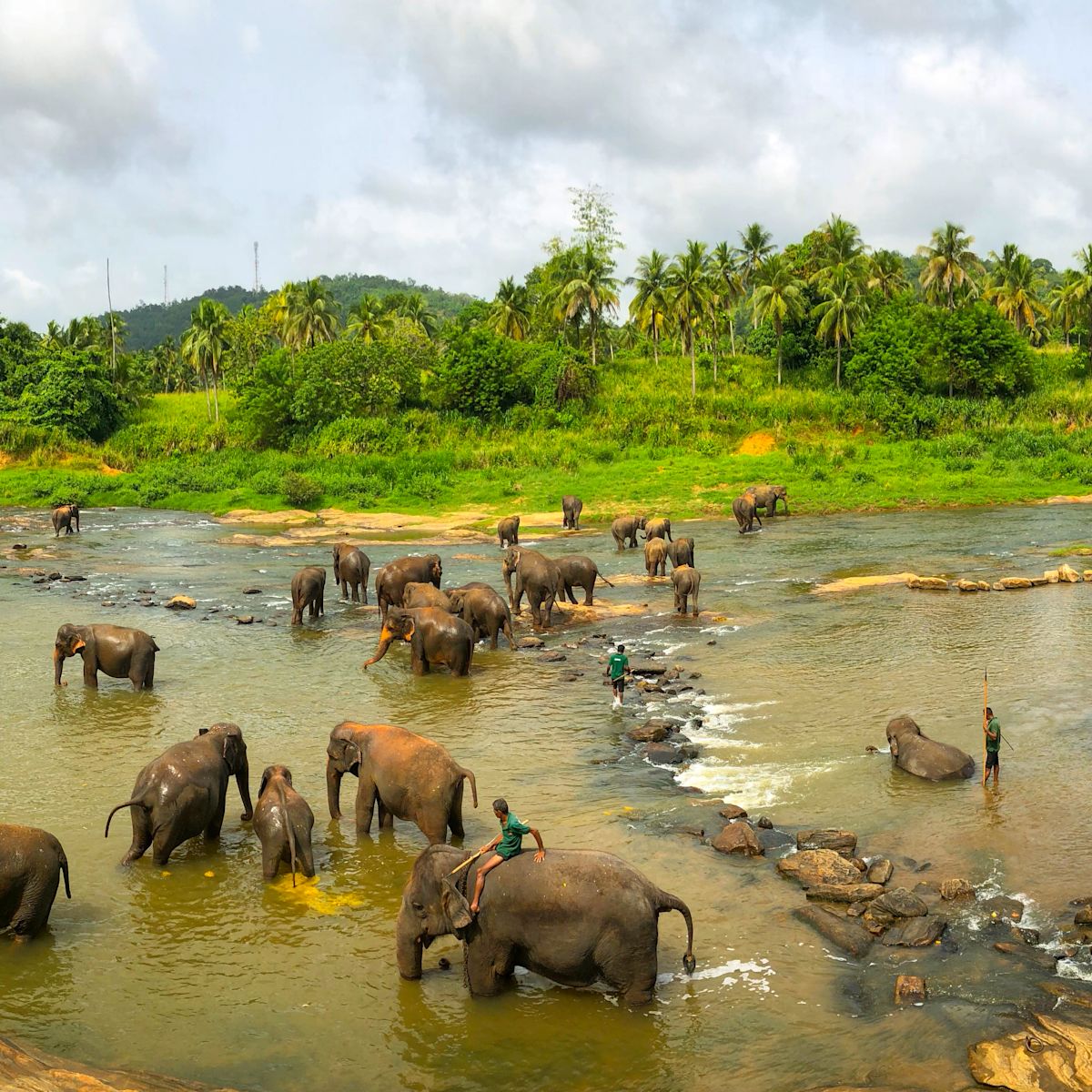 Why Sri Lanka is such a unique destination
Jul 7, 2022
Reading time: 15 minutes
We're obsessed with Sri Lanka at Follow Alice. Some of the reasons for this obsession are the island nation's beauty, diversity, rich history and delicious foods. It's also such a great destination for adventure activities!
Sri Lanka is one of the most exciting holiday destinations in the world. Whether you are wowed by landscape, wildlife, culture, or simply seek adventure – Sri Lanka is likely to be the perfect destination for you!
It's home to pristine, warm-water beaches, gorgeously green landscapes, historic temples, spicy culinary traditions, amazing wildlife, colourful festivals, and architectural feats. It has what's needed to wow even the most adventurous traveller, and impress even the most jaded photographers!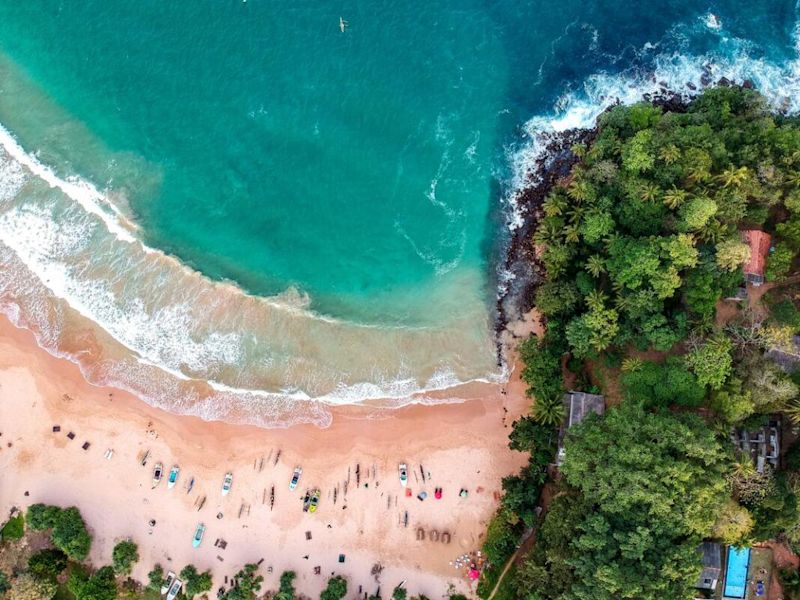 The beaches in Sri Lanka really are second to none
An island with an oversized punch
Moreover, Sri Lanka is able to boast of all this diversity and abundance of adventure while being just one relatively small island. Nowhere else in the world is so much brilliance and excitement packed into such a small space!
For instance, within the space of just a week, you can:
surf the waves, jet ski and snorkel

explore the vibrant city of Colombo

head into the forested hills and go white-water rafting

climb rocks and mountains to visit fortresses and temples

attend street festivals and eat exciting foods

explore the historic city of Kandy

go on safari and see some of the world's most illustrious large game

and more!
You don't need to give up a single day to just to travel – your next adventure is always only a hop and a skip away!
So we encourage you to make Sri Lanka your next holiday and let its beauty and charms blow you away ...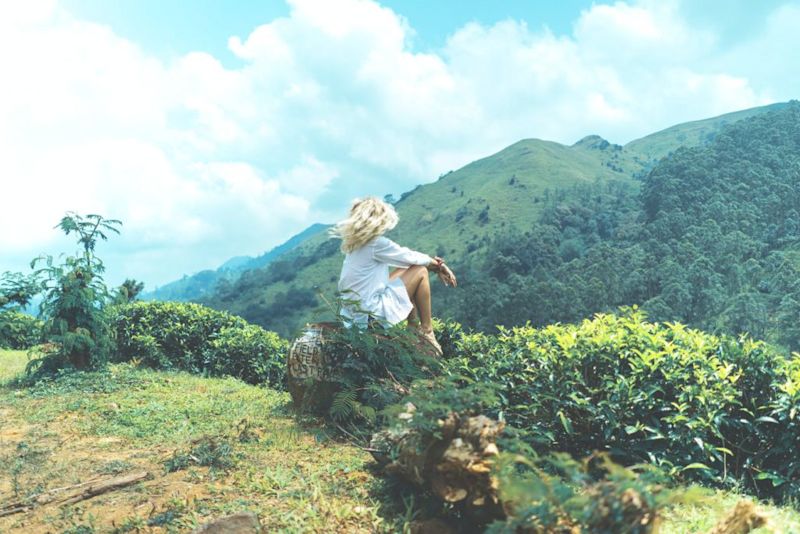 The hill country is lush and gorgeous, full of great hikes and rich culture
It was my most active holiday yet, from exploring Sigiriya's natural beauty, the charm of Kandy, or the beaches surrounding the stunning Galle Fort - there was so much to experience.
– Brent Bell
We've put together a showstopper multi-location itinerary for Sri Lanka. Explore the hidden gems of this beautiful country, either on our example tour, or on a completely bespoke adventure. The island is your oyster!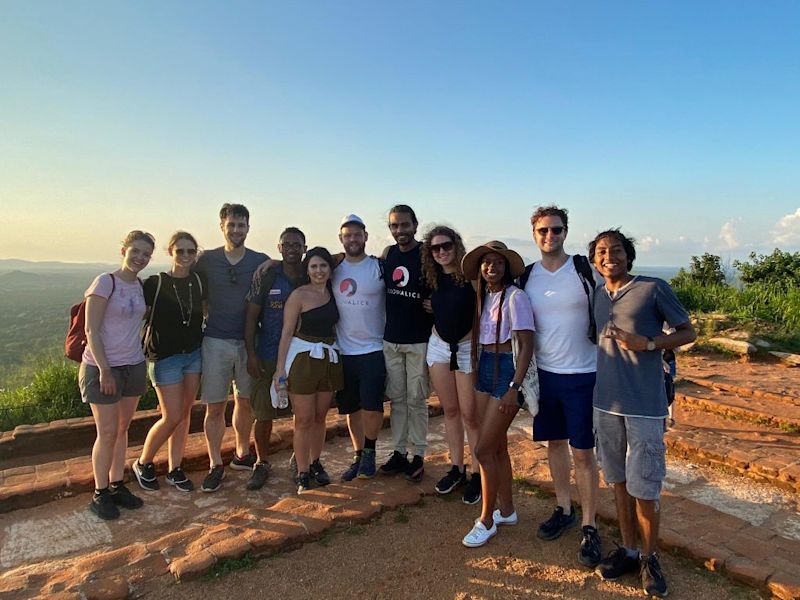 Call your friends and tell them that your next adventure is in Sri Lanka!
In 1972, the name Sri Lanka was adopted in place of Ceylon. The word sri means "blessed" in Sinhalese, and Lanka is the name of the island.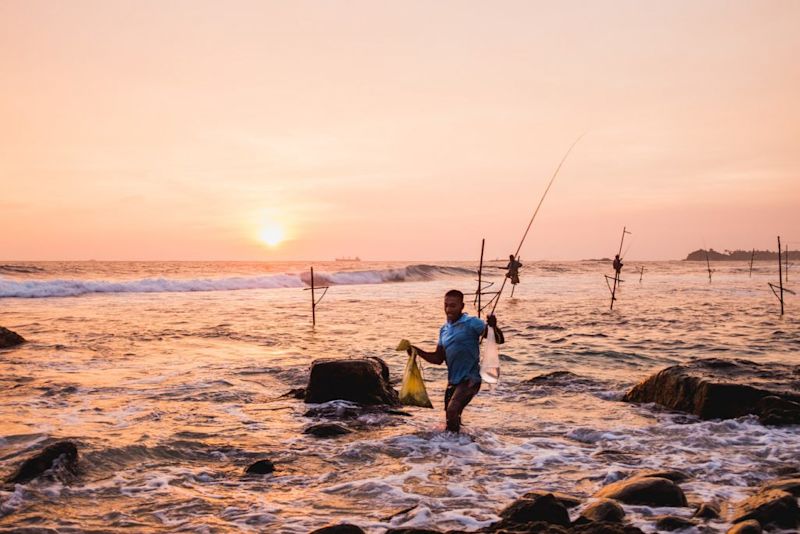 Stilt fishing, which began in WWII, is dying out, but is a fascinating aspect of local history
What is the culture like?
Sri Lanka is a multicultural nation that's well-known for its regional diversity. Buddhism, Hinduism, Islam and Christianity are key influencers in Sri Lankan culture, though Buddhism is by far most dominant.
The island nation also has been heavily influenced by India, with whom there is much shared history and heritage. In more recent centuries, Portugal, the Netherlands and Great Britain played a role in influencing the culture as each colonised the nation in turn.
Sri Lanka gained its independence in 1942, and became a republic in 1972. This is as well as the influence from outside the country; from India and other kingdoms in southeast Asia.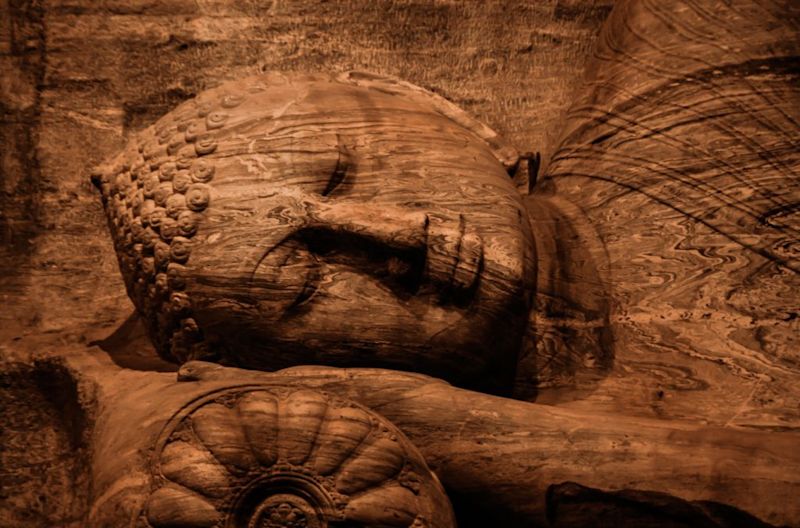 The main religion in Sri Lanka today is Buddhism
Ethnicities
Sri Lanka is home to two main ethnic groups: the Sinhalese (centred in the ancient cities of Kandy and Anuradhapura) and the Tamil (centred in the city of Jaffna).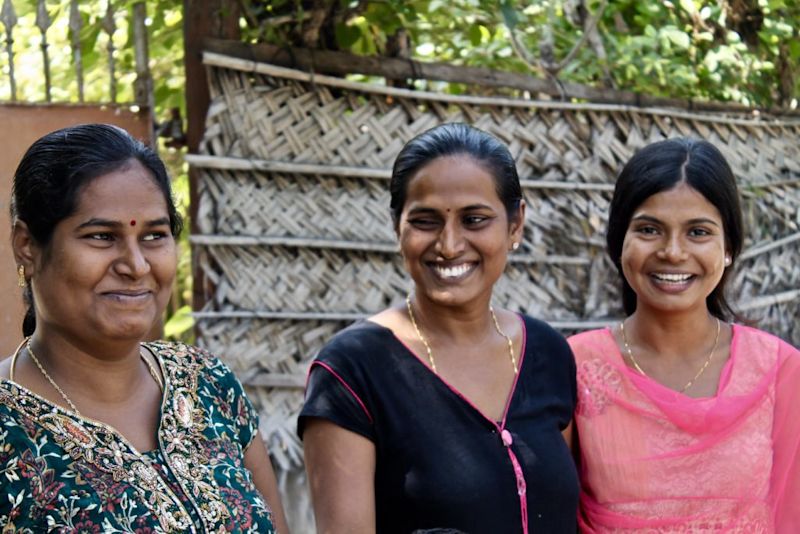 The bindi is a small red dot worn by women of the Hindu faith on their foreheads
The Tamils live in the north and east of the country and have a culture that is unique to them and is heavily influenced by Hinduism. The Sinhalese live in most areas of the country and are heavily influenced by Buddhism.
In more urban areas you're likely to find a melting pot of ethnicities, religions and customs. The largest cities in the country are Colombo, Dehiwala-Mount Lavinia, Moratuwa and Jaffna. Six of the seven largest cities are in the Western Province.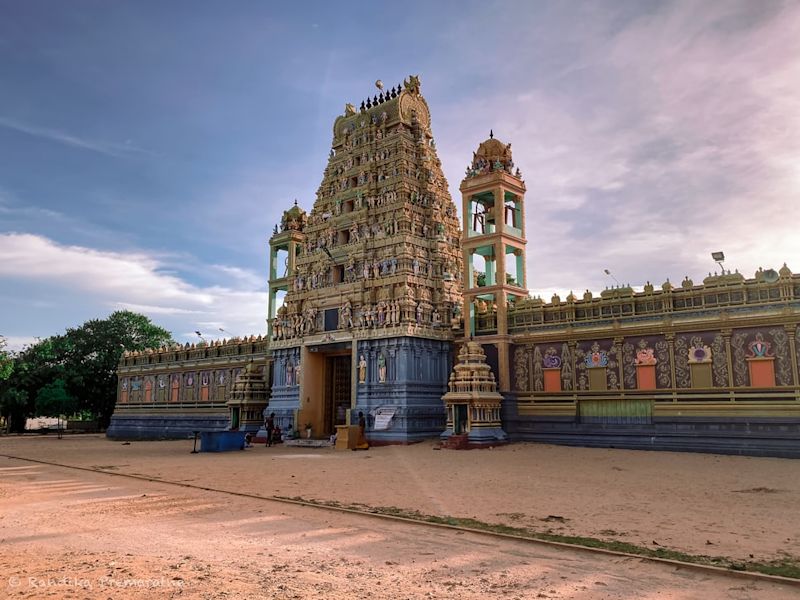 A dravidian-style Hindu temple in Vallipuram, a village in north Sri Lanka
What is the architecture like?
The buildings, homes, towers, temples, forts and more in Sri Lanka are as varied as they come! This is thanks to a myriad influences. Sri Lanka has always had strong ties with the Indian mainland. It's also been colonised by the Portuguese, Dutch and British. And the priorities of its Buddhist and Hindu followers have influenced construction greatly. Let's not then forget the weather and importance of the ocean.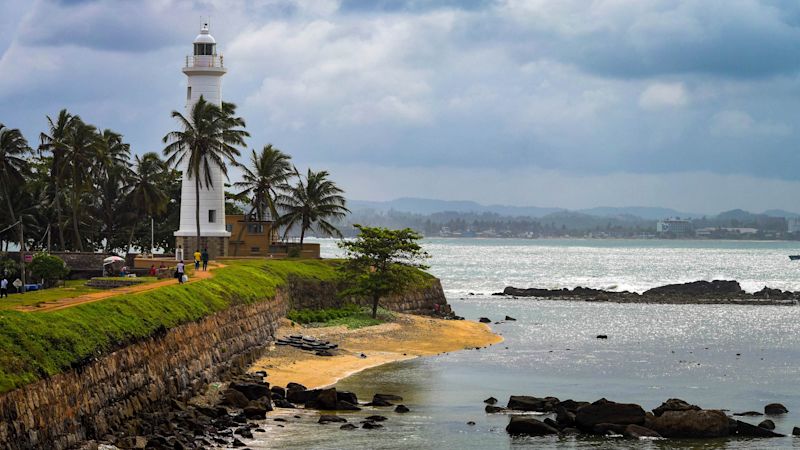 The Portuguese-influenced southern city of Galle (formally Port de Galle)
From the moment you land in Sri Lanka, you'll witness this glorious mixture. The capital city of Colombo contains modern structures like the famous Lotus Tower, as well as historic icons like the Red Mosque.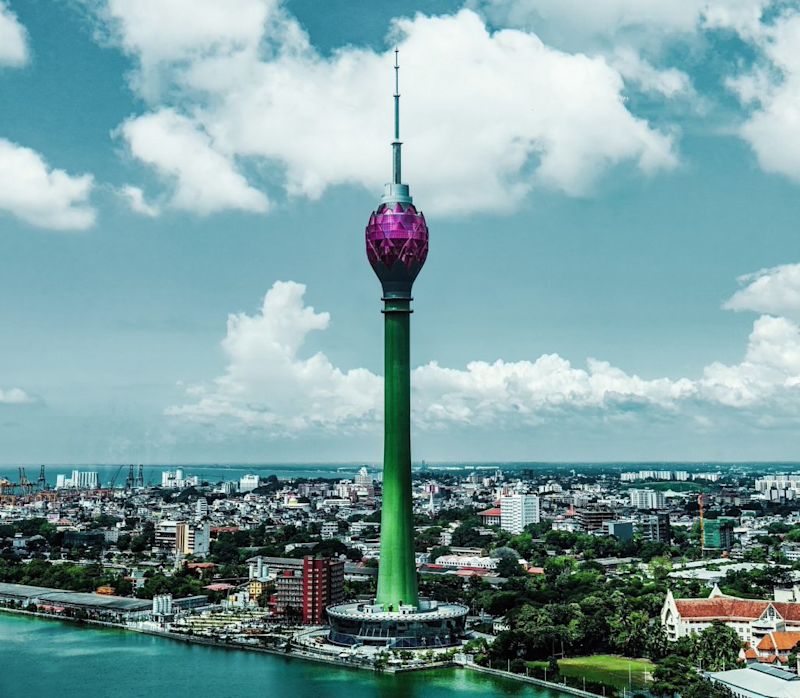 The Lotus Tower is the most famous landmark in Colombo
The more rural you go, the more you can expect to leave the modern behind and witness many beautiful historic buildings that showcase the country's fascinating regional differences.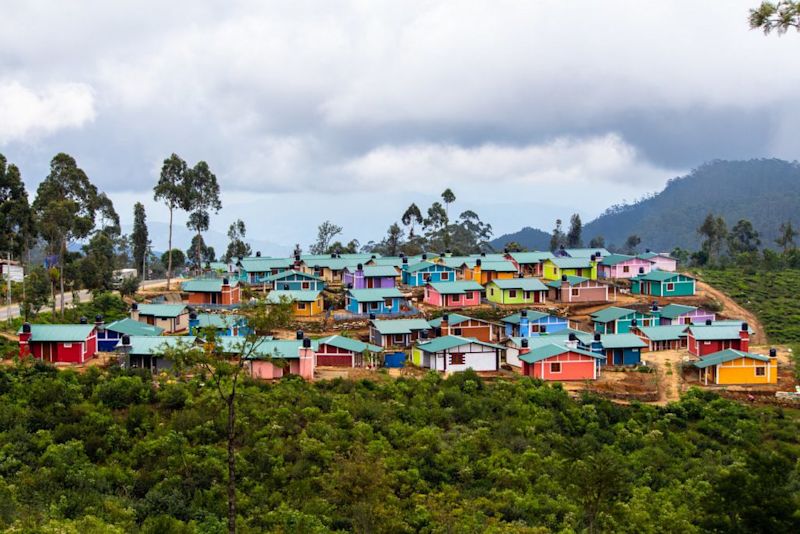 Colourful homes in the hill country
Religious buildings
The Jami Ul-Alfar Masjid (or Red Mosque) in Colombo is a well-known structure that's a favourite among visitors to the city.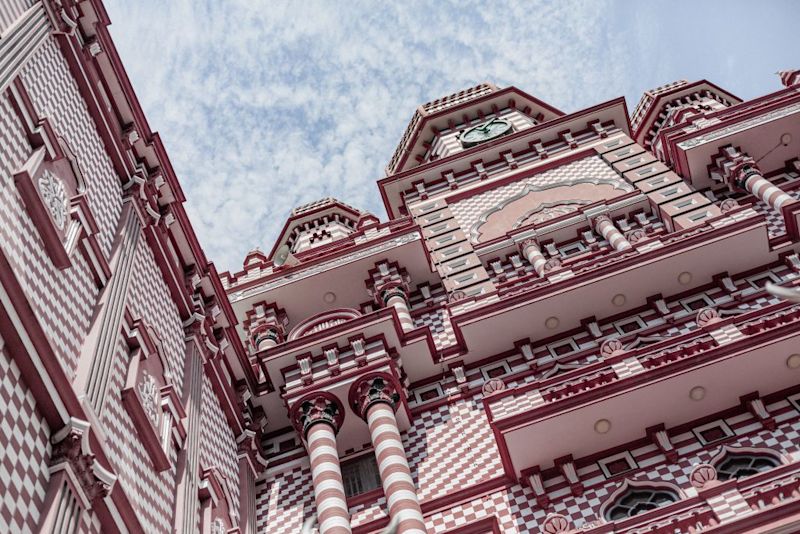 Gazing up at the towering Red Mosque in Colombo
The most sacred site in the country is arguably the well-known Temple of the Tooth at the former capital, Kandy, where the tooth still remains to this day and is venerated. The colourful festival known as Esela Perahera sets off from this site during summer.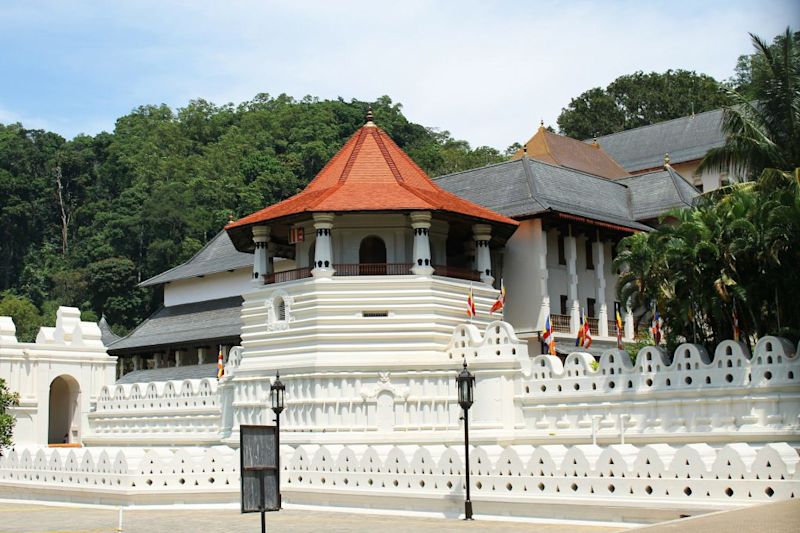 The Temple of the Tooth in the historic city of Kandy is said to house one of the Buddha's teeth
Ancient structures
Given the millennia-old history of Sri Lanka, it won't surprise you that there's a great wealth of ancient buildings, fortresses and temples to visit on the island.
The ancient structures at Anuradhapura, Sigiriya, Dambulla Cave and Polonnaruwa in the so-called Cultural Triangle are examples of how advanced and diverse Sri Lanka architecture has always been.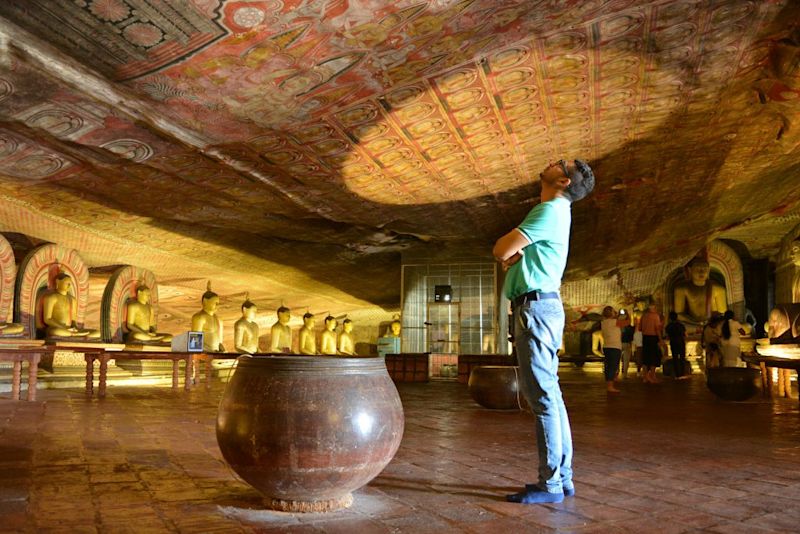 We highly, highly recommend visiting Dambulla Cave Temple!
Sigiriya Rock Fortress
Possibly the most popular of these ancient constructions is Sigiriya Rock Fortress in central Sri Lanka. This fascinating complex was built atop a giant rock that pokes up out of an otherwise mostly flat landscape. A series of steep steps leads you to the top, where the views are incredible, and the rich history surrounding you will blow your mind!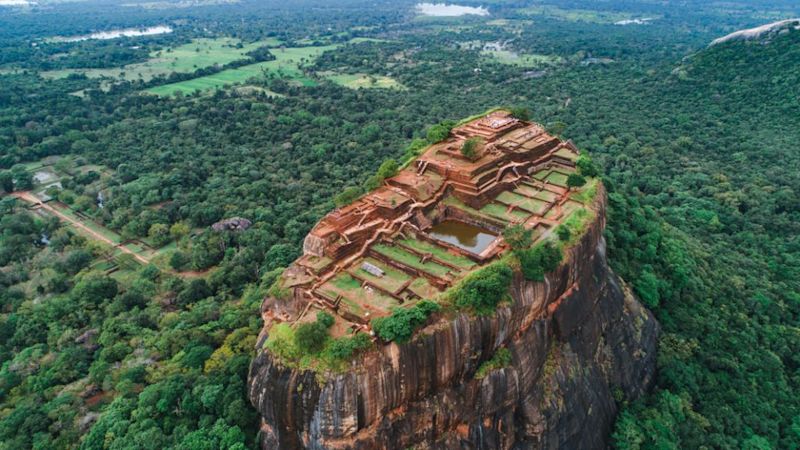 Sigiriya is a palace, fortress and terraced garden built on top of a massive rock
What festivals are there in Sri Lanka?
Sri Lanka has one of the busiest festival calendars in the world! With four major religions on the island and 25 public holidays throughout the year, there's always a celebration to be experienced.
Most of the festivals are religious in nature and abide by the lunar calendar, with every full moon signalling the start of a new month. (Every two or three years an extra month is added to keep the solar and lunar calendars in alignment.)
Traditionally, the island's most important Buddhist festivals are each celebrated with an enormous perahera (procession). You can expect to see decorated elephants, drummers and dancers at these processions.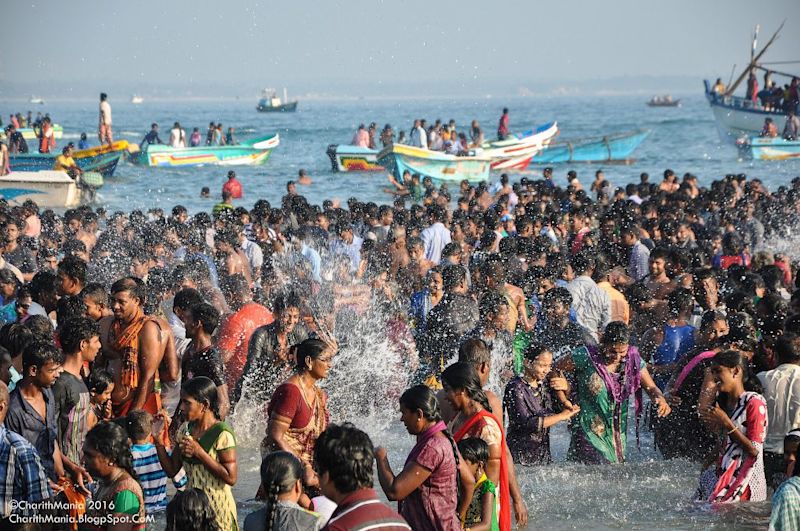 The Theertham Festival in Trincomalee in northeast Sri Lanka
Full moon poya day
The full moon poya day that coincides with Vesak in the month of May is a very important religious celebration in Sri Lanka. Buddhists celebrate the nativity, enlightenment and passing away of Lord Buddha with many celebrations.
Sri Lankans of every religion crowd the roads to enjoy Vesak decorations which include white paper lanterns that are lit up at night. Many set up makeshift alms houses that line the roads and offer every food item from beverages to main meals and desserts – for free! If you happen to be driving down the road on poya day, it's not uncommon to be flagged down and treated to some snacks and drinks by the locals!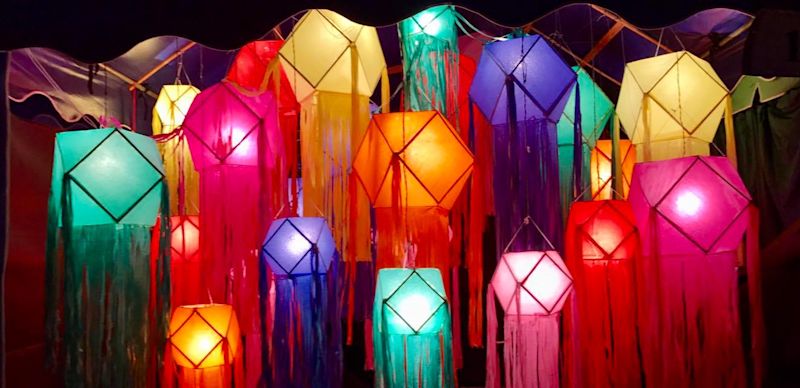 During festivals there are colourful lanterns everywhere
Esala Poya Perahera
Another huge celebration in Sri Lanka is the Esala Poya Perahera in the interior city of Kandy. Esala Poya is the day that celebrates the arrival of the Buddha's tooth to the famous, Temple of the Tooth. On this day families visit the many temples situated around the island to offer flowers and pay homage to Lord Buddha.
But nothing quite compares to the week-long celebrations in Kandy during Esala Poya. It really is an unforgettable spectacle, and we can take you there! Speak to us about combining a night celebrating the Esala Poya Perahera into your Sri Lanka itinerary.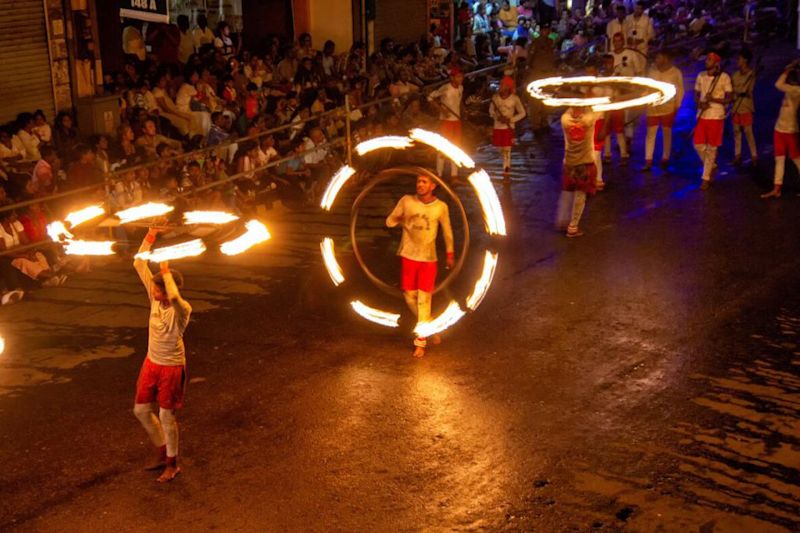 Esala Perahera carnival in the streets of Kandy
What can I expect from the landscape?
Just southeast of the southernmost tip of India, the tropical island of Sri Lanka is commonly called the Pearl of the Indian Ocean.
The island consists mostly of flat to rolling coastal plains, and a hilly and mountainous south-central region. Both the shoreline and mountainous interior of Sri Lanka are incredibly beautiful. Roughly 40% of the island is forested. The highest point in the country is Pidurutalagala (or Mt Pedro), which rises 2,524 m (8,281 ft) above sea level.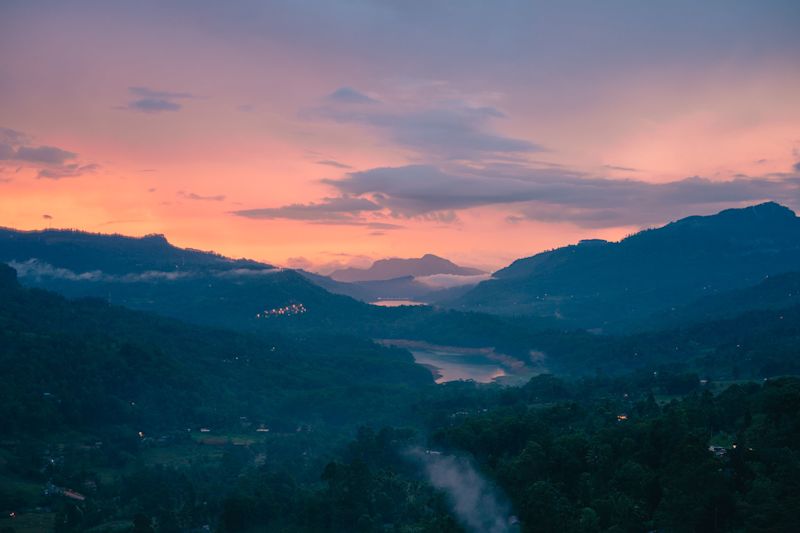 Beautiful sunsets over the hills in Ramboda
The island nation nation also comprises roughly 50 smaller islands, many of which are wonderful places to visit.
There are also many wonderful caves to explore, some of which were long ago turned into temples. The most famous is Dambulla Cave Temple, which we highly recommend visiting! We include it in our suggested itinerary.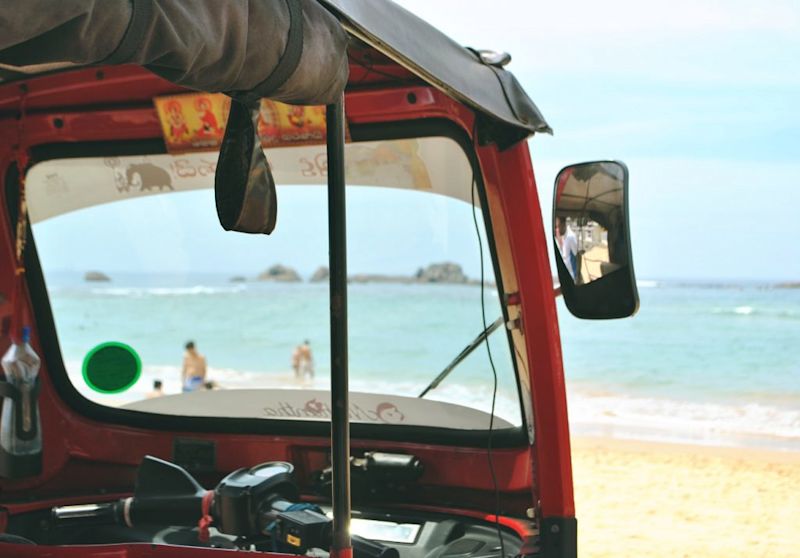 View of the sea from a tuk-tuk
I am amazed at the vast array of geographic topography in Sri Lanka as well as the beauty each one possesses. It would be difficult for me to identify a favourite since all were distinct and wonderful in their own right!
– Eric Johnson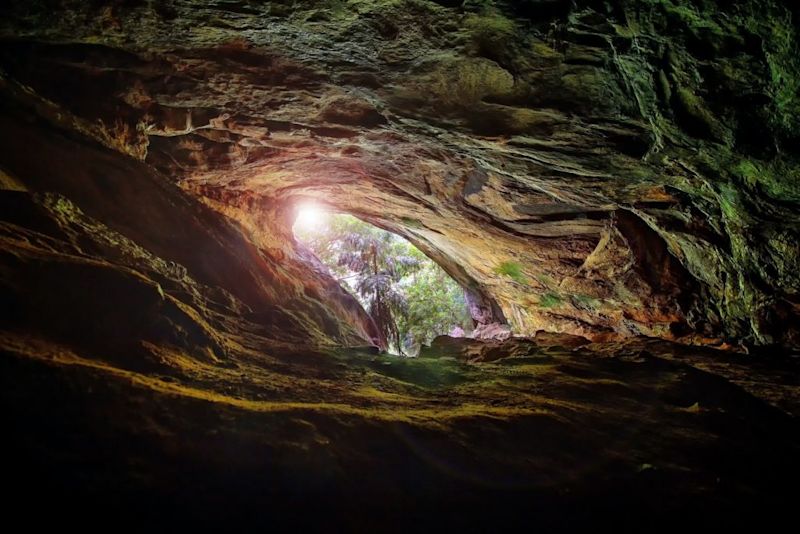 Ravana's Cave is said to have been used by King Ravana to hide the Princess Sita
Epic train journeys!
Nothing encapsulates the scenic diversity of Sri Lanka as much as a journey by road or rail from the coast to the hill region. On the journey you pass through dense rainforest, rolling hills, sprawling savannah, colonial towns, tea plantations, and vast plains.
The train ride from Ella to Kandy through Sri Lanka's hills and mountains is possibly the most beautiful rail journey in the world!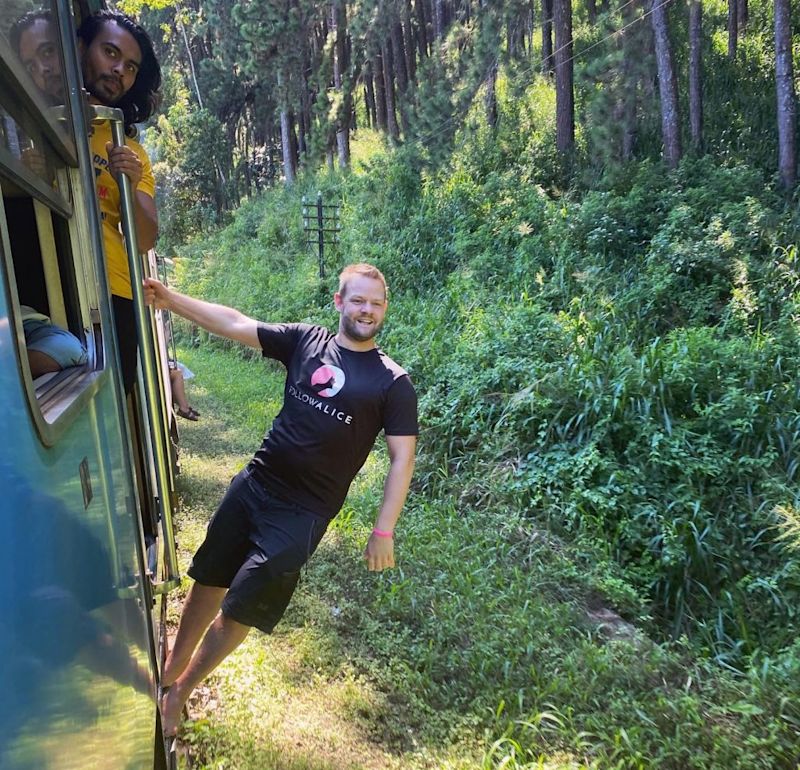 Follow Alice's Joel and Naswar making the most of a train ride through the countryside!
Did you know? There is evidence of a natural land bridge that once connected Sri Lanka with India. This vanished causeway lies only a few metres below sea level, and is known as Adam's Bridge.
Tea plantations
Sri Lanka was a British colony between 1815 and 1948. Tea became a staple crop, and still today you can see beautiful tea-growing fields across the interior. Visiting a tea plantation is a wonderful way to engage with an important part of Sri Lanka's industry and culture. You'll see women – often in brightly coloured traditional clothing – dotted through the plantations as they harvest the tea leaves.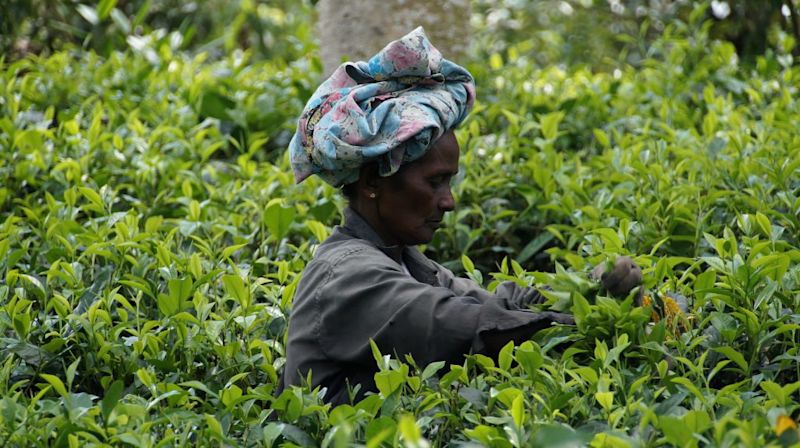 It's women who harvest the tea fields in Sri Lanka
Ceylon tea comes from Sri Lanka, as the island was known as Ceylon under British rule.
What are the beaches like?
Sri Lanka is famous for its beautiful beaches. Whether you prefer to brave the waves or watch others do it while you sip a cold coconut drink, the beaches in Sri Lanka have never been more inviting.
With nearly 1,600 km of palm fringed coastline, you'll never get tired of spending time on the pristine shorelines of the island. And because monsoon season hits the island from one side at a time, taking a dip in the Indian Ocean is possible all year round.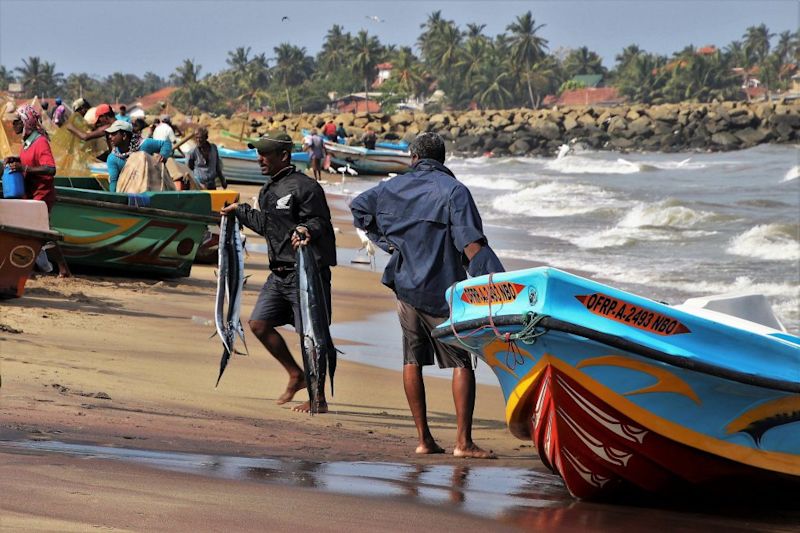 As you'd expect of an island nation, many Sri Lankans earn a living through fishing
Where to head in different seasons
From November to March, the southwest coast is sunny and calm. And from April to October, the place to be is in the east. Sri Lanka's warm climate is sure to have you running back toward the coastal areas after exploring the interior — especially to the gorgeous beaches in the south.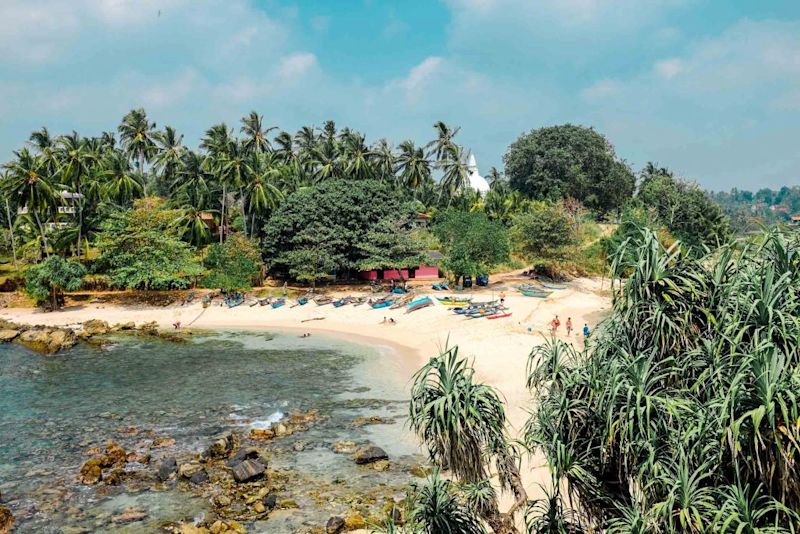 Beachgoers enjoy the sun and surf
Fun beach activities
No matter what you're looking to do on the beach, the great thing about Sri Lanka is that there's sandy shores everywhere that are perfect for just about anyone and any activity.
Some ideas:
go kite-surfing on the windy shores of Kalpitiya

party on the west coast of Hikkaduwa

admire dolphins and whales in Mirissa

surf the waves of Aragum Bay

relax on the pristine sands of Batticoloa

swim with sharks in the turquoise waters of Trincomalee
And these are just the well-known beaches! There are countless hidden beaches that you won't find in the guidebooks. We can take you to them on our bespoke tours.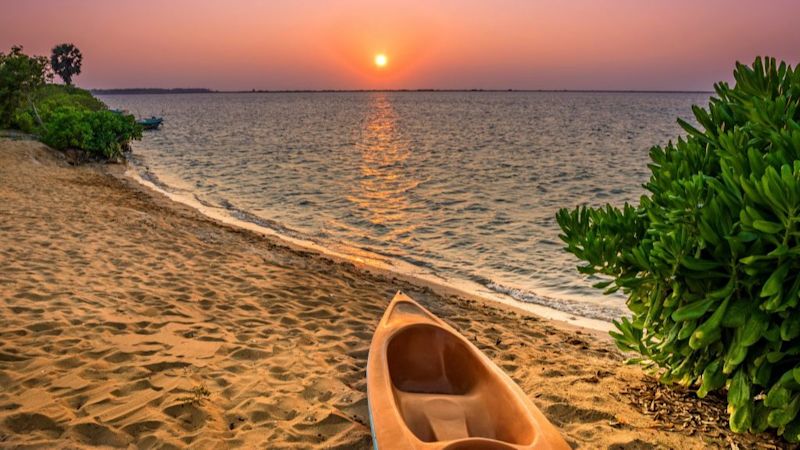 Kalpitiya Beach in the northwest is known for its gorgeous shoreline
What wildlife will I see in Sri Lanka?
Leopards, elephants, spotted deer, whales, tropical birds – Sri Lanka is a wildlife lover's paradise. It's known for being one of the best places in Asia for seeing wildlife. And wherever you are on the island, there's usually a national park or forest reserve close by to visit!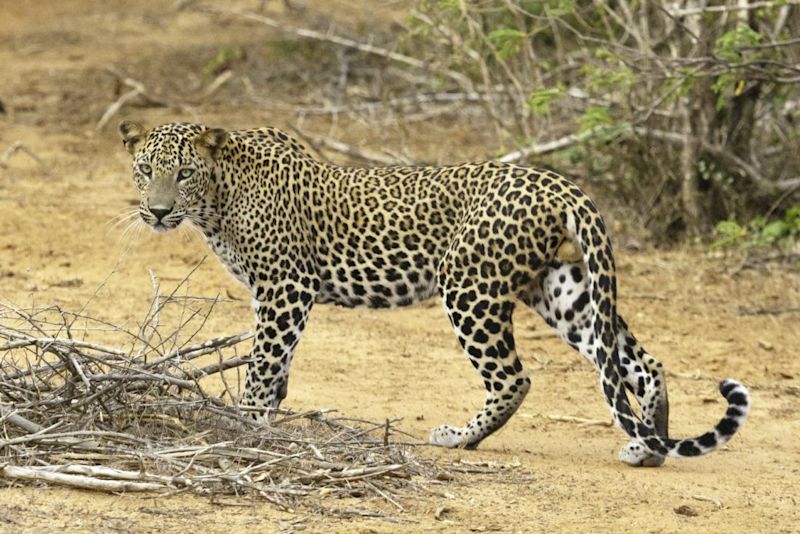 An Sri Lankan leopard in Yala National Park
That said, the wildlife isn't limited to the parks. You're often likely to see an elephant or more crossing the road in the southern town of Udawalawe. And you could well spot large bats flying above your head in the city of Colombo! So keep your eyes peeled. 👀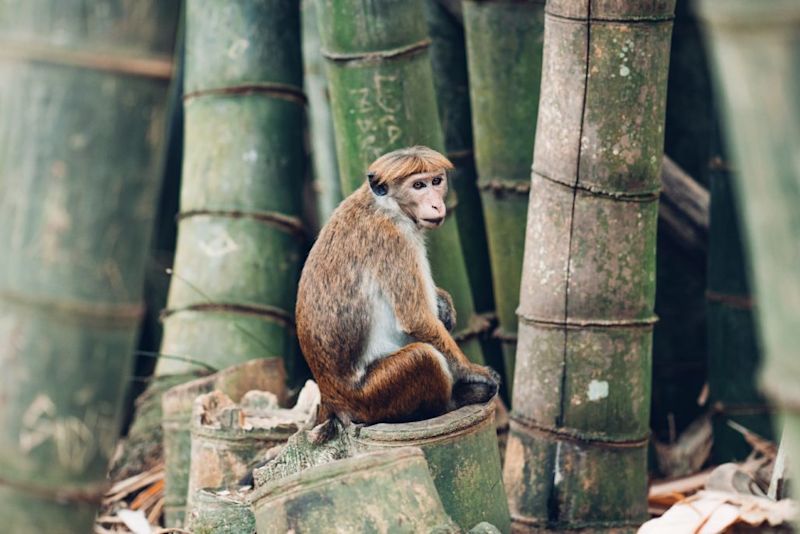 Toque macaques and other monkeys are everywhere in Sri Lanka and will happily eat your food for you if you don't pay it the attention they feel it deserves
Did you know? The Sri Lankan elephant is a symbol of national heritage and of prosperity, both for its long association with wealth and royalty, and for its association with Ganesh, the elephant-headed Hindu god of wealth.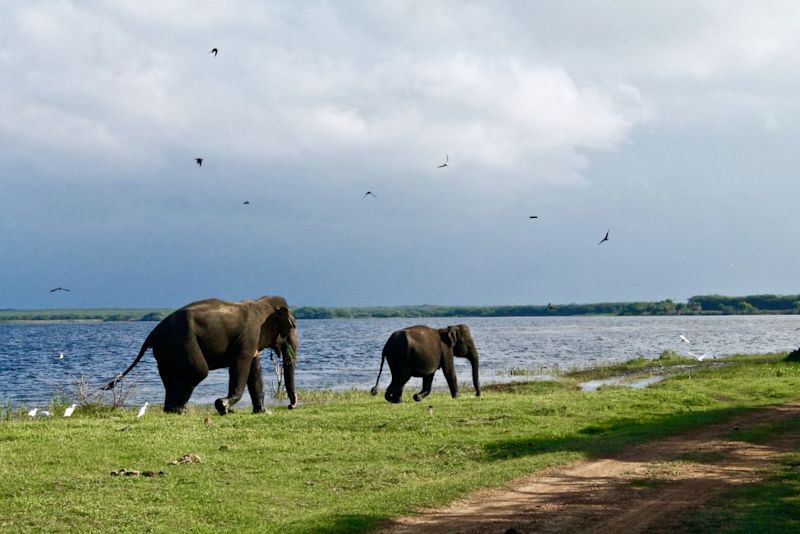 Sri Lanka is famous for its population of elephants
Phenomenal biodiversity
The island's isolation from the mainland, its varying altitudes and the heavy rainfall it receives from the two monsoon seasons have given Sri Lanka a variation in climate and biodiversity normally found only across an entire continent.
Furthermore, Sri Lanka is the easiest place in the world to see the blue whale, the world's largest animal.
This malabar pied hornbill is clearly a female, because it has white around the eye (which males do not)
Sri Lanka's national parks
National parks make up 10% of the island's total area. The parks are home to herds of elephants, solitary leopards, beautiful spotted and sambar deer, crocodiles, and many species of resident and migratory birds, among others.
Sri Lanka is a small country, yet it has 26 national parks spread out over its area, including a couple on its smaller islands.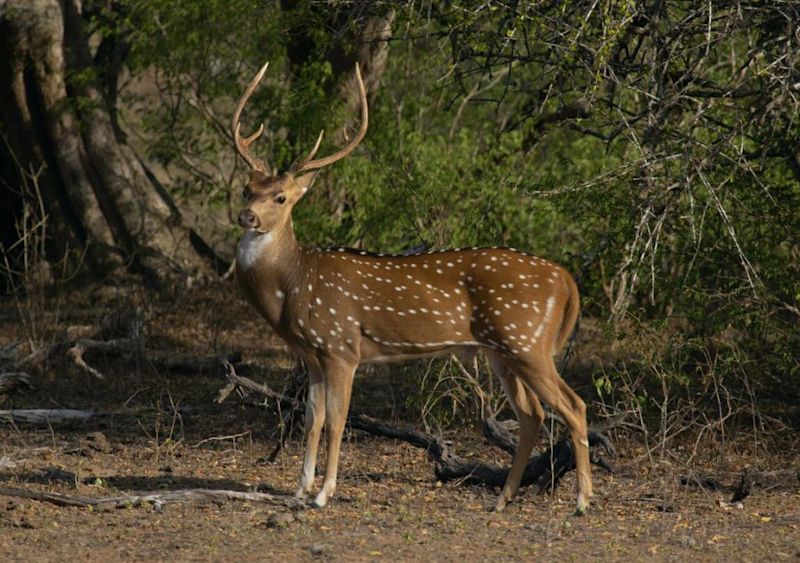 A Sri Lankan spotted deer in Yala National Park
Best national parks for a safari
The two most popular national parks for safari in Sri Lanka are:
Udawalawe National Park in the south

Yala National Park on the southeastern coast
Both parks have large elephant populations, as well as leopards, the two most sought-after animals on safari. Both also have diverse and absolutely beautiful landscapes, including forests and grasslands.
Yala National Park is the larger and busier park, and jeeps often crowd around animal sightings. It has the highest leopard population in the country, so your chances of spotting one – while not guaranteed – are higher here. The best time to visit is June to September.
Udawalawe National Park is a quieter park, and its central reservoir offers a gorgeous backdrop to photographs of the thirsty animals that congregate there. The best time to visit is from October to January (the dry season) for large elephant sightings, and November to March for migrant birds.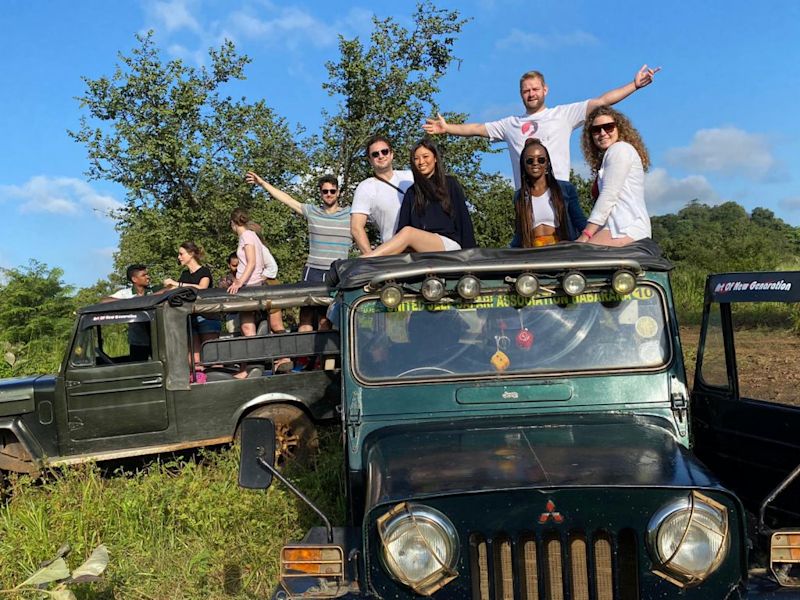 A safari drive is a must when in Sri Lanka!
Sri Lanka is such a varied destination that really surpassed my expectations when it came to the variety of adventure, culture – and amazing food! I really wanted to see the elephants and get close to nature – the elephant safari was my fave!
– Sarah-Jane Paden
A female sambar deer
What is Sri Lankan food like?
With recipes and spices brought to the island over the centuries by Indians, Arabs, Malays, Portuguese, Dutch and English, Sri Lanka boasts a fascinating culinary heritage. Fused together with local produce, including fruit, such as coconut and jackfruit, seafood and an arsenal of spices, Sri Lankan cooking delivers an abundance of incredible dishes. The island's signature dish is the famous rice and curry, the staple food of almost every Sri Lankan man, woman and child, served up in just about every café and restaurant across the land.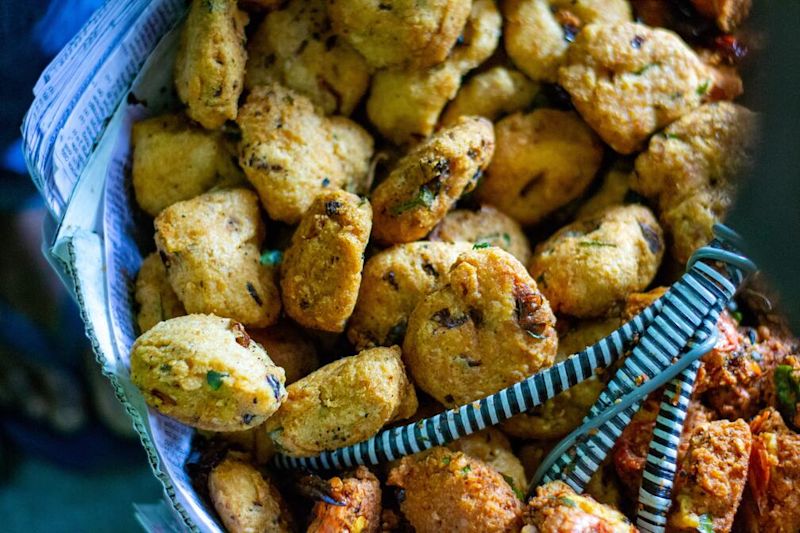 Sri Lankans are known for using lots of spices and herbs in their food
Eating with your hands
Eating with your hands is customary when in Sri Lanka; the locals say that using cutlery means you can't properly enjoy the flavours and textures of food.
That said, Sri Lankans are extremely accommodating and tourists are almost always provided with cutlery by default.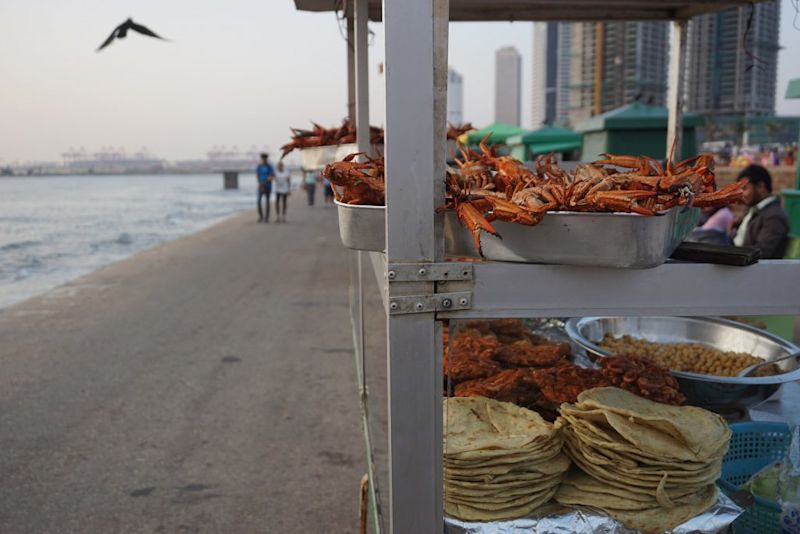 There are many wonderful seafood dishes in Sri Lanka
Popular local dishes
So what are some of the foods you can look forward to trying in Sri Lanka? Here are some classic dishes we would recommend having a taste of on your visit to Sri Lanka:
Fish curry
As you'd expect from an island in the Indian Ocean, seafood plays an important role in Sri Lankan cuisine. Ambul thiyal (sour fish curry) is one of the most beloved varieties of the many different fish curries available.
Kottu
Kottu is the Sri Lankan hamburger, and everybody's favourite go-to fast food when craving something tasty and greasy. It resembles fried rice, except, instead of rice, it's made with a type of roti known as godamba roti (a flat, crispy bread).
Over the traffic and noise at a Sri Lankan market, you'll likely hear the clanking of metal on metal and know kottu isn't far away.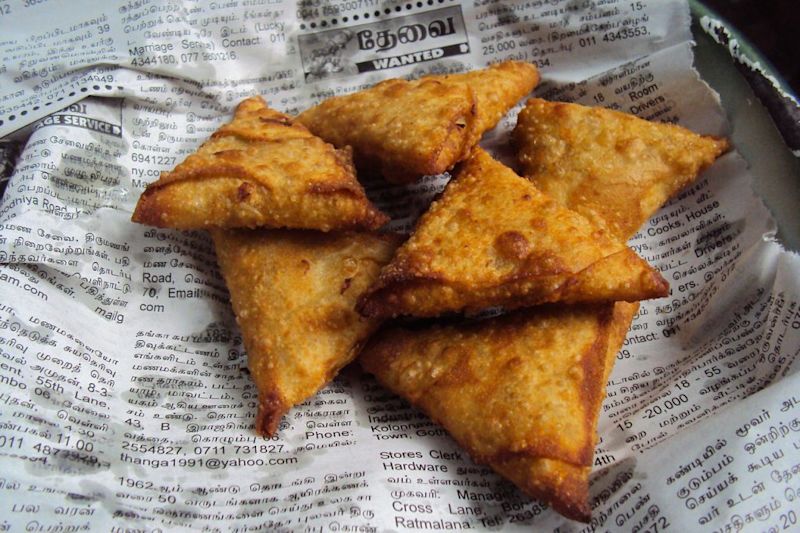 Yummy, crispy samosas are also a favourite Sri Lankan food!
Hoppers
Hoppers are the Sri Lankan answer to the pancake. The batter is made from a slightly fermented concoction of rice flour, coconut milk, coconut water (optional), and a hint of sugar. Sooo tasty! 🤤
Pol sambal
In a country in which the coconut is of supreme importance, there's one Sri Lankan side dish that pays fitting tribute: pol samabl. This dish, which could be translated as 'fresh coconut relish', is a simple blend of finely grated coconut, red onions, dried whole chillies (or chilli powder), lime juice, salt and Maldive fish (if available).
The ingredients are diced or ground, then combined in a bowl. In Sri Lanka, pol sambal is used as a garnish or side dish for just about everything and anything.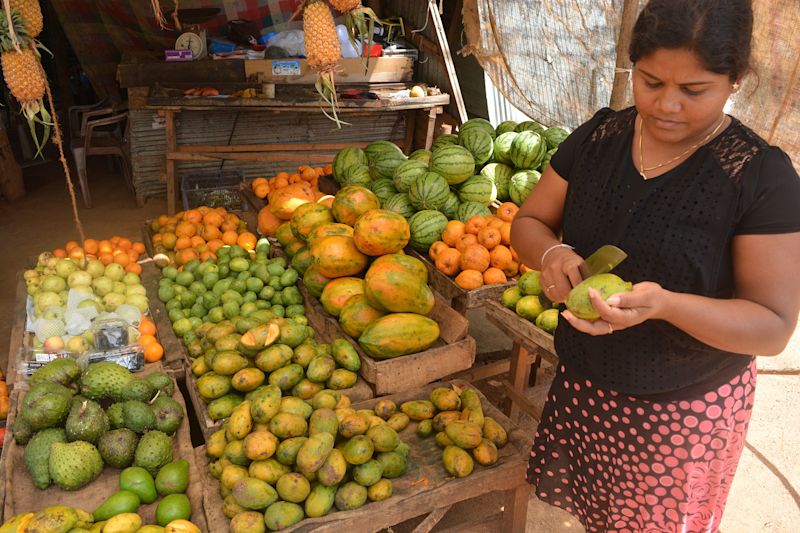 Delicious local fruits are also available throughout the year