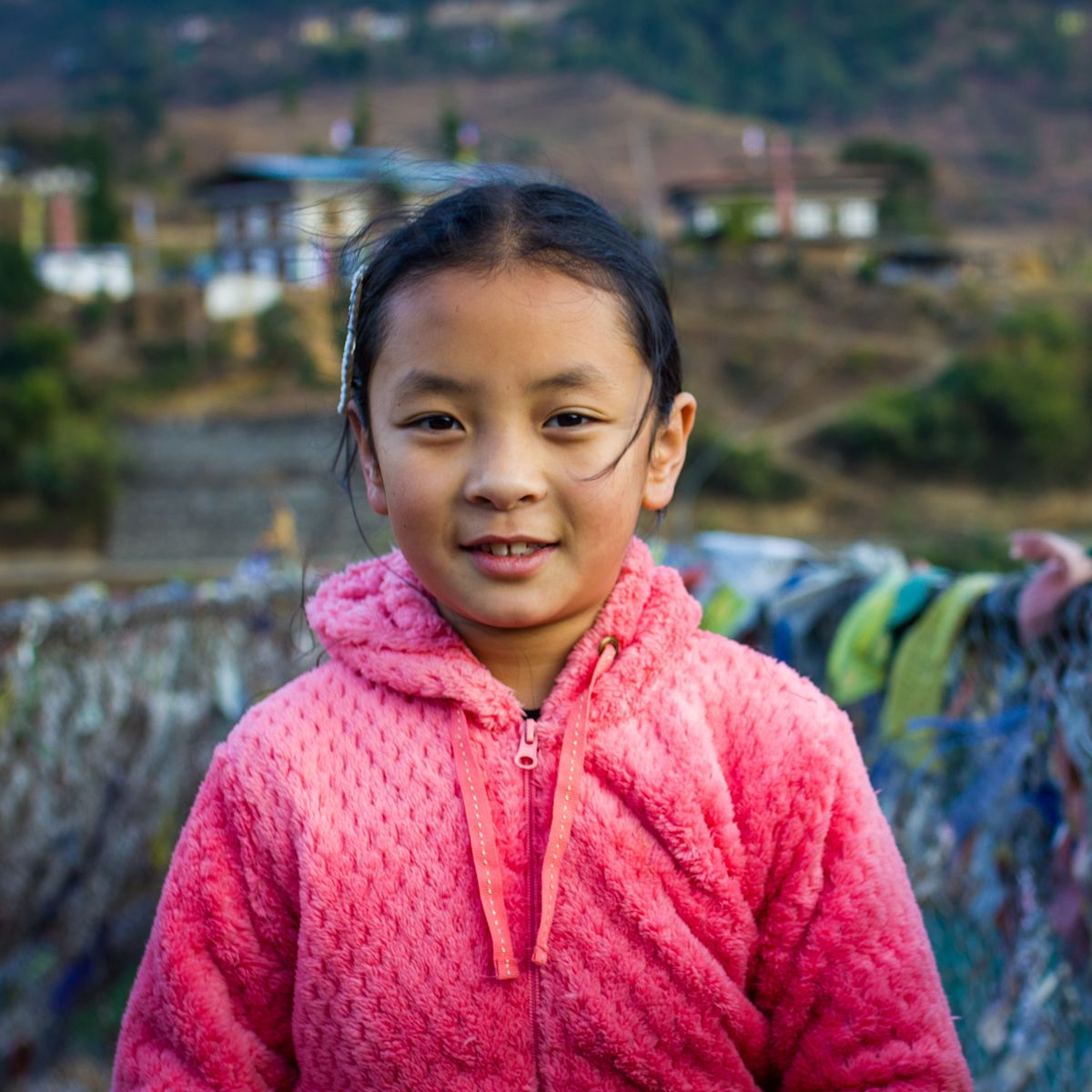 Why everyone loves Bhutan
Jun 30, 2023
Reading time: 12 minutes
We chat about all the fascinating, unique and beautiful things that make Bhutan the gem of a country that it is. Learn what to see and visit when you're there for a truly unforgettable experience!
Bhutan has been having a moment in recent years. One of the core things surprising and fascinating all of us around the world is the country's philosophy and national policy of Gross National Happiness. Linked to this policy is a preoccupation with protecting the nation's natural resources and conserving Bhutanese culture and traditions. This focus on gross national happiness is one of the key reasons why everyone loves Bhutan.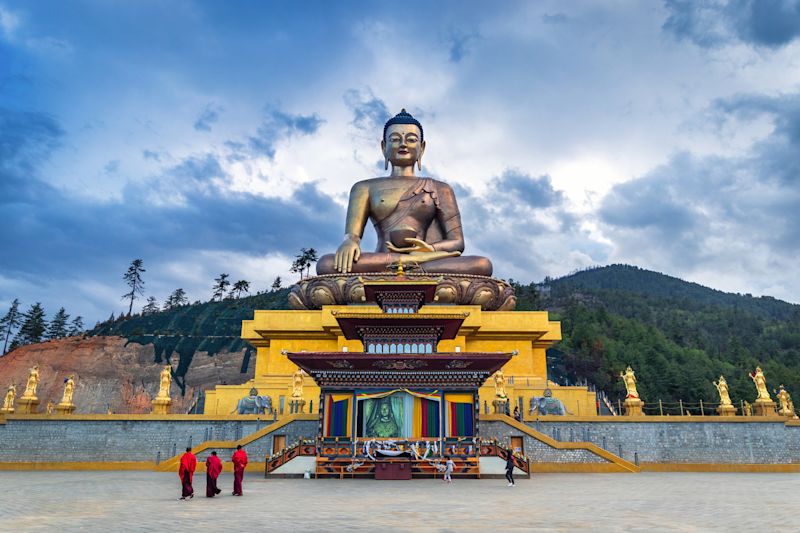 One of the dozen offering goddesses surrounding the Buddha Dordenma statue in Thimphu
It's unsurprising, given Bhutan's unique trajectory, that seemingly everyone wants to visit this small mountain kingdom! We can all certainly learn something from the Bhutanese and how they choose to navigate the twenty-first century.
Bhutan is having a well-deserved moment, and we are here for it!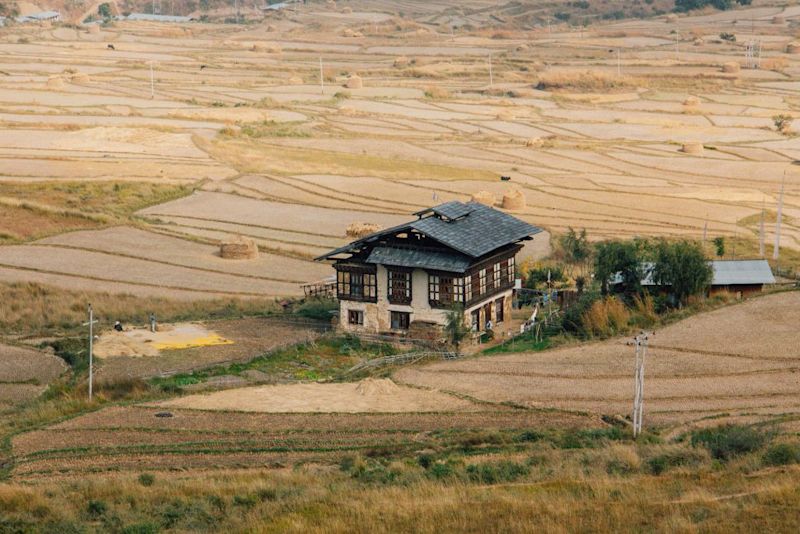 A traditional homestead in the district of Punakha
So let's talk Bhutan ...
Bhutan map and flag
Bhutan is a landlocked country in Asia, and it is the smallest state located entirely within the Himalaya mountain range. Located in the Eastern Himalayas, it is bordered by China (in the north) and India (in the south). Bhutan is geopolitically in South Asia and is the region's second least populous nation after the Maldives. Thimphu is its capital and largest city, while Phuntsholing is its financial centre.
Bhutan map
The map below should help you to understand the geography of Bhutan.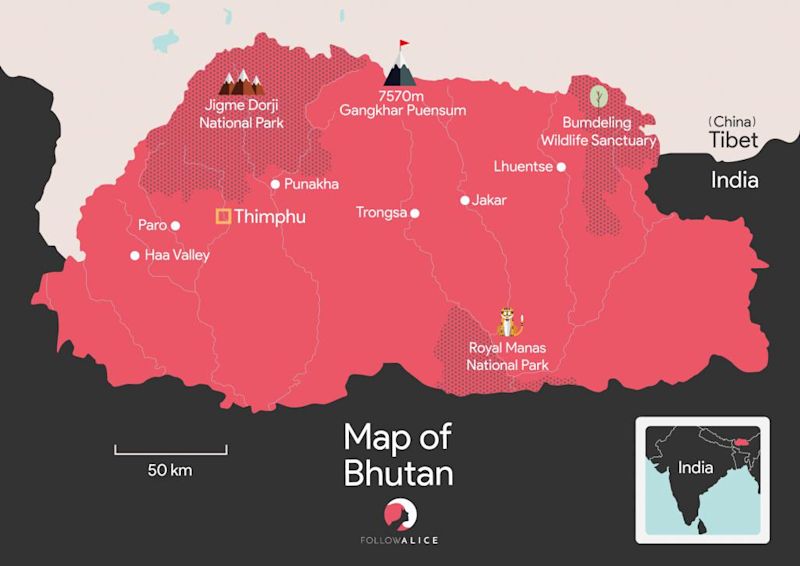 Map of Bhutan showing some of its most popular attractions
Bhutan flag
Bhutan is traditionally known as Druk Yul, a name that translates as 'Land of the Thunder Dragon'. The nation's flag (adopted in 1969) depicts a druk (dragon) against a yellow and orange-red background. The dragon holds a jewel in each of its claws – these symbolise the wealth and security of the nation.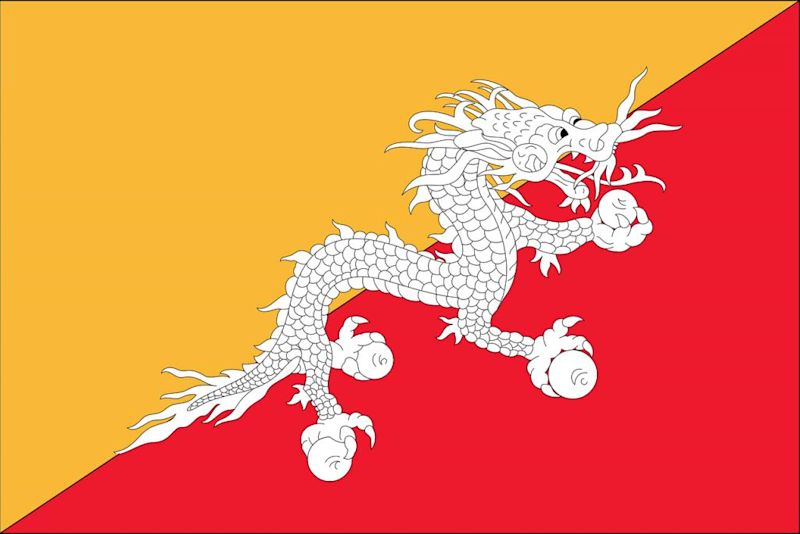 The Bhutanese flag shows the legendary dragon
Must-see cities, towns and landmarks
The three cities and towns in Bhutan that we encourage every traveller to visit are all in the west, the most easily accessible half of the country. We suggest visiting:
The capital, Thimphu, which lies in a valley and is surrounded by tall mountains and beautiful farmland.

The riverside town of Paro, which you fly into, and which has many sacred sites and historic buildings, including the impressive Rinpung Dzong (a monastic fortress).

The small town (and previous capital of Bhutan) Punakha, whose enormous and beautifully preserved seventeenth-century Palace of Great Happiness sits at the confluence of two rivers.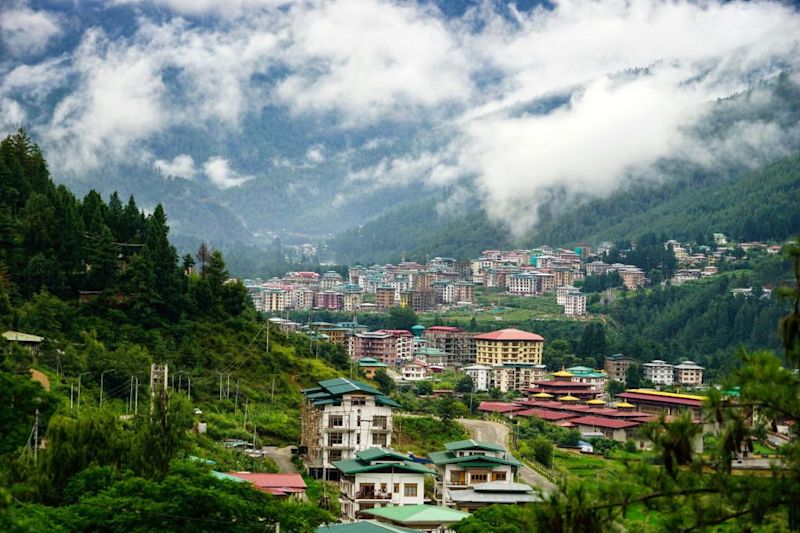 Thimphu sits tucked in a valley
There are of course many other wonderful towns and villages to visit, including some that are very remote. There's the valley farming village of Ha in the west that trades with China, and the historically notable towns of Trongsa and and Jakar in central Bhutan, both of which have large dzongs to visit.
If you head to the east or south of the country, you're treated to a different side of Bhutanese culture. Lhuentse in northeastern Bhutan, for instance, is one of the most ancient, remote and untouched parts of Bhutan, and home to many sacred pilgrimage sites.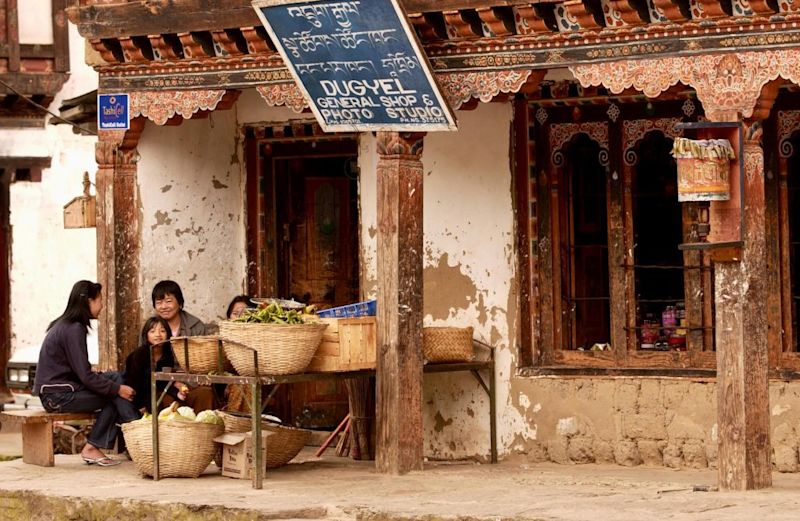 A street scene in Ha, a village in western Bhutan
Famous landmarks
Bhutan has so many well-preserved historic sites, that it would be impossible to discuss them al here. Instead, we'll settle for highlighting three of our favourites, which are within easy access to the visitor:
The

Buddha Dordenma

is a three-storey-high, steel statue that sits high above the city of Thimphu on a spur. Its surrounded by a dozen (much smaller) golden Buddhist goddesses. The site also offers a fantastic panorama of the city and its surrounds, and is a starting point for many great biking routes.

Punakha Dzong

is an enormous monastic fortress that sits tucked amongst rounded, forested mountains at the confluence of the Mo and Cho Rivers. Every spring purple jacarandas offer a splash of colour against the white walls of the fortress. It's one of the most famous monasteries in the country, a model of traditional architecture, and most definitely worth a visit!

Punakha Suspension Bridge

is a 160 m-long, iron-chain bridge that connects Punakha to the rest of the valley. It's a gorgeous bridge that offers wonderful views up and down the valley.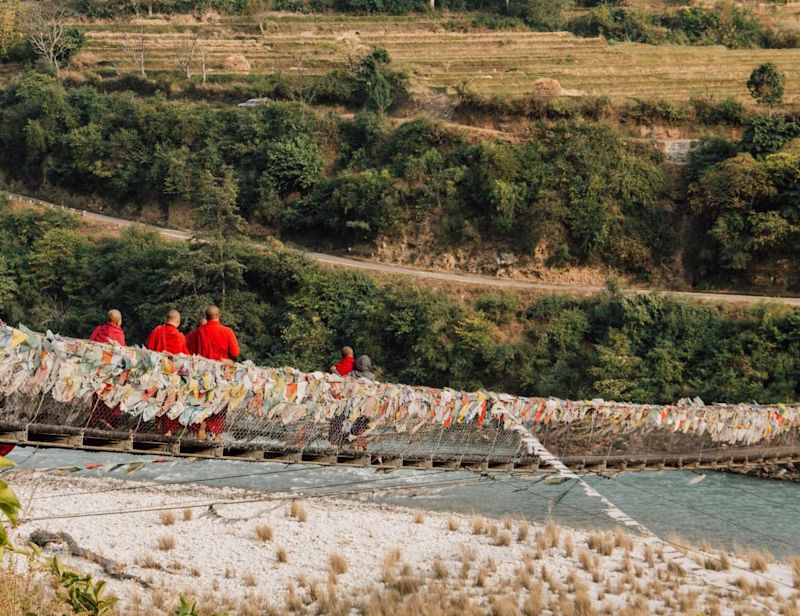 Monks walk across Punakha Bridge, which is festooned with countless prayer flags
But perhaps the most famous landmark in all of Bhutan is:
Taktshang Hermitage

(or Tiger's Nest) just outside the city of Paro. This cliffside monastery is where Guru Rinpoche, the father of Bhutanese Buddhism, is supposed to have landed on the back of a tigress. you reach it by hiking up through the forest. A total

must

when in Bhutan!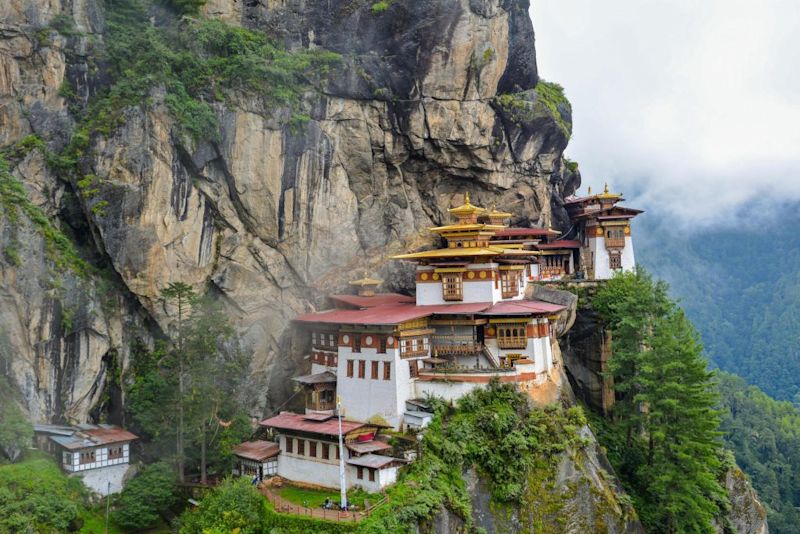 Tiger's Nest is the country's most iconic landmark
Bhutanese people
The Bhutanese are a spiritual people who care deeply about the land and nature. Tradition and religion inform much of their daily lives, especially those dwelling in rural areas.
If you want to visit just one museum to learn about the history and development of Bhutanese culture, we suggest you make it the National Museum of Bhutan in Paro.
In our Discover Bhutan itinerary we also include a lunch at a rural homestead so you can encounter a traditional way of life.
Brief history
The independence of Bhutan has endured for centuries, and the territory was never colonised in its history.
Situated on the ancient Silk Road between Tibet, the Indian subcontinent and southeast Asia, the Bhutanese state developed a distinct national identity based on Buddhism. Headed by a spiritual leader known as the Zhabdrung Rinpoche, the territory was composed of many fiefdoms and governed as a Buddhist theocracy.
In 2008, Bhutan transitioned from an absolute monarchy to a constitutional monarchy, and held its first election to the National Assembly of Bhutan, which has a two-party system. The King of Bhutan is known as the Dragon King, and is much beloved and respected, both at home and abroad.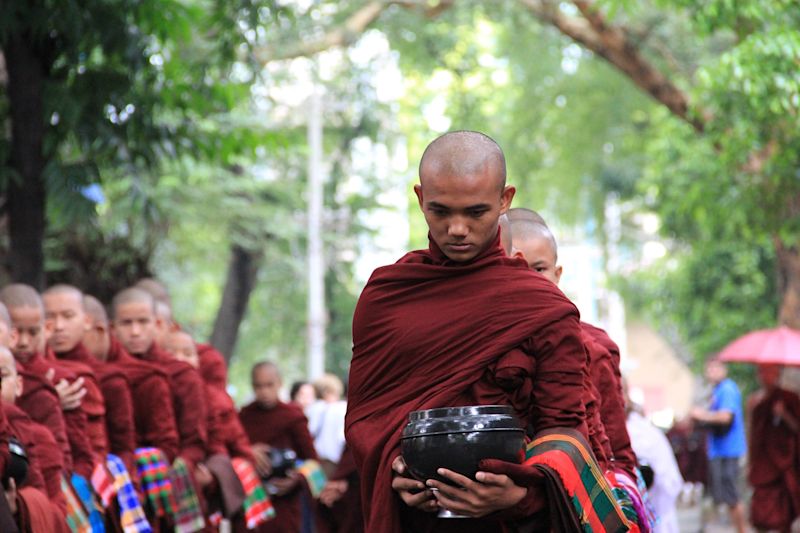 Buddhism has heavily influenced the development of Bhutanese culture
Religions
Buddhism is by far the most dominant religion in Bhutan. Roughly 75% of the population are Buddhists. The remaining 25% – largely southerners – are mostly Hindus.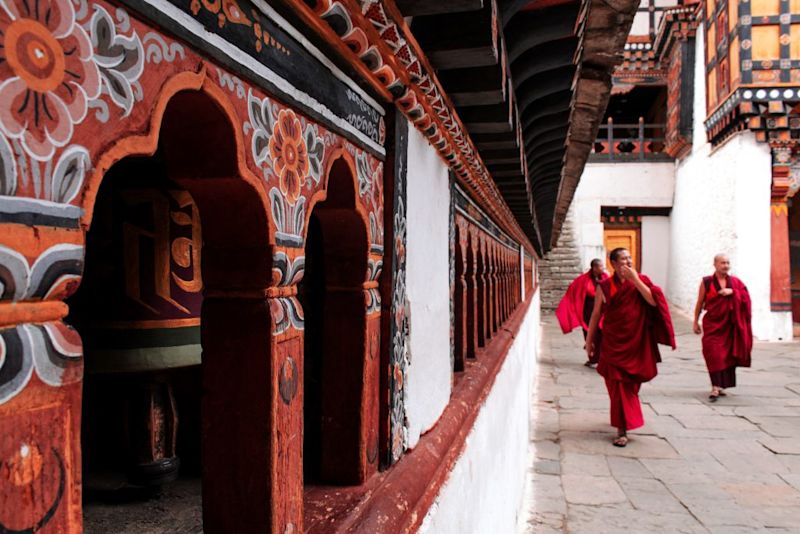 Buddhist monks are easily identifiable by the long, red robes
Landscapes and wildlife
The country's landscape ranges from lush subtropical plains in the south to valley farmlands to the snow-capped mountains that stretch across the north. These mountains are part of the Himalayas and are a harsh, beautiful and adventurous environment.
The highest mountain in Bhutan is the Gangkhar Puensum (7,570 m) on the Tibetan borer. It's a strong candidate for the highest unclimbed mountain in the world!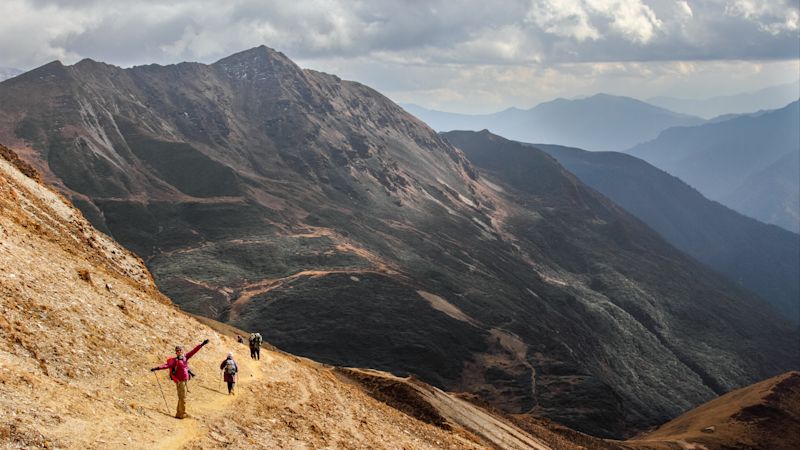 Trekkers in the district of Paro
National parks
Bhutan has many large national parks preserving its natural heritage. Three of the best parks, which are all very different from one another, are:
Jigme Dorji National Park

in the

northwest

is a mountainous area with beautiful glaciers that's a hiking and trekking paradise. Its wildlife includes black bears, leopards and red pandas, among others. It's the most easily accessible park, being close to Paro and Thimphu.

Royal Manas National Park

in the

south

is considered by the Government to be the "conservation showpiece of the Kingdom". It's home to Bengal tigers, Asian elephants, gaurs (Indian bisons), pygmy hogs, and golden langurs, among many others.

Bumdeling Wildlife Sanctuary

in the far

northeast

ranges from 1,500 to 6,000 m. It's home to the astonishing Ludlow's Bhutan swallowtail butterfly as well as many important birds.
Amazingly, 50% of Bhutan is national parks!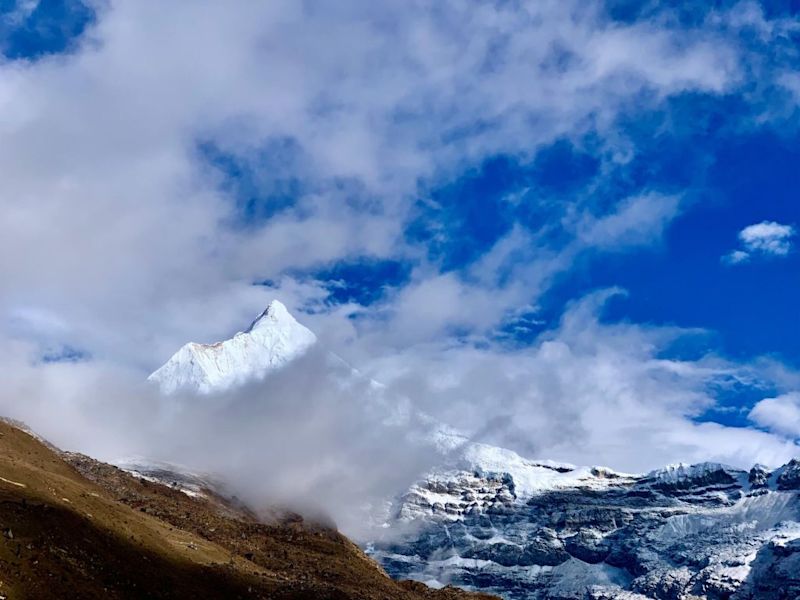 The magnificent Mt Jichu Drake as seen from Tshophu Lake on the Jomolhari trekking route inside Jigme Dorji National Park
Wildlife
Bhutan has a fantastic array of animals, and the country works hard to protect them through a series of parks and reserves. Some of the rarest and most notable carnivals in Bhutan are:
Snow, clouded and Indian

leopards

Black

panthers

Tibetan

wolves

Bengal

tigers

, which have the largest teeth of any cat species

Himalayan black

bears

, which can weigh up to 180 kg just before hibernation

Ussuri

dholes

, a beautiful, reddish subspecies of Asian wild dog

Asian

wild cats

, like the leopard and golden cats

Red

pandas

(also called

red cat-bears

), which are impossibly adorable and only distantly related to giant pandas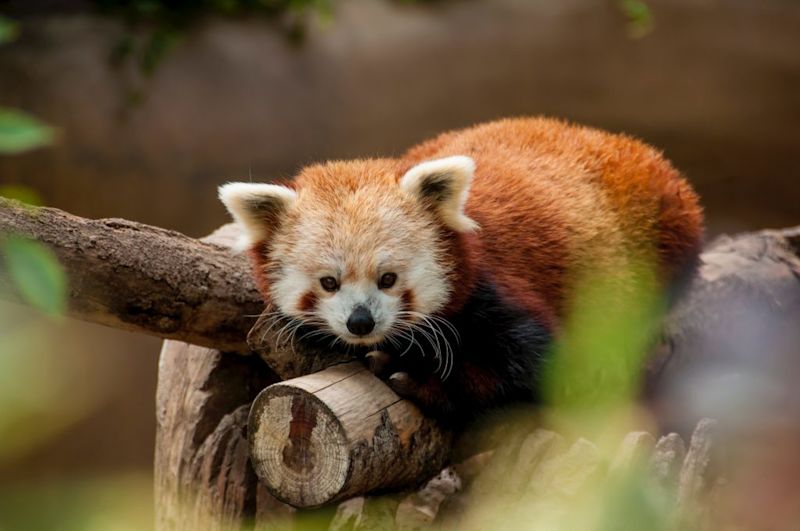 Red pandas are one of the treasures of Bhutan
Some of the most intriguing and special of the country's herbivores are animals that any of us would never have seen or heard of before are, like:
Bhutan

takins

(gnu goats), which are the national animal of Bhutan and can best be seen at Motithang Takin Preserve just outside of Thimphu

Different types of

langurs

(Old World primates), such as the golden langur, which is highly endangered

Himalayan blue

sheep

(or bharals) – the males have horns shaped like an upside-down French moustache

Various types of beautiful and stately

deer

, like muntjac, black musk and sambar deer

Many other types of unusual

ungulates

(hoofed animals), both large and small, like Himalayan serows, Himalayan gorals and gaurs (Indian bisons)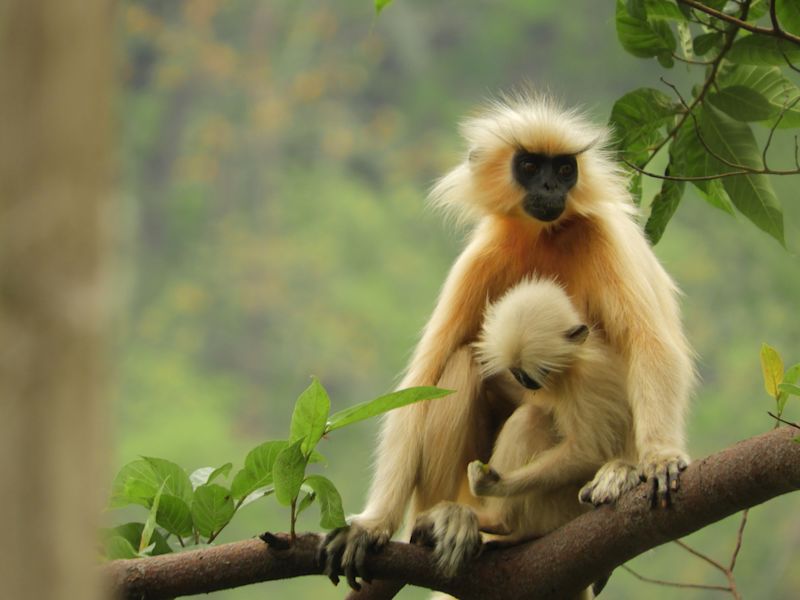 Golden langurs are endangered Old World monkeys
Hikes and adventure activities
Given its mountainous terrain and many untouched and well-preserved parks and wildernesses, Bhutan is an adventure-lover's mecca! The most popular activities are:
multiday treks

day hikes

biking through the country

white-water rafting

archery lessons
We're happy to organise any and all such activities for you!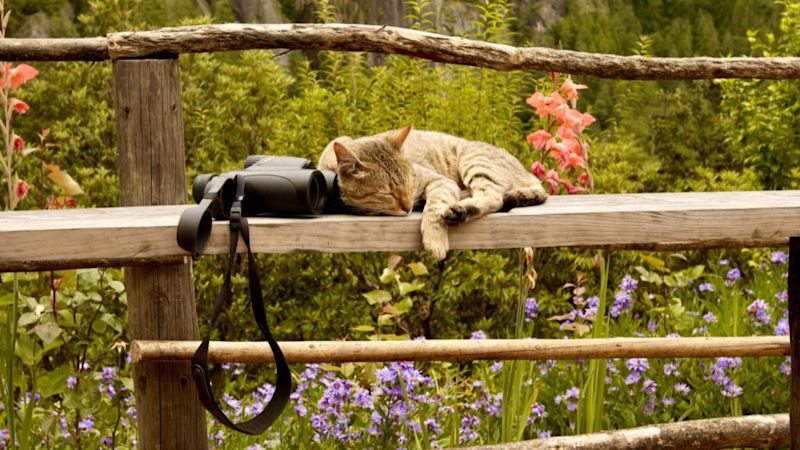 The scenery along Taktsang Trail is beautiful and rewarding
Raft on the Mo Chhu
The Mo Chhu (River) is a wide river with a 10 km stretch that you can raft. You'll get to navigate more than 10 rapids that are class 2 and above. As seen in the picture below, you paddle past Punakha Dzong, giving you another great viewpoint of this magnificent structure!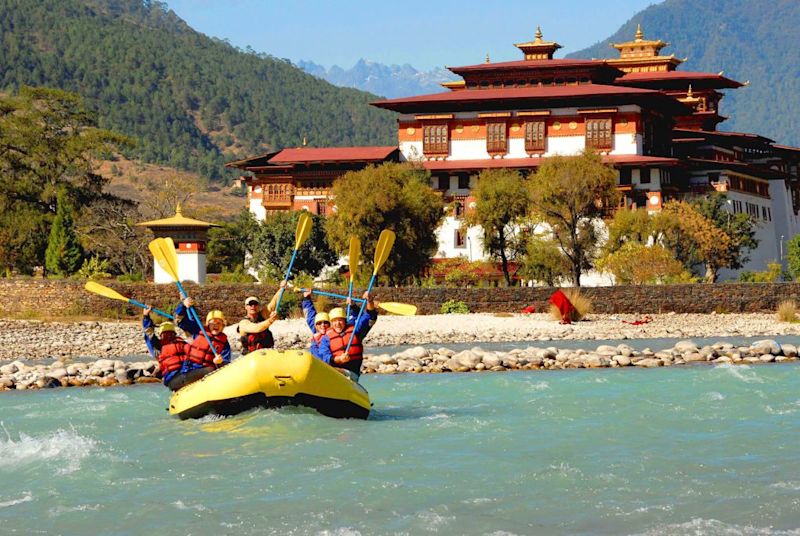 Rafting past Punakha Dzong
Hike to Tiger's Nest
To reach Tiger's Nest you must tackle a nearly 9 km roundtrip hike off the Taktsang Trail. The ascent usually takes three or four hours. And the hike is certainly part of the adventure, offering wonderful views over Paro and the countryside. Once you reach Tiger's Nest, you can explore this Buddhist complex, which is a working monastery.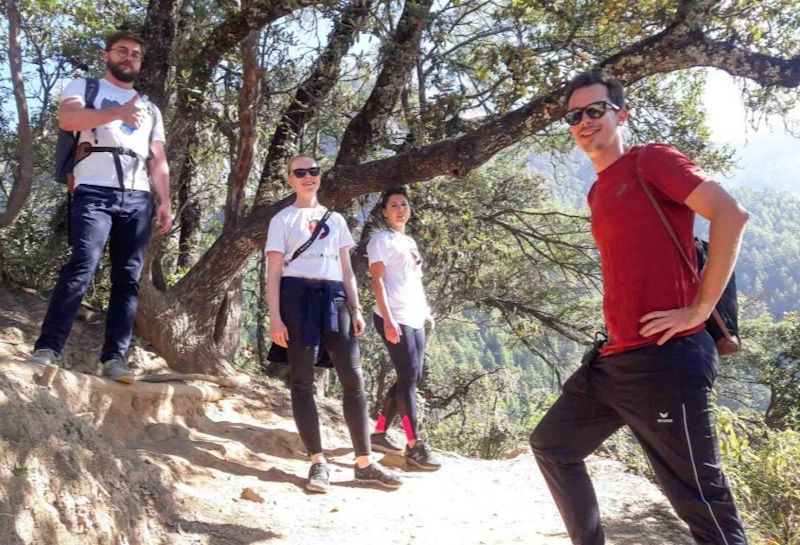 The hike up to Tiger's Nest is very beautiful and rewarding
Try your hand at archery
Archery is the national sport in Bhutan. It's almost what you'd expect from a land so happily different to the rest of the world! You can have a go at it yourself in both Paro and Thimphu. Visitors are also welcomed to watch archery tournaments if one is going on.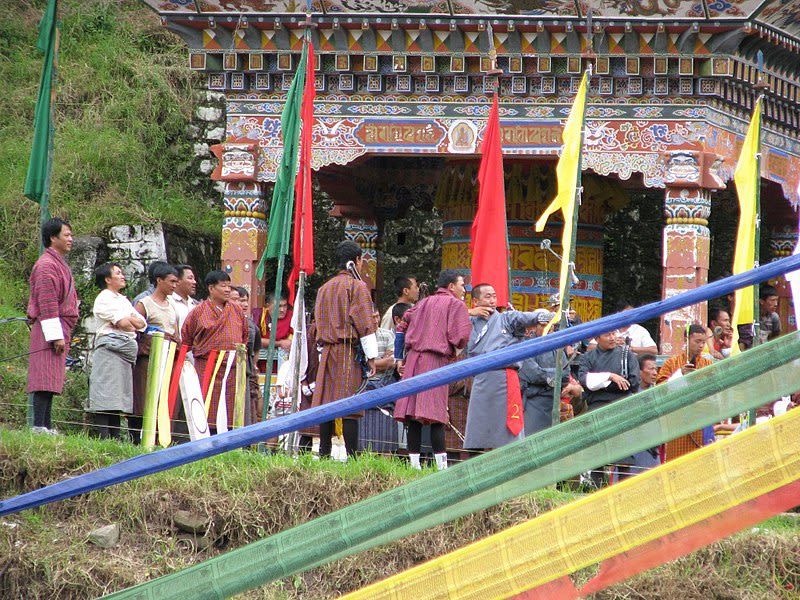 Scene at an archery tournament in Lhuentse
Dagala Thousand Lakes trek
This six-day, strenuous trek in northwestern Bhutan takes you into deep wilderness where you see beautiful lakes as well as many magnificent peaks of the Himalayas, including Everest, Jomolhari, Masang Gang. During your trip you pass through remote Bhutanese villages, and get to see many wild animals and beautiful birds. The best time to tackle the Dagala Thousand Lakes trek is between April and June, or during September or October.
Markets and shops
Bhutan has many wonderful markets and shops selling local produce and handmade goods.
Markets
We recommend wandering around a Bhutanese market or two to sample local foods, chat to the stall owners, pocket a few yummy souvenirs, maybe purchase some handwoven fabric ... well, you know how markets work!
The two markets we most recommend visiting (and which are very different from one another) are:
The Authentic Bhutanese Crafts Bazaar

(or ABC Bazaar) in central Thimphu, where you can find about 100 bamboo stalls all selling locally made goods

Paro's weekend market

, a small and traditional market where you can purchase Bhutanese foods like

chugo

(dried yak cheese), Tsirang honey and

khoo

(dried jellied cow skin).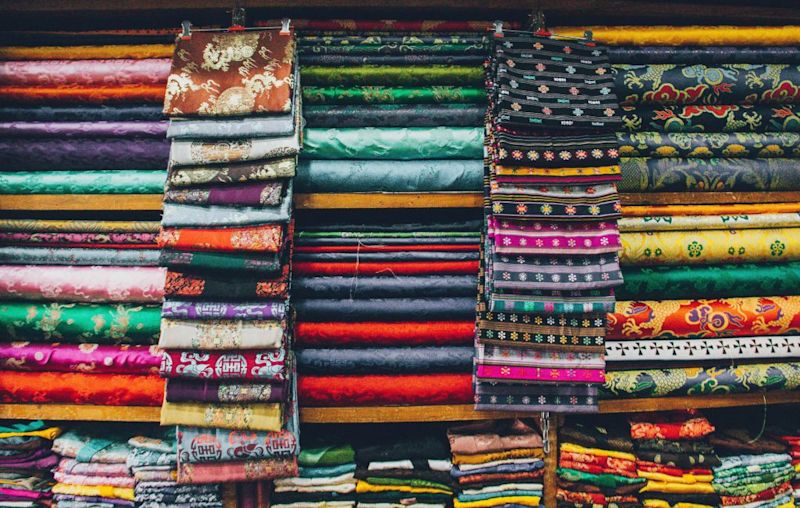 Colourful local fabrics being sold at market
Shops
While in Thimphu, we can also recommend popping into a couple of shops like:
Lunga Handicraft

in Chang Lam, Thimphu, which sells monastic trumpets, beautiful carpets and bamboo boxes, among other things

Gagyel Lhundrup Weaving Center

, also in Thimphu, which sells beautiful handwoven fabrics

Choki Handicrafts

, which sells items produced at the famous Choki Traditional Art School – you can find paintings,

thangkas

and wooden boxes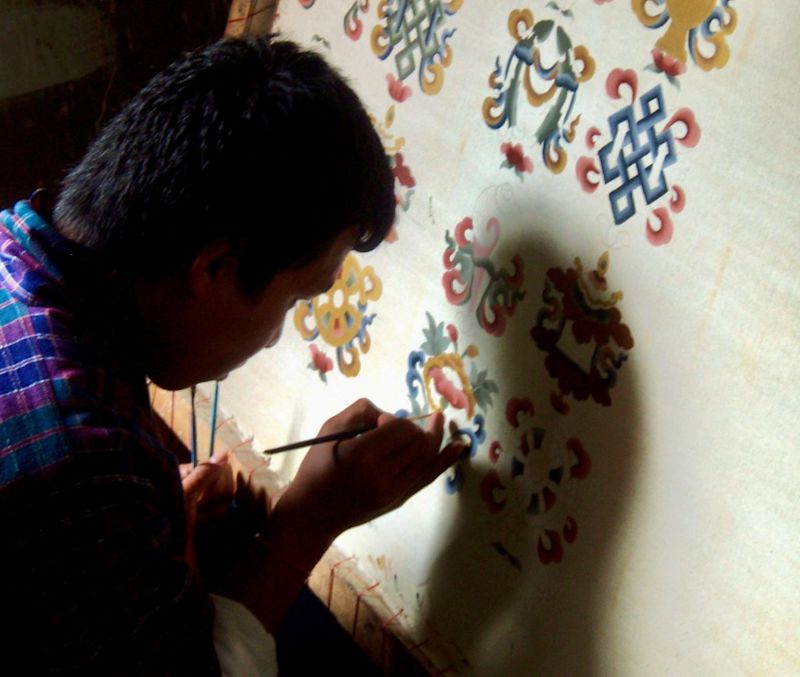 A student at work at Choki Traditional Art School in Thimphu
Festivals
The most well-known type of Bhutanese festival is probably the tshechu, an annual springtime festival. Each of Bhutan's 20 districts holds its own tshechu, with the dates decided by the lunar calendar.
We encourage you to plan your Bhutan trip to align with one of the festivals if possible. The festivals are full of amazing colour, ceremony, masks, dances and ritual.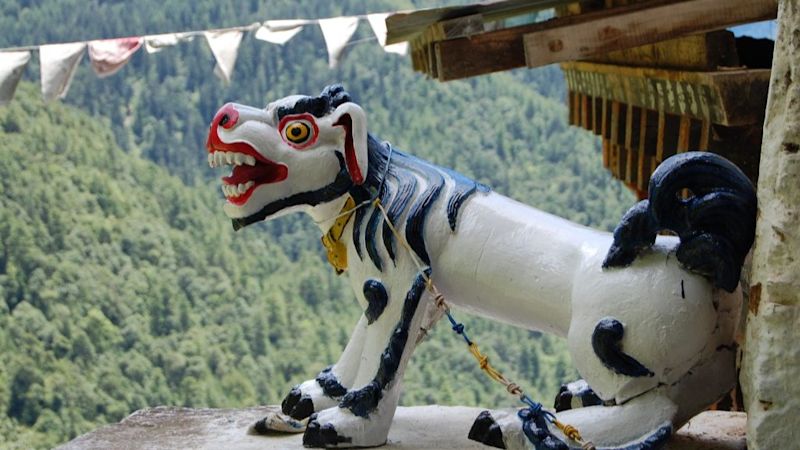 The snow lion is one of four venerated animals in Bhutanese mysticism believed to help bring you happiness
Some of the best festivals in Bhutan are:
The three-day

Thimphu Tschechu

, the biggest festival in the country. Colourful masked dances and religious rituals are performed inside of Tashichho Dzong.

The

Punakha Drubchen

, which involves a recreation of the dramatic battle that took place between Tibet and Bhutan in the 1600s. Volunteers reenact the battle that saw the Bhutanese beat back Tibetan invaders. The festival is followed directly by Punakha Tshechu, so you can actually attend two festivals if you visit at this time!

The

Black-Necked Crane Festival

in central Bhutan, which aims to celebrate and bring awareness to these endangered birds. The festivities take place in the courtyard of Gangtey Gonpa, in Phobjikha Valley, and there are wonderful crane-themed songs and dances.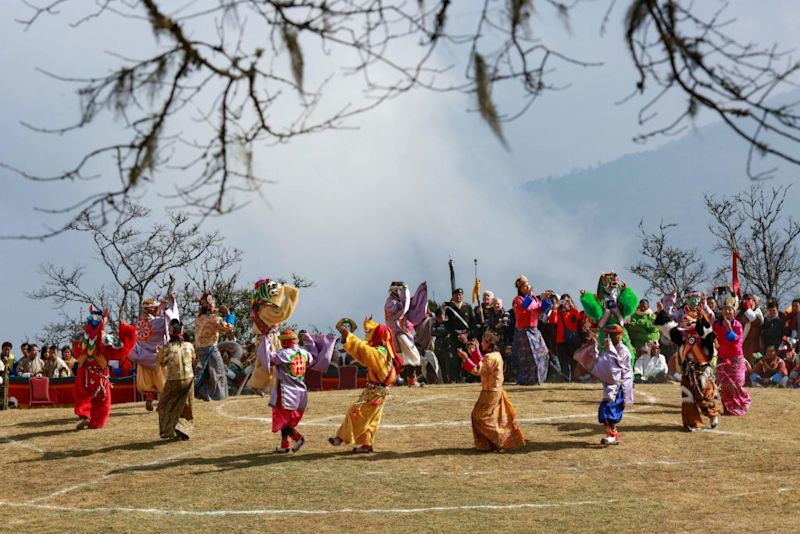 A masked dance held at Dochula, which overlooks Thimphu
Follow Alice to Bhutan
Our past Bhutan trips have been wonderful experiences, with everyone gushing about their time spent there. Would you perhaps like to be the next to head on over? Please drop us a line and we'll get back to you soon!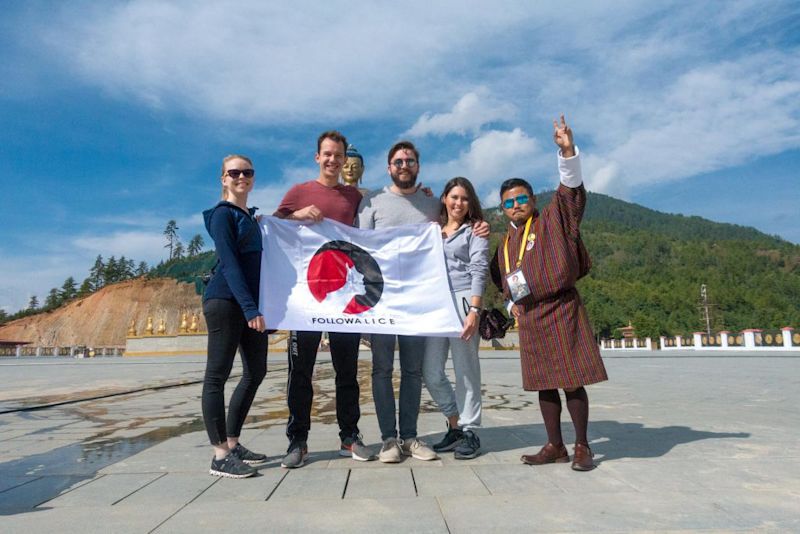 Discover Bhutan with Follow Alice