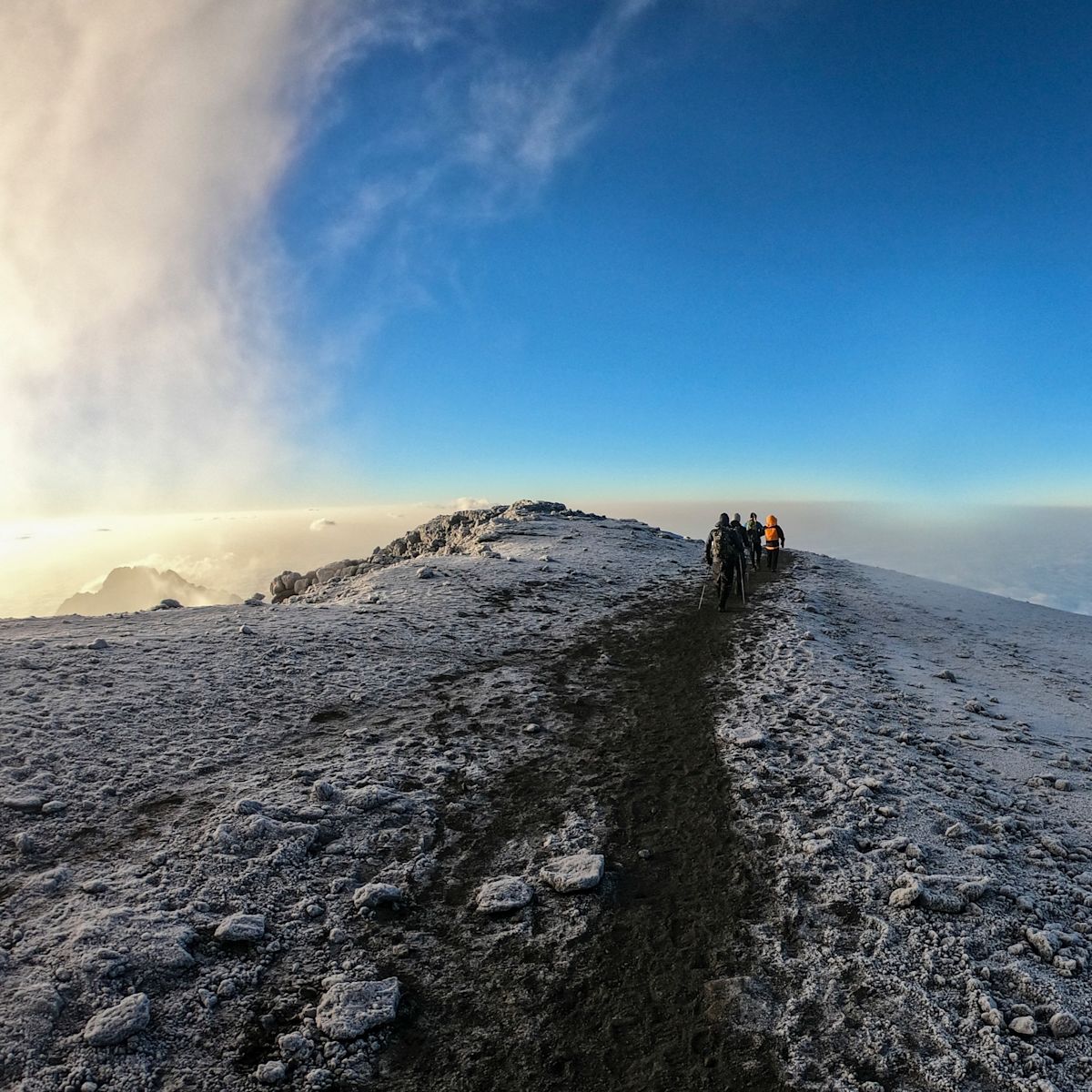 What should I wear for summit night on Kilimanjaro?
Feb 10, 2023
Reading time: 12 minutes
Summit night is a big deal. You leave the warmth of your tent at around midnight to venture out into the biting cold and wind and head for Uhuru Peak. You need extra layers and equipment to ensure you can hike comfortably and safely. Here's what to pack.
Summit night is a unique part of your Kilimanjaro climb. It's the night (and day) on which you climb far higher, and for much longer, than on any other day of your Kilimanjaro climb. It's also the coldest and windiest day of your trek, and the only time when you climb in the dark.
For these reasons, it can be treated as a separate topic from your more general Kilimanjaro packing list. In this blog post, we list every item of gear required for a successful Kilimanjaro summit.
Kilimanjaro summit night packing list
Below we list the items necessary for each part of the body, followed by a brief description and explanation of each item. Use this list in your Kilimanjaro preparation to ensure you have everything you need to summit Kilimanjaro.
Head
Here's what you need:
Balaclava

Beanie

Head torch

Sunglasses (or ski goggles)

Lip balm

Sunscreen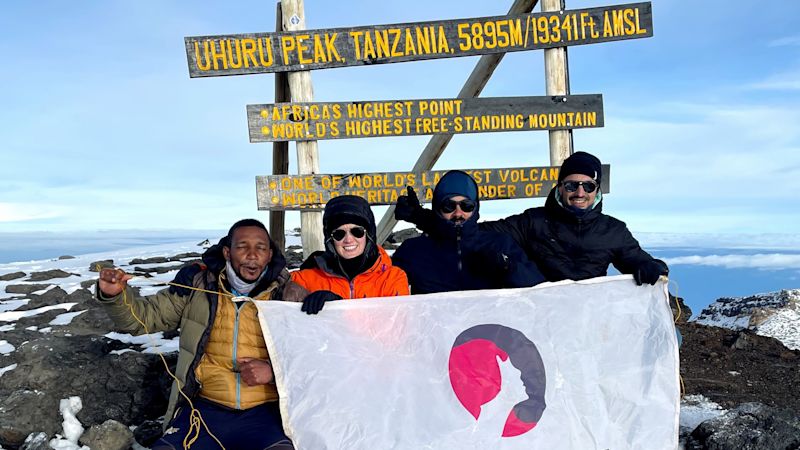 Expect extreme cold at the summit!
1. Balaclava
A balaclava is a fantastic piece of clothing for keeping your face, head and neck warm, especially during the night-time portion of summit day. No other item protects your head so well.
While you could wear a neck gaiter or scarf in place of a balaclava, these can shift as you move and don't generally cover your mouth, nose, cheeks, temples and ears. That said, you know you, and if a balaclava feels like too much confinement, opt for a neck gaiter, but then we recommend choosing a beanie that has ear flaps.
On summit night you want to cover every inch of yourself, as the cold and wind can be pretty fierce!
2. Beanie
A knit or synthetic beanie is key in keeping your head warm. Ensure it's not too small that it'll inch its way up your head. As mentioned above, if you're not wearing a balaclava, we recommend wearing a beanie or similar hat with ear flaps.
3. Head torch
Except for those doing a Kilimanjaro full moon climb, the first hours of your night-time summit are done in the dark. Your head torch is your hands-free light to guide you along the trail. It's therefore very important that you have one with a strong beam.
You also want one that is comfortable; a wider band is better than a narrow one in this regard. It should also come with an adjustable strap. This is because you need it to fit snugly when you're at lower-elevation campsites and have perhaps nothing on your head, but also on summit night when you'll be wearing a balaclava and beanie.
Finally, you might want to choose a head torch with a top band to help ensure it doesn't slide down. You also then don't need to make it quite so tight around the sides.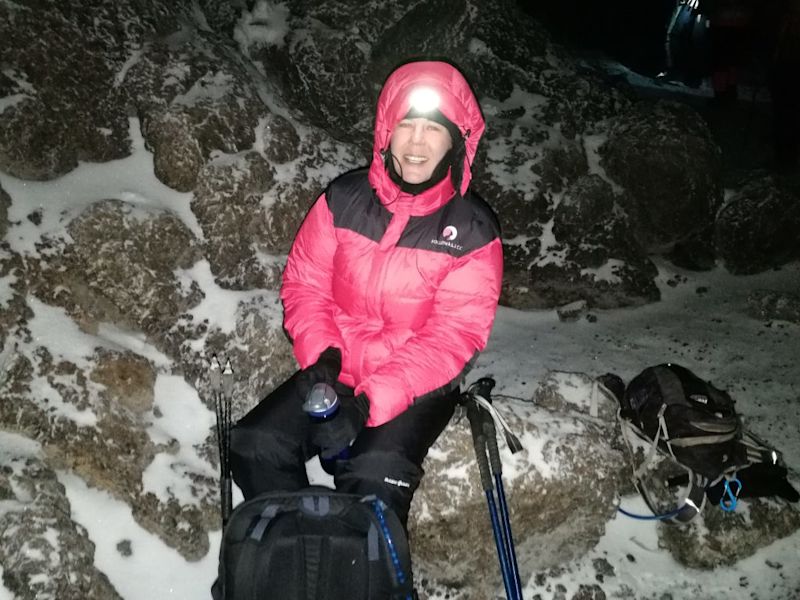 Unless it's a full moon, you need a head torch
4. Sunglasses (or ski goggles)
Eye protection is so important on summit night. When the sun starts to rise, the rays bounce off the snow and can cause snow blindness in those without glasses. Remember too that the higher the elevation, the stronger the sun's rays, so protecting your eyes becomes even more important. You want to wear polarised sunglasses, as these block the glare.
5. Lip balm
It's important to protect your lips against the sub-zero temperatures and intense winds of summit night. Even with a balaclava over your face, you'll want to wear a quality lip balm. And be sure to choose one with a high SPF factor to protect your lips when the sun comes up.
6. Sunscreen
It's probable that you won't wear your balaclava for the entirety of your summit night hike. This is because the hike only starts in the night, but goes on into late afternoon. You want to ensure your face doesn't burn during your descent hike. Also, if you opt to not wear a balaclava, be sure to protect your skin as soon as the sun starts to rise. Again, sun rays are far more damaging at high elevation. Remember, you want both UVA and AVB protection.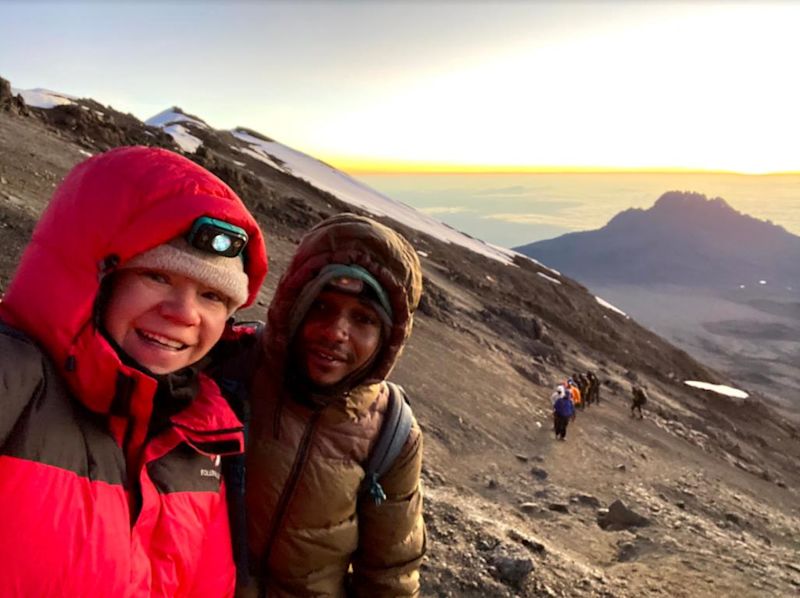 Beanies, hoods, head torches and more are needed for a successful summit-night climb – and a selfie stick doesn't hurt either!
Upper body
Here's what you need:
Moisture-wicking compression top

Long-sleeved thermal top

Softshell jacket

Waterproof, breathable jacket with hood

Insulated down or synthetic jacket
1. Moisture-wicking compression top
A skin-tight, long-sleeved thermal compression top is a wonderful tool in helping to keep you warm on summit night. It also helps to keep you dry by wicking away sweat.
The key thing about this top is to have one you've tested before on hikes and so know for certain to be comfortable. Note too that you want to tuck this layer into your pants to prevent it riding up and to prevent any cold air sneaking in.
2. Long-sleeved thermal top
This layer should be a snug fit and should also have been tested beforehand for comfort. You might want to tuck your thermal top into your pants along with your compression top.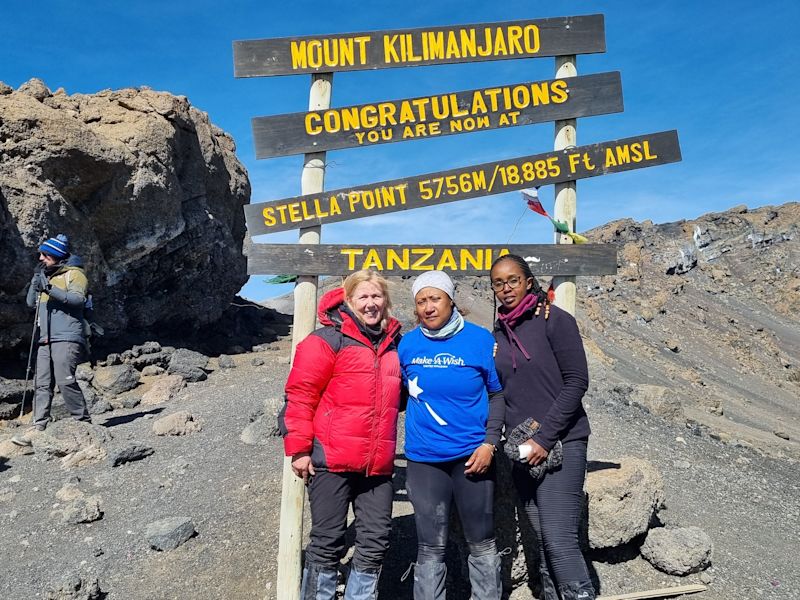 This pic by our client Eva Uisso shows the mild weather her group experienced on their August 2022 summit
3. Softshell jacket
A softshell jacket is a jacket made from binding two fabric layers together. It has no lining, like waterproof jackets do. Pull-over fleece jackets are ideal softshell jackets for summit night on Kilimanjaro. You could wear two fleeces if you tend to feel the cold more than others.
4. Waterproof, breathable jacket with hood
Your waterproof jacket is a very important item in keeping you warm. It should also have a hood, as you'll pull this over your hat for extra head and neck warmth. A drawstring hood is a great choice so you can pull it snugly around your face.
5. Insulated down or synthetic jacket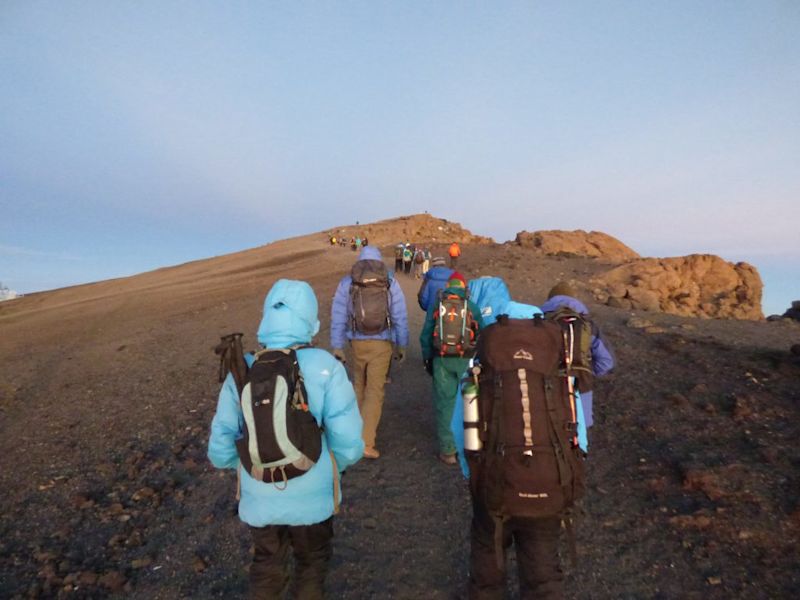 Well-insulated jackets are important on a Kilimanjaro summit as the cold and wind are brutal
This is one of the most important garments you wear on summit night. Down is incredibly insulating, but synthetic fibres can also be used. This is also one of the most expensive items on your summit night packing list.
For those who aren't sure about buying an insulated jacket of their own, these can easily be rented. At Follow Alice we provide our climbers with a branded down jacket that can be rented for just US$60.
Hands
Here's what you need:
Inner gloves

Thermal gloves

Ski mittens
1. Inner gloves
Inner gloves – or glove liners – are an excellent idea for summit night, as your hands are usually in front of you holding your trekking poles, and as such are really exposed to the full force of the wind and cold. Cashmere or merino are great insulating fabrics.
Some people choose fingerless glove liners to de-bulk their fingers just a little. You do then risk cold fingertips. Either way, you want these gloves to be a snug fit for the greatest warmth.
2. Thermal gloves
Your thermal gloves should get a lot of use on your Kilimanjaro climb, as you'll almost certainly use them in the days leading up to summit night.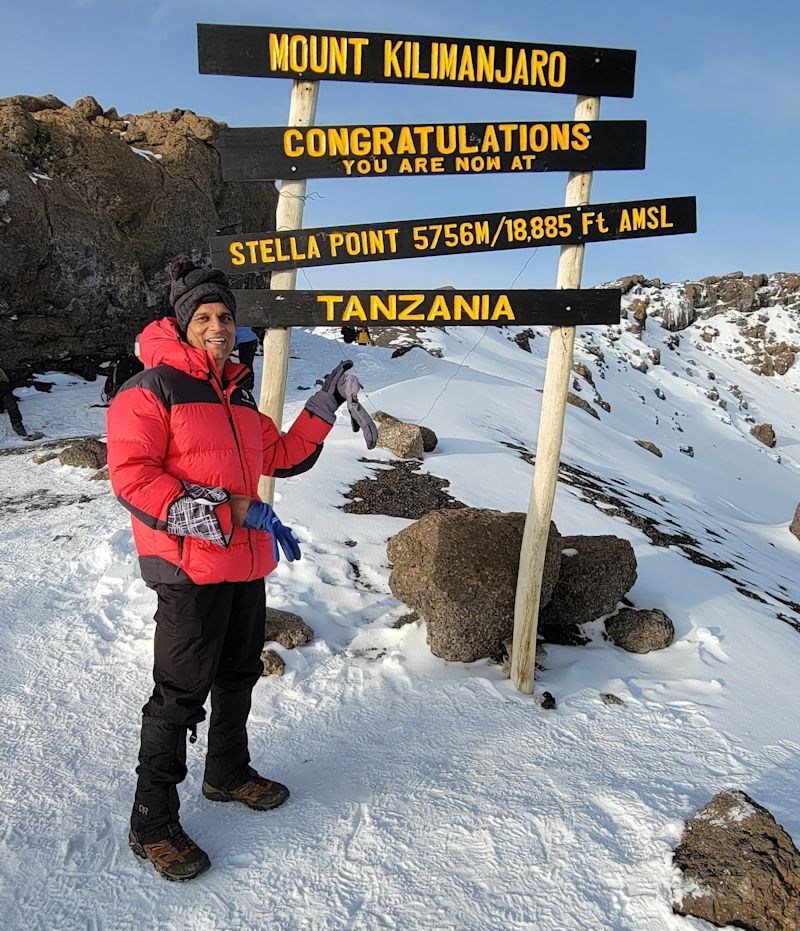 Our client Rafiq revealing his thermal gloves below his ski gloves
3. Ski mittens or gloves
Waterproof ski mittens are a great addition to your hand gear since the summit of Kilimanjaro is covered in ice and snow. Mittens are preferable to gloves because, as you likely know, they keep your fingers together and this offers better warmth. Try to find mittens that are easy to put on and take off since you'll probably want to remove them when you stop to pull out a snack, or whatever. But we think you'll find the additional warmth is worth the hassle.
Freezing hands on summit night is one of the biggest complaints amongst Kilimanjaro trekkers – don't be one of them!
Legs
Here's what you need:
Moisture-wicking leggings

Thermal leggings

Waterproof hiking pants

Fleece pants

Gaiters (optional)
1. Moisture-wicking leggings
Moisture wicking leggings like cycling pants are an excellent base layer as they're snug and help to keep you dry. Ensure through testing that they're very comfortable, as the fabric will be against your skin for around 16 hours! We recommend not wearing these leggings before summit night, or if you do, air them out very well to ensure they're completely dry.
2. Thermal leggings
As you're heading into the icy world of the Kilimanjaro summit, one base layer simply isn't enough to keep you warm. We suggest you wear a pair of thermal leggings over your other leggings to up the insulation.
3. Waterproof hiking pants
Next, you need a good pair of waterproof hiking pants. These are the hiking pants you'll wear throughout your Kili trek. Normally they'd be your outer layer for your legs, but for summit night we suggest yet another layer ...
4. Fleece pants
A loose pair of fleece pants that you can pull on over your hiking pants is a great idea for helping to battle the cold on summit night. Depending on the fit of your hiking pants, you could wear the fleece pants under them, but that's up to you. The key thing here is just about adding another layer of warmth. But by having the fleece pants as the outer layer, you can more easily remove these should you get too warm, while still keeping on your waterproof pants.
5. Gaiters
Gaiters are often suggested as optional, but we think they're pretty indispensable. The primary reason for this is that your descent on summit day sees you walking down scree, and little bits of gravel often work their annoying way into your boots if you're not wearing gaiters. Gaiters are also helpful in keeping the wind from finding its way to your ankles.
Short gaiters are enough, though long gaiters are fine too if you prefer them. And they do of course provide a degree more warmth.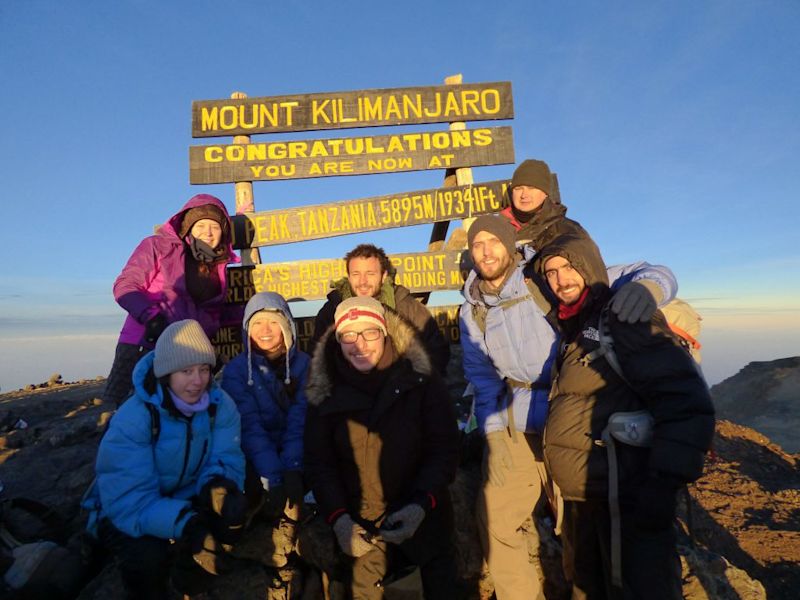 You wear far more on summit night (also referred to as summit day) than you do on any other day of trekking on Kilimanjaro
Feet
Here's what you need:
Boots

Sock liners (or thin, moisture-wicking socks)

Thermal socks
1. Boots
Your boots are such an important part of your climb, that we've written all about them in The best hiking boots for Kilimanjaro. Basically, you want comfortable, water-resistant boots that you've broken in well.
Be sure to air your boots well when you arrive in camp the evening before the summit-night climb. You want them dry before you put them on.
2. Sock liners
Sock liners are important on a long day of hiking like summit day, which sees you on your feet for around 16 hours. They're made of synthetic materials and help to wick away sweat. They're also an extra layer between your feet and your main socks, helping to reduce friction and the chance of blisters.
You get standard sock liners, as well as toesock liners, which encase each toe in a separate compartment to avoid chafing. As with everything you bring to wear on summit, be sure to have done a couple of hikes in them beforehand to ensure they fit nicely and don't have any issues (like a troublesome seam). (A note: don't be tempted to try hidden sock liners, which are very short socks, as these ride down too easily.)
We also recommend, as discussed in our Kilimanjaro packing list, that you bring a pair of sock liners that you keep fresh just for summit night.
3. Thermal socks
Thermal socks are absolutely vital on summit night to keep your feet from getting cold. A key thing here is to ensure your thermal socks (together with your liners) fit comfortably within your boots. This is something you need to consider when purchasing your hiking boots. Wool or synthetic fibres tend to make for the warmest socks. Companies often brand these socks as 'summit socks'.
Waterproof pants are important when there's snow at the summit
Wear nothing brand new
We really want to stress the point that you shouldn't include any brand new items in your gear for summit night. Everything you put on should be something you've used or tested beforehand. This is to ensure nothing is defective, uncomfortable nor the wrong size.
Tash's tale
We actually have a close-to-home example of this that we can share with you to serve as a warning! Tash, our Head of Sales, hiked Kilimanjaro in August of 2019 and brought along a pair of her brother's cycling leggings as a second base layer just for summit night. Unfortunately, they turned out to be a bit too tight, and the zip started to dig painfully into her hip. When it's dark, you're high up on Kilimanjaro, and you're using all your mental reserves to push through the altitude fatigue, the last thing you need weighing on your mind is a painful zip! How to rid yourself of a base layer in that freezing environment when your hands are clad in chunky mitts??
In the end, the wonderful Follow Alice crew swooped in to the save day, quite literally pulling Tash's outer pants off, then the offending leggings off, and then the outer pants back on, so that Tash could continue her climb in comfort. This is one of the very real reasons Tash credits the crew with her successful summit attempt!
So the moral of the story: wear nothing brand new (to you). Only wear tried-and-tested items. The summit of Kilimanjaro only welcomes the properly prepared!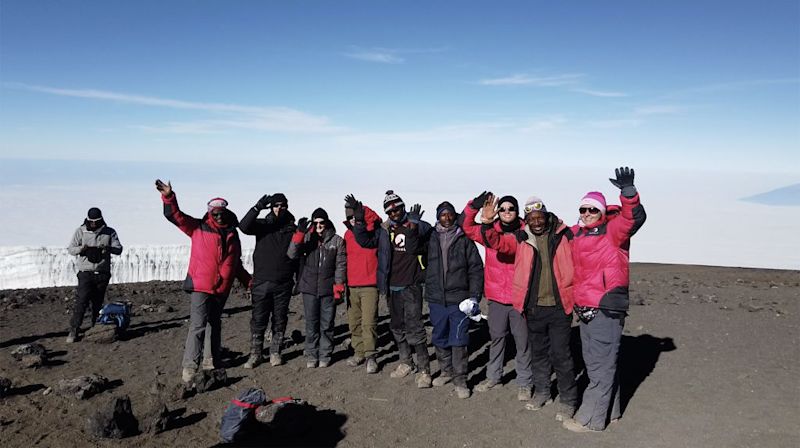 Tash standing at the top of Kili because her mountain crew fixed her wardrobe malfunction!