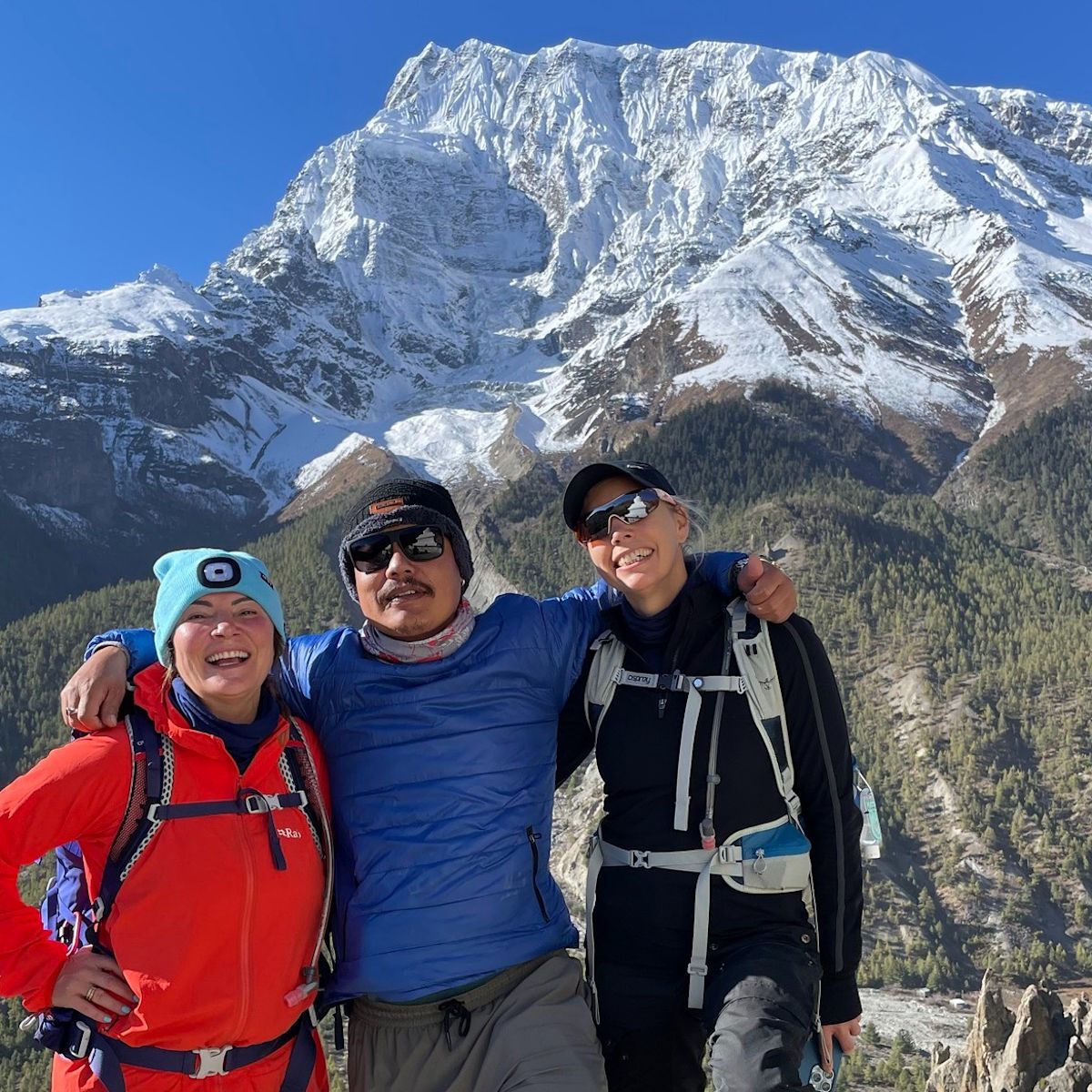 Tipping in Nepal: How much should I tip trek guides and porters?
Jan 23, 2023
Reading time: 5 minutes
When you trek in Nepal, it's customary to tip your crew after the adventure. We recommend that as a group you tip lead guides about $20 a day, assistant guides $15 a day, and porters $10 a day. Here's what a trek will cost you based on your group size ...
Tipping is customary in Nepal. And so naturally those working in tourism look forward to receiving tips from client.
In fact, trekking crews rely on tips to supplement their incomes. They hope that really good service will be rewarded with generous tips.
Follow Alice will pay the salaries of your trek guides and porters out of your group's trip fees. But it's standard practice in Nepal to also tip trek guides and porters when you're happy with their service.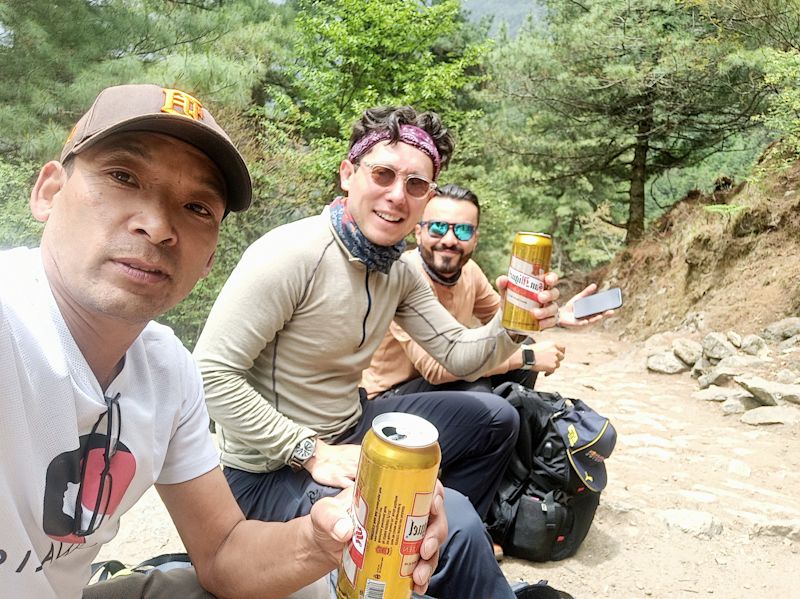 One of our Everest Base Camp trek groups with their lead guide Ang Gelu
We understand that many trekkers are anxious to know how much to tip, and when and how to do it, to honour their mountain crew and keep things from potentially becoming awkward.
So here's what you need to know so that you can get your hands on the necessary cash and feel confident about how and when you'll tip ...
How much should I tip?
Firstly, let's look at how much each type of crew member should earn daily as a tip. This is the amount that your trek group will tip each crew member.
Below is the recommended amount to tip each type of crew member per day as a group.
Recommended group tip per day (in USD) per type of mountain crew member
| Porter | Assistant guide | Lead guide |
| --- | --- | --- |
| ∼$10 | ∼$15 | ∼$20 |
Please follow the above recommendations which see you tip the different mountain crew members according to their responsibilities. By this we mean that it's customary to tip lead guides more than assistant guides, and to tip guides more than porters.
If you're very happy with the service you received, you can by all means give more than the stipulated amounts!
Your individual contribution to the tip
Naturally, the more of you there is in a trek group, the smaller your individual contribution to each crew member's daily tip. So here's a table where we've worked out your individual contribution based on the number of days of your trek.
Total tip amount for each climber to budget (in USD) based on the number of climbers in your group and the number of days you're trekking.
* Number of trekking days is in the left-hand column, and number of climbers in your group is in the top row.
| | | | | | | | | | | | |
| --- | --- | --- | --- | --- | --- | --- | --- | --- | --- | --- | --- |
| | 2 | 3 | 4 | 5 | 6 | 7 | 8 | 9 | 10 | 11 | 12 |
| 8 | 120 | 105 | 80 | 105 | 85 | 85 | 90 | 90 | 80 | 90 | 85 |
| 10 | 150 | 135 | 100 | 130 | 110 | 105 | 115 | 110 | 100 | 115 | 105 |
| 14 | 210 | 185 | 140 | 180 | 150 | 150 | 160 | 155 | 140 | 160 | 145 |
| 16 | 240 | 215 | 160 | 210 | 175 | 170 | 180 | 180 | 160 | 180 | 165 |
If you're travelling with Follow Alice, ask your trip manager to confirm the number of climbers in your group if you're unsure!
When do I tip my crew?
You give the tips to your trekking crew just before saying goodbye to them. You might give your porters and assistant guides their tips before your lead guide. This is because lead guides sometimes stay with you longer, even travelling back to Kathmandu with you by car or plane.
Nepal porters often use beasts of burden like donkeys and yaks to transport luggage
How should I hand over the tips?
Please pool your tips as a group and then divide the money among the porters and guides before handing over the tips.
We suggest that you bring along some envelopes that you can use to hand each crew member their tip in a nice way. Maybe even bring along a few small cards you can write in to include with the tips? Just a thought. 😊
Note that etiquette in Nepal is to hand money to someone with your right hand. Obviously locals will still accept money proffered with the left hand, but it's nice to abide by this custom if you can remember it.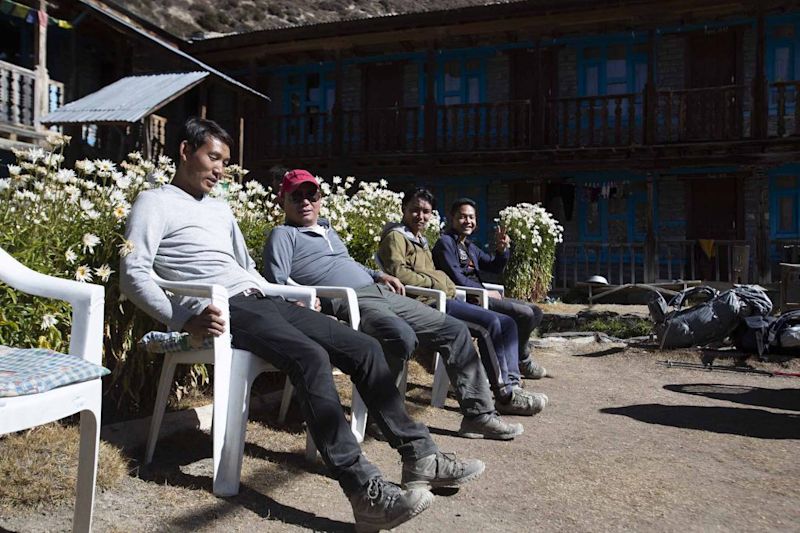 Some of our regular Annapurna Circuit trekking crew enjoying a sunny break
Must I tip in cash?
Nepal is a cash economy, so your tips should naturally be handed over in cash.
Draw cash in advance
We recommend that you draw the cash you need for tips before your trek. This is because you might say goodbye to your mountain crew – or at least some of them – in a location where an ATM isn't readily available. Also note that ATMs can be out of service, and you don't want to end up unable to draw cash when you need it.
It's useful to have as many denominations as possible so that hopefully you can divvy up the cash as a group into accurate amounts before handing over the tips to each crew member.
Perhaps consider drawing a little extra cash that you can keep aside to boost the tips should you decide by the end that the service you received was truly exceptional? That said, if you tip the recommended amounts as a group, your crew will be happy and feel seen and appreciated!
What is the currency in Nepal?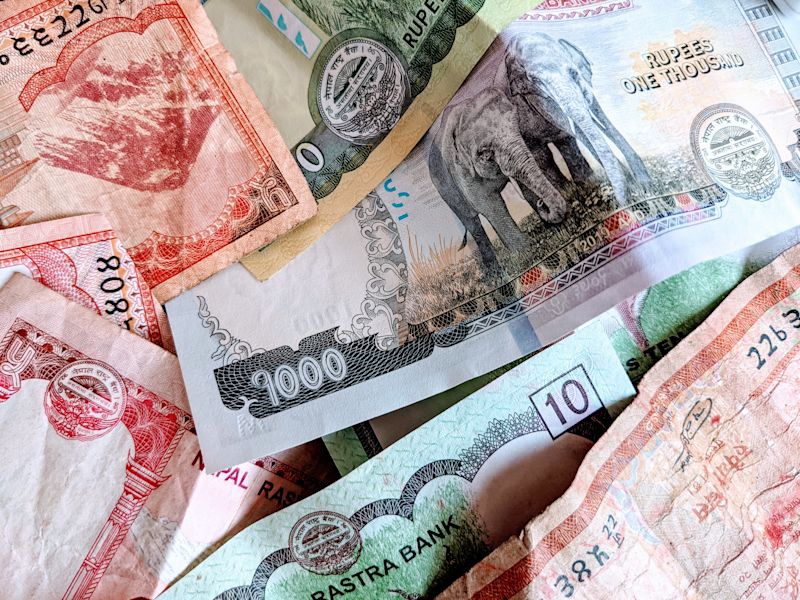 Nepal uses Nepali rupees
Nepal uses the Nepali rupee, which you abbreviate to NPR. Just US$1 currently buys you about NPR 132. And €1 buys you about NPR 140.
Tips are a way to show appreciation
Not all cultures are accustomed to tipping, we know. But we can assure you that in Nepal tips are really appreciated as a way of showing your thanks and appreciation.
Trekking crews invariably work really hard to look after you and your belongings. We find that clients are really glad when they're able to give nice tips at the end of an adventure to thank the folks who walked beside them and encouraged them on their challenging journey.
Any other questions? Please feel free to drop us a line and we'll be more than happy to help!