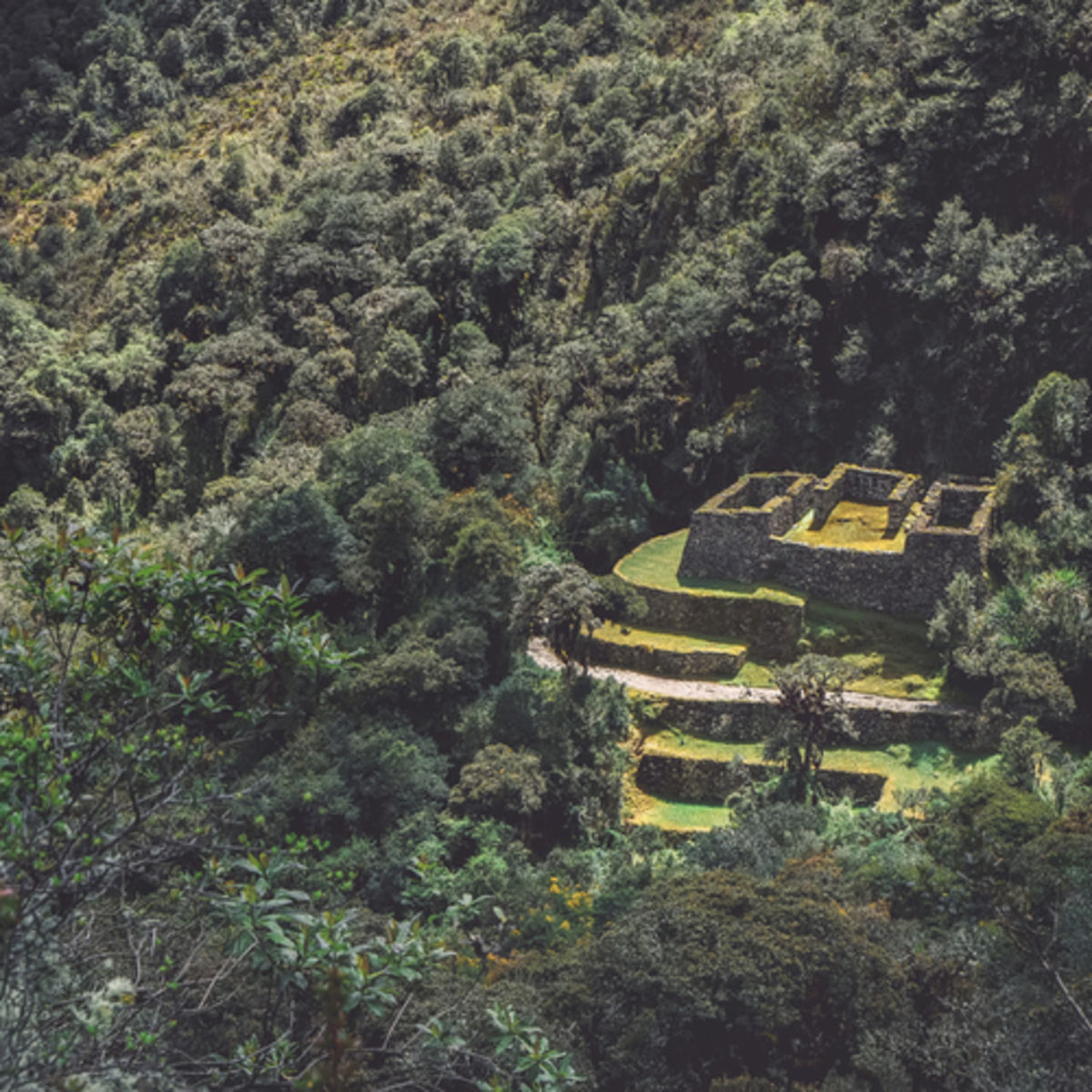 The Inca Trail vs Salkantay Trek – which one is right for you?
Jun 30, 2023
Reading time: 13 minutes
The Salkantay Trek and Inca Trail are both multiday treks starting near Cusco and ending by Machu Picchu. While they have lots in common – like incredible mountain scenery! – let's look at their differences to help you choose which one is better for you.
While the Salkantay Trek and the Inca Trail have plenty in common – including, importantly, ending at or near Machu Picchu – there are some big differences between them.
We're talking here about matters like how how many ruins you see, how varied the scenery is, your total distance and elevation gain, what sort of accommodation is on offer, and total cost.
So please read on to learn the ways in which the classic versions of the Inca Trail and Salkantay Trek differ from one another. We also show you cross sections of the two trek routes.
We hope the discussion helps you to choose between the two routes so that you can start planning your epic Peru trekking adventure in the beautiful Machu Picchu region!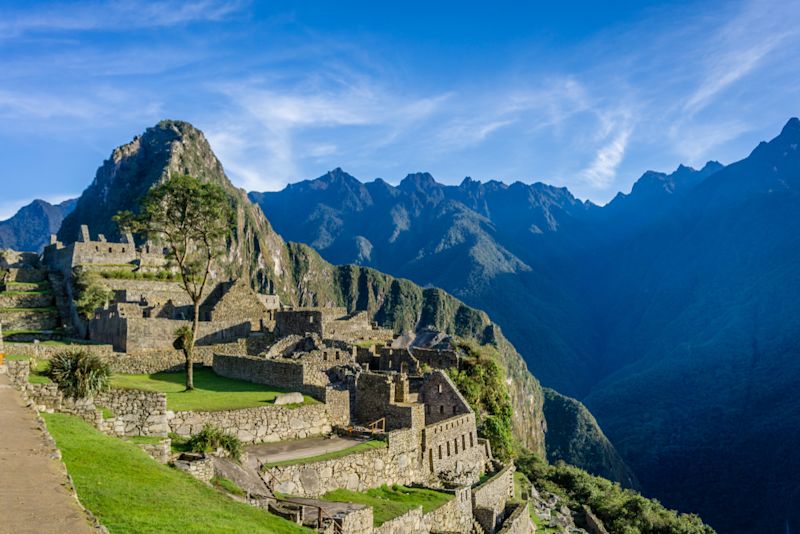 Machu Picchu on a beautiful clear-sky day
The Salkantay Trek is longer and harder
Let's start by looking at some basic stats for each of the two treks. Here you can see a few important ways in which they differ.
Please note that you visit the ruins of Machu Picchu as part of the Inca Trail, but on the traditional Salkantay Trek route you need to factor in an extra day at the end for visiting the ruins.
| | Inca Trail | Salkantay Trek |
| --- | --- | --- |
| Start point | Km 82 (train station) | Mollepata (village) |
| End point | Machu Picchu | Aguas Calientes (town) |
| Duration | Usually 4 days | Usually 4 to 6 days |
| Total distance | 40 km / 25 mi | 83 km / 52 mi |
| Highest elevation | Dead Woman's Pass (4,215 m / 13,829 ft) | Salkantay Pass (4,635 m / 15,206 ft) |
| Lowest elevation | Machu Picchu (2,430 m / 7,972 ft) | Hydroelectric Station (1,900 m / 6,234 ft) |
The Salkantay Trek is twice the distance of the Inca Trail, which is one of the main reasons it's the more challenging trek.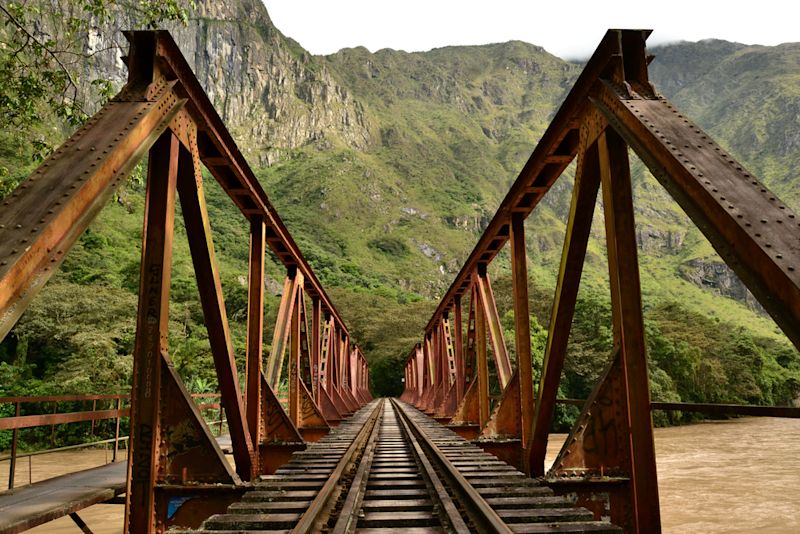 The railway bridge by the Hydroelectric Station is the lowest point on the Salkantay Trek
The highest point on the Inca Trail is Dead Woman's Pass (or Abra de Huarmihuanusca). It's sometimes also referred to as First Pass, for the simple reason that it's the first mountain pass you cross on the Inca Trail.
On the Salkantay Trek, your highest elevation (Salkantay Pass) is roughly 400 metres higher. It's unlikely you'll see snow on Dead Woman's Pass, but you could on Salkantay Pass.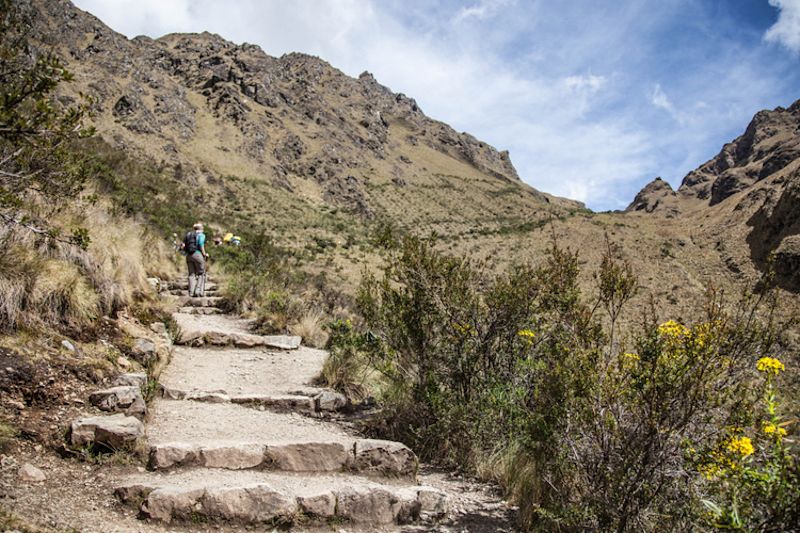 Trekkers on the final approach to Dead Woman's Pass on the Inca Trail
Elevation map of the Inca Trail and Salkantay Trek
Here's a cross-section map showing the elevation gains and losses on the Inca Trail and Salkantay Trek.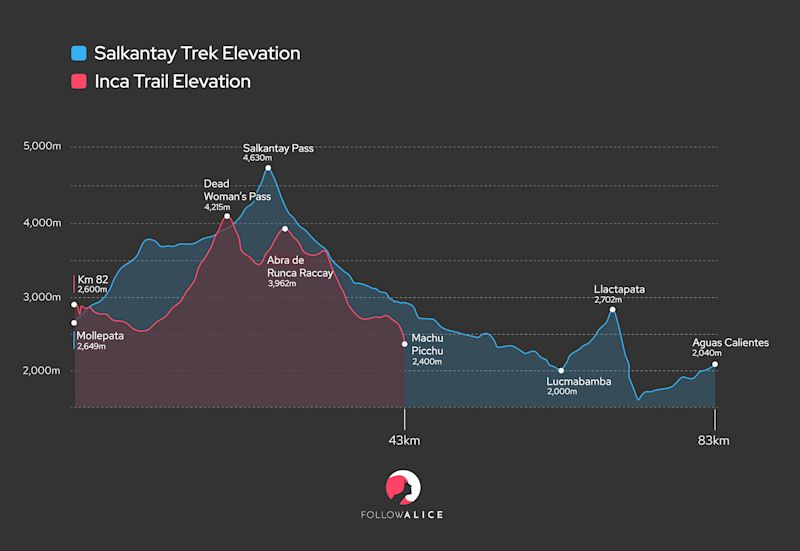 As you can see, both treks start at elevations that are higher than where they end, so there's more downhill to conquer than uphill on both the Inca Trail and Salkantay Trek. (We discuss this fact in How should I train for trekking to Machu Picchu?)
You climb about 600 m (2,000 ft) higher on the Salkantay Trek than you do on the Inca Trail.
There's more scenic variety on the Salkantay Trek
Both the Inca Trail and Salkantay offer incredible scenery! On both treks you see towering peaks, steep valleys and waterfalls, pretty farmland, rural homesteads, lakes and rivers.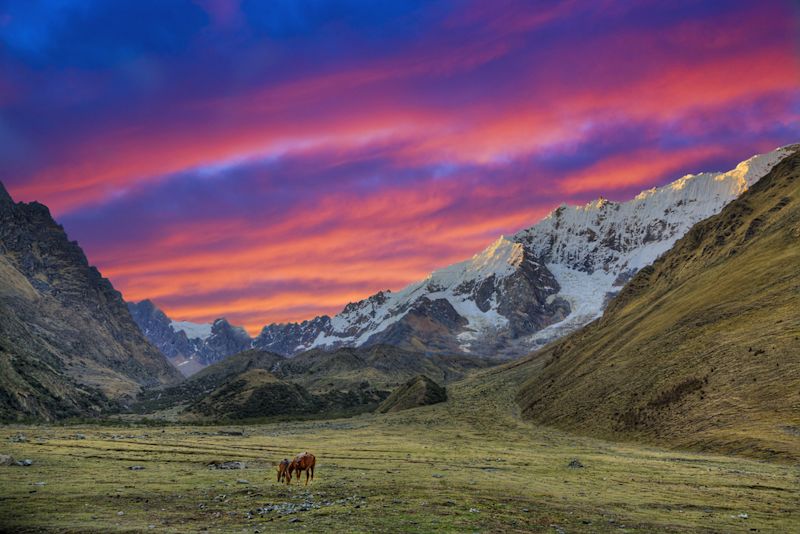 You can't fault either the Inca Trail or the Salkantay Trek when it comes to scenery
The table below shows the notable peaks you can look forward to seeing (provided they're not covered by cloud) on each trek route:
| Inca Trail | Salkantay Trek |
| --- | --- |
| Veronica, or Wakay Willka (5,893 m / 19,334 ft) | Humantay (5,917 m / 19,416 ft) |
| Pumasillo (5,991 m / 19,656 ft) | Pumasillo (5,991 m / 19,656 ft) |
| Huayanay (5,464 m / 17,927 ft) | Tucarhuay (5,910 m / 19,390 ft) |
| Salkantay (6,271 m / 20,574 ft)* | Salkantay (6,271 m / 20,574 ft) |
* Note that you'll only see Salkantay from the Inca Trail if you spend your last night at the campsite at Phuyupatamarca, the City in the Clouds. If you overnight at the more popular (and much lower) campsite near the Wiñay Wayna ruins, you won't see Salkantay.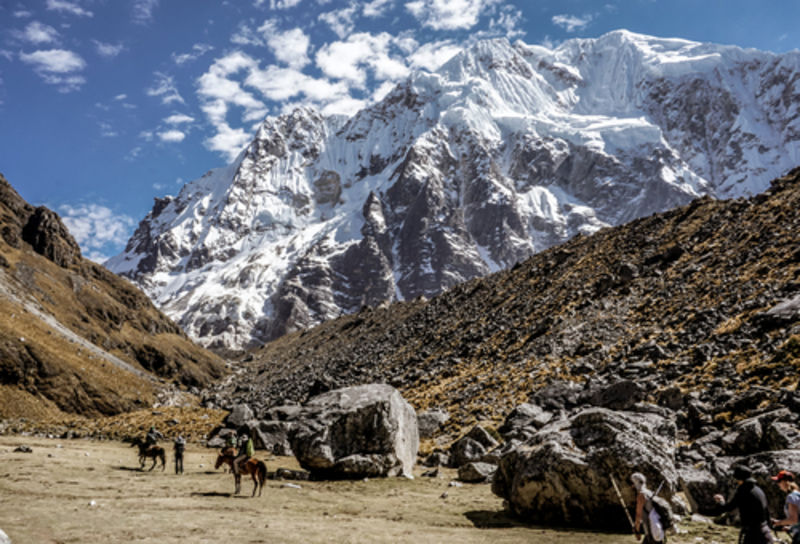 The glaciated Abra Salkantay is the highest peak in the Vilcabamba range
You climb higher and closer to the snow line on the Salkantay Trek, while also trekking lower and deeper in the rainforest.
The Salkantay Trek is an incredibly beautiful and varied trail
On the Salkantay Trek, however, you experience more varied scenery. This is because you climb higher (sometimes up into snow) and descend lower (going deeper down into subtropical forest).
Consequently, you have the chance on the Salkantay Trek to see and experience more varied climate zones and vegetation. This means seeing more flowers as well as more wildlife.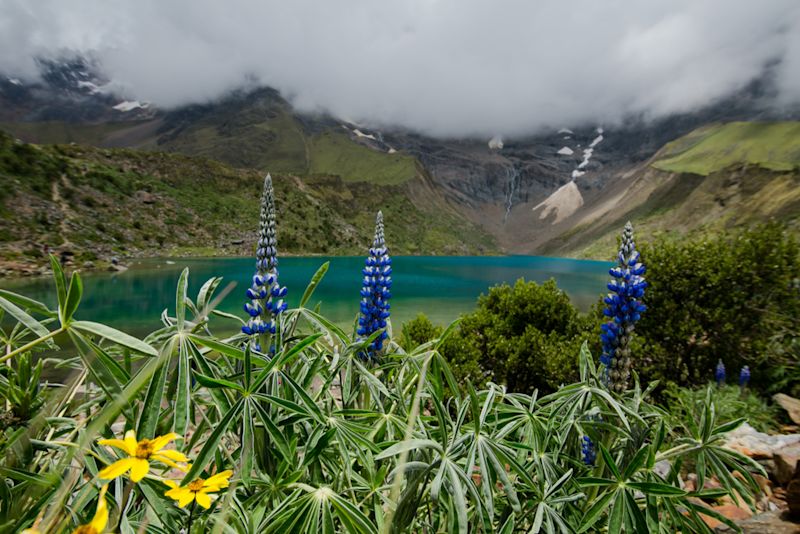 The beautiful Humantay Lake in spring
If you're all about the scenery and animals, then maybe the Salkantay Trek is the better of the two trails for you!
That said, you will of course also see animals on the Inca Trail. And llamas and alpacas are pretty much a guarantee on both trek routes!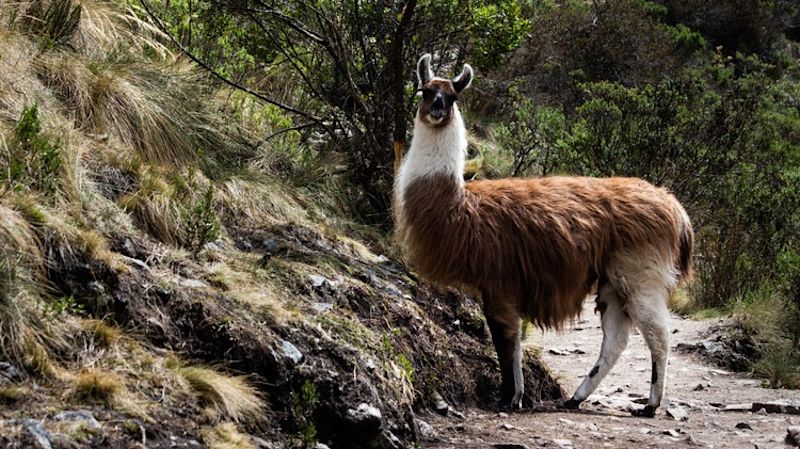 Alpaca on the Inca Trail on the way up Dead Woman's Pass
The Inca Trail has more historic ruins
On the Salkantay Trek you don't see any Inca ruins until right near the end of the route. On this last day, you can visit the impressive Inca ruins of Llactapata. We say 'can' because you can also bypass the ruins if you want an easier route to the trail end. But we recommend making the effort to visit Llactapata, since: when will you be back here again??
On the Inca Trail, however, you encounter many Inca ruins, including Llactapata and, of course, Machu Picchu. And the ruins are peppered throughout your trek.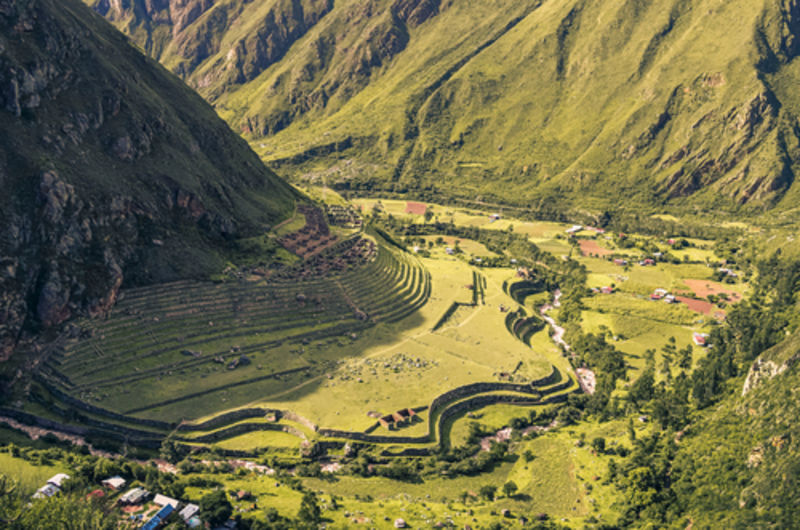 The Llactapata ruins
A few of the significant ruins you see along the Inca Trail are:
Runcuracay.

This circular-shaped ruin is located at 3,800 m (12,500 ft) above sea level and served as a watchtower for the trail during the time of the Inca Empire.

Sayacmarca.

This well-preserved Inca site features intricate stonework and is believed to have been a religious or ceremonial complex.

Phuyupatamarca.

Also known as the "Town above the clouds", this site is perched on a mountainside and offers stunning panoramic views. It contains agricultural terraces, baths and residential areas.

Wiñay Wayna

(see below)

.

Wiñay Wayna is an impressive complex featuring agricultural terraces, residential areas, and ceremonial structures. It's one of the most impressive ruins on the trail.
Note that because Inca was an unwritten language until the Spanish arrived, many Inca names have variant spellings. Even the name Inca is sometimes spelled Inka.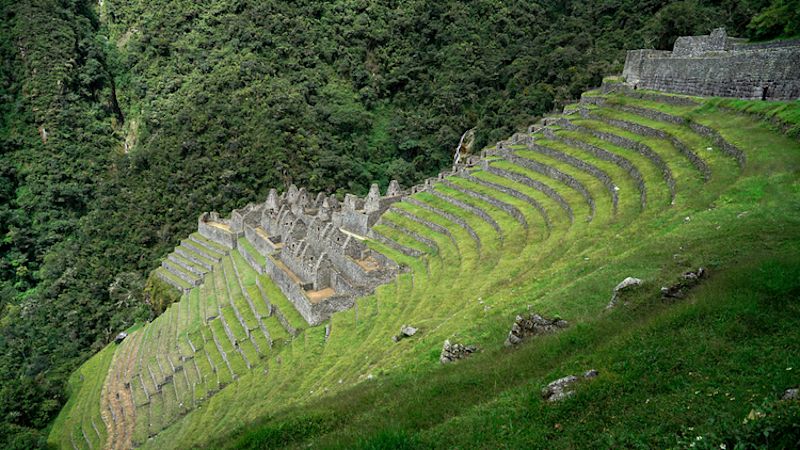 You pass the incredible Wiñay Wayna ruins on the Inca Trail
The Inca Trail is therefore one hundred percent the right trek for you if you really want to immerse yourself in the Inca history and culture of this region. Your trek guide will tell you the story of each site that you visit.
You're also likely to witness mountain crew members engage in certain rituals at certain sites along the route. Learning about these beautiful and formidable sites from descendants of the people who built them is a very enriching cultural experience.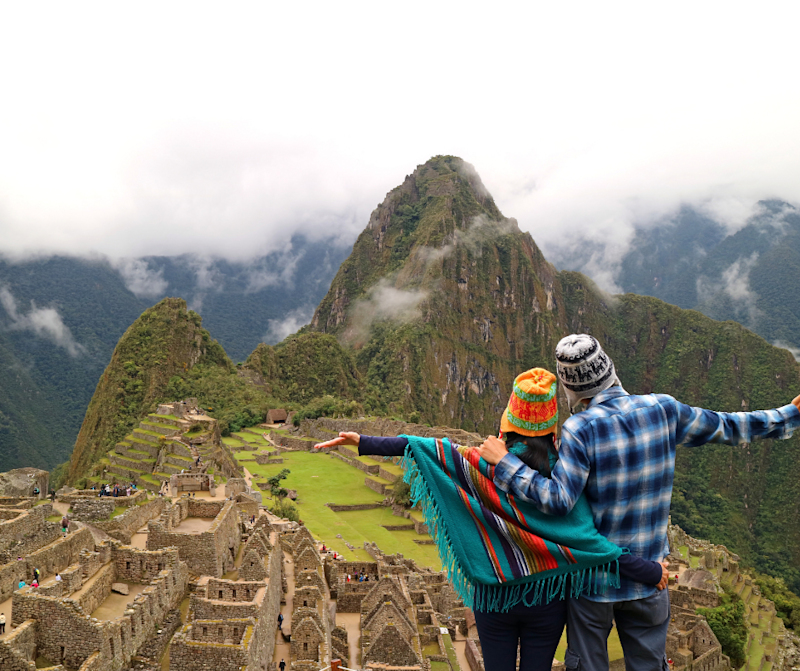 Whether you do the Inca Trail or Salkantay Trek, visiting Machu Picchu is par for the course
You don't have to camp on the Salkantay Trek
The Inca Trail has just one accommodation option: camping. On the Salkantay Trek, however, you can camp, glamp, stay in lodges or hotels, and do homestays.
Your accommodation options are much more varied on the Salkantay Trek.
On the Inca Trail you must trek with a tour operator, and they provide you with tents to sleep in. Most operators use two-person sleeping tents.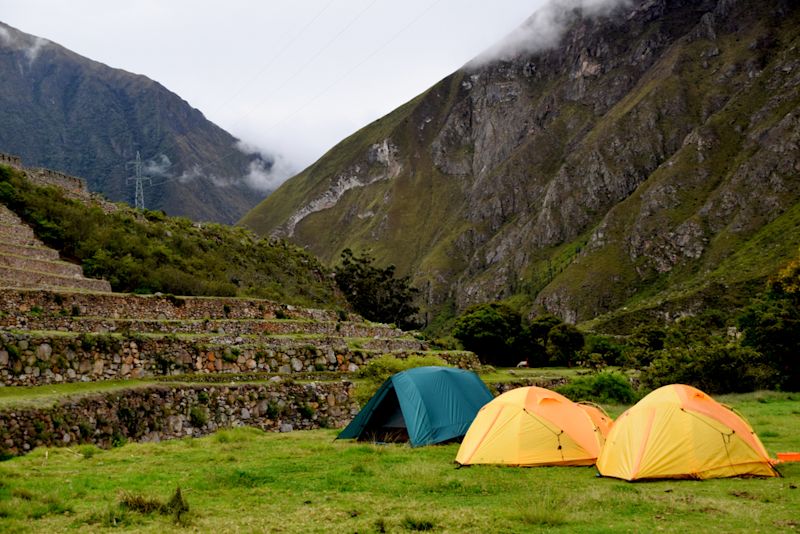 On the Inca Trail you stay in tented camps
Note that your trekking group's porters will hike on ahead of you each and set up camp for you. Then, the next day, they'll strike camp as well. So while you'll be camping, you won't have to do any of the work yourself. (Your meals are also prepared for you.)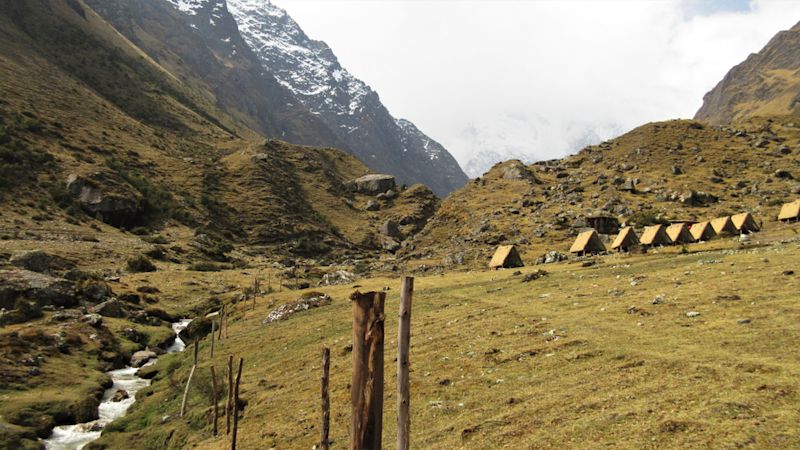 A-frame huts for trekkers in the village of Chaullay on the Salkantay Trek
On the Salkantay Trek you have a handful of options when it comes to accommodation:
You can camp with a tour operator just like on the Inca Trail.

You can bring your own tent and camp independently.

You can stay in hutted campsites (the Sky Domes let you gaze at the stars!).

You can stay in hotels.

You can do homestays.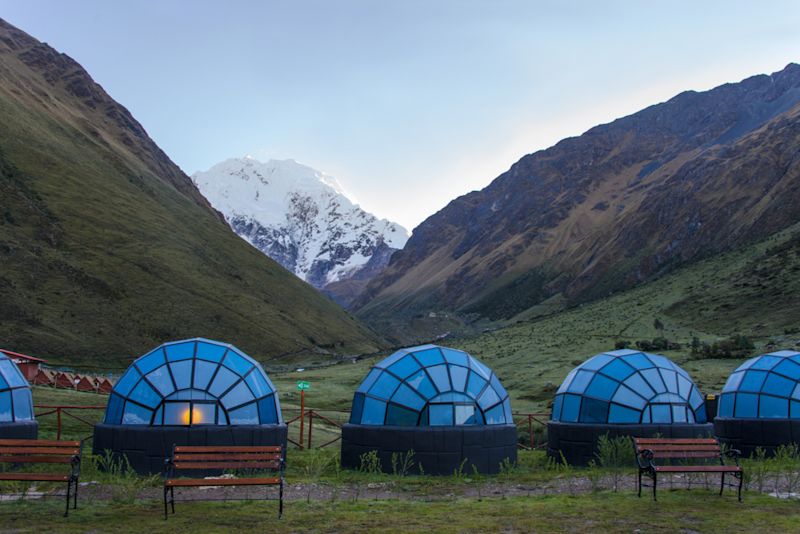 The Salkantay Trek's iconic Sky Camp domes
If you don't like roughing it, or want a cosy room and a shower at the end of each day, then we recommend doing the Salkantay Trek.
If you don't like camping, then you should opt for the Salkantay Trek over the Inca Trail.
You have to join a guided group on the Inca Trail
The Inca Trail is always a group experience, with lots of team spirit. This can also be the case on the Salkantay Trek, but not necessarily, as you can choose to walk it solo if you like, with or without a guide.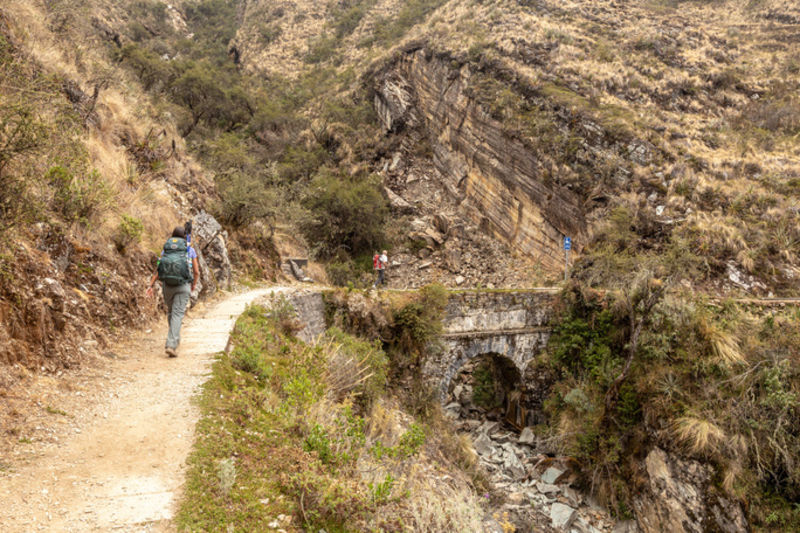 A small stone bridge on the Salkantay Trek
We wouldn't recommend attempting the Salkantay Trek without a guide unless you're a highly experienced high-altitude trekker. A local guide is a huge asset when it comes to keeping you safe on the Salkantay Trek. You also learn much more this way! A guide is also a fount of knowledge and a connection to the local culture, so you'll miss out on so much if you travel on your own.
Porters vs muleteers
On the Inca Trail, your duffel bag containing your sleeping bag and most of your belongings will be shouldered by one of the porters in your mountain crew.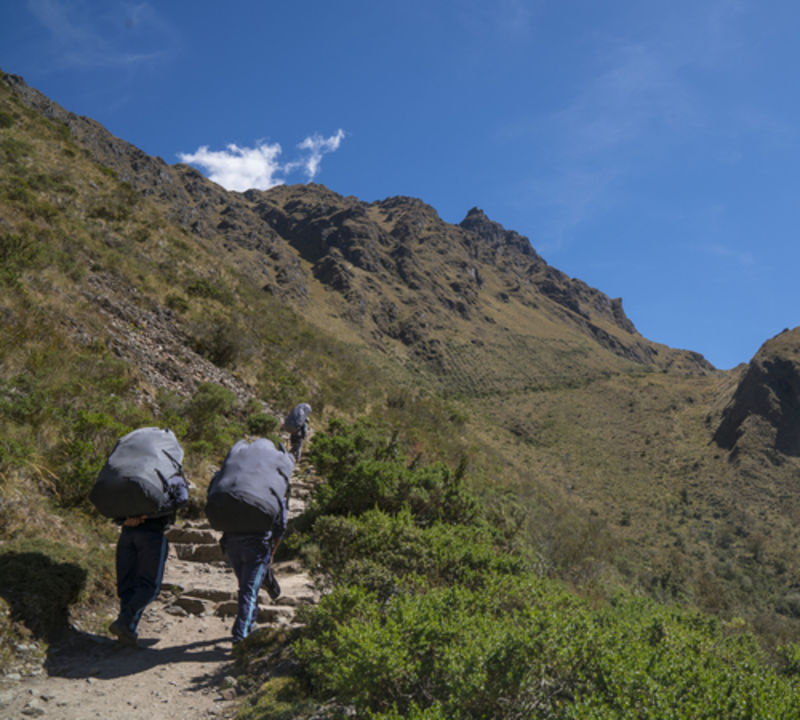 Hardworking porters walking up to Dead Woman's Pass on the Inca Trail
On the Salkantay Trek, a porter will use a mule to transport your duffel bag.
This fact doesn't really have any bearing on which trek is the better option for you, we just thought you might be interested in knowing this. 🤓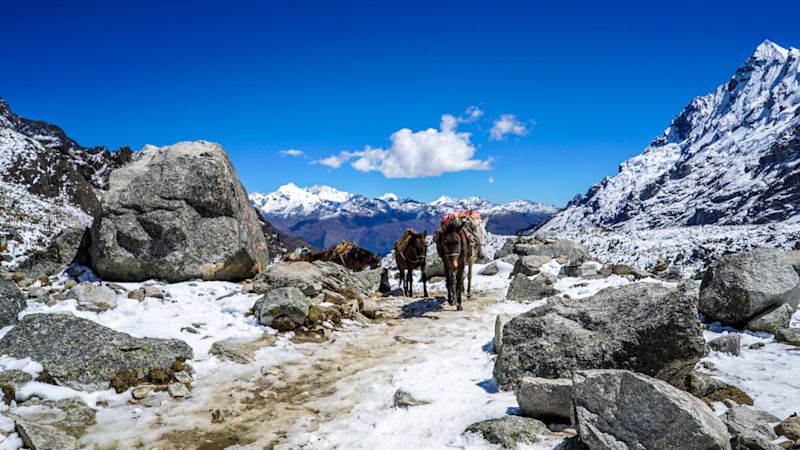 Mules porter trekkers' belongings on Salkantay Mountain
Also, if you choose to walk the Salkantay Trek on your own, but would still like the help of a muleteer, note that you'll need to pay for their return trek as well, which will take two or three days.
Interacting with locals
The Salkantay Trek leads you through a more populated area than the Inca Trail. The Inca Trail follows a centuries-old Inca highway, so the main reason for following this route is to walk an historic route – one that's littered with incredible ruins, as discussed above.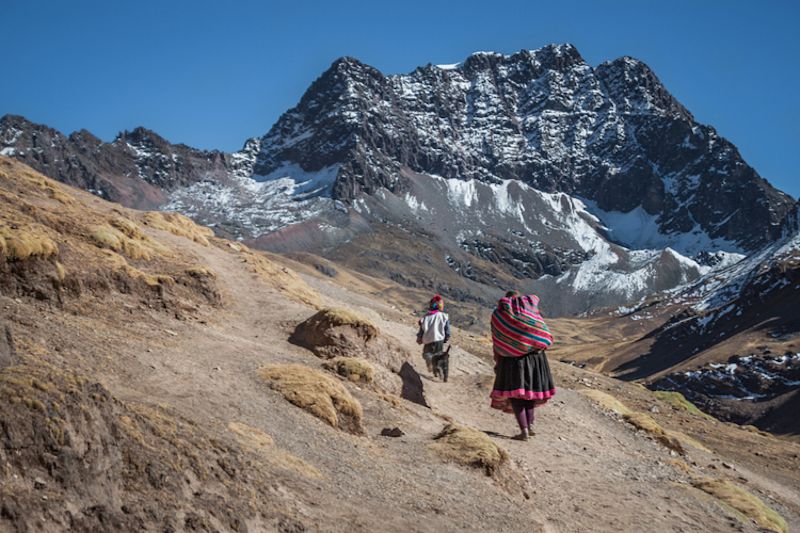 Locals using the Salkantay Trek trail
On the Salkantay Trek, on the other hand, you have a more modern route with more amenities and drivable roads.
The Salkantay Trek therefore offers more opportunities than the Inca Trail to engage with various locals and get a feel for ordinary life in this neck of the Andes. Some of the villages you visit along the Salkantay Trek are Mollepata, Soraypampa and Santa Teresa.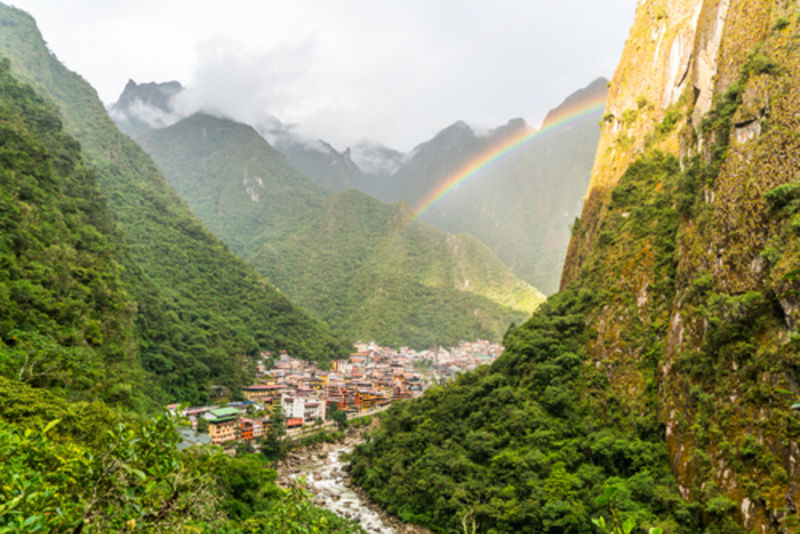 You finish the Salkantay Trek in the town of Aguas Calientes
That said, there's the chance of long and meaningful conversations with locals on both trek routes – it just depends on you. On the Inca Trail, you have your mountain crew, which is comprised of men and women who have mostly grown up and lived in the region all of their lives.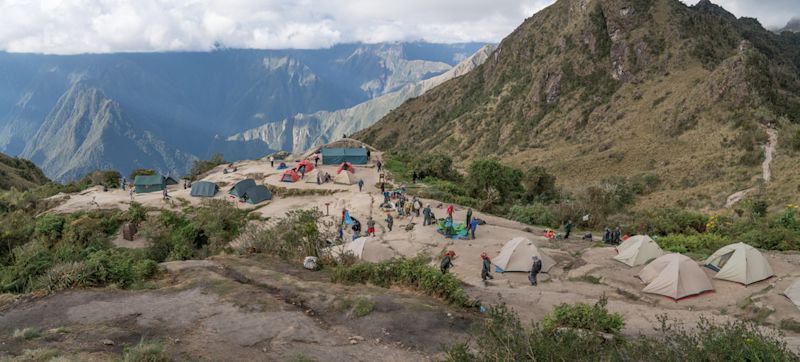 This popular Inca Trail campsite overlooks the Urubamba River valley
On the Salkantay Trek, you also have your mountain crew if you go with a tour operator. Alternatively, homestays are a great way to get to know a local family.
As with most places one visits, knowing a few local phrases tends to foster goodwill and should help you to get conversations started.
Peak seasons and crowds
The Inca Trail and Salkantay Treks naturally experience the same seasons since they start and end at much the same locations.
The best time to trek the Inca Trail is therefore the same as the best time for the Salkantay Trek: between April and October. These are the drier months (though they're not always dry themselves) and so offer the nicest, safest trekking conditions.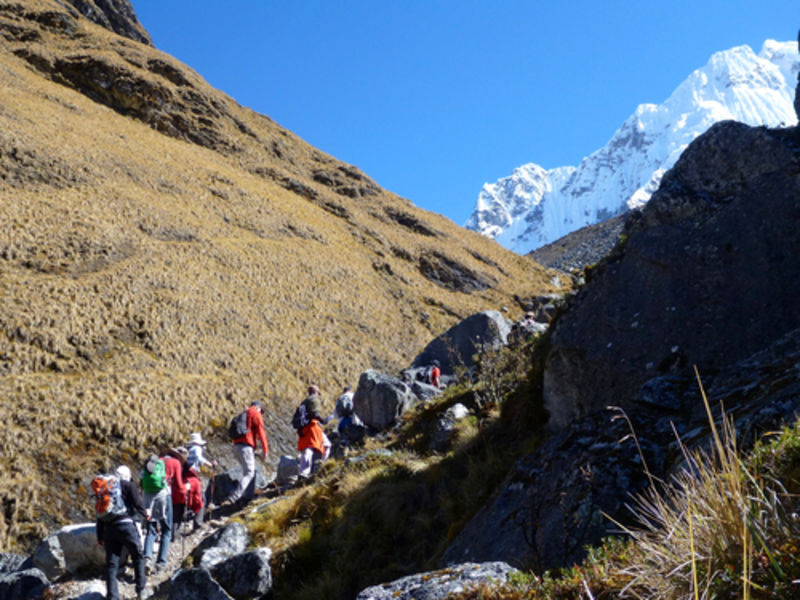 Both treks are at their busiest between June and August
While the drier season generally offers better trekking conditions, the scenery does, of course, become browner as the months progress. If you want lots of greenery and flowers, then you might want to consider doing your trek right at the start of the dry season so that things are still quite lush.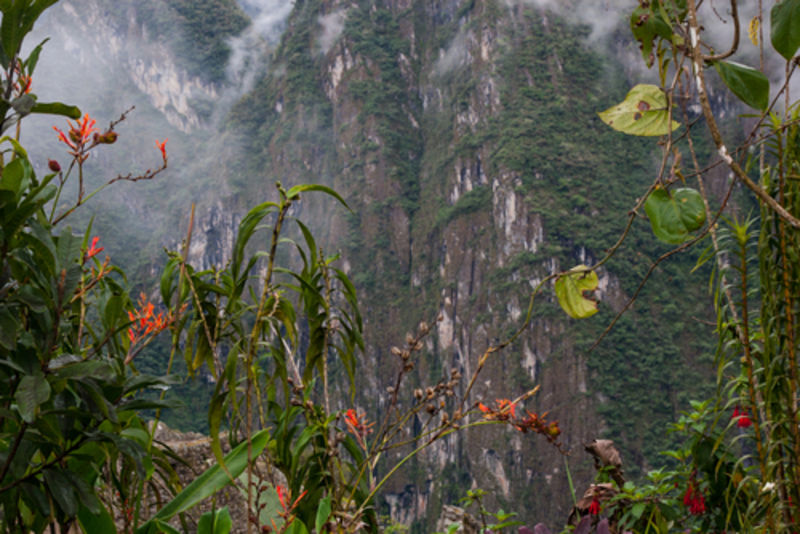 Flowers and mist: fuchsia boliviana on the Inca Trail
Alternatively, you might wish to gamble and go during the off-peak season. This option also has the appeal for some of letting you trek a much quieter trail. Just note that the Inca Trail is closed in February for trail maintenance. Also, both trails can have sections washed out after heavy rainfall. And the Salkantay Pass can become obstructed after heavy snowfall.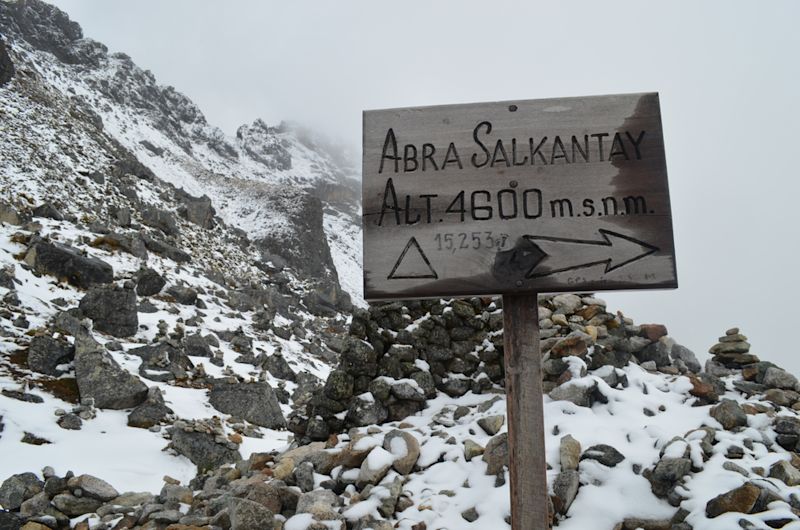 Sign pointing to Abra (Peak) Salkantay
The Inca Trail must usually be booked earlier
At present, you need a permit to do the Inca Trail, while you don't need a permit to do the Salkantay Trek.
The Inca Trail has a limit of 500 permits per day in order to protect the integrity of the trail and its surroundings. Only about 200 of those permits go to trekkers (the other 300 are for mountain crew members, namely guides, cooks and porters). This means permits for the Inca Trail can sell out quickly for peak seasons.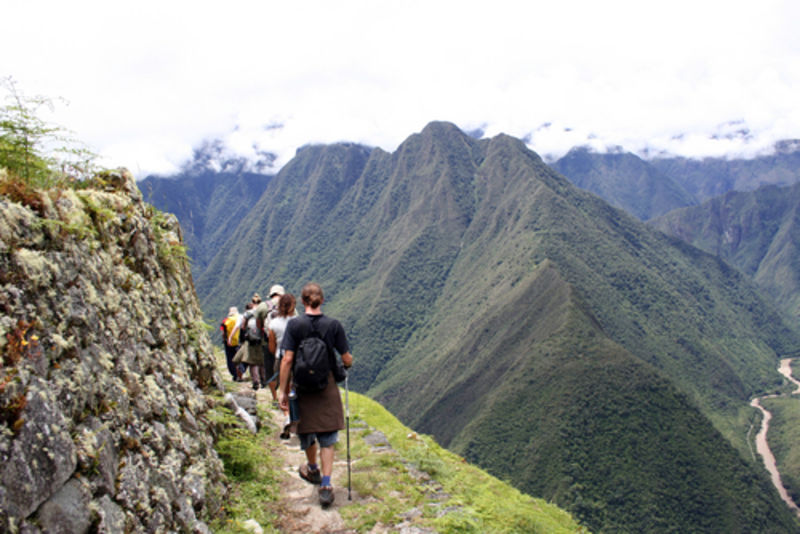 Much of the Inca Trail is single-file only!
Consequently, you usually need to book your spot on the Inca Trail a few months in advance if you want to do it in peak season. We say "book your spot" and not "buy your permit" because only registered tour operators can buy permits. You must therefore put down a deposit with your chosen tour operator before a permit can be purchased on your behalf.
Note that Inca Trail permits are non-refundable and non-transferrable.
Please note that your tour operator won't be able to make any changes to your Inca Trail permit once they've booked it for you. So be sure of your travel plans before booking a tour.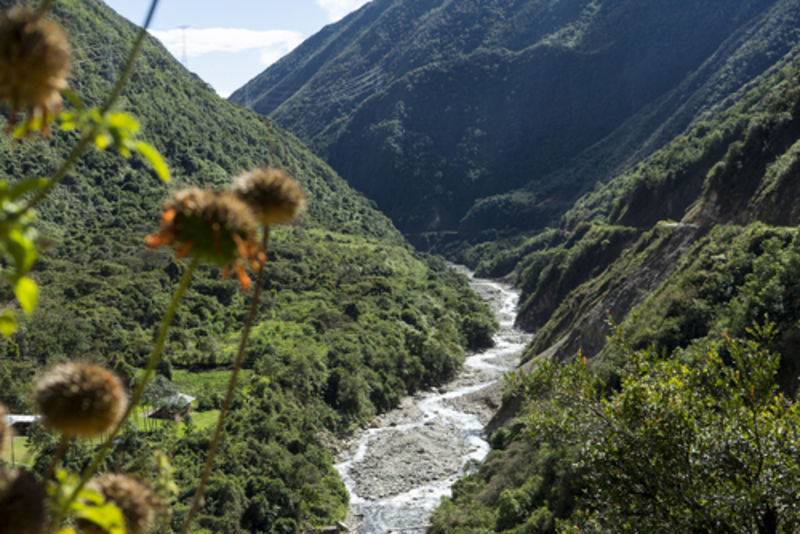 A gorgeous valley on the Salkantay Trek
As mentioned, you don't need a permit to do the Salkantay Trek. This means you can usually organise this trek a little more last minute if necessary, especially if you're not using the services of a tour operator.
The Salkantay Trek can be done cheaper
The cost of the Salkantay Trek and the Inca Trail can vary depending on several factors, such as tour operator, how many days you opt to trek, and time of year. That said, in general, the Salkantay Trek tends to be cheaper than the Inca Trail.
For starters, you must pay for a permit to trek the Inca Trail, as discussed. The Inca Trail is also the more well-known and popular of the two treks, which tends to drive up its price tag.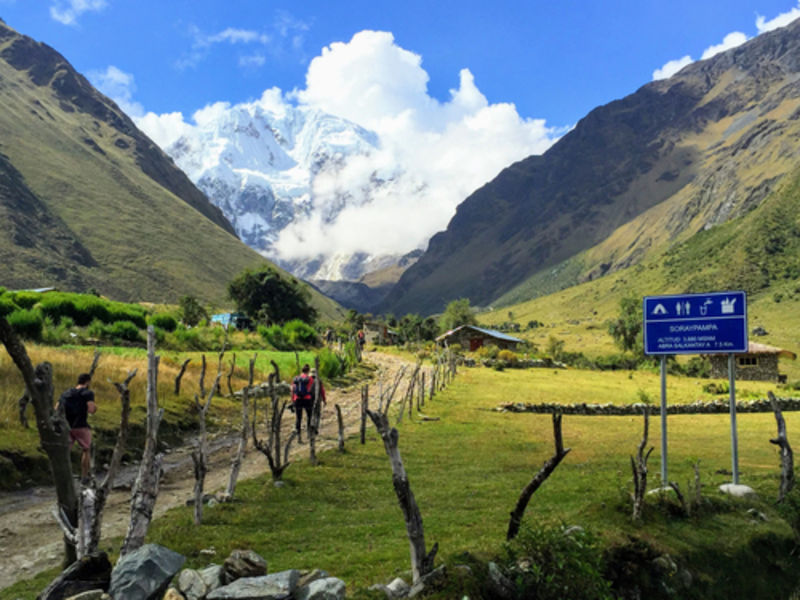 Walking towards Salkantay Mountain on the Salkantay Trek
The Salkantay Trek is therefore generally considered to be the more budget-friendly option of the two. More to the point, perhaps, is the fact that you can do the Salkantay Trek far more cheaply if you wish.
At its cheapest, you could do an unguided expedition where you carry everything yourself and camp and cook independently. We hope it goes without saying that you should be a very seasoned trekker and camper if you go with this option!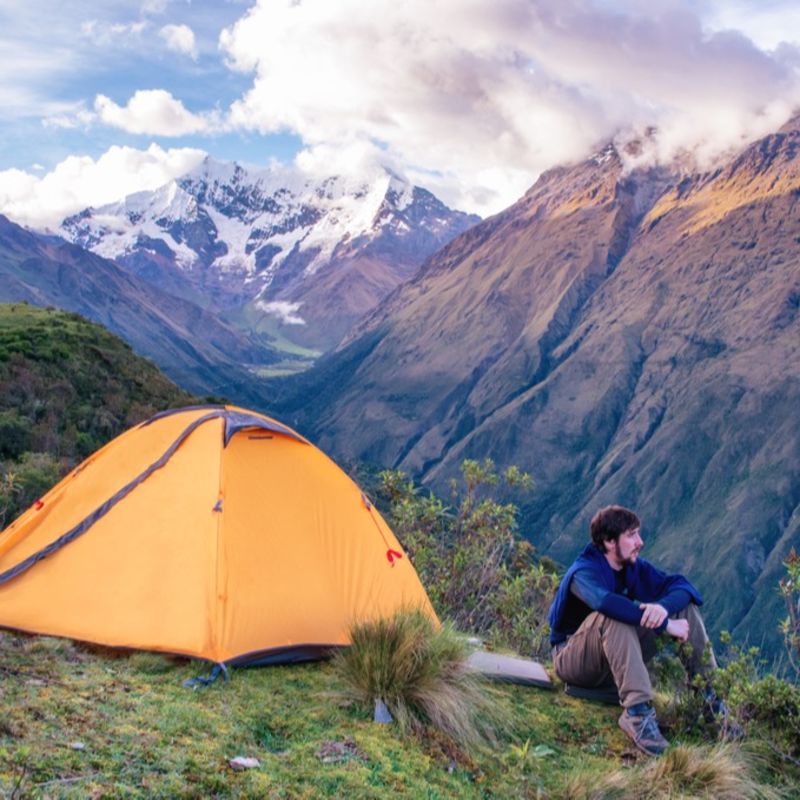 Camping on the Salkantay Trek
Naturally, we'd urge you to not try cut costs without considering what you'd be giving up in doing so. The Salkantay Trek is a tough cookie, and having at least a guide and a cook to accompany you can make the adventure that much safer and nicer.
Time to choose ...
So what do you think? By now we suspect you'll be leaning towards either the Inca Trail or the Salkantay Trek, and we encourage you to go with your instincts.
Finally, if you have any lingering questions for which you can't find answers on our website, please feel free to drop us a line and we'll happily chat with you to help you plan your epic adventure to Machu Picchu!