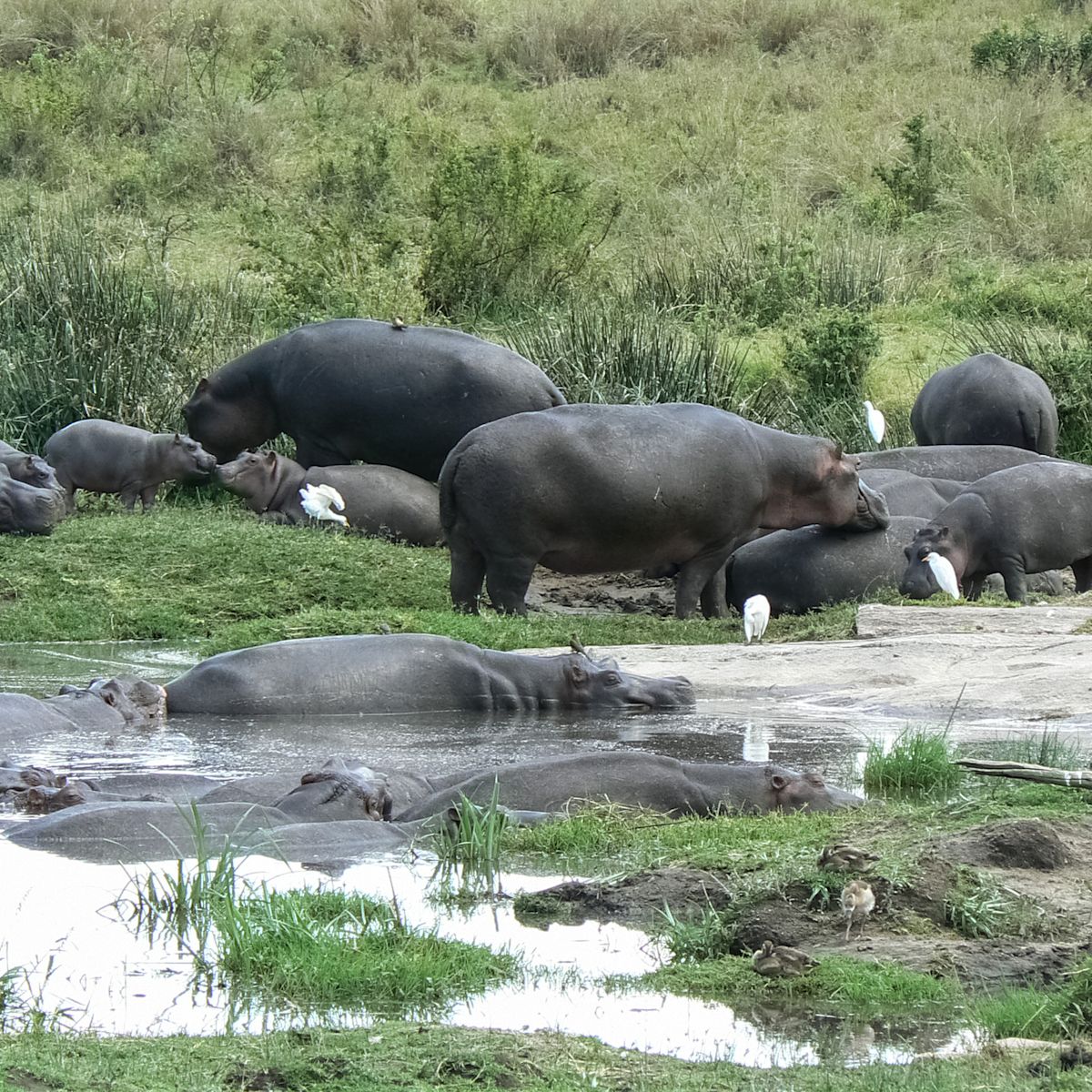 How much does a Kenyan safari cost?
Nov 8, 2023
Reading time: 17 minutes
Here's a breakdown of the costs involved in a Kenyan safari, from accommodation to car hire, park fees and more. Note that if you travel with a tour operator, your only real costs besides their fee will be flights, visa, travel insurance, tips and drinks.
Kenyan safaris can be booked pretty cheaply if you head to a simple campsite in the low season.
Most folks, however, opt for mid-range accommodation (which sees you staying in lodges or glamping tents) during the peak or shoulder season.
Finally, there are the high-flyers, and there are plenty of extremely upscale accommodations available for them too.
The point here is that the cost of a Kenyan safari can vary wildly. And the duration of your trip will also naturally impact the price tag in a big way.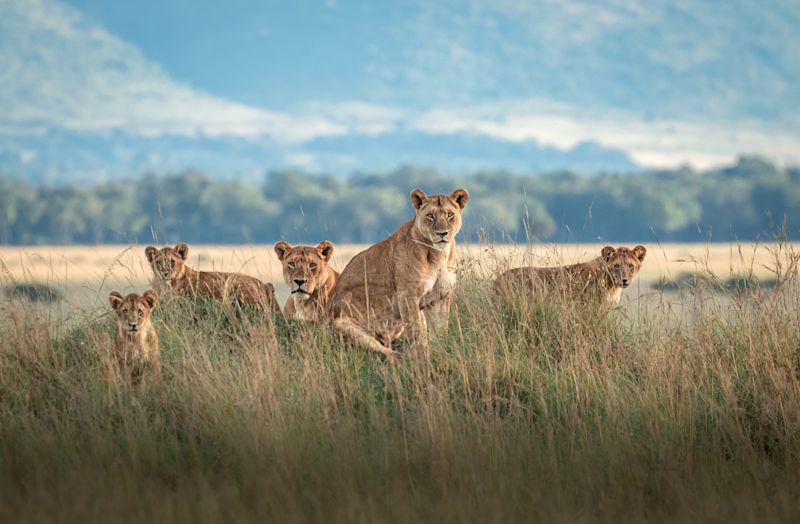 You need at least a week in Kenya, in our opinion, to enjoy a proper safari
As mentioned, travelling with a tour operator makes budgeting for a Kenyan safari waaay easier, as you then only need to work out and add up the following costs:
Tour operator fee (which usually includes accommodation, meals, transport and fuel, driver–guide, park entrance fees and stated activities).

Flights.

Travel insurance.

Visa.

Tips.

Drinks.
Please check out our exciting Kenyan safari itineraries if you'd like to see what an upper-mid-range Kenyan safari would cost you. (At the bottom of each itinerary we detail what's included and what's excluded in the price tag to help you budget for the extras.)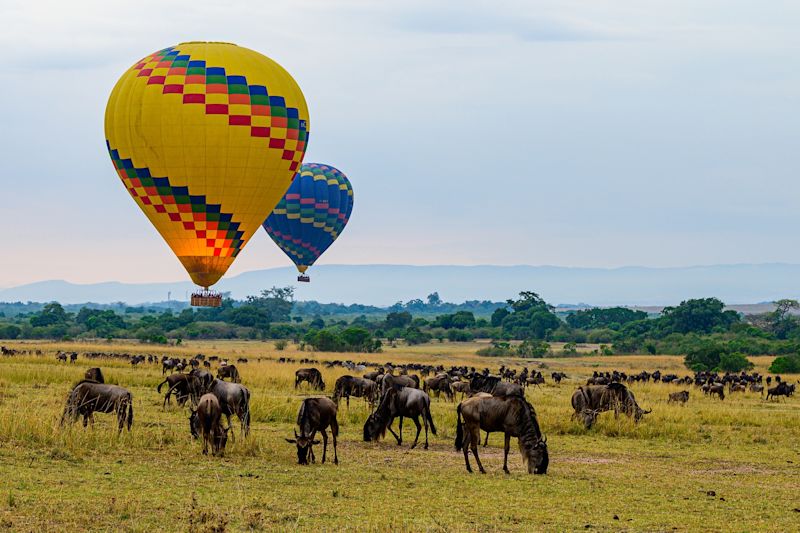 A balloon safari over the Maasai Mara
Right, let's now discuss all of the specific costs involved in a Kenyan safari, including those covered by a tour operator in case you opt to do it all on your own ...
1. Visa
There are three different tourist visas to choose from when visiting Kenya, as follows:
Kenya's different tourist visas
| Visa | Duration | Cost in USD |
| --- | --- | --- |
| Kenyan tourist visa | 90 days | $50 |
| Transit visa | 72 hours | $20 |
| East Africa visa | 90 days | $100 |
Note that there are roughly 40 countries with a visa-free arrangement in place with Kenya. These include Malaysia, Singapore, South Africa, Tanzania and various other African nations. Such nationals can visit Kenya visa-free for up to 30 days.
To see if your nationality needs a visa to visit Kenya, please look at this list of countries.
Also, for more details on the process of obtaining a visa and how the different options stack up, please read How to get a Kenyan tourist visa.
2. Flights
The price of your international flights will obviously depend on your starting country.
Note that you're probably going to be flying into Jomo Kenyatta International Airport (NBO) just outside the capital city of Nairobi in the south of the country.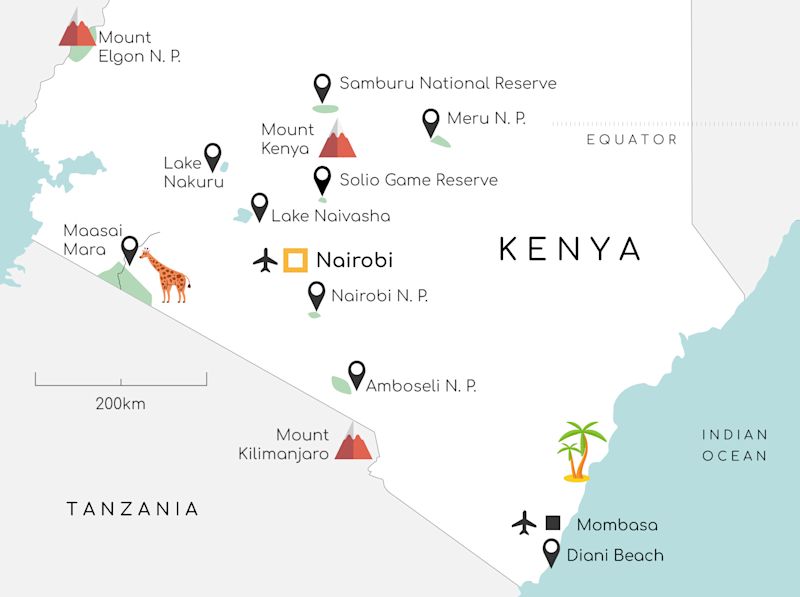 Map of southern Kenya
Fortunately, NBO is only a five-hour drive from the country's top safari destination: Maasai Mara National Reserve. It's also only five hours by car to Samburu National Park, the country's most popular northern safari park.
If you'd prefer to skip the drive, you can catch a small plane to Maasai Mara (MRE) or Samburu Airport (UAS) from Nairobi's Wilson Airport (WIL) for around US$300 to $400 return (or $200 to $250 one-way).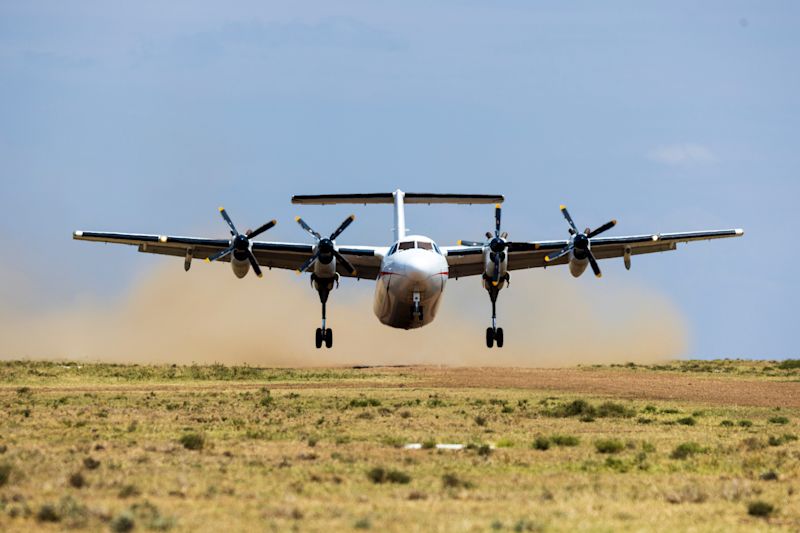 Kenya's biggest national parks have airstrips for light aircraft
It goes without saying that you should keep your eyes open for specials for your international and regional flights. You might also like to read How to book the cheapest international flights.
Finally, if you're concerned about your environmental footprint, you might want to consider skipping the local flights and rather driving to the various Kenyan destinations (or catching a train where possible). We discuss the why of this suggestion in Ways to reduce your carbon footprint when travelling.
3. Airport transfers
It'll cost you somewhere in the region of US$25 for a taxi cab ride from Nairobi International Airport (NBO) to the city centre.
That said, it's unlikely you'll go to the city centre; it's more likely you'll head to your accommodation elsewhere in the city, or to Wilson Airport (WIL). A taxi ride from NBO to WIL will cost you about US$30.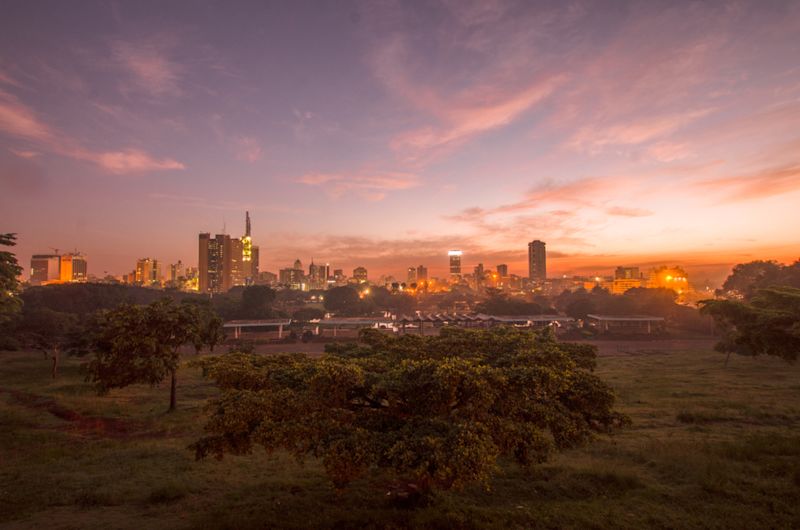 Sunrise over Nairobi
If you're travelling with a tour operator, check to see if airport transfers are included in your package fee. They often are. If they're not included, you might like to pay your tour operator the extra fee to have a driver meet you at the airport and save you the hassle of finding your own way to the next location.
Whatever you do, please be vigilant as scammers and chancers abound in East Africa.
Don't let someone approach you and persuade you to hop into their car for a cheap taxi ride, for instance. Rather prebook a taxi with a reputable service where you know the fee upfront. And then only step into a properly branded car. Or ask to see the driver's registration first if they're with Uber.
Safety first, folks!
4. Accommodation
Accommodation is a big factor in any trip budget. Fortunately, you can find all sorts of accommodation in and around Kenya's various safari destinations. We're talking simple, traditional camping to luxury, all-inclusive lodges with swimming pools and spas.
Of course, if you purchase a safari package with a tour operator, your accommodation costs will be included in that price.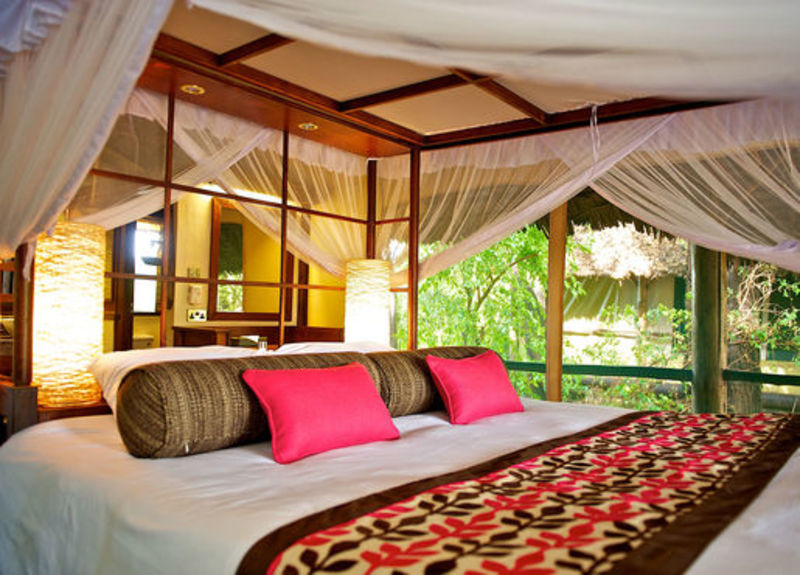 Example of a luxury tented camp (glamping) in Kenya
For those of you wanting to book your own accommodation, here are a few ballpark figures in US dollars for one night's accommodation to help you plan. (We won't fuss with the super high-end options since such folks probably aren't reading a blog post about costs!)
Cost of Maasai Mara accommodation pppn sharing
| | Budget camping | Mid-range glamping ** | Luxury glamping ** |
| --- | --- | --- | --- |
| High season * | Up to $130 | $400 to $500 | $600+ |
| Low season | Under $100 | $150 to $250 | $300+ |
* High season is usually July to October.
** These prices will almost assuredly include one or two meals.
Cost of Samburu County accommodation pppn sharing
| | Budget camping | Mid-range glamping ** | Luxury glamping ** |
| --- | --- | --- | --- |
| High season * | Under $100 | $250 | $600+ |
| Low season | Under $100 | $150 | $300+ |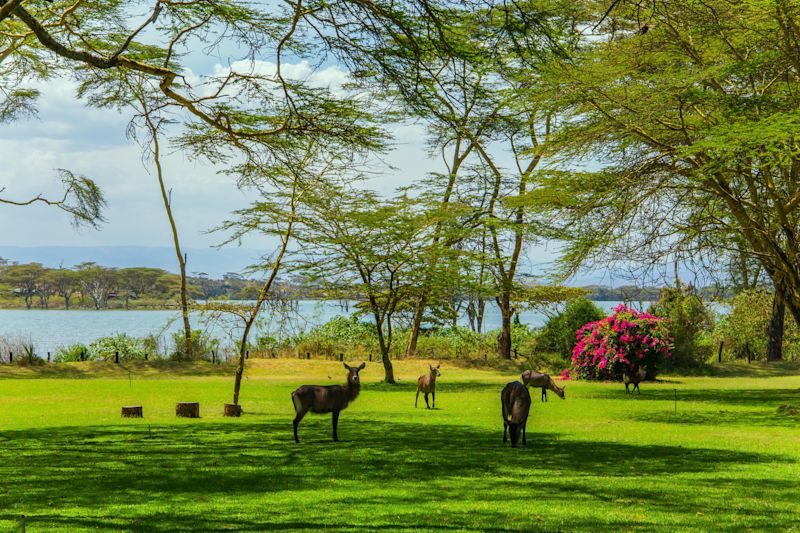 Waterbucks in the garden of a Samburu County lodge
As you can see, accommodation prices vary massively, as is the way the world over. Also, visiting in the off-peak (low) season usually means much lower rates.
If you're wanting or needing to keep costs as low as possible, please note these further tips for obtaining better accommodation rates for your Kenyan safari:
If camping, you may get a better rate if you stay for a few nights.

The earlier you book, the lower the rate (usually).

If you book with a local tour operator, they're often able to get discounted rates.

The further you are from a park or reserve's gates, the cheaper the accommodation tends to be.
5. Vehicle hire or safari guide
A big cost in any Kenyan safari budget is your car hire or your safari guide. When you hire a safari guide, they almost always serve as your driver as well, and their fee includes a four-wheel-drive vehicle and all of the necessary petrol (fuel).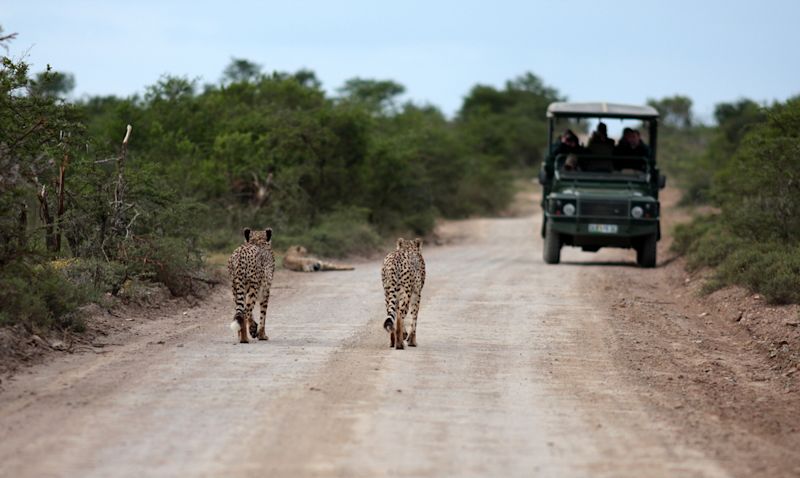 Sometimes on safari the animals come to you!
If you choose to go the self-drive safari route, then you're looking at a minimum of US$500 to rent an SUV for a week during safari peak season. Prices can go above $1,000 for premium car brands.
Note that you most certainly need a good four-wheel-drive vehicle when heading off into the country's national parks and reserves. You could chance a lesser car, but we don't recommend it as the roads are usually dirt and at times can become extremely rutted, muddy and otherwise treacherous.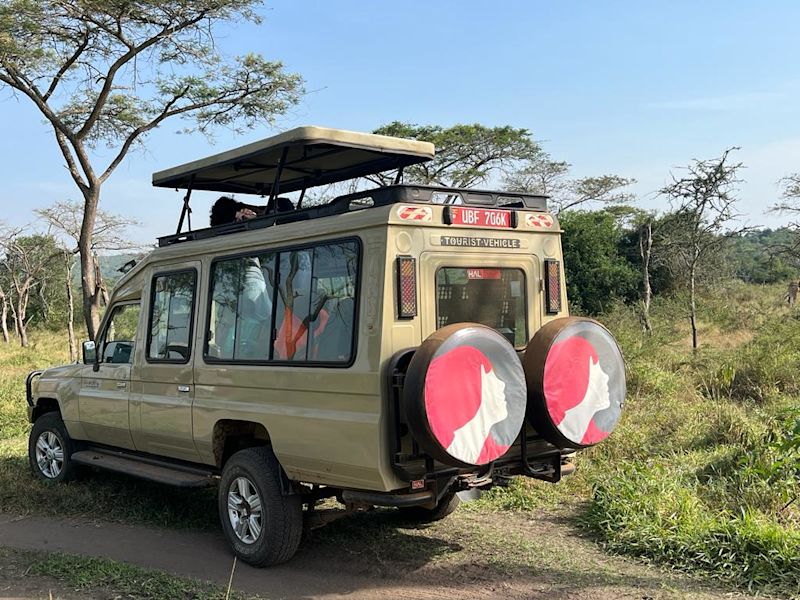 A standard Follow Alice safari vehicle with pop-up roof
As mentioned above, if you hire the services of a safari driver-cum-guide then that fee includes a 4x4. Most Kenyan safari guides use rugged safari vehicles with pop-up roofs (like the one shown above) that allow two to four people to stand up and pop their heads out of the top for better viewing.
Such roofs are really great as they let you stretch your legs. And if your driver decides to put foot, holding on to keep your balance can be pretty fun!
Reasons to go on safari with a driver guide
There are several reasons why opting for a safari driver–guide is the superior choice in our opinion:
They're experienced at managing the hefty 4x4 vehicles needed on safari.

They're familiar with the terrain and less likely to get stuck (folks overnighting in 4x4s is surprisingly common, as roadside help isn't readily available).

They're well trained in spotting wildlife that newbies would usually miss.

They're living, breathing guidebooks, knowing the names and details of all the animals you see (and often the birds and vegetation too).

They know where to go in the different seasons for the best chances of wildlife spotting.

They're usually in touch over radio with other guides in the park and so can learn of exciting finds in real time and take you there.

They know how close they can come to the wildlife without scaring them off or placing you or the animals in danger.
For more in this vein, please read 12 reasons why good tour guides are so important.
6. Park entrance fees
Kenya's national parks and reserves charge daily entrance fees, and these can be substantial. So it's vital to factor these into your overall Kenyan safari budget.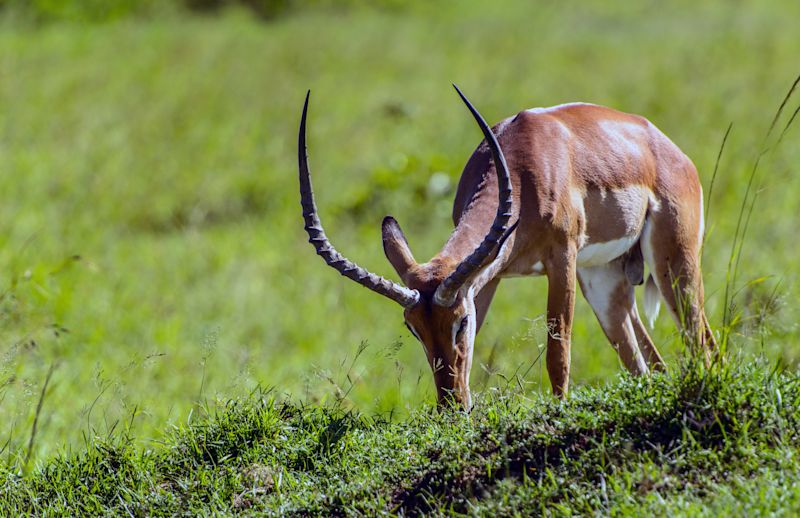 A male impala having a munch in the rainy season
That said, if you go on safari with a tour operator, these park entrance fees will almost certainly be included in your tour package price.
Whether it's for general interest's sake or so you can plan a tour operator-free safari, here are the daily entrance fees at time of publishing for a foreign national to some of Kenya's most popular national parks and reserves during peak (high) season ...
Daily high-season entrance fees in USD for a foreign national
| Park/reserve | Adult | Child |
| --- | --- | --- |
| Maasai Mara | $70 | $40 |
| Amboseli | $70 | $40 |
| Tsavo East | $52 | $40 |
| Hell's Gate | $26 | $17 |
| Nairobi | $60 | $20 |
| Samburu | $70 | $40 |
Please note that some parks will charge you less during low (off-peak) seasons. But since most international visitors want to come when the animal viewing is the best, or the Great Migration is taking place within Kenya's borders, we've just listed the entrance fees for high (peak) seasons.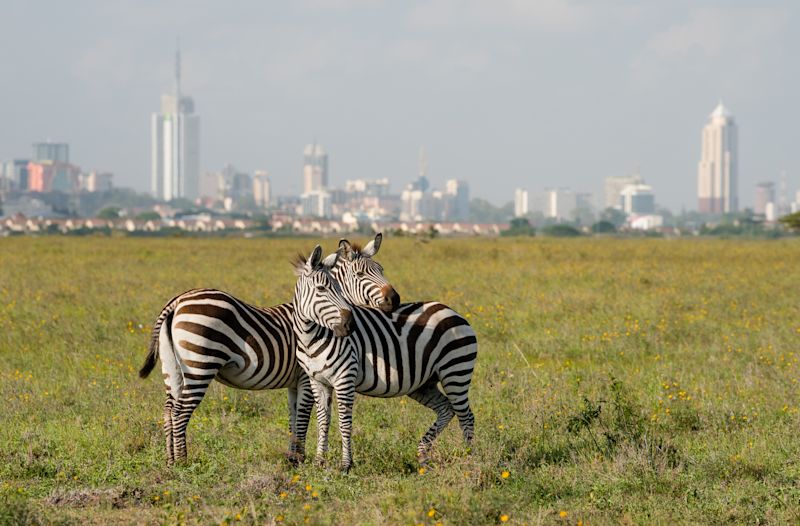 Nairobi National Park is ideal for visitors to Kenya wanting a quick safari
Finally, please be sure to check the fine print for any park or reserve's entrance fee. What we particularly want to point out here is that sometimes you must pay for entrance for a particular calendar date, whereas other times you must pay for the 24-hour window from whenever you enter the gates.
7. Food and drink
It's obviously hard to give a number for food and drink for a holiday since it depends so greatly on what and how often you want to eat.
Note that most safari lodges include breakfast in your accommodation fee. Usually, juice will be served as complimentary with your breakfast, but that's often it. Don't assume that other drinks, even water, are covered – you usually must pay for these on top of your meal.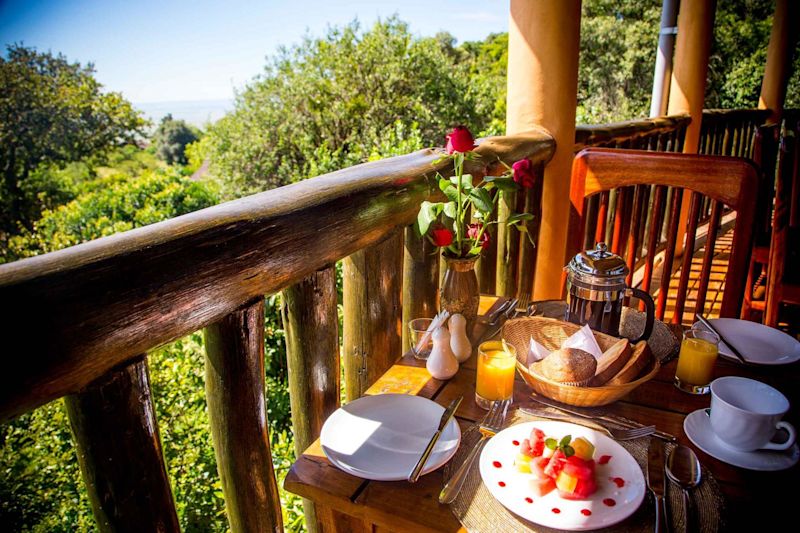 Breakfast at the popular Maasai Mara Engai Wilderness Lodge
Some lodges might include dinner and lunch as part of your package fee – but always check on this.
Even if such meals aren't inclusive, you'll likely eat all of them at your lodge, since you're often tucked away in a remote location, far away from any eateries.
Usually you can organise a packed lunch from your accommodation if you're heading out on a daylong safari. There's also usually a curio shop at mid-range and above accommodations that sells drinks and snacks.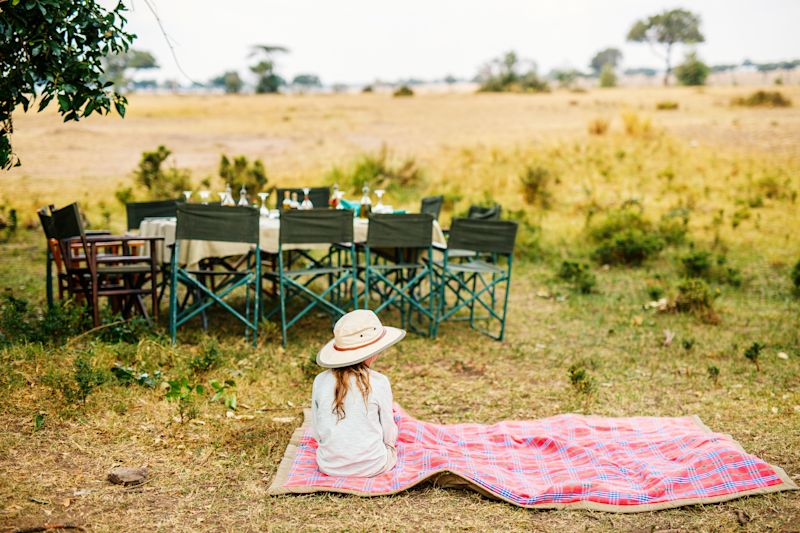 If you have money to splurge, then a bush lunch is just the thing!
Here are some ballpark figures as to the cost of certain popular snacks and drinks in a major Kenyan city like Nairobi:
| | Kenyan shillings | US dollars |
| --- | --- | --- |
| 2-litre Coca-Cola | KSh150 | $1 |
| 500 ml still water | KSh30 | $0.20 |
| Large cappuccino | KSh300 | $2 |
| 330 ml imported beer | KSh300 | $2 |
| 150 g slab of chocolate | KSh400 | $2.66 |
| McMeal at McDonald's | KSh700 | $4.66 |
As you can see, foreigners travelling in from stronger economies won't struggle at all with the cost of basic food and drink items. Note, however, that these will cost more when ordered with a meal at your safari lodge or bought at their little tuck shop.
8. Animal encounters
Many who visit Kenya to go on safari jump at the opportunity to have a close-up animal encounter like those offered by wildlife orphanages.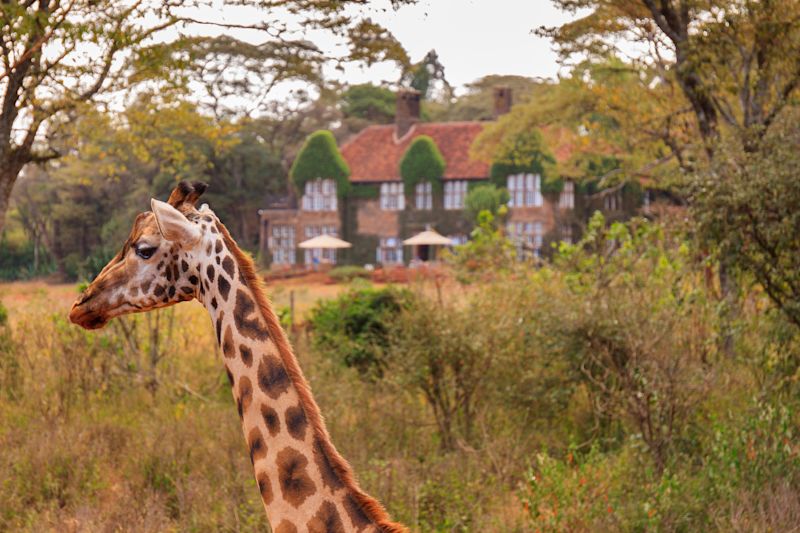 The famous Giraffe Centre in Nairobi
Some of the most well-known and popular animal encounters on offer in Kenya are shown below, along with entrance fees for foreign nationals (but please note that these prices can and do frequently change) ...
Entrance fees for foreign nationals in USD
| Animal encounter | Adult | Child |
| --- | --- | --- |
| See elephants at Sheldrick Wildlife Trust, Nairobi | $20 | $5 |
| See Rothschild giraffes at Giraffe Centre, Nairobi | $10 | $5 |
| See baby elephants at Reteti Elephant Sanctuary, Samburu County | $35 | $35 |
Please do a little research before visiting any of these wildlife sanctuaries to ensure you're happy with the setup. We personally really love Reteti Elephant Sanctuary as it's run by locals who really love and care for the orphaned animals. Also, they buy all of their milk from nearby farmers, which helps the local economy.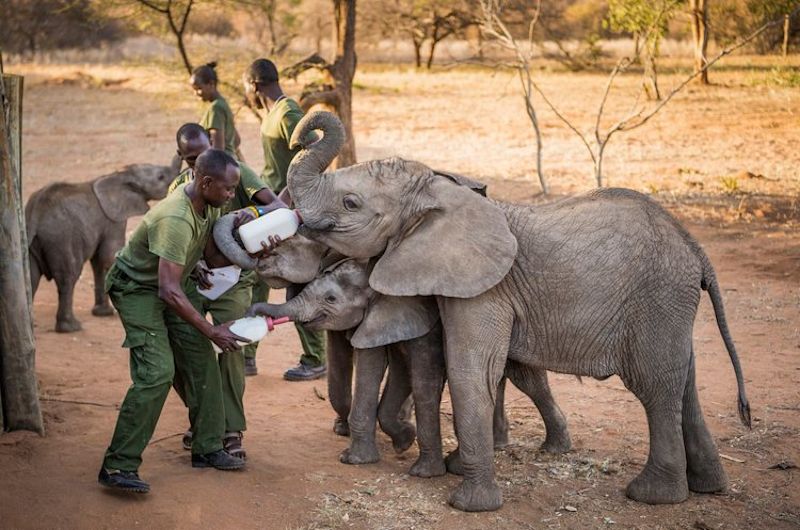 Feeding time at Reteti Elephant Sanctuary
9. Tips
Tipping is very much part of the culture in Kenya. Most people with service-oriented jobs like waiters, accommodation staff and safari guides are hoping for (and expecting) tips from clients.
Tips sometimes form an important part of the income for Kenyans working in the hospitality and safari sectors.
Most Kenyans working in service within the safari sector are incredibly well-trained, very friendly, and super obliging. Many foreigners are astounded at the lengths to which staff will go to make them feel comfortable, happy and safe.
What this means is that you generally want to tip your safari staff, and tip them very well.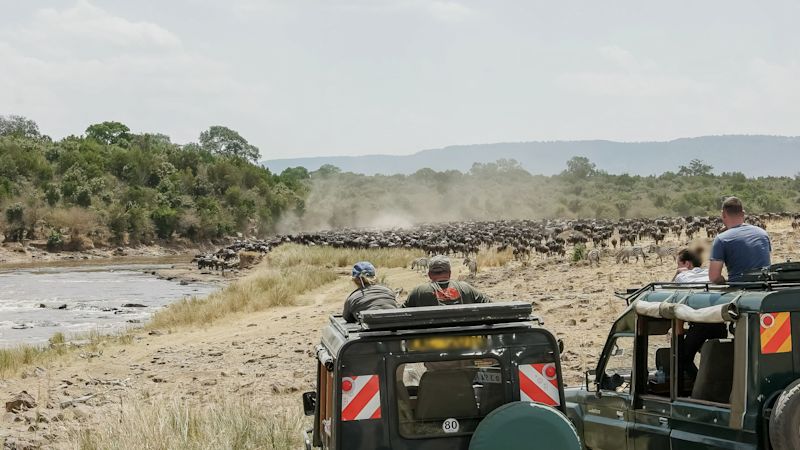 Your safari guide is usually your driver too
What sometimes happens, however, is that you don't have any, or enough, cash on you at the time of tipping. Often you're far away from an ATM. So try to remember to draw some cash in the city before heading off on safari.
Alternatively, note that US dollars are usually welcome.
As a very general guideline for safari guides, plan to tip around US$5 to $8 per day per group. So if there are six of you in the safari vehicle, that's only about $1 per person day. Not much at all!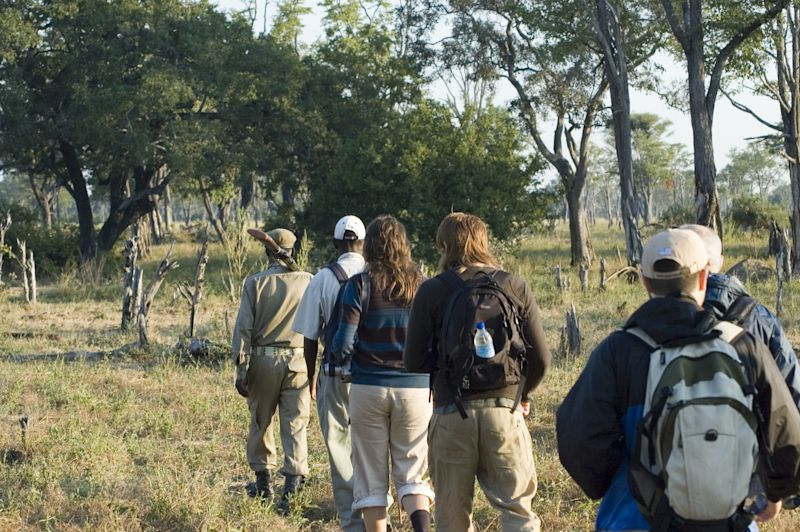 Walking safaris require you to be guided by an armed ranger
If you go on an outing like doing a safari bush walk and are accompanied by a ranger, consider giving them a group tip of around US$4 to $7.
Many lodges have a communal tipping jar by the reception desk. A very general rule of thumb might be to leave a tip of US$2 to $5 for every day you were there. Of course, go bigger if you like! All of the tips will be divided among staff members to ensure those working in the background also receive their share.
Note that you likely won't feel as obligated to tip in this situation, as nobody will know if you do or don't. But again, we find that you usually really want to leave as big a tip as possible as the service was just so wonderful!
10. Hot air balloon safari
An unforgettable experience – but an expensive one – is a sunrise hot air balloon ride.
Arguably the most memorable hot air balloon safari on offer in all of Kenya is the Great Migration one in Maasai Mara National Reserve. This sees you lift off in the early morning to sail above the vast herds of wildebeests, zebras and antelopes that make up the world's largest land-based migration.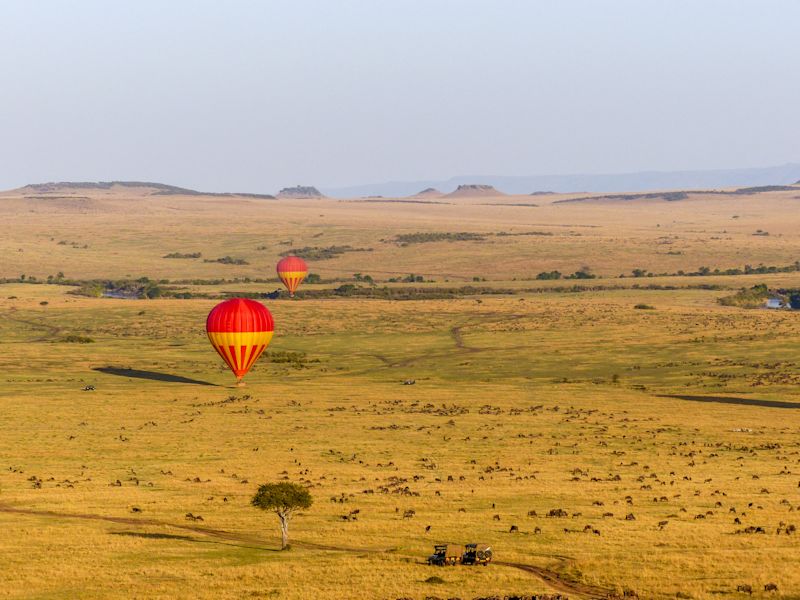 One of the best ways to appreciate the Great Migration is on a balloon safari
A hot air balloon ride in the Maasai Mara costs around US$420 to $250 per adult, including transport to and from your lodge. A child under the age of 12 costs around US$320 to $340.
Note that you're in the air for about an hour, and your ticket price often includes lunch afterwards.
11. Walking safari
You can't go on a walking safari in any of Kenya's national parks or reserves (except for Hell's Gate National Park). This is to protect both the wildlife and visitors from the sorts of incidents that make headlines.
That said, often you can do a guided walking safari in an adjacent private reserve or similar. On such occasions, you should be accompanied by an armed ranger.
The Ewaso Nyiro River in Samburu National Park
It's hard to give a general price tag for this given that walks can vary greatly in terms of duration and demand.
What we can tell you is that a guided safari bush walk within one of the Maasai Mara National Reserve campsites should cost around US$50 to $75 per adult. What's exciting here is that your guide should be a member of the local Maasai tribe, so you can learn a great deal about the culture and its strong connection with the land and wildlife from him.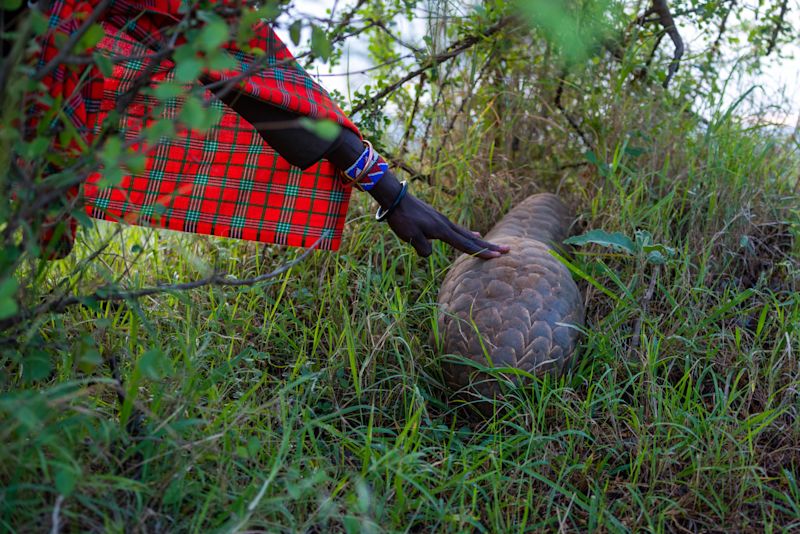 A Maasai guide touching a wild pangolin
12. Shopping and souvenirs
There are many opportunities for safari-goers to purchase curios and souvenirs from the Maasai, Samburu and other very traditional tribes (yes, this is the preferred term in Kenya) that live in the regions supporting popular national parks.
We're talking about items such as traditional textiles and clothes as well paintings, carved figurines, beaded jewellery and local honey. You can shop in high-end boutiques or individuals selling on the roadside. And the price tags will naturally differ depending on where you look.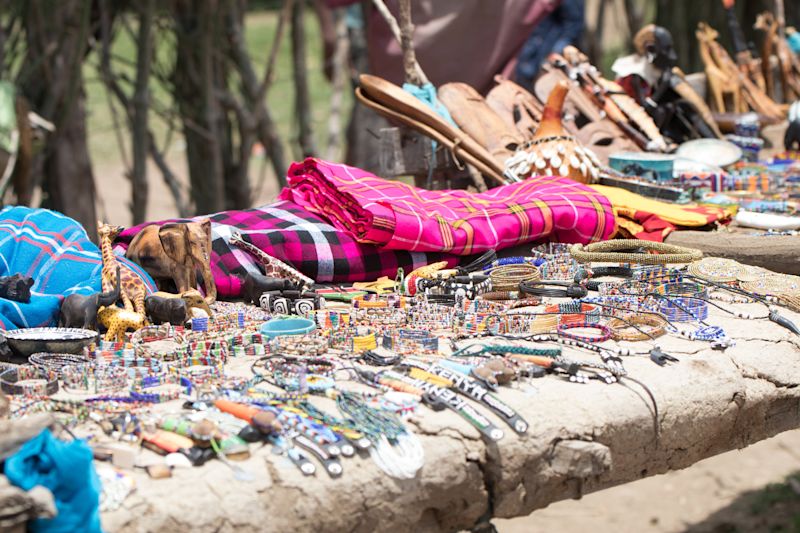 Maasai shukas, wood carvings and beaded jewellery are sold everywhere in Kenya
Bargaining is common in Kenya, so don't be scared to negotiate. That said, we'd encourage you to think twice before haggling hard for a saving that means little to you but much to the seller.
If you're just interested in the odd souvenir or a gift, then US$10 to $20 is all that's necessary. But, of course, the sky's the limit if you decide to do some bulk or more high-end shopping.
13. Traveller's insurance
Please factor traveller's insurance into your Kenyan safari budget. Given that safaris aren't inherently dangerous, you should be able to opt for standard traveller's insurance and be covered.
It's up to you how much insurance you wish to purchase. We do, however, recommend choosing one that covers delayed, interrupted or postponed travel. An African safari isn't generally speaking a cheap holiday, so you want to ensure your insurer will reimburse you if something goes wrong before or during your trip.
14. SIM card or eSIM
To save on roaming costs, you might like to buy a local SIM card or purchase an eSIM for your Kenyan safari. If you're unfamiliar with eSIMs, you might like to read Why you should use an eSIM on your next trip instead of buying a local SIM card.
You can buy a cheap SIM card and pretty affordable data in Kenya. The SIM card itself will only cost you US$1 to $2. Then, regardless of the local network provider you choose, you're looking at a cost of roughly US$50 for 50 GB of data for 30 days.
If you choose to go the eSIM route, Airalo (the current industry leader) sells a 50 GB bundle for 30 days in Kenya for US$36.50. Holafly offers 30 days of unlimited data in Kenya for US$79.
We hope this has been helpful to you in figuring out the cost of a Kenyan safari. And if you've got any questions, we're just one little "Enquire now" button away!