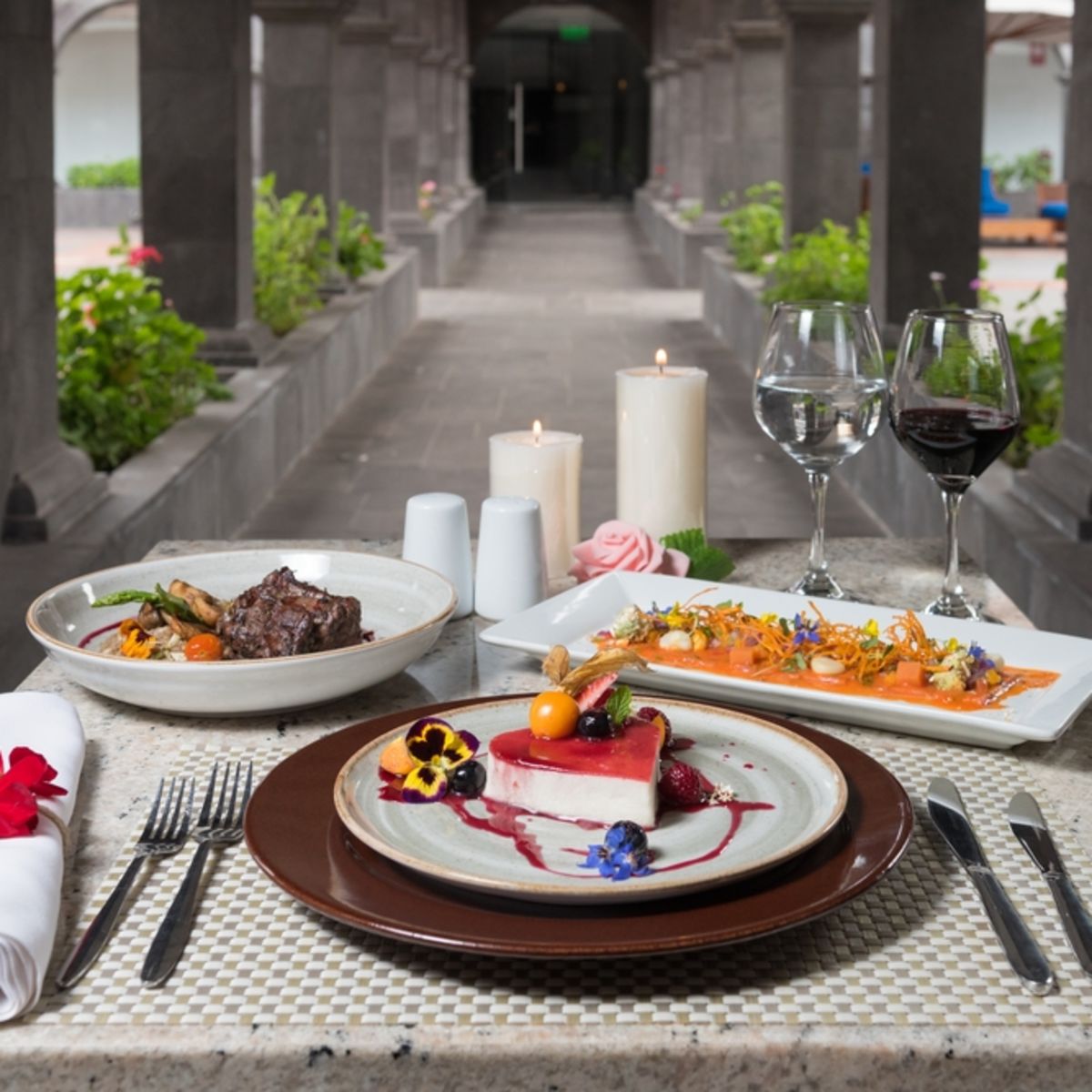 Culinary Cusco – the best foods and restaurants
Aug 2, 2023
Reading time: 18 minutes
Cusco has emerged as a South American culinary powerhouse. From fine dining and celebrity chefs to affordable and tasty street foods, you can find a variety of mouth-watering traditional, fusion, western, Asian and vegan dishes to satisfy all tastebuds.
Peru is the undisputed food capital of South America. While Lima holds the crown as the ultimate foodie destination, Cusco has been steadily rising in the ranks and is now Peru's second most popular destination for tasty cuisine.
Happily, Cusco's delicious fare isn't restricted to fancy restaurants. No, no, Peruvian cuisine is delicious full stop, and there are many affordable establishments doing it justice too. This means you can enjoy fantastic and often unusual dishes at mid-range restaurants, cafés and street markets too.
Whatever your budget, you can look forward to enjoying some truly memorable meals in Cusco!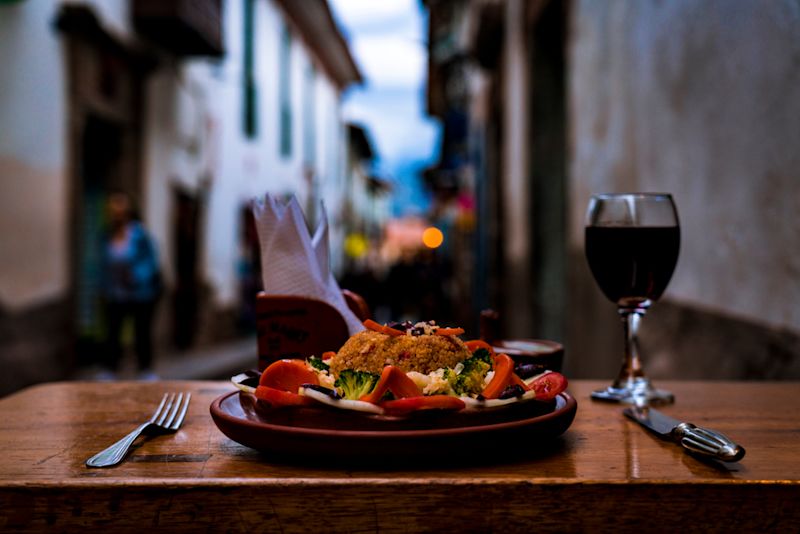 Not all fine-dining experiences in Cusco require you to break the bank
So let's look at some of Cusco's most-loved foods, and then at the best places to eat ...
Quintessentially Cusqueño (or Peruvian) foods
There are a few dishes that have come to define the Cusqueño food scene ...
Chicharrón (crispy pork)
A very popular meat in Cusco is chicharrón, which is pork that's braised and then baked or fried until crispy on the outside. It's a real crowd-pleaser!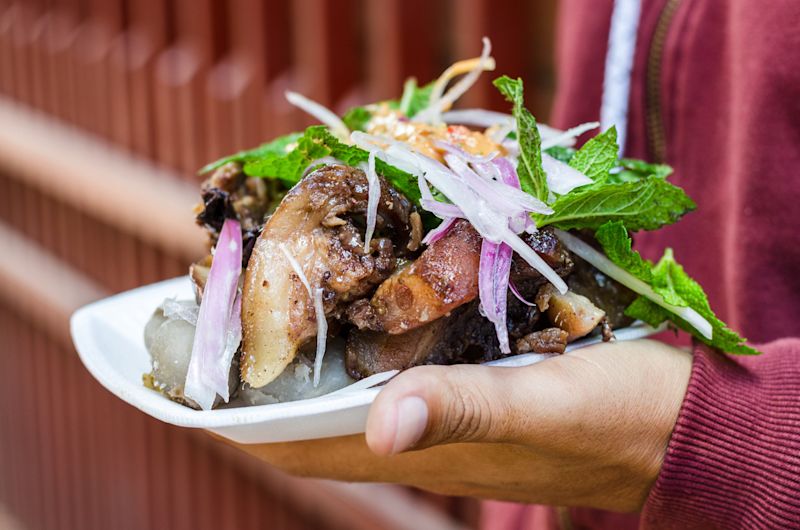 A Cusco street food takeaway of crispy fried pork
Alpaca steak
Then there's alpaca meat, another traditional meat enjoyed widely in the Cusco region. In fact, historians believe that three staples – quinoa, potatoes and llama meat – are what sustained local civilisation for millennia.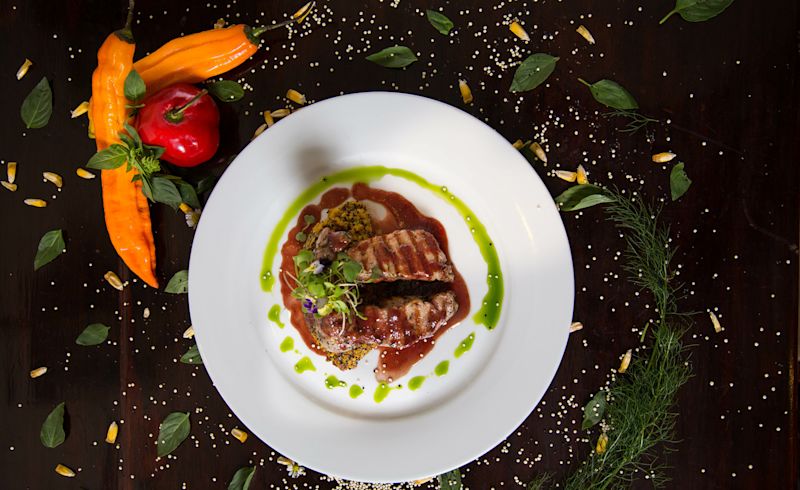 Alpaca loin as a main
You can enjoy llama dishes at both fancy establishments (see above) as well as more affordable restaurants (see below). Alpaca meat is a mild red that's tender, super lean and almost sweet. The closest meat in taste to it is beef, but it doesn't have any of the latter's fattiness.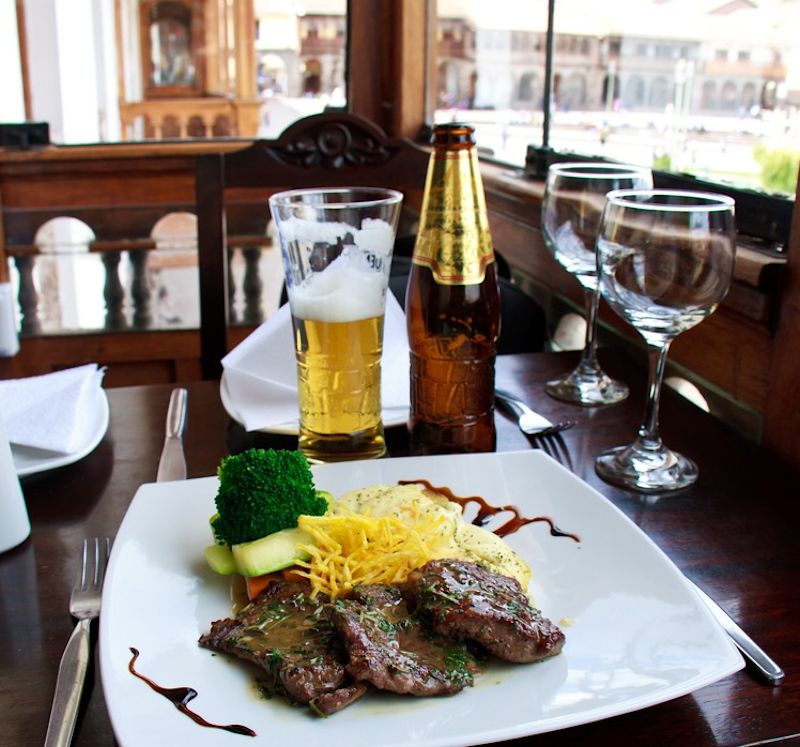 Alpaca steaks with vegetables
Cuy al horno (guinea pig)
If you're a meat eater, definitely try cuy al horno (baked guinea pig) for a true taste of Cusco.
The crispy skin and tender meat are packed with flavour, tasting something akin to chicken and rabbit. (We won't include a picture for this dish, as the animal's recognisable form could be upsetting to some.)
Eating guinea pigs was a privilege of the Incan nobility, though the rodent's culinary history actually goes back millennia.
Chiriuchu (this dish defies translation!)
Chiriuchu is dense with ingredients and usually includes guinea pig, fish roes, seaweed, chicken, charqui (jerky), morcilla (blood sausage), potatoes, corn, cheese and rocoto peppers. While it's unclear what uchu means, the chiri part means 'cold', and yes, this dish is served cold!
Chiriuchu originated in Cusco and is without doubt the city's most iconic traditional dish.
Chiriuchu is Cusco's most famous dish. It originated in the city and is a core part of the feasts that take place during Corpus Christi in the month of June. It contains ingredients not only from the Andes but also from the coast and the Amazon.
Caldo (soup)
Don't skim past!
We know soup doesn't usually draw a big crowd, so give us a moment to explain. Caldos are a very traditional local dish that come packed full of meaty flavour and are often chunky and really hearty. Don't be surprised to find chunks of potato or chuno (freeze-dried potato) in your caldo. Other common ingredients are cabbage and carrot, and sometimes even noodles and egg.
As Sarah, one of our team members living in Cusco, says:
If you want to go super authentic while in Cusco, I would say to try any of the
caldos
–
caldo de gallina
(chicken soup)
being the most accessible, but if you want to be really adventurous, then you might try a
caldo de cabeza
(sheep's head soup) instead!
You can find different types of caldos in Cusco's restaurants as well as its food markets. They're definitely something to make room for in both your itinerary and stomach if you want a true taste of Cusco cuisine.
Choclo con queso (corn with cheese)
Choclo con queso is a classic Cusqueñan snack that pretty much everyone likes, even if they've never tried it before. Because, honestly, what's not to like about corn covered in cheese? And remember, corn originated in South America, and there are many more varieties here than you might be used to.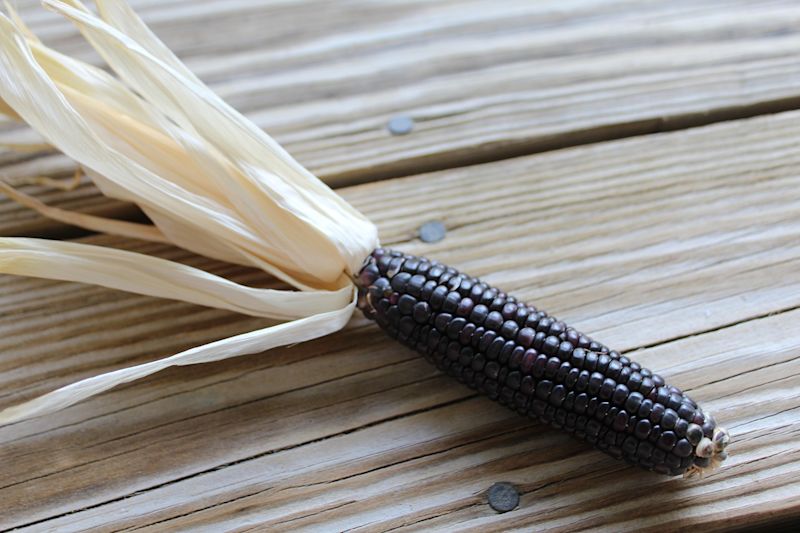 Many foreigners are surprised to see purple corn when they visit Peru
Papas a la huancaína (creamy egg and potato)
If meat's not your thing, papas a la huancaína is a tasty dish that comprises boiled potatoes topped with a creamy, spicy sauce (made from white cheese, Peruvian pepper, peanuts, red onion and garlic), boiled eggs and black olives.
Vegan ceviche
Ceviche in Peru usually means marinated seafood, but you can also get vegan ceviche, which usually contains nori (for a fishy flavour), lime juice, avocado, cherry tomatoes, red onion, coriander (cilantro) and jalapeño.
In Cusco, vegetarians and vegans can, for once, feel that they're eating just as well as the meat-eaters!
Aguadito de quinua (quinoa soup)
Then there's also aguadito de quinua, a chunky soup that includes quinoa, carrots, peas, corn and aromatic herbs and spices. Quinoa has a long history in the region, as it's an Andean plant that was first grown in the Lake Titicaca region in what is today Peru and Bolivia.
Note: Wholesome foods like quinoa soup are actually just the ticket when adjusting to the high altitude of Cusco. You need more carbs at altitude, and quinoa is a gluten-free staple that you can find everywhere in Cusco. That said, for vegan meals, you're likely have more options at hotels and restaurants than at the markets.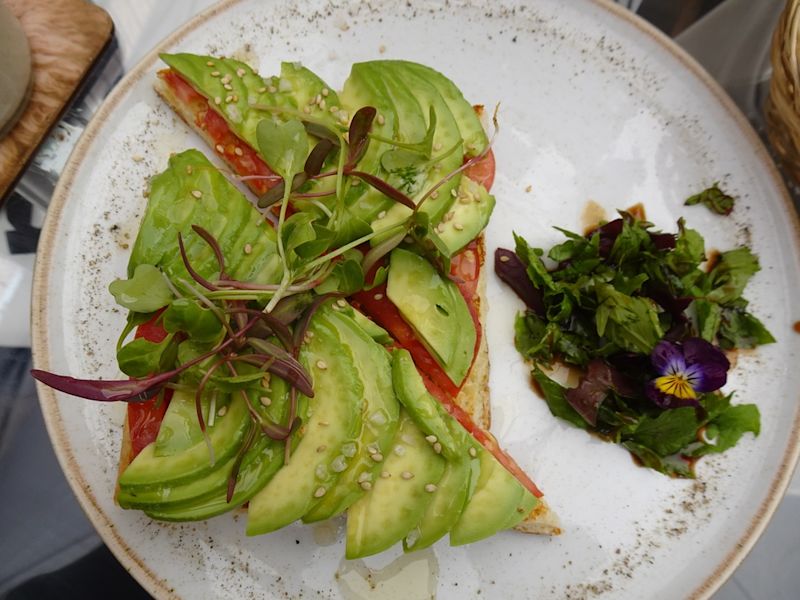 Avocado and tomato toast has never looked this good!
Picarones (Peruvian doughnuts)
Picarones are doughnuts (donuts) made with sweet potato that are covered with a chancaca (unrefined sugarcane) syrup. They originated in Lima during Spanish colonial rule, but have since become super popular all over the country and are now a classic Peruvian sweet treat.
Be sure to try a picarone while in Cusco! You can just pick one up in a market while strolling around the city.
Fine dining in Cusco
Cusco has entered a new era – it has chic eateries helmed by celebrity chefs, many of whom built their careers in Lima and were then drawn to the emerging food scene of Cusco.
So what are some of the top fine-dining restaurants in the city of Cusco? Here are our recommendations ...
Chicha por Gaston Acurio
Keen to eat food cooked by one of the world's greatest chefs? Then head to Chicha, helmed by world-renowned chef Gaston Acurio.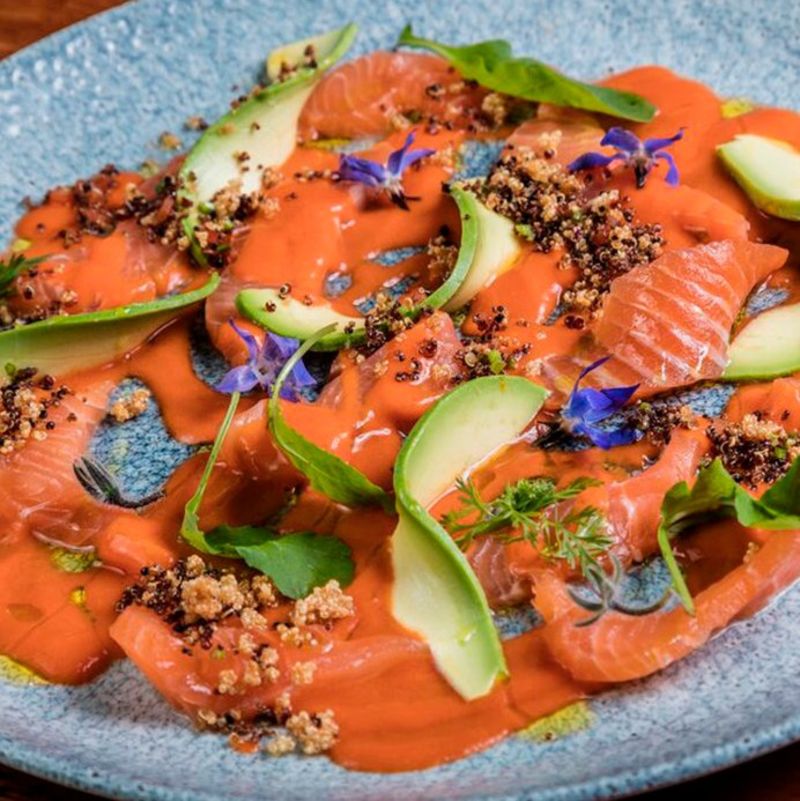 How true it is that we eat first with our eyes!
At Chicha you can enjoy Peruvian favourites like ceviche, cuy and causa (mashed potatoes with trout, avocado and quail's egg) or international dishes with a Peruvian twist, like pizza with alpaca meat.
One of the tastiest dishes on the menu is trout with huacatay bearnaise sauce, spinach, sweetcorn, grilled morayas (dehydrated potatoes) and native potatoes.
There are also some fantastic vegetarian options on the menu, like sweet potato tortelli with sage butter. There are also healthy mixed bowls that usually include quinoa, cheese, sweetcorn and black beans – real Peruvian staples.
El Tupay
This beautiful restaurant can be found inside Monastario, a Belmond Hotel. The hotel is called Monasterio because it was a monastery during the days of Spanish occupation and as such is now a protected heritage site. The long, narrow restaurant sits in what was once a cloister, and is both cosy and refined.
El Tupay specialises in Peruvian fusion cuisine.
Dinner at El Tupay not only ensures incredible fare (from pastas and risottos to seafood and meat dishes), but you can also expect beautifully plated food and, on three nights a week, to be serenaded by the city's best tenor and soprano! So an evening here is a real event. Make it even more memorable by heading to the lounge for cocktails before your meal, where there's live jazz and incredible paintings to enjoy.
Organika Restaurant
This restaurant focuses on the food, not the peripherals, so it offers an unfussy, more affordable fine-dining experience. The cuisine is scrumptious, and the chefs only use organic ingredients sourced from their own garden.
Their fresh trout is a good option for those wanting something with a very regional taste, as it's flavoured with local herbs, coconut milk and pineapple sauce, and comes with wild mushrooms, Andean caviar and carrot puree.
Organika's superlative vegetable lasagne
There are also many vegetarian and gluten-free items on the menu, making it a great choice for a group of people have varying diets. A popular item is their sweet potato ravioli, which comes with a honey orange and spices glaze and is served with homemade tomato sauce, sunflower seeds and Parmesan.
Finally, we must note that their heavenly carrot cake uses a secret recipe and comes with a small chocolate 'island' as well as a carrot-and-apple 'island', and it's served with a hot butterscotch sauce and carrot mousse. The angels sang.
Nuna Raymi
Nuna Raymi in the historic centre of Cusco has a beautiful sustainability ethos. In fact, Nuna Raymi is a Quechua phrase that means "celebration of the soul". The restaurant partners with local farmers who use native and organic seeds.
As you might expect from the above, the focus is on using Peruvian ingredients and flavours. A good starter option is causita del alma acevishada, as this has two appetisers in one, namely traditional yellow potato puree with avocado and a trout-ceviche topping. Many of the mains use native potato varieties, locally produced cheeses, Andean trout, and pork belly.
Like most of Cusco's fine-dining restaurants, the menu has many gluten-free options, but Nuna Raymi also has a whole page dedicated to delicious vegetarian and vegan dishes.
Morena Peruvian Kitchen
Located in the heart of the old city of Cusco, this bright and elegant restaurant is the very best restaurant in all Peru in the opinions of many. So while in Peru, be sure to treat yourself to a meal here if your wallet is chunky enough!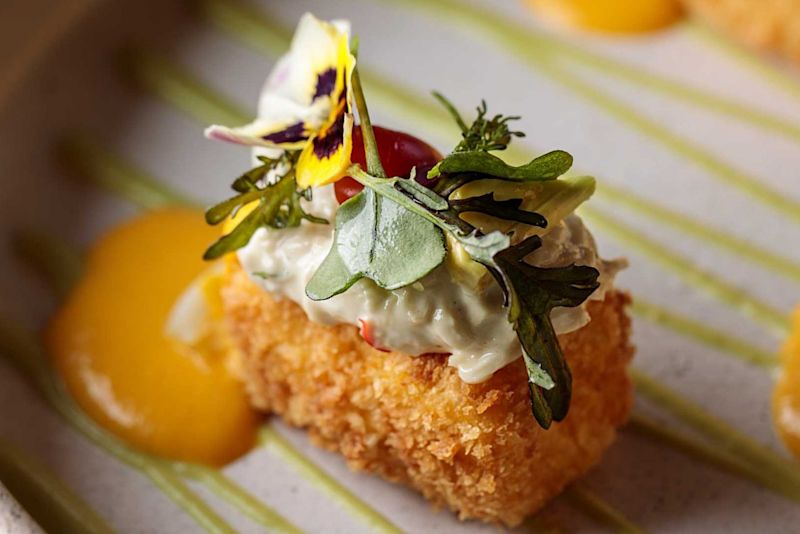 Morena's meals are always plated beautifully
Morena's portions are generous and surprisingly affordable for fine dining. And if you can nab a table near the window then you can look out over the plaza – perfection!
Some of Morena's top dishes are papa rellena (a croquette with ground beef and potato), alpaca risotto, and Peruvian chocolate ice cream (made with cacao, naturally).
The best mid-range restaurants
One thing you will discover when you visit Cusco, is that there's no shortage of places to eat! As Sarah says:
There are
so
many great places to eat all around the centre. I would just stay away from the ultra-touristy places (you'll know them when you see them), that tend to have boring same-old food, bad pizza (don't be fooled by the wood fire in the corner!) and bad service. Keep your eyes peeled for places with trendier décor, innovative menus, and of course, a full house.
Here are our recommendations for some great and affordable places to eat in Cusco ...
Best Peruvian food
Locals always recommend Pachapapa for anyone looking for typically Peruvian and Cusqueño food. In fact, this is the perfect place to try cuy (roasted guinea pig) or llama. The staff is always being complimented for their friendly and great service, and the whole establishment just has a great vibe.
Pachapapa has been around since the 1990s and is an integral part of the Cusco food scene. The meal sizes are generous, and sitting outside under an umbrella on a fine day, looking out over Plaza San Blas, is just the ticket for a memorable lunch!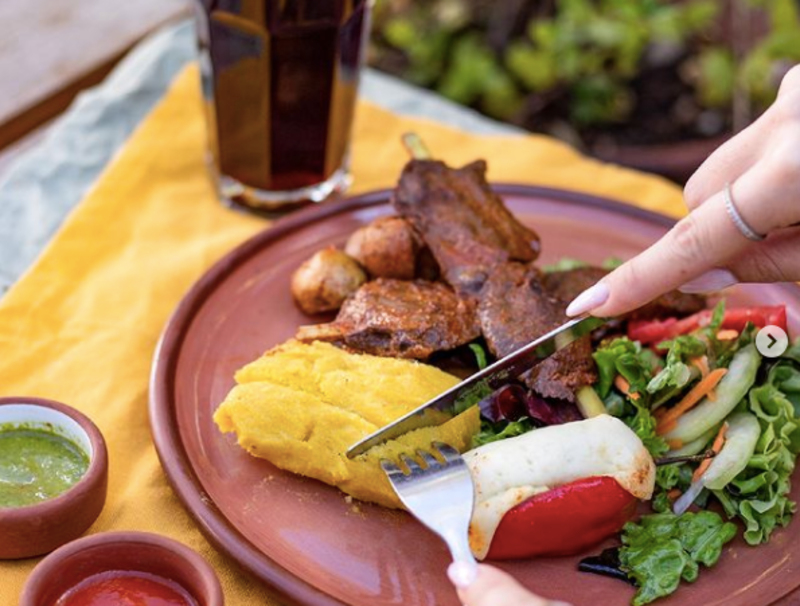 Pachapapa is a great way to enjoy traditional Peruvian food at a reasonable price
As to other great establishments? Sarah says:
If you're thinking like a local, then the go-to places for some of the classics are
La Moqueguana
for
cuy
,
San Antonio
in Saylla (south of the city) for
chicharrón
, and
Don Belisario
for chicken.
Lorena, a third member of our local Cusco team, suggests you head to the street of Pampa de Castillo near the Inca temple of Q'oricancha as there are several great chicharronerías (places selling chicharrón) to choose from there.
Best steaks
Sarah recommends Uchu Peruvian Steakhouse if you're all about your steaks. Located in the historic centre of Cusco, you can enjoy indoor or outdoor seating as you tuck into a llama or other steak accompanied with a good wine and followed by a delicious dessert!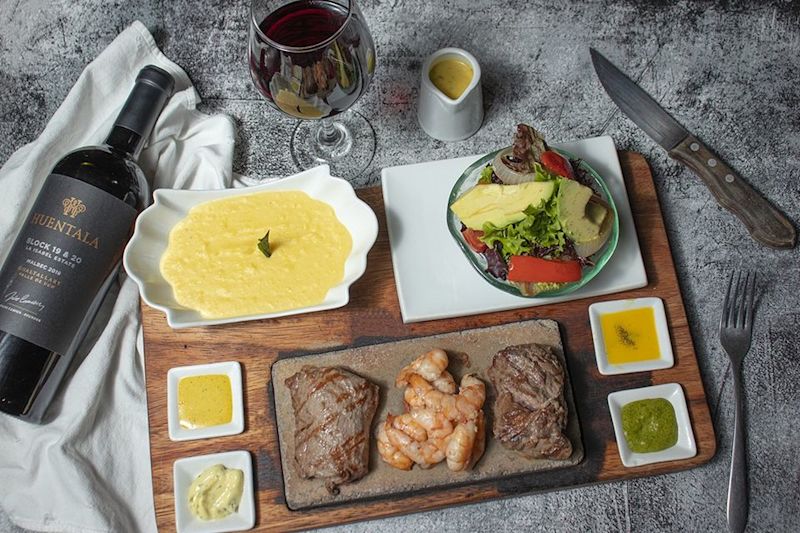 Uchu is the perfect restaurant for meat lovers
Domenica also loves Uchu, saying she likes their meat and salads (S/40-80).
In fact, Uchu always receives rave reviews for both the tastiness of the food as well as the lovely setting and fantastic atmosphere, so do yourself a favour and ensure you have a meal there!
Best plant-based food
Green Point is the undisputed ruler of Cusco when it comes to affordable vegetarian, vegan and healthy meals. As Sarah says:
Green Point is definitely regarded as
the
vegan restaurant in Cusco these days, and they also offer a lunchtime set menu for S/15-18, which is consistently good.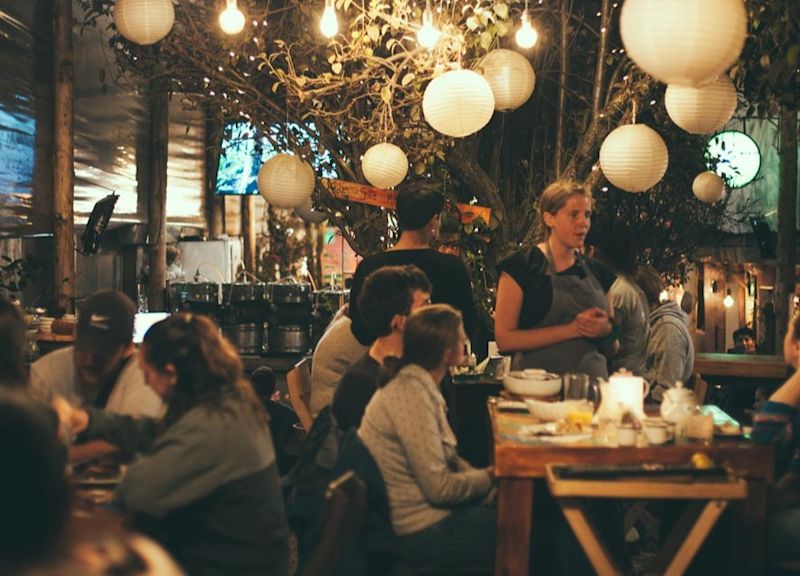 It's lovely to sit outside at Green Point on fine evenings
Green Point's creamy rice with ceviche is a super tasty dish of rice with cashew nuts, corn, carrot and peas that's served with oyster mushroom ceviche and crispy seaweed. And their lentil soup is served with pico de gallo (salsa), nachos, guacamole, coriander and rocket (arugula).
They also serve a wide array of kombuchas, lemonades and fresh juices, as well as various craft beers, cocktails, wines and spirits.
Did you know that your digestive system slows down a little at high altitude? It might be a good idea to eat plant-based meals when you arrive in Cusco and are acclimatising.
When asked where vegetarians and vegans should eat, Domenica, another of our team members, says:
Green Point! Man, I love it, and many people love their kombucha.
Chia Vegan Kitchen
is also great
(I like that the main course is between S/30-40 – I thought it was going to be more). I also like
El Encuentro
, but this is just a S/9 menu option. The place is quite charming for the price though, and they have a yummy salad bar.
Sarah also recommends Rucula, and agrees with Domenica that if you're vegetarian on a budget, then Encuentro is a great option.
Top tips for vegetarians and vegans in Cusco
If the sight of slaughtered animals upsets you, you might wish to steer clear of Cusco's markets, as you're likely to come across stalls selling recognisable animals or animal parts (like guinea pigs and llama heads).
Vegetarians, and especially vegans, should head to restaurants over markets for meals as you're likely to avoid such sights but find more and better meal options.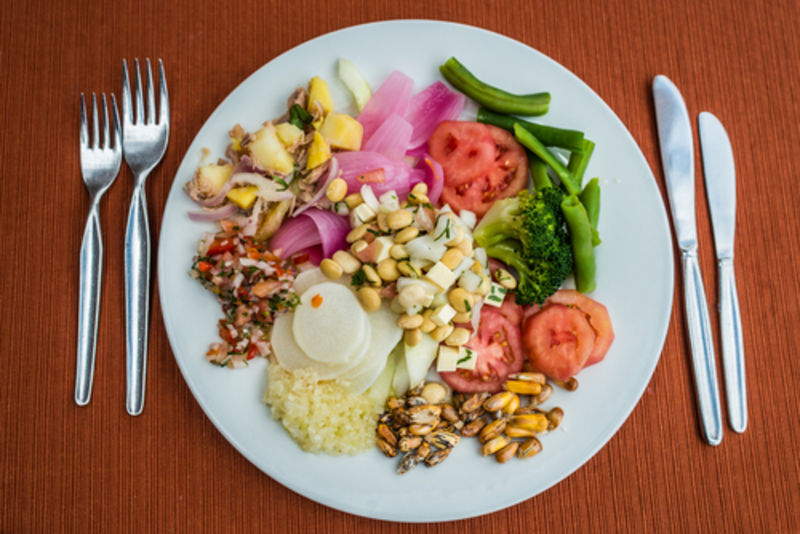 South America is where many vegan staples originated, like potatoes, corn, beans and tomatoes
Best comfort food
While we're all excited to indulge in the local cuisine on a holiday, sometimes your tummy craves something a little more familiar, and when that's the case, you have a great variety of excellent Italian-style restaurants to consider.
Italian food
Lorena and Sarah both love La Bodega 138 for Italian food, especially the pizzas (S/30-50, depending on size) and pastas (S/35-S/50). Sarah also recommends Carpe Diem (S/30-40 for pasta dishes), and La Cicciolina, a perennial favourite among locals and visitors alike.
Asian food
Sarah advises anyone wanting a taste of Asian cuisine to go to Garhwal for Indian food (around S/20 per dish) and UFO Asian Food (which has three locations) for Japanese noodles (S/20-30).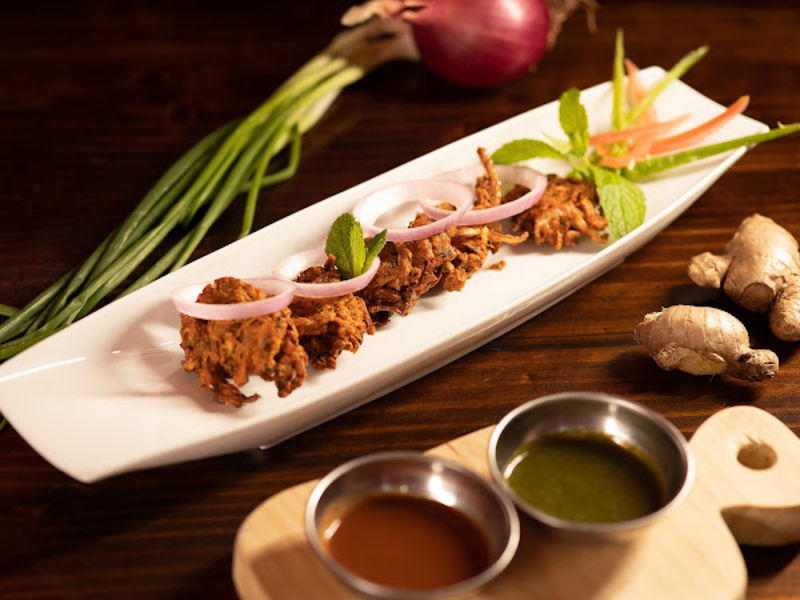 Tasty pakoras (fritters) at Garhwal
American food
Lorena's favourite place in all of Cusco is actually Jack's Café, an American-style café restaurant. The reason?
It has so many options for breakfast and lunch, and their dishes are huge! I never finish one meal just by myself. I think prices are around S/25-S/45.
If you'd like to do some more of your own research on where to eat in Cusco, we can recommend visiting the website Cusco Dining Restaurants.
Cusco's food markets
If you're on a tight budget during your time in Cusco, or simply enjoy sampling street cuisine (sometimes it's the tastiest!), then we recommend that you head to one of Cusco's food markets.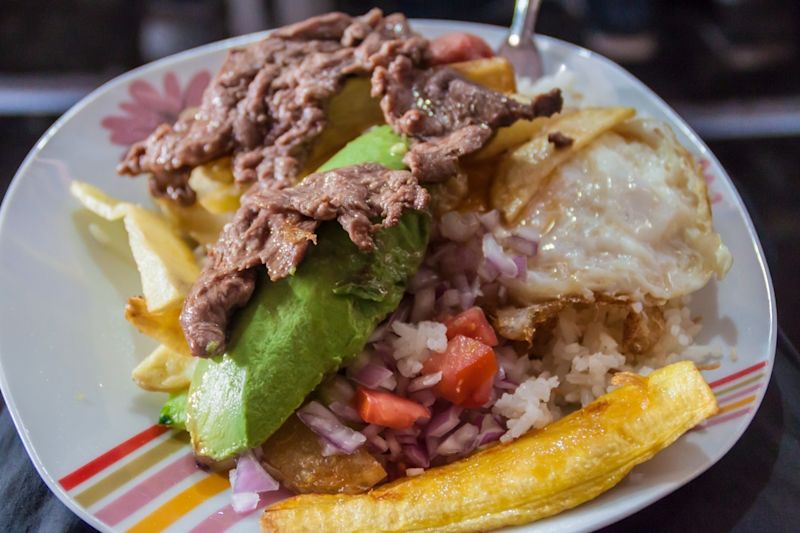 You can enjoy hearty and affordable meals at San Pedro Market
The two main food markets are San Pedro Market and San Blas Market. Here you can enjoy the fragrant flavours of traditional Peruvian delicacies as you wander around, as well as the fun banter of the vendors – if you can understand them!
Markets are an especially great option for breakfast or lunch, as not everyone wants a big sit-down meal three times a day. Lorena says:
I love having breakfast at San Pedro Market: fresh fruits and the ladies are incredibly warm!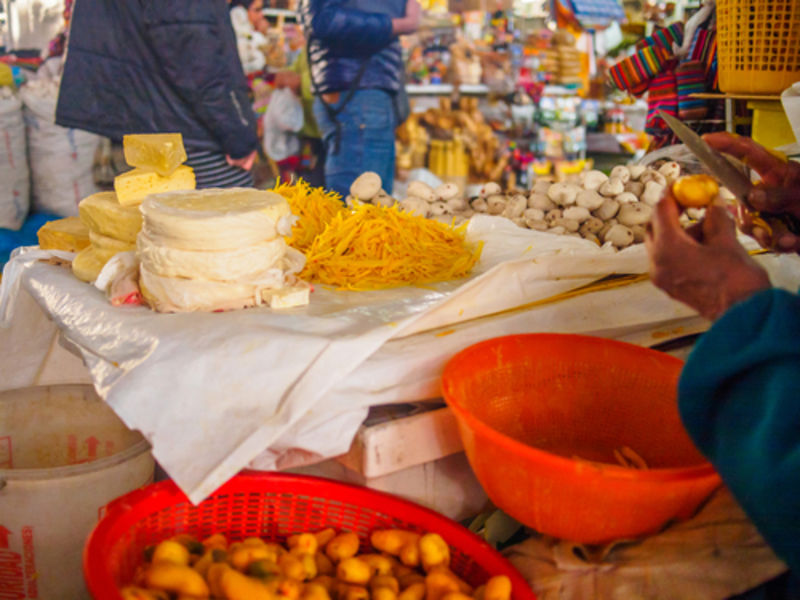 Market food is freshly made and delicious
Sarah's recommendation for tasty market food?
Visit
Govinda Lila
– a little food stall on the corner of San Blas Market. She's famous locally!
Cusco's markets are also a great place to pick up some snacks before heading off on the Inca or Salkantay trails.
Markets are great places for buying energy-rich snacks for trekking
The best desserts, breads, coffees and drinks
Peru is well known for its delicious coffee beans, heavenly chocolate, intricate desserts, and corn-based drinks.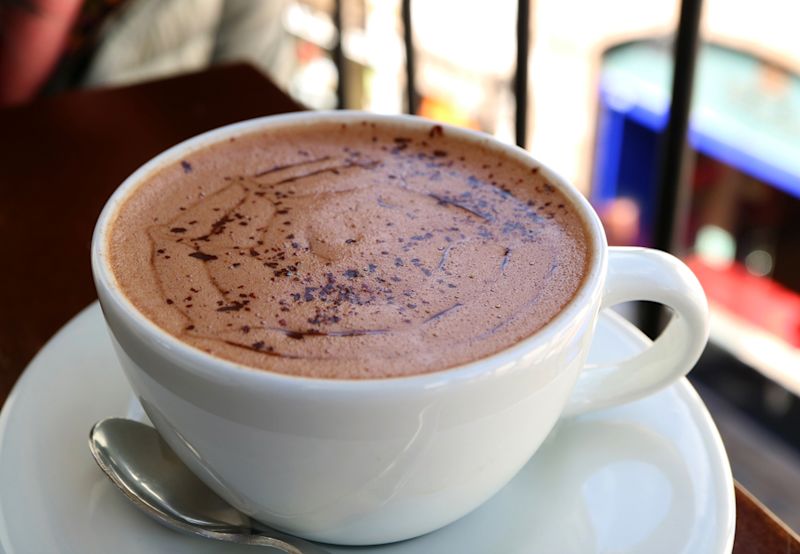 Cup of hot chocolate in Cusco
Here are some of the best places to find the tastiest treats and drinks while in Cusco ...
Desserts
For the very best sweet tamales, head to the street stall of Tamales Josefina in the Portal de Belen in the centre of Cusco. Josephina's tamales (S/1) are made from soft white corn powder and are based on the recipe her mother developed in the 1920s!
An interesting aspect of Cusco desserts is that they often are made with corn, like sweetcorn cheesecake or mazamorra (a sweet sauce made with purple corn). You really can't go wrong with trying a tasty corn-based dessert at whatever restaurant you visit. (You can learn more about this staple in Peruvian Corn: A Rainbow of Taste.)
Cusqueño chefs often like to reinvent familiar desserts using local staples, like making cheesecake with sweetcorn!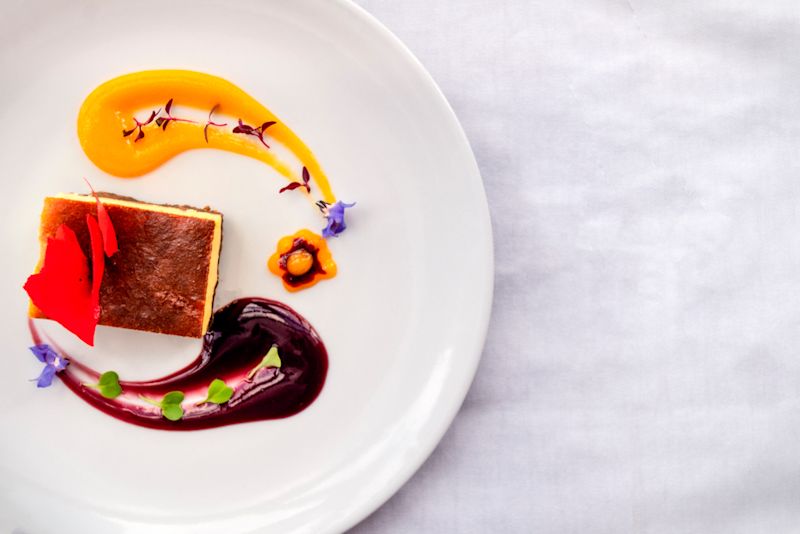 Sweetcorn cheesecake!
Sarah, along with everyone else, loves the delicious, freshly baked pastries at Café Panam as well as the desserts and pastries at Bon Diet Pasteleria, both of which are located in the city's historic centre.
Qucharitas is a fantastic ice-cream parlour just off Plaza de Armas where they make heavenly artisanal ice-creams.
Chuta (traditional bread)
Chuta is an Andean speciality that originated in the mountains near Cusco. It's one of many tasty regional Peruvian breads to try during your time in Cusco!
Chuta is made from wheat flour, sugar, egg, aniseed (anise) and cinnamon, and is sometimes garnished with raisins.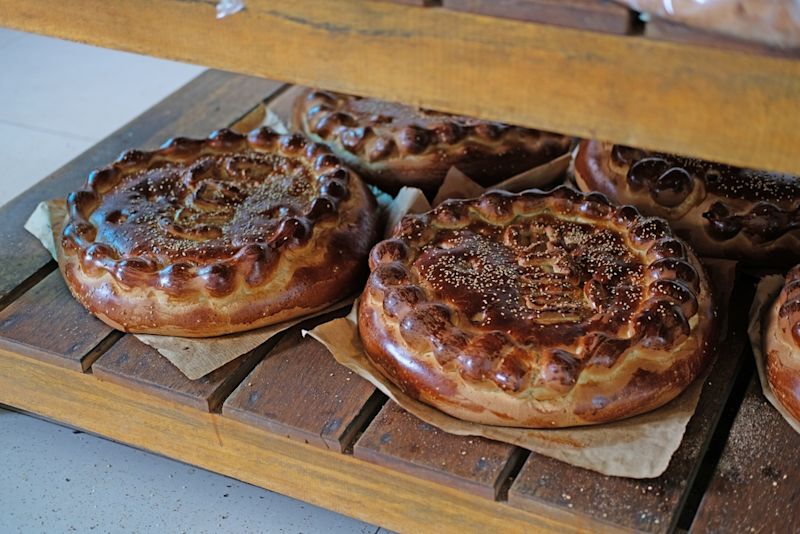 Traditional chuta bread, a staple in Cusco
Heavenly coffees
Coffee is big in Peru, as it should be, since it's grown here on the eastern slopes of the Andes! Two of the best Peruvian coffees to try are Urubamba and Chanchamayo.
In the historic heart of the city, Three Monkeys Coffee Cusco is a locally owned coffee shop that's authentic, very popular and always busy. They serve great food as well as truly noteworthy coffees.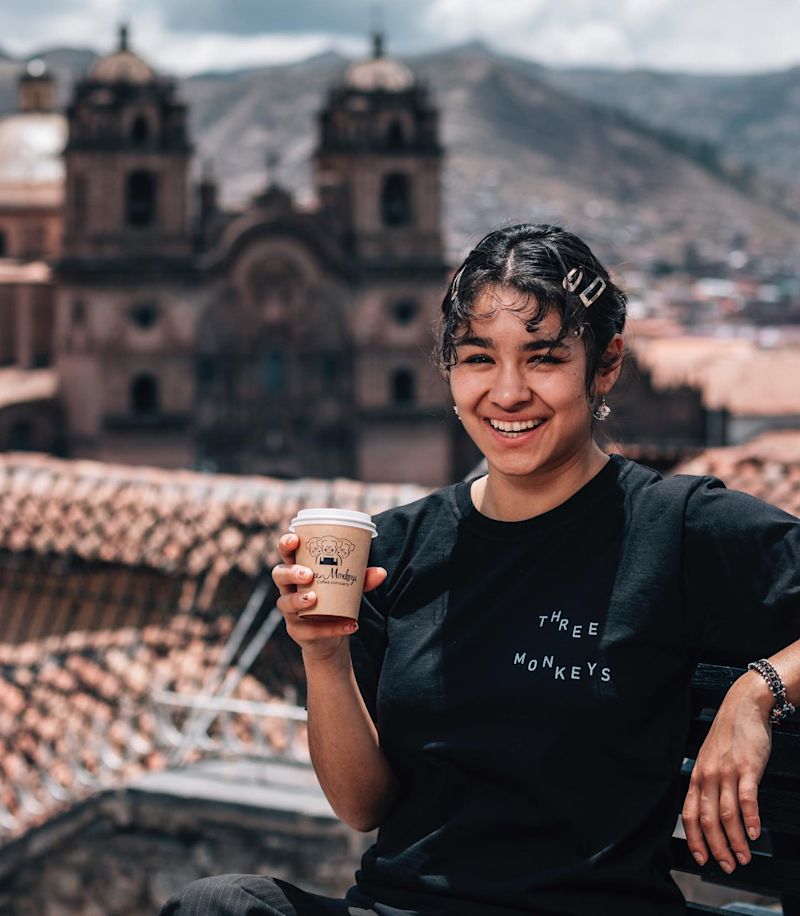 Three Monkeys Coffee Cusco has a great reputation among coffee aficionados
Domenica backs this up when she says:
I don't know myself about the best coffee, though I once heard Three Monkeys was the best. My favourite cafés are
Xapiri
and
Catfetin Cat Cafe
(but the latter is for the cats!).
Sarah says:
I have it on good authority from a coffee snob that
D'Wasi
has the best coffee. Their two locations also have great atmosphere.
After a bit more thought, she adds that she also really likes Bunnu Café.
As to Lorena?
I had coffee at the
Piedra & Sal Restaurante
, inside the Antigua Casona San Blas Hotel, not long ago, and really enjoyed it! I also like
Cercania
Coffee
(and great desserts too!).
Chicha morada (corn juice)
Chicha morada is a non-alcoholic purple corn juice that's infused with fruits and spices. It may seem an odd combo to foreigners, but it's actually very tasty! The sweet and tangy taste has hints of cinnamon and clove.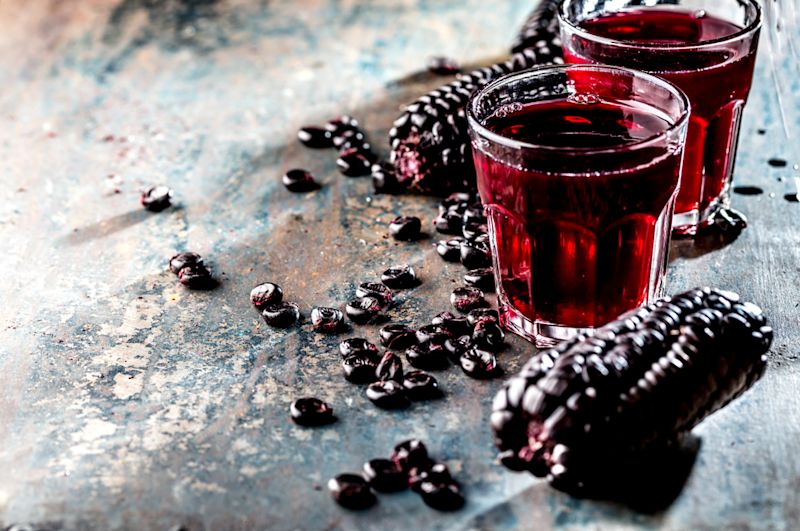 Chicha morada is a very popular non-alcoholic Peruvian drink
Chicha de jora (maize beer)
These tasty delicacies are deeply rooted in Inca traditions and are integral to the region's cultural heritage. Supporting local traditional markets like these means they remain thriving cultural hotspots.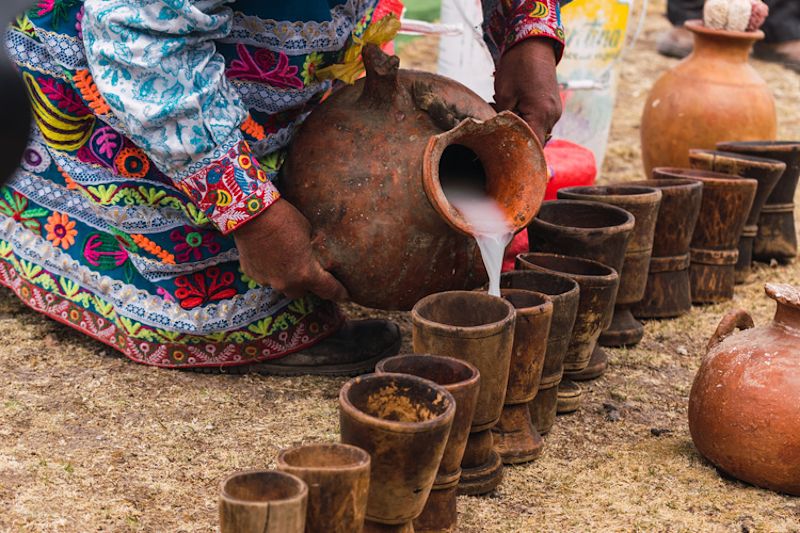 Chicha de jora is used in traditional religious ceremonies
Chicha de jora is a traditional fermented maize beer and so is a must-try for anyone who likes alcohol.
For those who don't usually like beer, you might like to try frutillada (also known as chicha de frutilla) instead. This is chicha de jora made with wild strawberries and is sweeter version of the drink. It's should be a lovely pinkish colour from the berries, though sometimes this is achieved by adding a little beetroot.
Avoid alcohol when acclimatising
Just a note here that you should avoid alcohol for your first few days in Cusco while you're acclimatising to the high altitude. Rather save it for the latter part of your trip, like when you've come back from trekking the Inca Trail, for instance, and your body is nicely used to the elevation.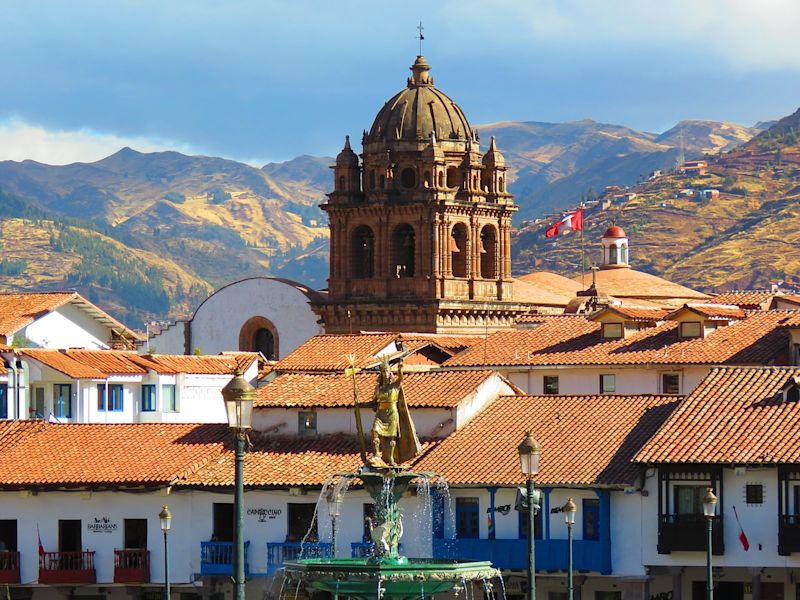 Cusco is 3,400 m (11,555 ft) above sea level
Cafés and restaurants with the best views
Sarah, as you may remember, loves the pastries at L'Atelier Café-Concept. She also loves going there because:
Although quite small, it has a great spot for people-watching in their balcony seats on the second floor, which look out over Carmen Alto in San Blas.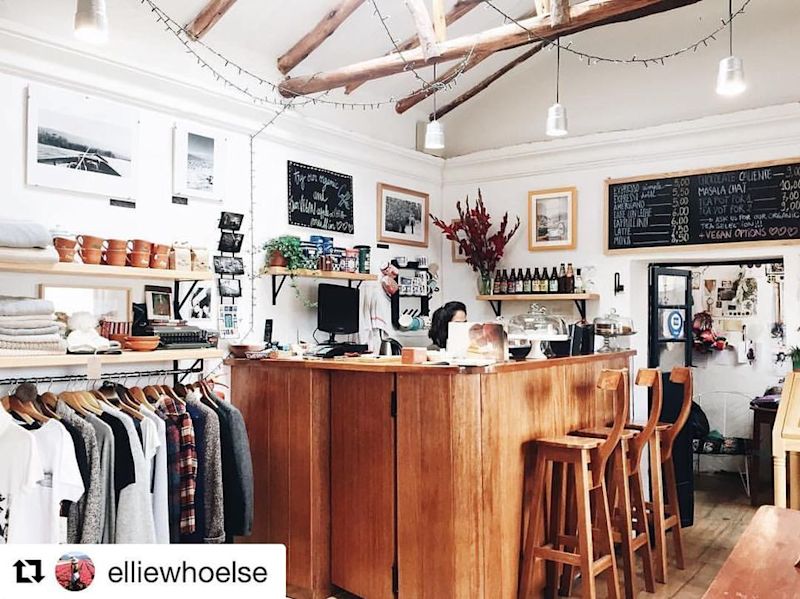 Inside L'Atelier Café-Concept
Domenica also loves the expansive view of the city from the balcony of Qenqo Restobar near San Blas. The restaurant specialises in Peruvian and Spanish cuisines.
Lorena loves Calle del Medio cocina peruana as it faces the city's pretty main square. It serves delicious Peruvian and Latin cuisines.
All that said, everyone agrees that you must head to Limbus Restobar for the very best view of the city (and yummy food too, of course!). Just look at that view ... 😍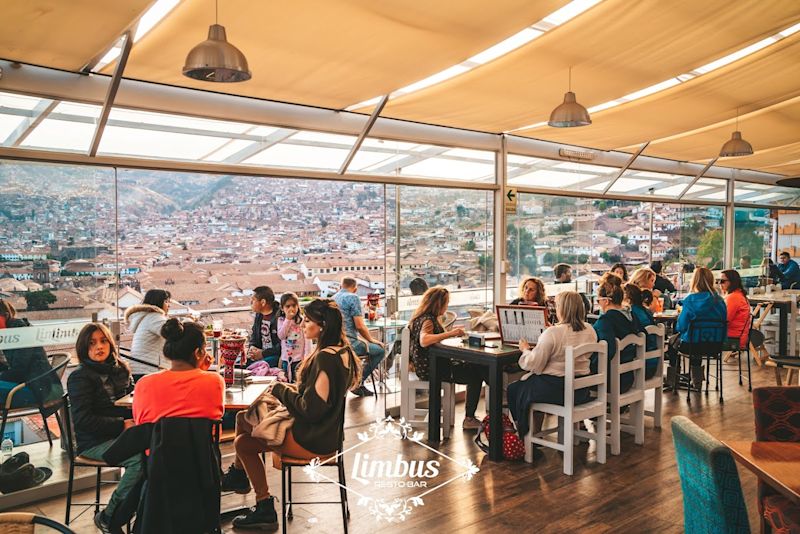 Limbus Restobar has the undisputed best view of any restaurant in Cusco