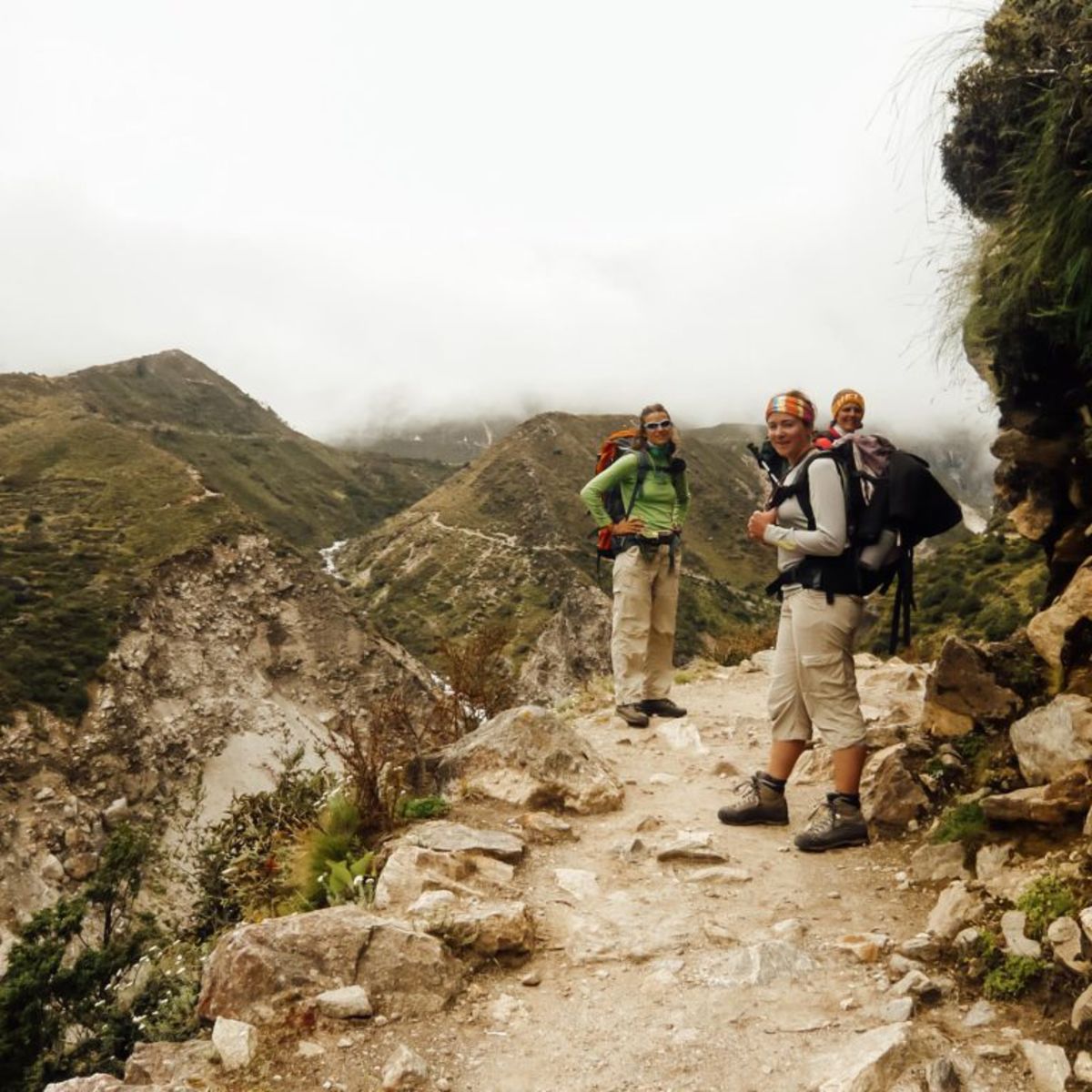 3 tips for women trekking to Everest Base Camp
Aug 28, 2023
Reading time: 11 minutes
Women trekking to Everest Base Camp need to know a few things to come properly prepared, both mentally and practically. We discuss everything to do with going to the toilet, how to stay clean during the trek, and why you might get an unexpected period!
Let's talk about three important topics affecting women who tackle the Everest Base Camp trek:
The toilet situation

Keeping clean

Menstruation
We discuss what to expect for each, as well as what to pack. Then, at the end of the post, we include a packing checklist you could use to ensure you get hold of everything mentioned in this blog post.
Understand the toilet situation
You're going to need to wee and poop a good deal on the Everest Base Camp (EBC) trek.
This is because any marked increase in altitude usually impacts your bladder and bowel, making you need to wee and poop more. And sometimes the need to do so can be quite pressing!
Add to this the fact that the higher you climb, the more water you should drink, so you can see that the topic of going to the toilet when on the EBC trek is an important one!
There are many toilets on the trail
The good news is that most of the time there will be a bathroom you can use when you need the toilet on the Everest Base Camp trek.
Early on, for instance, there are villages all along the trail, so every hour or so there should be toilet you can visit.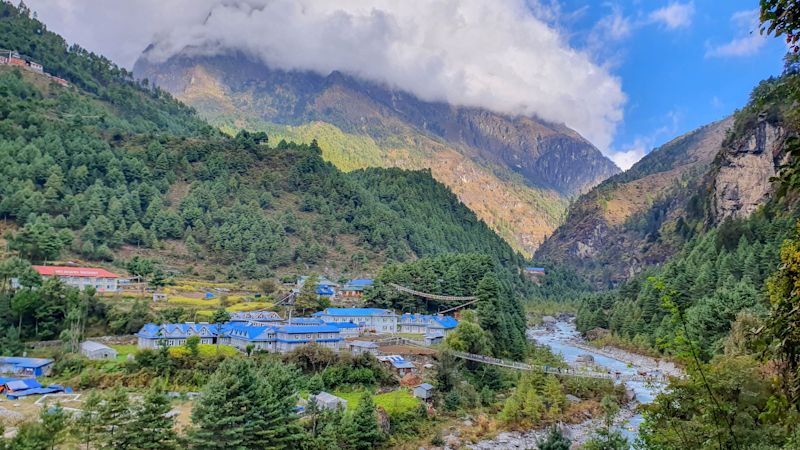 The village of Phakding is your first overnight stop
Further to this, when you're in temperate forest near the start of the trek, there won't be a problem finding a tree to hide behind if you do need to visit nature (pun intended) whilst on the trail.
It's only higher up in the alpine desert when you're nearing base camp that going to the toilet can be trickier. This is because there are very few settlements, and it can also be hard to find somewhere to be discreet as you're usually trekking through barren valleys and along exposed contour paths.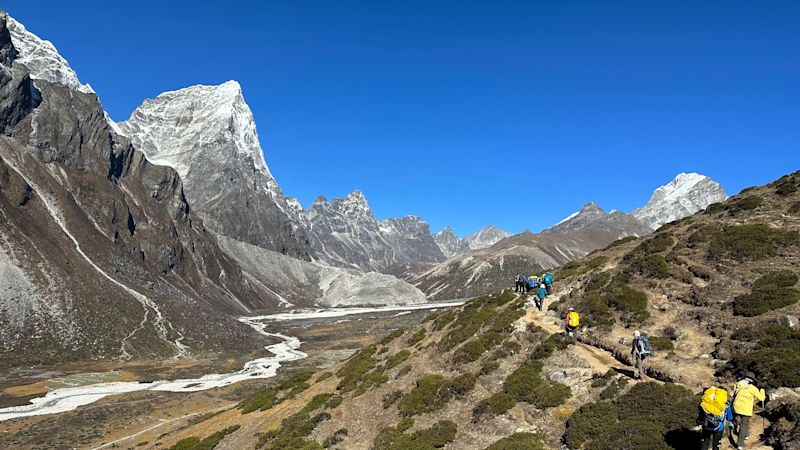 Our client Ross took this great snap on the EBC trek
So let's talk what to do when you need to pee on the trail. We'll then look at pooping on the trail, followed by the sorts of toilets you can expect at teahouses (which are what lodges in the area are called).
Peeing while hiking
You'll be drinking a lot of water during your Everest Base Camp trek. In fact, you should be drinking a minimum of three litres a day!
One reason for drinking lots of water is that you're exercising hard. The other is that drinking water helps to minimise the negative effects of high altitude. (You can learn more about how high altitude affects the body in Altitude sickness on the Everest Base Camp trek.)
You want to drink lots of water on the EBC trek
So you'll likely need to go to the toilet more often than normal. And that might mean having to wee to the side of the trail. And we say "to the side of the trail" because ideally you shouldn't wander far off the path as this can damage sensitive vegetation.
It's these occasions when a urinating device comes in handy.
Urinating devices
When you can't wait to reach a bathroom on the EBC trek, you might be really grateful to have a female urinating device like a Shewee on you.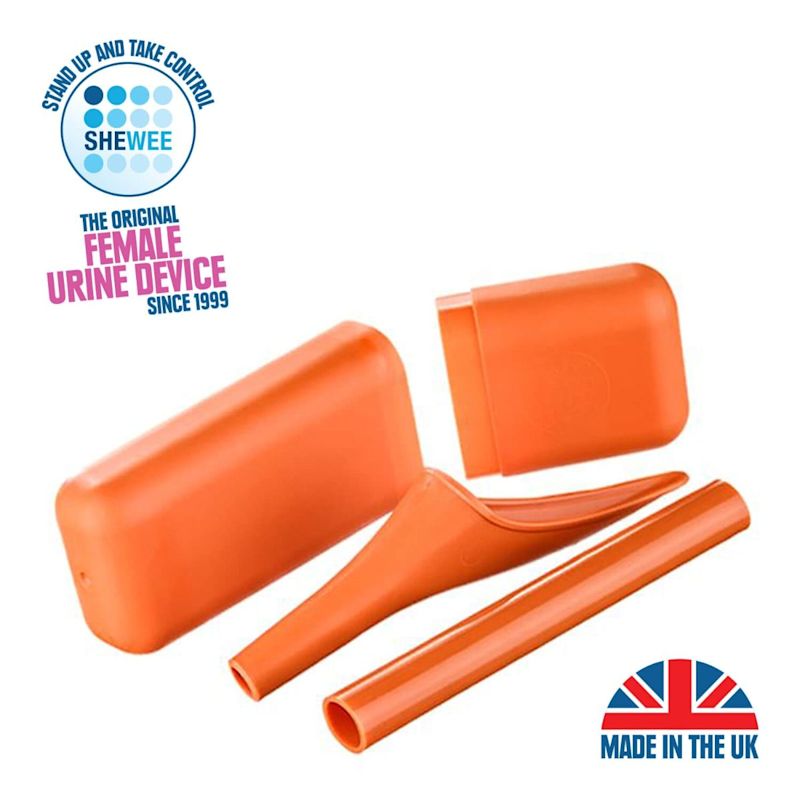 A urinating device lets you take a leak in a similar way to a man: from a standing position, you simply wee into the device and it funnels the stream of urine so that it falls away from your feet.
We suggest you opt for a urinating device that comes with a storage container so that you can pack it away and be sure no drips of urine touch anything else in your backpack.
Consider bringing a Shewee or similar female urinating device so that you can pee at any time without needing to find something to hide behind!
Female urinating devices are, of course, all about personal preference. But know that you won't be the only one using it on the trek.
You might also find that when you're at really high altitude – where every bit of physical movement is that much more taxing than normal – that you'll be grateful to use a urinating device over having to drop into a tiring squat.
A pee cloth
Some women also enjoy having a pee cloth (or pee rag) to use on a trek.
Pee cloths eliminate the need for loo paper or the 'drip dry' method (which isn't a very nice option when you're in below-freezing conditions and want to get the business over with as quickly a possible).
The Kula Cloth, for instance, is an antimicrobial cloth that you can attach to the outside of your backpack. It's designed with a button so that it can be stowed folded in half, meaning the used side is always closed up.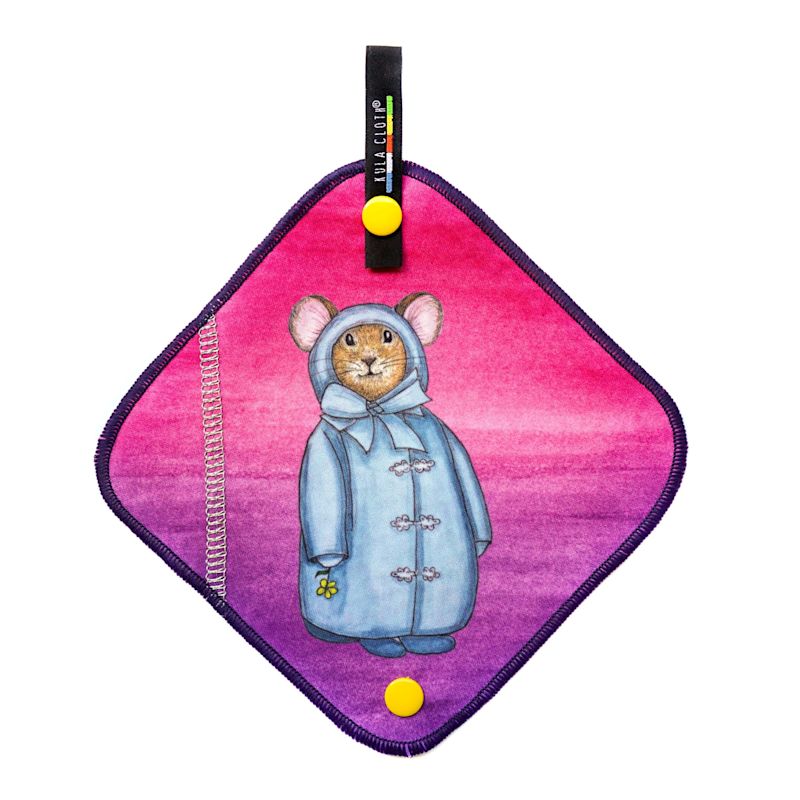 A Kula Cloth sporting a cute pika
The Kula Cloth is actually endorsed by Leave No Trace, the NGO we partner with that promotes environmental sustainability around the world. ♻️
Pooping while hiking
Many trekkers manage to avoid having to poop while on the trail. Depending on your EBC itinerary and level of fitness, you might only be on the trail for around five hours a day. So with a little luck, you won't face this situation.
If you do need to poop on the trail, however, we recommend packing biodegradable tissue paper (or wipes) and a little trowel (spade). The biodegradable paper speaks for itself. The trowel, of course, is so that you're not the person leaving a mess for others to discover. Consider also bringing a little packet for storing the trowel.
If you want to be an even better visitor, consider bringing little biodegradable bags that you can use to carry your used toilet paper or wipes to the next teahouse where they can be put in a bin.
Farting
Incidentally, note that you're likely to fart quite a lot the nearer you get to base camp. But don't worry, everyone else is doing it too! It's another delightful side effect of high altitude.
Teahouse toilets
The teahouses along the EBC trail vary quite a bit in terms of size, modernity and facilities. Some have bathrooms with western-style toilets, while others simply have long drops. So you're going to need to get comfortable with the idea – as well as the practical act – of using long drops.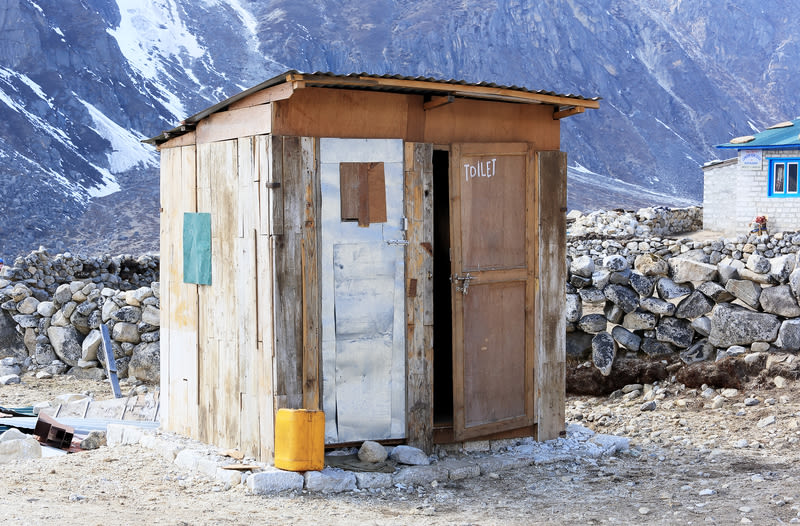 An outhouse on the EBC trek
Also note that bathrooms are communal, so perhaps bring along disinfectant wipes for cleaning toilet seats if you're concerned about that.
Peeing at night
While you'll have access to a toilet at night inside of your teahouse, you're really not going to want to get out of your cosy sleeping bag to use it.
The bedrooms and bathrooms in the teahouses aren't heated, so the room temperature won't be much different from that outside, which could be well below freezing point.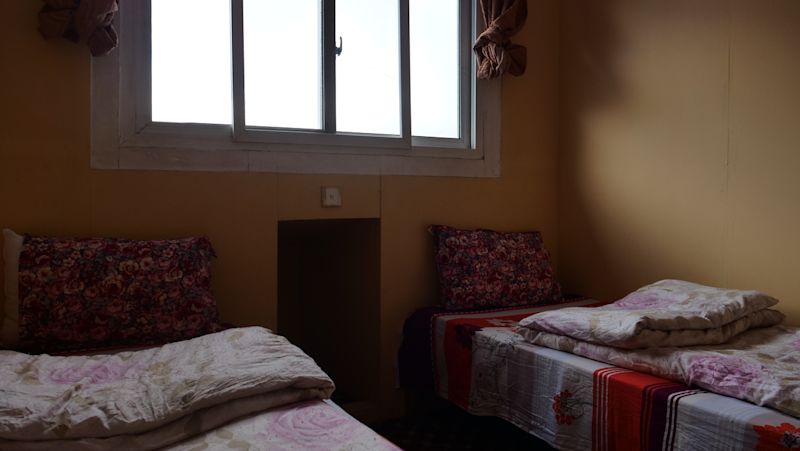 Teahouse bedrooms don't even have double-glazed windows
With this in mind, it's a good idea to have a cut-off time for hot drinks at night so that you can be sure to sleep through the night without needing a leak.
Linked to this, you might well be thirsty when you wake up, so pop a bottle of drinking water in the footwell of your sleeping bag so that you have some drinking water when you wake up. If you leave your water bottle outside of your sleeping bag on a freezing night, you'll wake up to a bottle of frozen water.
Have a cleanliness strategy
We suggest that you embrace a slightly more lax hygiene regimen while still keeping the worst at bay by following these handy hygiene tips with regards to:
cleaning your hands

'bathing'

nails

hair
Cleaning your hands
We recommend packing a waterless hand sanitiser as well as disinfecting wet wipes to help you clean your hands when you don't have access to water and/or soap.
Disinfectant wet wipes usually contain alcohol
You arguably want products with a little alcohol in them to help kill germs. That said, we understand that this can be harsh on your hands, and some folks like to opt for completely natural products regardless. So you'll need to weigh up what matters most to you.
Either way, be sure to bring some quality hand cream as your hands will take a knock in the cold air with or without the added strain of alcohol-based disinfecting products.
We encourage you to look for biodegradable options for all of the hygiene products mentioned in this blog post.
'Bathing'
At some teahouses you'll have the option of a shower – even a hot shower, on occasion. (Note that sometimes you might need to pay for this privilege).
Enjoy those showers! Because they won't always be on offer. Be sure to bring along a sponge, loofah or face cloth so you can really have a good scrub.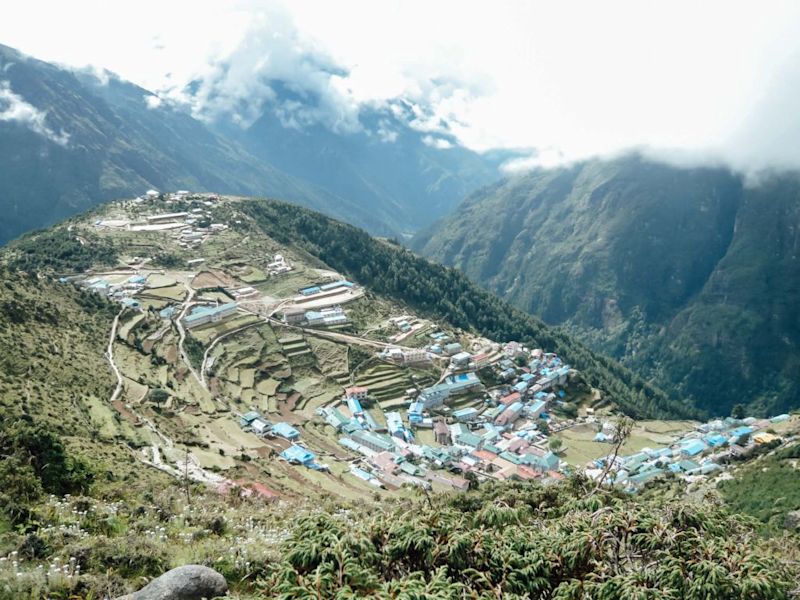 You can look forward to showers during the early section of the trek
The higher up in the mountains you get, however, the less likely you are to find hot water, let alone showers. While you will always have access to water, sometimes that water will be painfully cold, so you'll only want to do minimal hand and face washing with it.
You – and everyone else – will have to drop your hygiene standards a bit close to base camp, as there are no showers that high up.
With all of this in mind, here are some items to consider packing for your EBC trek:
Cleansing facial wipes.

A quick-drying, small microfibre towel for drying off after any splashing.

Cleaning wet wipes for 'bathing'.

Deodorant wipes or a spray deodorant (roll-on might not feel nice to use after only a wet-wipe wash).
Fingernails
We recommend cutting your fingernails short just before starting the trek to avoid (too much) dirt getting under them.
In addition, pack a small scrubbing brush and a manicure stick for cleaning under your nails at night.
If the sight of dirty nails horrifies you, we recommend wearing a dark nail polish to hide the dirt.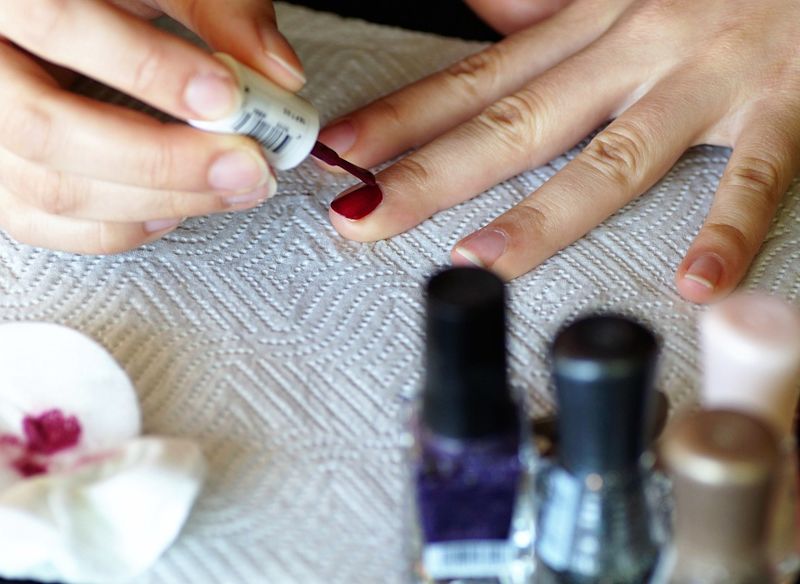 Dark nail polish will hide any dirt under your fingernails
Hair
You're going to be hiking for around one to two weeks on the EBC trek, depending which of the different Everest Base Camp routes you choose. So it's a good idea to plan ahead of time what you want to do about your hair.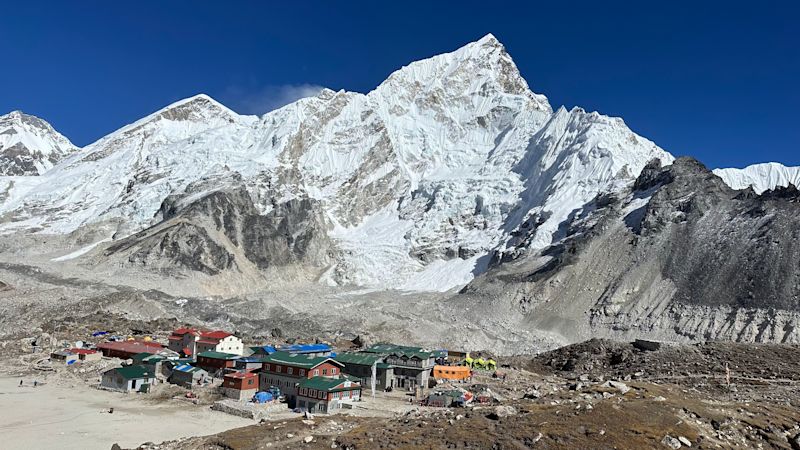 Gorakshep near base camp – one of the places where showering isn't possible
Since everyone's hair is different, we suggest making a game plan based on what you know about your own hair. But obviously a good first step is to wash your hair just before starting on the trek. And during the first few days on the trail, you should also be able to wash it at your teahouse.
It's only as you get higher and remoter that showers disappear, and you need a strategy for managing dirty hair.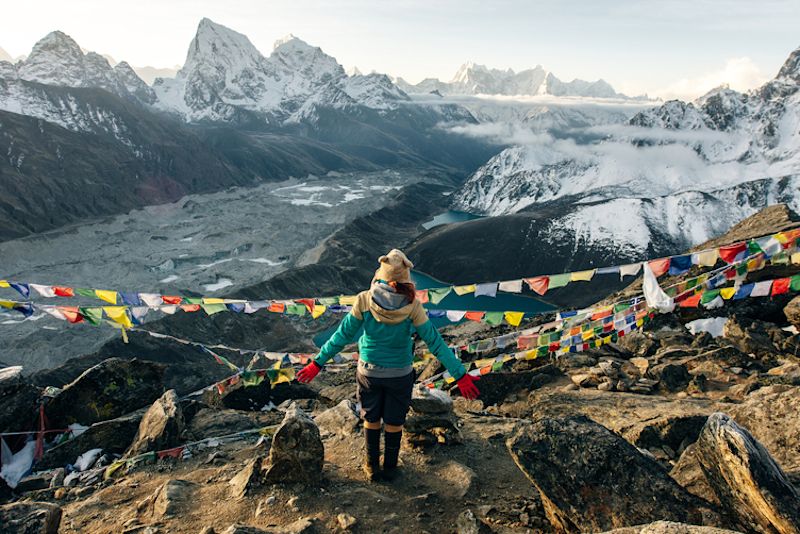 Wearing a beanie covers your hair while also keeping you warm
Here are some tips for managing your hair when you can't wash it:
Plait longer hair during the day to limit the amount of dust that can settle on it.

Give your hair a vigorous brushing at night to remove as much dust and dirt as possible.

Cover your hair with a sunhat, bandana or cap on warmer days, and a beanie or balaclava on colder days.

Put a little baby powder or dry shampoo on the roots to keep the oiliness under control.
Finally, be sure that your hair tie (if you have long hair) is sturdy, or that you have a backup band should yours break or get lost.
Be prepared for an unexpected period
It's important to know that a woman's menstrual cycle can be affected by changes in altitude, particularly a great increase in altitude. And an EBC trek certainly involves a great increase in altitude (as we discuss in Elevation gain on the EBC trek.)
This means if you're someone in your menstruating period of life, then the EBC trek could cause your period to:
stop before usual

start before usual

be irregular

be longer than the norm
High altitude can change your period in various ways, so every lady with a period should be prepared mentally and practically to deal with it during the trek.
How to manage your period on the trek
We suggest that you pack the following items for managing your period on the EBC trek:
Tampons or sanitary pads.

Feminine (intimate) hygiene wet wipes.

Small disposable bags for transporting waste on the trail.

Hot water bottle.

Painkillers, if needed

.
Be sure to always carry these items in your backpack and not your duffel bag, as the latter goes with a porter and you won't see it till the next teahouse.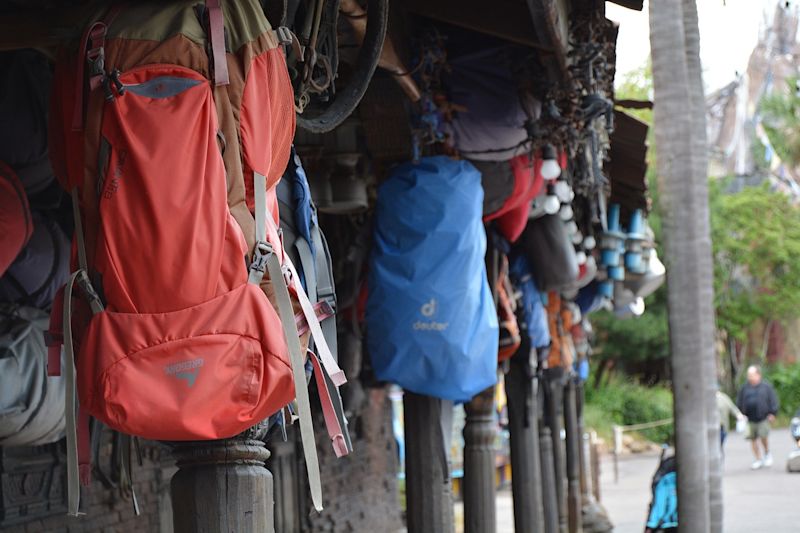 Keep essential items in your backpack, not your duffel bag
Packing checklist
To finish, here is the promised checklist you can use to ensure you pack everything you need for the EBC trek. Remember to please go with biodegradable products where possible.
| Toilet | 'Bathing' | Hair and nails | Menstruation |
| --- | --- | --- | --- |
| Urinating device | Loofah or face cloth | Sunhat or bandana | Sanitary pads or tampons |
| Pee cloth | Cleansing facial wipes | Beanie or balaclava | Intimate wipes |
| Toilet paper or intimate wipes | Cleaning wet wipes | Dry shampoo | Small disposable bags |
| Disinfectant wet wipes | Small microfibre towel | Manicure stick | Hot water bottle |
| | Deodorant wipes or spray deodorant | Nailbrush | |
And that's what you need to know, ladies! You're fully equipped now to trek to Everest Base Camp come what may. 😊 ♀